Summer is officially over. However, you shouldn't cart your planters away. Autumn is the perfect time to show them off and create splendid container gardens. For some inspiration, dive into some magnificent fall planter ideas below.
Fall lets gardeners have fun with planters. Chrysanthemums undoubtedly are an autumn's classic choice. However, you can utilize terrific flower combinations that perfectly scream the season due to their textures and colors.
If you want a little variety this fall, consider these ideas. They include numerous planter designs and plant combos. Check them out before building your container garden.
1. Fall Planter Ideas with Tree Branches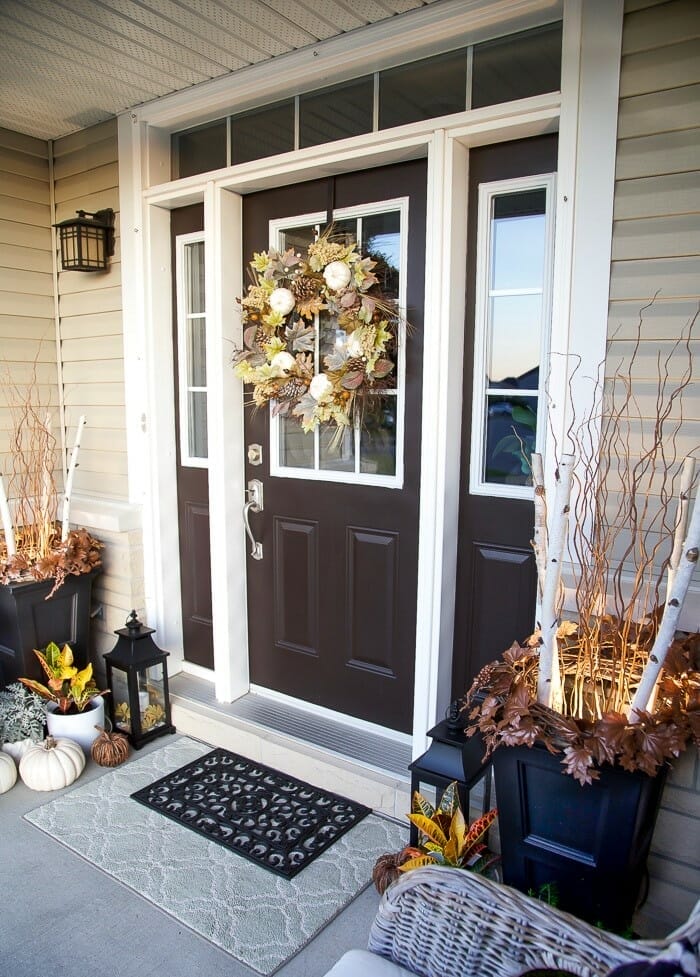 Here, black planters introduce visitors to the rest of the homeowner's garden. They feature faux brown leaves, decorative twigs, and tree branches.
As you see, succulent lanterns accompany black wooden planters marvelously. There are also captivating croton plants in crisp white pots.
Rattan and artificial white pumpkins make a stunning addition. They require zero maintenance too. Furthermore, the silver-foliage plant, wicker chair, fall wreath, and welcome mats complete the front porch.
2. Fall Planter Ideas with Pumpkins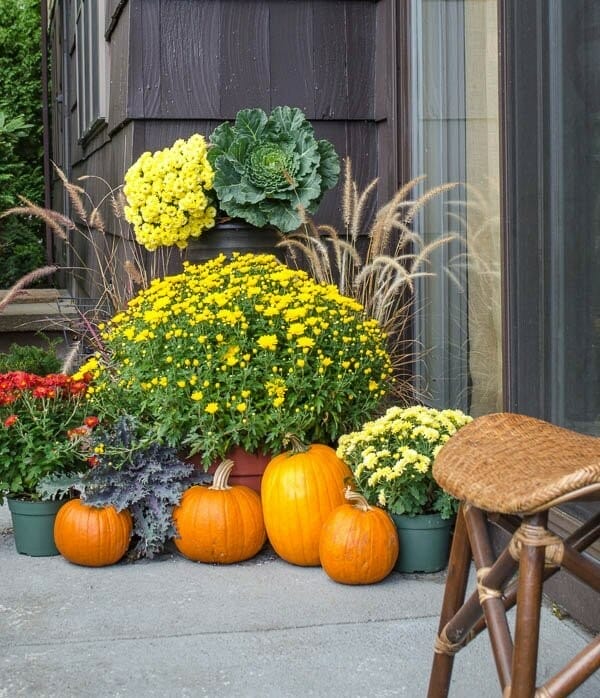 The earthy tones of the planters mirror the fall landscape's palette. Here, the homeowner filled them with different plants to enhance their look.
Single-specimen containers generate a massive composition. Not only do they enliven the porch but also provide a sense of freedom. Feel free to move them around when boredom strikes.
This harvest-themed container garden employs ornamental kales and cabbages. Meanwhile, orange pumpkins mingle with red and yellow blooms while carrying fall vibes. The bamboo chair and grasses finish things off.
3. The More Colorful, the Better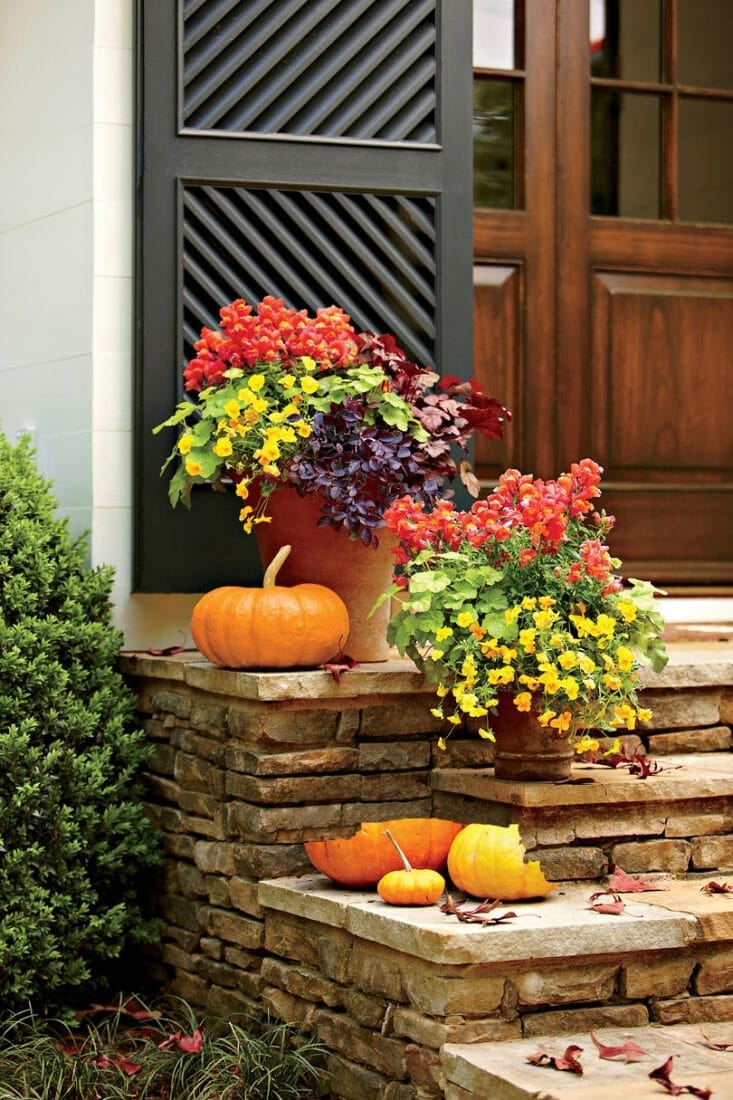 I admire the cascading arrangement of terracotta planters here. They lend the entrance some interest while blending with rugged stone steps.
Artificial orange pumpkins of different sizes produce a vibrant display. They adorn the entrance without emptying the wallet. Also, the homeowner can reuse them.
Broken fake pumpkins prove imperfections can be aesthetically pleasing. Meanwhile, colorful plants and blooms speak of liveliness. They enable the fall container garden to rival the summer one, too.
4. Blooms Meet Pumpkins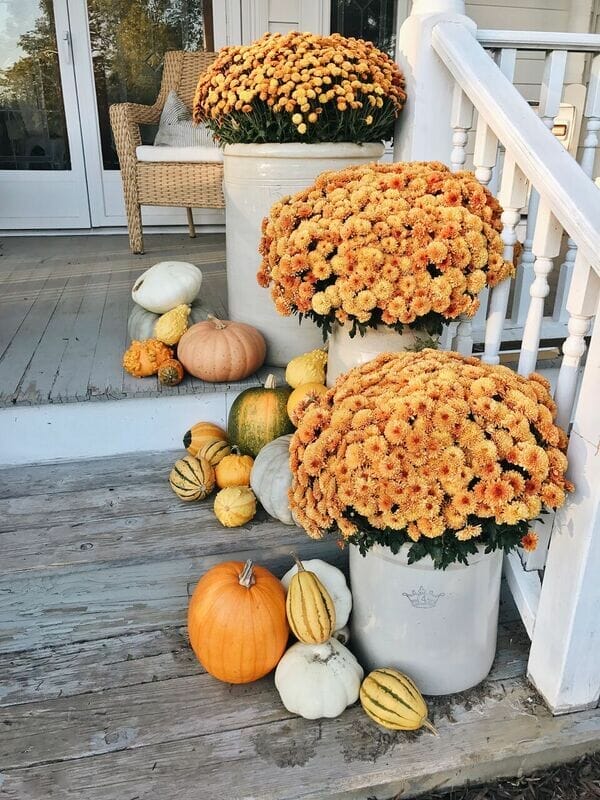 This is one of the fantastic fall planter ideas for country cottage homes. Here, massive planters wear subtle pastel hues that portray peacefulness. They coordinate with the white handrailing and weathered wood steps.
Giant planters allow fall blooms to become centerpieces while adding height. Moreover, soft orange flowers bring the front porch to life.
Gourds and pumpkins complement planters with bodacious orange blooms. They give the front porch extra splashes of color. The bare wicker armchair and cozy fabrics capture a laid-back atmosphere.
5. Glam Fall Planter Ideas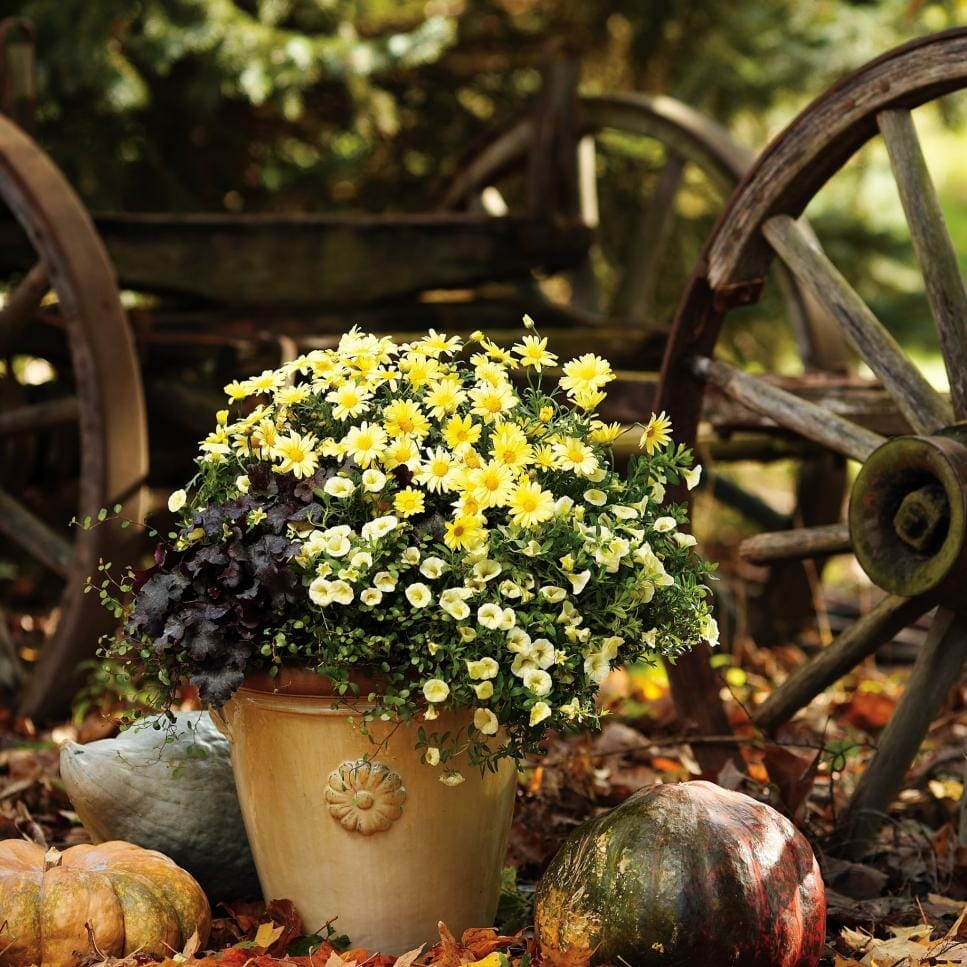 Without a doubt, this display reminds you of pumpkin patches and hayfields. The gold-painted planter delivers luxury and dimension to the container garden.
Golden 'Marguerite' daisies accentuate the planter. Meanwhile, the 'Superbells Yellow Chiffon' calibrachoa harmonizes with them.
The creeping wire vine adds delicate details. Furthermore, 'Blackberry Ice' coral bells introduce some fall drama. Also, the rustic wooden wheelbarrow, autumn leaves, and pumpkins round out the scene.
6. Say Yes to the Wagon Planter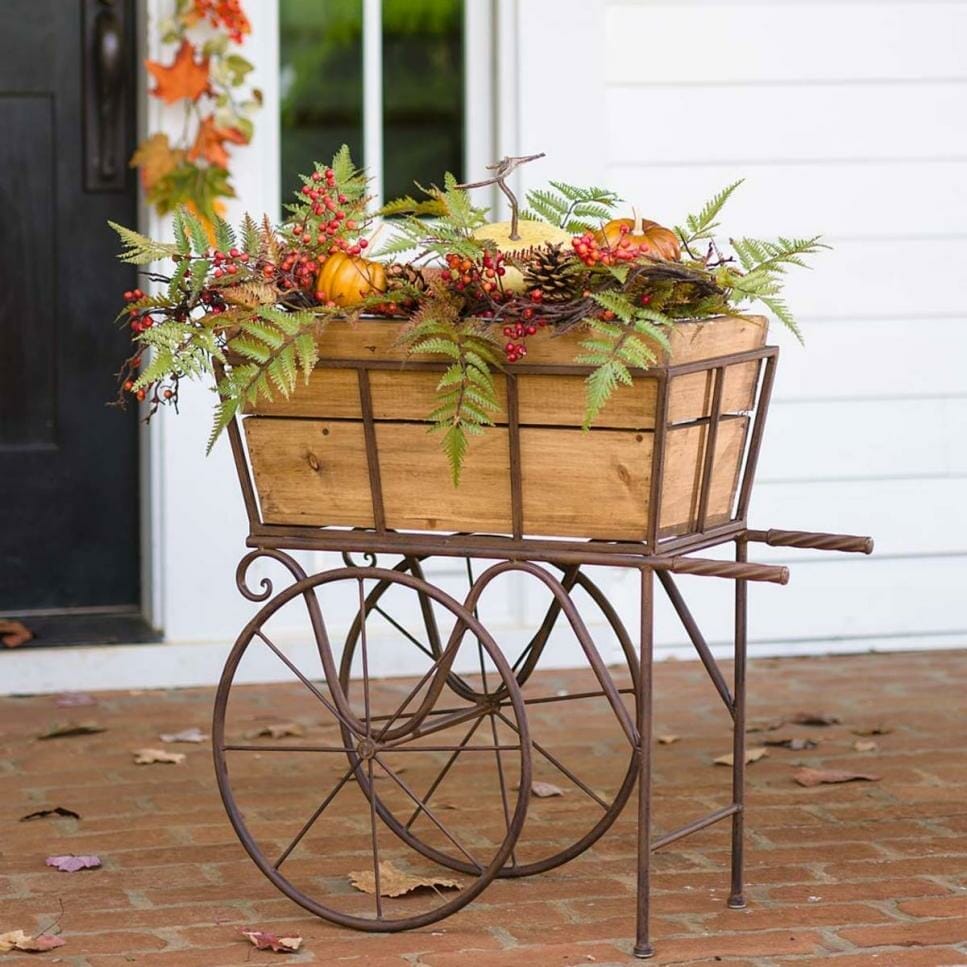 If you need brilliant fall planter ideas, take wagon planters into account. Here, the tiny wagon container showcases a striking seasonal display. The greenery, fake red berries, pinecones, and pumpkins punch it up.
Undeniably, this display will generate a seasonal statement on any porch. The rustic beauty of the wagon planter lets the fall arrangement shine.
Since everything is artificial, the display is maintenance-free for sure. Here, the wagon planter blends with warm-toned bricks underneath.
7. Fall Planter Ideas for Partial Shade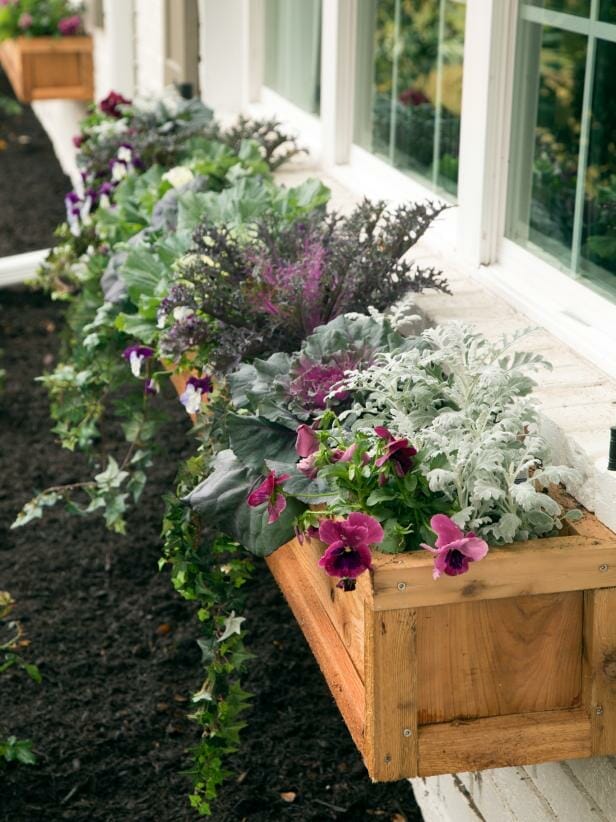 These blonde wood window boxes lend the entrance a rustic feel. Furthermore, they warm up whitewashed bricks and window frames. Additionally, the units allow fall favorites to draw attention, thanks to their plain look.
Without a doubt, window boxes make remarkable planters. They accommodate pansies, English ivy plants, and silver ragwort.
You can also spot ornamental veggies like kale and cabbage. The multicolored plants above need consistent watering. Moreover, they're happy in partial shade.
8. Foliage Does Matter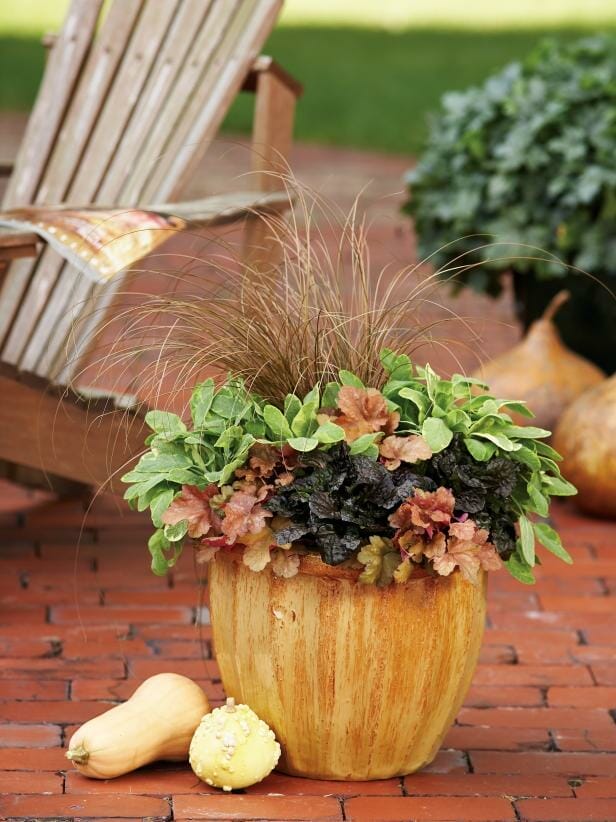 Do not only focus on blooms. Colorful perennials and leaves can be impactful too. This seasonal display, for example, boasts peachy coral bells and warm-toned sedge grasses. Moreover, they accompany variegated sage plants.
Here, the 'Black Scallop' ajuga gives the arrangement some depth. Speaking of fall container garden recipes, take notes from this photo. If you have a 24" planter, consider growing them in 4.5" pots. Unlike three other plants, coral bells require two pots.
9. White Fall Planter Ideas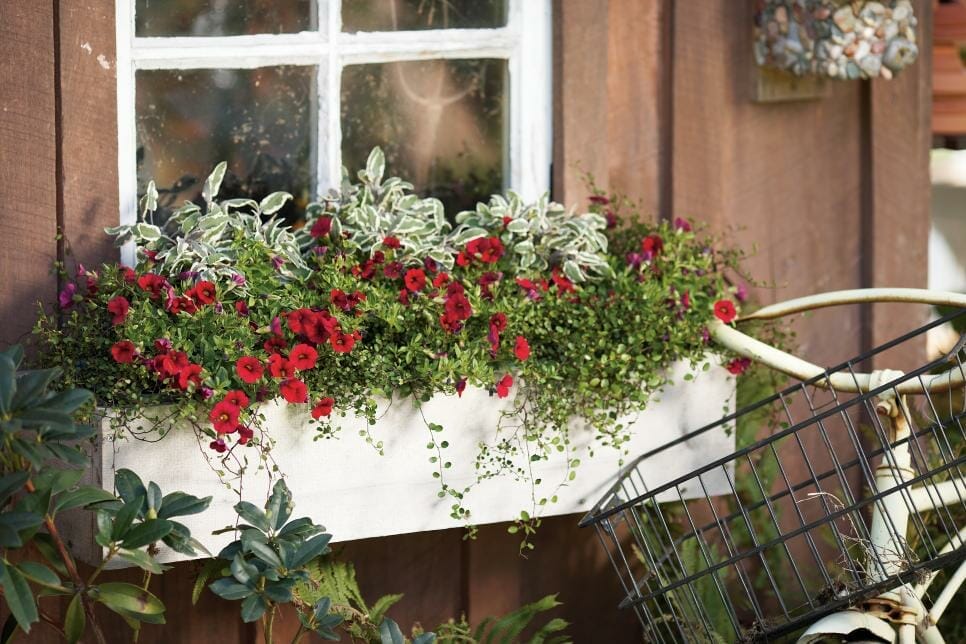 This bright white window box makes a statement autumn planter. In the photo, it strikingly clashes with dark wood wall paneling.
The white rectangular window box holds ruby red million bells (calibrachoa) and variegated sage. Also, it accentuates the tiny creeping wire vine that delivers a touch of greenery.
Undoubtedly, the planter and fall arrangements offer an inviting look. It carries a cottage feel too. Furthermore, each of the plants above will do well during the fall months. In addition, the dainty creeping wire vine stays green year-round.
10. Keep the Plantings Simple
Need some jaw-dropping fall planter ideas? Duplicate this look. Wooden window boxes make white brick walls slightly welcoming. Meanwhile, exterior black shutters give the porch some serious drama.
Speaking of container plants for fall and winter, try growing trailing English ivy and winter pansies. Not only do they elevate rustic window boxes but also deliver pops of color. Both plants can survive a frost, too.
11. Fall Planter Ideas for Front Porches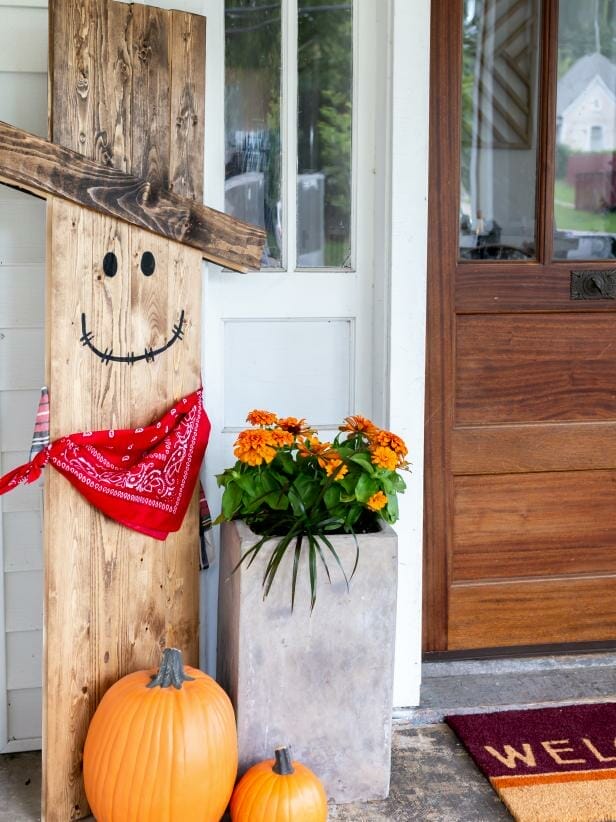 Here, you can spot a stylish concrete planter sitting on the front porch. Apart from adding height, it houses stunning 'Orange King' zinnia plants.
The handmade scarecrow plaque complements the tall planter. Furthermore, the fall-themed doormat and bright orange pumpkins welcome visitors. They offset all things concrete and stark white as well.
12. All About Layering
I love the layered look of this seasonal display. Here, the homeowner grouped fall planters of varying sizes and materials for visual interest.
Pumpkins, gourds, and mismatched candle holders boost the fall curb appeal. Moreover, they generate some height while perking up the front porch. Meanwhile, the outdoor rug and doormat make things cozy effortlessly.
13. Barrel Planter with a Pumpkin Tower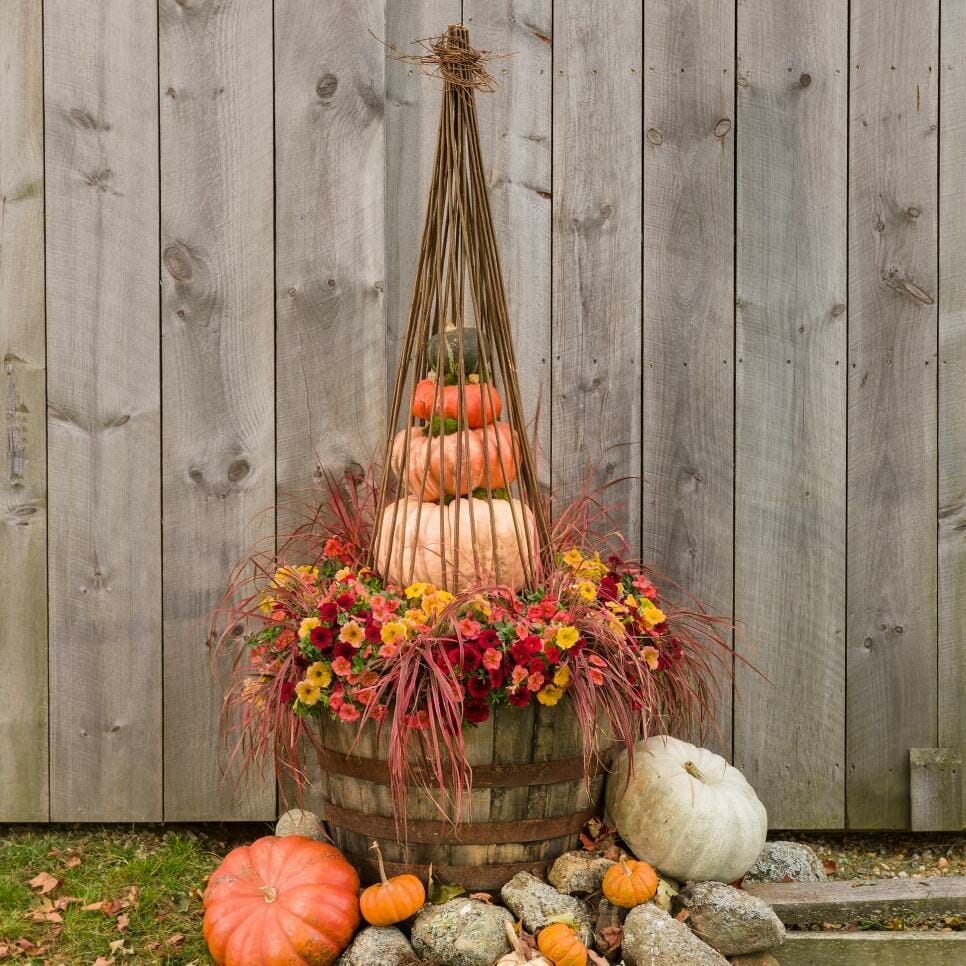 Don't hesitate to couple rustic materials with warm fall hues. They're such a winning autumn combo for any cool-weather display.
The planter boasts an excellent stack of multicolored pumpkins that produce a fall statement. Meanwhile, the simple willow obelisk keeps them in place.
Here, red fountain grasses elegantly mingle with autumn-toned calibrachoa plants and petunias. Furthermore, the wooden wall and stones complement the barrel planter well.
14. Harvest-Themed Display
The planters above vary in size and material. Apart from letting moisture out, they age gracefully while producing visual interest.
Here, the majestic urn and wooden planters gorgeously accompany the vintage, weathered iron bench. Furthermore, they hold punchy flowers.
Ornamental grasses act as a thriller. Meanwhile, ornamental cabbages, dried lotus seed pods, and kales become filler plants. Lastly, the creeping wire vine poses as a spiller.
15. Fall Planter Ideas with Coconut Coir Liner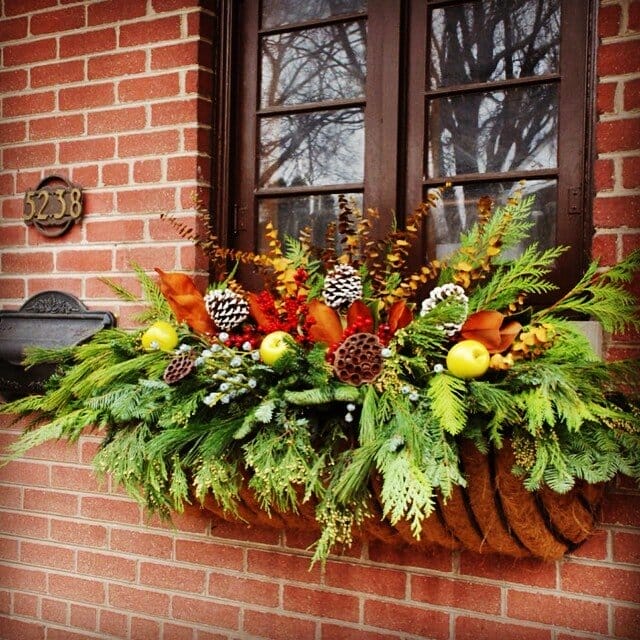 This metal wall-mounted planter boasts coconut coil liners. Furthermore, it showcases various evergreen foliage and fall leaves.
The coco basket blends seamlessly with adjacent bricks. Moreover, it lends the entrance texture and a cozy feeling.
Blue and red berries give this seasonal arrangement touches of color. Meanwhile, faux apples complement them while delivering some cheer. Lastly, dried lotus seed pods and whitewashed pinecones keep things balanced.
16. No Vibrancy, No Life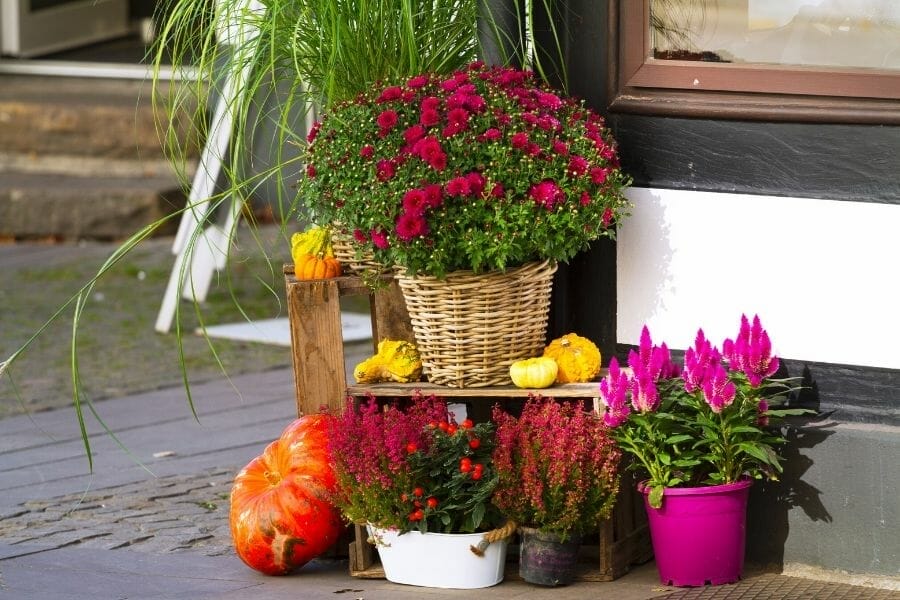 Fall planter ideas enable homeowners to use different pots. Here, neutral and vivid planters lend the seasonal display some character.
As you see, the celosia has a matching pot. Meanwhile, blooming plants and ornamental grasses carry additional bursts of color. The warm-toned giant pumpkin and gourds epitomize fall beauty.
17. Single But Striking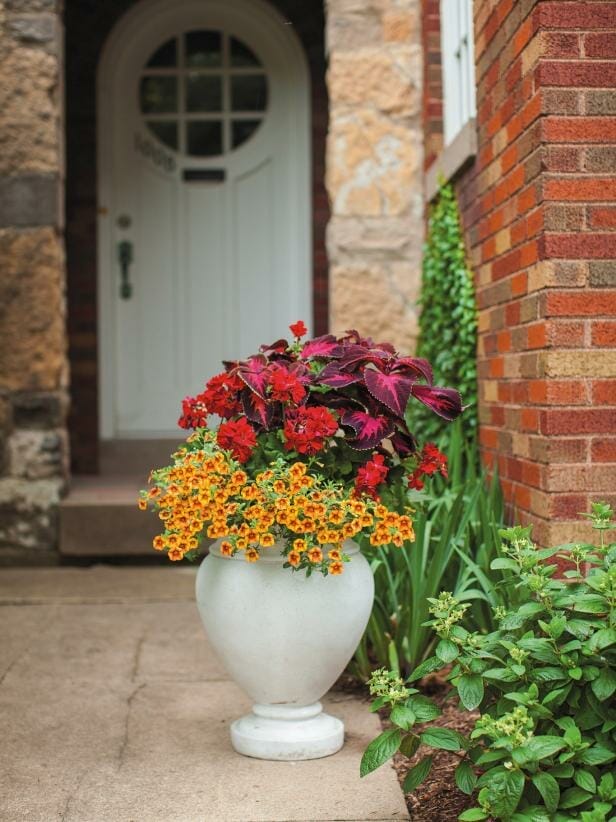 If you're into fall planter ideas for full sun, replicate this display. The pale gray container is equal parts functional and elegant.
As you see, the planter accommodates sun-loving plants like 'Dreamsicle' calibrachoa and 'Timeless Fire' geranium. Also, the coleus steals the spotlight quickly due to its appealing foliage.
18. Crave for Symmetry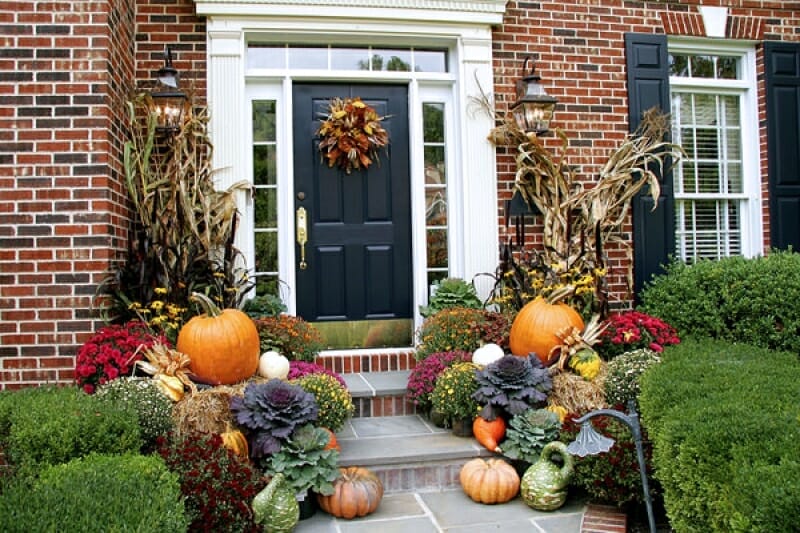 Although the entrance isn't enormous, it makes a statement. The wreath, gourds, pumpkins, potted plants, and ornamental cabbages produce visual symmetry.
Dried corn stalks give this cheerful fall display some height and an extra appeal. Meanwhile, boxwood shrubs accentuate decorative plants of the entrance.
19. Follow the Recipe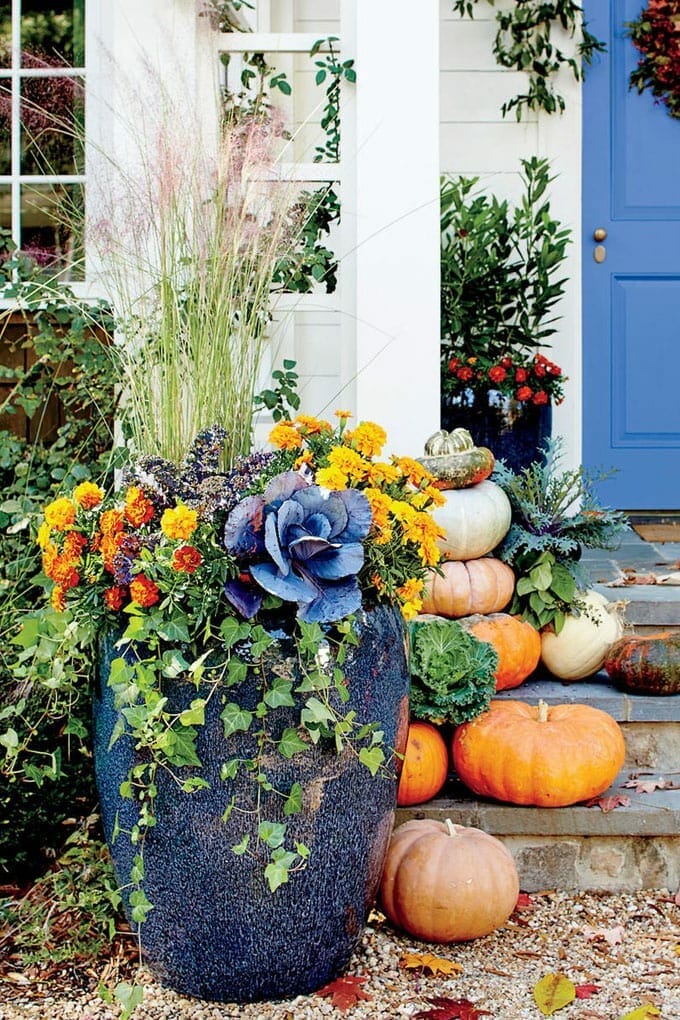 Speaking of fall planter ideas, try following a container gardening recipe. As the picture shows, the display above feels complete since it employs a spiller, a filler, and a thriller.
Dark blue porcelain planters keep things cohesive. Furthermore, multitone pumpkins perfectly accompany ornamental grasses, kales, cabbages, and trailing plants.
20. Cool Chair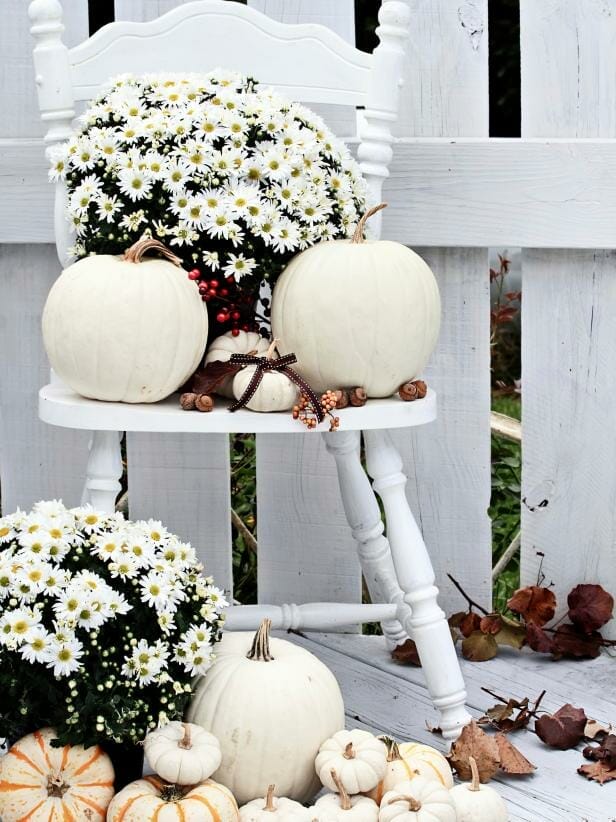 If fiery hues aren't your thing, copy this seasonal display. Here, the whitewashed flooring, wall, and country cottage chair highlight fall favorites.
As you see, the antique chair holds cream pumpkins of varying sizes. Furthermore, acorns, fall leaves, and Marguerite daisies make the display more fabulous. Also, refrain from showcasing sentimental pieces since natural materials can stain them.
21. A Stack of Pumpkins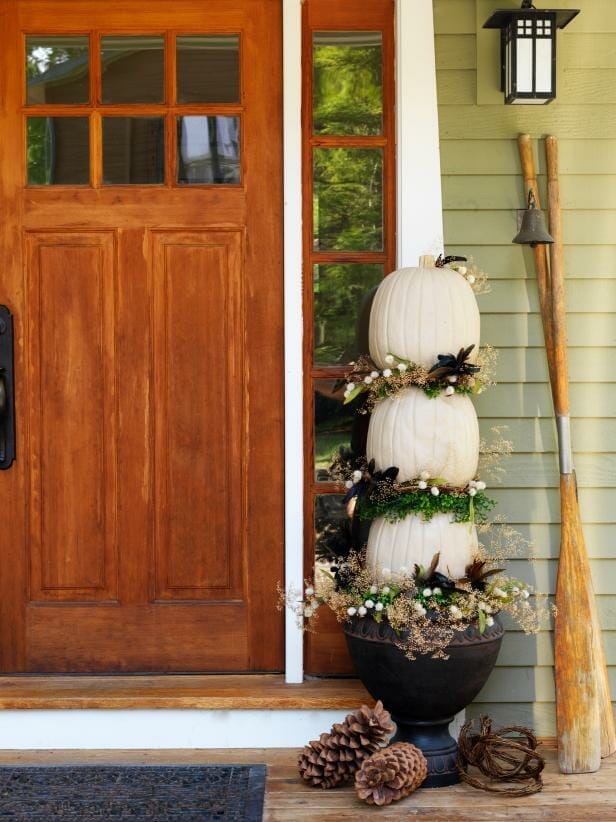 The sage green siding and wooden doors make for a tranquil entrance. Meanwhile, weathered oars, pinecones, and coco ropes emanate rustic fall vibes.
Here, the pumpkin topiary requires a hot glue gun and a stack of fake cream-painted pumpkins. Moreover, dried fall blooms ensure they don't feel bare at all.
22. French Country Touches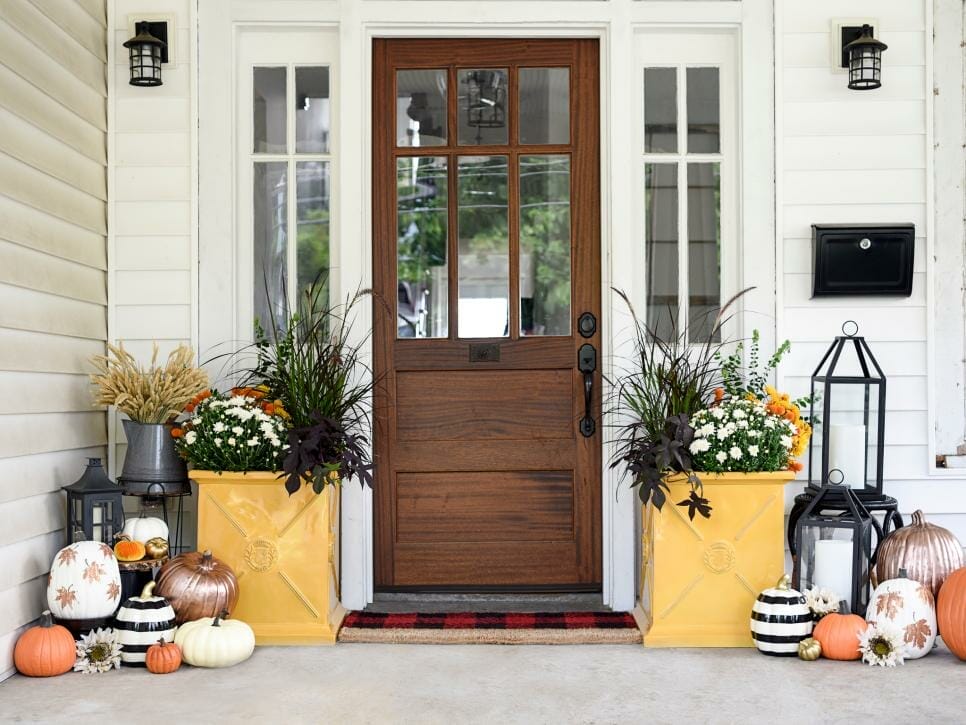 These yellow stone composite planters are both durable and intricate. They enliven the entrance while flanking the dark wood front door.
This is one of the fall planter ideas with mums. In addition to colorful chrysanthemums, the yellow containers also accommodate dark purple potato vine and cold-hardy grasses. Lastly, wheat, assorted pumpkins, and lanterns round things out.
23. A Winning Combo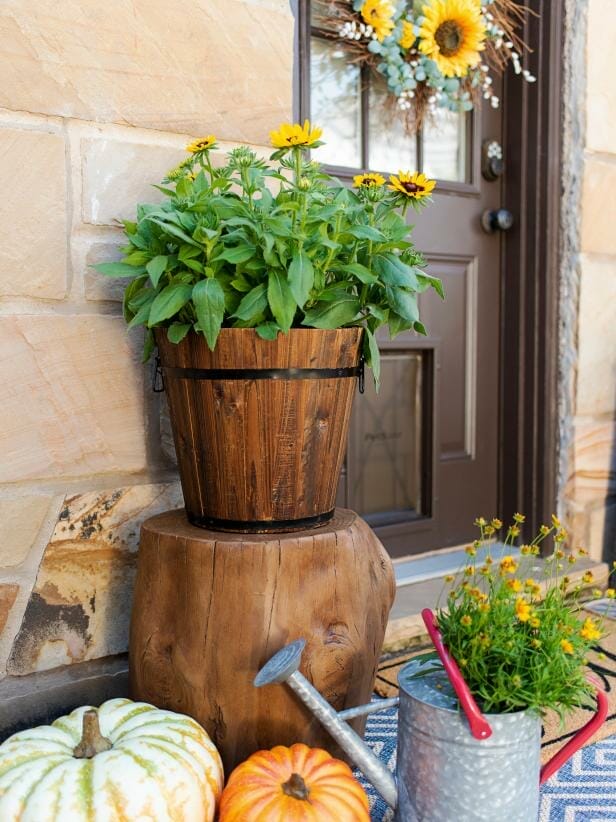 Talking about container garden plants, consider marrying coneflowers and black-eyed Susan plants. They make a foolproof flower combo.
While the echinacea is disease-resistant, rudbeckia is fast-growing. Both plants are ideal for autumn container gardens due to their long-lasting beauty and excellent hardiness.
24. Whimsical Lighting
If you aren't into finicky flowers, take simple fall planter ideas into account. The planters house dried fall leaves, gourds, and artificial pumpkins. They'll look incredible throughout the season.
The doormat, flameless candles, and wire mesh lanterns epitomize coziness. Speaking of mum planter ideas, tiny chrysanthemums harmonize with ornamental cabbages here.
25. Hanging Fall Planters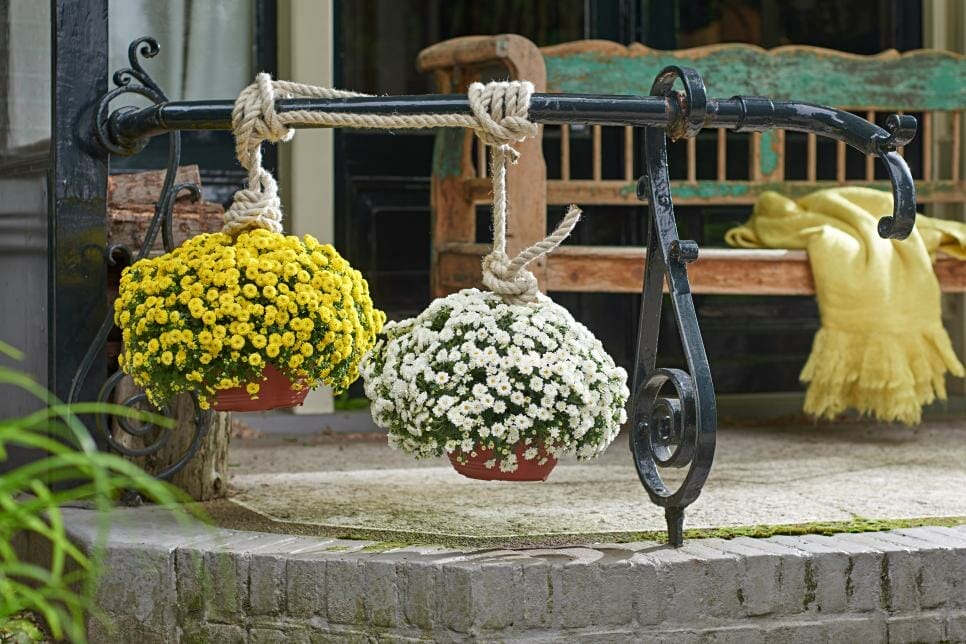 These 'Skyfall' chrysanthemums make gorgeous garden orbs. In addition to cascading naturally, they also don't break easily, thanks to their strong stems. They go well with the vintage porch railings, too.
As you see, 'Skyfall' mums can adapt to hanging plants fabulously. Moreover, they perk up the container garden while beckoning butterflies over.
26. Let the Season Dictates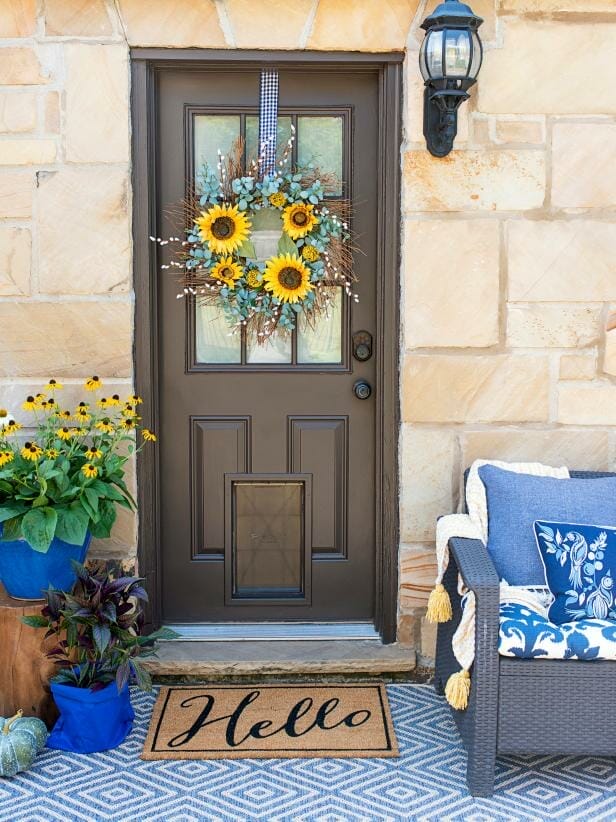 Some summer and spring flowers can tolerate fall's cool nighttime temperatures. So why not put them on your autumn display?
Rudbeckia blooms deliver some cheer to the front porch. They're pretty and pollinator-friendly, too. Meanwhile, the blue rug, outdoor seating, and planters portray cohesiveness.
27. DIY Fall Planter Ideas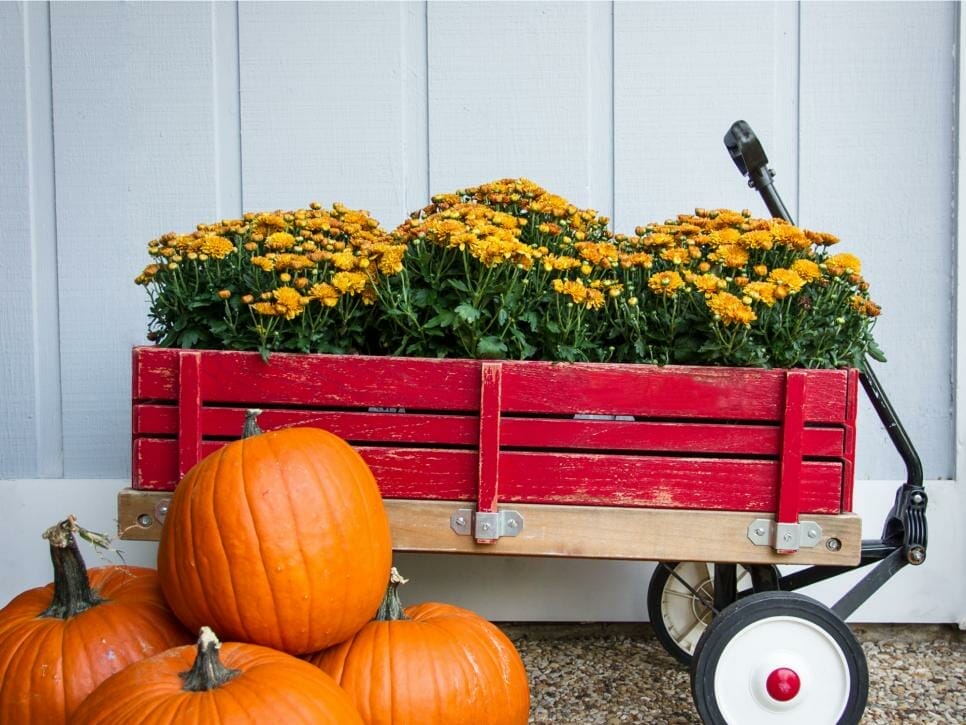 This shabby chic red wagon planter lends the porch a vintage appeal. In addition to being portable, it's also super adorable.
Here, the handmade planter keeps potted chrysanthemums with plastic sheeting in place. Furthermore, orange pumpkins depict fall warmth.
28. All Things Wicker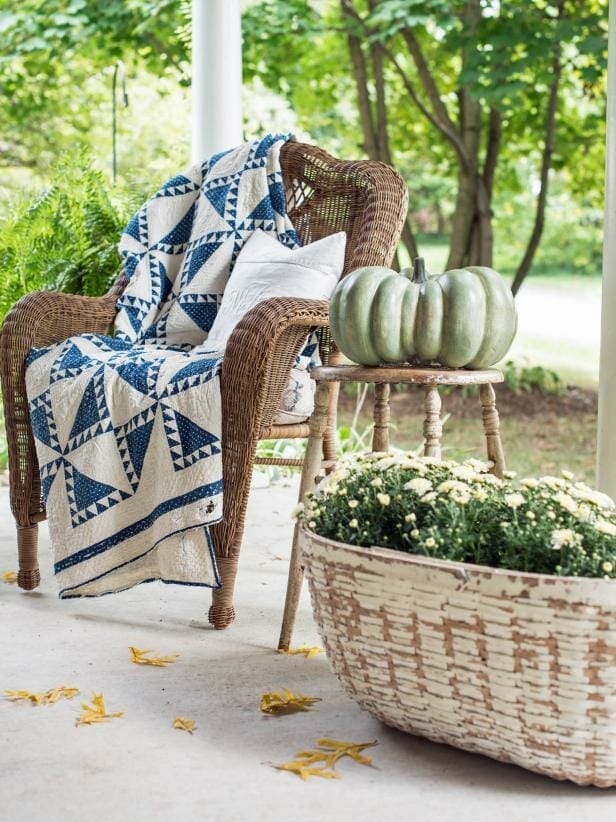 The weathered wicker basket planter imparts the front porch with a rustic farmhouse vibe. It accommodates delicate seasonal blooms as well.
On this front porch, the geometric outdoor blanket complements the resin wicker seat. Moreover, the shabby chic stool highlights the sage green fake pumpkin.
29. Beyond the Porch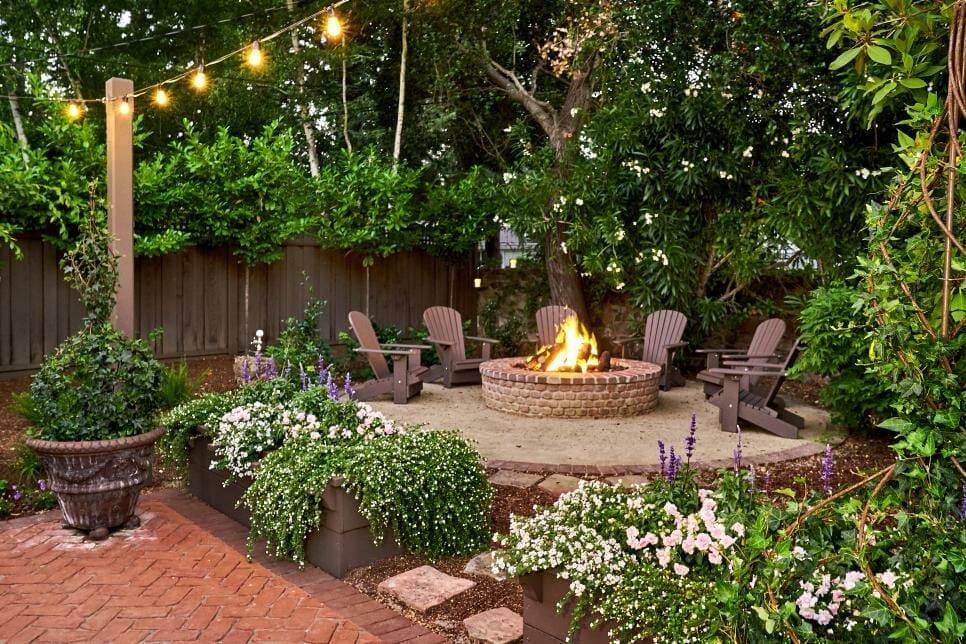 Fall planter ideas are not just for front porches. Homeowners also can replicate any of them in their backyards.
Dark brown wooden planter boxes hold white water hyssops, encore azaleas, and purple salvia plants. Meanwhile, the fire pit and Adirondack chairs ensure this outdoor seating area stays welcoming.
30. Shades of Pink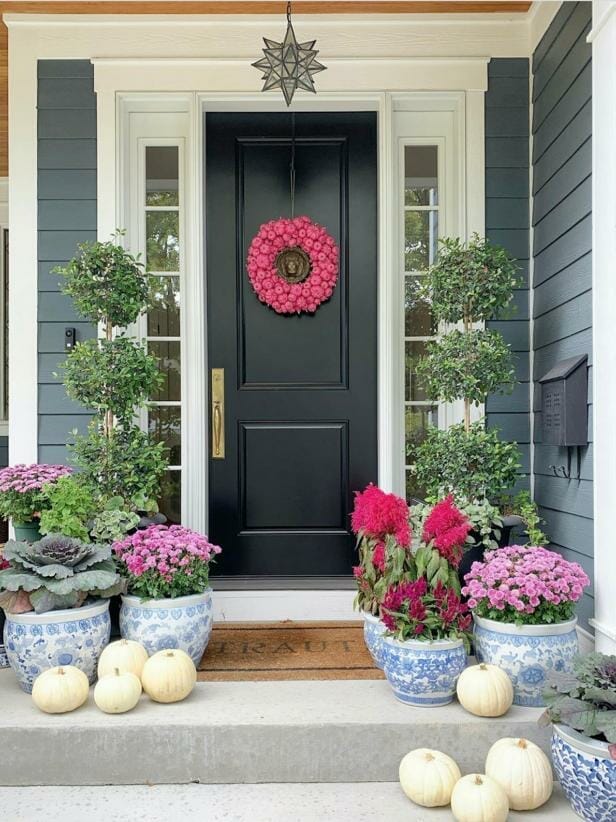 This primarily gray entrance seems attractive because of chinoiserie planters. They epitomize timeless charm while elevating its look.
These antique planters house ornamental kales, fuchsia celosias, and pink chrysanthemums. Furthermore, the pink wreath, cream pumpkins, and topiary plants complete the autumn container garden.
Hopefully, those fall planter ideas unleash your creativity. They prove autumn container gardens and displays can rival their summer counterparts. Moreover, pick containers and plant combos that suit your environment.