Various kinds of concrete front steps design ideas come to modernize your home. You can start from those of the bare, sealed, or polished ones. And you can choose the one you like the most.
The goal is none other than to make your exterior appearance more fashionable and timeless.
Although most concrete front steps design ideas are suitable for modern to contemporary architecture. However, there is nothing wrong with adopting them for a more rural feel.
Regardless of any style that accompanies your home, setting up your walkway with concrete is enough to make it more stunning.
Without wasting too much time, let's peek at the 29 concrete front steps design ideas you deserve.
1 . Bare Concrete Front Steps Design Ideas with Pebble Stone Porch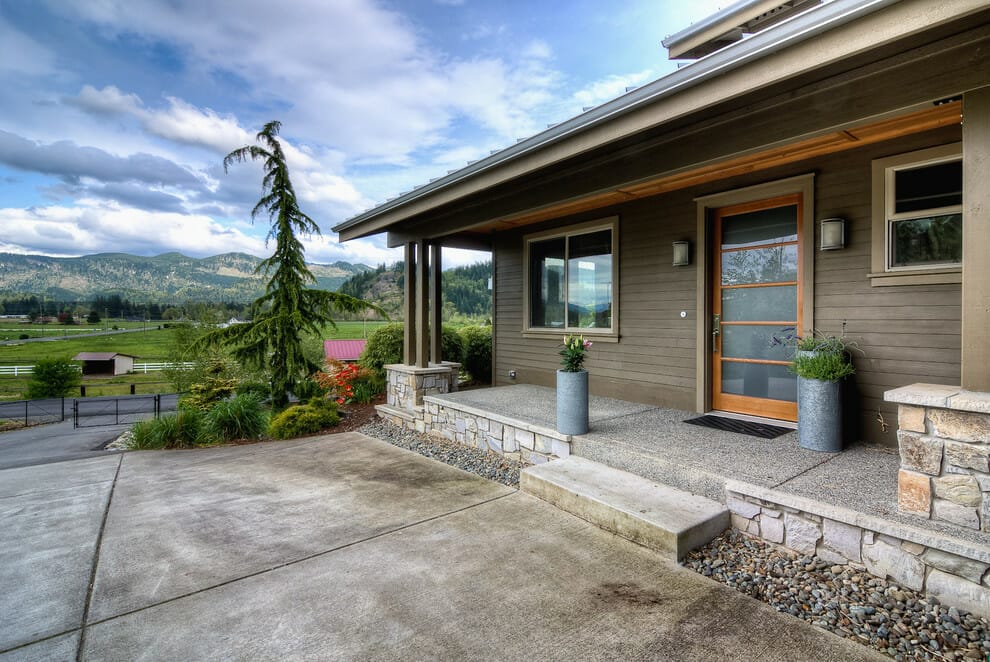 A level and walkway of bare concrete will create a rougher look than the sealed one. However, it will not make your exterior look old-fashioned at all.
Instead, the texture representing the original form of natural stone makes your home more characterful.
Try to match it with a pebble stone patio and stone walls like the picture above. Then everything will look pleasant together.
2. Make It Unique by Adding Flashy Color Elements
White concrete has actually made your home look stand out. Primarily if you apply it to the front steps and the patio flooring.
However, suppose you prefer to bring up an anti-mainstream exterior decor. In that case, you can give some elements in striking colors.
Let's start with neon green for doors and bright red for front seats.
Even better if you also provide a light fixture with a medium bulb in warm white lights.
3. Irregular Concrete Steps Ideas with Yellow Lighting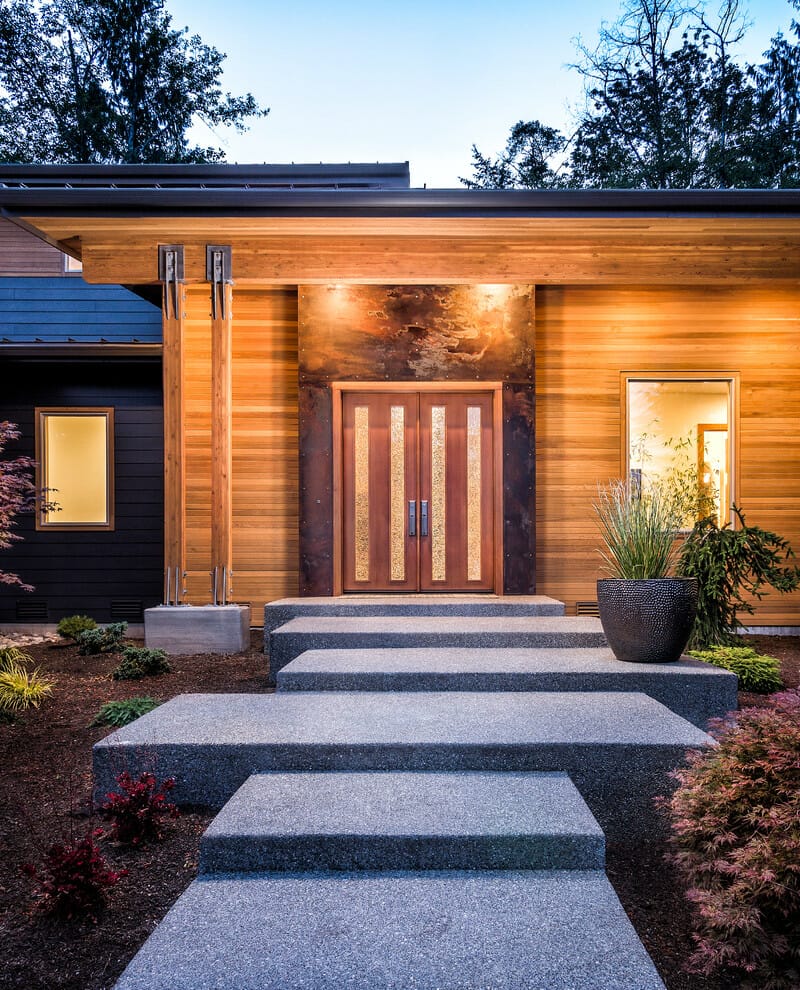 To get the best look of the Japanese-style exterior, at least you have to adopt the concrete front steps design ideas as above.
Combining wood elements with natural stone is the most powerful step to make it flawless.
The warmth radiating from the building with wooden panel walls will be balanced by the robustness and calm tone of the concrete steps.
Last, see how the yellow lights add more drama to the black marble wall around the door. It is all astonishing.
4. Create Three-Way Concrete Steps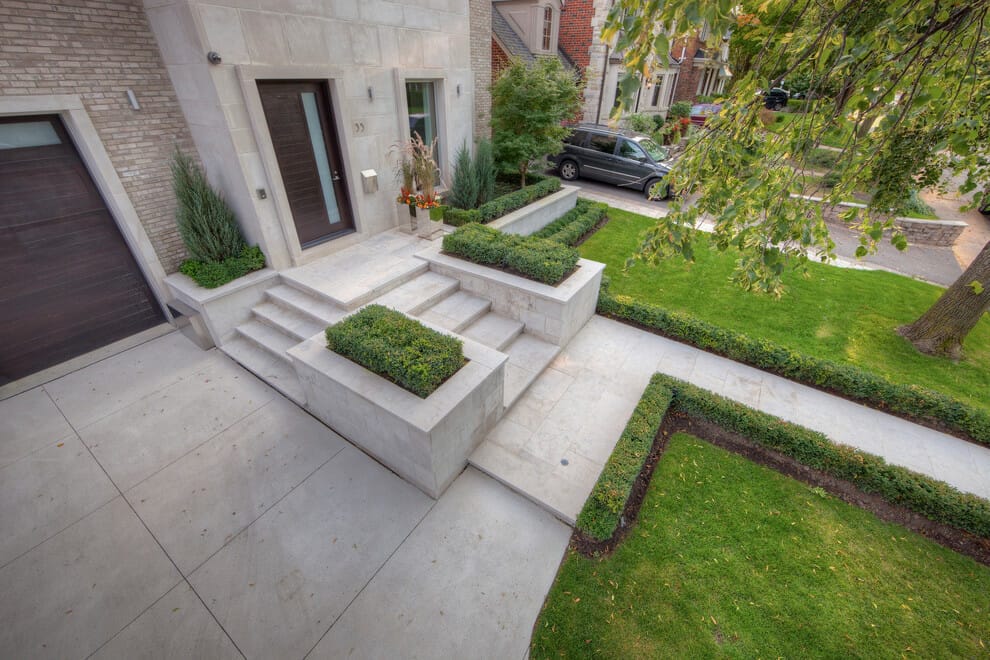 Suppose you have a reasonably grand courtyard. So making your front steps branched into three directions is a brilliant move.
Prioritize using bare or sealed white concrete for a more modest yet ravishing tread.
Next, add planters with similar material and filled with greenery to add a refreshing feel.
By taking the idea of a walkway like this, everyone will feel eager to reach your house anytime.
5. Concrete Front Steps Design Ideas with Step lights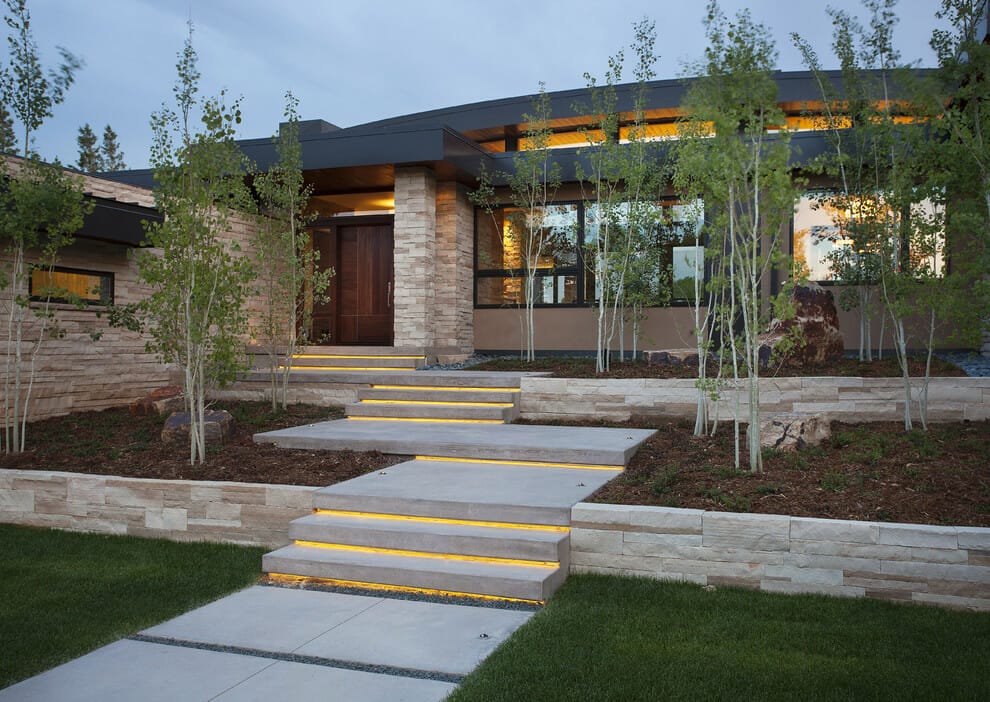 Limestone and concrete are the best pair to transform your home into a Tuscan or Mediterranean-styled one.
However, they are not sufficiently captivating in the absence of adequate illumination.
For that, attach a yellow string light on each edge of your front steps so that everything becomes attractive and majestic.
6. Big Square Concrete Steps in Layering Style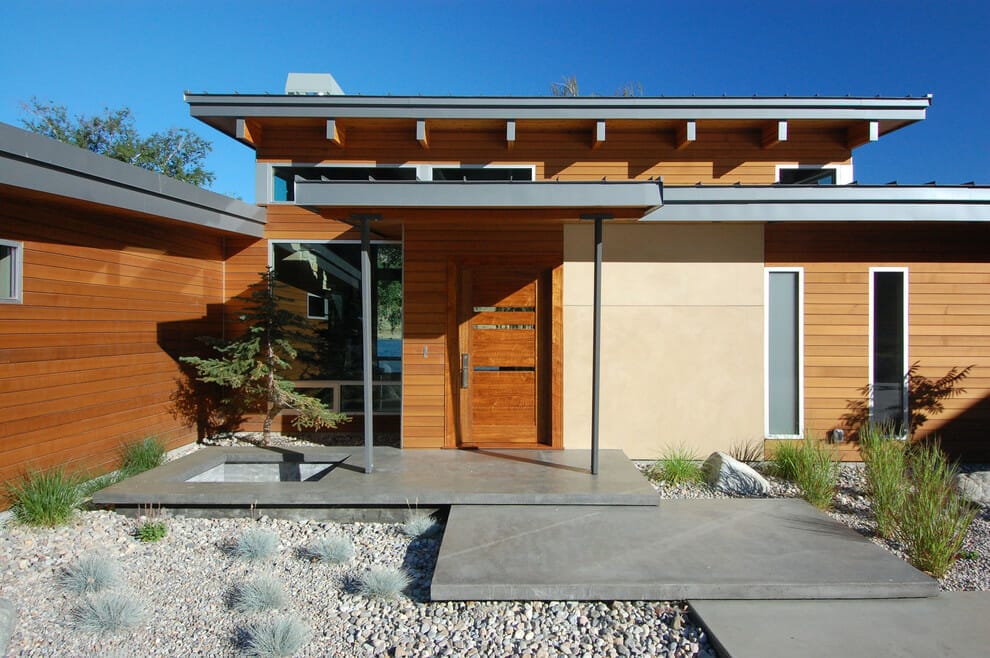 Natural stone, wood, and glassed elements are essential in contemporary-style homes. Without one of them, everything would feel empty.
These three materials generally come with muscular stiffness. Thus, it's good to go with mixed tones and textures to avoid your home looking overwhelming.
Because the building is full of deep-toned wood panels and black glassed structures, it is better to provide sealed concrete front steps in light gray. Making this unit look like it's layered is a choice that never fails you at any stage.
7. Long Front Entrance Steps in The Middle of The Lawn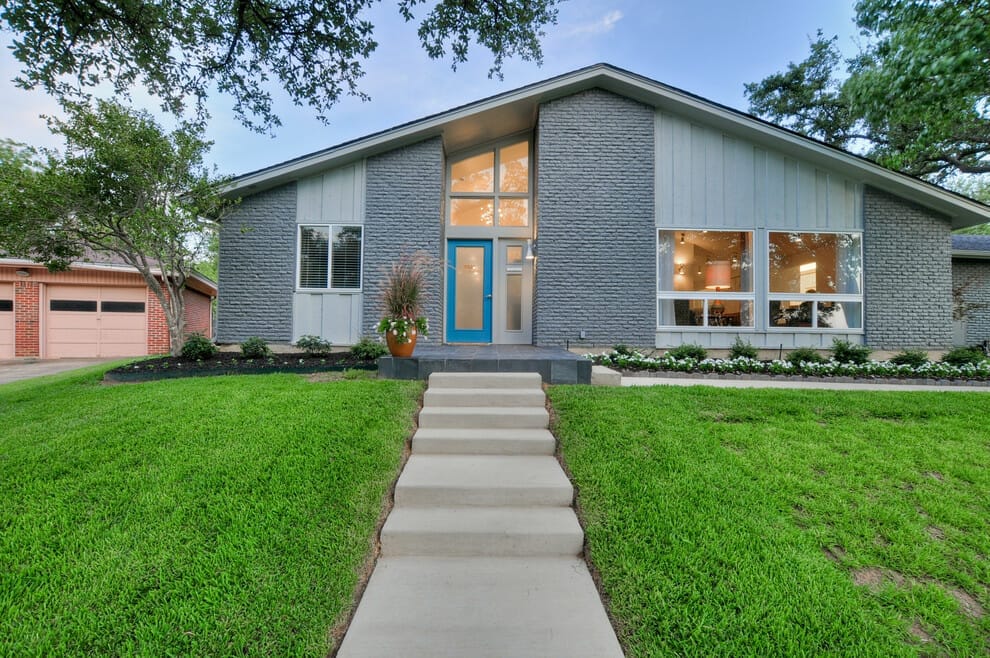 The following concrete front steps design ideas tell you a more straightforward method. That is by making a frank walkway and existing in the middle of the lawn.
Considering a unit with white concrete will make your yard look brighter and cleaner. It is even better if you maintain the lawn regularly so that the grass is always fresh green.
8. Concrete Pathway with Tropical Landscape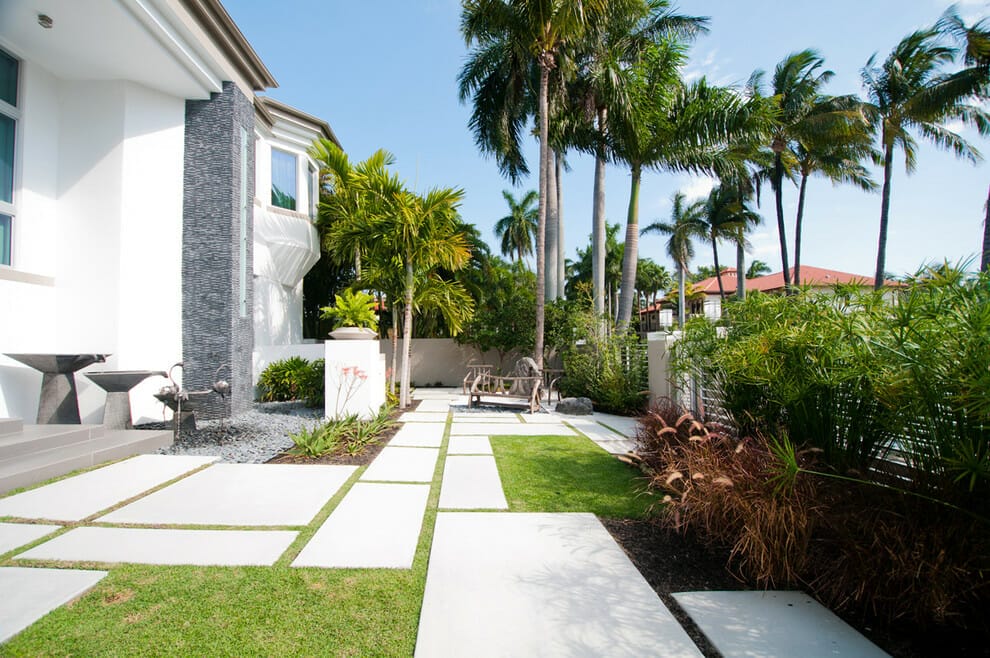 How to make concrete steps look better? Indeed, it is a common query that homeowners often ask. The answer is brief, namely by uniting it with nature.
It means there are many steps you can take. And one of the best ways is to provide a tropical landscape like in the picture above.
The presence of palm trees on the right and left of your concrete pathway makes your home yard seem to be on the coast.
9. Tuscan Style with Concrete Steps, Stone Walls, and Beds of Shrubs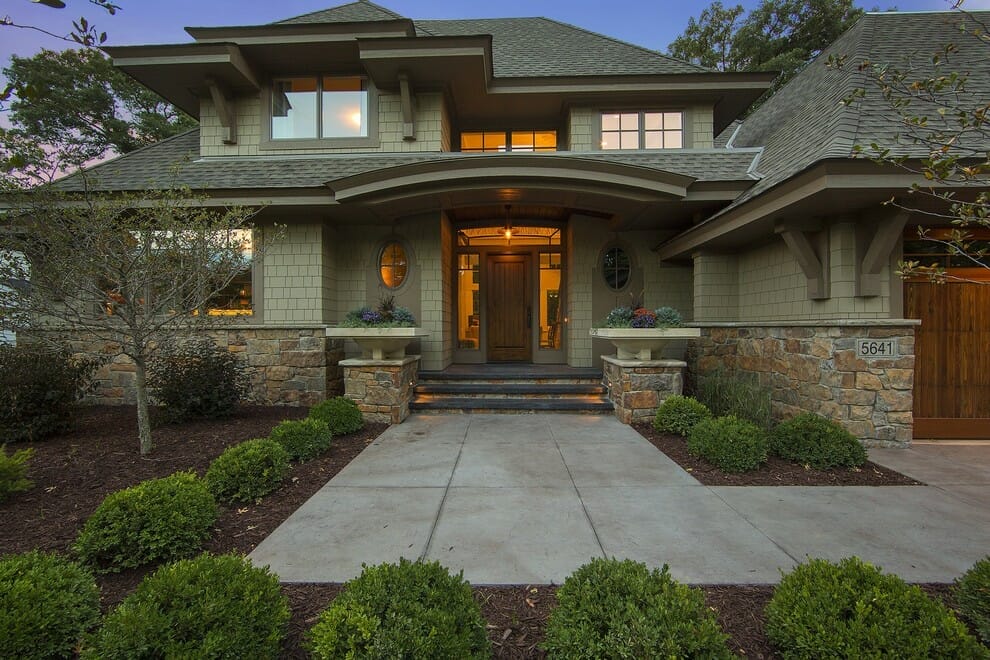 Presenting the concrete front steps design ideas in a Tuscany style is not a complicated thing, indeed. You will achieve everything only by dominating your home with elements made of natural stones. And that's all.
Next, you have to revitalize the view with a block of shrubs set along the walkway. It's okay to also go with beds of flowers to give some pop-up colors to the yard.
10. Great Combination of White Concrete Steps and Wood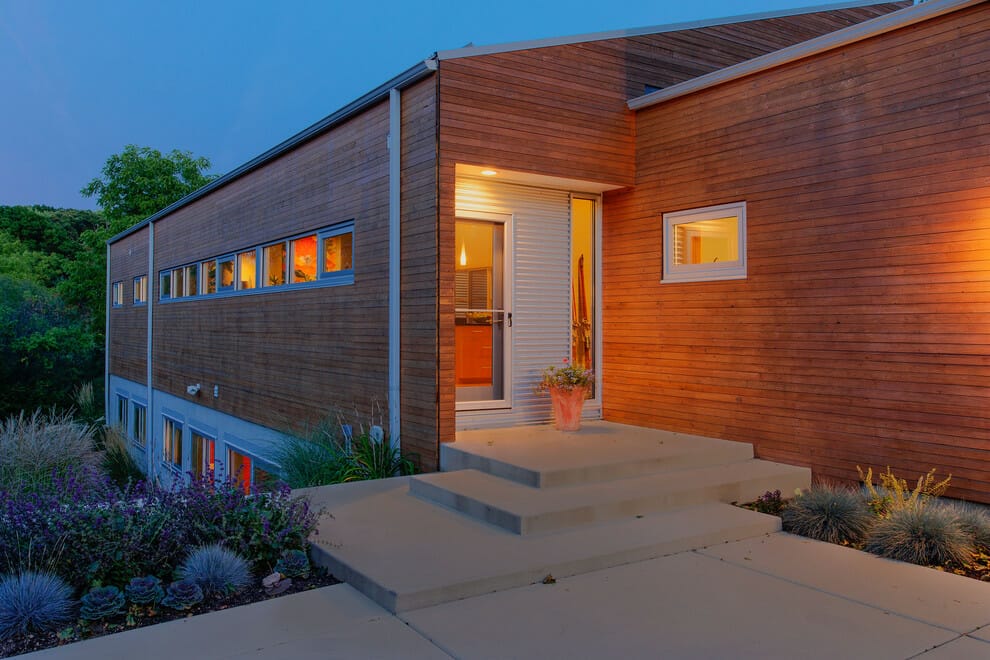 As previously stated, presenting wood and concrete in a single scene is the best. So, feel free to set your pace on this design.
Instead of letting the entire walls reveal the original wood structure, it would be better to paint the area around the door in white hues. That way, this is in line with your pale concrete front steps.
11. Long Bare Concrete Walkway to The Cottage House
It is an overview of fun yet straightforward concrete front steps design ideas. Most walkways will only come with a bare look.
However, please look at this one as it is sealed, making it have a smoother surface.
Additionally, these outdoor steps are furnished with year-round plants on the right and left sides. So you are not too bored to have a long walk to reach home.
12. Concrete Front Steps Design Ideas with Landing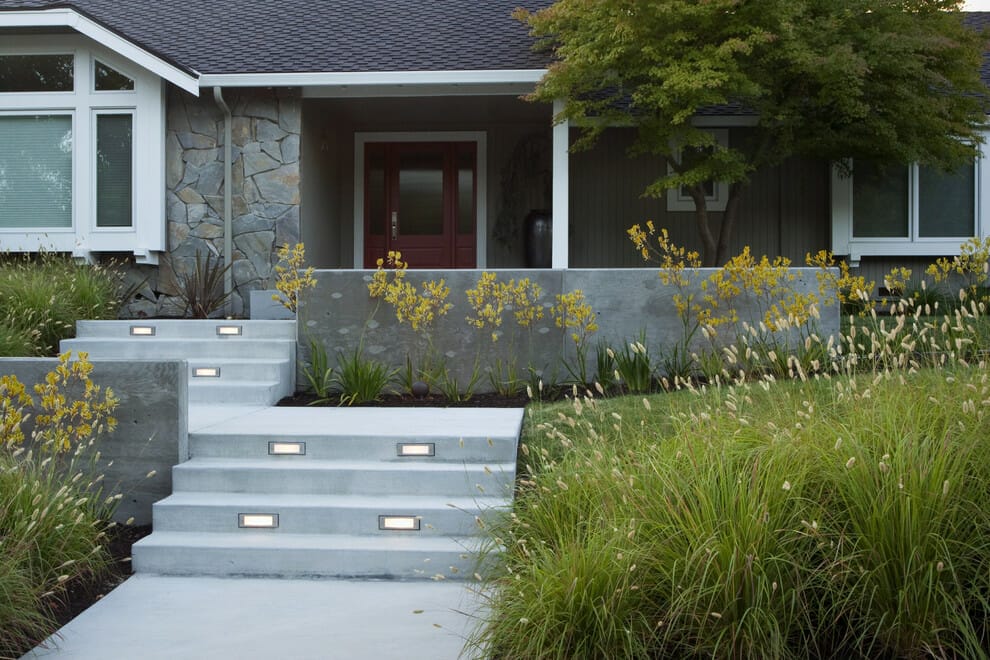 Most concrete steps ideas are applied in only one straight line. So this sometimes feels boring and characterless. For that, going with a design that has a landing between two steps will be preferable.
Besides helping give personality, it also works for you. You can use this spot to walk around and look at the surrounding scenery or use it to do some stretching every morning.
13. Contemporary Style with Outdoor Sealed Concrete and Full-Length Glass Door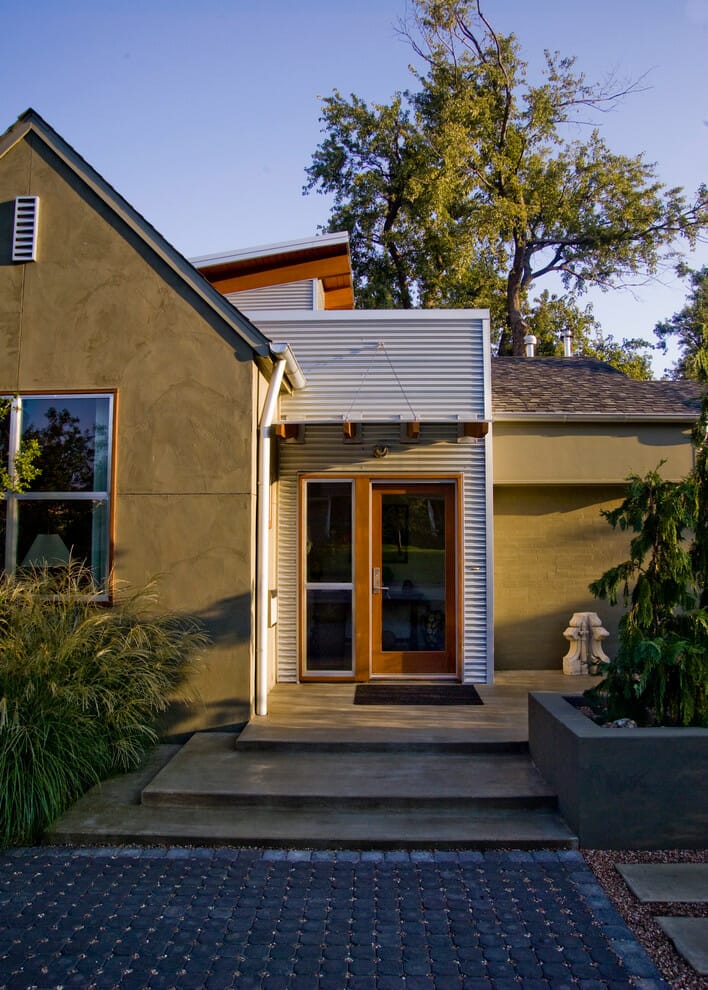 Sometimes what makes your exterior design look unique is not the material of the front steps or the patio. Other than that, most concrete flooring is here to support all the decorations that exist in the building itself.
Like the picture above, you will be first impressed at how the entrance of a house is shown. With white shiplap and full-length glass doors, everything looks stunning and inviting.
And all of this design would not be easy to spotlight without a dark concrete patio and front step underneath.
14. Cozy Vibes with Shiplap, Brick Texture, and Wreath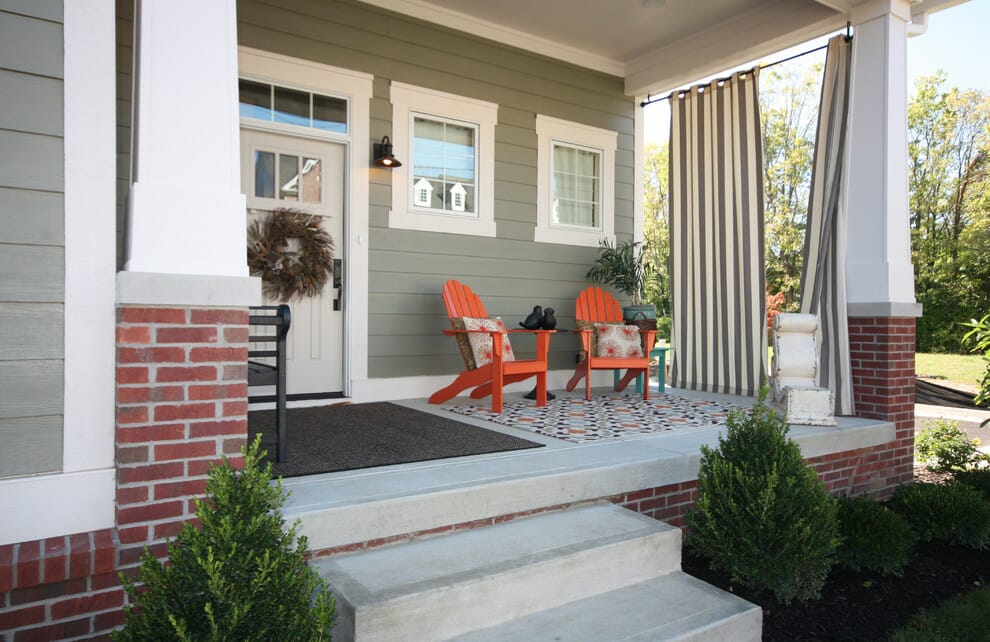 It is how you should style the concrete front steps of your home.
Namely by providing pattern tiles on the patio flooring and wreath hanging on the white door.
A pair of neon orange-flush chairs adds drama to your pale concrete front steps design ideas.
15. Polished Concrete Steps and Patio for More Shining Look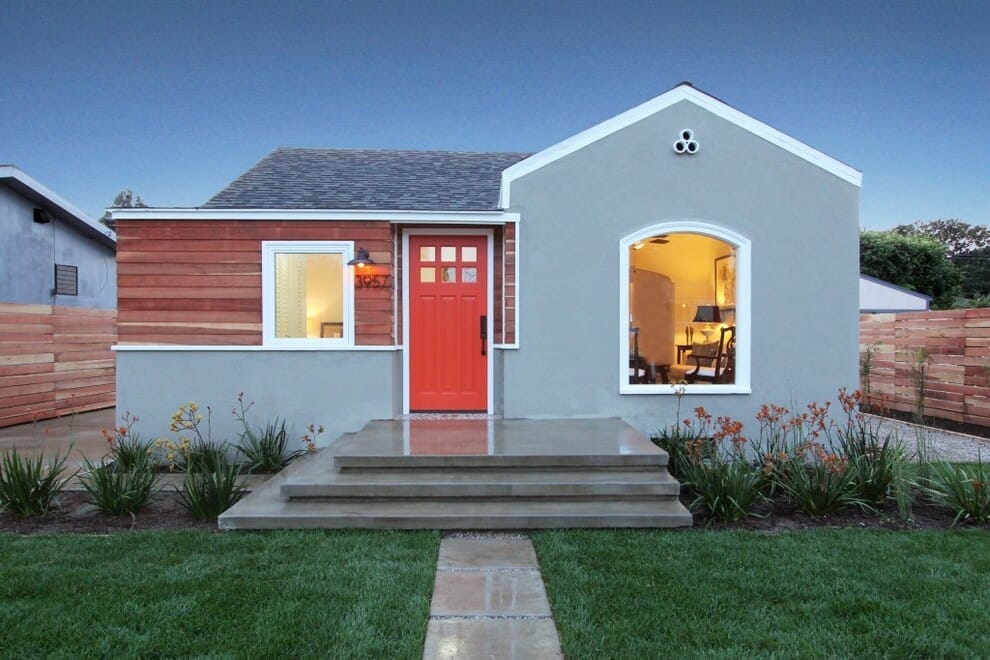 The bare appearance of concrete flooring is not a big deal. Instead, it will give texture to your outdoor view no matter what.
However, if you are not that typical homeowner who loves that design, choosing polished concrete steps is better.
Unlike the sealed one, which will return to the original concrete surface over time, the polished one has a shinier surface and is durable.
16. Floating Concrete Outdoor Steps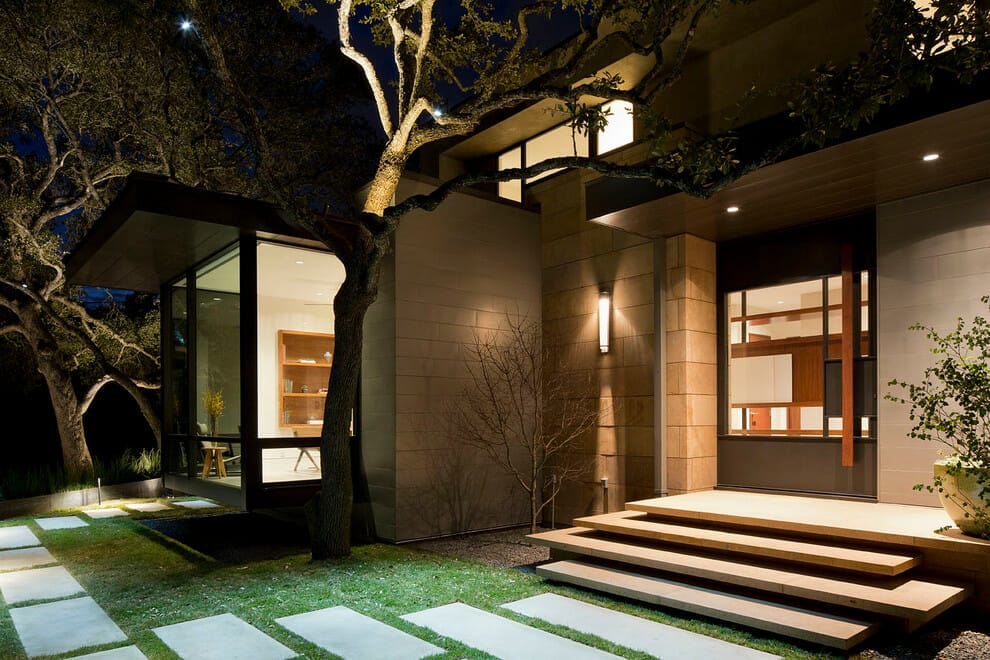 Concrete front steps design ideas with a floating finish will make your outdoor space appear more elegant and understated.
Moreover, it is even better to install accent lighting that focuses right over the front steps area. Indeed, it will make this spot an attractive focal point and stand out more than others.
To achieve this scene, make sure to give the surrounding areas less illumination and only provide the brightest flush to the concrete steps.
17. Winding Walkway with Greenery on Both Sides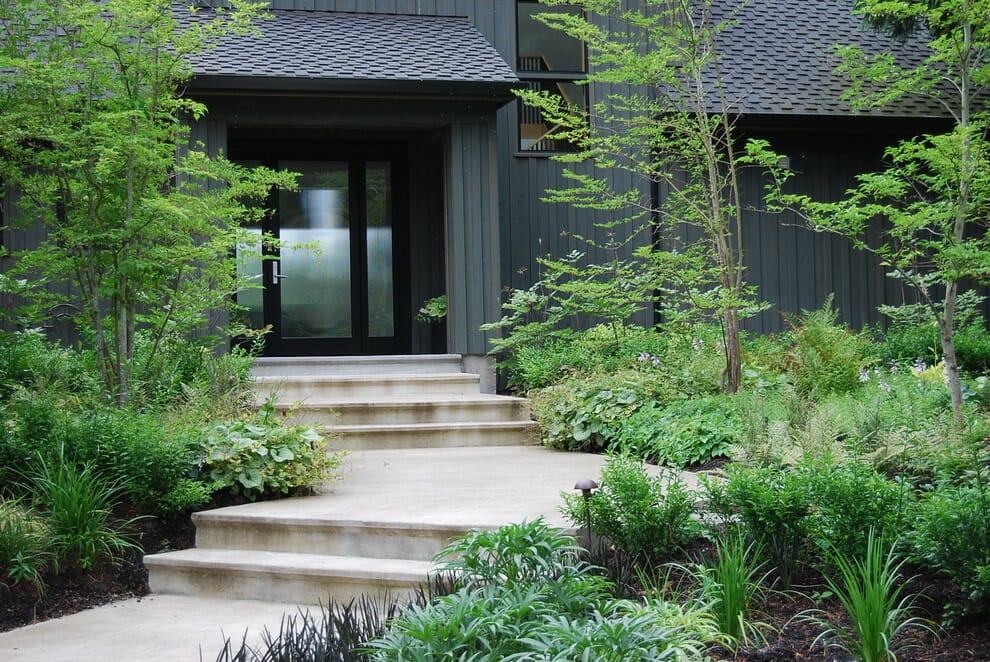 There are many ways to highlight your concrete front steps. And suppose you have a reasonably large area. Giving a corkscrew design to this walkway is undoubtedly more fun.
Especially if it is decorated with natural beauty on its right and left. As if you are walking in the middle of a tropical rain forest but on a smoother road surface. Of course, it's refreshing!
18. Identical Material for Patio, Steps, and Pathway Blocks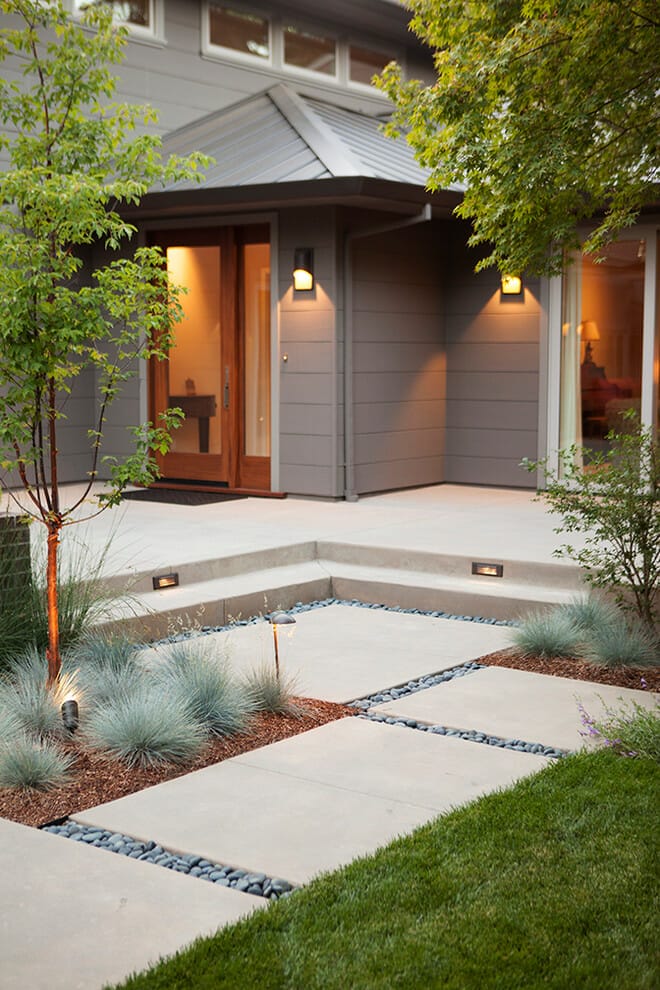 There is nothing more enjoyable than providing identical materials to the concrete front steps design ideas that you will adopt. Whether it's for the walkway, levels, and patio flooring.
Think carefully about this strategy because it will be difficult for you to replace it once all your concrete pavers are installed.
Indeed, there is nothing wrong with presenting a different look on your exterior elements. However, if the modest style is your ultimate goal, making it uniform is the way to go.
19. Light Brown Concrete Steps with Cacti on The Side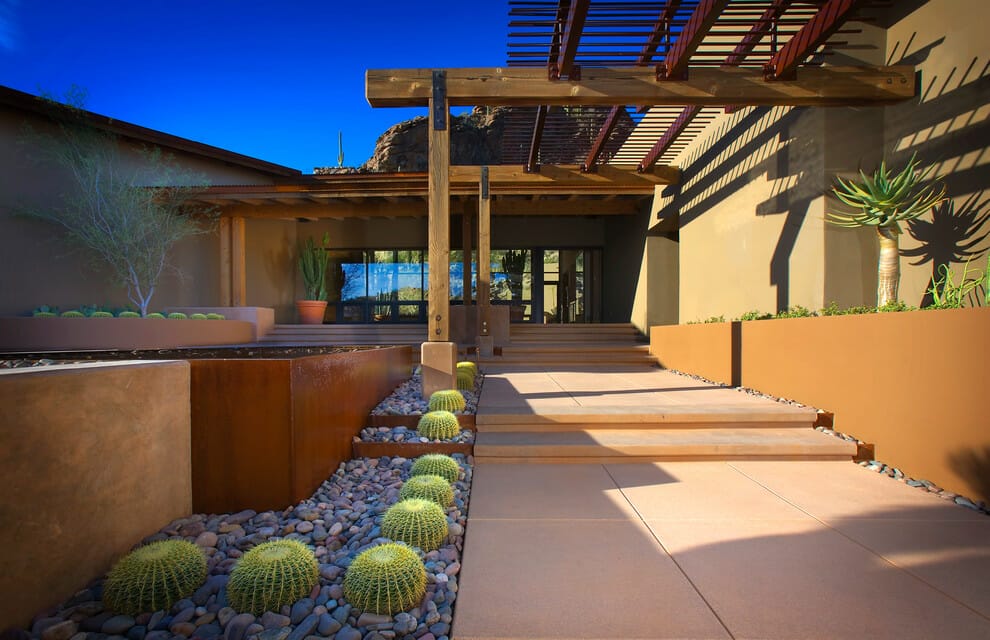 In addition to shrubs and annual outdoor plants, you can also beautify the edges of your concrete front steps with cactuses. Although they are pretty small, they have many unique and exciting shapes.
Make sure you go with the light brown concrete walkway so that your outdoor view looks more kaleidoscopic.
20. Incorporate Gray Concrete Blocks with White Pebble Stone Pavers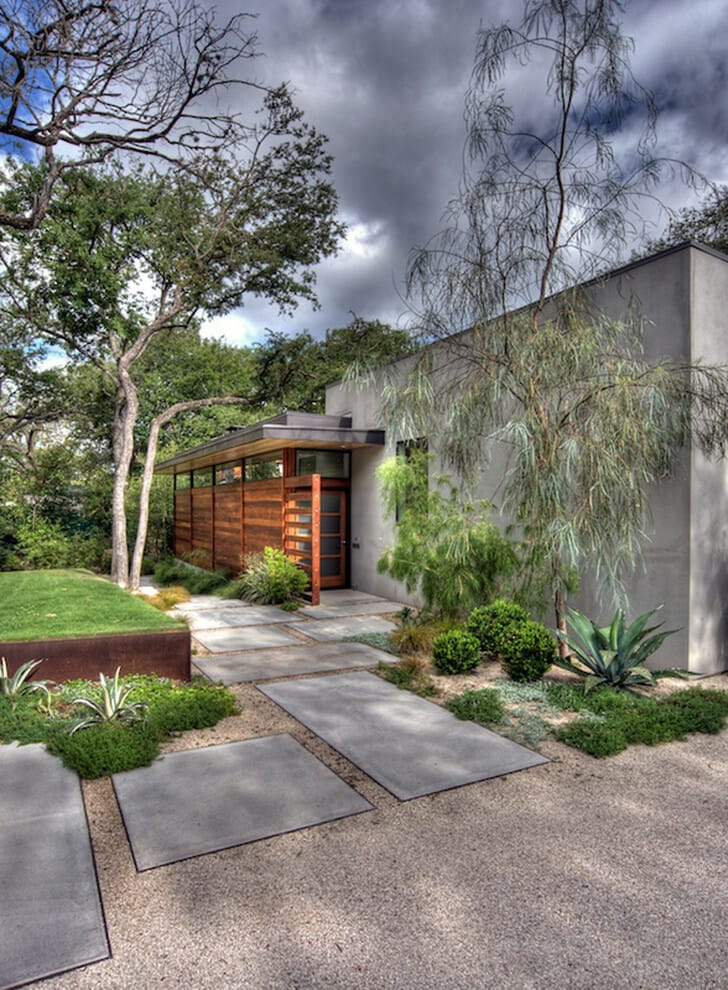 Combining two types of natural stones in one landscape is an intelligent strategy in applying concrete front steps design ideas.
In addition to providing texture, combining pebble stone pavers with gray concrete pathways will make your walkway more understated.
Better to arrange concrete blocks irregularly for an extravagant finish.
21. Zig-Zag Concrete Walkway with Giant Pitchers of Flowers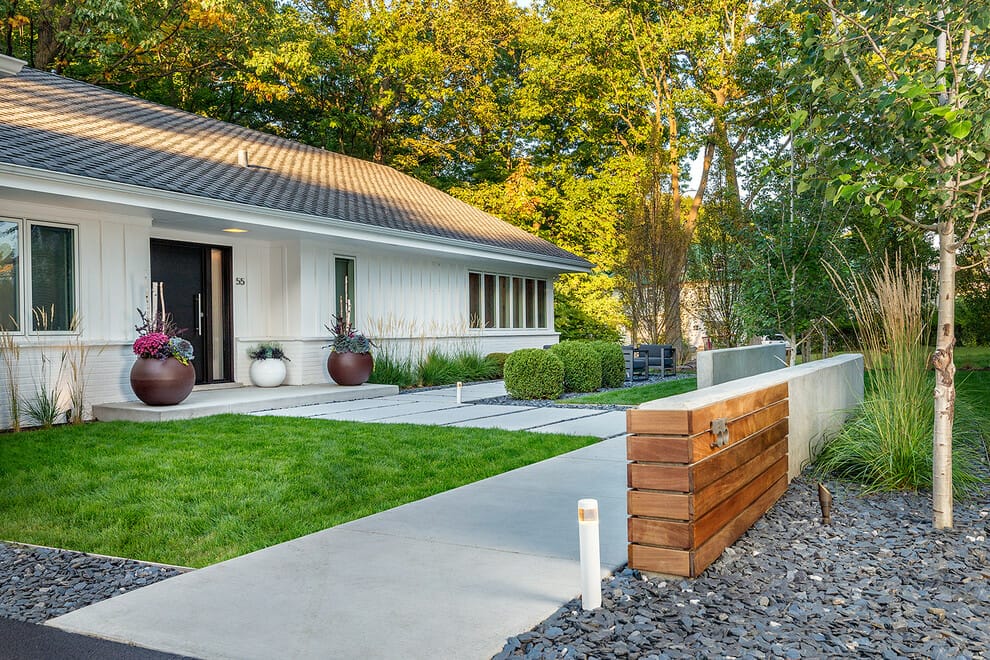 Astonish all visitors with the zigzag arrangement of the concrete walkway. And secure a few spots in front of the entrance for you to display the giant pitchers as above.
With or without flowers, this object will give a friendly welcoming that spoils everyone's eyes.
22. Polished Concrete Front Steps Design Ideas with Lavenders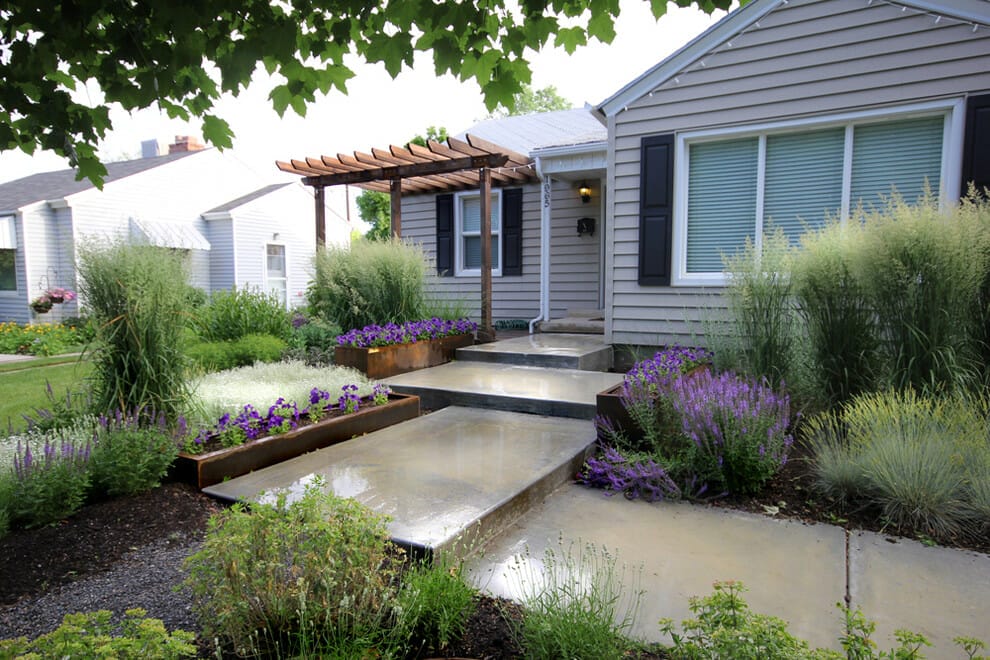 Presenting polished concrete front steps is not enough to wow everyone with your outdoor setup. Bring also beds of lavenders to give a pop-up color and a calming aroma while walking along the walkway.
It will provide an awe-inspiring treat for many people without being forced.
23. White Wide Blocks Between Lawn and Concrete Driveway
If you pay attention, the exterior arrangement in the picture above is very artistic and balanced at the same time.
Placing white concrete steps with colorful hues right between the lawn and driveway is a clever move, and thankfully, it's adorable. It gives an impressive final result even without any other accompanying decorative elements.
24. White Concrete Steps, Lattice Shade, and Planters Fence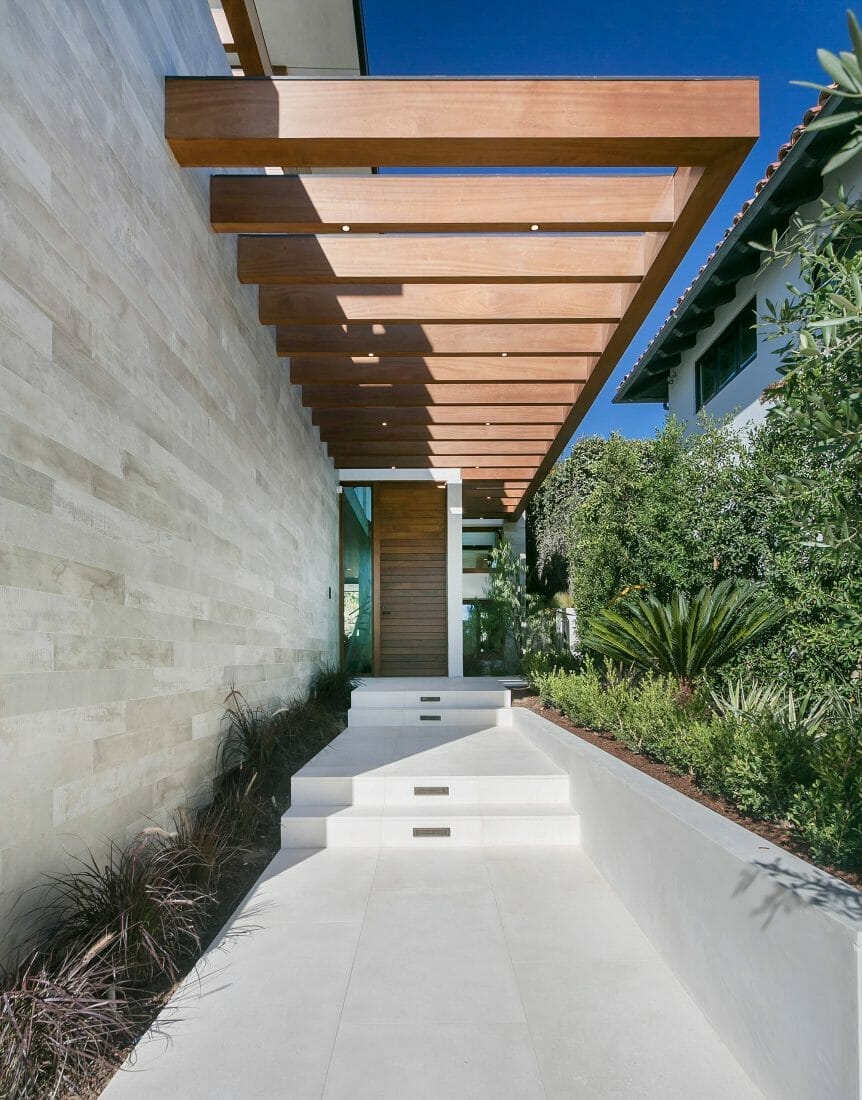 Here is another method recommended in concrete front steps design ideas to beautify your walkway. It's not complicated and just about planting together some medium-height greenery on the sides of your front steps to give it some privacy.
Also, suppose you decide to go with white concrete steps. In that case, adding a wooden lattice shade will make things even more enjoyable. And when the sun is high, it casts an aesthetic silhouette in front of the house.
25. Cheerful Yellow among The Blacks and Whites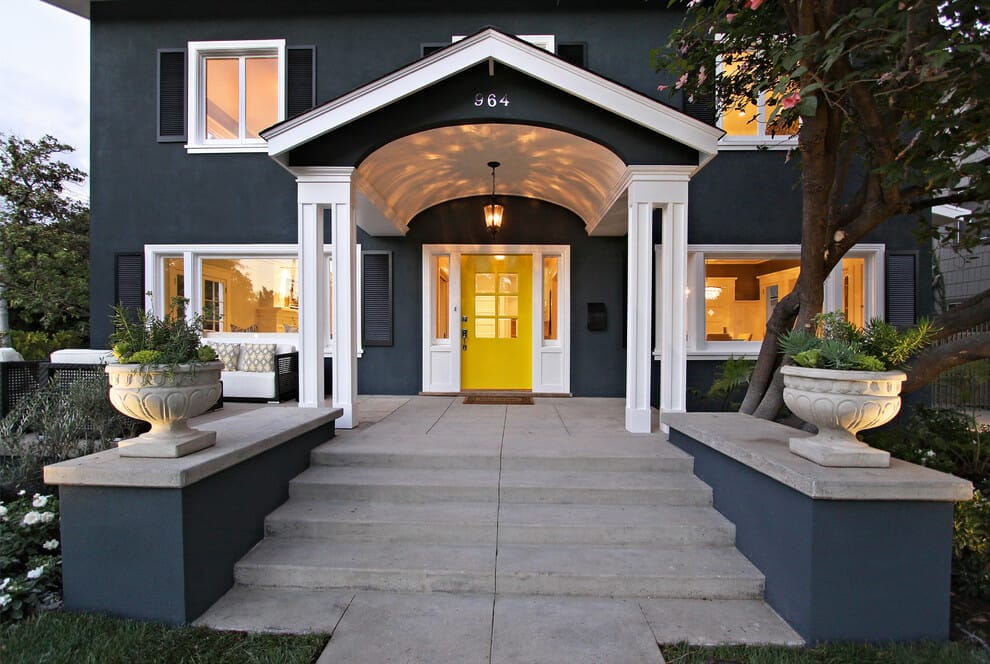 Yellow is the most suitable color to set on your entrance. It is because this tone symbolizes joy that is perfect for welcoming anyone who comes to your home.
And because the door is already quite eye-catching, you only need to make your front step made of concrete stones in cream to balance the look.
26. Spacious Concrete Driveway and Huge Planters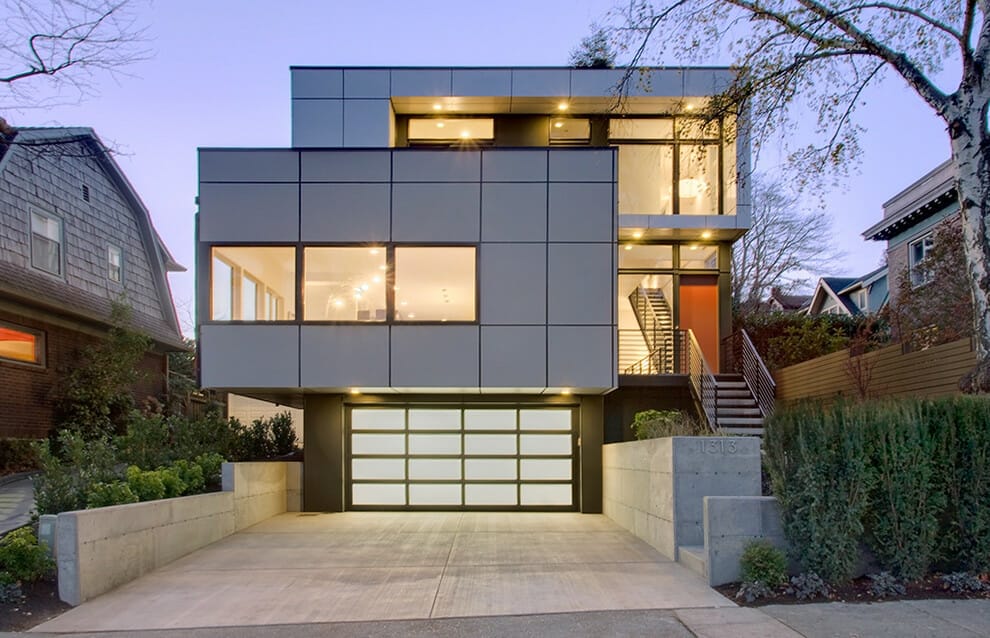 Not only applies to walkways, but the concrete front steps design ideas in this article are also suitable for the driveways.
The smooth surface of sealed concrete will make the front area of your garage look more spacious, clean, and timeless at the same time. Don't forget to set up the planters in similar materials to give an outstanding personality.
27. Green Chair and Pot of Flowers to Refresh the Look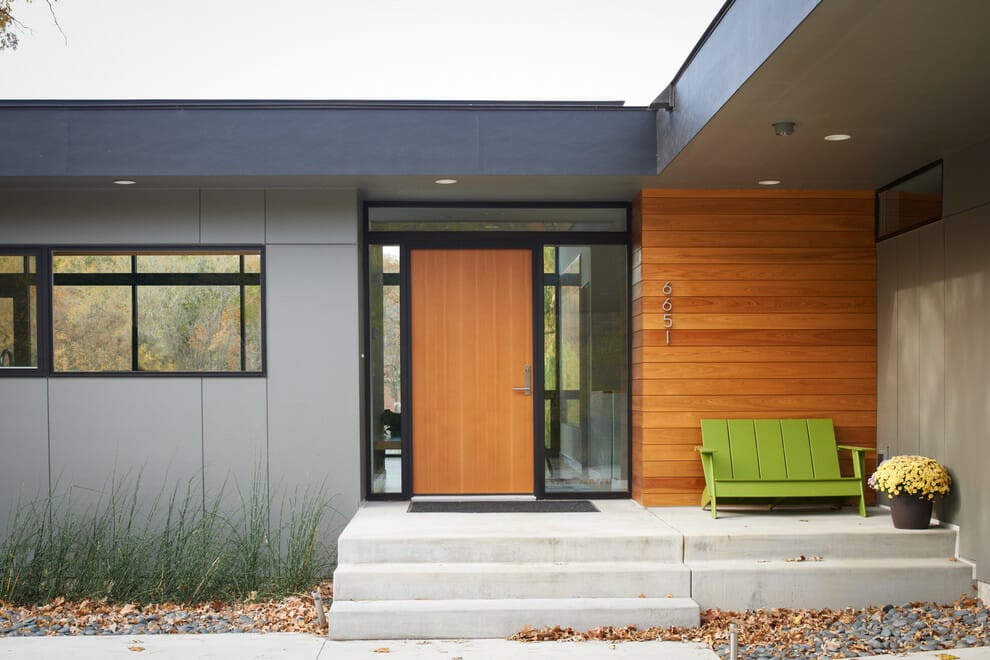 Concrete steps and patio will look dull and prosaic in a small yard. Therefore, try to put a seat with striking color and flowers to make it more stylish.
White concrete will be suitable for any ornamental object, so don't limit your activities in decorating.
28. Concrete from The Wall to Floor and Golden Sculpture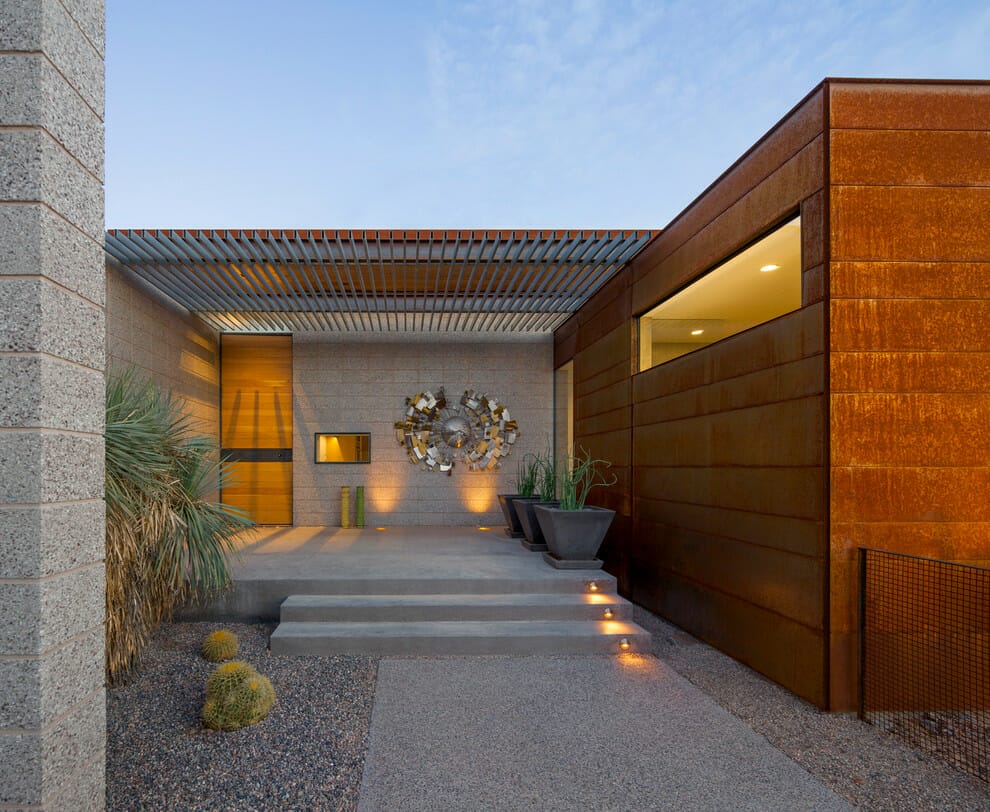 See how unique this exterior setup is. And of course, these kinds of concrete front steps design ideas will suit a thick contemporary style house.
Some elements with a neat arrangement can elevate the concrete pathway without hesitation.
For example, the golden sculptures hanging on the concrete wall and the walkway with a distinctive pebble accent, everything seems too good to be true.
29. Twisted Concrete Front Steps Design Ideas with Stone House Number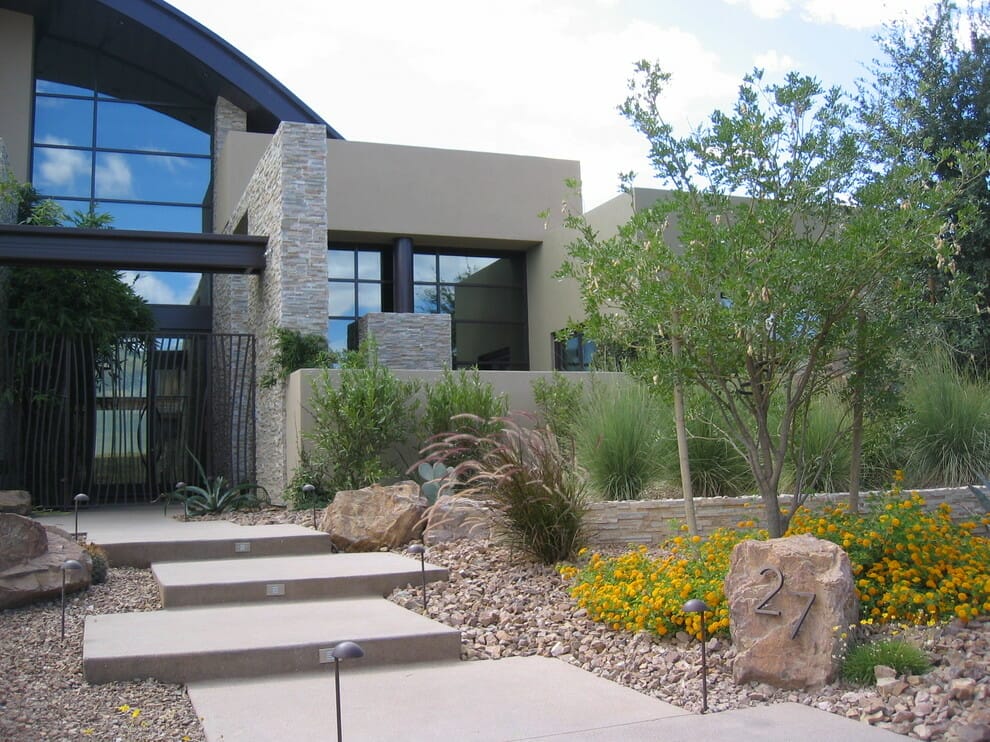 Twisting front steps is the easiest way to make your walkway setup more interesting. And, don't forget the unique house number set on a boulder to make it anti-mainstream.
Then place that object near the last step to create a characterful finish.
Last consideration, the most important thing you need to pay attention to besides interior design is how your exterior looks.
It happens because this area is the first to welcome guests. So it is essential to make it as attractive and inviting as possible.
That's why these concrete front steps design ideas appeared, so you don't waste space that should be stunning. And, good luck on choosing one or combining several designs to create the view that best reflects you.