Details do matter, but some people think the opposite. The right framing creates a big difference between blah and boast-worthy windows. Read on to dive into modern window trim ideas.
Hence, they will help you make your interior more exquisite and stylish.
The window trim is one of the remarkable finishing touches of the classic home. However, this post will cover a slew of modern window trims that suit every window type and dwelling.
Additionally, there are abundant options for interior and exterior window trims. Below are 30 marvelous examples of modern window trims that vary in material and color.
1. Modern Trim Around Windows and Doors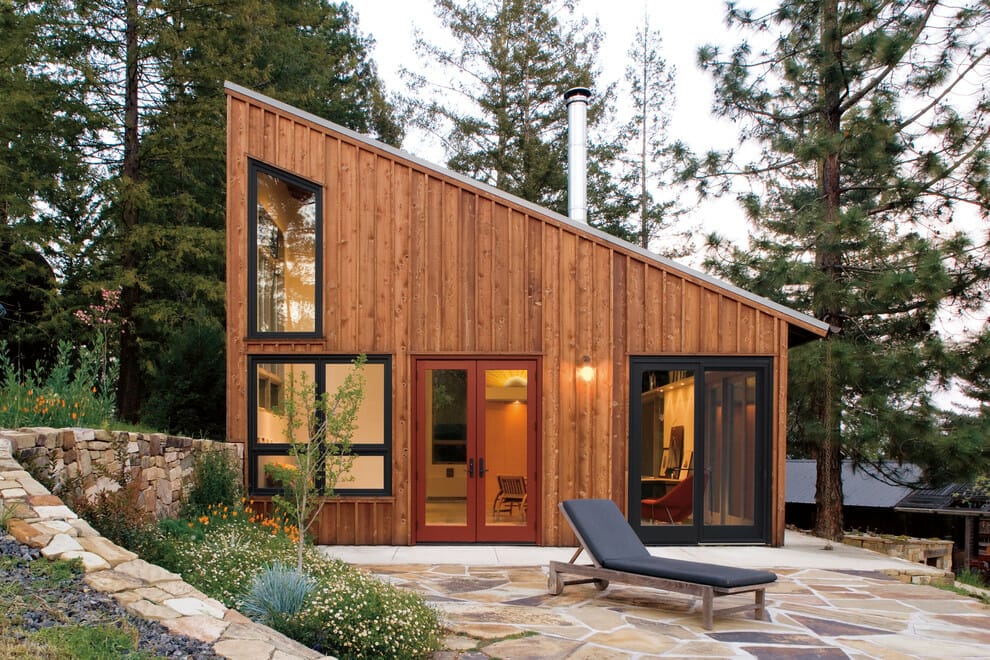 Here, the house façade is equal parts welcoming and aesthetically pleasing. The glass front doors feature a reddish-brown trim to match the cedar wood siding and woodland virtually.
The exterior windows boast different shapes, but they include the same black-painted trim. Black trims generate an edgy look.
They highlight the sharp angles of the outdoor windows, too.
Meanwhile, homeowners used contrasting colors for their door and window trims. Aside from producing a striking effect, they keep the house façade cohesive.
2. Modern Window Trim Ideas with Natural Wood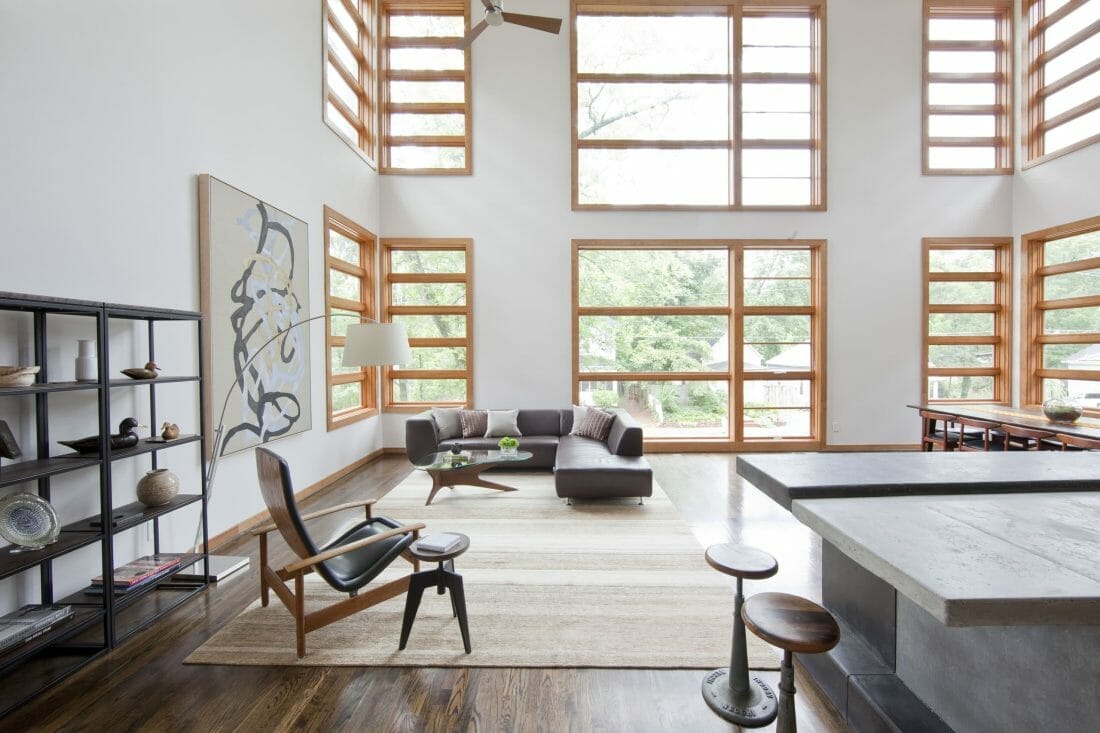 Speaking of interior window trim styles, consider installing this modern window trim. Instead of painting the wooden trims, leaving them bare is a good call.
Furthermore, the natural wood-colored window trim harmonizes with bright white walls for sure.
In this expansive room, the white walls accentuate the honey wood interior window trim. Thanks to the wooden trim, the space does not look cold.
The natural wood window trim leads the eye to the metal shelving unit and oversized art. Meanwhile, low-slung furnishings make the room feel complete.
3. Black Trim Ideas for Interior Windows
Need modern window trim ideas for tall glass windows? Ceiling-to-floor windows and doors increase the amount of daylight.
Since they are big, they make the trendy sitting area virtually larger and brighter.
The black window trim provides a high-contrast appearance. Moreover, it is an awesome choice for any minimalist or modern living space.
Due to the black window trim, the room obtains a sense of drama.
Furthermore, modern wooden pillars and neutral furnishings allow the black trim to shine without appearing too harsh.
4. Modern Window Trim Ideas for Mountain Homes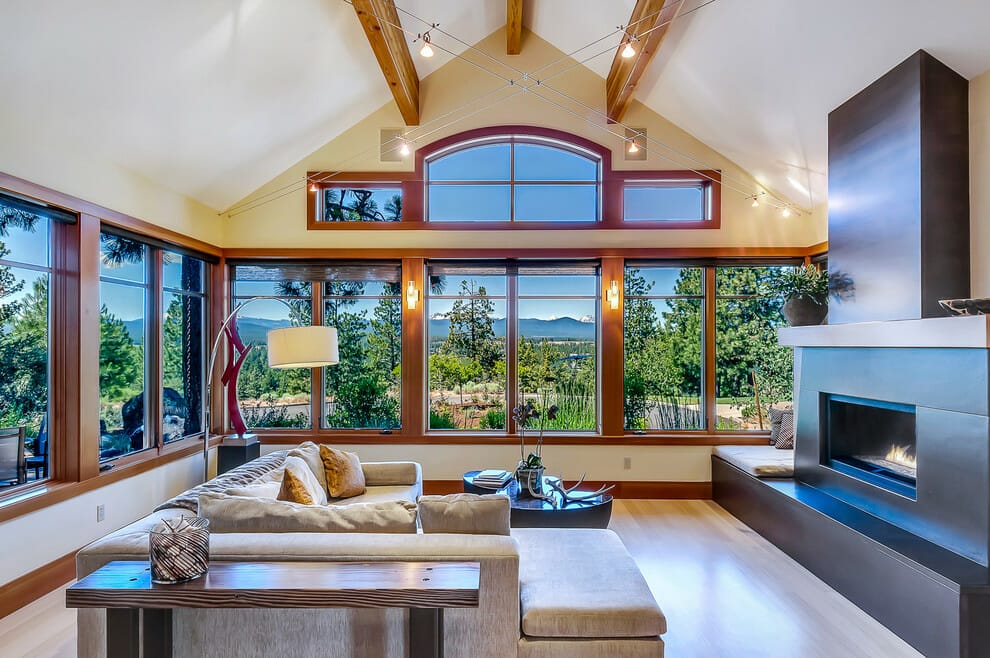 Speaking of mountain homes, installing wooden window trim is a safe bet. Here, the stained wood interior window trim frames the mountainside views.
The wooden trims spice up the upper and lower windows. Thus, they embody warmth while blending with the molding, two-tone walls, and beams nicely.
Additionally, homeowners installed contemporary wall sconces on the wooden window trim. As you see, they mingle with the industrial track lighting and arc floor lamp.
5. Window Trim Ideas for Reading Nooks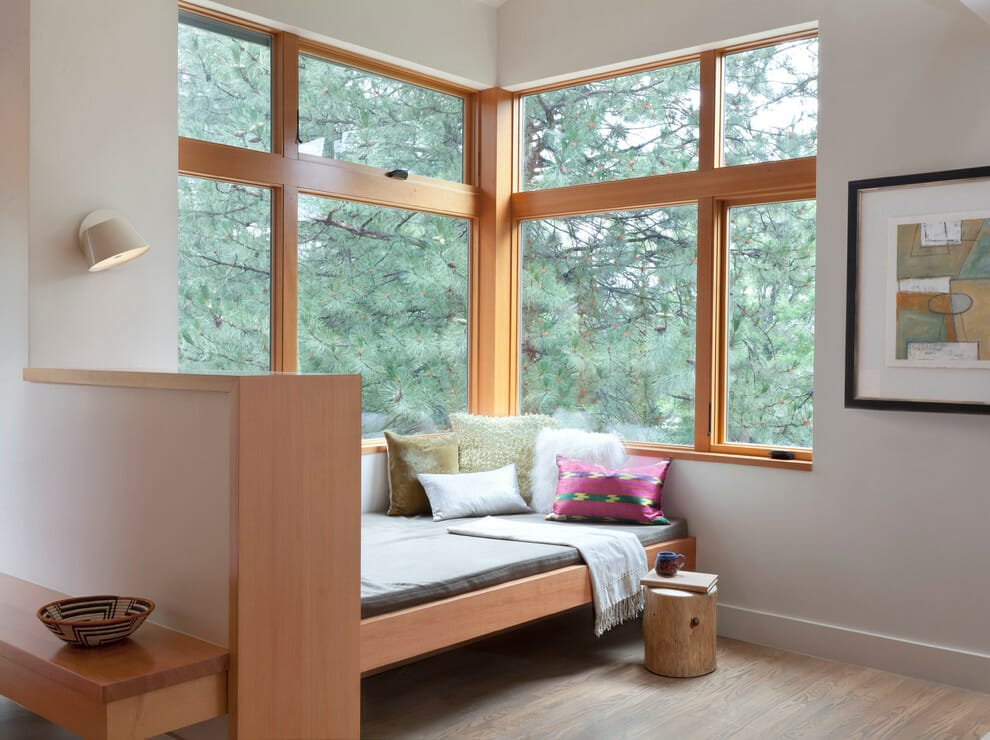 If you are into modern window trim ideas, install this natural wood trim. The light wood-colored window trim, stool, and built-in furniture let the reading nook feel incredibly cozy.
Homeowners paired the wooden window trim with white walls. Here, the trendy artwork and wall lamp keep the walls' starkness away.
This reading nook receives plenty of sunlight. Aside from offering gorgeous views, it is also an ideal spot to reflect, take a nap, and meditate.
Besides, pillows in varying sizes generate visual interest.
6. Modern Aluminum Window Trim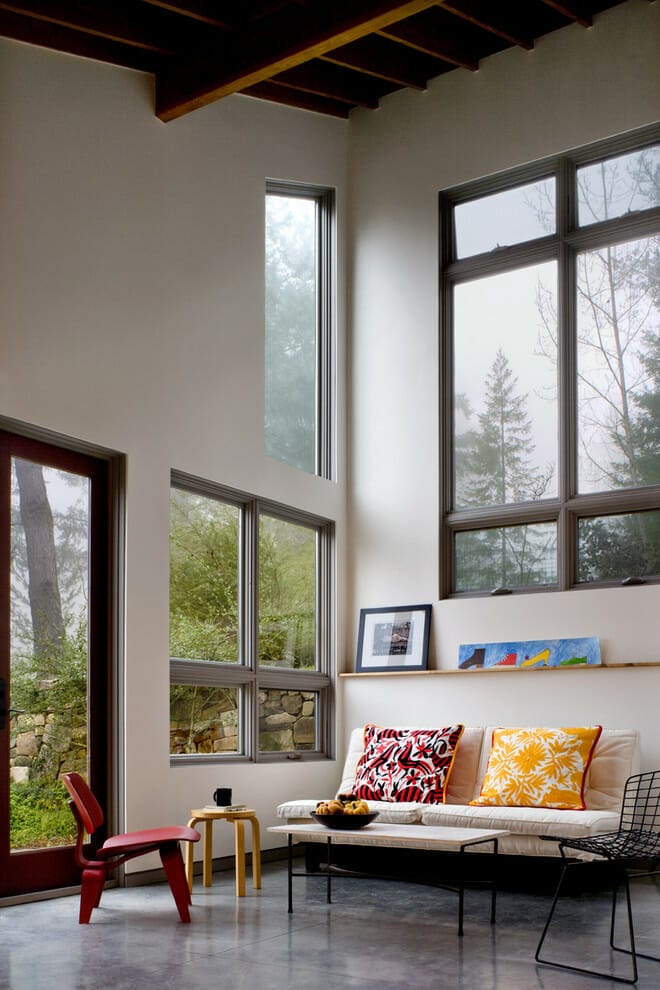 People who admire simple window trim ideas will love aluminum trim for windows.
The aluminum interior window trim does not only add exceptional aesthetics but also offers good value to homeowners.
The aluminum window trims bring an industrial flair to this room that belongs to the Russian River Studio.
Also, they have different gray paint colors for a dynamic atmosphere. Meanwhile, warm hues and rich wood door frames counteract them excellently.
7. Modern Window Trim Ideas for Front Porches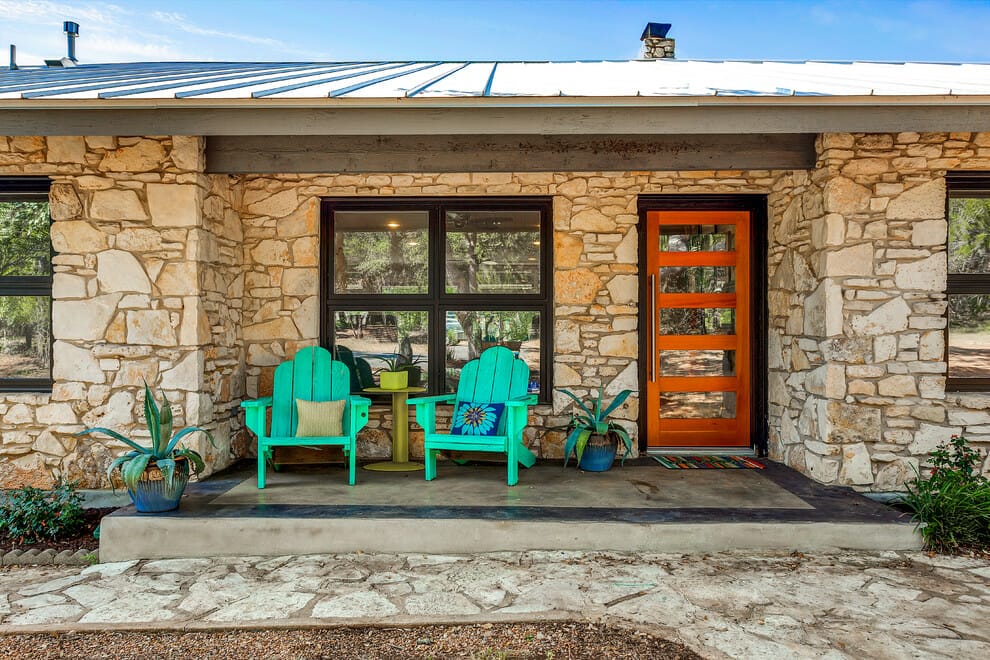 If modern window trim ideas appeal to you, take cues from this modern rustic front porch. The mirrored door and windows employ black-painted trims.
Aside from introducing a sharp contrast, they also draw attention to the wooden exterior door.
The lime green table and turquoise Adirondack chairs lend the front porch an iconic look.
Moreover, the colorful rug, snake plants, mismatched pillows, and blue planters complement them. Lastly, the concrete porch flooring tones down brisk colors.
8. Minimalist Modern Window Trim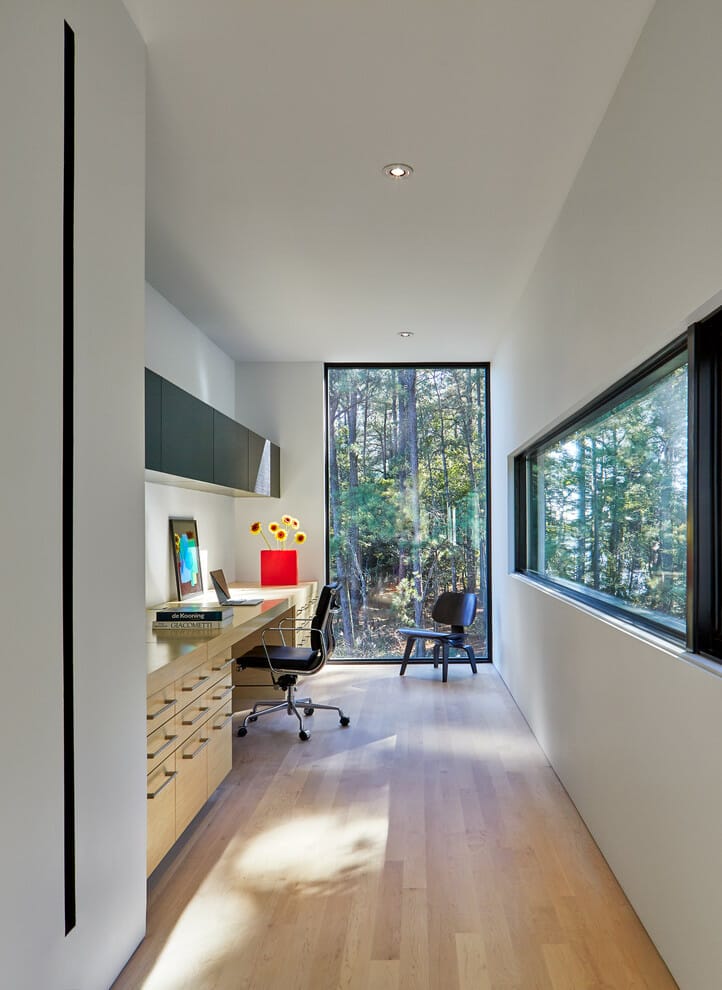 Many people are into white and black color palettes for a reason. They suit minimalist homes while carving a clean yet contrasting look.
The black steel door and window trim match the black furniture, whereas the red vase and fake blooms make them less cold.
This home office belongs to a creek house. Since the space employs light wood flooring and a storage desk, it becomes inviting.
9. Gray Window Trim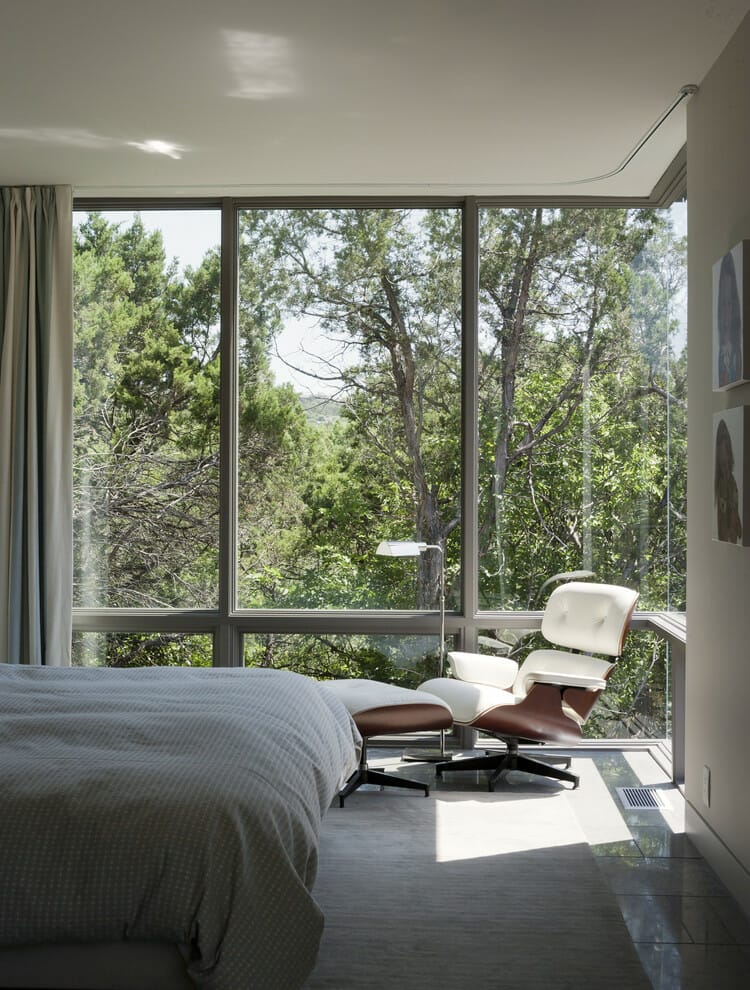 This is another room with tall windows. The homeowners did not paint the window trim white or black they used gray paint instead.
Likewise, the gray window trim produces a distinctive, modern appeal. Moreover, the gray trim's contrast against the white ceiling is terrific.
Here, the gray interior window trim exactly matches gray elements such as the rug, bedding, high-gloss floor tiles, and curtains.
10. Modern Kitchen Window Trim Ideas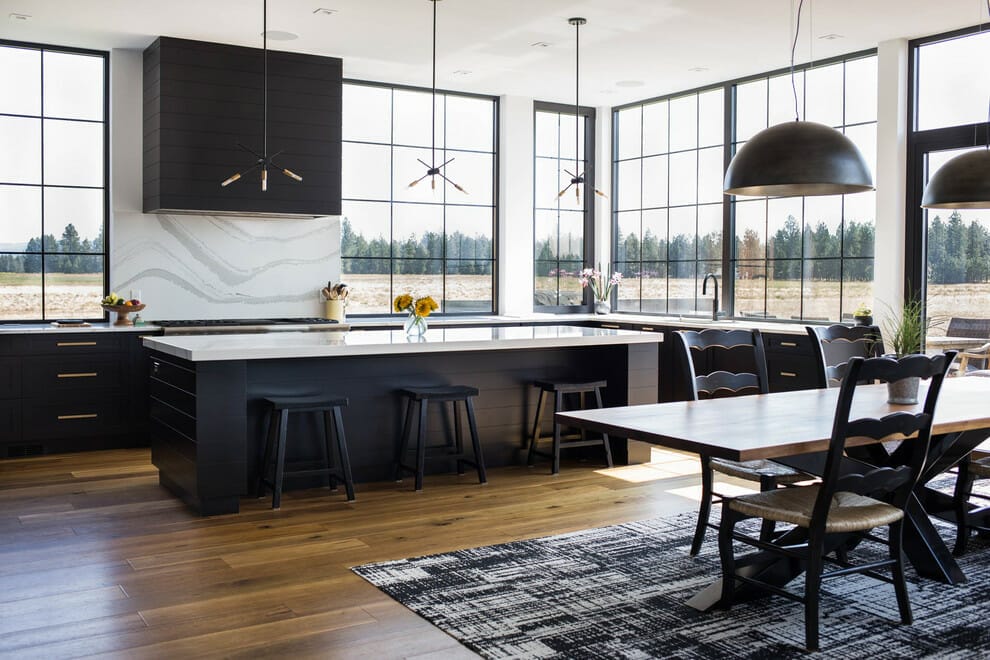 Talking about modern window trim ideas, nothing defeats the timeless black and white color scheme. Likewise, you can marry the black steel window trim with white walls like the one above.
The minimalist metal trims accentuate the breathtaking window views. Then, they perfectly match black furnishings of varying materials too.
Underfoot is the uber-comfy stained wood flooring. Thanks to its presence, the steel window trims do not feel too chilly.
This kitchen also has splashes of gold for a dash of luxury.
11. Modern Farmhouse Window Trim Ideas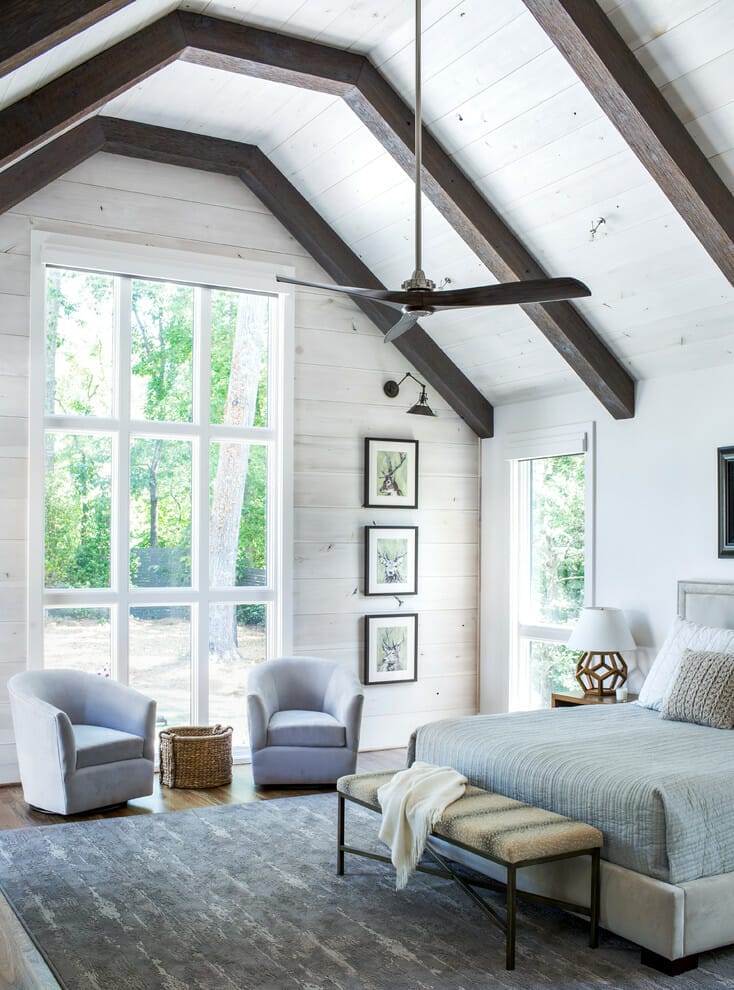 Modern window trim ideas for farmhouses are worth copying. The flat white window trims blend with the iconic shiplap paneling nicely.
Stark white window trims suit modern farmhouses that employ uncluttered details and sleek lines.
Here, they call attention to the dramatic black sconce and deer-themed art.
Gray furnishings and natural materials set a relaxing environment, whereas vaulted ceiling beams tone down the flat white window trims instantly.
12. Farmhouse Bathroom Window Trim Ideas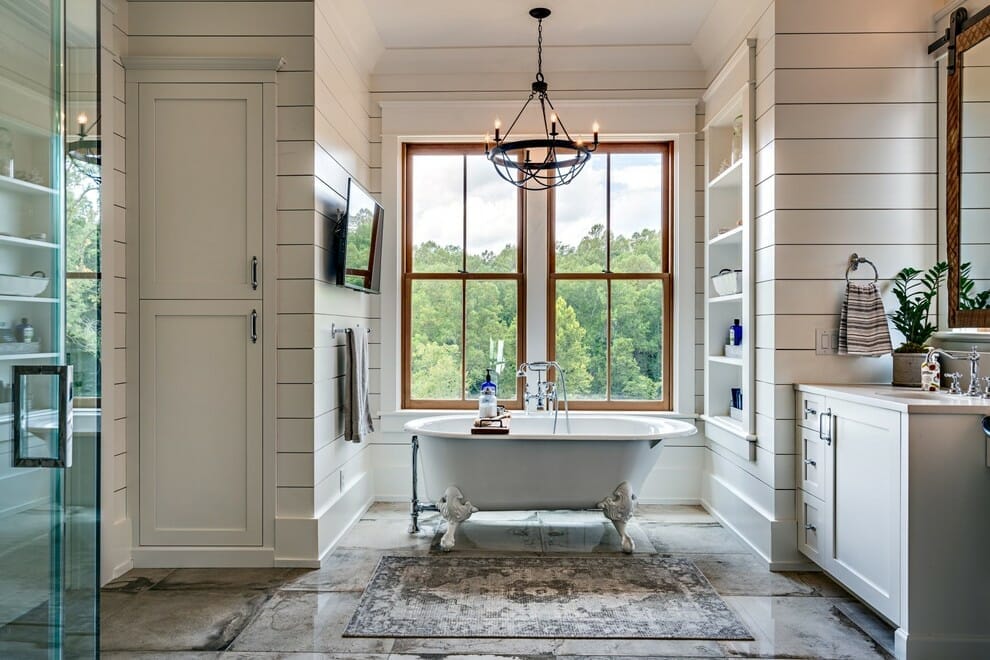 This modern farmhouse bathroom marries practicality with functionality. The classic rug and clawfoot bathtub make it look gorgeous.
Besides, the white window trim and shiplap panels emphasize the natural wood frames of the windows.
Thanks to the wooden mirror and healthy ZZ plant, the space feels casual in no time. Lastly, the vanity and inset custom shelves keep the farmhouse bathroom clutter-free.
13. Plenty of Curves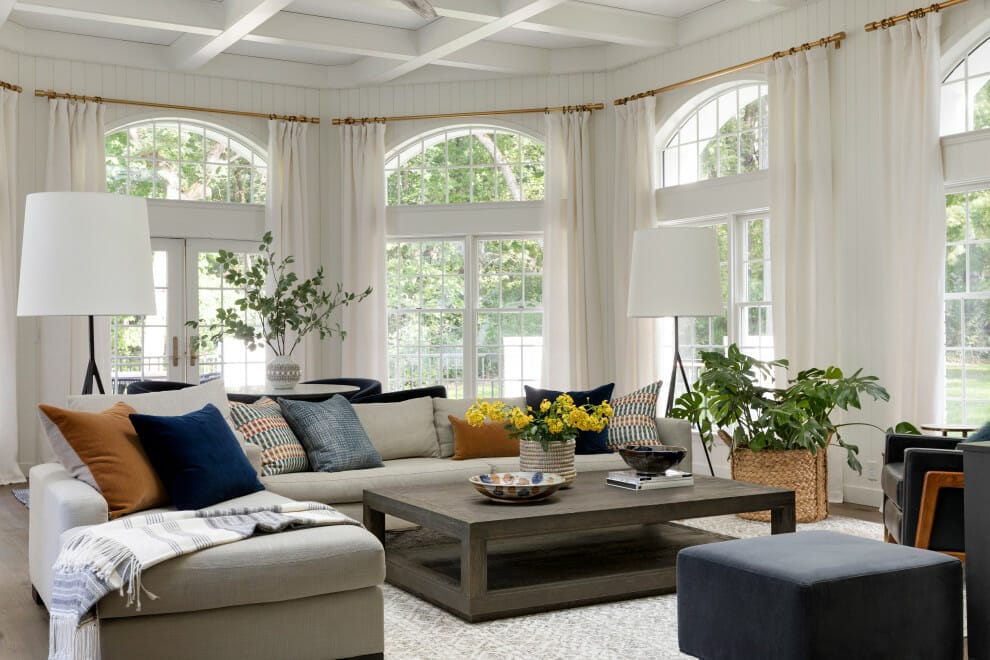 I know you cannot take your eyes off this elegant room. The white coffered ceiling, beadboard paneling, oversized floor lamps, and curtains give off a feeling of continuity.
The bright white trims of the French doors and windows deliver a seamless look. They add simple details and clean lines too.
Bold houseplants, curves, and bodacious pillows soften all things sharp.
14. Modern Window Trim Ideas for Bathrooms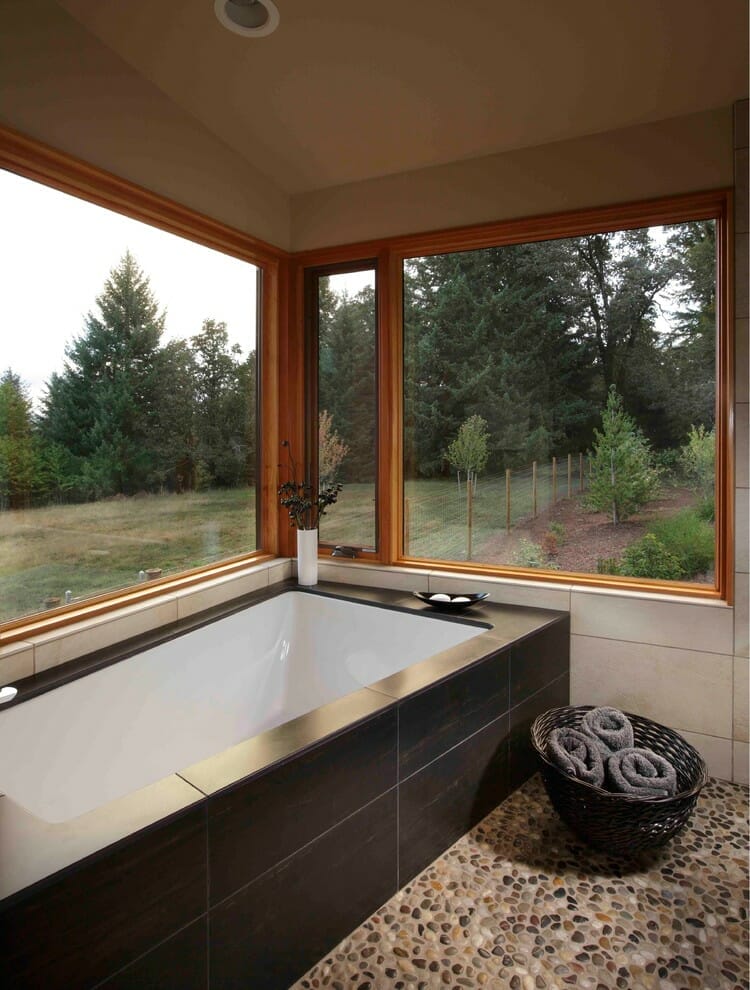 I cannot resist indulging in this sleek black and white tub. Moreover, it accommodates a matching black soap holder and white vase.
Multicolored river rocks lend texture and appeal to the bathroom flooring. Furthermore, the black woven basket keeps towels within reach.
Natural wood window trims offer easy access to scenic landscape views. Also, this bathroom lets them happily mingle with beige walls.
15. Rustic Window Trim Ideas for Bathrooms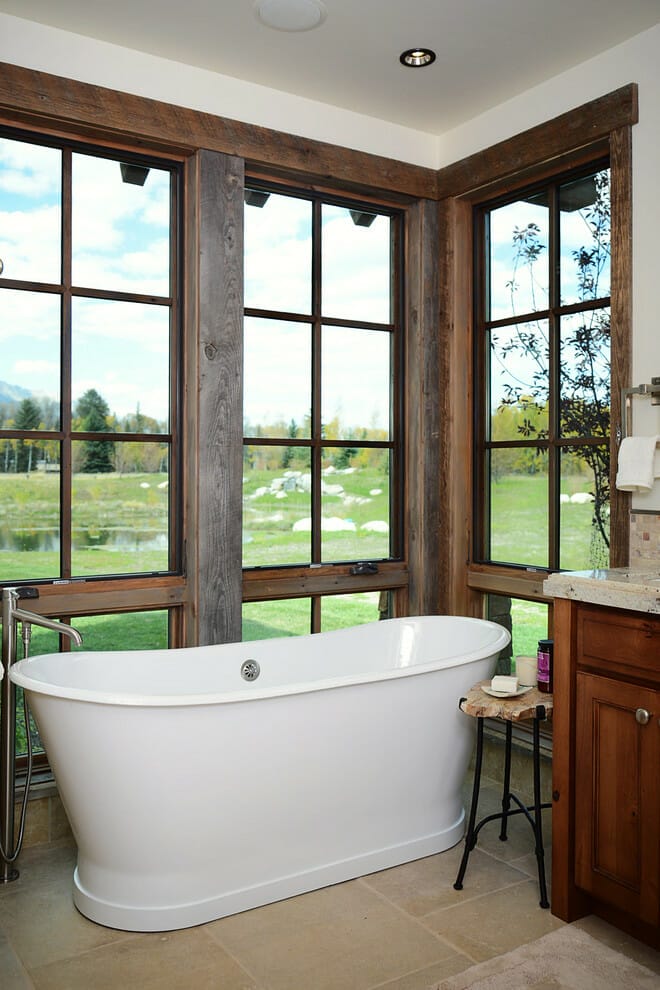 Modern window trim ideas for tiny bathrooms can unearth your creativity. The flat white freestanding tub and ceiling carve the illusion of more space.
The raw wood window trims embody rustic charm. Furthermore, they accompany natural stone elements via the sleek stool, vanity top, and flooring.
16. Trimless Windows for Living Rooms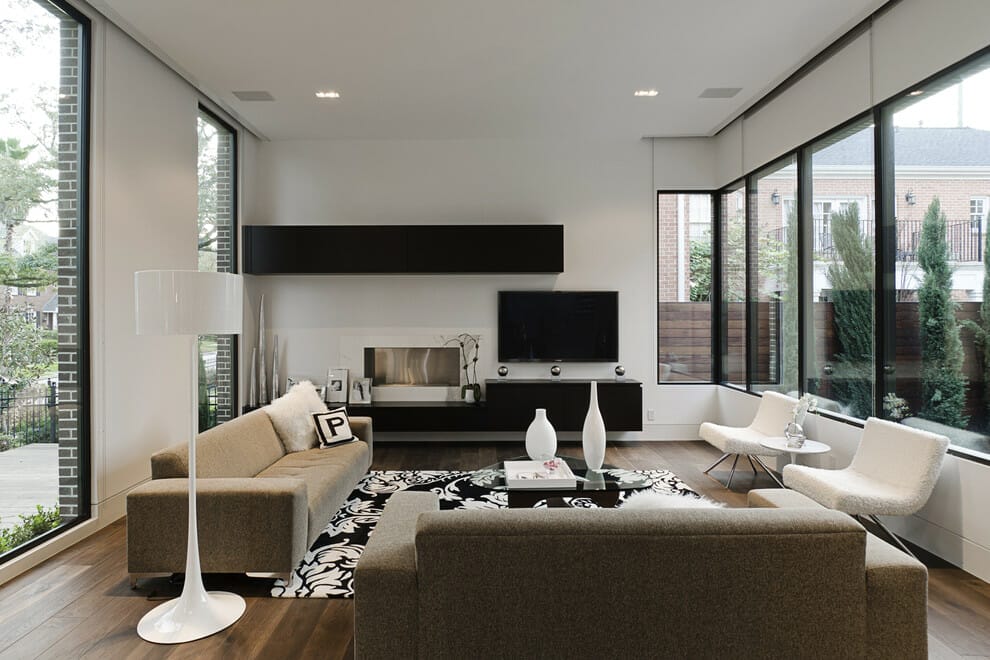 You have felt overwhelmed due to the abundance of modern window trim ideas. So why not integrate trendy yet trimless windows?
Without a doubt, no-trim steel windows are equal parts stunning and sleek. Additionally, they can save money.
Here, streamlined units complement them.
17. Modern Window Trim Designs for Home Offices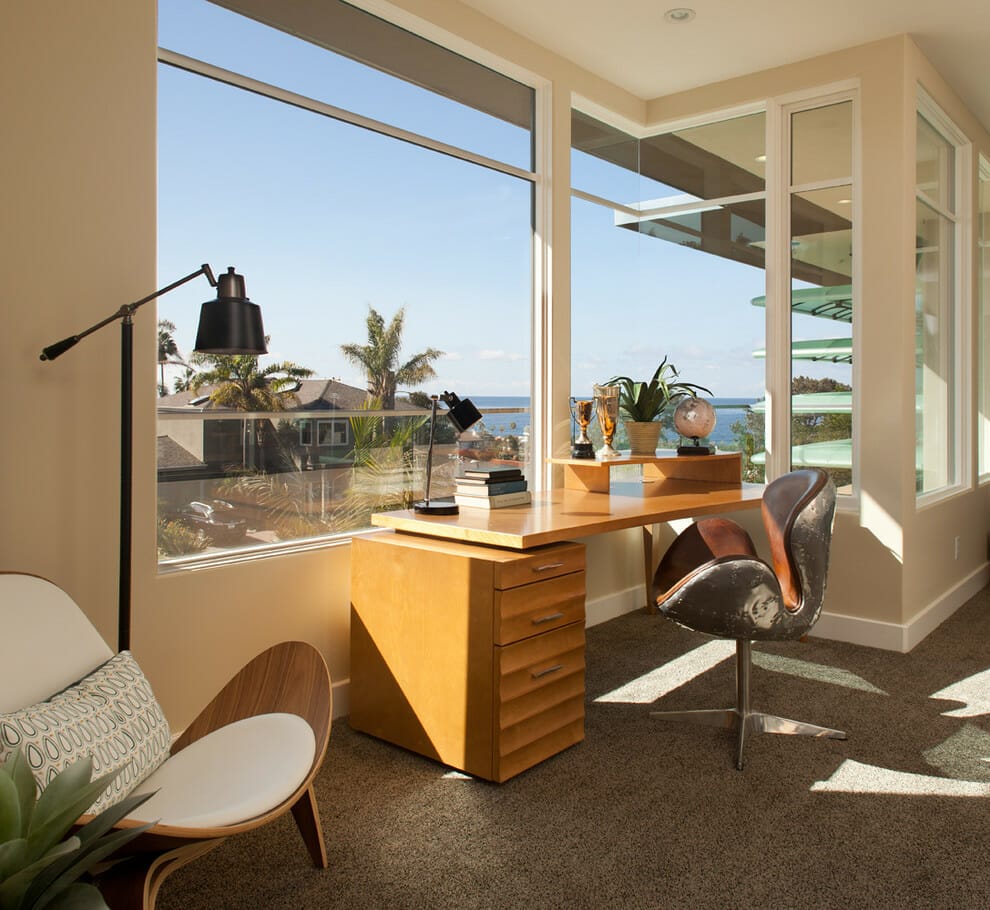 Speaking of modern window trim ideas, white paint is arguably your best friend. The window trims complement other white elements while opening things up.
This home office with big windows lets you work with a view. Curved office chairs and plants keep the room's vibe welcoming.
18. Modern Window Trim Ideas for Barn Homes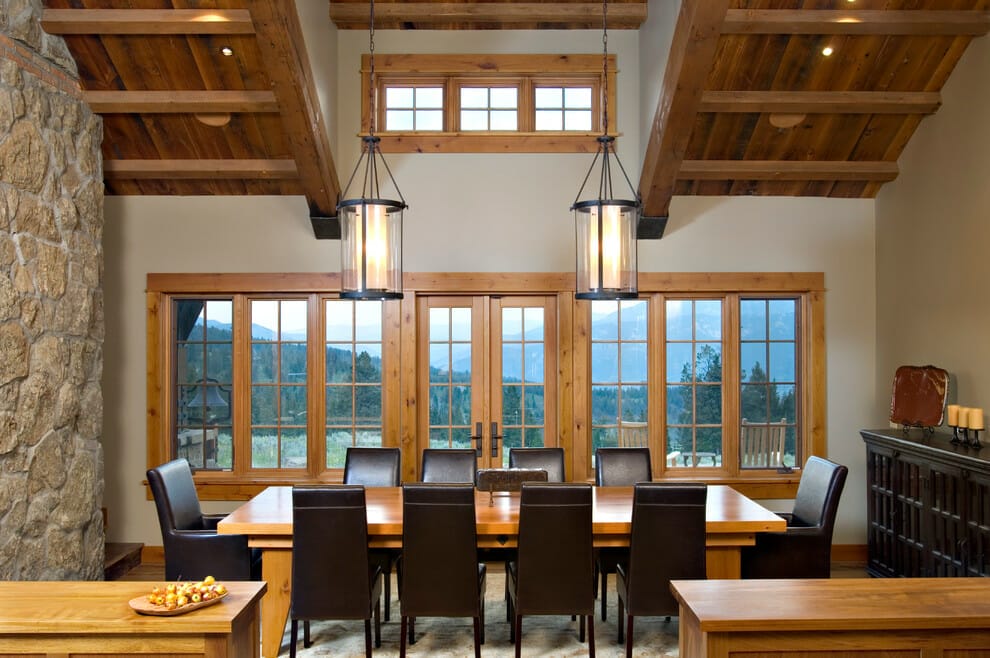 This ultra-cozy dining space is part of a barn home. Likewise, the stone wall lives with the plain wood window trim, tables, and doors.
Above natural wood French doors are small windows with raw wood trims. Meanwhile, black leather dining chairs keep the dining area looking modern.
19. Modern Exterior Window Trim Ideas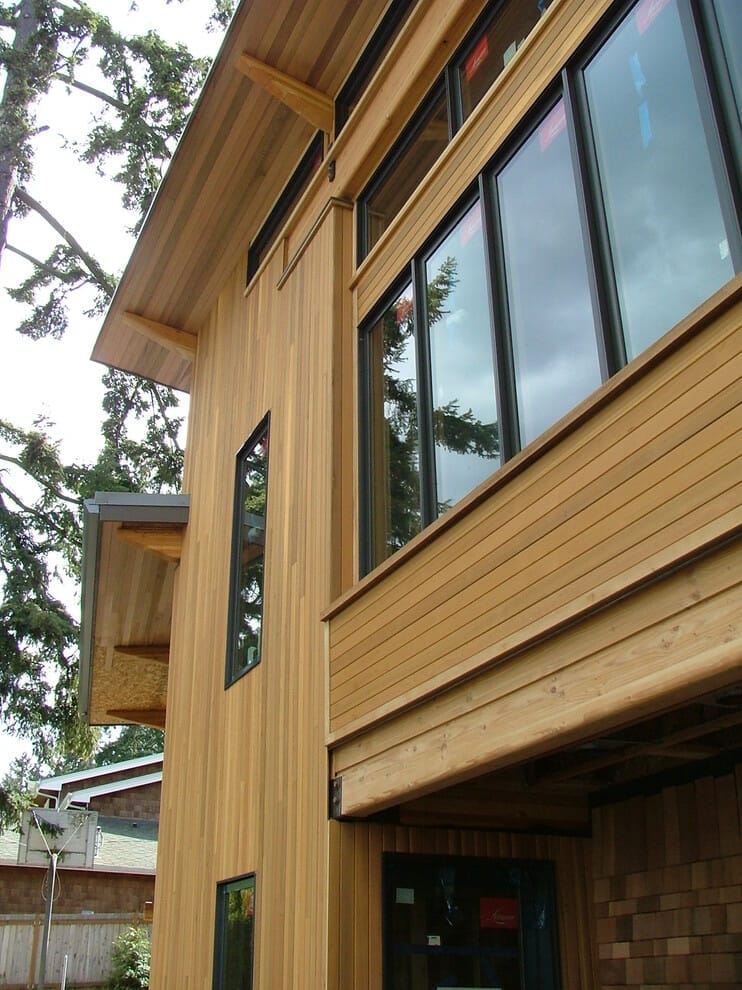 Here is another house featuring cedar siding. As you see, all things cedar give off a homey look and rustic charm to the home exterior instantly.
The homeowners installed horizontal and vertical exterior windows. Also, they combined them with black steel trims for high contrast.
20. Modern Window and Door Trim Ideas with Steel Elements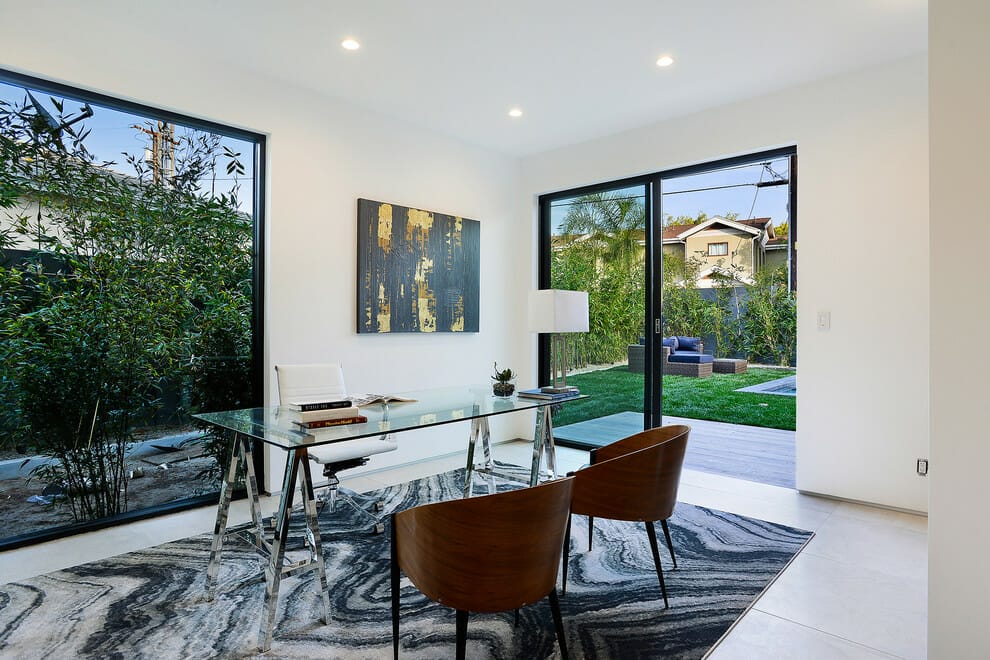 This home office pairs steel door and window frames with flat white walls. Moreover, the trims convey edginess, while the marble-patterned rug anchors the office.
The office chair, white table lamp, and glass-top desk with metallic legs retain the area's airy feeling. Furthermore, the attention-grabbing art and curved chairs add interest.
21. Contemporary Window Trim Ideas for Bedrooms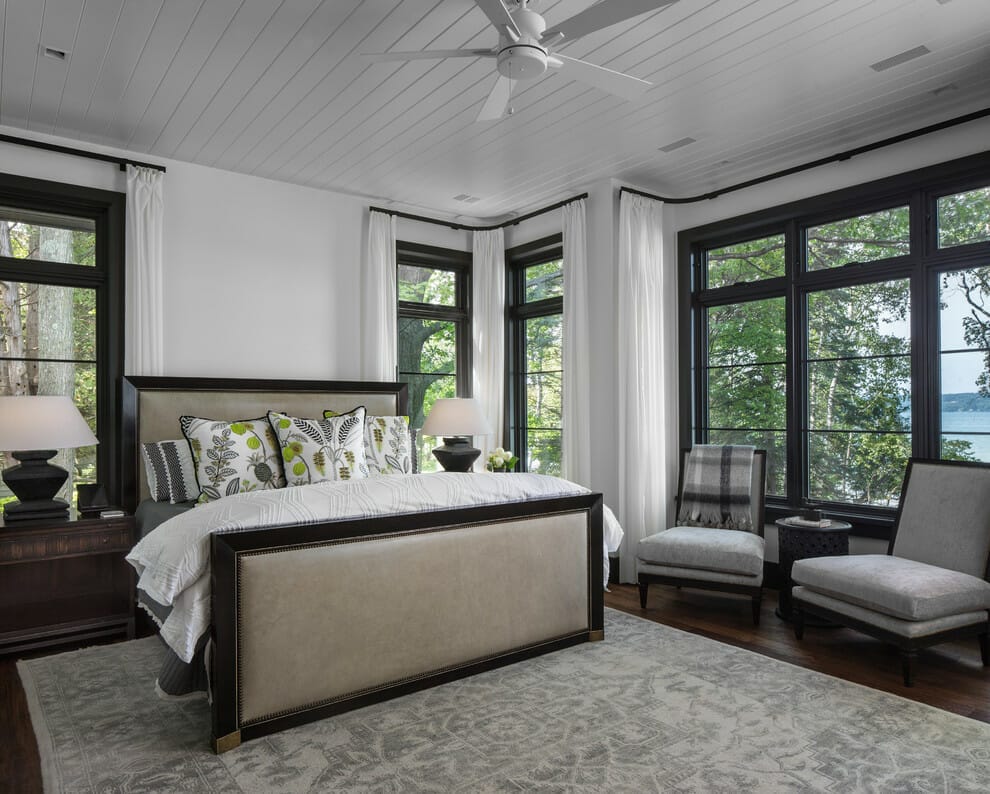 Who says black window trim looks intimidating? This contemporary bedroom says the opposite. The black curtain rods, lamps, and interior window trims add drama.
White curtains balance out the inky trims of the massive windows. Botanical accent pillows encourage homeowners to stay close to nature.
22. Modern Window Trim Ideas for Bali-Inspired Bathrooms
This Bali-inspired bathroom belongs to a sprawling, glamorous home. Furthermore, it keeps the vacation feeling in homeowners' everyday lives.
The bathroom offers swaths of daylight, thanks to large windows. Meanwhile, the black window trims guide the eye to bamboo trees that provide tropical accents.
23. White Window Trim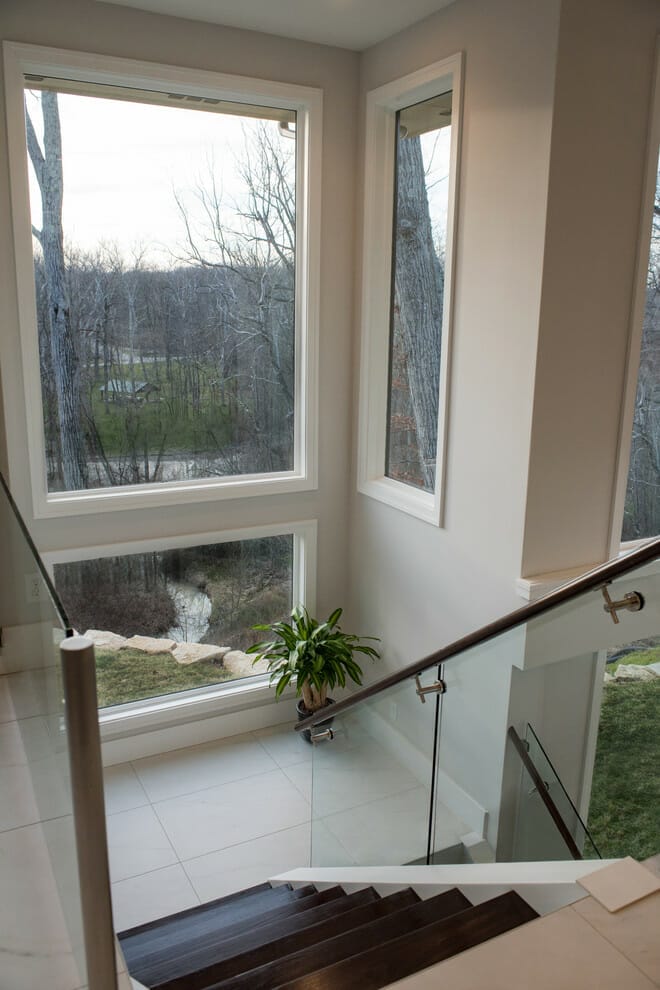 With innumerable modern window trim ideas, there is no excuse for uninteresting rooms. The white trims highlight the clean lines of the plain windows.
Here, warm gray walls ensure white window trims stay visible. In addition, the vigorous plant makes the staircase landing more appealing.
24. Blonde Wood Window Trim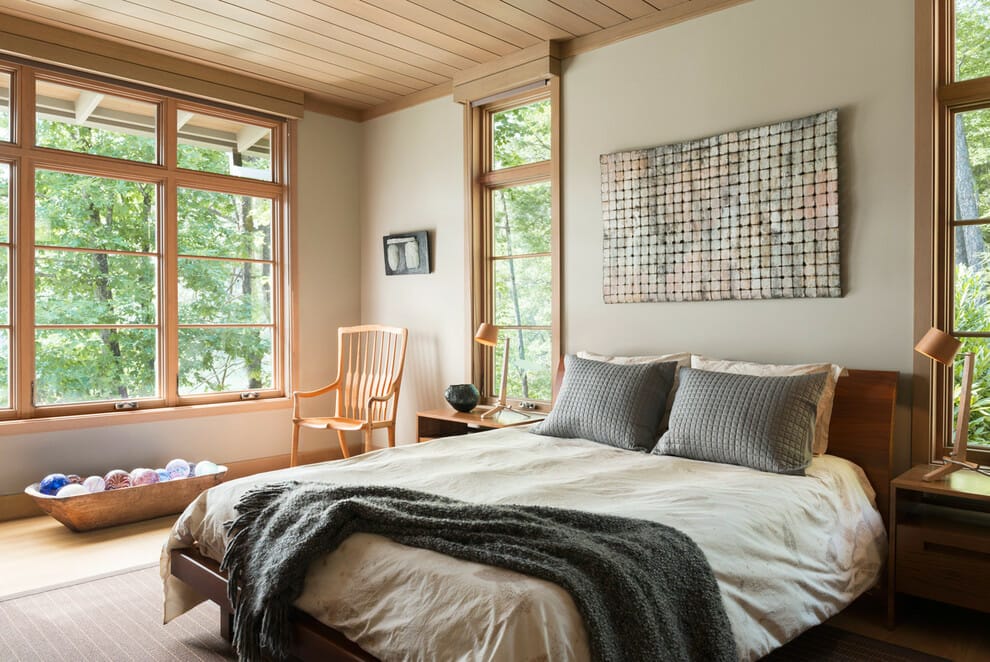 This calm bedroom allows white walls to live in harmony with natural wood window trims. The custom wooden elements like an armchair and nightstands tone down the chilly bedding.
Further, soft and neutral furnishings impart a soothing vibe. Meanwhile, the metallic rugged wall art and décorative balls complete the bedroom.
25. Touches of Earth Tones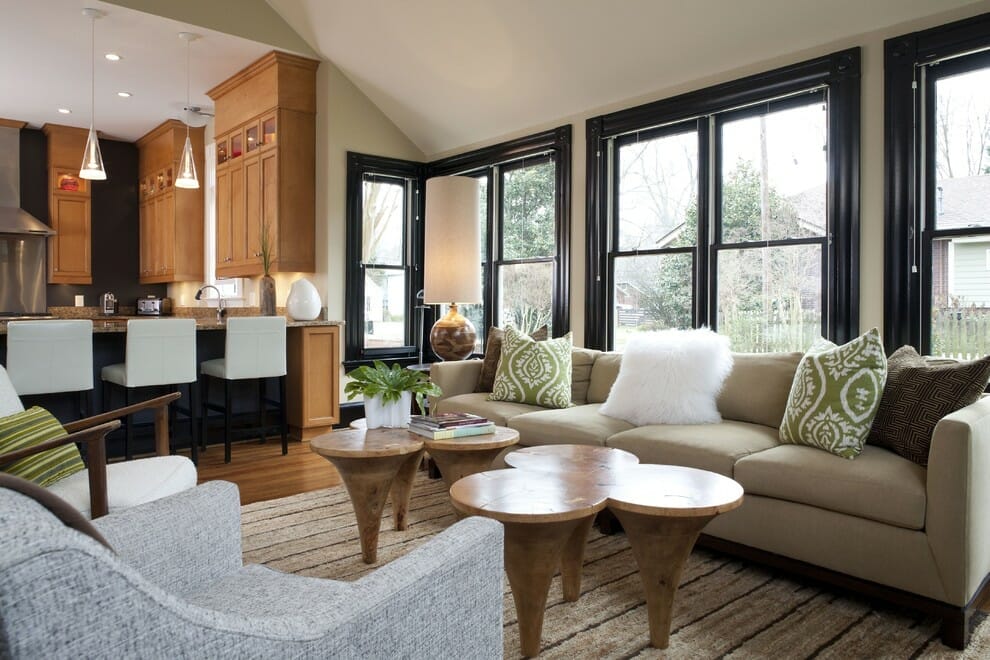 If you cannot handle the starkness of the white trim, try this idea. Then, the black trims let the huge windows inject depth and make a statement.
Varying earth tones ensure the open-layout room seems relaxed and homey. Moreover, circular tables soften the black window trims.
26. Window Trim Meets Wainscoting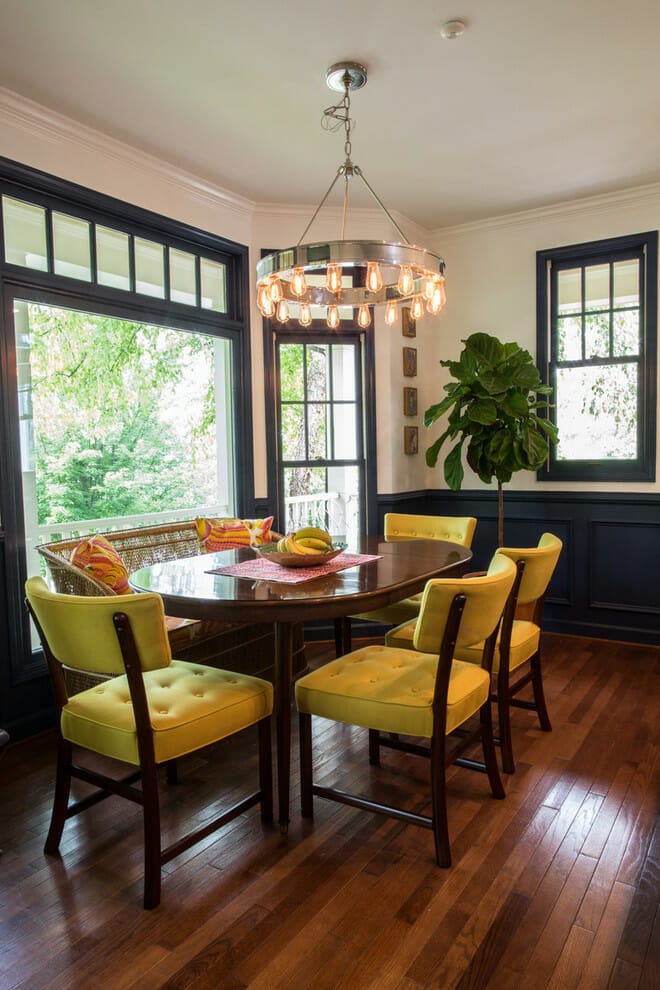 Do you love modern window trim ideas with wainscoting? If so, emulate this colorful room. It pairs charcoal gray interior window trims with the matching wainscoting well.
Here, the dark gray trims do not distract the attention away from yellow pieces. In addition to the trims, this casual dining area features other unfussy details like multicolored pillows.
27. Modern Window Trim Ideas for Family Rooms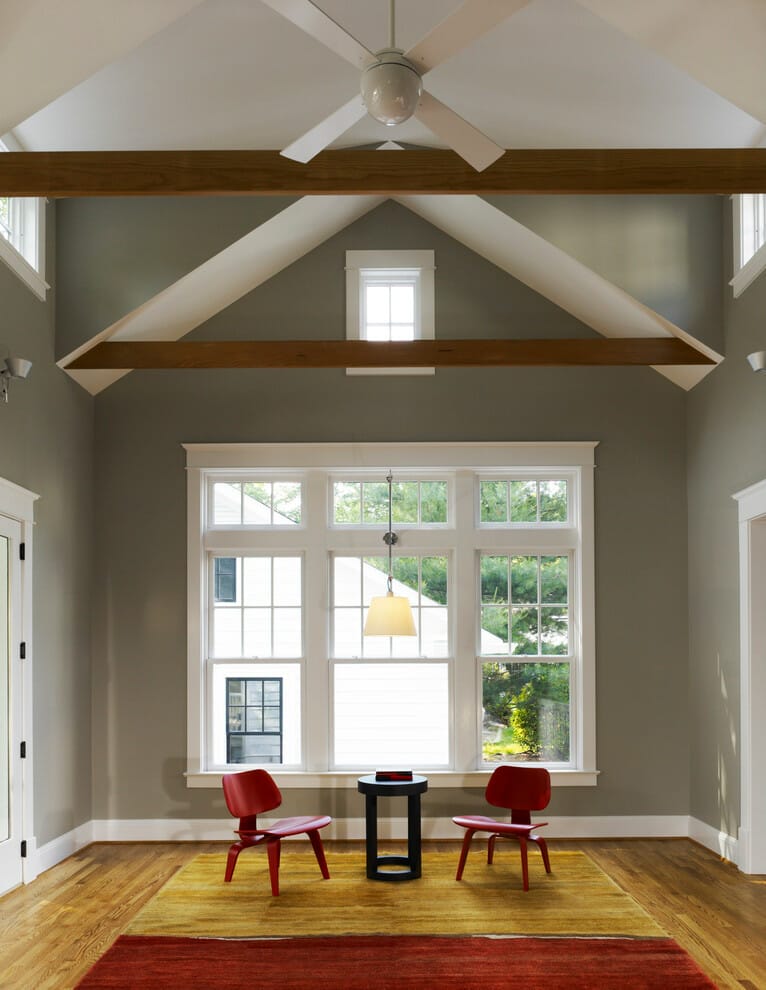 Modern design usually includes lots of sleek lines. The stark white window trims above exactly fit the bill.
Also, taupe walls emphasize them well.
The room boasts a few meaningful items such as a round table, a pendant, and curved red chairs. Additionally, underfoot is a bicolor rug that creates a cohesive family room.
28. Nature Connection Above All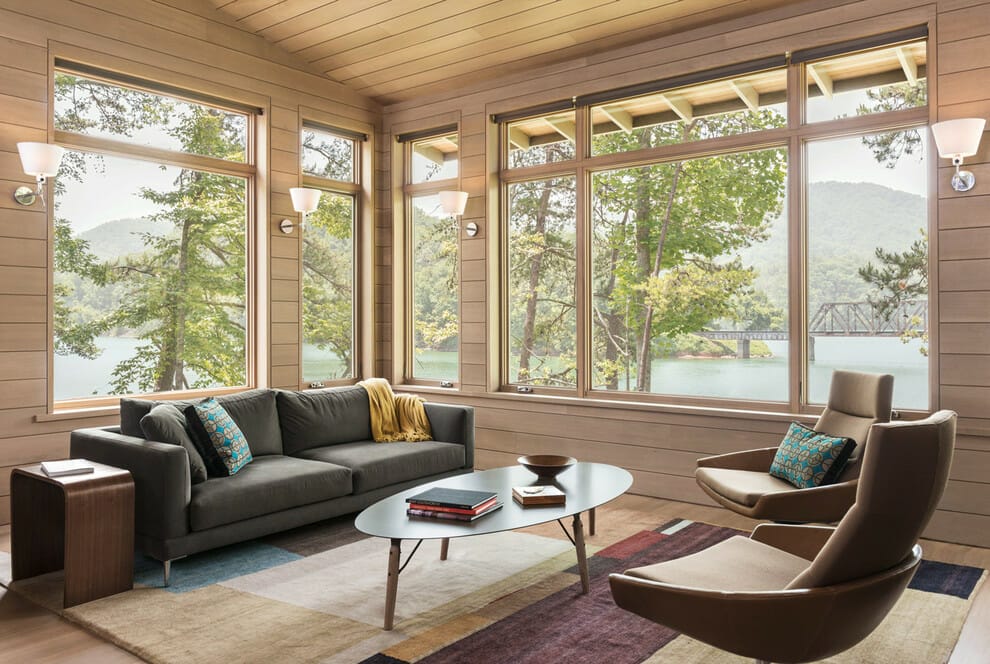 This modern space feels cozy because of blonde wood tones via paneling and window trims. Also, natural materials keep the area looking warm.
The windows generate a strong connection to the outdoors. Moreover, they marry the modern home with the surrounding landscape.
29. Modern Ranch Bedroom Window Trim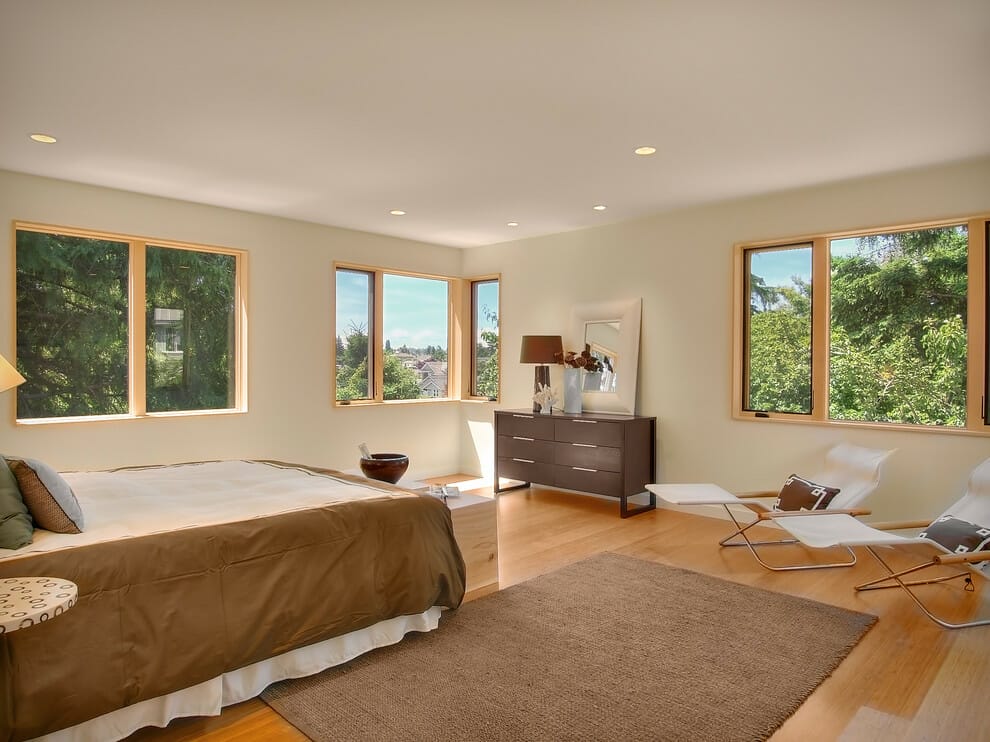 Many homeowners forgo painted trims. If you are into all things natural, emulate modern window trim ideas for stylish ranch homes.
The flooring and window trim employ light-toned wood for a peaceful scene. Meanwhile, darker warm colors make the modern ranch bedroom much more snuggly.
30. Unconventional Approach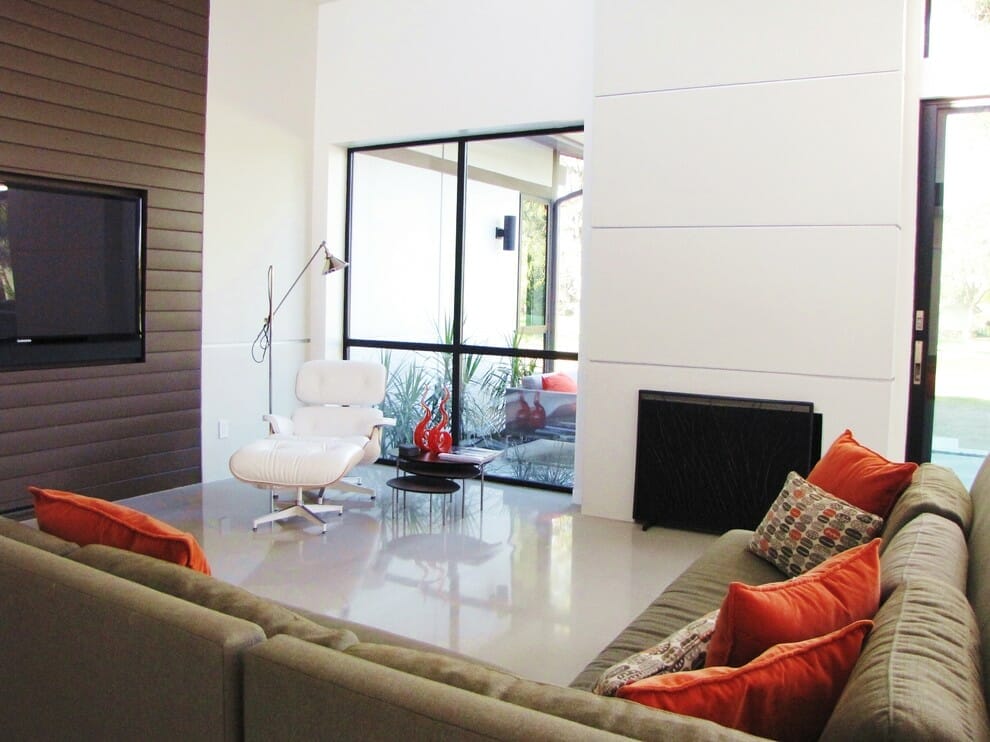 Currently, many people skip the window trim altogether. This modern living room gives off an outstanding trim-free window look.
These no-trim windows have steel frames that match the nearby industrial floor lamp. Due to orange accents in different forms, the area does not look unwelcoming.
Do not overlook small details since they can make a significant visual impact. Those modern window trim ideas have showcased varying spectacular trims for windows. Use any of them to keep your home interesting.