Planning improvements to your outdoor kitchen often makes you need a lot of inspiration. And, of course, it must include all the elements that exist there, including the grilling space. It is because this area has a vital role among others. Thus, this article is happy to explore BBQ island ideas for you.
Of the many BBQ island ideas, the main point you need to pay attention to is its functionality and safety. After that, you can think about the design. Of course, it is essential. That way, your outdoor grill island doesn't build in vain.
Suppose your improvement plan is clear enough and covers all your needs. Now is the time to consider its aesthetic value and other compliments to support the look.
And here are twenty-nine BBQ island ideas for you to borrow.
1. Cozy BBQ Island Ideas with Coffee Bar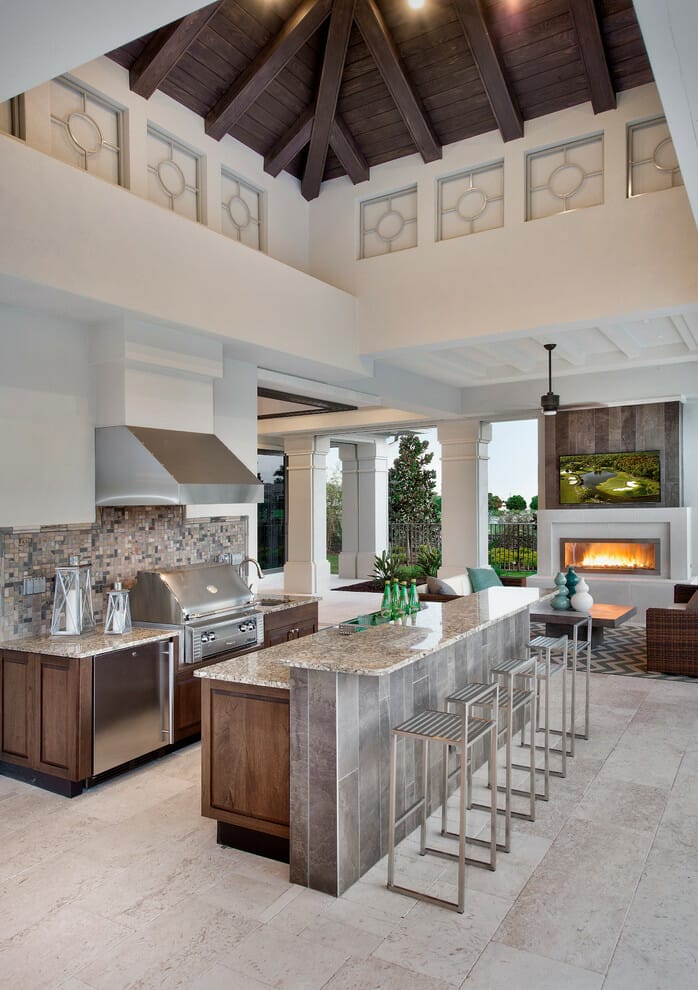 We call it a cozy gathering place when we are comfortable doing many things in just one area. Thus, you need to provide a coffee bar and BBQ kits in the same space.
This space will be essential, especially when you decide to invite many guests to a particular moment -or merely enjoy the weekend.
So, you and your colleagues will still be pleased to have chit-chat while you are preparing food and they want their coffee.
2. Kitchen Counter from Marble and Stones
Indeed, the presence of a BBQ island will feel empty without a countertop. Apart from the functionality prioritized for doing a lot of work, this furniture also, at least, has to be eye-catching.
To get an inviting open-air kitchen look, you can consider combining marble and stones for the countertop.
Further, you can also plant annual flowers to provide a cheerful pop-up color as a finishing touch.
3. Sealed Wood Sliding Backsplash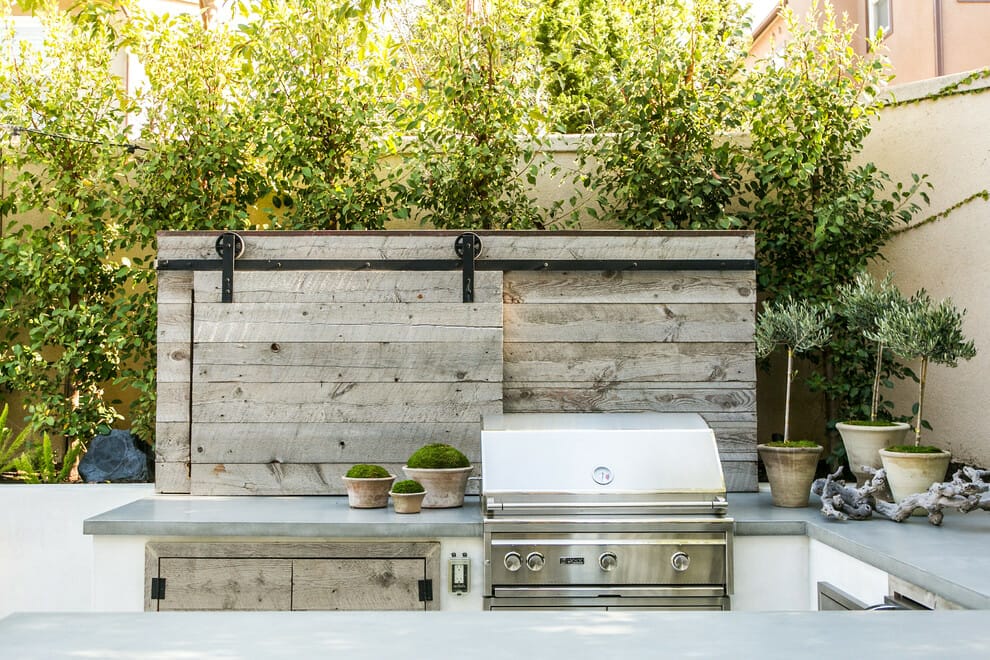 From several small BBQ island ideas, a backsplash is always a point that doesn't go unnoticed, whether design or material.
Suppose you have a grilling area not attached directly to the wall. In that case, you can get around that by presenting a sliding wooden backsplash like in the picture above.
Apart from all the pros and cons of using wood as a backsplash, everything will be acceptable as long as you seal it first and always take good care of it.
4. Complete BBQ Island Kits with Built-in Oven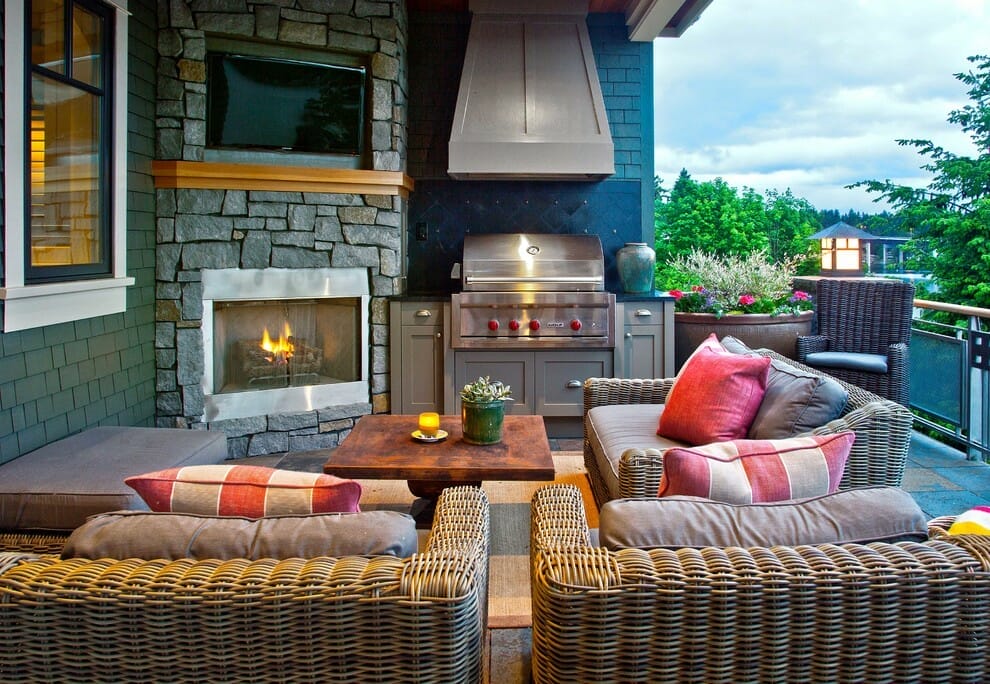 Along with the coffee bar, it would be nice to have an oven on the side of your BBQ kits.
Of course, limited space is not an excuse for you to skip this baking utensil. You can make a built-in one right above your fireplace.
Apart from being practical and space-savvy, this outdoor kitchen arrangement is enjoyable.
5. Stainless Steel Vent Hood Above the Grill Spot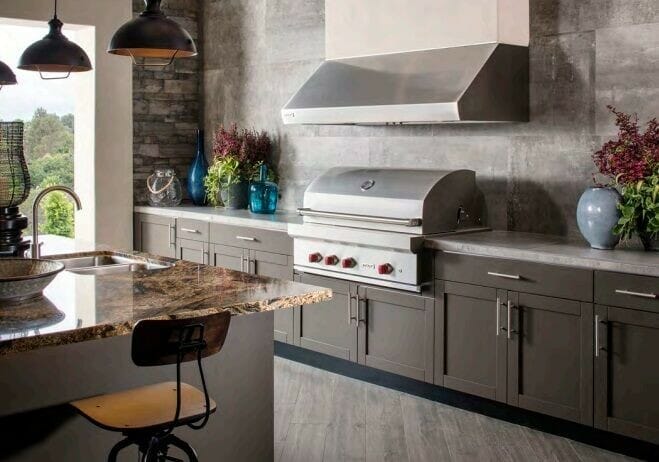 A vent hood is essential, especially if you want to apply BBQ island ideas in a semi-outdoor concept. Frequently, the presence of a roof makes smoke spread here and there into the whole space.
Instead of leaving it like that, which can disturb the comfort of many people gathered. It's also a fine thought to equip a vent hood right above the grill.
Additionally, there are diverse materials and layouts that you can take. And the most common one is using stainless steel as a basic material. As you might know, this material is believed to be durable and timeless.
6. Custom Lattice Patio Cover to Enhance the Outdoor View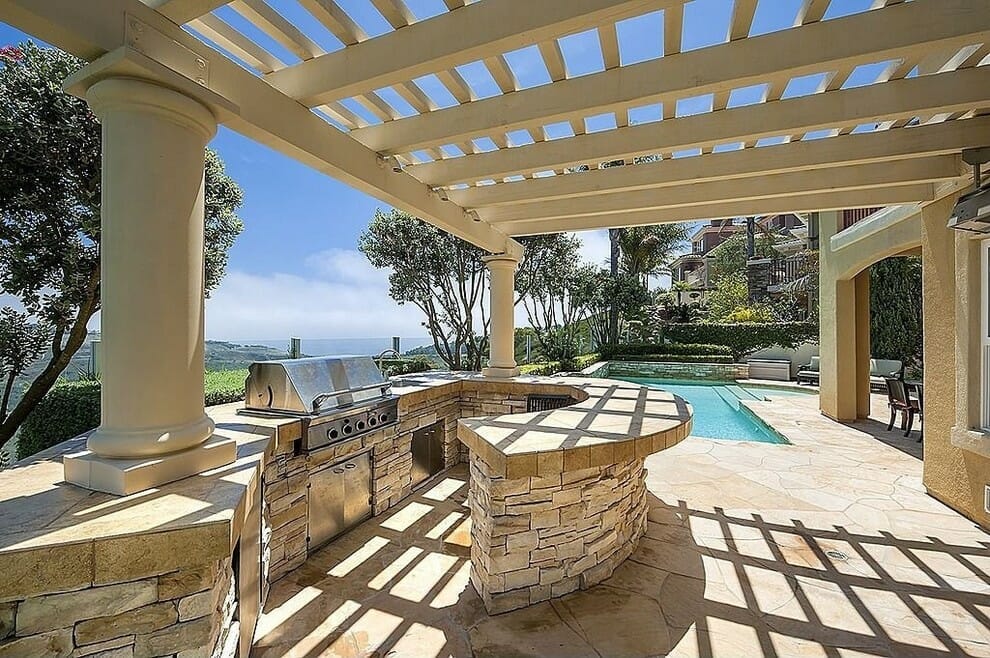 Suppose you are in the renovating phase and want to replace your pergola with a more fashionable model. That is why you can choose a lattice patio cover.
This kind of patio cover is much loved because it can give an exciting personality, especially when the sun is shining. The shadows reflected on the floor below make your outdoor BBQ island more aesthetic.
Additionally, you no longer need to install a ducted hood beyond your grill.
7. Set a Corner Countertop to Save The Space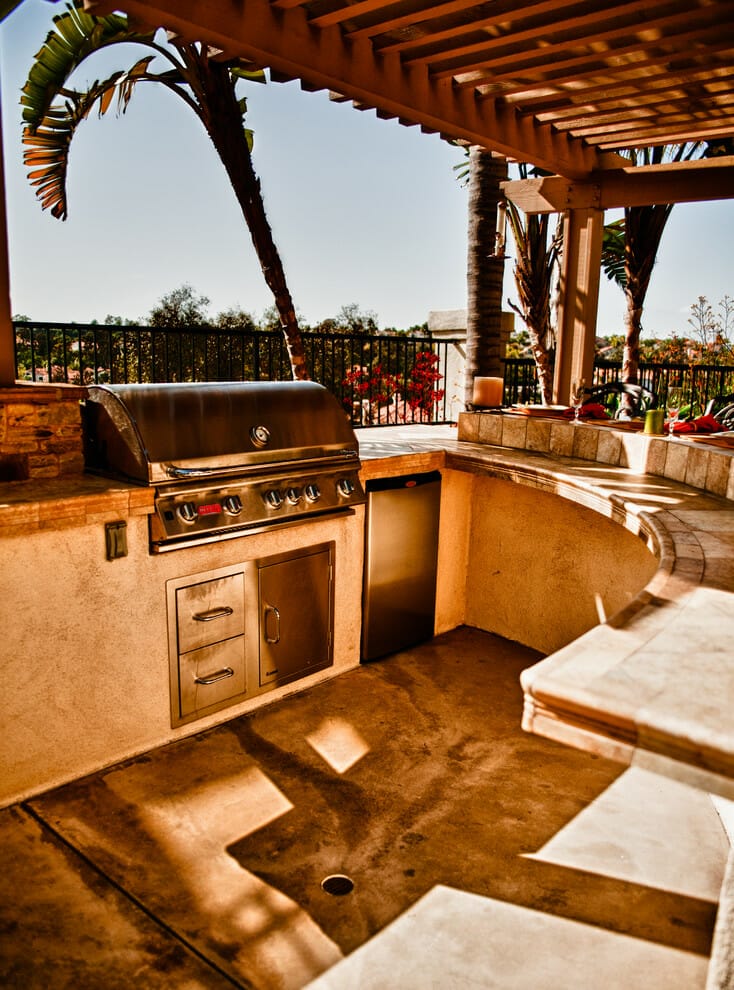 Making good use of space is the key to all BBQ island ideas. Never force yourself to have specific equipment unless you need it. It's better to prioritize building a worktop because this spot is handy for doing anything.
Well, suppose you have limited space. It's better to build a corner countertop instead of the standard one. And position your grill in an area close to the open air.
As a result, you don't need a vent hood. Additionally, it will allow you to optimize the functional area.
8. Outdoor BBQ Island with Warming Drawers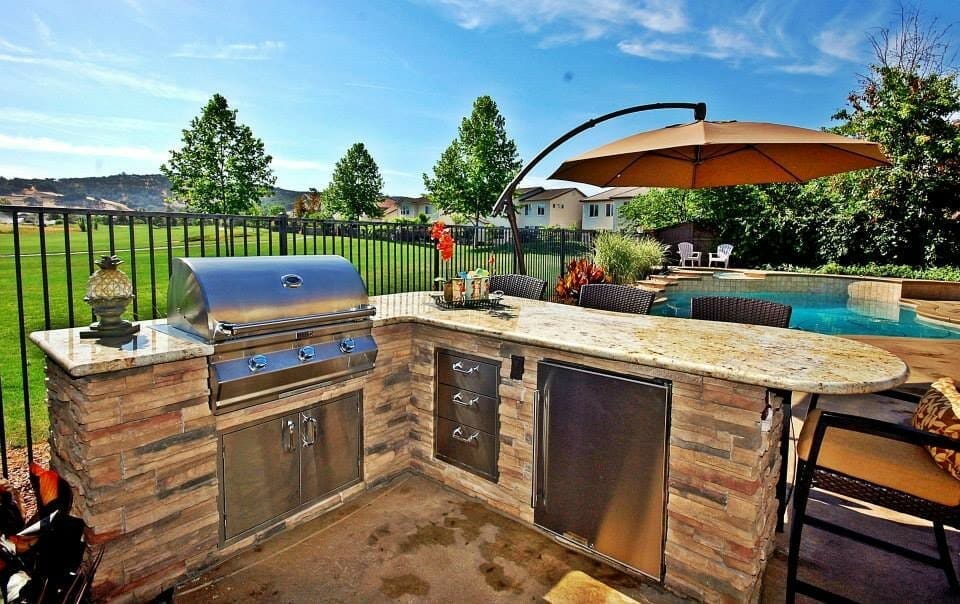 Food that is not warm is often less appetizing. However, most barbecue parties take a lot of time to grill and bake a lot of ingredients. And the outdoor space makes the food cold quickly.
Therefore, it is essential to provide warming drawers and include them in your grilling kits list.
Besides keeping the foods warm while cooking others, warming drawers also prevent it from annoying flies and insects.
9. Wall-Mounted TV for Entertainment
You may need additional entertainment besides the outdoor landscape in a semi-outdoor kitchen. And to overcome it, you can mount the TV on the wall of your barbeque area.
Nonetheless, it is crucial to consider the location first. Be sure to place it away from baking and grilling utensils to avoid dangerous occurrences.
10. Versatile Kitchen Island for Extra Storage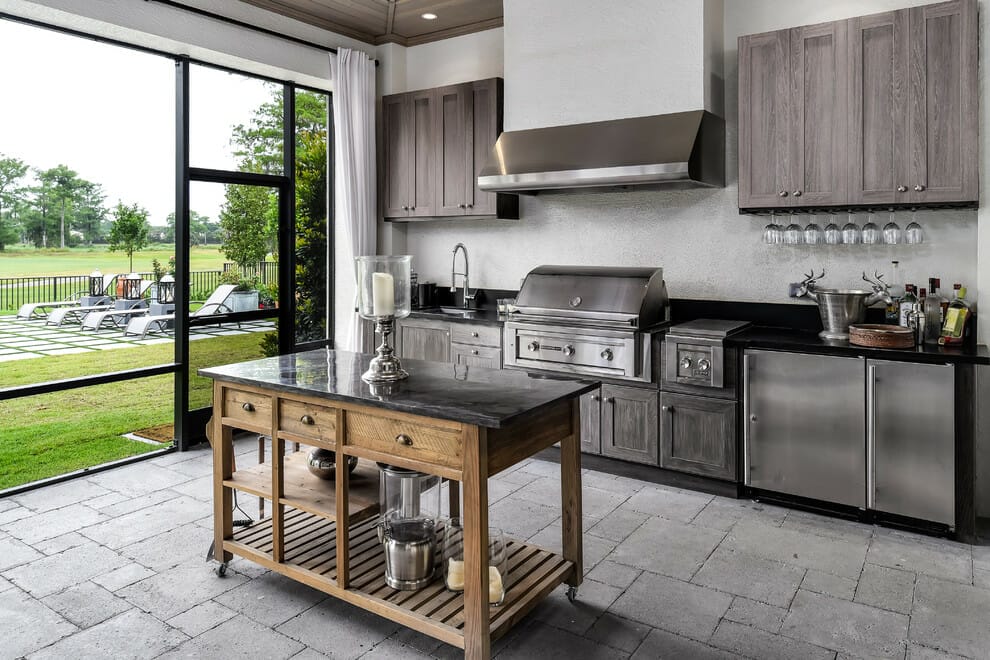 Most BBQ island ideas recommend versatile furniture. In addition to installing the built-in cabinetry in your semi-outdoor grilling area, it's a good idea to also provide a table with extra storage as above.
The presence of extra drawers and bottom shelves on the kitchen island will make your barbeque time more effortless. Even better, there will be no shortage of worktops.
11. Glass Furniture to Give Double Display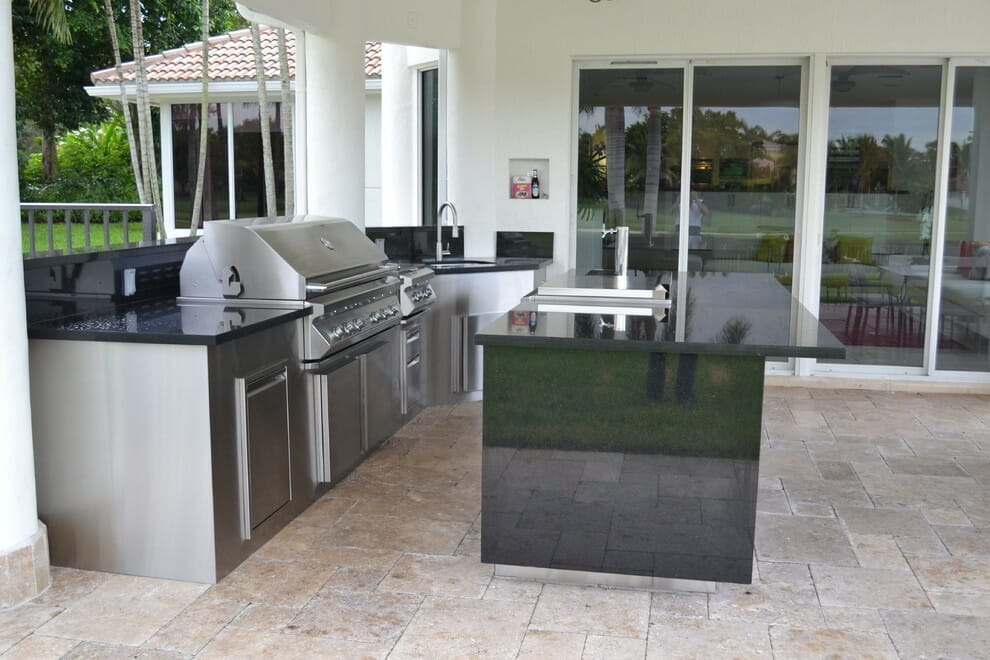 Suppose you plan to adopt modern BBQ island ideas for your outdoor kitchen. Hence, you might ponder on choosing furniture made of black glass.
In addition to looking modern and elegant, the black glass material also provides a dual display. That way, your outdoor kitchen looks more spacious than before.
Plus, it's easy to clean when you get stains while grilling.
12. String Light Here and There for Accent Lighting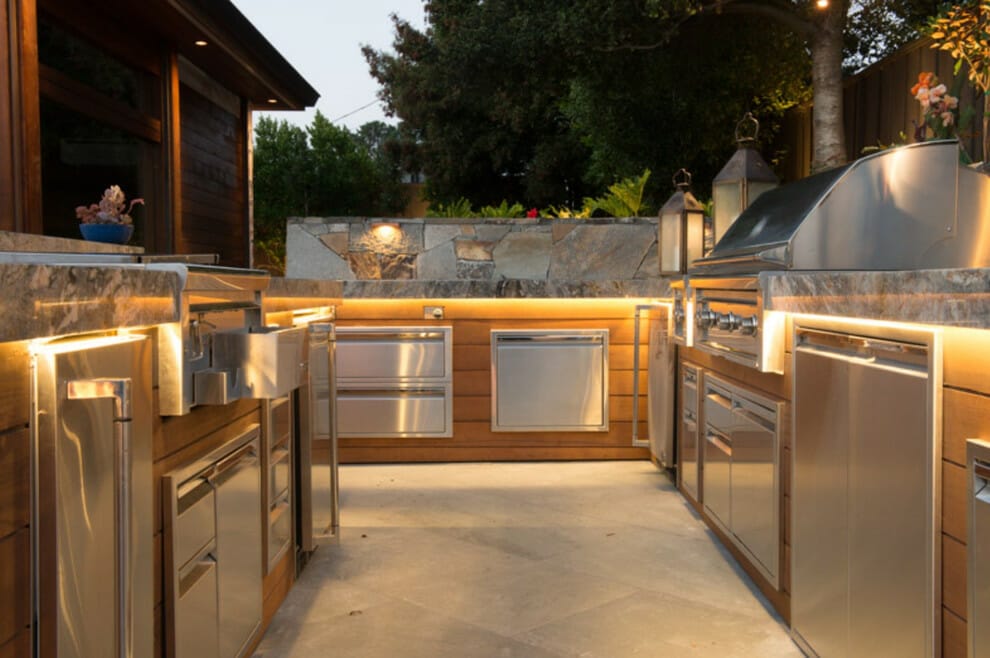 Another attribute that is no less important in applying BBQ island ideas is lighting. Of course, you can't enjoy a barbeque party in complete darkness.
Indeed, sometimes your grilling space is equipped with a fireplace. However, everything will be even more interesting if you also give accent lighting to crucial spots, like on the edge of your countertop.
Besides helping you make things easier, string lights can also boost the decorative aspects of your backyard patio.
13. Unite with Nature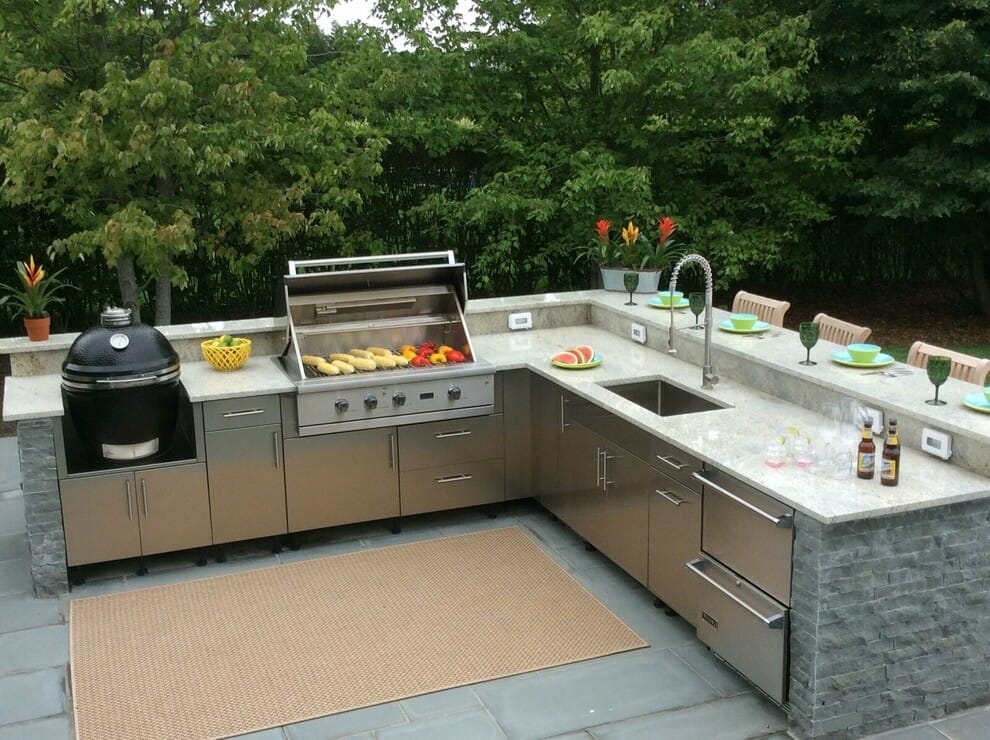 The natural landscape is the best decoration to present in your outdoor kitchen. So, it is perfect for bringing these two elements together at once.
Hence, you and your relatives can appreciate the barbeque time more relaxingly.
Also, there are no unique settings requirements. You can even achieve the best final result by arranging your BBQ island in an L shape. Then, add an extra bar on the opposite countertop for the dining spot.
14. Modern BBQ Island Ideas with Leveled Countertops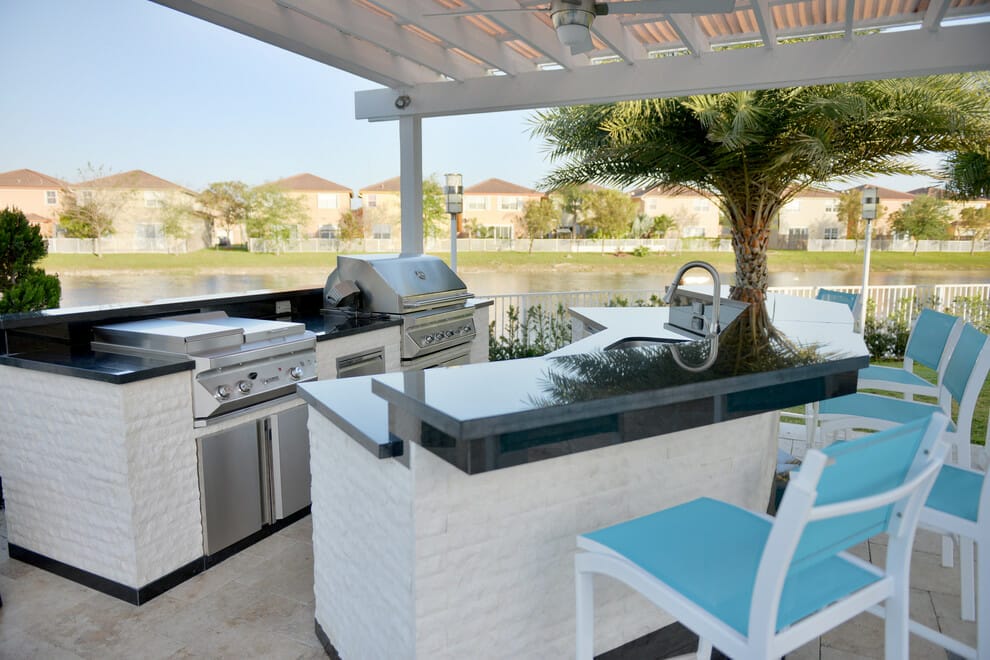 In a more modern setting, you can create a leveled countertop. You can put your grill ingredients safely on this furniture without making a mesh with the served food.
Moreover, a kitchen bench design like this also allows you to have a more expansive countertop and a bar without taking up a lot of space.
And indeed, deciding to arrange your BBQ island in black and white will make your outdoor kitchen look cleaner.
15. Come with Concrete Patio and Teak Counter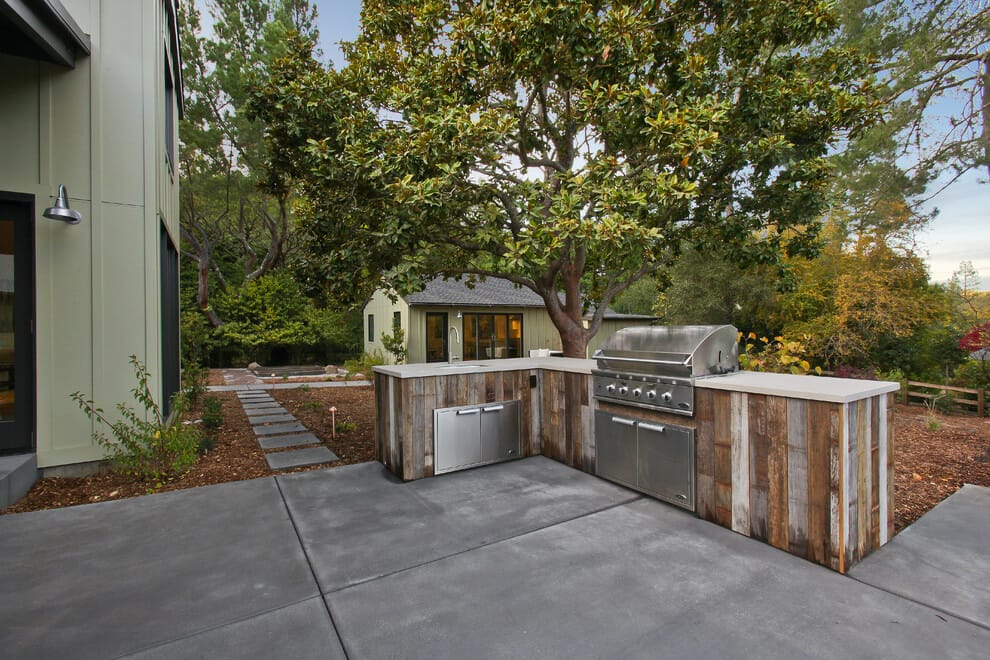 Concrete patios often have many pros and cons. Regardless, this material is relatively safe to be installed near your BBQ island.
Moreover, concrete patios also match all kinds of home themes. Hence, there's no hassle when you want to improve your outdoor kitchen.
It goes well with a contemporary style that combines a teak kitchen bench with stainless steel grilling kits.
16. Sleek Semi Outdoor BBQ Island Ideas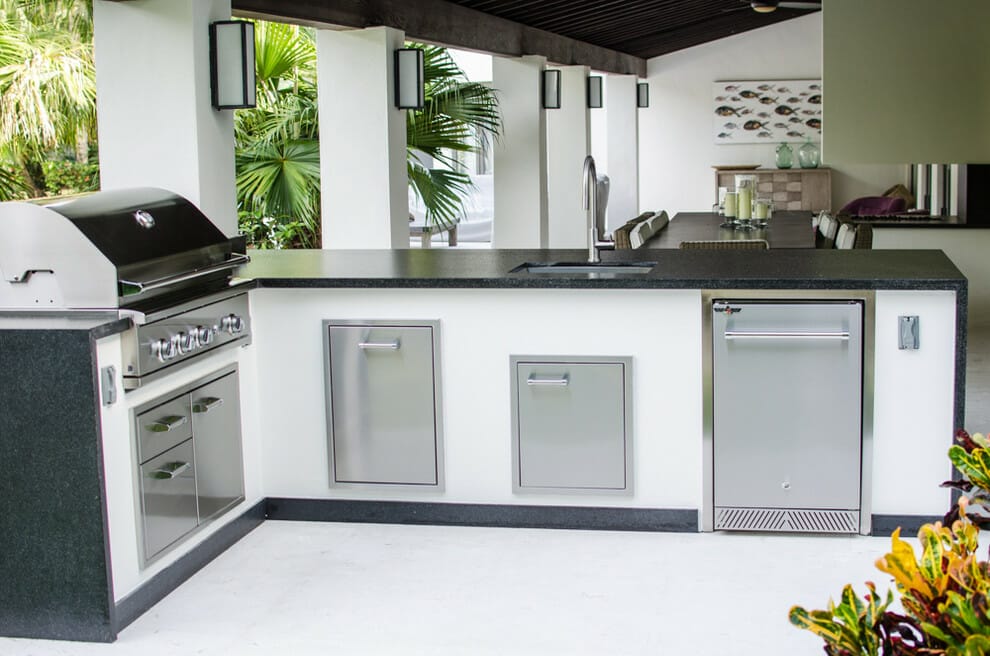 BBQ island also looks good with a minimalist style. And of course, the simple worktop is the most suitable to adopt.
Generally, L-shape is the most perfect. You can arrange your BBQ kits on one side, which is smaller, and leave the rest empty or merely set a kitchen sink.
Lastly, make sure the warming drawers also complement your outdoor kitchen arrangement.
17. Multifunction Big Green Egg and Stainless BBQ Grill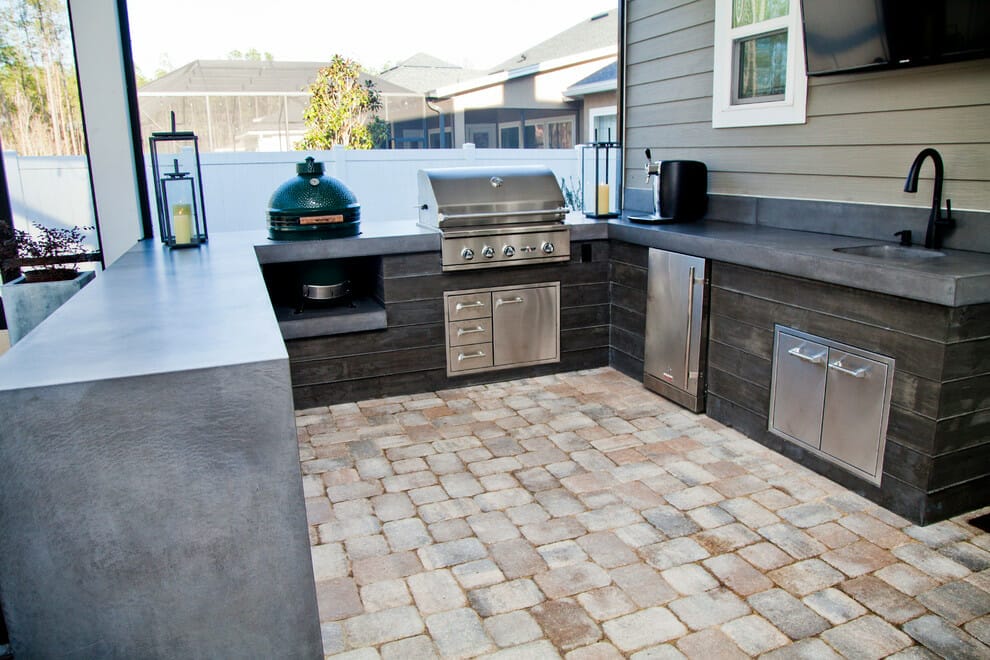 A multifunctional cooking device is the key. At least you have this one at home. That way, you can do many cooking techniques using only one device.
Let's say from grilling, baking, roasting, to smoking. Besides being handy, this is also an excellent way for those who want to save space in an outdoor kitchen.
18. Create a Shooting Outdoor Space with Mini Waterfall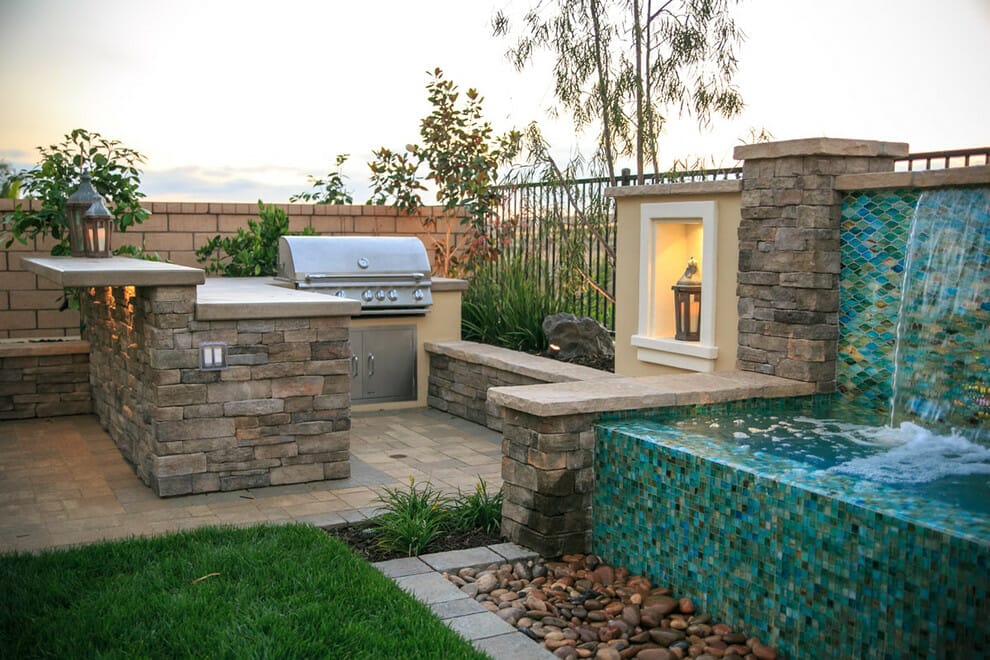 There are many ways to elevate the view of your outdoor kitchen. Some of them are by modifying BBQ island ideas with several ornamental objects such as a mini waterfall and a built-in lantern.
These two spots provide a significant role in creating aesthetic value, especially when you design the waterfall with unique tiles and give it a pop-up color.
Furthermore, you will also get peace from the sound of gurgling water during a barbeque party.
19. Rustic BBQ Island Ideas with Stacked Stone Countertop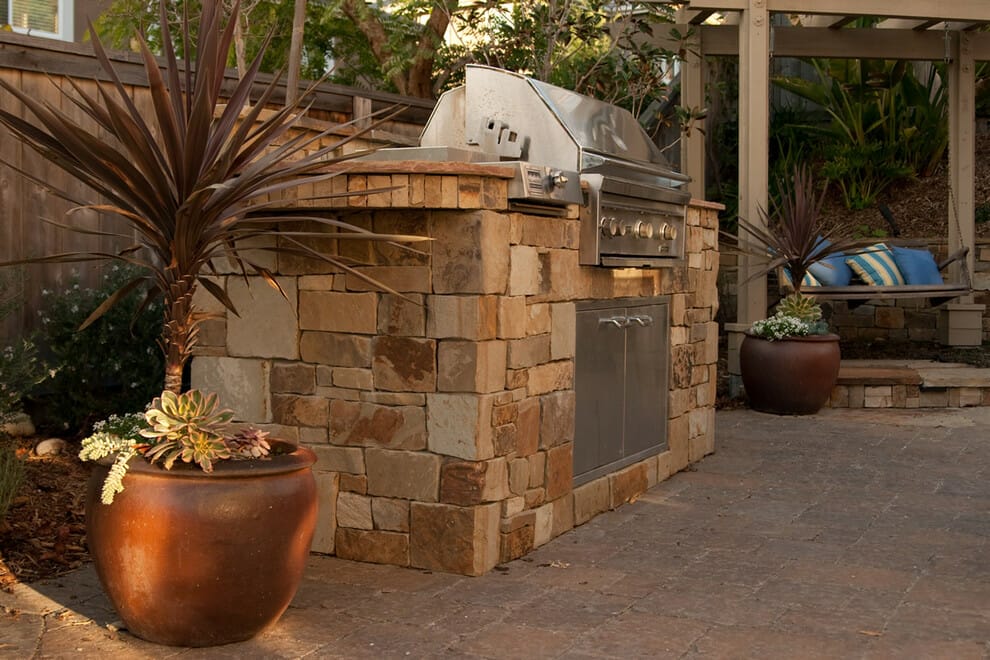 The rustic theme always exudes simplicity. Even so, this concept has its charm. Currently, many people are starting to love this style.
Suppose you want to get a solid rustic vibe in your BBQ area. You can try going with a stacked stone worktop as above.
The stone surface is quite rough, making this furniture challenging to clean. Therefore, you must maintain it properly regularly.
20. Contemporary Style with Thatched Roof Pergola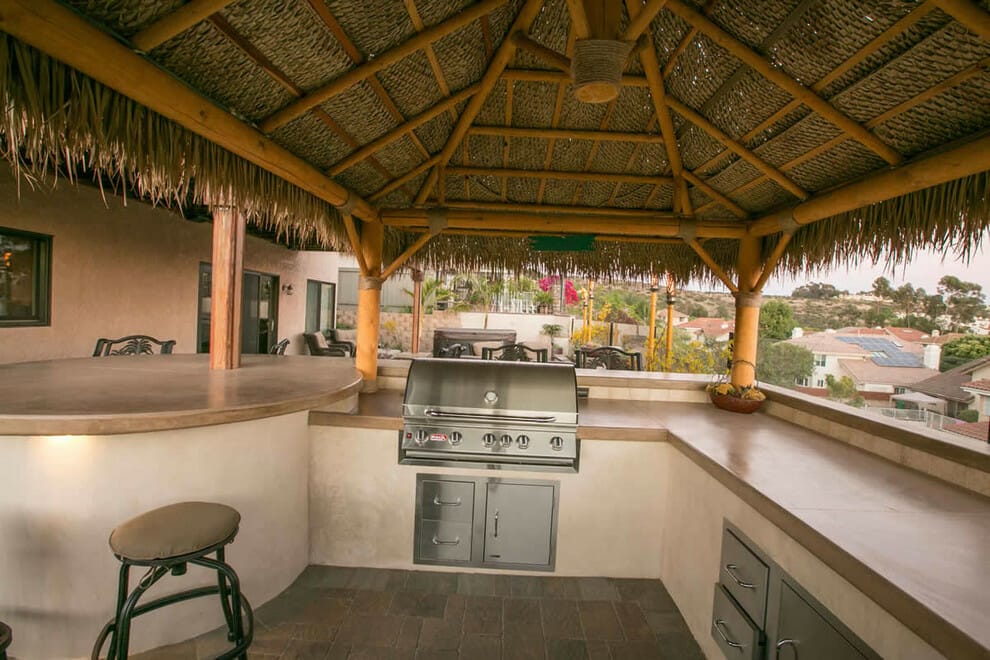 Many people have combined modern themes with rustic objects. Therefore, you no longer need to doubt its harmony.
You can even freely go with a thatched roof pergola to give your open kitchen an eye-catching shade.
However, please be careful because thatch and bamboo are flammable materials.
21. BBQ Island Ideas with Double View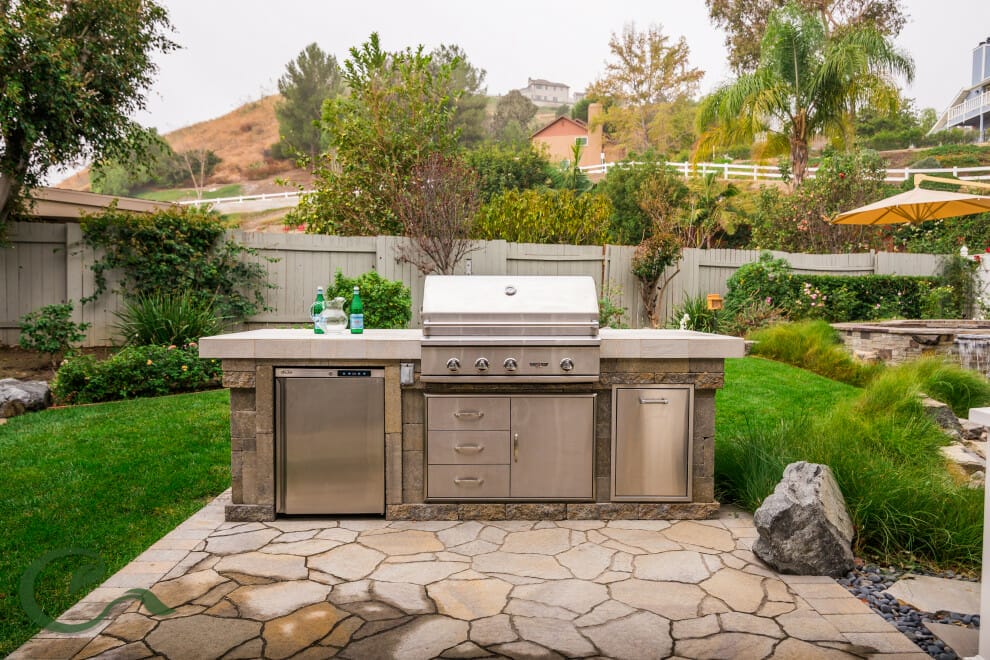 Suppose you are not satisfied with only getting one view on your patio. In that case, you can simultaneously present two different landscapes to accompany your barbecue day.
It would help to plant a fresh green lawn on the other side of your stone patio. Then place your BBQ island right between the two. That way, you will have a new, more comfortable, and refreshing outdoor space.
22. Roofless BBQ Area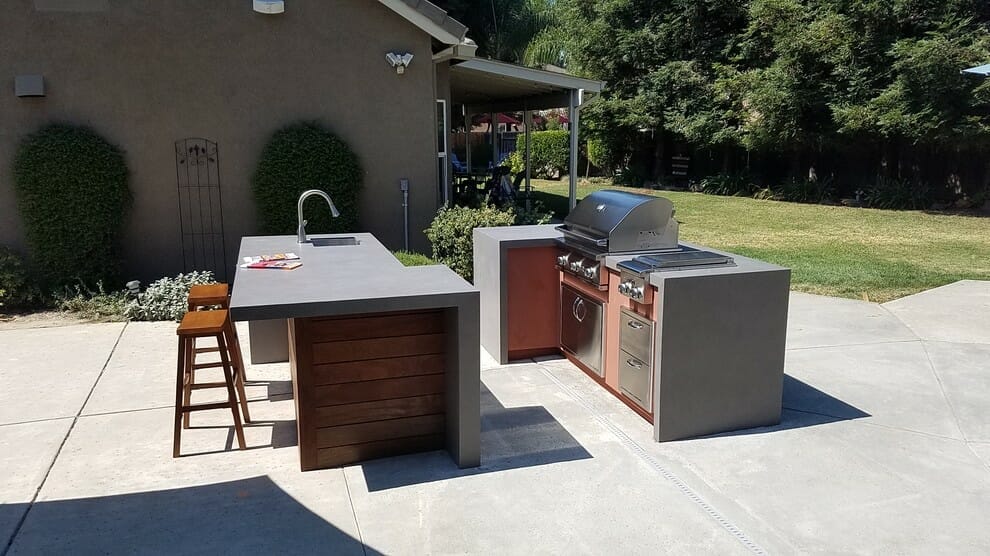 Having a roofless BBQ spot is, indeed, not a big problem. Yet, you should also regard the upkeep of all your grilling kits. Because, you know that not all materials are suitable and able to withstand the weather changes.
Hence, you can protect your BBQ kits with another removable cover or hood to overcome this.
23. Provide Shade for Sitting Area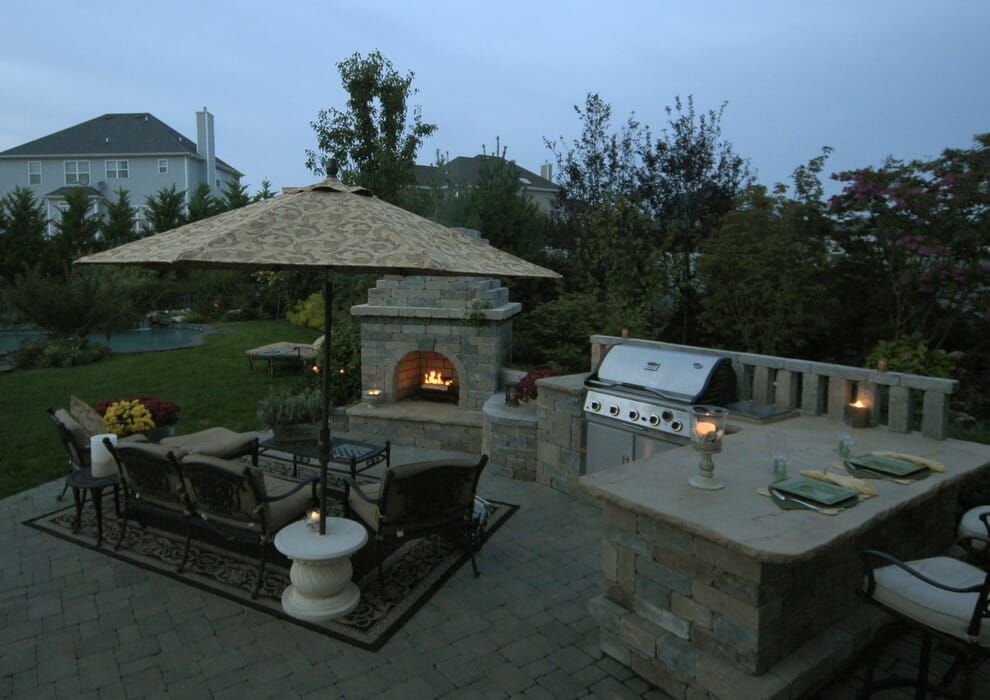 Complete BBQ island ideas will ask you also to provide comfortable and shady sitting space. Thus, you can give a shade or an umbrella right above your gathering spot.
So you can still have a friendly chit-chat with family, although you have to cook on the other side. A reachable distance between one spot to another can help you keep a good bonding with them.
24. Mediterranean Style with Barbeque Kit and Pizza Oven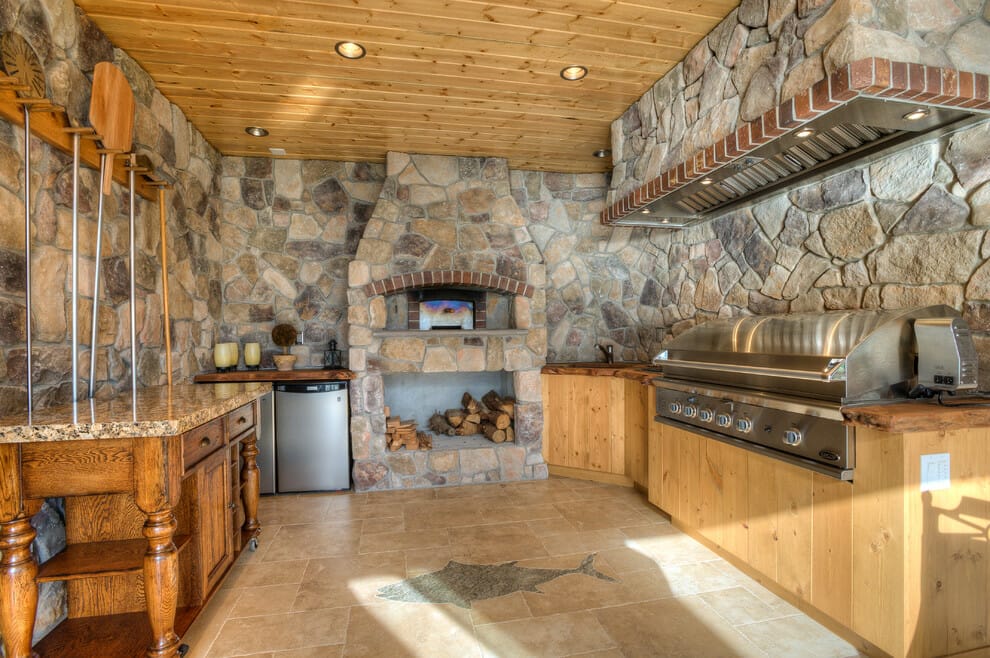 Have you ever thought about having a complete and practical BBQ spot? If that's your dream, one strategy suitable for an outdoor kitchen improvement is to bring a pizza oven near your grilling kit at once.
Certainly, it will be perfect for large areas. However, make sure that everything you provide is what you really need unless it will become in vain.
25. Arrange Seating Space Separately and Provide Additional Warmth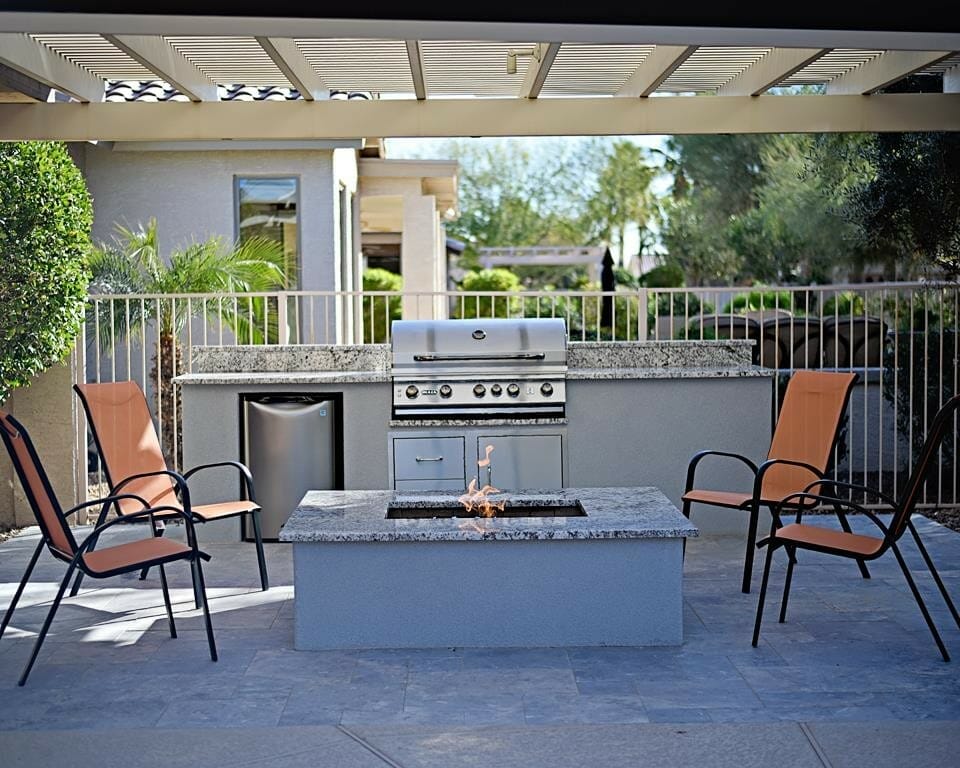 Arranging a gathering spot alongside a grilling area is a clever application of BBQ island ideas. Especially if you also provide a fire pit in the center of the space. It will make your evening gathering warmer.
Moreover, it would be best to provide a lattice patio cover for good airflow.
26. Traditional Open-Air Kitchen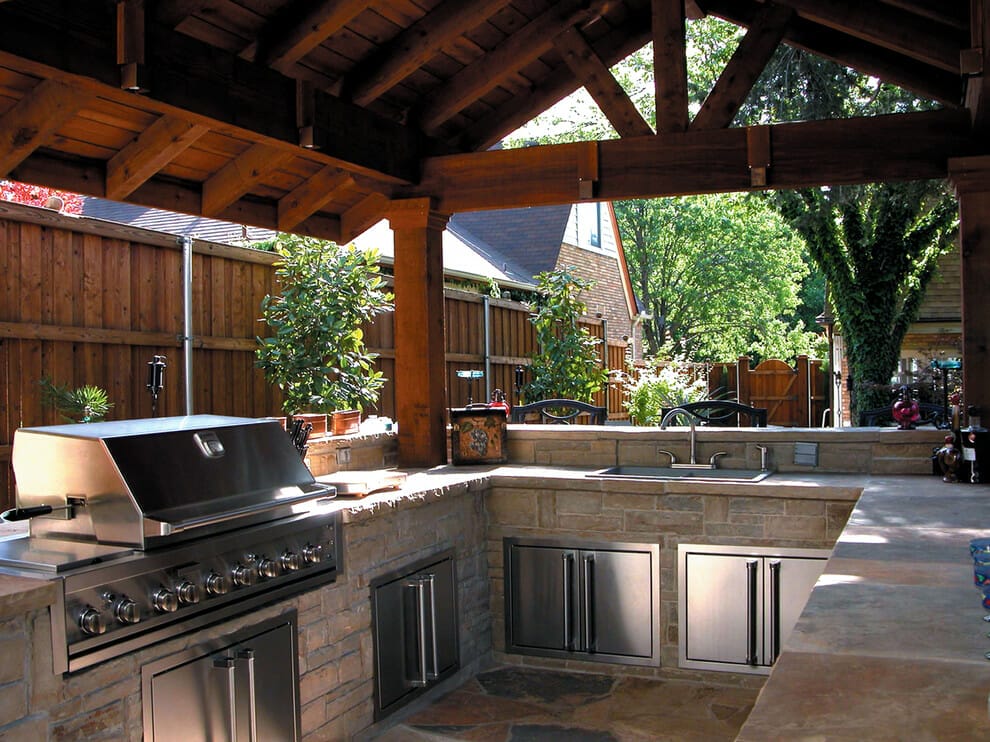 Going with a traditional style pergola and a U-shaped worktop will not make your outdoor kitchen look outdated.
On the contrary, it will give an attractive personality and increase the aesthetic value of your home. It can be better to complement it with grilling kits made of stainless steel.
27. Semi L-Shaped Countertop
BBQ island ideas with an L-shaped kitchen bench might make your room arrangement look stiff. You can create a curved corner on the worktop as above to work around this.
Next, you can also place your grilling device close to the wall and provide an attractive backsplash behind it.
28. Don't Forget the Ceiling Fan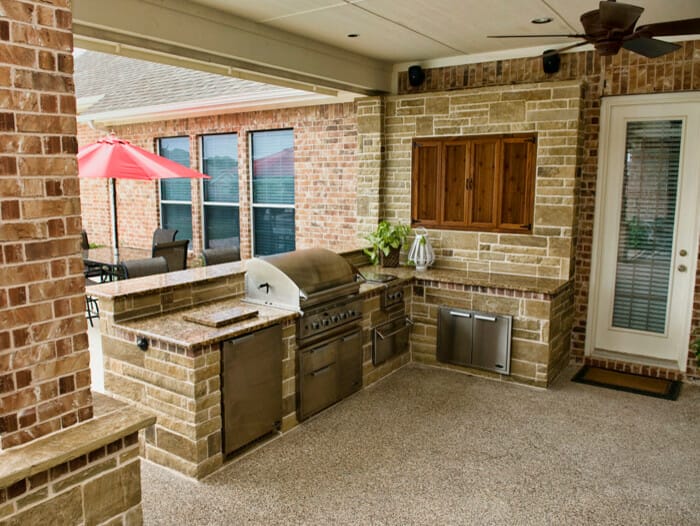 Some people may think installing a ceiling fan in the BBQ area is silly. But this element is needed to create better air circulation. In addition, it will help reduce the annoying smoke in your gathering place.
29. Ample Gathering Space with Dining Table, BBQ Kit, and Sofa Set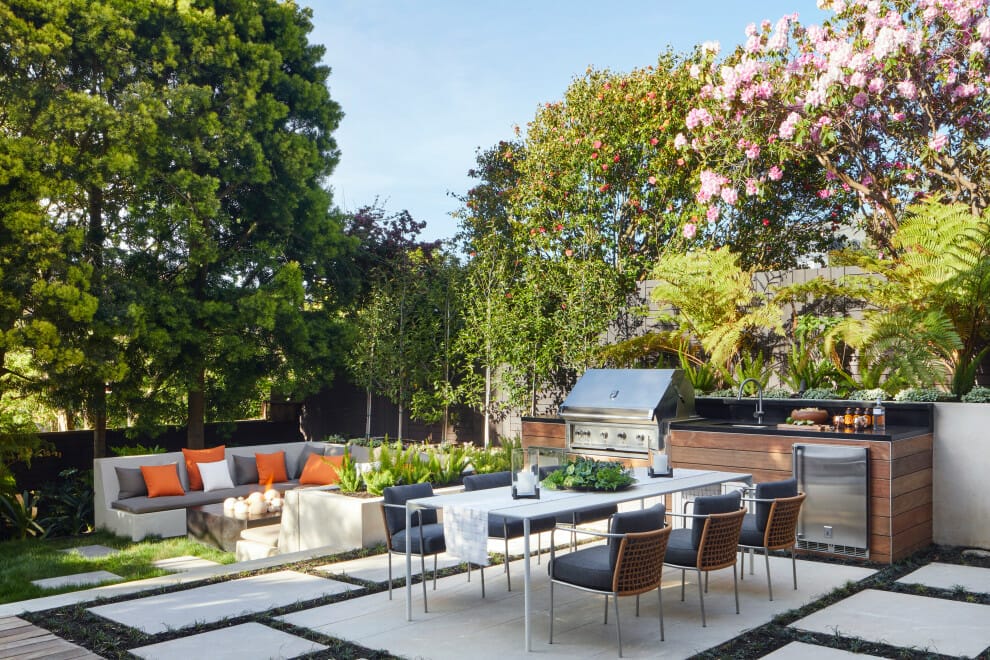 Here are the final BBQ island ideas we recommend. Of course, it contains complete elements. It starts from grilling kits, a dining table, to a sofa set.
By presenting a combo like this, it is clear that no one will be able to refuse your barbecue party invitation. Even better if it is also complete with a refreshing landscape. No wonder you and your family will get the best BBQ time ever.
After all, of all the BBQ island ideas above, there are some parts that you can't do yourself. Therefore, it would be best to always coordinate with professionals to create an outdoor kitchen that suits your dreams perfectly.