It is time to start thinking about incorporating some front porch plants ideas into your space. Aside from filling up an empty room on your terrace, they will also make a charming statement and boost the curb appeal.
If you are unsure how to introduce plants to your front porch, check out the following ideas to find the best approach.
1. Charming Centerpiece
Let's begin with this fully furnished front porch that looks simple but charming at the same time. The potted plants double as a centerpiece and a part that lends a lively color to the space.
Despite the glass screen, this front porch still receives adequate sunlight for the potted plants to grow happily.
Against the neutral white and gray palette, you cannot deny how important the plants are to keep the front porch looking fresh.
2. DIY Front Porch Container Ideas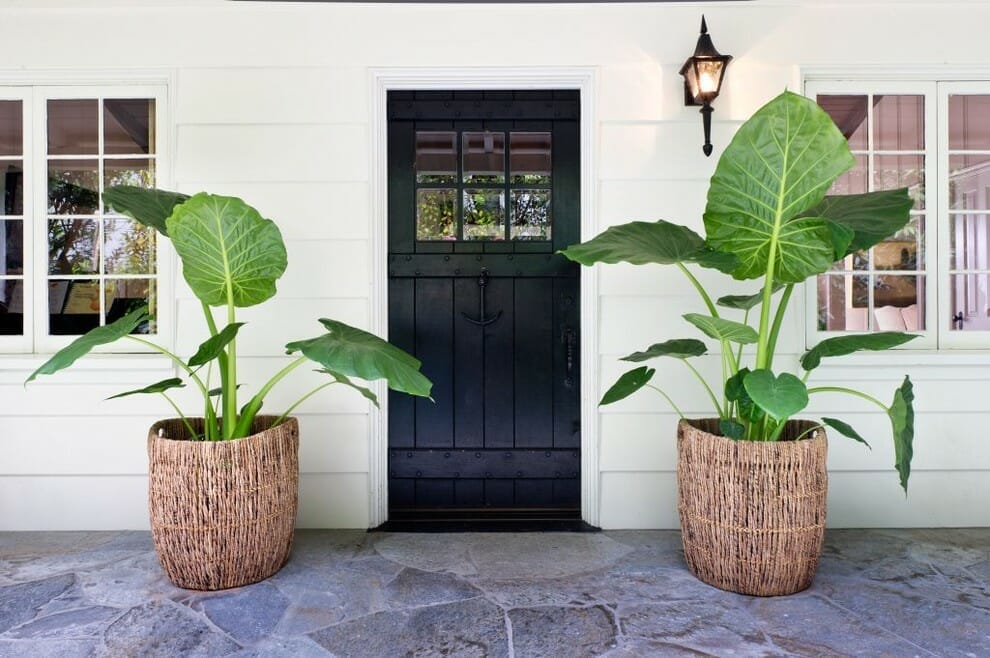 These front porch plants ideas invite all DIY lovers to a creative project. The planters are made of natural materials that you can replicate easily.
It is a smart choice to grow elephant ear plants in these planters. Their foliage size and the overall height match the space seamlessly.
Besides, the green wide leaves stand out against the white shiplap walls behind them.
3. Beautiful Front Porch Garden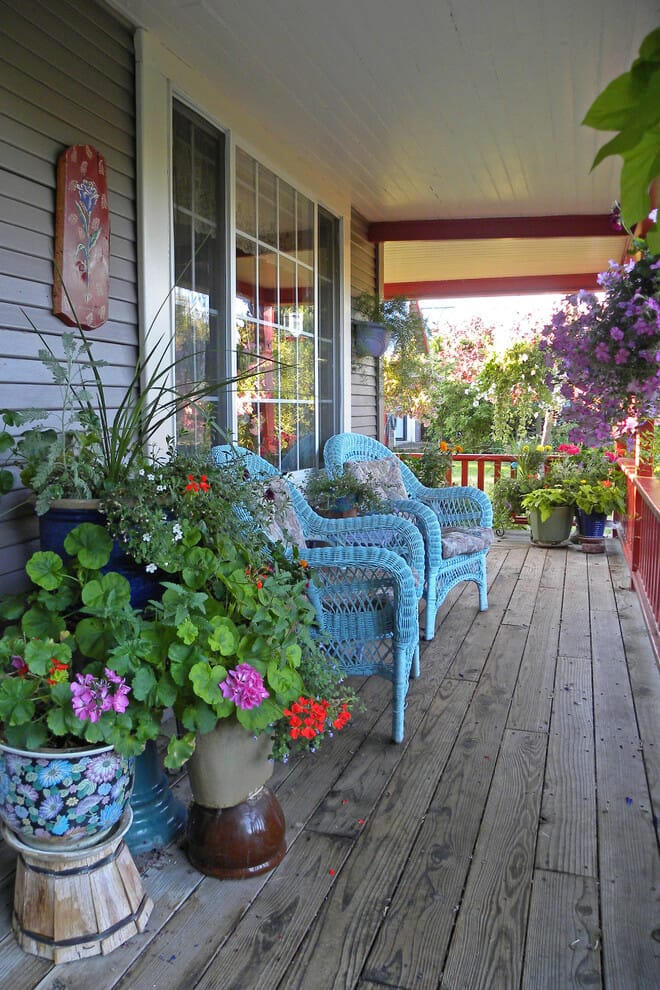 Bring your flower garden to the front porch and you will be able to enjoy its beauty a bit closer.
Opt for flowery plants that bloom all year round to keep your front porch stunning every day. In addition to the ones placed on the floor, you can also grow them in hanging pots for extra beauty.
With surrounding colorful flowers, enjoying your morning coffee on that light blue chair will be indeed relaxing.
4. Welcoming Front Porch Plants Ideas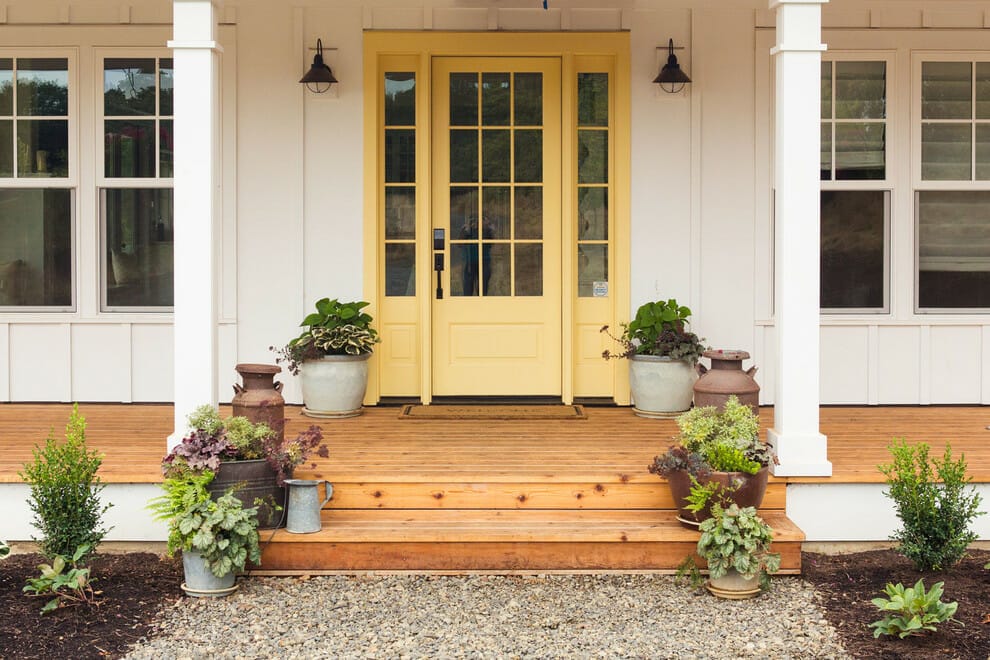 A line of potted plants leads the way to the front door, creating a mesmerizing appearance that increases the curb appeal.
Pots in different shapes and colors are used for added depth and beauty. Meanwhile, the planted plants that sit across are from the same varieties to create a balanced look.
5. Outdoor Paradise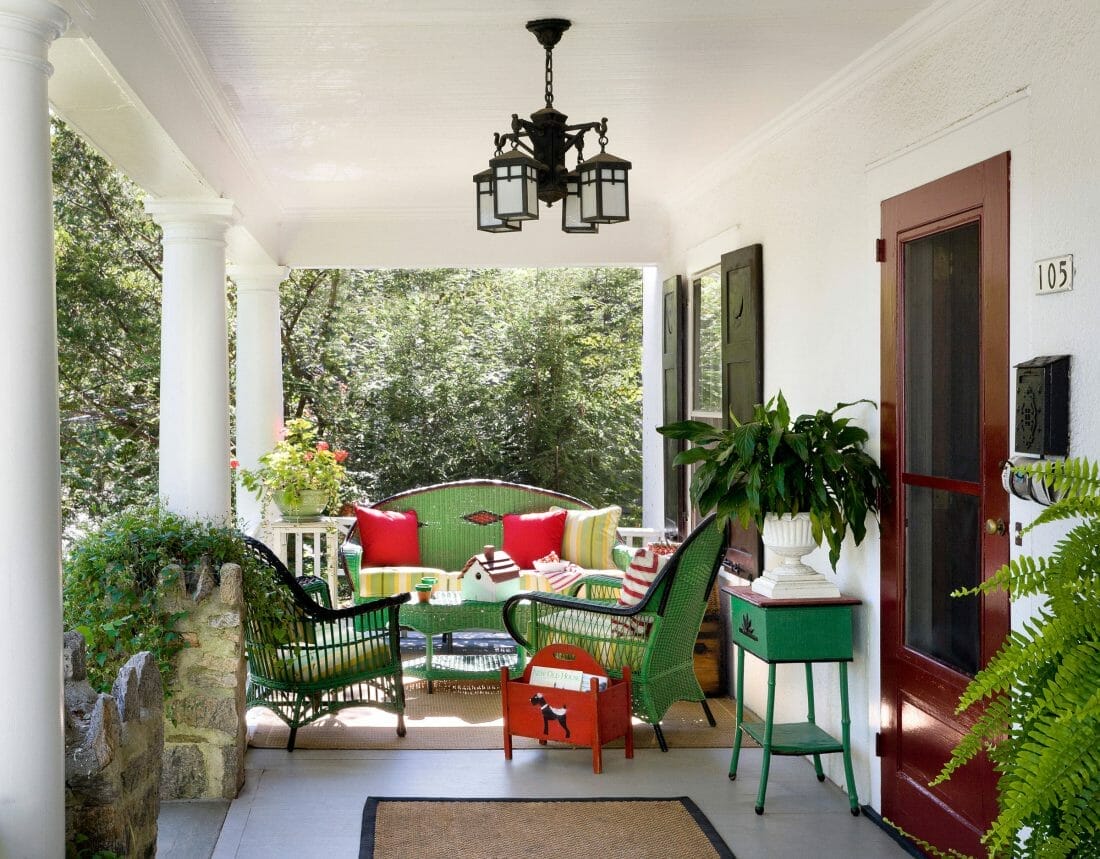 Front porch plants ideas allow you to bring the liveliness of the garden right into your home. With the right outdoor furniture, this outdoor space can have the comfort of an indoor living room.
The couch and painted wicker armchair mirror the tones of the greeneries. On the other hand, the walls and floors are kept neutral to give the spotlight to these decorations.
6. Concrete Planters in Different Shapes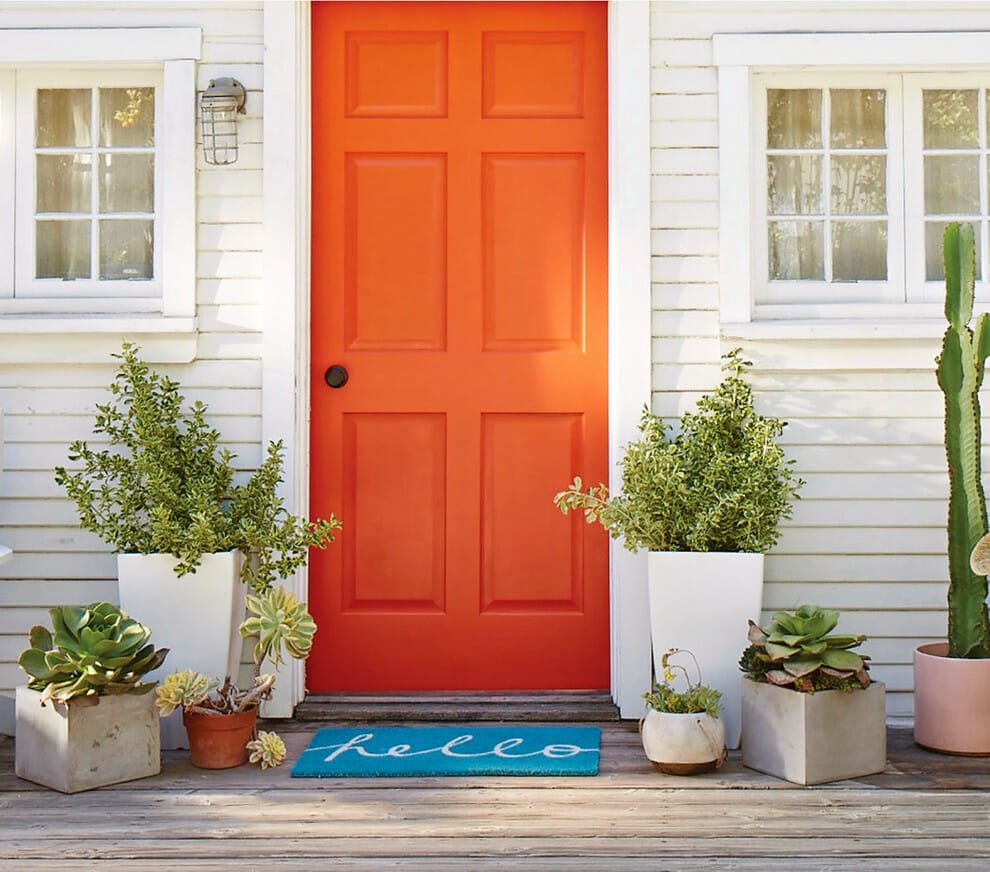 Available in various shapes and finishes, concrete planters make a great container option when you want to bring some plants to your front porch.
You can steal the look of this charming porch to get the most of concrete planters. Pick different shapes of these pots and grow plant varieties that match their style.
For instance, you can plant succulents in the cube concrete pots and use the round one to grow the cactus.
7. Unique Front Porch Planter Ideas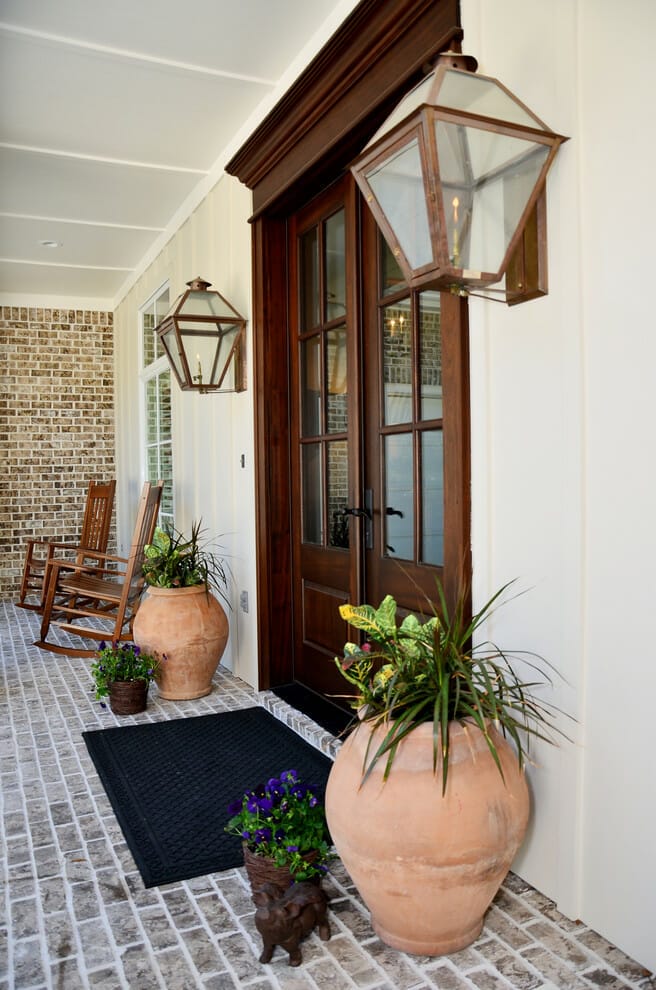 A pair of terracotta urn planters are ready to welcome guests on this front porch. Their natural tone makes a pleasant contrast against the white exterior.
Green perennial ferns make a perfect choice to grow in the containers. Petunias are on the smaller planters for added beauty.
Aside from the lively plants, this front porch also features a pair of beautiful wall sconces that match the hues of the door and the outdoor furniture.
8. Spice Up with Greeneries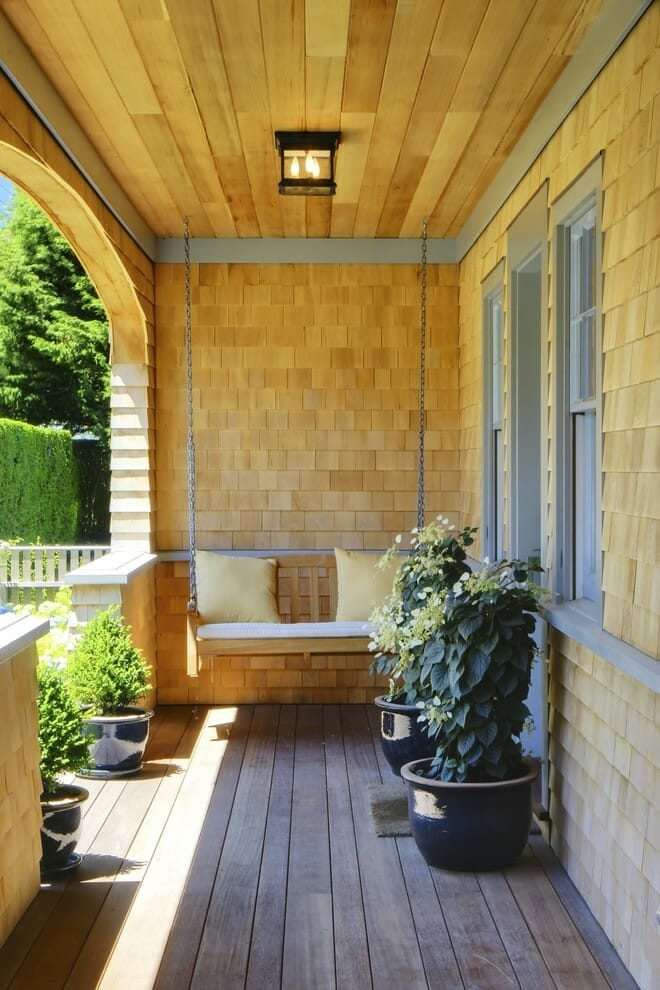 Spicing up your front porch with green plants is one of the simplest methods to make this outdoor space stand out.
Potted plants are particularly popular to decorate a front porch since they can keep everything neat and controllable.
This cozy front porch may look amazing on its own, but the black pots with greenery and a pair of boxwood topiaries have made the space even more charming.
9. Extra Large Pots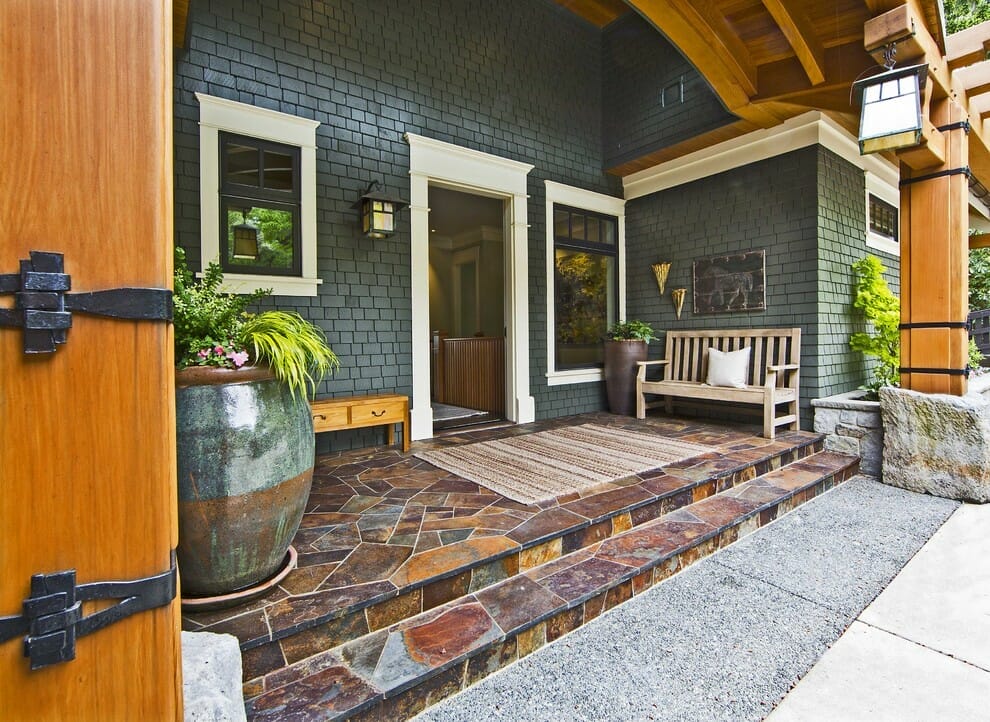 A large pot will add a statement to your front porch. With a metal-like finish, this big planter makes a great example if you want to introduce greeneries with a style.
Along with the greeneries in the large containers, the unstained wooden bench and a natural fiber area rug work well to create a stunning outdoor space.
Moreover, the dark-painted exterior walls make it easier for these decorations to stand out.
10. The Beauty of Hanging Ferns
When it comes to front porch plants ideas, growing ferns in hanging baskets always makes a good choice. Hang some of them over the deck fences for visual interest.
With colorful flower beds in front of the porch, the ferns appear like an extension of the garden too.
If there is a theft issue in your neighborhood, consider attaching the chains or hangers securely to slow down nimble hands attempting to remove your lovely ferns.
11. Small Front Porch Ideas with Plants
Don't let your small front porch stop you from incorporating some greenery in the décor. With the right choice of containers and varieties, added living plants can create an inviting outdoor gateway.
A variety of succulents sit on the modern clay urns in this narrow porch. The tall jade plant is eye-catching enough to become the center of attention.
The black exterior wall makes a perfect backdrop for the colorful succulents and the furniture pieces to beautify the space.
12. Shaded Front Porch Plants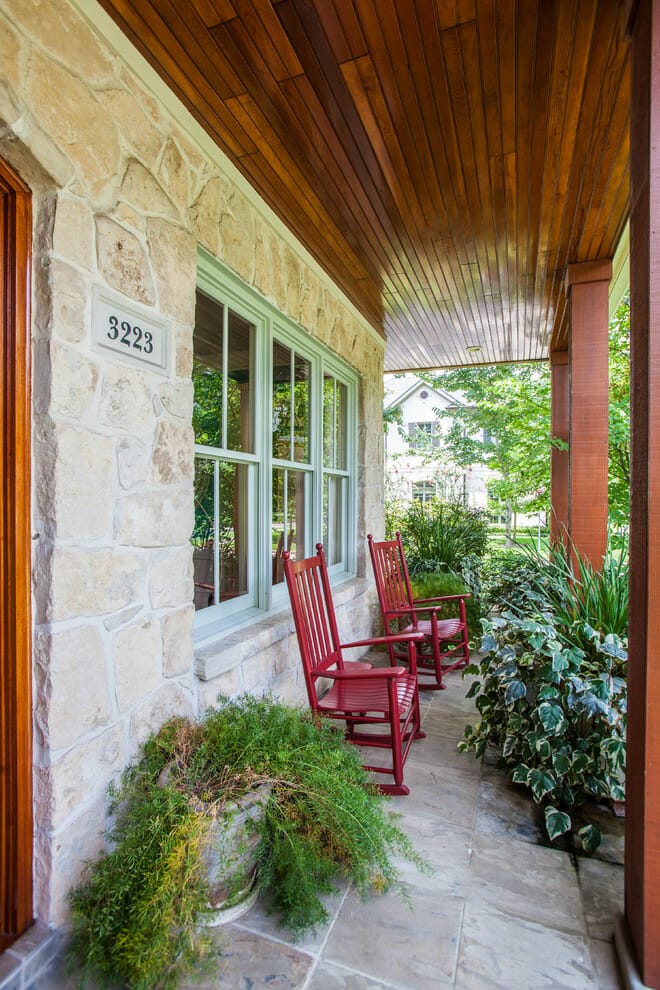 If you have a shaded front porch, growing plants that can thrive properly in a shady area is a must.
While impatiens often becomes the ultimate choice, hostas can be a perfect alternative if you need greeneries in a cool, shady spot like this front porch.
You can pair your potted hostas with perennial ferns or other shade-loving plants like coleus for added greeneries in this outdoor living space.
13. Well-Pruned Blooming Plants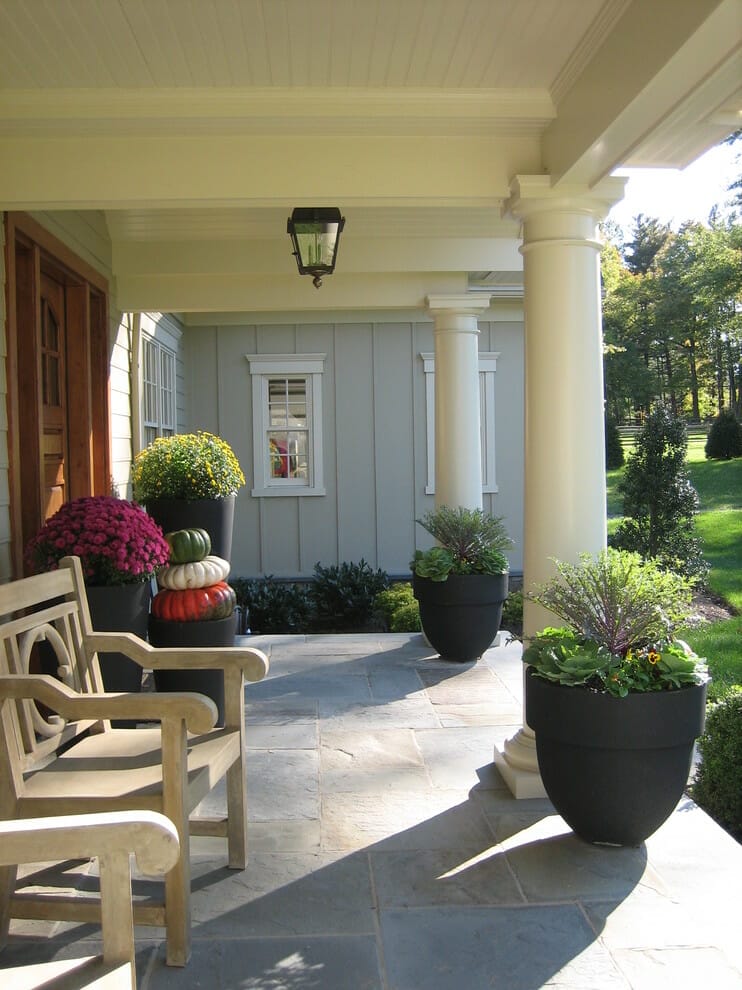 The best front porch plants ideas without proper maintenance will be nothing. Although some flower varieties are easy to grow, you still need to prune and take care of them to keep their visual impact.
Depending on the breed of your petunias, impatiens, or ivies, you must make sure to practice good maintenance to keep them in shape.
14. The Classic Boxwood Topiaries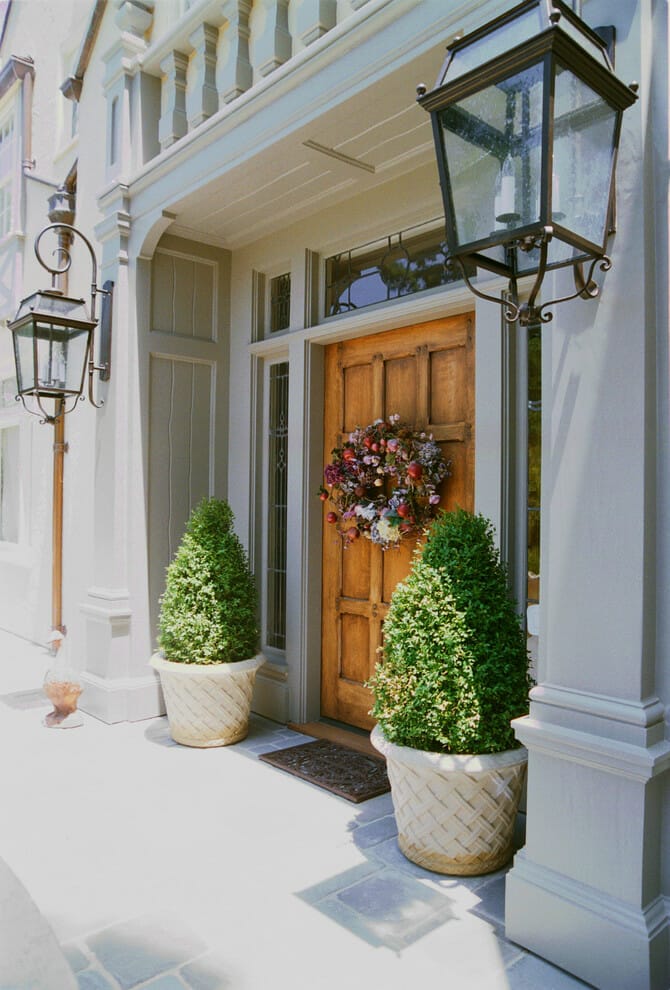 For a narrow porch that does not serve a seating area, you can keep it classic by adding a pair of boxwood topiaries. Go with the tall, pruned ones to give a more decorative touch to the space.
Boxwood topiaries are low-maintenance and capable of withstanding cold temperatures. Hence, you can expect them to beautify your front porch year-round.
To make it more interesting, hang a flower wreath on the front door. A pair of classic wall-mounted lanterns will increase the curb appeal too.
15. A Bunch of Greeneries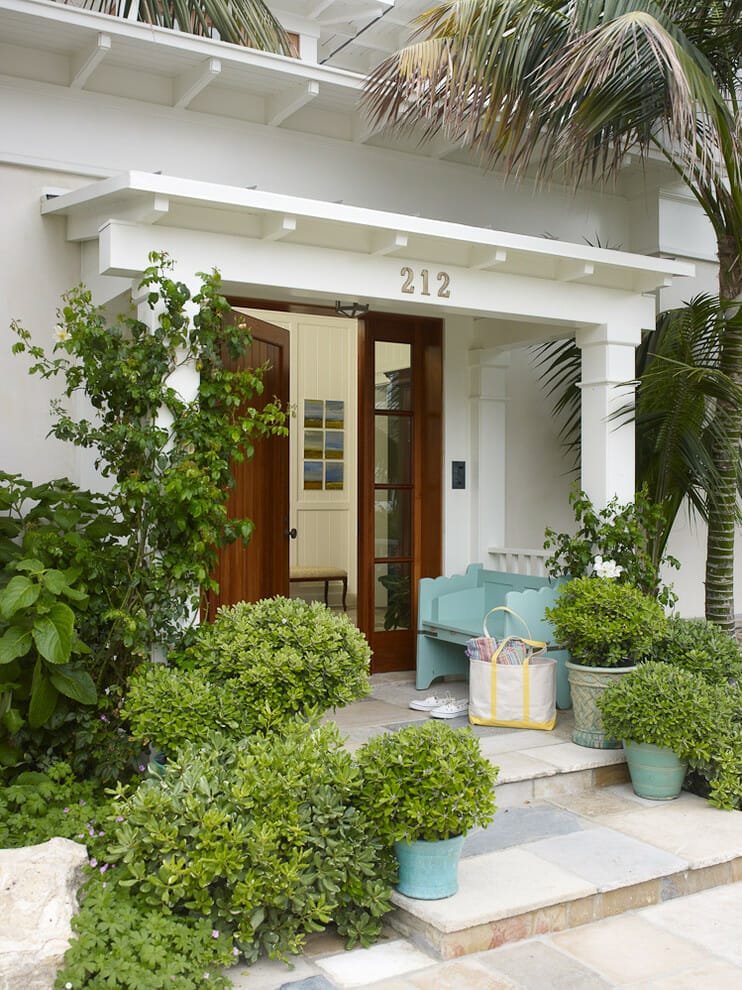 Instead of varieties that bloom colorful flowers, you may prefer one-tone front porch plants ideas as shown in this picture.
From trees to low-growing shrubs, this front porch has a bunch of greeneries that enliven the all-white palette behind them.
The pastel blue pots have the same tone as the bench. Meanwhile, the stained wooden door becomes the point of attention among the greenery.
16. Simple yet Impactful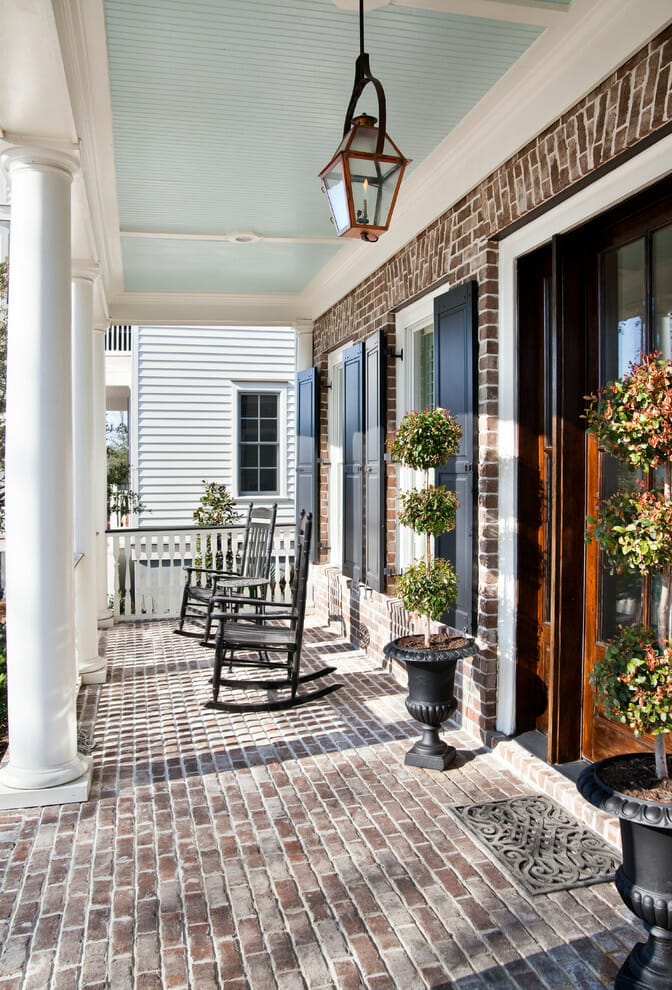 Even a small plant can create an impact on your front porch. This pair of potted Eugenia is no exception with its elegant look.
Plant the Eugenia in an urn and clip it to form multiple balls for a formal flair. Then, place one on either side of the front door to boost the curb appeal.
However, since Eugenia grows best in a sunny spot, this idea is perfect if your front porch receives enough daily sunlight.
17. Festive Décor with Plants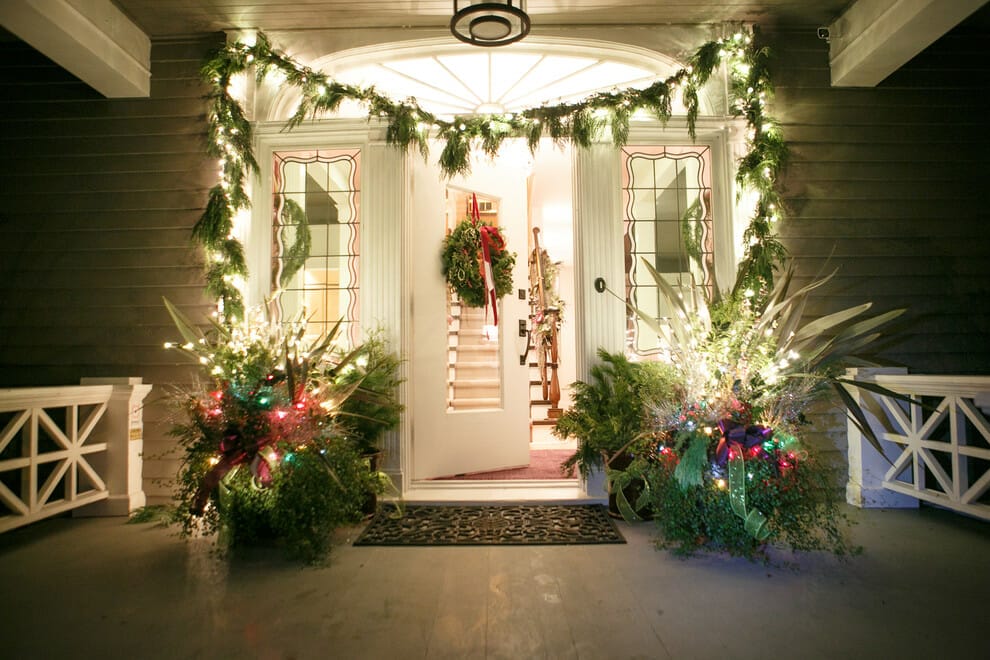 Incorporate plants in your front porch décor during the festive holidays too. With additional adornments, you can turn their natural beauty into something fancier that matches the mood for celebration.
Just like the above front porch, you can wrap your plants with colorful strings of lights. Don't forget to include a green garland and Christmas wreath in the décor for a perfect festive commemoration.
18. A Variety of Flowering Plants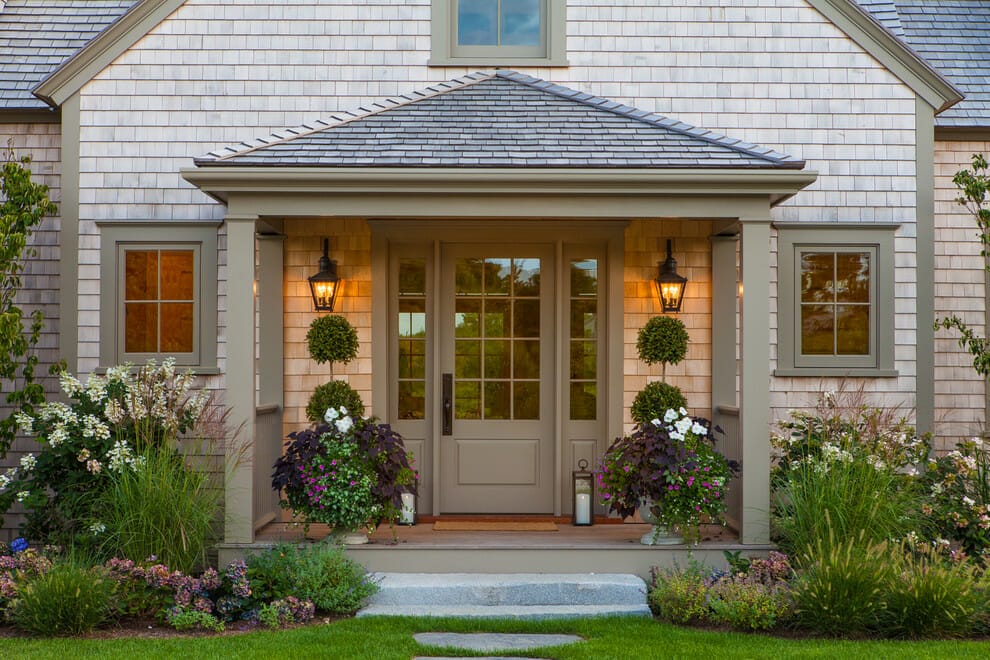 Assorted potted plants on this front porch create a beautiful extension of the surrounding flower garden.
From the small-leaf evergreen shrubs to the blooming perennials, this front porch has everything needed to boost the aesthetic of the house.
A sense of height is achieved by the pruned topiary Eugenia. Meanwhile, the mix of tradescantia zebrina and petunias captivate with their eye-catching colors.
19. Splash of Colors in the Summer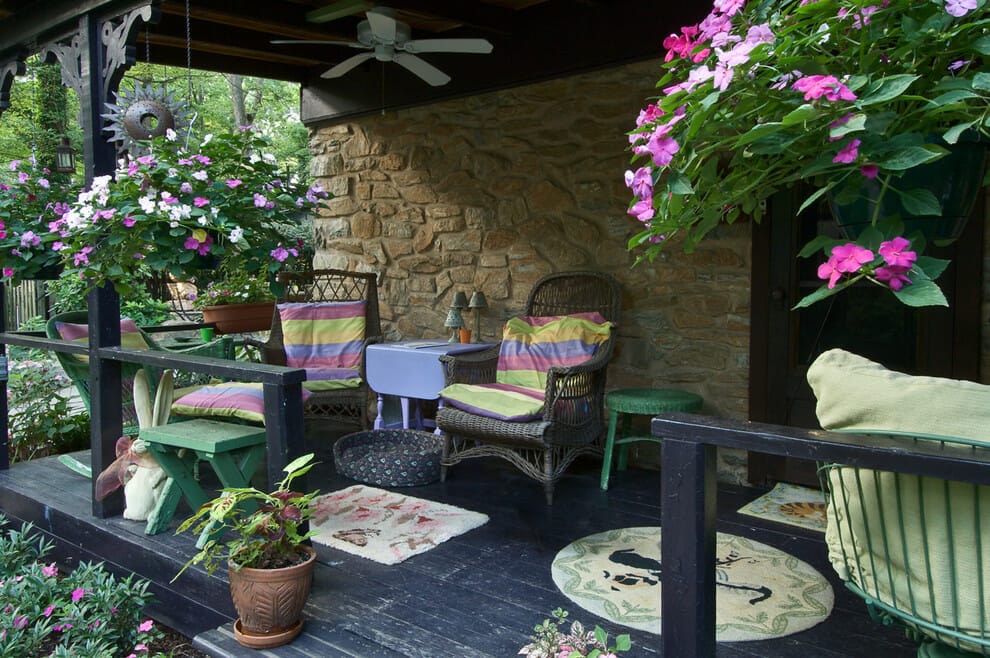 If you want to bring a splash of charming colors throughout the summer, regular petunias will make a perfect option.
Grow your colorful petunias in hanging baskets and place them in open areas along the edges of the porch since these flowers will value daily sunlight.
For additional beauty, you can also plant a similar variety of petunias in the garden bed next to your porch.
20. Hanging Supertunia Petunias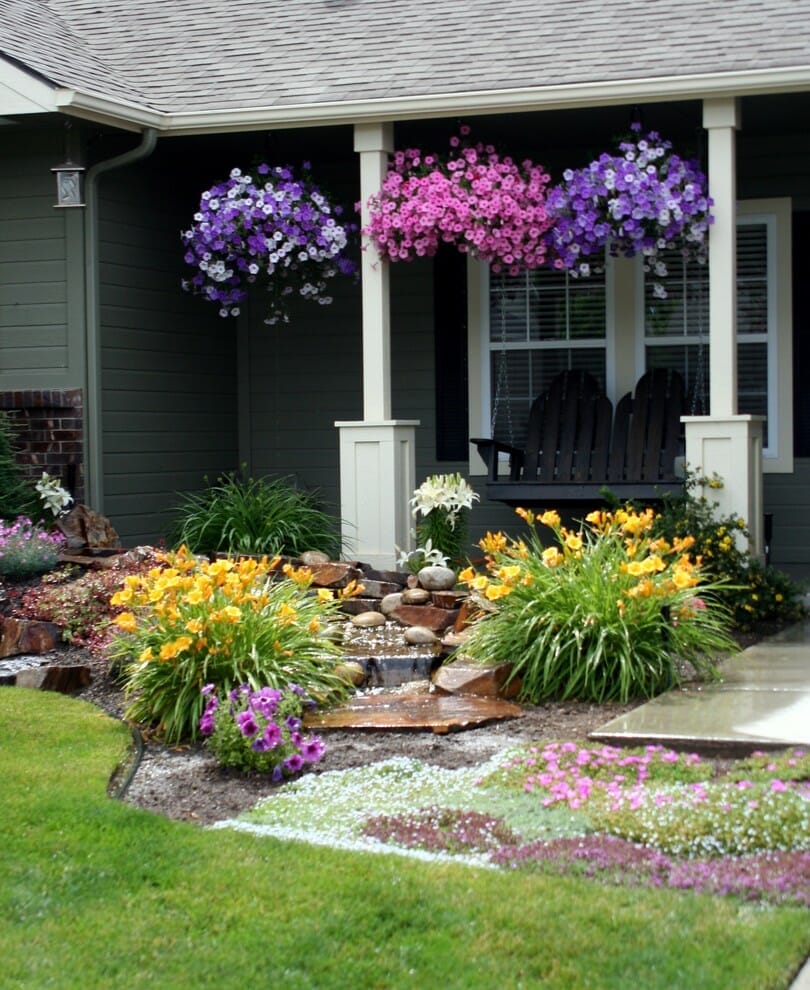 This breed of petunias also creates a beautiful front porch decoration with its lavish blossoms. Grow them in hanging pots to attract butterflies and hummingbirds to your terrace.
Add other vibrant colors to your porch area by growing a bird of paradise on the flower bed. Its yellow blossoms will help to enliven the dark shiplap exterior.
21. Fall Front Porch Plants Ideas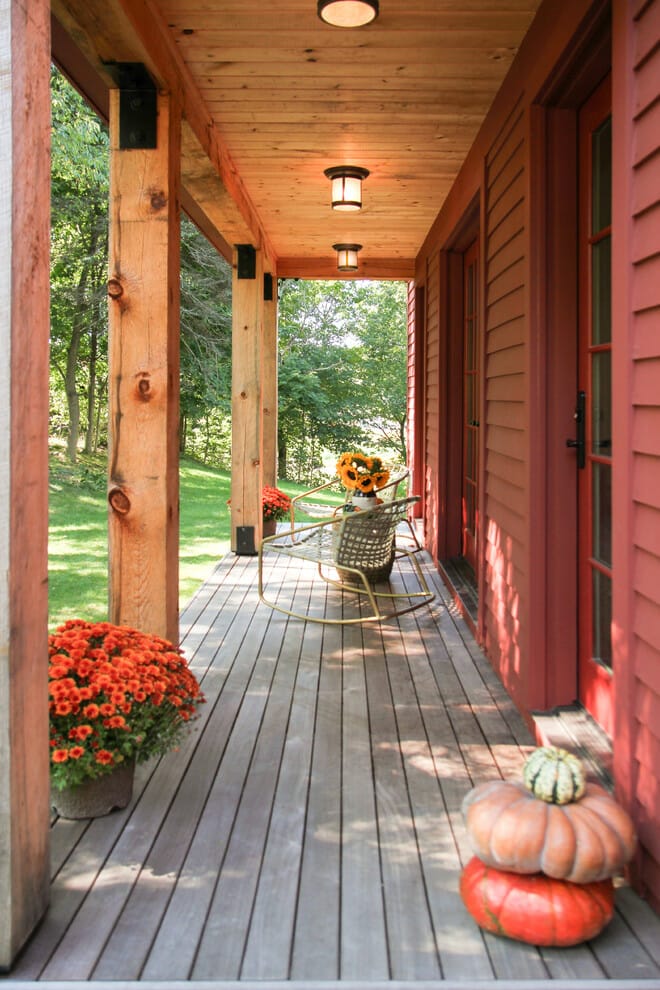 If you prefer to decorate your front porch depending on the change of seasons, this picture may inspire you for the upcoming fall décor.
Orange pansies make a perfect choice for a fall front porch decoration in warm climates. Pair this charming annual with colorful squashes to hint at the seasonal décor.
Since pansies are short-lived perennials, you can easily swap them with other blooming plants when the next season is just around the corner.
22. Metal Pot Stands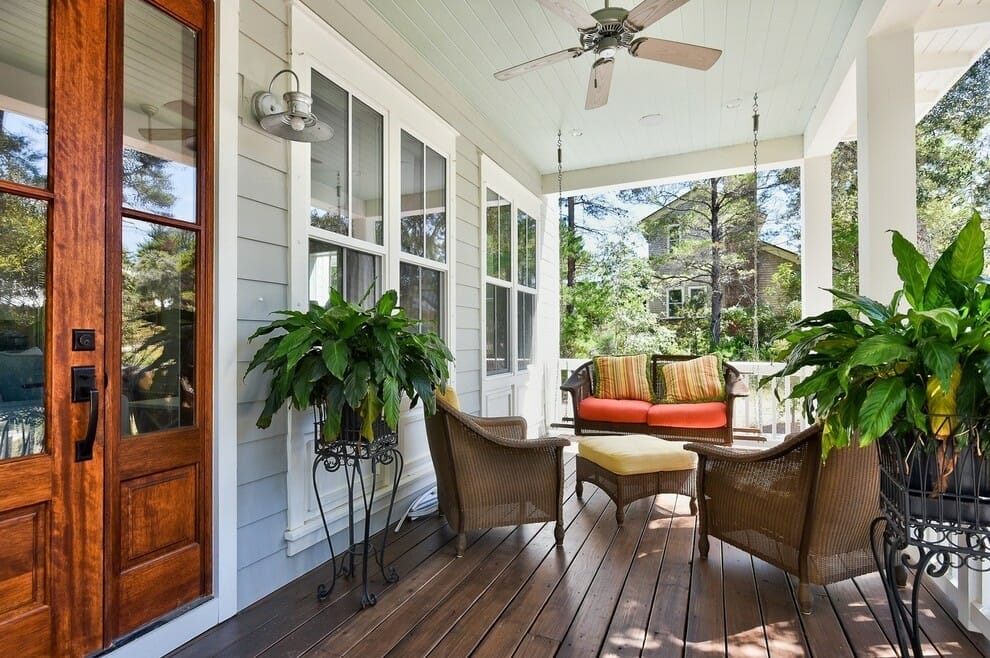 If you cannot grow a small tree in your front porch to add a sense of height, don't forget that you can still use a beautiful metal pot stand.
23. Mixed Flowers in Boxes
Welcome your guests with a mix of blooming annuals like pink petunias, red begonias, and white marigold.
Consider creating your own wooden flower boxes and fill them with these colorful flowers. Otherwise, you can get concrete containers that are big enough to plant the blooms.
24. The Tropical Charm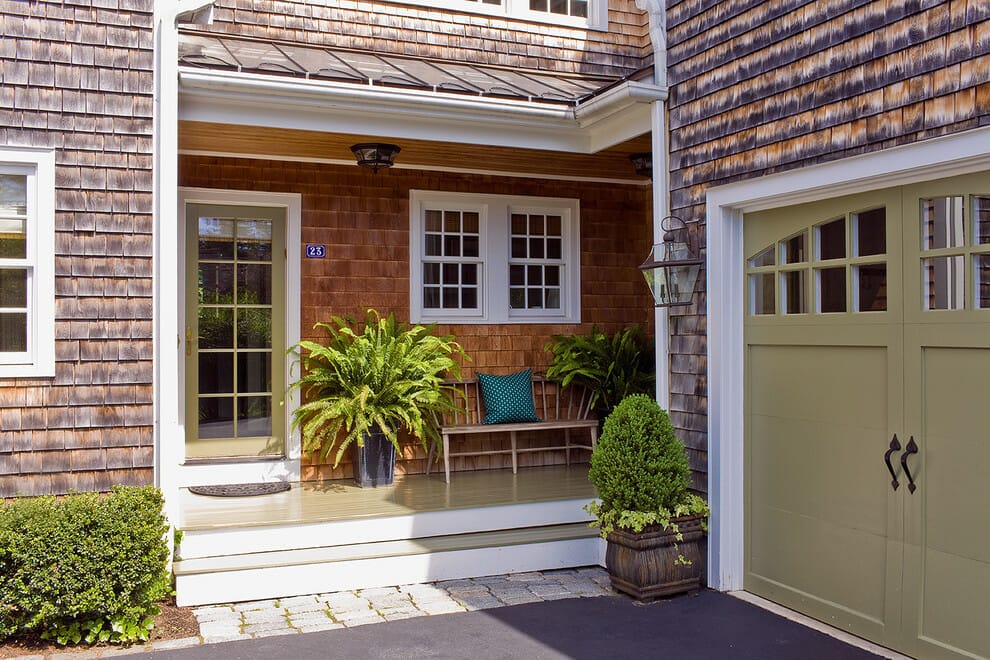 Bring a tropical charm in your front porch by incorporating a pot of Boston fern or two. This striking evergreen plant can add a sense of height in the outdoor space since it can grow up to 40 – 90 cm.
More interestingly, Boston ferns can grow well in indirect sunlight, so they make a perfect porch plant for a reason.
25. Added Sense of Height
You can add a sense of height without growing a tall tree on your front porch. With a larger planter and lavish snake plants, achieving this statement is not impossible.
For a finished look, fill the empty space in the planter with slow-grower shrubs or mosses.
26. Striking Front Porch
Petunias provide you with plenty of freedom when decorating an outdoor space. They can work attractively in different parts of your porch with their rich shades.
For purple petunias, you can grow them along with hostas or wandering jew. Their tones and growing habit will add some character to your front porch.
Arrange the potted petunias and other plants carefully to boost the curb appeal.
27. Unique Spiral Topiary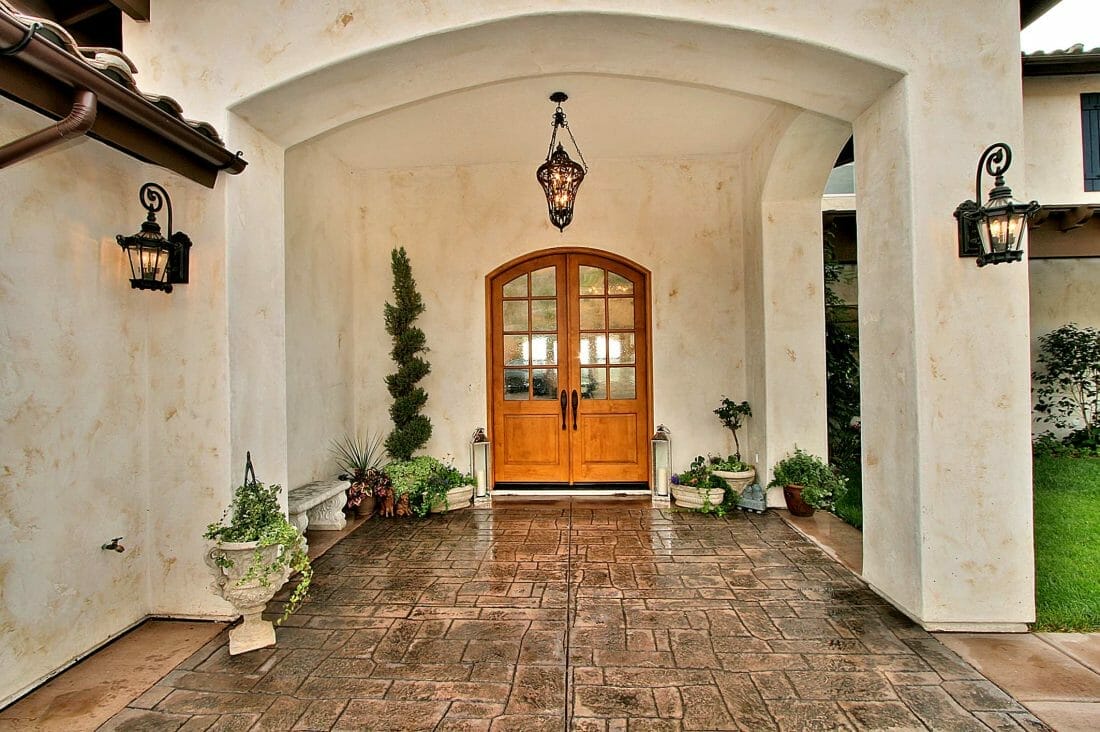 Grow a Spartan juniper in a container and include it into your front porch plants ideas. Trim the plant in a spiral manner as shown in this picture for a unique touch.
To maintain the spiral shape, you need to prune the topiary at least once every six months. If needed, pruning it more often to the desired height will not be a problem too.
In addition to the stunning juniper, plants in various shades of green also adorn this classic-looking front porch.
28. Charming Sunflowers and Creeping Plants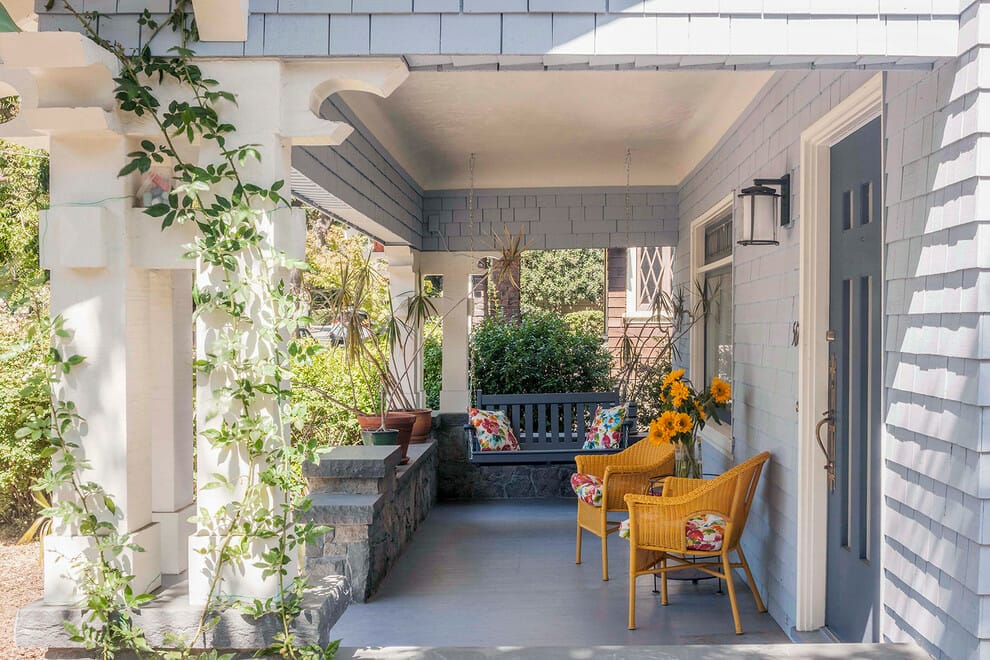 The light gray palette in this front porch does not look dull at all thanks to the lively decorations. A vase of sunflowers between the matching armchairs gives the space a charming touch.
In addition to the potted plants, a creeping plant also adds some character to this front porch. Meanwhile, the floral patterned throw pillows and cushions mirror the attractiveness of the flower garden.
Finally, you have discovered a list of top front porch plants ideas and are ready to apply them in your outdoor space!