Without a doubt, people have particular vanities like shoes, bags, and jewelry. If you can't resist accumulating hats, it's wise to give them a dedicated space. Here, I'll share a slew of creative hat storage ideas to continuously keep your abode organized.
Before reading up on my ideas, let's talk about hats first. Not only do they complete any outfit, but also offer protection against blistering cold. They protect heads from the unbearable sun's heat, too.
Having reliable storage systems for hats is essential. In addition to keeping rooms mess-free, they also maintain hats' shapes while carrying style. Ahead are my top picks.
1. Hat Storage Ideas for Mudrooms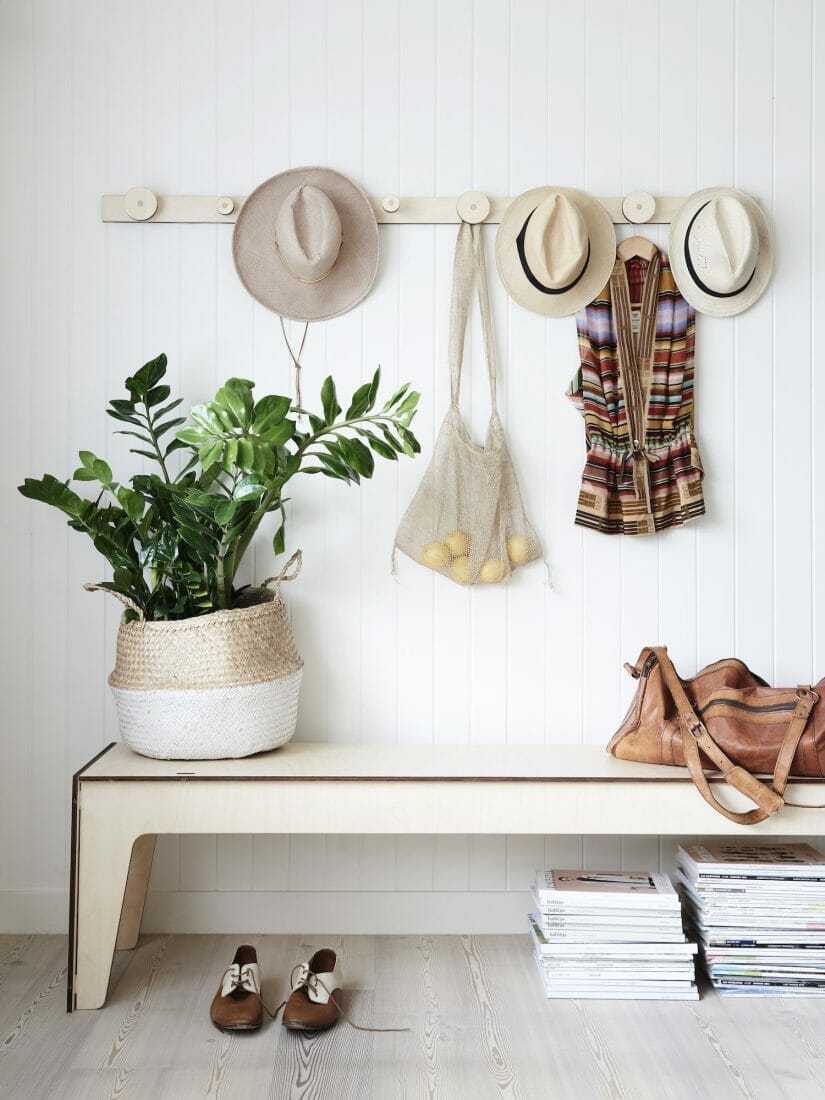 This mudroom employs vertical white shiplap panels. Since they epitomize airiness, the space appears more expansive. The wall paneling highlights the cream-colored hat rack that perfectly matches the sleek bench.
The streamlined hat rack comes with circular hooks of different sizes. In addition to holding hats in place, they can accommodate eco-friendly grocery bags and clothes hangers.
There are neat stacks of books underneath the mudroom bench. The two-tone seagrass basket becomes a planter here. Moreover, it houses a robust ZZ plant while instilling carefree vibes.
2. Cowboy Hat Storage Ideas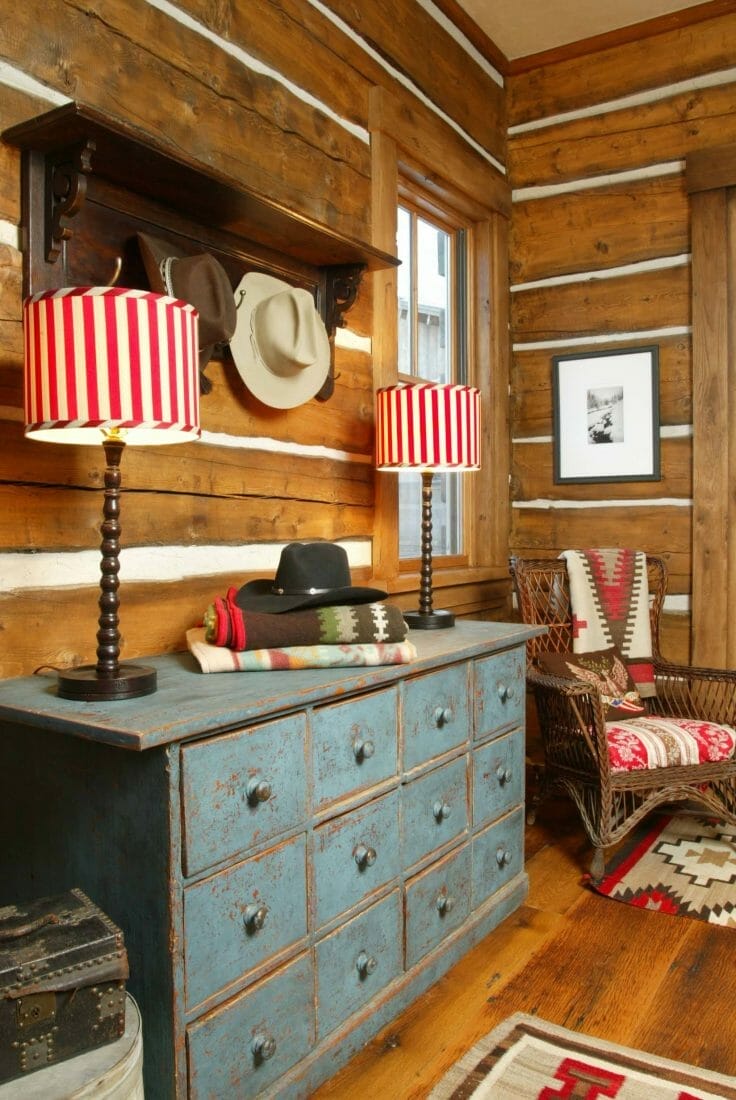 As you see, this farmhouse-style room is full of rustic vintage pieces. The distressed muted blue sideboard leads the eyes to red and white striped lamps that double as focal points.
Over the shabby chic sideboard is a richly-stained wood hat display rack. Moreover, it keeps the homeowner's cowboy hats within easy reach. The unit boasts an open shelf while oozing some vintage charm, too.
The dark-stained wood hat rack complements live edge planks that make pleasing striped walls. Cozy blankets and splashes of patterns elevate the room.
3. Entryway Hat Storage Ideas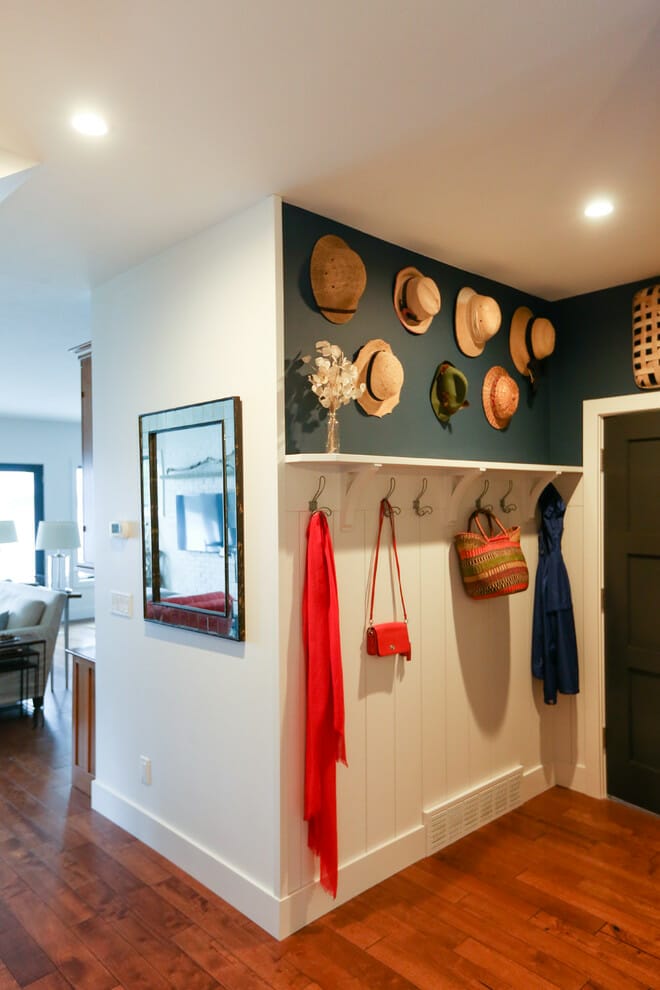 Need hat storage ideas for entryways? If so, emulate this idea. The hooks let the homeowner put her gorgeous hats on display.
The intense gray backdrop fabulously emphasizes assorted hats that act as wall adornments. Furthermore, it lends the entryway definition.
Here, the white open shelf employs a vase with fake blooms. Also, it fantastically demarcates the hat storage system from hooks for scarves and bags. Meanwhile, wooden floors lend the entryway unmatched warmth.
4. Touches of Color
Here is another mudroom featuring a simple hat display rack. Vintage metal hooks let the eye focus on fabulous hats. Also, they impart some character.
Bare bricks go with the rustic cube wall cabinet that keeps beach essentials under control. There are oversized vibrant clothespins too. They hold beach hats in place.
The extra-long mudroom bench employs shoe racks underneath. Meanwhile, the tartan stair runner, gallery wall, and colorful bulb holders spiff up this mudroom.
5. Under-Stairs Hat Display Rack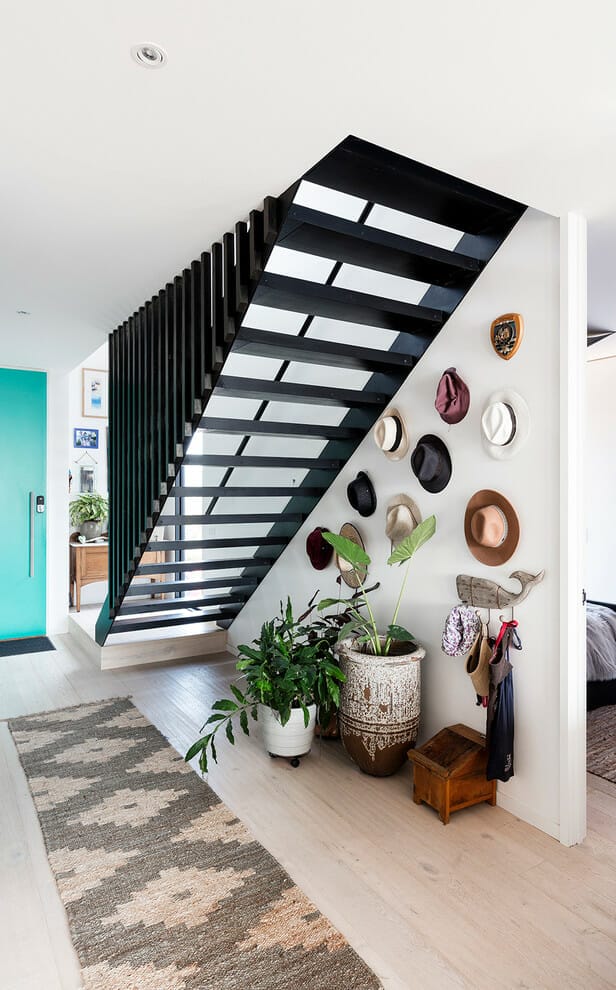 Typically, there's blank wall space under the stairs. So why not maximize it? Just install sturdy hooks for an assortment of hats.
This idea lets you display your terrific hat collection while saving some space. Moreover, hats double as embellishments that titivate the sterile wall.
You can spot a whale coat rack holding different items of the homeowner's kid here. The patterned rug, leafy plants, woodsy hues, and varied planters boost the abode's wow factor.
6. Hat Hooks and Shelves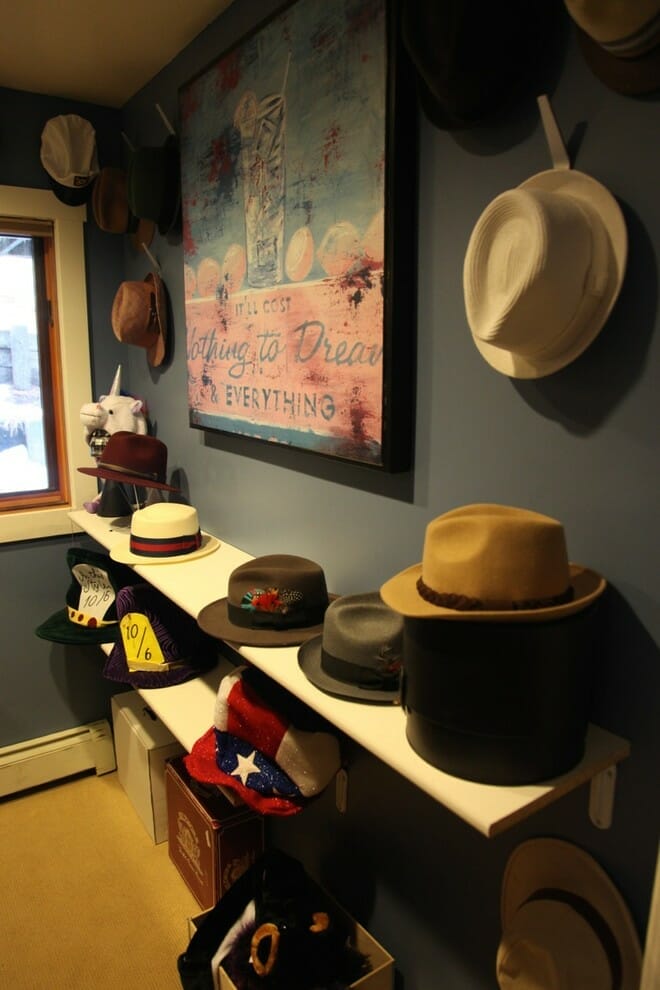 Speaking of hat storage ideas, try incorporating a simple setup first. Here, the storage system for hats only features sleek hooks and streamlined open shelves.
This hat storage system is suited to a small room. Pale gray hooks match the muted blue backdrop stylishly. In addition, they showcase a spectacular array of hats.
The white mopboard, shelving, and trim brighten up this space. Shelves of different lengths hold other hats while imbuing some visual appeal. Moreover, the mostly pink-and-blue artwork becomes a centerpiece.
7. Hat Storage Ideas for Coastal Homes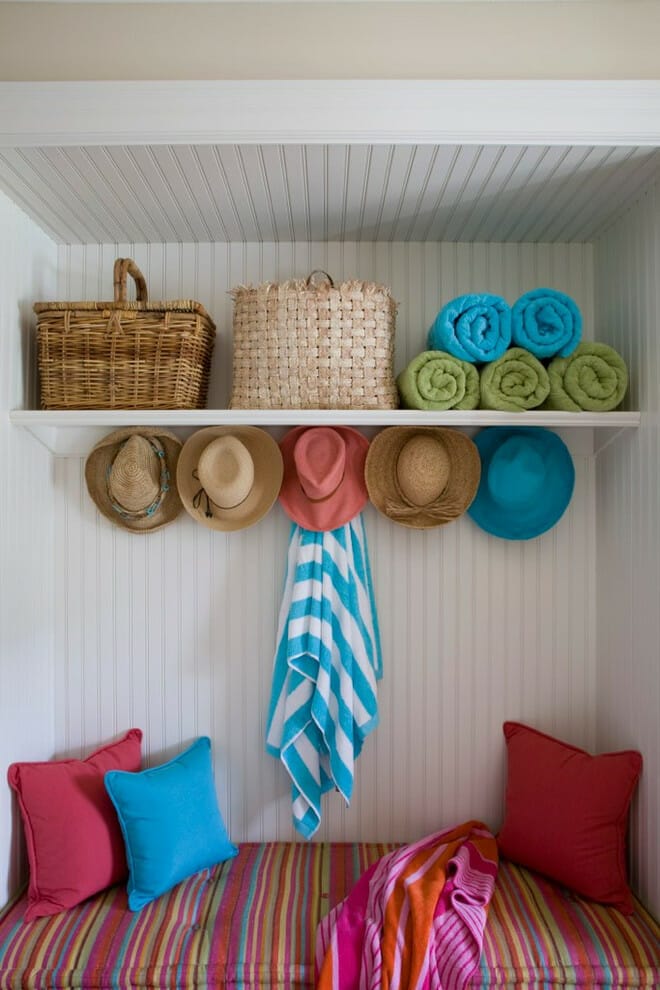 This tiny mudroom belongs to a coastal home. White beadboard panels deliver subtle visual interest while making it look bigger.
The built-in bench boasts a multicolored striped cushion. Furthermore, it ensures the pocket-sized mudroom seems united and cheerful.
Hooks over the bench holds the beach towel and hats in place firmly. The built-in top shelf keeps rolled towels and wicker beach baskets. Meanwhile, exuberant colors offer some excitement to the mudroom.
8. Double Duty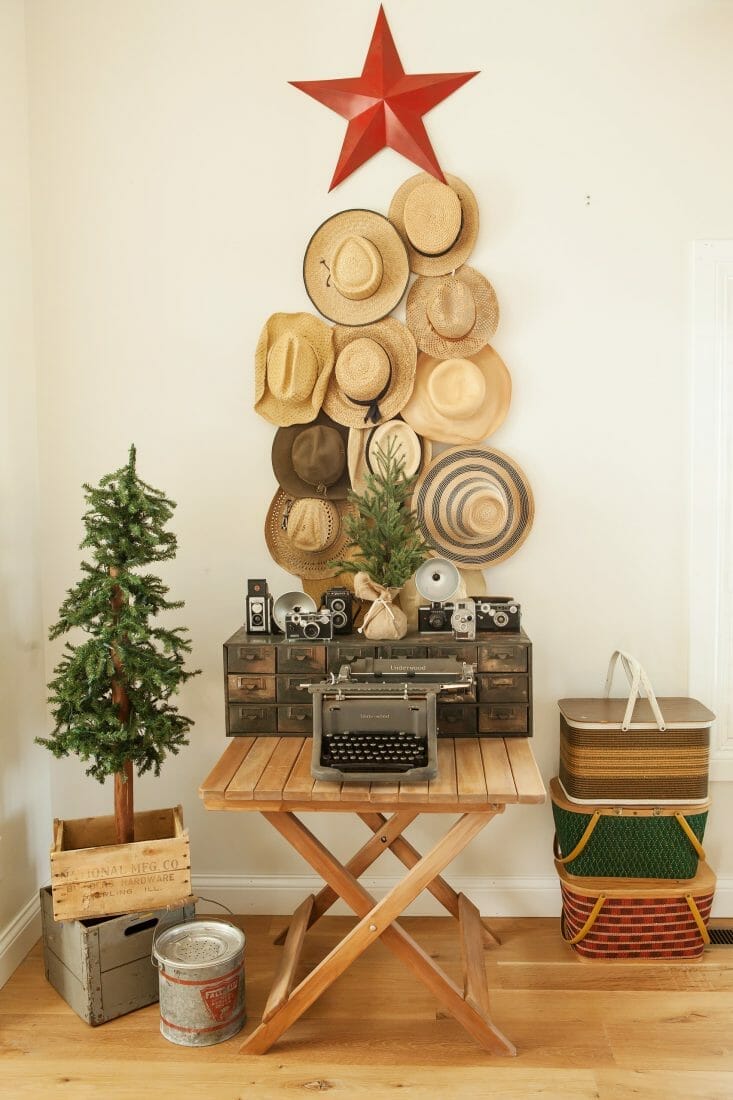 There are plentiful hat storage ideas, and this one is incredibly genius. Bright white walls emphasize decor pieces here while retaining the abode's light atmosphere.
The slatted table blends seamlessly with pale wood floors. Moreover, it accommodates a small artificial evergreen tree and vintage gadgets.
Over the vintage gadget are assorted beach hats. They shine against the stark backdrop. Due to their arrangement, they generate wall art splendidly. The red star wall decor and holiday-themed picnic baskets round things out.
9. Accordion Hook Rail for Hats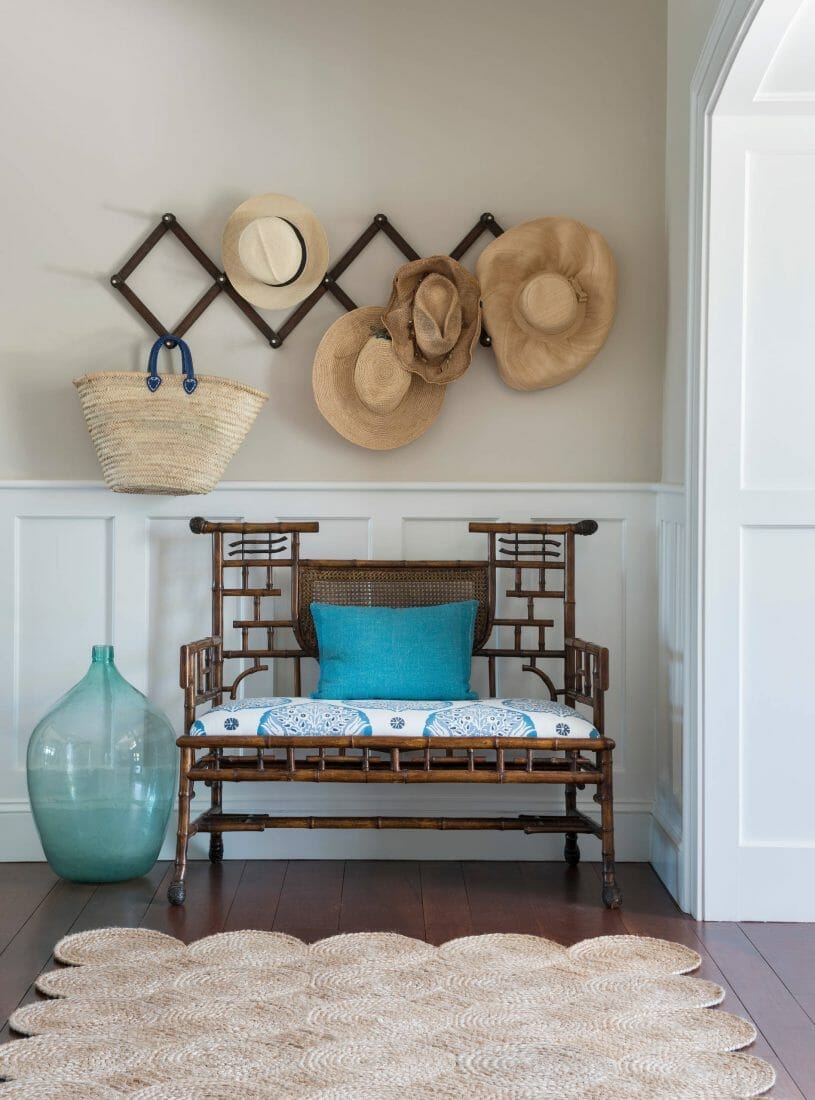 Here, the wall-mounted accordion hook rail suits the beige backdrop. Furthermore, it gives the wall some extra hanging space.
This hook rail for hats poses as a useful yet striking storage accessory. Due to its dark-toned wood finish, it's suitable for any decor aesthetic. Also, it's a practical complement to the closet, hallway, and entryway.
The accordion-style hat rack above features 14 hook points. Since this hook rail is versatile, it lets you showcase your beach baskets, scarves, belts, or coats. Moreover, the oriental bench, jute rug, and blue accents add wow factors in seconds.
10. The Larger, the Better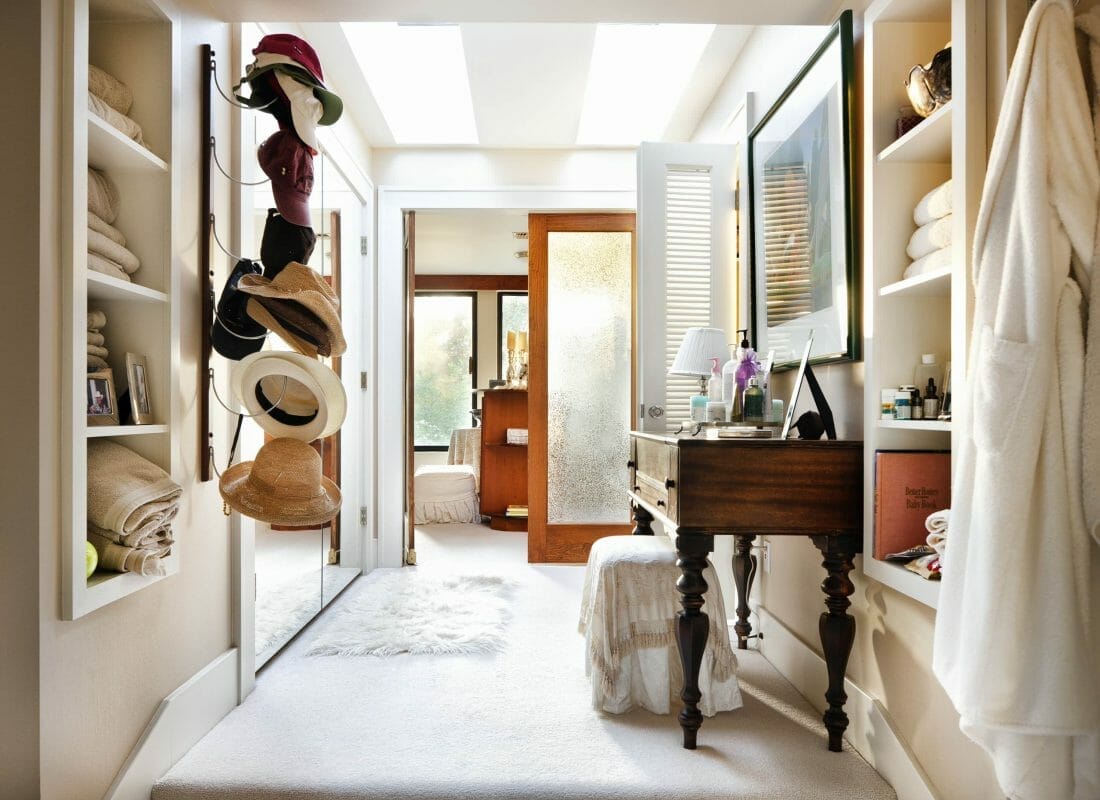 Organizing hats isn't that intimidating. Just know what kind of hat organizer works for you. This hat display rack, for example, only employs large metal hooks. It's undeniably suited to a tiny room.
Since the hooks are somewhat large, they enable you to see assorted hats from every angle. Apart from providing a better display of your hat collection, they let you stack caps. Meanwhile, recessed shelves hold framed photos and towels in place.
11. Mirror Hat Rack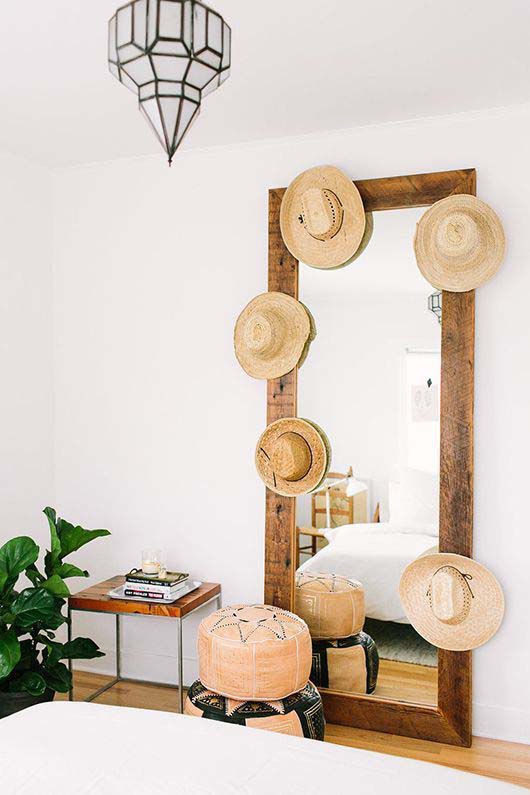 This is one of the superb women's hat storage ideas. The full-length mirror leans gracefully against the stark white wall. Moreover, it employs a reclaimed wood frame.
Not only does this full-length mirror carry some rustic charm, but also enlarges the room. Furthermore, the attached hooks keep women's beach hats off the floor.
The homeowner coupled the multifunctional mirror with a sleek wood-and-metal side table. Here, the Moroccan lighting and poufs instill a global feel. Thanks to the indoor fiddle-leaf fig tree, the space looks lively.
12. Copper Hat Storage Ideas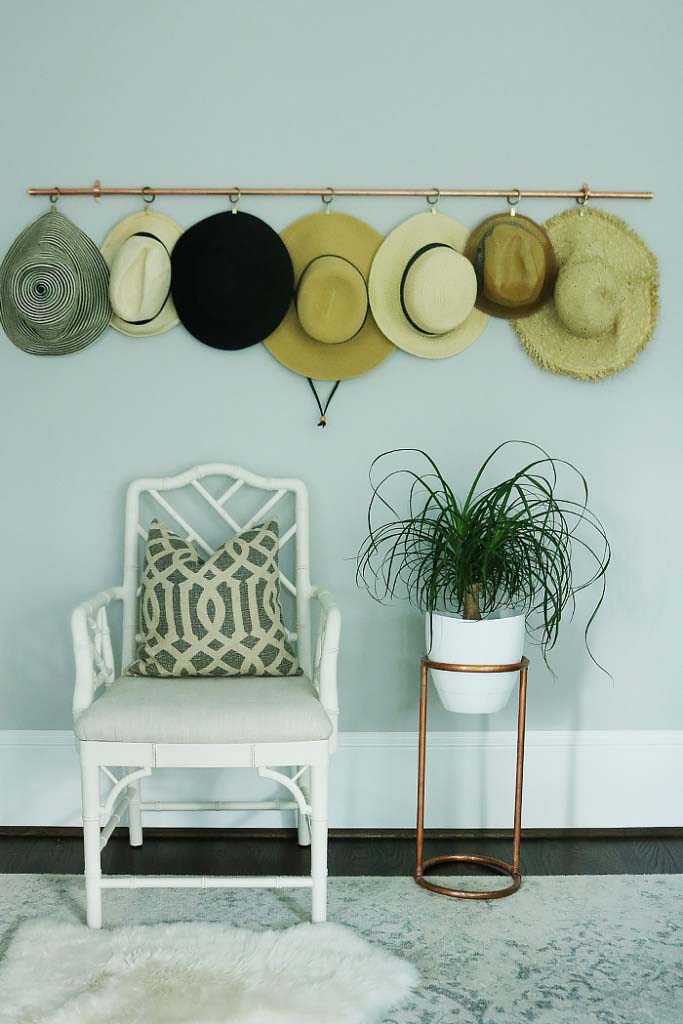 Small space? No big deal! Just replicate this hanging hat organizer. Furthermore, it uses a copper pipe. You'll also need curtain rings that come with clips.
In this room, the copper hat rack allows the homeowner to put her bodacious hats on display. The hat collection becomes wall art.
Thanks to the clips, you can grab your hats with ease. The white-painted bamboo armchair highlights the coordinating pillow. Additionally, the copper plant stand, houseplant, and layered rugs improve the cozy factor.
13. Plenty of Display Space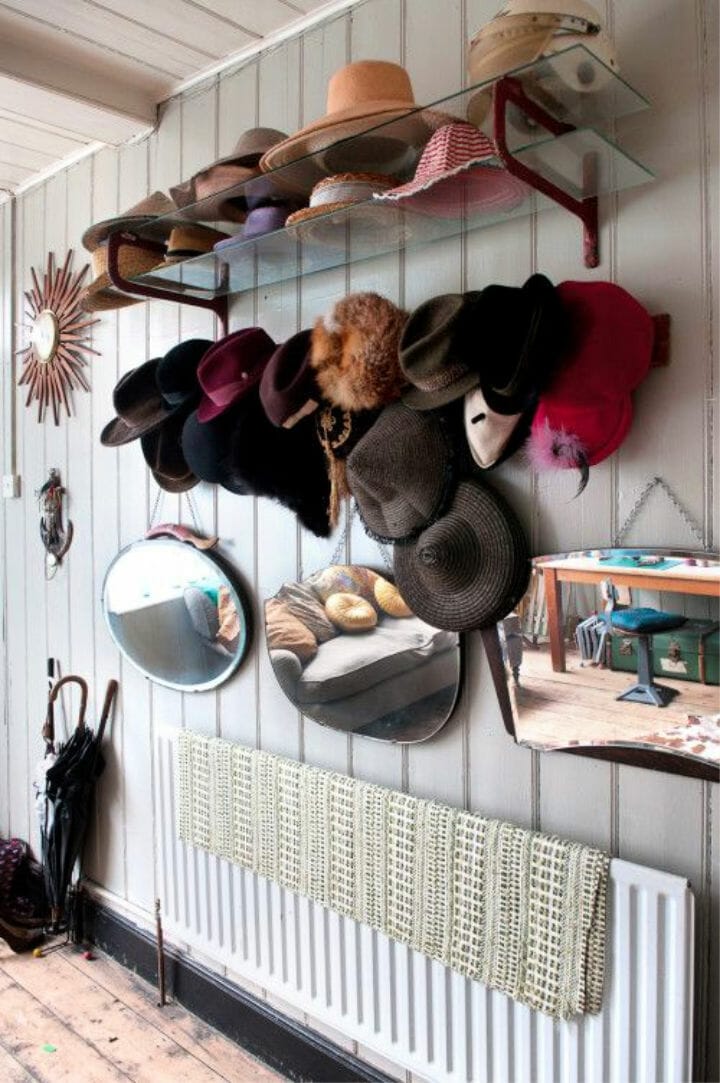 If you need winter hat storage ideas, luck is all yours. The wall-mounted rack may be simple. However, it offers ample display space for an assortment of winter hats.
The winter hats embody a sense of elegance. Furthermore, they imbue the interior with cozy textures and rich hues.
Here, the vertical shiplap paneling lets winter hats steal the show. Unlike the rack, wall-hung glass shelves showcase summer hats. Moreover, mismatched vintage mirrors spice up panels and enlarge the space.
14. All About Texture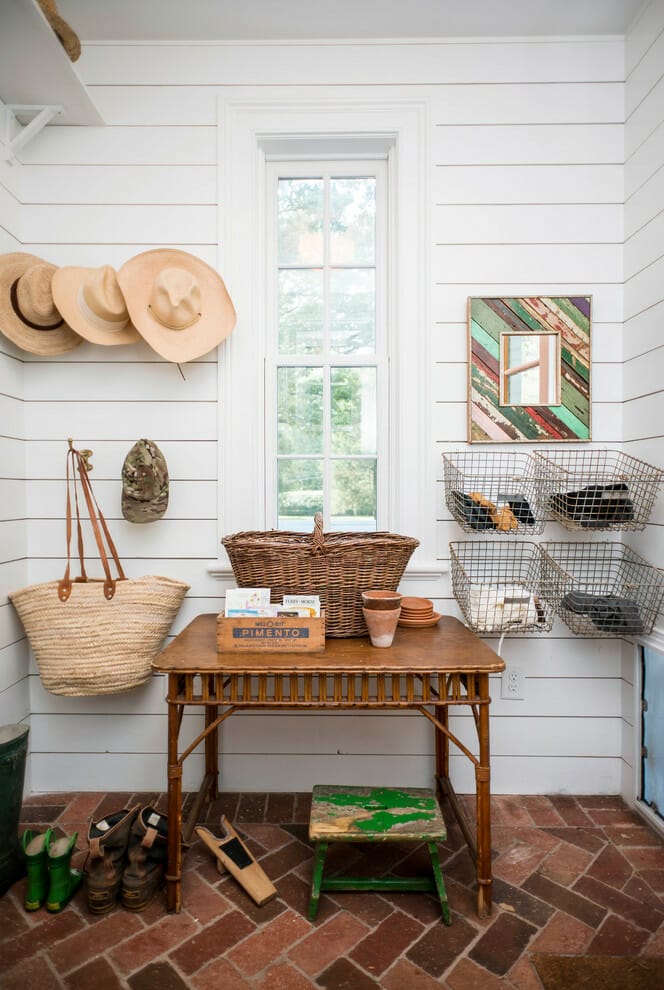 Talking about hat storage ideas, you can marry shelves with display racks. The rack and white shelf prevent hats from cluttering the mudroom.
There are a couple of brass hooks under the hat rack. Moreover, it showcases a cap and a beach bag. The distressed furniture, terracotta items, wire baskets, two-tone herringbone brick flooring, and accents of Kelly green titivate the scene.
15. Hat Storage Ideas for Small Spaces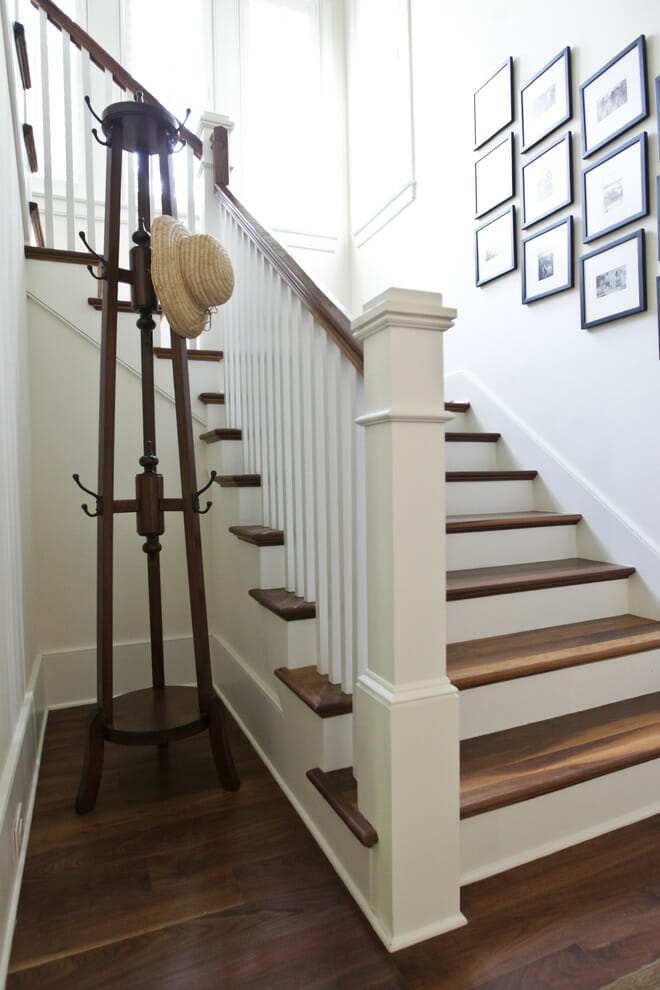 Have problems with storing hats? Simply emulate this storage system. The freestanding wooden rack adds height while occupying minimal floor space.
Here, the freestanding hat rack sits on hardwood flooring next to the stairs. Not only does it boast vintage hooks but also matches with dark wood treads.
16. Entrance Hat Storage Ideas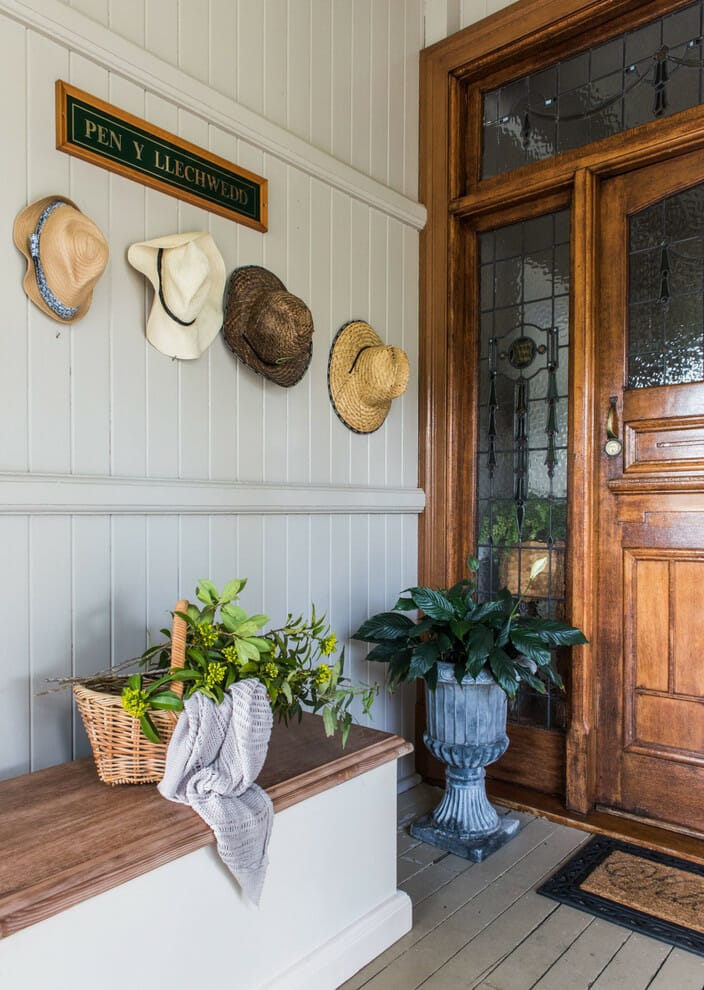 This hat rack belongs to a front entry. The hooks showcase varied hats that adorn the dull vertical shiplap paneling. They'll astonish visitors, of course.
The custom family sign above the hat rack accompanies the wood-top bench and jute doormat. Moreover, the stained-glass window and splashes of greenery complete the entrance.
17. Baseball Hat Storage Ideas
Many homeowners store hats by hanging them on the wall. However, this baseball cap organizer also comes in handy. Furthermore, built-in compartments offer easy storage.
You can organize your baseball caps by brand or color on these open shelves. The perfume tray and tie cubbies keep this space clutter-free.
18. The Center of Attention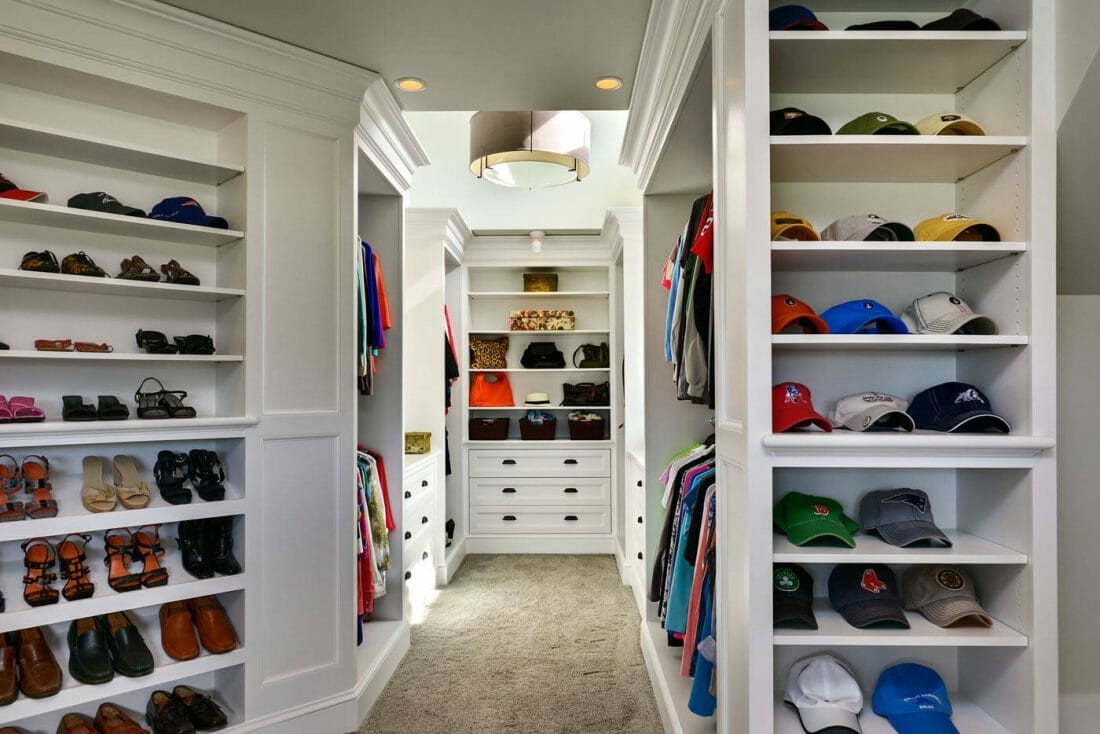 Need hat storage ideas for closets? If so, replicate this walk-in closet. First of all, paint nifty wardrobe shelves crisp white.
Here, white shelves emphasize baseball caps, shoes, and bags. Furthermore, they provide easy access to caps. In addition to wardrobe shelving, you can spot clothes hangers.
19. Small But Multifunctional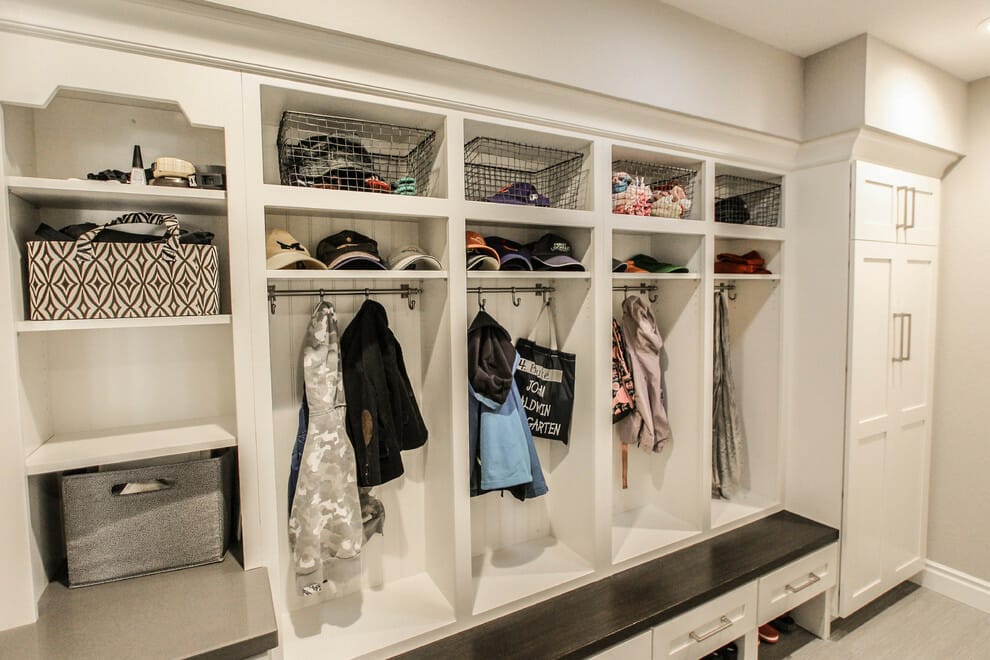 This pocket-sized room embraces crisp white beadboard paneling and storage units. Due to them, it feels and looks larger.
Shelves display wire baskets, storage boxes, and baseball caps of varying colors. Meanwhile, metal hooks accommodate scarves, coats, and casual handbags. Also, there's a bench that adds lots of accessible storage.
20. Freestanding Hat Storage Ideas
Who says freestanding hat racks only display hats? Apart from showcasing women's hats, the standing rack also keeps assorted sling bags off the floor.
This space features white wall hooks next to the freestanding hat rack. They carve a seamless look while displaying a variety of women's bags.
21. Modular Hat Display Rack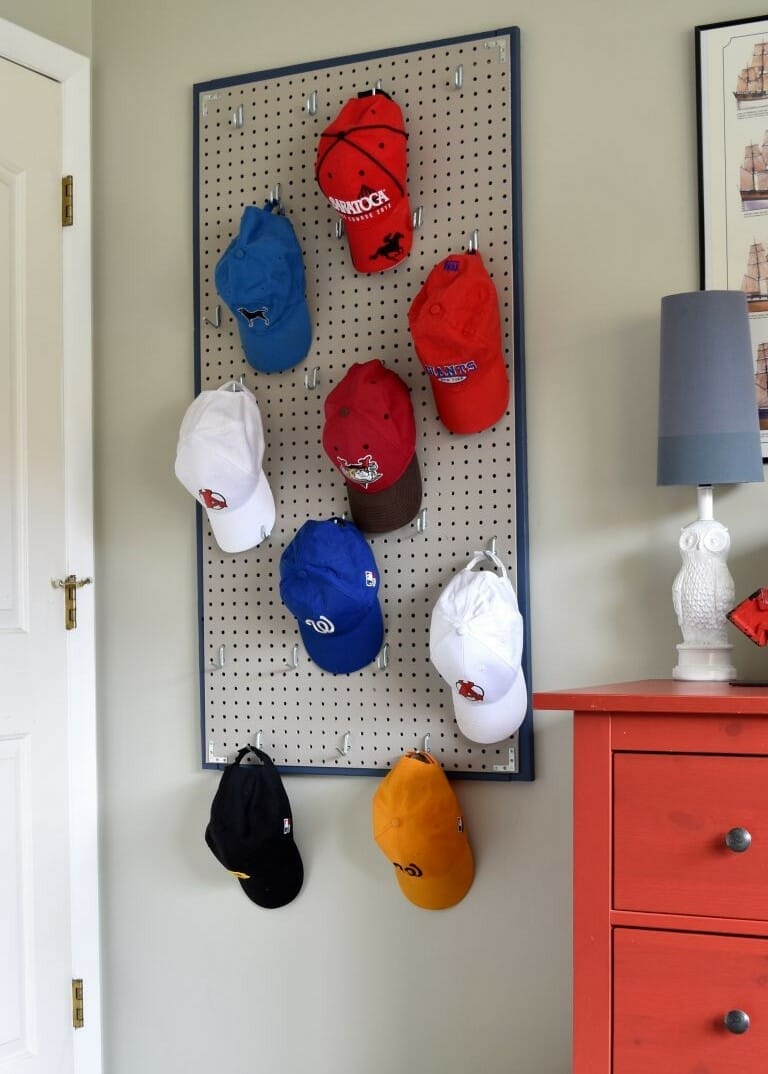 This modular hat rack keeps the homeowner's baseball caps off the floor. Moreover, the muted blue frame lets it harmonize with the owl table lamp.
Thanks to its brilliant interlocking hole pattern, you can add many steel hooks. Of course, this bedroom organization idea is suited to any compact space.
22. Fashionable Display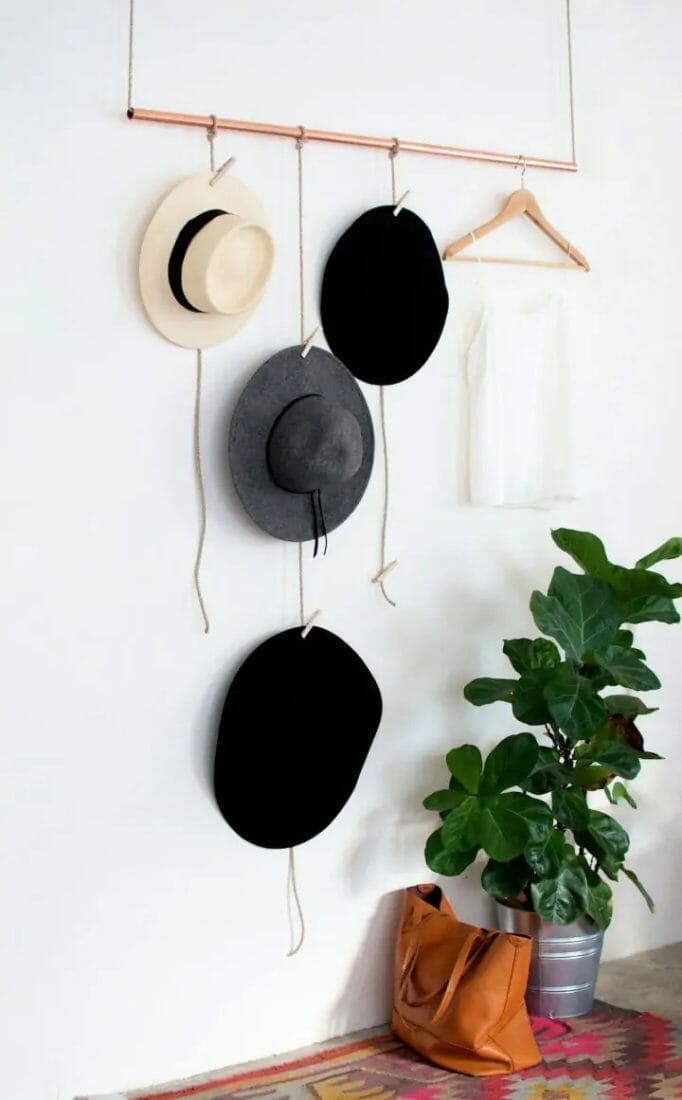 I swoon over this trendy hanging hat rack. If your existing wall has no artwork, incorporate it into your room.
This project requires a copper tube, some jute twine, and clothespins. Not only does the hat rack display hats, but also holds clothes hangers or photographs.
23. Wooden Peg Rack for Hats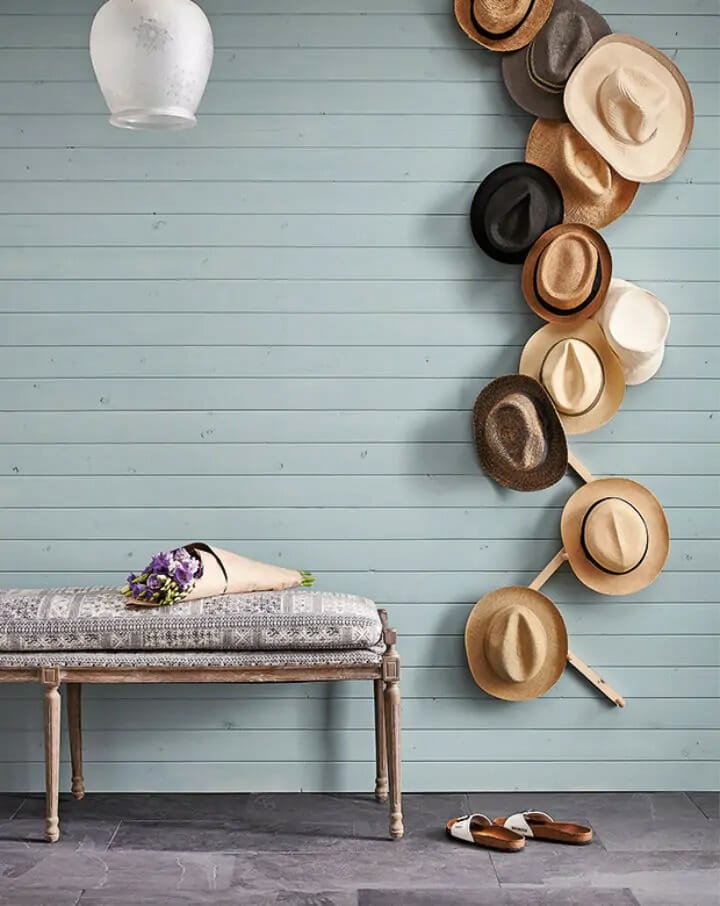 The homeowner mounted a blonde wood peg rack on her shiplap wall. It offers the subtle gray backdrop a sense of visual balance.
Here, the wooden peg rack accommodates beach hats of varying neutrals. They pose as wall ornaments while complementing the understated, upholstered bench.
24. Boho Beauty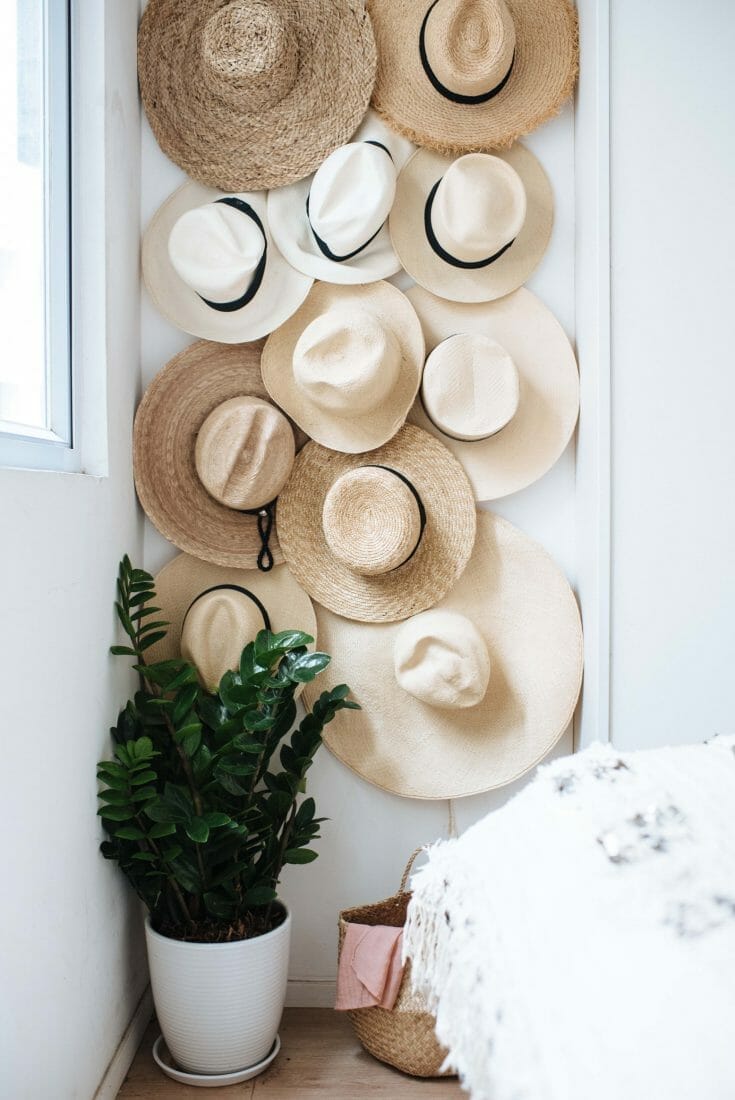 If your sleeping space is mostly white, accent the bare walls with your bodacious hat collection. This hat storage idea lets hats become centerpieces.
The wall hooks enable you to flaunt your hats without sacrificing floor space. Also, pair them with a seagrass beach bag and a statement ZZ plant for extra boho touches.
25. Very Versatile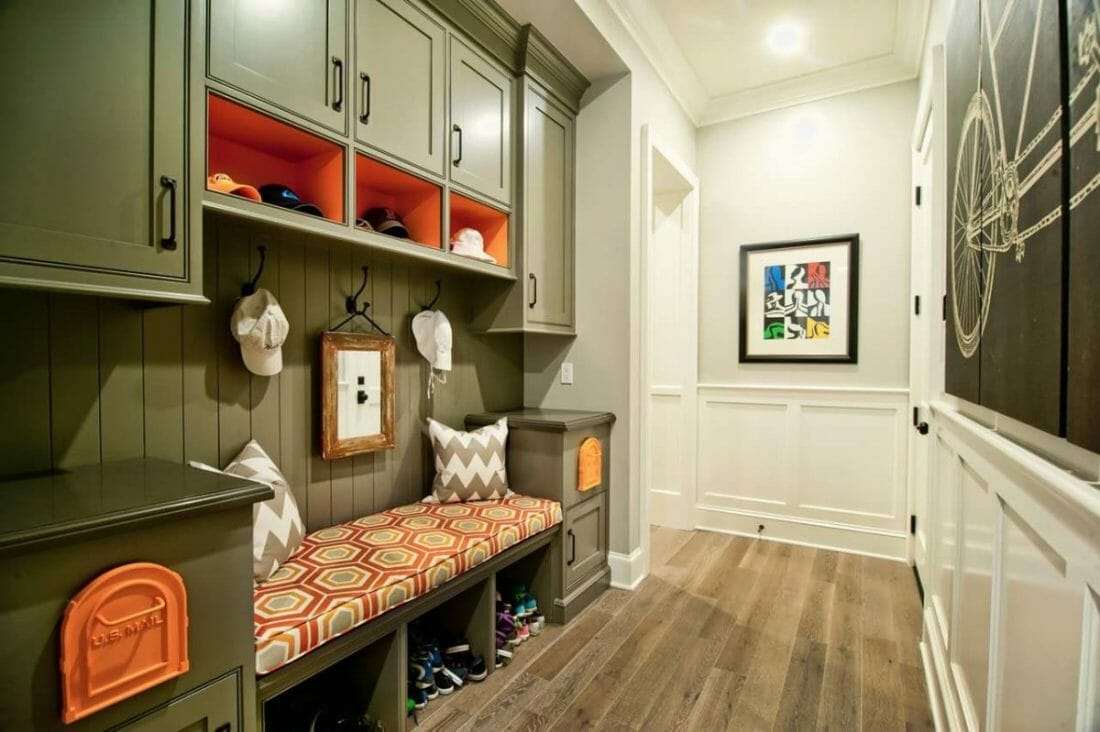 The muted green shiplap panel and custom cabinetry give this mudroom tranquil vibes. Gray walls and white wainscoting brighten them up.
Iron hooks and orange-painted shelves keep hats off the floor. Meanwhile, punchy details and splashes of geometric patterns complete this compact mudroom.
26. Dressers and Cubbies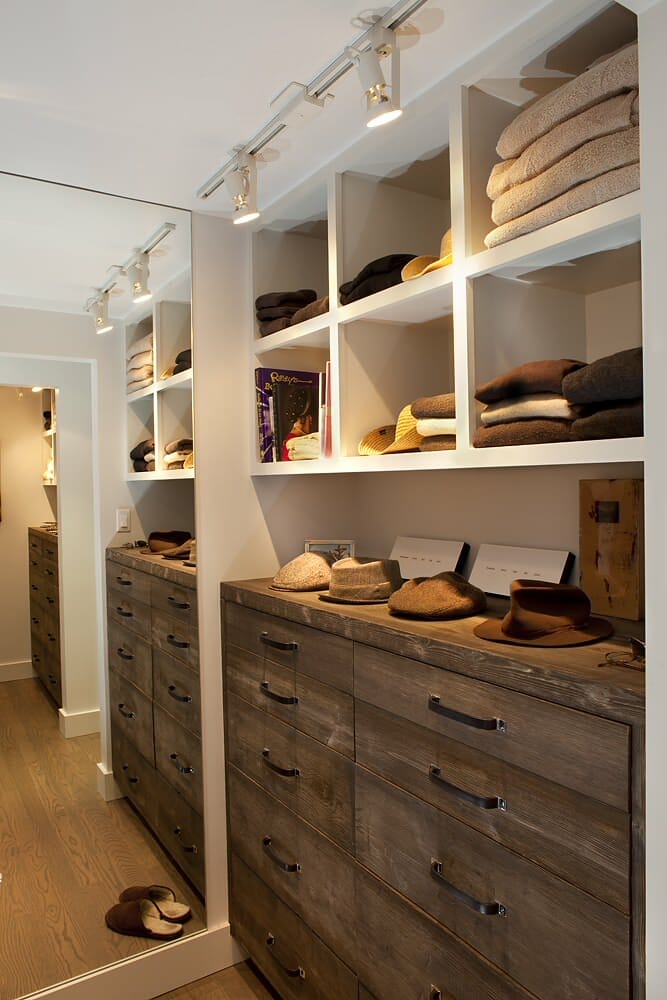 This room boasts a few rustic built-in dressers. Moreover, the homeowner put her assorted hats on top for easy access.
Cubbies showcase hats, books, and extra cozy linens. Additionally, white-painted track lights illuminate storage units at night.
27. Genius Hat Organization System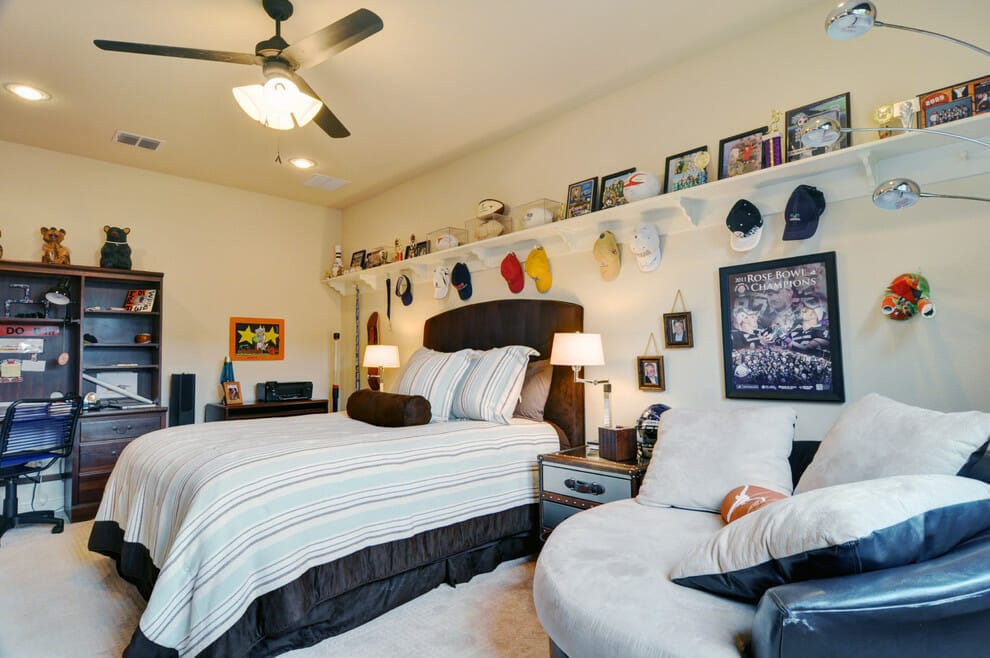 The homeowner optimized the space above her teen boy's bed. As you see, she installed a white wall-to-wall open shelf.
Here, the extra-long shelf secures the teenage boy's decorations in place. Meanwhile, the attached hooks display an assortment of his baseball caps.
28. DIY Hat Storage Ideas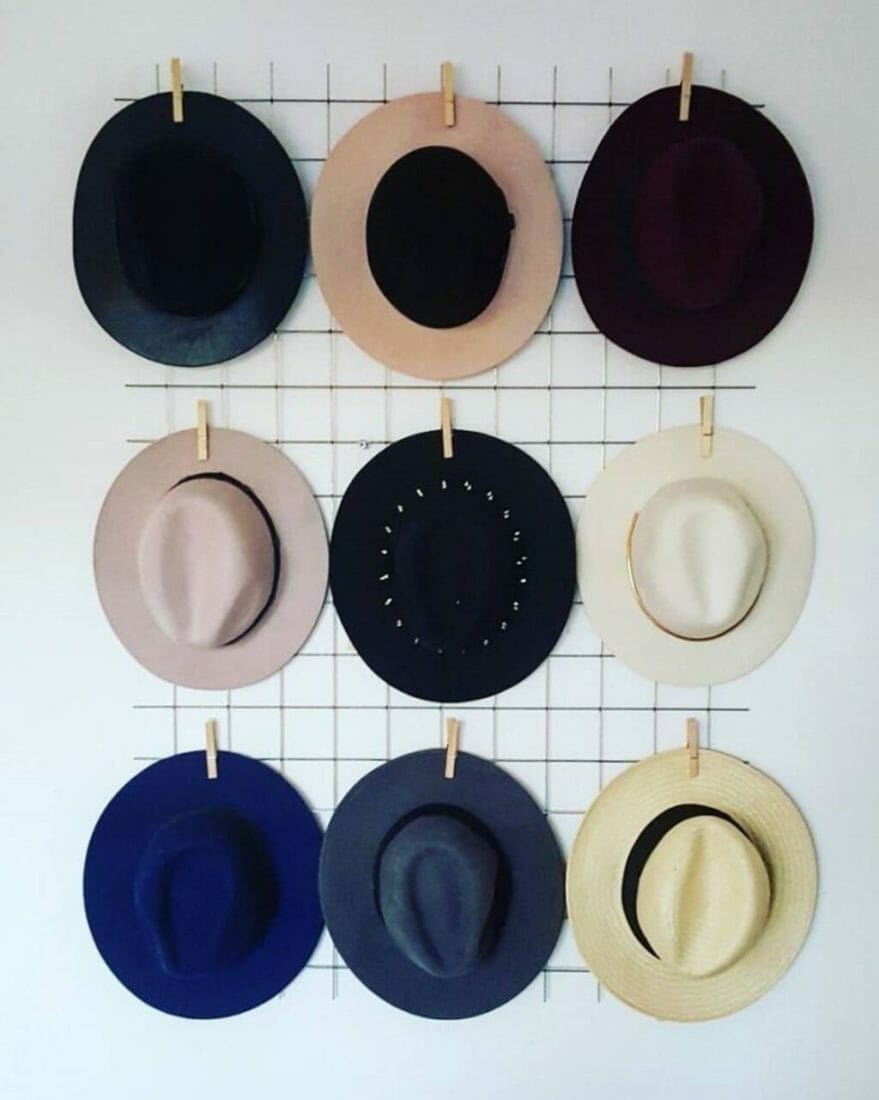 This DIY hat organizer is functional and fashionable. Furthermore, it uses a simple wire mesh that goes with any wall.
Blonde wood clothespins let the homeowner attach her hats to the wire mesh. Also, the hats double as wall decorations. Brilliant, right?
Having a genius hat organizer is crucial. It accommodates hats while keeping them in shape. Moreover, if you love to wear hats, try emulating any of my hat storage ideas. Let's display your possessions in style!