Developing from a nursery bedroom is a significant phase in the early stages of your little ones' life. They might start to collect memories at this time. Thus, you should create a decent beginning of their recollection by planning a newly designed slumber zone with these toddler room ideas.
In terms of scheming their room, scores of considerations are on the list, playing section, illumination, and color selection, for example. Hence, planning thoroughly will be your only way to get the rooms of their favorite.
Do not overthink it, though, because this page will give you some points to start. So, here is our list of toddler room ideas.
1. Toddler Room with Charming White and Blue Walls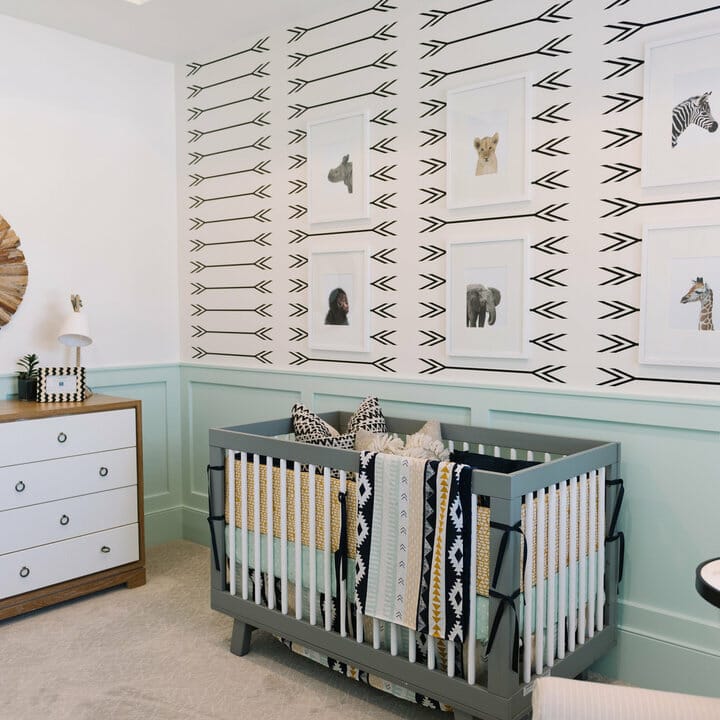 Bright colors resonate with kids' cheerfulness according to toddler room ideas. In this bedroom, white and blue are selectable to state it. As not to make it too plain, patterns and several framed animal pictures are present on a single wall.
On the wholescale, this toddler room heads to Scandinavian style. That tendency shows on the gray patterned carpet, turquoise crib, and the medium-tone wooden dresser.
2. Low Loft Beds in Girls Room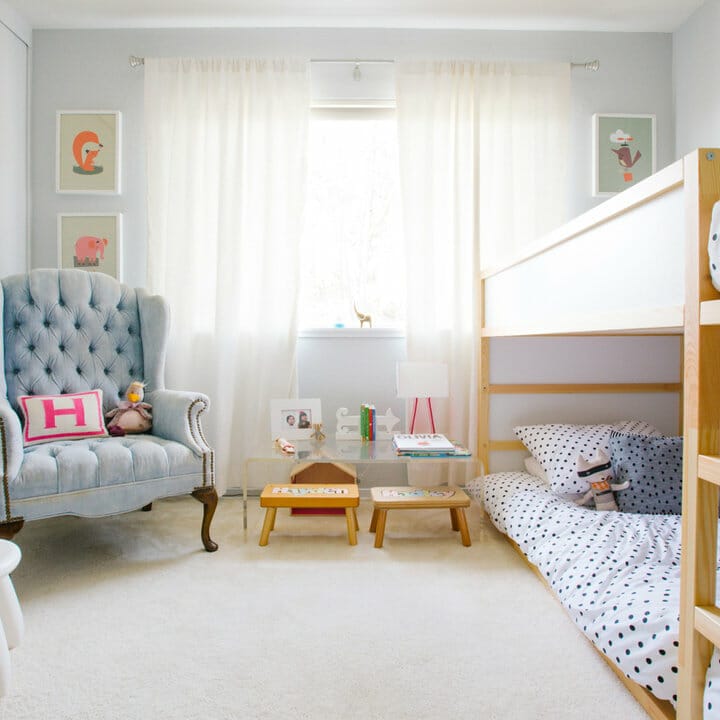 Having two girls around the same age is such a blessing. They might not want to separate from each other, even when sleeping.
A problem occurs when their bedroom is a bit tight. Well, do not worry too much, because perhaps, a spacious room is not available, but a bunk bed is.
This slumber zone lends you some toddler room ideas using a low loft bed in white and light tone wood of pine, soft white carpet, two children's stool, an acrylic table, and a blue princess' throne.
3. Hanging Chair in Ravishing Bedroom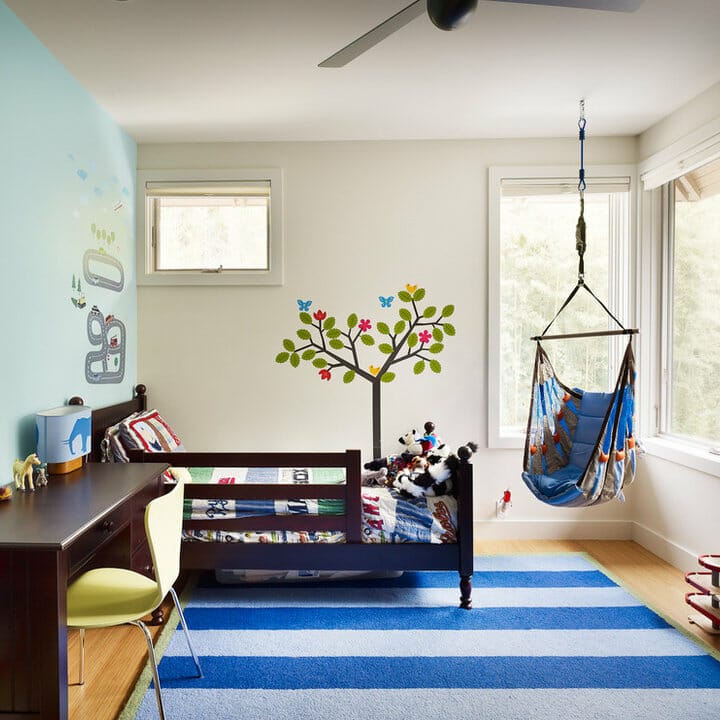 It often happens to little toddlers, when he has just transitioned from his baby phase but still clings on his hammock to sleep.
Whenever it is your case, steal these toddler room ideas and install them in his slumber. For example, arrange his old hammock to the opposite of the new bed for a sense of security.
4. Mural for Toddler Boy Room Wall Décor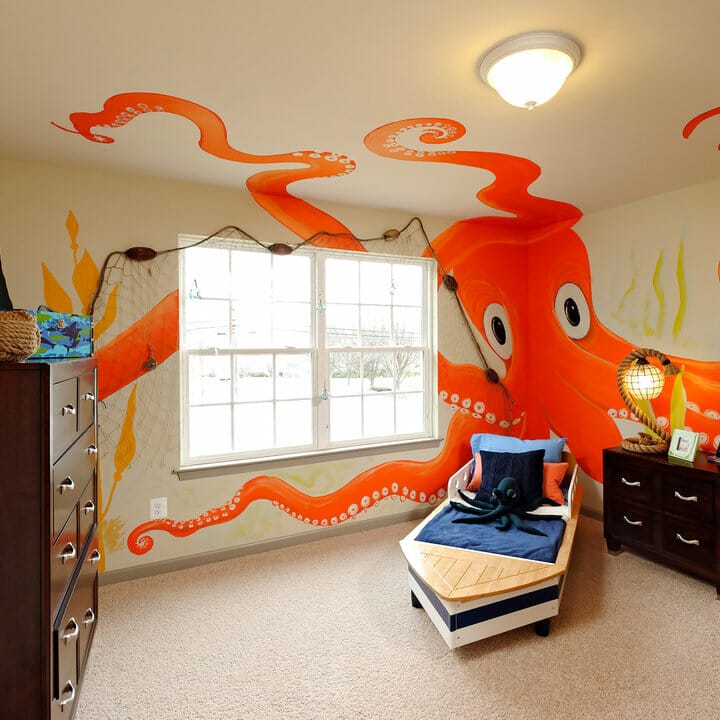 This kids' bedroom applies toddler room ideas using murals to tell a story and reach the concept of sea life. In detail, the orange hand-painted creature is a giant octopus. Then, your little sailor tries to catch it from the boat using a net stretched on the wall.
The theme is visibly strong through the supportive other elements, such as the table lamp and the coastal set of drawer and dresser.
5. Nursery Room with Full of Fun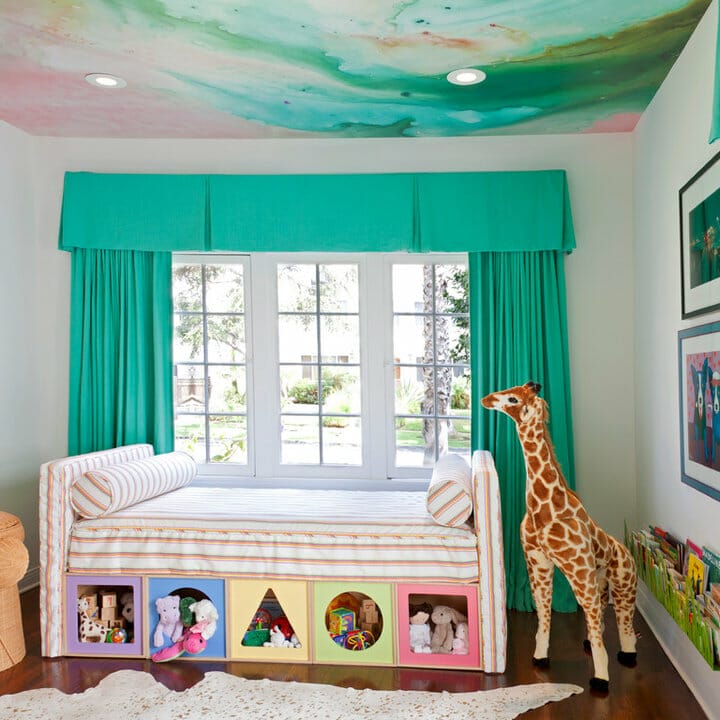 Teal valance, painted ceiling, and bed with toys storage are some of the next toddler room ideas you could duplicate from this nursery.
Of course, it heads to a playful theme with such color selection, giant giraffe doll, and plenty of storybooks within her arm's reach. What a dream bedroom for a little girl!
6. Kids' Cabin Playroom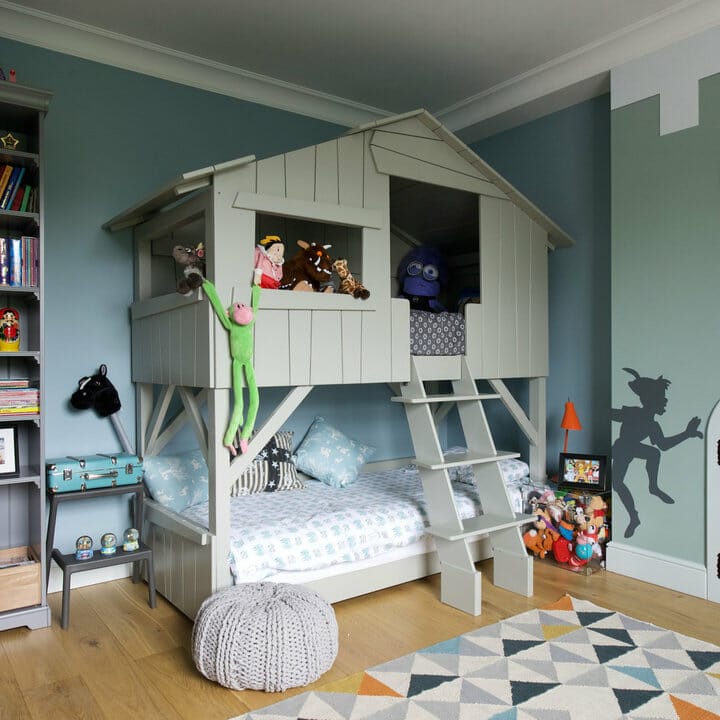 Perhaps, a treehouse is every child's imaginative hideout. As a parent, you might as well know the feeling and want to realize it for your kids.
However, since the real one is unsafe and all, this cabin bunk bed could replace it big time. Painted in gray and designed contemporarily, it is responsible for all the fun your boys will have.
7. Robot Room Decoration
It is time to tell your little robot that he is not one but may have a room with such a theme, instead. With a huge painting, bedding, cushions, and framed colorful pictures, all in the flow, you could ensure he has everything.
However, do not forget to afford the bed with storage space for a tidying-after-playing lesson.
8. Decals for Toddler Girl Room Wall Décor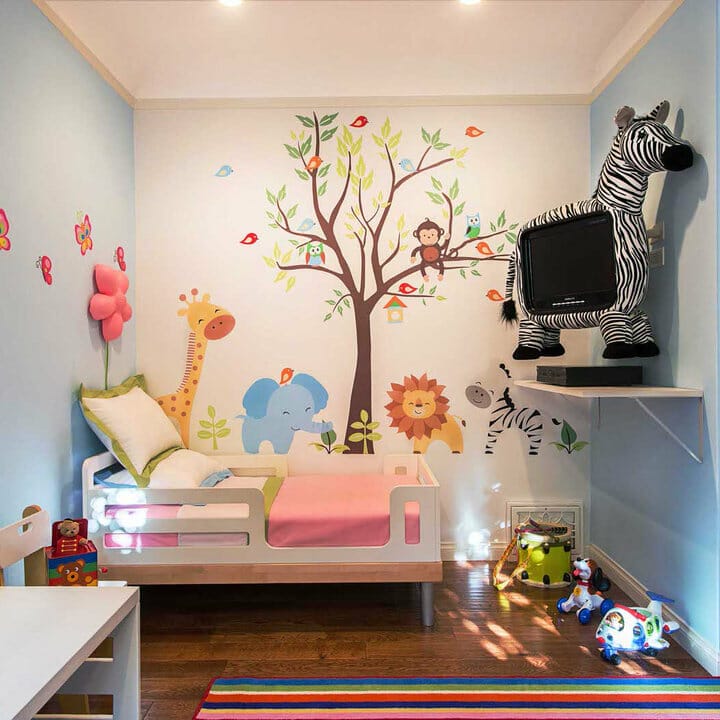 After mural for boy bedroom, here comes decal for a girl. In specific, this children's space spreads over the toddler room ideas through animals' wall stickers. The image itself is genderless because it feels okay to see it also in the boys'.
Yet, with a certain arrangement that involves pink bedding, flower bed lamp, and additional butterflies, it fits a girl's world so much.
9. Son's Room with Vehicle Theme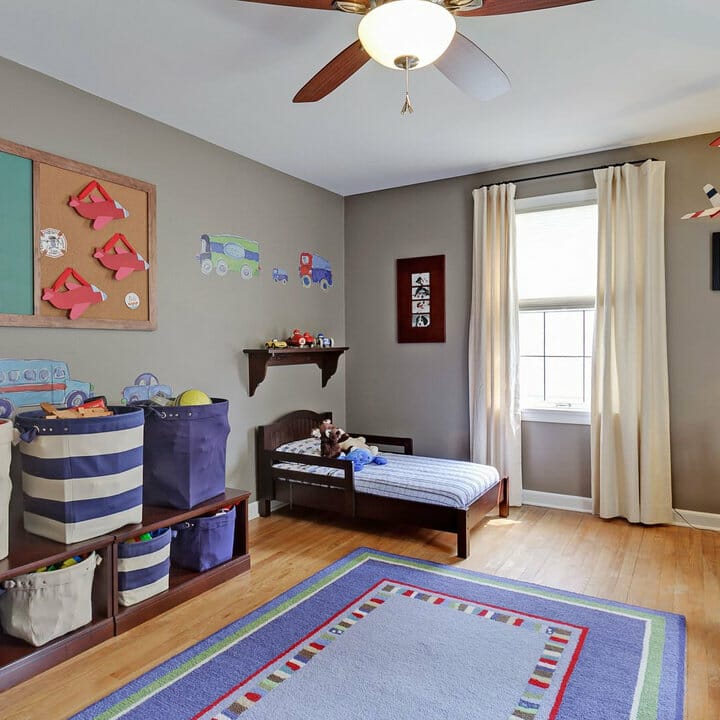 If he could not stop watching videos about vehicles or telling stories about how planes fly and such, steal these toddler room ideas and pour them into his slumber zone.
The deal is to draw some types of transportations, cut, and paste them on the wall or board. Lastly, put some of his favorite car toys above the bed.
10. Nature Themed Modern Nursery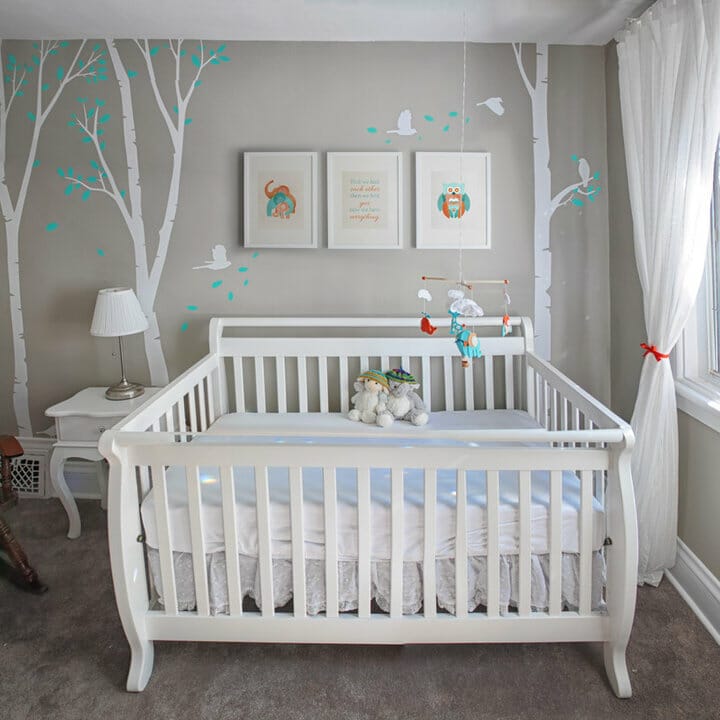 White is neutral that it does not have any gender tendency. So, you could make use of its trait to decorate a unisex room.
With a gray interior, the bright tone comes to be the furniture of this nursery. Then, blue appears to embellish and complete the scheme.
11. Playroom with Waterfront View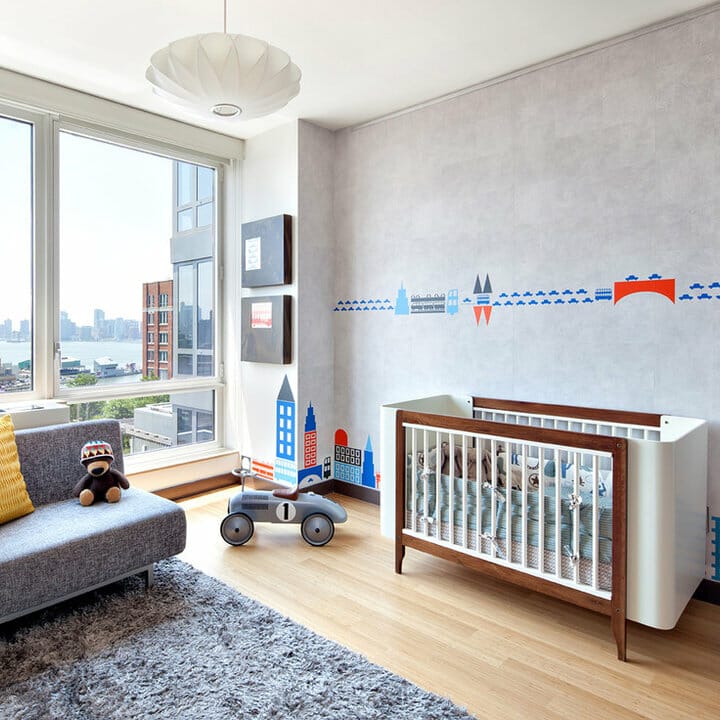 The list of toddler room ideas gets longer with this playroom arrangement. Looking from the large windows, it is presumably a living room turned boys' battlefield.
And, it is not a bad idea because that way, you could still entertain some guests while watching your sons playing. By the way, a shag rug is necessary.
12. Gorgeous and Sophisticated Cars Bedroom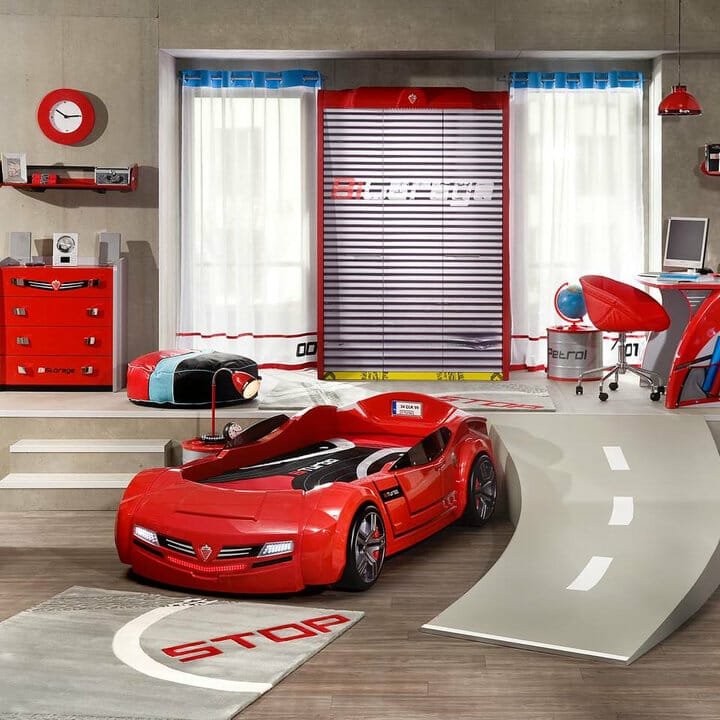 Fast and Furious saga might be the inspiration of this Cars bedroom, you know, with the look of garage mixed workshop and all.
If you are financially capable of affording such a room, no one will argue about it and your boys will be ecstatic. After all, toddler room ideas emphasize strengthening a certain theme.
13. Super Soft Faux Fur Rug in Kids' Bedroom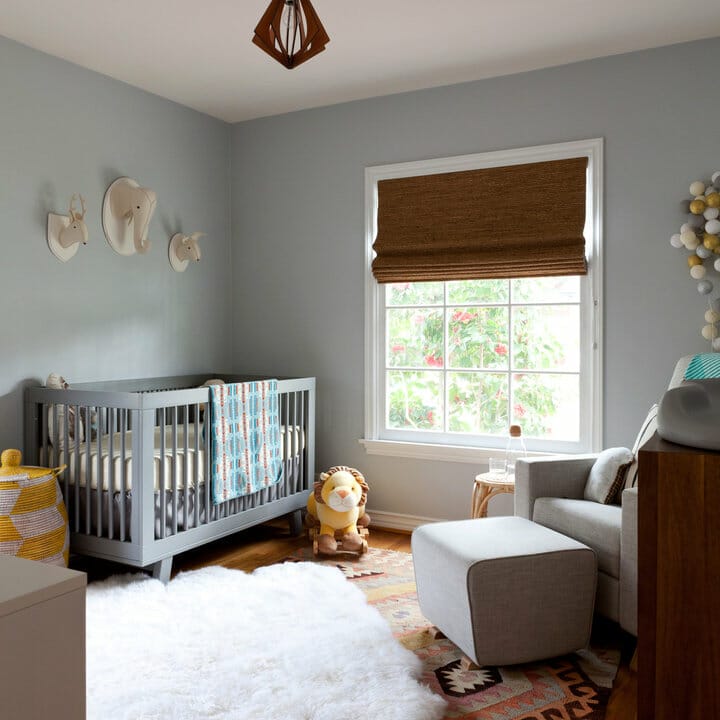 If a shag rug cannot make you rest assured about your child's safety when playing, upgrade the security by providing a super soft one. Take this bedroom for example.
The setting and such mark a nursery with the additional white faux fur area rug. It minimizes your kid's contact with the hard floor surface. Also, set a recliner with a footrest to facilitate your close watch.
14. Blue, Brown, and White for Nursery Furniture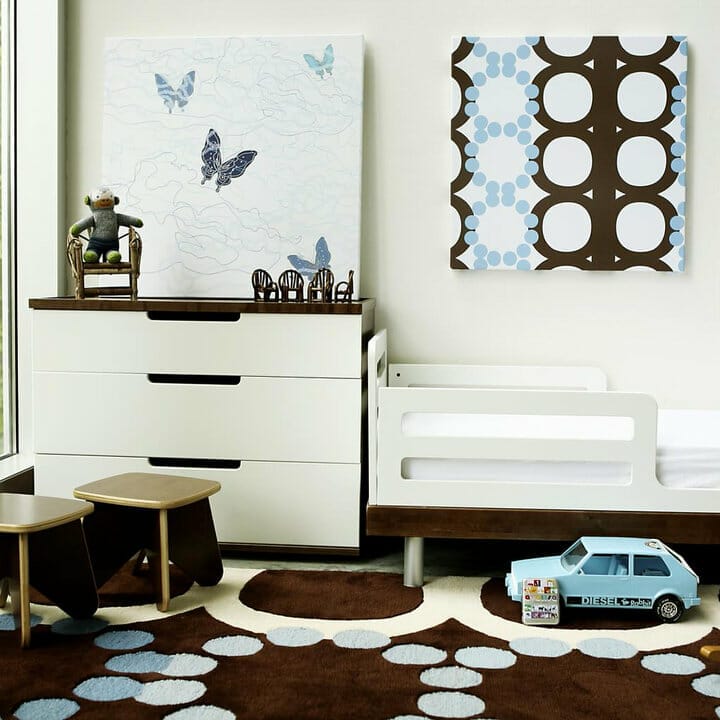 Toddler room ideas in this nursery apply to the scheme selection. White takes the main role while blue and brown equally accentuate it.
Such an arrangement fits the boy's bedroom though many say this space is gender-neutral.
15. Baby and Kids' Room with Suspended Bed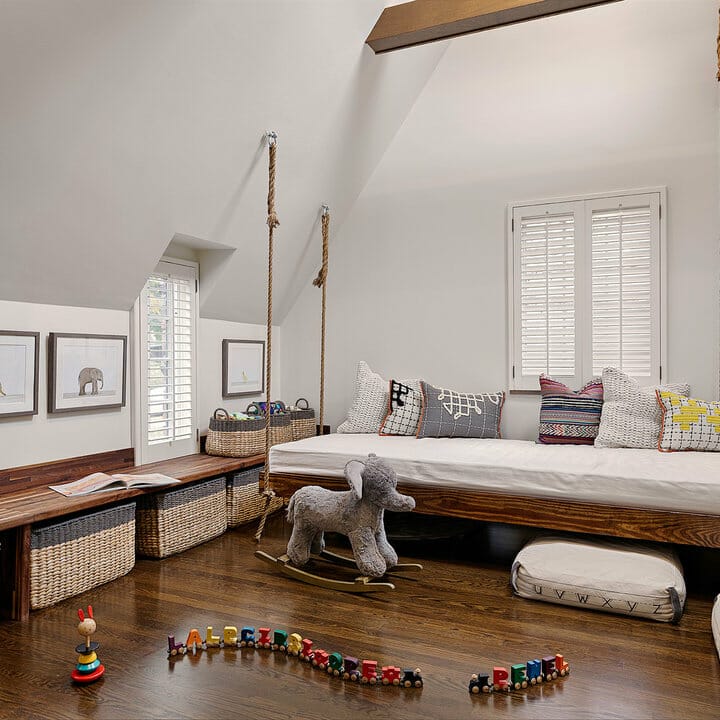 Rocking to sleep would be your baby's favorite routine. Due to that reason, many toddlers find it hard to rest at night alone without getting rocked.
So, imitate the toddler room ideas here using a suspended bed. The hanging part is not intentional to rock your children, but a little bit of swinging sense might help them fast asleep.
16. Lighting Fixture for Boy's Nursery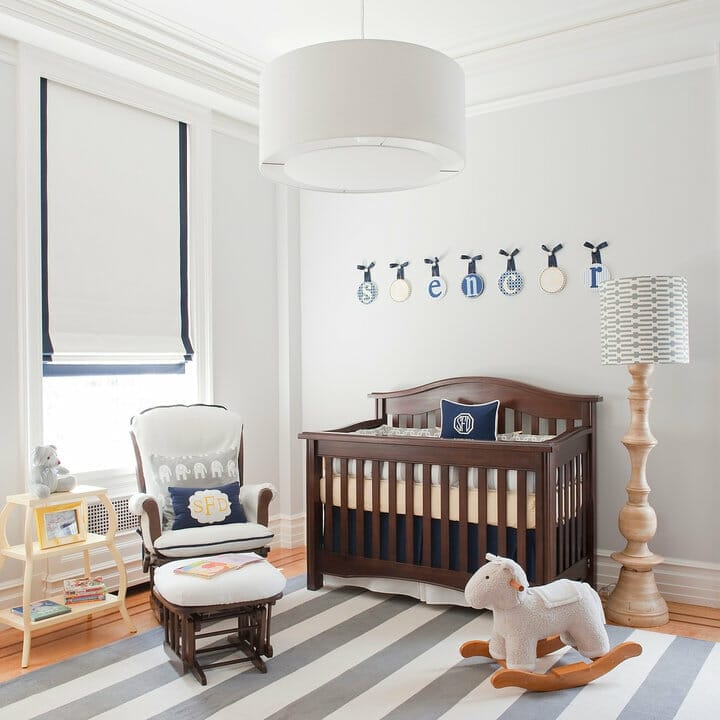 In terms of making a bright circumstance, lively tones are the top priorities in applying toddler room ideas. But, of course, all of the efforts to present that scheme will be in vain if the lighting is not adequate. Thus, here, a satisfying fixture of lighting is available.
Explicitly, a tall floor lamp is there to illuminate your baby boy during sleeping while the hanging pendant is ready to accompany his happy pre-sleeping playing time.
No need to turn on those lamps throughout the day since a window will be more than enough to let the natural light brighten the whole room.
17. Contemporary Toddler Room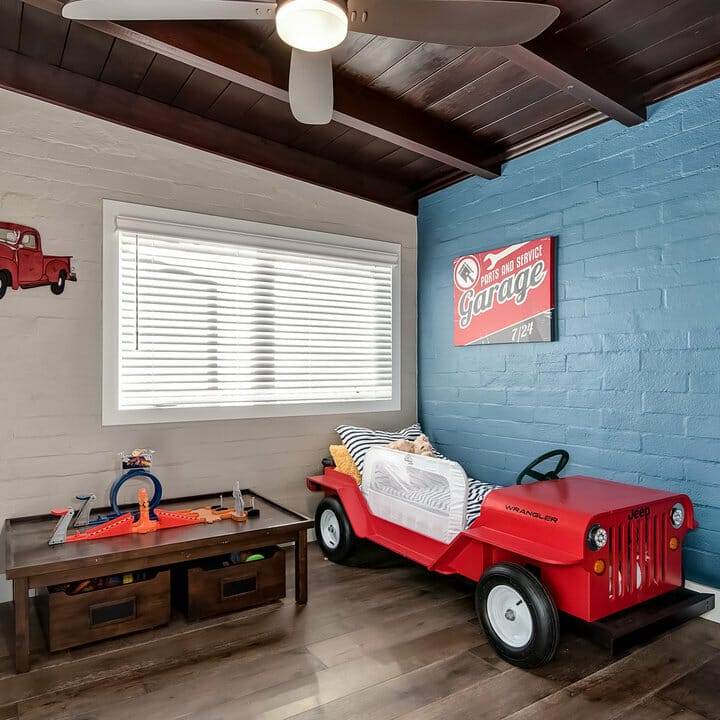 Contemporary toddler room ideas will be the easiest to apply since you just need to follow the trends.
Inside, you see the tendency on the car bed, Venetian blinds, blue and white brick walls, and most importantly, the dark wood tones.
18. Bedroom Decoration for Little Hunter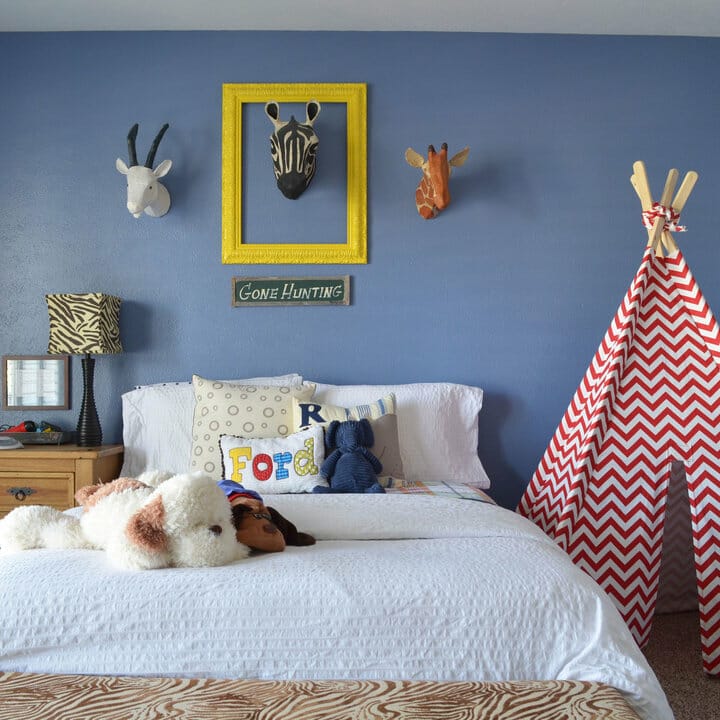 Blue is mostly visible in toddler room ideas for boys, and this space is no exception.
Here, some decorations for a little hunter, like animal heads, zebra patterns, and chevron red teepee, are present to complete the cornflower-blue toned wall. But, where is your boy? Oh, he has GONE HUNTING.
19. Camping Inside Big Boy Space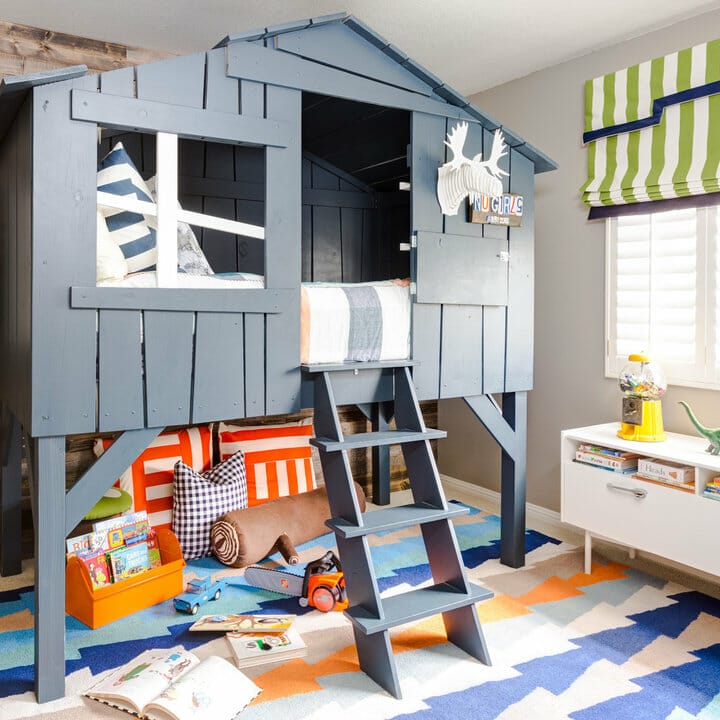 Inside this NO-GURLS camping area, stands a treehouse bed that is quite similar to the aforementioned idea. But the difference is this amenity only has one bed, instead of two, at the upper level.
Meanwhile, your boy could occupy the under vacant space as a reading zone. This room is certainly adorable with stripes and other patterns as embellishments.
20. Toddler Room Ideas: White and Yellow Scheme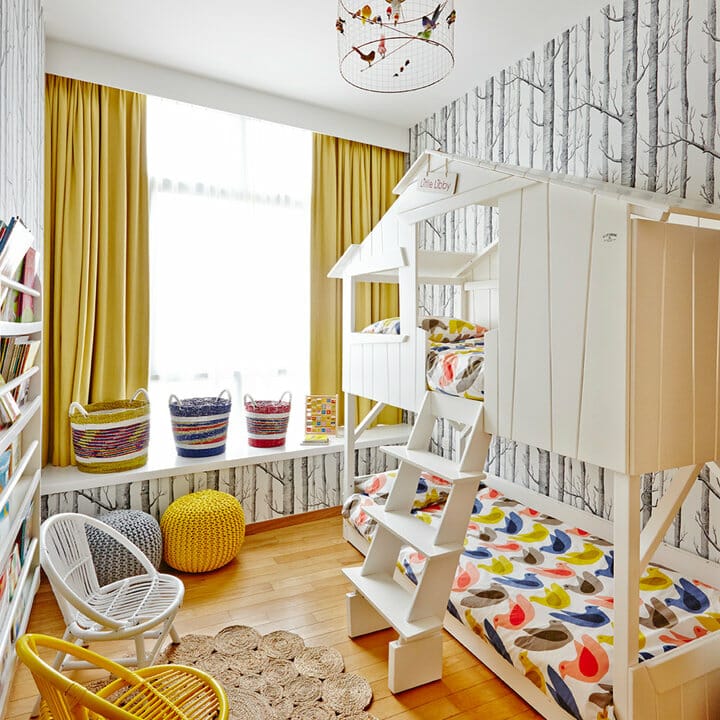 Even though we say it is white and yellow, the amount of the two tones is not visibly equal. Specifically, most of the interior and furniture are in the first color while only the curtains, a basket, a crochet pouf, and a chair are in the second.
All the while, blue, red, and other minor shades are also present in the mix to finalize the scene.
21. Exquisite Bird and Butterfly Ceiling Feature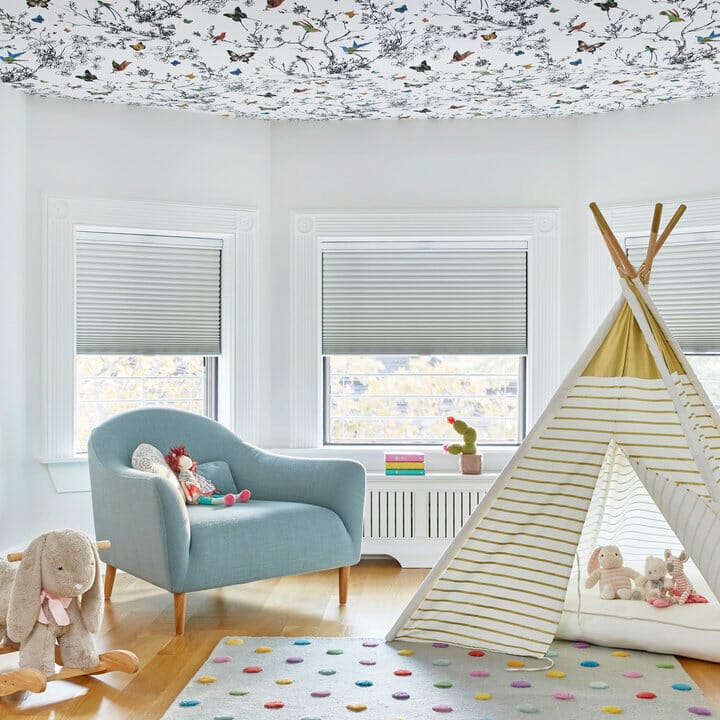 It is strange yet attractive, wild yet entertaining. Well, all the contradicting adjectives are containable to describe toddler room ideas in this girl's space.
It is not only because of the paper printed in birds and butterflies on the ceiling but also the tufted polka dot area rug.
22. Baby Boy Room with Golden Details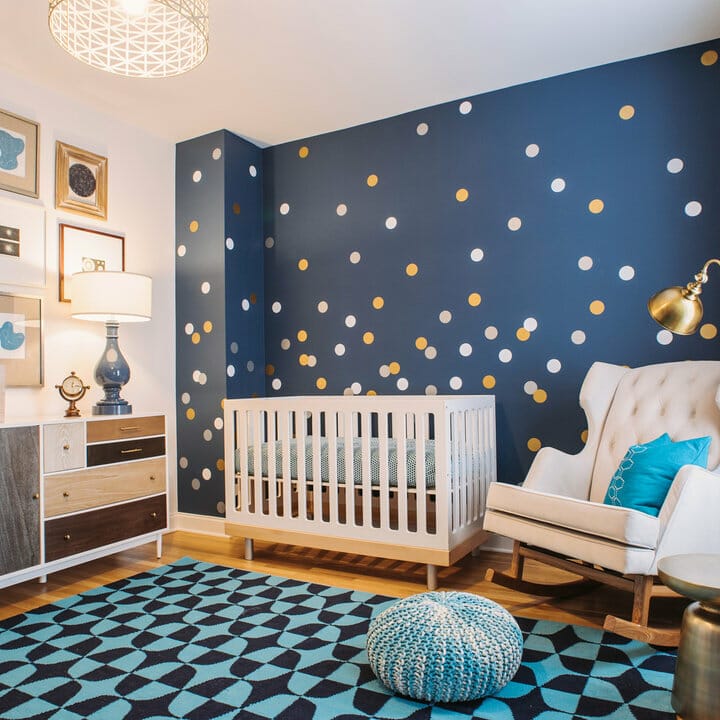 Toddler room ideas in this boy nursery include a blue scheme with golden details.
In particular, the sea color on the wall, table lamp, area rug, knit pouf, and cushion are ornamental with the Aurelian pigment on wall dots, frames, and the lamps.
23. Toddler Room Ideas for a Cute Little Bookish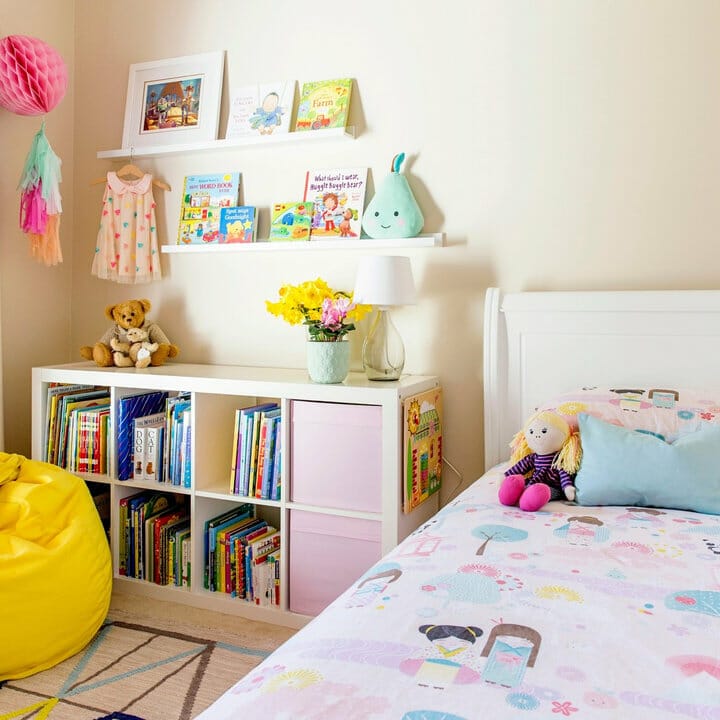 You might not imagine that she will be a bookworm when you first showed her a book until one storybook turns into another hundred and passes you by quickly.
Then, the next lesson is how to store her precious books neatly in storage beside the bed. It is also important for her not to read while lying down, so the yellow bean bag is there to provide a cozy reading time.
24. Vivid and Bright Toddler Room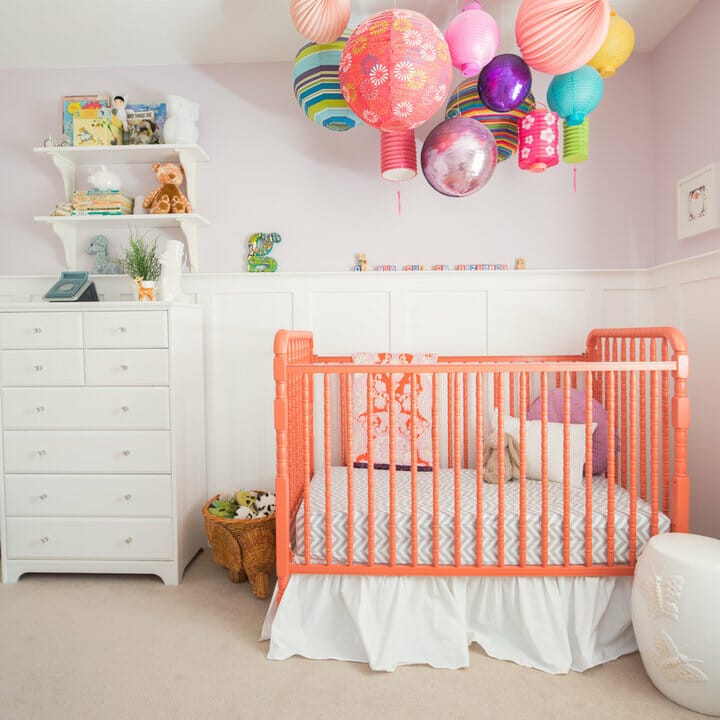 Coral is a babyish tone. People who use this shade will look younger, no matter how many years they have lived.
Thus, benefit from its trait and decorate your toddler girl's room with this color. Here, you see it on the crib, the Chinese lantern light, and a little more on the wall.
25. Pleasurable Children's Bedroom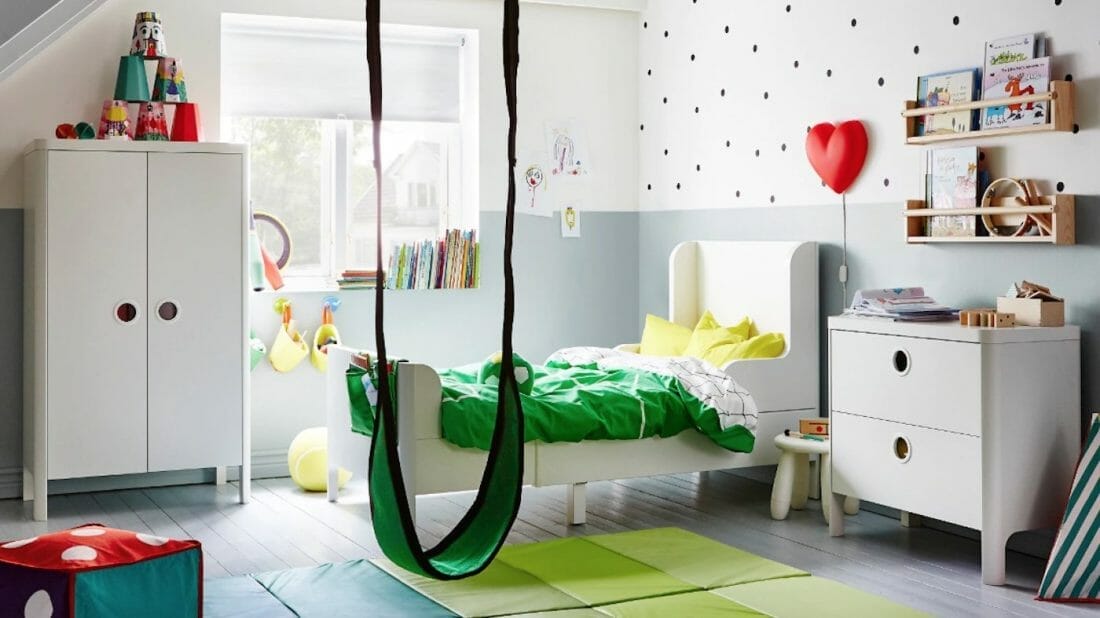 Modern and refreshing are the words that best describe this girl's bedroom. The white furniture set, including a drawer chest, an extendable bed, and a wardrobe for kids, make the green accents on the bedcover, sling, and gym mat stand out.
Do you know how fascinating a watermelon is with its contrasting natural colors? Well, that is the concept here but only with a little bit amount of red.
26. Floral Teepee for Camper Princess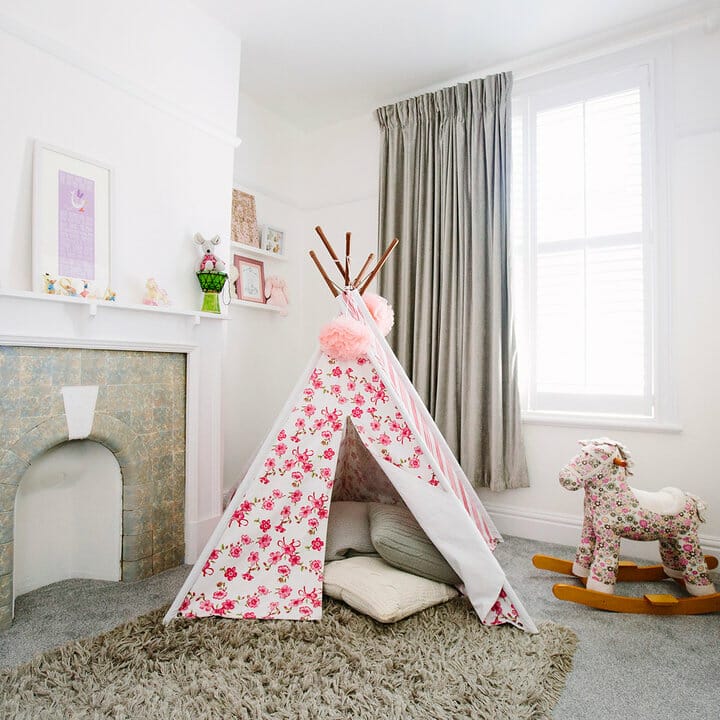 Your beautiful little camper will feel contented with this floral teepee. She will like it even more with a set of soft tulle pompom balls hung at the top.
Further, the arrangement in front of the fireplace would help her play pretend of camping around a campfire in the wild. If so, could the rocking horse be a pony, then? Well, ask her. It is her fantasy, anyway.
27. Tea Party Set in Magical Place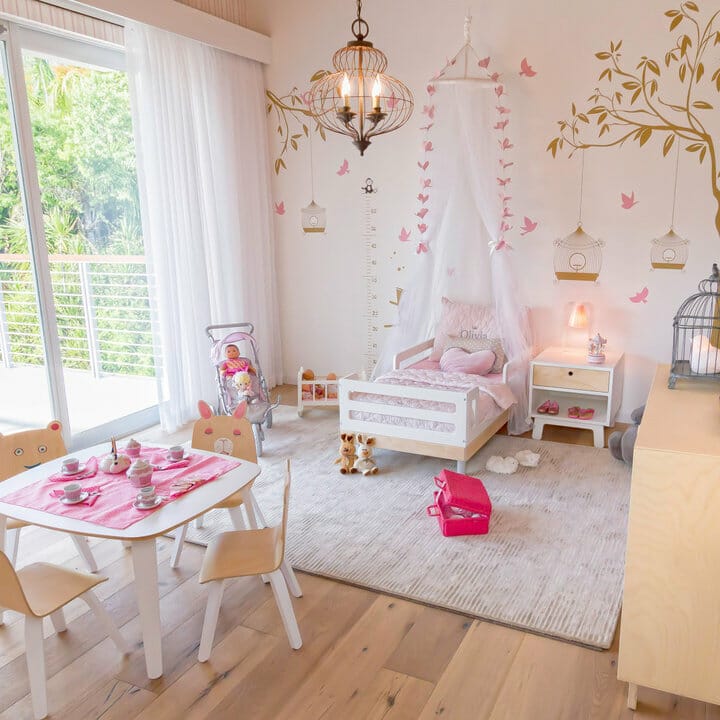 This pink room has a space to spare for tea parties. It will be such a blissful spot for your girl to have her friends around every afternoon.
After the party is over, she could directly lie down on the lovely bed decorated with a tulle canopy and the hanging butterflies.
28. A Scheme of Violaceous for Daughter Slumber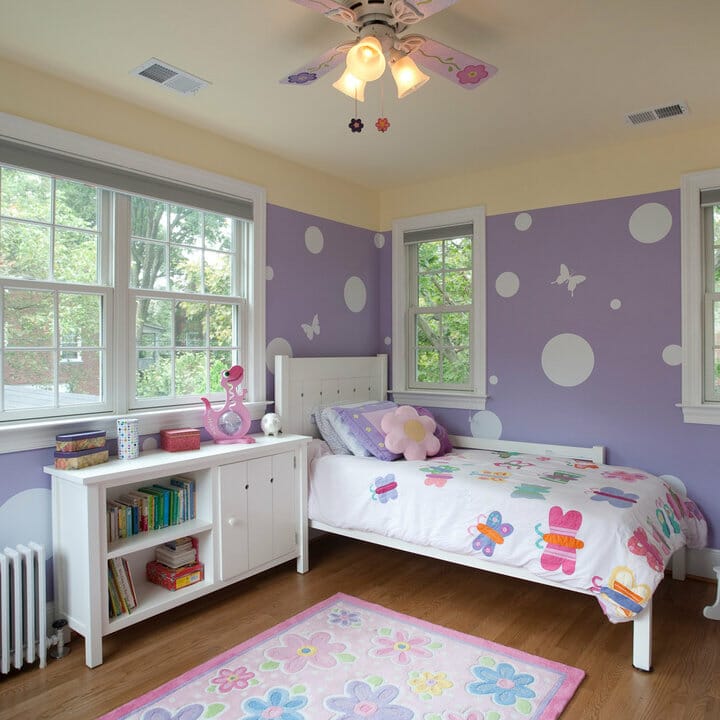 Purple is almost on the same level as pink in a girl's world. This color has swooned countless little daughters and become the main attraction in their rooms.
It applies similarly to this bedroom. Here, such an appealing tone is dominantly applicable on the wall, bedding, area rug, and the minor details.
29. Darker Shades for Kids Room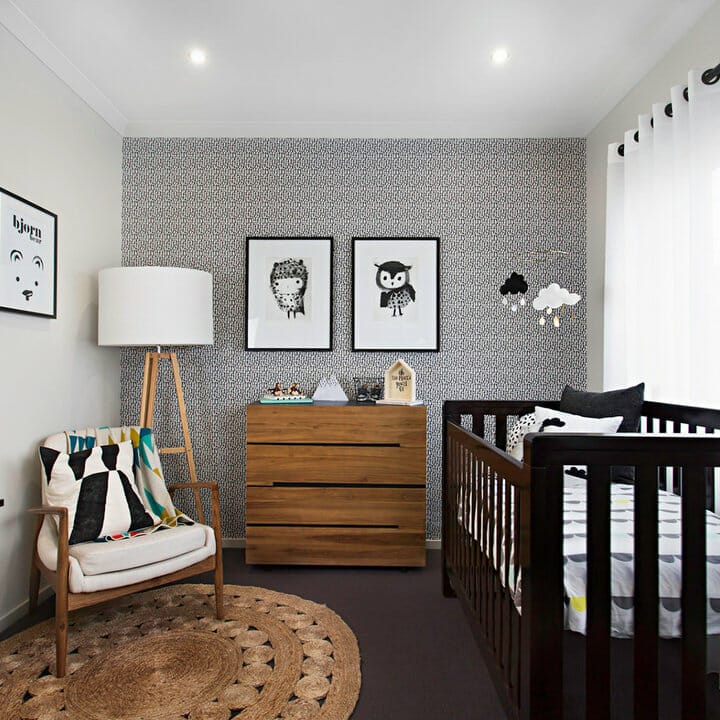 If you are wondering whether or not dark shades could be the main scheme of your little man's room, here lies the answer.
It absolutely can, parents! A black and white patterned wall, as well as, dark tone wooden furniture will be more than helpful.
Finally, no matter how many toddler room ideas are in your mind right now, make sure to include your kids' opinions when executing. Minding their view about their personal space is the most important in the matter. They will love to brag about the bedding color or the rug design they choose, after all.