Scroll down these amazing front yard succulent garden ideas and you will be happy to find the best one to apply in your outdoor space.
Succulent is one of the most manageable plants to grow. Moreover, it is only the small size in the pot but many types of succulents can grow taller and bigger.
1. Succulents in Large Area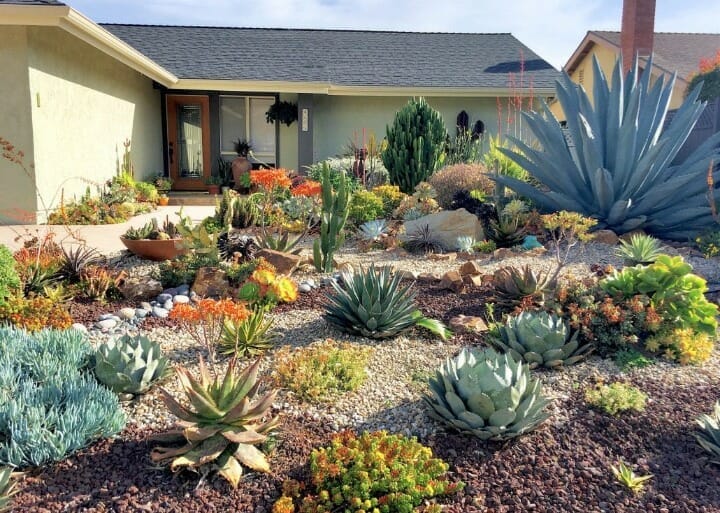 For the front yard succulent garden ideas of your wide garden, you need to choose a large type of plant that can cover your space beautifully.
For an all-succulent garden, you may also add some corals around the succulent to cover the blanks' spots. It will make it look natural.
2. A Small Fence by Succulents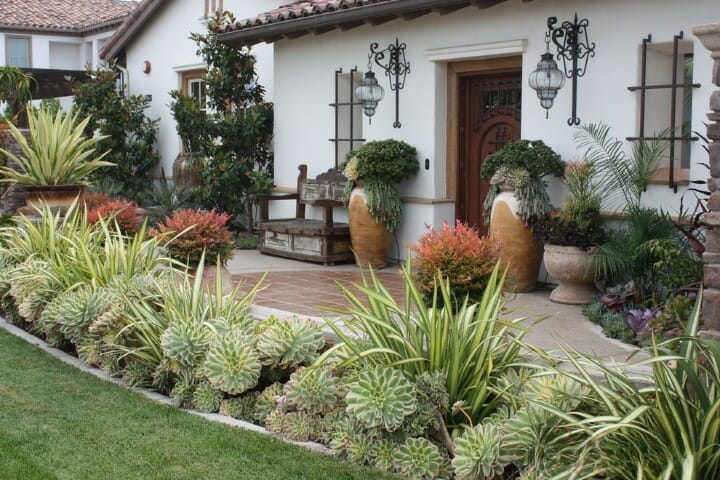 Some people tend to like one-tone plants for their garden. Placing the varieties of succulents as a low fence right in front of the entrance door makes a great choice.
For one succulent color, you can go with Aloe Arborescens, Aloe perfoliata, Agave Victoriae-Reginae, any type of Haworthia, and Senecio Vitalis.
3. Front Yard Succulent Garden Ideas with Euphorbia and Aloe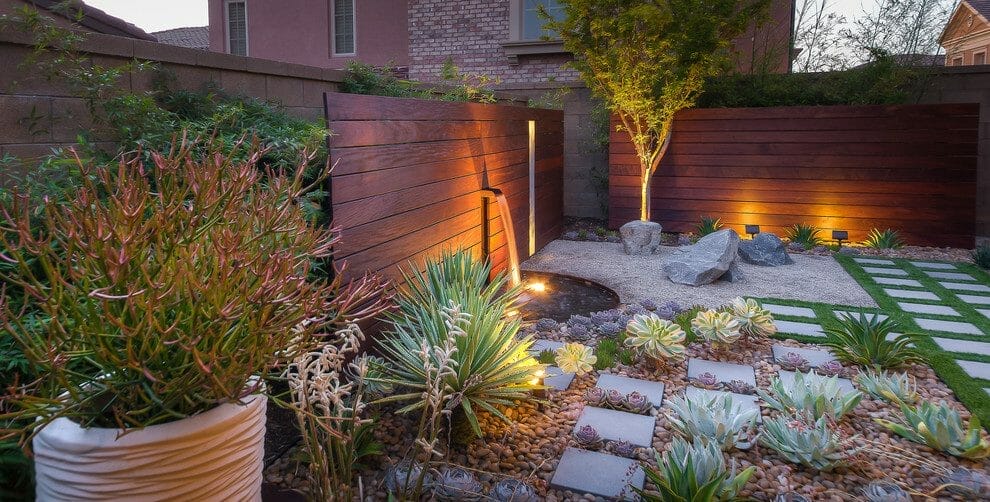 The succulent has many types. But one of the most stunning succulents is Euphorbia. You can get a warm vibe for your garden by planting this succulent.
If you want an attractive one, you can choose Euphorbia tirucalli. It has a bright color on the top like a fire. That is why this succulent is also known as Sticks on Fire. Put it in a big pot, then you will find it warm by the look.
Then, you can also get aloe for an additional touch. There are a lot of types of Aloe, like Aloe Black Beauty, Aloe Hellskloof Bells, Aloe Christmas Carol, Aloe perfoliata, and many more.
4. Welcoming Succulents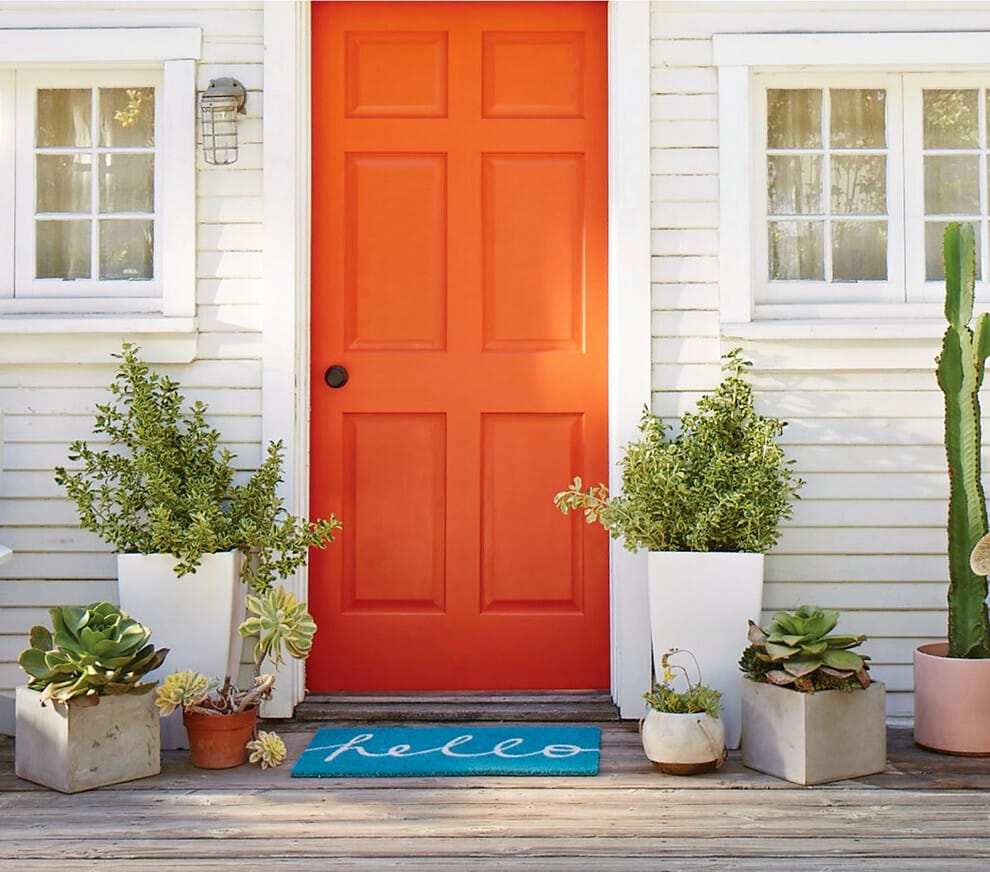 Do not worry if you do not have sufficient room for your plants. Succulent is a type of plant that easily adapts and arranges.
The front yard succulent garden ideas for your limited space are by placing and arranging the succulents on the pot.
It is only around five to six pots to place them right side to side of your entrance door. To make it balanced, you can plant the Senecio into two big pots on each side.
For the rest, you can add Kalanchoe, Gasteria, or Graptopetalum Hybrids on the small pot.
5. Small Hills of Beautiful Succulents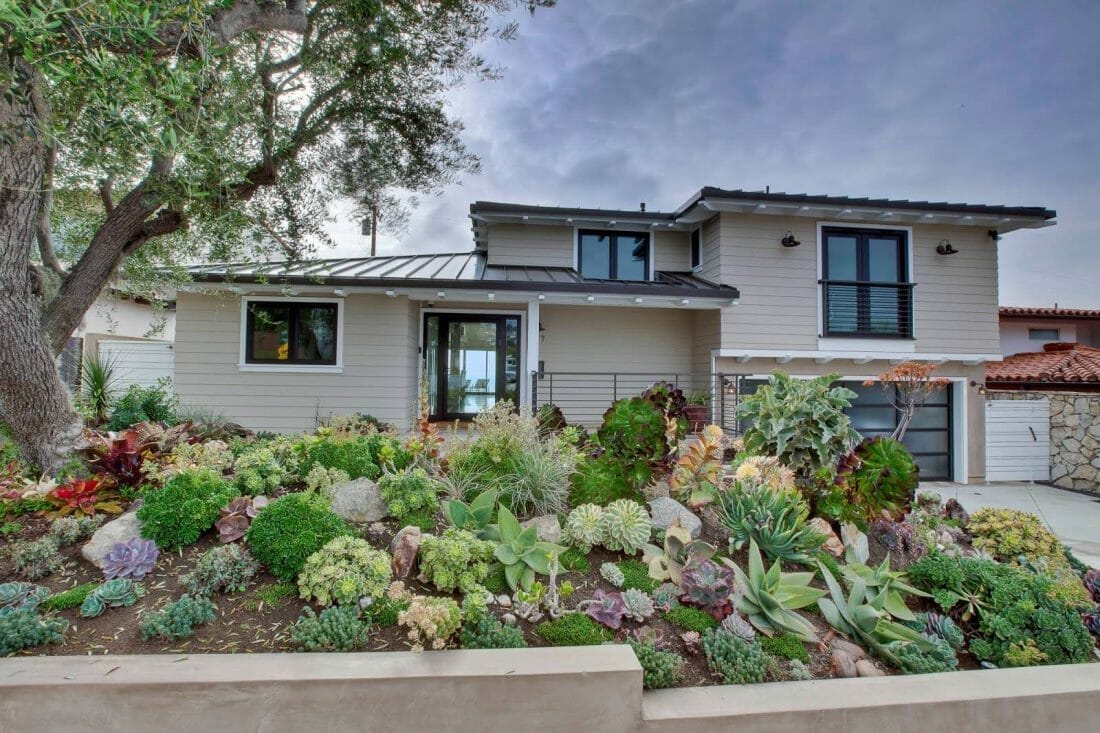 There are a lot of front yard succulent garden ideas that use succulents as fences. However, the best way to show both your home and succulents is to make the succulent fence at a lower height.
You can make the front side like a hill where the height of the ground is varied. In that way, you can add small to large succulents to plant around.
Moreover, the length and colors must be diverse. In addition, you can directly plant the succulent on the ground so it will firmly grow and seem natural.
6. Small Seashore at the Front Yard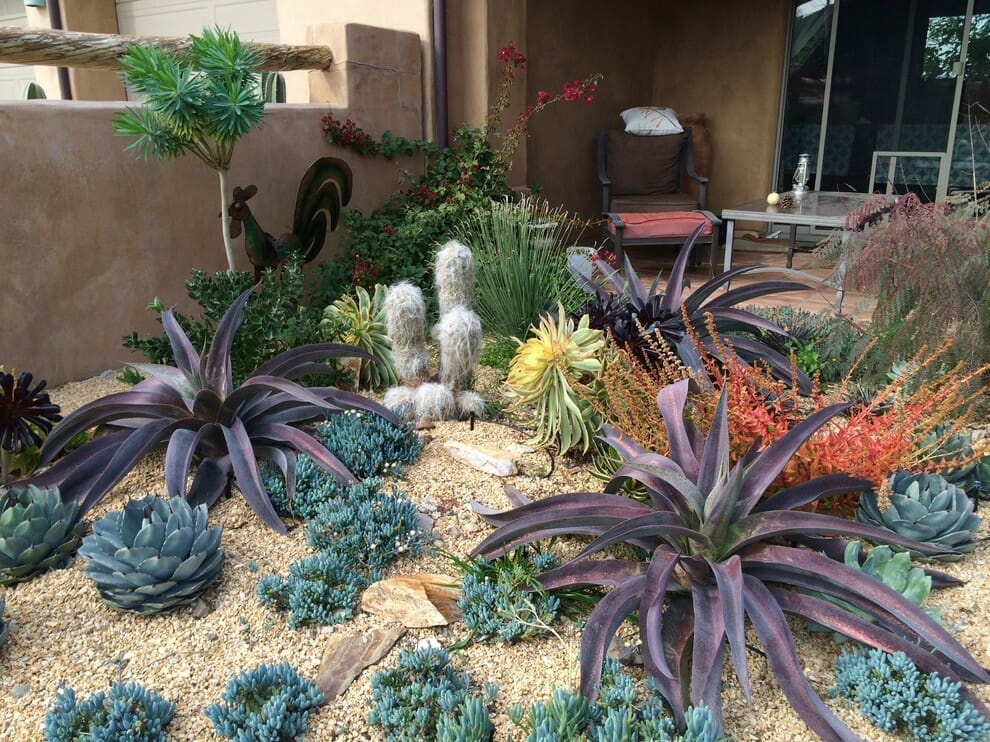 Do you like the beach? Then, you can bring the summer vibes on the shore to your front yard. The key is the corals that you used.
Just plant any types of succulents that you like the most. Spread them into your garden. For the size, you can balance it from big to small succulent. As a result, you do not require a pot.
After that, you can spread around small coral which has a color like sands.
7. Succulents on the Side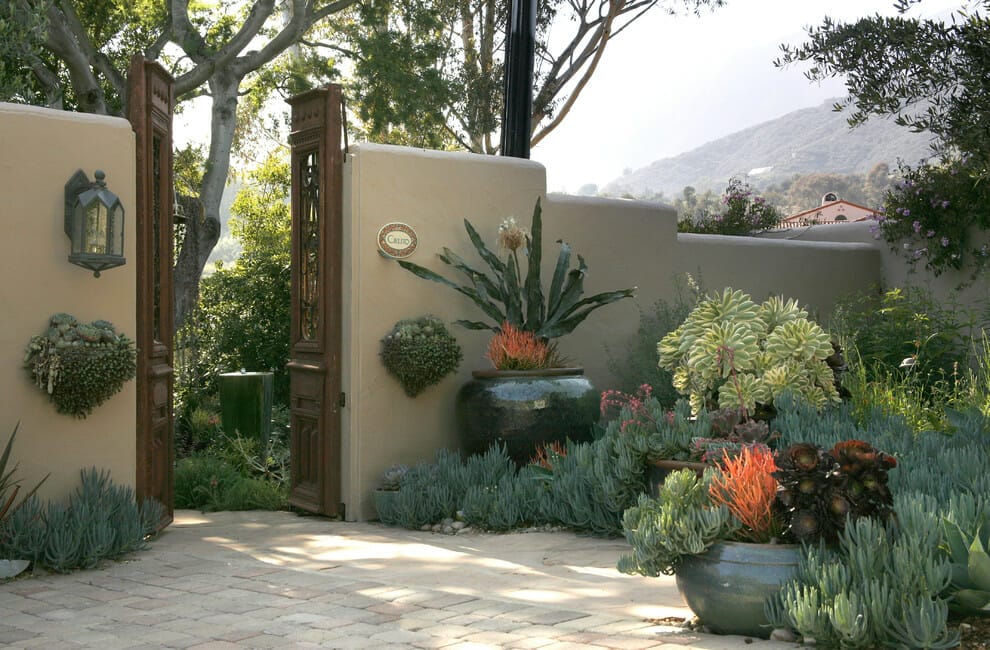 There is one of the front yard succulent garden ideas which is great for your front yard. If you already paved the yard and only have a little space for it, you can plant the succulent at the corner of your gate. The perfect choice is for Gasteria, Sedum, and Crassula.
8. Like Underwater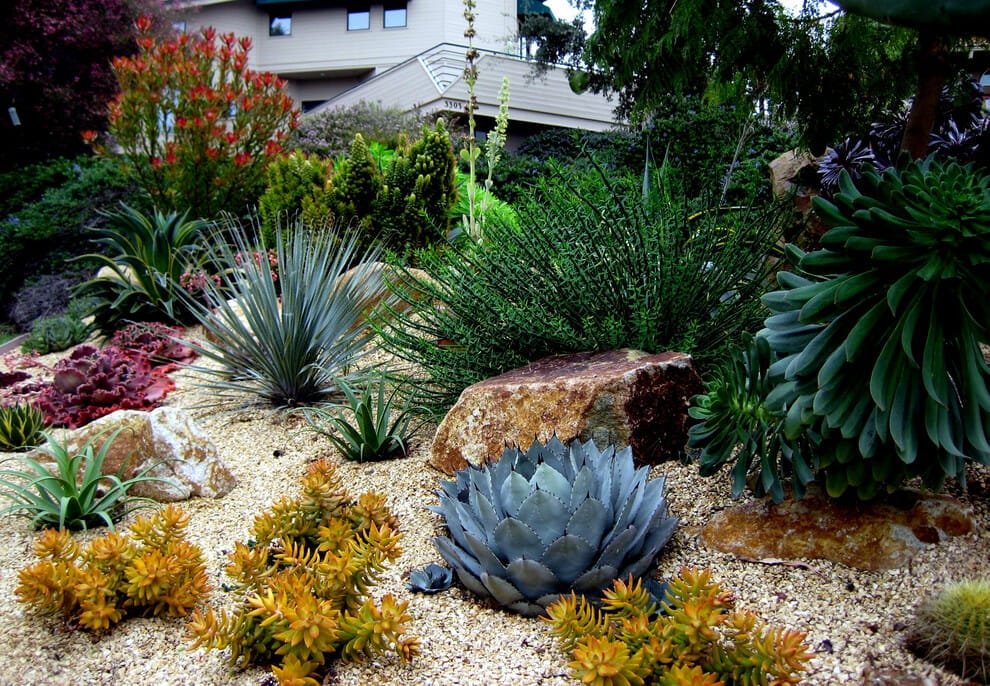 Have you seen the beauty of underwater? Now, you can bring this view to your front grounds.
A clear and clean look underwater is one of the best front yard succulent garden ideas. But first, you better pick the type of succulents. And you need to choose the succulent with soft tone colors.
Then, make sure that the succulents have space from one to another. In addition, you can spread the corals. You can also put big white rocks at several points.
9. Tropical Entrance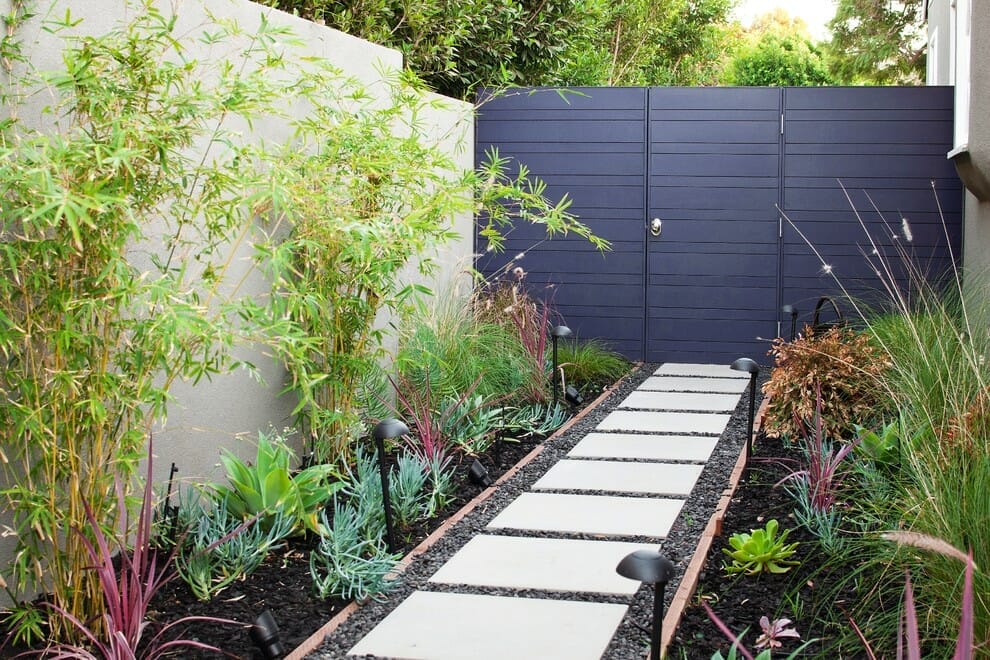 For the modern succulent front yard, the tropical concept is a hit nowadays. It does not only take the succulent, but you also take any plants.
If you have a footpath from your gate, it will be perfect to plant the succulents on the left and right sides of the footpath. Just combine it with tall plants, like golden bamboo.
10. Aloe in the Dessert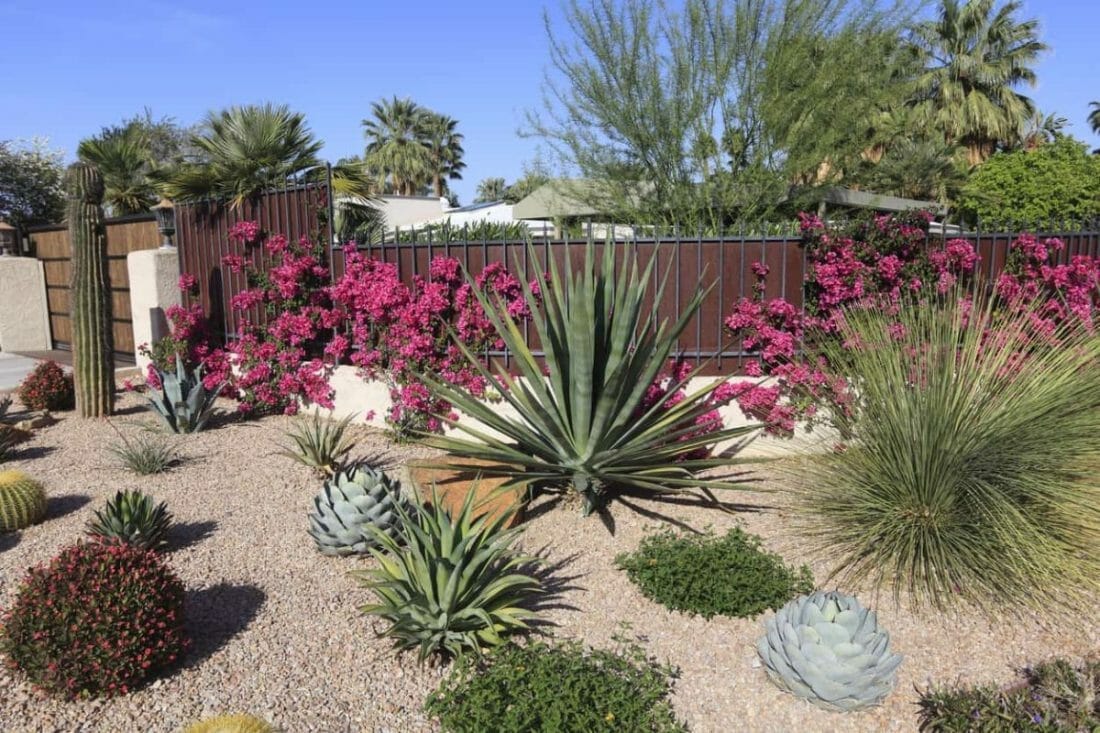 There are a lot of succulents in large and tall sizes which are more perfect for your home. Aloe is one of the succulent types that will grow taller.
The placement is also easy for this large succulent since it will cover the space well.
11. Spring Day Everyday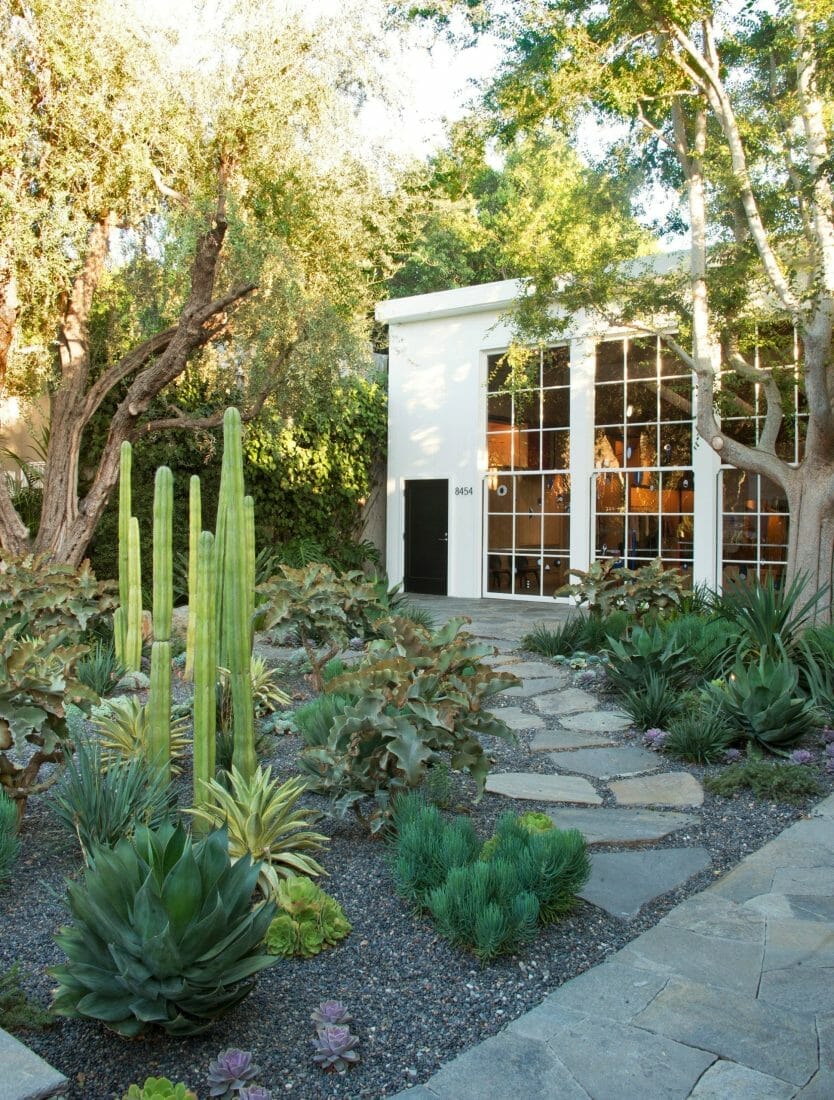 Do you like spring days? If you have some succulents but still have no idea how to treat them in your front yard, you can get this concept.
One of the front yard succulent garden ideas is planting the succulents on the side of the entrance path. You can combine cactus, aloe, echeveria, euphorbia, and agave.
12. Multi-Colored Dessert Succulents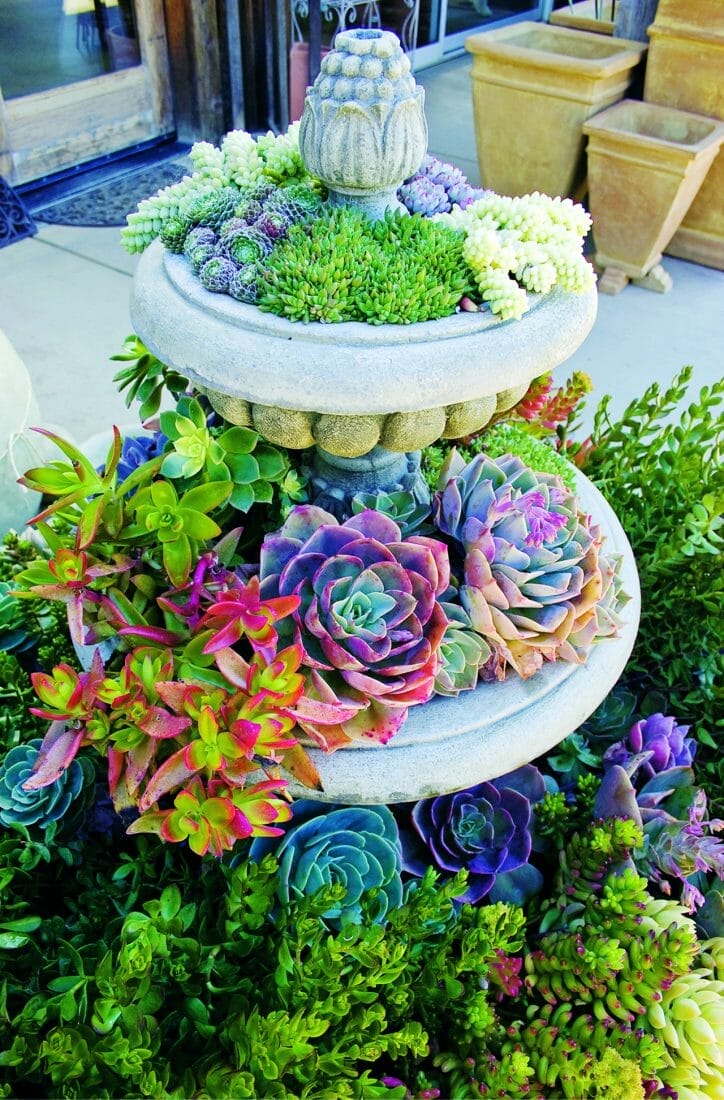 For more attractive front yard succulent garden ideas, you can choose this concept. The center point of this concept is your colorful succulents. You do not need to spread out the succulents, but just gather them into one spot.
Echeveria is one must for this concept. Moreover, you can take any type of Echeveria from the small to large size and from one to two colors.
Thus, put the small succulent on the top of the top following the large one on the bottom. Certainly, this combination will attract anyone and will be perfect for you who want to get a focal point in your yard.
13. Cinder Block Succulent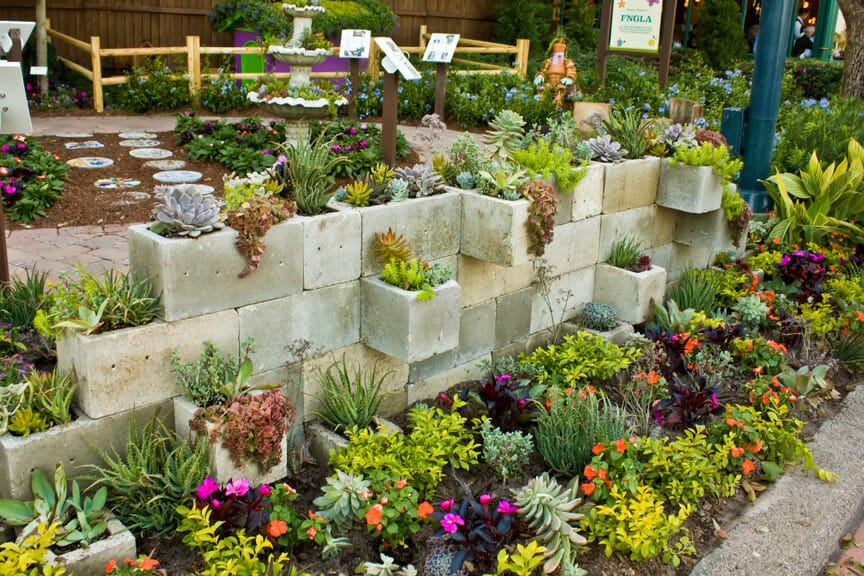 Small succulents are also beautiful. It also has more colorful vibes than the large size. However, you need a follower pot for small succulents. Sometimes you also need a rack or higher place to display these beautiful succulents.
One of the front yard succulent garden ideas for small size succulents is cinder block. You can use the old unused concrete cinder blocks or the new ones.
The blockchain does not seem attractive at first. However, you will see it turn out to be a masterpiece with colorful succulents.
For the placement, you can place the blocks in several tiers deep. Then, add the soil and place your succulents one by one. Put one succulent on one hole of the cinder block.
14. Cactus on the Steps
If there are unused steps, this can be one of your front yard succulent garden ideas. Use the steps as the racks and place your favorite variety on each step and see how beautiful it turns out to be.
15. Bohemian-Like Mini Yard
Planting directly to the ground might be not the best idea for some people. So, the best front yard succulent garden ideas are planting the succulent in the pot.
If you have a bohemian concept, adding succulents is not a bad idea. Just gather the succulent into one group for each corner.
16. Attractive on the Porch Column
Placing the succulent on the porch column is also not a bad idea. It is ideal to fill the emptiness in your front yard. Simply make sure that you place a variety that will not grow taller.
17. Succulents in House Border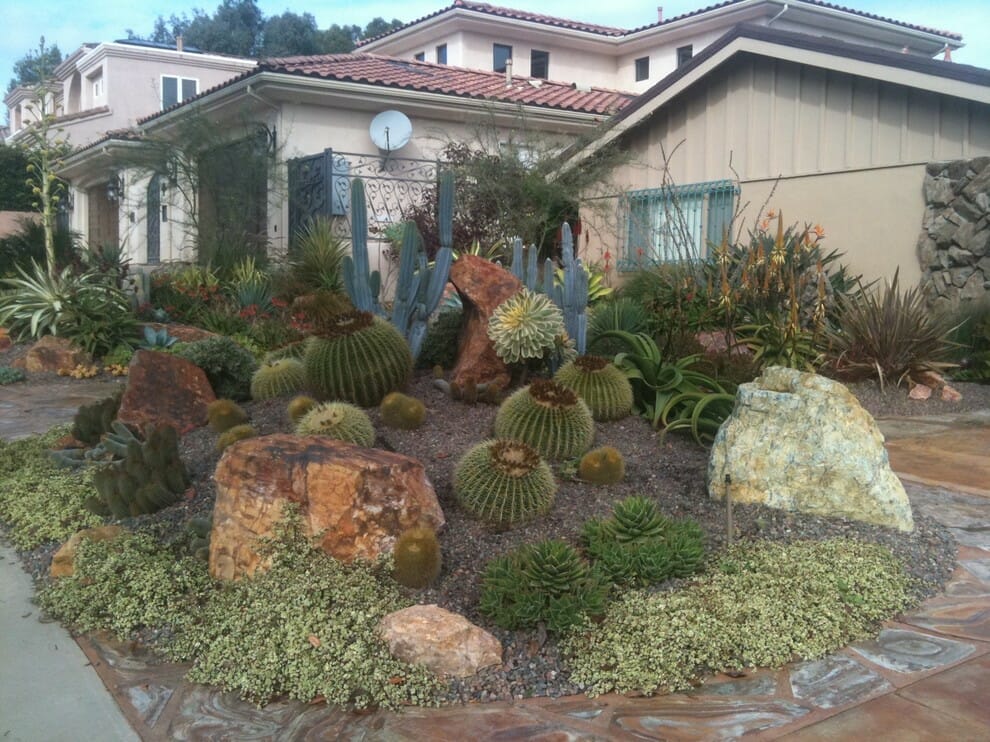 Succulent as a house border is also an easy placement for your home. Placing the cactus in a large size in one place along with big rocks is a perfect front yard succulent garden idea.
You can even make this placement for every corner of your front yard garden.
18. Rose Beads Succulent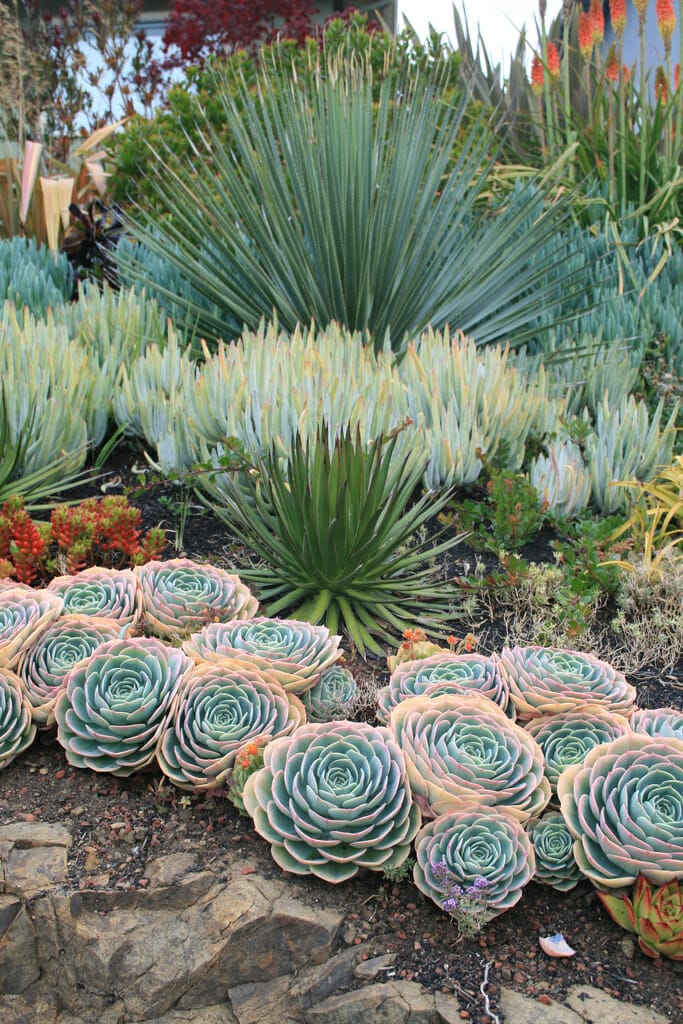 Combining different types of succulents is the best idea for your front yard. Among a lot of front yard succulent garden ideas, this is the best choice if you cannot choose only one or two succulents for your yard.
However, you still need a concept to make your yard look interesting. You can choose one type of succulent as a center. At this point, the rose beads concept should use Echeverias which have a look like roses.
There are a lot of varieties of Echeveria, but the point is you should choose the color one. The best recommendation is Echeveria Afterglow with a pinkish outline that will make it look like roses. The similar one is Echeveria Minima which also has a pinkish outline.
19. Summer Vibes Garden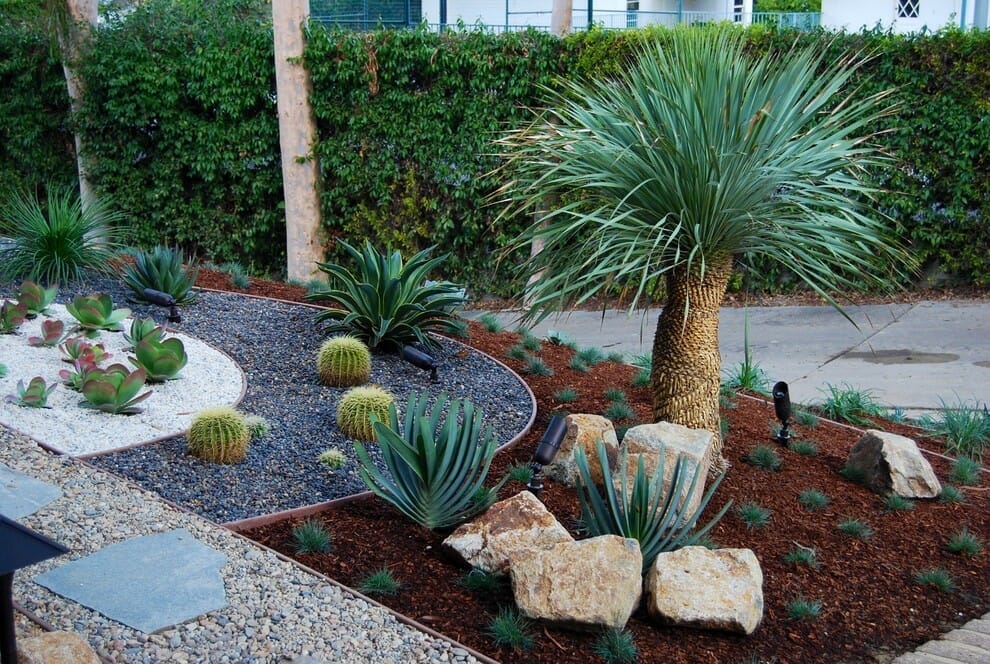 The front yard succulent garden ideas for the summer vibes are cactus and aloe, and aeonium. These three combinations of succulents will bring summer vibes to your garden.
20. Living Waters Succulents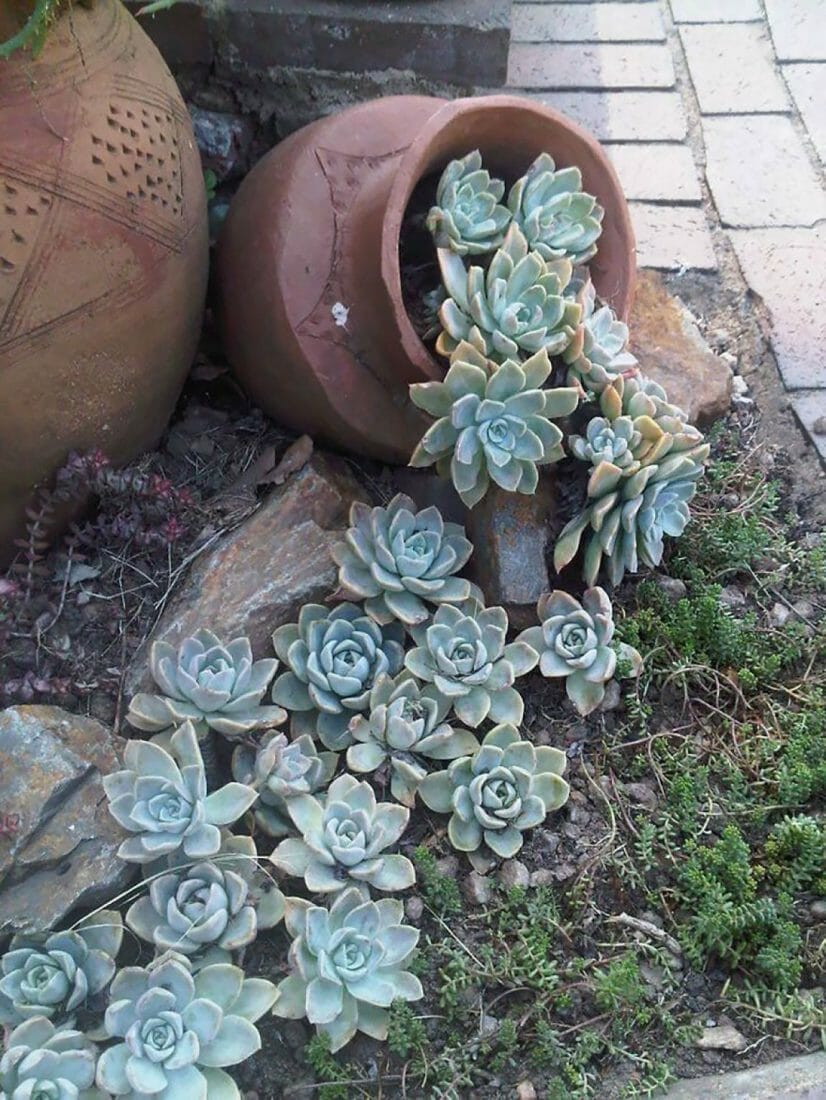 If you need an iconic garden, you can try these front yard succulent garden ideas. You can choose medium to large clay planters. Set them like water following out of the flower pot.
This look is so natural and simple. You need only one type of succulent plant. However, you can also display multi-color succulents by setting them into stream water-like.
21. Neat Front Yard Succulent Garden Ideas
Succulent is also the best choice for your front yard. It is not too flowery but still looks beautiful. If you want to get a neat look with a succulent for your yard, you can choose succulent on the steps.
Since you already have the place for the plant, it will not outgrow the ground. That is why it will look neater. For the type of succulent for this concept, you may choose anything. There is no specific succulent.
22. Wooden Board for Rustic Style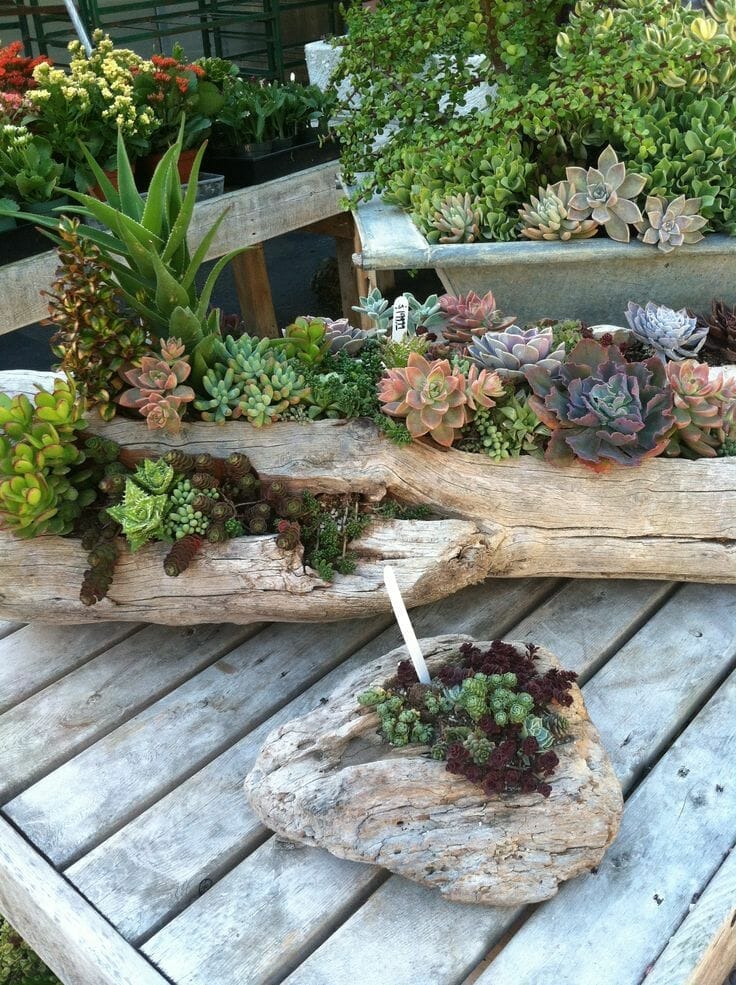 If you have an old tree trunk, do not throw it. You can turn it into a beautiful object for your front garden.
Make a hole in the tree trunk or wooden board that you have. Then, insert the cactus plants and the soil to make it stand firmer.
This is one of the front yard succulent garden ideas which is relatively cheap and low maintenance but looks great and natural.
You can also combine succulent flowers and other plants in any color and any style to make it look vibrant.
23. Small Succulent Garden Ideas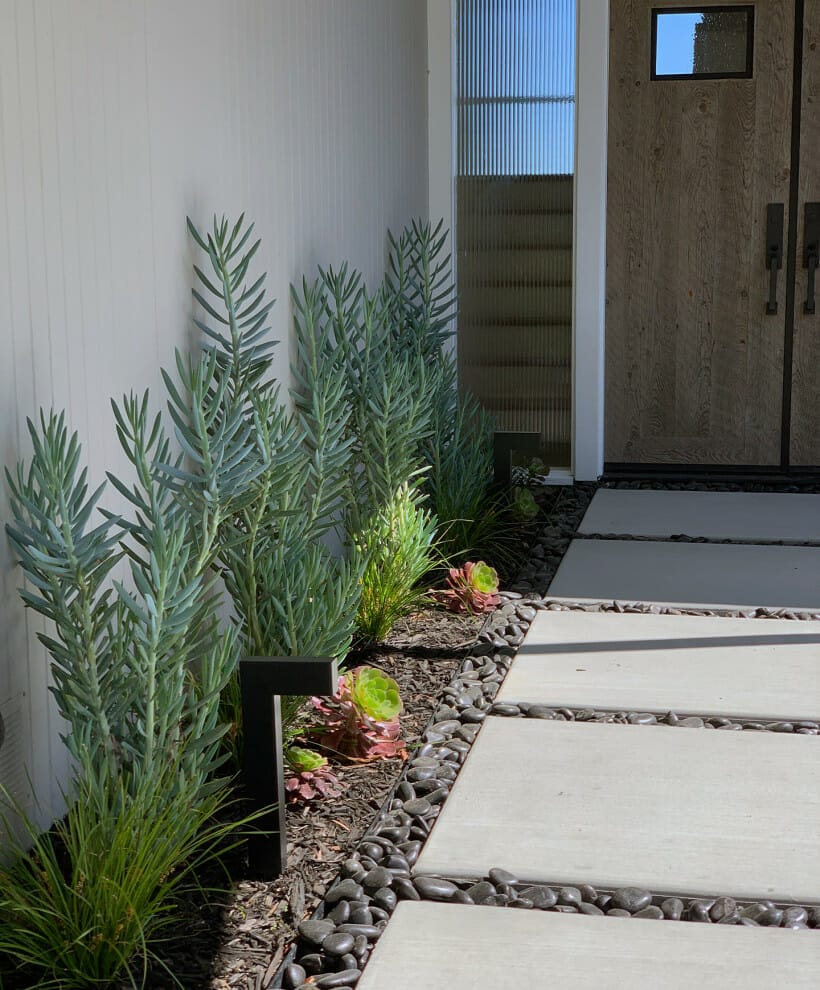 Succulent flowers are not only displayed on the rack. You can let them plant well on the ground. This way is also perfect for you who want to get succulent near your entrance home.
For this small garden idea, you can choose at least two types of succulents. The first one is a succulent that grows tall like Madagascar Palm, Variegated Snake Plant, Eve's Needle, or Aeonium Arboreum.
24. A Tiny Warm Corner in The Garden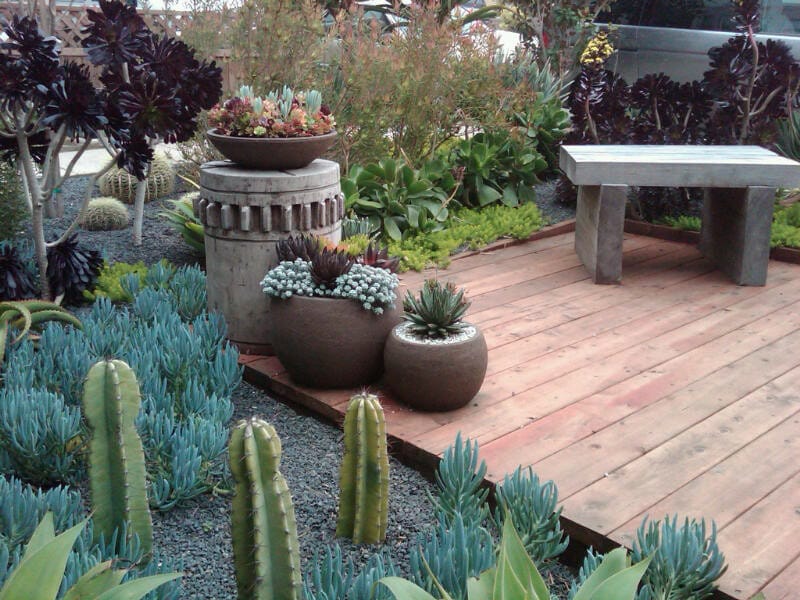 Then, you can also add the succulent with small to medium size to embellish your front garden. There are a lot of succulents like Aeonium, Aloe, and Graptopetalum Hybrids.
25. Succulent near the Windows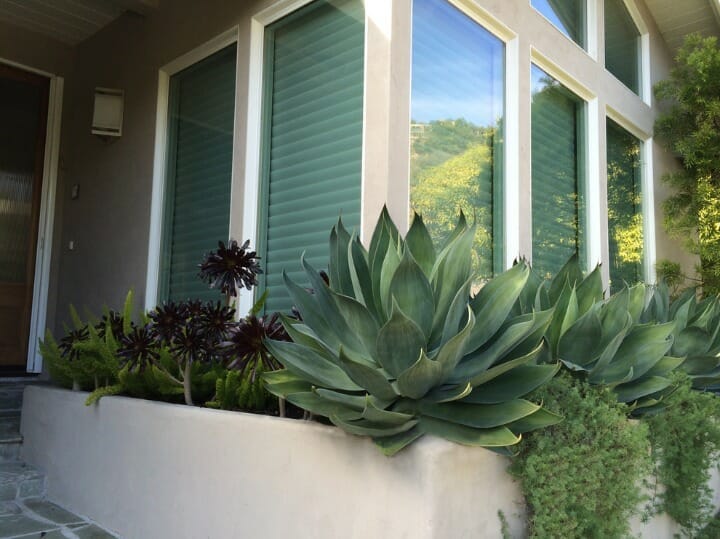 Succulent is not only a small size. There are a lot of succulent types that can grow tall and big. You can choose a big succulent in one of the corners of your yard.
Under the window, you can plant succulents and any type of plant. The large type of succulents is Century Plant which can reach 6 feet, Boutin Blue which is around 4 feet tall, or Fox Tail which is a smaller type of Boutin Blue.
Then, you can also plant any type of Aloe around the underside of your window. To make it look more natural, you can also display String Bananas that are growing dangling.
26. Get Taller Get More Outstanding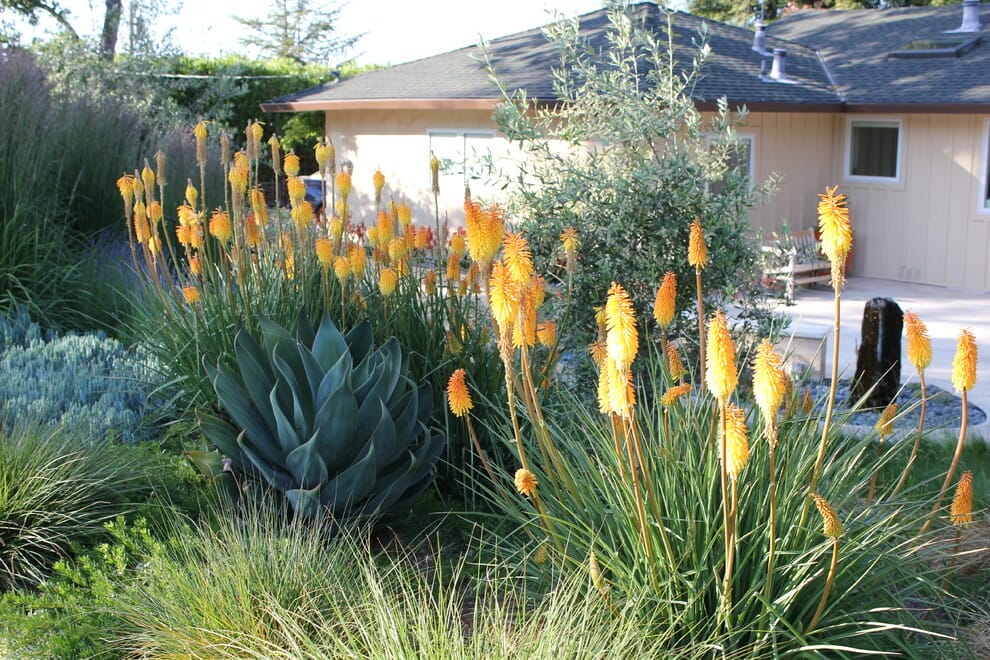 Tall succulents like aloe and euphorbia are the perfect choice for you who want to cover the front side of your home.
It will cover your home beautifully. You can also plant these plants along with the small succulent on the first row.
27. Grounded Large Succulents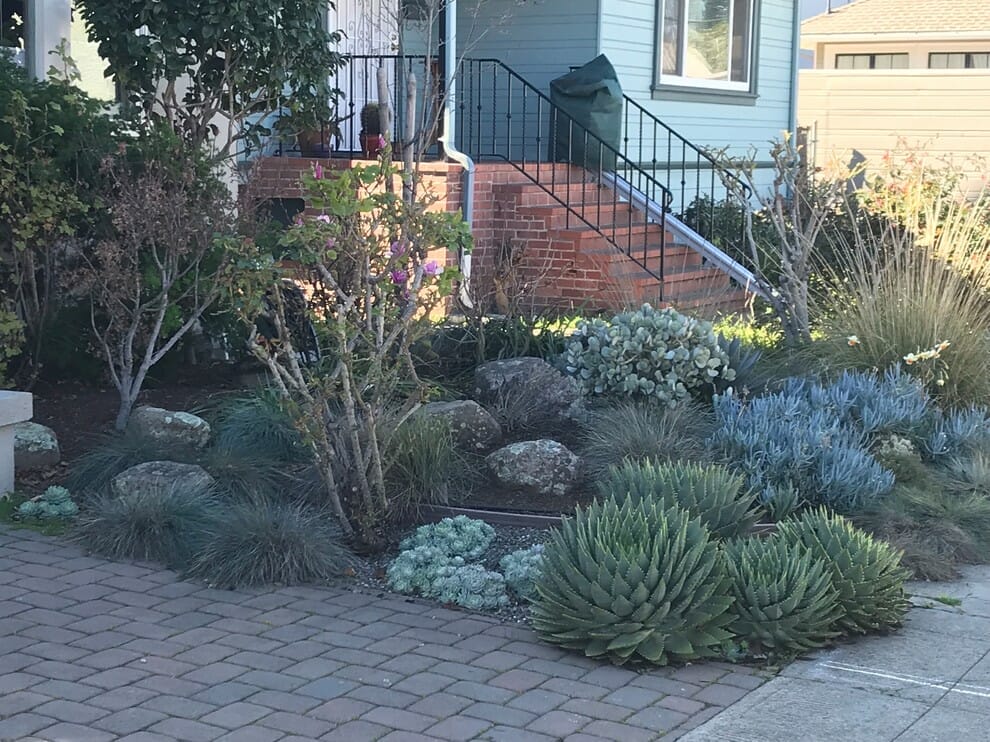 As mentioned, succulents are not only in the pot. You can plant them directly on the soil. If you prefer plants that will not grow taller, you can get succulent that will not grow taller.
Some types of succulents will not grow taller but bigger, so they will be the perfect choice for your garden.
28. Succulent on the Side to Side of Walkway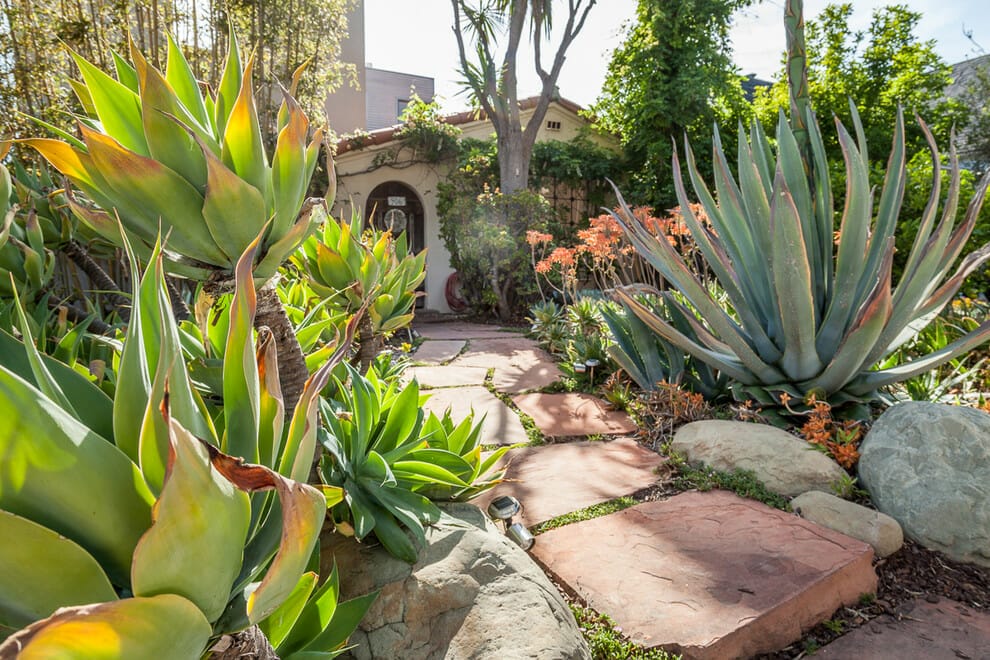 Lastly, since there is a lot of space, you may need various succulents from large, middle to small size. For such a simple landscape, you need only to plant from the large to small from back to front of the walkway.
You do not require it to make it identical, but precise. It means that you do not need to plant the exact type of succulents from the left to the right side.
Just make sure that the composition is balanced from side to side and you will have one of the best front yard succulent garden ideas along the walkway.