No surprise many people admire cacti. Not only do those plants need minimal care but also look splendid throughout the year. In addition, they won't cost much money. If you love their green colors, read up on my enchanting cactus garden ideas.
You can build a fabulous garden to showcase your stunning cacti and spend time with them. Luck is yours since I'll be presenting some magnificent cactus garden designs. Let's check this collection out!
1. Cactus and Succulent Garden Ideas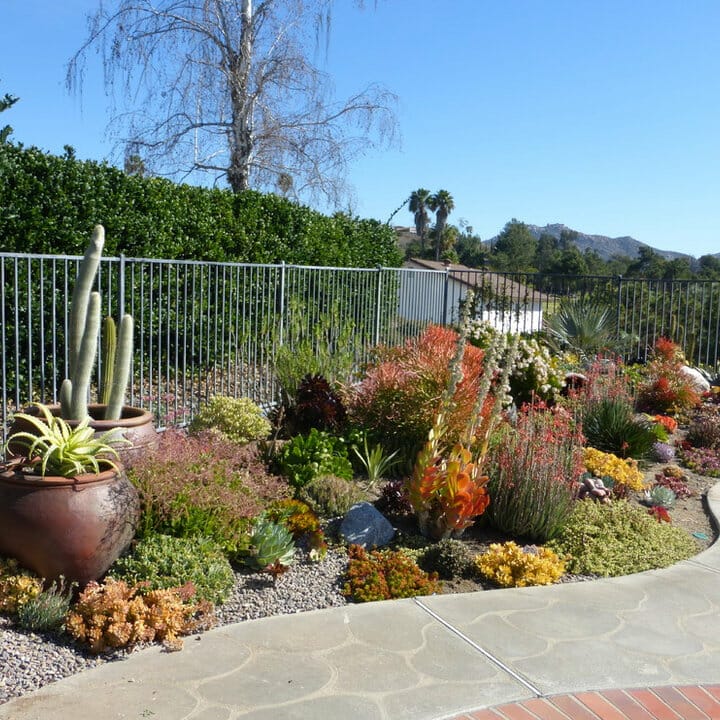 Talking about beautiful cactus gardens, this is one of them. Here, the homeowner grows cacti along her pathway. Furthermore, they separate different garden zones as well as generates visual limitations.
This unusual garden displays gorgeous cacti. Moreover, the homeowner also included large succulents, terracotta pots, gravels, and rocks in her outdoor space.
Of course, this cool cactus garden requires much effort and cash. However, the investment will surely be rewarding.
First, pick a suitable garden pathway. Then, grow several cactus types alongside it. Typically, the edge both sides of the pathway. However, if the budget isn't massive, this design still does the trick.
Searching for cacti of various sizes takes some time. Don't give up, though. They'll surely develop smooth transitions between garden plants.
2. Front Yard Cactus Garden Ideas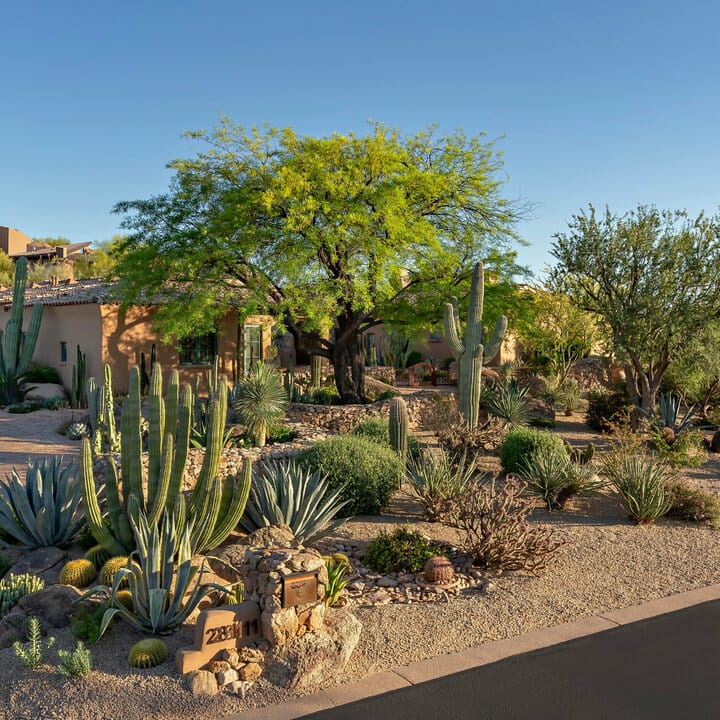 If you dwell in a warm climate, this is one of the superb cactus garden ideas to borrow. As the picture shows, the homeowner opted for a desert look for her front yard garden.
The desert design can be somewhat challenging or so easy to implement. This depends on what you already had in your garden. Be prepared to purchase boulders and some sand to create the tone.
First, spread out the sand and install a couple of boulders. Next, locate some remarkable cacti around them. Then, see how the cactus plants interact with their new environment.
The green succulents and cacti populate the sloping front garden delightfully. In addition, they become a crucial part of the outdoor space.
3. Cactus Garden Ideas with Stones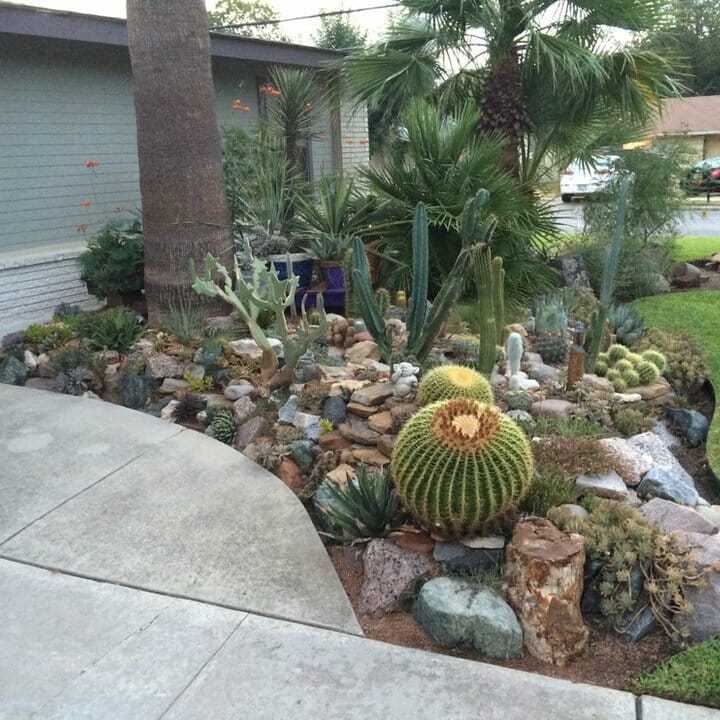 Speaking of landscaping with cactus and rocks, implement this one. This incredible garden showcases different stones as well as cacti. Moreover, it exudes a relaxing, zen-like atmosphere.
You can use large flat rocks as bases for cactus pots. Furthermore, I recommend spreading stones between them to mimic a Japanese-style garden. Also, try playing with different rock and pot colors.
First, have a look at the cactus plants you already had. Next, imagine a stunning arrangement in the outdoor space. If the configuration works perfectly together, then create your new garden soon.
I suggest you mix and match pots as well as rocks to produce different kinds of ambiances. If your funds aren't limited, consider investing in garden ornaments like glass balls and stones.
4. Inclusive Cactus Garden Ideas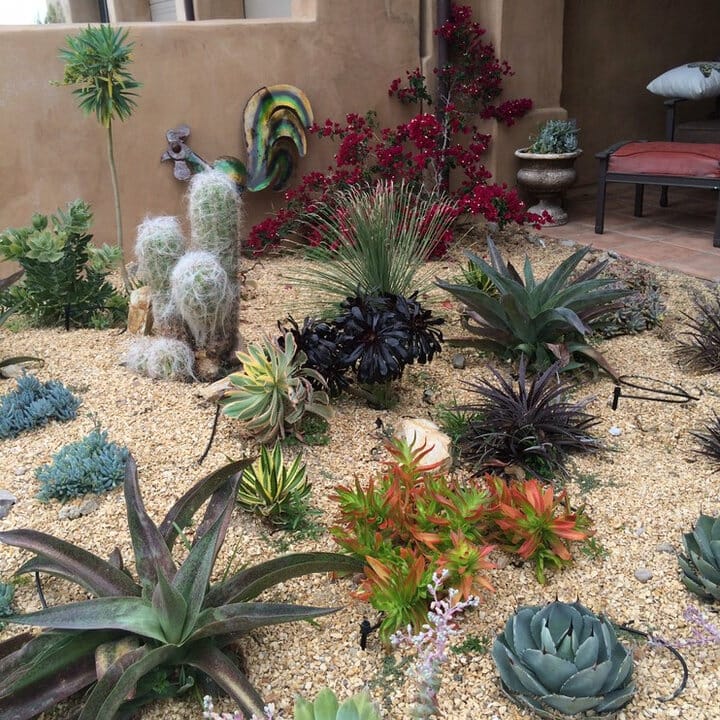 This is one of the impressive cactus garden design photos. Despite the name, the space is not exclusive to cacti. Here, cactus plants aren't the only ones.
Without a doubt, cacti harmonize with vibrant blooms. Moreover, they develop a textured green backdrop for colorful succulents and tiny plants.
Consider pairing cacti with various big succulents. They're suitable for gardens with ponds, statues, or large rocks.
There are thousands of cactus varieties. Furthermore, they do not appear the same. Due to that reason, you should explore them.
Although there's a stereotypical cactus look, you can find succulent plants that fall into the Cactaceae family.
This garden, for example, boasts cacti and succulents. In addition, they blend with the hot pink bougainvillea blooms, gravel, and stones. The armchair lets you enjoy spending time with cactus plants.
5. Contemporary Cactus Garden Ideas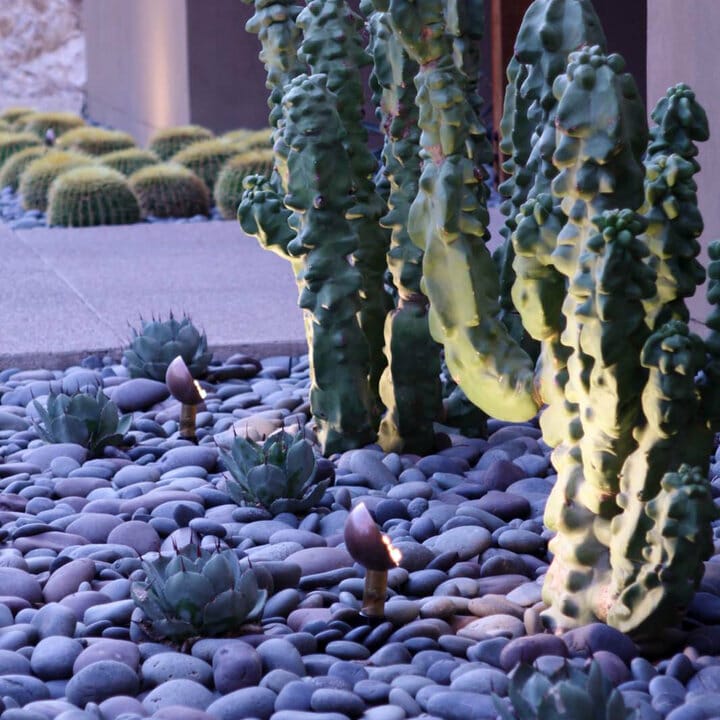 Of course, cactus gardens can represent the homeowners' personalities. If you plan to design your garden, be sure that it reflects your personal preference and trait.
This contemporary cactus garden, for example, boasts straight lines. Furthermore, it proves the homeowner is a very organized person.
Despite well-defined lines, this garden is still attractive. Moreover, the area features various colors, sizes, and forms of cactus plants.
The concrete pathway allows cacti to shine, while the smooth stones complement it excellently. Also, there are tiny garden lamps that emphasize statement cacti at night. They nod to the contemporary style, too.
6. All About Visual Contrasts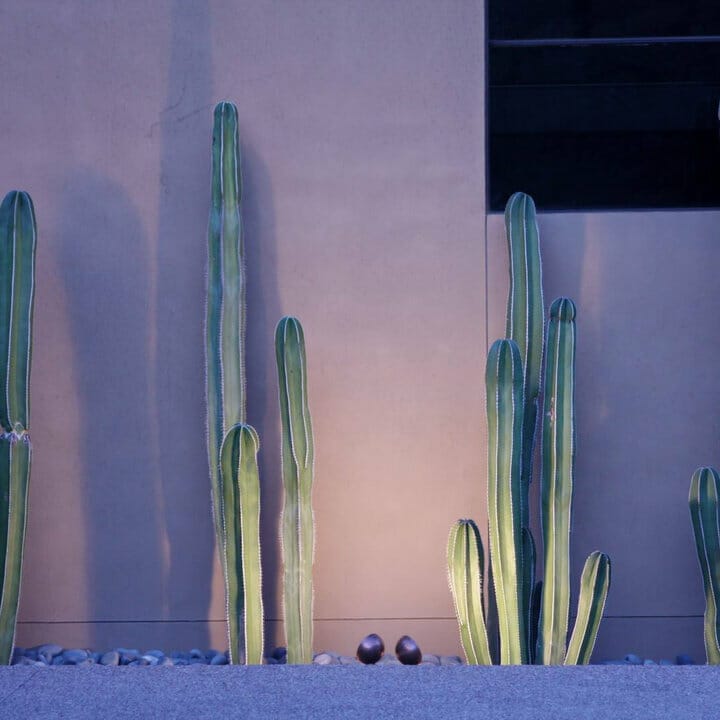 When it comes to cactus garden ideas, don't hesitate to play with contrasts. If you have cool white or light neutral-painted exterior walls, borrow this option.
Here, the homeowner positioned some tall green cacti next to his light gray concrete walls. They develop a sharp yet striking contrast.
The invigorating green colors of cactus plants pop against the pale gray walls. Also, they lend the garden lots of visual diversity instantly. Moreover, small contemporary lamps highlight the cacti during the nighttime.
This cactus garden design seems particularly magnificent on sunny days. During such times, the concrete walls provide a bright backdrop, while the cacti cast crisp and solid shadows.
7. Minimalist Cactus Garden Ideas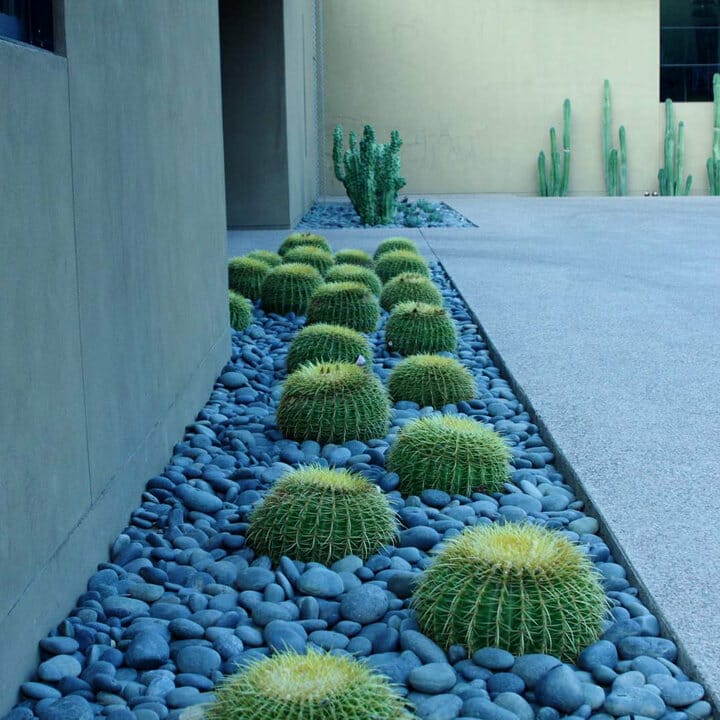 Nowadays, tons of ideas, concepts, and things overwhelm our world. That's why you should build a cactus garden that doubles as a meditation place. Furthermore, it must let you focus on important aspects.
Without a doubt, a minimalistic design works excellently for cactus gardens. In addition, symmetry allows you to apply minimalism without sacrificing the garden's decorative aspects.
This garden, for example, has three types of large cacti in separate zones. Apart from jazzing the otherwise dull yard, they present a visual interest.
8. Cactus Gardens in Flowerbeds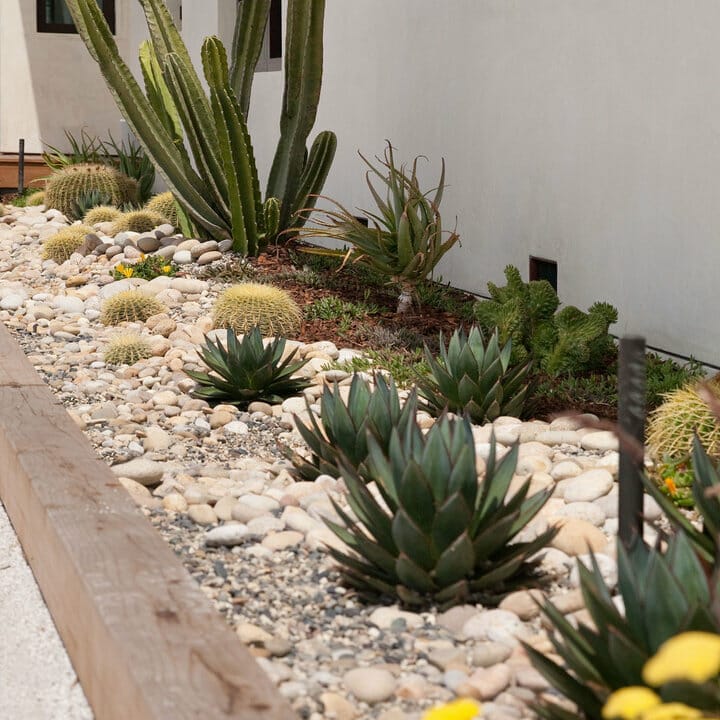 Searching for cactus garden ideas? This design is worth trying. Here, the yard features a cactus garden in a wooden raised flower bed. Moreover, it lends the outdoor area a new twist.
Here, cactus plants are somewhat large, so they become visible in the garden. In addition, they give the existing yard layout an incredible touch.
Apart from cacti, the wooden flowerbed employs smooth stones that come in various neutral colors as well as sizes. Furthermore, they perfectly harmonize with cactus plants while accentuating them.
9. Cactus and Succulent Garden Ideas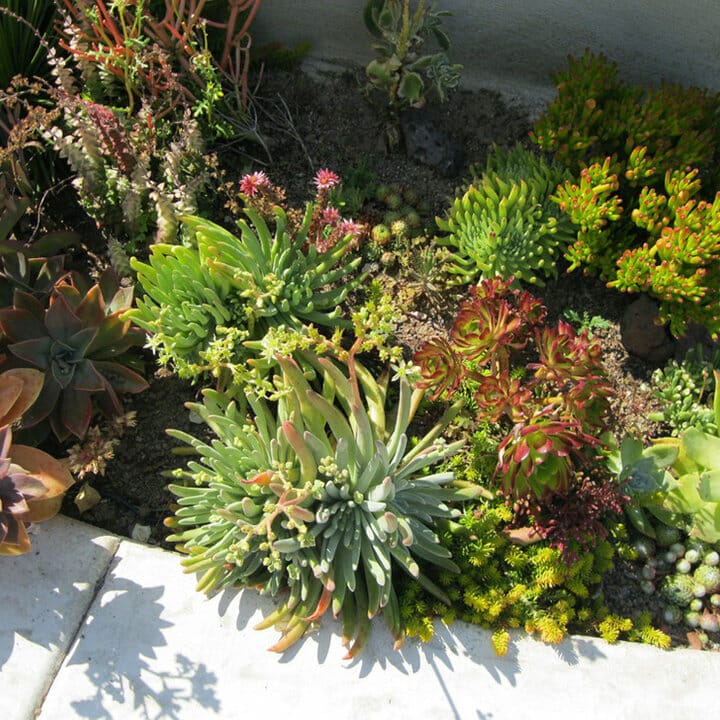 Who says cactus gardens only feature cacti? The name undoubtedly indicates that the major plants should be cacti. However, you can combine them with others.
Cactus plants can go excellently with tiny and vibrant flowers. Furthermore, they present a textured, lively backdrop for them.
Another option is pairing cacti with splendid succulents of various types. In this example, the cactus garden also boasts marvelous succulents.
This is one of the fantastic cactus garden ideas. The concrete pathway is not only super stylish but also allows succulents and cacti to take center stage.
10. Cactus Rock Garden
Talking about cactus garden ideas, you won't go wrong with rocks. Furthermore, they're a truly versatile natural material for gardens.
Some people build rock gardens with little greenery or without plants. This is because they love the sheer rock aesthetic.
Currently, there's a rock garden in your outdoor area. If you get bored of its boring appearance, then consider positioning some cactus plants around it for a lively look. I also recommend using white rocks and light gray boulders since they'll highlight your cacti.
Pick the varieties of cactus plants wisely, so you can have an inviting and exquisite outdoor space. Due to the cacti, rocks, and boulders, this sloping garden seems bodacious.
11. Southwestern-Style Cactus Garden Ideas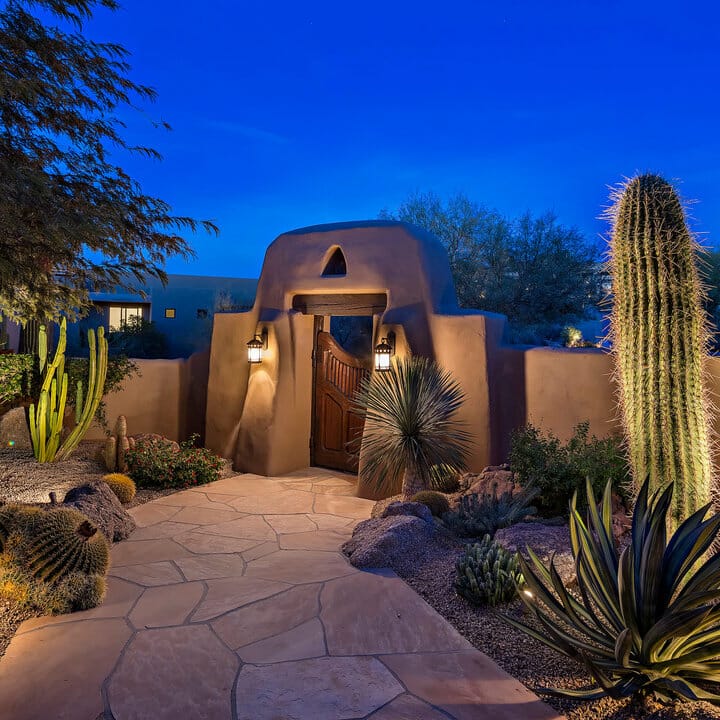 Without a doubt, cacti require plenty of natural light to living as well as thrive. Due to this reason, you must grow those spectacular plants in sunny spots.
Sometimes, some locations in the garden receive more sunlight than others. Furthermore, you must use them to strategically grow cactus plants. They'll surely lend the outdoor area an appealing scattered look.
Here, the cactus garden employs low and tall cacti. Additionally, the stucco gate and walls give it Southwestern vibes. Lastly, the flagstone pathway and rocks complete the look.
12. Mediterranean-Style Cactus Garden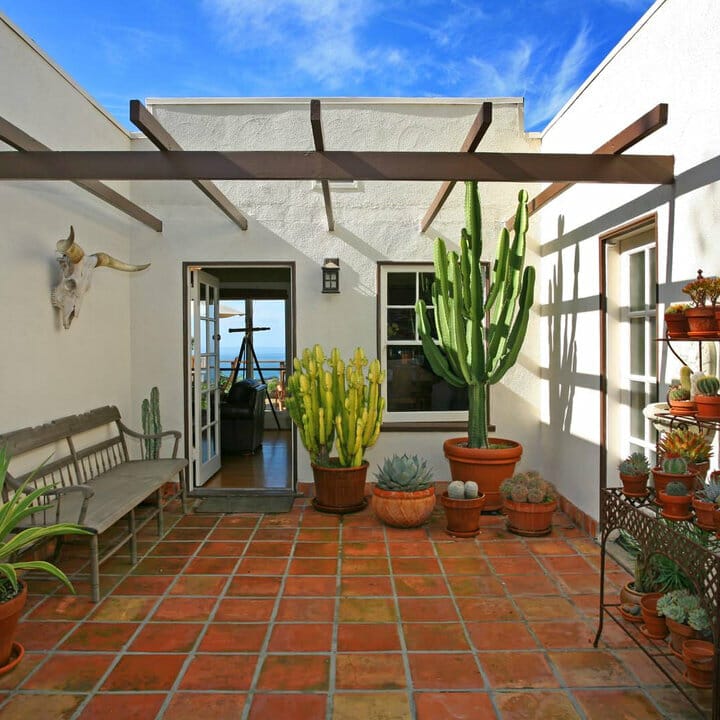 Speaking of cactus garden ideas in pots, this design is worth borrowing. Moreover, it proves glass balls aren't the only people's option.
This space, for example, features terracotta pots on the floor and open shelves. They gracefully accentuate the cacti while making the area seem remarkable.
As you see, terracotta pots hold tiny and tall cactus plants. Furthermore, they accommodate stunning succulents.
Warm-toned floor tiles blend in delightfully with the terracotta pots. In addition, white walls and wooden beams generate Mediterranean vibes.
13. Cactus Garden Ideas with A Pool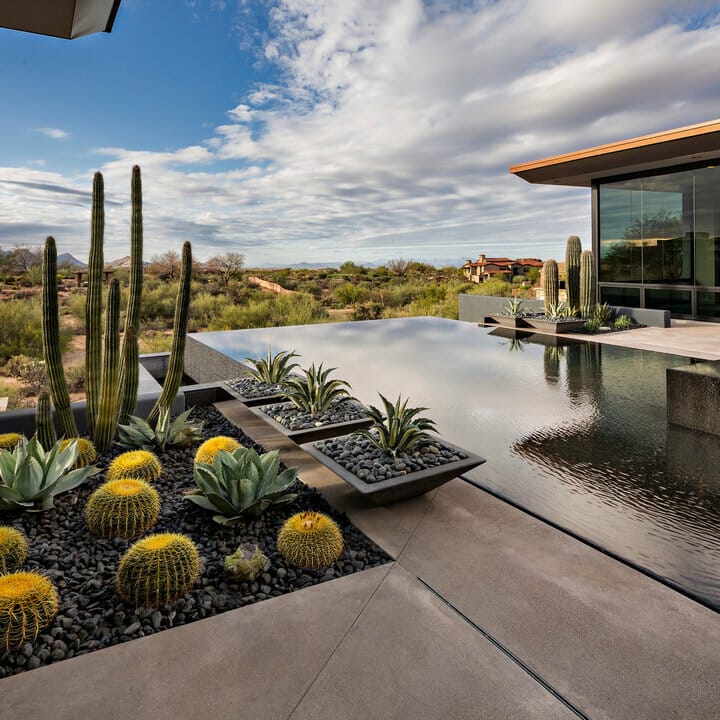 If you want a zen garden, don't hesitate to mix stones and cacti. Without a doubt, a minimalistic design is ideal for it.
Combining various kinds of cacti and stones can develop different vibes. For a perfect cactus garden, I suggest planting certain cactus plants. Make sure that they don't overcrowd your outdoor space.
This outdoor area features a cactus garden with stones. Furthermore, there are tall, low, and round cacti.
Sleek cactus garden planters accompany the concrete pathway. The minimalist pool lets you have a long dip to relieve stress at work.
14. Cactus Garden with An Outdoor Living Room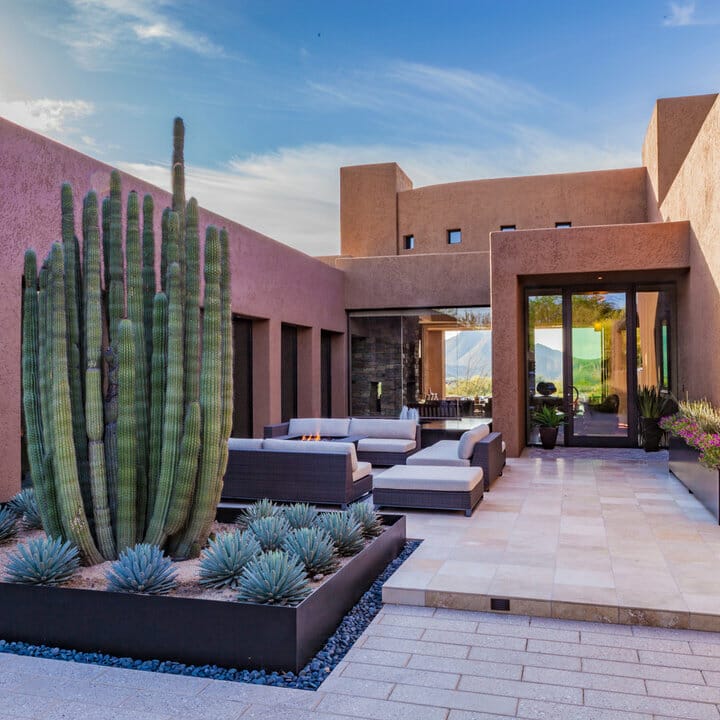 I can't help but admire the cactus garden above. The raised flowerbed accommodates both low and tall cacti. Furthermore, the pebbles surround it delightfuly.
The floor tiles pick up the color of the sand in the flowerbed. In addition, they give the cactus garden a welcoming ambiance.
The potted houseplant and bright flowers lend the cactus garden extra visual interest. Moreover, gray furniture pieces and plain white cushions nod to the contemporary style. Lastly, the firepit introduces a warm atmosphere.
15. Cactus Garden Ideas with A Patio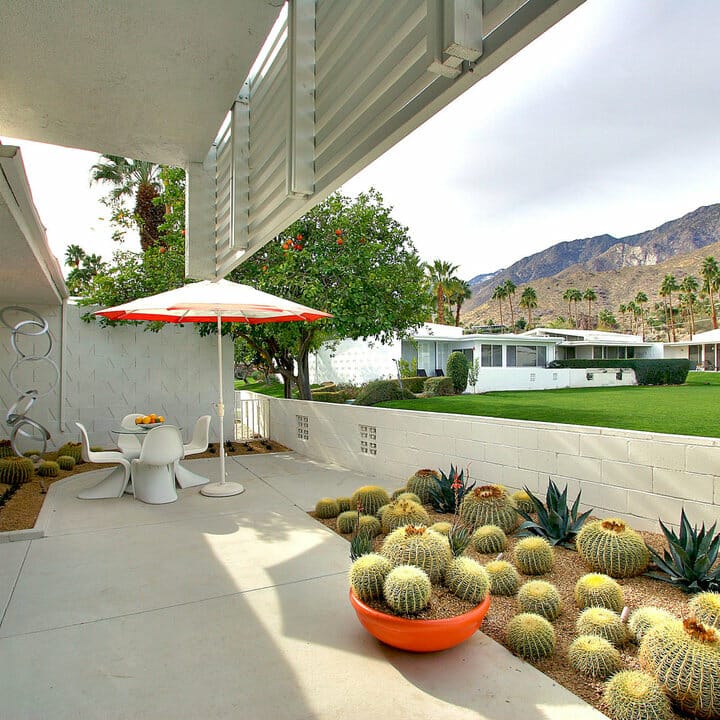 Despite its simple design, I do love this cactus garden. The concrete pathway embraces a modern aesthetic, while the white fence quickly inspires cleanliness.
The homeowner planted several large round cacti in a special planter. He also grows other round cactus plants directly into the ground.
In addition, the planter perks up the cactus garden with a pop of orange. Panton chairs and a glass table make for a trendy sitting area. Furthermore, the two-tone patio umbrella protects guests from the scorching sun.
16. Small Cactus Garden Ideas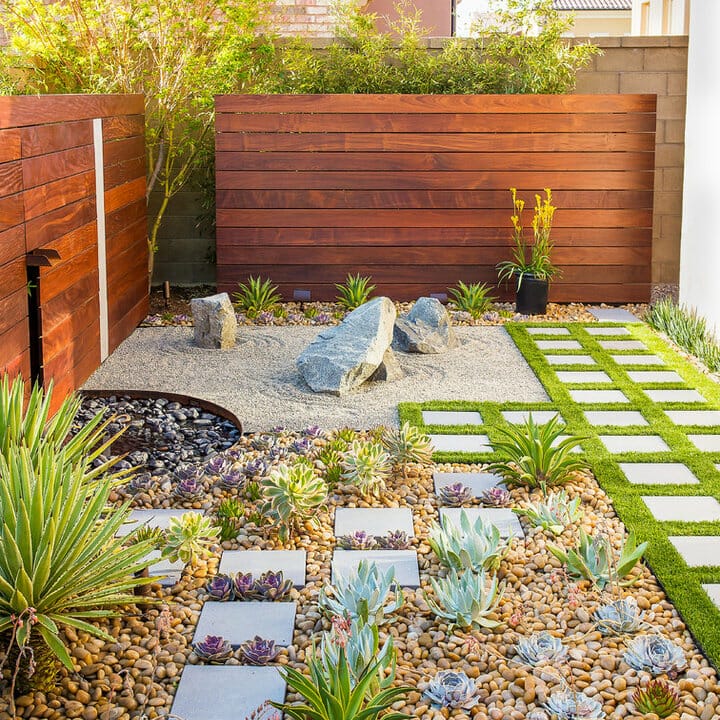 Just because your yard is super tiny doesn't mean you can't have a gorgeous cactus garden. This calm outdoor space features green cacti, grass, and colorful succulents.
The sand and big rocks lend the cactus garden a Japanese flair. Moreover, gray and beige pebbles accentuate succulents perfectly while adding interest.
Square concrete tiles contribute to the pathway's modern feel. The pond introduces a relaxing air. Furthermore, wooden walls make the cactus garden inviting.
17. Rustic Cactus Garden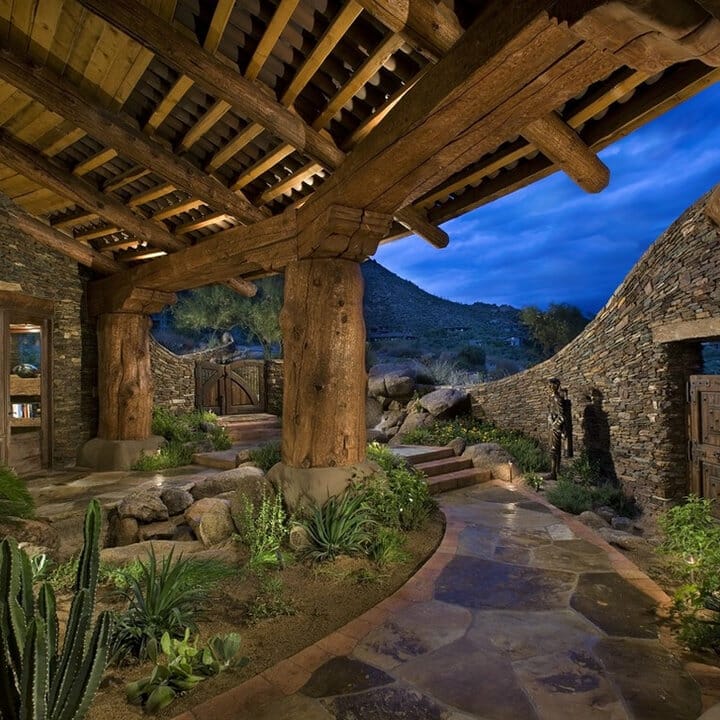 Without a doubt, this cactus garden belongs to the log home. Furthermore, the homeowner built it in her massive backyard.
The cactus garden boasts wooden gates. Moreover, the stacked natural stone walls infuse the outdoor area with a rustic aesthetic.
Different kinds of cacti liven up the backyard garden. In addition, they interact with the rustic environment outstandingly.
The pathway and steps feature flagstones for a cohesive appearance. Lastly, garden lamps ensure that the yard isn't gloomy at night.
18. Hill Cactus Garden Ideas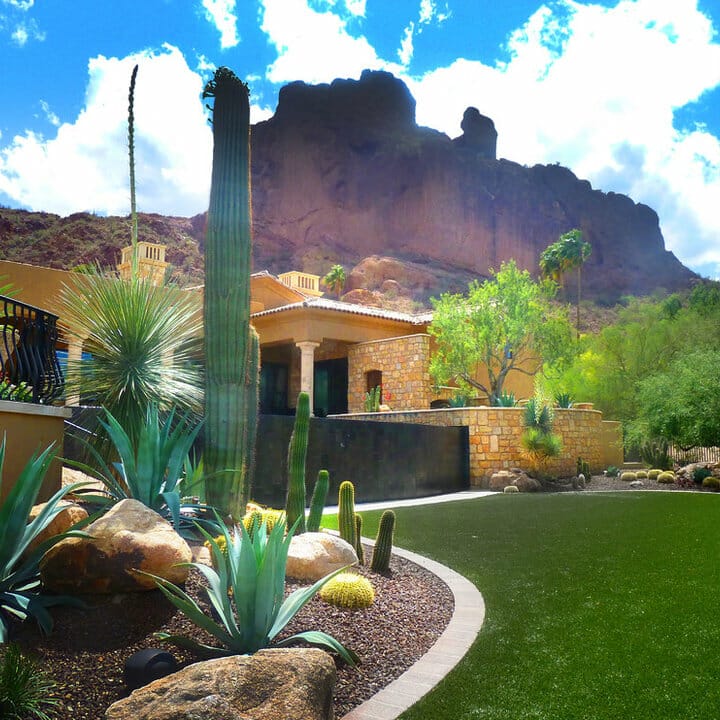 Have a front yard hill garden? If so, I strongly suggest borrowing this design. As the image shows, cacti always look captivating on hills.
Tall cactus plants make a statement. Moreover, round cacti complement them while giving the hill garden more life. Additionally, the round ones present glowing yellow spines.
Pea gravels allow the cacti to steal the spotlight. Additionally, boulders develop a rustic atmosphere. Furthermore, the bricks make for cool edging, while the green grass lends the cactus garden a splash of vivid color.
19. Cactus Garden with Vibrant Succulents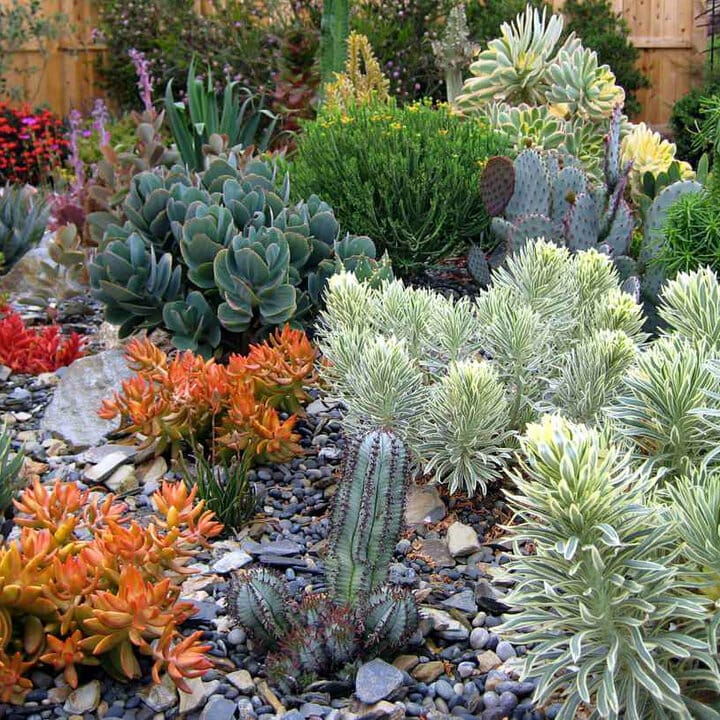 Talking about cactus garden ideas, try this layout. The outdoor space boasts bare wooden fences. In addition to evoking organic warmth, they introduce a rustic appeal.
Cactus plants adorn the backyard garden instantly. Moreover, there are tiny stones and boulders between them. Additionally, they produce a Japanese flair.
Cacti with red spines draw the eye instantly due to their pinkish glow during the daytime. Furthermore, succulents punch the cactus garden up with bursts of orange, green, purple, and red.
Hopefully, you enjoyed reading up on my cactus garden ideas. If you find them inspiring as well as helpful, then borrow any of those designs. Pick the best layout and start building a sanctuary of your own.