Pyrography is actually a traditional technique that has become so trendy recently. This is essentially the art of adorning wooden pieces with burn marks. We've had some cool wood burning project ideas to inspire you.
Wood burning has gained enormous popularity. You can get the tool kits from most local craft stores. Moreover, they mostly include various tips for creating different beautiful marks.
Furthermore, wood burning allows for personalization. You could add your wedding dates or the couple's initials to the projects.
The family names on the chopping board will also transform a simple unit into an incredible heirloom.
Speaking of pyrography, you definitely could start from scratch. However, consider adding the marks to your existing objects.
We suggest creating the pattern on an old table or chair. Make sure to plan everything out in advance.
There are many already handmade gift options and DIY ideas with wood burning. You can buy the items from Etsy or craft them yourself. Either way, this fabulous collection will definitely steal your heart.
1. Wood Burning Project Ideas with Cutting Board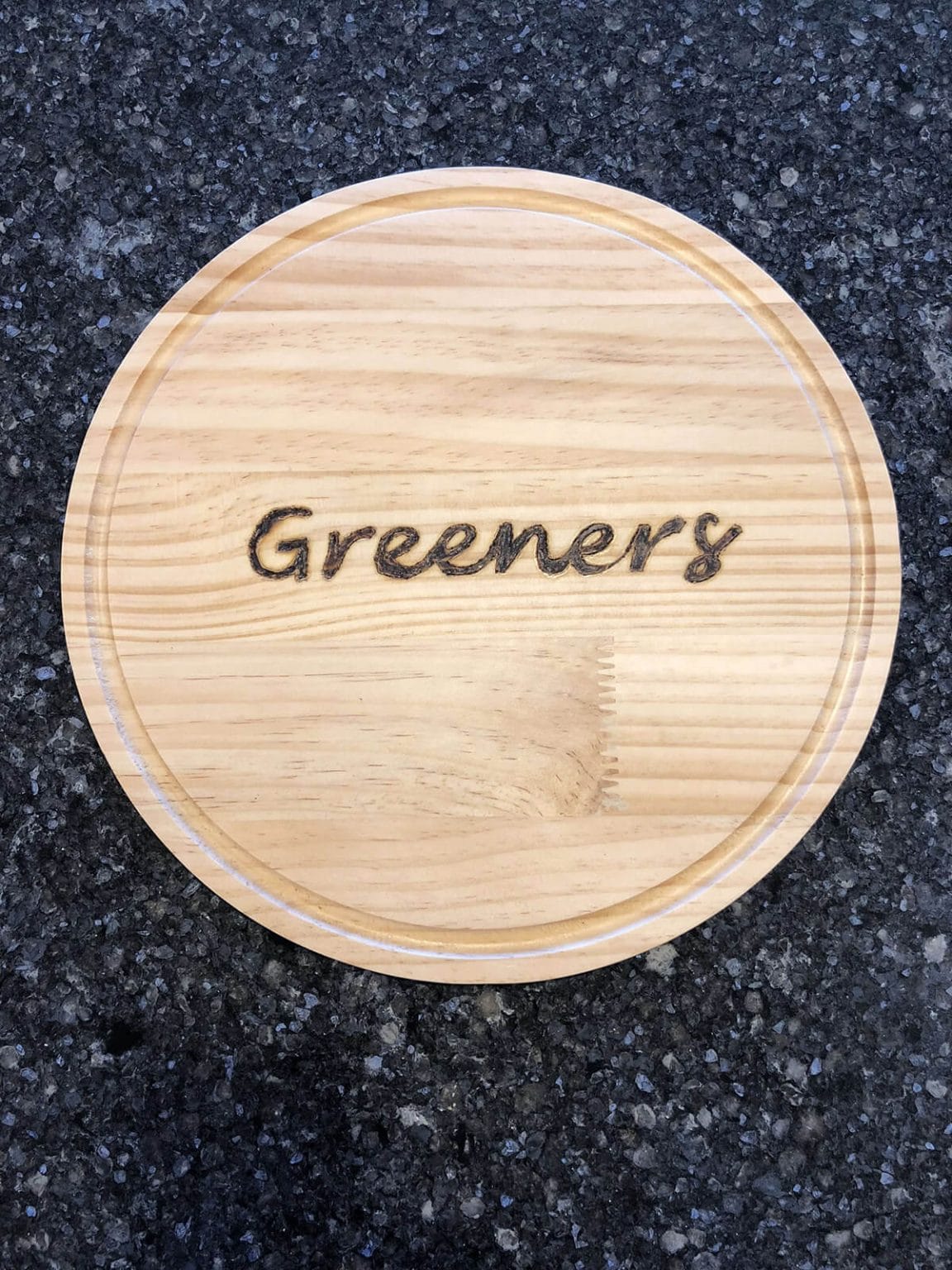 This wood burned cutting board is captivating. It features a family name in the center. Furthermore, the unit allows the homeowner to add a small ornamental edge around its perimeter.
Moreover, this could work as a trivet on any table or wall decor. It would make an outstanding charcuterie board, too.
The circular cutting board with wood burning would make an amazing gift. Feel free to add salted meats, olives, a kitchen towel, and some cheese.
2. Sliced Wood Decorations with Sentiments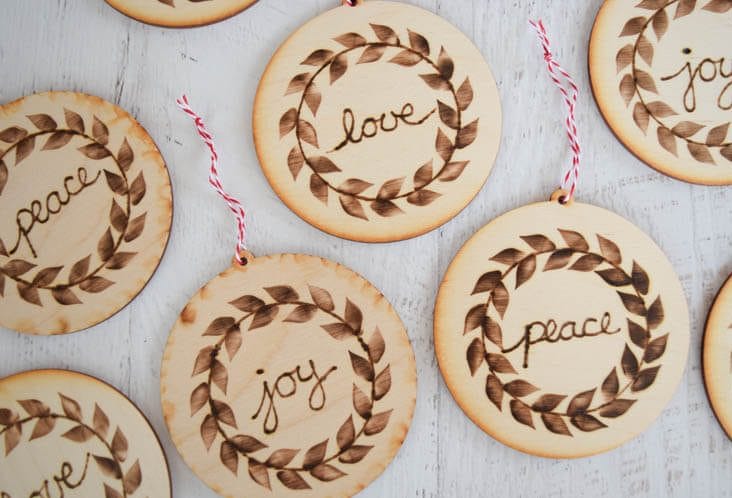 Without a doubt, this is one of the great wood burning project ideas. These little wooden ornaments are ideal for year-round home decorating or holidays. They also boast nice word sentiments.
Wood burning patterns around the sentiments add to their overall beauty. Moreover, you could create these pieces with a simple design, family name, or monogram letter.
Once you have mastered the tool, the choices are limitless. These items also make wonderful gifts. You could put it onto the gift as an adorable topper.
3. Wood Burning Project Ideas with Recipe Box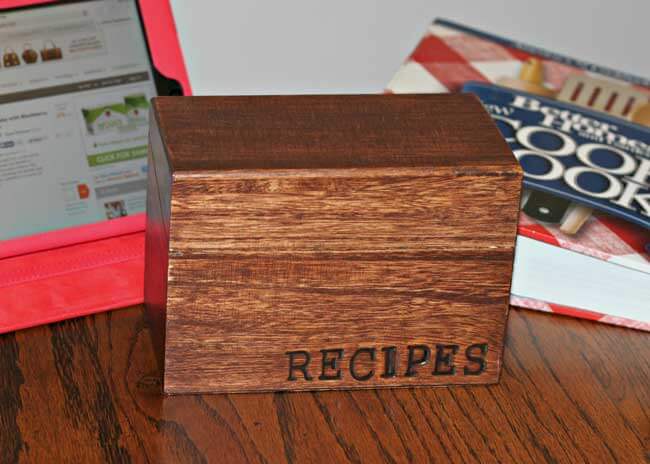 Our wood burning project ideas won't be complete without the unit that utilizes alphabet pyrography stamps. They brand the wooden pieces for you. Don't hesitate to use various tips of the tool to make your letters.
Furthermore, pyrography stamps may offer better accuracy. In addition, they normally appear more cohesive. Regardless of your option, this wooden recipe box looks splendid with its stamped letters.
Once you've gotten used to the pyrography stamps, branding wooden units in the home seem so tempting. They'll give anything a special touch.
4. Decorative Wooden Personalized Tray Project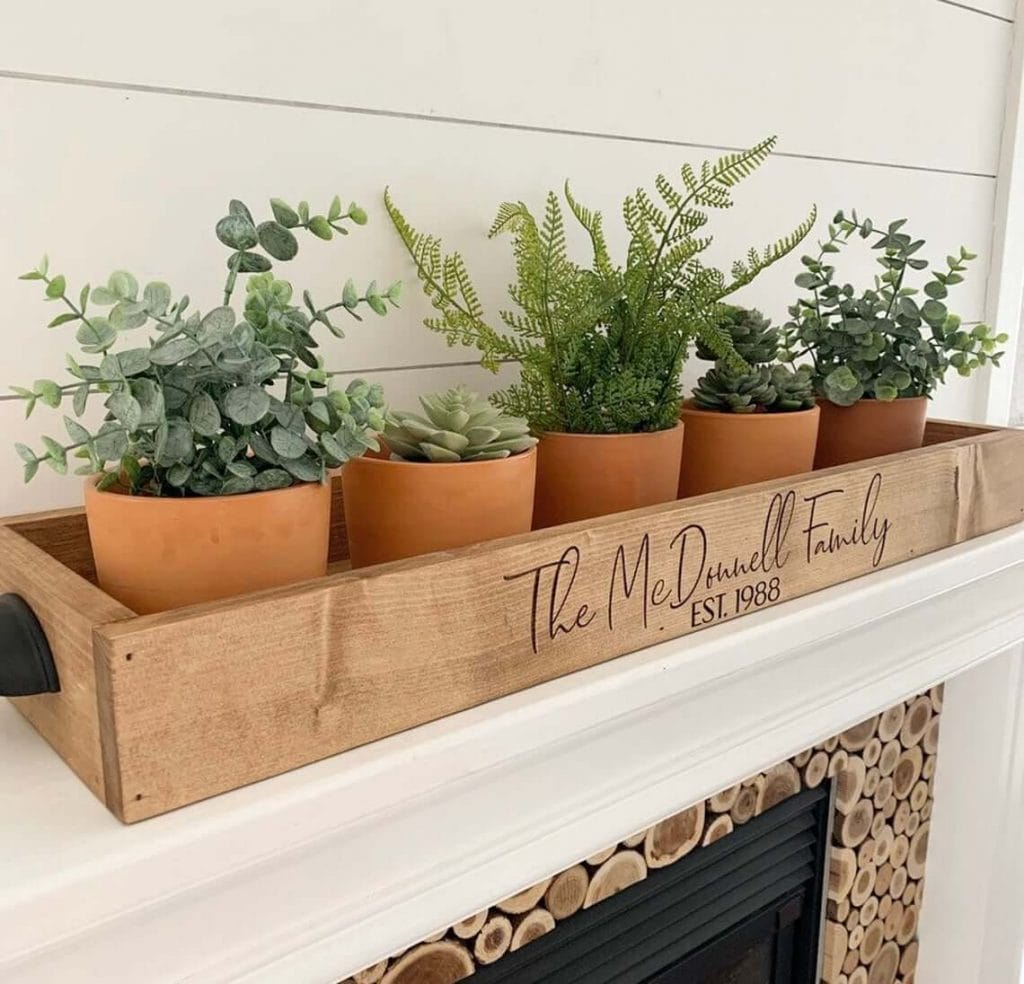 We love this wooden tray. It is not only practical but also really pretty. Speaking of staining wood burning project, the artist stained the item in lovely medium walnut shade. Moreover, the trays come in 3 different sizes.
This solid wood tray features an engraved name on the side. It boasts the "EST" as well as the date your beautiful family started.
The piece makes a perfect wedding or shower gift. You could give it to a friend who just adopted a child.
Furthermore, this wood burned tray would be great for a group of roommates. It allows people to celebrate the beginnings of their families.
5. Wood Burning Project Ideas with Monogram Letters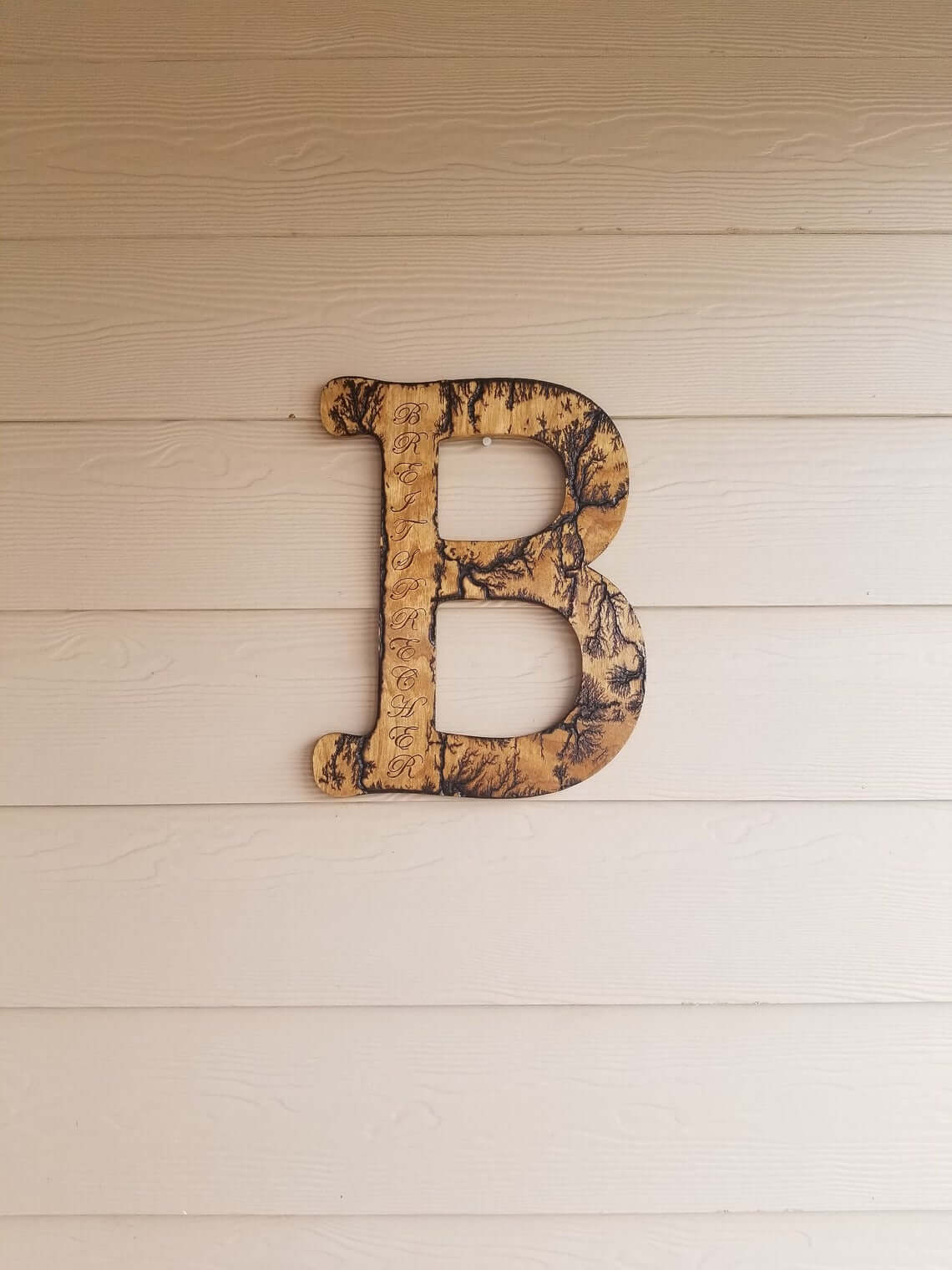 Don't you love these wooden burned monogram letters? Here, the high-voltage pyrography takes place in the DIY project. The Lichtenberg burns let people create unique patterns in the wood.
In this case, the artists crafted stunning details on the monogram letter. Additionally, the burns stand out on their own. However, you could add a family name to it, too.
The artists tastefully stained the monogram letters and applied a clear finish. Each letter comes with a keyhole at the back, so you can hang it easily.
These burned monogram letters make unique gifts. They also would look wonderful in any room of your home, especially the one with rustic decor.
6. Wood Burning Project Ideas with Wall Clock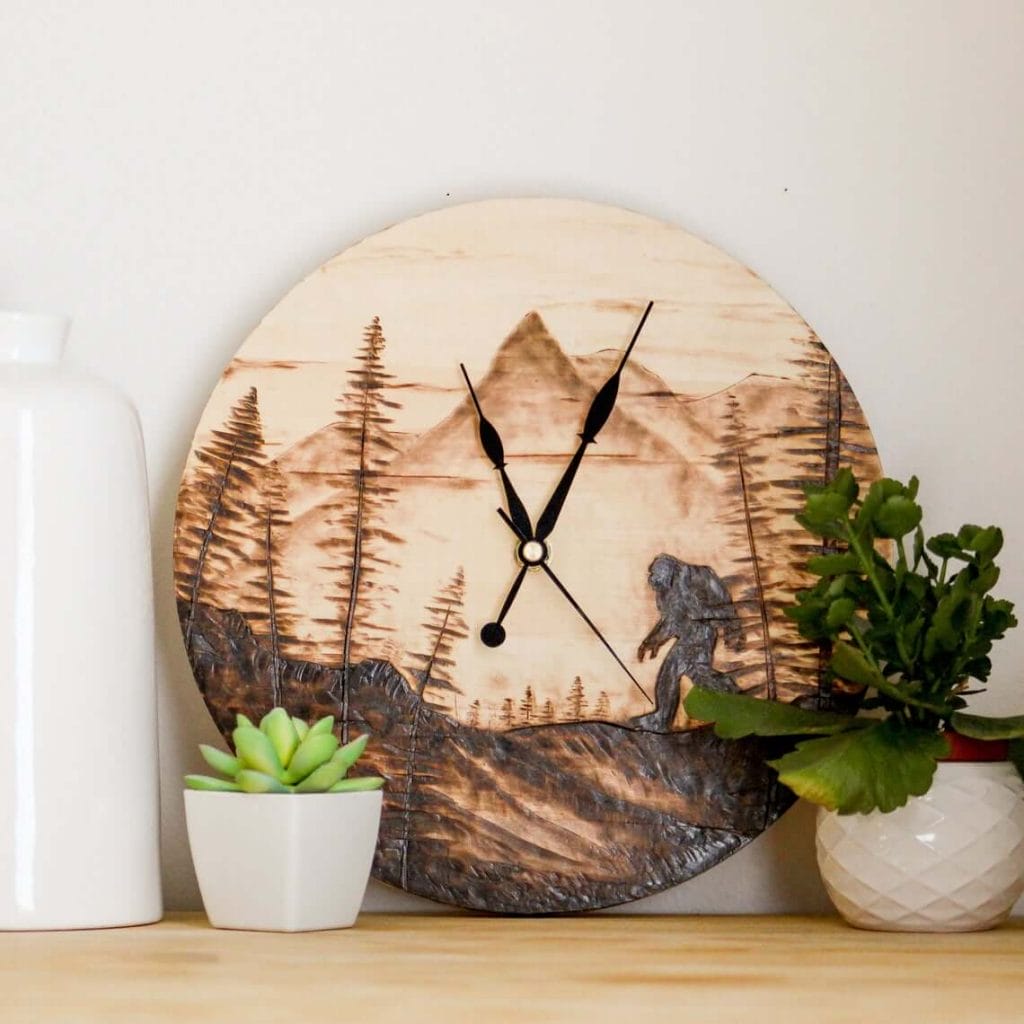 This wooden burned wall clock is a head-turning decor. It features such a tranquil and peaceful scene on its face. As you see, there's a Sasquatch in the design. He walks casually towards the timepiece's hands.
We believe this wall clock would be a focal point of the room. It's uncommon for your guests to see Bigfoot in the home.
Moreover, the trees look terrific against the mountains. These elements give the item true beauty.
Since the wall clock is really exquisite, it would look excellent in any room in your living space. The timepiece with Sasquatch will make an interesting gift, too.
7. Nature-Inspired Wooden Burned Magnets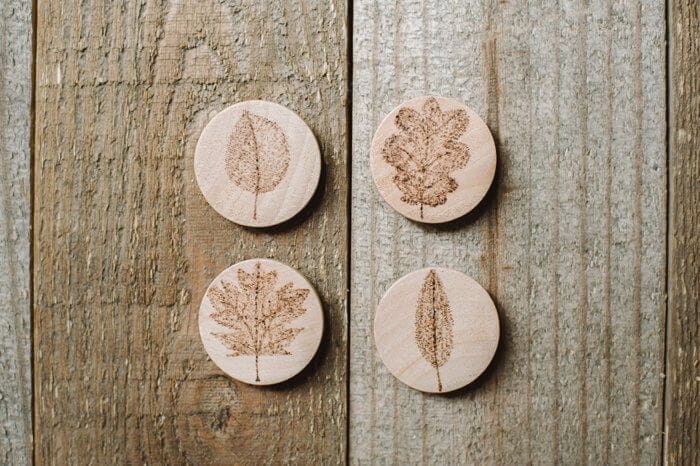 These wood burned magnets look so cute and attractive. They boast stunning leaf designs. Furthermore, the pieces are truly appropriate for the refrigerator. You certainly could add other patterns to them.
Nature prints definitely look amazing on wood. We recommend trying some with feathers, animals, butterflies, and flowers.
Before attaching magnets to the wooden slices, watch the tutorial first. That way, you know how to burn the design, then seal and protect it.
Without a doubt, these nature-themed magnets make charming gifts. You should give them to people who love country, farmhouse, or rustic home decor.
8. Wood Burning Project Ideas with Coasters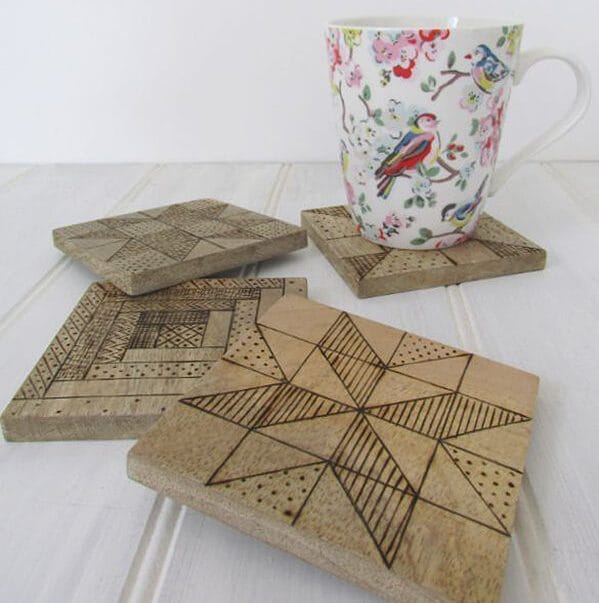 This is one of the brilliant wood burning project ideas. These simple wooden burned coasters allow your crafting skills to shine. They sport visually pleasing quilt patterns as well.
There are different quilt patterns to steal. However, you can create your design, too. The pattern makes each coaster look unique.
In this example, the coasters wear dots and lines. They are both fun and functional.
We suggest giving these coasters to your family or friends who like making quilts. Moreover, they're ideal for farmhouse or country decor lovers.
9. Wood Burning Ideas with Picture Frame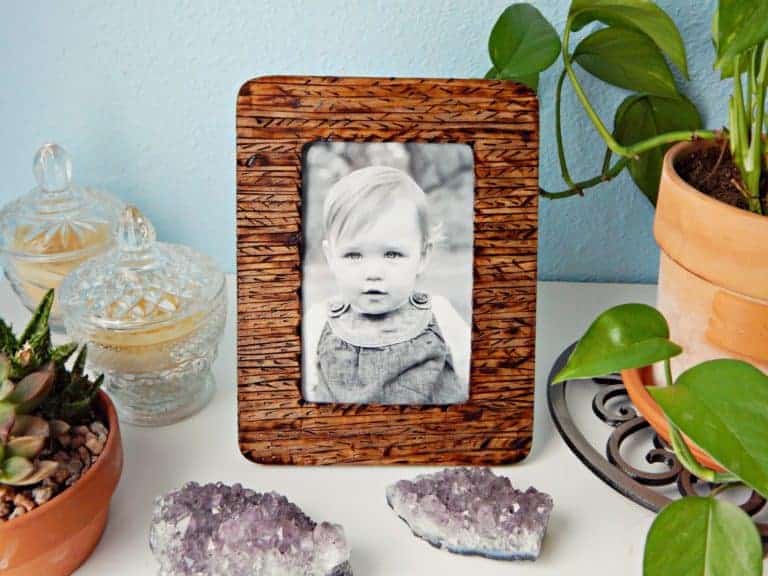 Looking for beautiful wood burning project ideas? If so, give this picture frame a try. It features a fantastic pyrography design. The next time you find untreated wooden frames, you certainly know what to do with them.
You surely can paint your unfinished wood photo frames. However, that's not the best choice since there are already colorful pieces on the market.
Staining the frame and adding a pyrography design makes it feel brand new.
Moreover, you should pick an intricate pattern. This will lend your picture frame a more defined appearance. Consider burning a phrase or family name into it as well.
10. Wooden Burned Cooking Utensils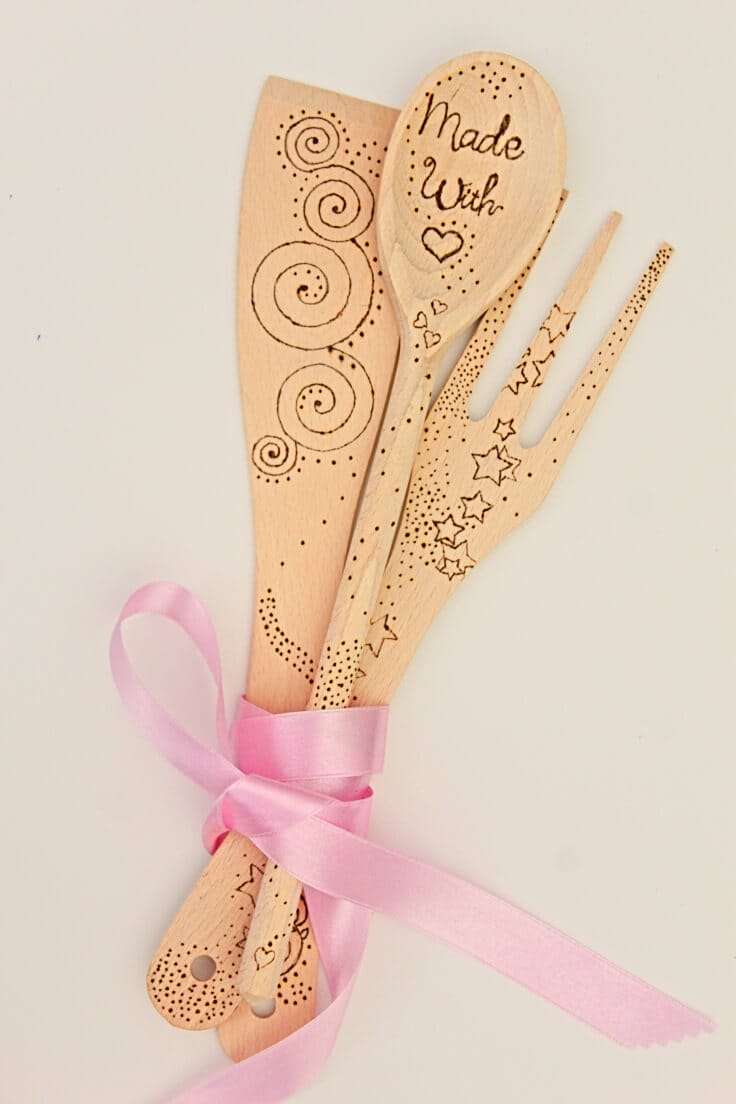 Talking about wood burning project ideas, try making these wooden cooking utensils. Moreover, the spatulas, spoons, and forks provide perfect backdrops for pyrography designs.
Furthermore, these wood cooking utensils let pyrography art take over the culinary space. The large, stunning swirl from the spoon's center trails down the dotted handle would look great.
Smaller, more ornate patterns are great for kitchen utensils. Additionally, you can showcase these wooden burned pieces in your utensil holder. They look terrific on the wreath or along the photo frame's sides.
11. Awesome Wood Burning Project Ideas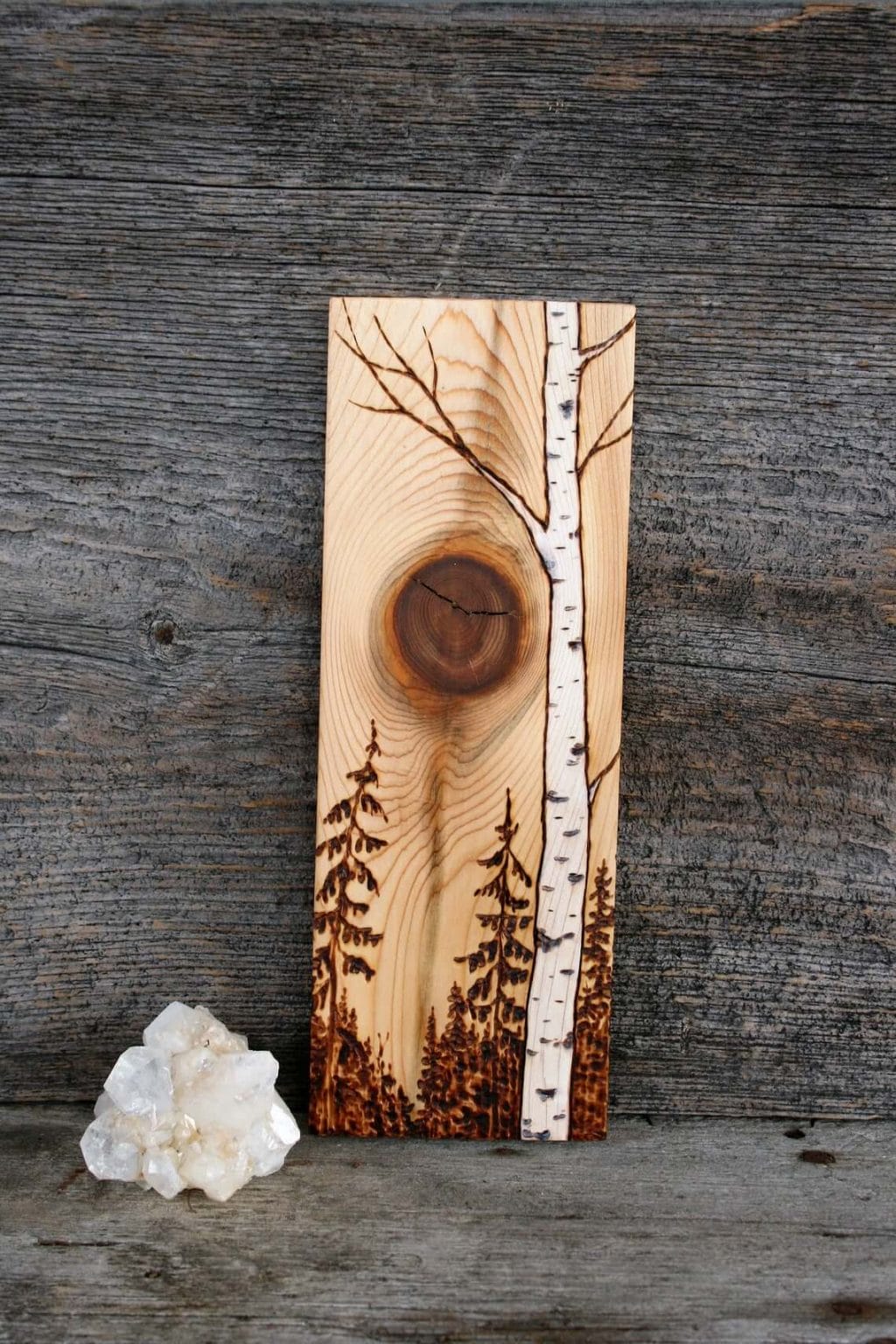 This art piece is beyond amazing. Just take a look at the knot in that salvaged wood. It reminds us of the glowing sun. The birch and pine trees give the artwork visual depth.
The bright white color on the birch tree generates a visual interest. While the walnut finish lets the wood's natural beauty stand out. This art pairs well with country, farmhouse, or country home decor.
12. Wood Burning Project Ideas with A Chest of Drawers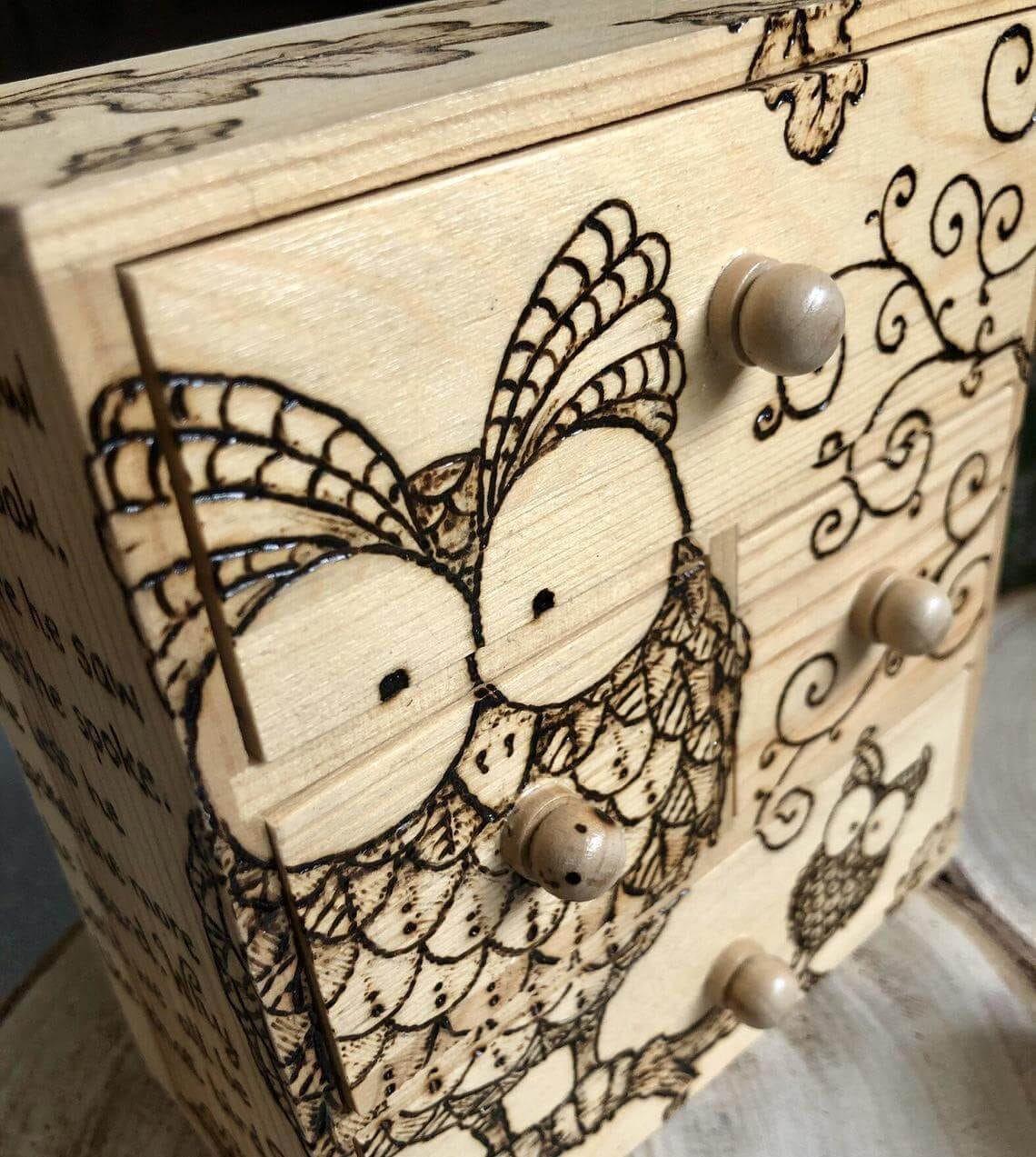 Speaking of wood burning project ideas, give this pyrography design a shot. Here, the small chest of drawers features a cute, large owl. Meanwhile, his adorable little friends embellish it, too.
Any kid would find this furniture piece really cool. Furthermore, the whimsical wood burning design disguises the chest of drawers in a fun manner.
This wooden burned chest of drawers keeps personal items and jewelry in place. The artist also pyrographed the poem on its side. It will certainly be a treasured gift.
13. Wooden Slice Family Tree Project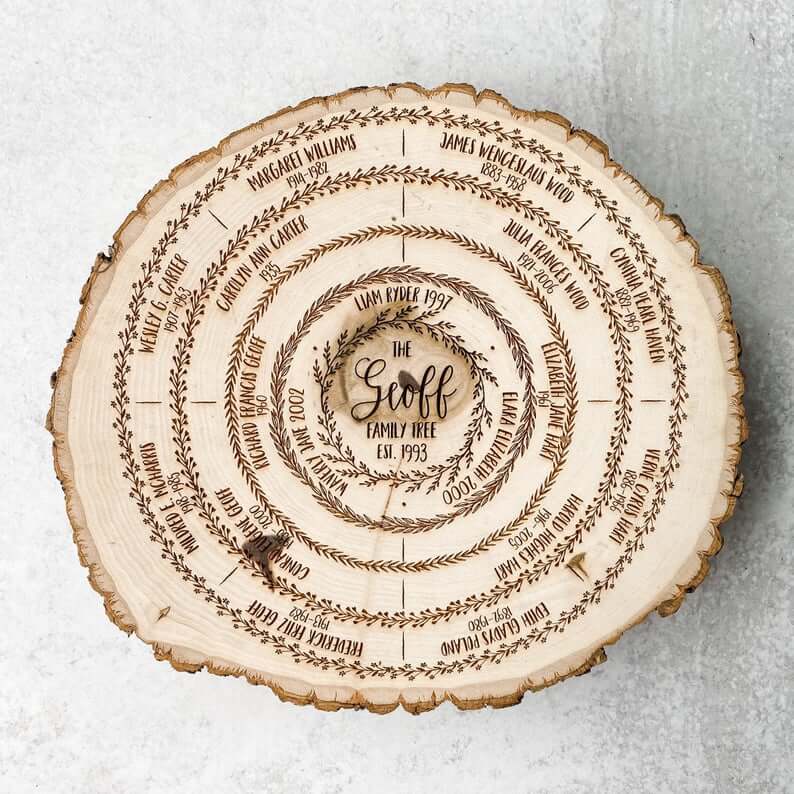 We love this personalized log slice family tree. It doubles as a pyrography wall art. The gorgeous ring separates each generation. Moreover, the unit boasts delicate wheat, foliage, and flowers.
This hand-crafted piece utilizes sustainable wood. You could also include birth and marriage dates in the design. These are about 10″ high and 10″ wide.
Furthermore, each piece has a slightly different shape. This wooden slice family tree would be a wonderful gift for your family members. It will undoubtedly become a precious heirloom.
14. First Wood Burning Project Ideas with Wall Art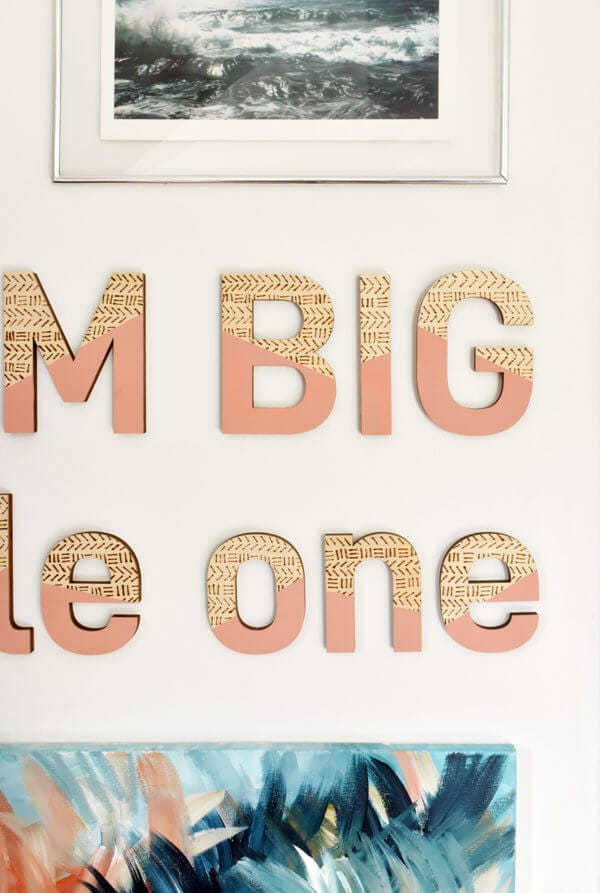 This is surely one of the wood burning projects for beginners. Here, the color block decor is just impressive. It features wooden burned cutout letters. The phrase says "dream big little one".
The artist painted each letter's bottom in coral. When the letters are next to another, they give a nice overall pattern to the wall art. Meanwhile, their top parts have stunning pyrography in mud-cloth patterns.
15. Wood Burning Project Ideas for Entryways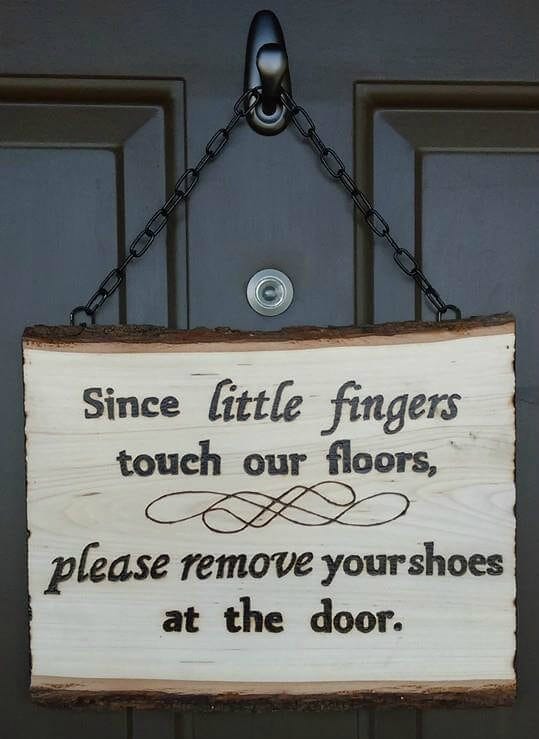 This wooden burned sign looks so unique. It is definitely a wonderful complement to farmhouse home decorations. Furthermore, the simple signs typically boast "welcome" and some ornamental scrolls.
In this case, the sign reminds your guests to take their shoes off before entering. It effectively makes them aware of the home's rules. You could pyrograph pictures into wood signs as well.
16. Wood Burning Project Ideas with Vase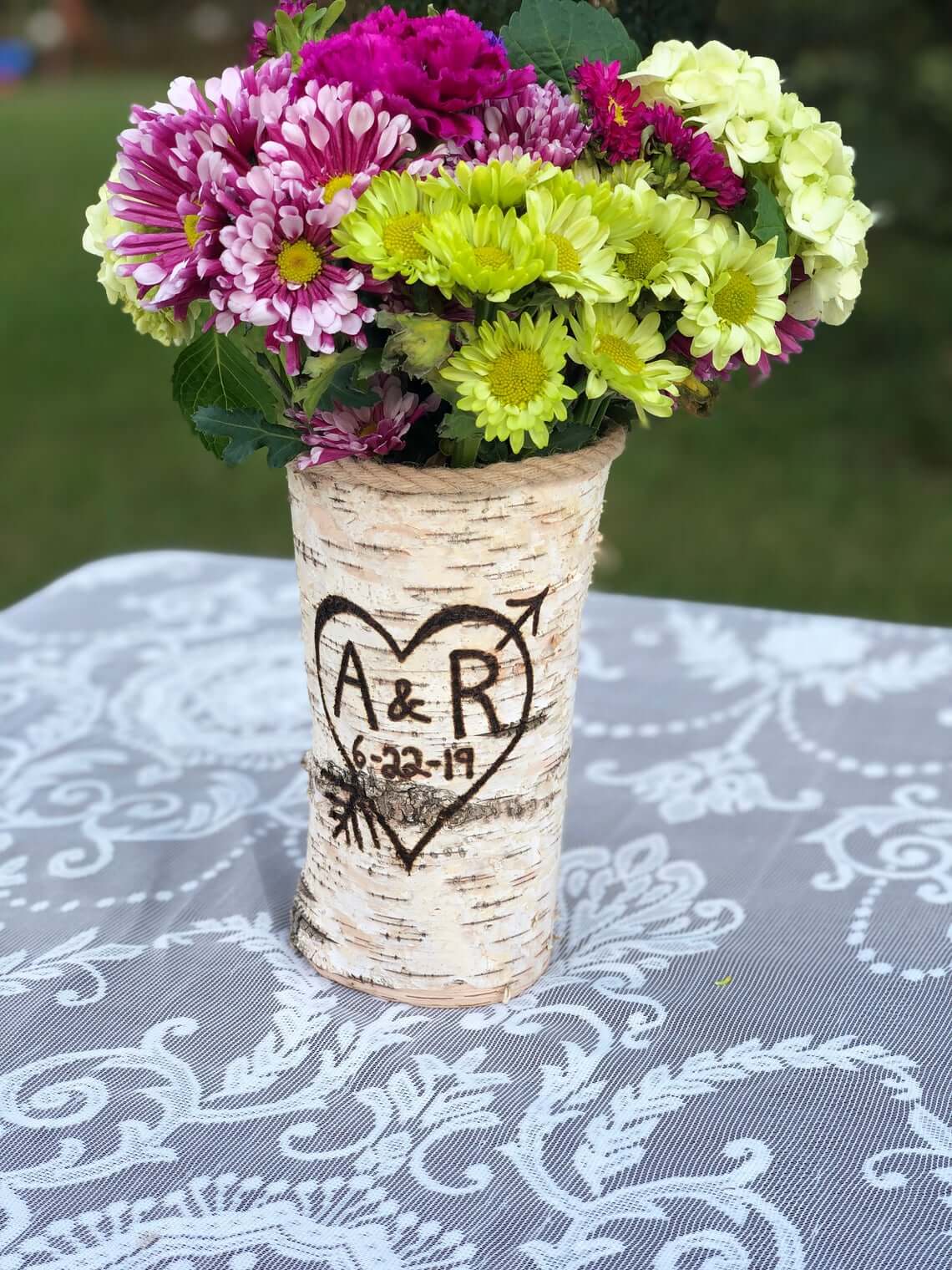 This flower vase is such a unique decor piece. You'll definitely want to incorporate it into your living space.
Additionally, the unit resembles a small tree trunk. The artist pyrographed name initials and wedding date inside of the heart.
Furthermore, this vase makes a lovely rustic wedding or bridal shower decoration. It would be amazing nestling on the side table in your living room, too.
Moreover, the tree trunk inspired vase can work as a centerpiece on your kitchen or dining room table. You could customize it for a special occasion. The item will definitely commemorate the event.
17. Wood Burned Chopping Board As Cookbook Holder
Needless to say, this wooden burned cookbook holder looks so adorable. It certainly reminds you of a chopping board complete with a handle. Moreover, the piece can accommodate a tablet.
With this cookbook holder, you can watch recipe videos while preparing a meal. It wears a gorgeous stain. Feel free to change it out when boredoms kick in. Furthermore, this unit will personalize your culinary space.
You could add "mom", cool phrase, or family name to the cookbook holder. The font allows for personalization as well. Some scrolls under the customization lend it extra interest. They are customizable, too.
18. Wood Burned Garland Project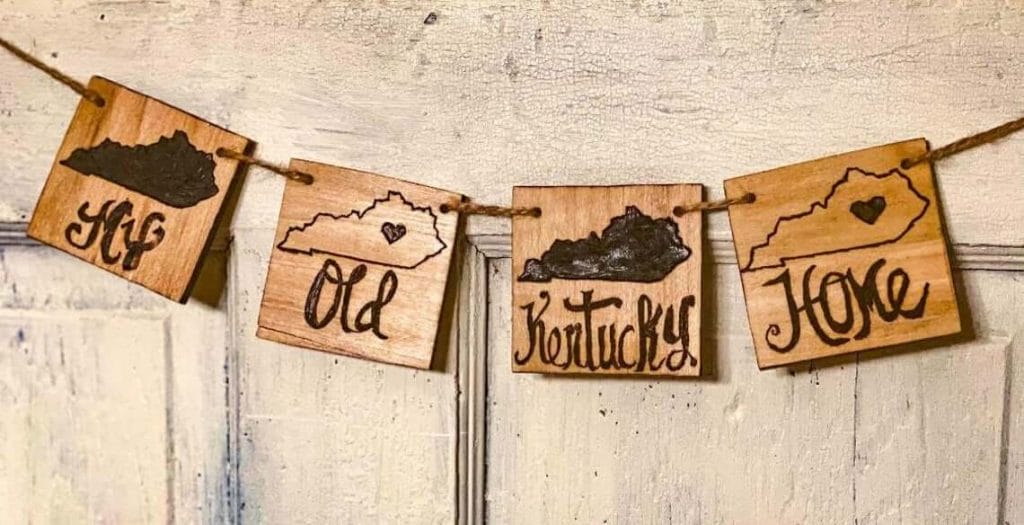 Many people adorn their farmhouse homes with wooden garlands. In this example, the unique decor boasts four wood pieces. It sports a natural jute twine as well.
Each wood piece has a wonderful stain. Moreover, the wooden garland reads "my old Kentucky home". Above the words, there are Kentucky's outlines. The artist pyrographed them nicely.
Furthermore, the first as well as third wood pieces have dark outlines of Kentucky. Meanwhile, the rest is only a state's outline with a heart. It stands for the owner's home. Don't you adore this garland?
19. Wood Burning Project Ideas with Tissue Box Holder
Here, we show you a wood burned tissue box holder. The wave pattern titivates the four sides of the unit. This creates a unified and flawless appearance.
This wooden tissue box holder may look simple. However, the item will inject a rustic charm into the coastal home decor. It is lightweight as well.
Moreover, the item is great for hiding your unsightly tissue boxes. Since the unit can anchor them down, they won't fall on the floor.
20. Wood Burning Project Ideas Using Blow Torch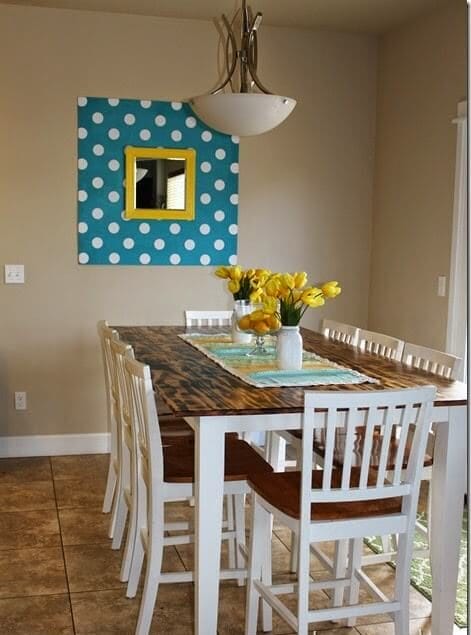 The project brings pyrography to a new level. For this fabulous idea, you will need a real blow torch. Here, the tool lends the dining table a remarkable wood-burned look.
Moreover, this piece is perfect for farmhouse or rustic decor. We guarantee your family and friends will request you to build them one.
Rustic decorations have attracted homeowners' attention. With the pyrography tool, the choices are endless. You can either try our wood burning project ideas or purchase custom pieces.