Mirrors in bedroom ideas seem to be a savior for making your personal space look more spacious.
More than that, a bedroom with the proper placement of mirrors will simultaneously add natural light to your room.
Even the unique one can immediately catch your attention among other wall decors.
However, of the many mirrors in bedroom ideas, the primary key to giving a lot of impact in your space is selecting the suitable material, shape, and size.
Whether later you will go with a round, square, or unique sunburst frame, it's all up to your taste and goals.
And, suppose you often ask where to put mirror in bedroom. In that case, here are thirty-one mirrors in bedroom ideas that will inspire you the most.
1. Double Golden Full-Length Mirrors Behind the Night Lamps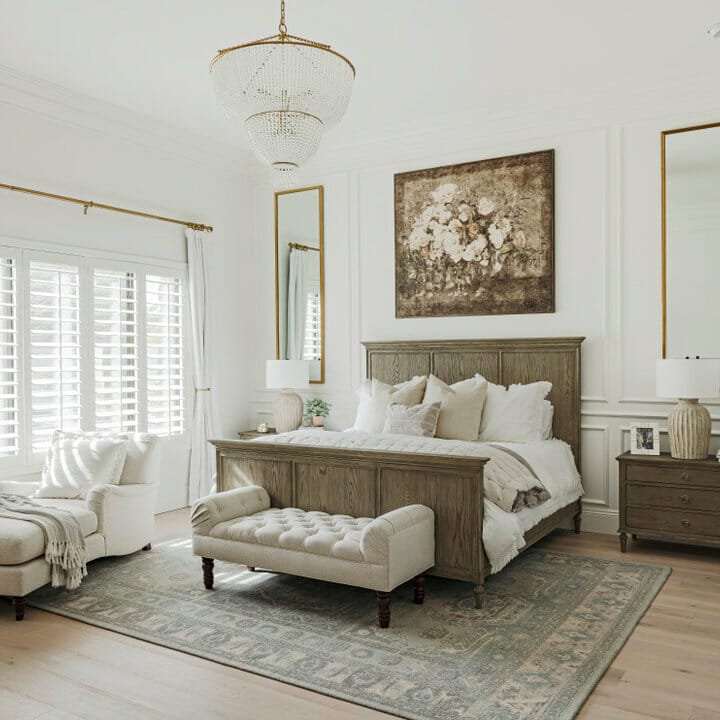 Mirror for master bedroom doesn't always have to be those that expand a lot of space. Instead, you can pair two looking glasses on either side of your bed to reflect whatever objects are in front.
And, assuming you plan to put them behind your night lamps. Then, everything will still be perfect. Even better if you choose full-length mirrors so that they can capture other objects in other corners of your bedroom.
2. Mini Rectangular Mirror in Metal Sunburst Frame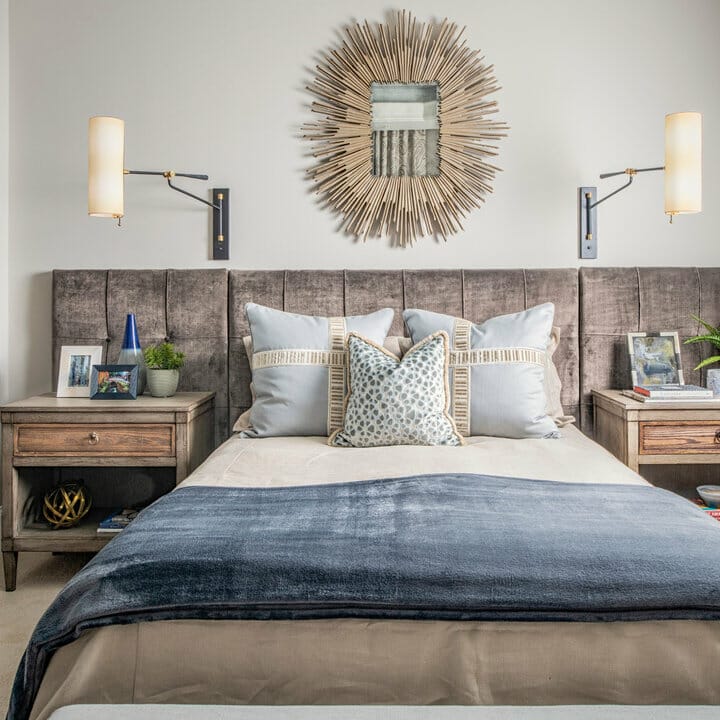 Mirrors in bedroom ideas have endless options, especially if it has to do with shape selection.
Various mirrors have unique shapes on the market. And, for the most part, this furniture is more intended as a decorative necessity.
Like the one with a sunburst frame as above. This metal-edged glass will surely succeed become a stunning focal point in your modern farmhouse-themed room.
3. Conjure Up the Wardrobe Doors into Wide Looking Glasses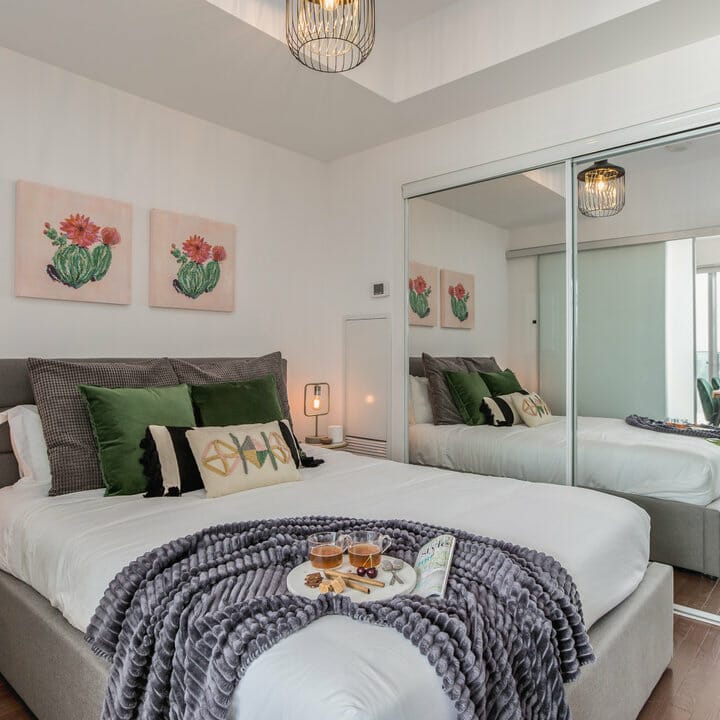 Mirrors in bedroom ideas don't always introduce you to units with unique shapes. Instead, in this section, you are advised to juggle existing furniture, such as the built-in wardrobe, to have sliding doors made of glass.
In addition to saving space, the mirrors can also provide a perfect reflection for your entire bedroom. So it will get an expansive impression in your chamber.
4. Aesthetic Floor Mirror in the Corner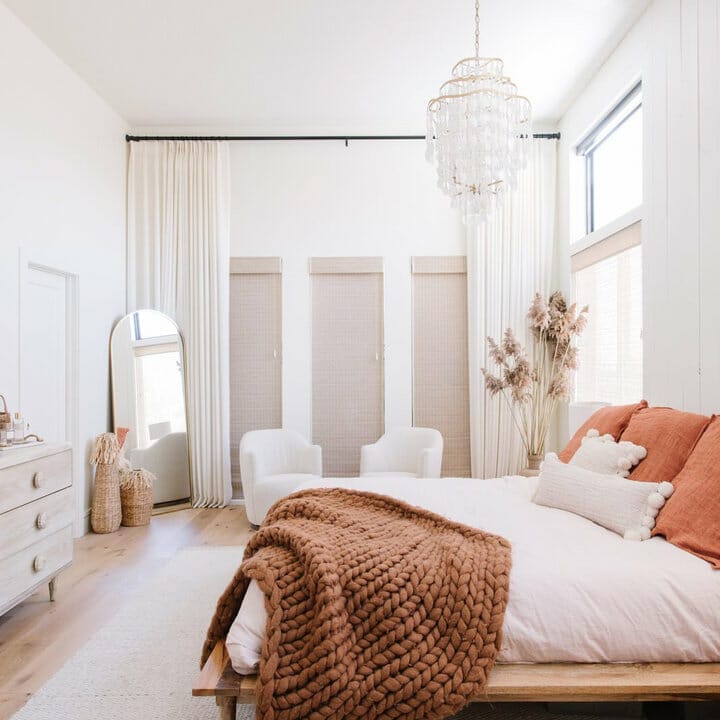 It is not difficult to create an aesthetic room. One of the best steps is to bring a floor mirror to your bedroom. Placing it in the corner can also help you take advantage of every space in your chamber.
In addition, you can also consider placing a large dried flower opposite your looking glass. Therefore, it can become a favorite spot for you to do mirror selfies. Isn't this interesting?
5. Simple Mirrors in Bedroom Ideas to Adopt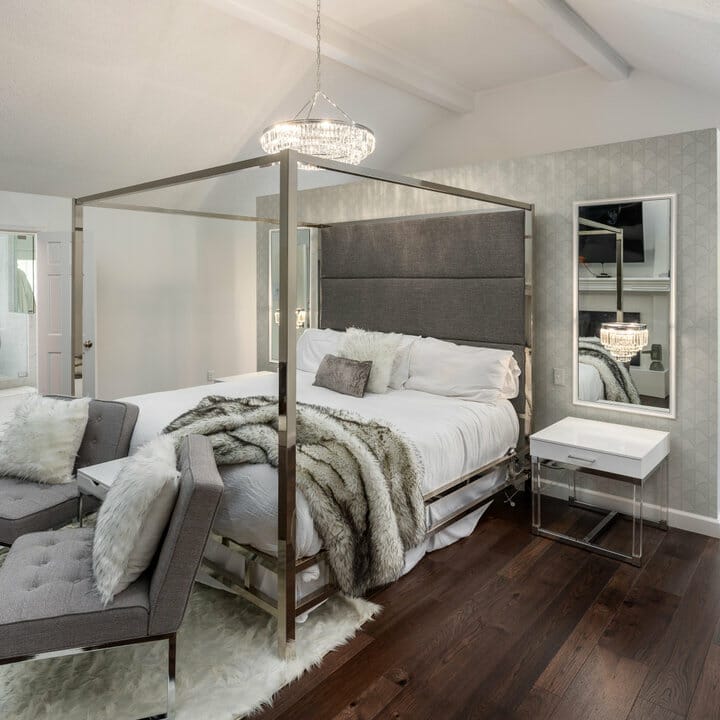 Well, suppose you're looking for inspiration about simple mirrors placement in a small bedroom. In that case, you can go with maximizing the space on both sides of your headboard.
This placement's goal is to give depth to your entire bedroom. In addition, you can also give wallpaper with a faded motif as the background to further state the existence of a mirror in your chamber.
6. White Oval Mirror Above the Headboard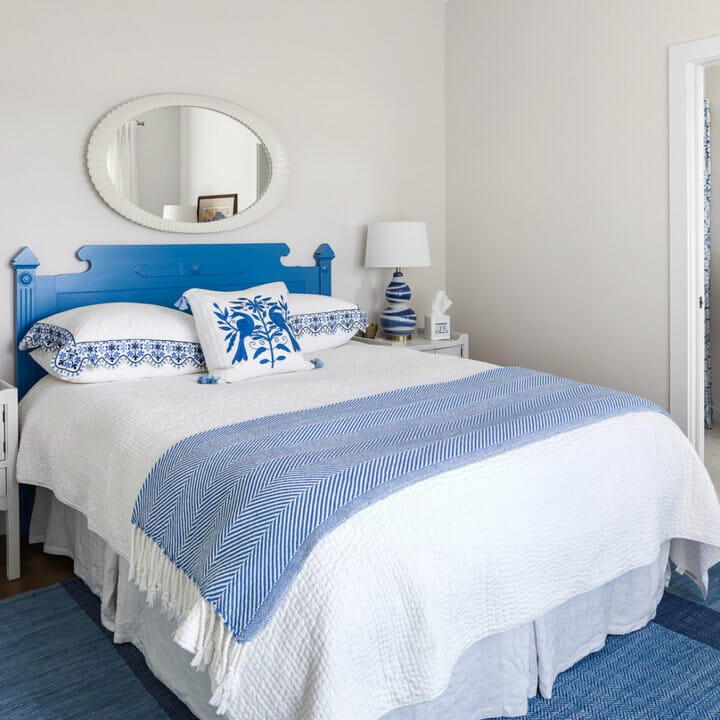 Implementing a coastal theme will be lacking if no mirror accompanies it. This unit is helpful for further providing natural light during the day.
Moreover, the oval mirror with a white shell-like frame will further strengthen the beach vibe in your bedroom.
7. Full Length Mirror in Bedroom Ideas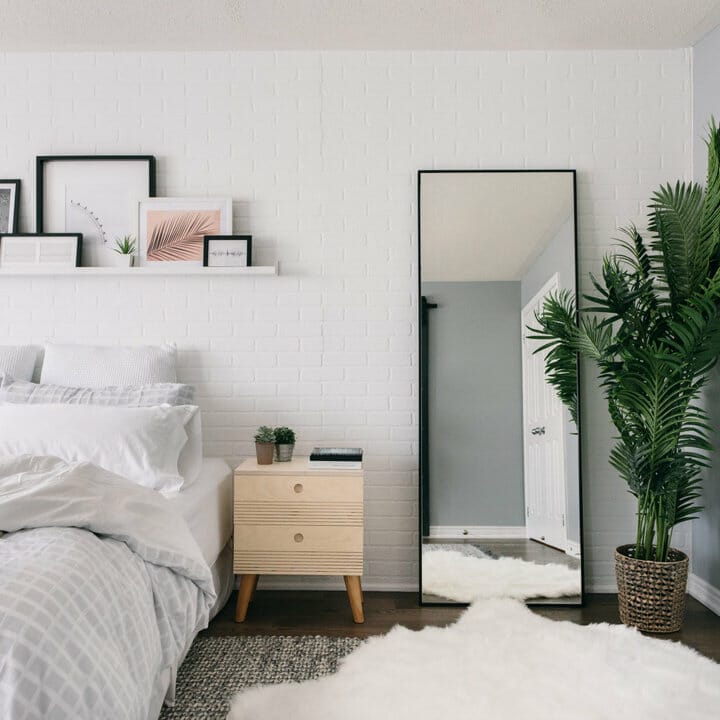 Maybe you would not have thought that presenting multiple squares items in one row of your walls will be able to change your room to be more aesthetic.
Well, to prove it yourself, you can see the room design above. You might consider giving a floating shelf above your headboard then filling it with various arts in the frame.
Furthermore, you can creatively place a full-length floor mirror on the same row to give a stand-out final touch.
8. Vintage Style of Mirror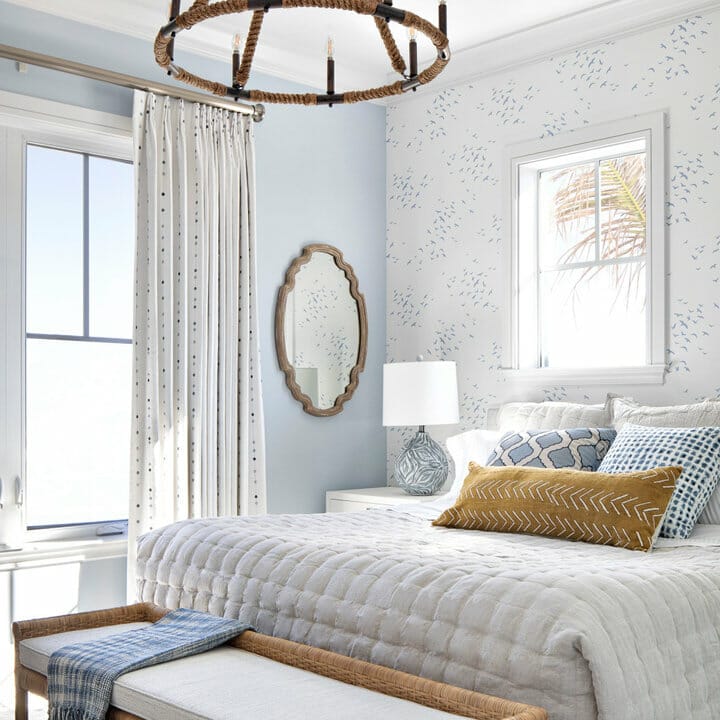 Mirrors in bedroom ideas also come with looking glass with a distinctive frame.
You can confidently present an oval mirror with the classic framing without worrying about being outdated. You know, don't you? Most vintage styles have engraved frames. And that's what you should pick.
9. Lean it On the Wall to Give Depth into The Room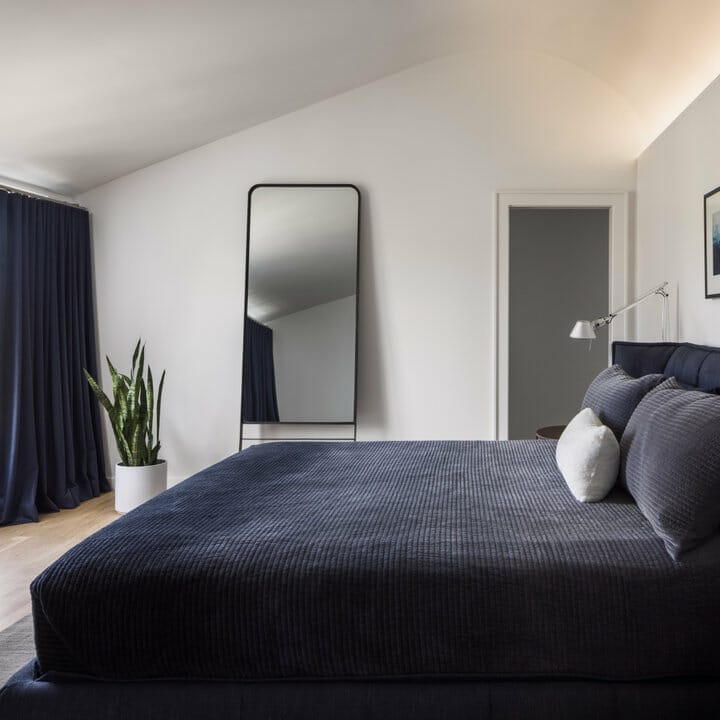 Many ways you can take to borrow mirrors in bedroom ideas. Instead of continuing to go with the free-standing one, you can have more freedom to choose the hanging mirror.
But then you lean it against the wall. Believe it or not, it is the best strategy to refresh the look of your room.
10. Mirrors with Double Duty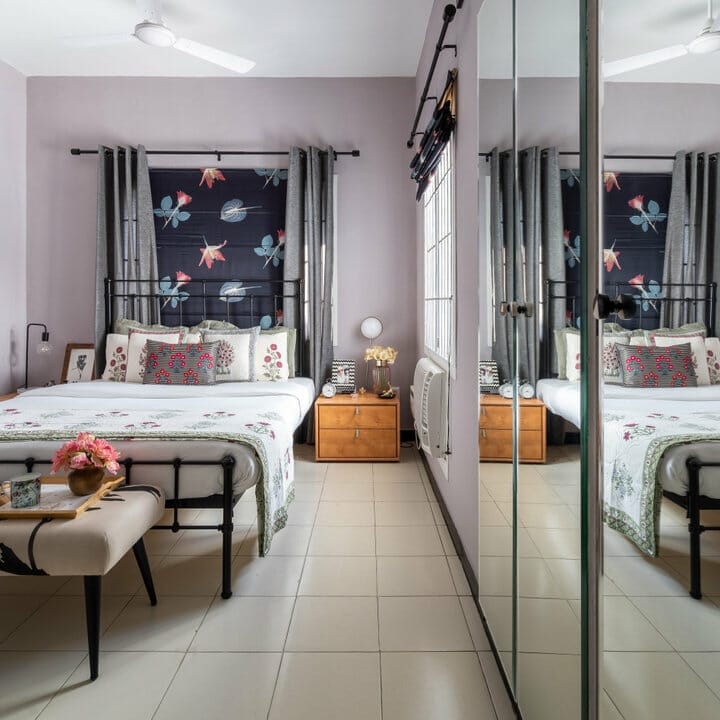 Not only does it look suitable for the primary bedroom, but the presence of a mirror is also a staple element in the guest-chamber.
Suppose you have run out of space to put a mirror in this area. In that case, you can attach it to the cupboard door.
This combination is attractive and practical for presenting versatile furniture without taking up a lot of space on walls and floors.
11. Create a Great Camouflage for Mirrors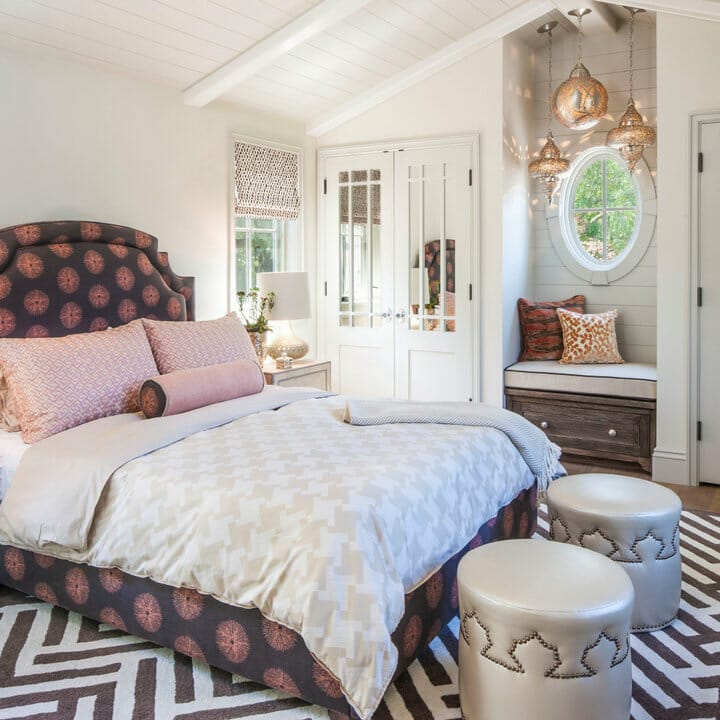 In a boho style, you can do anything with the furniture you have. It includes camouflaging the mirrors on the wardrobe doors as if they were the second entrance to your room.
At first glance, people will think this will lead you to another space in your room, but in fact, it is just a mirrored cupboard with additional framing.
12. Put Round Mirror Opposite the Windows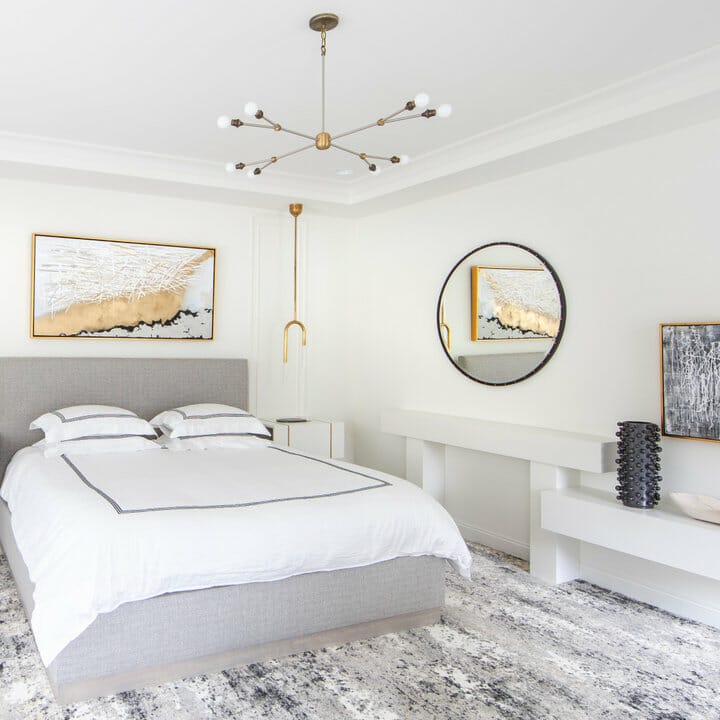 A bedroom with mirror wall seems to have become a regular thing that you can find everywhere.
Not only choose the square or round, but some also go with a unique shape to give a distinctive personality.
However, mirrors in bedroom ideas also show you the best spots to get the best sunlight reflections during the day. It's easy, and everyone will understand this. That is across from your window.
Arranging one hanging mirror around one will balance the stiffness in your main bedroom.
13. Go with The Tiny One is Also Perfect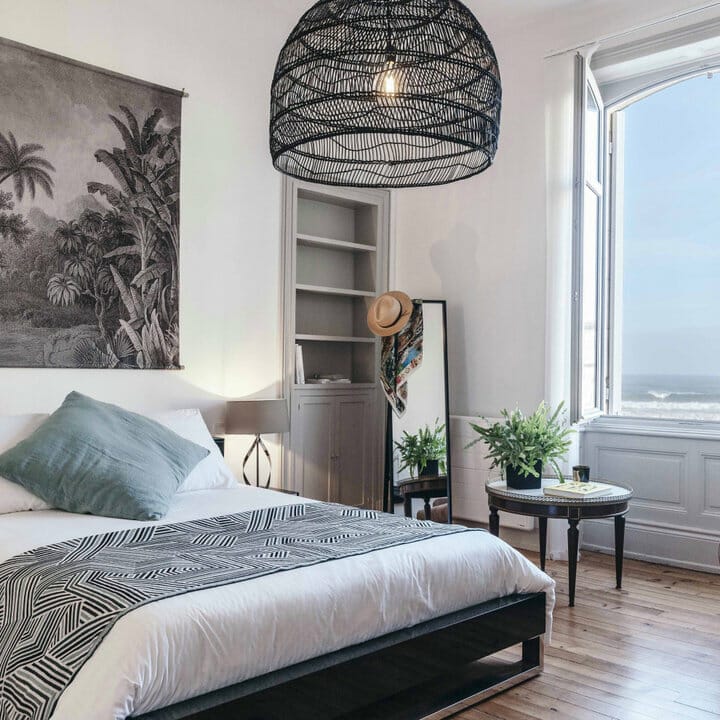 It could be that the mirror is not the main focal point that you want to highlight in your room. Even so, you can still go with the tiny ones. In addition, this is a unit that would be a pity not to be found in the room.
Its presence is unmistakable. It would help if you still had it even though you placed it in the corner of the room.
14. Horizontal Placement for More Expand Look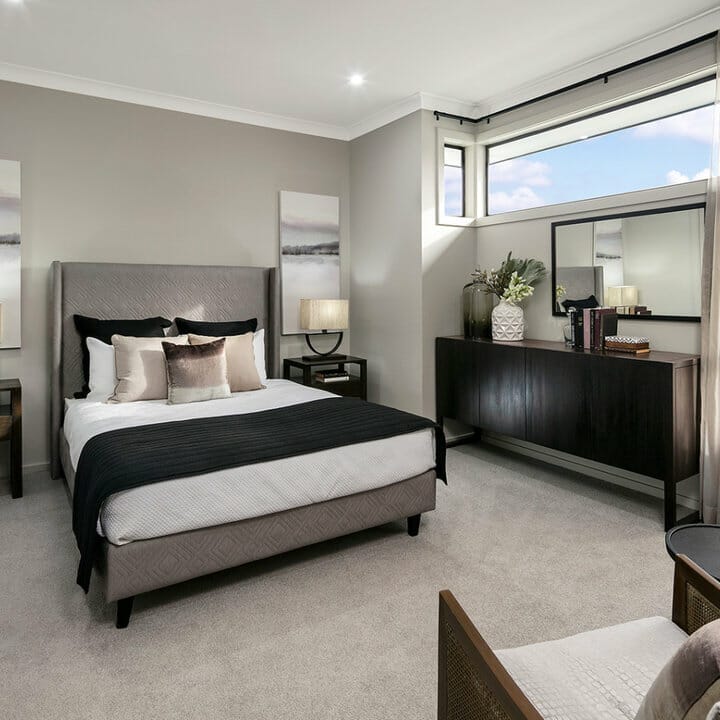 The trick in applying mirrors in bedroom ideas to get an expanded look to your room is to hang them horizontally on the wall.
Moreover, you don't need to hesitate to bring it together with a long glass window at the top and a rectangular cupboard below.
All will succeed in impressing many people, though.
15. Choose the Hanging One for Reflecting the Higher Décor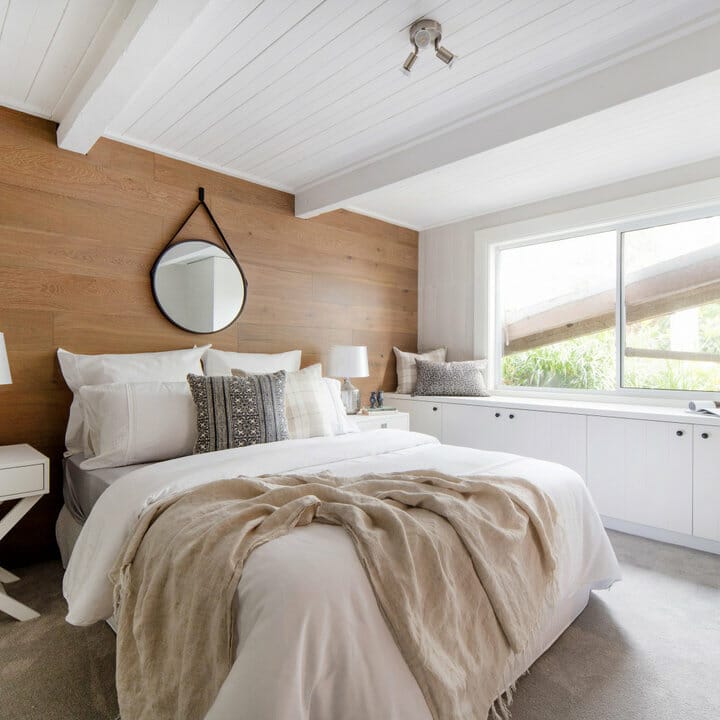 Wall decor on a high spot will sometimes be challenging to get the attention of many people. Therefore, hanging a medium-round mirror above your headboard is better to give your chamber a depth impression.
Even better, it can also reflect all the decor that is opposite it ideally.
16. Fill One Side of The Wall with Looking Glasses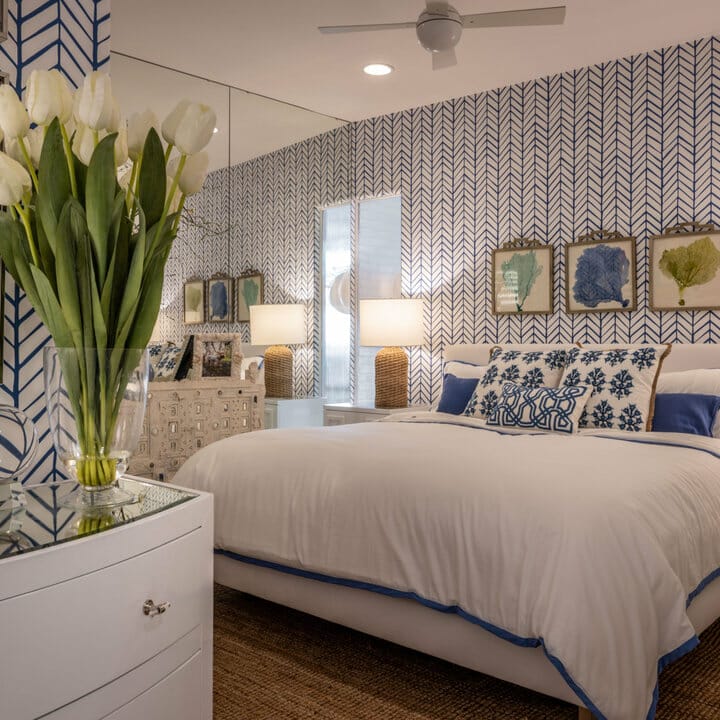 After you plan to install wallpaper on the entire wall of your room, it's a good idea to leave one blank space for the next you give a huge mirror.
Not without reason, the presence of mirrors in bedroom ideas will help you avoid all the crowds created by a bold accent wallpaper.
17. Large Mirror with Bizarre Frame as Headboard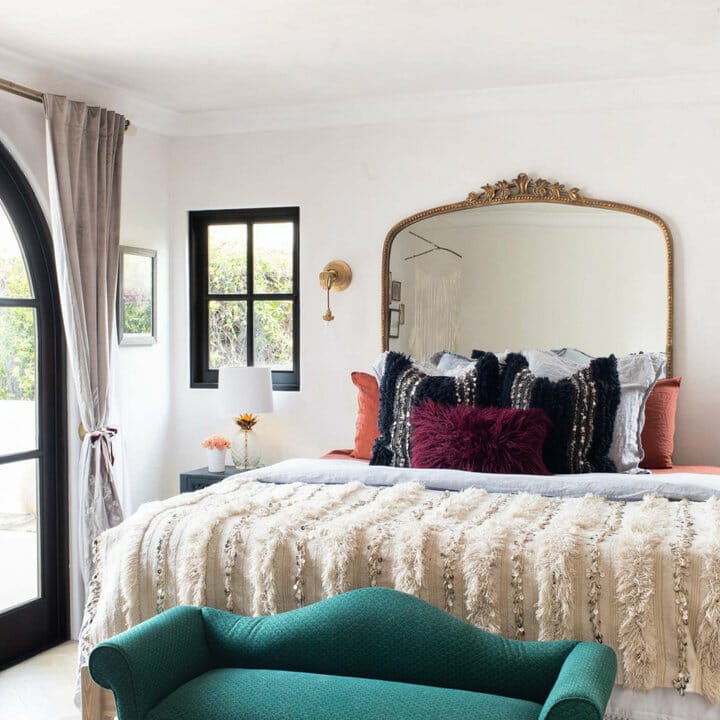 Who would have thought you would also have a headboard from a mirror? Of course, even though it seems strange, this manifests an authentic shabby chic vibe.
Indeed, sometimes you can go with a standard framed mirror. However, it would be better to have an antique frame to provide an impressive focal point above the bed.
18. Oddly Shaped Mirrors for Wall Décor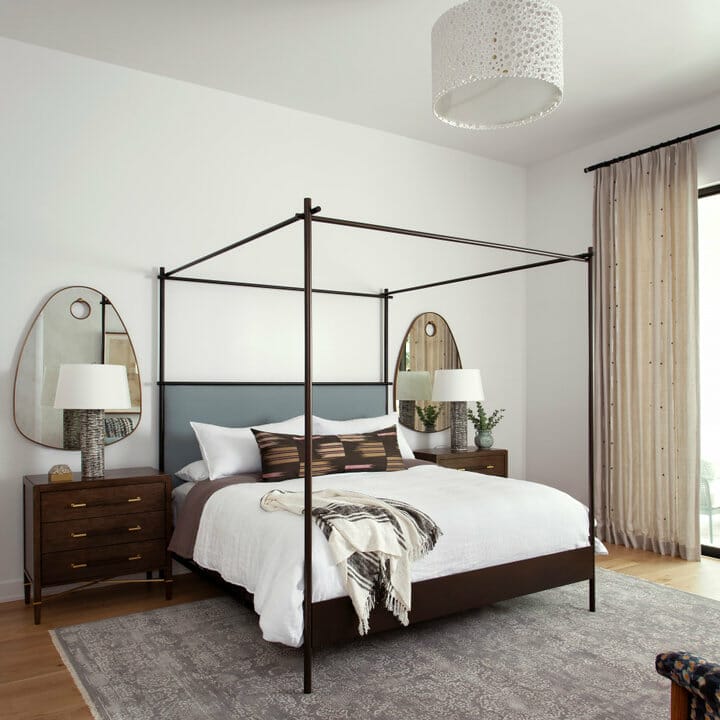 Mirrors in bedroom ideas not only come with the fundamental purpose of using looking glass. More than that, this concept is here for being a wall decor as well.
You are free to present two strange-framed mirrors or ones with a frameless and asymmetrical shape.
Indeed, through mirrors with unique shapes, you will get a combo package to obtain a perfect reflection, multiple lights, and also an eye-catching wall decor.
19. Three Rhombus in One Row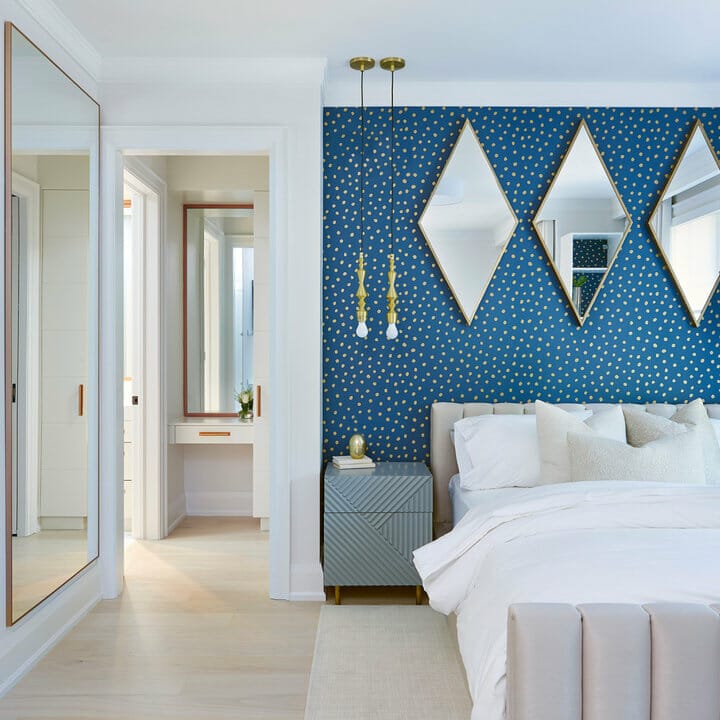 There is nothing to do with a bold pattern wallpapered bedroom other than leaving it as it should be. Because by adding art decor, your chamber might feel more cramped.
However, suppose you insist on doing that. In that case, it's a good idea to give a decorative mirror that already has a stand-out shape, for example, gold rhombus ones.
Next, you have to put them parallel to a wall spot. As a final touch, you can add golden hanging bulbs as above.
20. Small Round Mirror with No Frame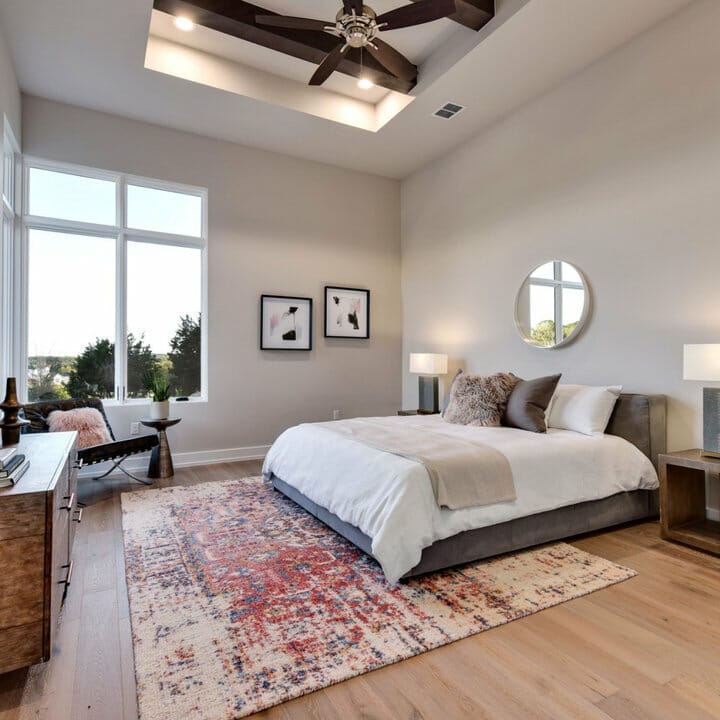 Round frameless mirrors in bedroom ideas will suit chambers and those that carry a contemporary theme. Not only does it give a sleek impression, but it also manages to reflect the robust frame on your system window.
Better yet, it reflects incoming sunlight with a perfect spread.
21. Black Glass Mirror to Add Drama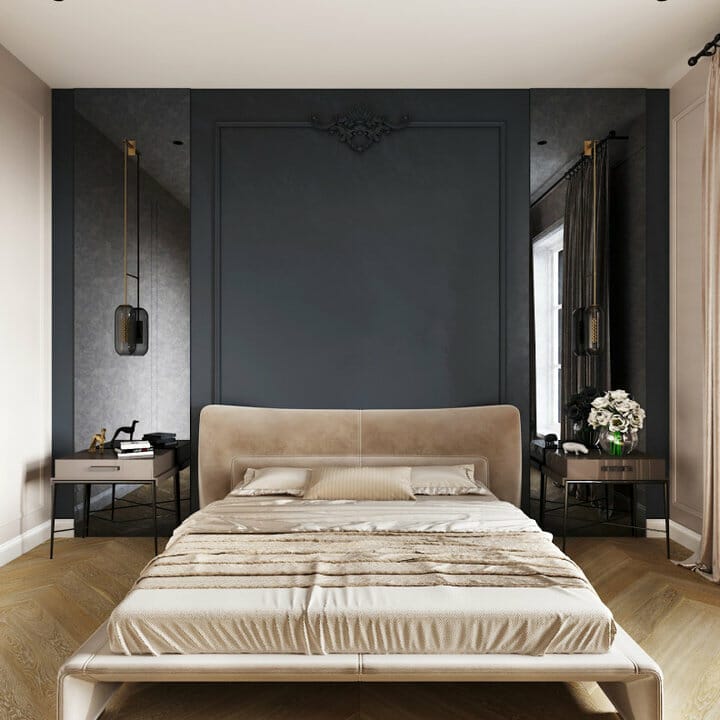 Different from the standard-looking glass, which is dominantly silvery. Black glass mirrors now give you strong dramatic vibes in your main bedroom.
Indeed, this cannot provide a perfect reflection for you to touch up your makeup. But at least, this managed to display an elegant impression without excessive frames.
22. Set A Stool in Front of It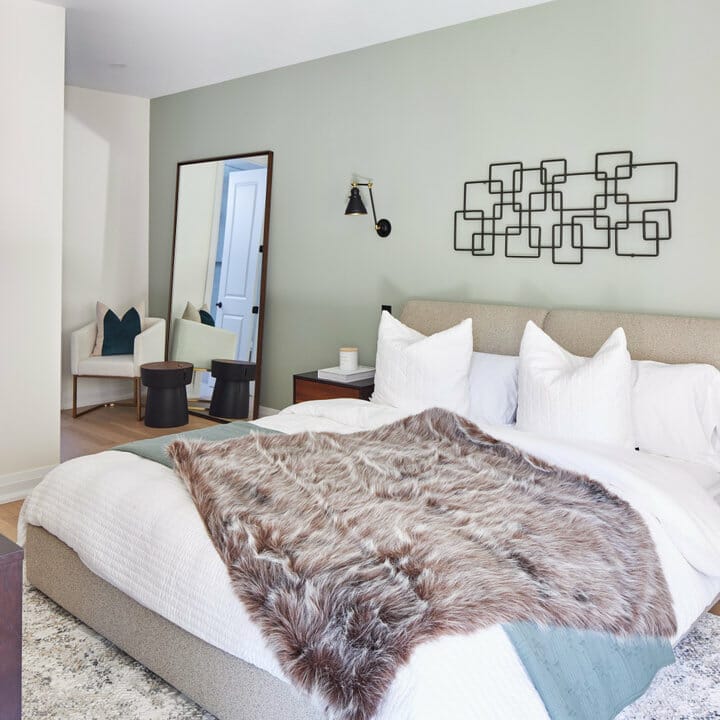 Putting the stool right in front of your floor mirror is as if you are creating a dresser without a countertop and additional storage.
Of course, this will save your space better than before. And the fact that you can also see your reflection from head to toe makes it easier for you to check your neatness when you're in a hurry.
23. Contemporary Mirrors in Bedroom Ideas with Unique Design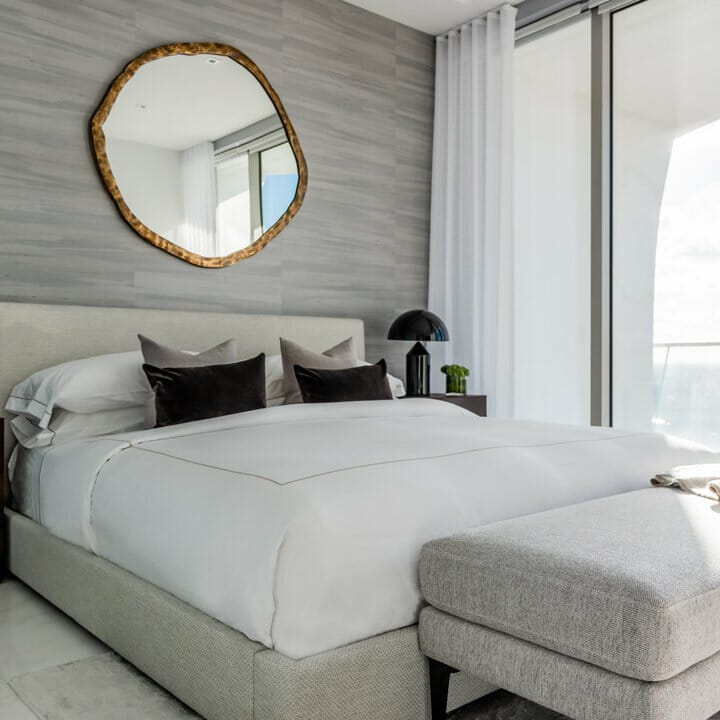 Mirrors in bedroom ideas that carry looking glass with a lousy round shape are the best option to give personality to your chamber.
Then, it would be best to choose one in a large size with a gold frame.
24. Set the Large One to Fill the Blank Wall Space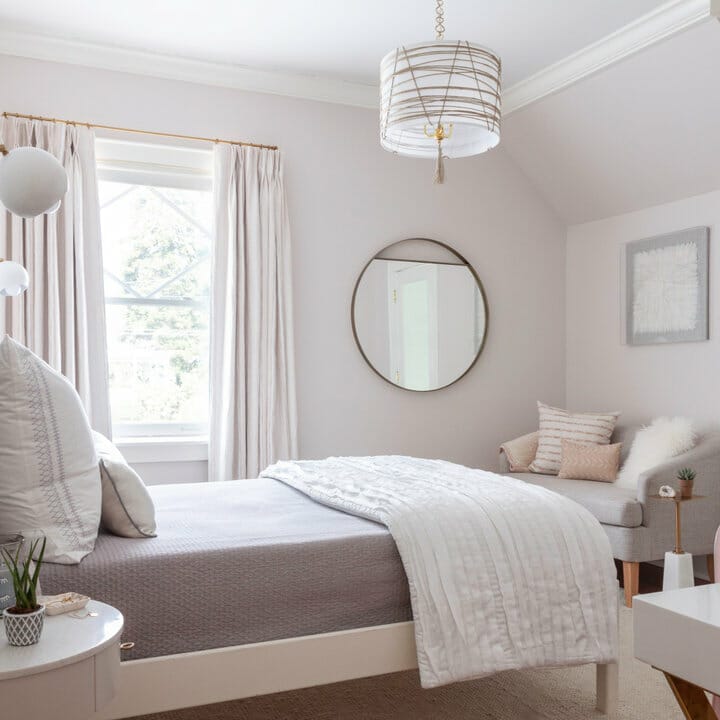 An empty wall near the window will certainly be a bit disturbing vision. If your goal is to increase the aesthetic value of your room, then it's a good idea to consider a large wall mirror to compliment your decor.
Furthermore, this will immediately give you multi-impact in terms of additional lighting, providing a double visual impact to bring the energy into the earthy space.
25. Strengthen the Classical Vibes with Sculptures in The Center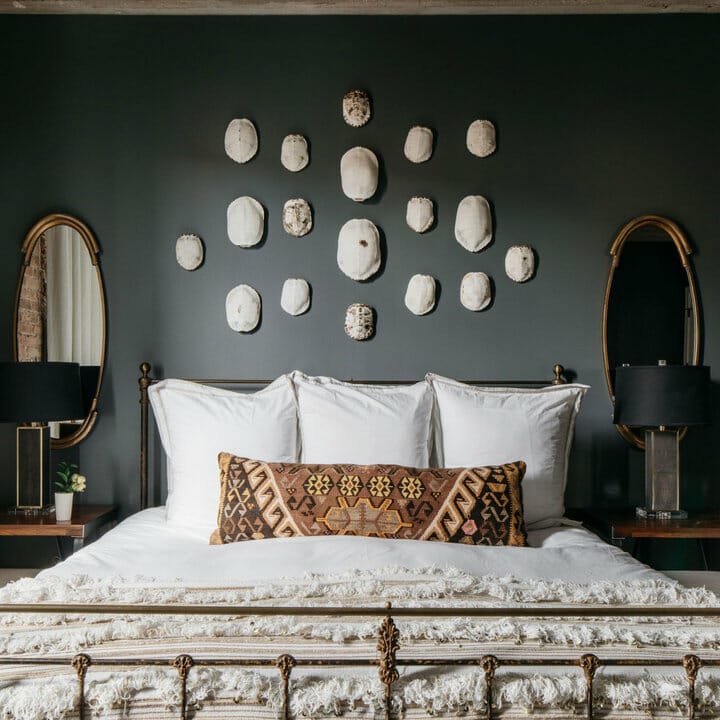 Mirrors in bedroom ideas hung on dark walls such as black will be more prominent if you compliment them with contrasting sculptures in the center.
Instead of choosing mirrors with a rigid shape, it's a good idea to go with an oval in a gold frame. Obviously, this will be perfect for your main bedroom with a luxurious Mediterranean theme.
26. Mirrors in Collage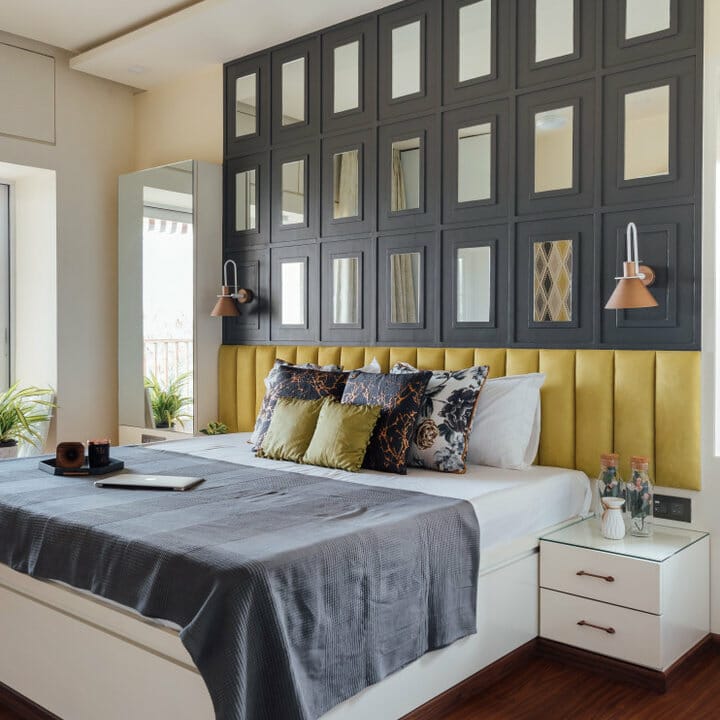 Suppose the single and pairs mirrors in bedroom ideas are not enough for you. Now is the time to be bolder in setting decorative-looking glasses in a collage.
Frames with dark colors will go well with any colors and art decors in your room. Even if you have a neon headboard, the presence of these mirrors will be at the peak of glory in enhancing your chamber.
27. Choose Two with Indented Corners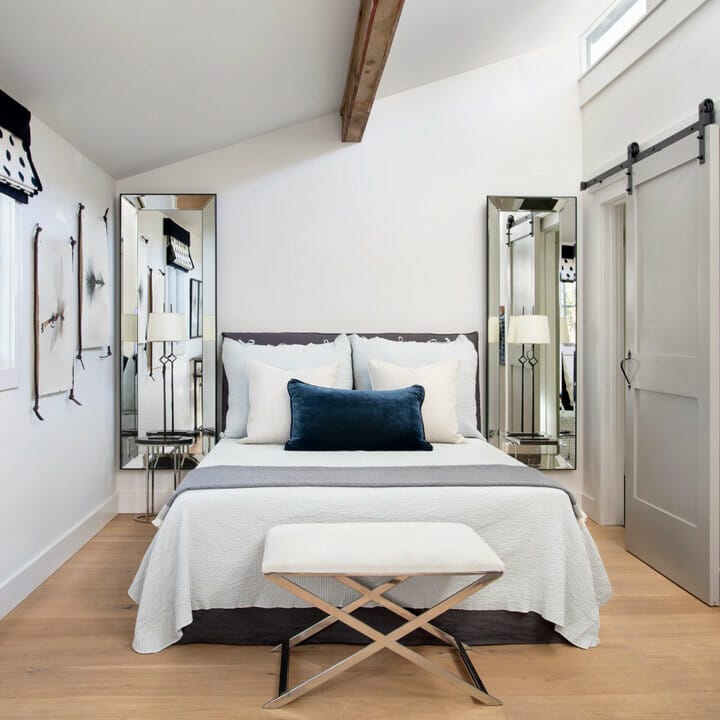 There is nothing wrong with presenting rectangular mirrors in any room, whether the master or the guest ones.
It would help if you considered keeping this point in mind and making it even more enjoyable. And, well, one path you can take is by providing a pair that has intended frames.
Hence, you manage to add drama without great effort.
28. Sliding Wooden Bedroom Door with Looking Glass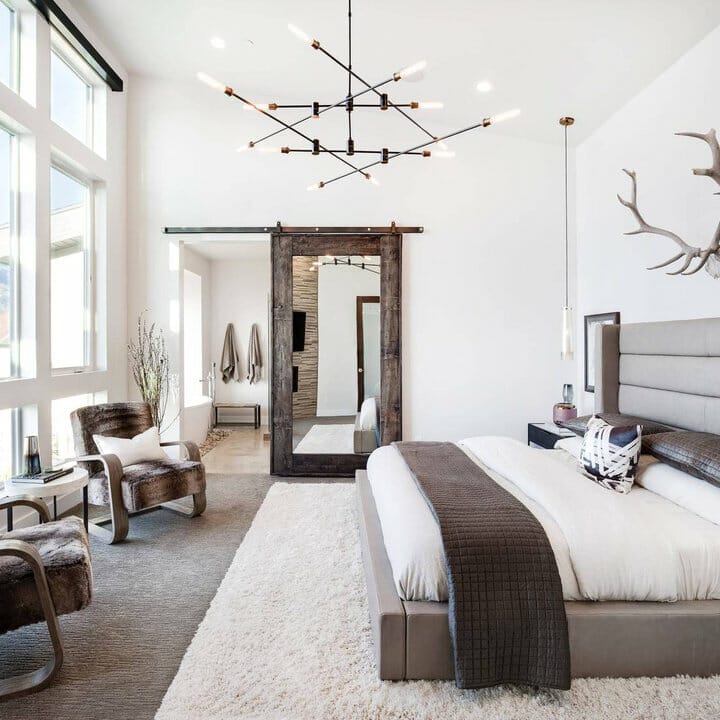 Here is another charm of mirrors in bedroom ideas that you can steal. Instead of placing mirrors in available spots, you can be creative in installing them on your sliding barn wood door.
Without much consideration, this has elevated the modern farmhouse-style room that you have.
29. Unite with Your Headboard
Like the built-in shelving that comes together with your headboard. And, now mirrors in bedroom ideas also present a similar concept.
It is about uniting two full-length wall mirrors in wooden frames with your headboard and side tables. Who would have thought, if later, behind these mirrors there is secret storage that only you know it?
30. Mirrored Cupboard with Glass Handle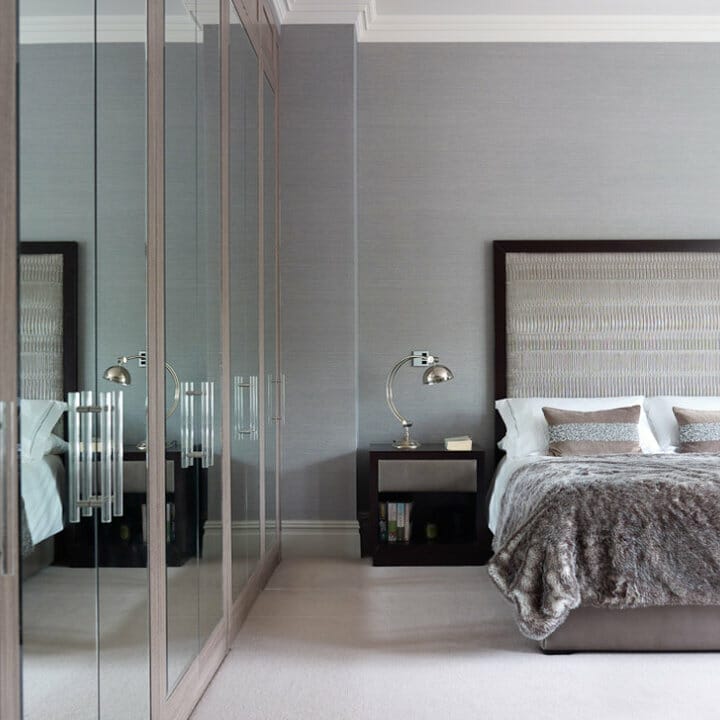 Never hesitate to put mirrored furniture into your chamber. Because indeed, you can immediately have a versatile unit to store your clothes through this idea.
Subsequently, you are not missing out on the opportunity to have huge mirrors in the room. Complete this furniture with glass handles like above to be even more impressive.
31. Farmhouse Mirrors in Bedroom Ideas to Give a Warmth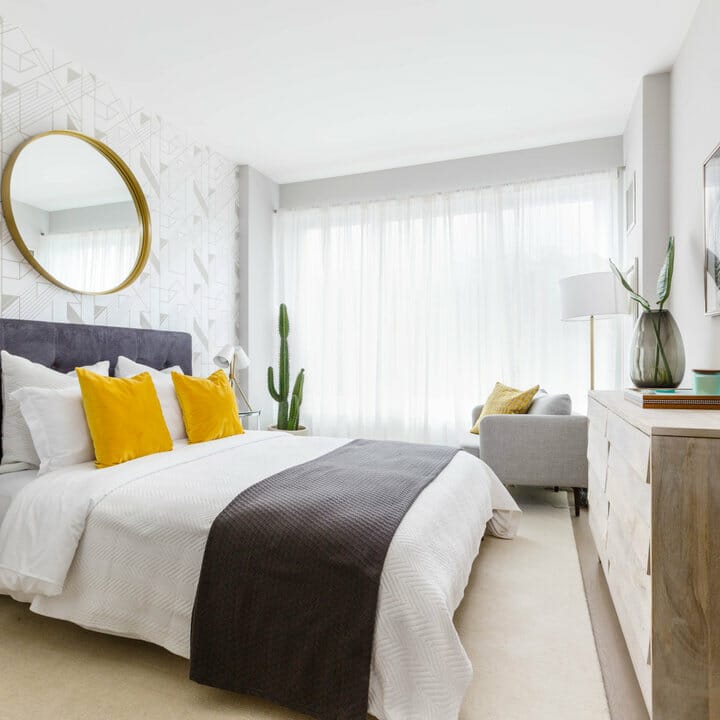 Last about mirrors in bedroom ideas. Here is the brightest concept among others mentioned before.
With a large wall mirror in the bedroom, you can increase its aesthetic value by giving a sheer to the window system. That way, you will have a room with the intense vibes of the farmhouse style.
So, how was it? Are all the mirrors in bedroom ideas above able to attract your attention? Once you find the great one, immediately steal it into your room and be ready with the multiple impacts you got.