Your bedroom should be a place for relaxation and comfort. That way, it can make you less stressed and happier after a tough day. If you love something restful, the gray bedroom is the best way to go.
Certainly, you would like to update your sleepy space. But you have no clue. Do not worry. I rounded up some mesmerizing bedrooms dressed in grays. Whether you go with subtle gray or deep hue later, read these on first.
1. Gray and Pink Bedroom Ideas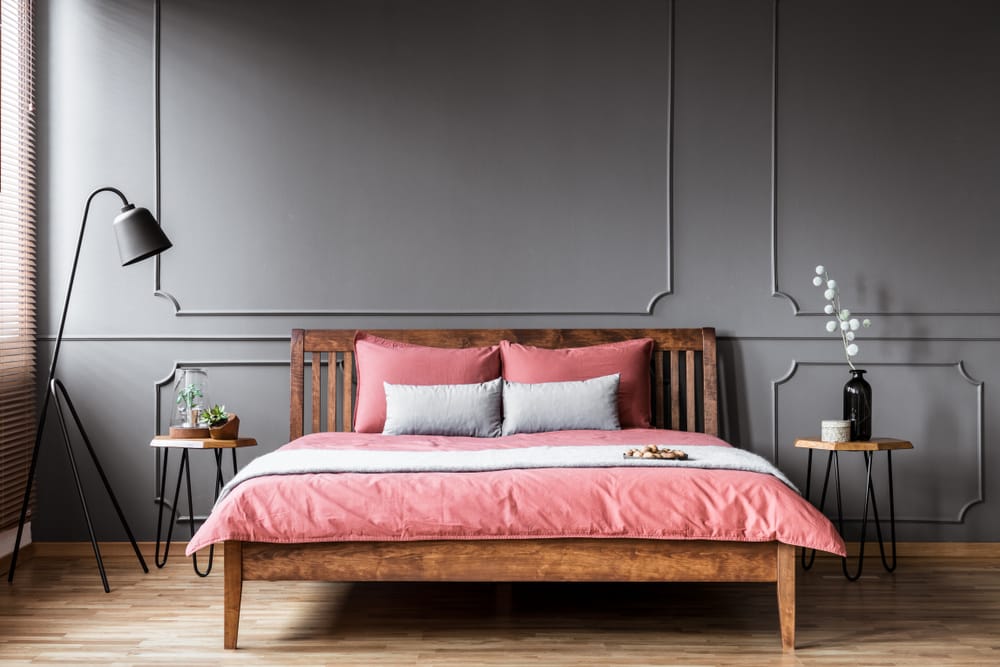 Medium gray wall panel, metal floor lamp, and nightstands give the bedroom a manly flair. Meanwhile, pink comforter and throws feminize the space.
Wood floor and bed frame radiate the intangible warmth. This room is seriously perfect for cuddling up with your spouse.
2. Light Gray Bedroom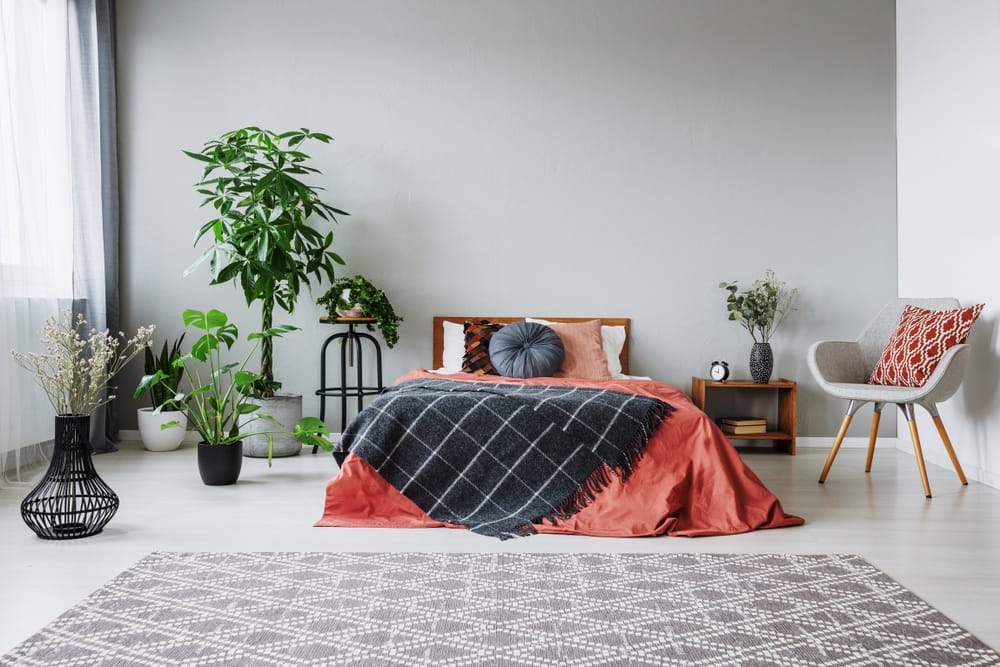 This bedchamber features light gray floor and wall. Along with white curtains, they offer an open, airy environment.
Plenty of patterns and spicy hues keep the area from looking chilly. Indoor plants spruce up the bedroom in seconds.
3. Gray Bedroom Ideas Decorating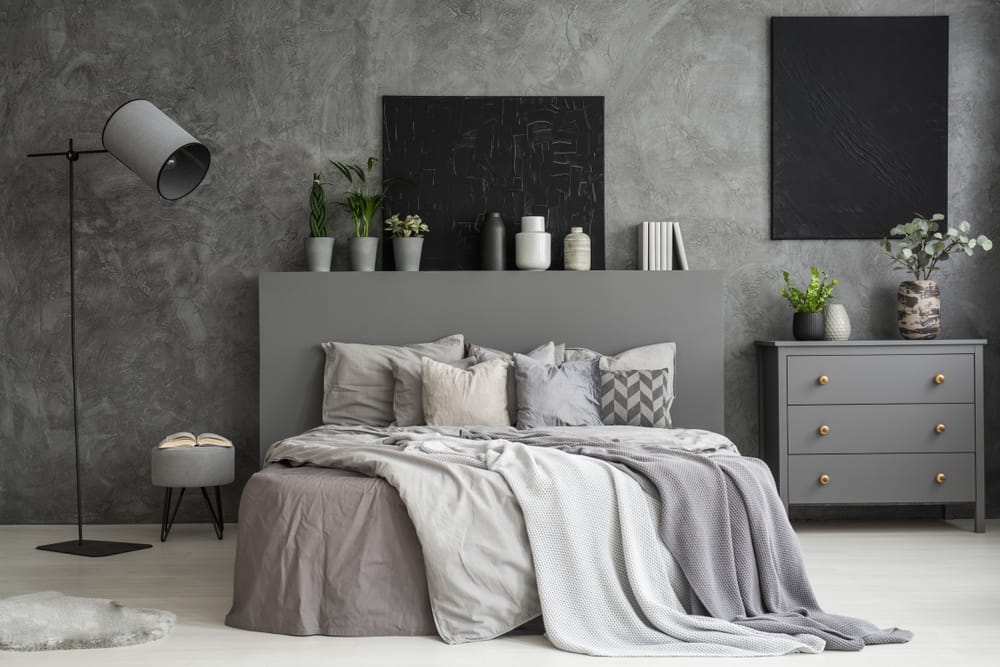 As you can see, varying tones of gray add dimension to the resting space. Concrete wall, stool, and floor lamp offer the industrial appeal.
Black paintings dramatically decorate the room. Fresh flowers and potted greenery transform the bedroom into an urban jungle.
4. Gray Curtains for Bedroom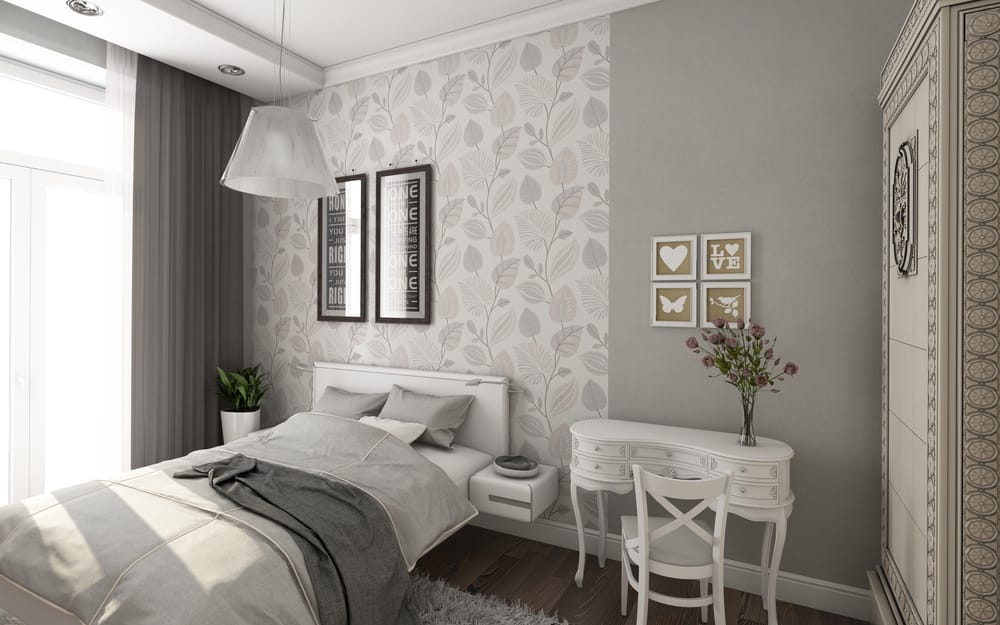 Here is a modern bedchamber with a classic twist. Gray curtains and blanket create a sense of depth.
Botanical wallpaper, houseplants, white framed wall ornaments, and flowers in vase lend the room a sweet touch. A pale gray pendant light brightens the room during evening hours.
5. Gray Bedroom Paint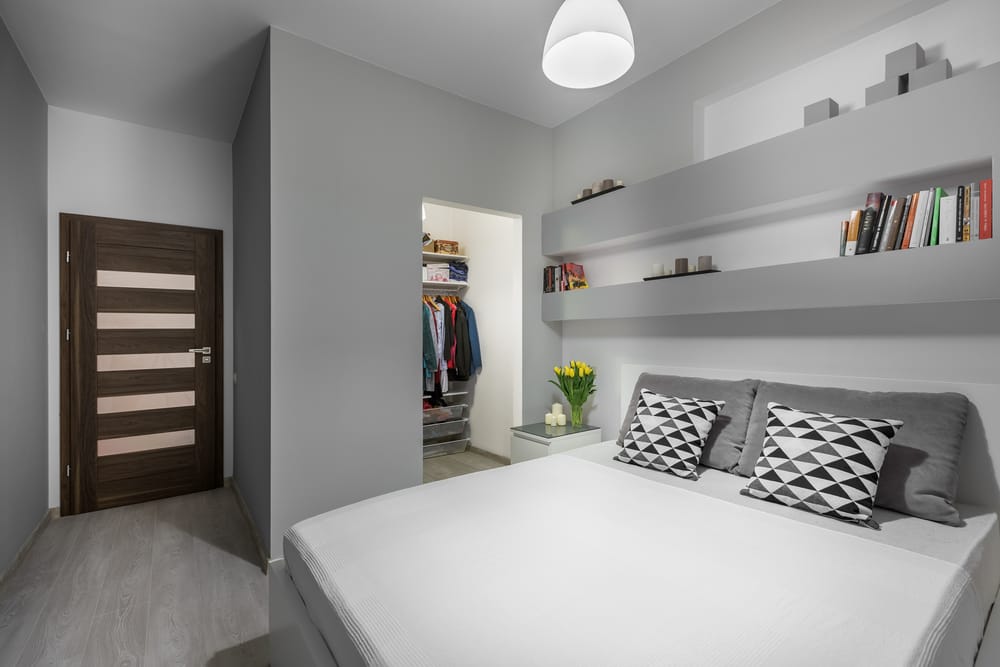 In the photo above, the walls are painted gray. They team nicely with wood floor and pillows. Not to mention, the bedroom turns out to be a soothing oasis.
Open shelves over the bed are the true game-changer. White bed linens let the geometric throws take the center stage.
6. Peach and Gray Bedding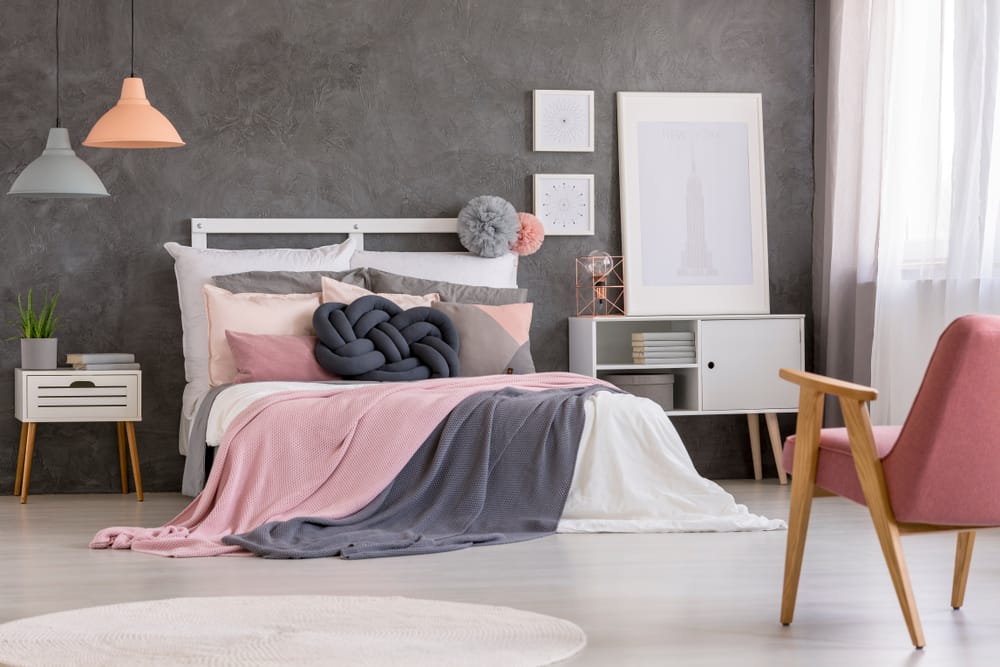 Gray concrete wall serves as a wonderful backdrop. It makes white furniture and wall decor stand out even more.
Peach throws, pink and pastel gray blankets on the bed generate a calming ambiance. Pendant lights carve a cohesive look.
7. Gray Bedroom Color Schemes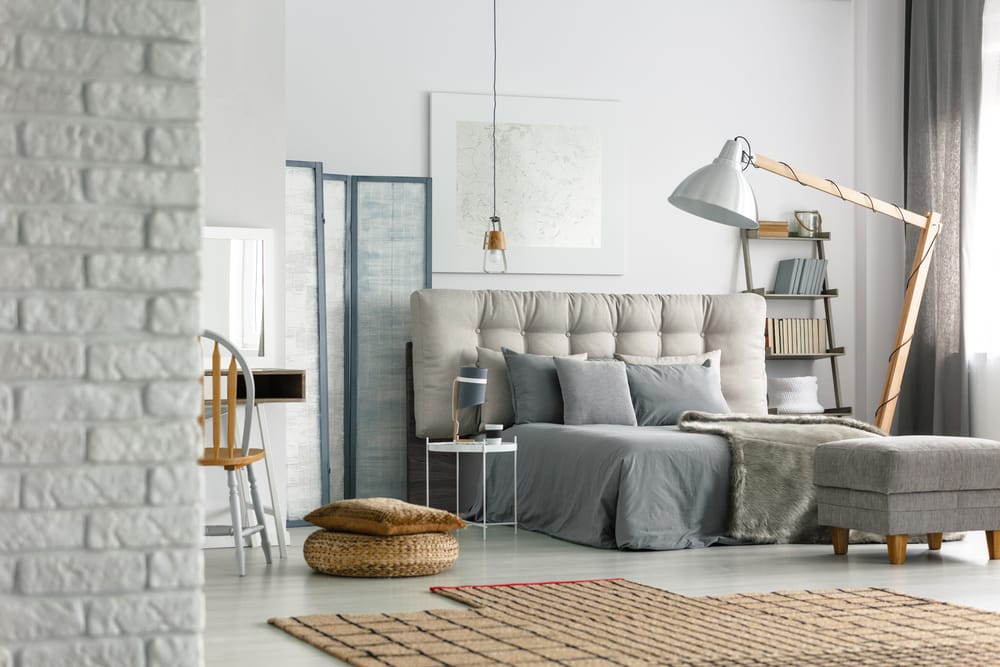 This loft bedroom boasts gray color scheme, ranging from pale oak to mink. The ladder shelf showcases the homeowner's favorite books.
Linen tufted headboard, fur blanket, wicker pouf, and jute rug add a cozy factor to the space. Floor lamp and pendant light cast a bright glow after the sun sets.
8. Gray and Black Bedroom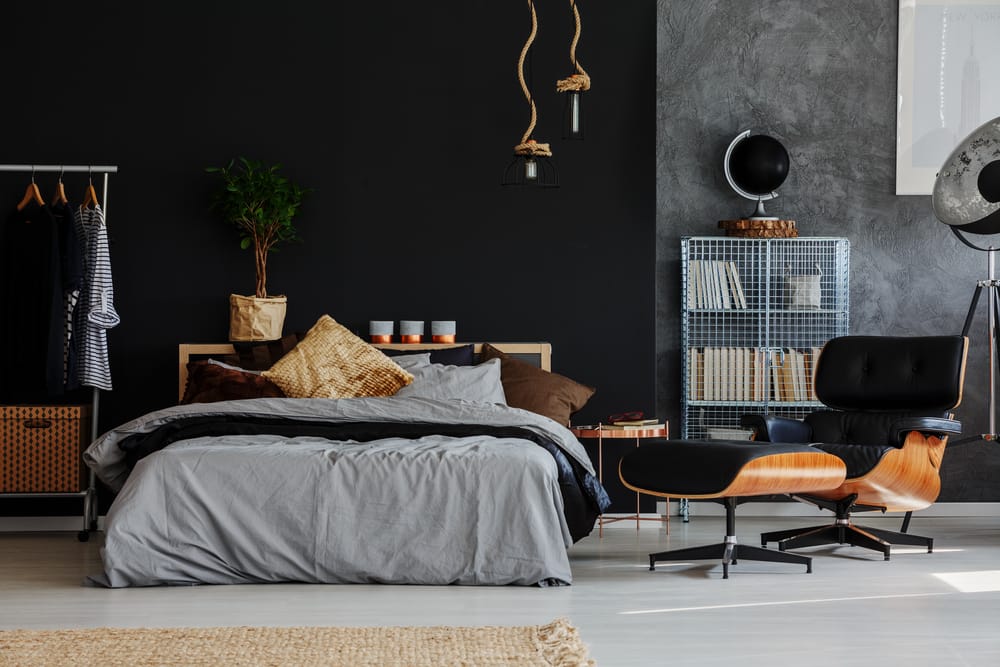 If you find all-gray bedchamber too boring, try this idea. Black wall, throws, and armchairs exemplify the moody feel.
Pale gray wood floor, comforter, and concrete wall evoke a level of sophistication. Lastly, natural textures produce a casual vibe.
9. Dark Gray Bedroom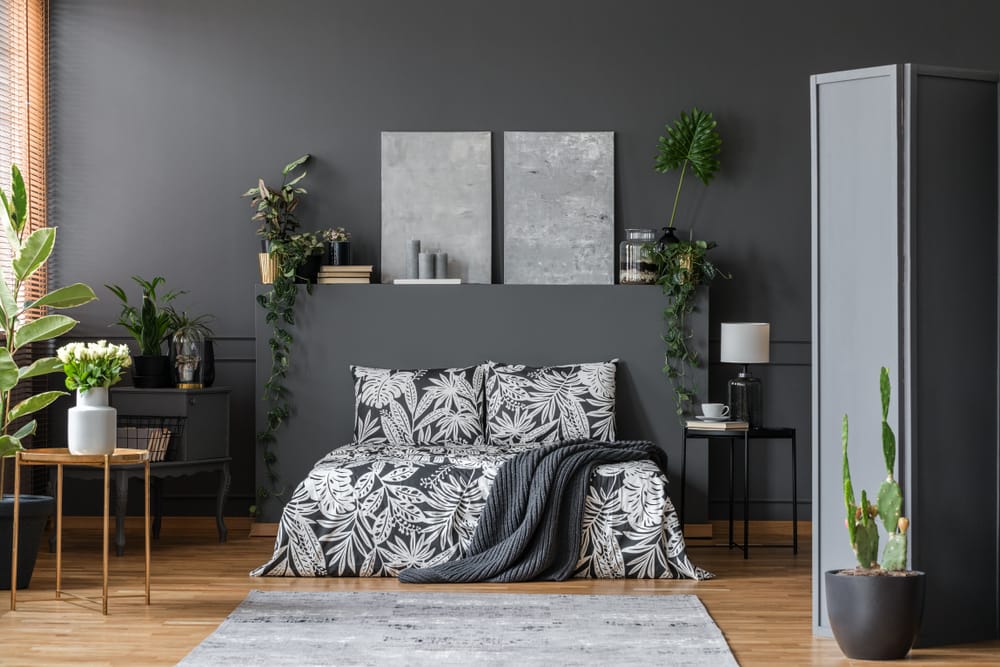 Even though this bedroom has a lot of dark gray, it does not seem depressing. Windows allow in daylight for a sunny escape.
White botanical prints are so pleasing to the eye. Potted houseplants enliven the sleeping zone.
10. Gray and White Bedroom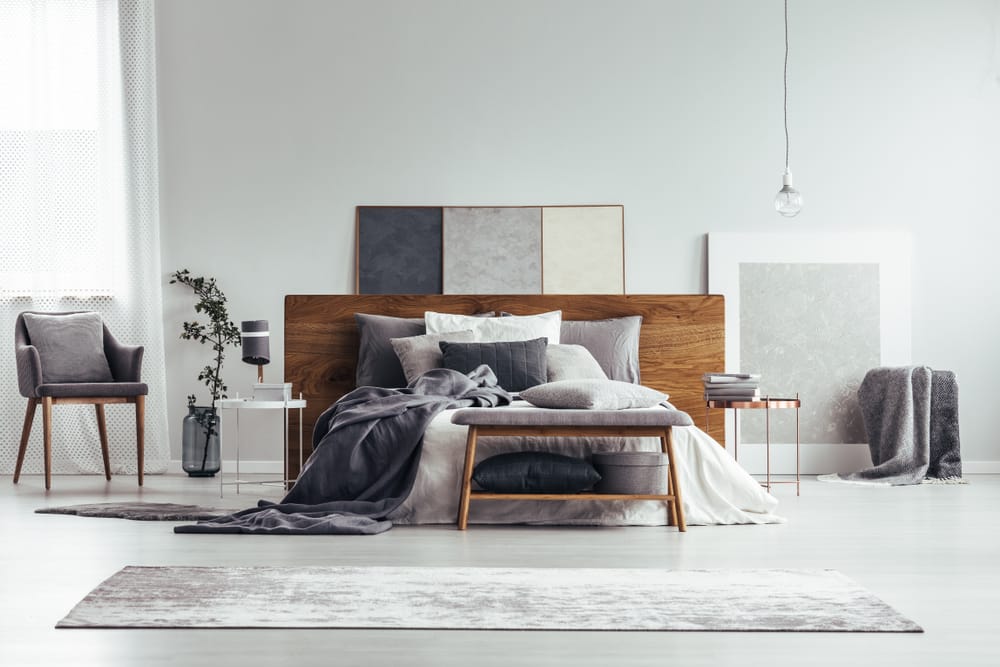 As the image shows, gray and white are the dominant players. They offer a trendy and tranquil personal sanctuary.
Wooden headboard, bench, and armchair warm up the entire area. Velvet rug and throws provide a luxurious touch, while mismatched nightstands lend the room the eclectic charm.
11. Gray Master Bedrooms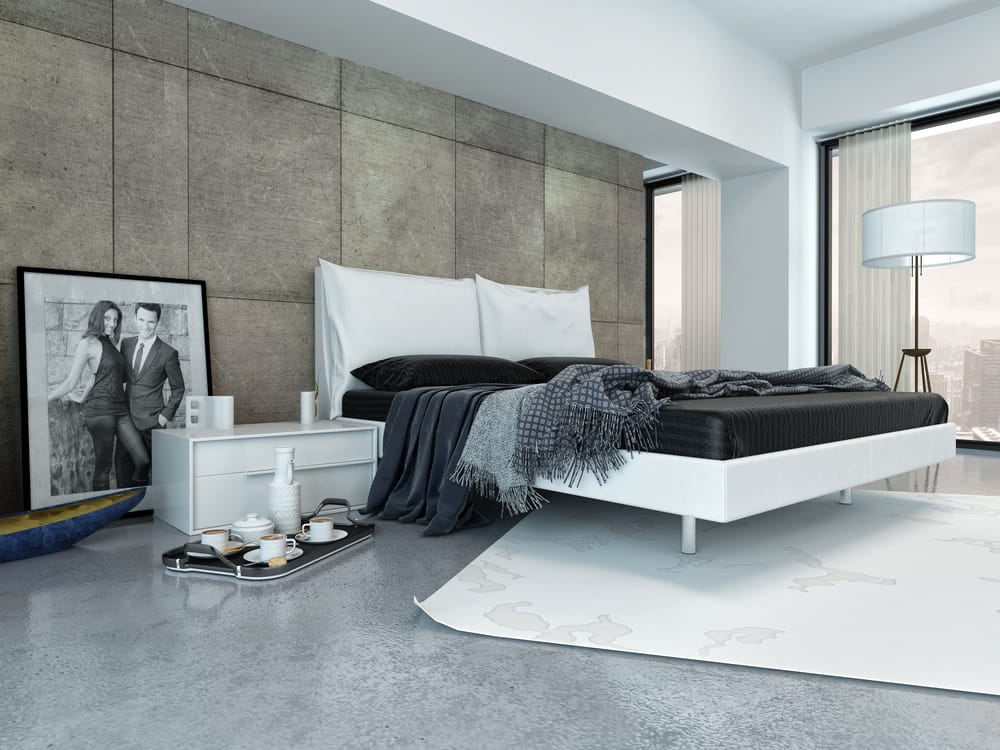 Well, this minimalist bedroom is elegant on its own. Walls of window bring superb city skylines indoors. Concrete floor appears to be steely.
Framed photograph personalizes the space. White bed frame contrasts with black mattress and throws in a magnificent way.
12. Rustic Gray Bedroom Set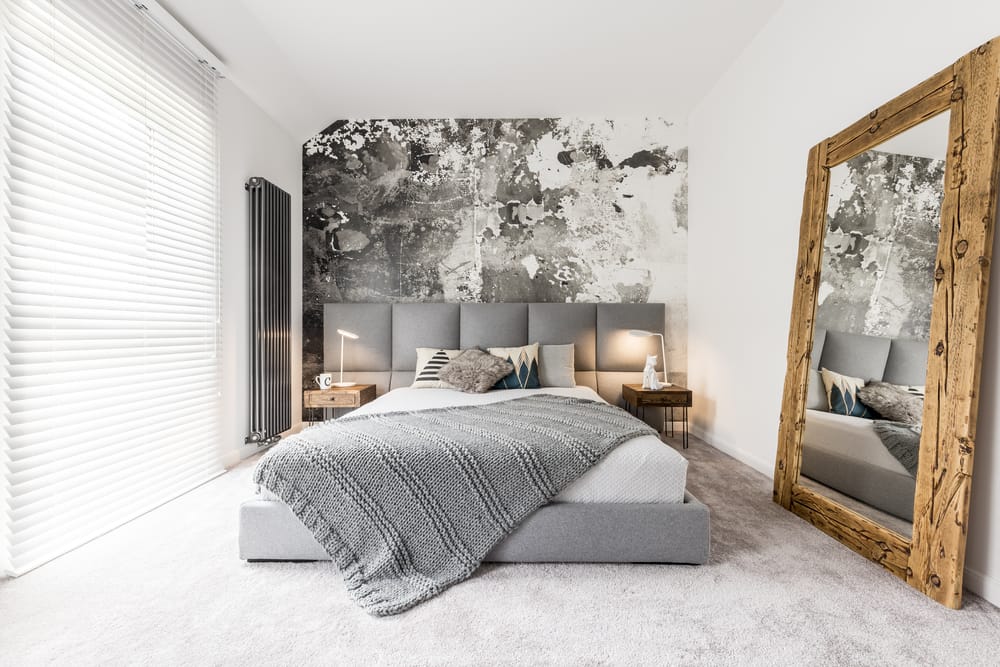 If you are short on space, do not hesitate to go minimal. Replace the bulky nightstands with the rustic and sleek ones.
Reclaimed wood mirror creates the illusion of more space. Gray headboard and knit blanket raise the room's comfort. Monochrome accent wall lends the area visual interest.
13. What Color Bedding Goes with Gray Walls

Black metal stool and shelving units evoke the industrial aesthetic. The artworks embellish the modern room in a simple manner.
The bedchamber seems more appealing with the help of dark gray concrete wall, mink headboard and abalone bedding. Round rug softens the straight lines.
14. Gray and Beige Bedroom Ideas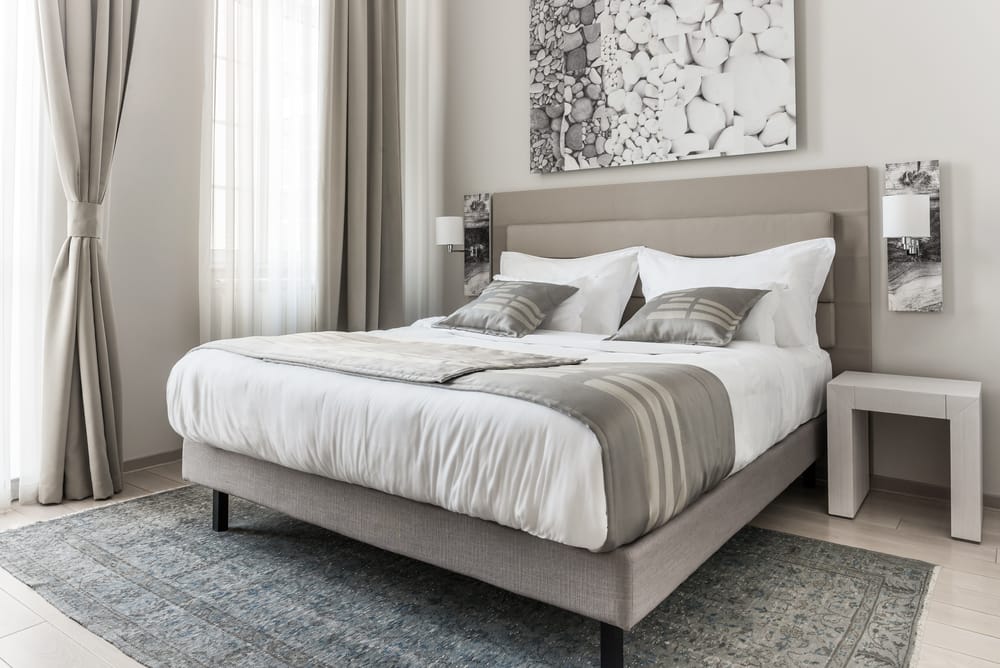 This sleeping space is not dull at all, thanks to gray-beige headboard, bed frame, curtain, runner, and throws. Pale gray side tables complement the bedding.
French country rug exudes the old world charm. The stone artwork makes the room coordinated.
15. Gray Bedroom Walls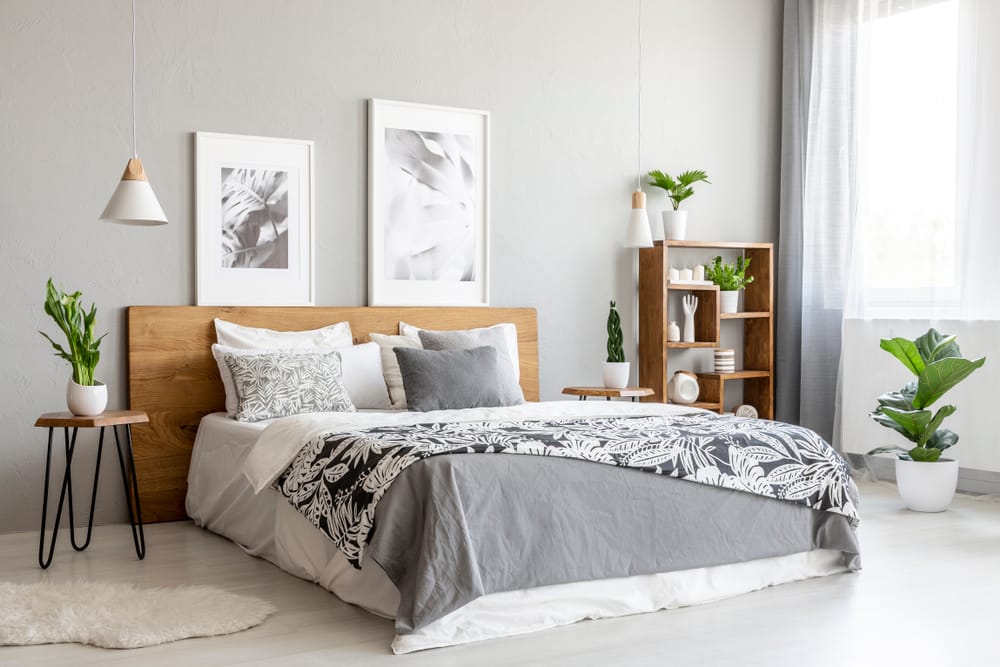 The homeowner coated the walls in muted gray. Warmth's wooden headboard, shelving unit, and tabletops balance the coolness of gray hues.
Patterned blanket and throws steal the attention. Meanwhile, houseplants and artworks generate a cohesive look.
16. Gray Guest Bedroom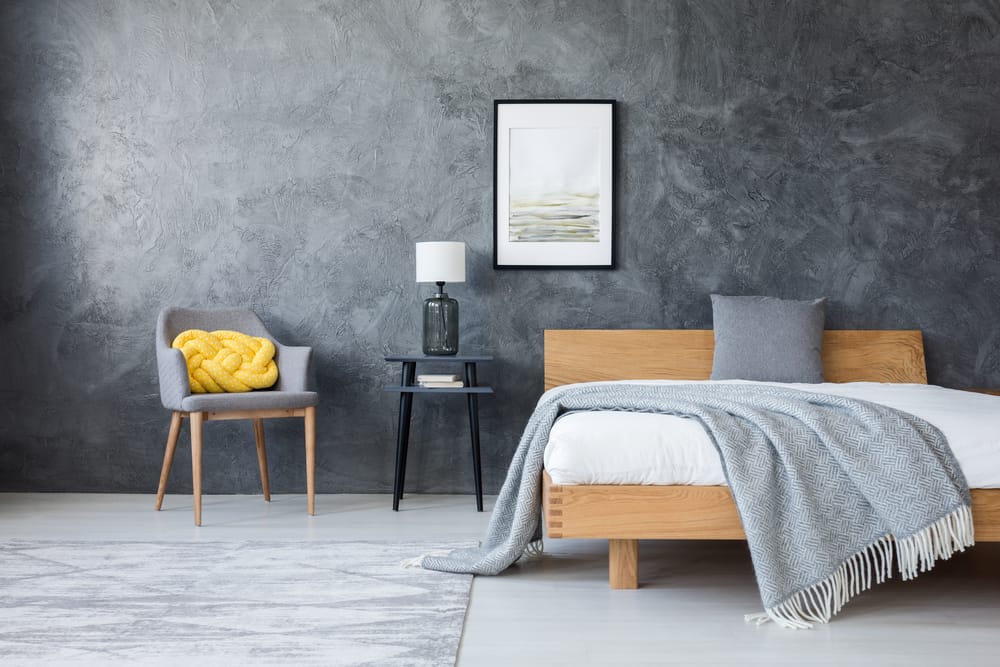 Although this guest bedroom employs a variety of grays, it does not feel gloomy and stark. Yellow handmade throw delivers an instant cheer to the space.
There are only basic furniture units to maintain the room's airiness. White and wood convey cleanliness as well as elegance.
17. Bedroom Color Ideas for Gray Furniture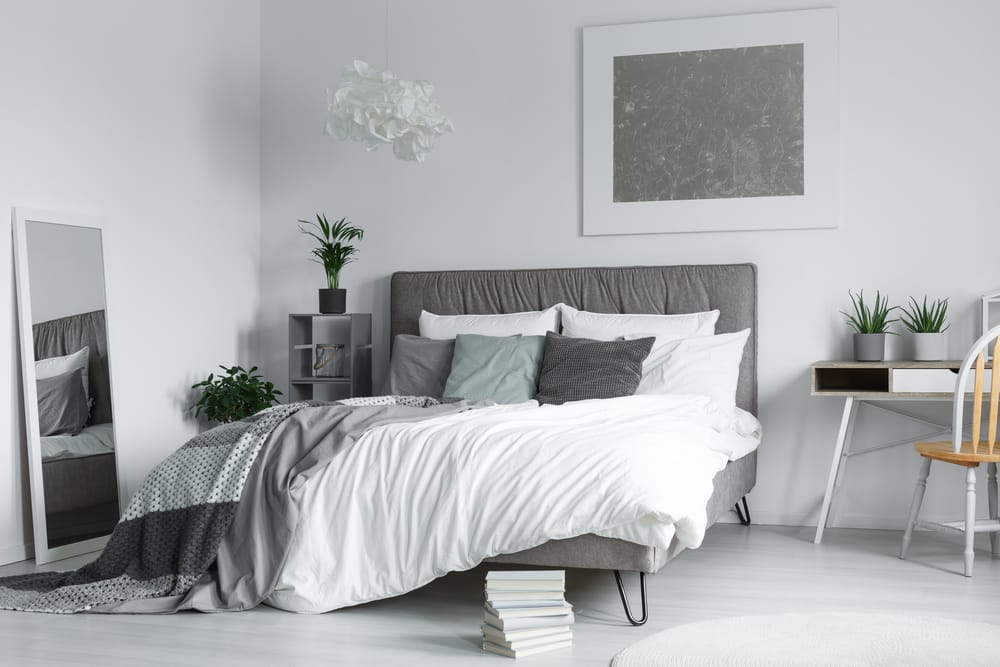 This sleepy space employs gray furniture pieces. They are paired with white walls for a light and calming scene.
Potted plants add pop of vivid green to the room. Meanwhile, throws, blankets, and pendant light provide ultra-comfy textures.
18. Gray and Blue Bedroom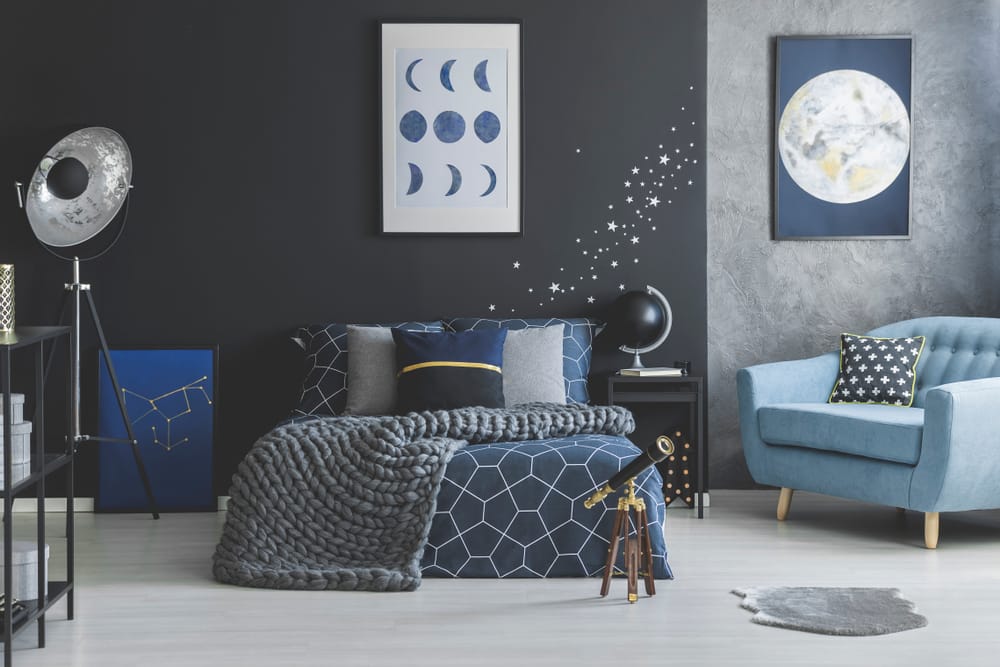 Of course, this bedroom brings out your inner space nerd. It is filled with starry wall panel, telescope, and globe.
Constellation, moon, and earth themed works of art make the space more interesting. Black, gray, and blue color scheme results in a trendy bedchamber.
19. Gray and Tan Bedroom Ideas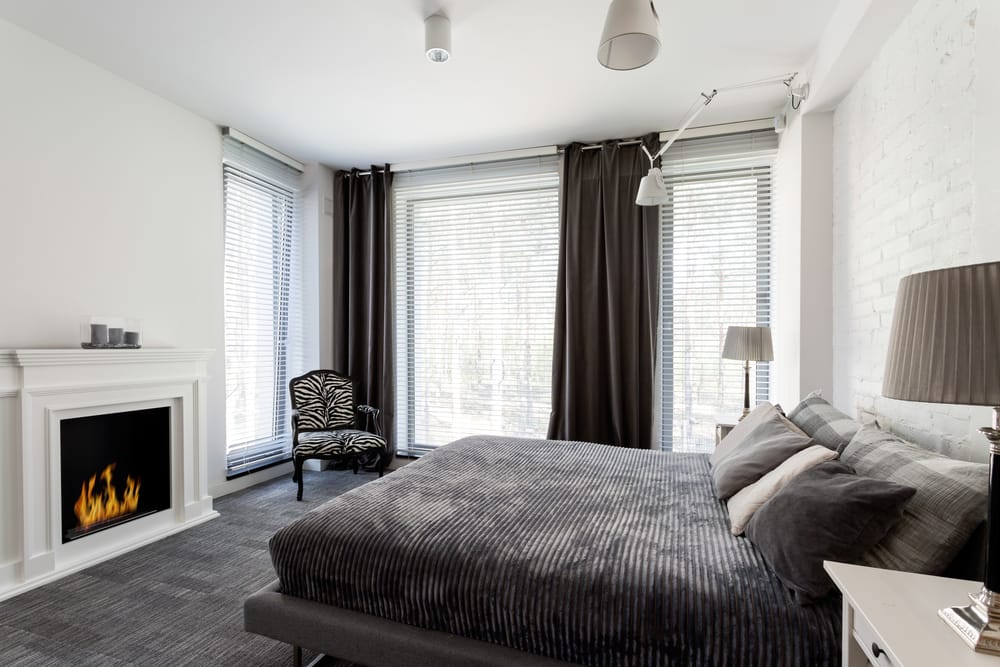 White, tan, and gray go well with each other in this bedroom. They offer a sense of tranquility.
Fireplace heats up the space. Brick wall, textured bedding, carpet, and linen curtains carve a snug ambiance. Zebra arm chair reveals nature's wilderness.
20. Gray Bedroom Furniture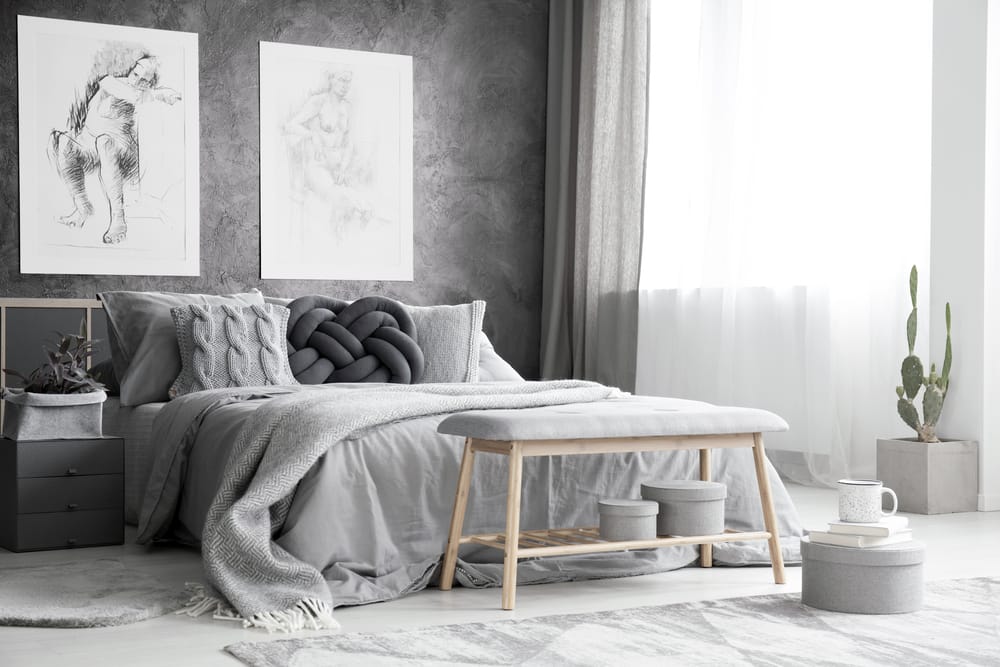 Gray bench, side table, headboard, and bed frame come in different shades of gray. Those furniture exude sophisticated peacefulness.
Blankets, throws, and rugs develop a casual feel. Concrete wall lets monochrome artworks to be the centerpieces.
Gray is such a versatile color. You can mix gray with other hues and ornate patterns. Anyway, which gray bedroom you love the most?