A sleeping area makeover is essential at an indefinite time in people's lives. However, searching for inspiration seems daunting. If you're a woman and fancy something new, read up on my remarkable bedroom ideas for women.
These decorating ideas are perfect for women who plan on moving to new spaces or get bored with their existing bedrooms. In addition, women of any age can implement them without difficulties.
Whether you admire simple, modern lines or bohemian textures, I guarantee these fabulous ideas for women's bedrooms will be useful. Let's check them out!
1. Transitional Bedroom Ideas for Women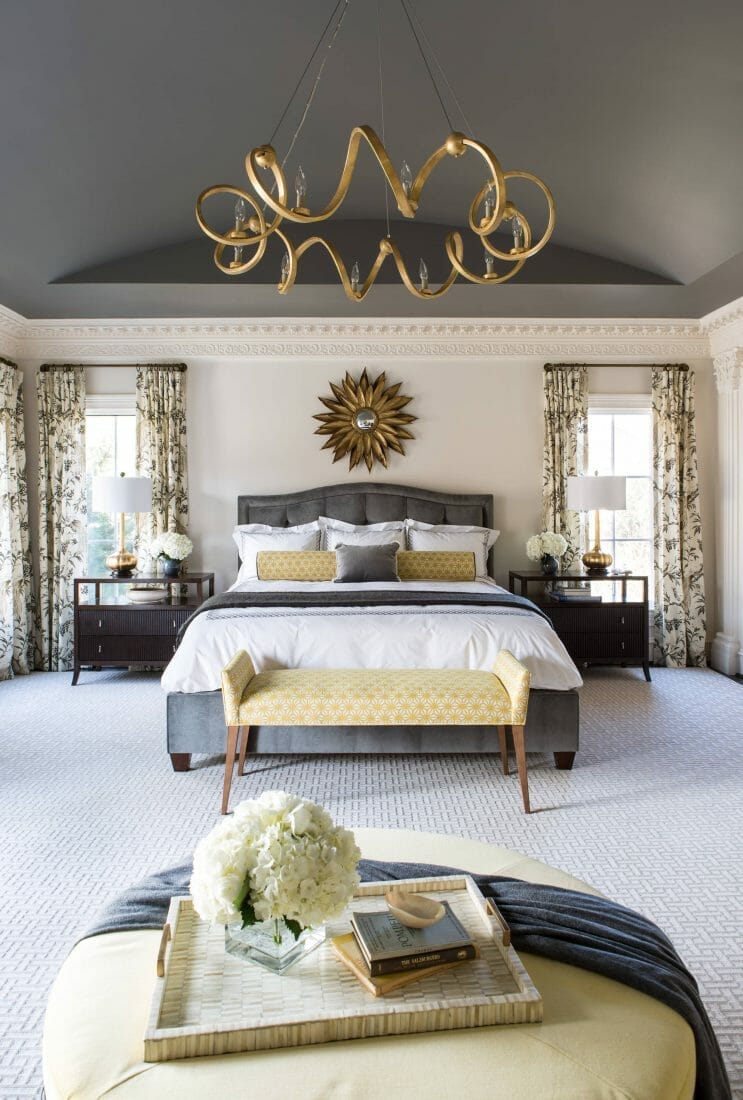 This transitional woman's bedroom employs lots of pretty patterns. Apart from developing a statement, they keep things cohesive due to their complementary color palettes.
The sunburst mirror, headboard, printed curtains, and bedside cabinets create visual symmetry that satisfies the eyes. Meanwhile, golden lamps and soft white flowers represent a timeless elegance.
Here, the gray ceiling emphasizes the glamorous, contemporary chandelier. Furthermore, the carpet, pillows, and blankets carry different textures that emanate coziness.
2. Women's Bedroom Ideas for Small Rooms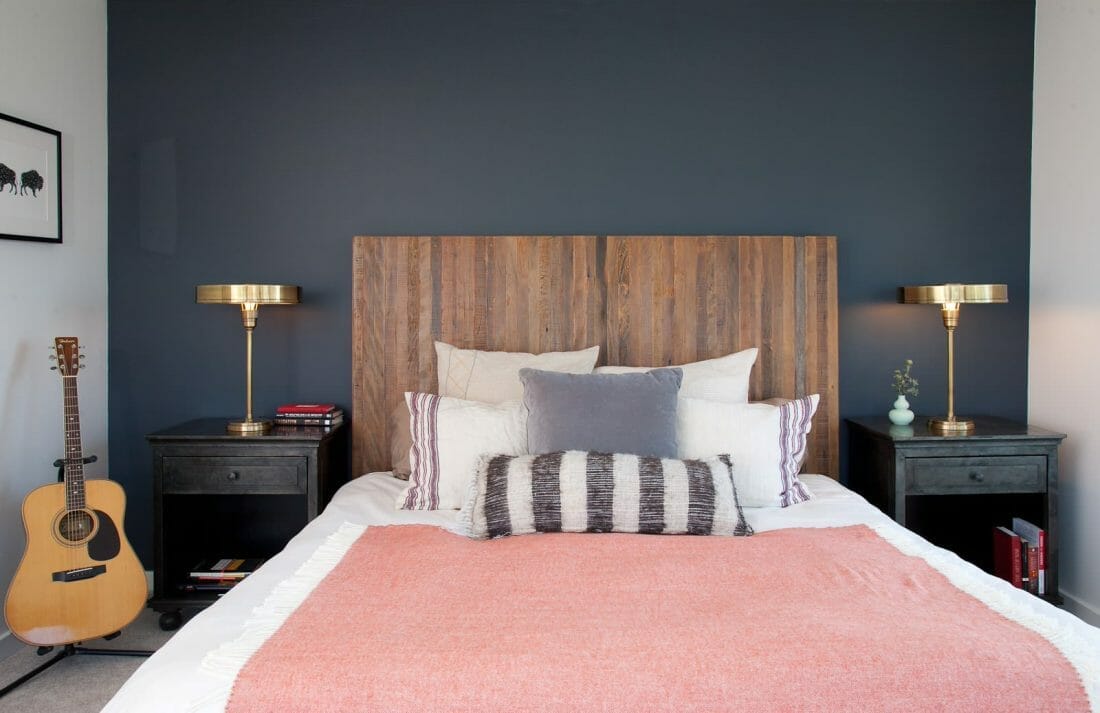 The contemporary woman's bedroom above feels fresh and stylish. Furthermore, it boasts sleek lines via the wooden headboard, artwork frame, and bedside tables.
A couple of golden table lamps clash with the deep gray backdrop. In addition to delivering a hint of opulence, they evoke some warmth.
Decorative and sleeping pillows lend the bedroom interest. Moreover, the pink blanket produces feminine energy while offsetting gray elements.
3. French Country Grown Woman Bedroom Ideas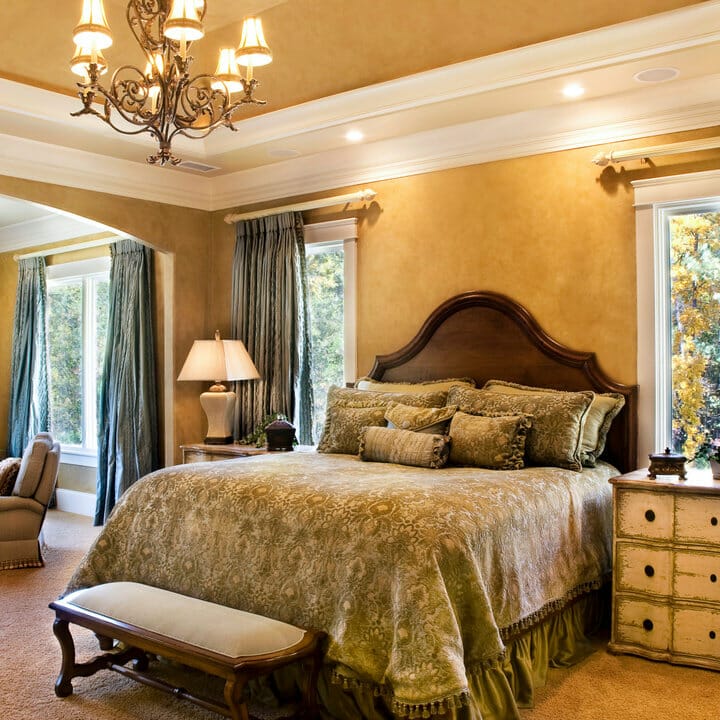 Since this woman's bedroom wears earthy hues, it appears calm and inviting. Meanwhile, the dark wood headboard, upholstered bench, and floral bedding introduce a French country aesthetic.
Pillows in ascending order create depth. Furthermore, they generate interest while keeping the whole woman's bedroom snuggly.
Because of muted blue curtains, the tray ceiling looks higher. Mismatched decorations on top of bedside dressers give the bedroom a casual edge. Lastly, the chandelier makes the sleeping area feel complete.
4. Woman's Bedroom with an Entertainment Center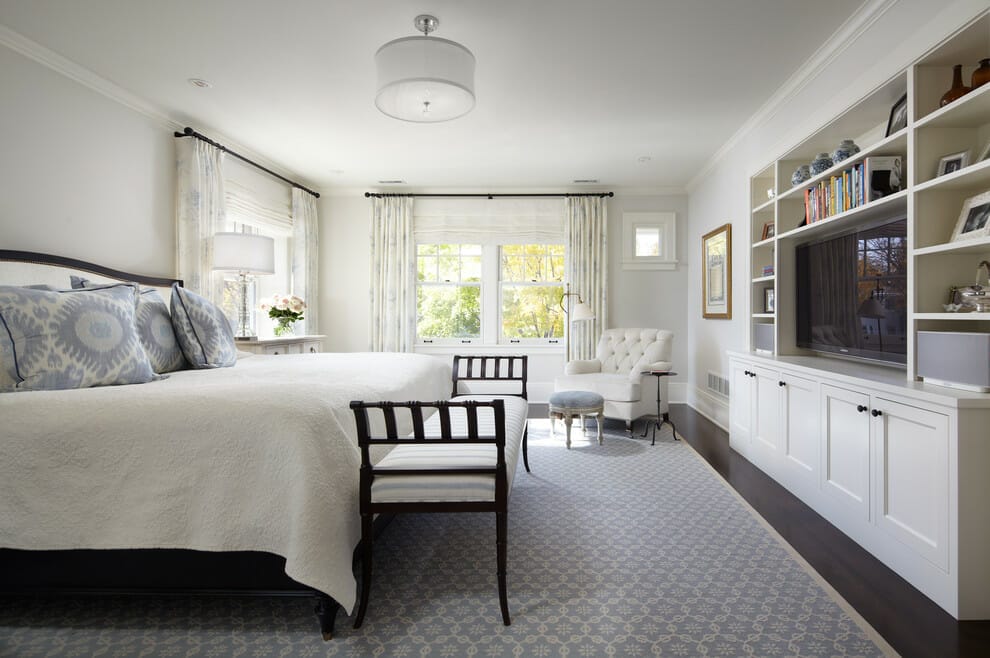 Talking about bedroom ideas for women, you should stick to neutral-colored patterns. They let each accent shine without making the interior too busy.
Pale gray walls soothe the homeowner's soul. Meanwhile, the crisp white bedding, sofa chair, and ceiling preserve the airy ambiance of this woman's master bedroom.
The massive rug, striped upholstered bench, and printed pillows ensure the sleeping area feels cozy. Moreover, the built-in entertainment center maximizes the space and makes the bedroom multifunctional.
5. Contemporary Bedroom Ideas for Women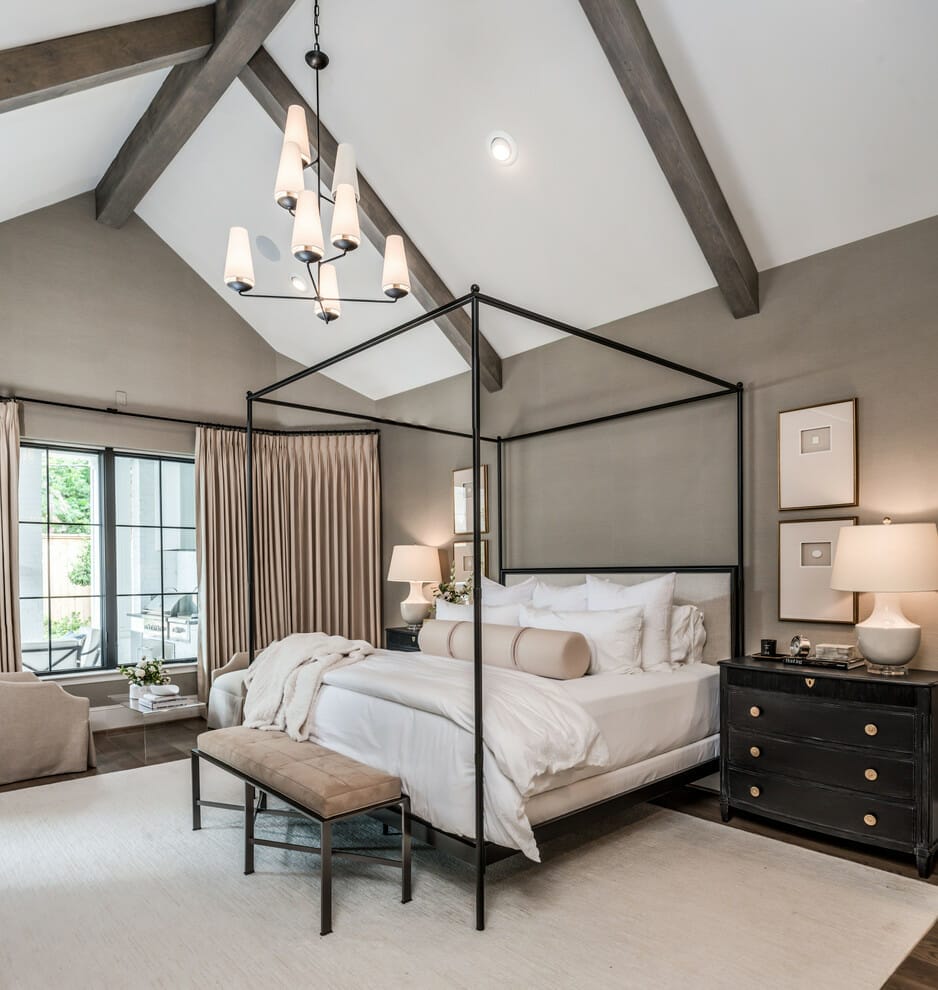 This contemporary woman's bedroom leaves me speechless. Taupe walls and beams give the sleeping area a peaceful environment.
Here, the room boasts clean lines through the four-poster bed, bench, headboard, and wall art frames. Furthermore, the bolster, rug, blankets, and pillows bring in a dose of coziness.
The chandelier and table lamps provide illumination while carving a contemporary look. Meanwhile, the acrylic table and armchairs define the seating area.
6. Woman's Bedroom with a Statement Ceiling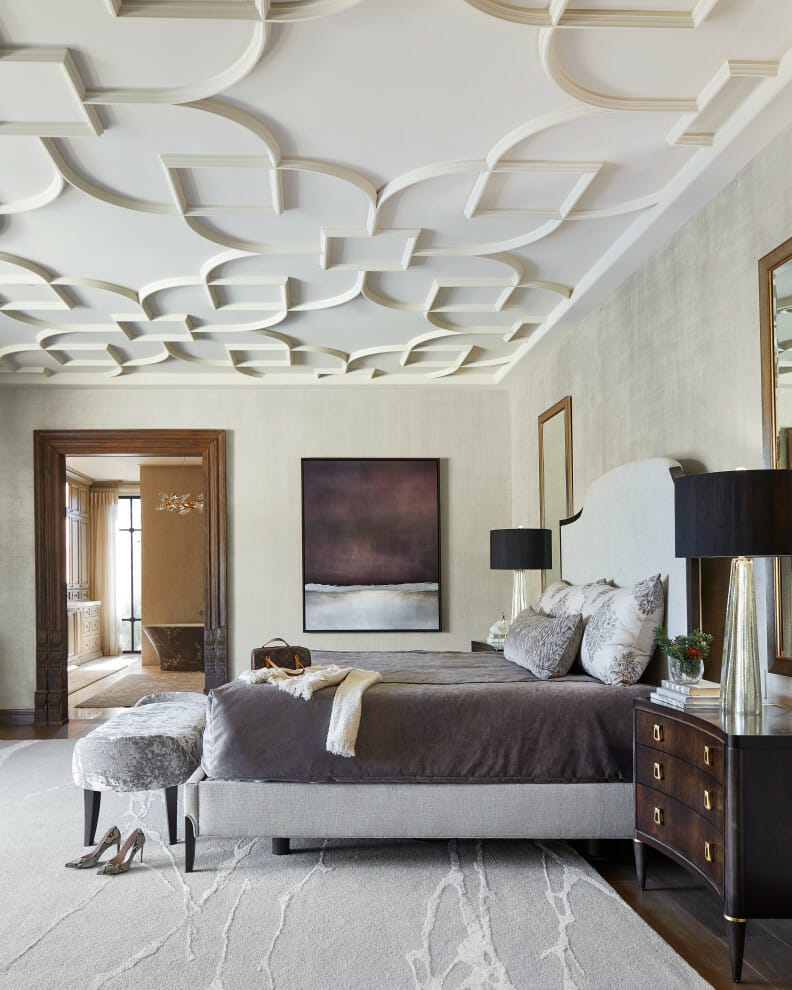 Speaking of bedroom ideas for women, try using soothing shades. This sleeping area, for example, has light gray, grasscloth wallpapered walls. They fit in with the bedding while delivering visual interest.
The white textured ceiling draws the eye due to its striking pattern. Moreover, the velvet upholstery and gold details represent luxury.
In this woman's bedroom, the painting becomes the highlight. The wooden arch guides the homeowner to the master bathroom. Lastly, black table lamps, floral printed pillows, and deep brown bedside tables bring dimension.
7. Embrace Tin Tiles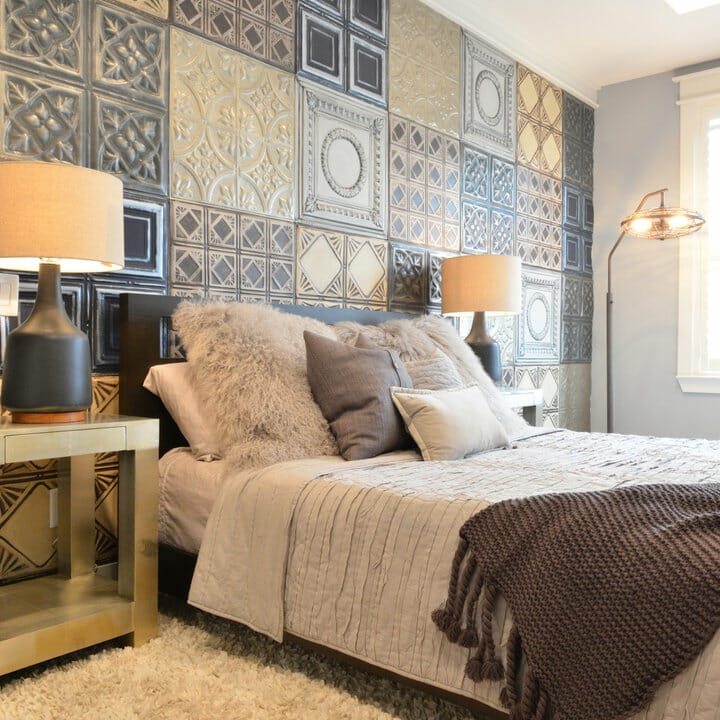 Talking about bedroom ideas for women, consider feature walls. They can be equal parts textural and multitone. Here, the accent wall displays tin ceiling tiles. Furthermore, their varying patterns create interest in seconds.
The simple bedside table and lamps balance out intricate patterns of tin tiles. Meanwhile, the floor lamp infuses a retro aesthetic.
In this space, the black bed frame anchors pillows of different gray shades. Additionally, the wool rug provides ultimate comfort.
8. Cheerful Bedroom Ideas for Young Women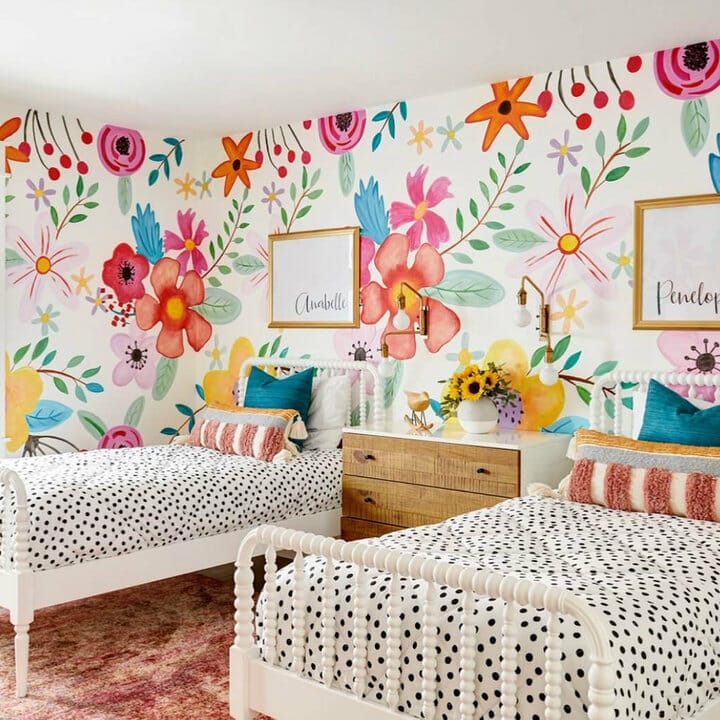 If you're looking to decorate young women's bedroom, try playing with exuberant colors. Not only do they inspire playfulness but also radiate positive energy.
The yellow blooms in a white vase accentuate the botanical wallpaper. Moreover, the wooden dresser and golden frames of the name signs warm things up.
Crisp white vintage beds allow polka dot bedsheets and decorative pillows to sing. Furthermore, the reddish-pink carpet makes the interior welcoming.
9. Coastal Bedroom Ideas for Women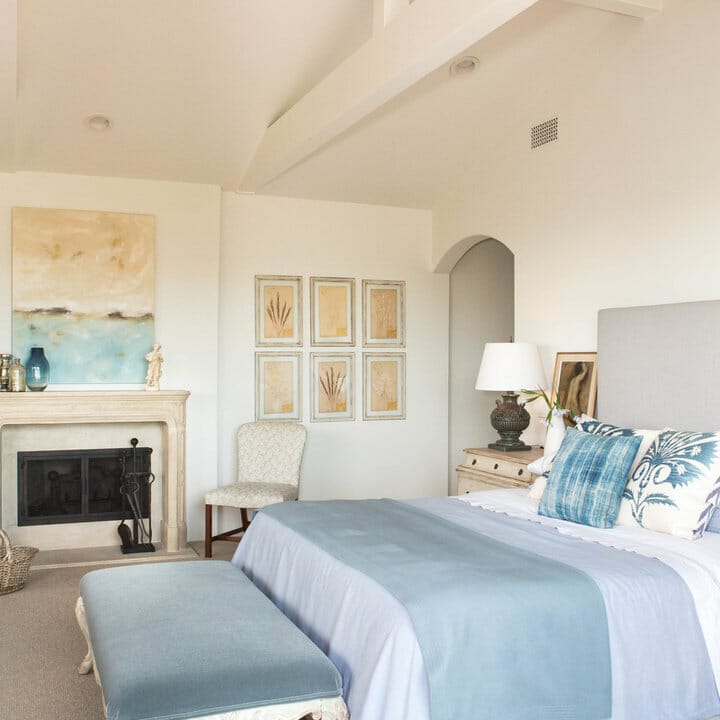 I admire this woman's beach cottage bedroom. Moreover, the gallery wall and a painting over the fireplace mantel transport me to white-sand beaches.
The solid gray headboard accentuates stunning pillows in blue and white. Due to them, the interior doesn't lack depth, textures, and colors.
As you see, the blonde wood dresser houses a table lamp and ornaments. Meanwhile, the velvet bench, wicker basket, and carpet make things seem cozy.
10. Can't Get Enough of Pillows
Talking about bedroom ideas for women, consider layering throw pillows. Apart from infusing patterns and colors, they carry some depth.
Here, the soft white tufted headboard enables neutral yet fantastic throw pillows to become highlights. Meanwhile, tiny windows over it keep the interior airy. Furthermore, taupe and brown walls calm the mind.
The printed bench cushion lends the woman's bedroom extra visual appeal. Moreover, it spices up the otherwise bland beige carpet. Rectangular wall sconces complement built-in downlights. Lastly, flowers and fish paintings titivate the scene.
11. Eclectic Bohemian Elements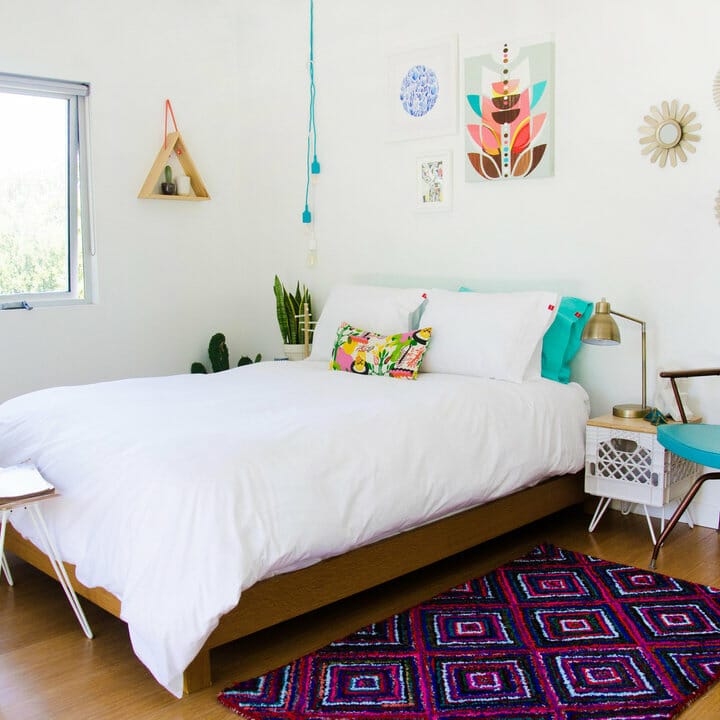 I love this clean-feeling yet cheerful sleeping area. The stark white bedding, walls, and hairpin legs of furniture units make things feel airy.
The window lets in an excellent dose of daylight. Since wall hangings embrace various hues and shapes, they carry a touch of eclecticism.
The printed rug and indoor plants of different sizes generate a bohemian look. Meanwhile, the statement pillow and turquoise details liven the area up. Furthermore, gold and wooden surfaces emanate a sense of balance.
12. Farmhouse Bedroom Ideas for Women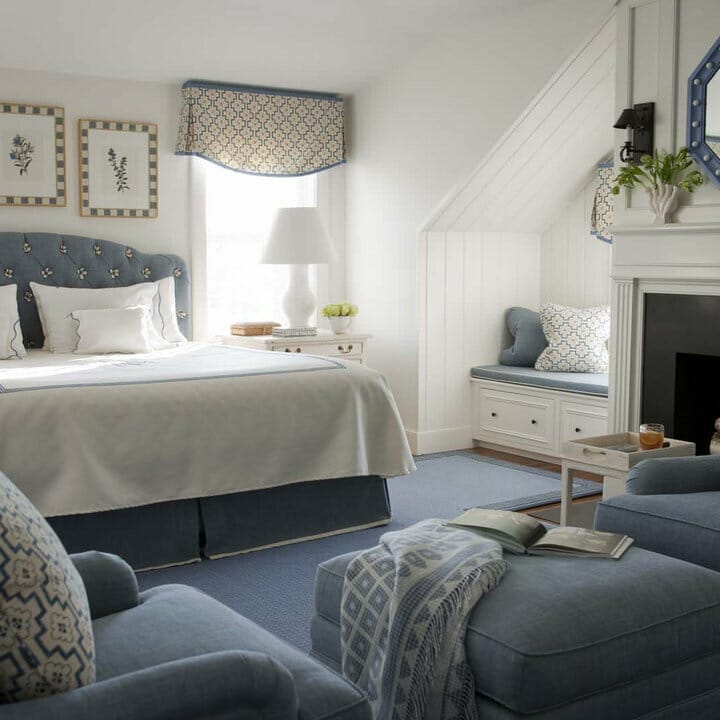 If you're into maximalism, duplicate this look. The slipcover bedding and shiplap walls give off a farmhouse look in seconds. Furthermore, patterns keep things attractive without overwhelming the interior.
The square ottoman, throw blanket, and upholstered armchairs let the seating area feel cozy. Additionally, the reading nook features a built-in bench with drawers. Meanwhile, the greenery and dainty blooms balance out muted colors.
13. Vibrant and Glam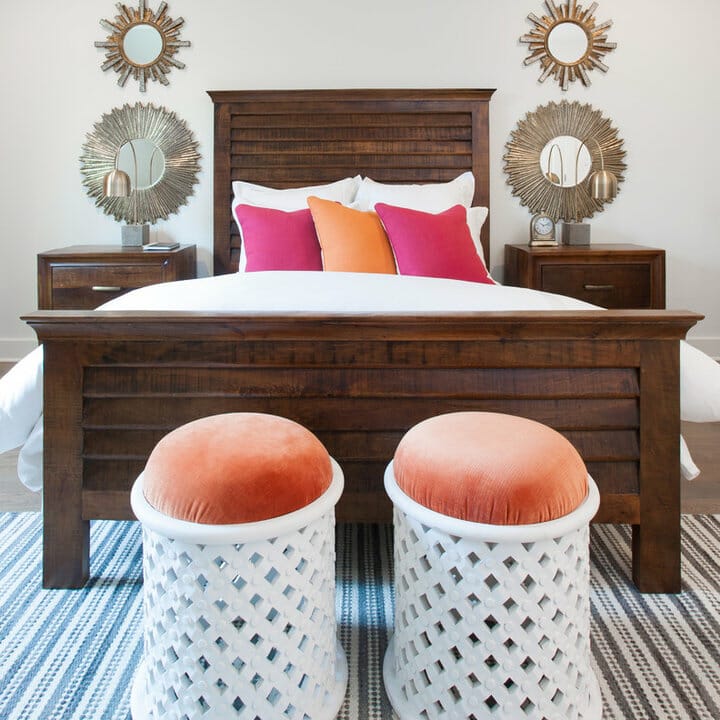 If you believe less is more, refrain from integrating many furniture pieces into the space. This sleeping area, for example, only boasts a wooden slatted headboard, stools, and bedside tables. It makes things seem more spacious while letting you move around easily.
Orange and pink accent pieces perk this woman's bedroom up. Furthermore, metallic lamps and sunburst mirrors behave as balanced elements. Moreover, the neutral printed rug anchors furniture while carrying extra interest.
14. Pink Meets Gray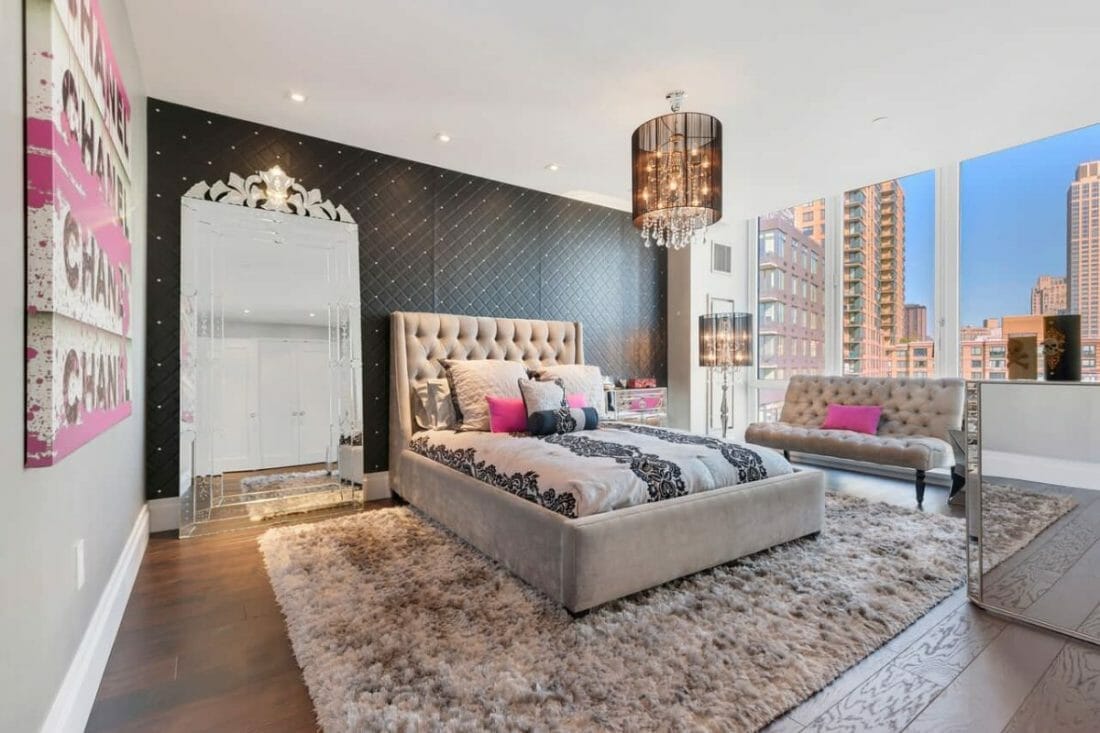 This is one of the superb bedroom ideas for women. The black feature wall infuses the mirror-filled space with drama. Meanwhile, the tufted bench and headboard deliver unmatched elegance.
Speaking of classy female bedroom decor ideas, you won't go wrong with pink accents. Here, the gray rug, furniture, and walls keep things from being too feminine.
15. Attic Bedroom Ideas for Women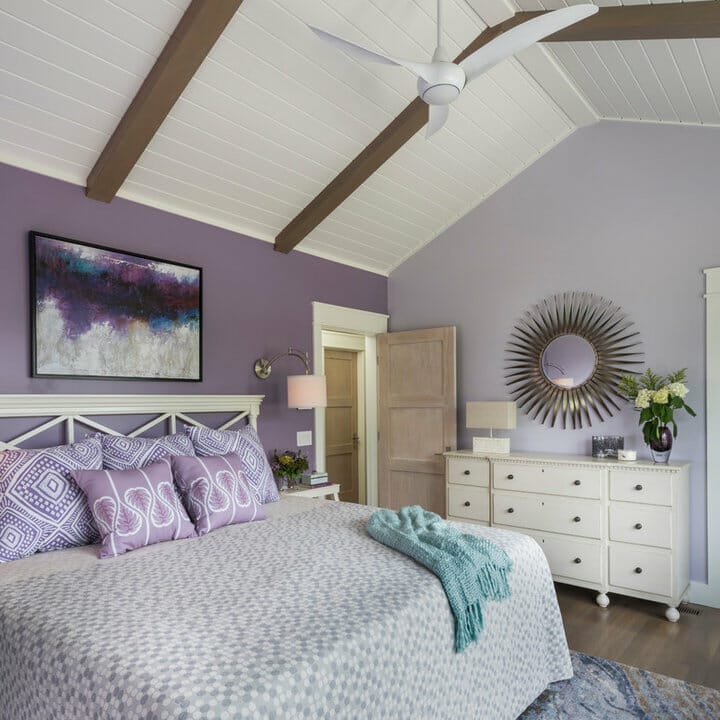 Not a pink person? If so, you should freshen up the bedroom walls with new coats of paint. Light and medium-toned purples preserve the interior's feminine feel here.
The abstract painting and contemporary printed throw pillows offer visual cohesion. Due to the sunburst mirror, the space seems glam, while floral arrangements soften the look.
16. Multifunctional and Mesmerizing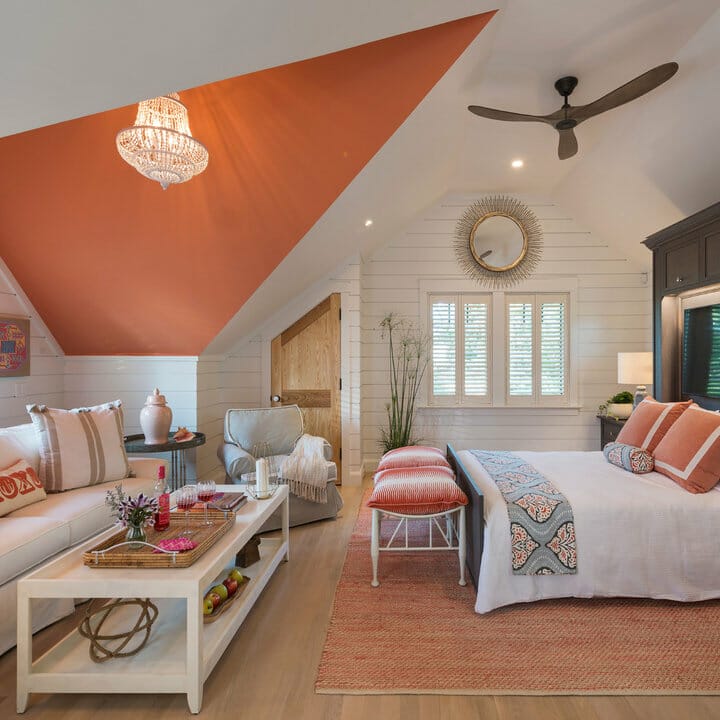 If you're into bedroom ideas for women, don't hesitate to embrace maximalism. There's a seating area complete with a long table, an armchair, and a loveseat sofa here.
The rug, ceiling, and throw pillows wear rust colors that keep the scene cozy. Additionally, the wooden bead chandelier, ceiling fan, and sunburst mirror finish things off.
17. Be Unique
I love the creative placement of the bed in this woman's bedroom. Also, the full-length mirror and tall windows elongate the space.
The plaid headboard, floral rug, and fireplace ensure the interior feels snuggly. Meanwhile, the crystal chandelier and white wingback chair preserve the bedroom's airy look.
18. Trendy and Graceful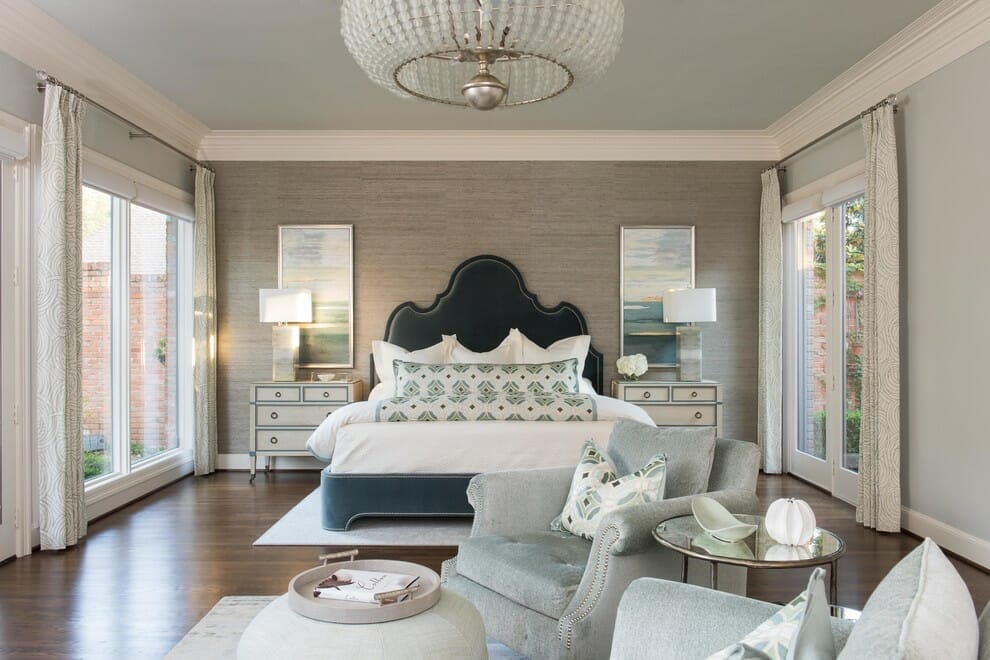 This is one of my favorite bedroom ideas for women. Not only does the sleeping area feel super cozy but also looks elegant due to the chandelier.
The charcoal gray bed carries a great dose of drama. Moreover, artworks, tables, and contemporary lamps introduce symmetry. Lastly, the printed bolster and throw pillows unify the room.
19. Bedroom Decorating Ideas for a Single Woman
Textured lamps and Moroccan mirrored bedside tables develop visual balance. They deliver equal parts sophistication and glam, too.
Touches of soft pink inspire femininity. Furthermore, gray units in this bedroom offset them. The wooden flooring and golden lines bring in warmth.
20. Green Meets Gray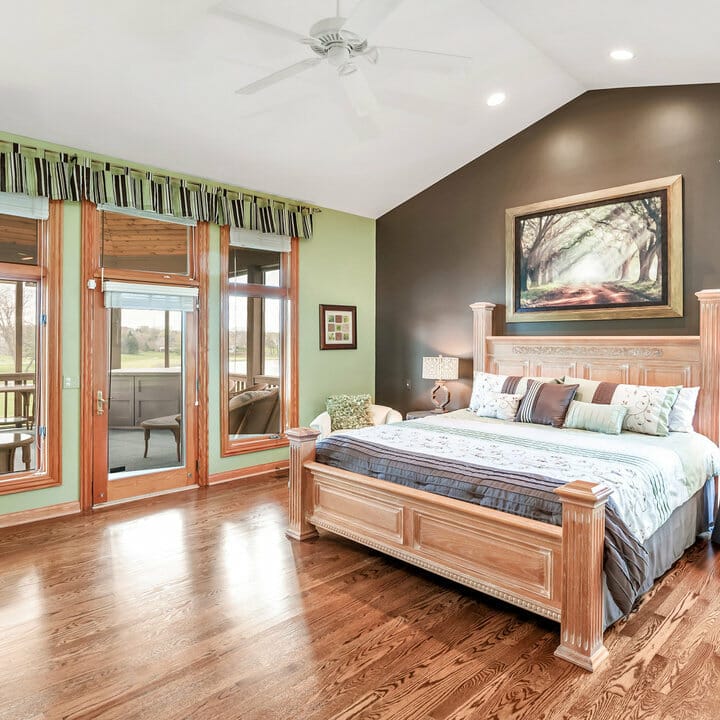 Talking about bedroom ideas for women, try using pastel colors. Here, green and charcoal gray adorn walls of different heights. Also, they generate interest while carving a serene environment.
The traditional wooden bed emphasizes statement but cohesive pillows. Furthermore, the painting and striped valances make the interior complete.
21. Beyond Pink
This is one of the incredible bedroom ideas for ladies. The crisp white vaulted ceiling and lavender purple walls produce a remarkable juxtaposition.
The custom bed, tables, and tall dressers emanate grandeur. Deep purple pillows represent elegance. Meanwhile, the arched window and cylindrical lampshades make the interior feel softer.
22. Bedroom Ideas for Women with French Doors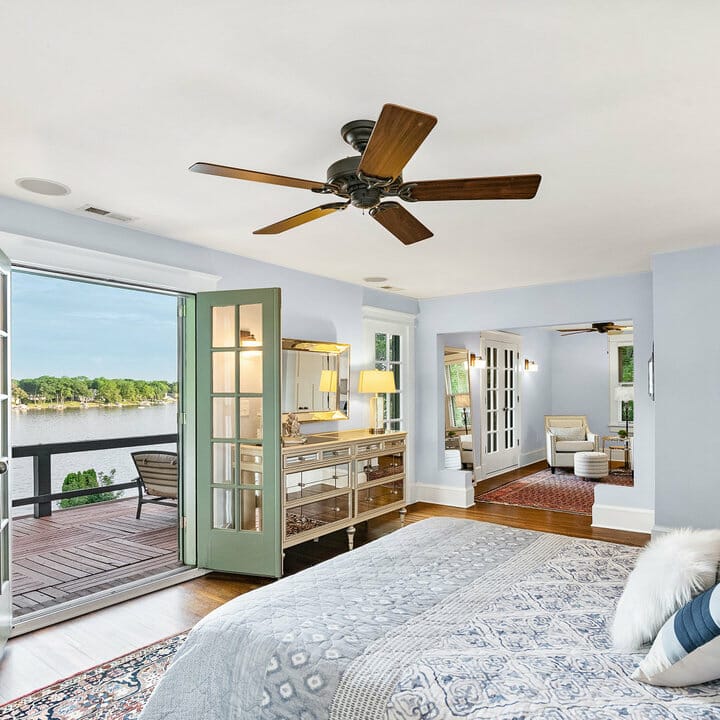 The powder blue walls keep things tranquil. Meanwhile, the bedding and rug give this woman's bedroom pops of classic patterns.
Sage green French doors direct the eye to the outdoor seating area. Furthermore, the wooden ceiling fan and flooring balance out mirrored objects.
23. Touches of Copper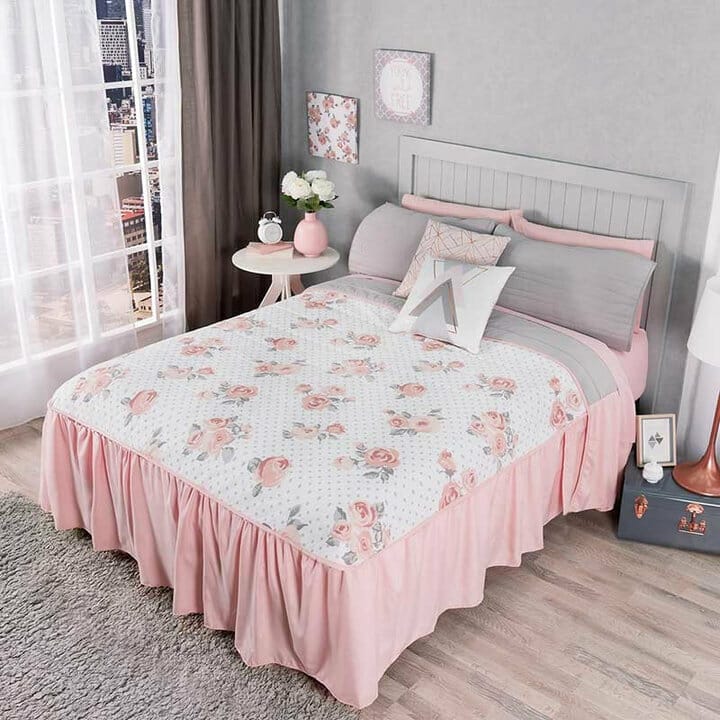 Are you an apartment dweller? If so, try keeping things minimal. Also, incorporate stunning patterns via the bedding and small artworks.
Here, light pink accents and white blooms brighten up the woman's bedroom. Moreover, dark taupe and gray ensure everything is balanced. Lastly, hints of copper radiate warmth.
24. Gray Bedroom Ideas for Women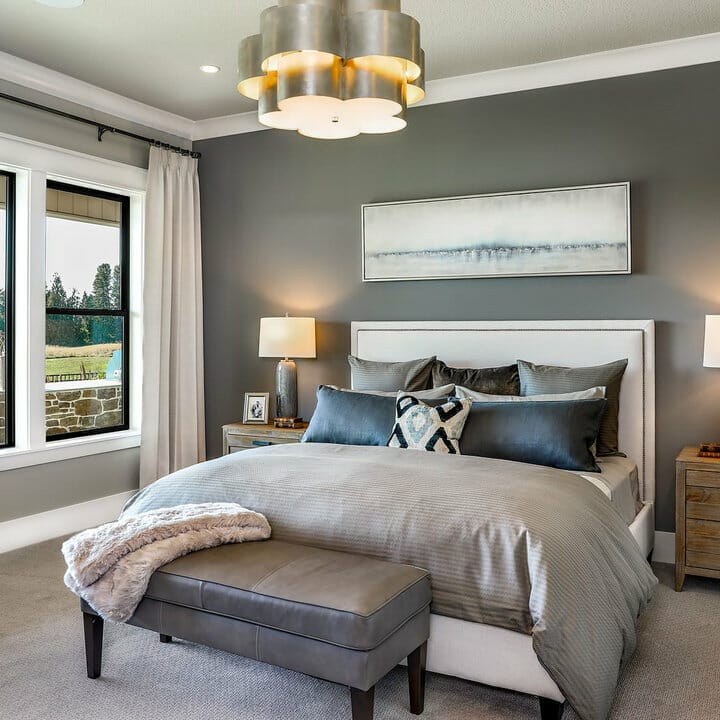 This master bedroom is ideal for any adult woman. Varying gray shades dominate the contemporary interior while delivering sophistication and dimension.
The flower pendant light and curtains make things appear softer. Meanwhile, the geometric pillow and statement artwork generate a sense of cohesion.
25. Airy and Cozy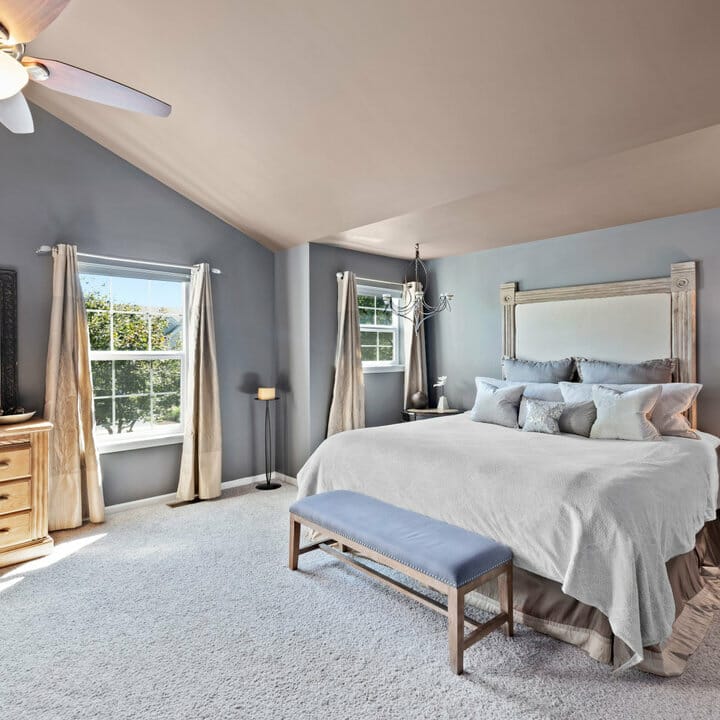 Light neutral shades and windows ensure this woman's bedroom doesn't lack airiness. Meanwhile, pillows imbue equal parts depth and interest.
Curtains adorn windows of different sizes while evoking coziness. Due to the slim chandelier and tall candleholder, the interior doesn't feel heavy.
26. Royal Master Bedrooms for Women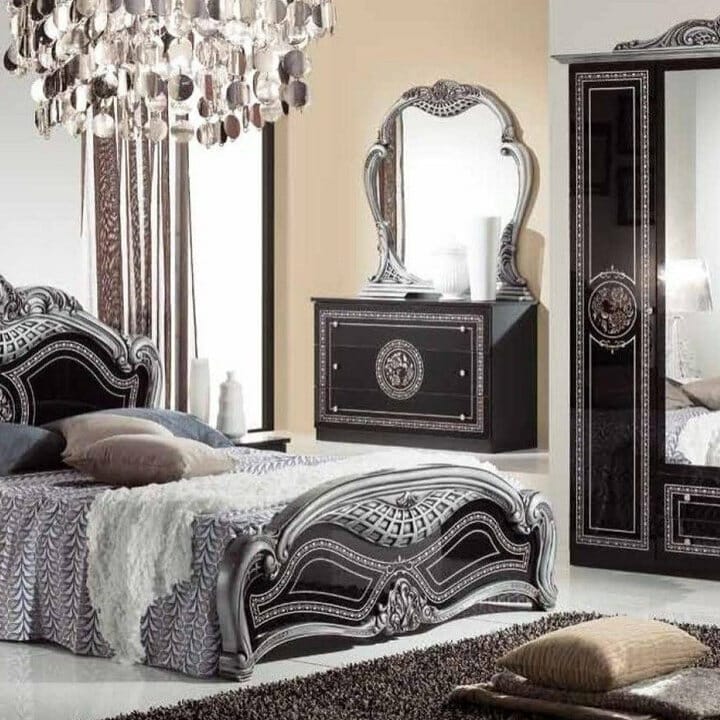 Don't be afraid to embrace moody hues. This royal-inspired bedroom, for example, boasts a black bed, makeup vanity, and cupboard.
The ornate mirror and metallic chandelier heighten the glam feel of this woman's bedroom. Meanwhile, light-toned textiles keep things balanced.
27. Bedroom Ideas for Women with Reading Nooks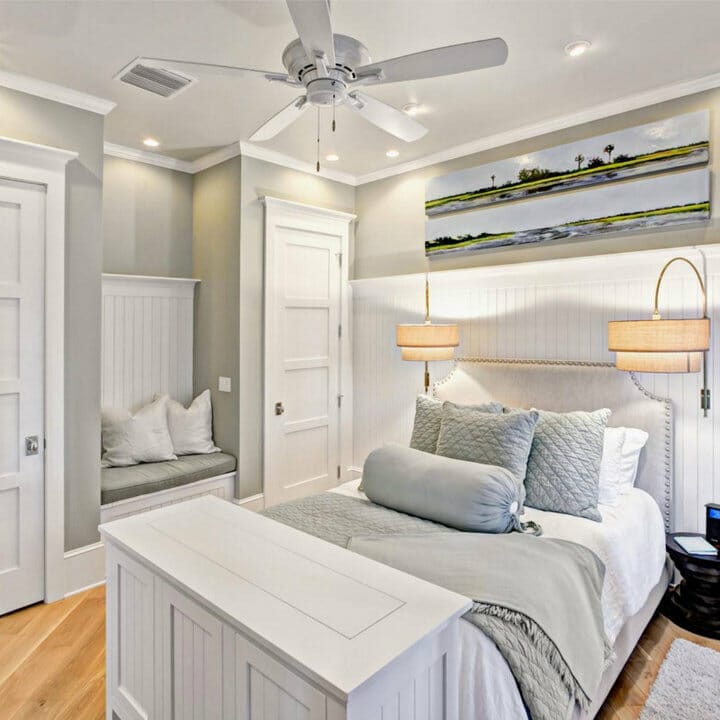 This woman's bedroom is such a serene and bright oasis. Grays harmonize with crisp whites here. They create a bit of depth, too.
The reading nook lets you read books before bed. Meanwhile, the flooring and grasscloth lampshades generate a cozy feel. Lastly, the full-width painting infuses touches of perky color.
28. Timeless Pieces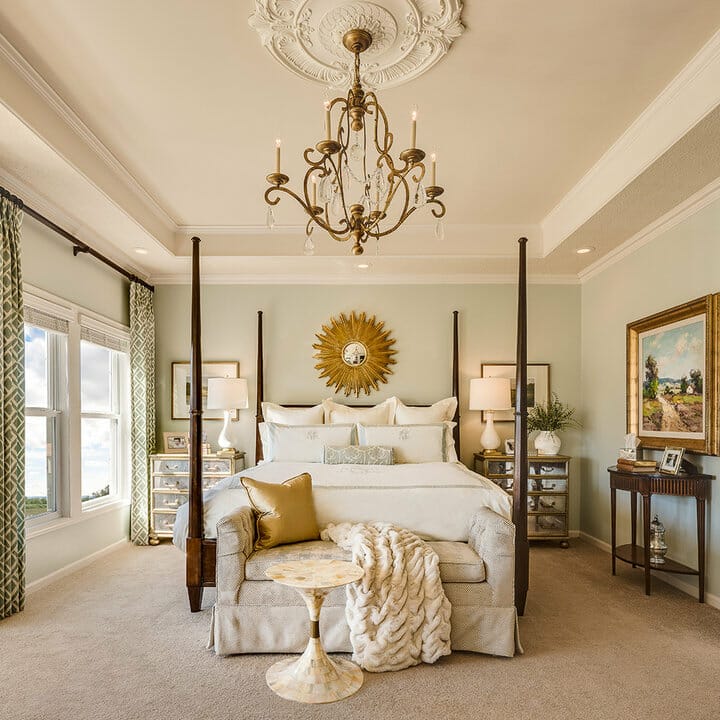 The homeowner chose to include classic pieces like a sunburst mirror and a four-poster bed. They carry lots of character while producing symmetry.
Printed curtains fit in with light gray walls. Mismatched bedside cabinets deliver interest. Moreover, gold accents radiate glam, while arches and circles soften the look.
29. Crave for Drama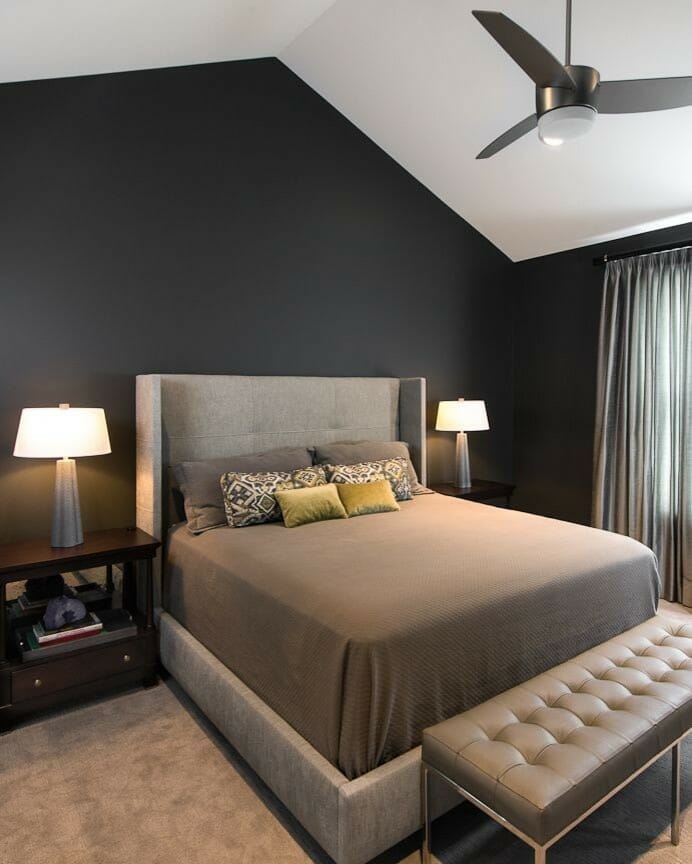 If you're after a moody space, this is one of the bedroom ideas for women to try. Charcoal gray and deep brown deliver some drama here.
Yellow and printed decorative pillows make the scene more interesting. Meanwhile, metallic lamps and light curtains carry an airy edge.
30. Maximalism Won't Hurt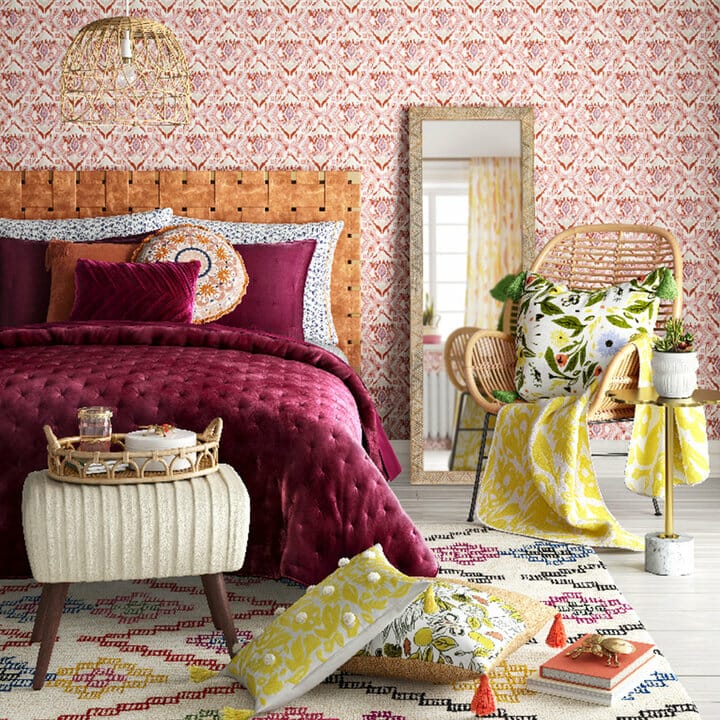 This picture proves maximalism can be equal parts clutter-free and charming. Moreover, magenta red and burnt orange pieces keep things warm.
The wondrous wallpaper anchors the leather basketweave headboard and a jute mirror. Additionally, touches of yellow make you happy. Meanwhile, bohemian elements generate tons of personality.
Regardless of the age, those bedroom ideas for women are worth replicating. They keep you from being overwhelmed due to their spectacular design inspiration. Try any of them and create a sleeping area of your dreams.