The white color palette remains a popular choice for the bathroom. This chalky shade lends the bathing space a clean setting. If you want its ambiance, have a read at my astonishing white bathroom ideas below.
Since the white bathroom is usually synonymous with a dull space, I am going to break that misconception. Here, I collected white bathrooms that are far from cold.
1. Small White Bathroom Mirror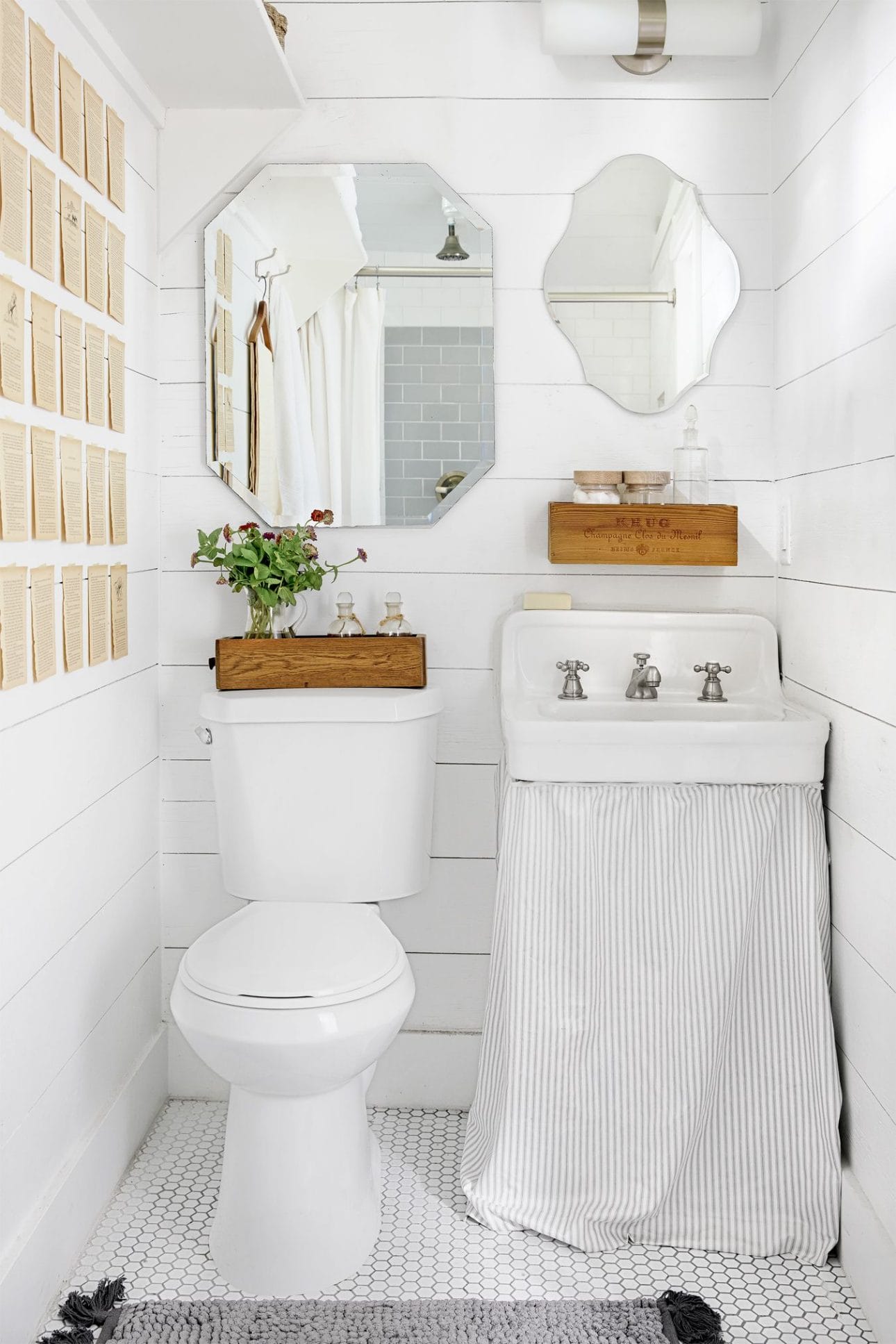 White shiplap walls generate a farmhouse feel. Gray-grouted penny tiles bring a wow factor to the powder room.
Frameless octagon and shapely mirrors make the space appear bigger than it truly is. Potted greenery and wooden boxes keep the room from being stark.
2. White and Gold Bathroom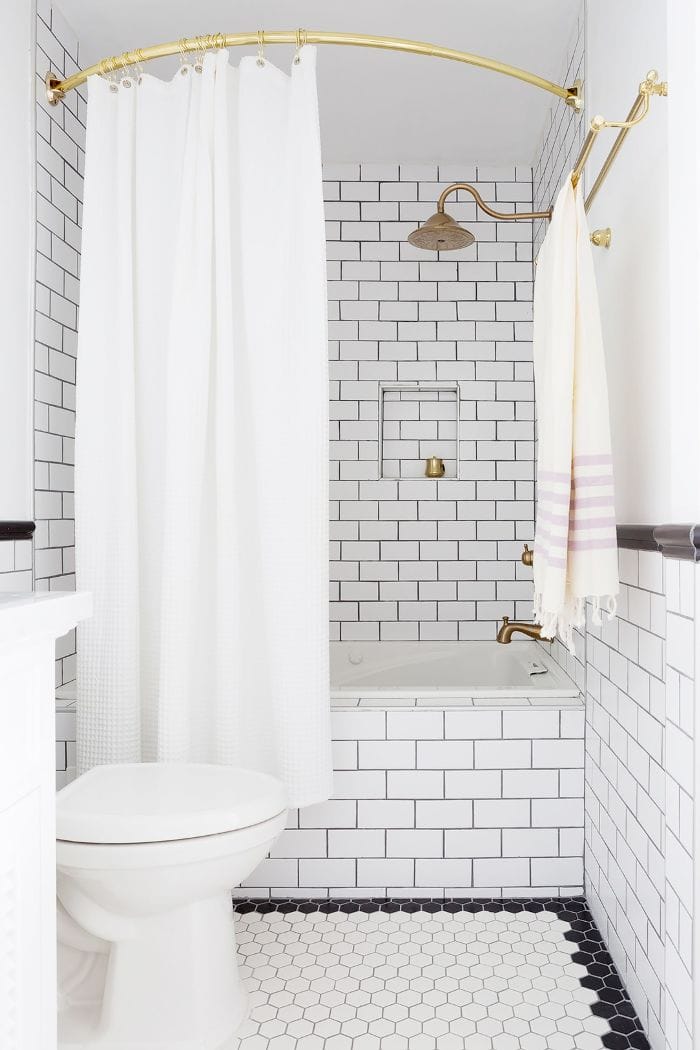 As seen in the image, subway and hexagon tiles come in pure white. Not only do they visually expand the bathroom but they also offer character.
Black accents exude a dash of drama. Gold curtain rod and shower fixtures contribute to the room's lavish setting.
3. White Bathroom Vanity Mirror
The shower walls are sheathed in white subway tiles. They produce a contemporary flair, while penny floor tiles create visual interest.
Black polished slate-tiled floor and wrought iron hardware ooze masculine energy. Lastly, a black-framed vanity mirror provides a sense of depth.
4. White Bathroom Tile Ideas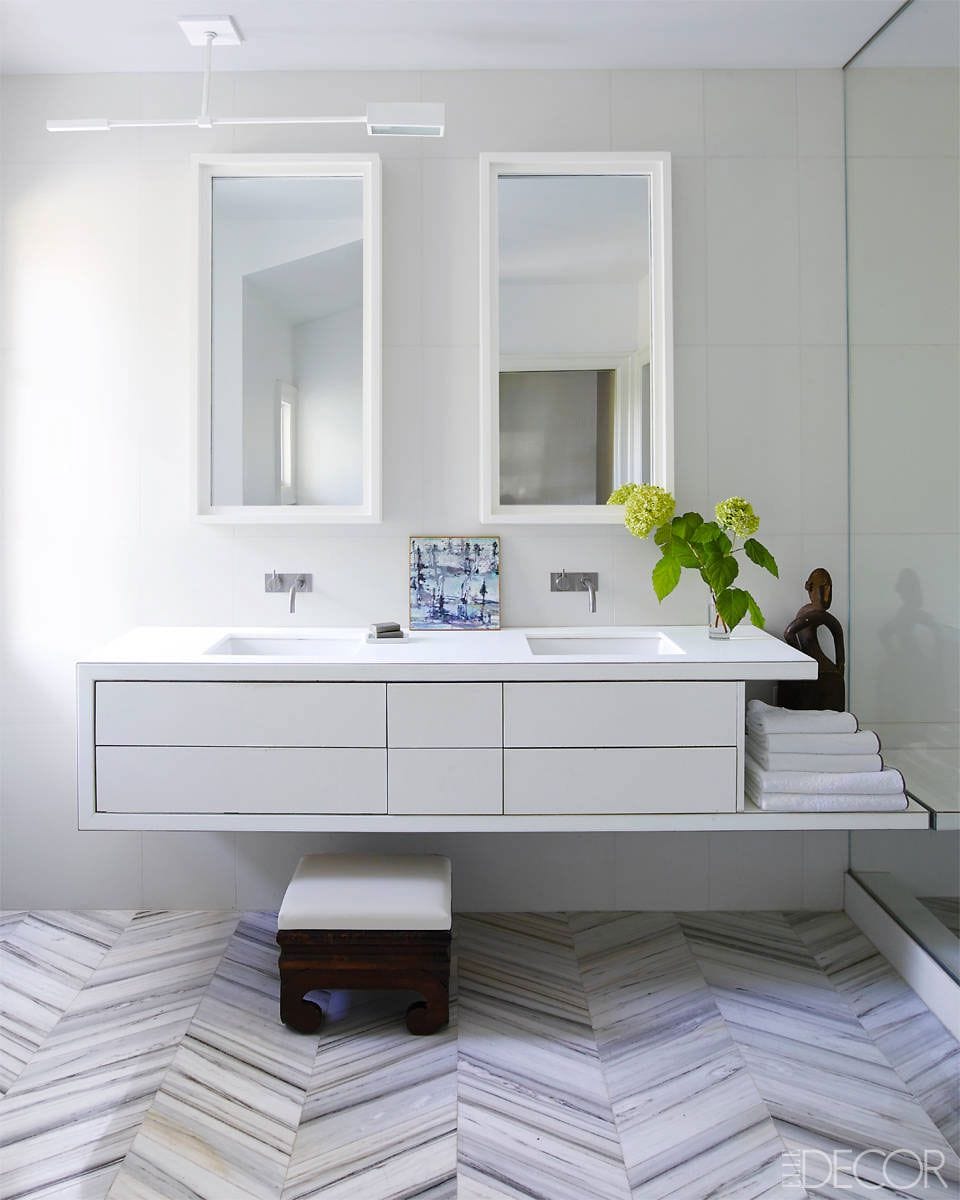 The handleless floating vanity comes with an open shelf. It accommodates an ornament and folded towels. Two sinks, faucets, and mirrors allow the homeowners to brush their teeth at the same time.
Chevron-patterned marble floor tiles draw the eye in a moment. Houseplant and framed artwork spruce things up.
5. White Bathroom Vanity Modern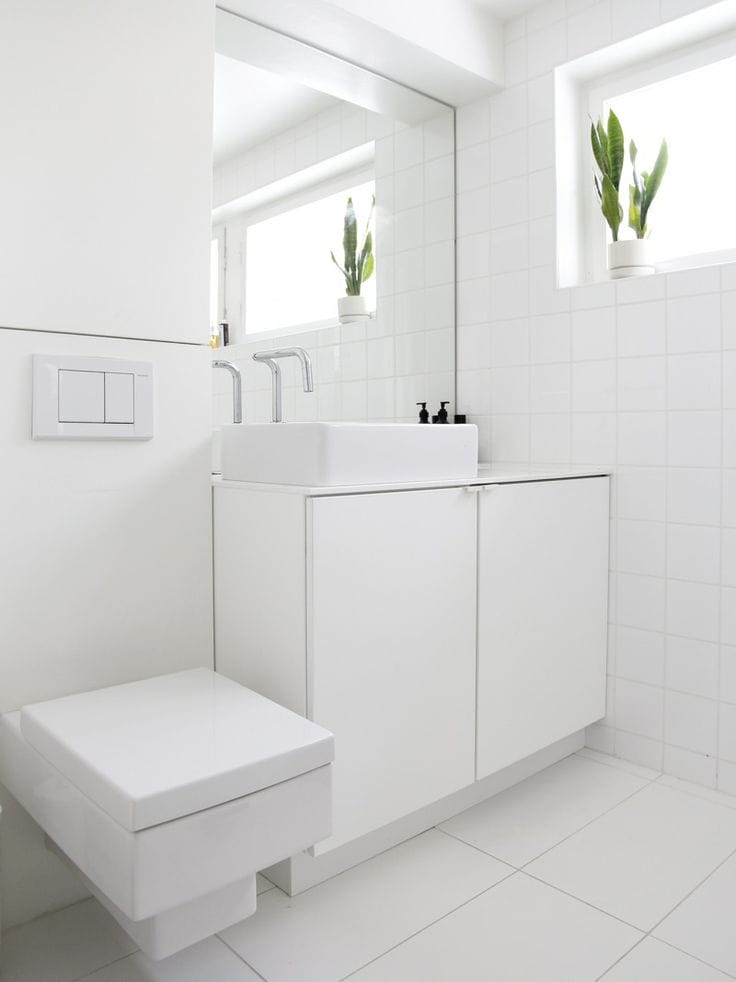 Pure whites rule this powder room. That is the reason why the space is light, airy, and spotlessly clean at once.
Well-defined lines of vanity, toilet, and tiles project a modern design. Meanwhile, the indoor plants enliven the scheme.
6. White and Wood Bathroom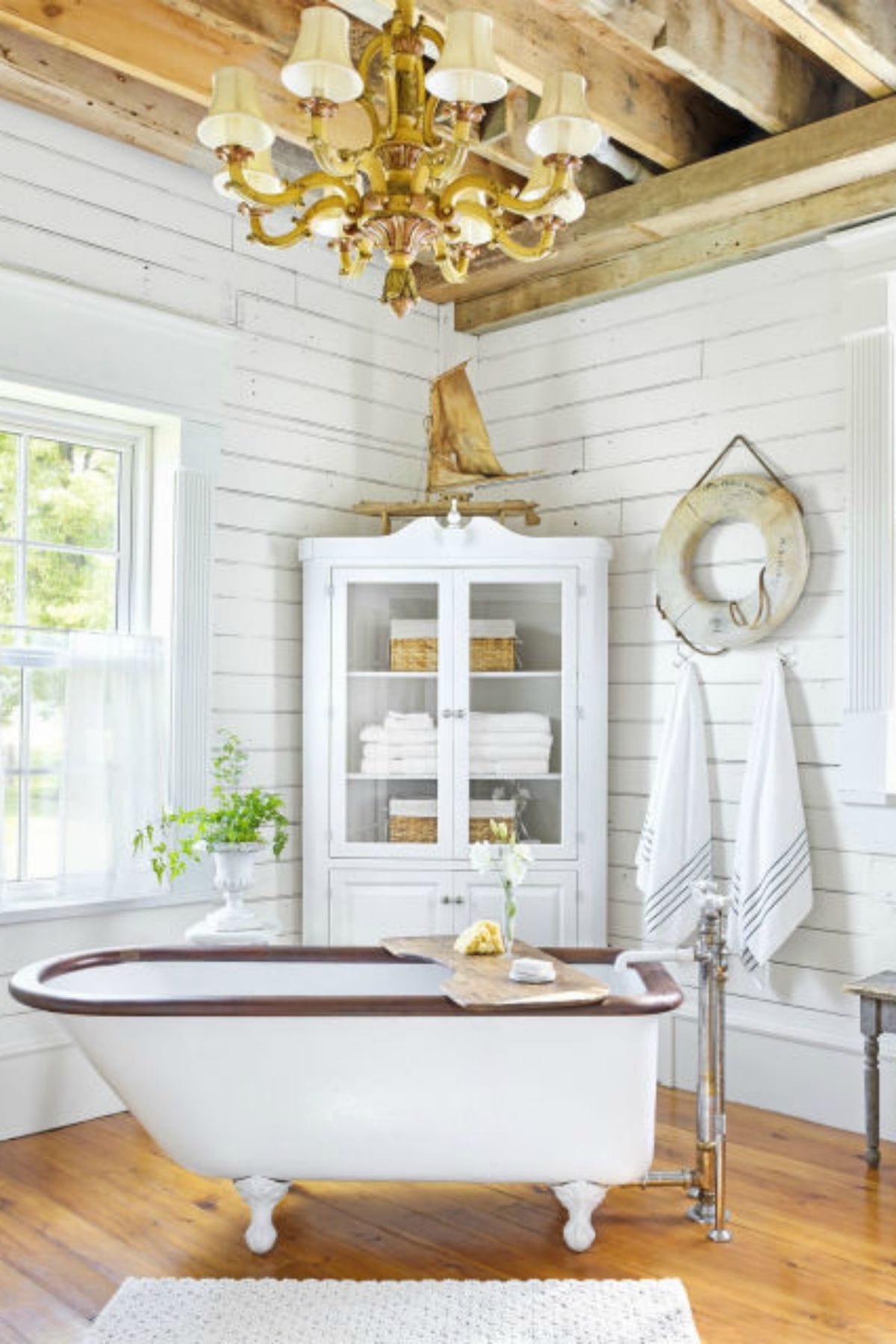 White corner display cabinet, roll-top bath and shiplap walls reinsure the space with country charm. Double-hung windows add lots of sunlight to the area.
The wood beams, floor, and bath tray infuse unparalleled warmth into the otherwise plain bathroom. A brass chandelier provides superior lighting.
7. White Bathroom Cabinet with Drawers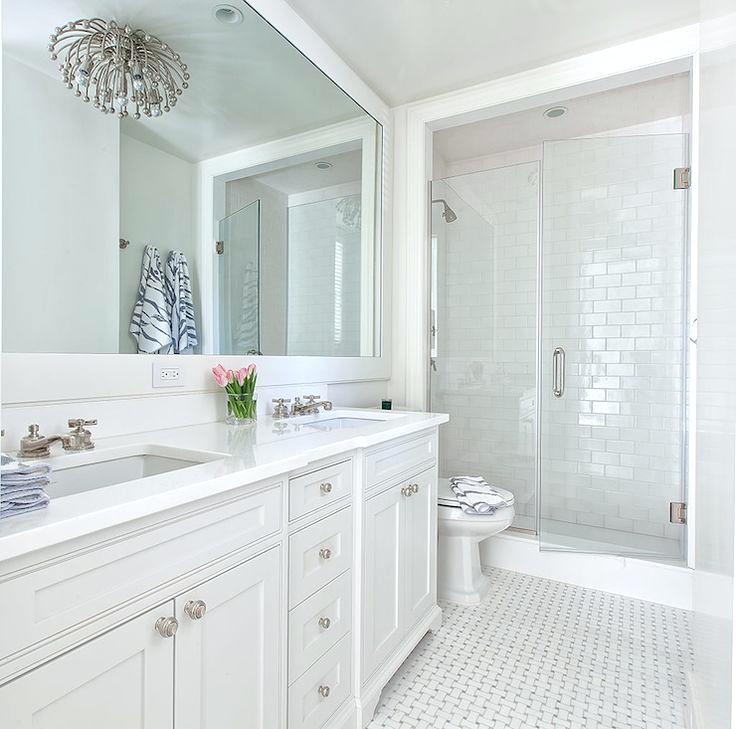 In this bathroom, subway wall tiles are teamed with basket weave marble floor. Frameless glass shower door emanates a touch of stylishness.
The white vanity features drawers with chrome knobs. Flowers naturally embellish the room, while the ceiling light acts as a showstopper.
8. Traditional White Bathrooms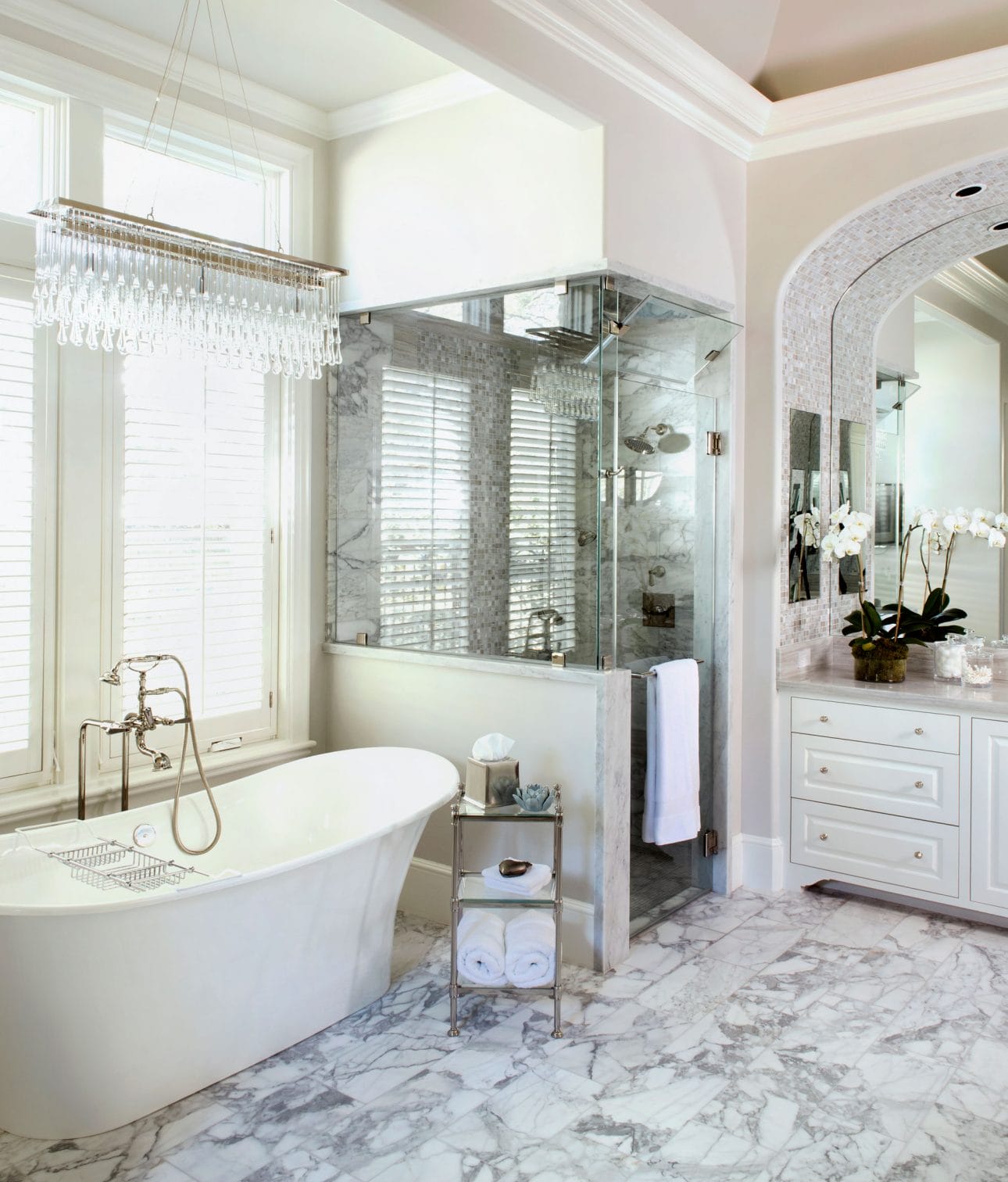 The arched wall, oval tub, and fittings lend the bathroom a classic appeal. Glass shower enclosure and wide pendant chandelier emanate a modern vibe.
Freestanding unit and white cabinet hold bath necessities. Marble tiles, beiges, and flowers prevent the space from becoming too meh.
9. White Tiled Bathroom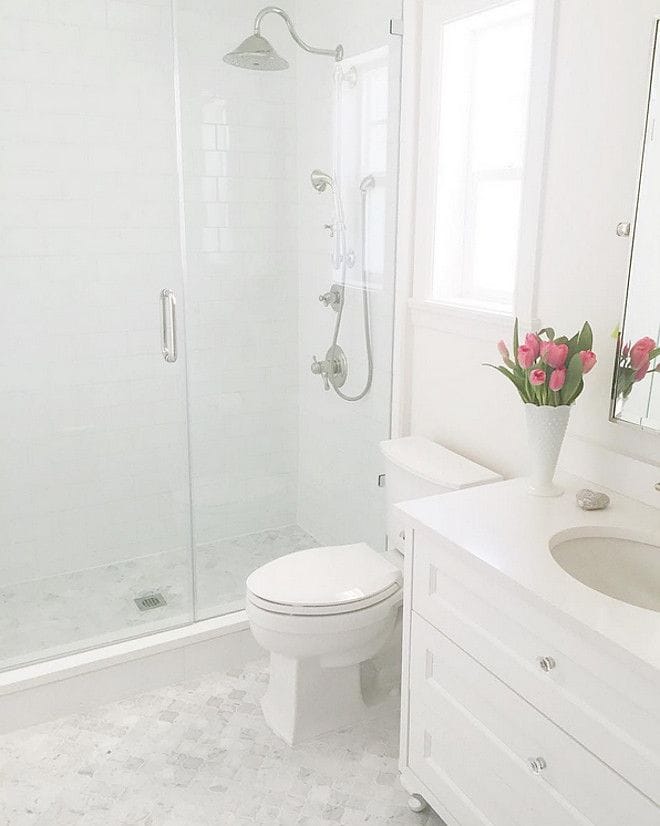 Window and a glass panel promise an airy environment. Marble tiles cover the floors in a herringbone pattern.
Chrome shower fixtures deliver a pop of polish to the space. Mirror helps the bathroom look larger. Pink flowers evoke a feminine feel.
10. White Bathroom Ideas Pinterest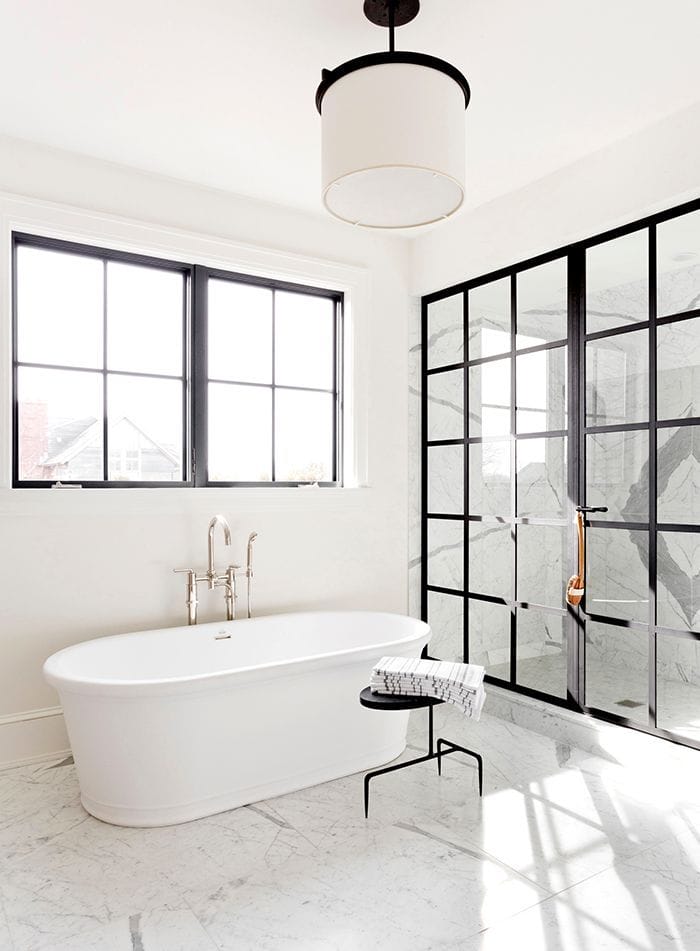 This trendy bathroom is mostly dressed in crisp white. The color palette visually expands the space.
Black steel-framed windows, doors, and stool instill an industrial flavor. Marble, chrome, and brass elicit an air of opulence.
11. Small White Bathrooms with Shower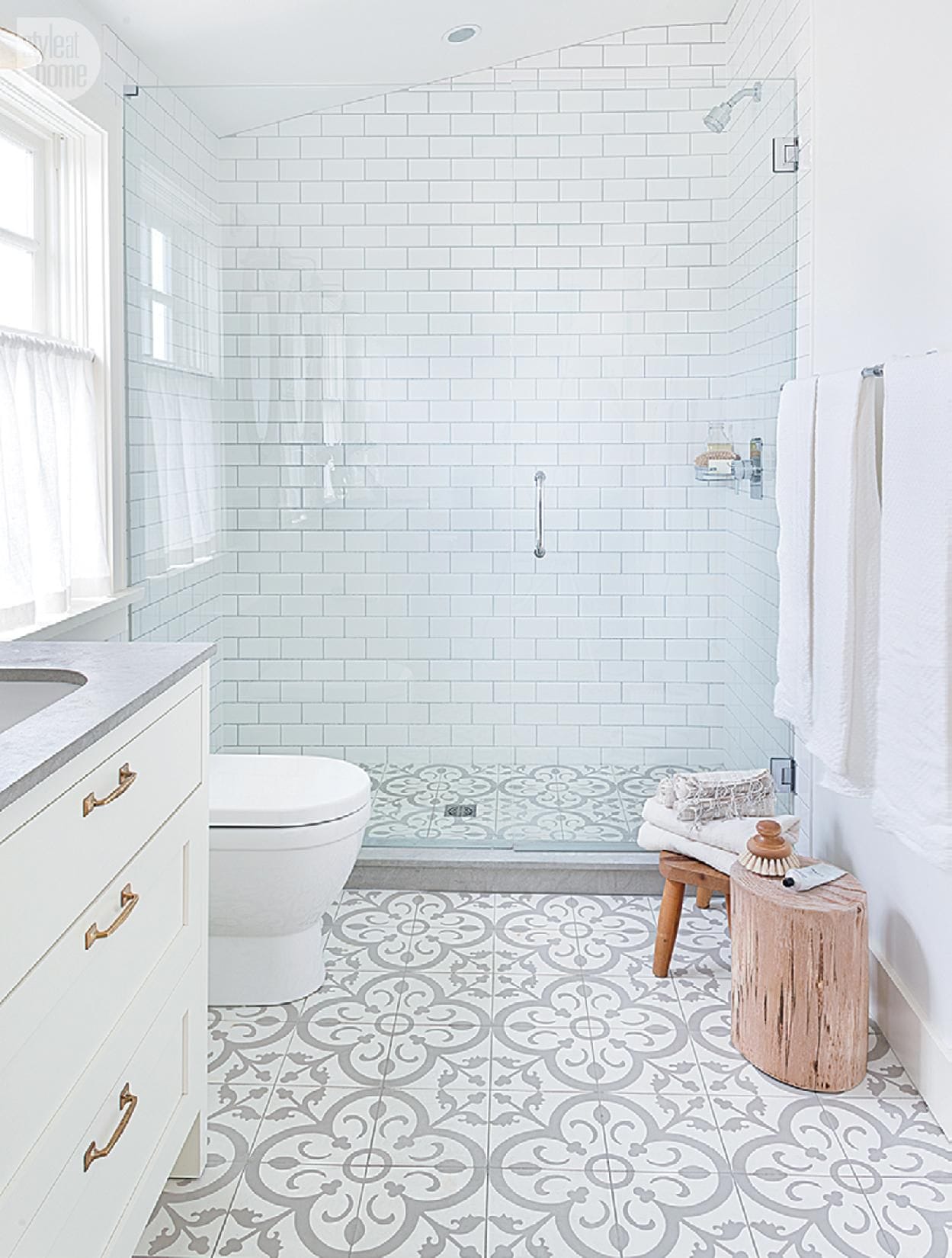 As you can see, the white subway tiles are horizontally laid on shower walls. Gray and white patterned floor tiles take the bathroom from plain to pretty.
The white cafe curtain offers a sense of privacy. Wood and gold accents impart a welcoming ambiance.
12. White Bathroom Accessories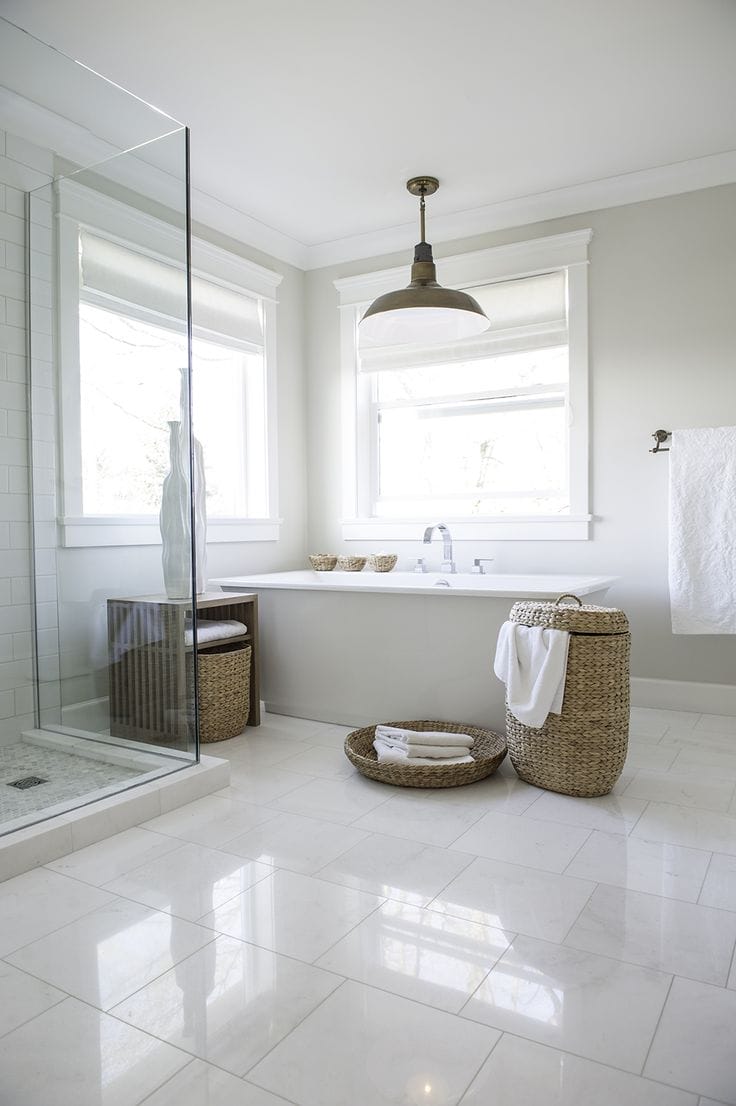 Here, off-white polished porcelain tiles exude the feelings of softness and luxury. Windows allow the sunlight to enter the bathroom.
Rattan tray, baskets, and accessories give the space rich texture as well as personality. An antique brass pendant light casts a bright glow.
13. White and Gray Bathroom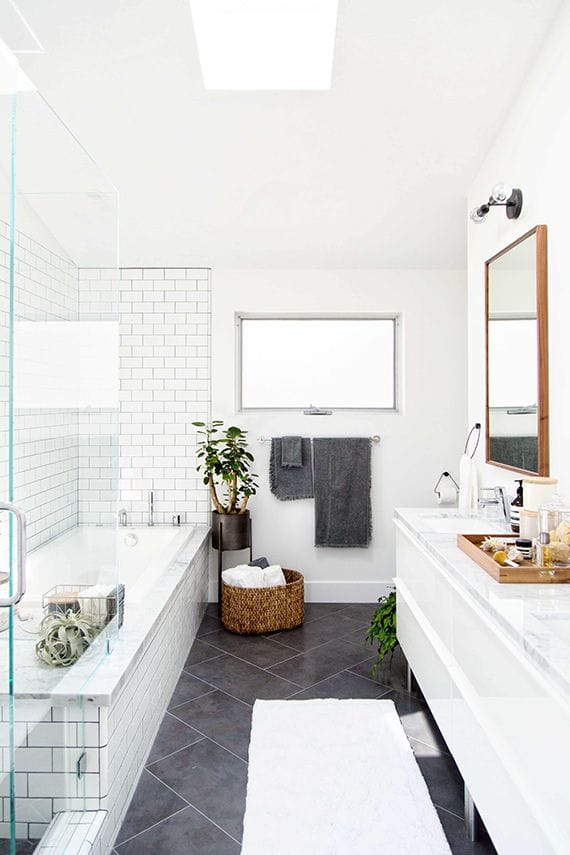 Well, this bathroom is such a legit sanctuary. It is bathed in sunlight, thanks to skylight and window. Wood and rattan accents lift the cozy vibe.
Dark gray floor tiles and towels contrast strikingly with the whites. Lastly, potted plants purify the air.
14. White Bathroom Ideas Photo Gallery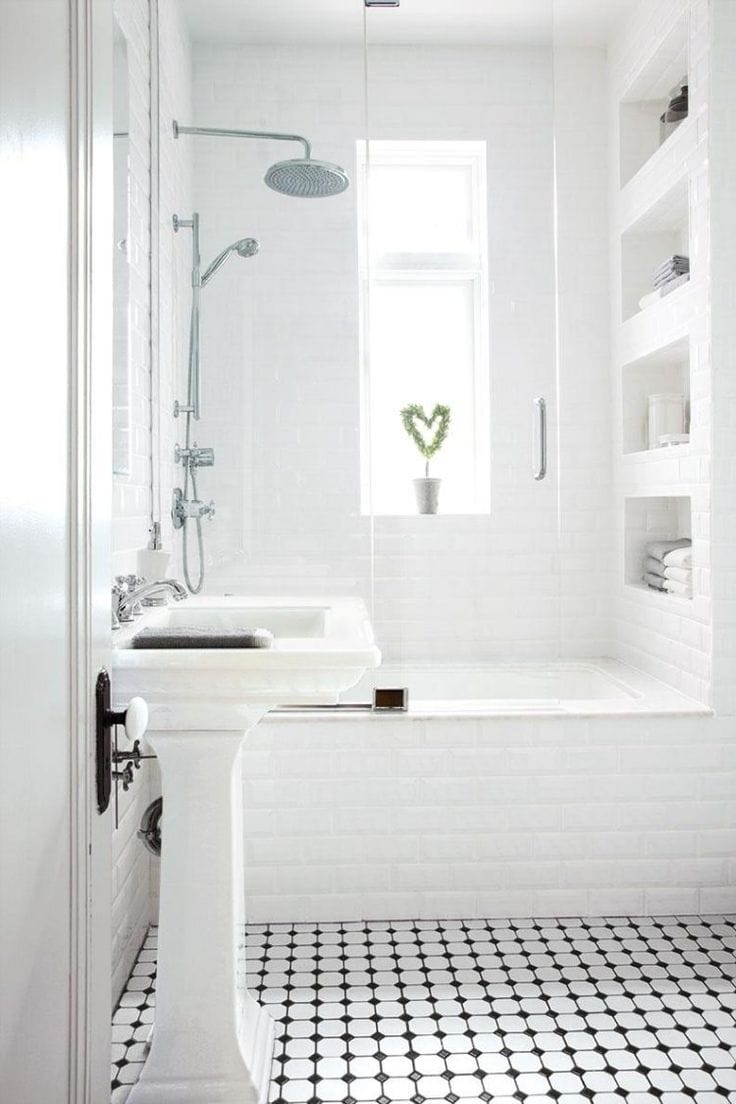 White's predominance emanates a sense of purity. Black and white floor tiles steal the spotlight in no time. Wall niches house bath essentials. The greenery naturally injects a splash of color into the bathroom.
15. White Bathroom Vanity Lowes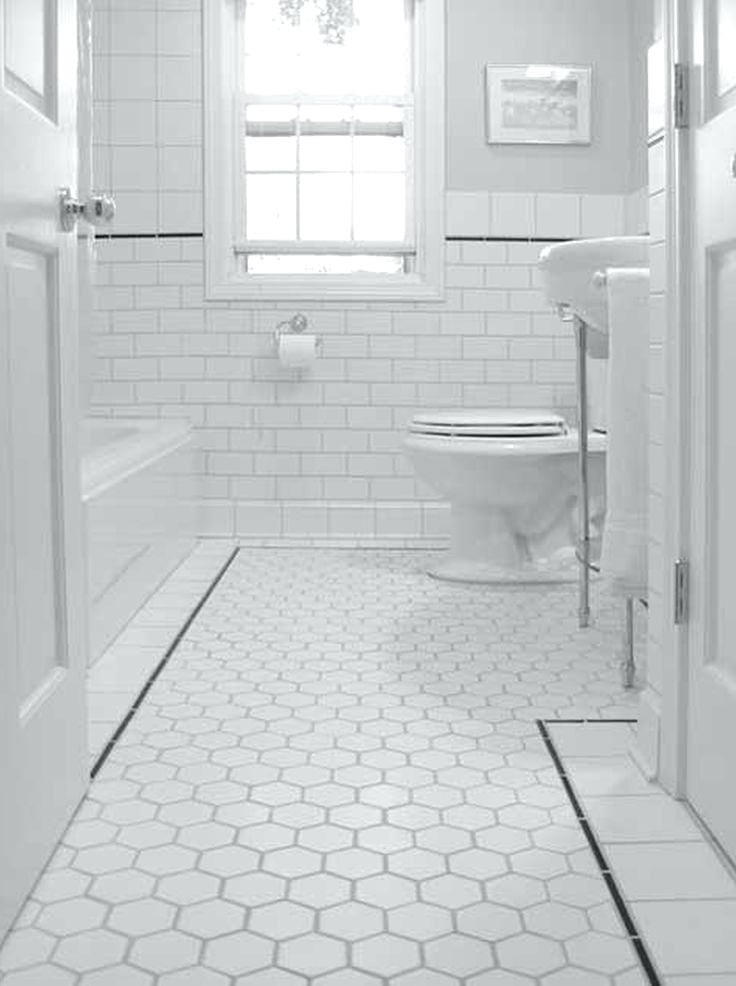 White rectangular and hexagon tiles gather in this bathroom. They bring depth and visual appeal to the interior. Console vanity from Lowes and tissue holder both carve a vintage feel.
16. White Bathroom Floor Cabinet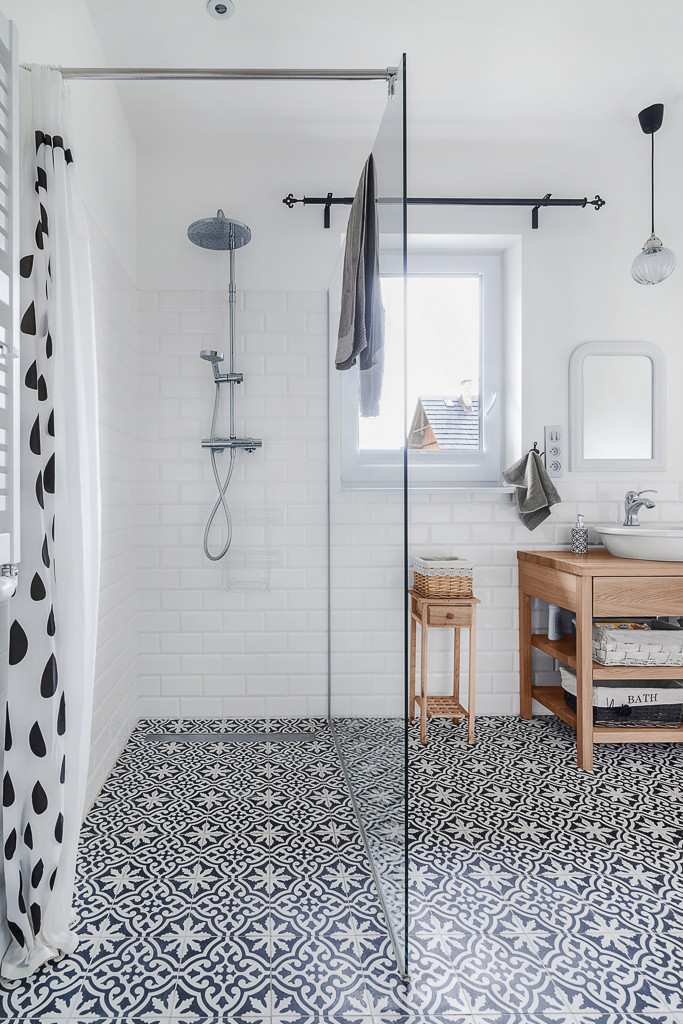 Both white subway tiles and grout lines create a seamless look. The patterned floor tiles set Moroccan vibes.
A monochrome shower curtain evokes a feeling of cohesiveness. Raw wood floor cabinet and freestanding unit make the space more inviting.
17. White Bathroom Cabinet Ideas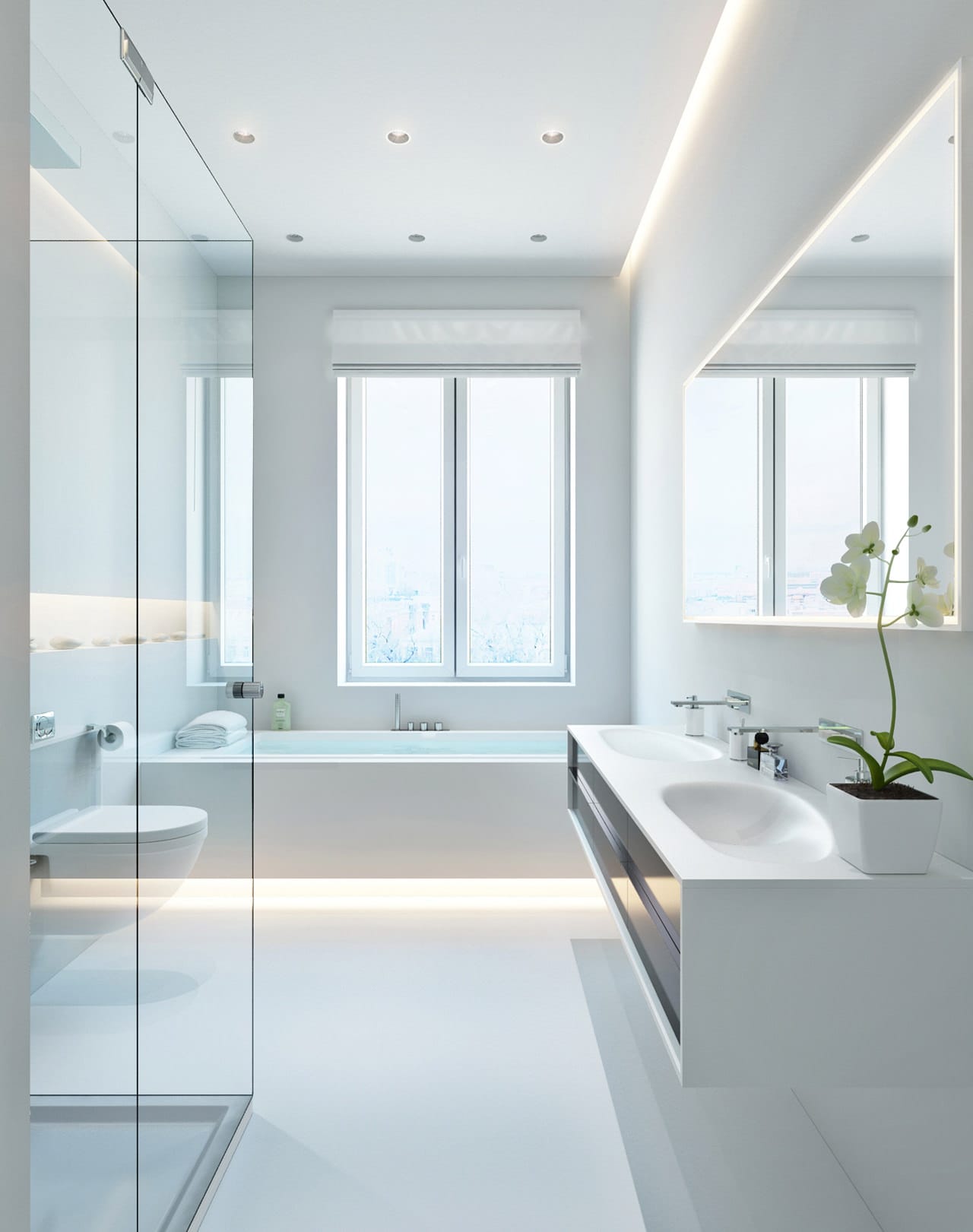 This bathroom has a minimal design. It employs a floating toilet and vanity. The black hardware-free cabinet hides unsightly items.
Moreover, an illuminated mirror creates the perception of added space. The flowers transform the room into a spa-like retreat.
18. White Bathroom Cabinet Wall Mounted
Varying shades of white are used throughout this bathroom. They make the space bright and serene. Wall sconces emit a calming glow.
Brown towels and woods maintain the room's warm aura. Lastly, wall-mounted cabinets keep the clutter at bay.
19. White Bathroom Mirror with Shelf
The homeowner combined marble subway tiles and basketweave floor with tiny black dots to get gorgeous details. Two mirrored cabinets and open shelves provide ample storage space.
20. Modern White Bathroom Ideas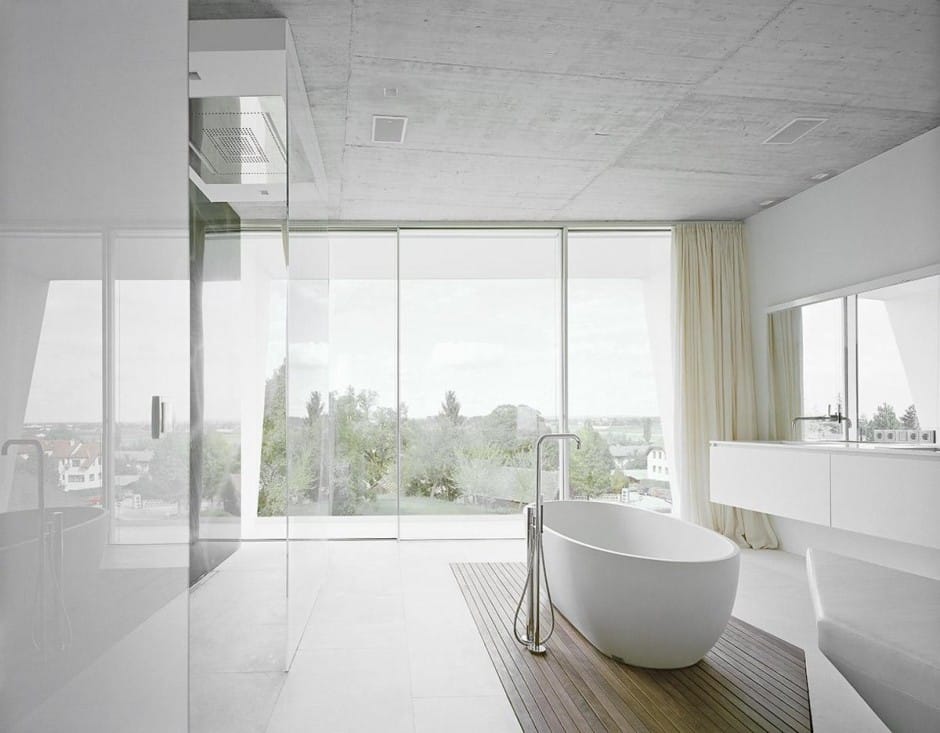 Here, white walls and floors are a lovely contrast to the wooden bath mat. The floor-to-ceiling windows prevent bather from wasting magnificent outdoor views. An oval tub softens the room dominated by straight lines.
21. Small Gray and White Bathroom Ideas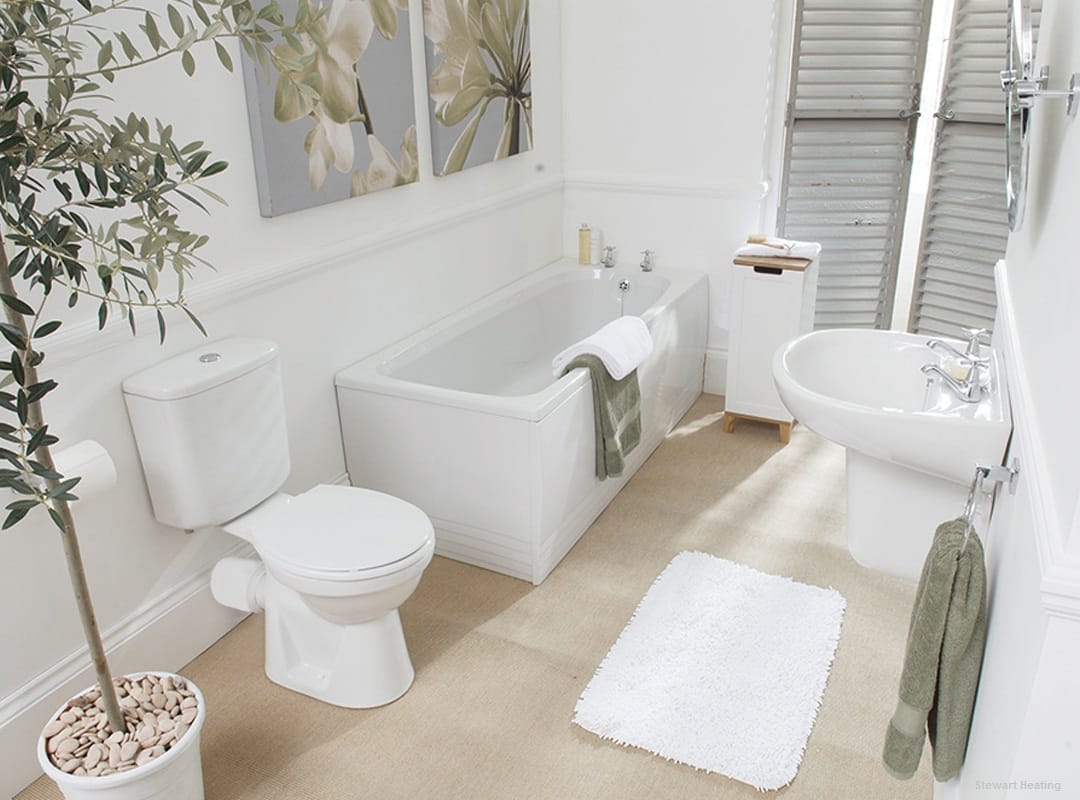 Gray shutter doors and wooden floor celebrate rustic aesthetic. The houseplant and moss green towels keep the space from looking too monochromatic. Two floral artworks bring the room together.
22. White and Silver Bathroom Ideas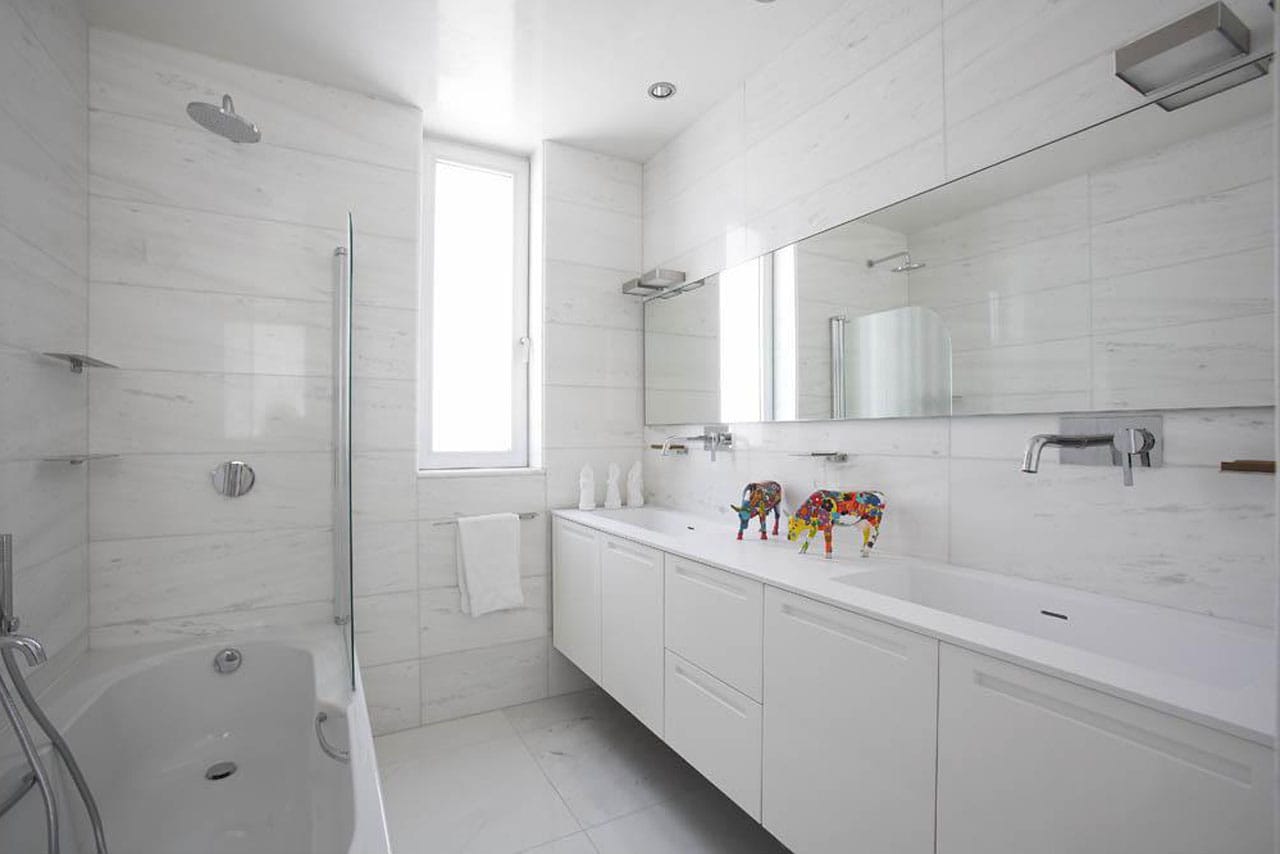 Rectangular marble tiles infuse ageless style and everlasting luxury into the bathroom. Silvery details lend the interior an industrial edge. The decorative items on countertop add pops of bold color to the area.
Those white bathroom ideas encourage you to go on the bright side. With the right decor, patterns, and materials, your mostly white bathing space can be welcoming as well as open.