Standup showers, also known as walk-in showers, are practical and can fit in with any bathroom despite the size. Furthermore, they can make the space look stylish.
If you are in quest of inspiration, check out these standup shower ideas. They provide some tips on lighting, layout, storage, tiles, and anything that will make your small or spacious bathroom look striking.
1. Kid-Friendly Standup Shower Ideas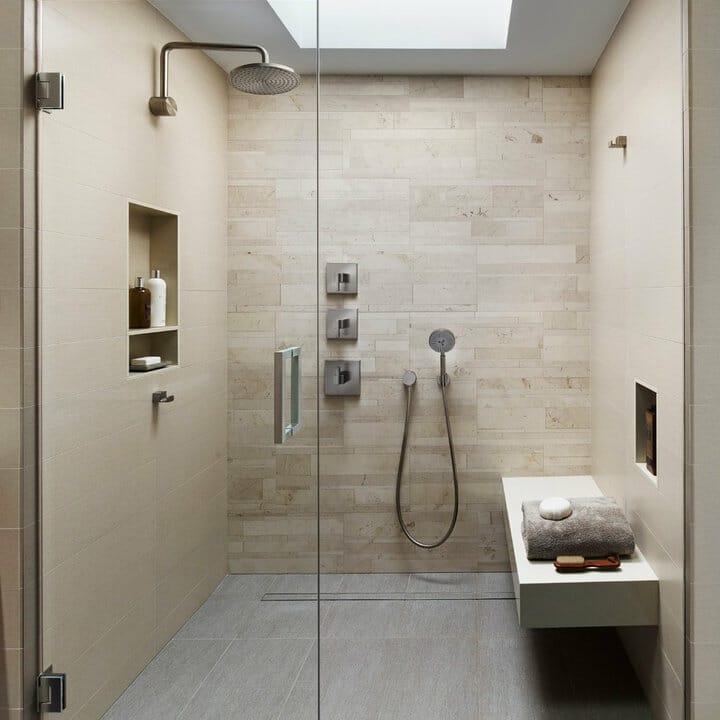 You have to share the same bathroom with your kids sometimes. Then, you need to consider the layout of the shower. Because you must make sure that your kids can reach it.
These standup shower ideas can be your safe bet. It has two different showerheads, and they are not at the same heights.
One of them is a wall-mounted showerhead installed close to the ceiling, allowing kids and adults to wash their bodies thoroughly.
You can also find another showerhead installed at a lower height next to the built-in bench. The hose makes it flexible. More importantly, your kids can reach it.
This shower enclosure also features two built-in shelves that you can use to host soap and shampoo.
2. Standup Shower Ideas with Window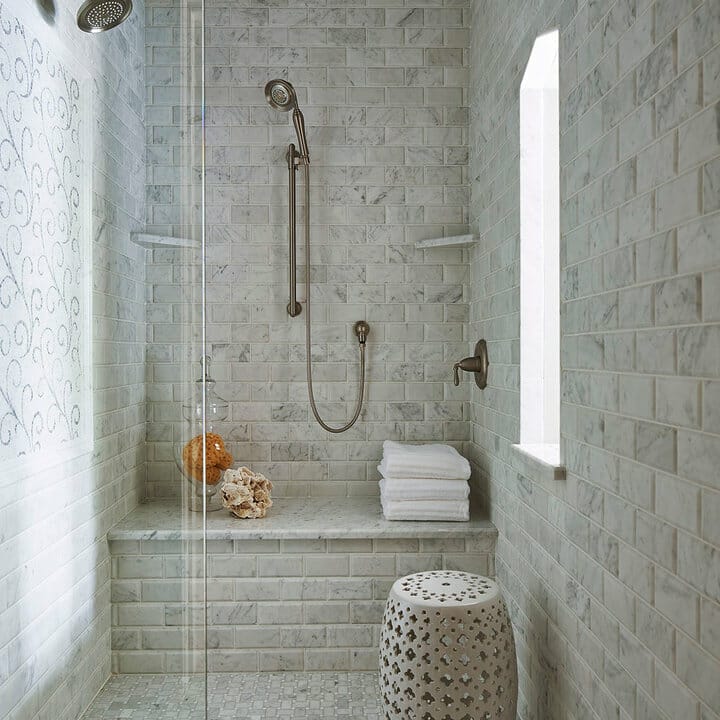 If you struggle with space, these standup shower ideas should be on your list.
As a guideline, white is your go-to color when it comes to a small space. It will make your shower room clean and airy while expanding it visually.
A window is a perfect match for white hues in limited space. This combination can give your shower room an open and airy effect.
Consider keeping down the window treatment to a minimum. Even better, you can forgo it whatsoever so that the natural light can come into the space.
Since it is a bathroom, your ultimate privacy is still the top priority. Therefore, you can earn it by installing frosted glass or window film.
3. Modern Stand up Shower Ideas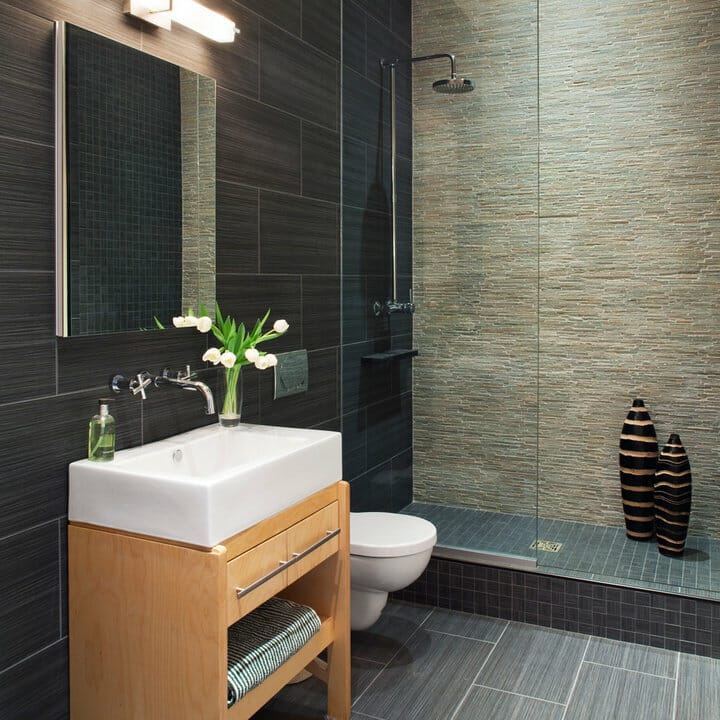 The modern style is always synonymous with a minimalist look, which embodies that popular saying – "less is more".
These standup shower ideas are what you need to carve out this style. First, think about the color scheme that you will apply. Neutral hues and monochromes have always been top-notch.
This bathroom, for example, features large black tiles covering the wall and continuing to the shower chamber.
You can also find a faux stone wall that adds appealing pattern and texture.
4. Luxurious Standup Shower Ideas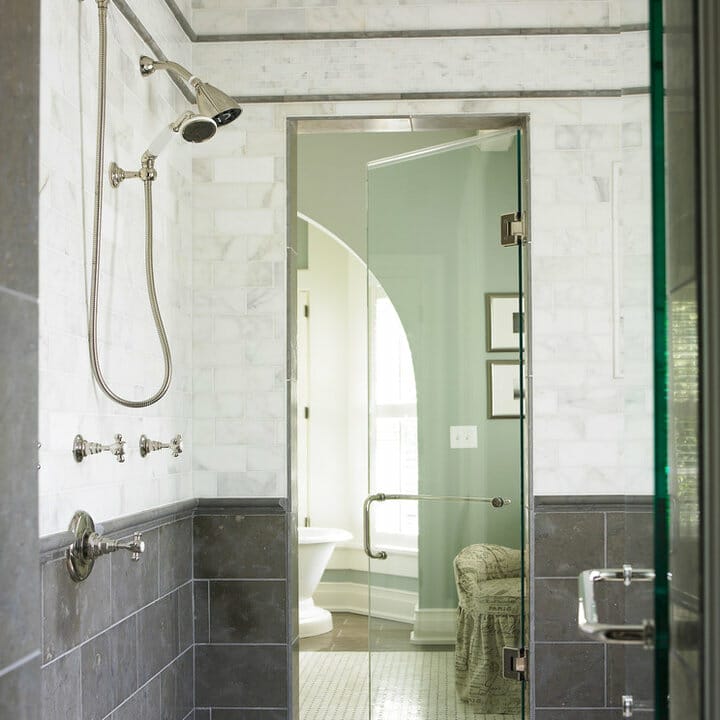 If your bathroom is spacious, consider separating the shower chamber and the tub by placing them in two different areas.
This bathroom has a shower room surrounded by walls. The bathtub is in another area, which makes it quite exclusive.
The two-toned shower room features charcoal gray tiles for the lower part and marble tiles for the upper area. This combination results in a luxurious look.
5. Elegant Corner Walk-In Shower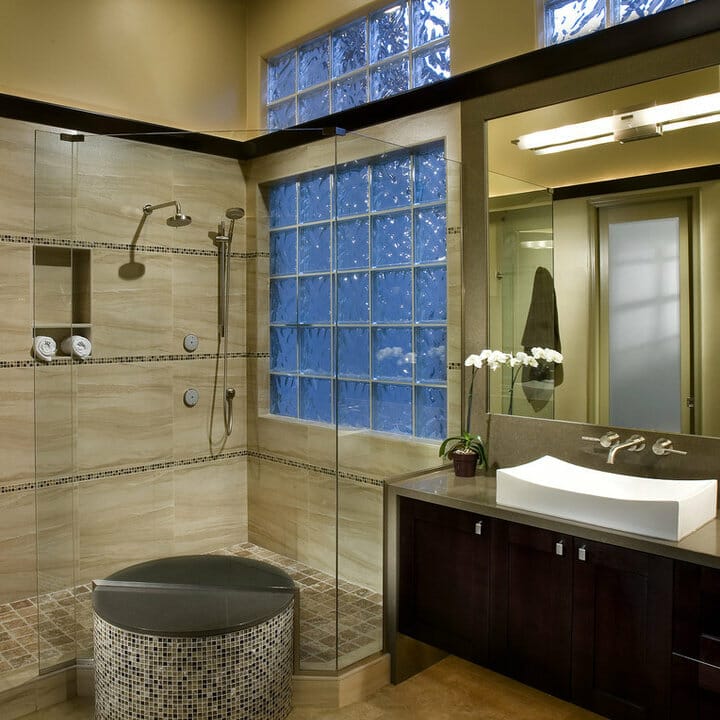 Colors always play a crucial role when it comes to carving out a certain style in any room in your house, including the standup shower.
This standup shower looks elegant, thanks to the earthy tones found on the entire surface of this bathroom.
The vanity looks simple with a dark-brown finish and minimalist hardware. Beige infuses a soothing effect to the space.
This bathroom also features frosted glass tiles that allow natural light to illuminate the space without compromising your ultimate privacy. Besides, they also add a textural element.
6. Stand up Shower Ideas for Small Bathrooms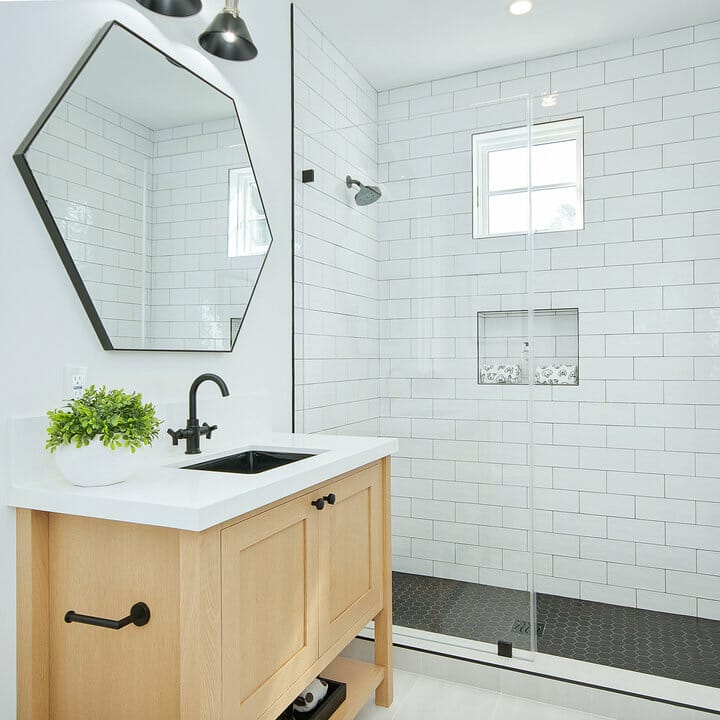 Do not let a tiny room restrain you from developing a stylish bathroom. These standup shower ideas will show you how to tackle this problem.
Now, the first task you need to do is apply light colors. White would be your greatest bet because this hue can make a small room look larger.
Forgoing complicated accessories, like a mirror with a carving frame or a classic vanity, is the right choice. You need to keep things simple, instead.
Consider undressing the mirror to expose its geometric shape. Do not forget to gain as extensive ray as possible – both genuine and man-made.
7. Nautical Themed Shower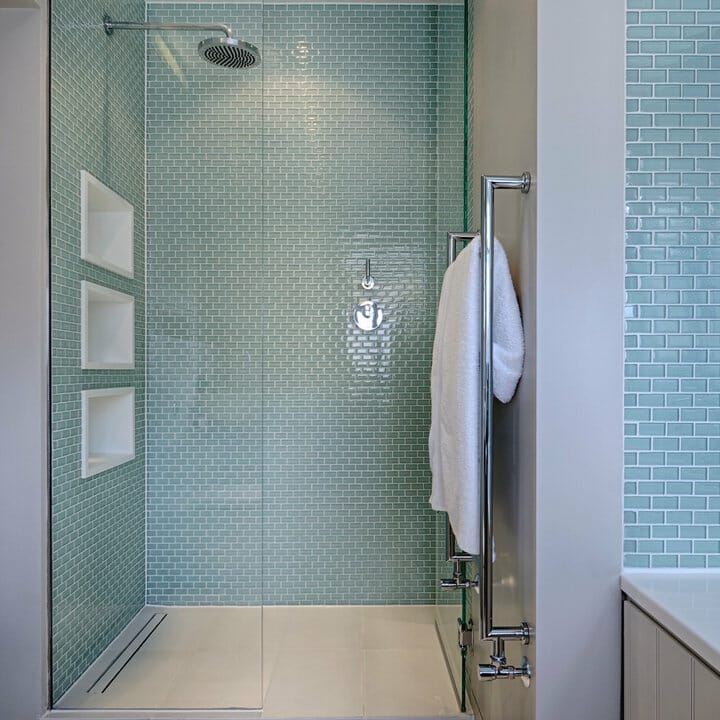 Do you want to create a serene ambiance in your bathroom? Try these standup shower ideas.
This shower enclosure is simple with tiny turquoise tiles, which reflect a nautical theme.
Since it lacks space, keeping things down to a minimum is a wise decision. You can do this by installing a wall-mounted shower and making built-in shelves to host bathroom essentials.
8. Coastal Standup Shower Ideas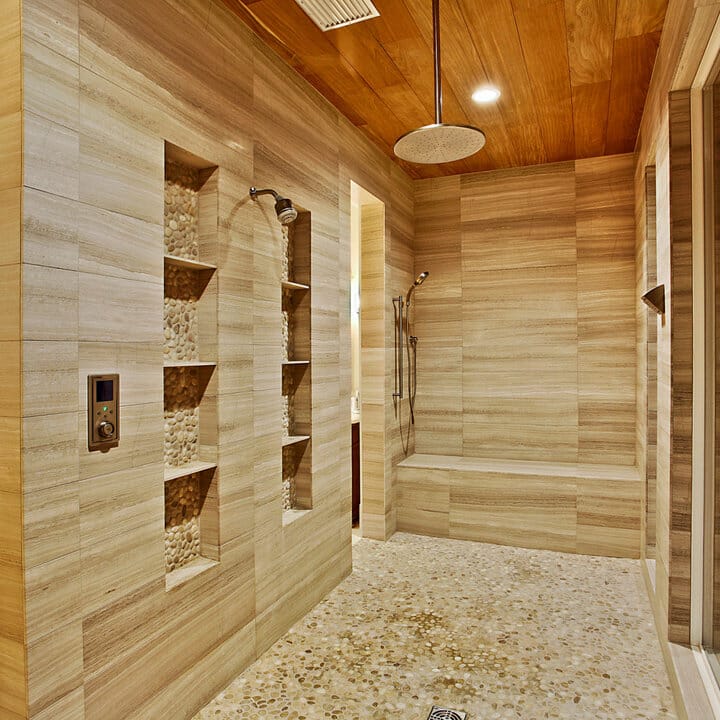 This is another relaxing walk-in shower idea that you can copy.
The use of light brown and beige hues resembles the serene ambiance of a beach. You can also find stone tiles that add texture while bringing nature to the space.
9. Shower and Bathtub Combo
A petite bathroom may not give you the privilege of having a comfortable bathtub.
But you can have a bathtub and shower all together despite the limited space by installing them at the same spot.
This one features a bathtub that fits snugly with the width of the bathroom. You can also find a bar-mount shower that comes in black matte for a bolder look.
A clear glass panel separates the shower area from the vanity while preventing splash from making a mess.
10. Separate the Shower and Bathtub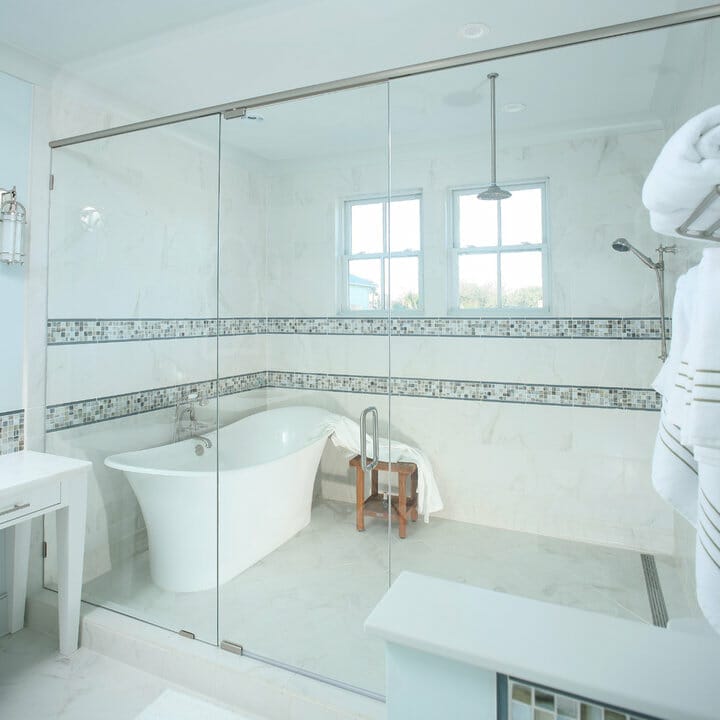 If your bathroom is spacious, congratulations! You can do many things with it, including designing the layout of the bathtub and shower so that you can feel comfortable when washing up.
This white bathroom has a bathtub shoved against a wall with a shower on the opposite side. It also has mosaic accents that jazz up the space.
11. Contemporary Shower with Stone Blue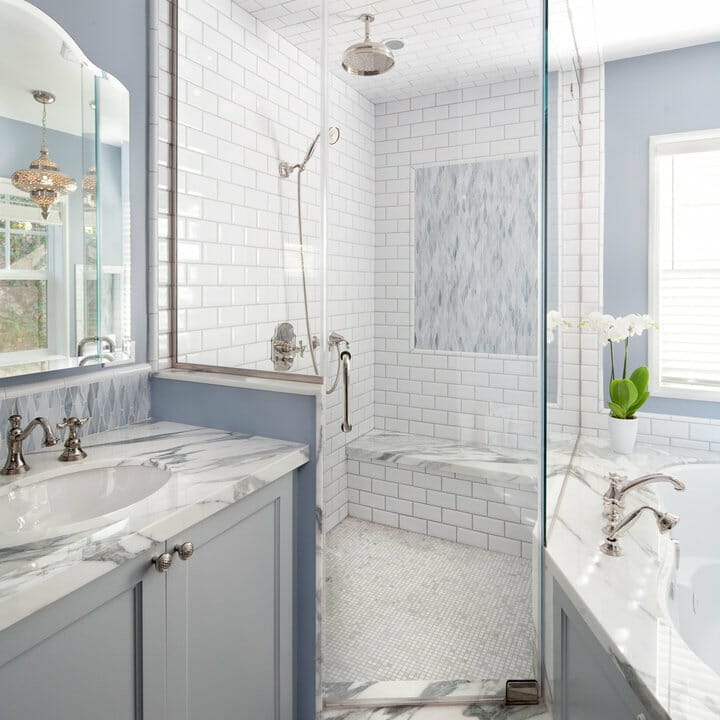 These standup shower ideas are a combination of light color hues and plenty of light, resulting in an airy and open space.
Stone blue hue is not as vivid as many other blue tones. Thus, it is perfect for a tiny bathroom. When combined with shaker cabinet doors, you get a contemporary look.
You can also find a bit of traditional style inside the walk-in shower when looking at the white subway tiles that cover the wall.
12. Nature-Themed Standup Shower Ideas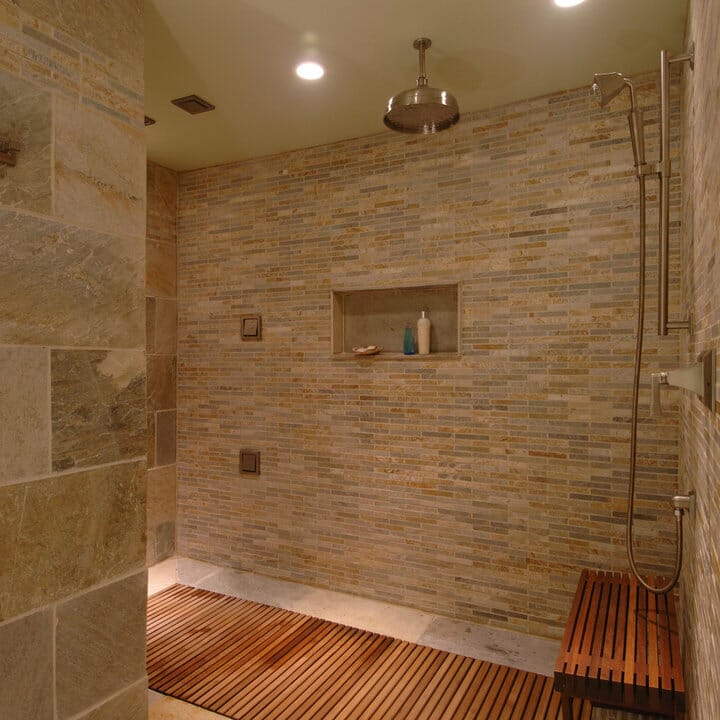 Creating a nature-themed bathroom does not always entail incorporating greenery into the space.
You can carve it out by installing beige tiles that look like sandstone. Then, bring in wooden elements, like this bench and accent floor, to accentuate the nature theme.
13. Long and Narrow Walk-in Shower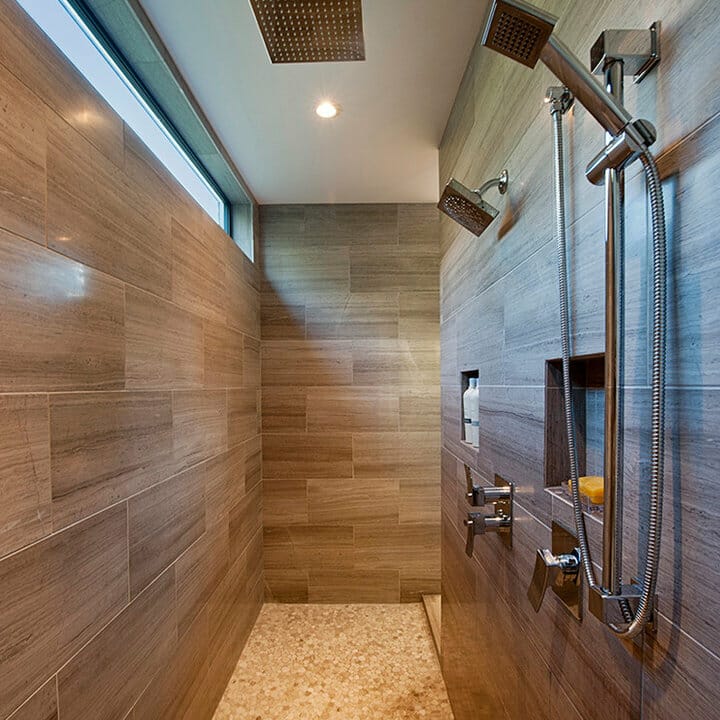 Dealing with a long and narrow space can be tricky. However, it is not a big obstacle if you implement these standup shower ideas.
The easy trick is to install the showers, hardware, and built-in storage on one side. Then, leave the wall opposite to it free from clutter.
14. Add a bit of Glam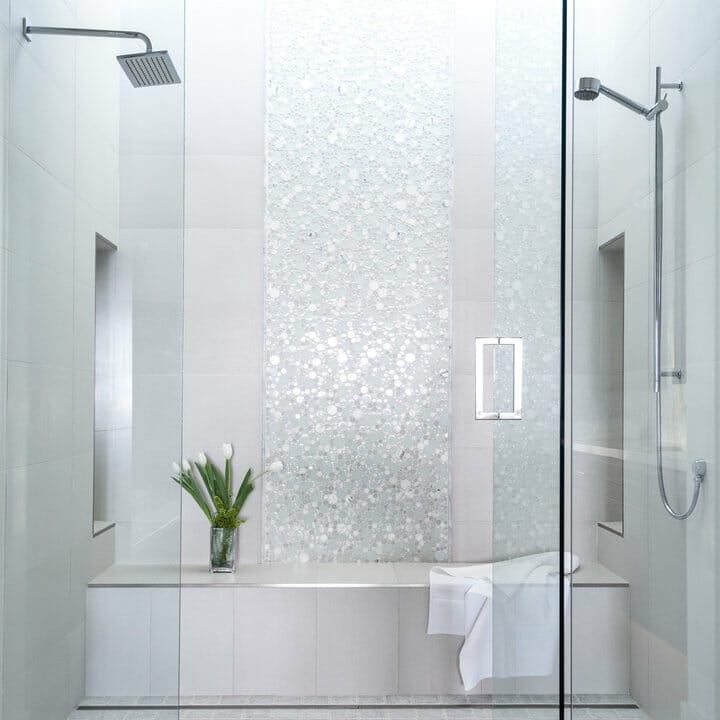 Are you looking for glamorous standup shower ideas for your small bathroom? Then, search no more. Simply, copy this look.
This small walk-in shower comes in white, which is renowned for doing its magic in a tiny area. You can also find glittering accent walls that add glam to the space.
15. Compact Standup Shower Ideas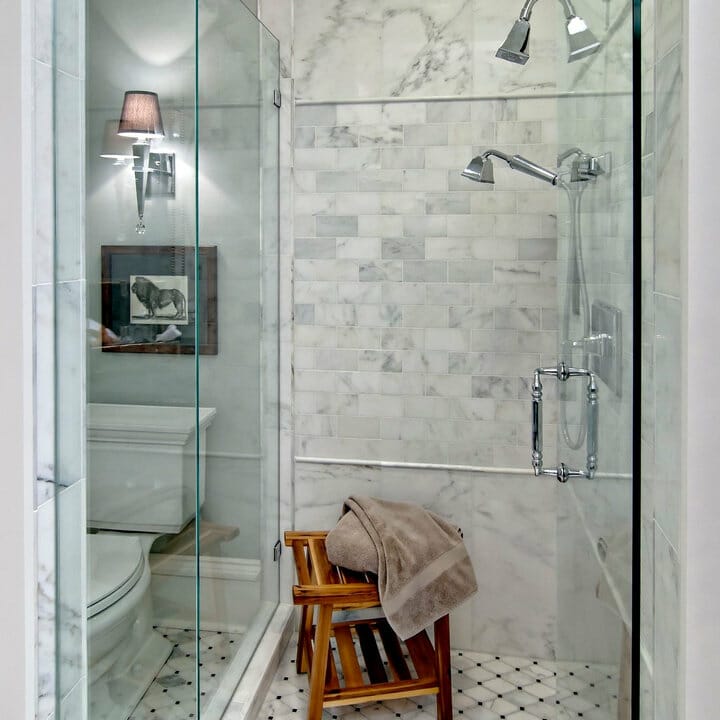 If you want to add a hint of classiness to your small bathroom, try installing marble tiles. The veins have never failed to carve out a bit of luxury.
Having a bench can be a brilliant move. However, it can take up some space. Thus, consider opting for lightweight stool, instead.
16. Incorporate more Storage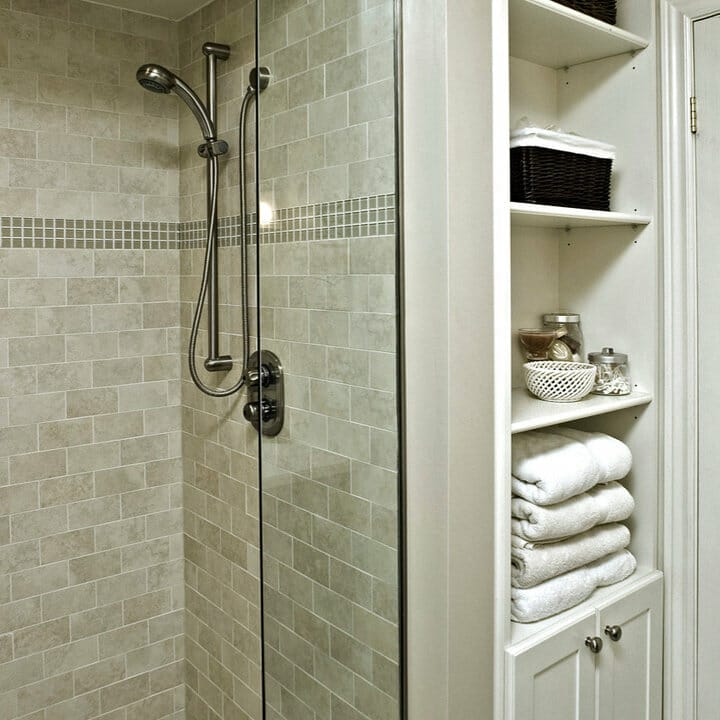 One of the biggest problems you may encounter in a small bathroom is clutter. When it conquers the space, the washing-up time will be no picnic.
You can overcome this problem by making these built-in shelves. They are perfect storage for your towels, toilet papers, and other bathroom essentials.
17. Super Sleek Standup Shower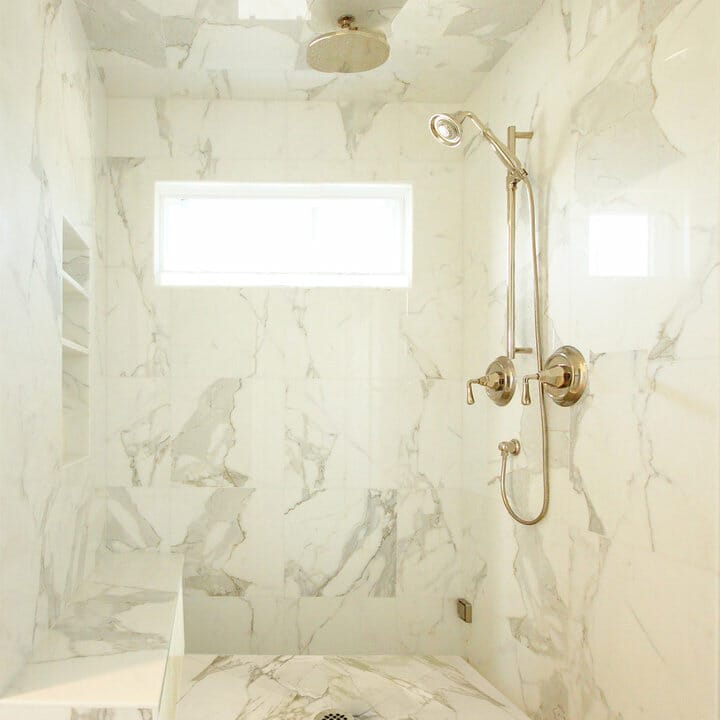 When you step into this walk-in shower, you will feel amazed. It is super sleek and elegant, thanks to white marble tiles that reflect the light nicely.
You can do a foolproof trick to tackle the tiny space. Try applying the same tiles to the entire surface – the walls, ceiling, and floor – to make them flow into one being. You can also use white grout to create a continuous effect.
18. Go Classic with Trim and Exposed Brick Wall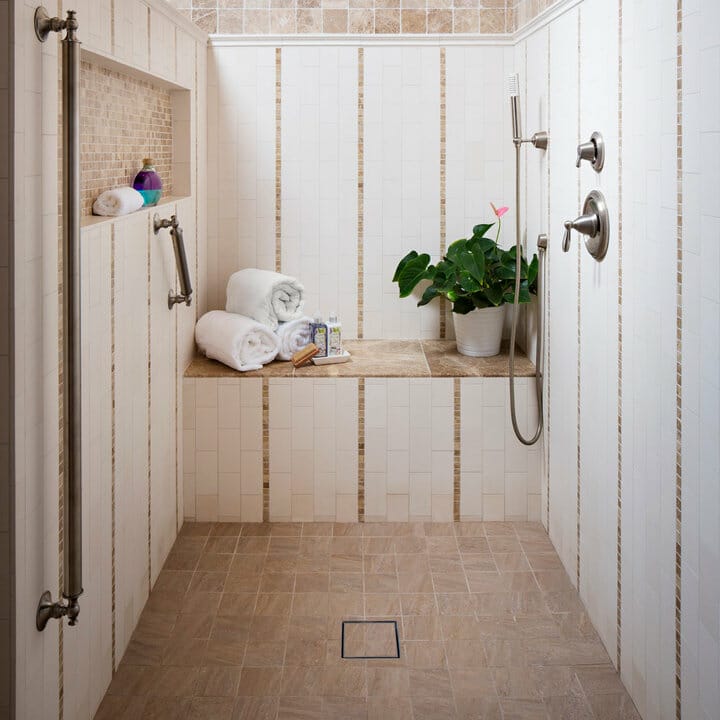 The classic style always adds a distinctive charm to the space. Thus, your standup shower deserves it.
This standup shower is a combination of a contemporary and classic look. The stainless steel showerhead and hardware belong to the current style, while the exposed brick wall adds a bit of rustic ambiance.
19. Minimalist Standup Shower Ideas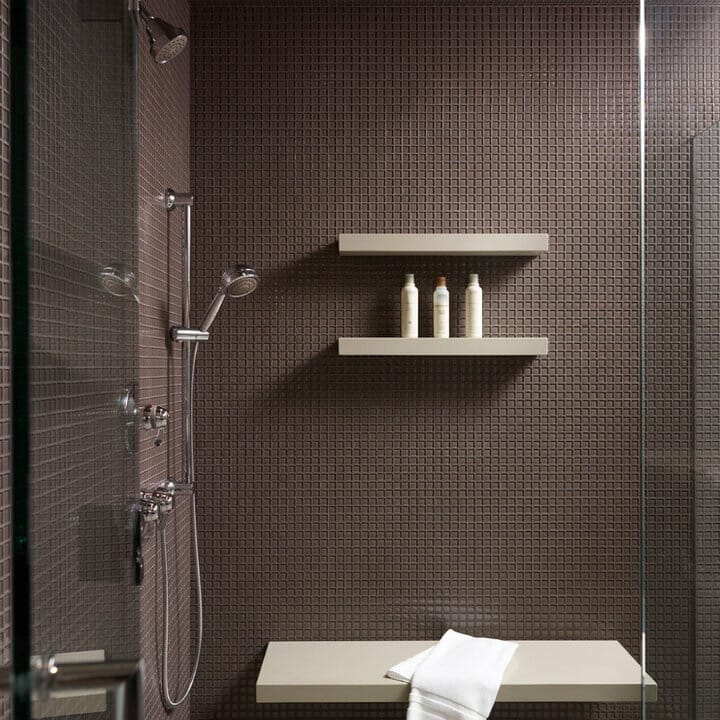 If you are looking for a simple yet stylish bathroom, these standup shower ideas are for you.
This shower room comes in cedar mosaic tiles that create elegance and add a textural element at the same time.
It also has wall-mounted shelves that you can use to house shampoo and soap. The white bench matches the storage immensely.
20. Symmetrical Walk-in Shower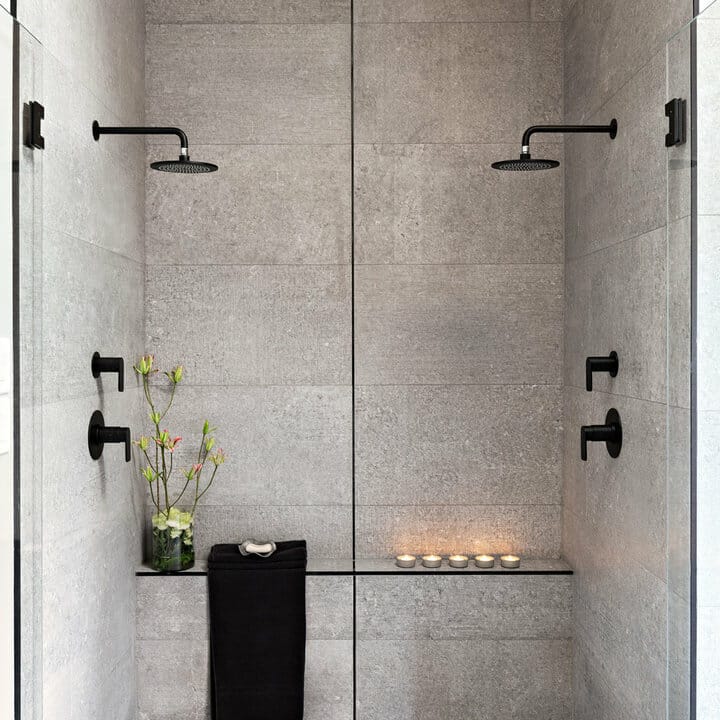 Creating symmetrical look means you adore balance, and there is nothing wrong with it.
If you want to carve out balance, you need to install identical wall-mounted showers and hardware on two walls facing each other.
When you combine a balanced look with scented candles and a plant, you get your inner peace.
21. Refresh Your Body and Mind
It is always great to take a shower while enjoying the backyard corner landscaping ideas.. This retreat will definitely refresh your body and mind.
Just make sure you install window films to prevent a peeping Tom from messing around while allowing you to see the outside world.
22. Simple Standup Shower Ideas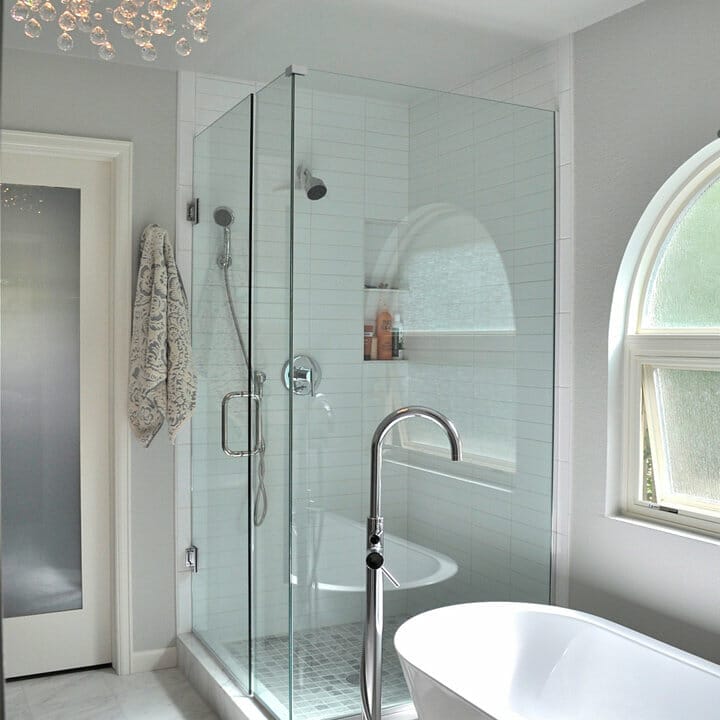 A comfortable shower room does not have to feature high technology gadgets and pricey materials.
Placing a shower enclosure in the corner will be enough. Do not forget to install handy storage to host shampoo and soap.
23. Standup Shower in Basement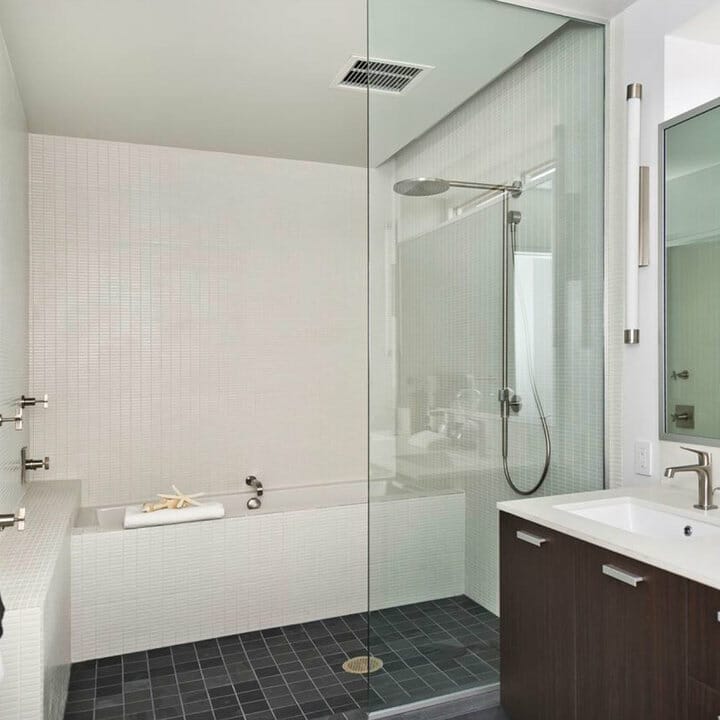 Building a bathroom in the basement is worth considering. It will make this potential space become livable.
Still, you need to consider several things before building it, including installing an exhaust fan that can remove moisture and fumes and prevent mold from proliferating.
24. Invest in Intriguing Pattern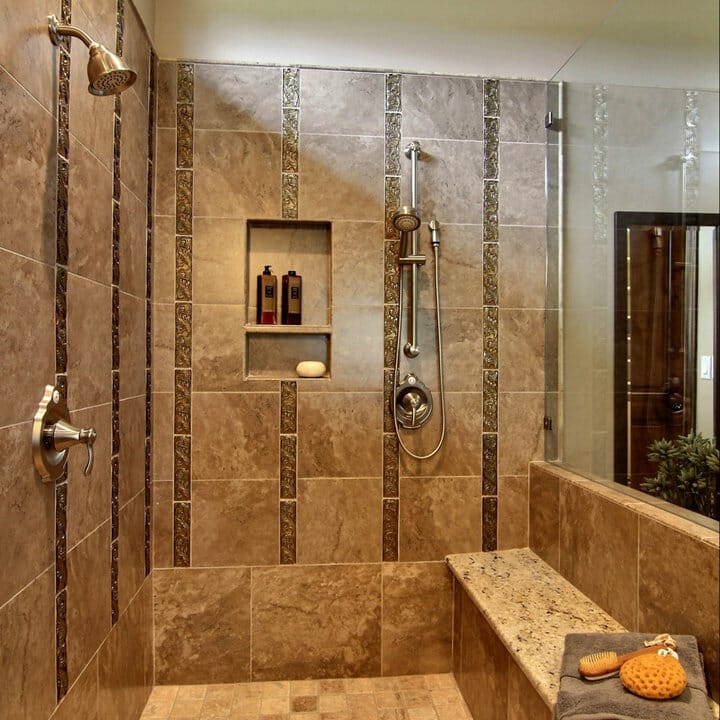 Carving out luxury can be as simple as installing beige marble tiles. You also need to consider laying golden accent tiles that feature carving details.
25. Go Natural with Wood and Stone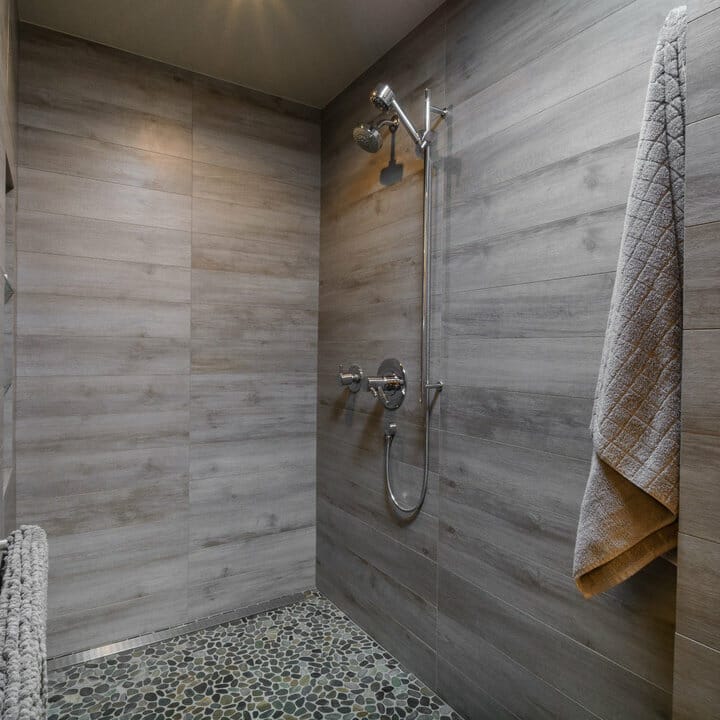 If you love the look of nature, these standup shower ideas should be on your list.
You can begin with installing wood paneling on the walls. Always remember to apply a sealant to make it durable.
If you want the look of wood fiber without the hassle, you can opt for patterned ceramic tiles.
Then, install pebble tiles for the flooring. They will not only add patterns but also incorporate textural elements.
26. Cobalt Blue Walk-in Shower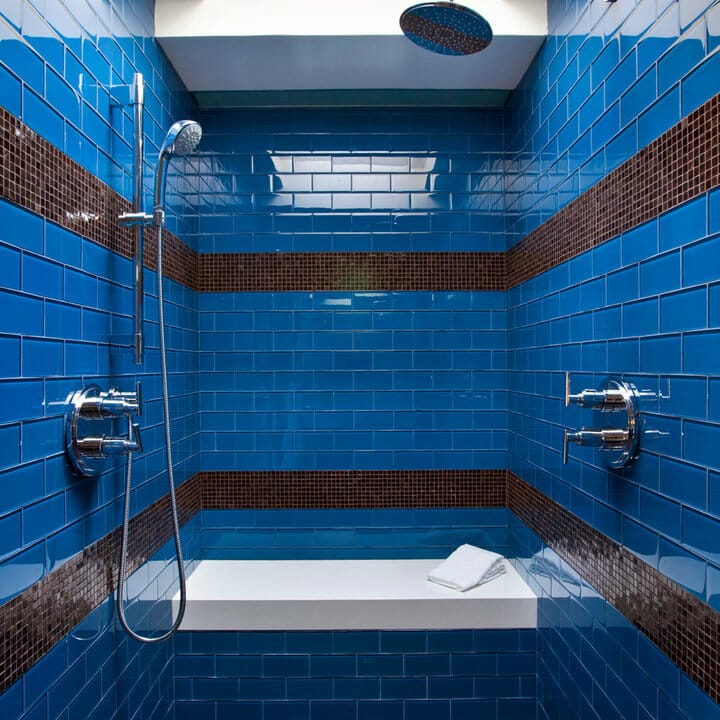 Many designers will advise you to stick to white when it comes to a small bathroom. However, if it is not your thing, you can always opt for a bolder look, just like this cobalt-blue shower room.
27. Stand up Shower Ideas without Door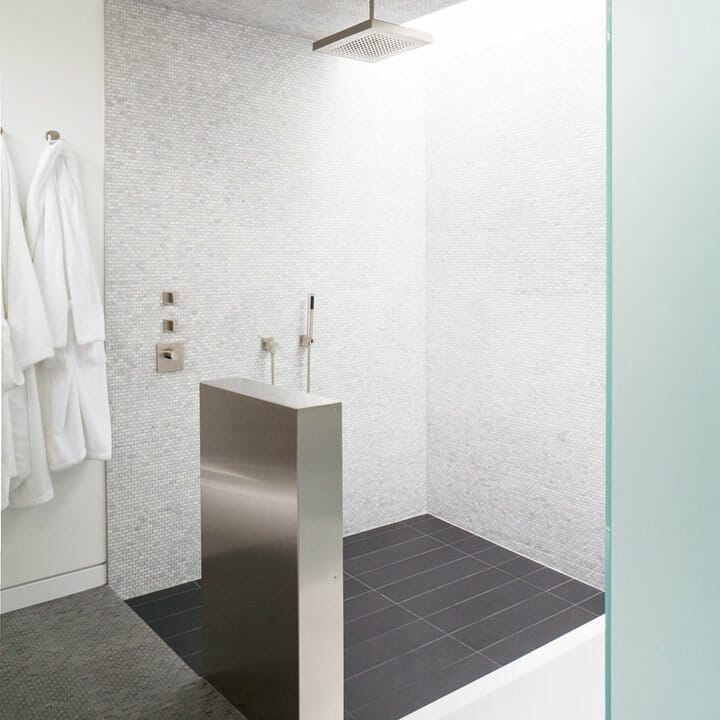 Who says you need a door for your shower chamber?
You can forgo the door to create a more spacious look. Still, you need to define the area. You can do this by installing different tiles.
28. Opt for Built-in Storage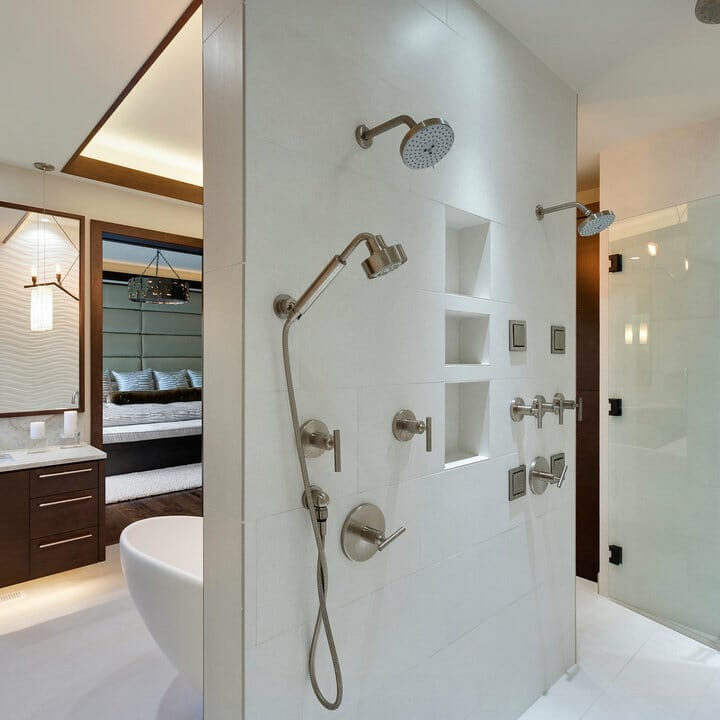 Shelves are the things you need for your shower. They help you hold bathroom essentials while you are washing up.
Instead of wall-mounted shelves that can take more space, you can opt for built-in storage.
29. Choose the Shower You Like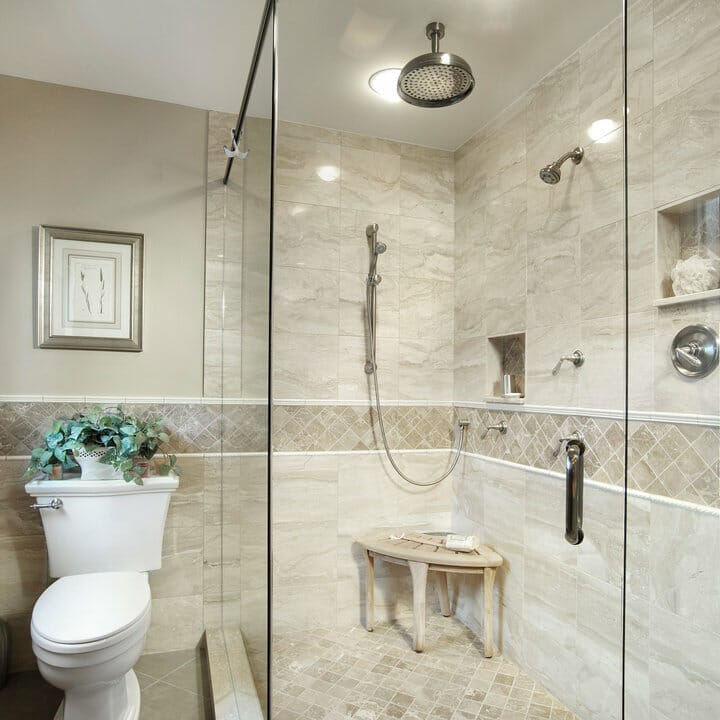 There is nothing wrong with installing more than one type of showerhead. It allows you to use various spray patterns depending on your mood.
30. Matching is the Key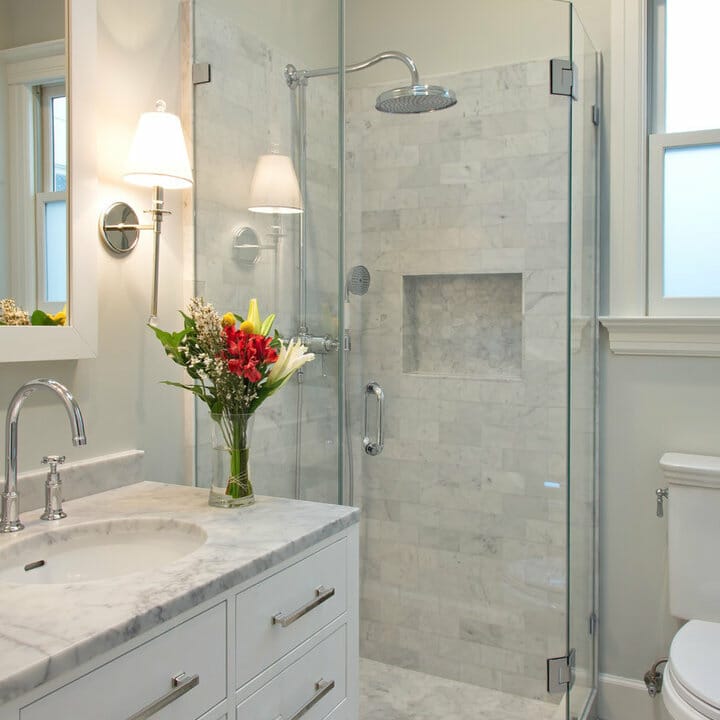 Although there are not any strict rules about decorating a bathroom, it is always great to mix and match, just like in this shower room.
This bathroom features marble tiles for the shower area. You can also encounter a similar pattern in the countertop, which creates a united look.
31. Subway Tiles for Timeless Charm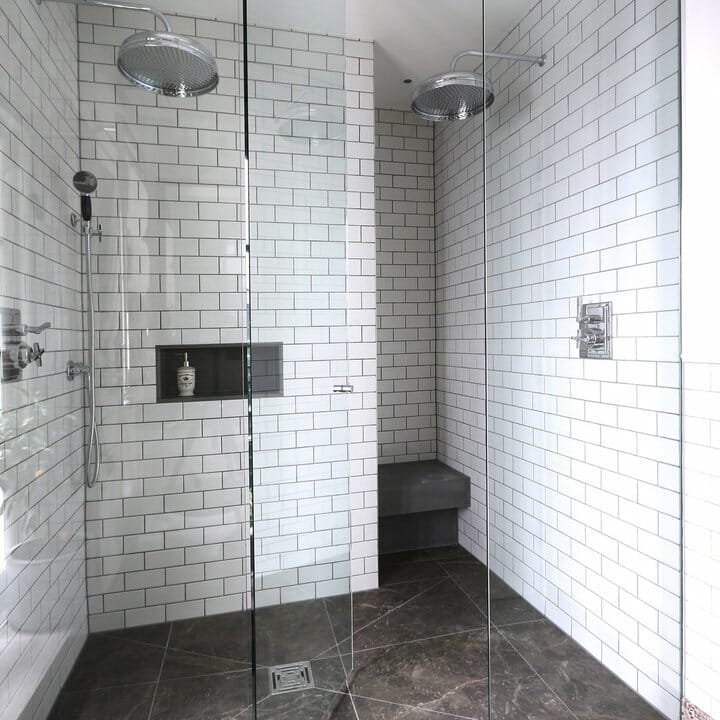 Subway tiles are never outdated. You can use them in your restroom to carve out a timeless charm.
Try using gray grout for white subway tiles. This way, you can accentuate them immensely.
No matter the size of your bathroom is, these standup shower ideas will always find their way to carve out some sort of style and comfort. Now, washing up is something that you will always look forward to.