Nothing is better than enjoying a chilly fall night around a fire pit. Moreover, cozy blankets and hot drinks will perfect outdoor gatherings for sure. If you admire all things unrefined, read up on my marvelous rustic fire pit ideas below.
Rustic fire pits carry a touch of mother nature to backyards. Furthermore, they allow people to stay warm on cold nights.
Here are some outdoor spaces that include unpretentious fire pits. After seeing them, I guarantee you'll love calm, rural settings even more.
1. Natural Stone Fire Pit Ideas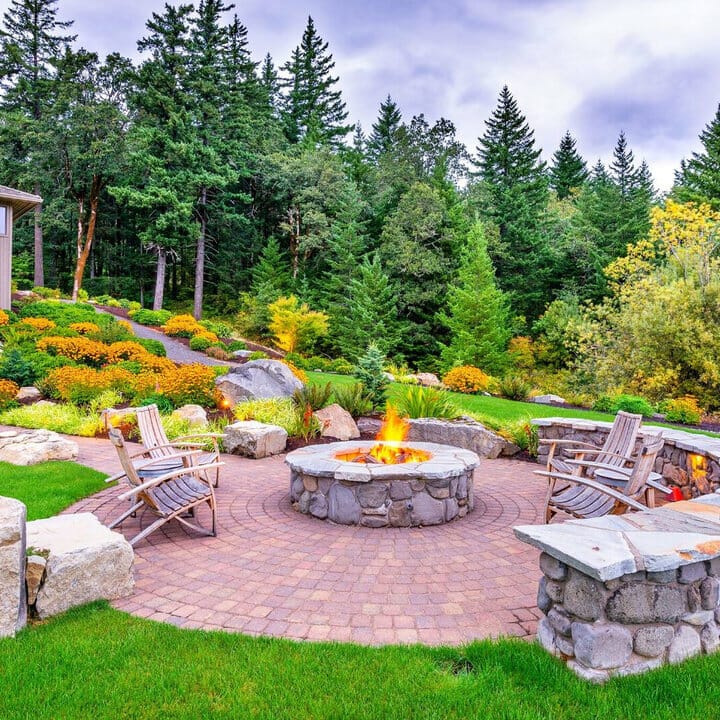 This backyard patio is such a fabulous gathering spot. The circular fire pit boasts rounded natural stones in different tones. Meanwhile, the flagstone top heightens rustic vibes.
Here, the patio features multitone pavers. Furthermore, the wooden armchairs and tables complement the stone fire pit.
The immaculate lawn contrasts with the paver patio. In addition, the native vegetation and blooming plants provide vivid splashes of color.
2. Rustic Meets Refined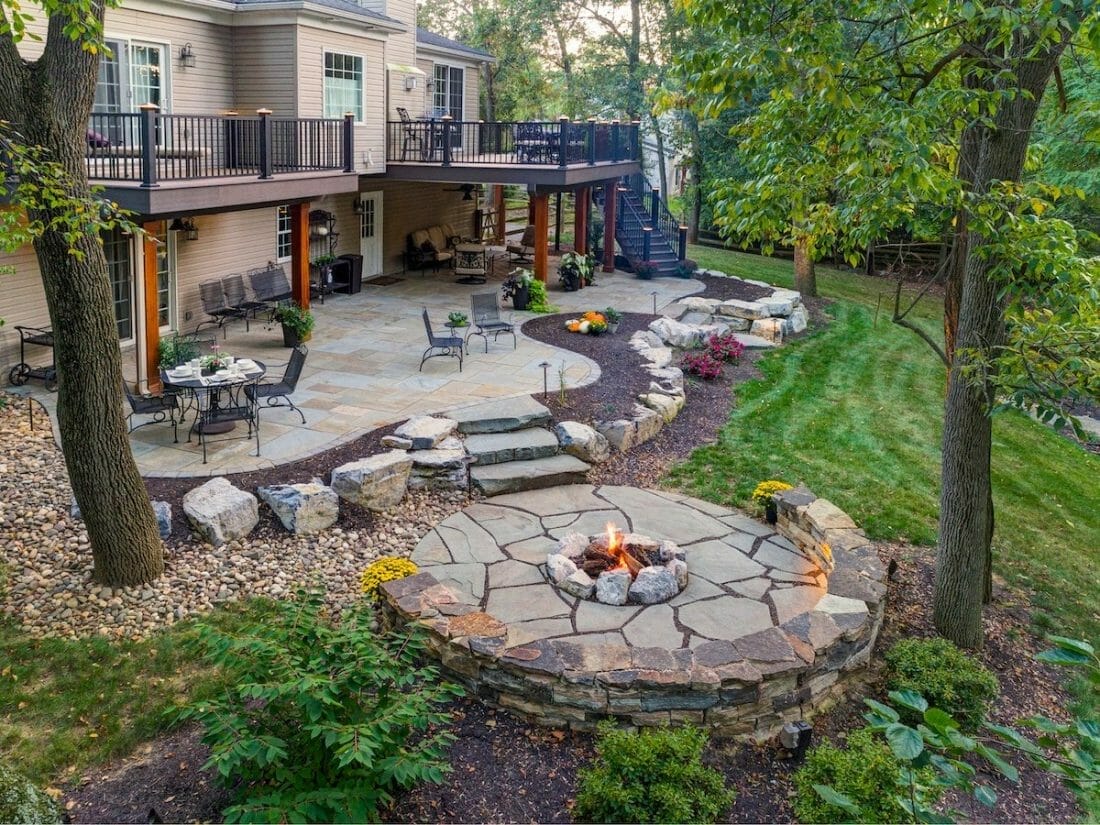 Need fire pit landscape design ideas? If yes, duplicate this setting. The flagstone fire pit, seat wall, and pavers enable the patio to blend with Mama nature.
Boulders make for rustic, durable retaining walls. Furthermore, they keep gravel in place, so the backyard patio appears neat.
The patio has elegant multiple seating areas. Moreover, they employ traditional wrought-iron furniture pieces that evoke a refined look. Lastly, tall trees, bushes, shrubs, and flowering perennials liven up the rustic setting.
3. Rustic Fire Pit Ideas with a Grill Plate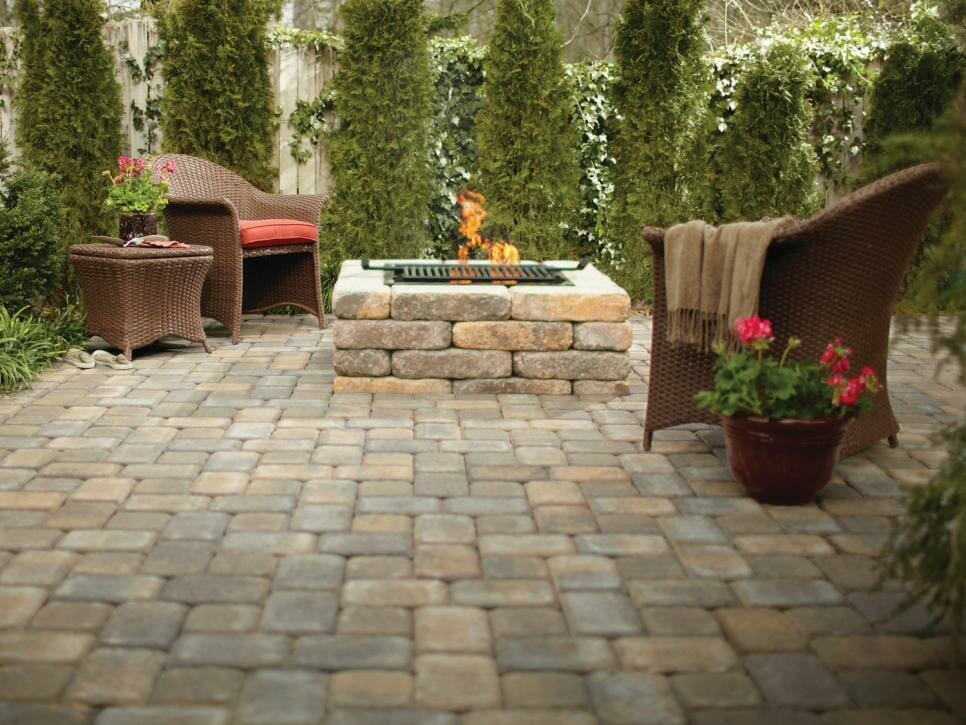 This is one of the terrific rustic fire pit seating ideas. The resin wicker furniture units keep things rustic while offering comfort.
The square fire pit boasts a metal grill plate. Because of it, the homeowner can use his backyard patio almost throughout the year.
As you see, stone pavers come in various palettes. They carve a welcoming scene here. Furthermore, the blanket and muted orange cushions ensure coziness. Meanwhile, climbing vines, evergreens, and pink blooms make the setting exquisite.
4. DIY Backyard Fire Pit Ideas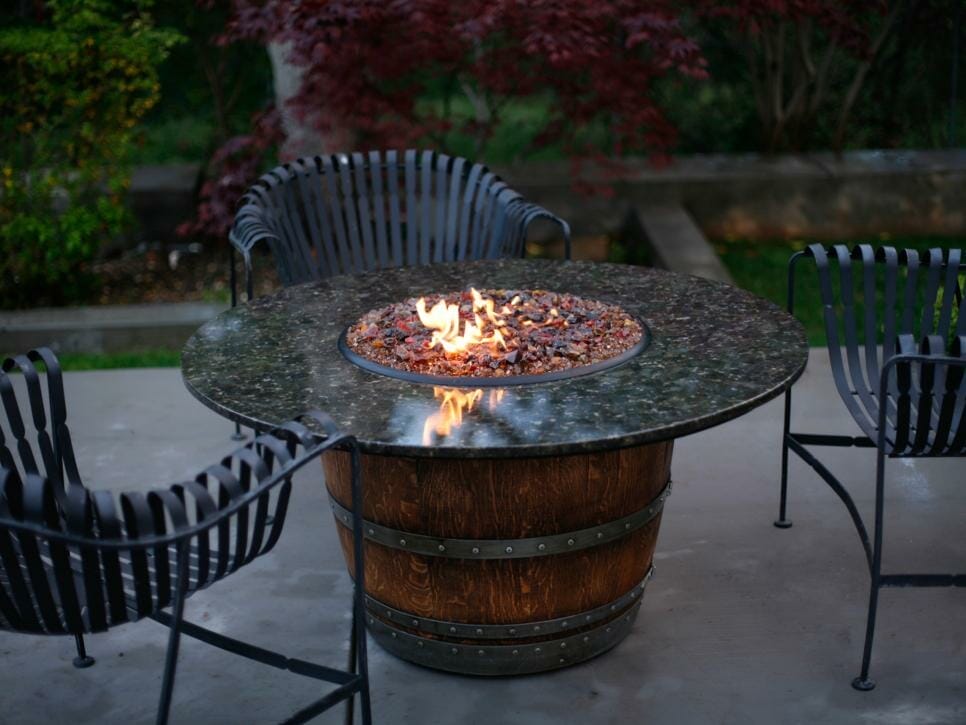 The homeowner constructed this outdoor fire pit out of an antique wooden barrel. Furthermore, he hand-sanded it thoroughly. Next, he weatherproofed the unit.
This barrel fire pit exudes a sense of age. Moreover, the unit lends the concrete backyard patio some rustic splendor and beauty.
The black granite top gives off an elegant look. In addition, the iron strip chairs accompany the metal elements of the barrel fire pit fabulously.
5. Rustic Stone Fire Pit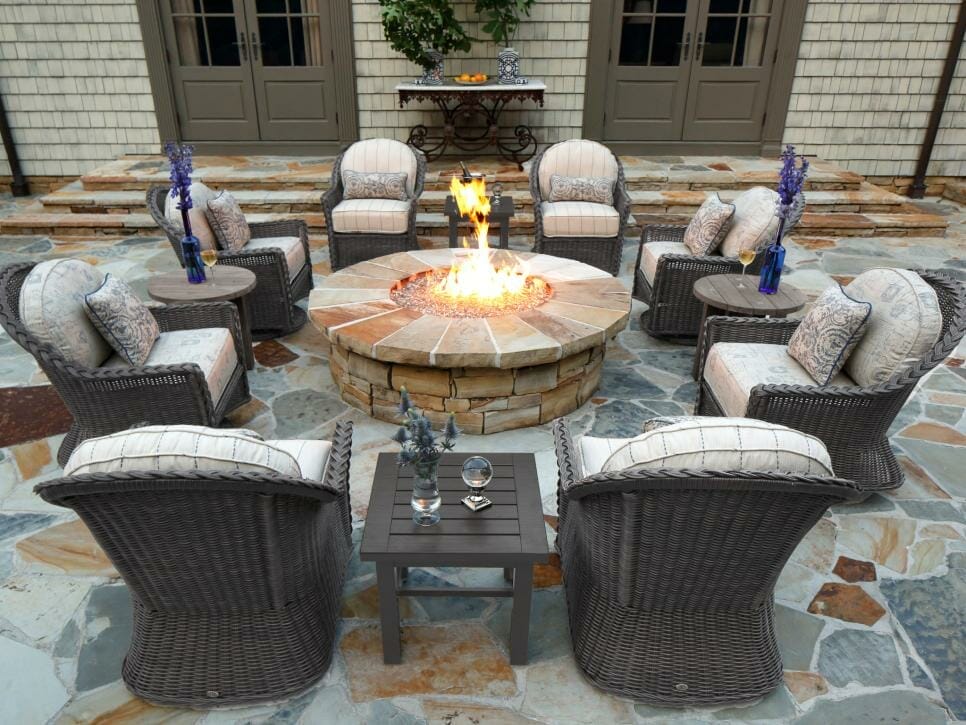 Speaking of rustic fire pit ideas, duplicate this outdoor entertaining area. The flooring boasts flagstones in cold and warm tones. Furthermore, they effortlessly imbue the patio with a natural atmosphere.
The homeowner placed some faux wicker chairs and a few gray tables around the round stone fire pit. Moreover, they make for a charming and cozy seating area.
Floral throw pillows and thick seat cushions preserve the rustic feel of this traditional outdoor living room. Lastly, blue vases, fresh blooms, and glass orbs titivate the patio.
6. Rustic Fire Pit Ideas with Adirondack Chairs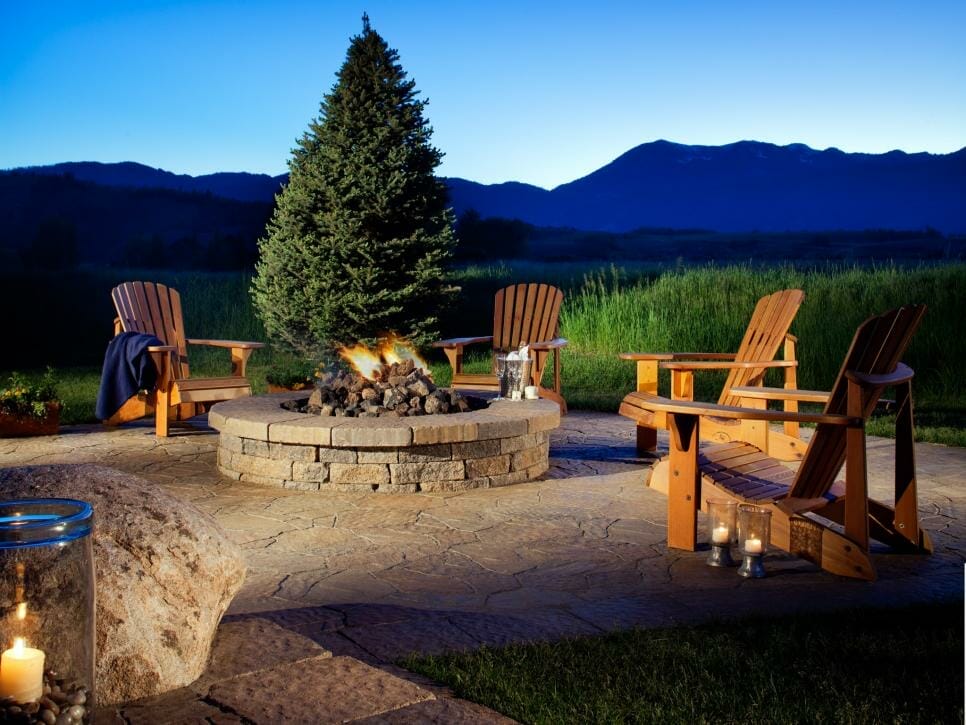 This is one of the incredible mountain fire pit ideas. The mesmerizing mountain scenery serves as the backdrop for the outdoor seating area. I admire the striking setup here.
The circular fire pit showcases chiseled stones. Moreover, it features pavers with a few tonal variations. Also, the flagstone flooring keeps things cohesive.
Stained wood Adirondack chairs produce a homey, rural scene. Meanwhile, the navy throw blanket and candles convert the patio into a relaxing retreat.
7. Circular Rustic Fire Pit Ideas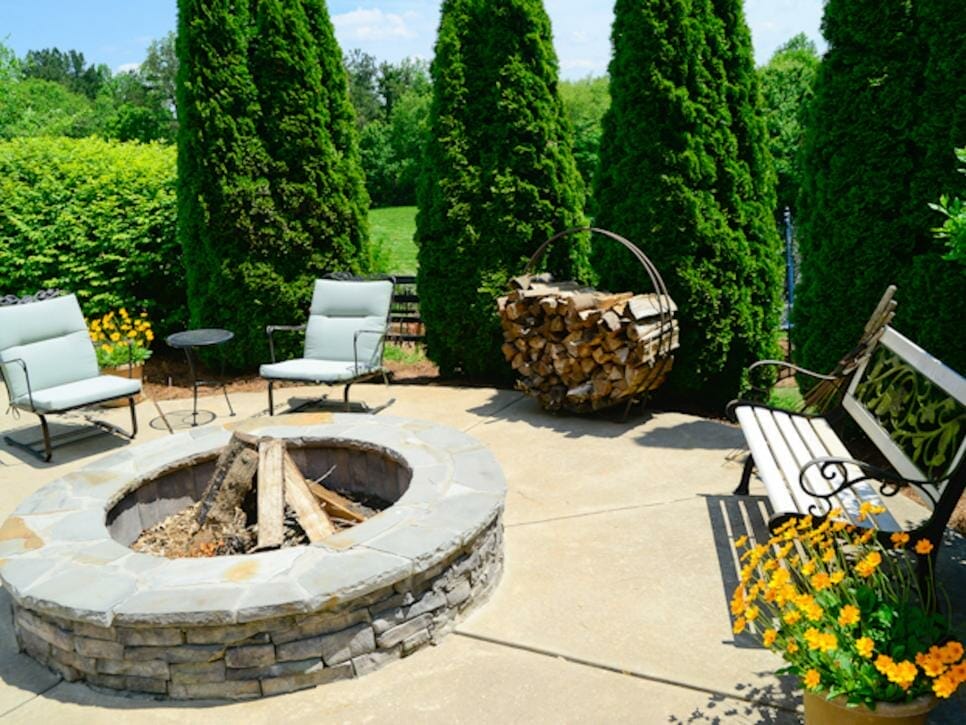 This is one of the captivating rustic outdoor fire pit designs. Here, stacks of natural stone bricks elevate the wood-burning fire pit. Meanwhile, the flagstone top generates an unpretentious look while complementing them.
The wrought-iron bench and armchairs provide gorgeous, classic detailing. Moreover, the weathered metal firewood holder amplifies the rustic ambiance. Additionally, tiny orange blooms and evergreens spruce the patio up.
8. Large Stone Fire Pit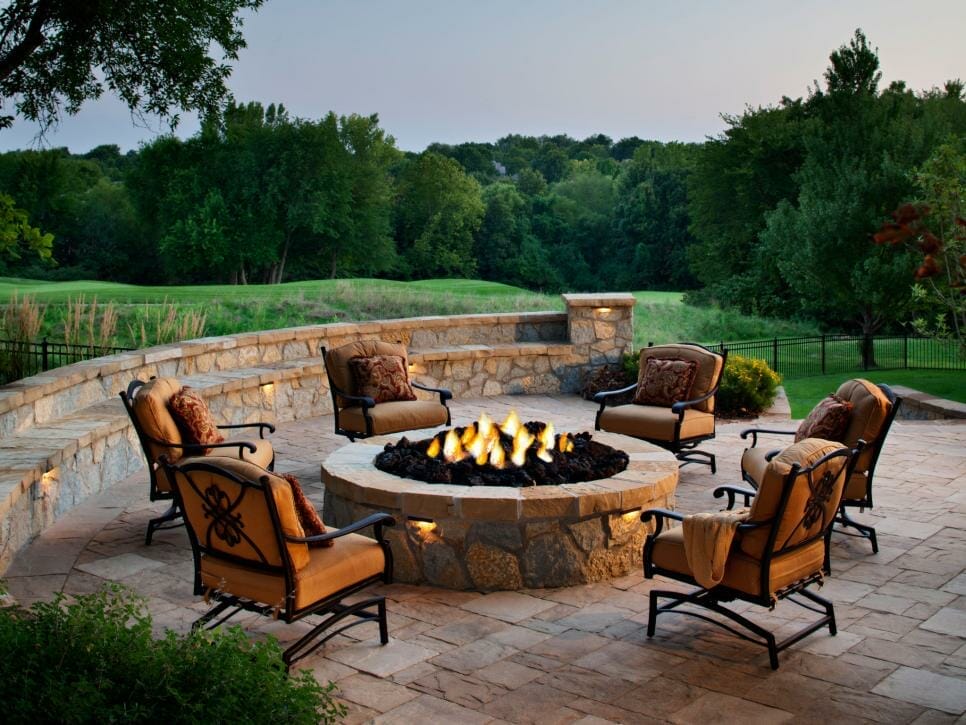 Speaking of rustic fire pit ideas, copy this look. Here, both pavers and flagstones carry nature-inspired textures to the outdoor space.
Apart from offering a rough-hewn texture, the fire pit delivers warmth. Meanwhile, shrubs let the outdoor seating area be perfectly in sync with the surroundings.
The classic iron armchairs gather around this round fire pit while creating a refined appeal. Due to burnt orange cushions, blankets, and floral pillows, the outdoor space looks snuggly. There's a stone seat wall that provides additional seating.
9. How to Build a Rustic Fire Pit
If you're into rustic fire pit ideas, replicate this look. Here, the outdoor seating area belongs to a homestead. I can't stop admiring its peaceful, pastoral setting.
The homeowner collected stones as well as logs first. Then, she arranged the stones to form a circular rustic fire pit that carves bucolic vibes.
Long logs act as benches in this outdoor space. They let the homeowner's family enjoy the warmth of the fire pit while appreciating the surroundings.
10. Rustic Fire Pit Ideas with Multitone Stones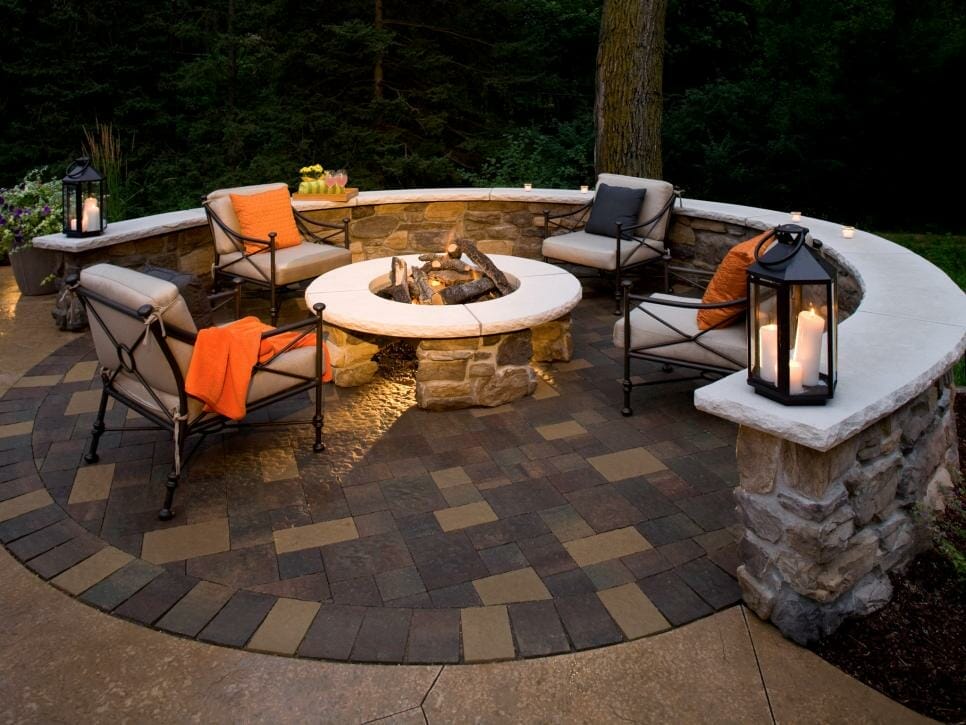 This natural stone fire pit employs a slightly unusual design. As you see, its bowl marvelously perches on veneered stone pillars.
In this photo, the light-toned limestone top rounds out the circular fire pit. Furthermore, the stone seat wall's top uses the same material.
The warm-toned paver patio anchors wrought-iron armchairs with beige cushions. Meanwhile, black throw pillows and candle lanterns inspire drama. Vivid orange accents radiate positive and warm vibes.
11. Cheap Fire Pit Landscaping Ideas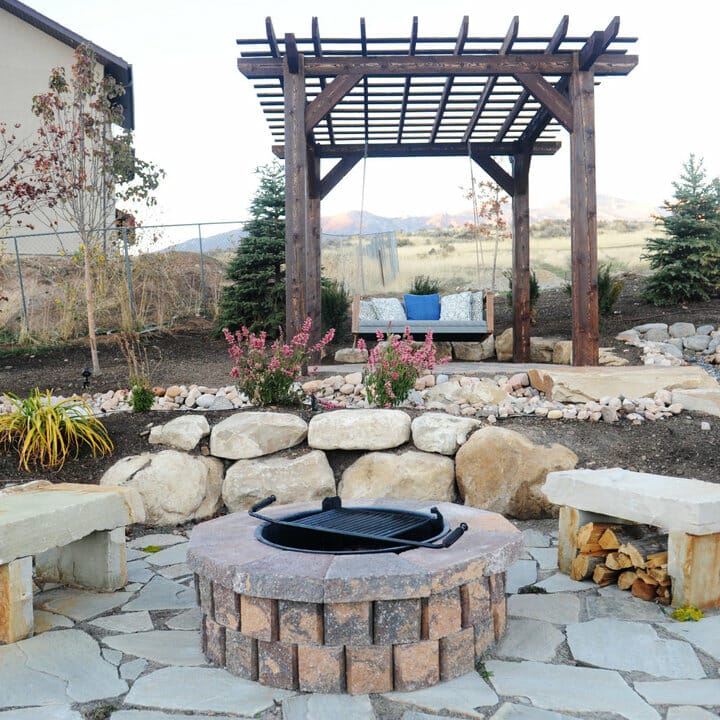 The gray flagstone patio makes for a rustic yet relaxing outdoor space. Meanwhile, the round fire pit with a grill plate introduces warm tones. It delivers an unrefined flair, too.
Natural stone benches offer some seating while accommodating stacks of firewood. Furthermore, the wooden pergola features a swing bench with blue and patterned throws.
Lastly, boulders, stones, and decorative plants complete the landscape.
12. Sunken Rustic Fire Pit Ideas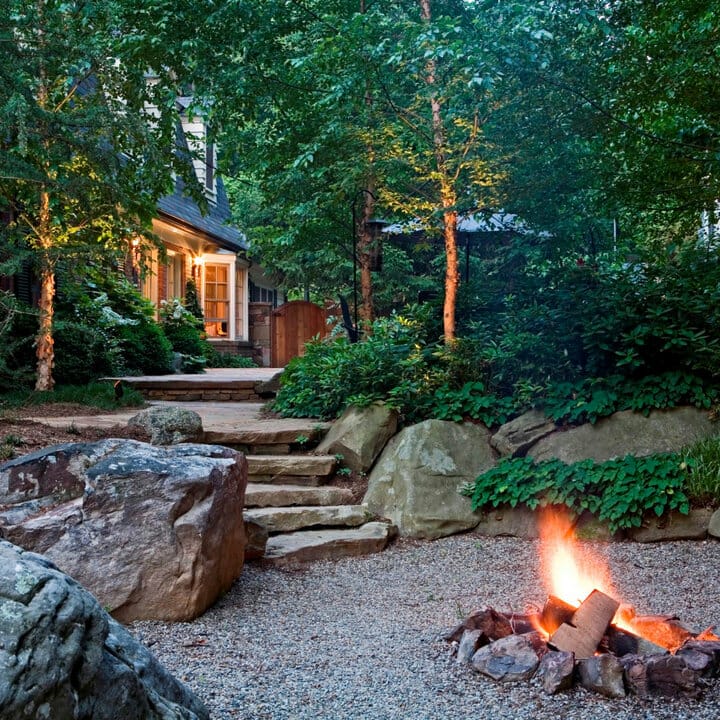 As the photo shows, the stone steps lead to a sunken fire pit. Furthermore, the boulders complement them while making retaining walls sturdy.
The sunken stone fire pit is appropriate for cold weather. In addition, it provides comfort as well as warmth. Meanwhile, the gravel and greenery round out the rural setting.
13. Outstanding Rustic Fire Pit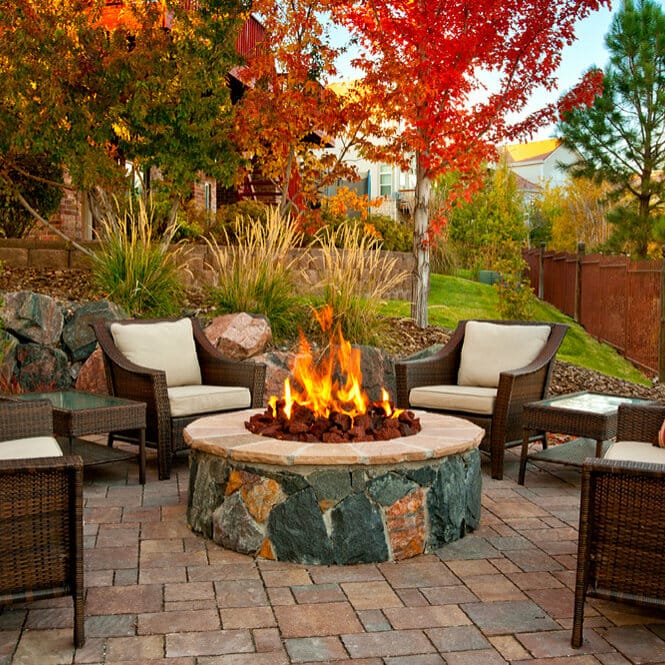 Need some rustic fire pit ideas? Just implement this setting in your backyard. The circular flagstone fire pit carries texture and visual interest.
The stone pavers of different sizes and palettes offer a visual surprise. Moreover, they accompany the round fire pit and adjacent boulders.
Resin wicker tables and armchairs make the entertaining area seem elegant. Beige cushions keep things comfortable. Lastly, the autumnal foliage and tall ornamental grass create an exquisite backdrop.
14. Rustic Fire Pit Ideas with Adirondack Chairs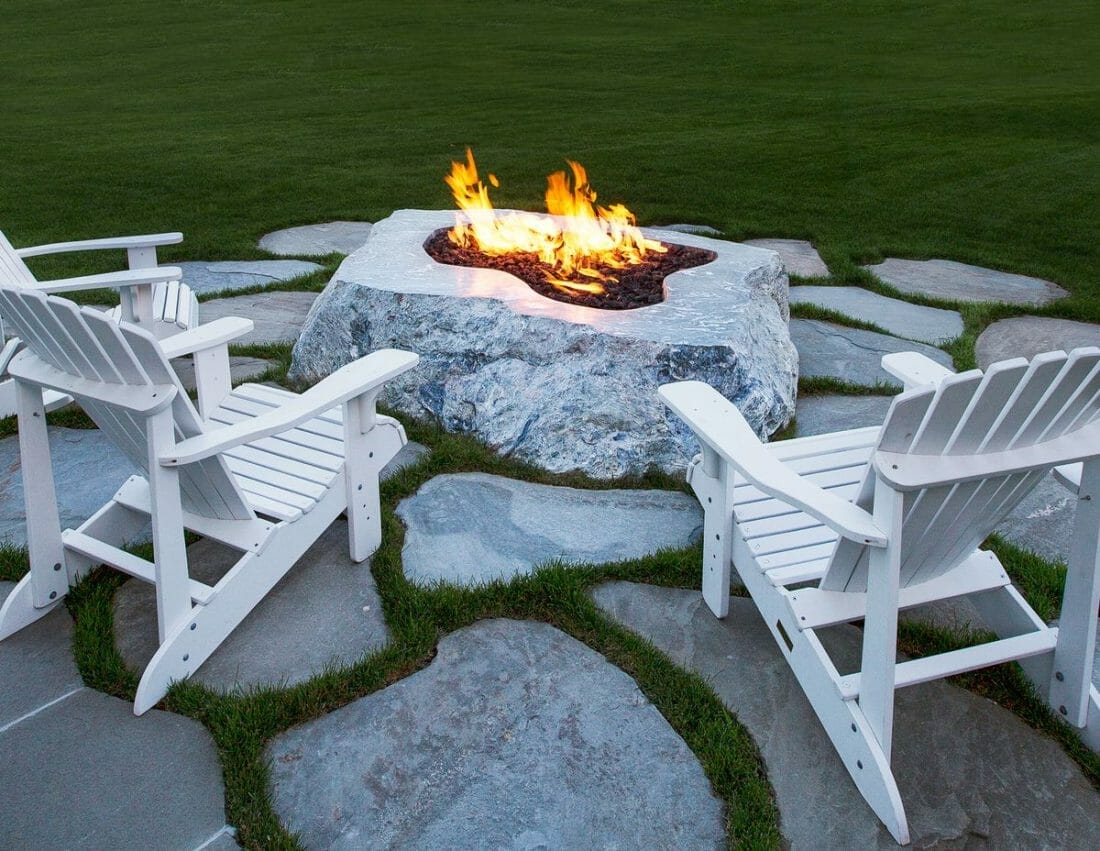 Don't you adore this entertaining area? The oversized flagstones lend the patio some character and a rustic aesthetic. In addition, the light gray natural stone fire pit seamlessly pairs with the flooring.
The lawn and grass between flagstones naturally soften the look. Meanwhile, plain white Adirondack chairs produce a laid-back scene and a fresh ambiance.
15. Rustic Fire Pit with Backyard Lights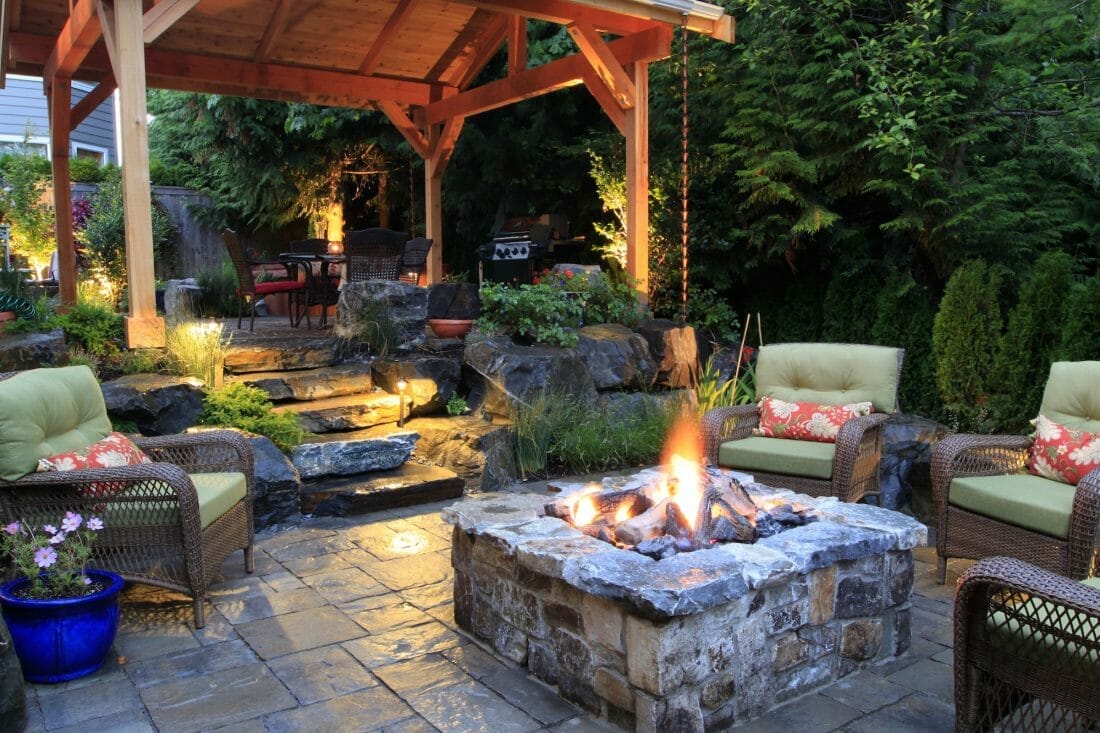 The dark gray stone tiles embrace a modern look. Apart from infusing natural-looking textures, they accommodate faux wicker chairs. Meanwhile, soft green cushions accentuate coral rectangular floral throw pillows.
Here, the square stone fire pit develops a rustic yet tranquil scene. Furthermore, the bright blue pot with dainty blooms spruces the patio up.
16. Rustic Fire Pit Ideas with Plenty of Seating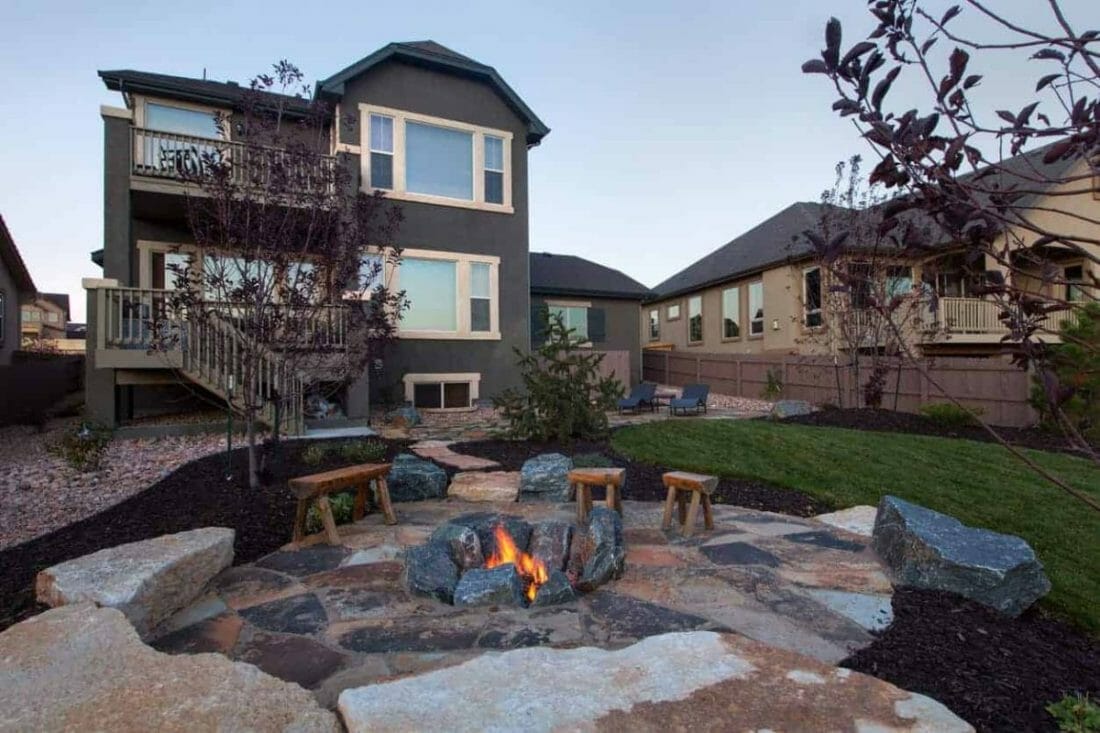 The irregular-shaped flagstones make an attractive flooring. Moreover, they effortlessly direct guests' eyes to the rustic fire pit. It lets the homeowner have bucolic moments.
Talking about fire pit walkway ideas, this patio boasts a natural stone path. As you see, it contrasts with black mulches.
Meanwhile, wooden and massive stone benches provide ample seating. Lastly, the conifer and ornamental trees soften the scene.
17. Rustic Fire Pit with Handmade Furniture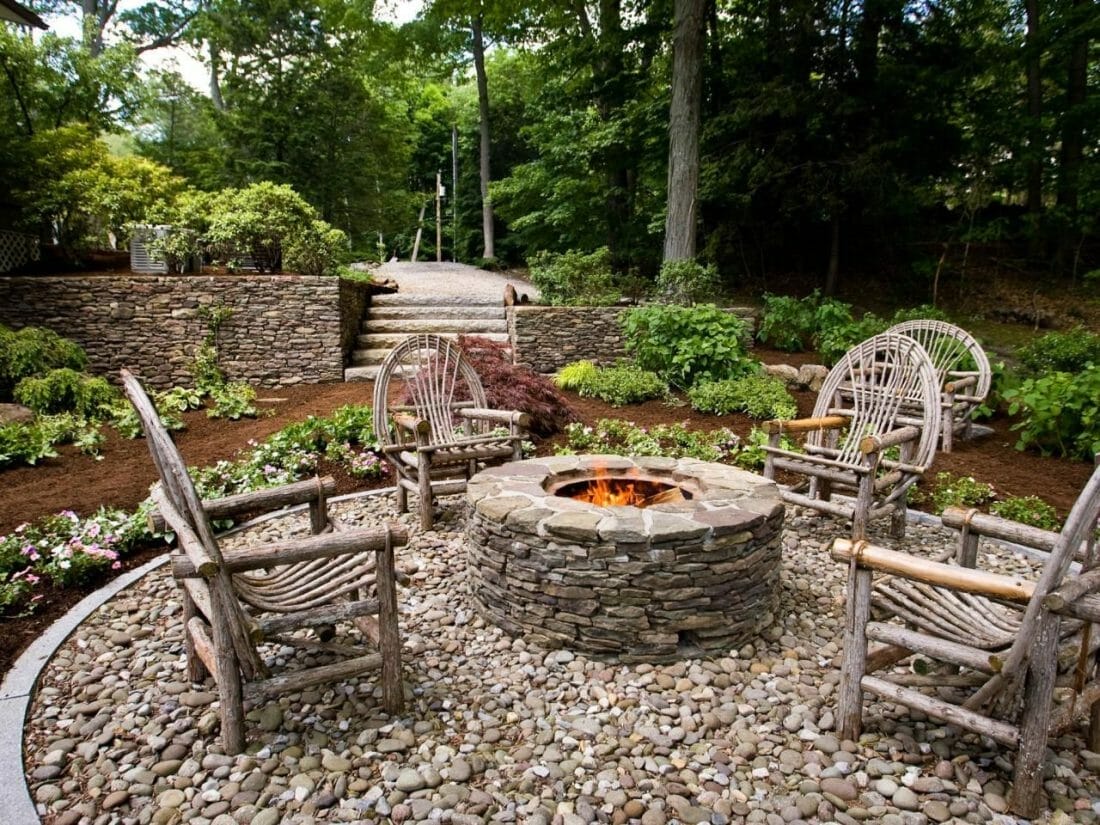 There's a slew of rustic fire pit ideas, and this setting wins my heart. It allows the homeowner to have a fun campfire right in his front yard.
The round fire pit employs stacks of natural stones. Furthermore, it blends marvelously with the pebble flooring.
Meanwhile, DIY tree branch chairs showcase incredible handiwork. Additionally, they keep the gathering spot welcoming.
18. Pergola with a Rustic Fire Pit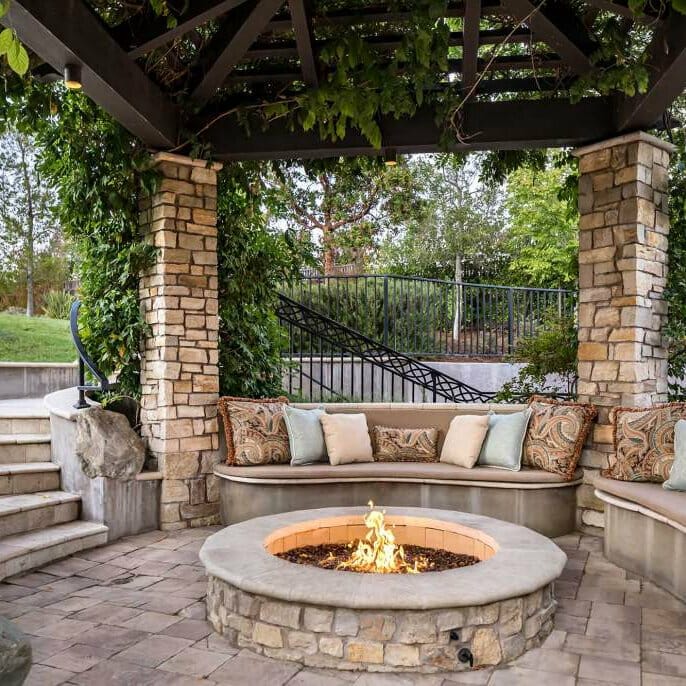 This pergola seems inviting because of the warm-toned stone pillars. Meanwhile, the stone floor and steps complement them while promoting rusticity.
The circular stone fire pit instills a snuggly atmosphere. Furthermore, concrete built-in benches offer a modern touch.
Light gray, beige, printed throw pillows inspire cohesiveness. Also, gorgeous vines are growing over the black pergola roof.
19. Fabulous Rustic Fire Pit Ideas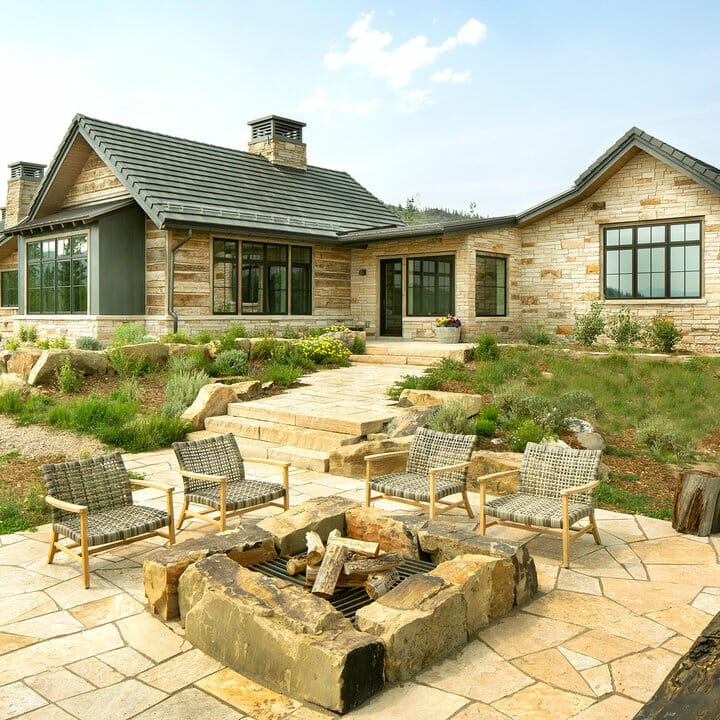 Who doesn't fall for this countryside setting? The floor displays irregular-shaped pieces of cream natural stones. Moreover, they ensure that the gathering spot stays inviting.
The massive stone wood-burning fire pit accompanies the flooring. Because of woven armchairs, this outdoor space seems balanced. Meanwhile, the tree stump doubles as a rustic stool.
Lastly, groundcovers and shrubs balance out stone steps' hard edges.
20. Cottage-Style Garden with a Fire Pit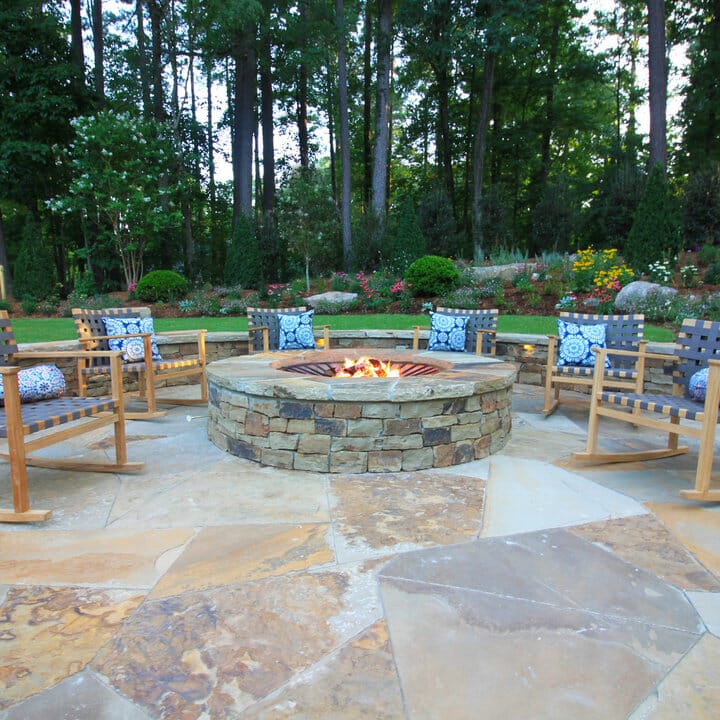 The large flagstones give the patio flooring a rustic aesthetic. In addition, they emphasize the spaciousness of this cottage-style backyard garden.
Also, there's a circular stone fire pit that facilitates moments of togetherness. Furthermore, the neutral woven chairs let bodacious, printed throw pillows shine.
21. Rustic Fire Pit Ideas with Dining Rooms
The circular stone fire pit belongs to this large French country patio. Furthermore, it employs deep gray rocks that provide a subtle contrast.
This patio boasts an outdoor living room. The upholstered armchairs and adjustable metal stools offer plenty of seating. Meanwhile, the dining area adds function and style.
22. Covered Patio with a Fire Pit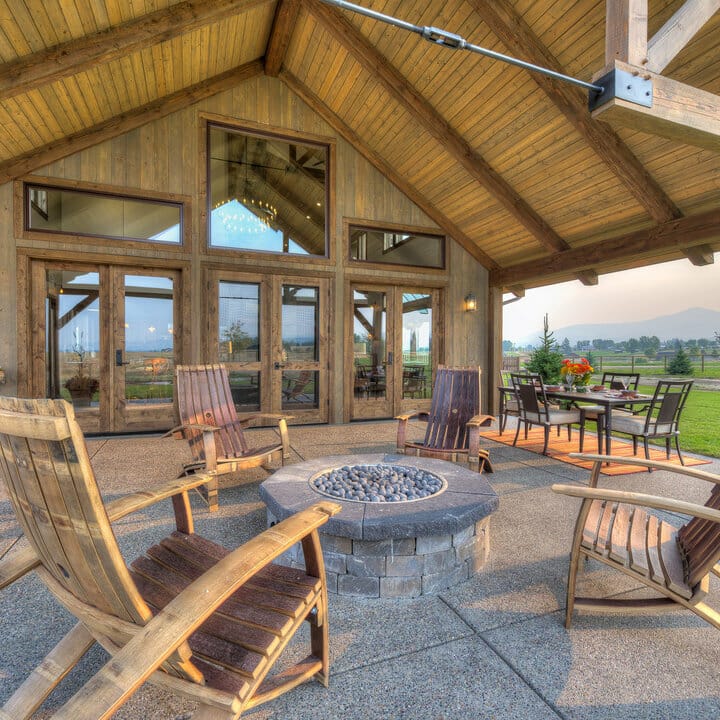 The homeowner divided his covered patio into a dining space and an entertaining area. Well-defined grout lines impart a modern feel.
High-back wooden chairs gather around a rustic fire pit with pebbles. Furthermore, the outdoor area rug defines the dining space.
23. Stunning Setup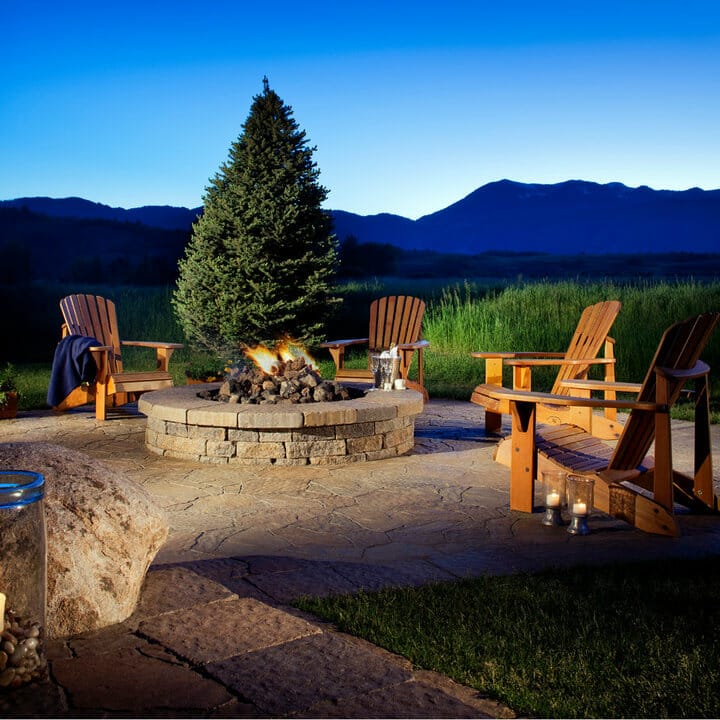 Looking for divine rustic fire pit ideas? If yes, copy this tranquil setting. The homeowner takes advantage of mountain views by using the scenery as a background.
The round stone fire pit lives harmoniously with the pavers and boulders. Moreover, wooden chairs and surrounding plants round things out.
24. Simple Backyard Fire Pit Ideas
The simple rustic fire pit blends with the flagstone floor and adjacent boulders. It carries some warmth to the riverside patio instantly, too.
Here, the river separates the entertaining area from the outdoor dining space. Also, it quickly inspires peacefulness, while large trees make for a majestic landscape.
25. Rustic Fire Pit Ideas for Front Yards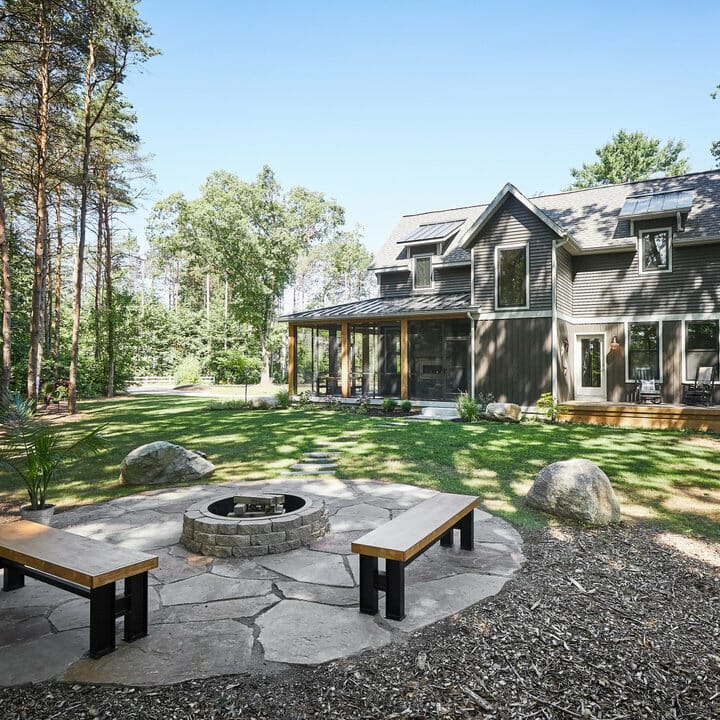 In this photo, the stone walkway guides the homeowner to the rustic fire pit. Meanwhile, the flagstone flooring produces a rural, serene setting.
A pair of streamlined, wood-top benches inject a modern appeal. Furthermore, the potted palm, woodchips, and light gray boulders generate an intentional, cohesive look.
26. Boulder Fire Pit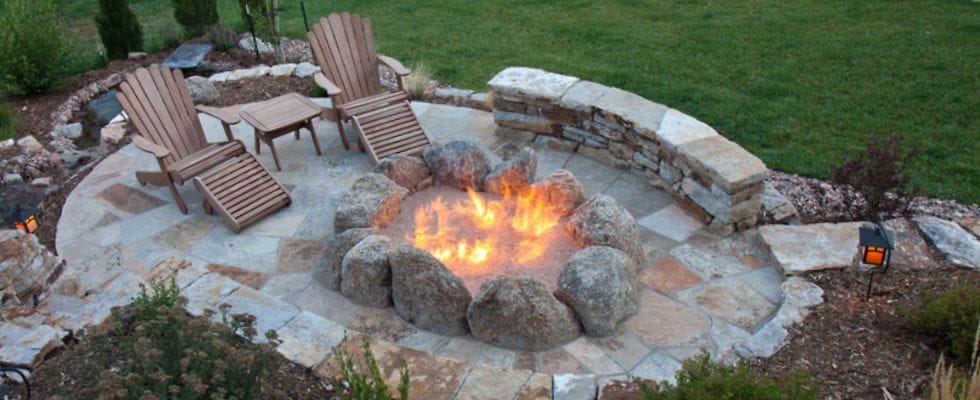 This bucolic setting is nothing short of magnificent. The custom boulder fire pit and small pond emanate a relaxing atmosphere.
The multitone stone seat wall and flooring complement rustic elements. Meanwhile, Adirondack chair loungers let you enjoy the patio during the summer and fall.
27. Wonderfully Welcoming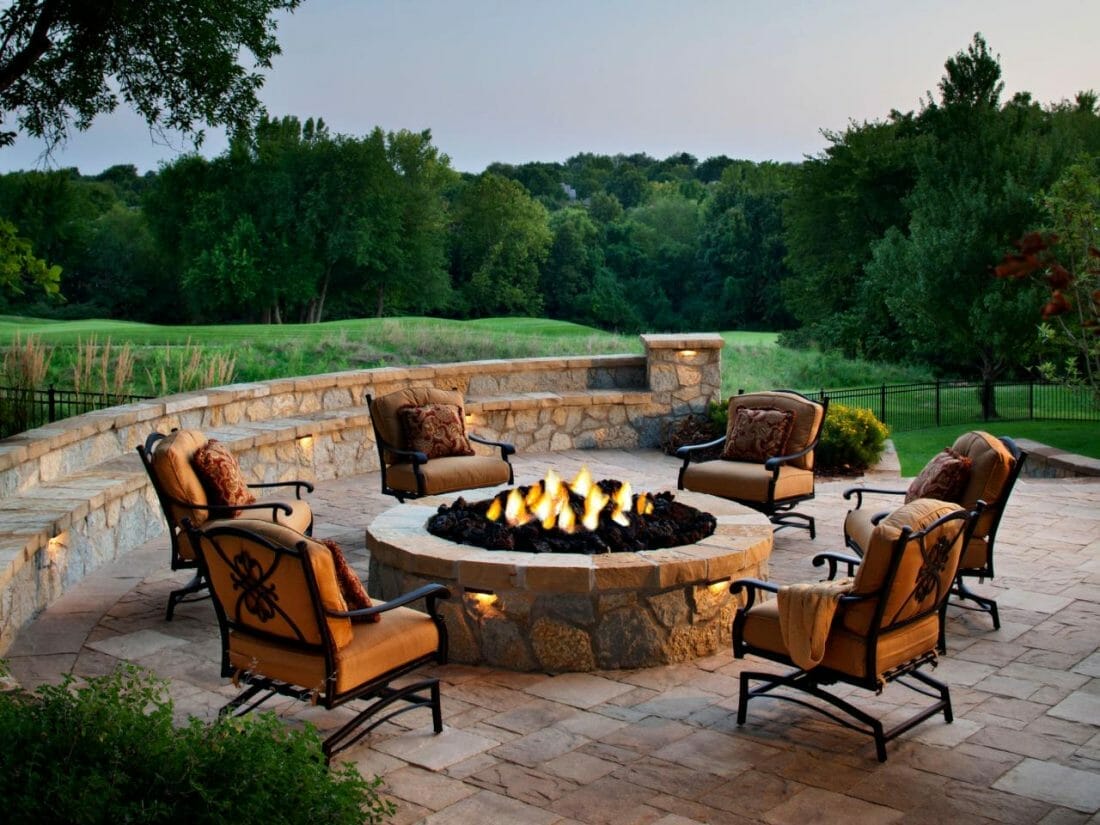 I love the remarkable juxtaposition between the rustic fire pit and refined metal armchairs. Furthermore, the stone floor and seat wall develop a pastoral setting.
The woods provide a breathtaking backdrop for the outdoor entertaining area. In addition, built-in lights emit a soft glow, while the surrounding greenery ties the space together.
28. Rustic Fire Pit Ideas with Benches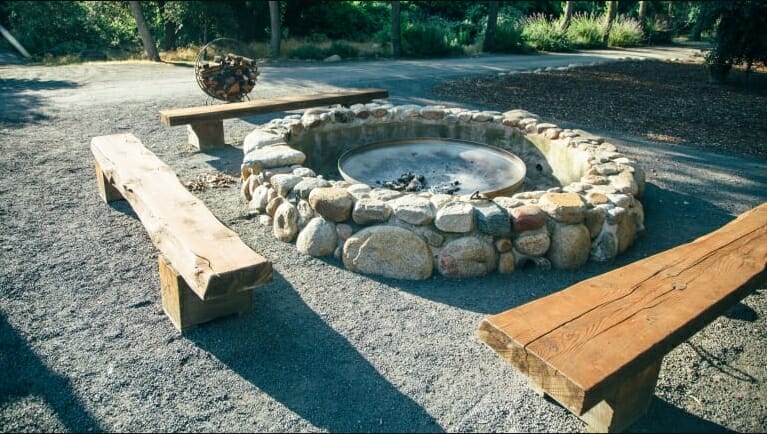 If you have a family homestead or farm, duplicate this setting. Here, the large circular fire pit features rounded natural stones and a steel fire bowl.
The reclaimed wood benches warm things up. Moreover, they give the outdoor space plenty of seating. Lastly, the metal firewood holder keeps the entertaining area organized.
29. Inspiring Fire Pit Ideas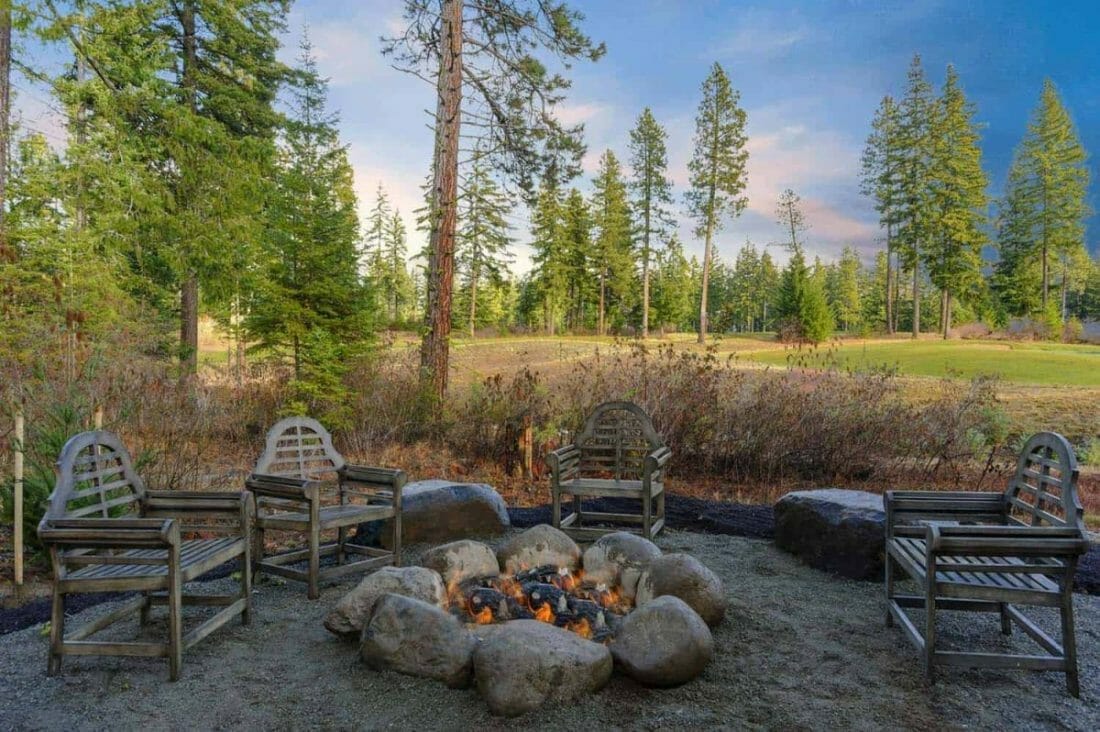 This outdoor space belongs to a wooded area. Moreover, it boasts a cozy campfire setting. In addition, there's a rustic boulder fire pit for a warm ambiance.
Weathered wood armchairs don't look out of place here. They're in sync with the existing boulder fire pit. Meanwhile, long stone benches add extra rustic seating.
With those wondrous rustic fire pit ideas, you can create a superb setting. Simply pick the design that tailors your needs and suits the surrounding environment. So let's build your dream entertaining spot!