For most parents, designing a kid's bathing space is such a challenging job. The bathroom must be functional and playful at once. If you are dealing with the same issue, read on for incredibly marvelous kid's bathroom ideas.
These children's bathrooms employ various details such as open storage, towel hooks, wallpaper, bright shower curtain, and many more. I believe they appeal to both kiddos and adults.
1. Pottery Barn Kid's Bathroom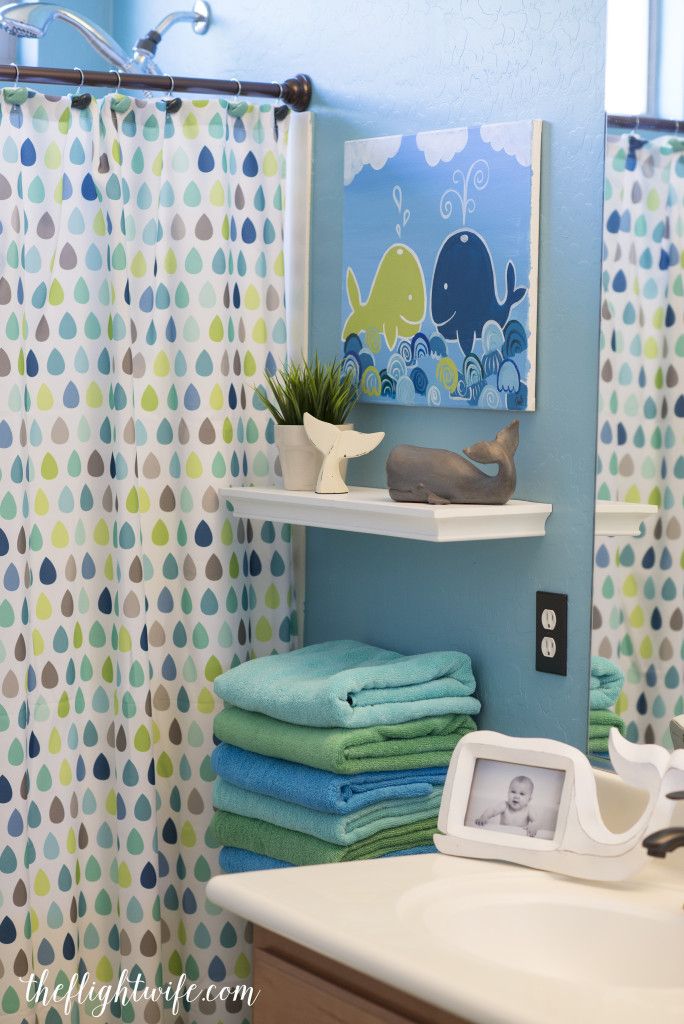 The raindrop shower curtains add a touch of fun to the pottery barn kid's bathing space. Not to mention, they tie the room together.
White countertop and a floating shelf along with blue walls create a fresh look. Potted plant, whale wall hanging, and statuettes finish things off.
2. Guest Friendly Kid Bathroom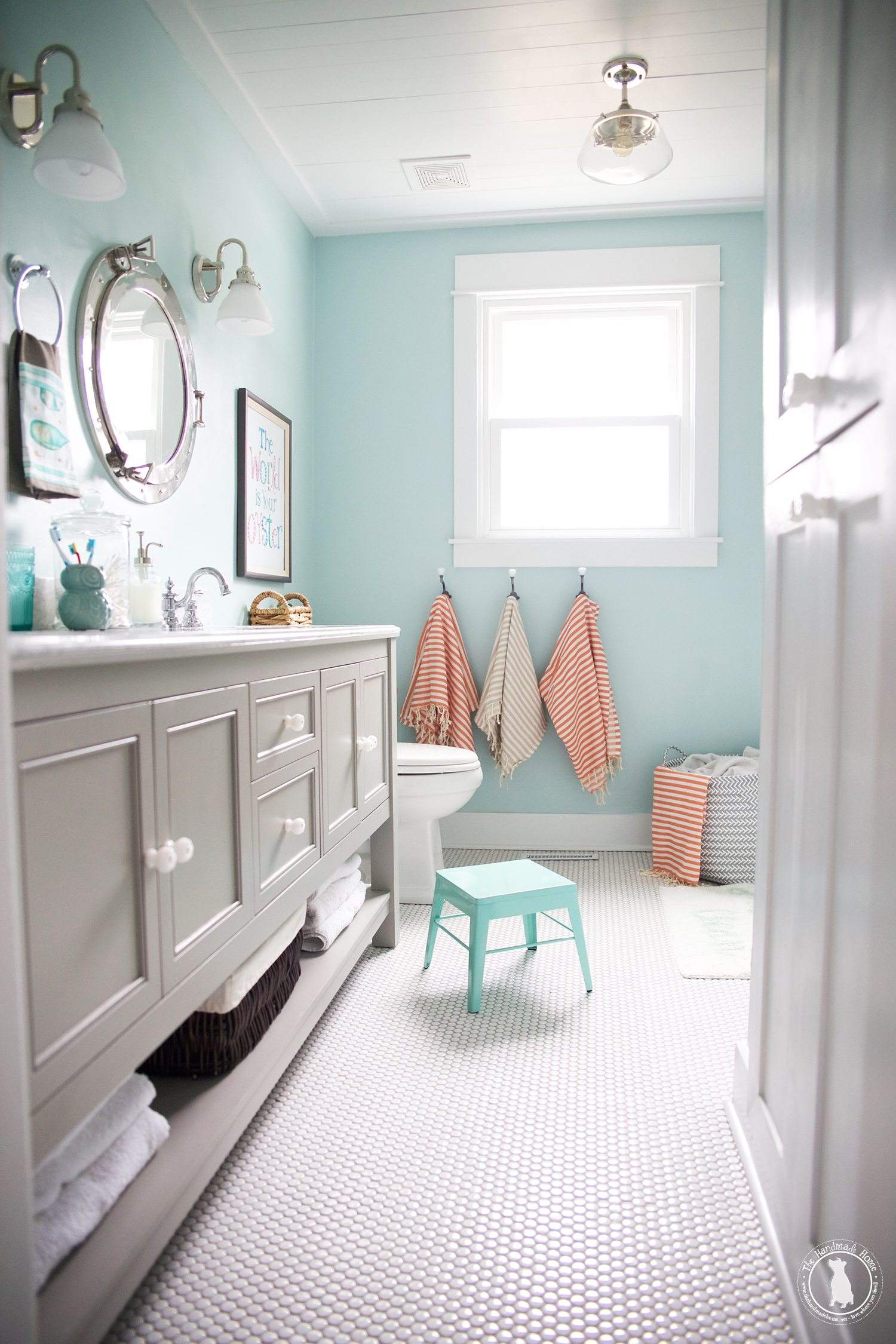 Penny round floor tiles allow the mint green step stool and walls to star. The laundry basket and hooks hold striped towels.
Pastel gray cabinets and an open shelf are used to store bath essentials. Vintage mirror and light fixtures make the kid's bathroom guest friendly.
3. Kid's Bath Mat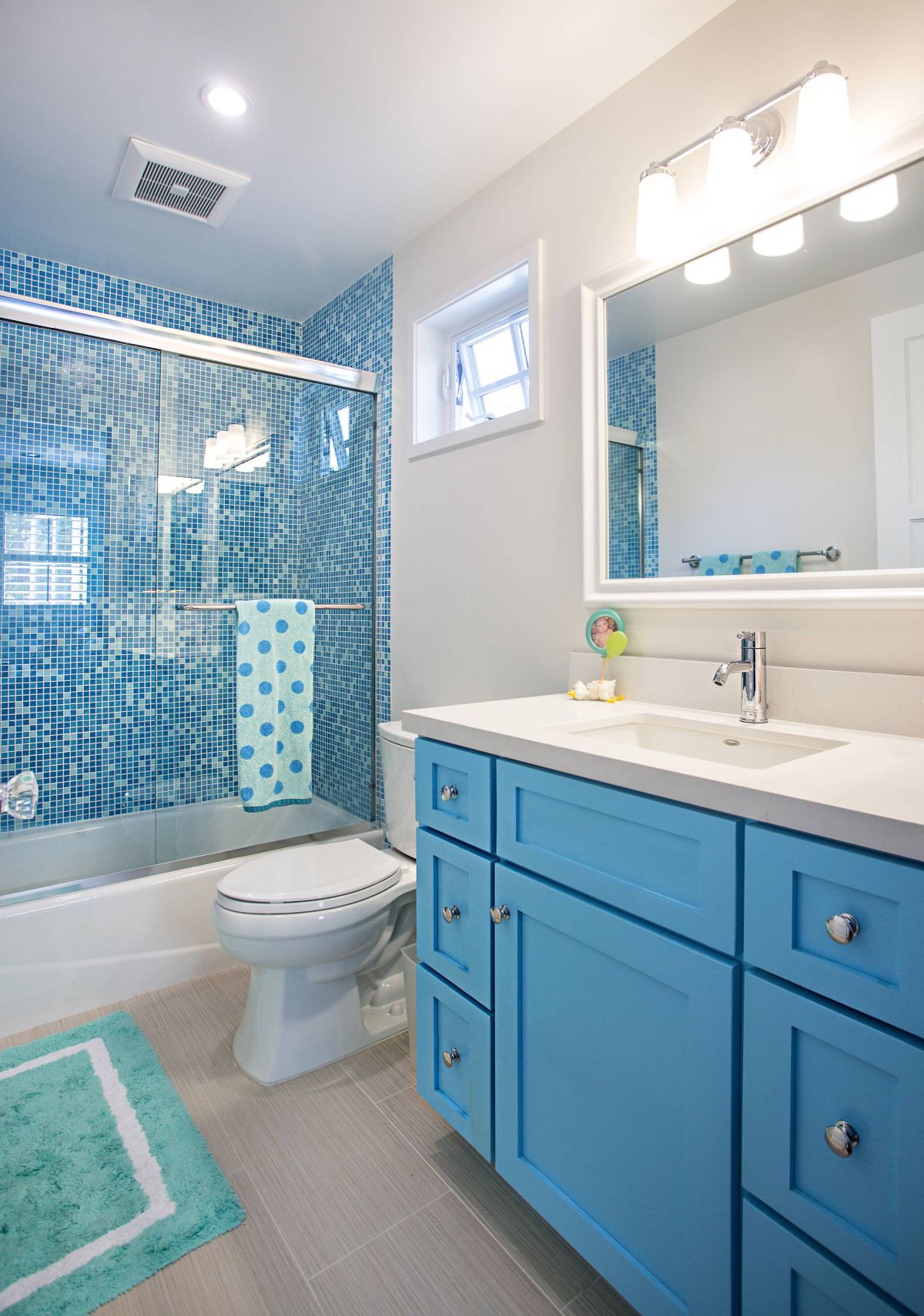 White foundation lets vibrant blue vanity and mosaic-tiled shower walls steal the show. Rectangular mirror and white countertop ooze modern charm.
Wood-look ceramic tiles set a cozy scene. Turquoise bath mat and polka dot towel up the happy vibes.
4. Children's Bathroom Vanity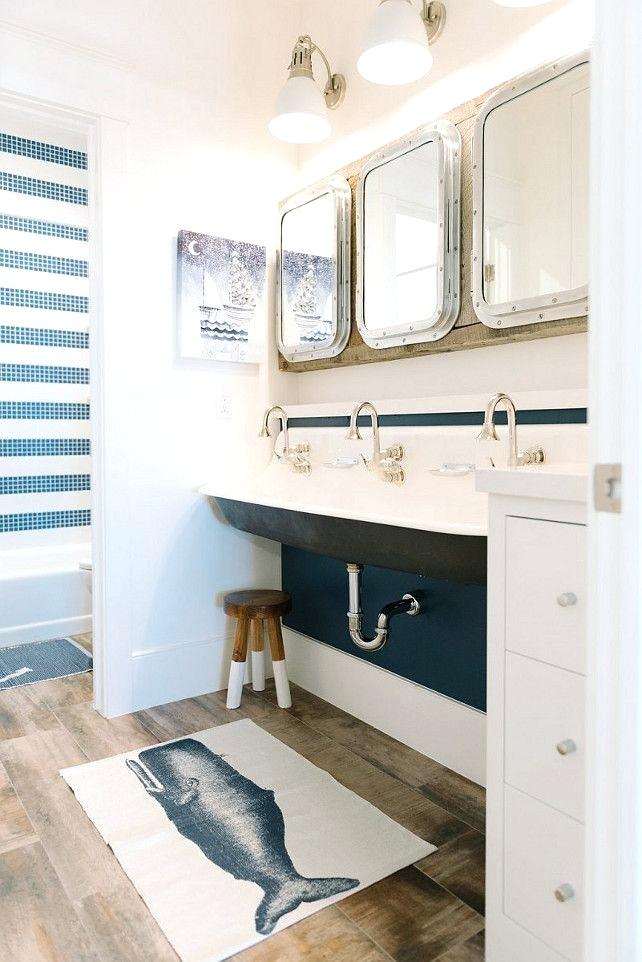 Pictured here is a shared bathroom for teenage boys. They will not fight over space anymore since there are three sinks and mirrors.
Weathered woods and lots of pure white lend the space a rustic coastal feel. Metallic faucets, wall sconces, artwork, and rug produce a masculine mood.
5. Kid's Bathroom Signs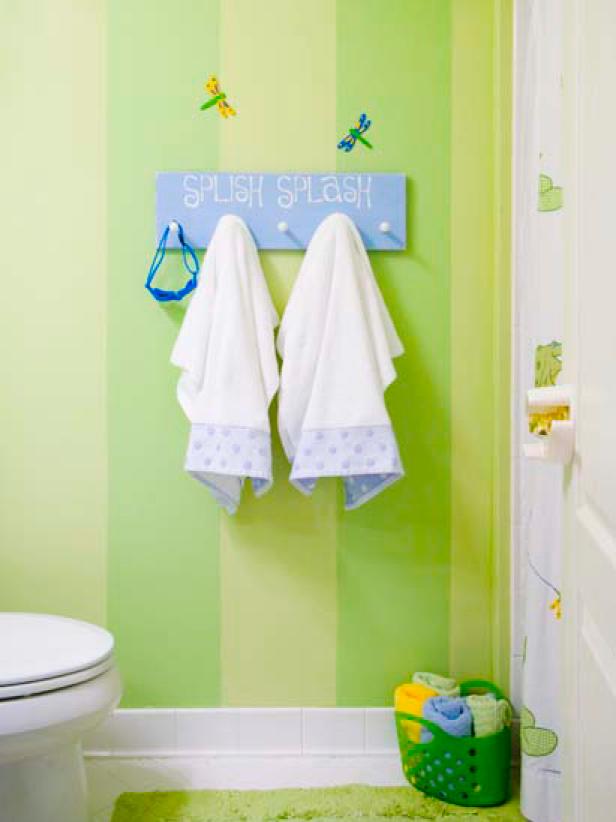 As you can see, the two-tone striped accent wall evokes an air of cheerfulness. The blue bathroom sign with white towel hooks pops against it.
The emerald green basket accommodates rolled towels in different colors. A lime green shag rug pampers child's feet.
6. Family Bathroom Ideas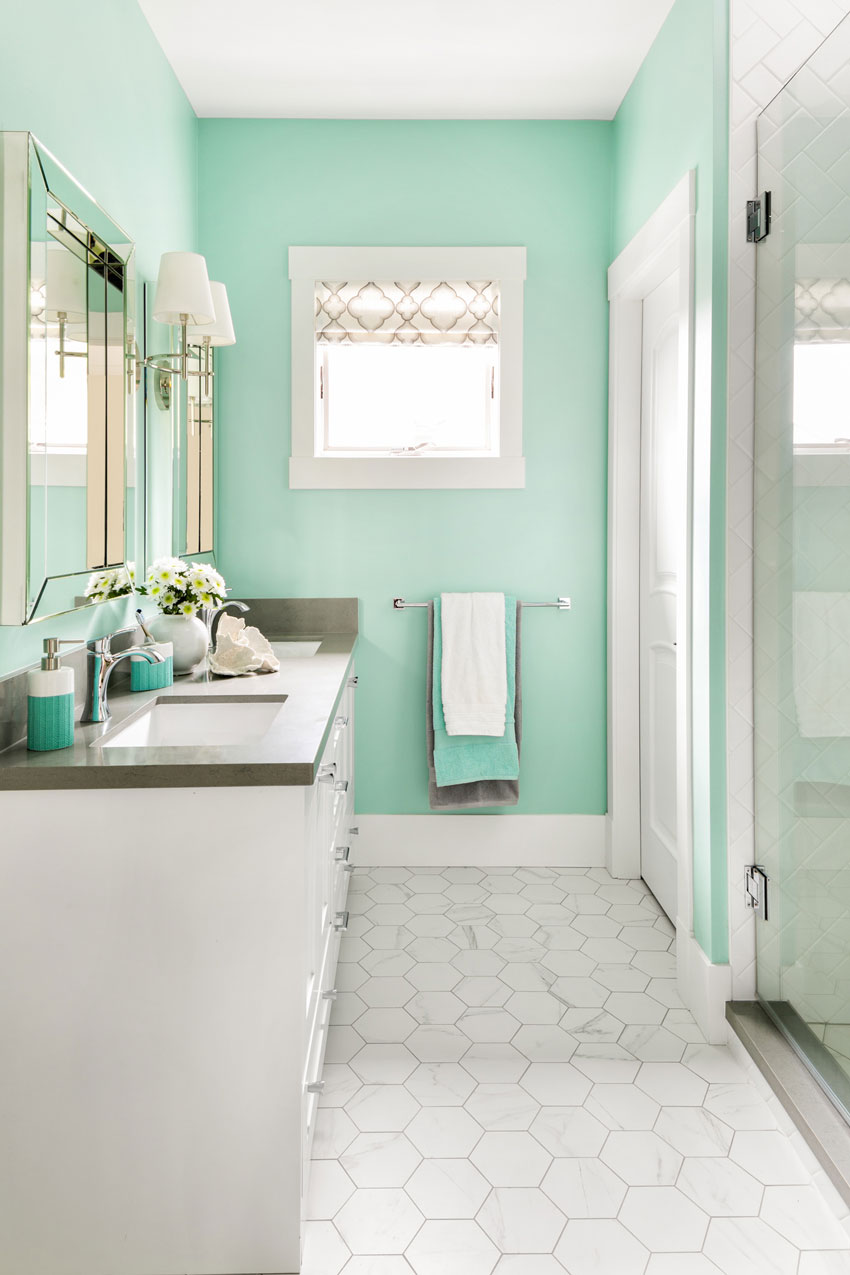 Mint green walls and accessories emanate a playful atmosphere without veering on childish. White marble hexagon tiles carve a lavish setting.
Polished concrete countertop, undermount sinks, and mirrors keep the family bathroom feel stylish. The towels offer a sense of cohesiveness.
7. Child Proof Bathtub Handles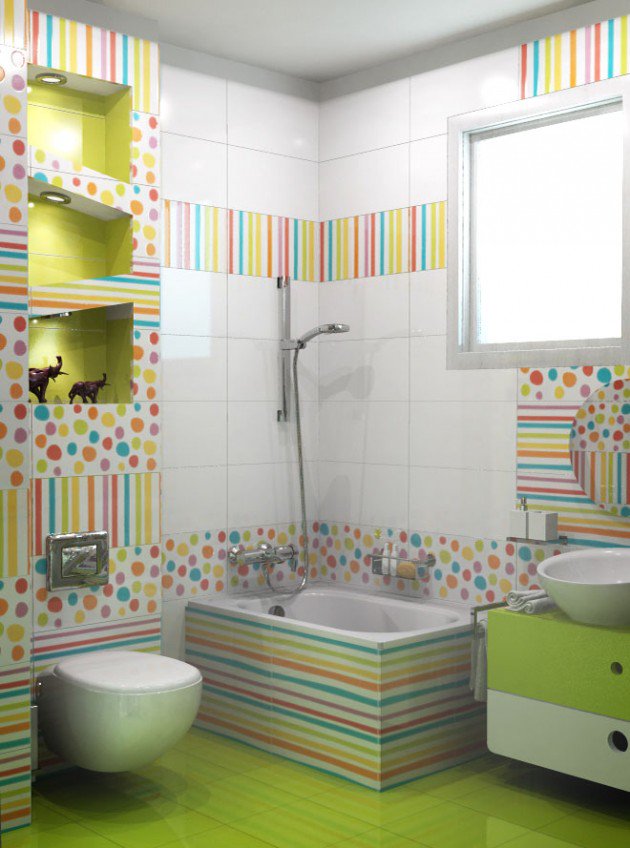 Frosted window, floating units, and white rectangular tiles set an airy feel. Lime green accents inject some boldness into the child's bathroom.
Colorful stripes and polka dots add energy to the space. The three-tub handles promise easier shower control.
8. Pottery Barn Kid's Mirror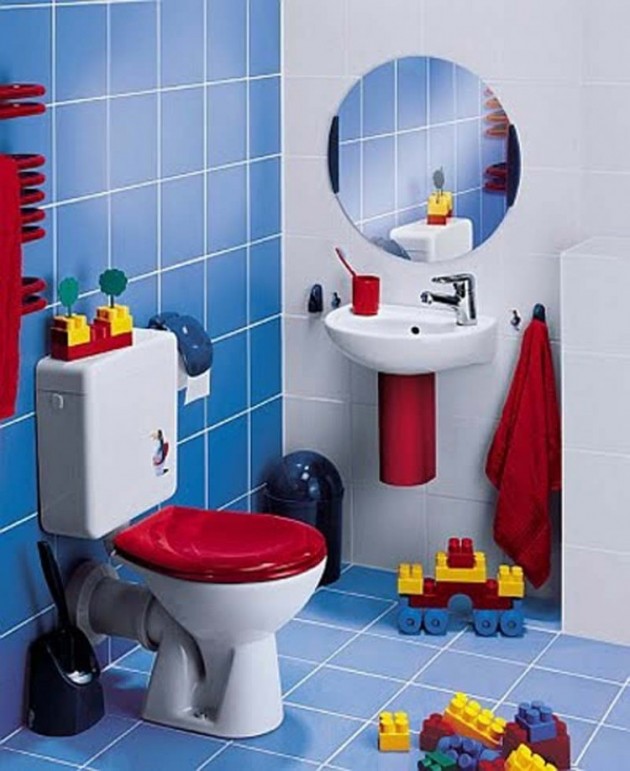 The wall and floor are covered in blue tiles. Navy and red accents add a bit of drama to the pattern barn child's bathroom.
Lego units deliver a whimsical touch to the space. A circular mirror is hung on the light gray wall above the washstand.
9. Kid-Friendly Bathroom Designs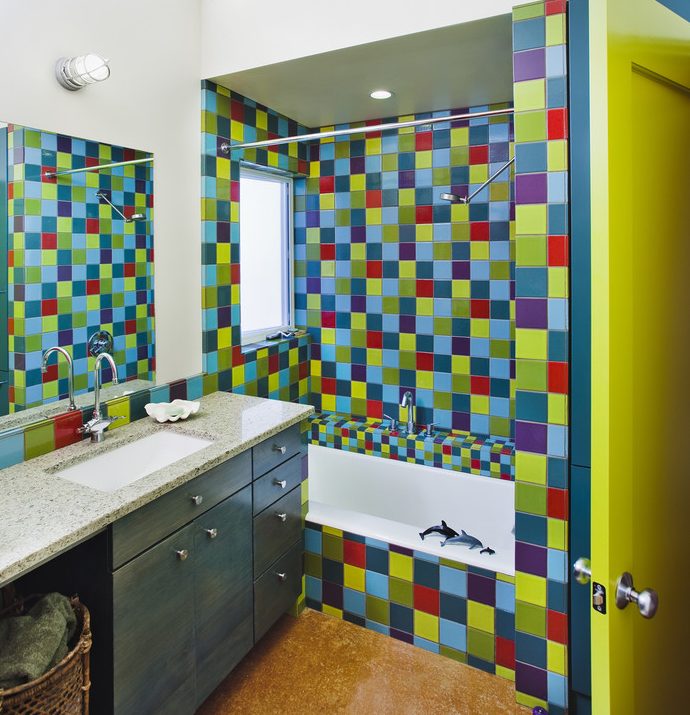 In this kid's bathroom, the walls and the bathtub are sheathed in colorful square tiles. They instantly make the space punchy.
The neutrals tone down vibrant hues. A mirror spans the wall, while the rattan basket keeps the spare towels within arm's reach.
10. Kid's Shower Curtains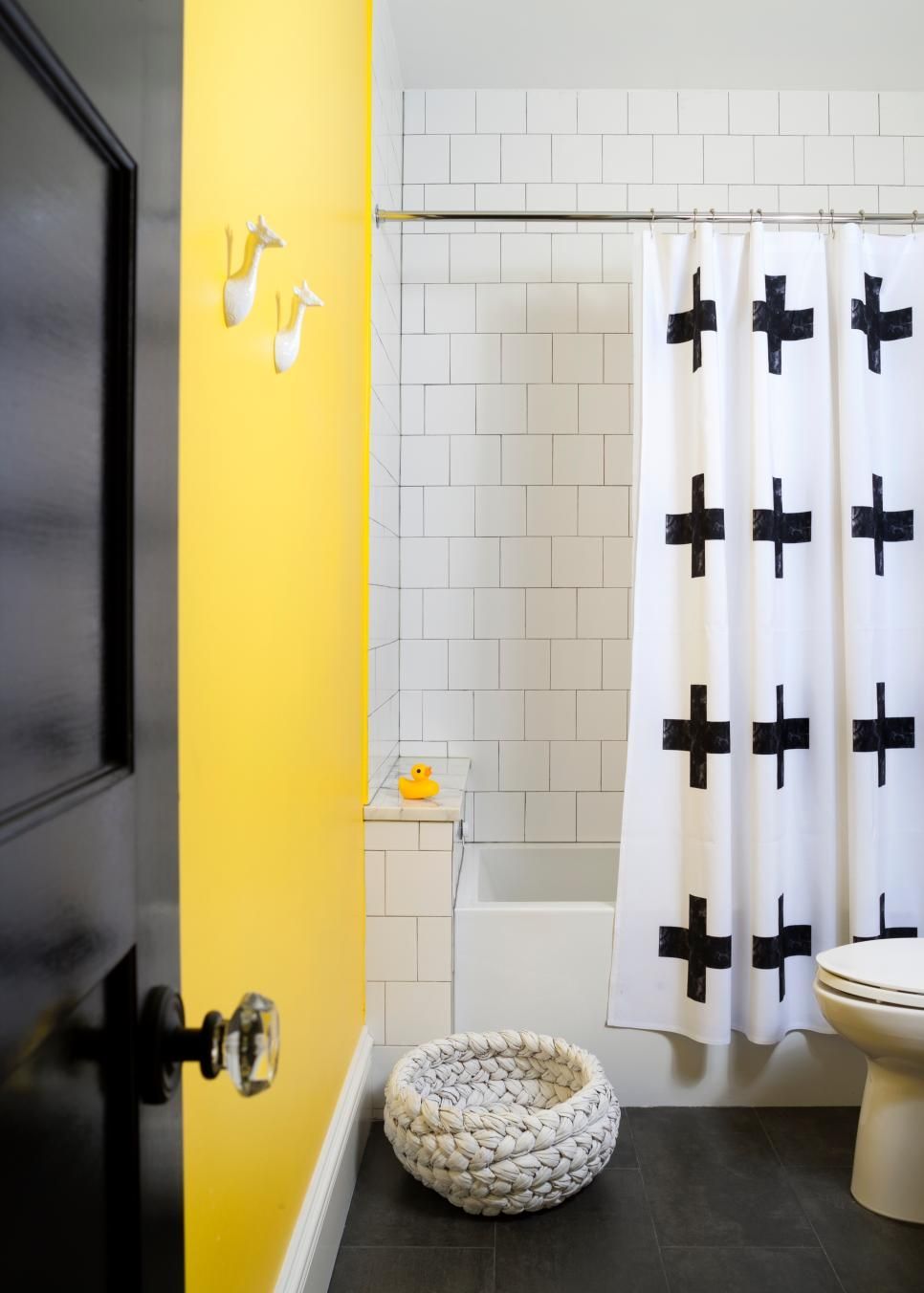 This is a perfect shared-bathroom for kid and teen boy. Black door, slate floor, and Scandinavian shower curtain exude a sense of maturity. Yellow wall, rubber duck, and animal hooks maintain the room's playful vibe.
11. Girl Bathroom Shower Curtain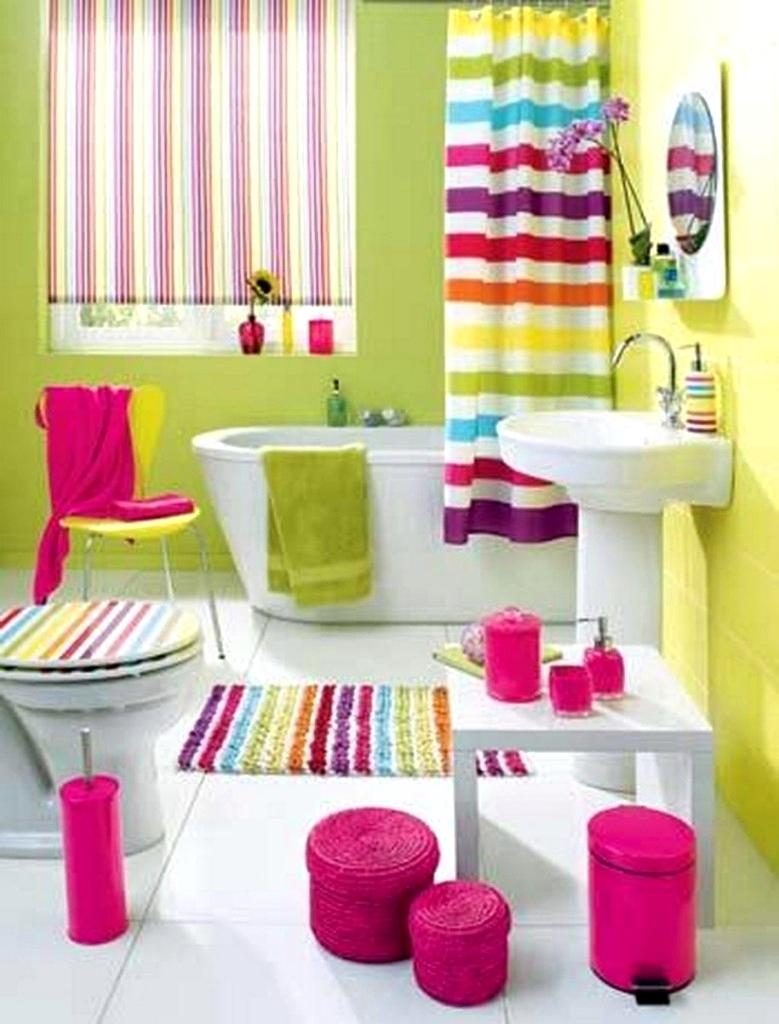 Shots of hot pink, lime green, and lemon yellow carve a youthful ambiance. The window-blind blocks out the harsh sun's rays. Rainbow shower curtain, rug, accessories, and toilet lid cover inject personality into the girl's bathroom.
12. Kid's Bathroom Wall Decor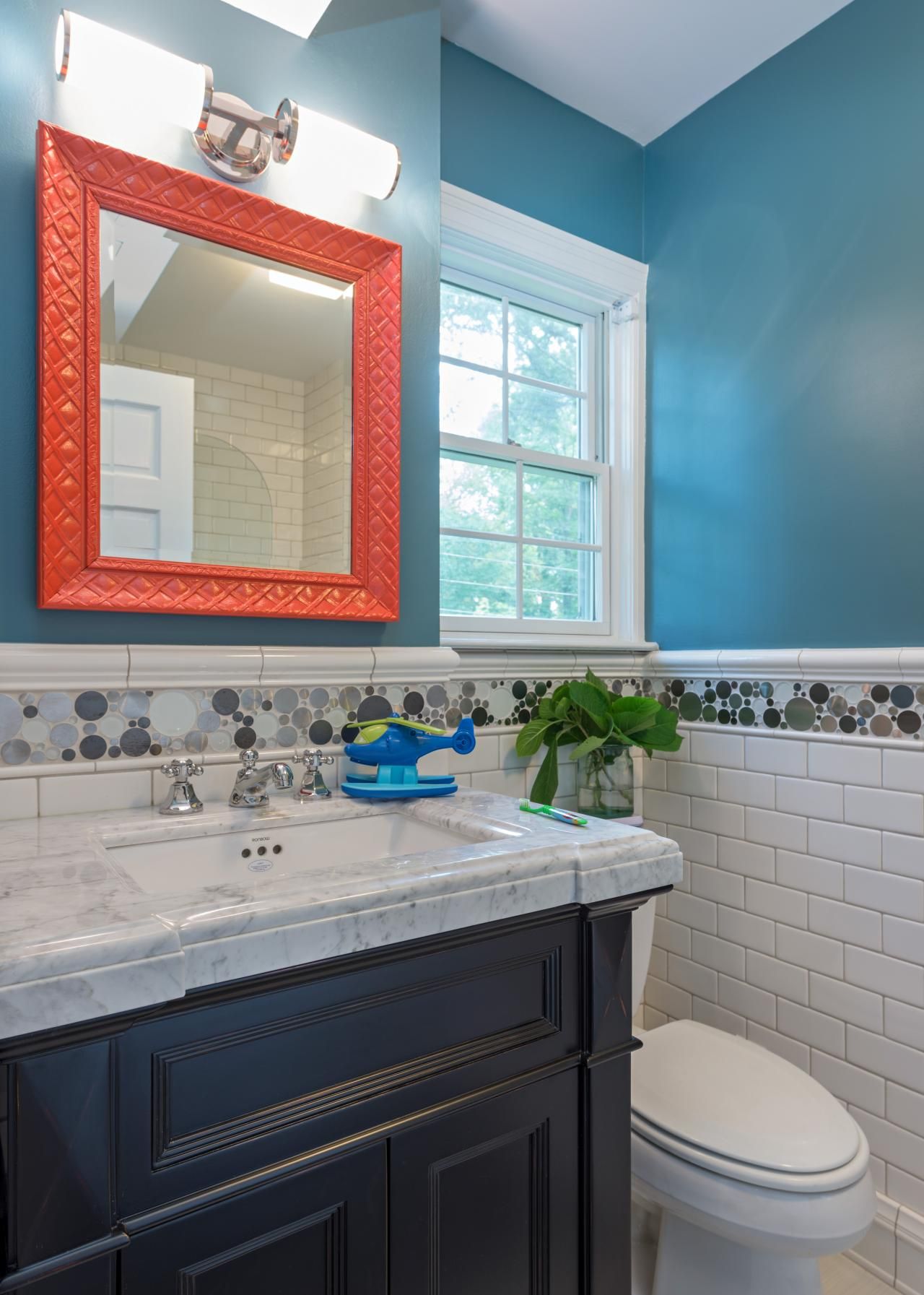 Double-hung mirror allows in sunlight to pass through. The marble countertop, black vanity, and white subway tiles prevent the bathroom from being too juvenile. A coral-framed mirror doubles as the wall decor.
13. Funky Children Bathroom Accessories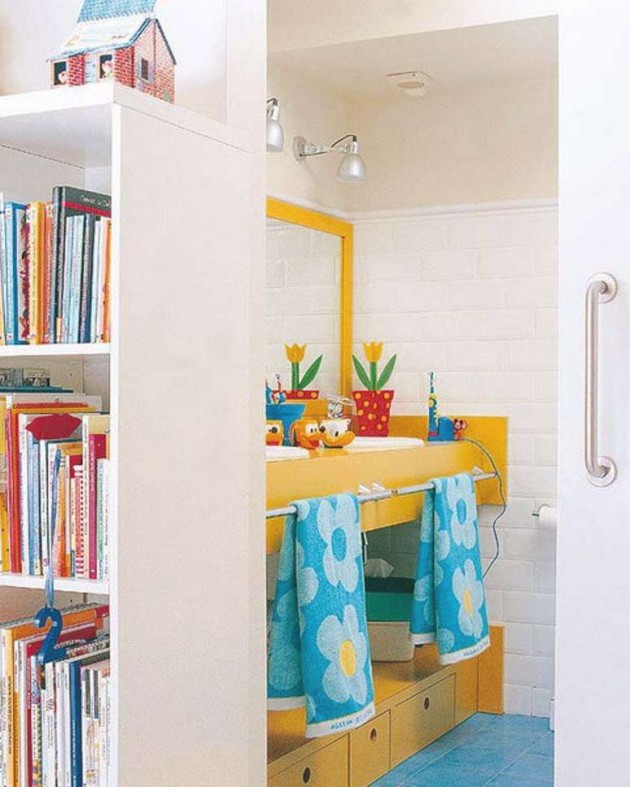 The mustard yellow vanity in this tiny bathroom boasts two sinks and faucets. They let two children brush their teeth at the same time. Funky accessories and floral towels spice things up.
14. Boy Bathroom Sets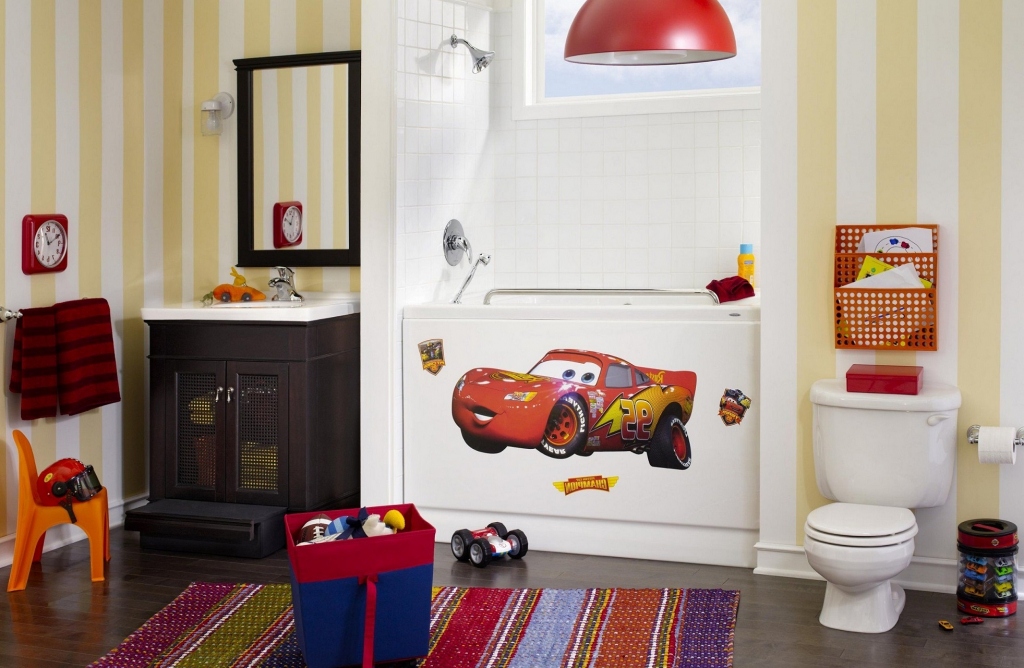 This bathroom features white and yellow striped wall coverings. Along with rug and monster truck pieces, they exhibit a cheerful atmosphere. Dark wood vanity, mirror, and floor infuse warmth into the interior.
15. Small Kid's Bathroom Ideas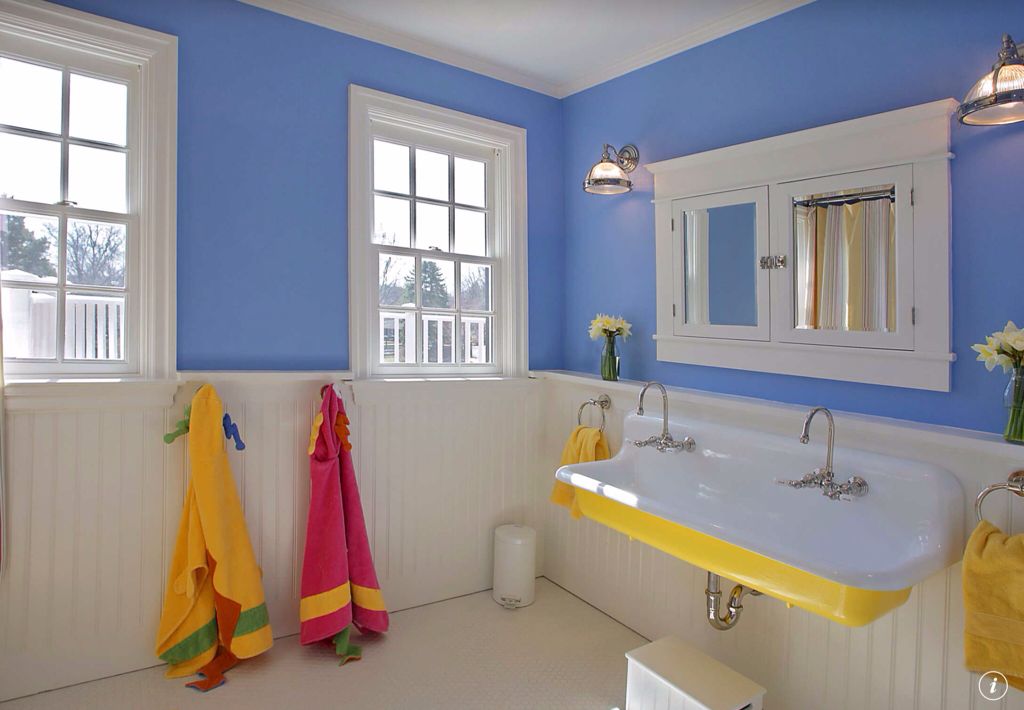 Plenty of white and windows make this pocketsize bathroom appear bigger. Cornflower blue, pink, and yellow serve as accent colors. Mirrored built-in cabinets save space and keep the bath necessities out of sight.
16. DIY Shelves for Children's Bathroom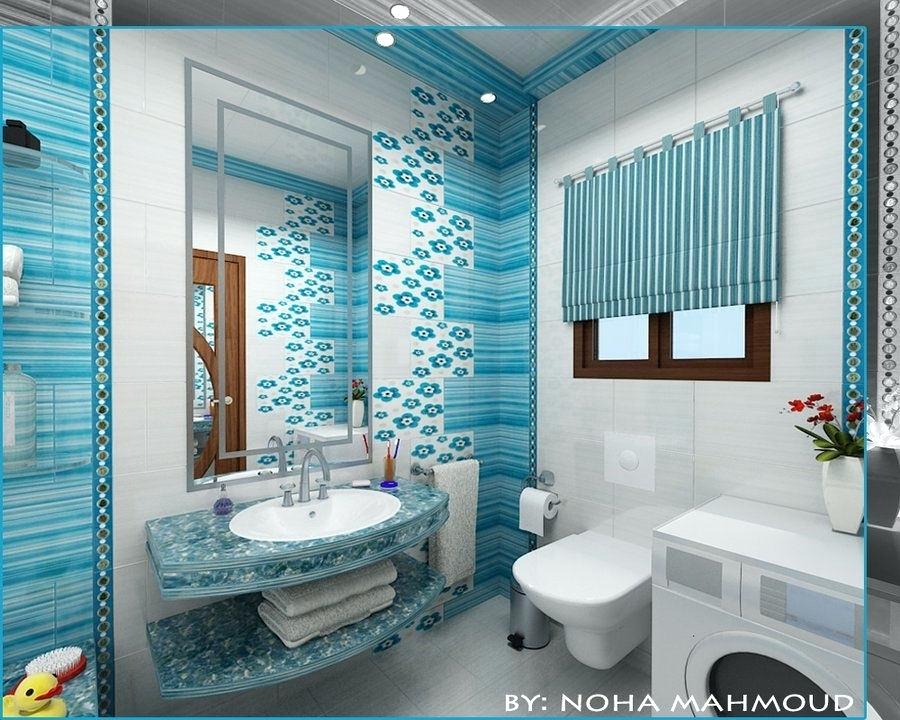 The rest of this children's bathroom is quite grown up. Floral wall stickers, yellow rubber duck, striped curtain, and tiles convey a sense of youthfulness. A floating open shelf features easy-to-reach gray towels.
17. Kid's Bathroom Floor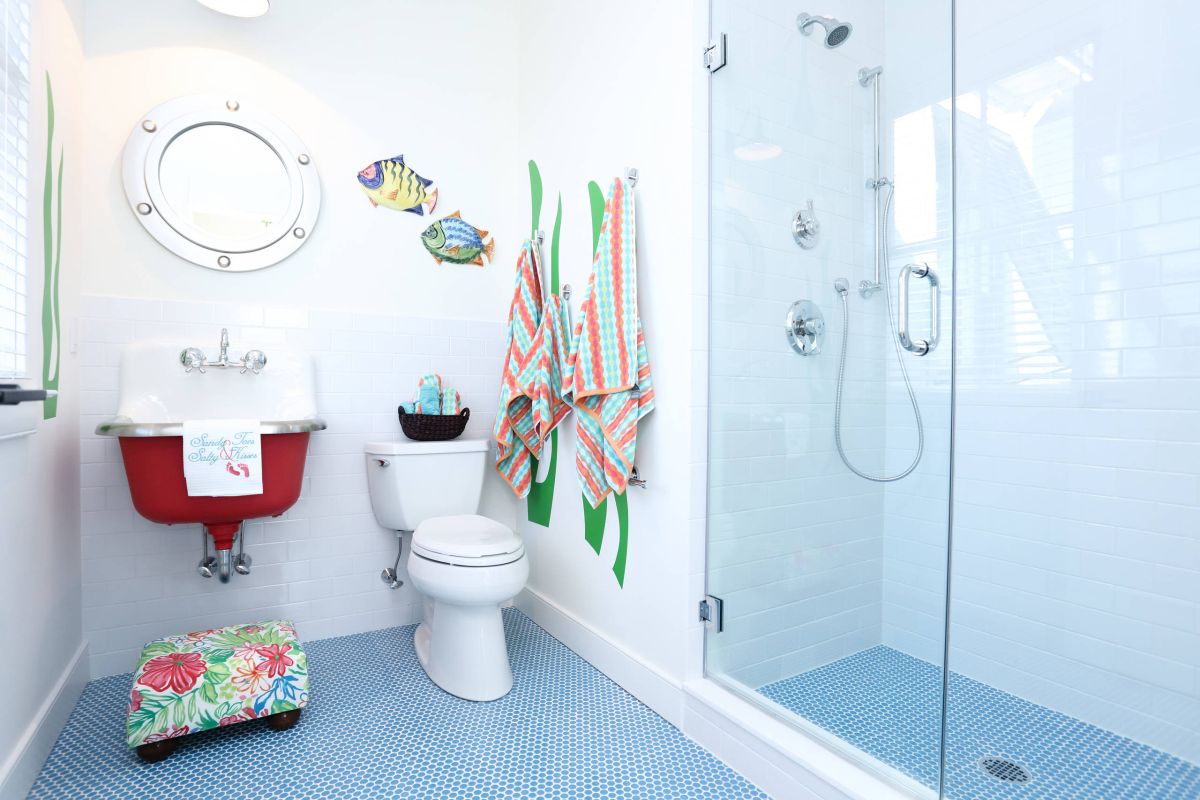 Fish and seaweed wall decals pop against the pure white backdrop. Porthole mirror and blue floor tiles result in a sea-inspired bathroom. The floral step stool helps your kid access the washstand safely.
18. Baby Bathroom Ideas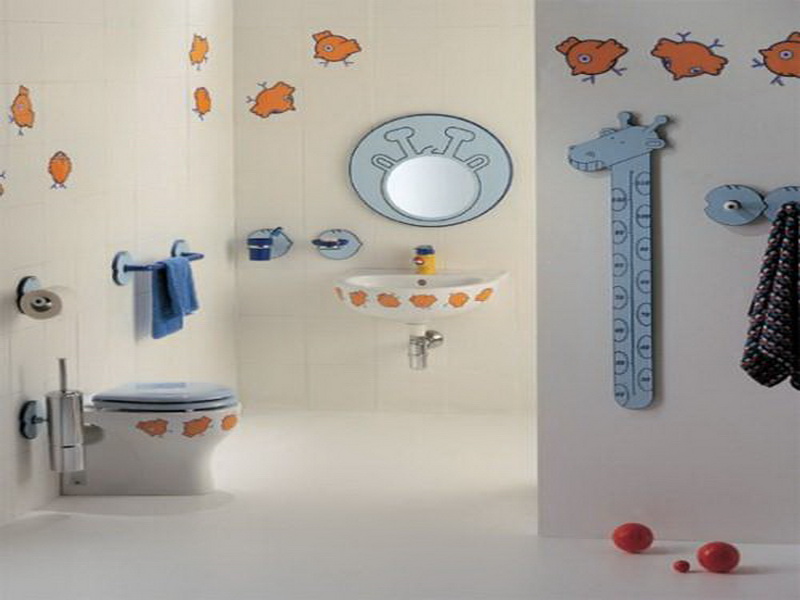 This animal-themed bathroom is outfitted with toilet, mirror, and washstand. So, the little one can learn about potty training as well as brushing his teeth. Towel bar and hooks keep the mess at bay.
19. Children's Bathroom Shower Curtains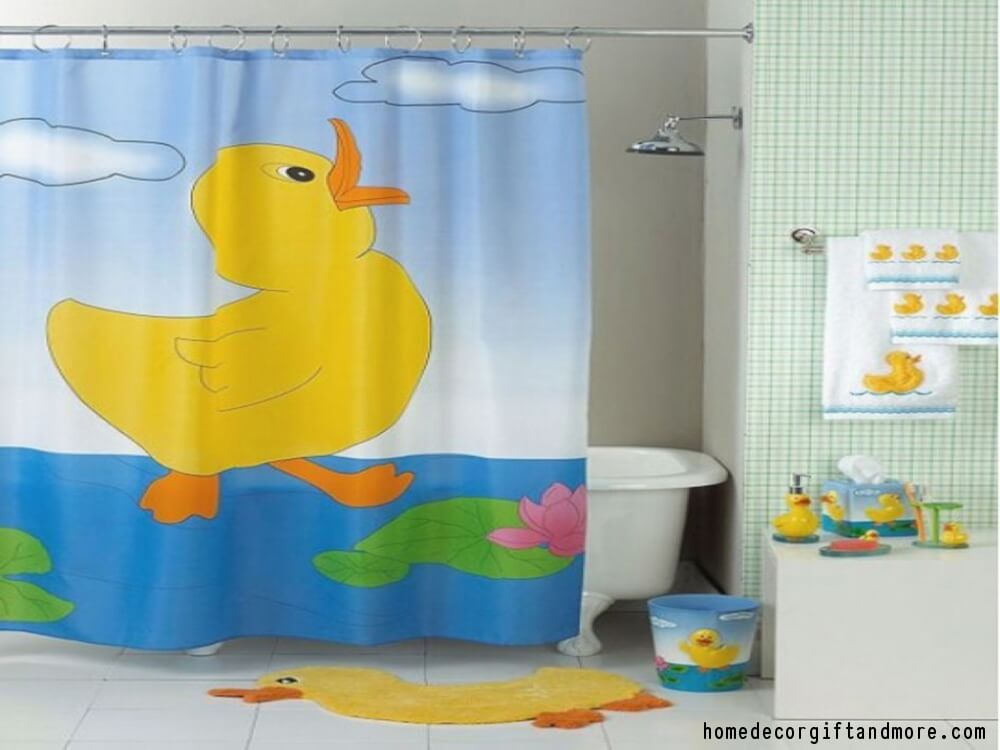 Do your children have an affinity for rubber duck? If yes, add rubber duck shower curtain, rug, bucket, towels, and accessories to the bathroom. A white clawfoot tub provides optimum comfort.
20. Bathtub Safety for Toddlers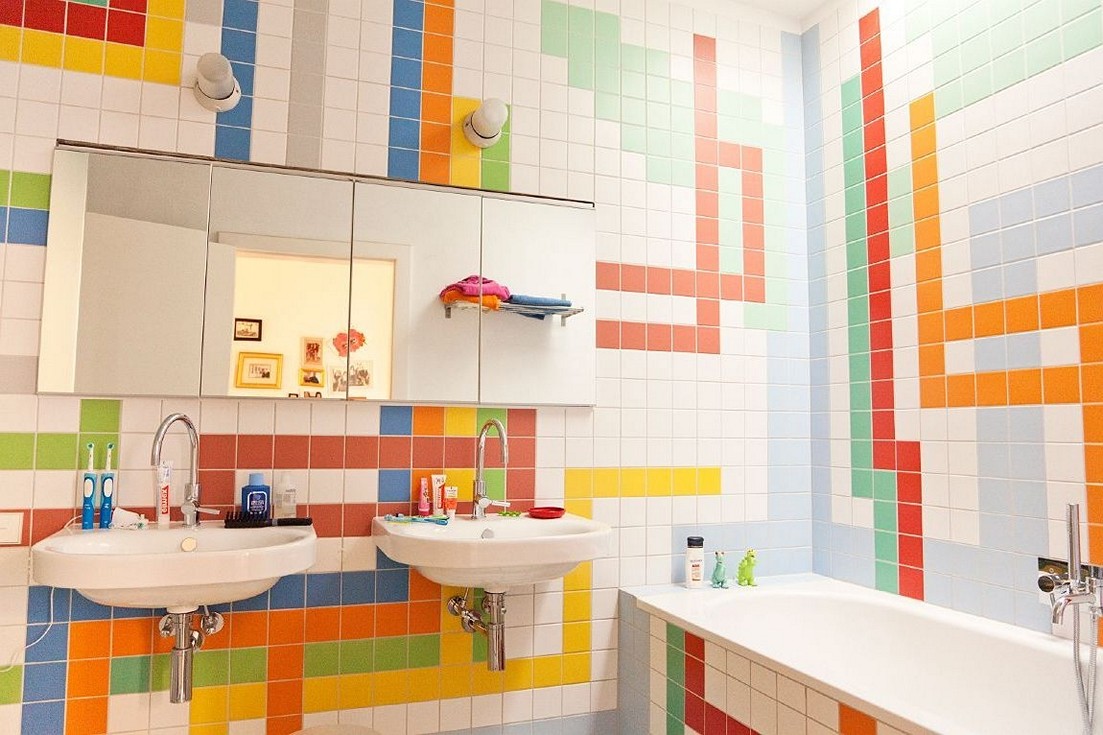 Colorful tiles brighten up this children's bathing space. Mirrored wall cabinets stretch the room. Two washstands keep kids from fighting during their morning routine. The anti-scald shower faucet makes children's bath time safe.
21. Children's Bathroom Wall Art Prints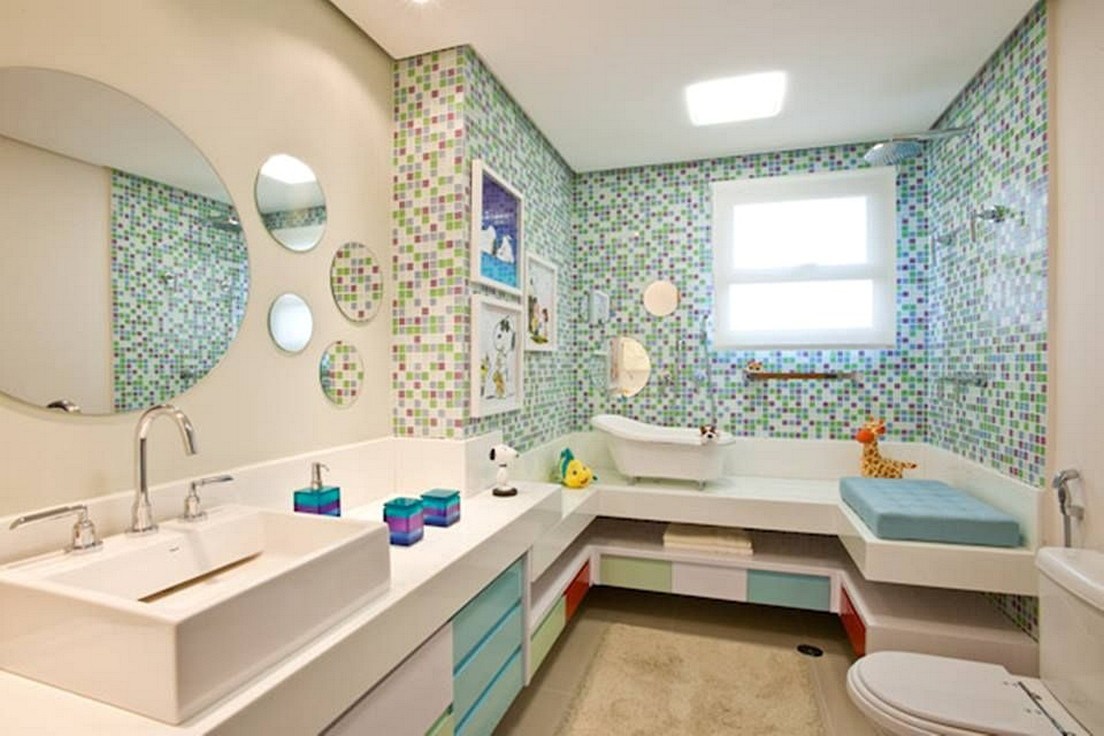 The white foundation, window, and skylight lead to an airy environment. Mosaic tiles, mirrors, waterproof plush toys, and framed art prints evoke playful vibes. Lastly, the step pulls out from floating drawer.
22. Kid-Friendly Bathroom Tile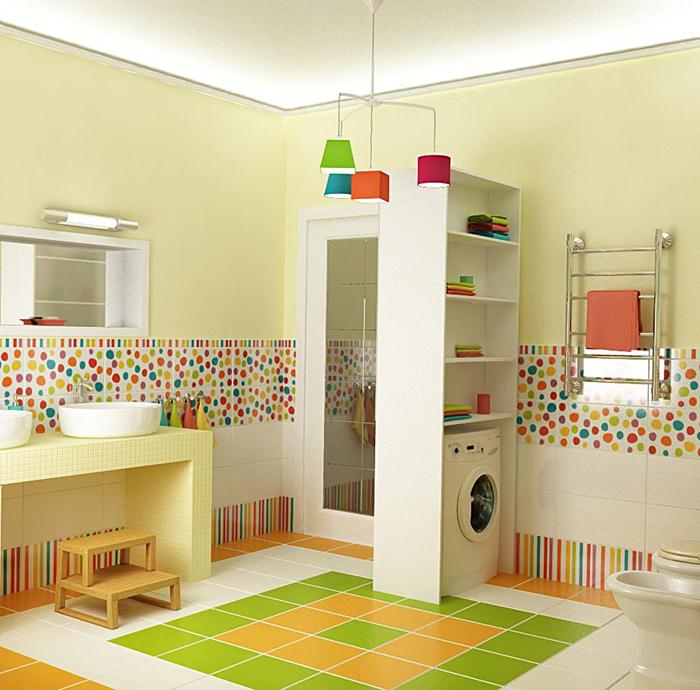 Here, the bathroom floor is covered in crisp white, green, and mustard yellow tiles. They, along with bold pendant lights, polka dot, and striped wall stickers turn the space into a kid-friendly oasis.
Wooden step stools help kids reach the sinks.
23. Kid's Bathroom Layouts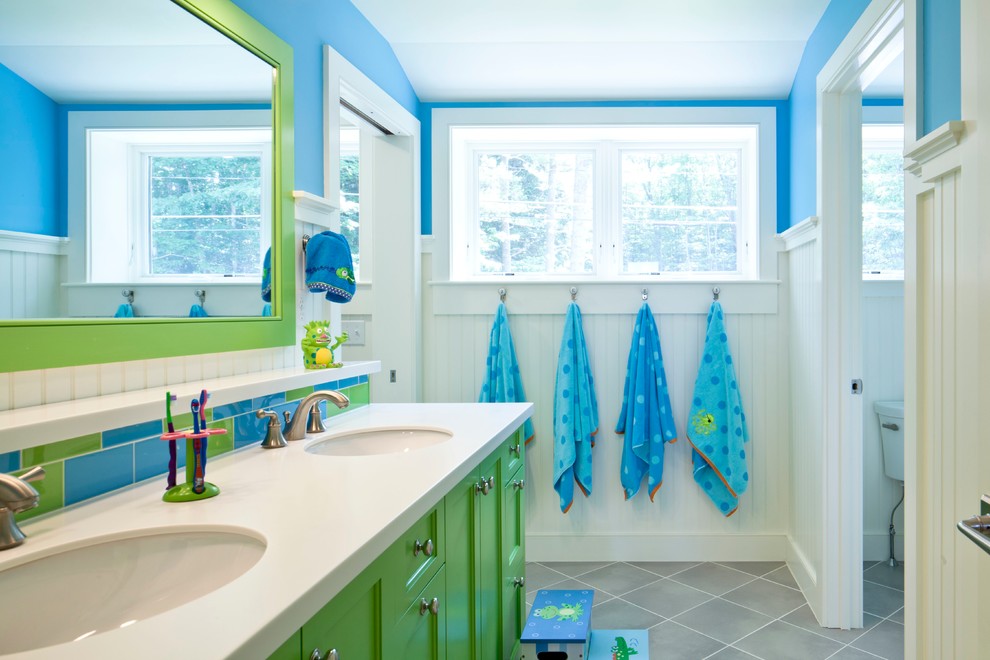 The metallic hooks under the windowsill hold blue towels. The step stool complements green-painted double sink vanity. A green-framed full-width mirror over the vanity tricks the eye into seeing the space is bigger.
Decorating a child's bathroom is about striking a good balance. That means it should suit your style, kid's expectations, and family's needs. Are you ready to create a retreat for your little one using my kid's bathroom ideas?