When warmer months approach, homeowners typically think about changing up their bedrooms or living spaces. However, they usually abandon their balconies. Here, I've collected some truly marvelous balcony furniture ideas to inspire you.
Picking the best layout as well as decor for a balcony is somewhat challenging. Luckily, you'll be finding some fantastic ideas to maximize the available outdoor space. Furthermore, these examples include remarkable furniture choices.
1. Cozy Balcony Ideas with An Outdoor Swing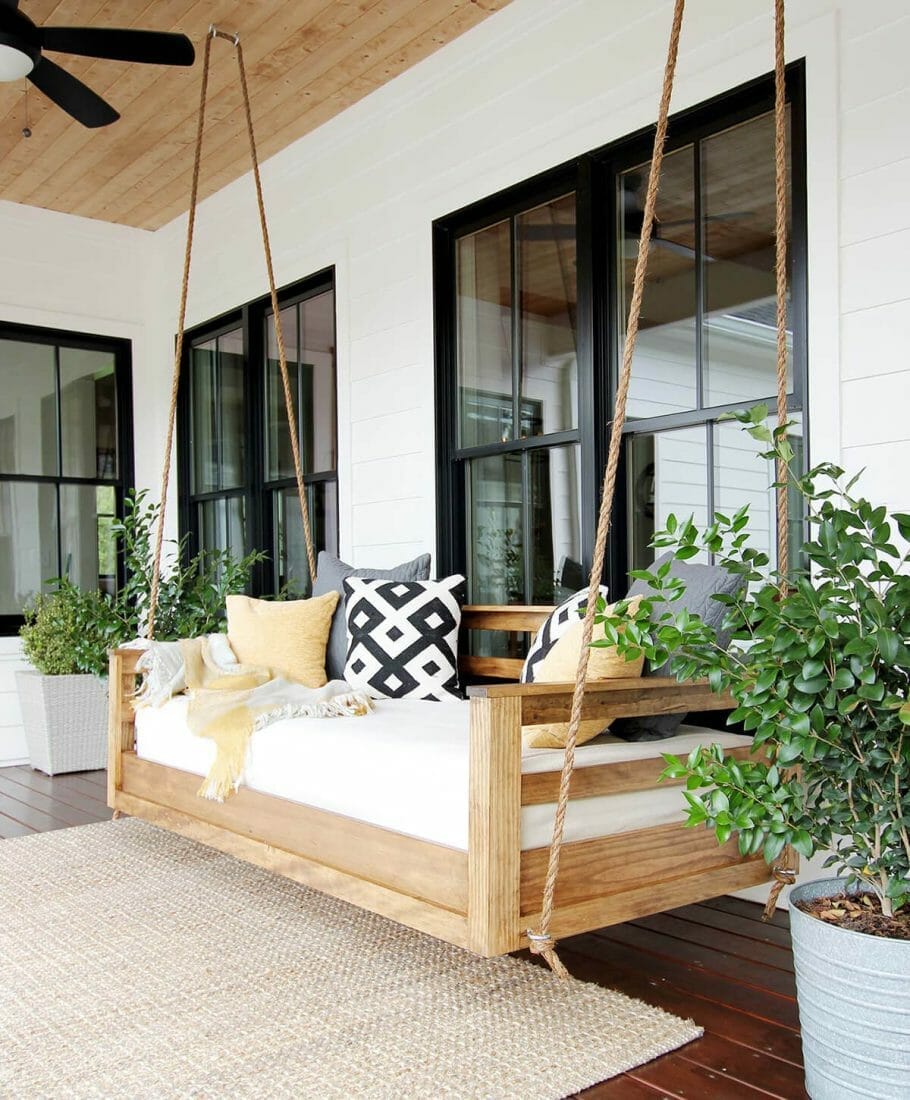 Who says swing benches aren't suitable for balconies? Since the balcony boasts an overhang, the dweller secured a wooden swing. Moreover, it lets her relax and enjoy the remarkable scenery from a different height.
There's a bright white cushion on the outdoor swing. Because of it, the swing becomes a super cozy lounging spot.
The muted yellow, monochromatic, and gray throw pillows accompany the wooden swing bench. In addition, they inspire pure comfort.
The jute rope and wicker rug lend the balcony natural textures. They contribute to the outdoor area's inviting look, too.
2. Bohemian Balcony Design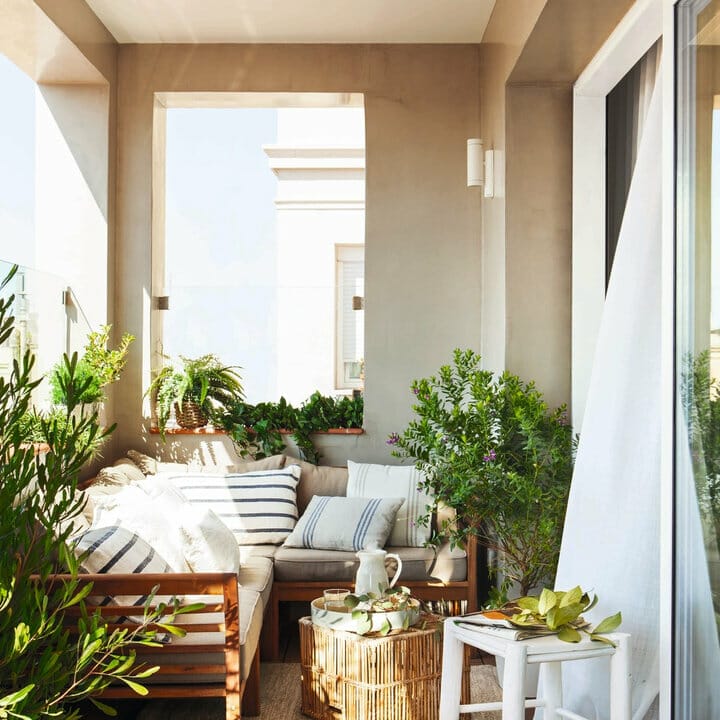 Although the homeowner has a pint-sized balcony, the dweller doesn't neglect it. As you see, he incorporated a sectional wooden sofa with light tan cushions to match existing walls.
Neutral-colored throw pillows nestle on seat cushions. Moreover, they showcase both horizontal and vertical stripes to add interest. Also, those pieces produce a comfy feel.
The cube rattan table holds a round tray featuring a jar pitcher. Furthermore, plenty of greenery infuses a Bohemian ambiance. Lastly, the bright white stool doubles as a side table.
3.  Balcony Furniture Ideas with Globe Lights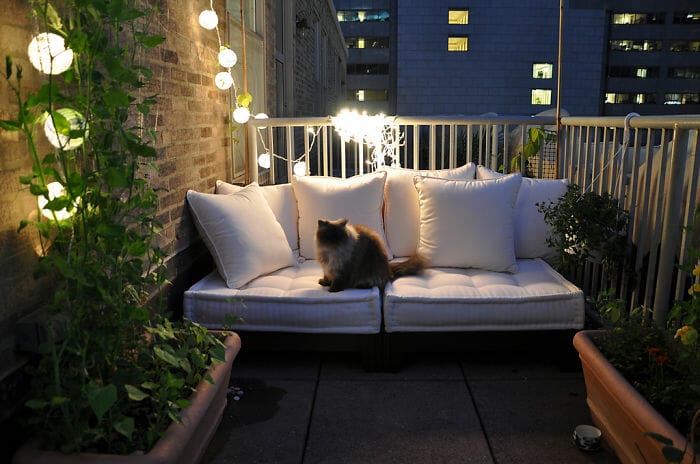 Speaking of small balcony furniture ideas, you can't go wrong with swing benches. This space, for example, employs an outdoor swing with upholstered seat cushions.
Due to white throw pillows, the swing bench becomes a personal reading nook. Furthermore, the globe lights pair excellently with the rest of the balcony decor. They emanate a casual feel, too.
Exposed bricks inject the balcony with a rustic atmosphere. Meanwhile, cushions and throw pillows on the swing bench soften the look. Furthermore, the ivy, hanging plant, and blooms instill a lively ambiance.
4. Dining Area Furniture for A Balcony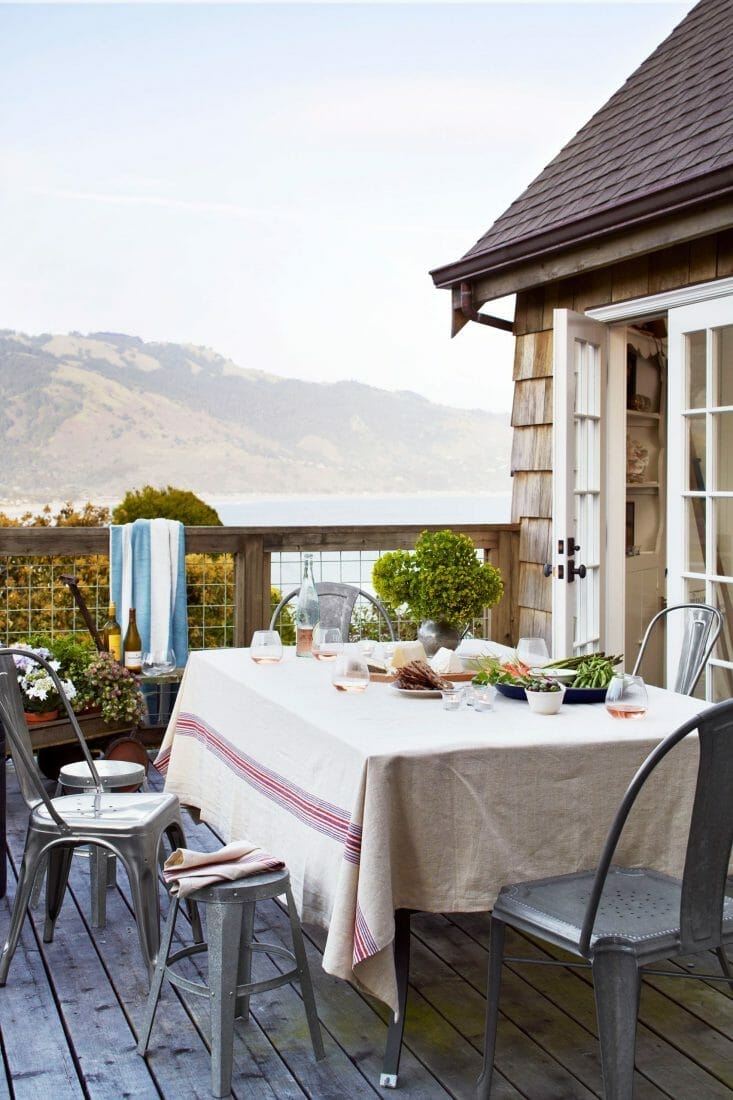 Talking about the best balcony furniture ideas, this design deserves a chance. The wooden cladding, weathered floor, and railings blend in with the surroundings.
The color scheme allows all the visitors to focus on the super gorgeous ocean view. Instead of throwing out old gardening tools, the dweller converts her old wagon into a display.
The outdoor dining area features a large table with potted greenery on top. Meanwhile, the tablecloth and striped throw blanket radiate instant coziness. Furthermore, galvanized metal stools and chairs infuse an industrial flair.
5. Large Balcony Ideas with A Dining Room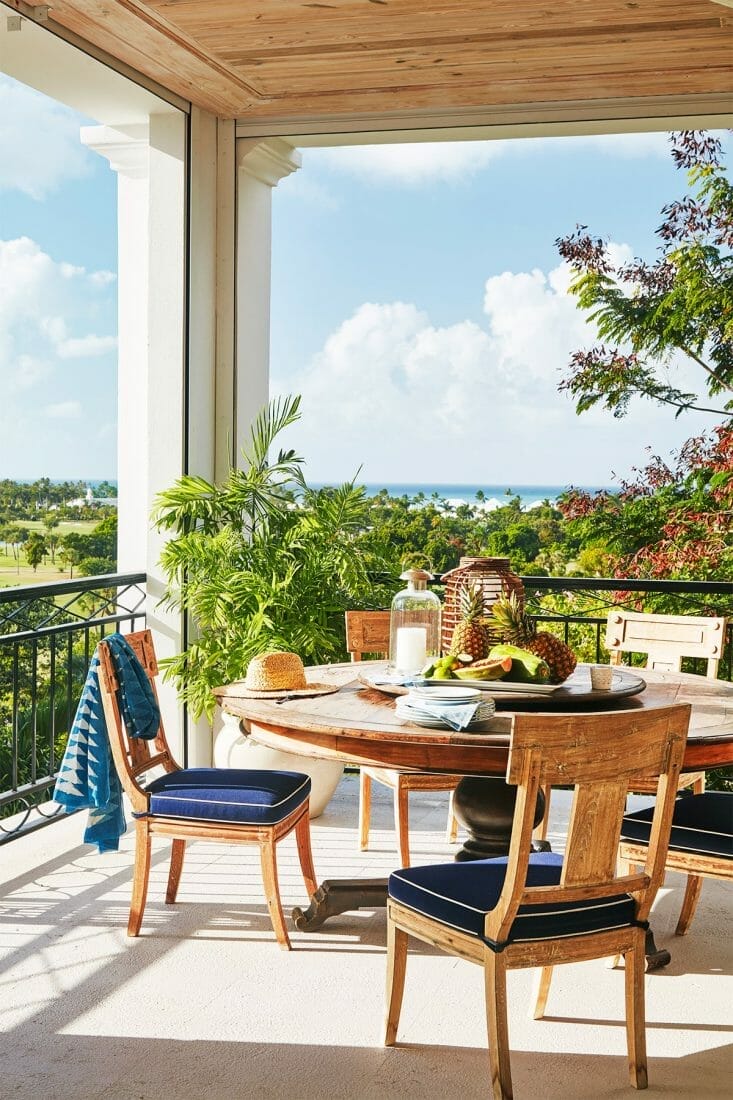 Have a somewhat expansive balcony? If so, transform it into a welcoming outdoor dining nook. In this example, the space boasts a casual dining area. Furthermore, it allows for spectacular alfresco meals.
Despite using minimal decor, this dining nook looks fabulous. Additionally, it enables everyone to focus on seaside views.
Tropical plants in the corner take center stage. Due to them, the outdoor dining area seems more inviting and lively at once.
The wicker hat, rattan candleholder, and navy seat cushions embrace a coastal atmosphere. I can't help but love the seating arrangement since it helps build intimacy. Moreover, the wooden dining table and chairs balance out the white planter and pillars.
6. Modern Balcony Ideas with Striking Lounge Chairs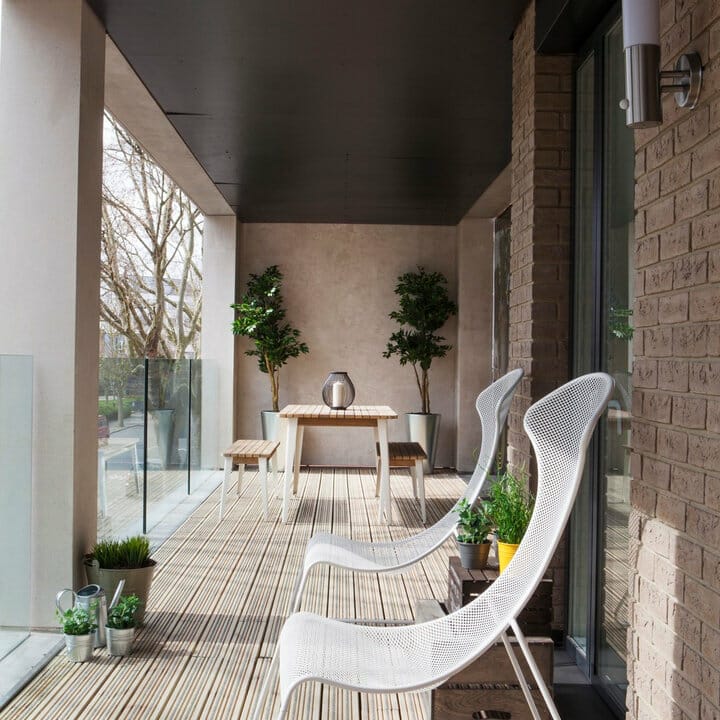 Speaking of balcony furniture ideas, take styling into consideration. This outdoor space boasts a modern lounging spot and a small dining nook.
The dining area furniture, black candleholder, and metallic planters lend the balcony magnificent visual symmetry. Moreover, glass railings exude sleekness as well as urban minimalism.
A couple of curvy lounge chairs make for an airy furniture configuration. Not only do they generate interest but also evoke comfort.
The bricks and tiered wooden plant holder create a rustic aesthetic. Lastly, the bright yellow pot gives the balcony a bit of cheerfulness.
7. Contemporary Balcony Furniture Ideas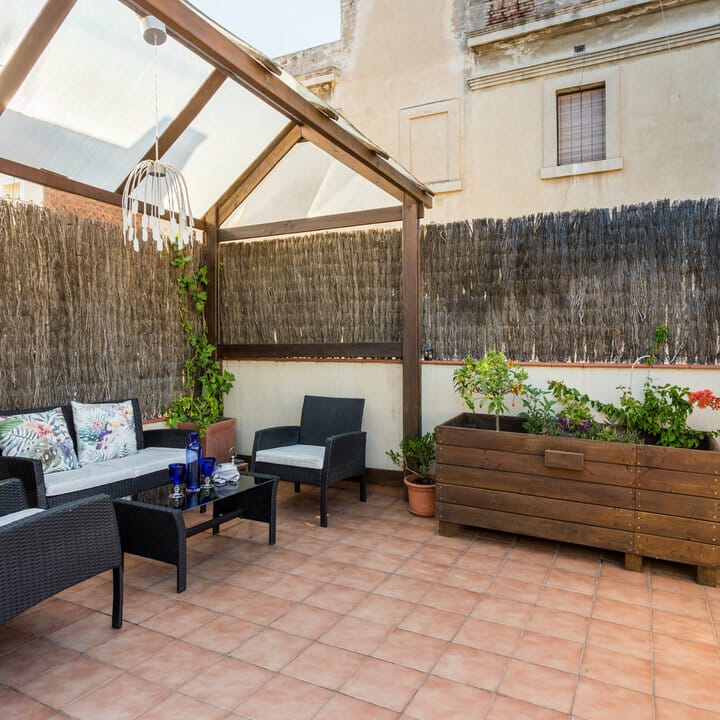 I love this contemporary balcony at first sight. As the photo shows, the synthetic wicker table, sofa, and armchairs sport deep gray to get pure sophistication.
Clean white seat cushions clash drastically with dark gray furniture pieces. Furthermore, throw pillows with colorful botanical prints spruce things up.
The terracotta and copper planters next to the deep gray furniture complement beige floor tiles. Moreover, the slim wooden planter holds several types of plants. Meanwhile, the ivy climbs over the rustic privacy screen and imbues the balcony with extra green accents.
8. Luxurious Balcony Furniture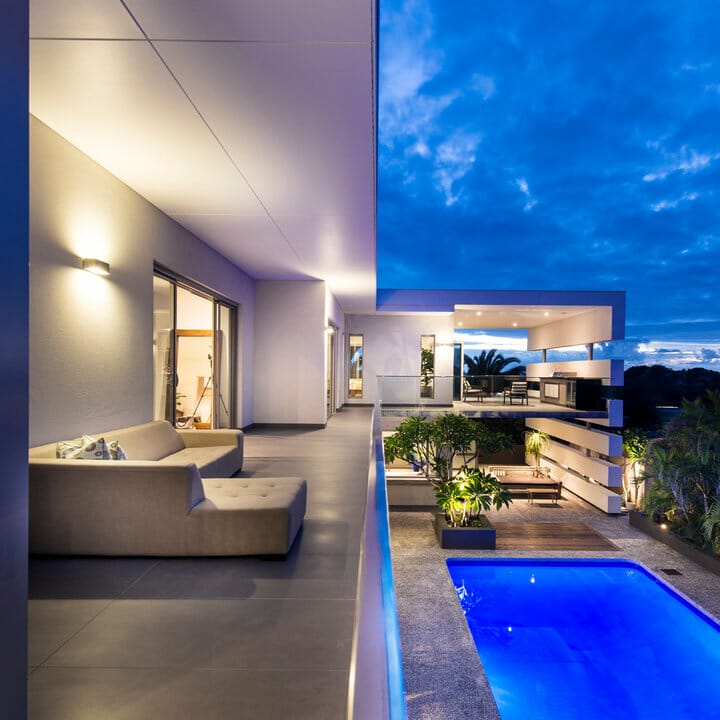 Searching for balcony furniture ideas? Take cues from this glamorous outdoor area. Moreover, the swimming pool exudes a tranquil vibe while generating a lavish feeling.
The cream tufted sofa lends the balcony a welcoming look. In addition, two-tone throw pillows keep the furniture from feeling blah.
Polished dark gray concrete tiles give off an urban atmosphere. Furthermore, the blue accent lighting enlivens the balcony. Lastly, sculptural trees in sleek planters add some interest as well as life to the outdoor area.
9. Chic Balcony Furniture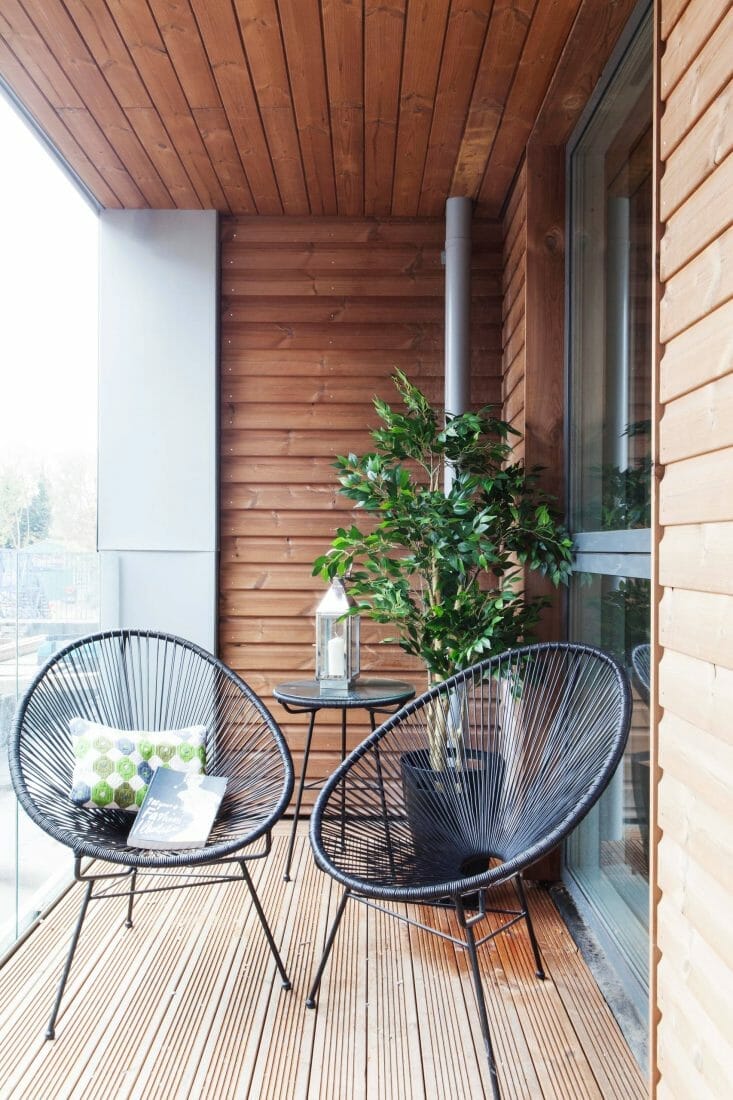 Speaking of narrow balcony furniture ideas, you should copy this design. The homeowner maximizes his square footage by adding a pair of black Acapulco chairs. They impart airy and Scandinavian vibes while injecting serious drama.
The round table  stylishly sits behind the Acapulco chairs. Furthermore, the metallic lantern with a candle nestles on it.
The rectangular throw pillow punches the Acapulco chair up with pops of green and blue. Moreover, the statement greenery and wooden elements make the dwellers feel relaxed.
10. Go All Out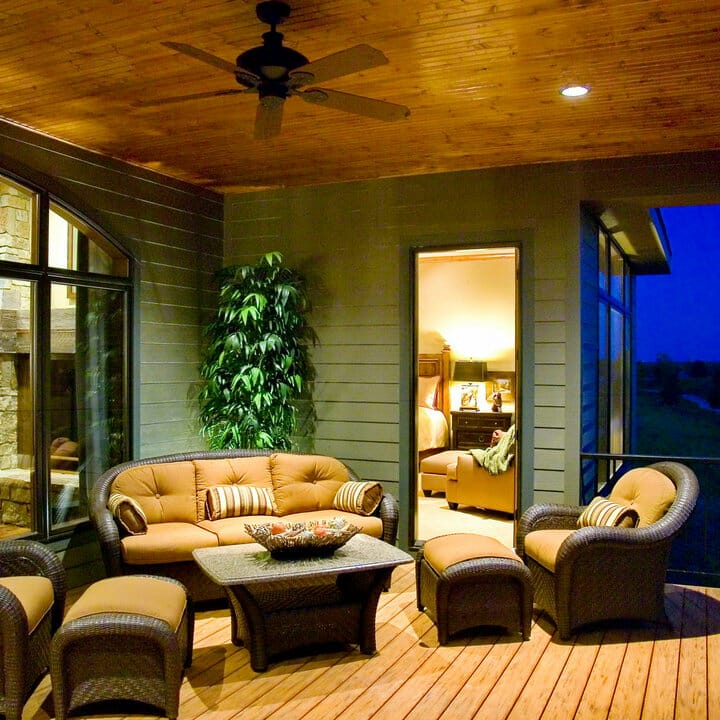 When it comes to balcony furniture ideas, try unleashing your inner maximalist. That means you must treat the outdoor space like the indoor one.
This balcony is fairly expansive. Moreover, the outdoor living room employs a synthetic wicker sofa, stools, and armchairs.
Tan seat cushions blend in with the bare wooden planks. Due to them, this outdoor space seems incredibly inviting and serene.
The gorgeous tray and throw pillows with vertical stripes draw the eye. Furthermore, muted green shiplap walls accompany the potted statement plant.
11. Foldable Balcony Furniture Ideas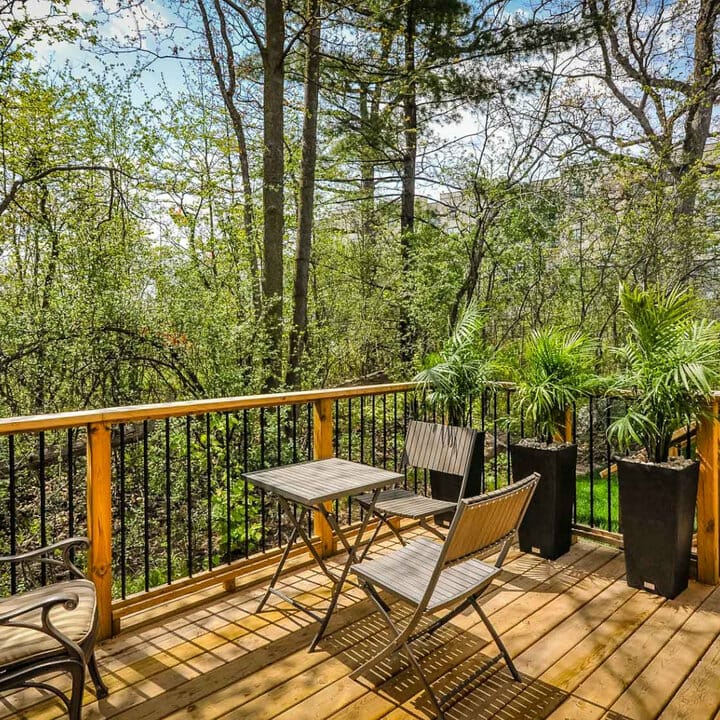 Have limited square footage? Fret not! Just add foldable furniture items on your pint-sized balcony. They're sure your friends. Furthermore, those units let individuals lounge and enjoy meals comfortably.
Here, the balcony looks more inviting due to the foldable table and chairs. Additionally, they inspire stylishness and minimalism. You can freshen things up by placing a couple of striking throw pillows next season.
The classic armchair provides extra seating while lending the balcony eye-pleasing stripes. Meanwhile, the black planters accommodate parlor palm trees. Moreover, they change the outdoor space into a tropical paradise.
12. All About Shapes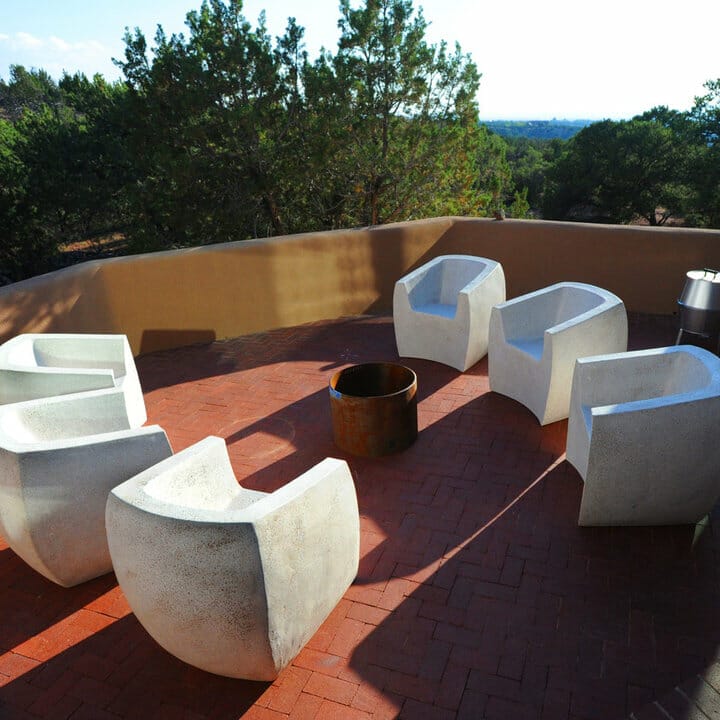 This is one of the remarkable balcony furniture ideas. Curved concrete armchairs suddenly develop a decor statement. Apart from providing ample seating and visual symmetry, they perfectly embrace urban minimalism.
The round furniture piece calls attention to large concrete armchairs. Moreover, it harmonizes with the flooring beautifully. Meanwhile, tan-painted walls exude peacefulness. They don't obstruct the forest views, too.
Sometimes, a minimalistic look can feel stark, but this balcony says the opposite. Herringbone-patterned red bricks cover the whole floor. Also, their warm tones splendidly offset the cool gray concrete furniture.
13. Balcony Furniture Ideas with Moroccan Throw Pillows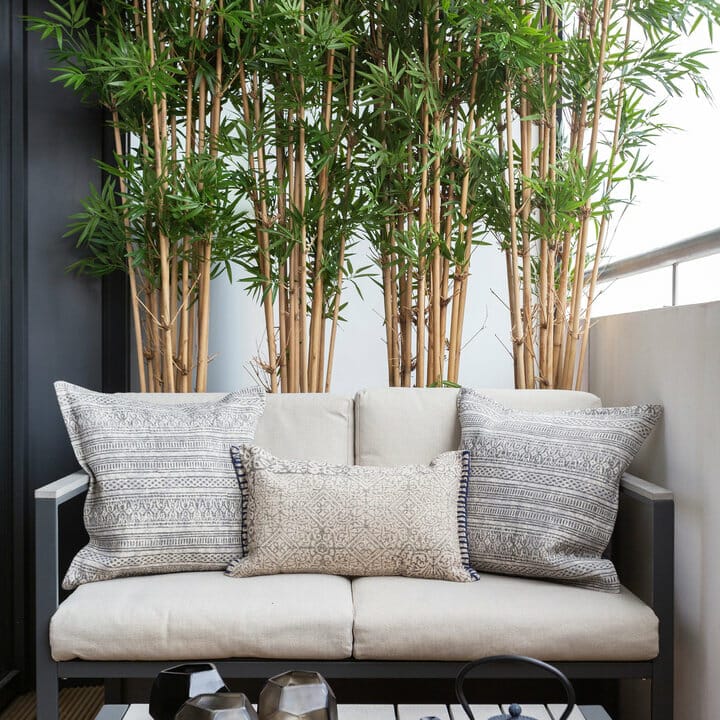 Have a tiny balcony? No worries. Just steal this design. Despite the limited square footage, the outdoor space doesn't seem monotonous at all.
The gray wooden furniture has light taupe seat cushions. Additionally, three patterned throw pillows generate a Moroccan flair without overwhelming the balcony.
Artificial bamboo plants become soothing elements. They infuse exotic vibes while giving an illusion of privacy. Moreover, the opaque glass screen ensures that the area is safe from prying eyes.
A two-tone rectangular coffee table provides crisp lines for a modern feel. Lastly, geometric vases lend the balcony a trendy appearance.
14. Welcoming and Wondrous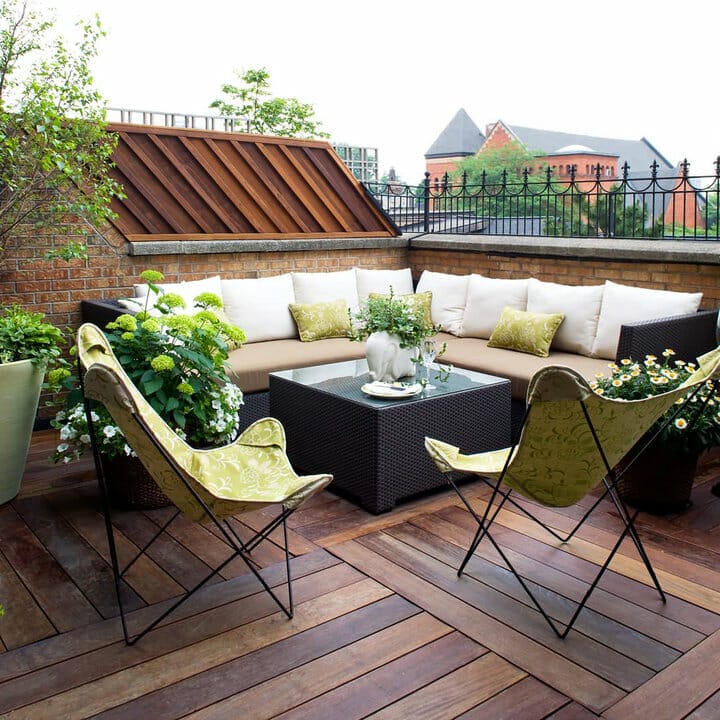 With numerous balcony furniture ideas, you might feel slightly overwhelmed. If that's the case, consider borrowing this awesome design.
The synthetic wicker charcoal gray table and L-shaped sofa add textures as well as drama. Moreover, they enable white throw pillows and tan seat cushions to be more visible.
Since the dweller wanted to embrace nature's beauty, she added green foldable chairs and throw pillows. Furthermore, they accompany a selection of potted plants.
Wooden planks and orange bricks infuse warmth while introducing a rustic aesthetic. The ornate black railings lend the balcony a classic twist.
15. Nautical-Inspired Balcony Furniture Ideas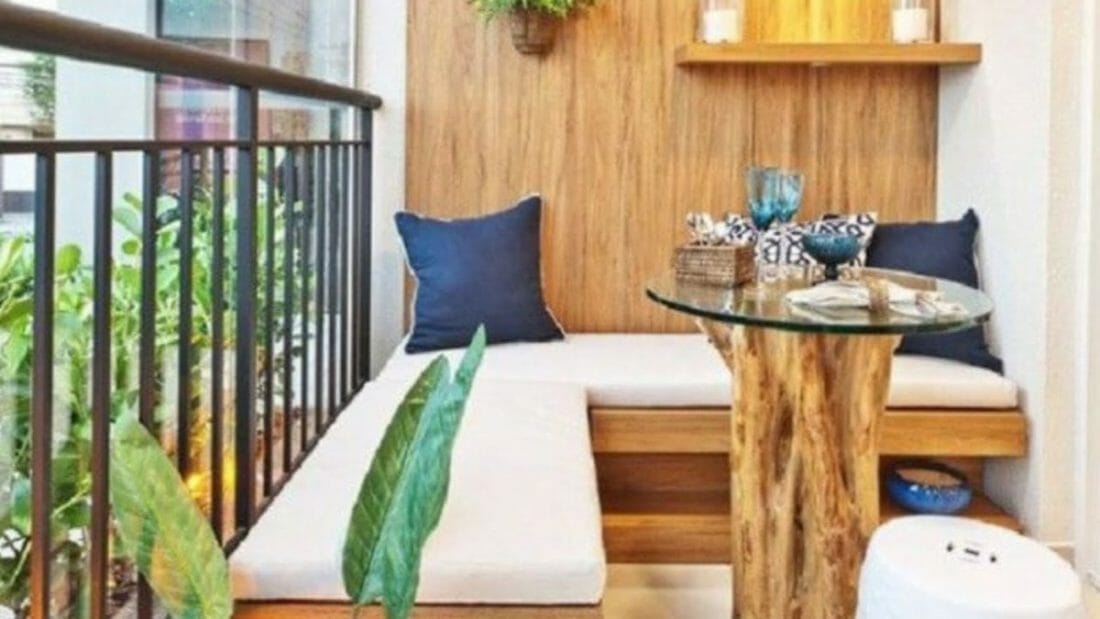 If you don't plan any beach vacation soon, consider applying this design. The L-shaped wooden bench optimizes the space. It imbues the outdoor space with a decent dose of organic warmth, too.
The white seat cushion, stool, and walls direct the eye to the marvelous wood grains. Because of them, the balcony always feels airy and light.
Since throw pillows wear navy, they offer visual depth. Also, they harmonize with wicker pieces for a nautical feel. A stunning blue bowl sits on the shelf underneath the bench. Moreover, the tree stump table base and plants carve a rustic atmosphere.
16. Classy and Classic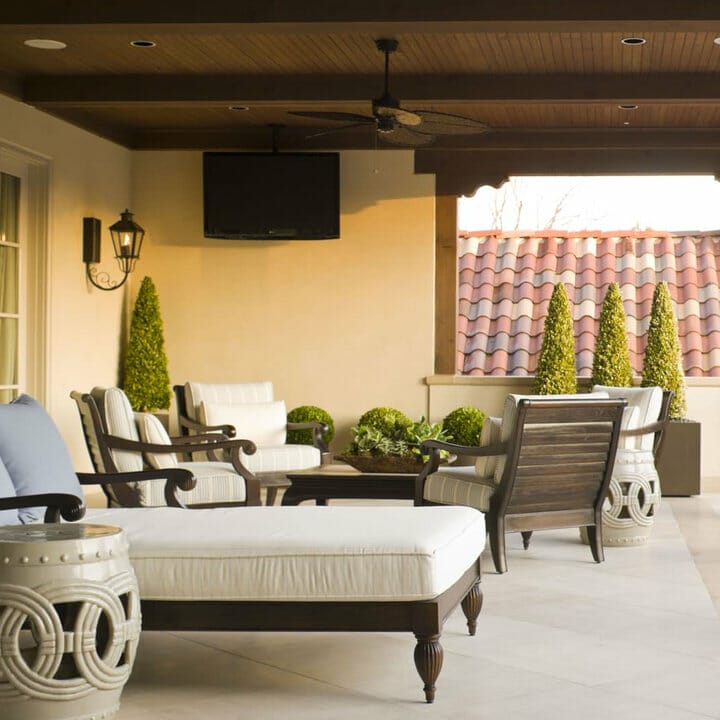 I admire this balcony. Due to cream-painted walls, the whole outdoor area seems very peaceful and inviting. The classic deep brown coffee table, lounge chair, and armchairs inspire pure elegance. Moreover, they accentuate the white and gray striped seat cushions.
The light taupe stools act as additional side tables. Furthermore, they lend the balcony a serene mood as well as a classic aesthetic.
Atop the table is a planter with succulents. In addition, cone- and round-shaped shrubs evoke serenity while adorning the balcony. Warm white and pastel gray throw pillows suddenly develop a comfy feel.
17. Slim Balcony Furniture Ideas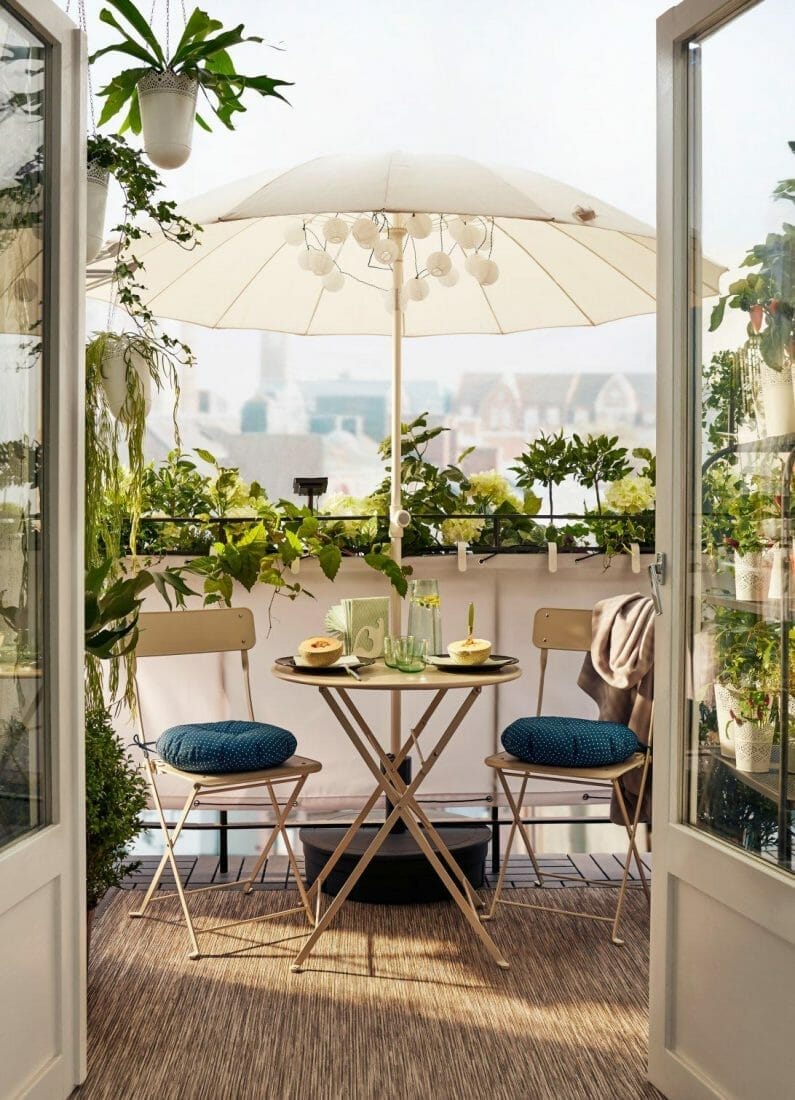 Don't stress if you have a pint-sized outdoor space. This is one of the mesmerizing balcony furniture ideas to borrow.
In addition, the slim foldable table and chairs sport warm white. Unlike bulky furniture units, they surely don't occupy lots of floor space.
The patio umbrella protects from the harsh sun. Furthermore, there are white globe lights that introduce festive vibes. Lastly, plenty of potted greenery and a jute rug give the balcony touches of Mother Nature.
18. Ethereal Elements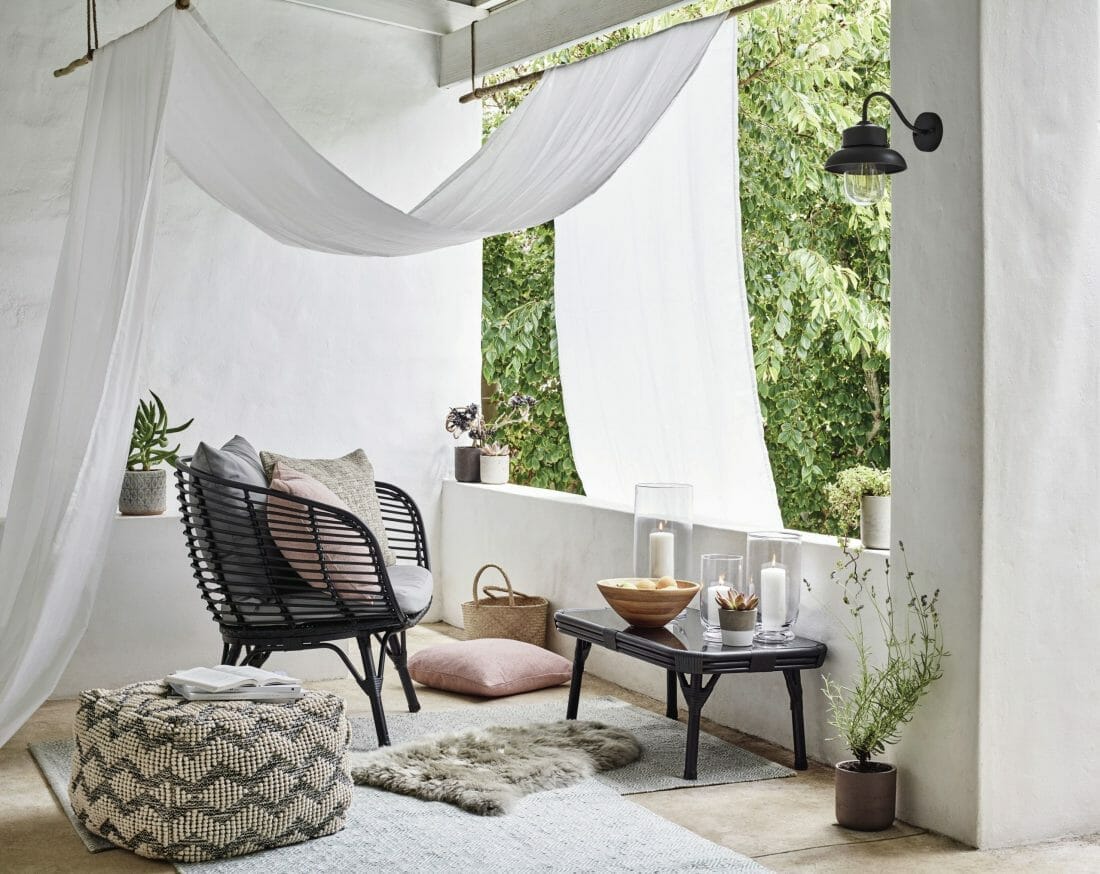 Speaking of balcony furniture ideas, consider creating a cozy reading section. Here, the space boasts a chevron-patterned pouf and a black rattan armchair. Furthermore, they maintain the sitting area's comfortable atmosphere.
Throw pillows, as well as rugs, heighten the cozy feeling. Moreover, the white drapery offers both elegance and protection, while plants add visual interest.
19. By The Ocean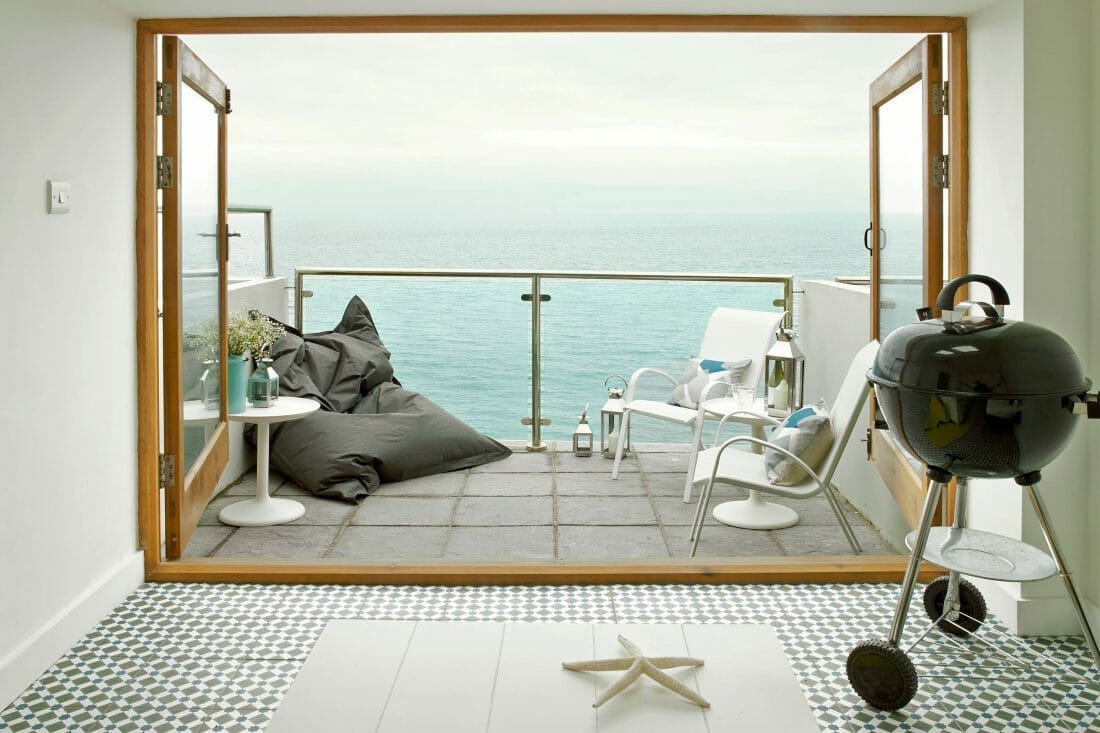 Here, two curvy armchairs and a round pedestal table lend the balcony a stylish look. Moreover, they brilliantly balance out the sharp lines of gray tiles.
The armchairs don't obstruct majestic ocean views since they come in soft white. Additionally, there's a charcoal gray bean bag and a side table that accompany them. Lastly, a couple of throw pillows generate cohesion.
20. Tropical Tranquility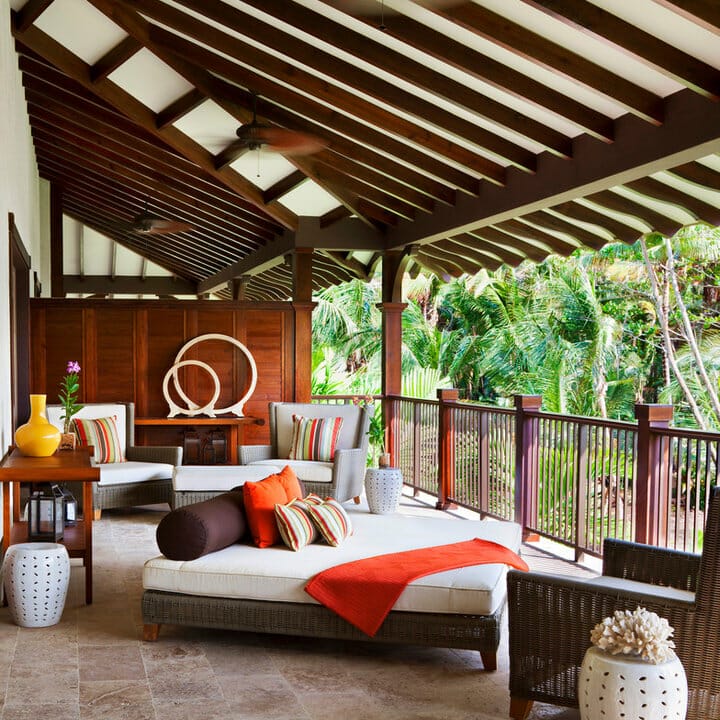 The deep brown bolster, beams, and railings produce an inviting scene. White seat cushions and light tan floor tiles brighten things up.
Wicker furniture pieces and surrounding palm trees embrace tropical vibes. Moreover, the vase, ceramic stools, and lanterns exude a contemporary feel. Daring pops of orange, pink, yellow, green, and blue perk the balcony up.
21. Wicker Balcony Furniture Ideas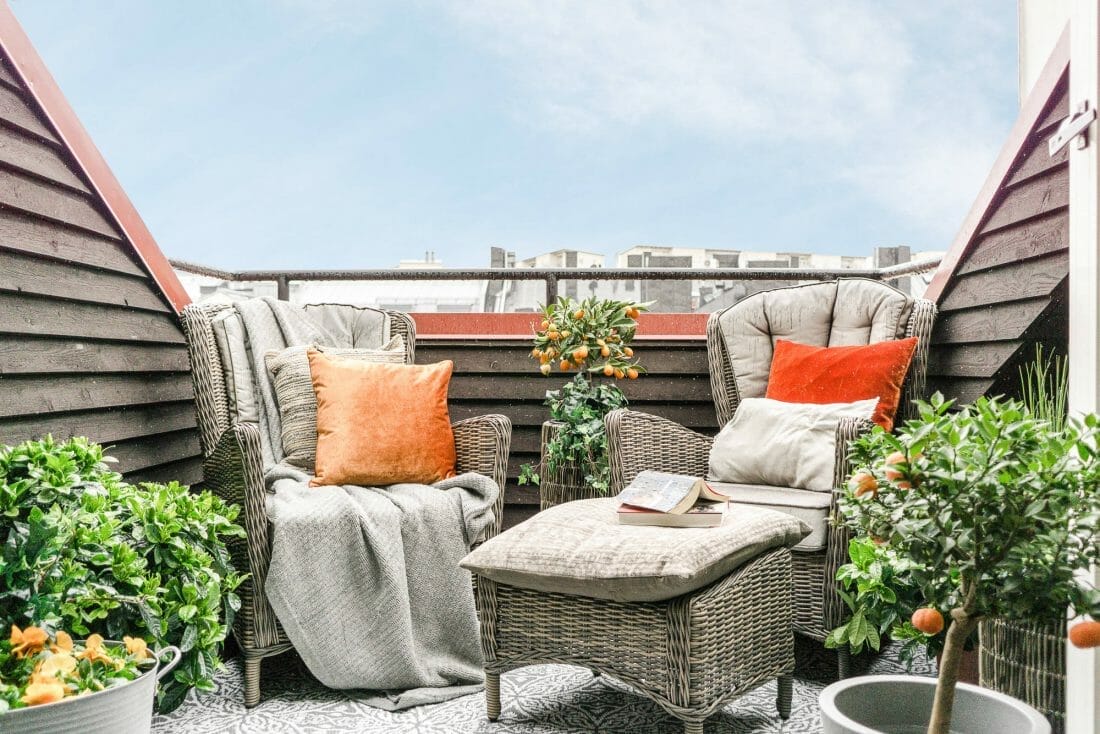 This urban balcony is nothing short of cozy. As you see, it boasts a wicker rattan table and two wingback armchairs. Furthermore, they go with existing walls while lending some natural textures.
The gray throw blanket, pillows, and cushions imbue the balcony with a relaxed vibe. Due to different shades of orange as well as green, the area doesn't become lifeless and stark.
22. Humble Hammock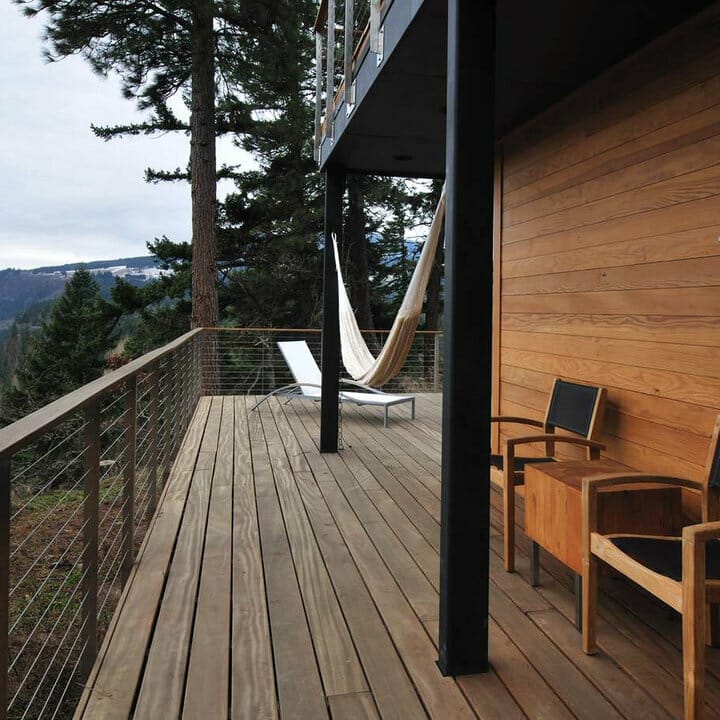 Who says you can't create a getaway on your balcony? If you're clueless, have a look at this picture above.
Both the square wooden table and armchairs employ black accents. Furthermore, they inject visual drama as well as organic warmth.
The lounge chair maintains the balcony's simplistic design while offering vacation vibes. Moreover, the hammock presents a laid-back feel.
In short, don't blame limited square footage. With those balcony furniture ideas, you can create a tiny but terrific personal getaway. Moreover, it's all about the layout and decor. So let's redecorate your outdoor space!