The best front porch lighting ideas will enliven your entryway and make sure that any slope or step is notable at night.
If you have no idea how to get started, this article has collected a list of favorite porch lighting ideas that are worth applying in your outdoor space.
1. Pendant Lights on Wavy Ceilings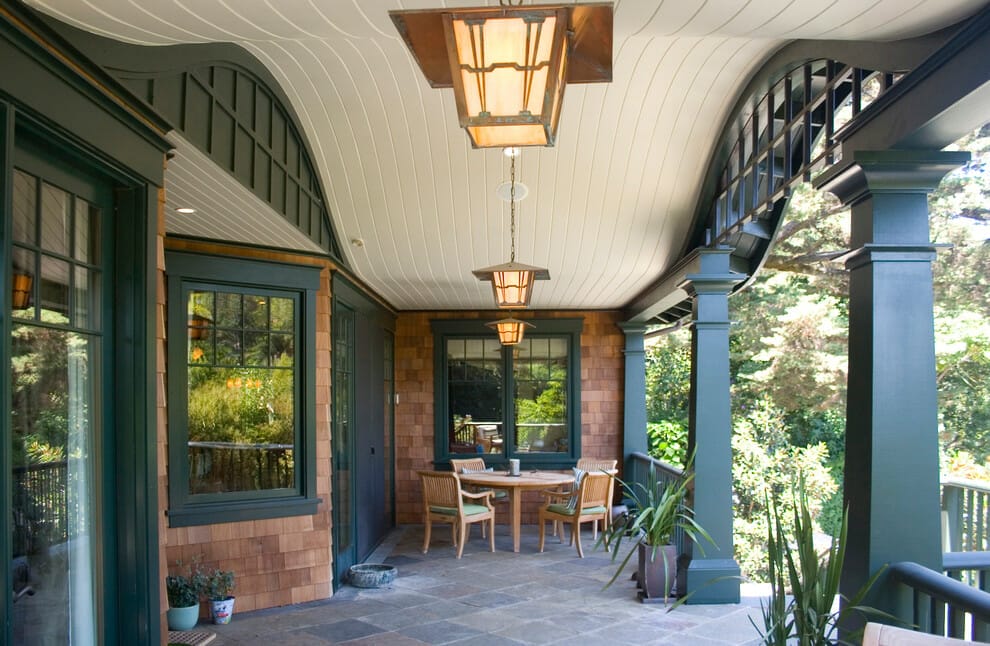 Let's start with these charming pendant lights that are hanging on the unique wavy ceilings. Using warm white bulbs will create an inviting atmosphere at night.
The chopper-finished shades match the exposed brick walls of this front porch. They also reflect the wooden setting area at the corner.
2. Modern Front Porch Lighting Ideas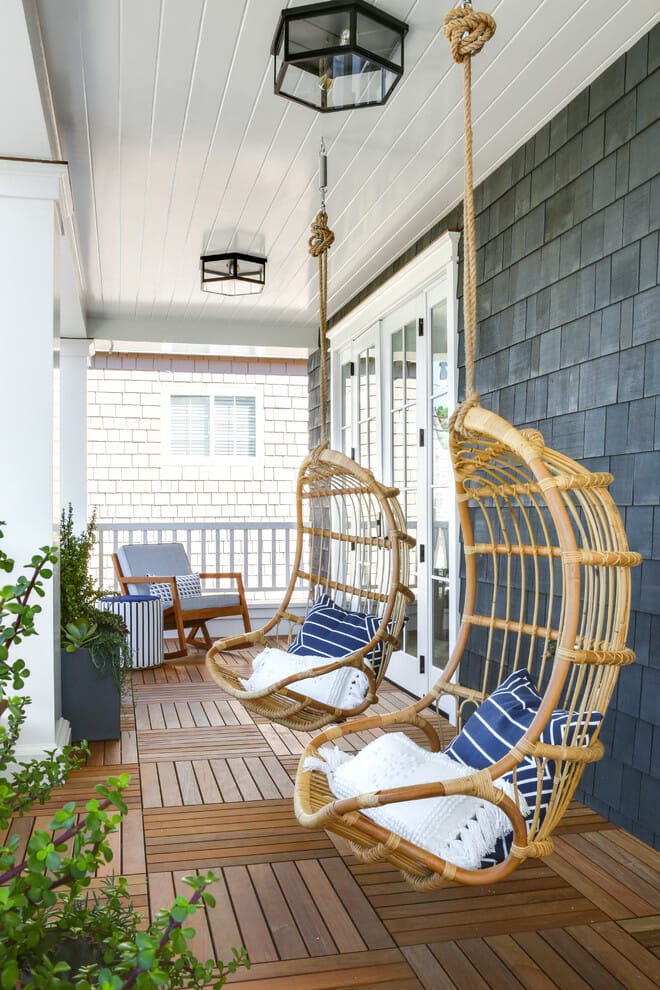 If you need a lighting fixture that suits your modern front porch, this picture shows a great idea with its flush-mount lights.
With black metal framing and clear glass shades, this pair of flush-mount lights give the front porch a statement even when turned off.
Mounted on the shiplap-style white ceilings, these front porch lights do their job without overpowering the simplicity of the decor underneath.
3. A Pair of Pendant Lights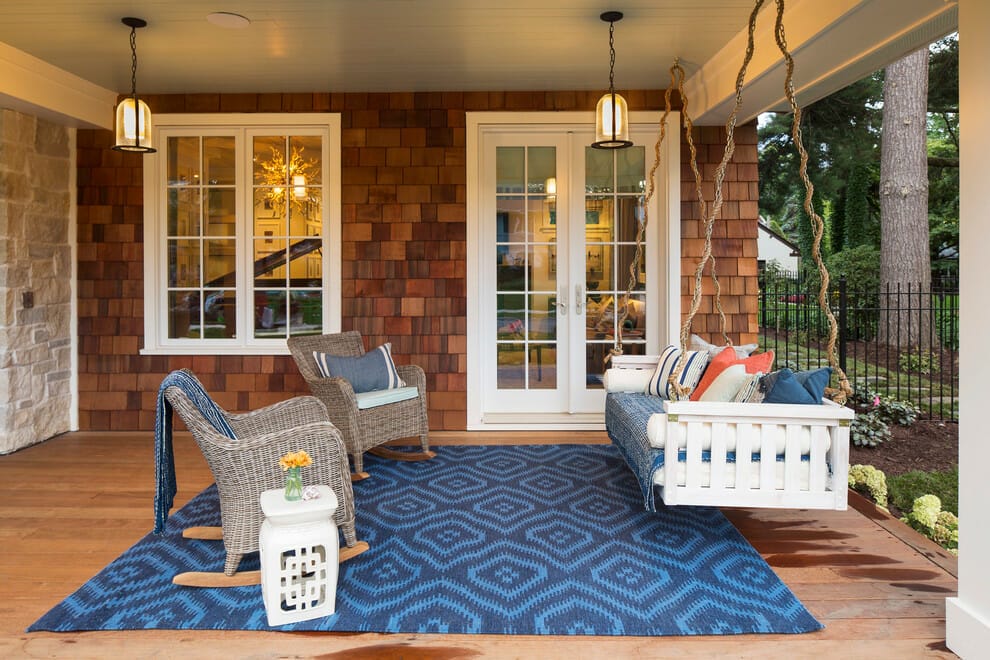 This pair of pendant lights are perfect for a front porch with high ceilings. The simple long chain and small canopy are in the same black color as the shade holder.
The shade, on the other hand, is from a glass material that allows the tubular bulb to show its charm clearly. Meanwhile, the temperature of the lights matches the outstanding chandelier on the other side of the wall.
4. Log Cabin Charm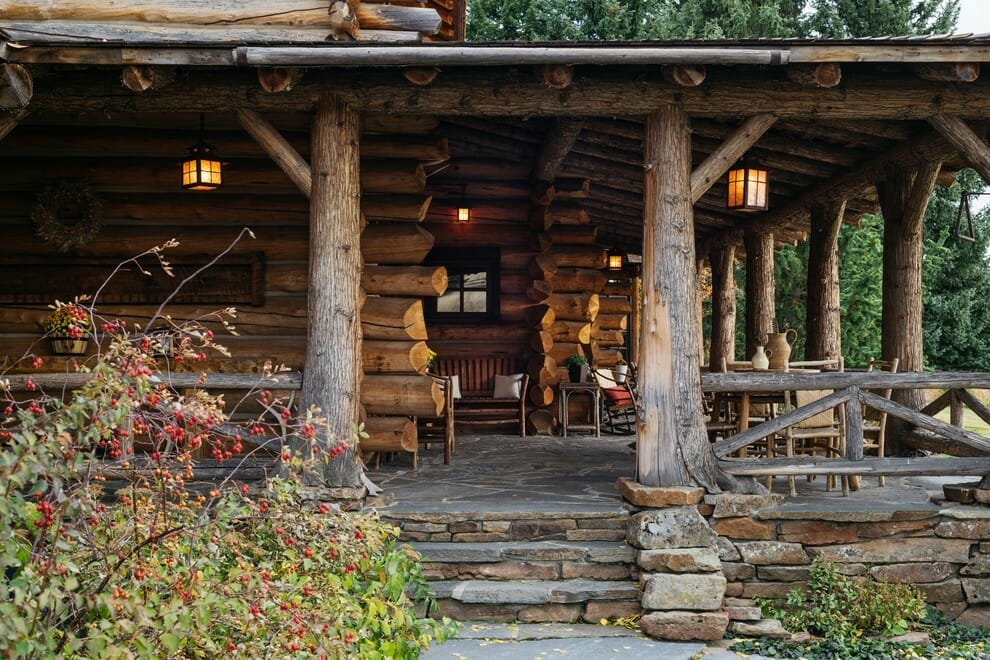 For a log cabin design, you will want front porch lighting ideas that match the rustic flair. For instance, you can go with the lantern pendant as shown in this picture.
This front porch features a few lantern pendants in different sizes. However, each lighting fixture shares a similar style and design.
With enough lighting sources, enjoying this spacious front porch at night will be more convenient.
5. Trumpet Sconces with Modern Flair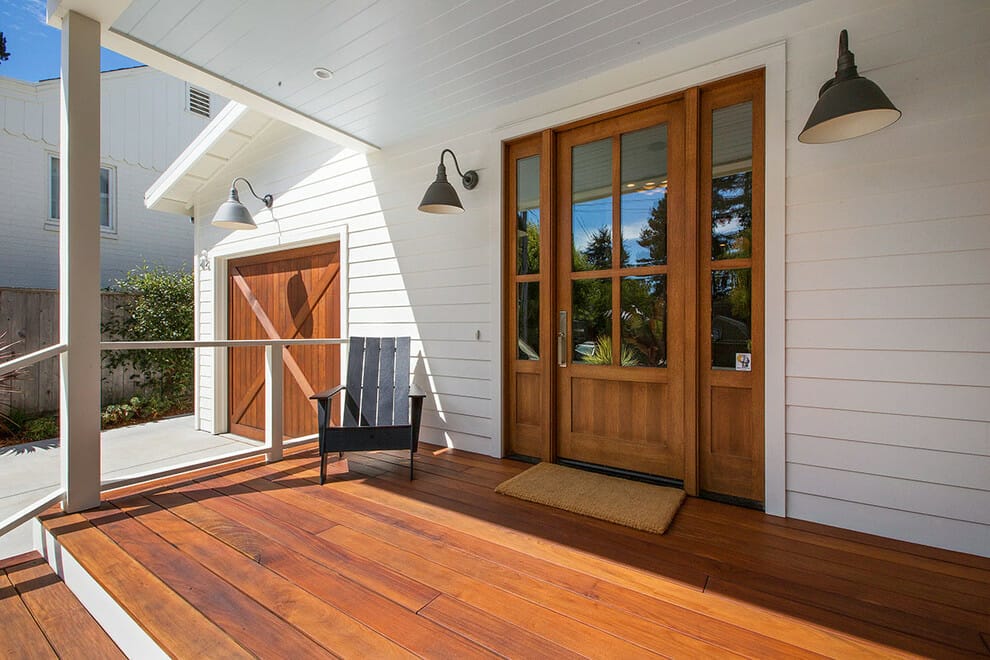 Get a pair of modern trumpet sconces for your farmhouse-style front porch. Use these items as a charming entrance light by mounting them on each side of the door.
For the garage door, get the same trumpet sconce to boost the curb appeal. With their light gray tone, these lighting fixtures will create a dramatic look even in the daytime.
6. Different Varieties of Lights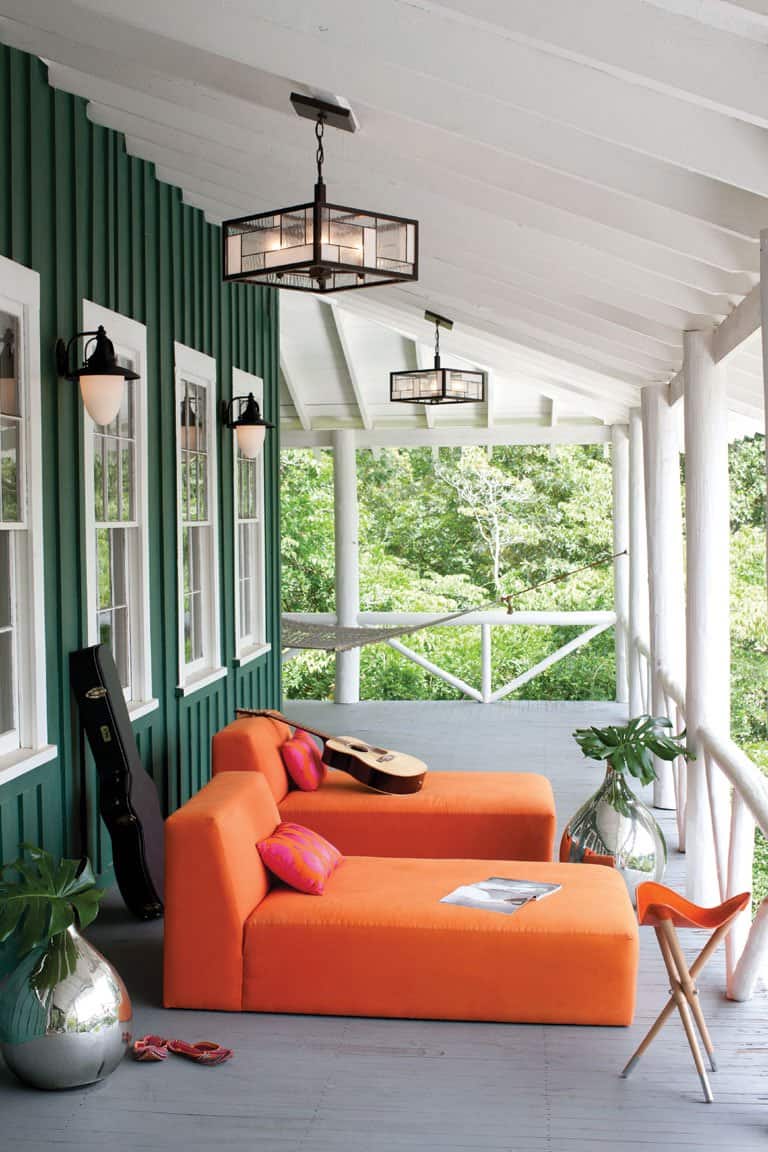 A couple of vibrant sofa beds sit on this front porch. There are also chrome-finished planters that complete the look of this contemporary space.
However, you should not miss those pendant lights and wall sconces that play an important role to keep this cozy outdoor space practical throughout the night.
7. The Beauty of Mirror Arrangement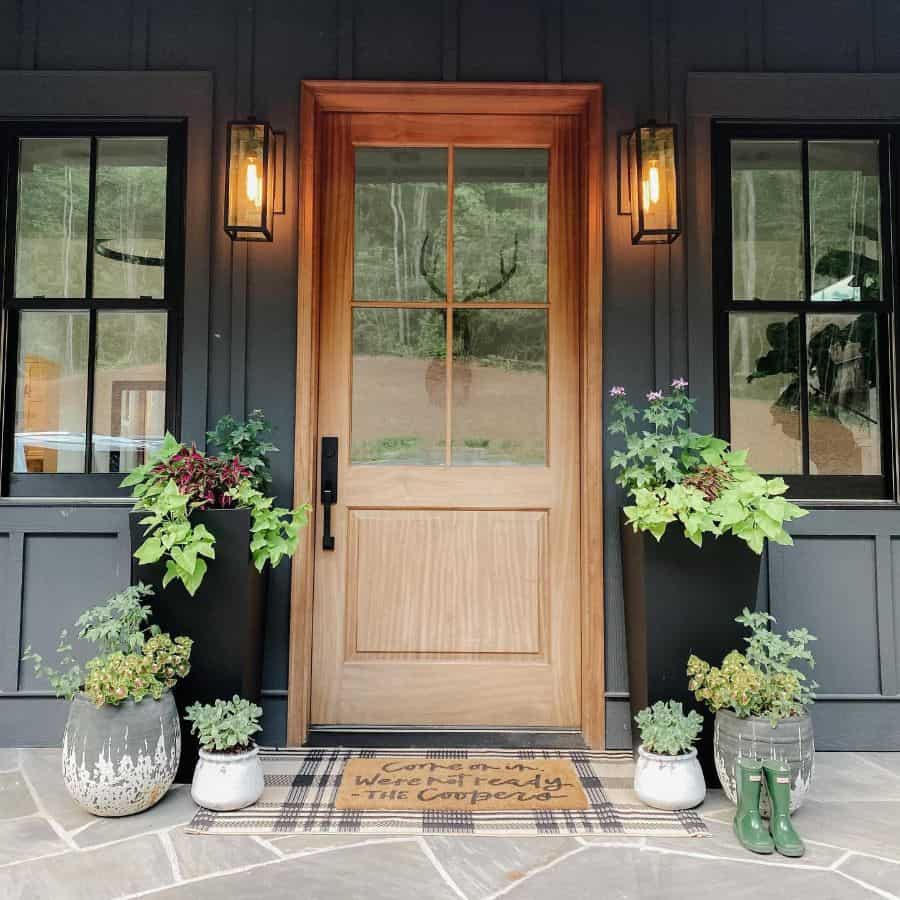 Mirroring wall sconces on either side of a front door is one of the most welcoming front porch lighting ideas.
With a lantern-like design, these wall lights illuminate the front door area at night while becoming a small yet impactful decoration throughout the day.
Aside from the sconces, you can also mirror some potted plants to turn your usual front porch into a stunning entrance area.
8. Decorative Pendant Lights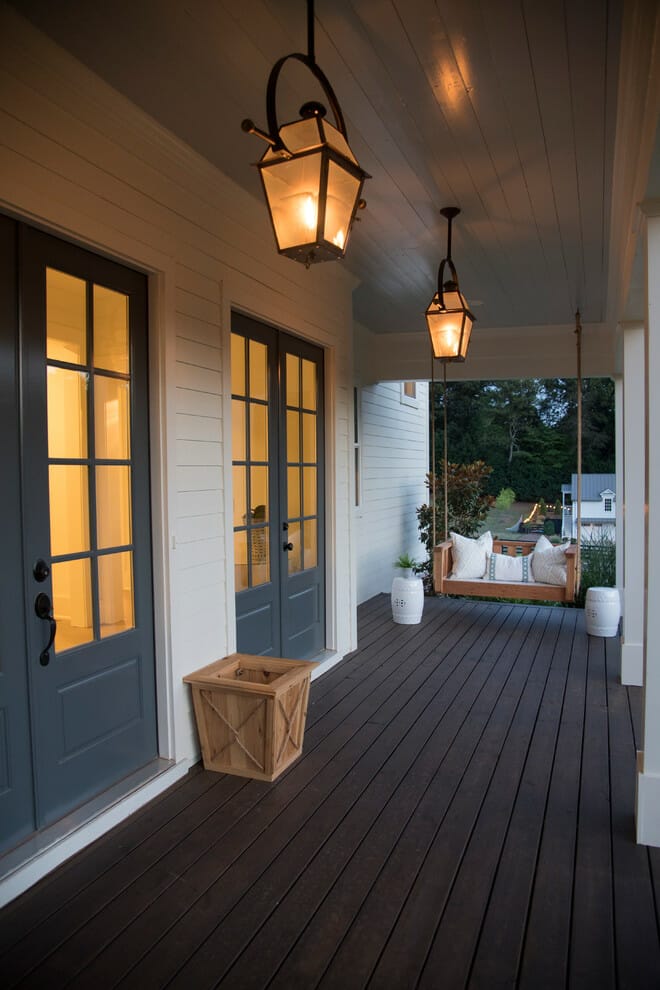 The warm feeling of the room inside this house extends to the front porch thanks to the use of similar lamp temperatures.
With their classical touch, these decorative pendant lights will create a statement in this outdoor area both night and day.
Incorporate a hanging swing chair along with some cushions or throw pillows to encourage intimate conversation on the front porch.
9. Small Front Porch Lighting Ideas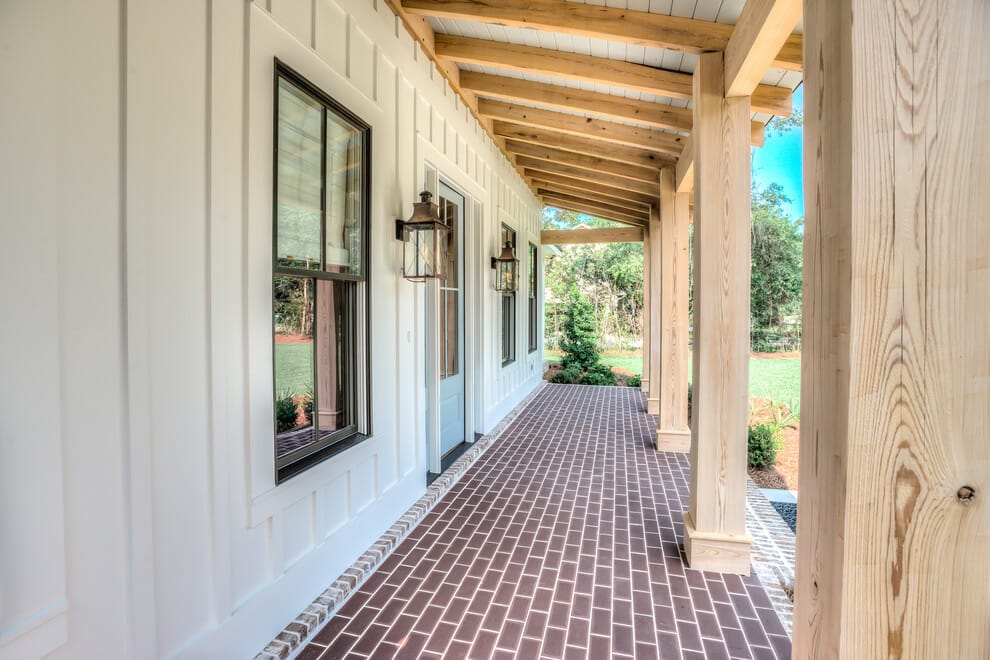 A narrow porch deserves proper lighting too. You may skip layering up the light sources, but bringing one that can be decorative is a must.
This small front porch has a matching pair of glass wall sconces that creates a grand entrance. Their brass frame fits the traditional vibe of this outdoor space.
10. Layering up Lighting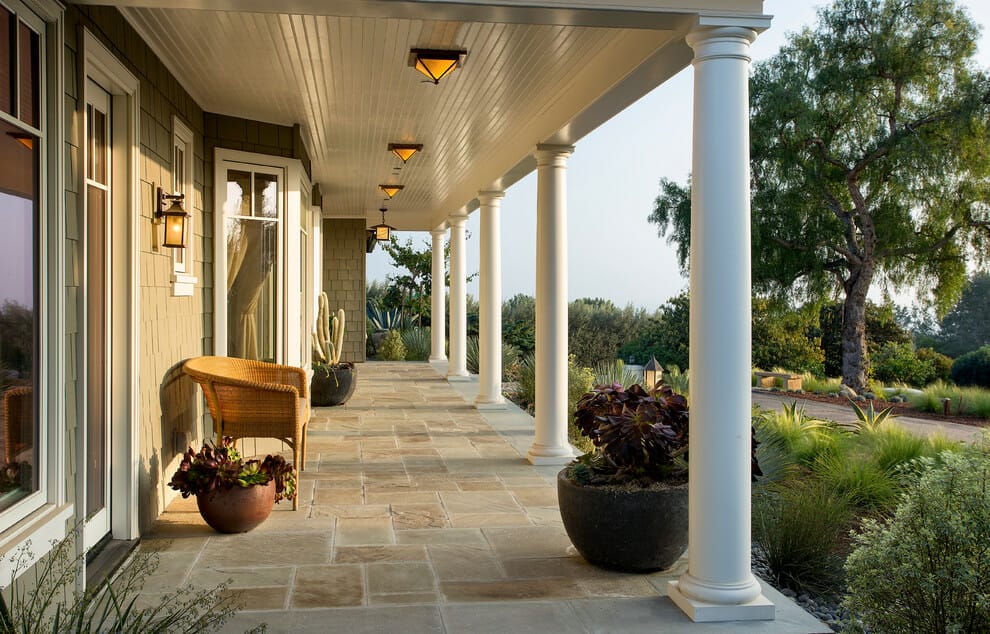 On the other hand, a bigger front porch with a seating area always makes a great place to layer up lighting.
You can position a wall sconce between the door and the window. Then, install several decorative downlights on the outdoor ceiling for added beauty and illumination.
11. Added Ceiling Fan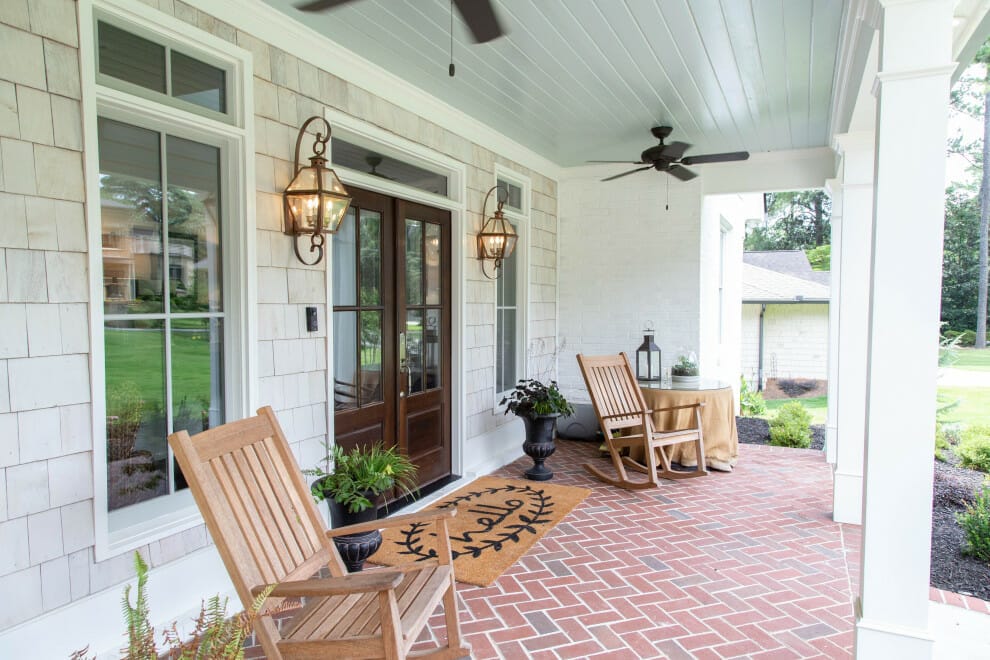 With the ceiling fans, rocking wood chairs, and enough lighting, this front porch will be functional both day and night.
Don't forget the welcoming rug and a pair of potted plants that complete the décor of the front door. The wall sconces are also in a duo for a harmonized vibe.
12. Chandelier with Classical Touch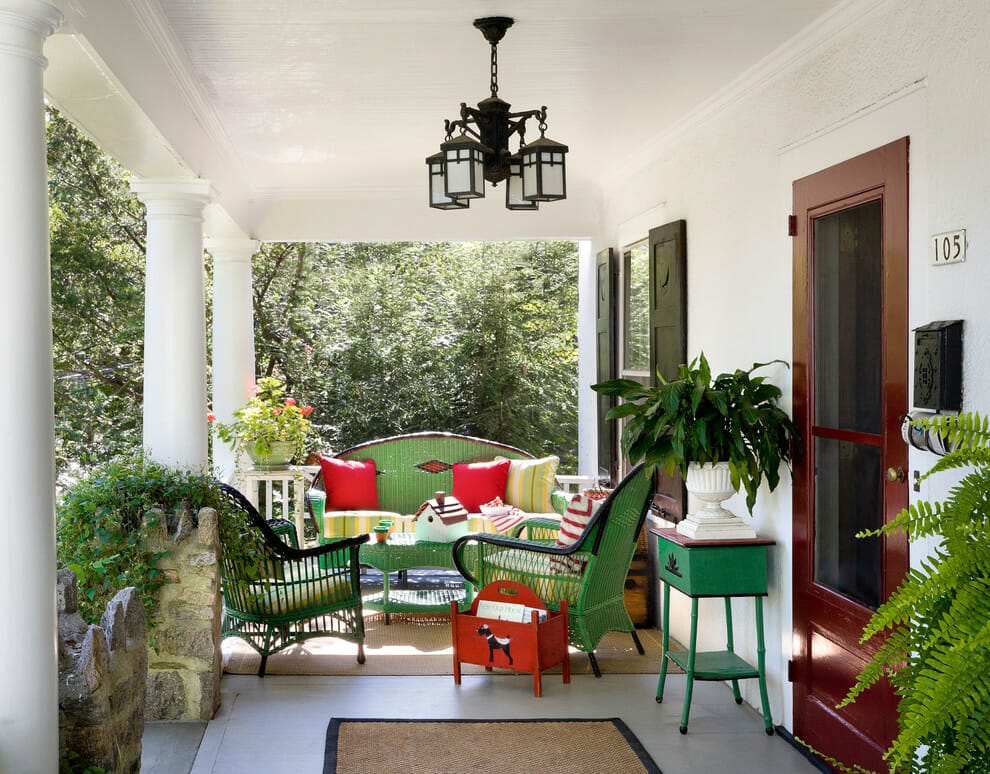 Front porch lighting ideas should be able to fit the style of your outdoor space. With such colorful furnishing, it is best to opt for a ceiling light that is simple yet elegant.
This chandelier has a classical beauty and neutral black framing that brings no harm to the porch's focal point underneath.
13. Spot to Chill Out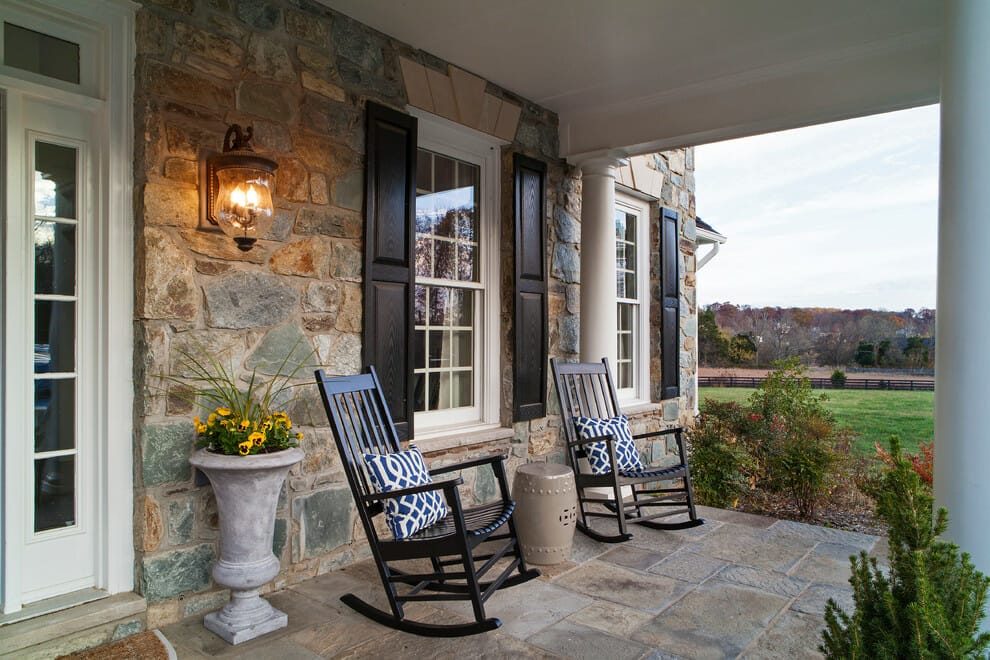 This front porch has everything it needs to become a favorite spot to chill out. With the view of nature and a couple of cozy rocking chairs, you will find it hard to move on from this outdoor space.
To enjoy this space in the night, there is a sconce mounted on the wall over the potted flowering plant. For added illumination, you can consider installing ceiling lights too.
14. Front Porch Lighting Ideas for a Large Space
A combination of ceiling and wall lights works well in a spacious porch with several seating areas.
The flush-mount fixtures work well against the white ceilings and make a great addition to the wall sconces with their corresponding glass and black metal shade.
Meanwhile, to give function to this roomy porch, there are two seating areas with the same furnishing idea on either side of the front door.
15. Rectangular Pendant Lights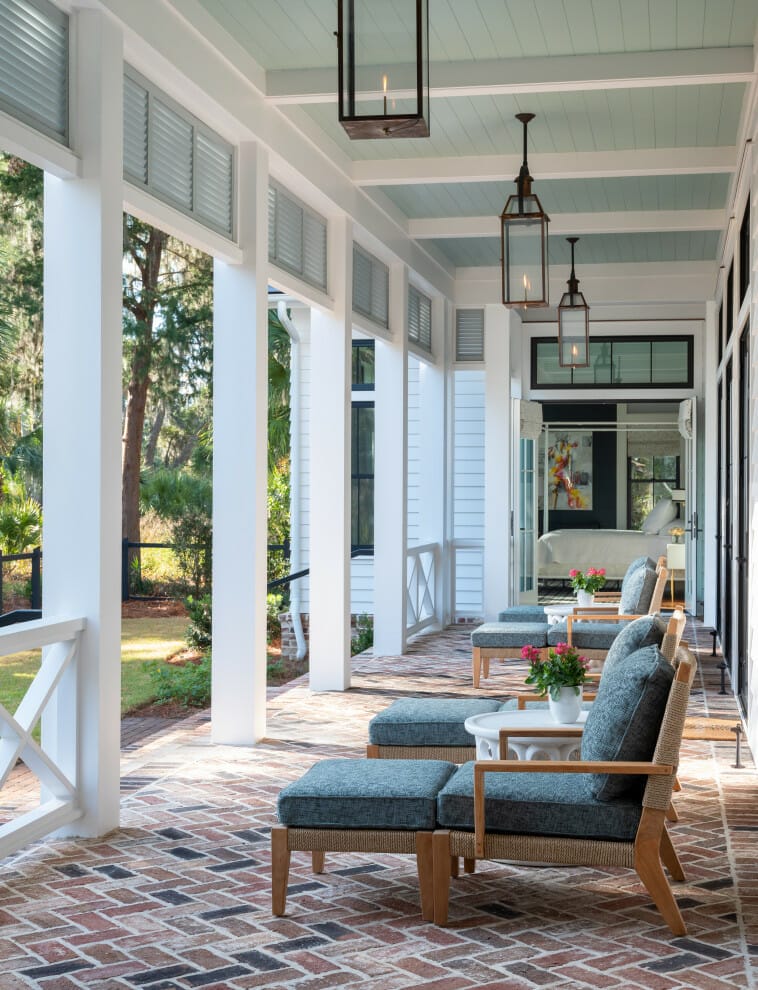 Introduce a powerful flair of the modern style by hanging rectangular pendant lights on your front porch.
You can hang several matching pendant lights across the porch's ceiling for a unique twist on the usual ceiling fixtures.
Along with the cozy chairs and added greenery in the porch, you will have a comfortable outdoor space to have a relaxing conversation or simply read your favorite books.
16. Unique Orb Lighting Fixture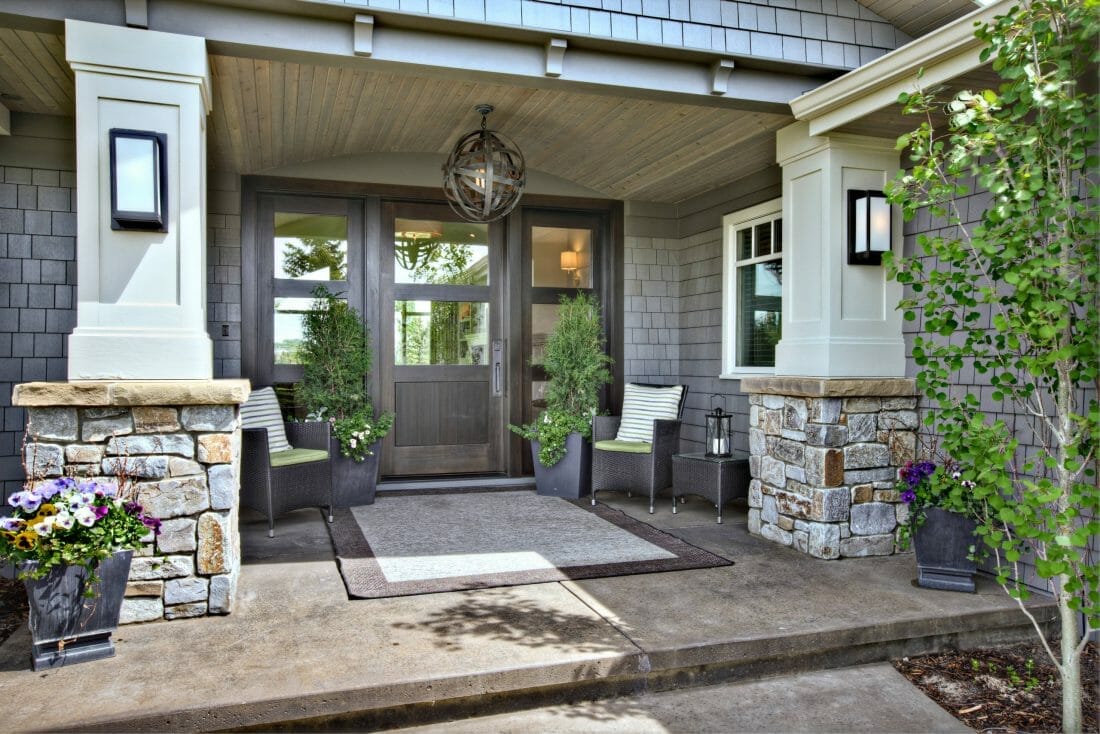 Creative porch lighting ideas can boost your curb appeal while offering an additional source of illumination within the area.
This orb lighting fixture makes a good choice if you want to introduce something exceptional and eye-catching to your front porch.
Its unique design will not only make a statement in your outdoor space but also suits the overall exterior style.
17. Lights for an Exceptional Seating Area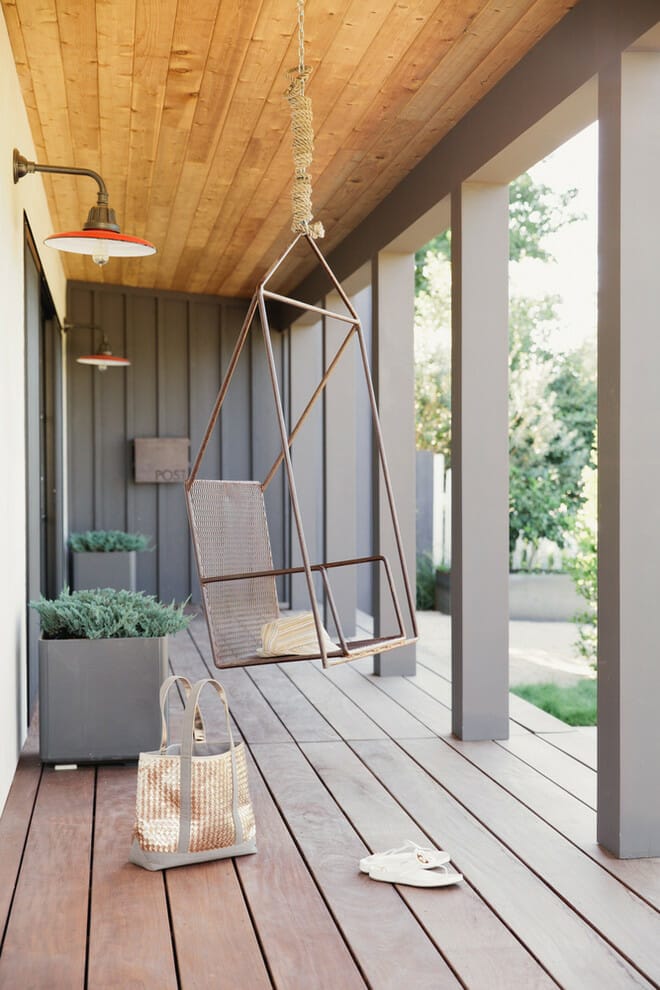 This unique hanging chair is enough to steal everyone's attention despite its neutral color. Aside from adding beauty to the porch, it also makes a great spot to enjoy your front garden.
With a chair hanging on the ceilings, you can refrain from using ceiling lights. Instead, get a couple of wall sconces that match the style of your porch.
18. Rich of Lights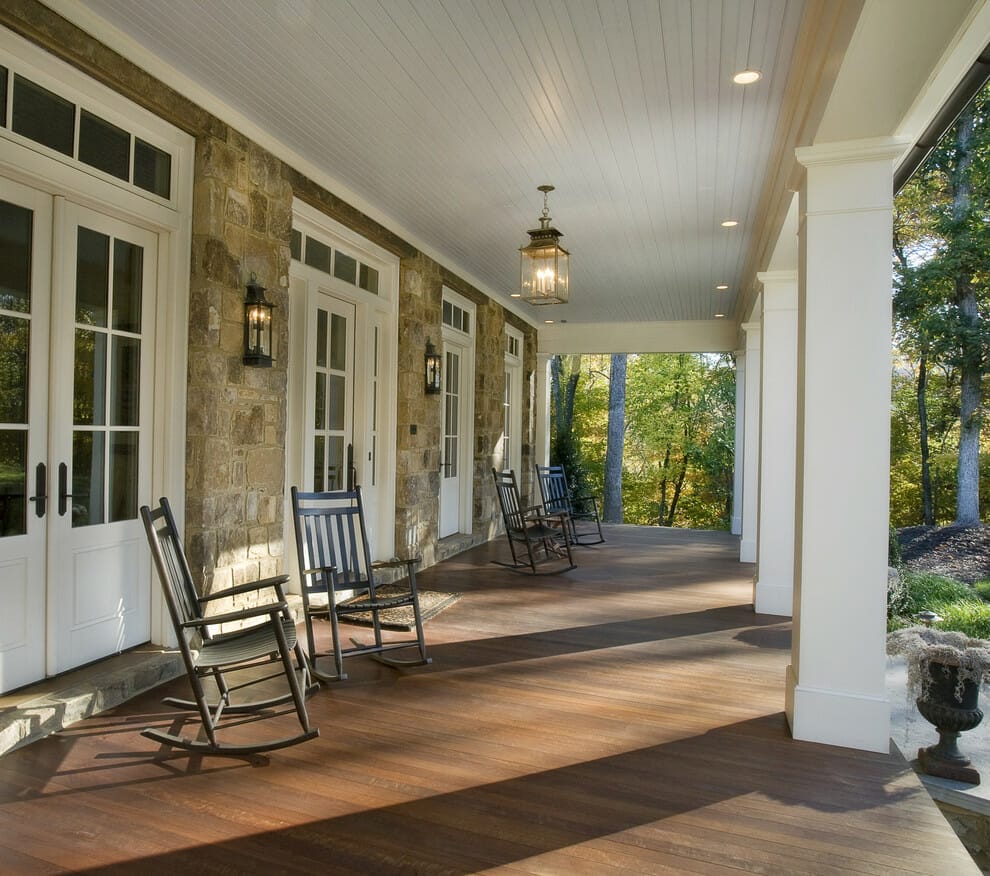 A large front porch calls for a layer of different lighting sources to make sure every corner of the space gets proper illumination.
This is one of the front porch lighting ideas that take advantage of both decorative and functional lighting fixtures to complete the outdoor space.
Recessed lights align on the front edge of the ceiling and a chic pendant lamp hangs over the center of the porch. Don't forget that pair of rustic-styled sconces that create a splendid entrance in the main door area.
19. String Lights on Front Porch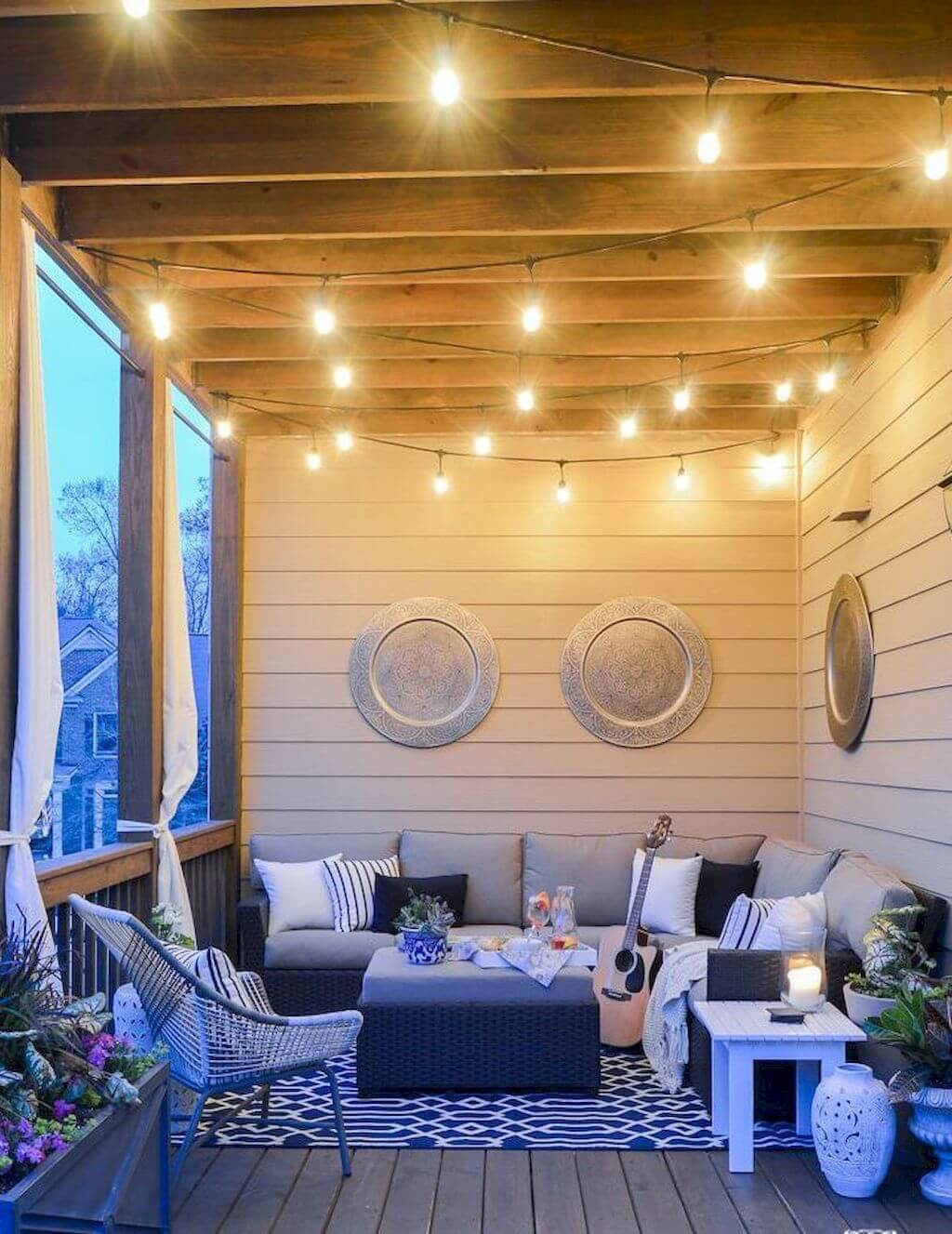 Bring your front porch to the next level of beauty and comfort by incorporating string lights. With enough lamps hanging on the cord, there is no need to layer the lighting fixtures in this outdoor space.
String lights create a dramatic vibe against the exposed beams on this ceiling. With a cozy L-shaped sofa and a well-designed accent chair, this porch will turn out to be a favorite space for everyone.
If you need additional lighting for ambiance purposes, try to incorporate a candle and place it on the end table next to the sofa.
20. Extended to the Sidewall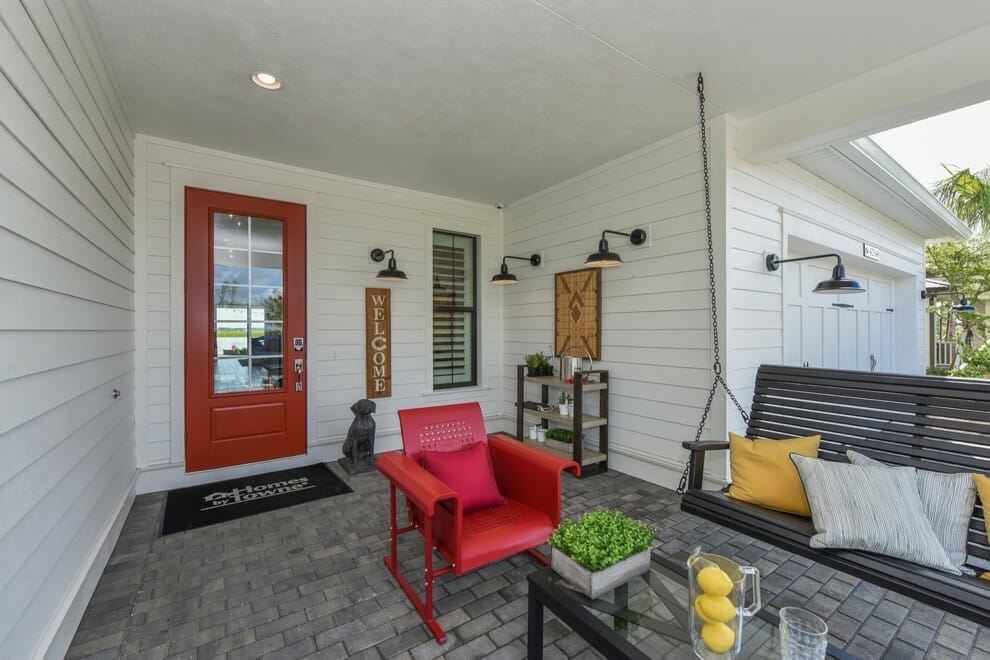 Your side walls deserve some decorative lights too. If you are using the property beside the house, the lamps will be functional too.
This front porch offers the comfort of your indoor living room by featuring a wooden swing chair along with the added cushions and throw pillows.
The down-light wall sconces give out an industrial flair while being a practical source of lighting for the shoe rack area.
21. Focus on the Address Number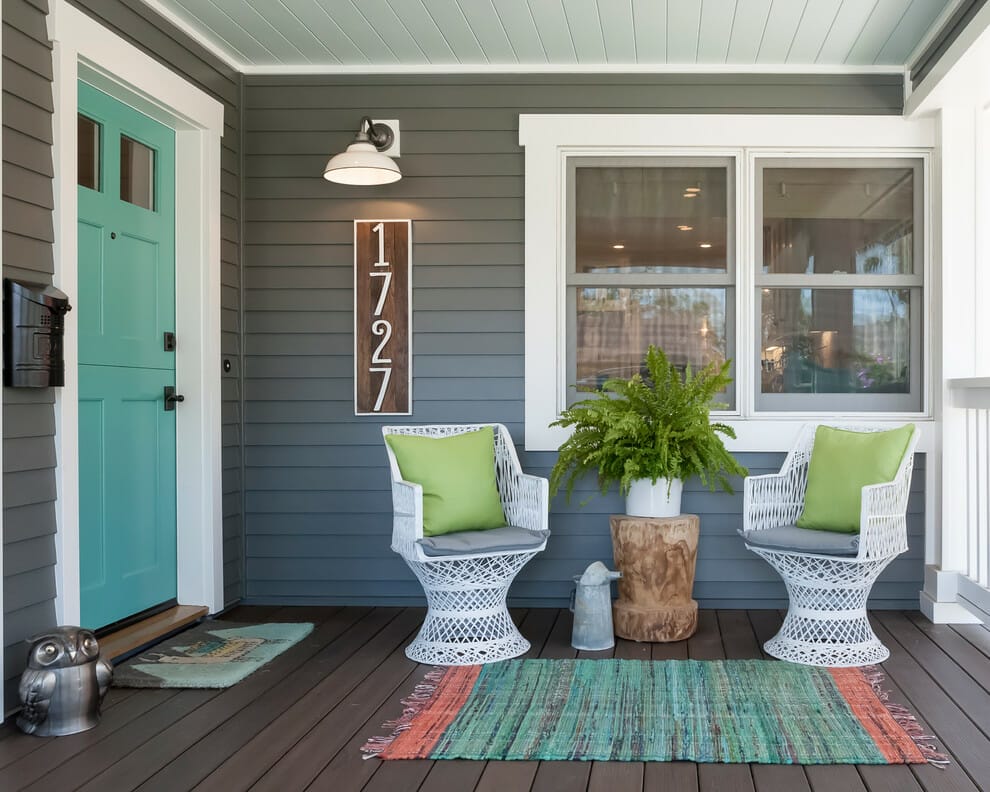 Unlike the above front porch lighting ideas, this down-light sconce works as an accent lamp that highlights the address number of the house.
Its white shade reflects the ceiling. Just like the door and window trims, the color stands out against the dark gray wall.
22. Candle Styles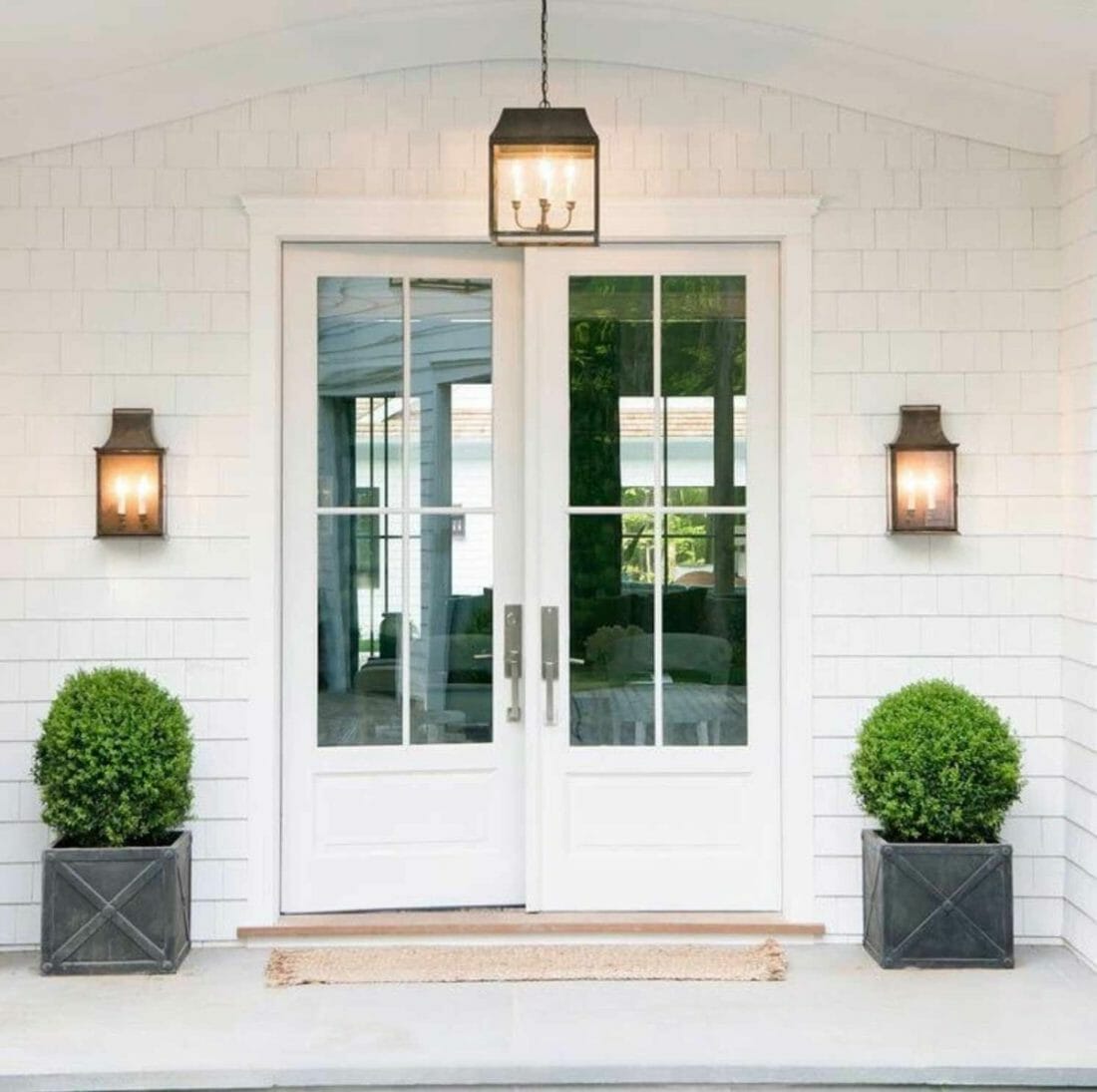 Both the pendant and the sconces in this front porch have candle light bulbs that boost the style of the fixture design.
Mounted over the boxwood topiaries, the wall sconces promote a formal look that matches the exterior of this house. For added beauty and illumination, a pendant light is chosen as the focal point of the front porch.
23. Sconces and Wreath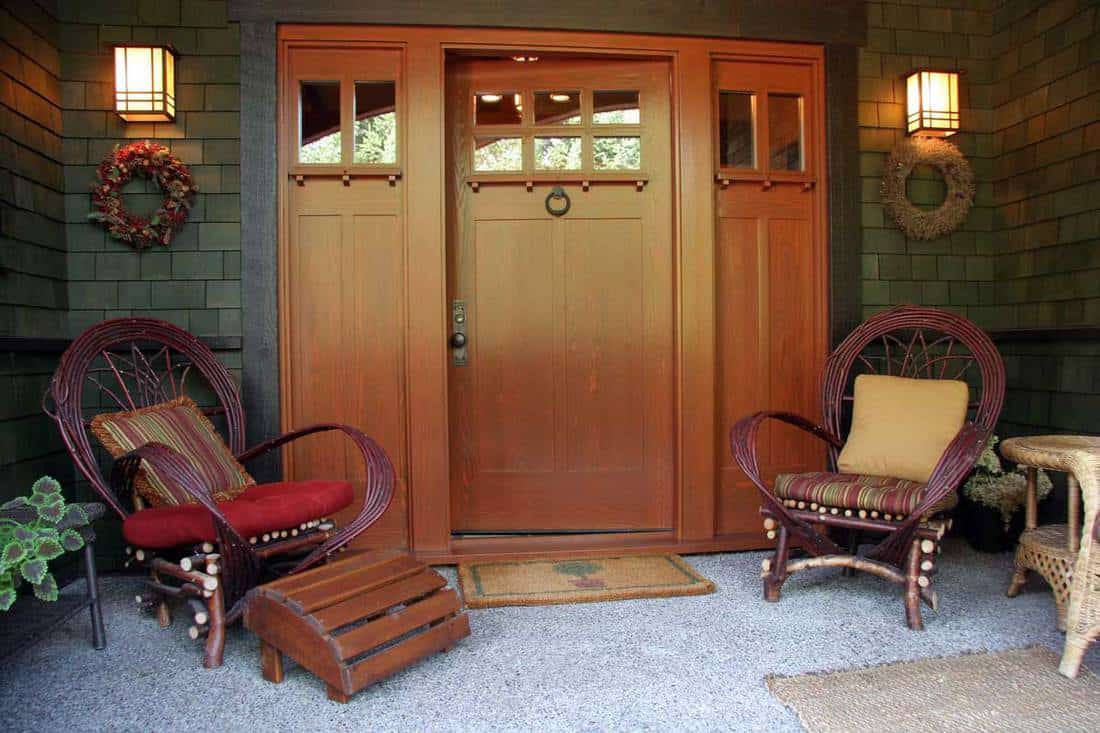 This rustic front porch features a pair of chairs on either side of the wooden door. A rattan table is beside one of the seats to save some space.
However, what makes this front porch interesting are the decorative wreaths under the wall sconces. Similar to the seat cushion, these décor pieces do not come with a matching design or tone.
24. A Pop of Color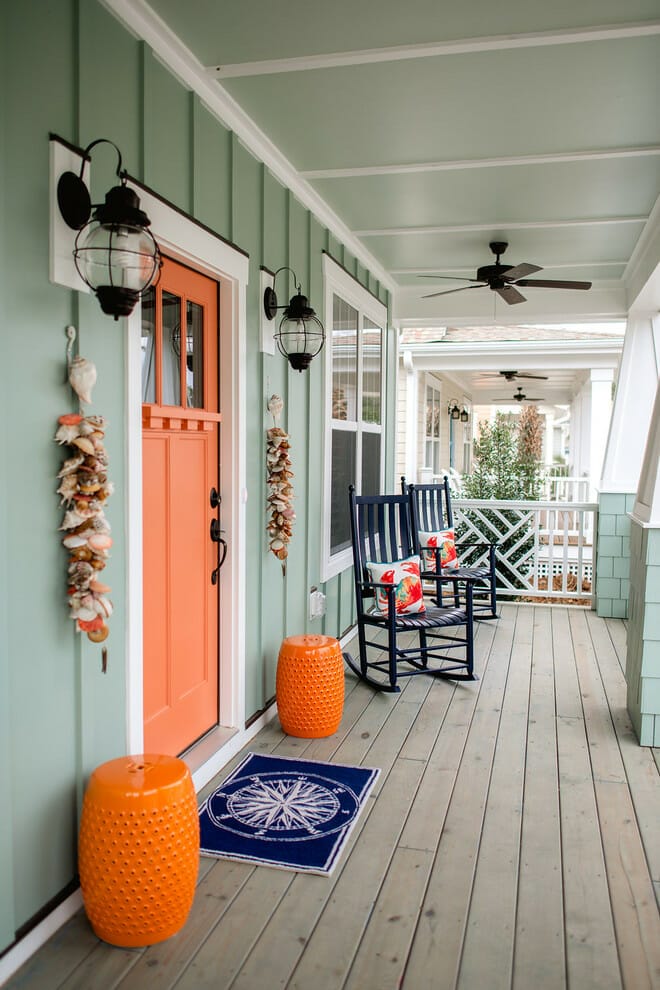 Add a splash of color in your neutral scheme by incorporating a daring color like bright orange. This front porch makes a perfect example if you need a good approach to infuse this vibrant tone in the outdoor space.
To give the spotlight for the orange decoration, a simple wall sconce with a straightforward design is used here. For additional illumination at night, consider installing a ceiling fan with lighting instead of one without it.
25. Against the Accent Wall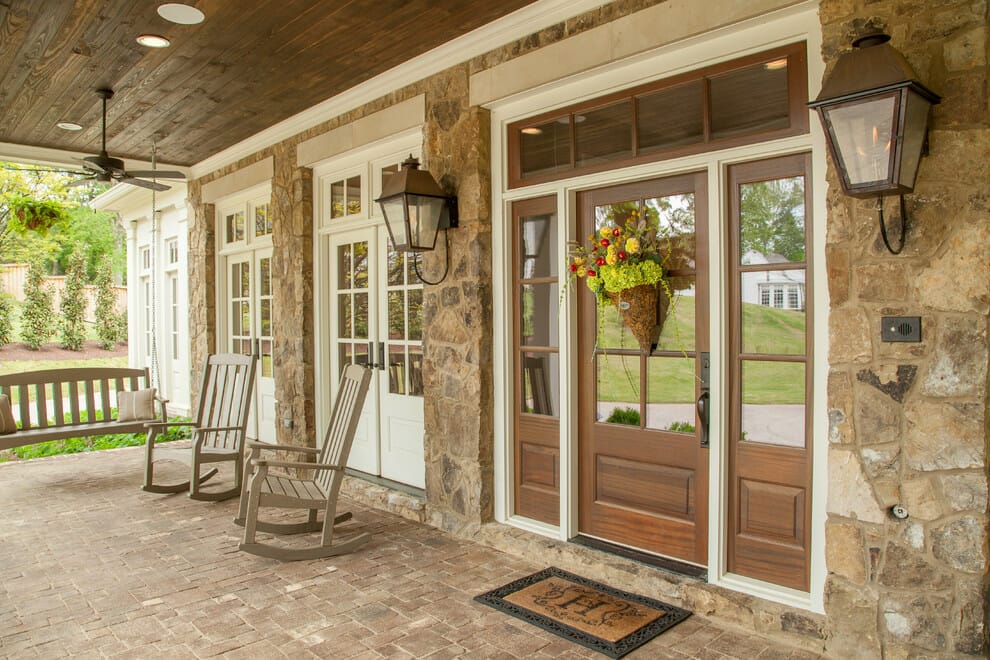 With floor-to-ceiling paneled windows and doors, the stone walls in this front porch only serve as an accent.
Completing the front porch area is a pair of wall sconces and some recessed lights on the wooden ceiling. There is also an outdoor fan over the seating area for additional breeze during the hot summer.
While the lighting fixture and furniture pieces come in the same tone, a splash of color is offered by the floral arrangement hung on the front door.
26. Neutral Beauty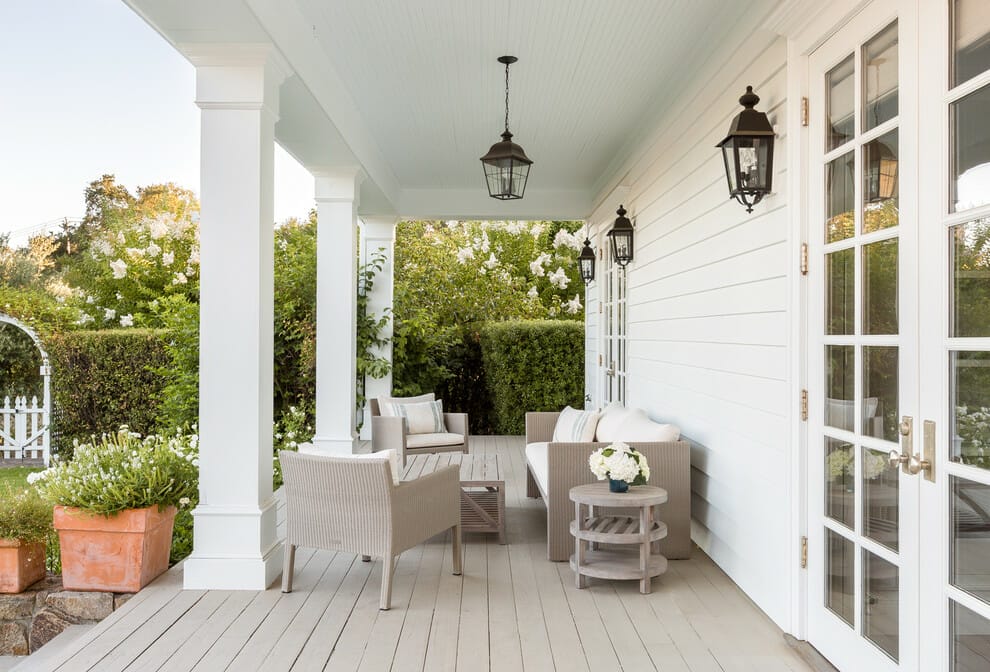 Framing the exterior of your windows with wall sconces will boost the curb appeal of the house while providing adequate illumination throughout the night.
If you want to create an outdoor living area on your front porch, adding a pendant light over the seating area will be the best thing to do.
When layering your lighting, consider buying different types of fixtures that have a similar style to create a harmonized look.
27. Statement Pendant Lighting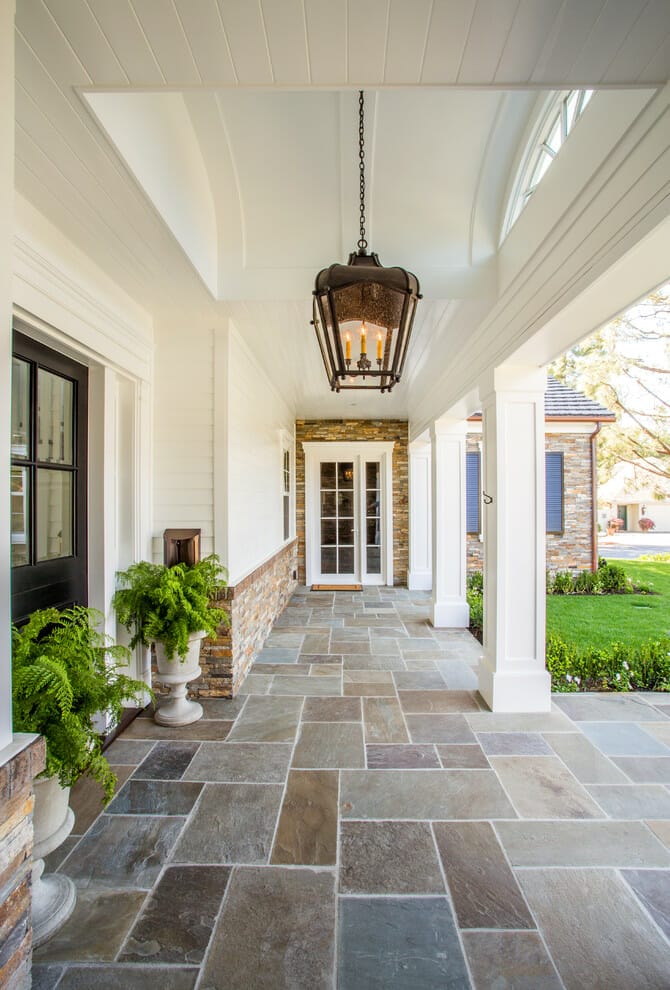 In a front porch that does not double as an outdoor living space, let the lighting fixture be the focal point of the design.
Get a larger pendant light with a long chain and eye-catching shade to create a statement. To make the décor less boring, you can put some pots of perennial ferns for added color on the front porch.
28. Covered Front Porch Lighting Ideas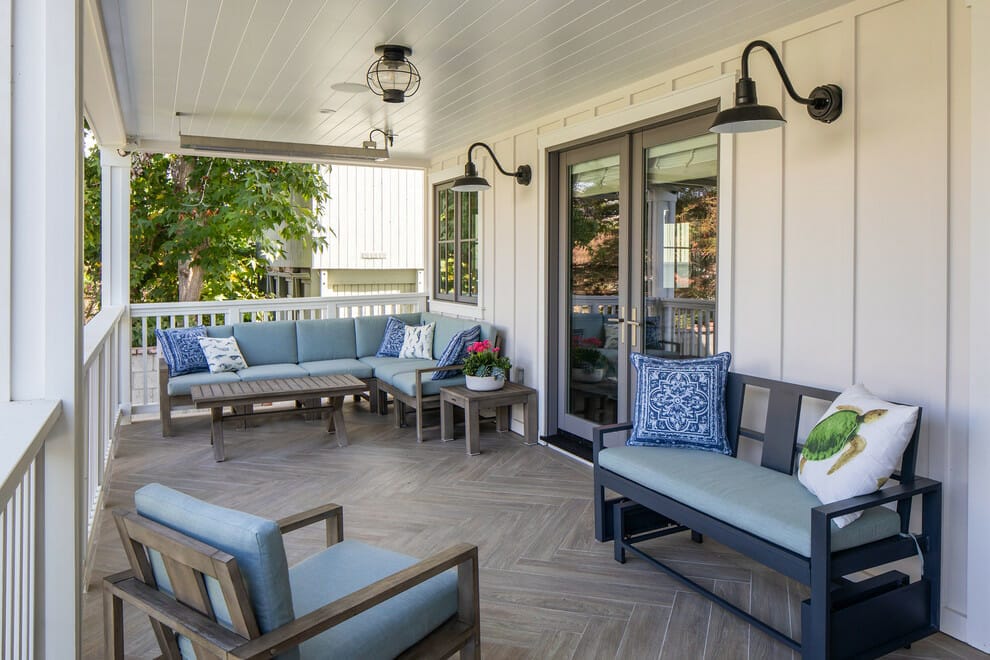 A covered front porch makes the best space to bring the comfort of your indoor space outdoors. By incorporating some sofas and chairs, you can turn it into a cozy spot for getting relaxed with the family.
For the lighting, you can go with flush-mounted ceiling fixtures, sconces, recessed lighting, or even outdoor pendants. Then, make sure to get lighting fixtures rated for outdoor use for the best result.
29. Highlighted Blooming Plants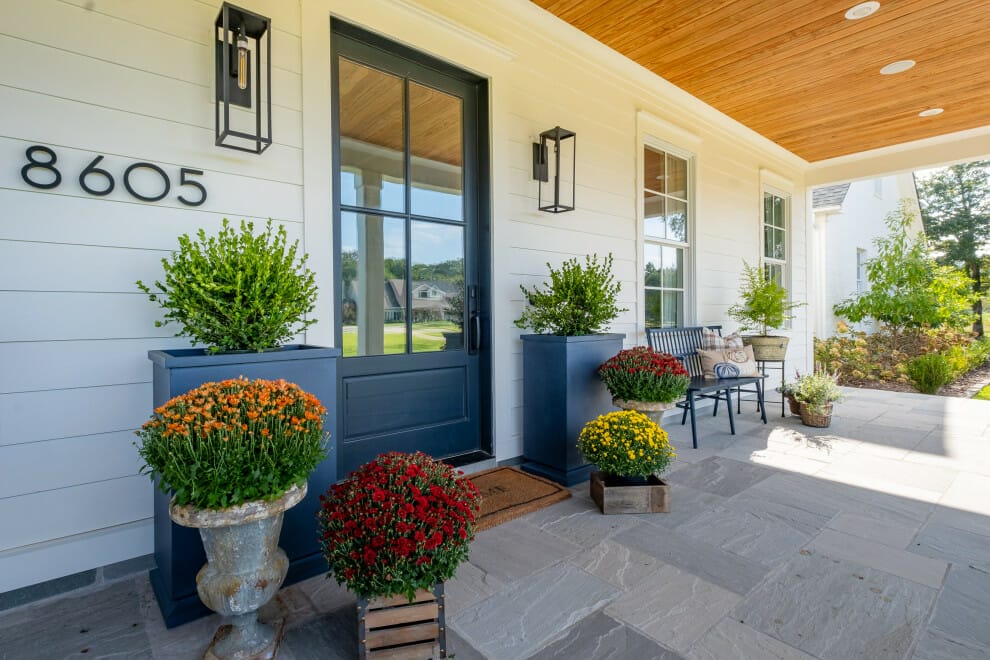 This front porch features recessed ceiling lights that carry out the task lighting. Consider putting them on a dimmer to allow you control the temperature of the lamps to set the right ambiance.
A pair of wall sconces works well as accent lighting that highlights the beauty of the blooming plants at night.
Finally, since you have come to the last picture of the front porch lighting ideas, hope you already found one that inspires you the most.