Homeowners typically use metal tracks and wires to install suspended ceilings over the original ones. If you admire all things trendy, dive into these modern drop ceiling ideas.
Furthermore, suspended ceilings let you conceal overhead wires, ductwork, and pipes while generating a statement.
Aside from controlling noise, suspended ceilings allow you to add new infrastructure. They offer easy access when your room needs maintenance or repairing too.
If your dwelling features a drop ceiling, you should examine the main ceiling to know the overall condition.
Additionally, modern drop ceilings undeniably lend spaces some character. Whether you plan to replace the current suspended ceiling or install a new one, copy these ideas.
They will take drop ceilings from meh to marvelous.
1. Drop Ceiling Panels for Mid-Century Modern Kitchens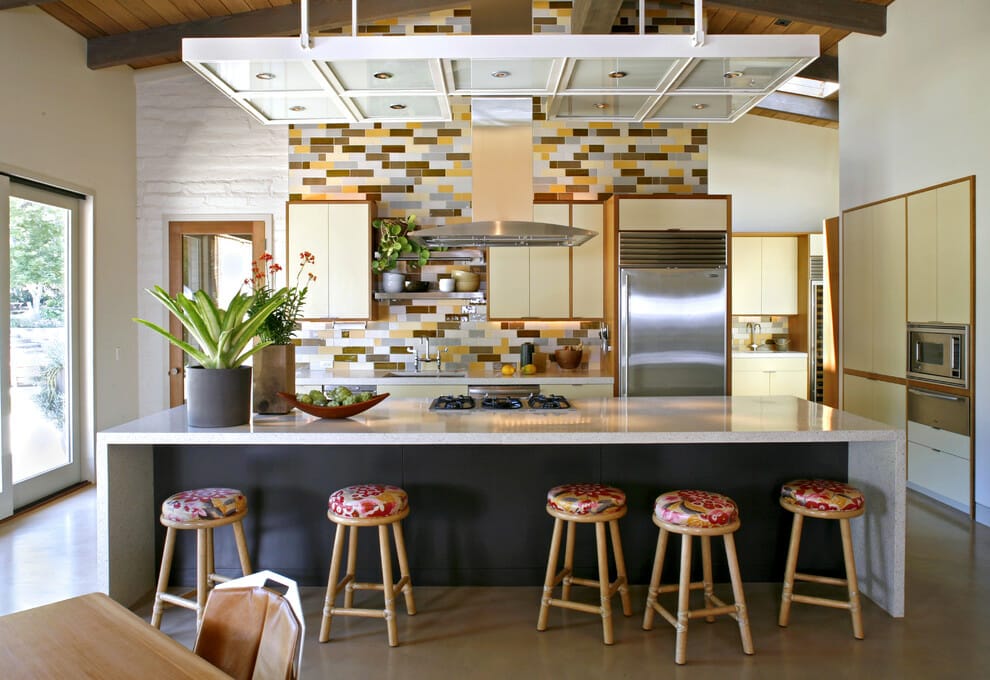 The homeowner chose to drop the ceiling over the island. Here, the suspended ceiling panel creates visual division in an open-concept space.
As you see, the homeowner secured her drop ceiling panel with metal bars. Furthermore, the white panel boasts clean angles that impart a mid-century modern feel.
The suspended ceiling panel lends the open-layout space texture, personality, and dimension. Meanwhile, recessed lights offer a trendy look.
Lastly, multicolored stools and backsplash tiles bring the kitchen's unique color scheme to the next level.
2. Modern Drop Ceiling Ideas with Lighting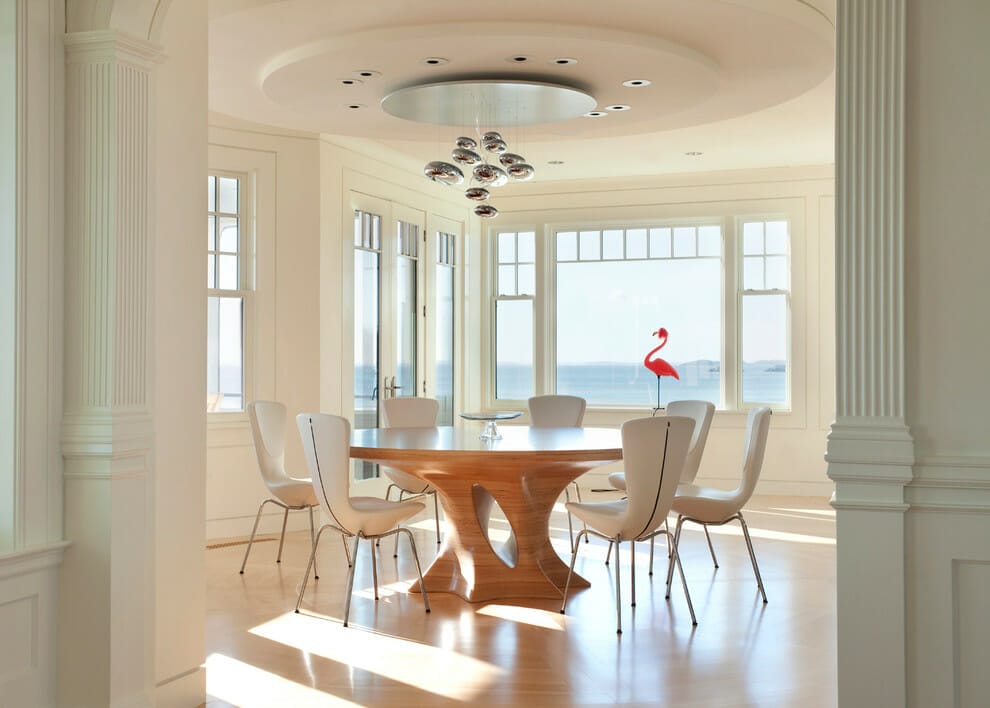 Need creative drop ceiling ideas? Try installing a circular partial suspended ceiling. Aside from being amazing, it also carves an interesting cosmic atmosphere.
It introduces an ultra-modern vibe, too.
The white circular drop ceiling matches the walls, dining chairs, and window frames. It keeps the dining area looking bright while softening harsh lines.
In addition, the recessed lights complement the round partial drop ceiling. Moreover, they illuminate this Mediterranean-style dining area.
There is a polished chrome Mercury ceiling light over the round wooden table for a glam look. The pink flamingo statue overlooks the ocean while adding a brisk pop of color.
3. Partial Drop Ceiling Ideas for Modern Homes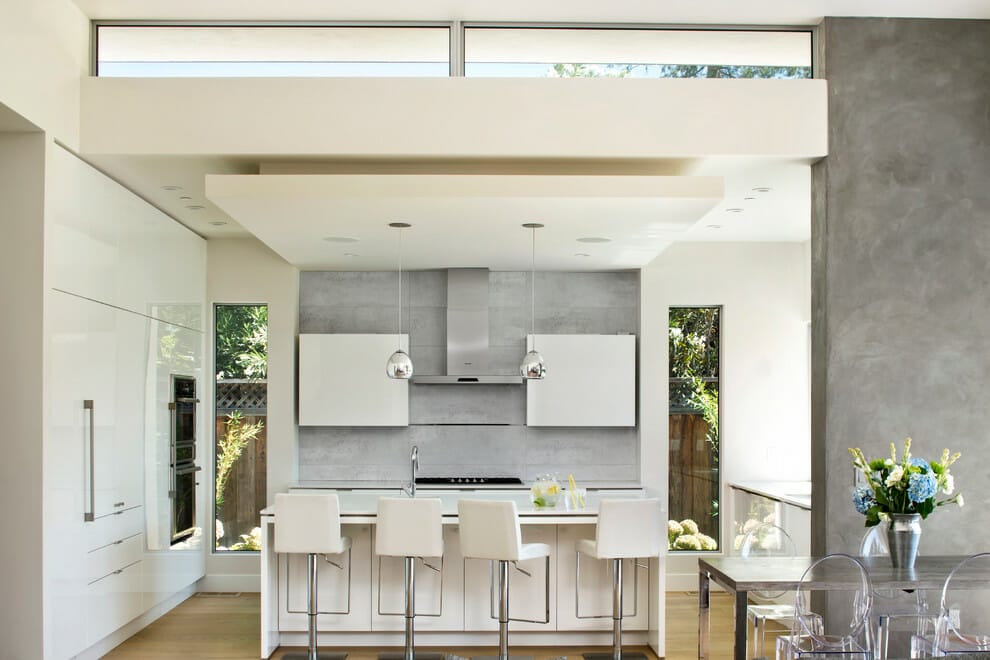 Speaking of modern drop ceiling makeover ideas, give a partially suspended ceiling a try. Not only does it become a striking architectural element, but also evokes a distinctly modern vibe.
Here, the partial drop ceiling obscures the recessed lighting. Additionally, it lets you carve division in your home without building walls.
The white paint enables the partially suspended ceiling to mingle with the sleek island, cabinetry, and walls.
Full-length and clerestory windows embody airiness. Recessed light fixtures provide a smooth look. Lastly, chrome pendant lights impart lavish vibes.
4. Modern Drop Ceiling Ideas for Luxury Homes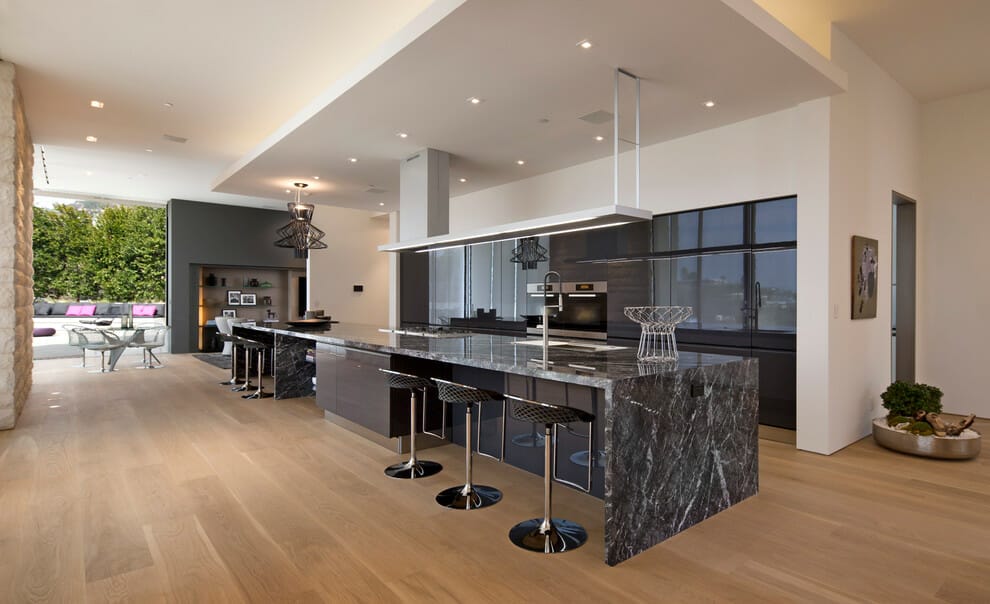 This massive home is adorable. The open-plan kitchen includes plenty of seating. Meanwhile, the light wood flooring and bonsai plant keep things from being sterile.
The homeowners installed a partial drop ceiling in a particular area. Here, it accommodates and counteracts the extra-long black marble kitchen island.
Combining a partially suspended ceiling with recessed lights is a smart move.
The recessed light fixtures lighten up specific spots while offering a clean look. Also, the stylish black pendant lamp brings more drama and decorative accents.
5. Charming and Characterful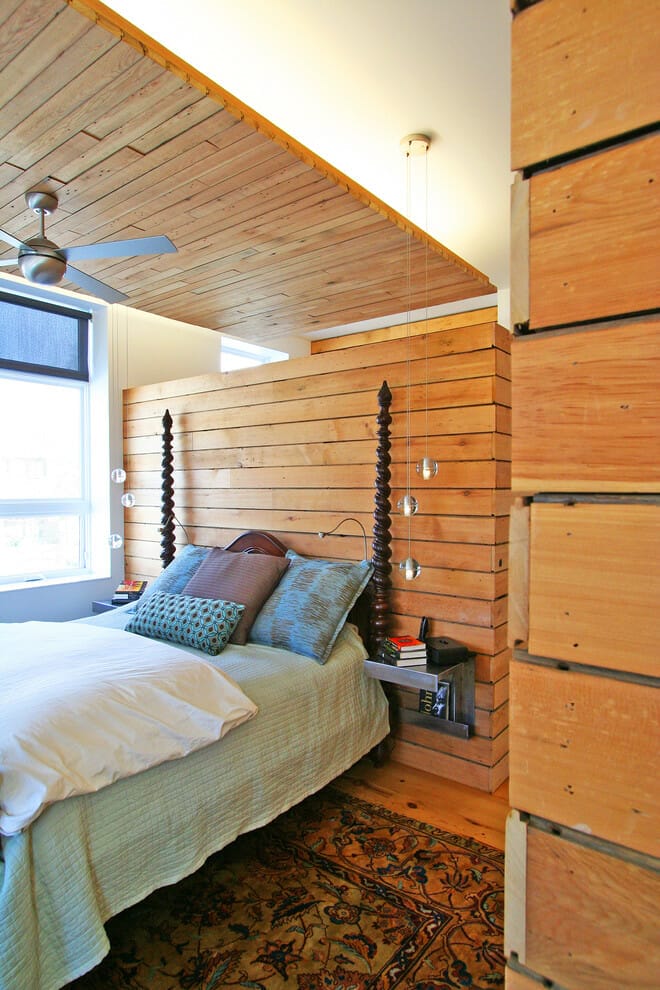 Talking about modern drop ceiling ideas, don't hesitate to use natural colored wood planks. Raw wood planks and white walls give this tiny bedroom a contrasting appearance.
Natural wood planks offer a barn vibe while producing rustic charm. Furthermore, the wooden drop ceiling highlights the modern ceiling fan.
The homeowner added other warm wood elements via the walls and flooring. They convey cohesiveness while imparting a toasty, country ambiance.
6. Modern Drop Ceiling Ideas with LED Lighting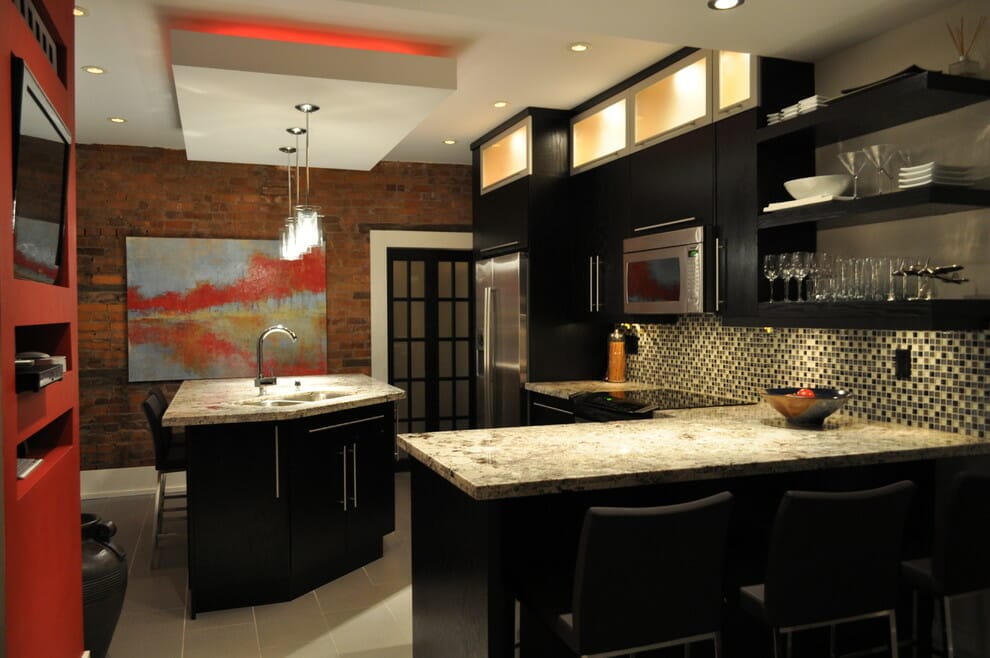 The partial drop ceiling has harsh lines, so it can go awesomely with gorgeous granite counters. It divides this welcoming yet moody space into two dining areas too.
Cylinder glass pendants spice up the otherwise plain drop ceiling. The red LED light produces the illusion of separation while lending the ceiling a vivid contrast.
Aside from carving a dramatic effect, the red LED light accentuates the partial drop ceiling's clean lines.
Red tones on the wall art and feature wall tie the kitchen together. Downlights counteract inky chairs and cabinets.
7. Modern Custom Drop Ceiling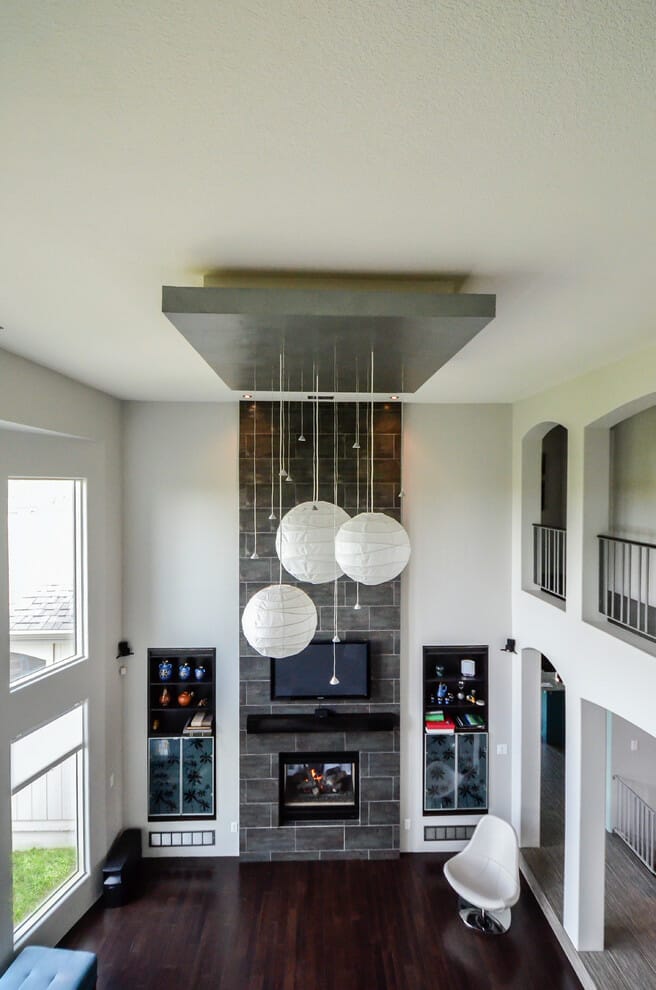 Need modern drop ceiling ideas for high ceilings? This space is worth recreating. The soaring ceiling boasts a partially suspended concrete ceiling.
It draws the eye up while bringing a modern industrial element.
The concrete drop ceiling blends with the head-turning fireplace wall featuring oversized gray tiles. Arches and massive paper lanterns soften sleek lines.
Stark white paint on the main ceiling, furniture, and walls balance out the dark hues in the space. Meanwhile, vibrant decorations bring this enormous, neutral space to life.
8. White Drop Ceilings for Modern Spaces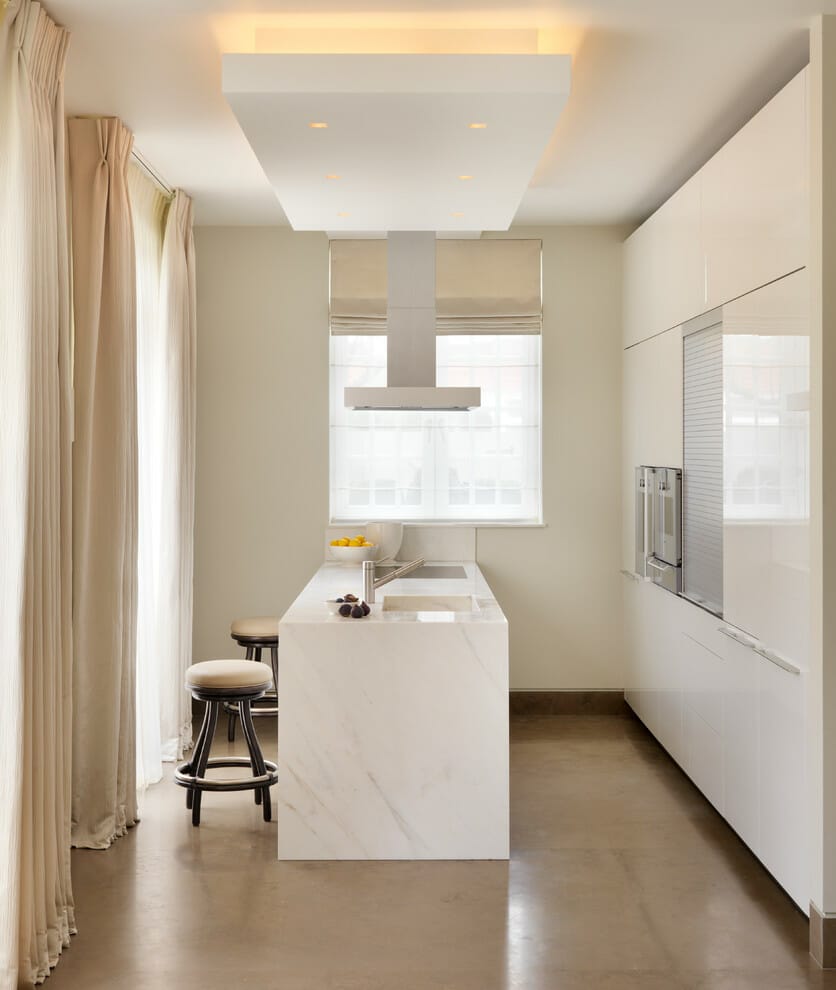 Modern drop ceiling ideas are suited to tiny dwellings. This confined room, for example, has recessed lights.
Since they lay flush with the partially suspended ceiling's surface, they infuse a sense of sleekness.
Here, the partial drop ceiling calls attention to the deluxe marble island. Meanwhile, fabrics and pale warm neutrals make harsh lines softer.
The LED light lends the whole kitchen a warm modern glow. Moreover, it gives the otherwise stark partial drop ceiling an appealing contrast.
9. Modern Drop Ceiling Ideas with Square Lights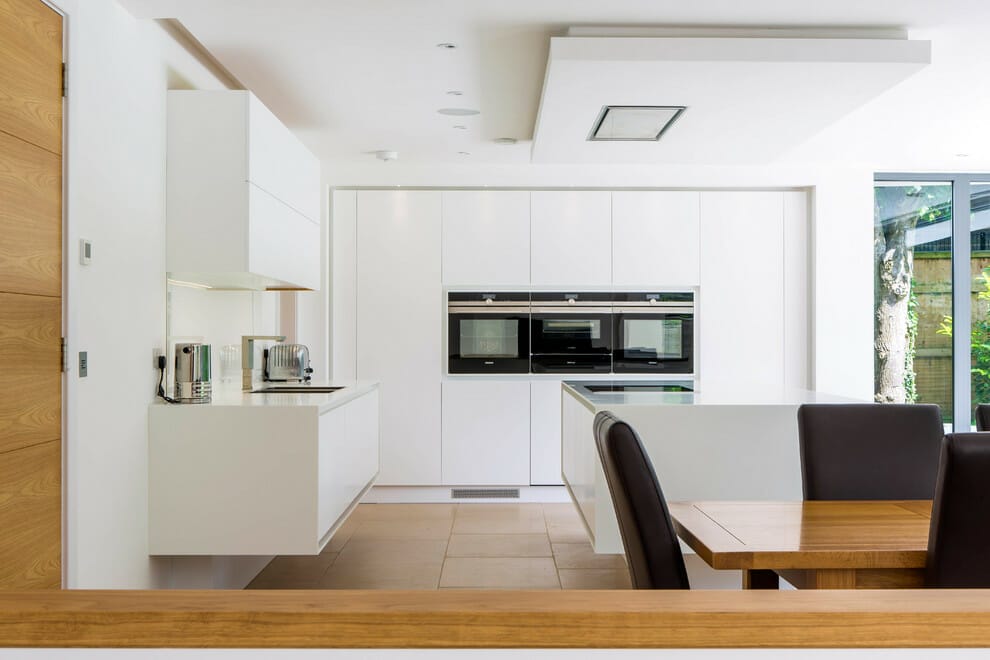 This partially suspended ceiling features a stylish linear design. Furthermore, it's a brilliant choice for tiny and expansive spaces.
Homeowners positioned their partially dropped ceiling directly above the white island.
Meanwhile, the square ceiling light produces a decent amount of illumination for a comfortable culinary space.
You can spot a row of recessed lights next to the partial drop ceiling. They provide additional lighting while preserving the kitchen's clean look.
Brown and natural-colored wood surfaces offer copious amounts of warmth.
10. Modern Ceilings with Dropped Edges
Speaking of modern drop ceiling ideas for master bathrooms, consider installing this suspended ceiling.
The homeowner only dropped the bathroom ceiling's outer edge. Furthermore, it guides the eye to the center of the interior.
Besides, the wooden drop ceiling introduces a warm accent color while housing downlights. Also, it matches the double sink vanity.
All things marble add elegance. Meanwhile, candles, modern wall sconces, and fake flowers complete the master bathroom.
11. Modern Drop Ceiling Ideas with Pendant Lamps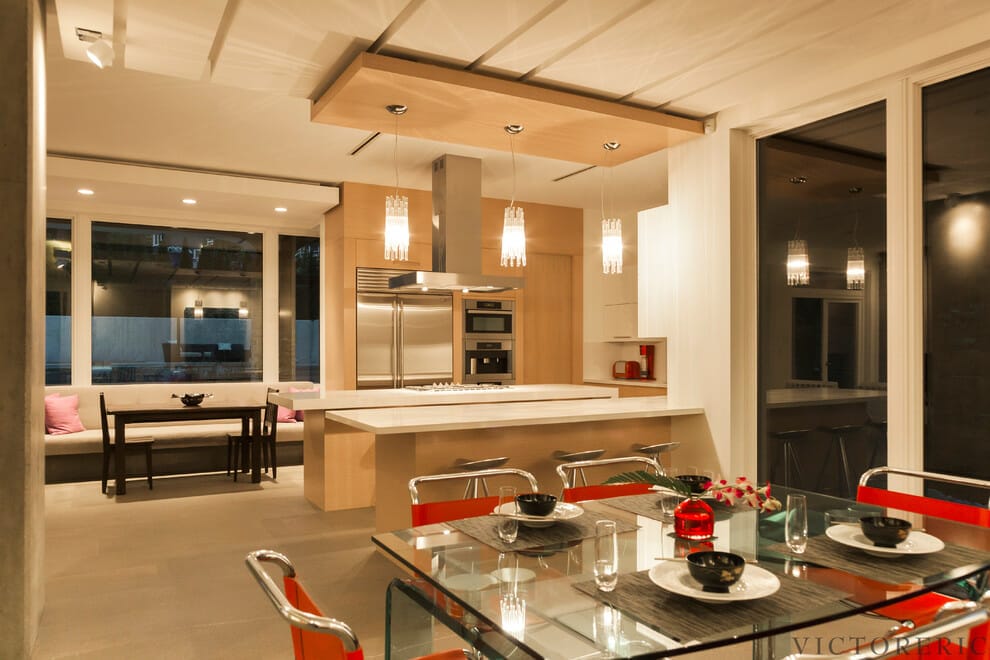 The partially suspended ceiling adds visual appeal to this uber-stylish space. Since there is no partition wall, it helps homeowners show division.
Here, the custom cabinetry and partial drop ceiling unify the space because they both embrace light wood tones.
Attention-grabbing glass pendant lamps bring intrigue and illumination into the room.
The large white ceiling lets the light wood drop ceiling sing. Meanwhile, pink pillows harmonize with the beige upholstered bench.
Lastly, red accents bridge the formal dining area and neutral kitchen.
12. Drop Ceilings for Modern Master Bedrooms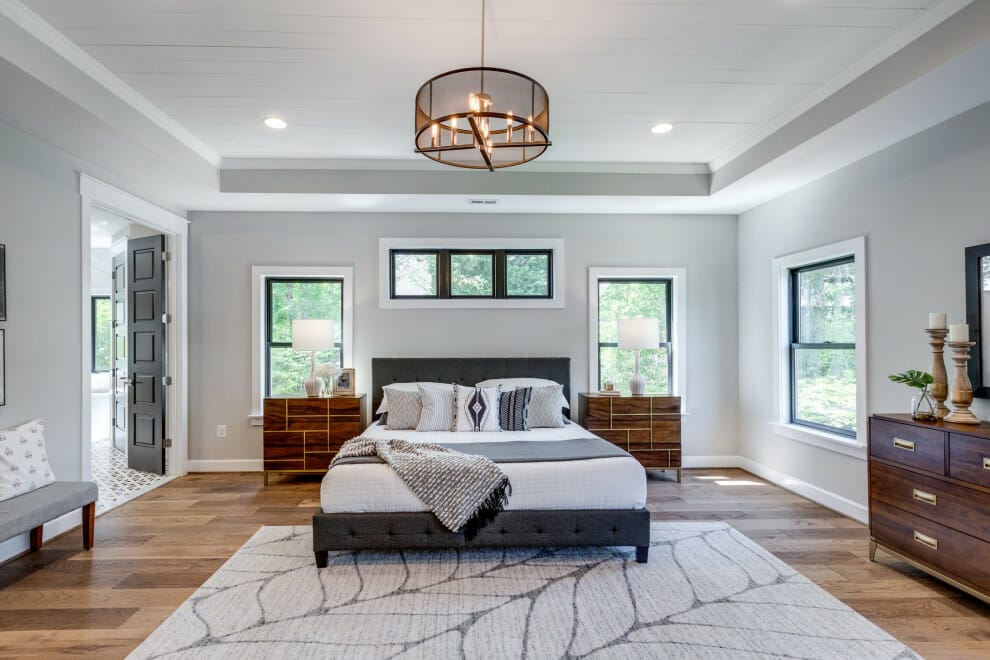 Modern drop ceiling ideas for master bedrooms are limitless. The homeowner painted the outer edge of his suspended ceiling light gray for a seamless look.
White wooden planks lend the drop ceiling a subtle contrast. They accentuate the statement modern chandelier, too.
Different wood tones infuse this master bedroom with a dynamic yet homey ambiance.
13. Modern Drop Ceiling with a Skylight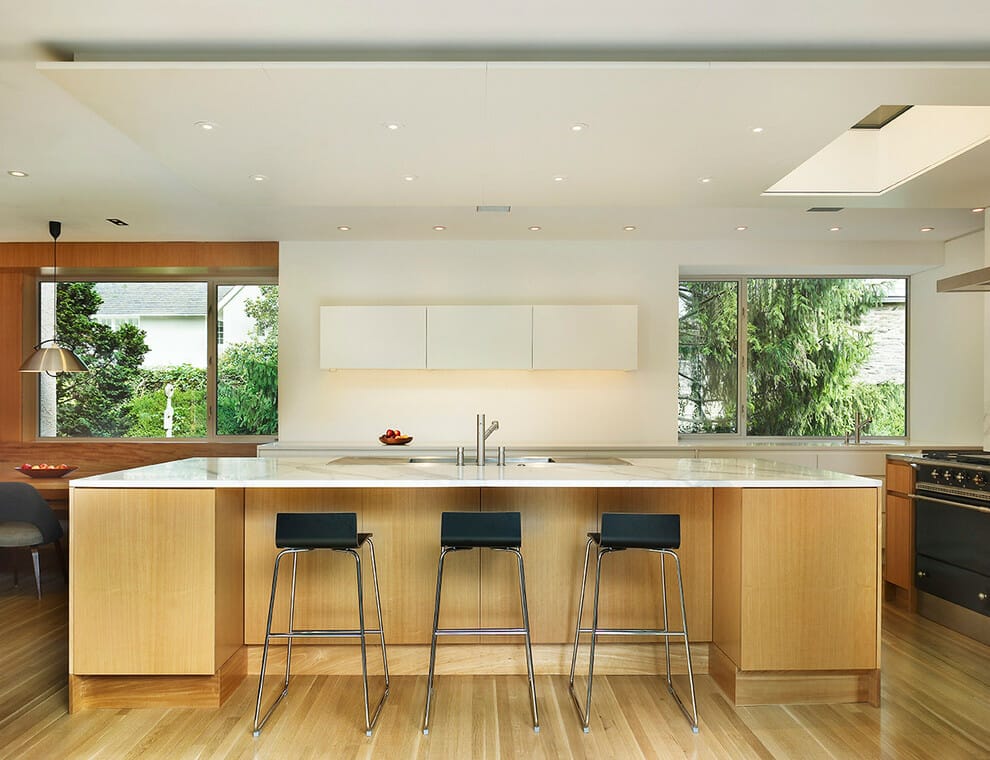 Kitchens with wood and white elements are true showstoppers. This minimalist space has a partially suspended ceiling over the marble-topped island.
Homeowners placed downlights purposefully throughout the kitchen.
They brighten certain spots in the culinary space, while the skylight makes the partial drop ceiling more functional.
14. Modern Drop Ceiling Ideas with Chandeliers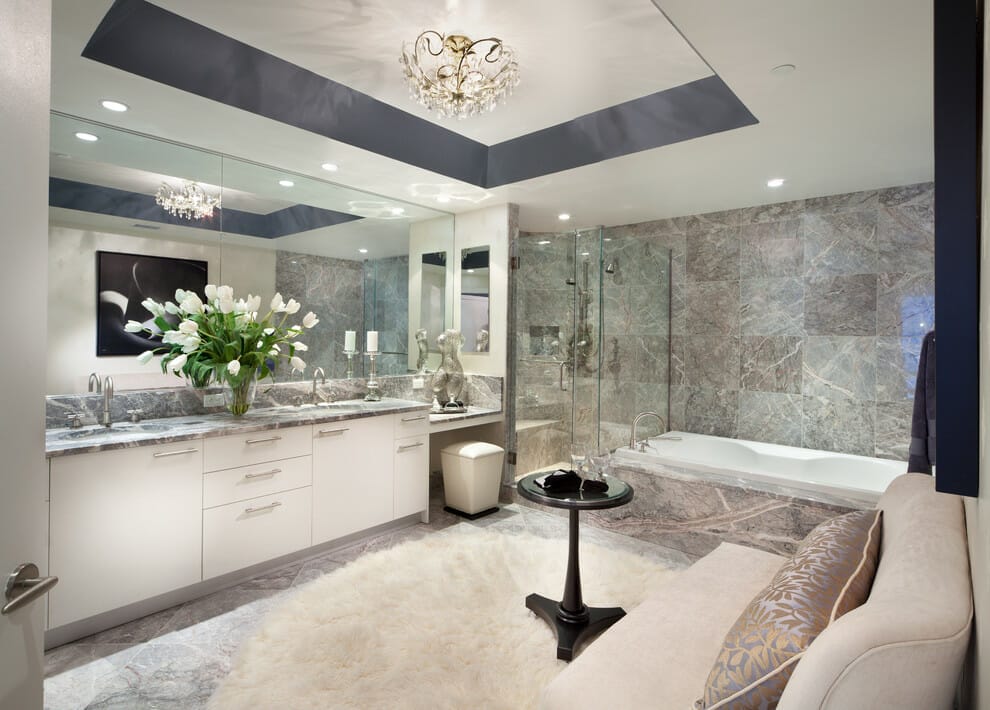 As you see, the owner of this home did not drop the entire ceiling. She only suspended its outer edge. The deep gray paint gives the drop ceiling a sense of depth.
The suspended ceiling accentuates the crystal chandelier. Recessed lights impart a sleek vibe, while the delicate rug, white tulips, and gray marble tiles invite wow factors.
15. Extra-Long Partial Drop Ceiling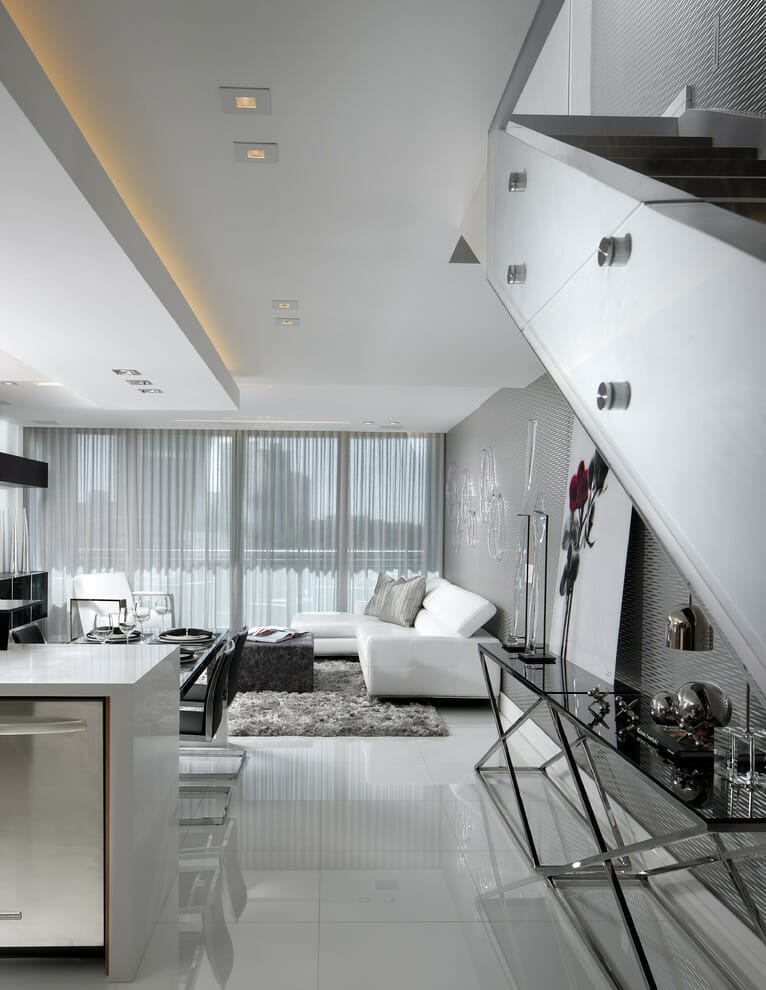 Here is another dwelling with an open layout. The soft glow of the LED light offers the partially suspended ceiling a marvelous contrast.
The homeowner outfitted the main and drop ceilings with downlights. Aside from creating a brighter space, they preserve the open-concept interior's modern ambiance.
16. Gray Drop Ceiling Ideas for Basements
Nothing says stylish quite like this culinary space. The gray partial drop ceiling goes with high-gloss subway tiles remarkably.
The LED light and blue accessories make this modern basement kitchen cohesive. Furthermore, downlights jazz up the drop ceiling while complementing the elegant chandelier.
17. Go for Light Wood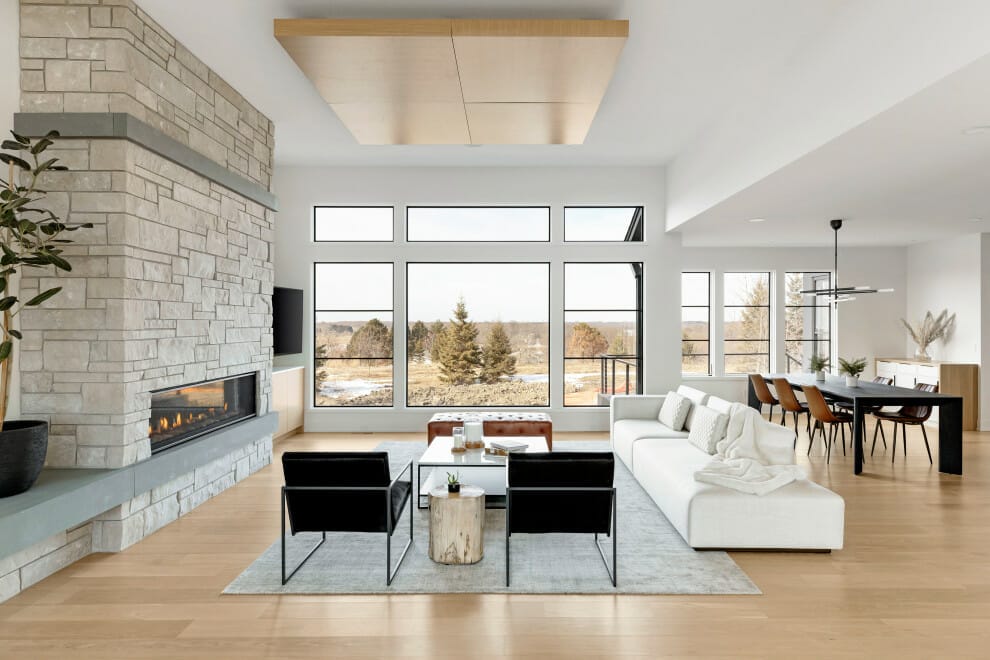 Modern drop ceiling ideas for open-plan homes are getting popular. Here, the light wood partial suspended ceiling defines the living room.
Natural elements and minimalist windows introduce outdoor-indoor connections. Also, all things stark white keep this open-layout home airy.
18. Subtle But Stylish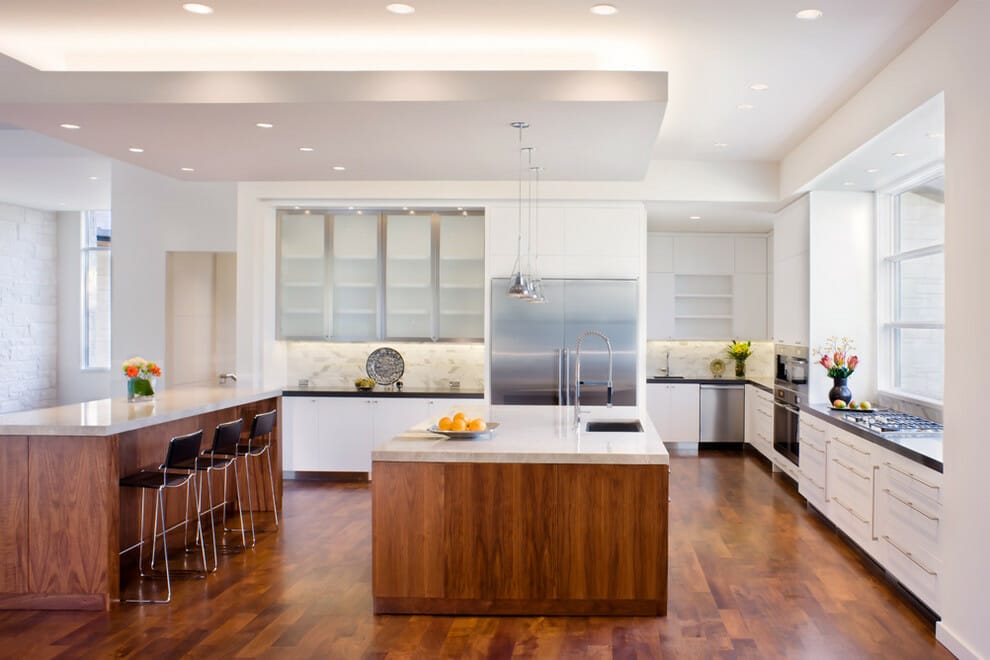 I admire how appealing this interior is. The pale gray paint distinguishes the partial drop ceiling from the original ceiling while evoking openness.
Downlights illuminate white cabinets and counters to rival the dark-toned wood flooring and islands. Meanwhile, chrome pendants mingle with high-end appliances.
19. Wood Meets White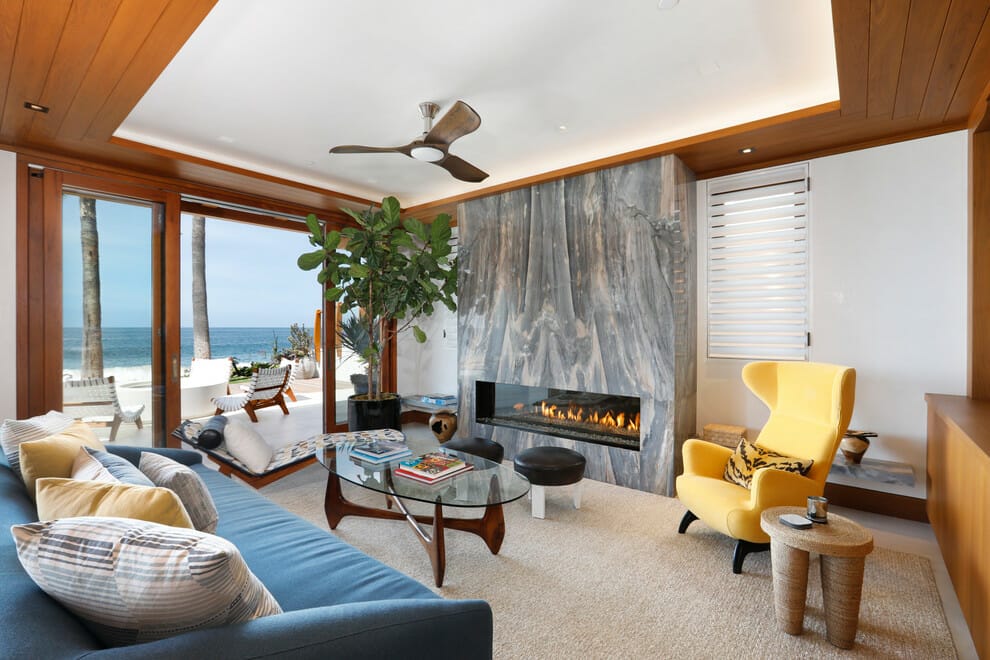 Modern drop ceiling ideas include a suspended ceiling that does not span an entire main ceiling. In this photo, the outer edge of the drop ceiling boasts warm wood planks.
The wooden ceiling's outer edge and window frames convey seamlessness.
Furthermore, the bright LED light and white part of the suspended ceiling highlight the wooden ceiling fan.
20. Classic Chandeliers for Modern Drop Ceilings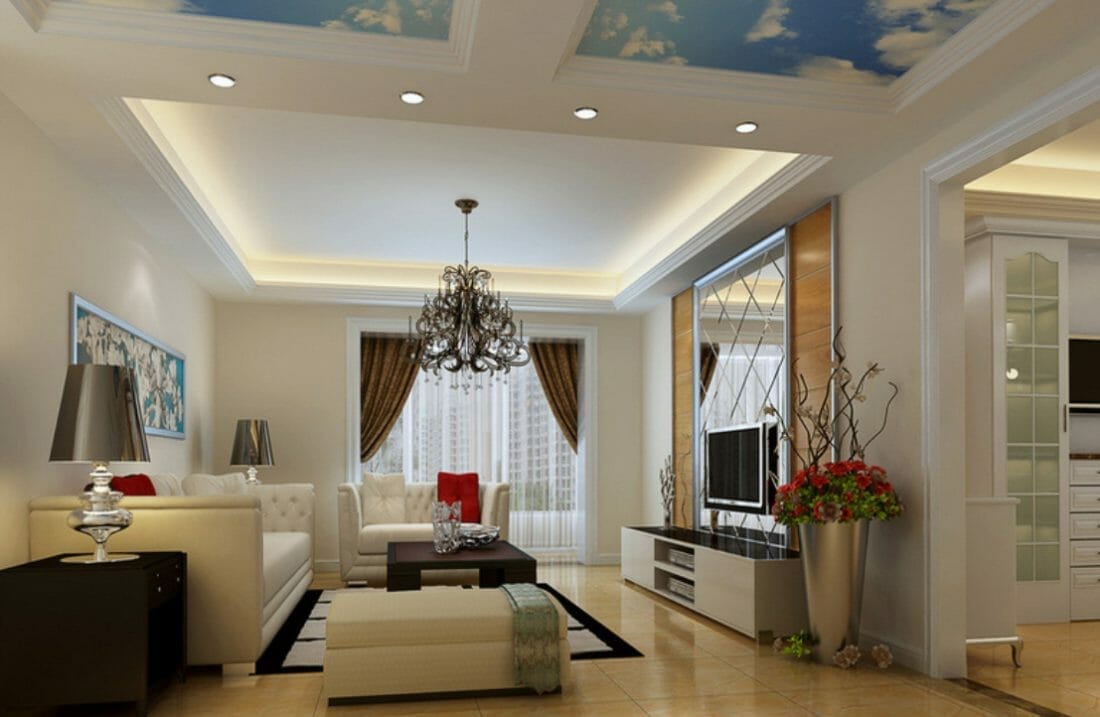 The modern drop ceiling lends this transitional space a fabulous architectural touch. Also, it draws attention to the dark yet lavish chandelier.
Sky cloud fluorescent light covers bring the otherwise stark drop ceiling to life. Meanwhile, the accent and recessed lights round out the drop ceiling.
21. A Splash of Copper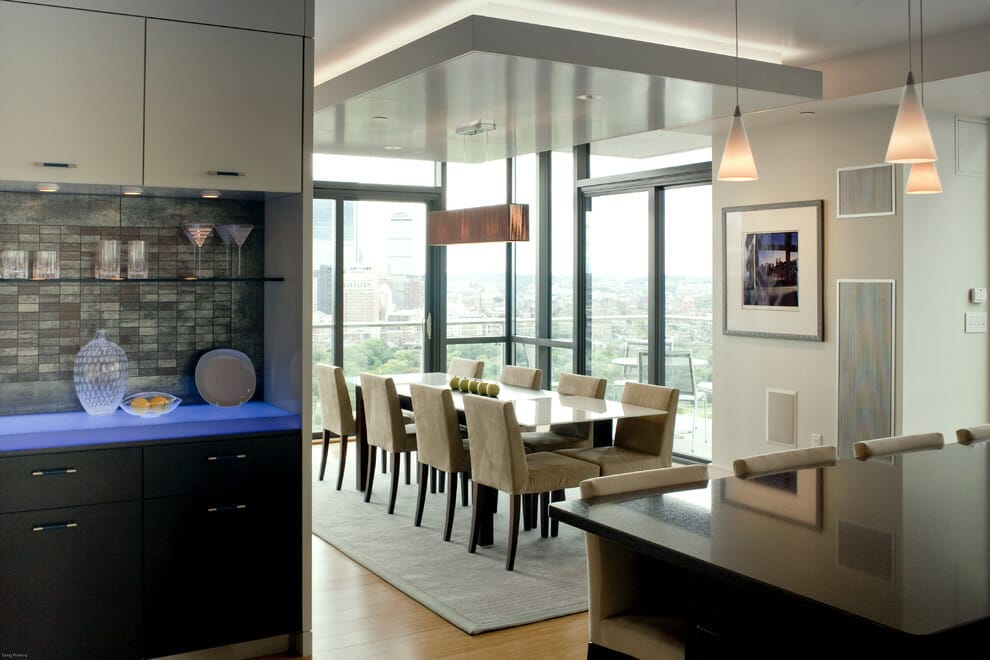 Undeniably, modern drop ceiling ideas are suitable for apartments. The partial drop ceiling above sets a boundary between two dining areas.
The gray suspended ceiling, rug, and minimalist art frame unify the room. Furthermore, the copper pendant light over the white table imbues warmth.
22. One Isn't Enough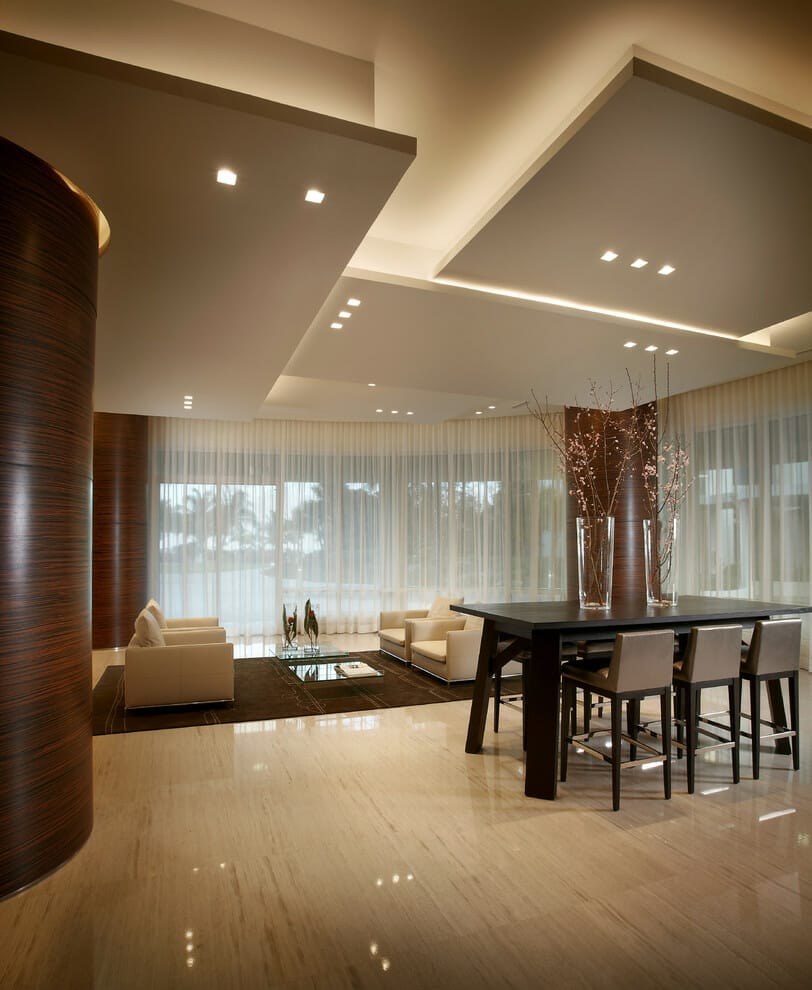 This open-plan home embraces a Japanese flair. Have a look at dried flowers in clear glass vases. Due to the dark brown rug and massive wooden columns, the living space looks snuggly.
The home features a few partial drop ceilings. They define sitting and dining areas. Also, they include matching square recessed lights.
23. Matchy-Matchy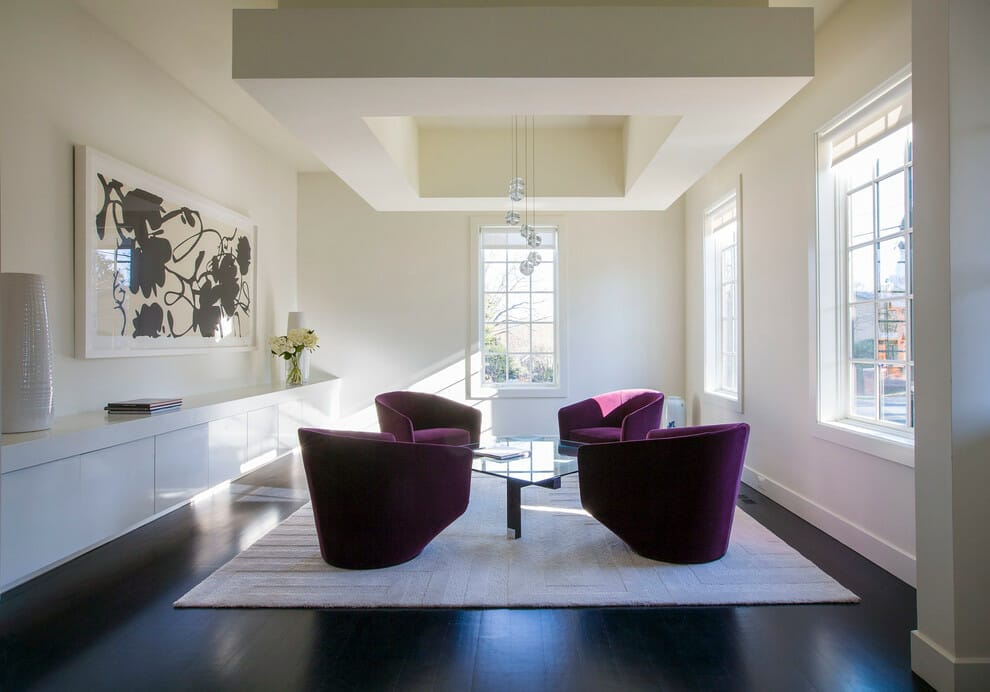 Modern drop ceiling ideas always amaze me. Here, the soft white drop ceiling tries to mimic the large rug right above the dramatic flooring.
The suspended ceiling highlights glass ball pendant lamps that illuminate the glass coffee table. Meanwhile, deep purple chairs convey a sense of royalty.
24. Modern Drop Ceiling Ideas for Farmhouses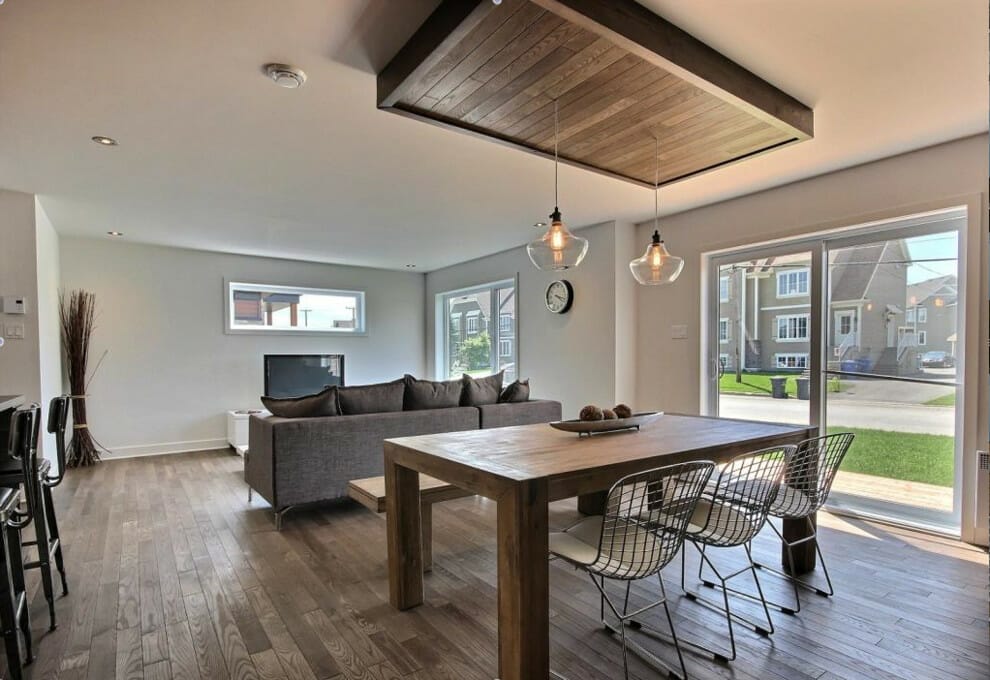 If I could describe this modern farmhouse in one word, it would be astonishing. There is a drop ceiling with wooden planks that defines the casual dining area.
Instead of breaking the design, the partially suspended ceiling ties the whole space together. Furthermore, glass pendants balance it out.
25. Gray Is the New Black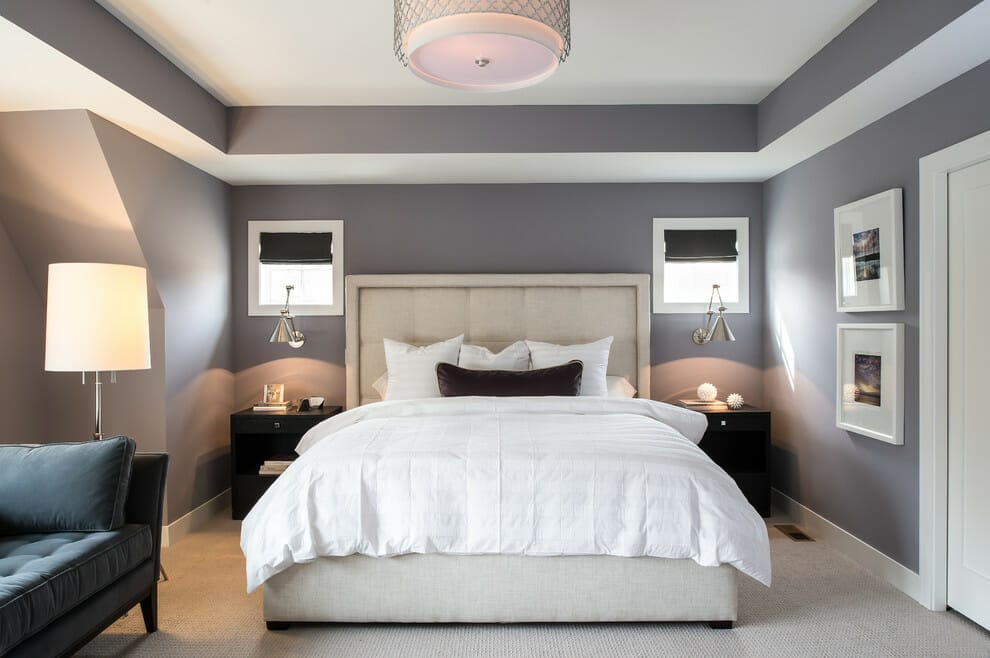 Using neutrals in a master bedroom is a safe bet. Here, the white-and-gray drop ceiling keeps the entire sleeping area airy.
Homeowners achieved a dynamic look because they added varying gray shades. The decorative pendant lamp and chrome wall lights glam up the master bedroom.
26. Contrast Above All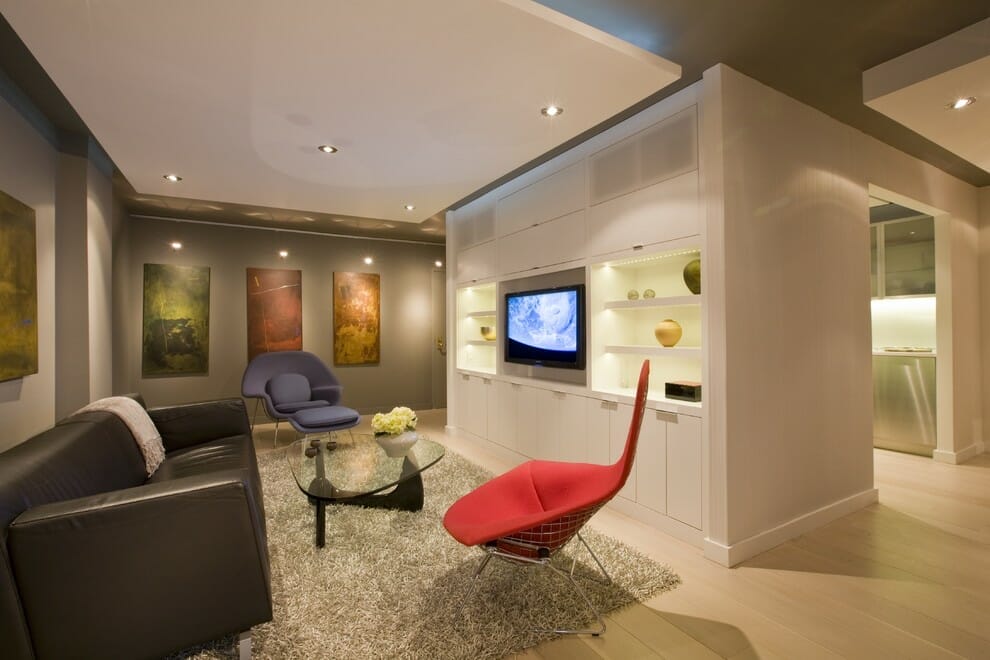 The gray original ceiling and living room walls give the dwelling sophistication. Meanwhile, white drop ceilings produce a contrasting look.
Downlights brighten up the living space and recessed shelving. Furthermore, mismatched chairs, shelf decorations, and artworks embody dynamism.
27. A Sense of Intrigue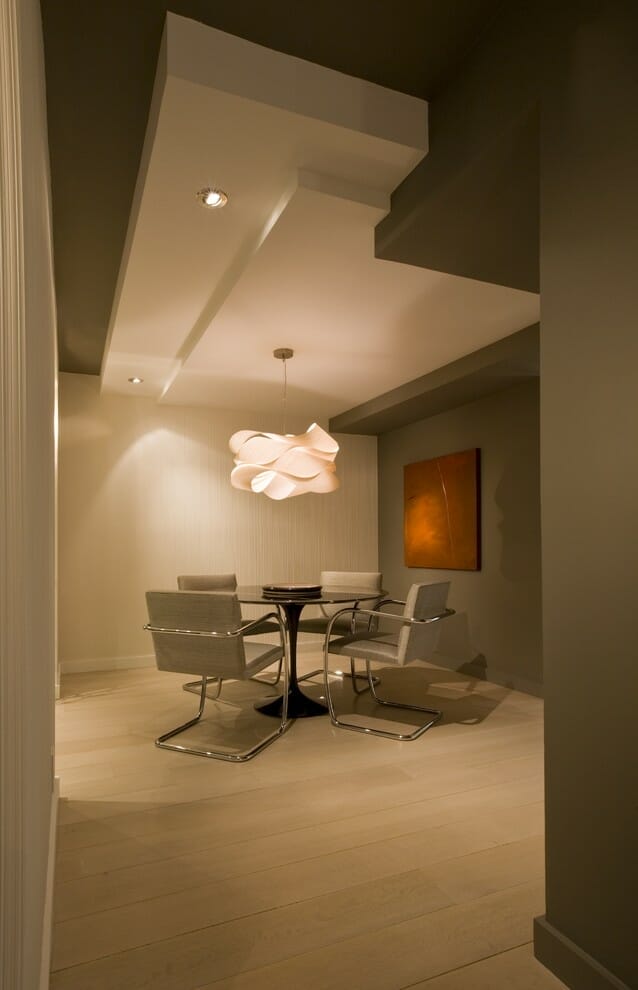 Modern drop ceiling ideas are identical to bland spaces. However, this head-turning room proves that is not true.
The one-of-a-kind suspended ceiling and whimsical pendant lamp take this dining space to the next level.
Furthermore, warm tones of the flooring and wall art keep bleakness out.
28. Breathtaking and Bright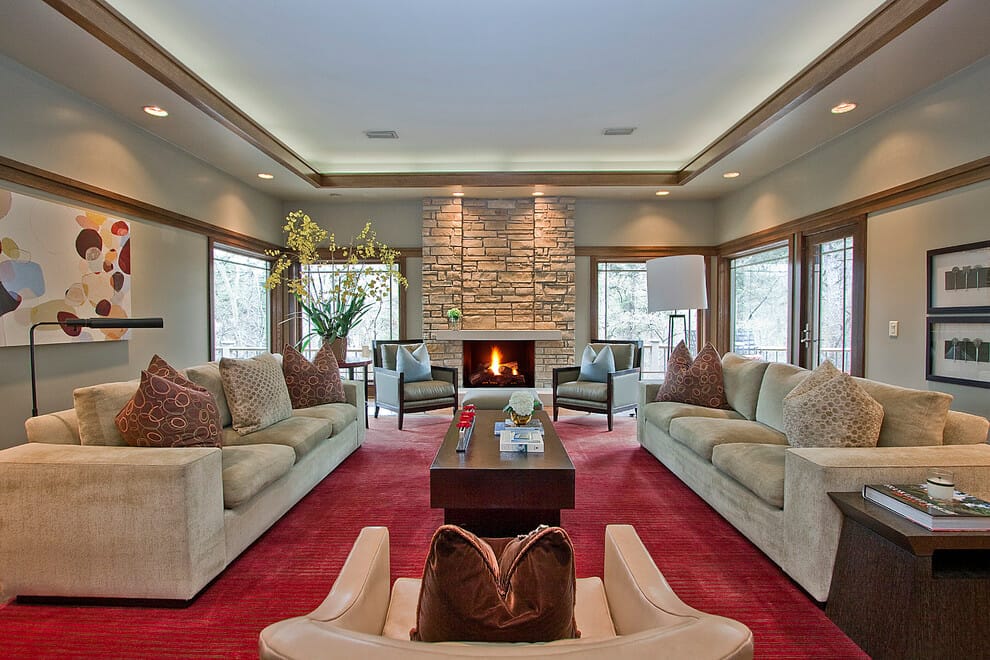 This expansive sitting area blows my mind away. The modern suspended ceiling opens up this living room while containing downlights.
The drop ceiling calls attention to the rustic fireplace wall. Meanwhile, the pinkish-red rug, oversized art, and extra-large throw pillows captivate the guests.
29. Balance Is Key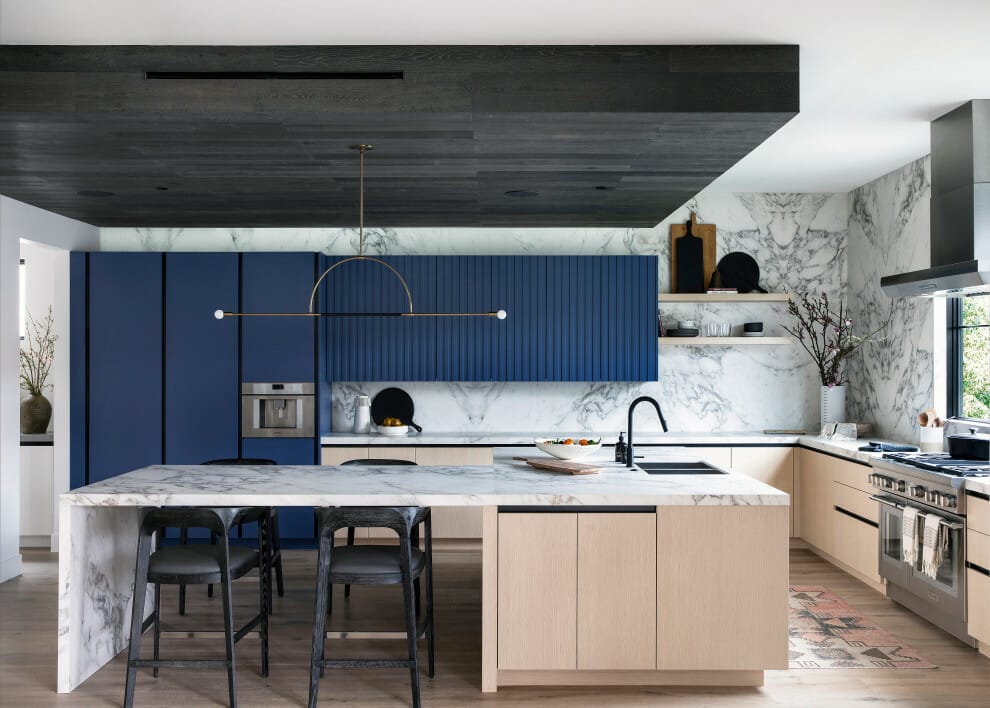 I will surely enjoy cooking in this heavenly kitchen. Navy cabinets generate a bold look. However, they do not divert the attention away from glorious marble.
The charcoal gray drop ceiling and pendant light embrace modernism. Due to the beige rug and wooden cabinets, the kitchen does not feel heavy.
In short, homeowners can take advantage of their suspended ceilings. Aside from being fascinating, they are also functional. Hopefully, those fantastic modern drop ceiling ideas have uncovered your inner decorator.