When the warm weather approaches, the dwellers typically focus on planters and furniture pieces. However, they won't obtain an incredible outdoor living experience without proper illumination. So I've compiled 15 marvelous balcony lighting ideas to inspire you.
Lighting is an integral part of any balcony. Nowadays, people don't necessarily stick to boring floodlights or basic lamps. Moreover, outdoor light fixtures can be appealing and chic. You might think that pendant lamps belong indoors.
Here, I'll show you some captivating lighting options for balconies, from wall sconces to globe lights. They will motivate you to spend some time outdoors.
1. Small Balcony Lighting Ideas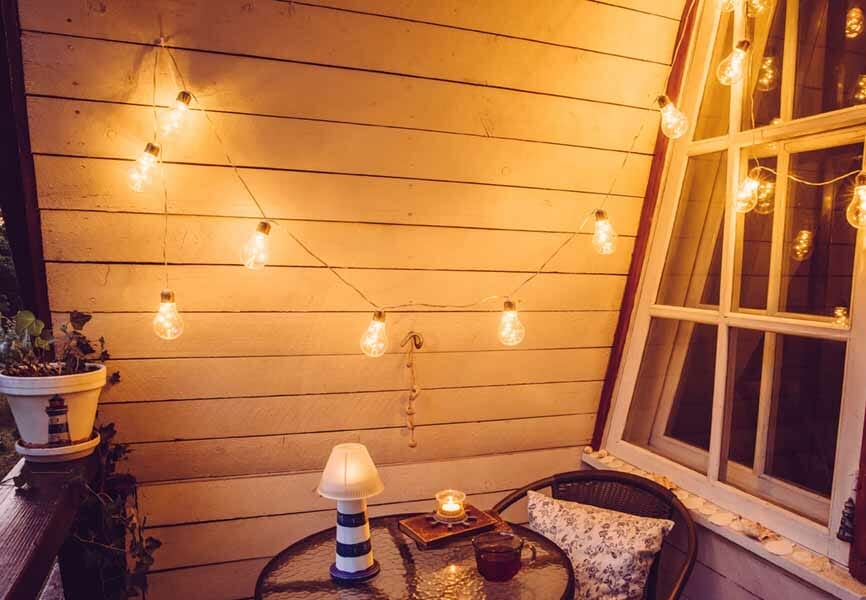 As you see, the balcony becomes a coastal-style outdoor seating space. Furthermore, it boasts wicker armchairs and a table with a glass top. The floral patterned throw pillow produces a comfortable ambiance.
Starburst globe lights hang on the shiplap wall and windows. Apart from illuminating the small balcony, they effortlessly make the whole outdoor area shine.
Moreover, the globe lights offer incredible mood lighting. In addition, they introduce a statement while carving a toasty atmosphere.
There's a lighthouse table lamp that sits directly on the textured glass tabletop. Moreover, it accompanies the white planter and heightens the nautical ambiance.
The candle on the table generates an intimate feel. Furthermore, the tiny wooden board accommodates it while displaying a ship steering wheel decor.
2. Candles and String Lights for Apartment Balconies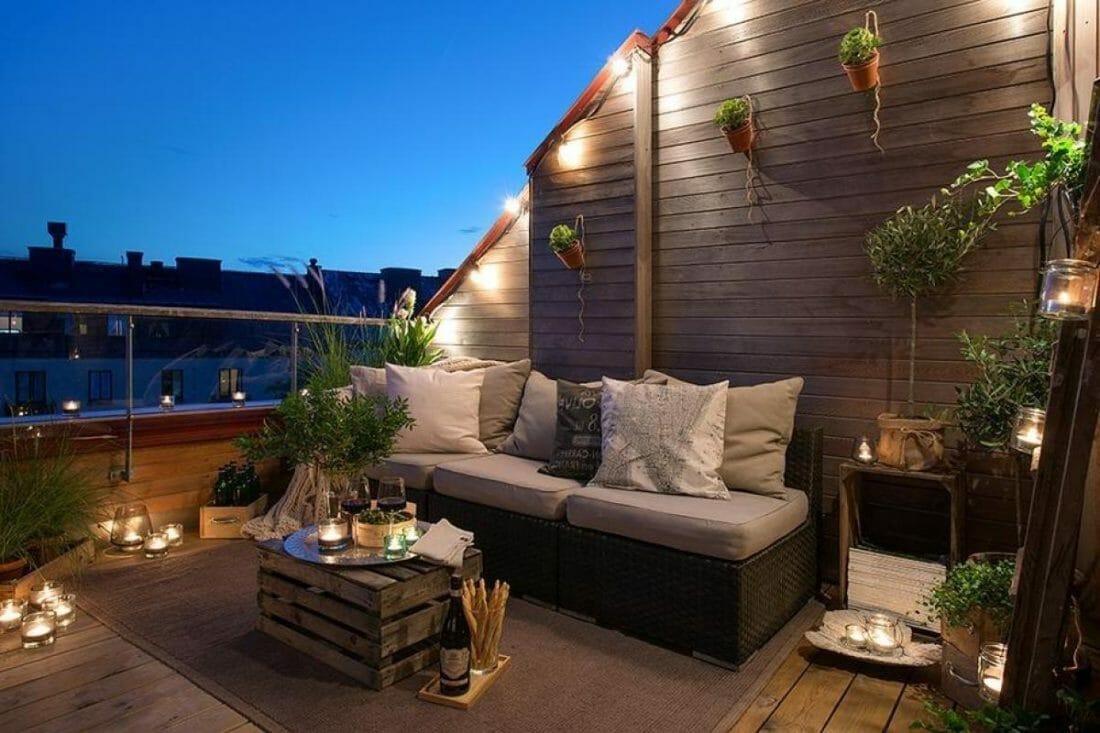 Need apartment balcony lighting ideas? Try this design. The globe lights around the trim develop intimate vibes. Moreover, they emphasize the rustic wooden wall and gorgeous plants. Also, the pieces lighten up the outdoor area at night.
Here, the dweller lined up some candles around the glass railing. Furthermore, they embrace a romantic ambiance and cozy feeling.
The candles also appear on the reclaimed wood floor and table. In addition to offering even lighting, they exude unmatched warmth.
For a welcoming vibe, the dweller put other candles on the wooden crate box and plate. She attached them to the ladder to create some visual dimension.
The throw blanket, synthetic wicker sofa, weathered units, and outdoor throw pillows complement the apartment balcony.
In addition, the dweller placed some potted plants strategically on her balcony. Not only do they impart a natural atmosphere but also accompany weathered wooden elements.
3. Modern Balcony Lighting Ideas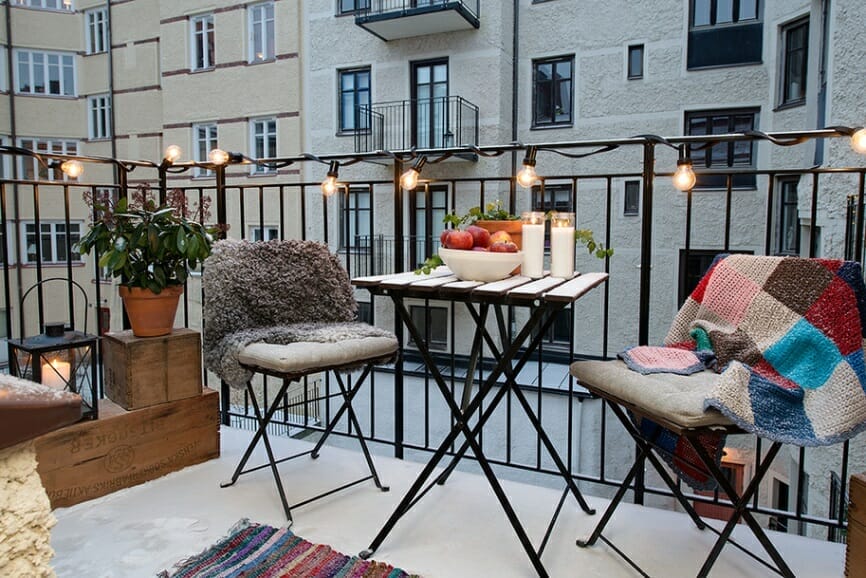 This modern balcony boasts a slim black iron table and chairs. Since those furniture pieces are foldable, they're a perfect complement to the pint-sized outdoor space. They match the existing metal railing, too.
The dweller wrapped some industrial string lights around the iron railing. Apart from exuding an air of intimacy, they also send out an urban atmosphere.
With string lights, the dweller and his significant other don't dine on the balcony in darkness. Moreover, a colorful rug and mismatched throw blankets amplify the cozy ambiance.
Two somewhat tall candles sit on the wooden tabletop. They inspire pure romance while oozing a serene glow during the nighttime.
The candles accompany the greenery in a terracotta pot. Meanwhile, red apples in a bowl inject splashes of natural color.
Two vintage wooden crates of different sizes balance the coldness of gray seat cushions and black metal furniture units. Furthermore, the iron lantern holds a candle while lending the modern balcony a classic touch and an elegant look.
On top of the small vintage wooden crate is a terracotta pot. Not only does it provide a fabulous texture but also an inviting scene.
4. LED Lights for Balcony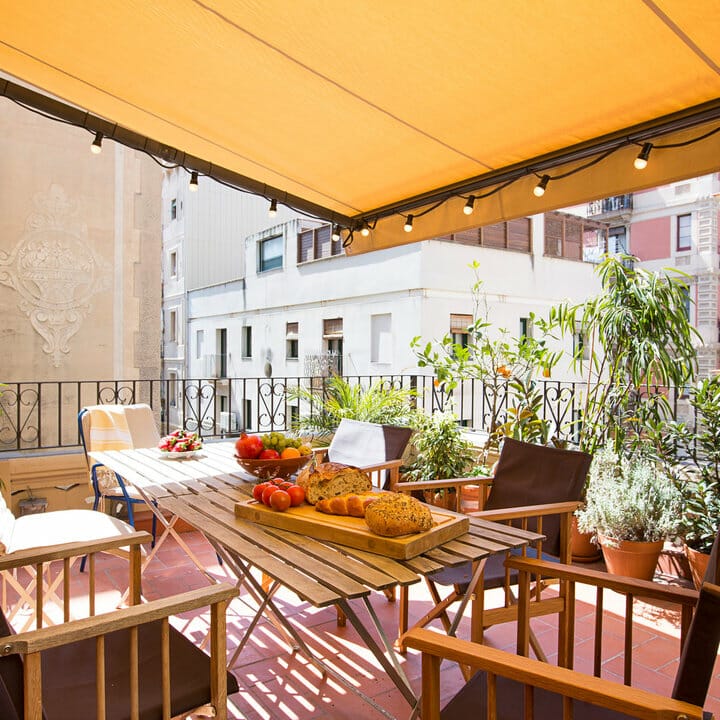 As you see, the balcony employs a wooden dining table and armchairs that sit on terracotta floor tiles. Furthermore, their simple lines and sharp edges instantly give off a modern aesthetic.
The outdoor dining area lets the dweller eat alfresco dinner meals. Moreover, he can enjoy the company of his lovely family on trendy furniture items.
Since the summertime hits, the dweller whipped his balcony in shape. He added plenty of terracotta pots and weatherproof seat cushions to the outdoor space. In addition, they inject some cozy elements into the area.
The cream awning covers the stylish balcony. It offers shade while giving the dweller and his family protection from weather elements.
Edison-style LED string lights hang around the awning. Moreover, they illuminate the entire outdoor dining space. Also, the pieces introduce a welcoming scene.
This balcony features a silver lantern under the classic iron railing. It casts a super tranquil glow and emphasizes the flooring.
5. String Lights for Balcony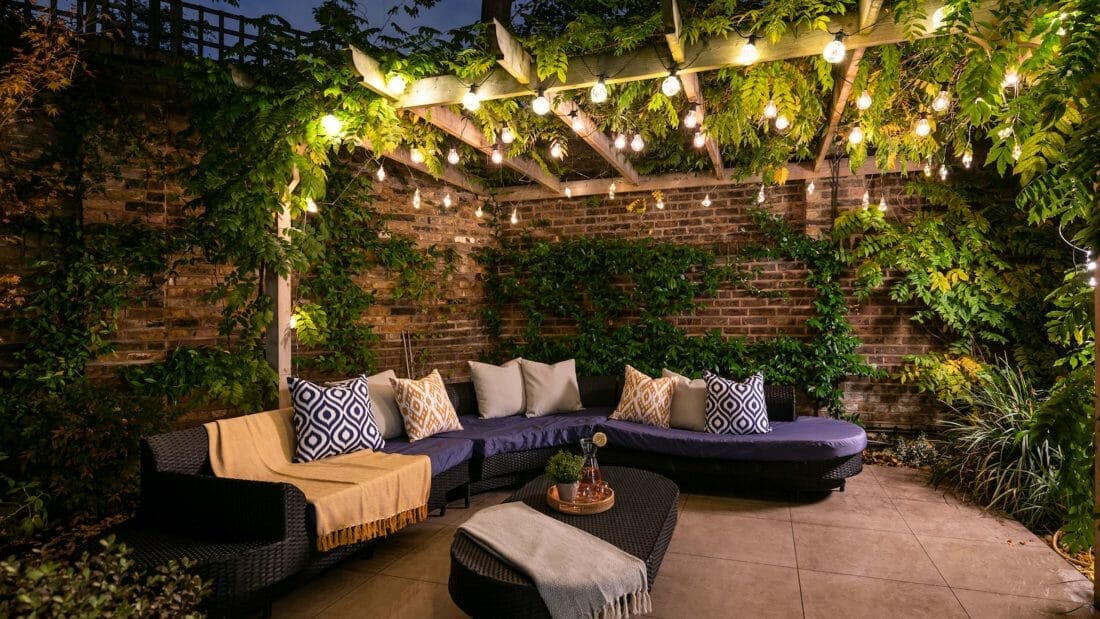 This balcony is both exquisite and expansive. The dweller applied an indoor living room formula to it. That's why it appears super cozy.
As seen, the synthetic wicker oval table and curved sofa wear deep gray. Apart from giving this balcony rich textures, they inject drama and ultimate sophistication. Moreover, the navy seat cushions generate visual depth.
There are outdoor-grade throw blankets on the sofa and table. As the photo shows, they come in cool gray and muted yellow for a visual balance. In addition, pillows with eye-catching patterns infuse an exotic Moroccan atmosphere.
The unfinished brick walls imbue the balcony with a rustic appeal. Furthermore, they send out an industrial flair while allowing lush climbing plants to be centerpieces.
This is one of the terrific balcony lighting ideas. The plain wooden pergola holds prolific vines. Moreover, they accommodate two kinds of industrial string lights.
Due to string lights, the balcony seems brighter and more intimate. Also, they lend the balcony feelings of coziness and elegance.
6. Balcony Lighting Ideas with String Lights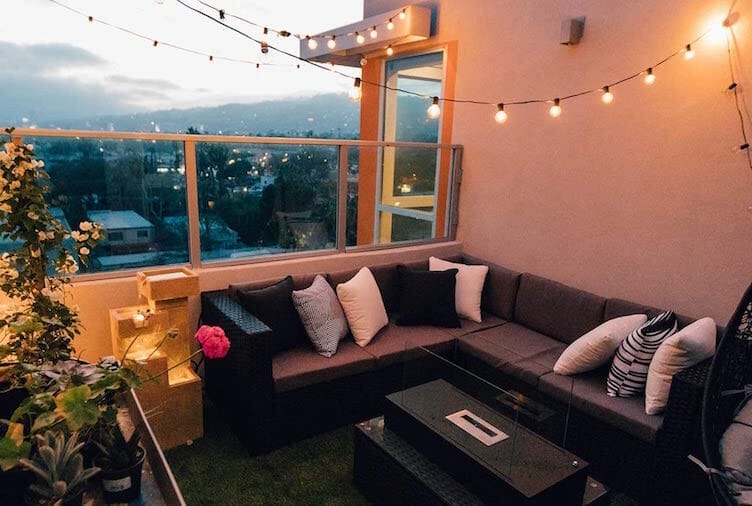 Searching for balcony lighting ideas? This option deserves a chance. Edison-style string lights fabulously hang above the furniture items. Moreover, the light bulbs produce an inviting glow at night.
Here, the string lights instantly draw the eye. In addition to providing appropriate illumination, they also emanate an urban atmosphere. Furthermore, their black covers give the outdoor space a bit of drama.
Talking about balcony lighting ideas, this illumination deserves a try. The modern floor lamp brings a statement to the pint-sized outdoor area. Also, it gorgeously illuminates the tiny urban garden.
Under string lights are a black synthetic wicker sofa and a table with a fire pit. Lastly, the striped and neutral-colored pillows add superior comfort.
7. Balcony Lighting Ideas with Fairy Lights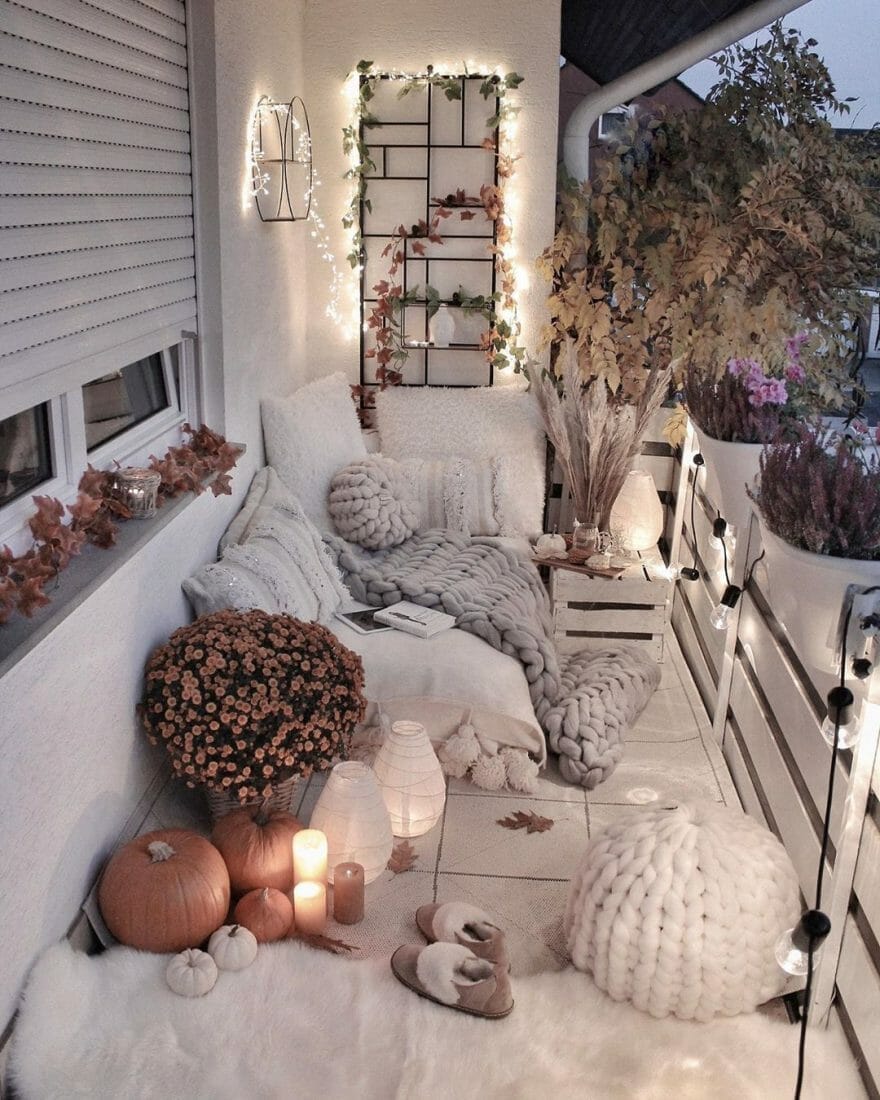 With numerous balcony lighting ideas, you have plenty of choices. The dweller mounted some industrial string lights around the white vinyl railing. Furthermore, they suddenly exude pure intimacy as well as serious coziness.
Beige and tan candles inject the balcony with a romantic nuance. The items also give the outdoor space some visual dimension because they vary in height.
The white paper lanterns sit on the whitewashed crate box and carpet. Moreover, they nod to the minimalist style. In addition, they're both timeless and trendy.
Fairy lights adorn the black iron planters that clash with the white backdrop. Additionally, they evoke a whimsical ambiance.
Pumpkins and colorful ornamental leaves embrace fall vibes. Meanwhile, the pouf, sheepskin rug, knitted throw blanket, and pillow inspire comfort. Faux decorative plants in the rattan and white planters prettify the balcony.
8. Boho-Style Balcony Lighting Ideas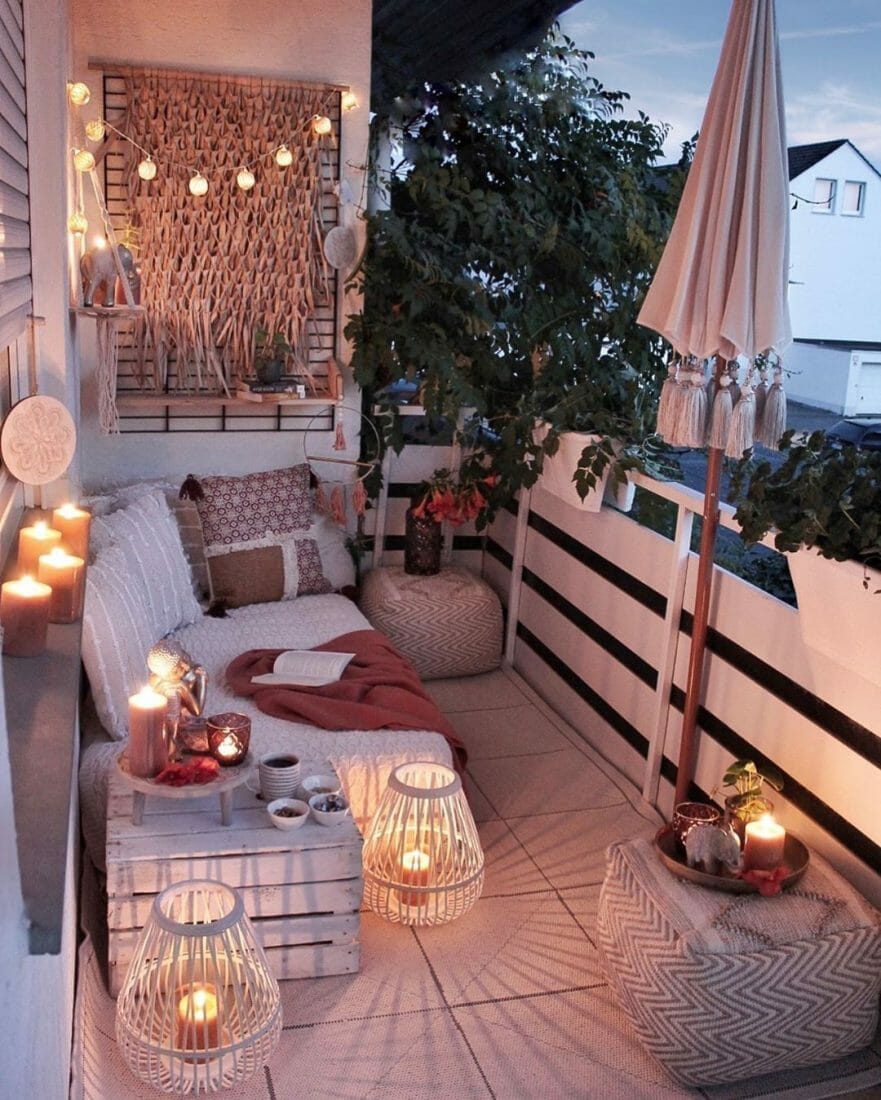 Speaking of balcony lighting ideas, you won't go wrong with tan candles. Consider scattering them throughout the outdoor space for a romantic vibe. Moreover, they infuse the exteriors with an air of calmness.
The globe lights provide extra illumination while accentuating the boho wall decor. In addition, they add astonishing details.
A couple of white rattan lanterns hold cylindrical glass vases with tan candles. They truly bring the balcony together, too.
In addition, the hanging orange dream catcher and patio umbrella with tassels send out bohemian vibes. Furthermore, they provide comfortable textures.
The distressed white crate box houses the tableware and a tray. Also, it accompanies the wooden pallet furniture with lovely throw pillows. Splashes of brown and burnt orange radiate warmth instantly.
9. Tiny Balcony Lighting Ideas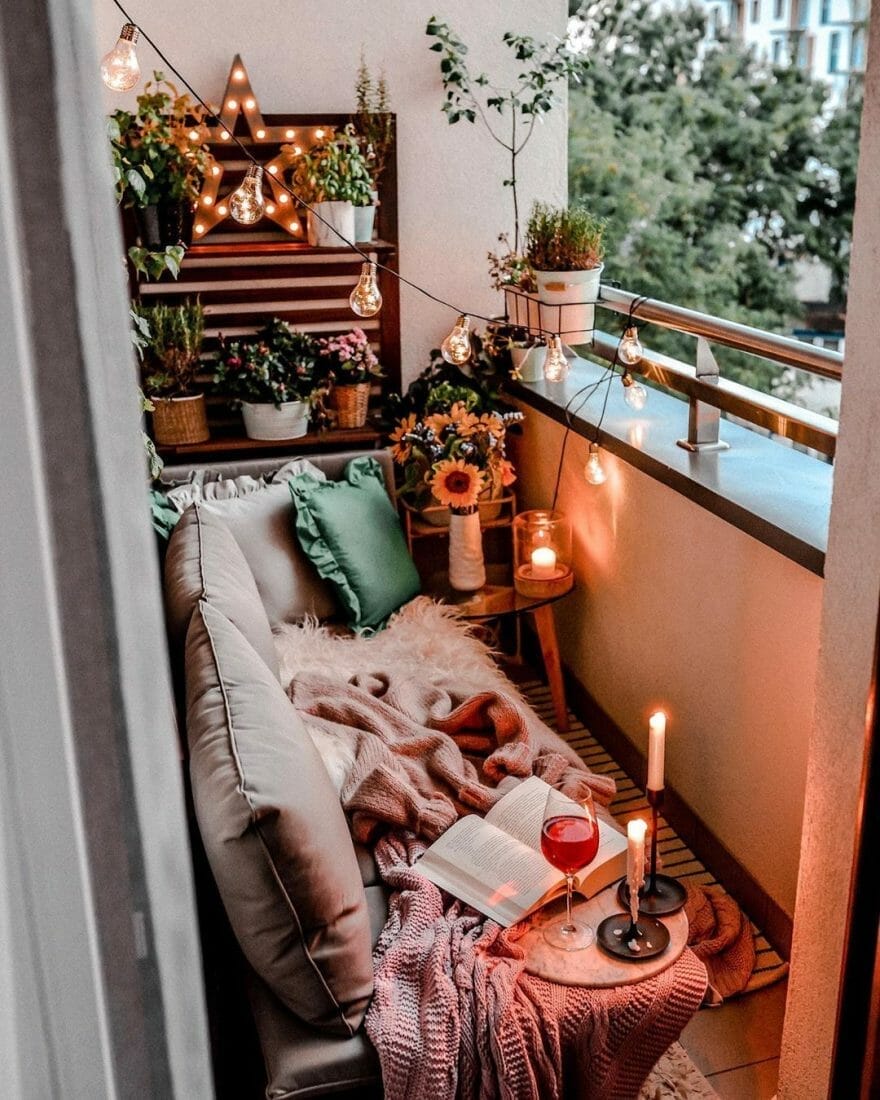 Who says tiny balconies don't deserve attention? Put yours to remarkable use by trying this option. Here, the string lights decorate the pint-sized outdoor area while offering marvelous illumination. Their silver covers embrace an industrial aesthetic, too.
White candles suddenly spark some romance. Apart from emanating a toasty vibe, they lend the balcony a sense of pure elegance.
The star marquee light hangs spectacularly on the planter wall. It emits an extra soothing glow while creating interest. Potted blooms and herbs perk this balcony up. Lastly, rugs, pillows, and throw blankets provide comfort as well as cohesion.
10. Pendant Lamps for Balconies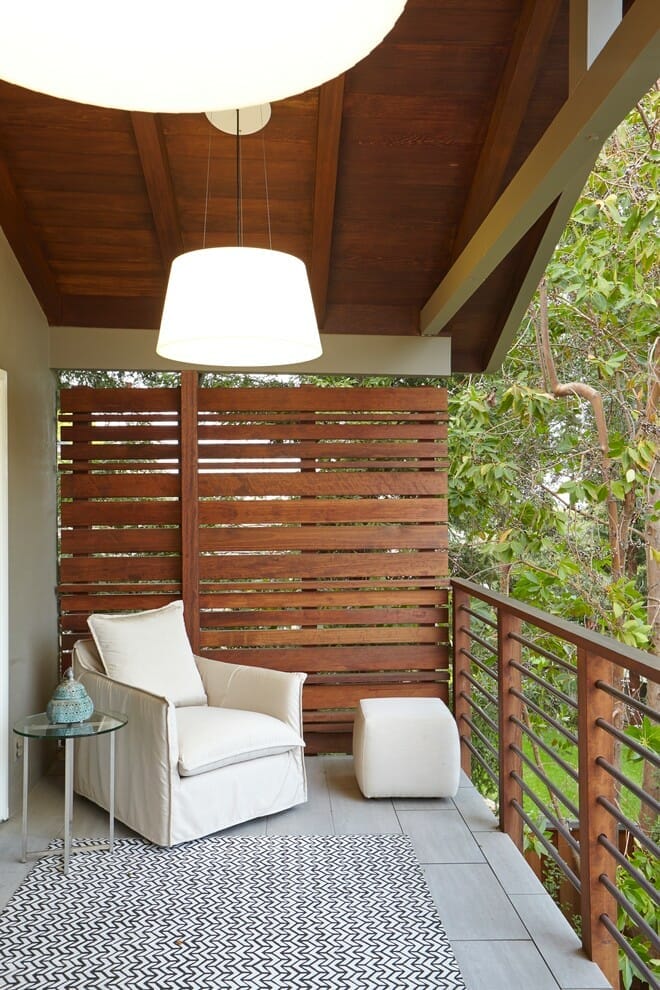 Talking about balcony lighting ideas, take inspiration from this outdoor area. You normally spot pendant lamps indoors. However, they do wonders outdoors too.
In this picture, a couple of white pendant lamps spice the exteriors up. Apart from illuminating the balcony, they develop a fantastic first impression.
Two contemporary pendant lamps hang stylishly under the wooden roof. Due to their large sizes,  they draw the eye upward with ease.
The solid ottoman and sofa chair wear soft white. Not only do they inspire calmness but also call attention to the patterned rug and blue ceramic jar.
11. Balcony Railing Ideas with Lantern String Lights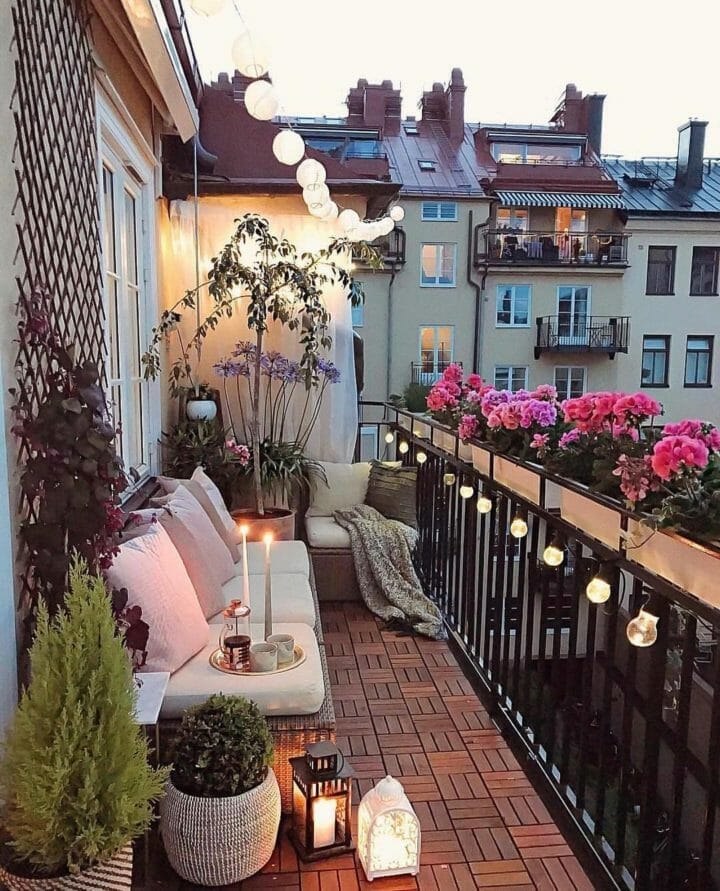 There's a massive range of balcony lighting ideas. This outdoor seating space boasts gray and white candles on a golden tray. Moreover, they pick the colors of comfy throw pillows for a unified look.
Speaking of solar balcony lights ideas, the space features solar-powered string lights. In addition to accompanying perky blooms, they illuminate the black iron railing.
Mini lantern string lights hang perfectly over the furniture. In no time, they infuse the balcony with a festive atmosphere.
The black metal and white Moroccan lanterns offer some mood lighting. Furthermore, they produce a graceful look effortlessly.
12. Colorful Balcony Lighting Ideas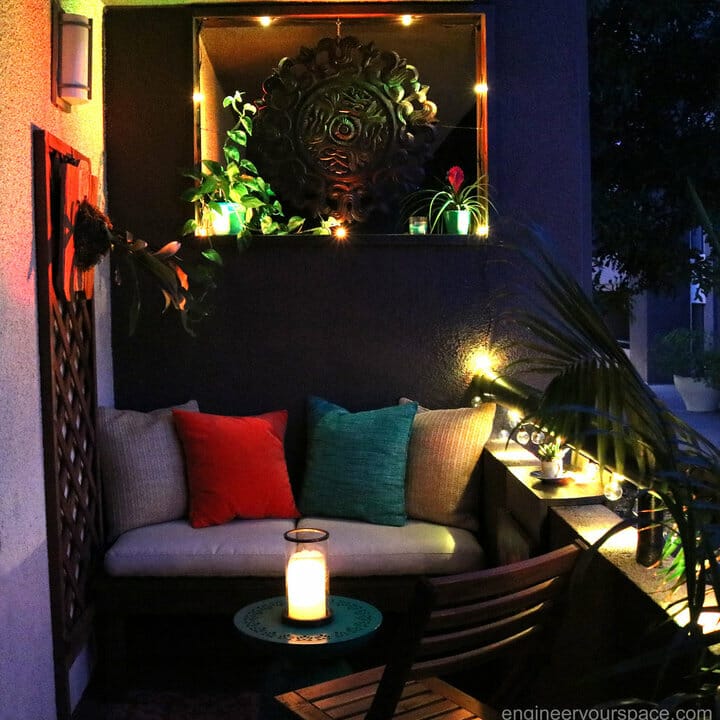 This tiny balcony has a black bench, a deep brown planter wall, and a rich-toned wooden chair. Although the pieces produce elegance, they make the outdoor area gloomy.
Throw pillows give the balcony touches of teal, red, mustard yellow, and cool gray. Moreover, they brighten the exteriors up.
Globe string lights nestle under the metallic handrail. They also prevent the visitors from sitting outdoors in complete darkness.
The candle in a cylindrical glass vase carves an intimate mood. Lastly, colorful LED lights offer extra lighting while setting a cheerful scene.
13. Balcony with Modern Chandeliers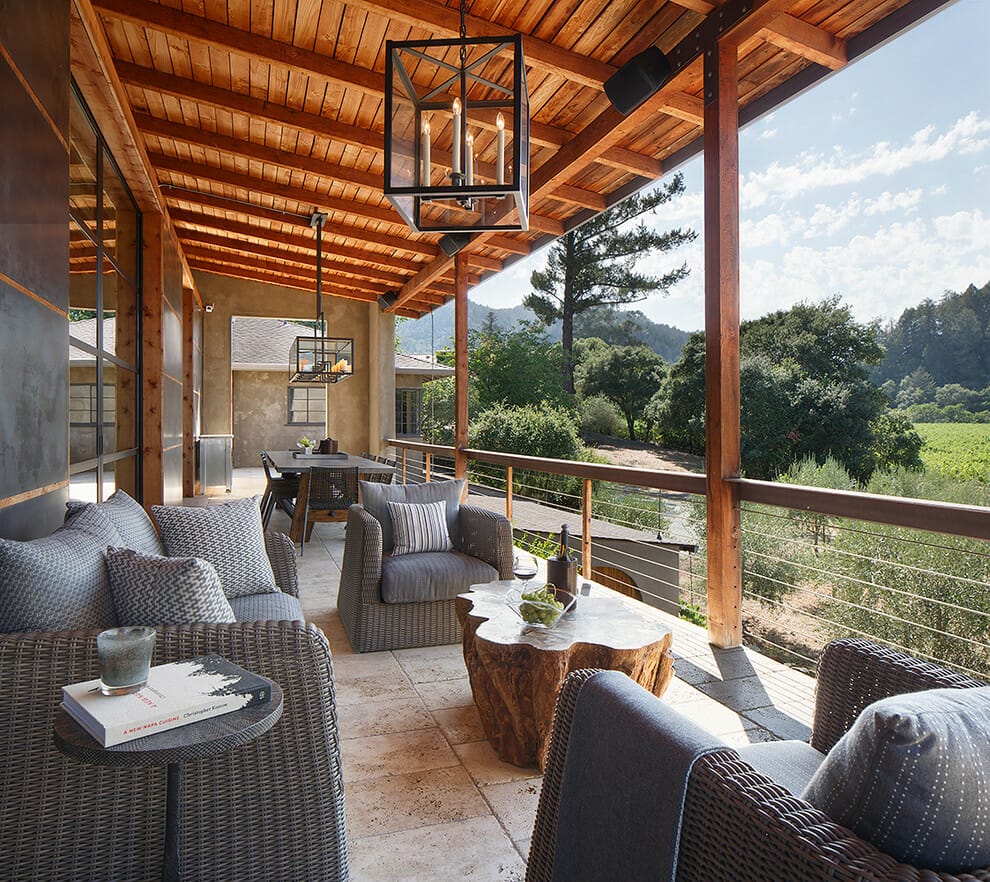 Have a somewhat expansive balcony? If so, apply this option. The homeowner broke her outdoor space into two areas.
One of them becomes a sitting area that employs warm gray synthetic wicker furniture units. They infuse style and textures, while the tree stump coffee table nods to the rustic style. Furthermore, the outdoor patterned throw pillows blend with them seamlessly.
The outdoor dining area includes a concrete table with wooden legs. In addition, black metal chairs complement it in a trendy way.
Over the tables are modern black iron chandeliers. They accommodate flameless and real candles. Moreover, the items represent modernism while exuding an old-world feel.
14. Balcony Lighting Ideas with Wall Sconces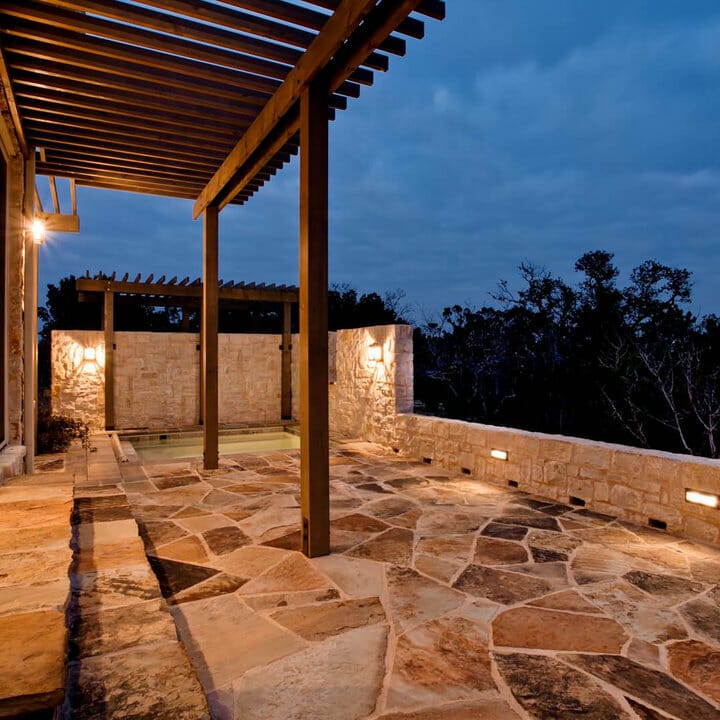 Can you stop adoring this balcony? I can't. Both the flooring and steps employ flagstones that supply earth tones. Not only do they develop a natural ambiance but also introduce an inviting scene.
Chic wall sconces illuminate the balcony. Furthermore, they filter artificial light through transparent glass to provide an intimate glow. The units will surely extend your time in a hot tub.
Built-in lights direct the eye to the textured wall. Moreover, they make the entire balcony shine while generating a dramatic effect.
15. Traditional Balcony Lighting Ideas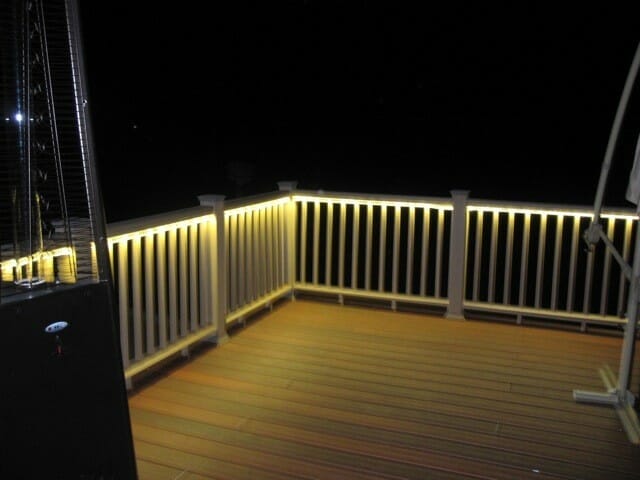 This spacious balcony looks magnificent because of the vinyl railing. Moreover, the posts bring ambiances of grandeur and peacefulness. In addition, the units carve a traditional aesthetic.
The dweller painted the viny railing warm white. Furthermore, it imbues the balcony with welcoming vibes. Also, the hue soothes the senses quickly.
Meanwhile, the composite decking offers two-tone stripes. Apart from developing a balanced look, it evokes serenity and warmth at once.
For a marvelous outdoor experience, the dweller installed solar rope lights. Not only do they enlighten the balcony but also update the space.
The solar rope lights are environmentally friendly. They inject some warmth while generating an intimate vibe, too.
After browsing through my balcony lighting ideas, you shouldn't forget the illumination anymore. Without proper light fixtures, the outdoor space will seem dingy and drab for sure. Consider whipping yours in shape by applying any of those options.