Balconies let dwellers view the scenery while sipping hot coffee or tea. Moreover, those outdoor spaces won't be complete without railings. You should pick the appropriate material as well as design for yours. Have a look at my fabulous balcony railing ideas below.
Railings keep people from falling. In addition, they reflect the beauty of apartments or houses. If you want an attractive and comfortable balcony, try changing the railing up. It will turn your bland outdoor area into a drool-worthy spot, too.
1. Modern Balcony Railing Design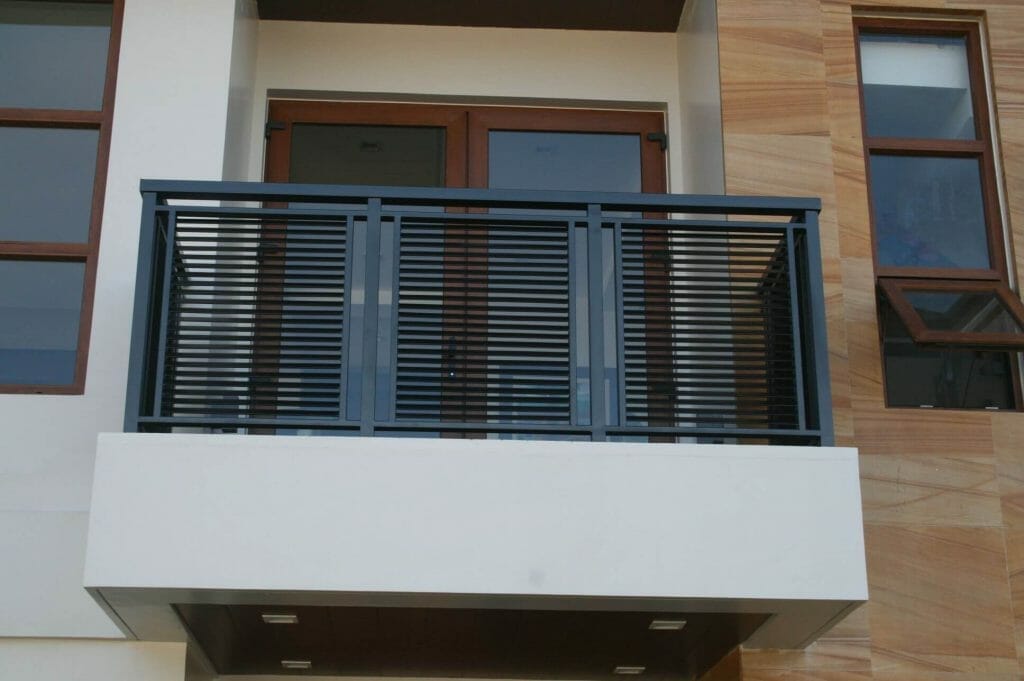 In general, people know about 5 types of railings for balconies such as concrete, wooden, glass, PVC & vinyl, and metal. Talking about metal railings, dwellers can opt for stainless steel, brass, aluminum, and iron.
This balcony, for example, boasts a black iron railing. Furthermore, it produces sophistication as well as drama while giving off a stylish ambiance.
Since the iron railing displays sharp edges and clean lines, it develops a modern vibe. Moreover, the black unit clashes with the stark white siding.
This chic balcony allows you and your partner to enjoy the astonishing outside views. Additionally, its black iron railing prevents unwanted falls.
2. Glass Railings for Balconies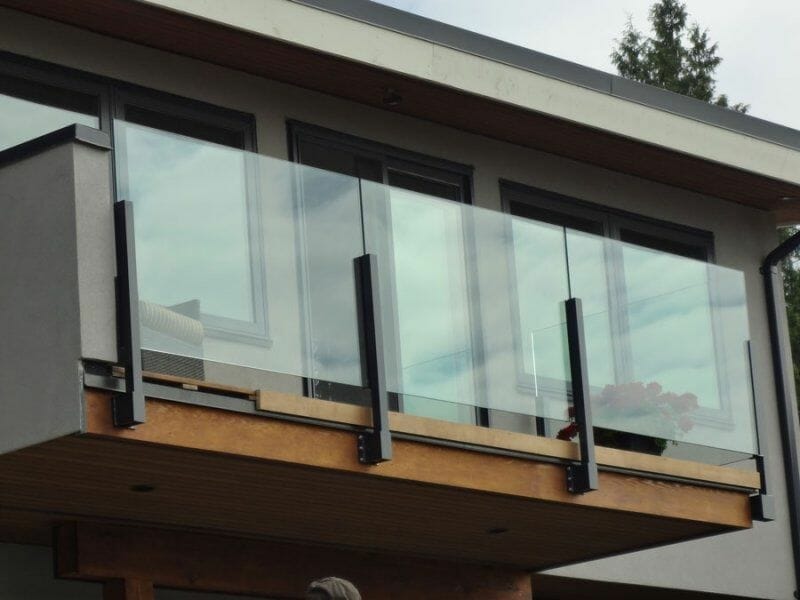 Speaking of balcony railing ideas, choose architectural bones that emphasize your outdoor area. In this picture, the space has a glass railing. Furthermore, it generates a minimalist aesthetic effortlessly.
The dweller also added a customized railing to his balcony. As you see, it features black iron supports and glass panels.
Glass panels lend the balcony a sleek appeal. Moreover, they offer you an outstanding view from your cozy outdoor space.
The clear glass railing carves an urban ambiance. In addition, it sends out a light feeling while creating a sophisticated look. Lastly, wooden elements balance out the coldness of iron supports and gray walls.
3. Balcony Railing Design for House Front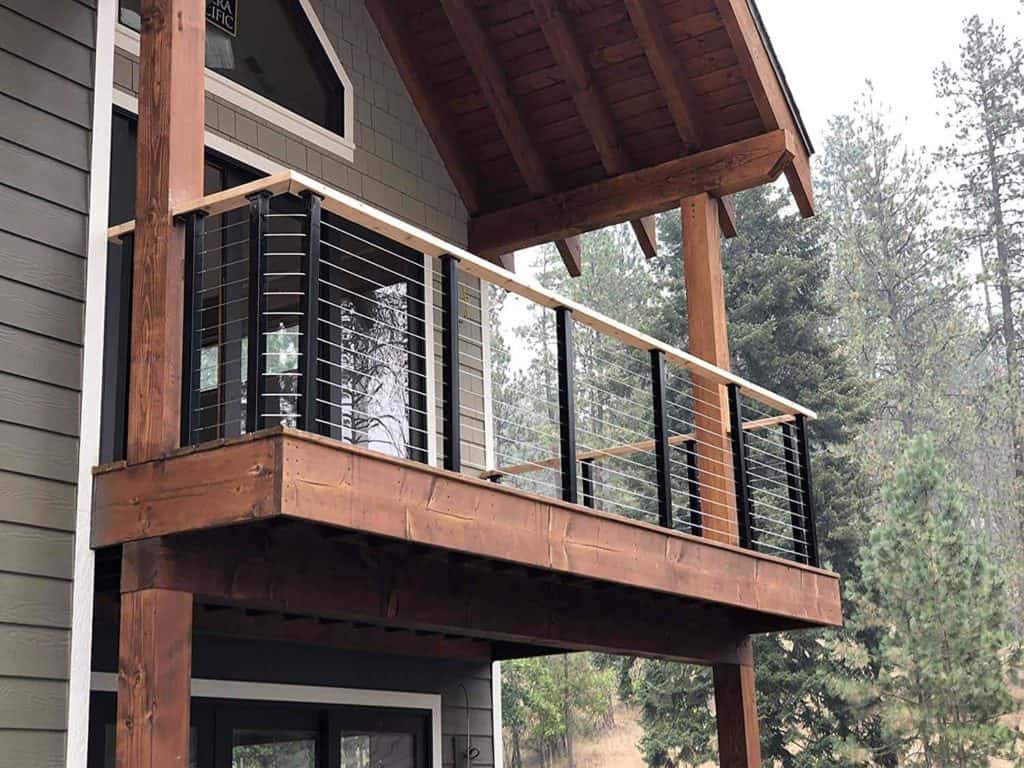 The railing must suit the house and its surroundings. With the appropriate design and material, you can change your dull space into a retreat.
This majestic house boasts a front balcony. Moreover, it features a custom-made railing with different materials.
Decor cable railings are not only light and chic but also stylish. Furthermore, it's an incredible option on the market.
Here, the decor cable railing looks superb due to black metal supports. Moreover, light- and rich-toned wooden surfaces make the front balcony appear homey.
4. Balcony Railing Ideas with Glass and Iron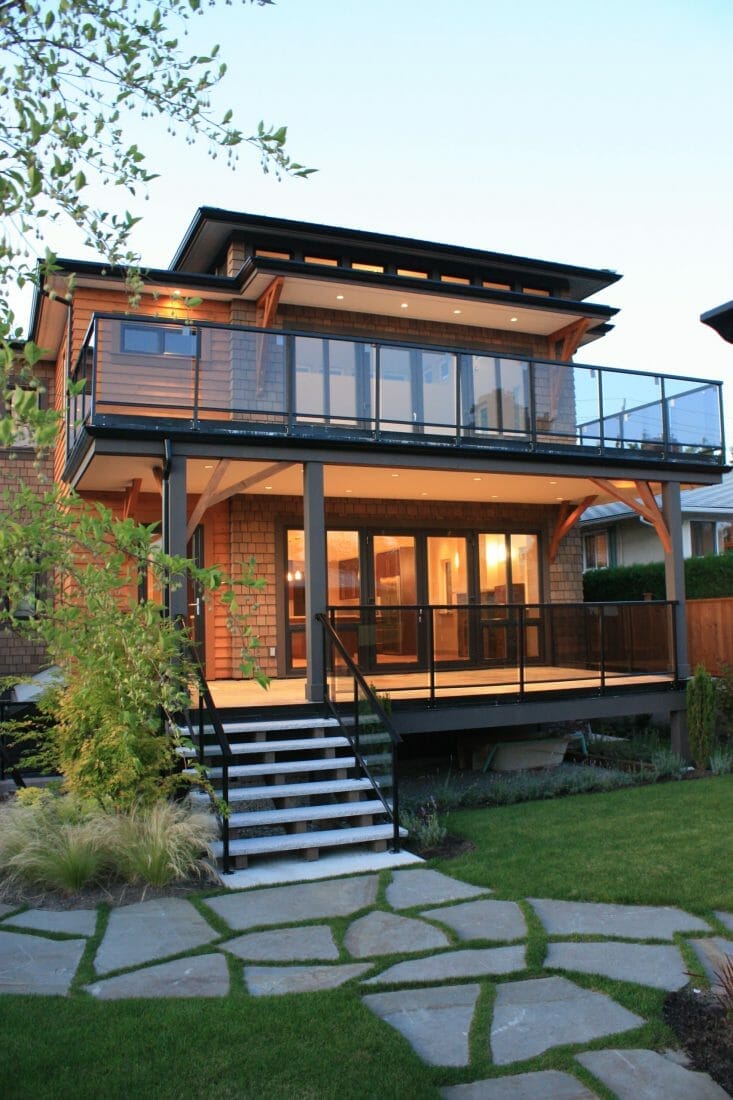 As I said before, you can pair your balcony with a customized railing. That means it features a few materials.
Speaking of marvelous balcony railing ideas, this one is worth borrowing. In the photo above, the glass railing boasts a black metal frame. Furthermore, it provides breathtaking outdoor scenery.
Glass railings are a wonderful choice for two-story houses. Moreover, they enable dwellers to contemplate gorgeous views while enjoying the breeze.
Here, the glass railing mimics the one on the deck. In addition, it quickly imparts a modern atmosphere.
5. Aluminum Balcony Railing Ideas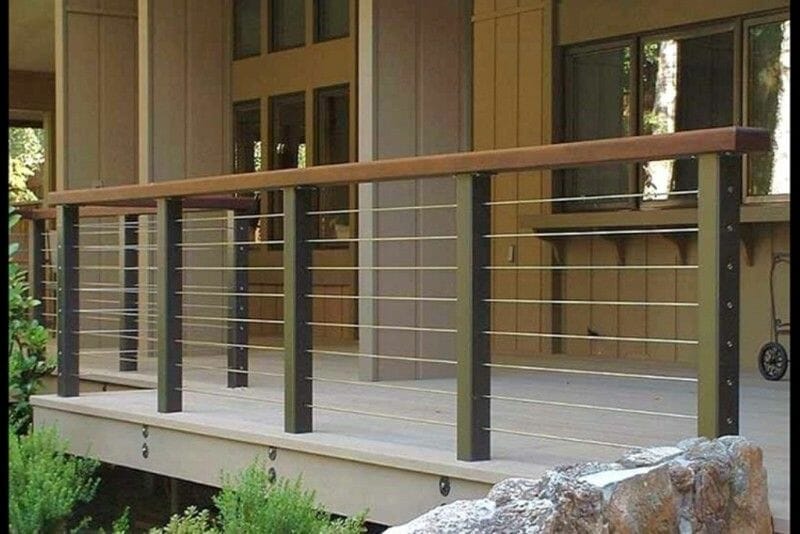 This balcony, for example, employs a decor cable railing. Moreover, it brings an industrial flavor to the outdoor area.
The decor cable railing blends with the wooden and iron elements perfectly. Also, it maintains the balcony's trendy look and light ambiance.
Dark green supports accompany the decor cable railing while letting the balcony blend with the surrounding greenery. Furthermore, the medium-toned wooden handrail balances the cool tones of the gray flooring and stones.
The decor cable railing offers the balcony a modern feel. Without a doubt, this balcony is a perfect spot to view the scenery while drinking iced tea on summer days.
6. Simple Iron Railing Design for Balcony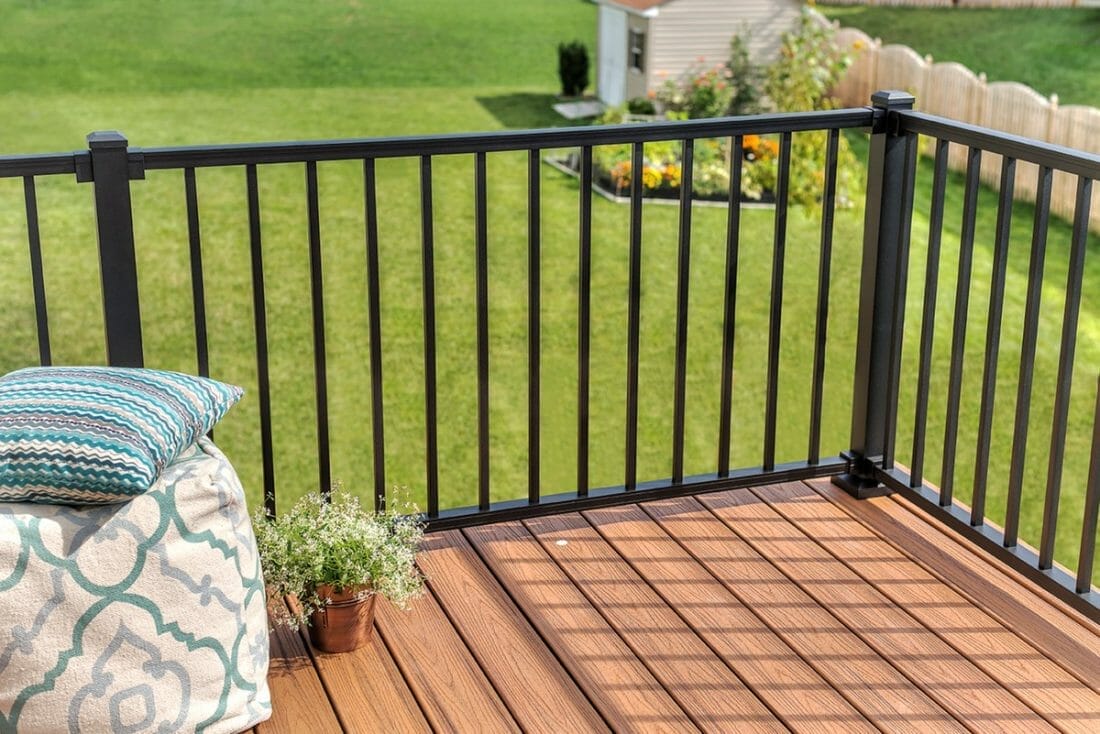 With various balcony railing ideas, your options are limitless. If you want something chic, look no further than metal railings. They come in numerous styles and colors. Be sure to choose the one that excellently follows the home's design.
Instead of using just one material, the dweller added metal and wooden railings to her balcony. As the photo shows, it introduces a serious statement.
The dweller painted her wooden railing posts black to match the iron handrail and balusters. Furthermore, the brown floor and copper planter evoke warmth. Additionally, the Moroccan ottoman, chevron throw pillow, and delicate blooms soften the mood.
7. Gray and Wooden Balcony Railing Ideas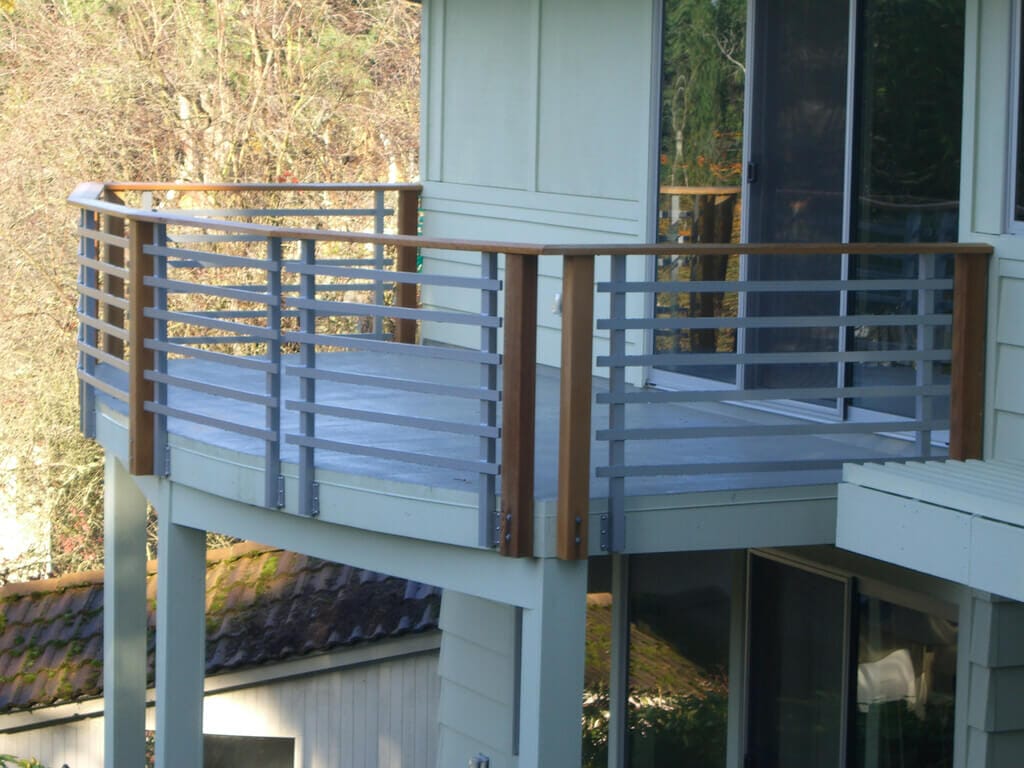 This hexagon railing fabulously matches the house. In addition, it converts a plain balcony into a cozy and trendy outdoor area.
As you see, the hexagon railing has a wooden handrail and posts. Moreover, they lend the balcony an ambiance of warmth. Also, the pieces produce a modern atmosphere. The dweller painted the rest of the structure cool gray for a visual balance.
The gray metal parts of the railing are not only sturdy but also sophisticated. Furthermore, they go with the concrete balcony floor.
8. Railings for Large Balconies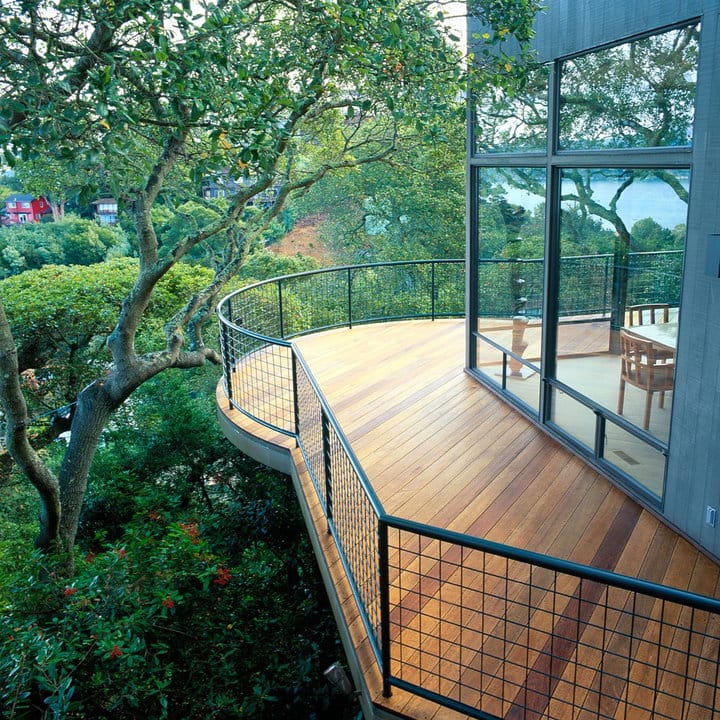 Nowadays, many people dream about having spacious and gorgeous balconies. If your house features a spacious balcony, luck is yours. Consider borrowing this idea.
In the picture, the massive balcony employs Ipe wood decking. Moreover, the wooden planks run diagonally. They impart a modern feel.
This grand balcony is a marvelous complement to the house. Furthermore, the black metal railing represents the home's beauty and splendor.
The dweller didn't furnish his balcony to emphasize its spaciousness. This enables him to focus on the views and tall trees.
9. Metal Balcony Railing Ideas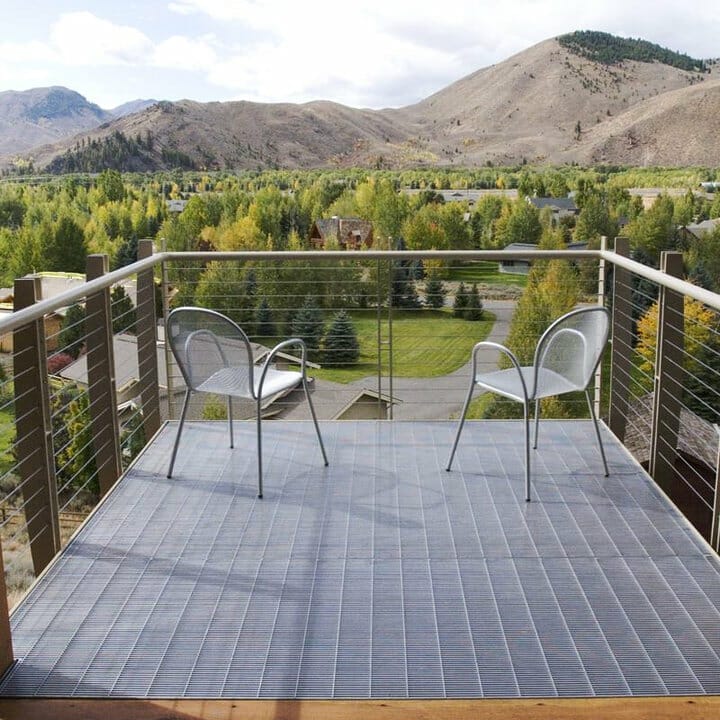 When installing a railing, you must know that its primary function is to keep individuals from falling. This tiny balcony boasts an aluminum railing.
The aluminum railing is light and somewhat strong. Moreover, the unit infuses a modern vibe and an industrial appeal.
Here, a pair of metal armchairs pair with the minimalist decor cables excellently. Moreover, their curves balance out well-defined lines.
Taupe metal supports give the aluminum railing a touch of color. In addition, the unpainted wooden flooring makes the pint-sized balcony inviting. Lastly, the cool-toned gray area rug tops it stylishly while providing comfort.
10. Iron Balcony Railing Ideas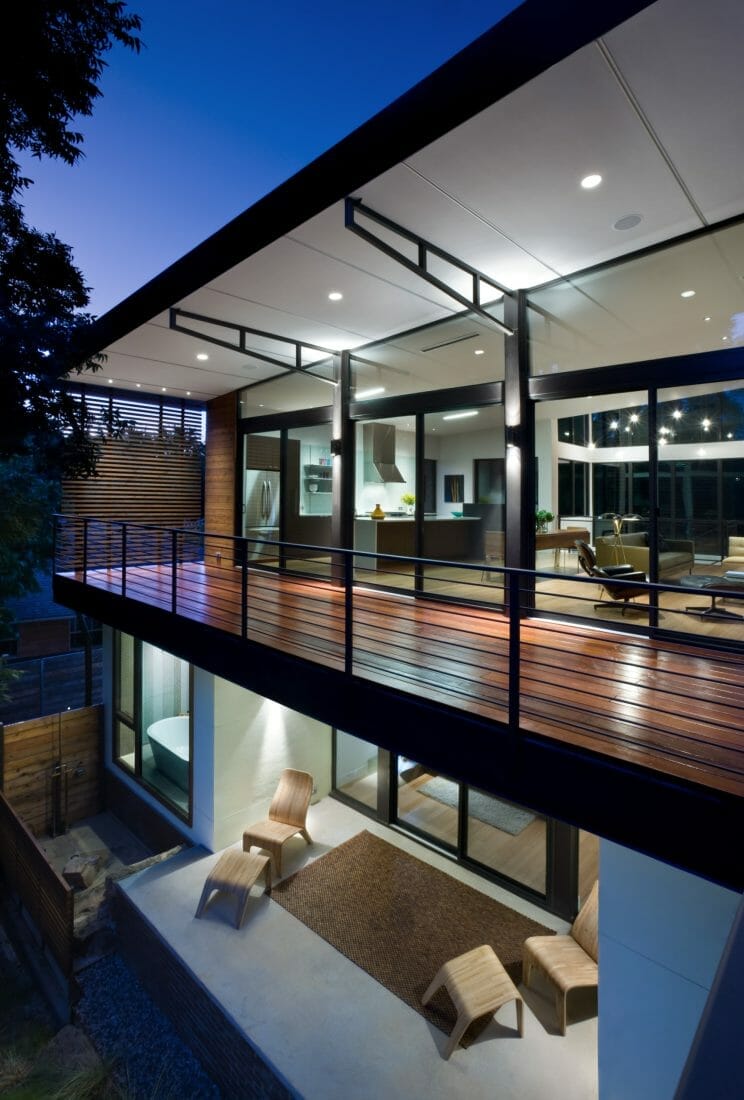 Speaking of balcony railing ideas, railings must perfectly fit the houses as well as surrounding environments. This allows you to have a cohesive and comfortable outdoor space.
This expansive balcony employs a black iron railing. Moreover, it shows off its straight lines and sharp edges for a modern flair.
As seen, the metal railing matches the posts and beams of the house. Additionally, the wooden siding and floor make the otherwise cold balcony seem welcoming.
The bare wooden roller blind provides great privacy. Moreover, the stark white ceiling brightens the predominantly black and wood balcony.
There's no furniture on the balcony since the dweller wants to keep it simple. However, you can spot two blonde wooden stools and chairs on the deck.
11. Balcony Railing Ideas for Seaside Houses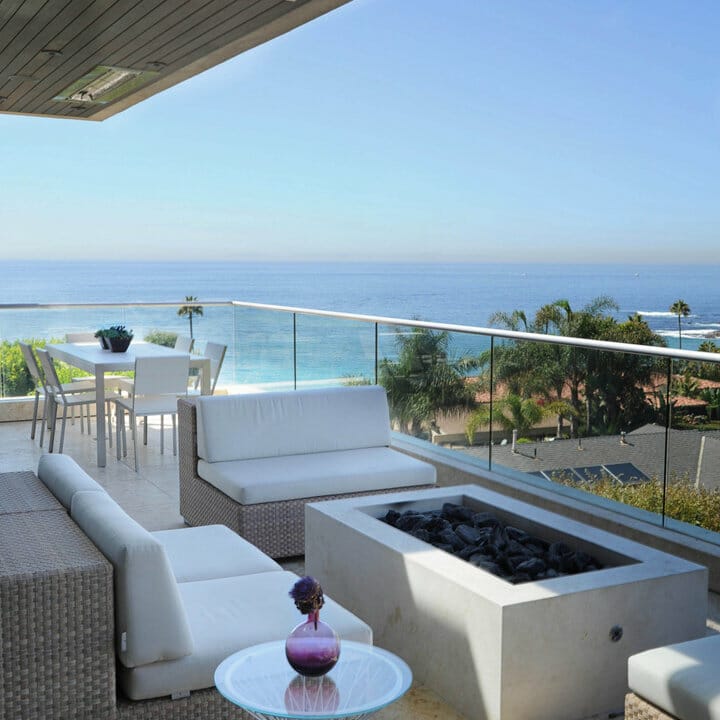 When it comes to seaside houses, nothing defeats clear glass railings. Moreover, they surely won't obstruct the splendid ocean views.
With a glass railing, the homeowner and her life partner can fully view the surrounding scenery. Furthermore, you can pick either tempered glass railings or solid panels.
The glass railing features an aluminum handrail. Due to its edgy aesthetic, the unit goes with white seat cushions and minimalist wicker furniture items. Lastly, the purple glass vase injects a splash of color.
12. Sleek Iron Balcony Railing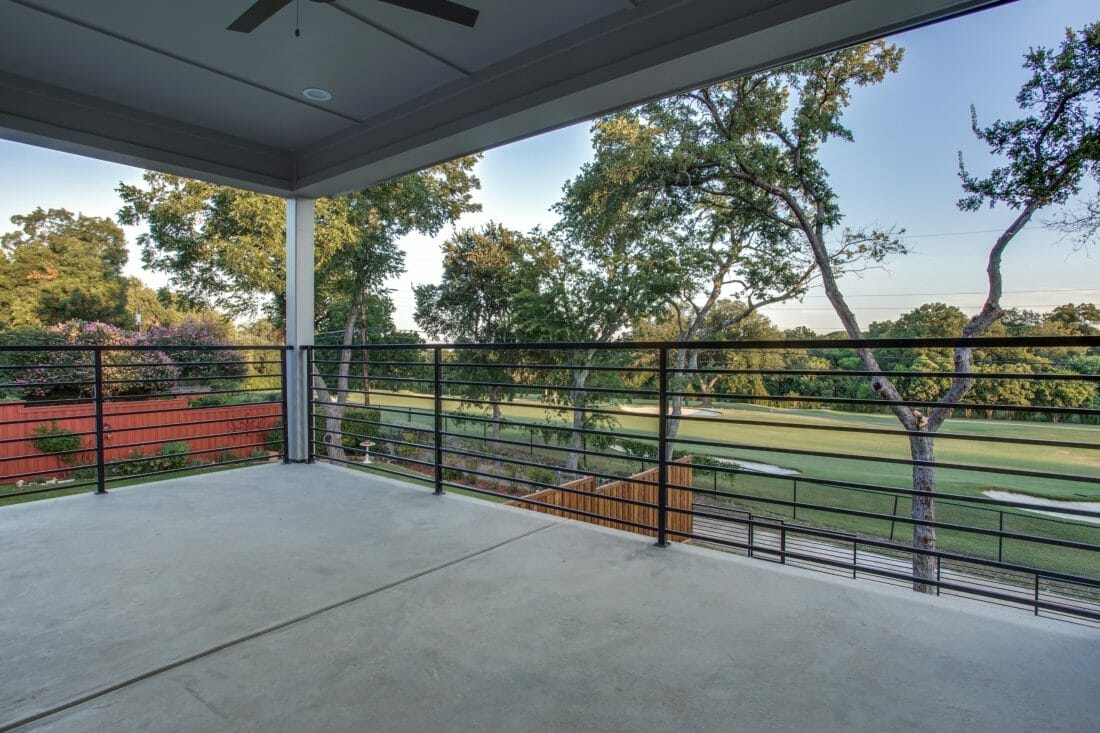 Plan to revamp your existing balcony? If so, you have to change up the material and design of the railing.
As you see, the balcony looks more impressive because of the black iron railing. Not only does it evoke simplicity but also exudes visual drama.
The black metal railing contrasts with the pure white posts. Furthermore, the concrete floor heightens the modern feel.
This balcony is an ideal place to contemplate the surrounding vista. Moreover, the ceiling fan lets you stand on your balcony comfortably on hot days.
13. Vinyl Balcony Railing Ideas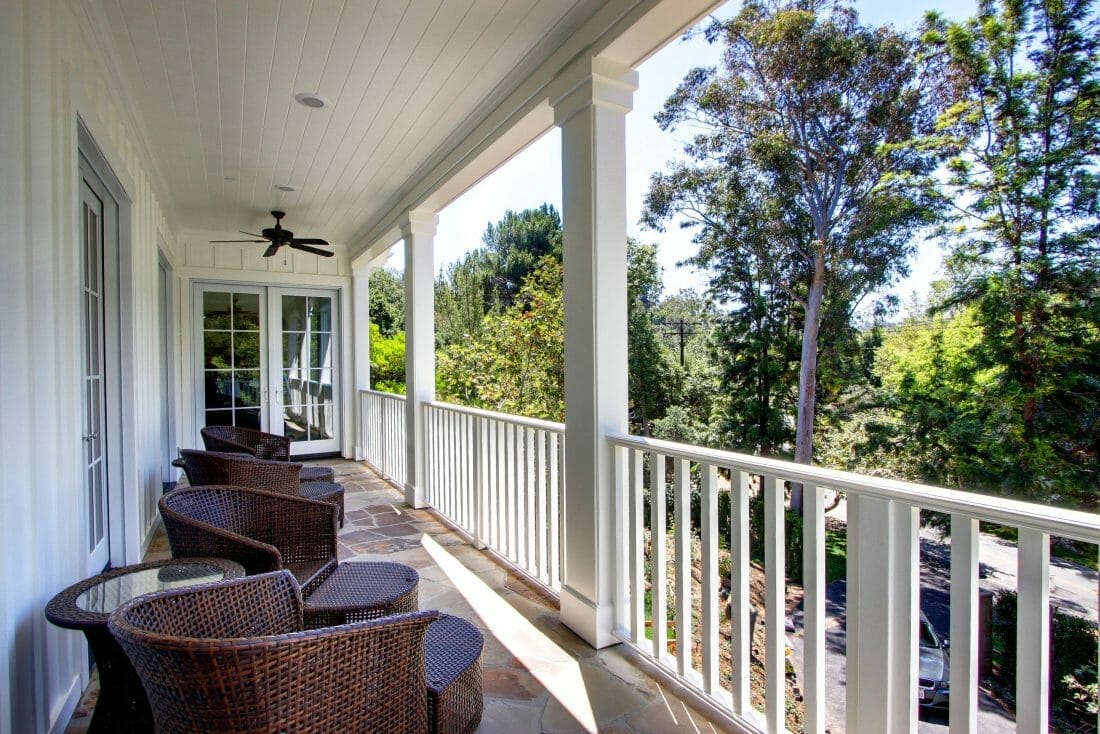 Talking about balcony railing ideas, opt for PVC and vinyl railings. Apart from being common wood alternatives, they don't require any sealing or repainting. Moreover, the units won't deform. However, you must clean yours regularly for an appealing look.
Unfortunately, the color choices are somewhat limited. Crisp white is surely the most popular shade for PVC and vinyl railings.
Here, the vinyl and PVC balcony railing wears bright white. It blends seamlessly with the white-painted ceiling, trim details, and posts.
The white vinyl picket railing produces a contemporary aesthetic. Meanwhile, the earth-toned flagstone floor and brown wicker furniture pieces exude natural warmth.
14. All-Glass Balcony Railing Ideas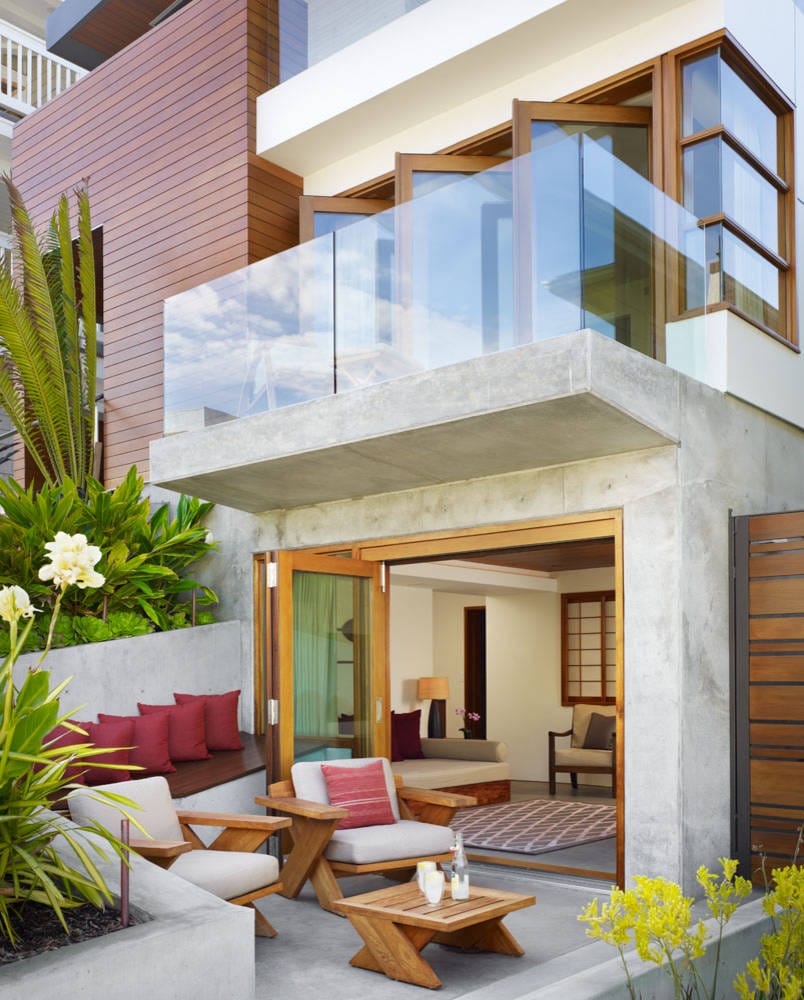 It's safe to say that a balcony can be the face of the house. You shouldn't overlook it. Choose the right railing to spruce yours up.
This is such a subtle yet transformative idea. Here, the tiny balcony becomes an extension of the house due to the glass railing.
The all-glass barrier injects a sleek aesthetic. Since the entire house is modern, it fits right in. Furthermore, a wooden stool and an armchair give off a minimalist vibe. Lastly, the polished concrete floor and siding offer an urban flair.
15. White Vinyl Railings for Balconies
Vinyl railings are a delightful alternative to their wooden counterparts. However, the colors available are not limitless.
Speaking of color, you won't go wrong with pure white. Furthermore, this shade exudes cleanliness, airiness, and simplicity.
Here, the balcony features a clean white vinyl railing. As you see, it boasts vertical and diagonal balusters for a modern vibe. Moreover, they catch the eye.
The cream siding and warm gray floor balance out pure white on the railing. This balcony lets you feel a breezy atmosphere. What a fantastic space!
16. Decor Cable Balcony Railing Ideas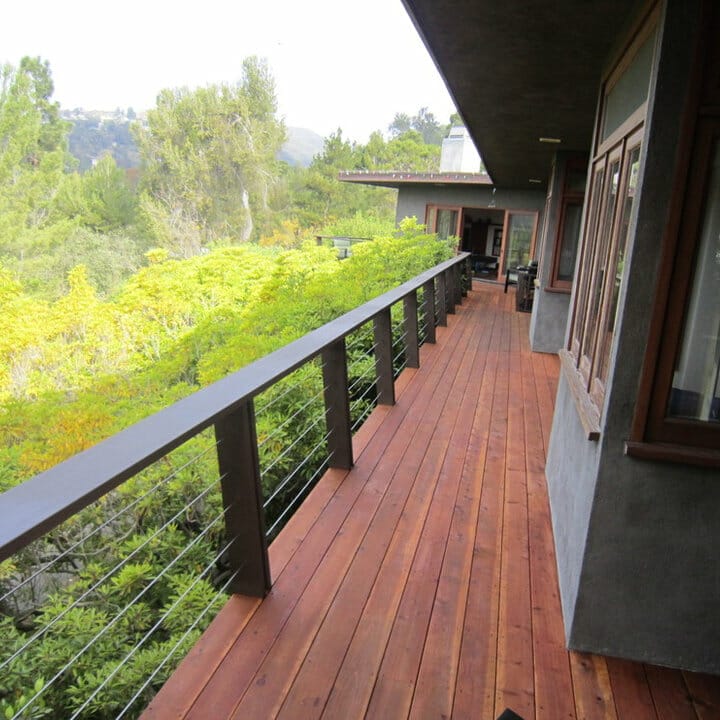 This balcony railing features a deep gray handrail and posts. Apart from adding sophistication, they bring drama to the outdoor space.
The railing also boasts metallic decor cables between dark gray posts. Furthermore, they infuse a touch of stylishness while preventing unnecessary falls.
This metal railing channels the homeowner's inner minimalist. The wooden planks sport reddish brown. Not only do they clash with it but also inspire organic coziness. Moreover, unpainted concrete walls contribute to the balcony's balanced look.
17. Railings for Tropical-Style Balconies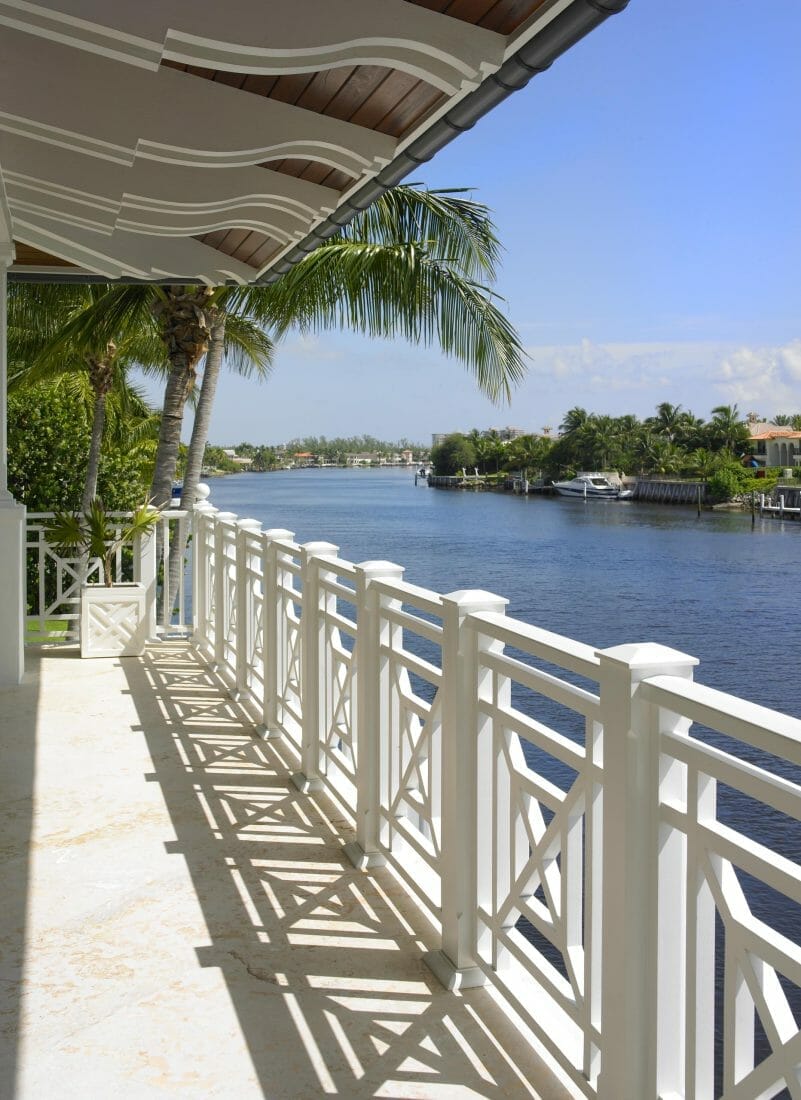 I love this simple yet superb balcony. As you see, it employs a PVC and vinyl railing. Moreover, the dweller painted the handrail, posts, and balusters pure white. Also, they remind me of white clouds.
In addition to generating a contemporary look, the white vinyl railing provides spectacular details. Furthermore, they direct the eye to the surrounding vista.
The white planter accompanies the vinyl railing. Moreover, the small palm tree imbues the balcony with a tropical flair. Lastly, curvy ceiling beams balance out the sharp edges of the planter and railing well.
18. Traditional Balcony Railing Ideas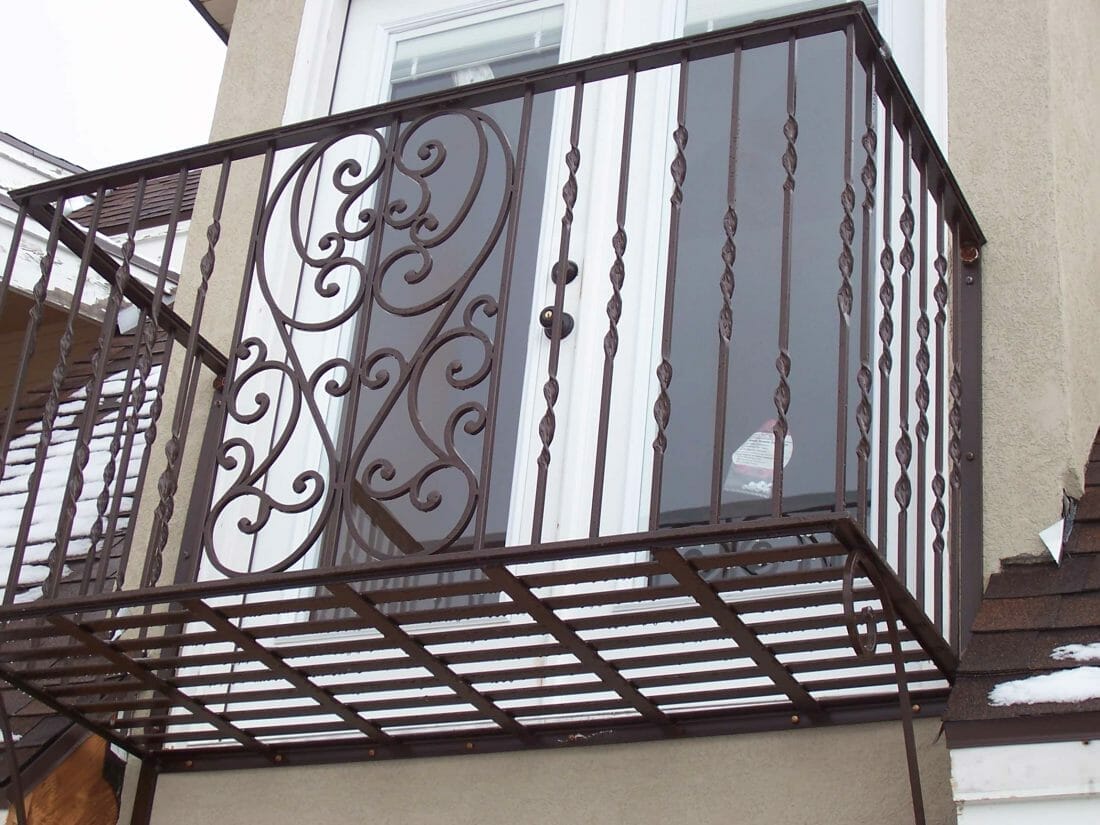 Here is a pint-sized balcony. As the photo shows, it has a deep taupe iron railing that is both magnificent and welcoming.
This iron railing features ornate details and remarkable twisted balusters. Not only do they represent elegance but also splendor.
The dweller can stand on her balcony while drinking a cup of java. Furthermore, the white trim details and light taupe exterior walls brighten it up.
19. Metallic Balcony Railing
Need balcony railing ideas? Metal railings are your friends. Apart from being sturdy, they also appear stylish. This somewhat spacious balcony says it all.
Here, the balcony follows the home's design. Moreover, it boasts a stainless steel railing that introduces an edgy look and a modern aesthetic.
This is one of the striking stainless steel balcony railing images. There are slim decor cables between metallic posts. They offer visual cohesion while creating an incredible silhouette on the concrete floor.
20. Stainless Steel Balcony Railing Ideas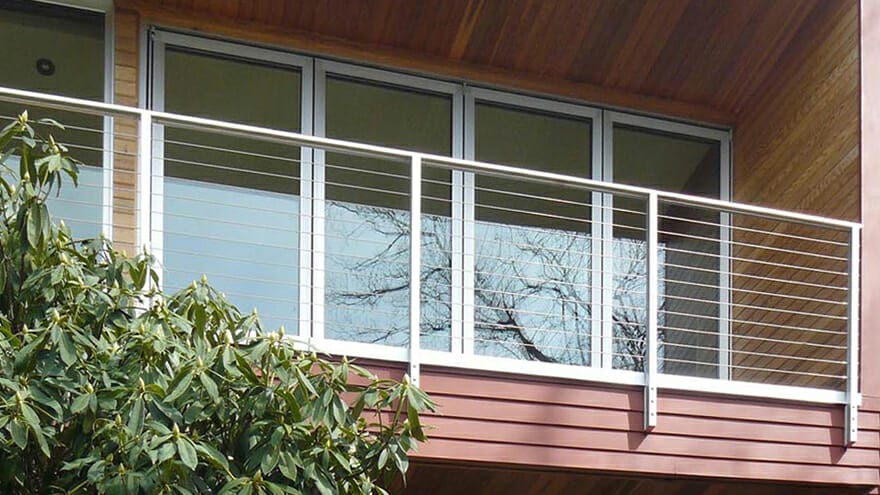 This is another stainless steel railing. The handrail and posts come with clean lines. Due to them, the furniture-free balcony seems trendy.
Here, the simple railing mimics the trim details. In addition, thin decor cables pair with the metallic handrail and posts.
The light brown and muted red wooden elements give the balcony some warmth. Furthermore, they delightfully offset the cool-toned balcony railing.
With my balcony railing ideas, you can have an incredibly splendid outdoor space. Regardless of your pick, remember, it should fit your family's needs. Last but not least, the design must beautify the abode and offer maximum protection at once.