Some dwellers find their balconies unattractive. If you're also unsatisfied with your outdoor space, consider changing its floor up. Without a doubt, this significantly affects the area's beauty. Here, I've assembled some astonishing balcony flooring ideas.
When it comes to balcony flooring, make sure that it's both marvelous and weather-resistant. Furthermore, you should opt for a reasonable investment. In this post, I propose remarkable flooring ideas for balconies, so you can make the right choice.
1. Small Balcony Flooring Ideas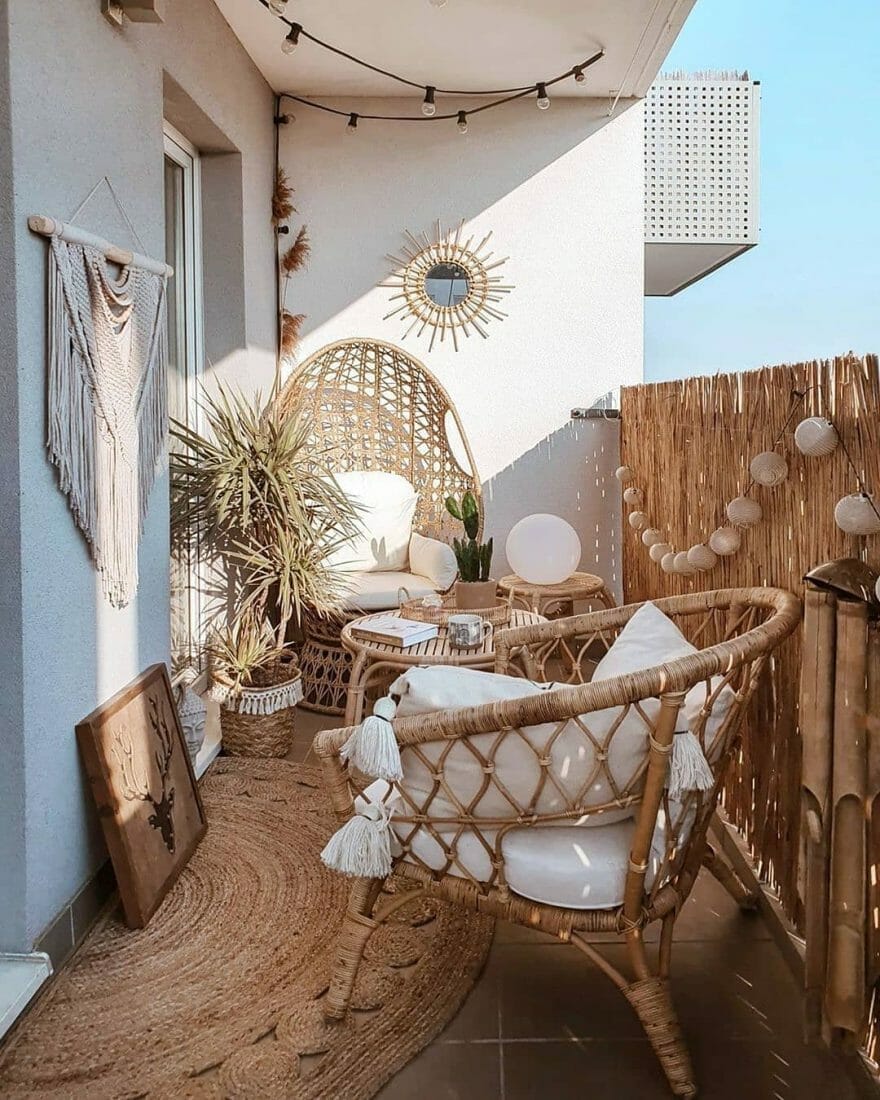 Ceramic tiles are ideal for both tiny and massive balconies. Moreover, they're cost-effective. Also, these pieces typically don't require lots of maintenance.
Talking about ceramic tiles, be sure that they can withstand freeze conditions. You need to put their frost resistance into consideration.
This pint-sized balcony is chic and inviting due to the gorgeous flooring. As you see, the tan-colored ceramic tiles do not only seem fascinating but also produce a welcoming feel. In addition, they effortlessly break the coldness of white walls.
I also admire the furniture arrangement. The half-circle wicker rug and planter sit on top of the balcony flooring tiles. Furthermore, they lend the small balcony character.
Rattan chairs and tables harmonize with tan ceramic tiles. They accompany the bamboo sunburst mirror and macrame wall ornament for a boho aesthetic.
The statement plant and cacti give the entire balcony a breath of fresh air. Over the flooring are globe lights. They prettify the reed privacy screen while emanating a cozy glow.
2. Rugs for Balcony Flooring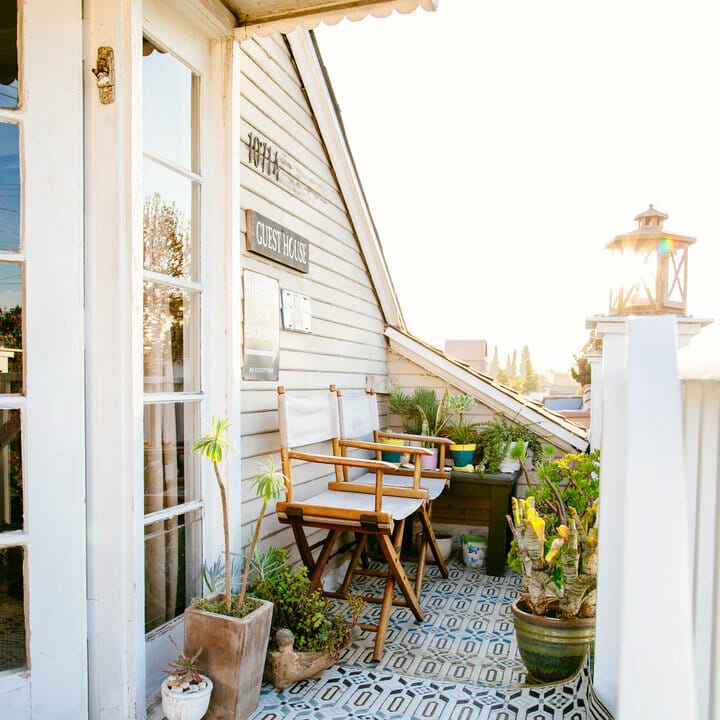 With outstanding balcony flooring ideas, you can convert your plain balcony into a fantastic outdoor area. This space proves my statement.
I consider this balcony flooring idea brilliant. Instead of revamping your boring outdoor area, you should try covering it with eye-catching rugs.
Rugs are both visually pleasing and somewhat inexpensive. You can put some planters and furniture pieces on your outdoor rugs to hold them well.
Here, two patterned rugs decorate the small balcony. Additionally, they develop visual cohesion while letting ornamental plants pop.
Minimalist white and wooden armchairs balance out patterned rugs on the floor. Furthermore, touches of deep teal, as well as sunny yellow, make the balcony suddenly more vivid.
3. Outdoor Flooring Ideas Over Concrete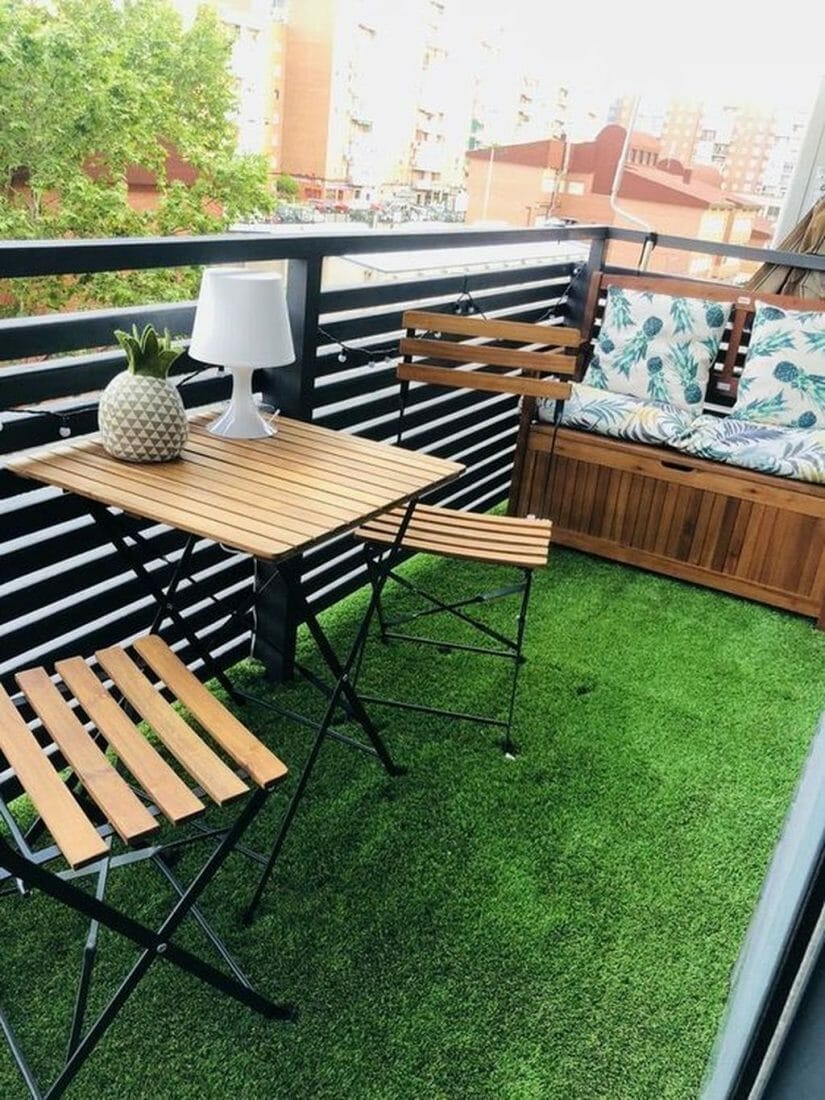 Speaking of balcony flooring tiles, you won't go wrong with fake grass. Moreover, it's one of the spectacular floorings for tiny and large balconies.
Apart from being sturdy, artificial grass is reasonably priced. In addition, it's such a long-lasting flooring while becoming highly ornamental.
Despite being artificial, the fake grass flooring still makes any balcony seem more natural. Needless to say, it pairs with wooden furniture.
This balcony, for example, has slim furniture pieces on the artificial grass area rug. Furthermore, wooden elements offer a cozy atmosphere.
Black metal railings and furniture frames carve an urban feel. The white lamp represents a retro style. Meanwhile, tropical-themed outdoor seat cushions and throw pillows beautify the pint-sized balcony.
4. Outdoor Flooring for Uneven Surfaces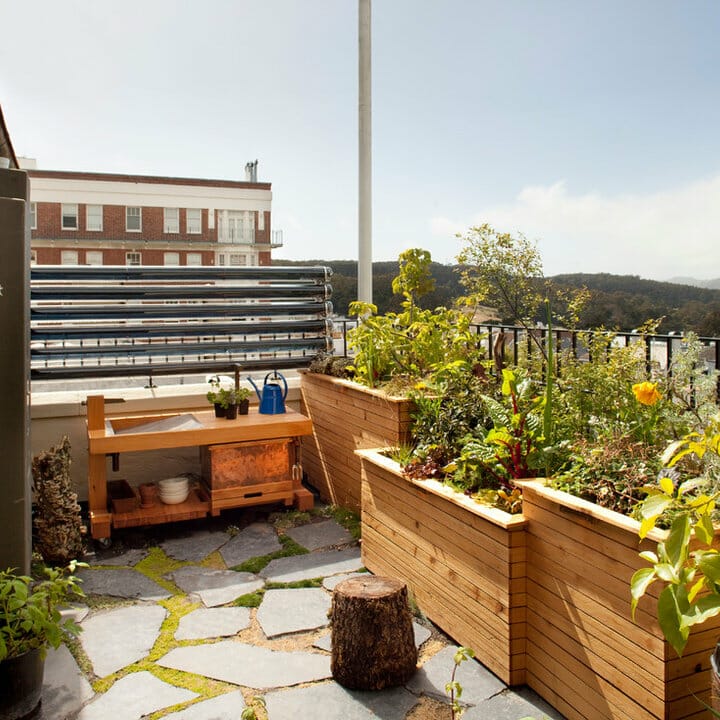 Need balcony flooring ideas for uneven surfaces? If so, try this design. In the photo above, light gray flagstones give the floor a rustic atmosphere.
Apart from adding interest, the flagstone flooring or crazy paving accentuates the green moss. Furthermore, it contributes to the balcony's casual vibe.
The crazy paving is not only affordable but also resists different weather conditions. Also, it blends with tree stumps on the balcony perfectly.
Of course, the flagstone flooring lends the balcony a gorgeously rustic look. It covers an uneven and rough surface more appealing.
Since the balcony boasts flagstone flooring, the dweller added a few pots and raised beds. They allow her to create an inviting urban garden. There's also a wooden furniture piece that accommodates basic gardening tools.
5. Balcony Flooring Ideas for Apartments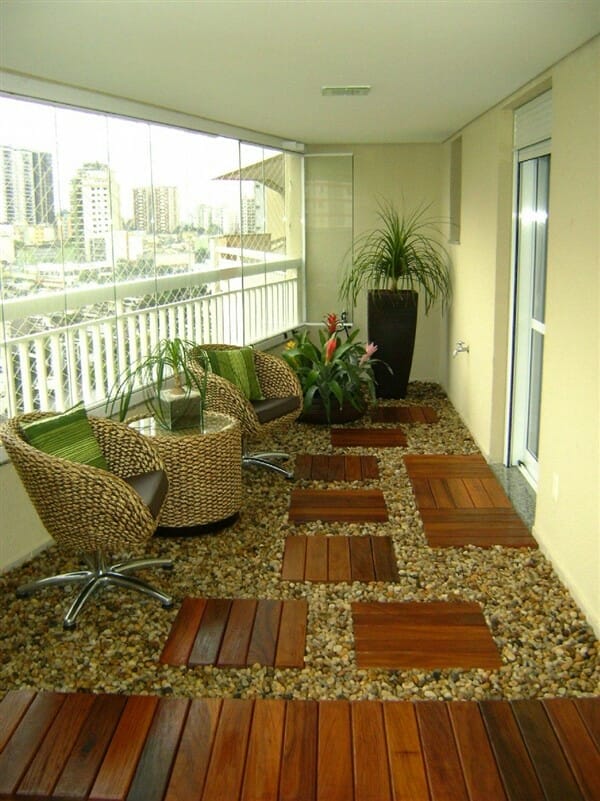 There are numerous balcony flooring ideas. However, wood still becomes the dwellers' favorite material for their outdoor floors.
Here, wooden planks on the floor turn the balcony from plain to pleasing. Moreover, they send out an ambiance of coziness. The pieces do not overheat on scorching hot days, too.
If you're a DIYer, installing wooden planks is a breeze for certain. Furthermore, they're a perfect complement to any balcony garden.
I recommend arranging plants around wooden planks, so you can rest comfortably while enjoying their divine smell and looks.
This apartment balcony also features wooden deck tiles. Not only are they trendy, but also draw the eye and warm the outdoor area up. Additionally, the pieces are not costly.
Here, wooden planks and deck tiles coordinate with earth-toned pebbles. They accompany wicker furniture items as well as statement plants excellently, too.
If you plan on installing wooden flooring, consider using exotic wood types such as Tatajuba, Cumaru, Bangkirai, Merbau, and Ipe. They're weather-resistant besides durable. Unfortunately, they're expensive.
Since the wooden flooring lasts for several seasons, it's surely a fabulous balcony investment.
6. Waterproof Balcony Flooring Ideas with Artificial Turf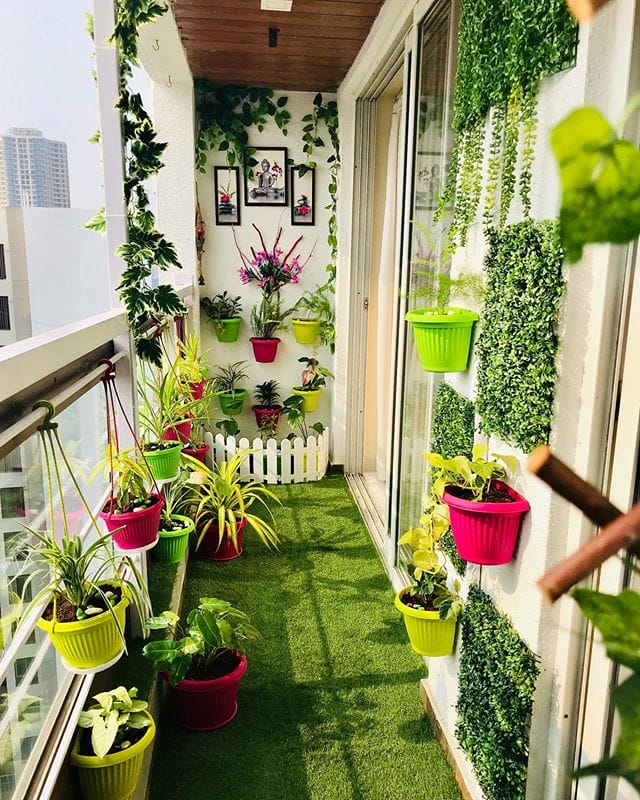 Talking about balcony flooring ideas, don't hesitate to pick artificial grass. In addition to being highly decorative, it's low-cost as well as tough.
Fake turf is a wonderful alternative to messy grass. Moreover, it doesn't require any watering and mowing.
Artificial turf rugs allow you to get the stunning appearance of actual grass. Furthermore, they come in numerous lengths and shades to fit any outdoor space.
With a fake grass rug, any balcony will become more natural and welcoming. Consider adding some vibrant planters to create a cheerful urban garden.
The great quality artificial turf makes this tiny balcony visually appealing. Apart from being low-maintenance, it's also truly sturdy.
Be sure to purchase a high-quality fake grass rug. Although the unit is slightly expensive, it's long-lasting and offers you mesmerizing green color.
Here, artificial ivy wall panels and creeping vines accompany the fake turf. Moreover, planters enliven the balcony with splashes of vivid colors.
The white picket fence and walls balance out the boldness of planters. Lastly, the wooden ceiling and real plants carve a natural ambiance.
7. Balcony Flooring Ideas with Hexagon Tiles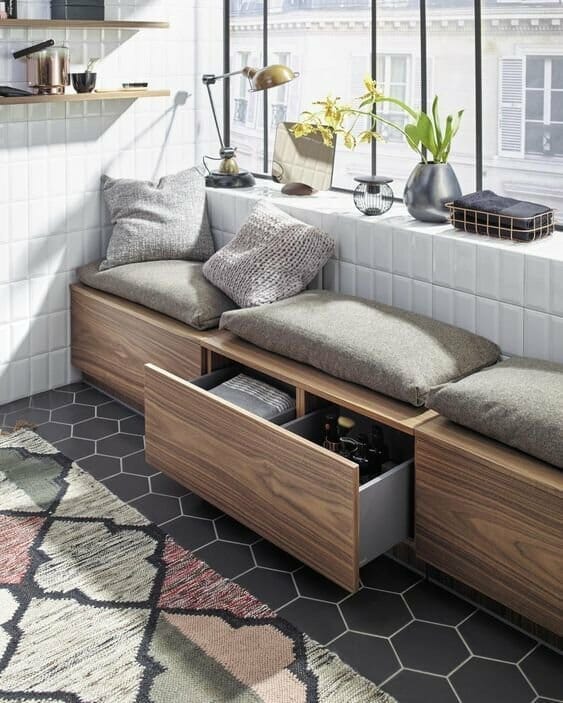 Speaking of balcony flooring ideas, hexagon tiles are your friends. They always look captivating and stylish at once.
This balcony, for example, boasts black hexagonal tiles. Apart from carving a modern aesthetic, they inspire pure sophistication and exude visual depth.
Also, the patterned area rug enlivens black floor tiles delightfully with pops of soft colors. In addition, it sends out a Moroccan flair suddenly.
The white grout and rectangular tiles clash with the black flooring sharply. Moreover, the sleek wooden multipurpose bench sits on the balcony floor. It brings organic coziness and timeless beauty to the outdoor area, too.
8. Rubber Flooring for Balconies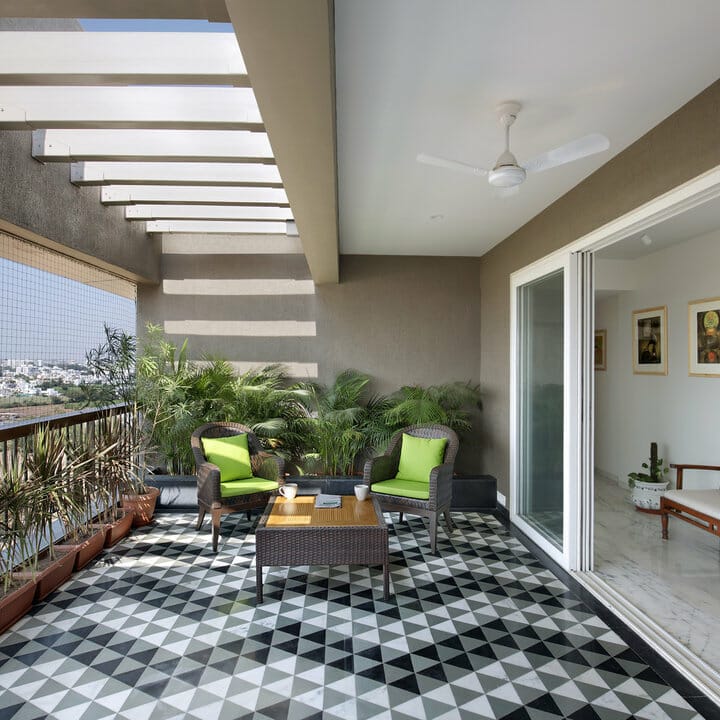 If you want a durable balcony flooring material, look no further than rubber. Since it comes in a huge choice of sizes as well as colors, you have loads of design possibilities.
The rubber flooring typically includes an anti-slippery layer. Moreover, it's water-resistant, reasonably priced, and easy to install. Also, the unit is perfect for homes with kids.
This balcony features geometric rubber flooring that produces modern vibes. The wooden tabletop, taupe walls, and terracotta pots emanate an inviting air. Lastly, lime green seat cushions and throw pillows spruce the wicker armchairs up.
9. Balcony Flooring Ideas with Chevron Wooden Planks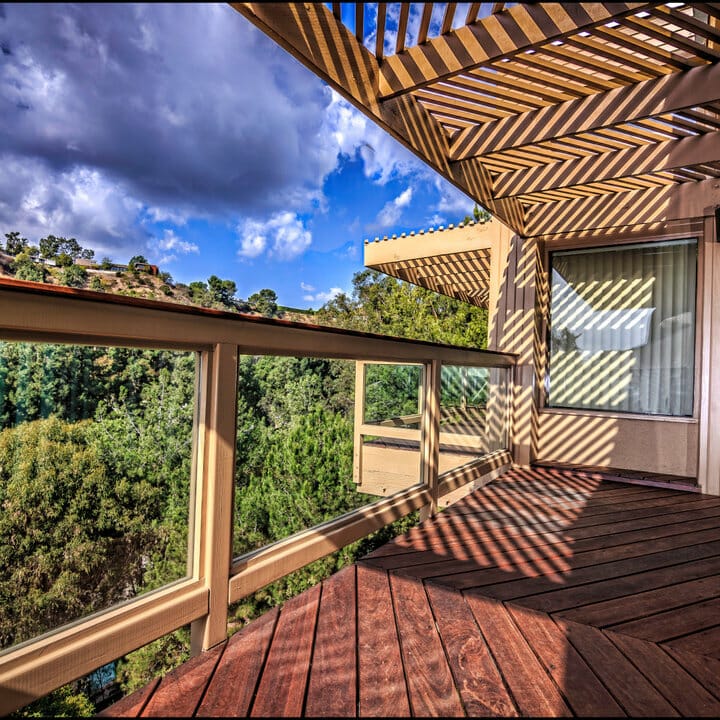 This balcony is inviting and incredible. The rich-toned wooden planks elegantly cover the floor while generating a feeling of warmth. Moreover, they're weather-resistant and long-lasting.
For visual interest, the homeowner installed his wooden planks in a chevron pattern. Not only do they embrace a modern feel but also offer a stylish look.
As you see, the wooden roof presents a striking silhouette on the wooden flooring. It amplifies the modern atmosphere, too.
The glass railings ensure that the balcony has an open and light feeling. In addition, they let the dweller and his guests enjoy the scenery.
10. Brilliant Balcony Flooring Ideas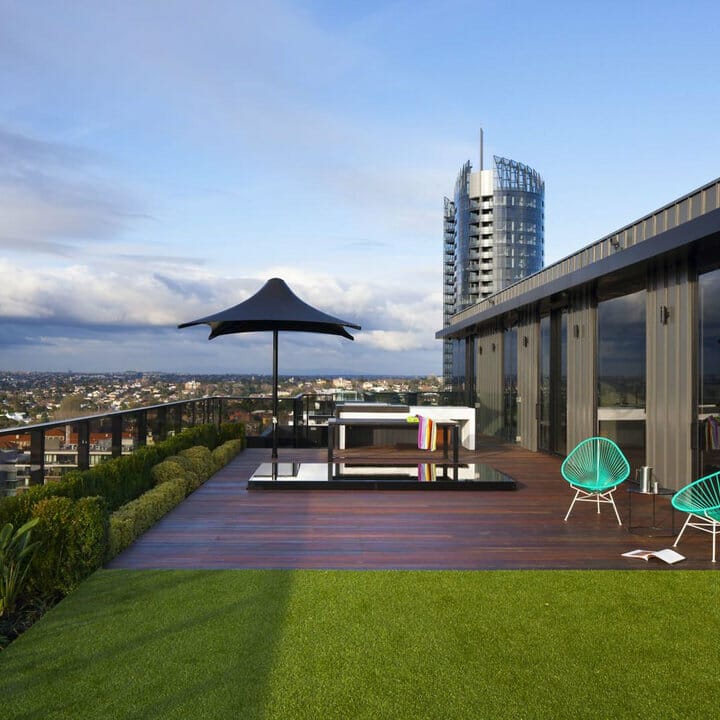 I can't stop adoring this balcony. Instead of one, it employs two kinds of flooring. The artificial turf raises the outdoor area's beauty. Furthermore, the unit harmonizes excellently with the plants and well-trimmed shrubs.
The dark-toned wooden planks make for an enchanting balcony floor while radiating warmth. Also, they transform the outdoor space from dull to delightful.
On the other hand, the black umbrella adds sophistication. Additionally, it protects the guests from UV rays. Moreover, two turquoise and white Acapulco chairs steal the show. Meanwhile, shots of purple, hot pink, orange, and red set a cheerful scene.
11. Balcony Flooring Ideas with Composite Decking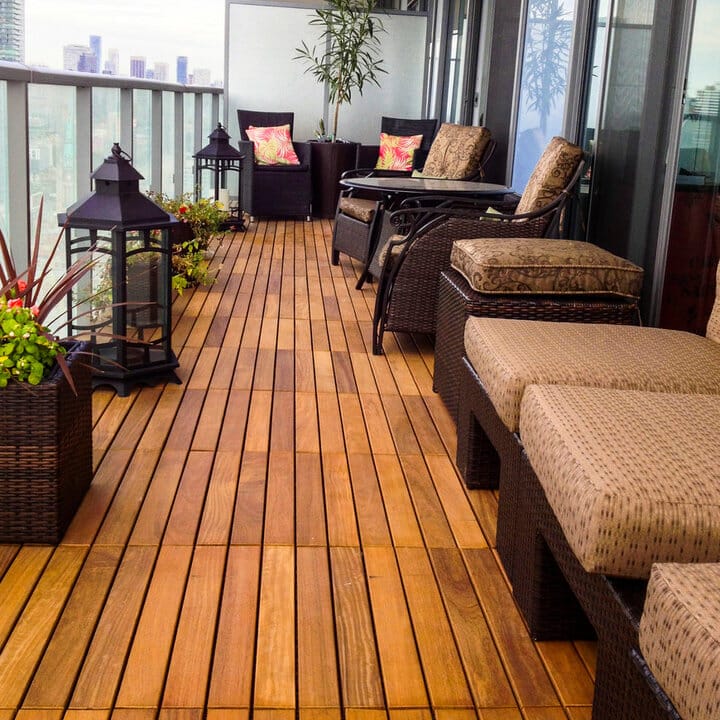 With tons of balcony flooring ideas, many dwellers feel overwhelmed. If you're one of them, try installing composite decking.
Composite planks are an impressive alternative to regular wooden flooring. Since the pieces are a mix of plastic materials as well as wood flour, they're very durable for sure. Moreover, you don't need to preserve them.
Here, the composite planks call attention to deep brown synthetic wicker furniture items. In addition, they coordinate with blooming plants.
A pair of massive black lanterns sit on the composite decking gracefully. Furthermore, throw pillows supply botanical prints and exuberant hues.
12. Balcony with A Pool and Flagstone Flooring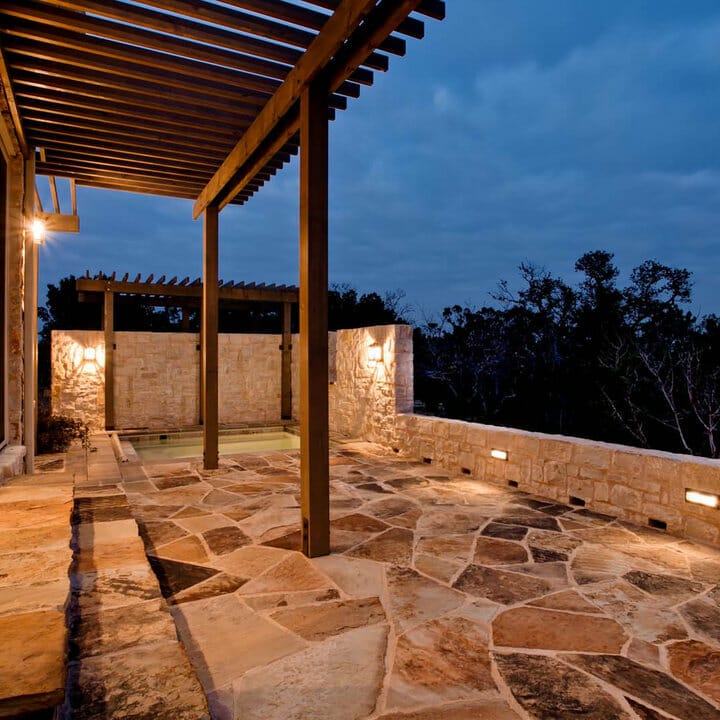 There are loads of balcony flooring ideas, and this one amazes me instantly. Here, the spacious outdoor area employs flagstones. Not only do they wear earth tones but also infuse an inviting ambiance effortlessly.
The flagstone flooring carves a visual appeal. Furthermore, it marvelously accompanies natural stone tiles on the steps.
Textured stone walls brighten up the rustic balcony. In addition, the pool sends out a relaxing vibe, while the wooden roof and pillars generate a simple aesthetic. Lastly, the built-in and wall lamps offer rugged textures of natural stones.
13. Balcony Flooring Ideas with Reclaimed Wood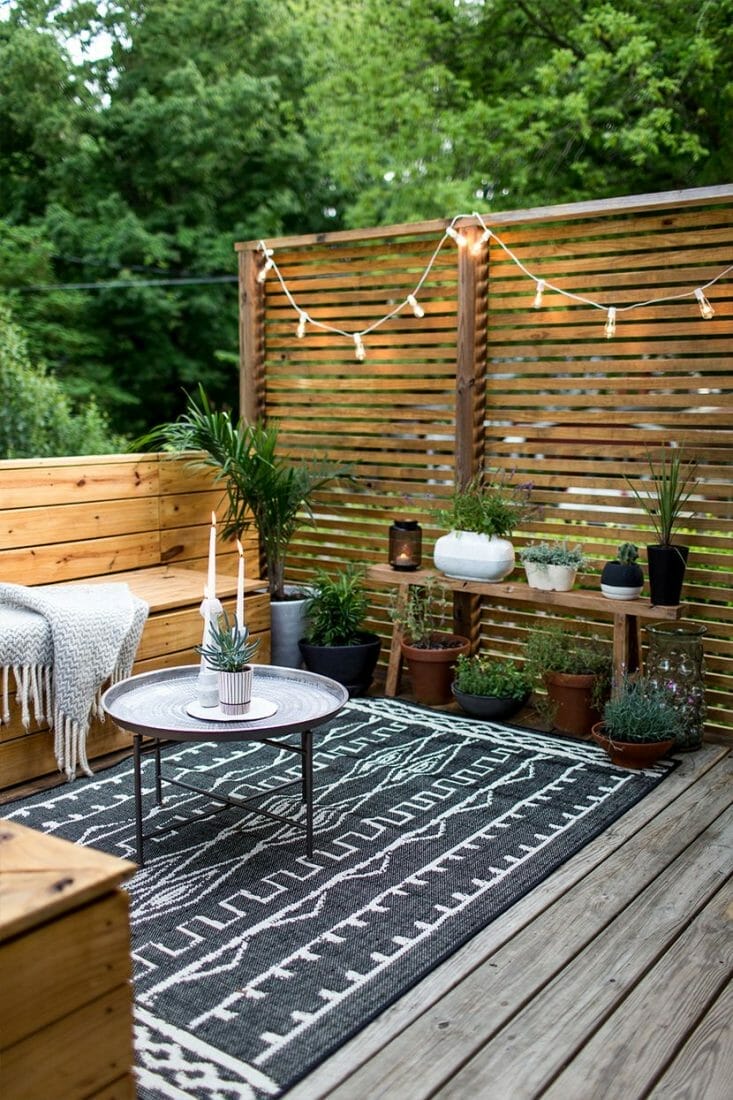 As the image shows, reclaimed wooden planks adorn the tiny balcony floor in a rustic way. Moreover, they delightfully clash with the blonde wooden L-shaped furniture.
The reclaimed wooden flooring teams perfectly with the container garden on the balcony. Furthermore, the terracotta, white, gray, and black planters make the outdoor area seem far more interesting.
On the floor is a monochromatic thick area rug. Additionally, it evokes optimum comfort. The round metal coffee table houses two candleholders. There's also a tiny striped pot with a stunning succulent.
14. Cheerful Balcony with An Artificial Turf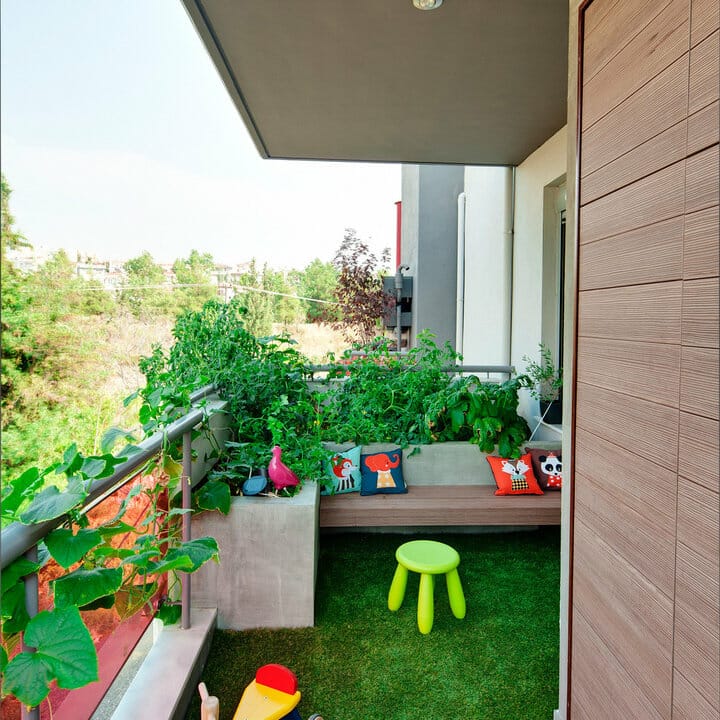 Need balcony flooring ideas? If yes, steal this design. The artificial grass makes for a safe play area. Furthermore, it does not only cushion falls but also protects children from both slips and abrasions.
This fake grass surface is versatile and ideal for heavy traffic areas. Moreover, it doesn't require complicated maintenance. With the item, the playtime will be better as well as safer for certain.
The sleek bench and concrete raised beds surely represent urban minimalism. Creeping plants lend the balcony touches of nature. Lastly, the stool, throw pillows, and toys exude vividness as well as playfulness.
15. Patterned Rubber Flooring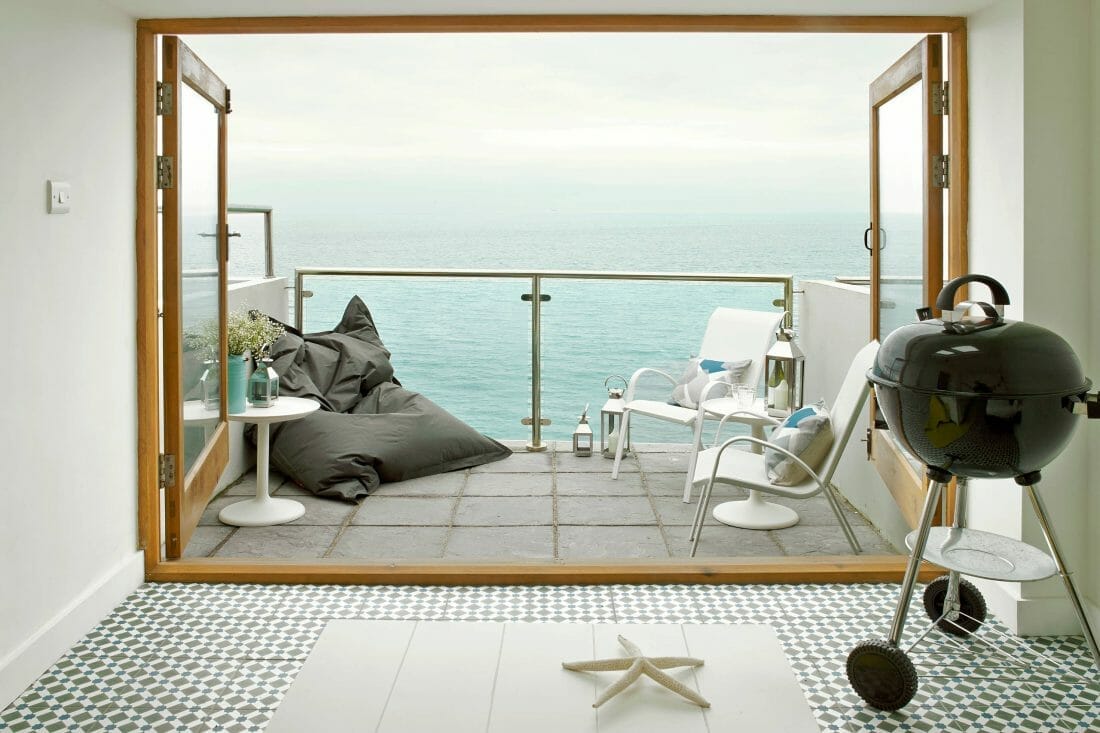 This bedroom looks onto a breathtaking view of the ocean. As you see, the interior employs patterned rubber flooring. Moreover, it accommodates a starfish ornament and grill machine with two black wheels.
The cement tiles cover the oceanside balcony floor. Furthermore, the curvy white table and chairs balance their sharp edges out.
Meanwhile, the metallic lantern candle holders come in different sizes. They sit on the cement flooring while the muted green bean bag carves tranquility. In addition, the blue flower vase reminds the guests of the bright sky.
16. Balcony Flooring Ideas with An Outdoor Carpet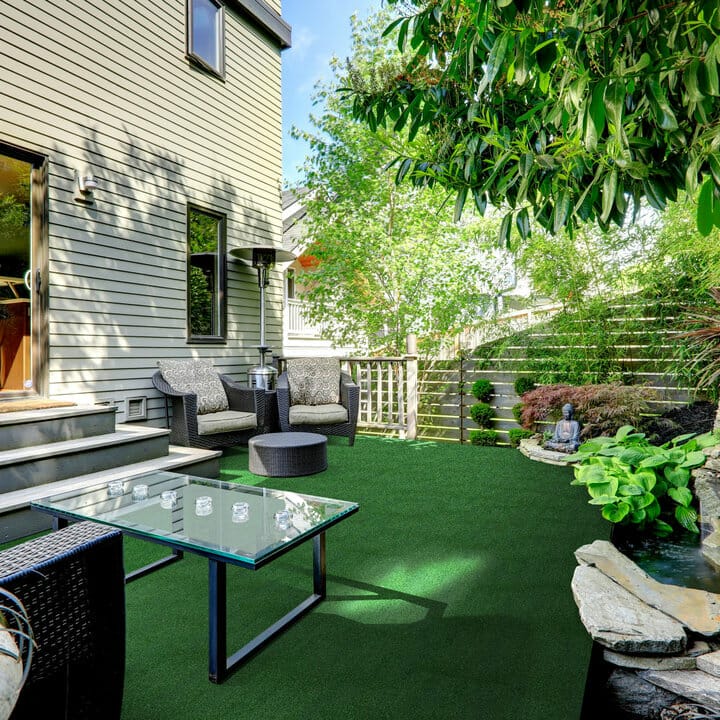 If you aren't into artificial turf, consider covering the floor with a green outdoor carpet. Not only is it cost-effective but also remarkable. In addition, the item adorns the area in a contemporary and trendy way.
Despite being simple, the outdoor carpet makes this balcony astonishing. Furthermore, it gives off a very comfortable atmosphere.
The green outdoor carpet resembles turf, so it goes with the stone pond. Moreover, fake shrubs and reddish-green plants jazz the balcony up.
On top of the carpet are synthetic wicker furniture pieces. Since they wear deep gray, the balcony seems more sophisticated, while the table with a glass top generates a light feeling.
Those are balcony flooring ideas you must copy. They'll convert the outdoor area into a swoon-worthy retreat. Choose the outdoor flooring that suits your needs and budget. Don't forget to pay attention to the furniture configuration as well as decorations.