Some homeowners are lucky enough to have forested areas in their yards. If you're one of them, try borrowing my terrific wooded backyard ideas. Moreover, these examples show you how to convert a dull, tree-covered area into a remarkable retreat.
Forests are surely fabulous. Furthermore, they provide a foundation for a vigorous garden. However, wooded areas can make landscaping challenging. If your yard borders on a forested area, have a gander at these divine landscapes.
1. Gorgeous Wooded Backyard Patio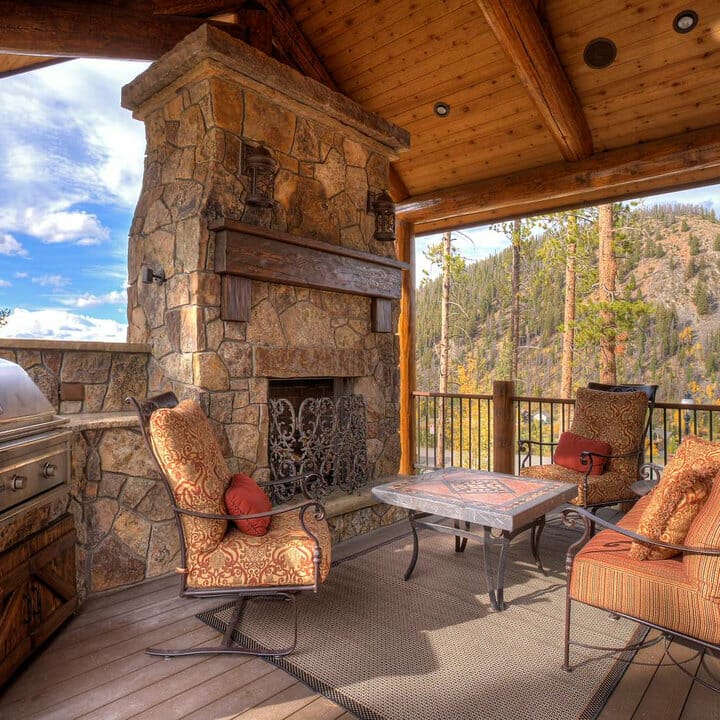 Since your property belongs to a forested area, you must keep the outdoor seating space natural. Here, the sitting area boasts a flagstone fireplace. In addition, it infuses a nature-inspired texture and rustic ambiance.
The ceiling, floor, barn doors, exposed beams, and railing posts supply wooden elements. Moreover, the fireplace cover, seat cushions, and metal armchairs develop a classic appeal. Due to the two-tone rug and orange pillows, the outdoor seating space feels homey.
2. Modern Wooded Backyard Ideas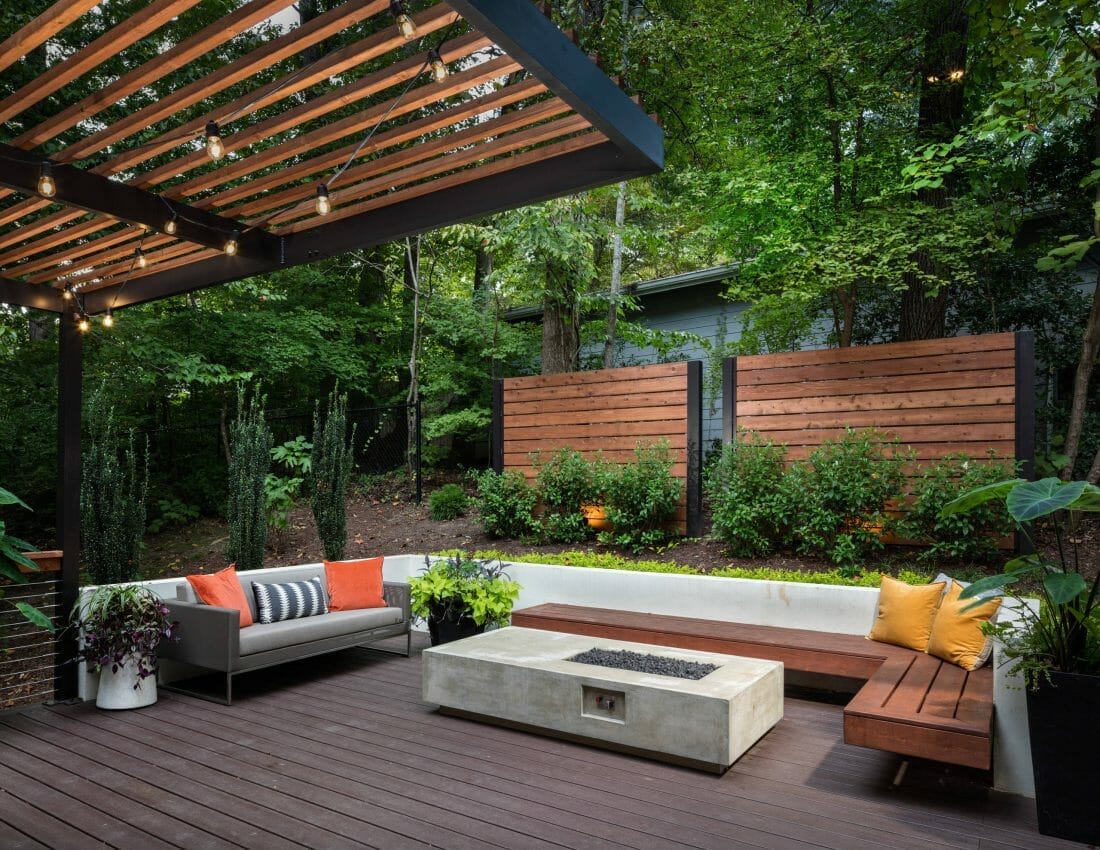 Plan a wooded backyard makeover? If so, try this option. The outdoor living room employs taupe and reddish-brown wooden planks. Apart from radiating warmth, they make the seating space still feel like part of the woods.
The concrete fire pit, L-shaped wooden bench, and gray sofa inspire modernism. Furthermore, plants and vivid throw pillows enliven the backyard. Industrial string lights offer appropriate illumination, while black accents create drama.
3. Fencing In Wooded Backyard Living Rooms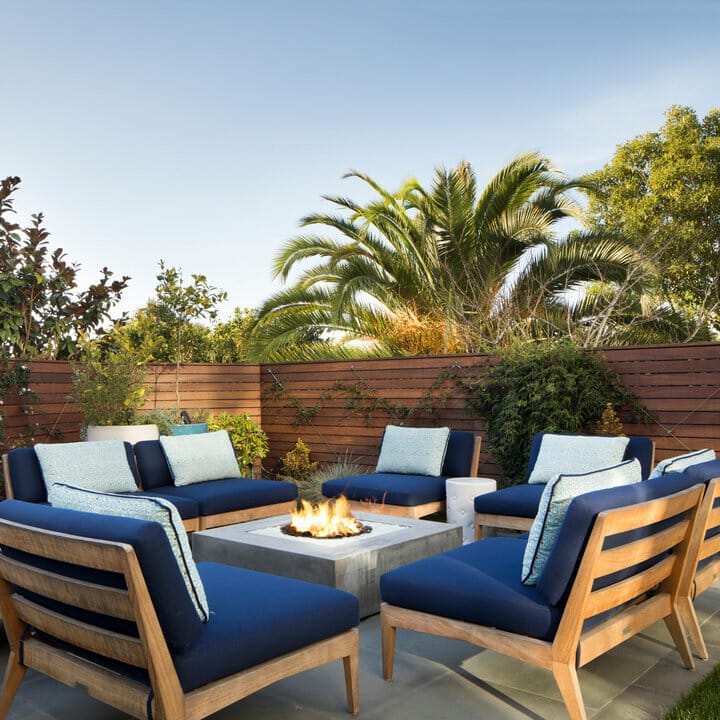 This backyard lounging spot has wooden fence panels. Furthermore, they keep the property hidden from passersby as well as the curious eyes of surrounding neighbors.
Not only do wooden fences maintain privacy but also set the property boundaries. Moreover, they go with striking ornamental grass, vines, and potted plants.
The concrete fire pit and floor tiles make the backyard living room appear stylish. Meanwhile, bare wooden chairs accentuate navy cushions and light blue patterned throw pillows.
4. Landscaping Ideas for Forested Areas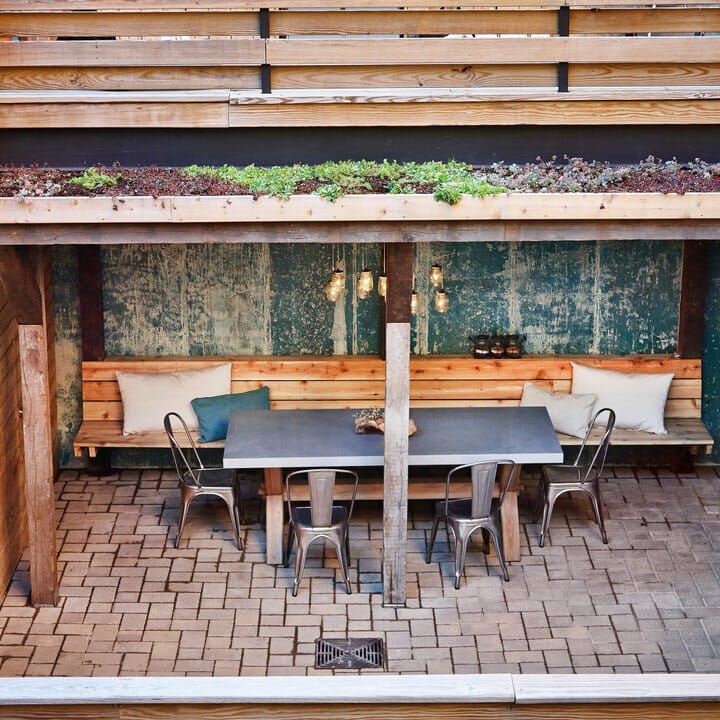 Need wooded backyard ideas? Give this option a shot. The outdoor dining area floor boasts interlocking stone tiles. Moreover, they accompany weathered wood posts while generating a trendy look.
The floating long wooden bench features pale taupe and muted blue pillows. Additionally, the concrete dining table and metallic chairs inject an urban feel.
Overhead is a mason jar chandelier. It carves a feeling of intimacy. Furthermore, the wooden roof doubles as a planter box. In addition, the unit holds plants with different colors and textures.
5. Chic Wooded Backyard Ideas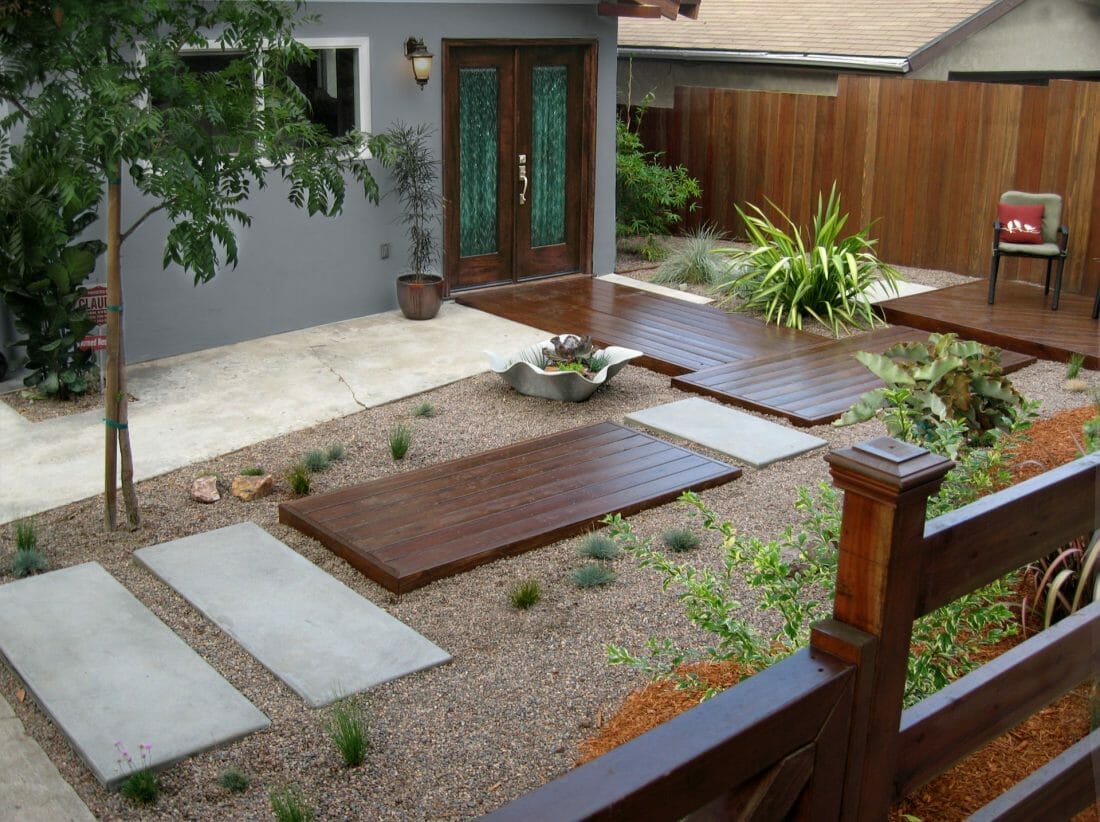 Without a doubt, decorating a backyard in a forested area can be tricky. Here, the garden has tiered wooden fence panels. They protect the dweller and his family from curious eyes while creating interest.
Further, the rich-toned wooden gate and decking warm the wooded backyard up. Also, they balance the concrete pathway's coldness out.
The gravel and various kinds of plants complete the scene. Furthermore, the armchairs and red throw pillows evoke comfort.
6. Tropical Wooded Backyard with A Pool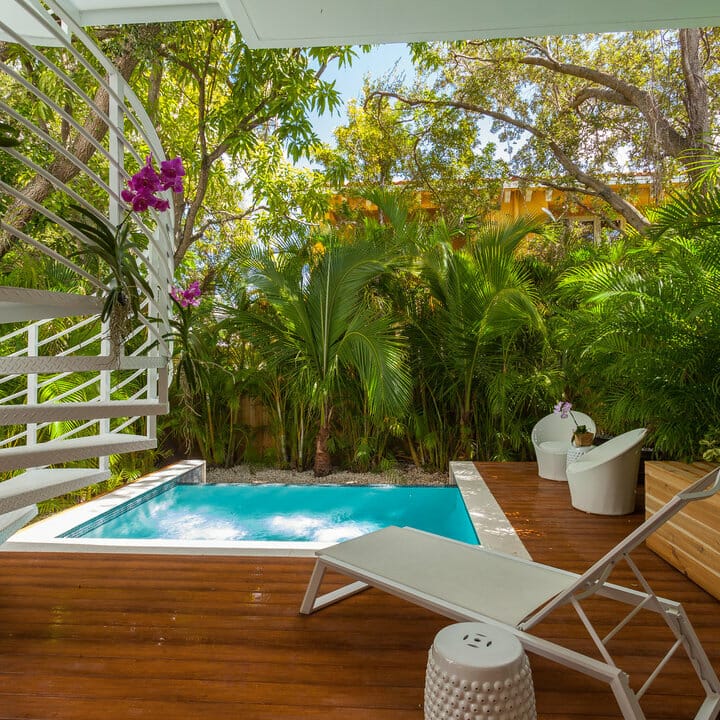 Searching for wooded backyard ideas? Take inspiration from this outstanding photo. The bench and decking supply light- and medium-toned wooden elements for a welcoming nuance.
The lounger and tiny pool send out a vacation atmosphere. Furthermore, fancy palm trees lend the wooded backyard a tropical ambiance.
Orchids make the backyard appear showy. Moreover, the stool and curved armchairs offer additional seats.
7. Modern Backyard with A Concrete Walkway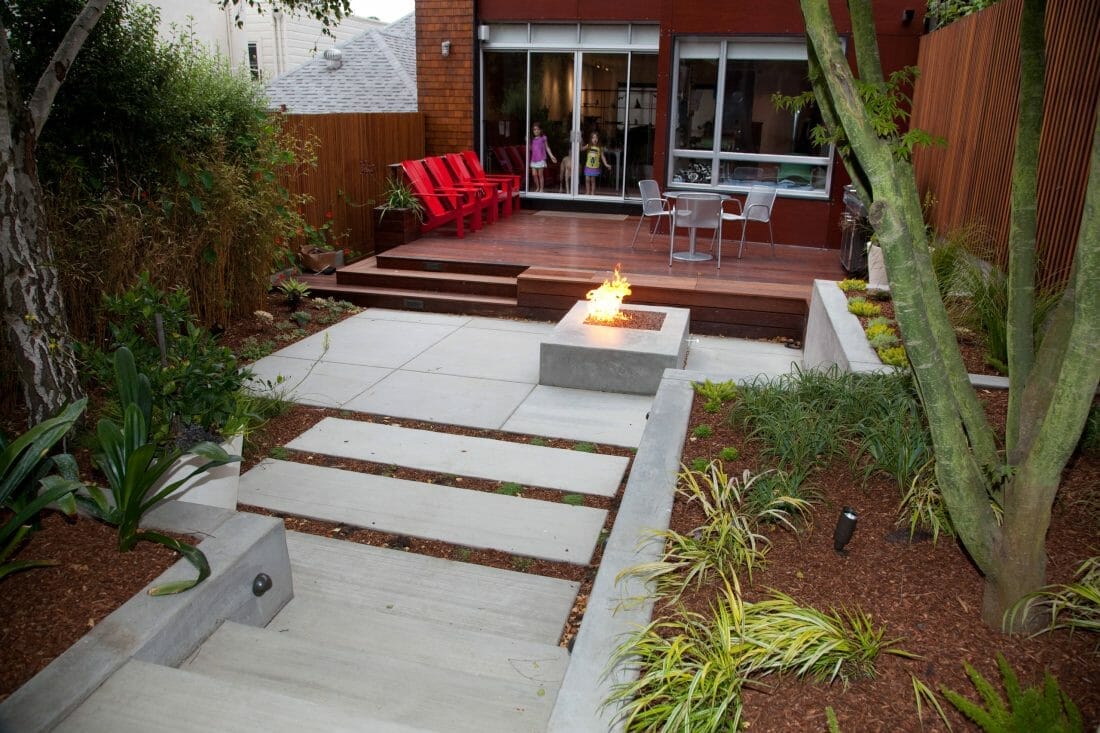 Speaking of ideas for walkways in backyards, this garden is worth copying. The concrete floor, pathway, steps, and raised planters carve a modern appeal.
The mulch keeps unnecessary weeds from coming back. It maintains the backyard's natural atmosphere, too.
Because of the concrete fire pit, the backyard seems super inviting. Furthermore, silver and red chairs brighten the wooden deck up while providing ample seating. Meanwhile, the greenery rounds the landscape out.
8. White and Wood Backyard Deck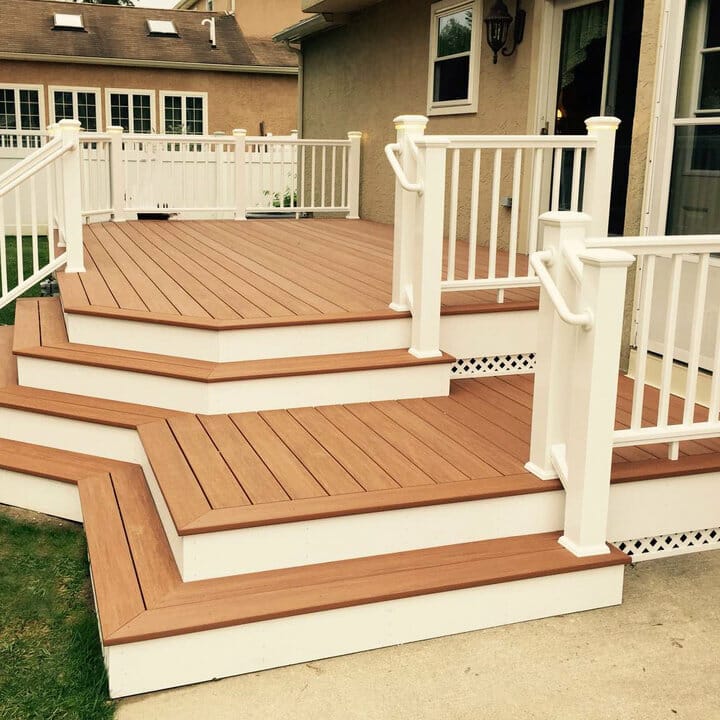 With numerous wooded backyard ideas, you have loads of options. This property boasts a multi-level wooden deck. Not only is it enchanting, but also generates unmatched warmth.
Wooden planks make for charming deck flooring and treads. Furthermore, they enable the house to blend with the surrounding forest.
The vinyl railing, posts, and risers wear soft white. Apart from highlighting the wooden deck, they introduce a fresh ambiance. Lastly, the decorative lattice lends the backyard an appealing look while adding a distinctive style.
9. Spacious Wooded Backyard Ideas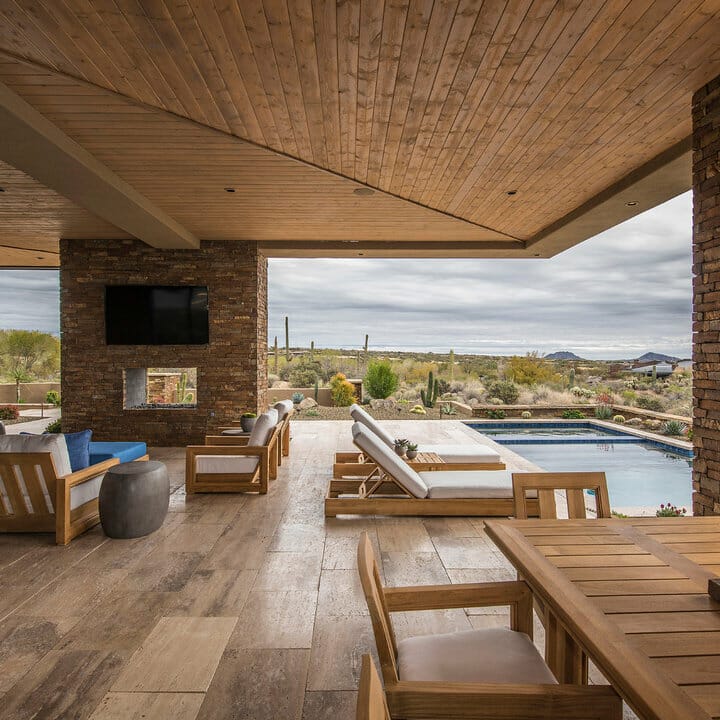 This massive backyard is a ravishing retreat. Moreover, the wooden floor tiles and furniture pieces make the outdoor area extra cozy.
The natural stone fireplace imbues the backyard with a rustic flair. Also, there are concrete stools that double as side tables.
White and blue cushions effortlessly freshen the backyard up. Furthermore, the swimming pool and wooden loungers carve vacation vibes. The succulents, cacti, and shrubs prevent the whole area from feeling out of place.
10. Backyard with A Breakfast Bar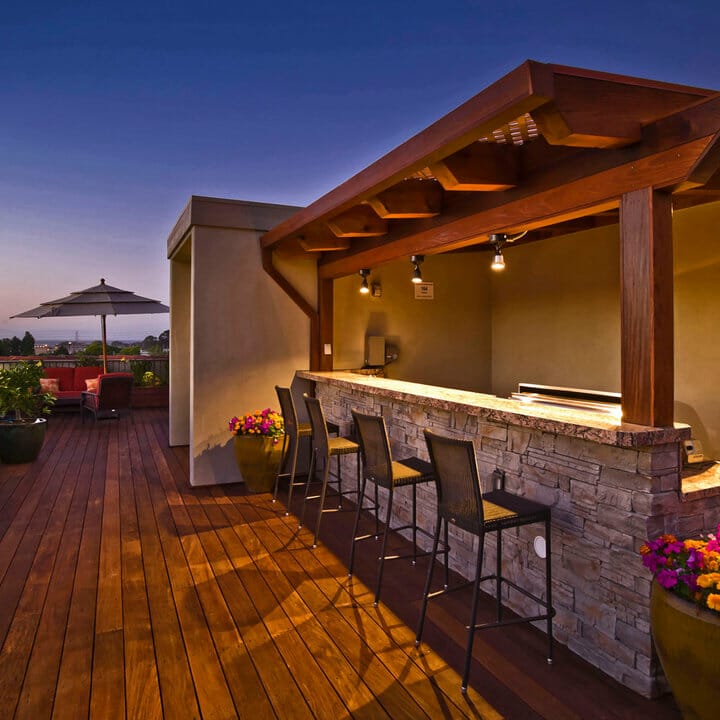 Talking about wooded backyard ideas, the deck employs an outdoor sitting area. Moreover, it has an armchair and a sofa. Red seat cushions provide boldness and warmth.
The deep gray patio umbrella offers great protection from the summer heat. Wooden posts, planks, and beams instill a toasty vibe.
Due to the granite countertop and rugged stone island, the breakfast bar seems captivating. Metallic appliances and industrial lamps lend the yard an urban flavor, while colorful blooms make the deck perky.
11. Reclaimed Wood Furniture for Backyards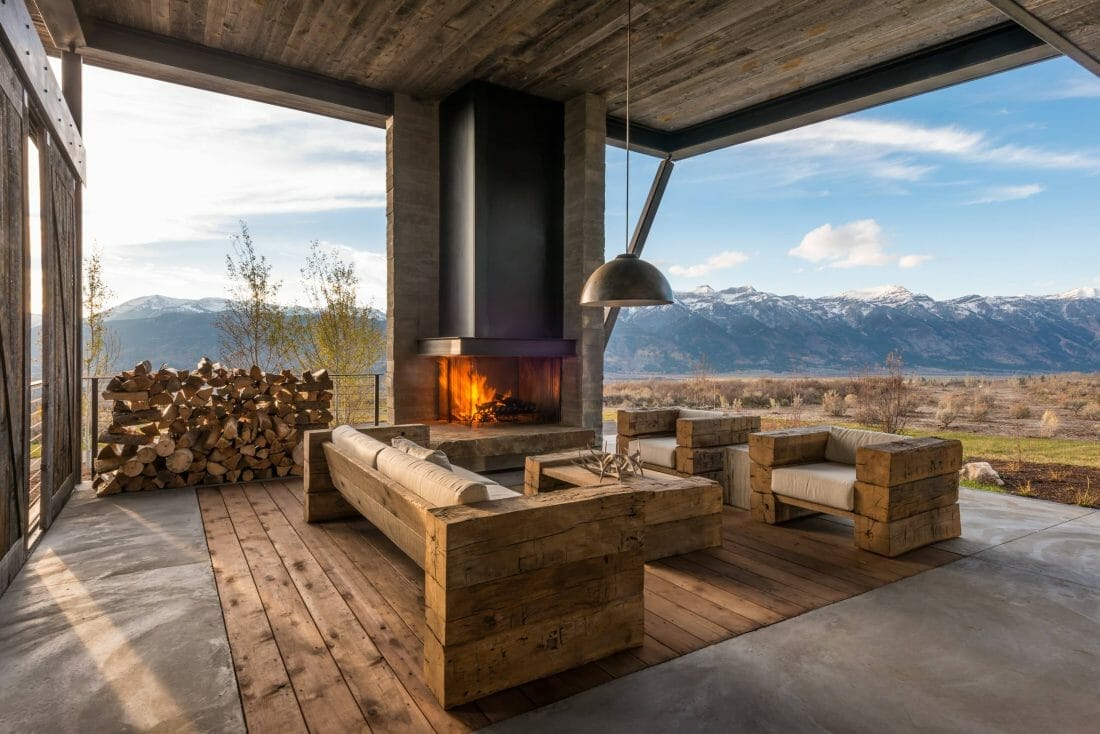 Who can say no to this bodacious backyard? The reclaimed wood floor, sofa, coffee table, and armchairs lend the outdoor seating space a rustic aesthetic. Furthermore, they offer a smooth visual transition from the backyard to the surrounding environment.
The reclaimed wood ceiling and barn doors complement the backyard. In addition, the raw marble floor provides understated glamor. Lastly, the metal pendant and fireplace bring an urban ambiance to the countryside.
12. Wooded Backyard Ideas with Pebbles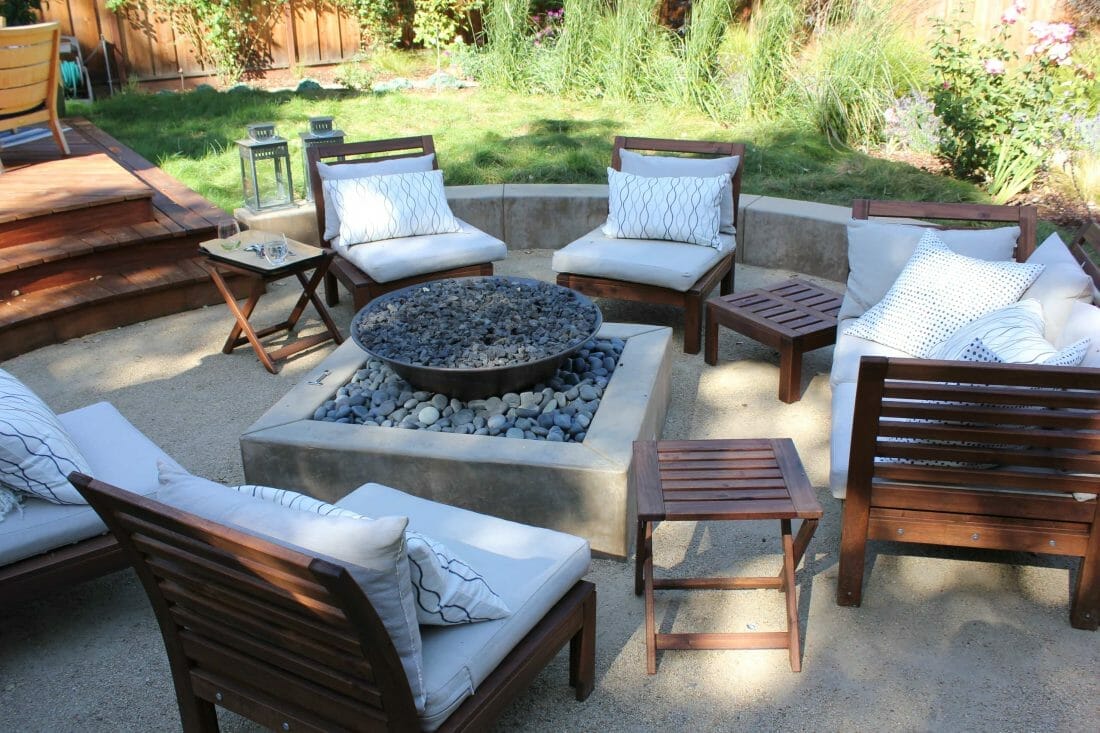 There are two outdoor sitting areas in this backyard. Moreover, the multi-level wooden deck blends with the lush ornamental grass and rose bushes.
Meanwhile, the sunken seating space boasts dark brown wooden stools and chairs. Apart from highlighting white cushions, they introduce a natural ambiance.
Japanese river stones carve calmness, while patterned throws prettify the backyard. Furthermore, the sand imparts a beachy vibe. Silver lanterns generate a stylish look.
13. Living Rooms for Wooded Backyards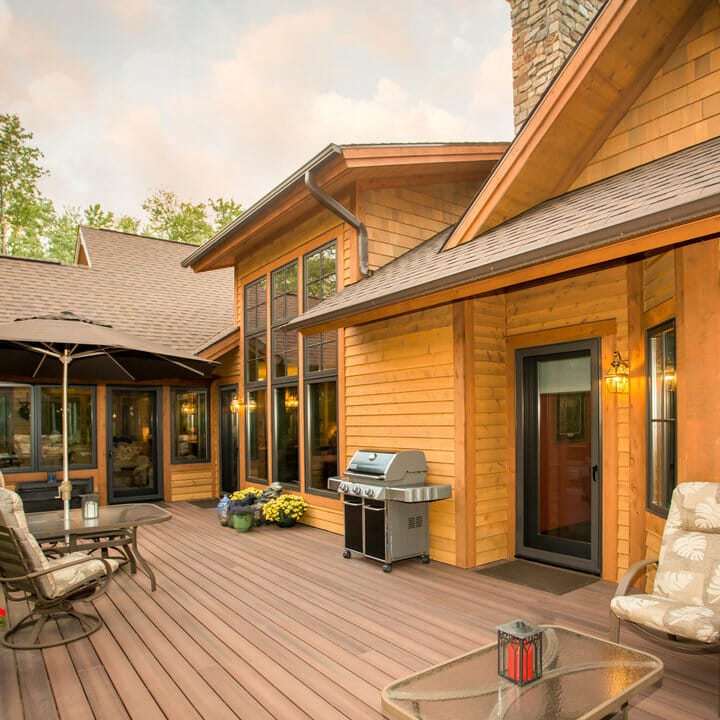 The light-toned wooden trim and siding make the backyard patio more inviting. Also, they offer warmth to balance the metallic grill machine out.
This backyard patio seems homey because of the brown wooden floor. Moreover, tables and armchairs make for cozy lounging spots.
The brown patio umbrella matches the existing flooring. Furthermore, bursts of red, yellow, green, and blue prevent the backyard from appearing lackluster. Beige seat cushions with tropical leaf patterns emanate a tranquil vibe.
14. Wooded Backyard Ideas with Wooden Panels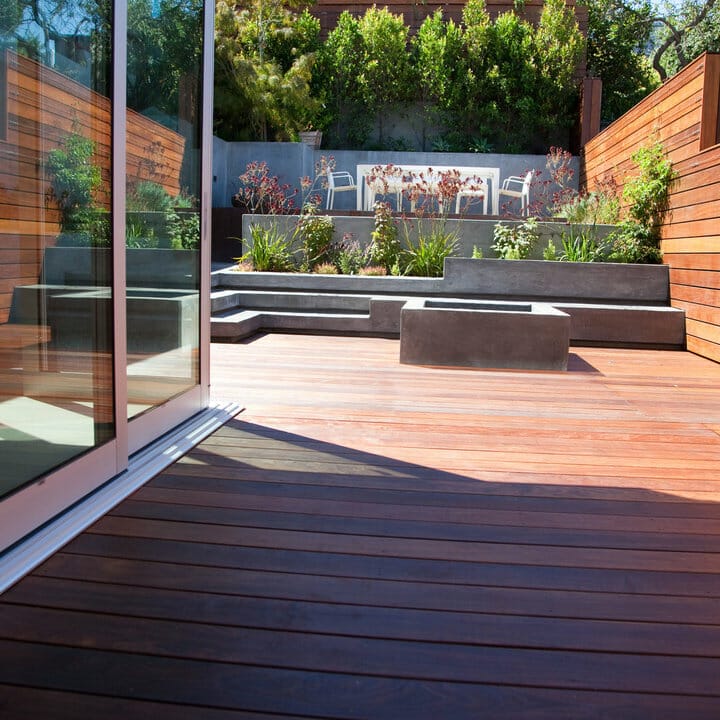 There are loads of wooded backyard ideas. This option is remarkable for sure. Here, the outdoor space is a place where industrial modern meets nature.
Wooden privacy panels give the dweller security as well as privacy. Also, they instill a natural feel. The concrete steps, walls, and planter boxes represent industrial modernism.
The wooden flooring and panels balance the stark white dining set out. Lastly, ground covers, mid-size plants, and trees provide a visual appeal.
15. Backyard with A Natural Fence
This countryside backyard belongs to a fabulous forested area. Moreover, it overlooks the mountain with green grass and tall pine trees.
The space boasts a natural fence featuring thick tree branches. Furthermore, it connects the backyard with Mother Earth. In addition, the bare wooden bridge offers immense warmth while being a centerpiece.
16. Wooded Backyard Ideas with A Tree Slice Table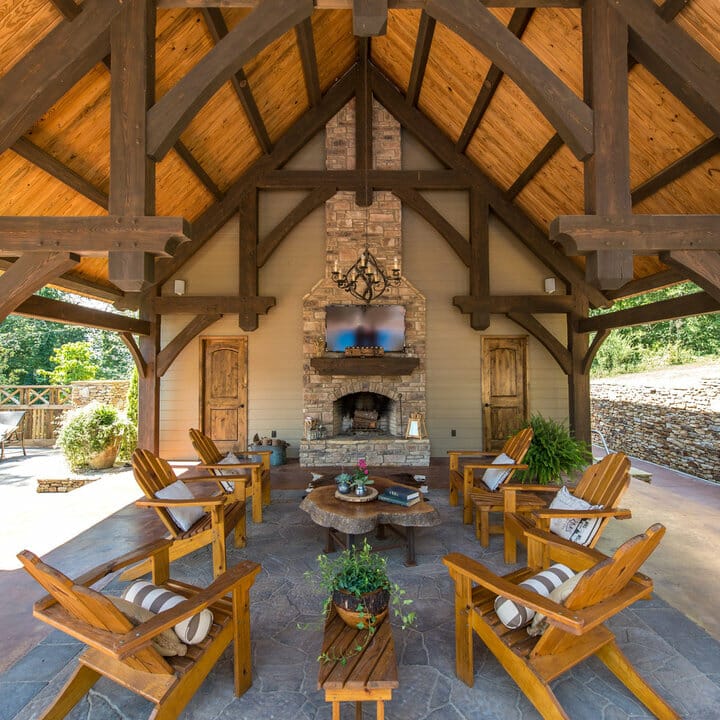 I love this woodland retreat. Here, the outdoor living room seems rustic and welcoming due to wooden Adirondack chairs. Furthermore, the tree slice table strengthens the dweller's connection to Mother Nature.
The light gray flagstone flooring spectacularly accentuates warm-toned wooden furniture pieces. Moreover, the chandelier, vaulted ceiling, and doors create formal symmetry. Lastly, because of the stone fireplace and potted plants, the living room doesn't look out of place.
17. Backyard with A Stone Fire Pit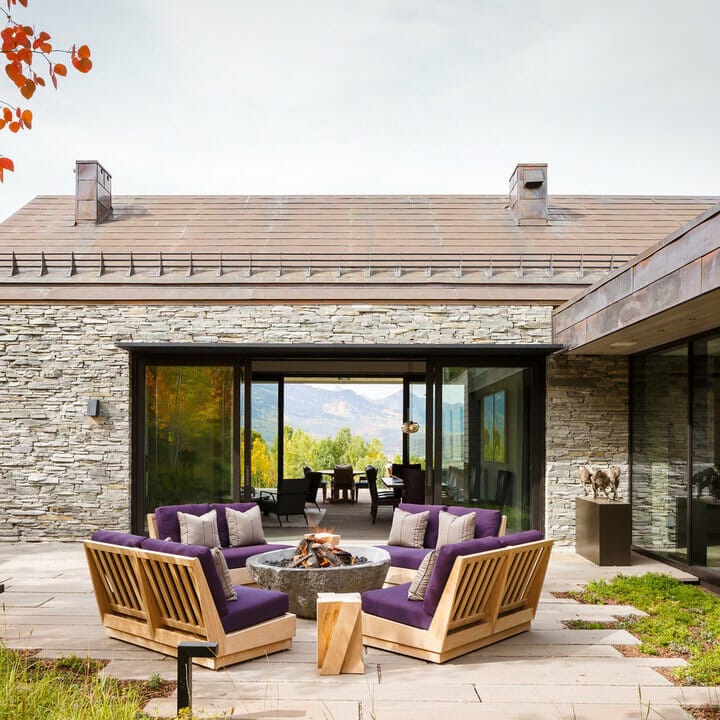 Speaking of wooded backyard ideas, take cues from this patio. The smooth stone planks emphasize the blonde wooden side table and sofas.
Deep purple seat cushions evoke elegance. Moreover, they lend the modern outdoor sitting area a sense of harmony.
The rugged natural stone wall and ground cover plants provide a seamless transition from house backyard to woodland. Furthermore, the fire pit and pillows inspire coziness.
18. Wooded Backyard Privacy Fences
The unfinished wooden privacy fences keep the whole backyard natural. Not only do they keep annoying neighbors out but also develop serious warmth. Moreover, the intricate black metal hardware pieces give off a classic aesthetic.
This is one of the fantastic sloped wooded backyard ideas. The natural stone retaining walls offer extra flat areas. They accommodate different plants, too. Lastly, exuberant blooms jazz the yard up.
19. Backyard Patio with A Water Feature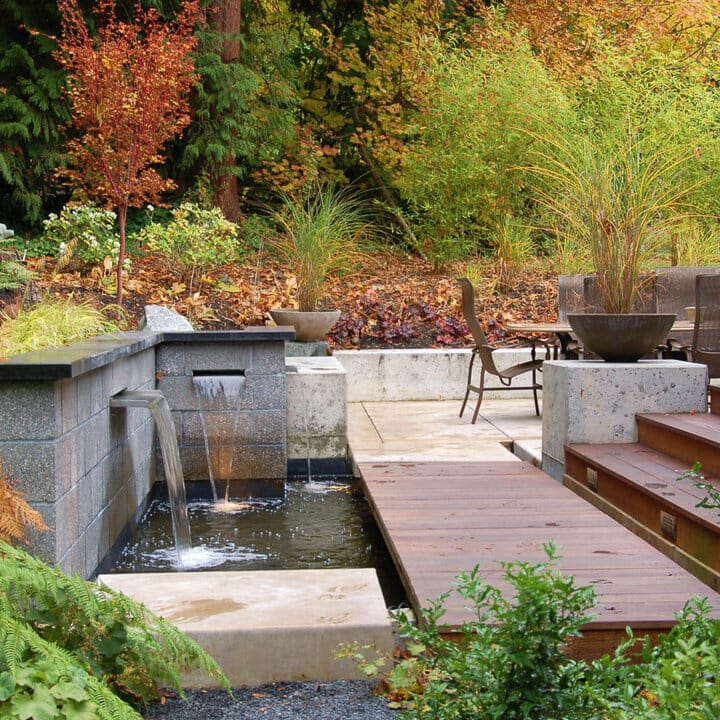 Speaking of landscaping heavily wooded areas, try this design. The grass, ferns, shrubs, and tall plants connect the backyard with the forest.
The wooden walkway and steps make the outdoor seating space feel homey. Furthermore, beige floor tiles lighten the atmosphere. Curvy metal dining chairs produce a classic charm, while the granite water fountains generate an ambiance of peacefulness.
20. Resort-Inspired Wooded Backyard Ideas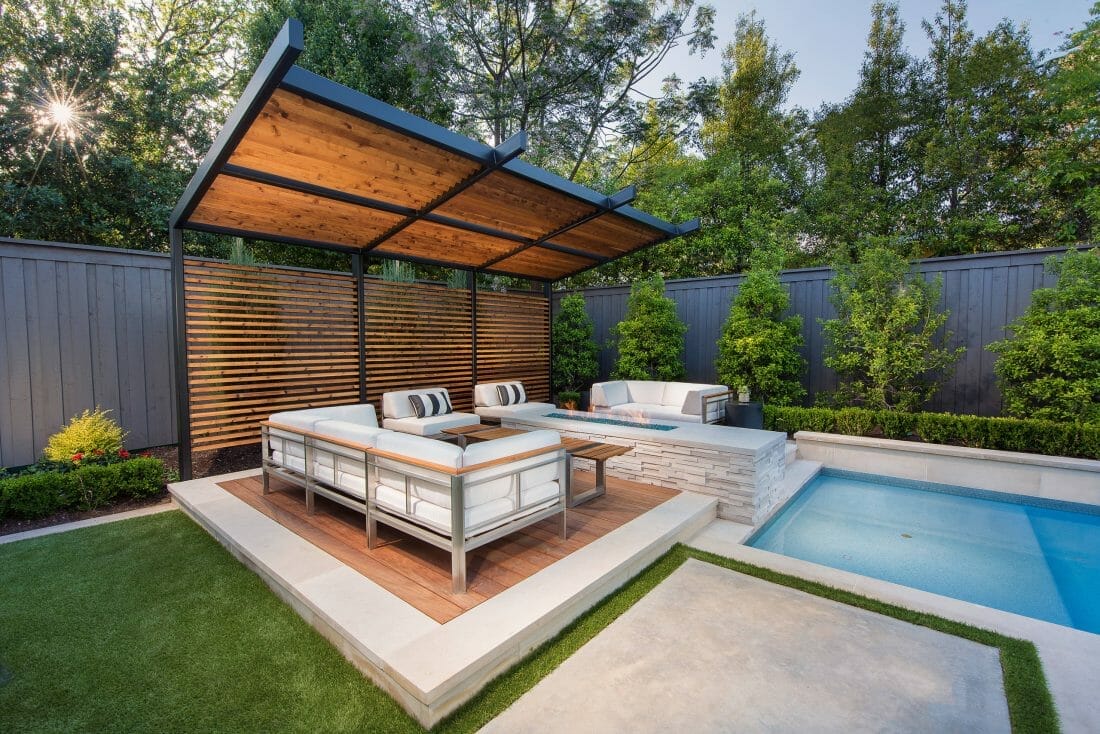 Talking about landscaping along an edge of woods, apply this idea. The gray wooden privacy fences enable hedge plants to draw the eye. Furthermore, the fire pit produces warmth.
The grass calls attention to the concrete deck and pathway. Moreover, the freestanding wooden wall comes with a roof for sun protection. Additionally, the pool carves relaxing and luxurious vibes.
21. Two-Level Backyard Deck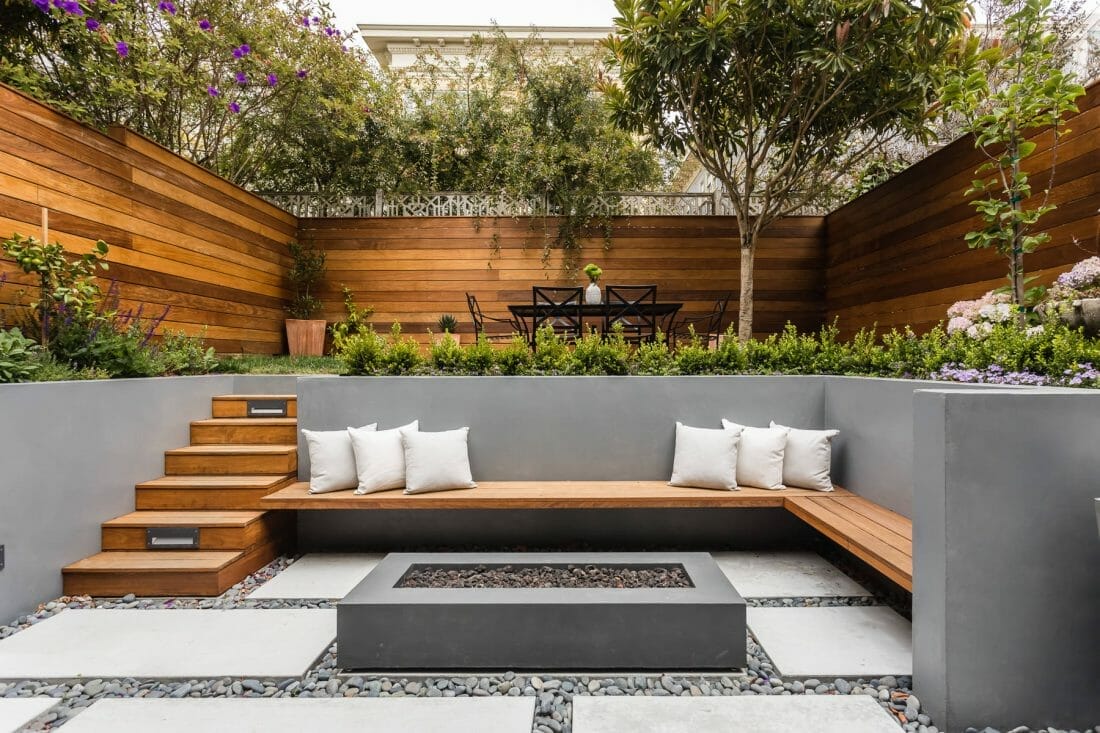 The homeowner kept his entire backyard simple. Since the two-level deck features well-defined lines, it appears stylish.
This modern backyard seems extra cozy due to the wooden planter, floating bench, wall panels, and steps. Black dining furniture items introduce drama.
Plants and pebbles add natural elements. In addition, hydrangeas imbue the yard with touches of soft colors.
22. Sloped Backyard with A Retaining Wall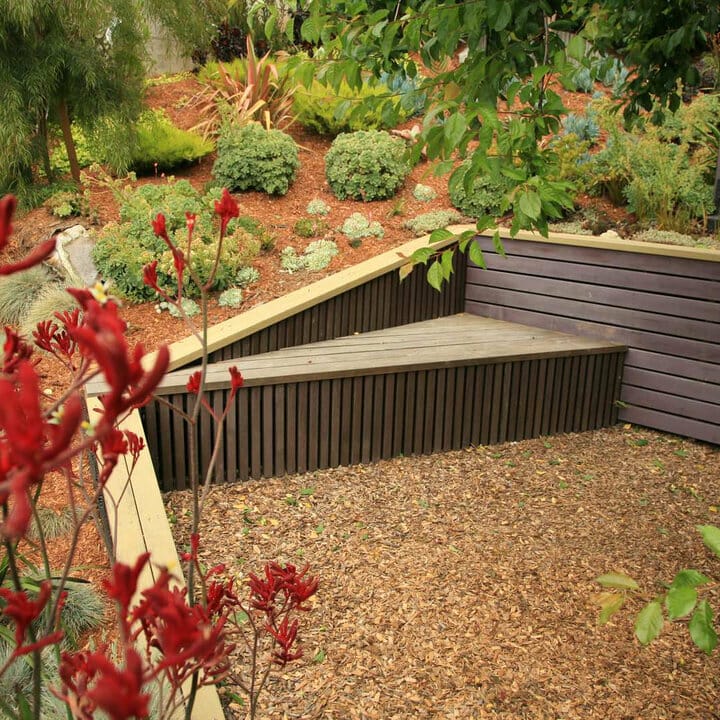 This sloped wooded backyard employs a gray retaining wall. It accommodates succulents, grass, tall plants, and shrubs.
Horizontal and vertical lines bring interest to the scene. Moreover, different colored mulches do not only conserve soil moisture but also suppress unwanted weeds.
23. Woodland-Inspired Backyard Garden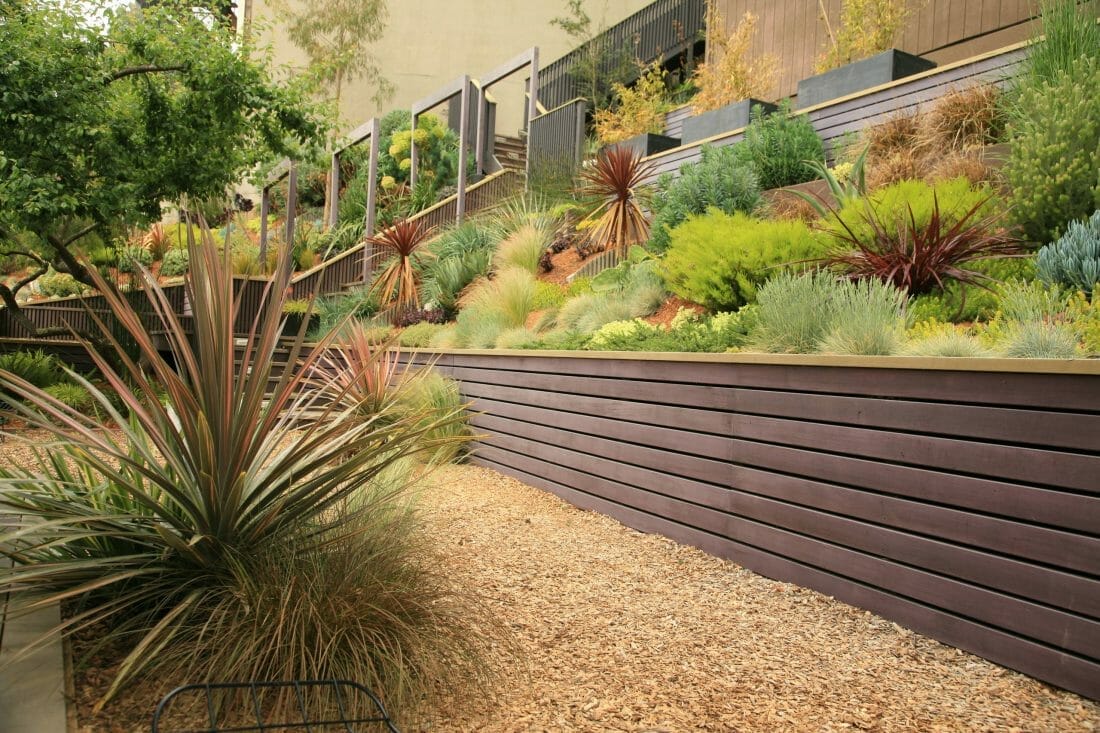 Looking for wooded backyard ideas? If so, borrow this yard design. The retaining walls, steps, and planters exude a modern feel.
The homeowner applied a casual garden design excellently. As you see, the garden boasts a mix of marvelous colors, textures, and shapes. Lastly, the mulch is reminiscent of the forest floor.
24. Japanese-Themed Backyard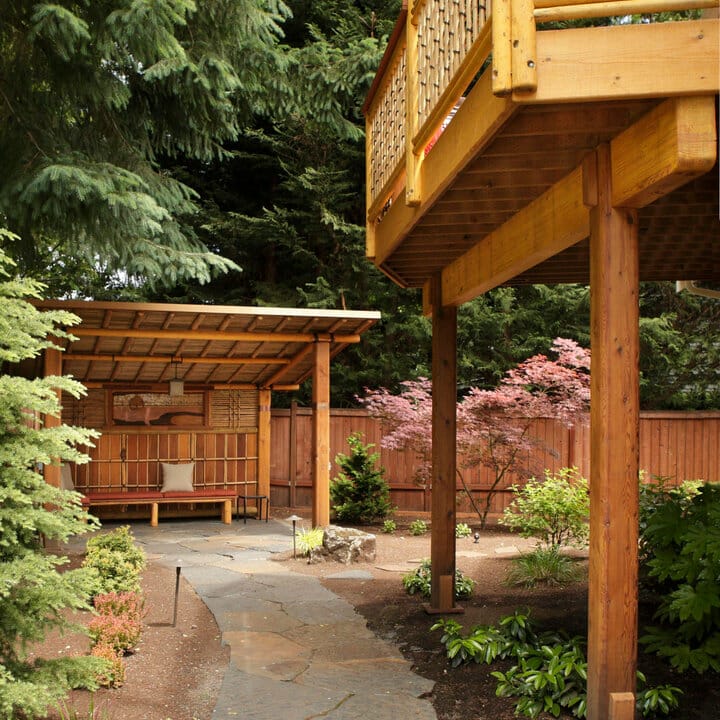 Need brilliant wooded backyard ideas? Try this option. It employs a Japanese-style raised deck and a pergola that set a welcoming scene.
Wooden privacy fences separate the managed backyard from unmanaged woods. Furthermore, the flagstone walkway and stepping stones develop a natural look. Meanwhile, colorful plants beautify the area.
25. Lavish Wooded Backyard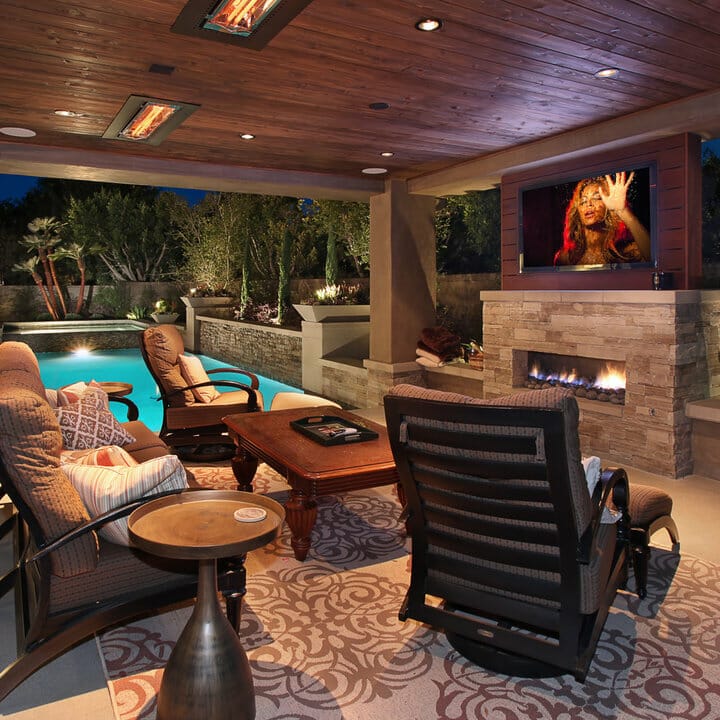 This expansive backyard features a swimming pool. Moreover, it sends out a serene feeling and a sumptuous look.
The wooden furniture and ceiling make the yard feel like it belongs to the forest. Natural stones and plants complete the exteriors, while gorgeous patterns steal the show.
26. Backyard Pergola with A Pool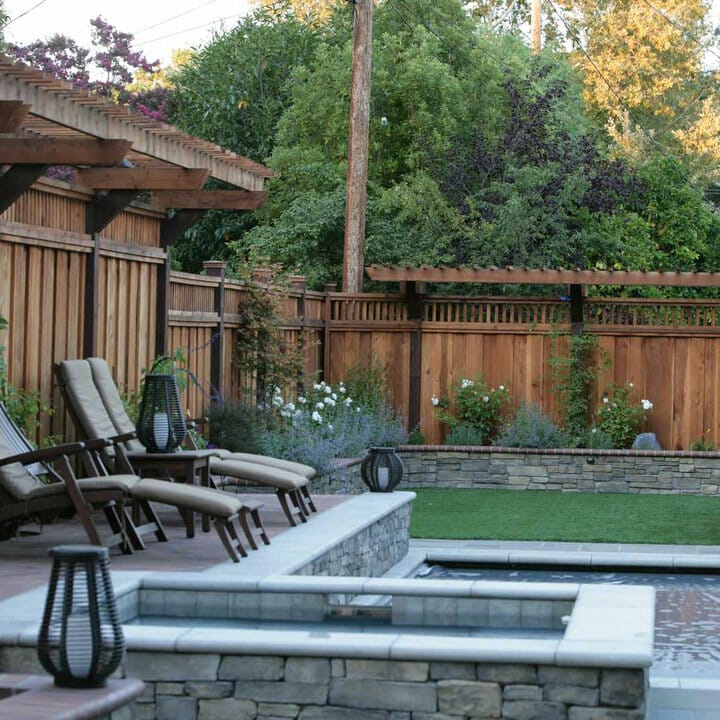 I can't stop admiring this Japanese-style backyard pergola. Black lanterns, roofs, and wooden panels exude minimalism.
The pool and lounge chairs bring vacation vibes to the yard. Moreover, vines, blooming plants, and natural stones tie the area together.
27. Wooded Backyard Ideas with A Slatted Fence
The gray slatted fence panels add visual interest while keeping wandering eyes out. Moreover, wire mesh armchairs provide ample seating.
Metal lamps give the backyard garden proper illumination. Furthermore, the giant tree, mulch, and shrubs lend the outdoor lounging spot a natural look.
28. Backyard with A Lattice-Top Fencing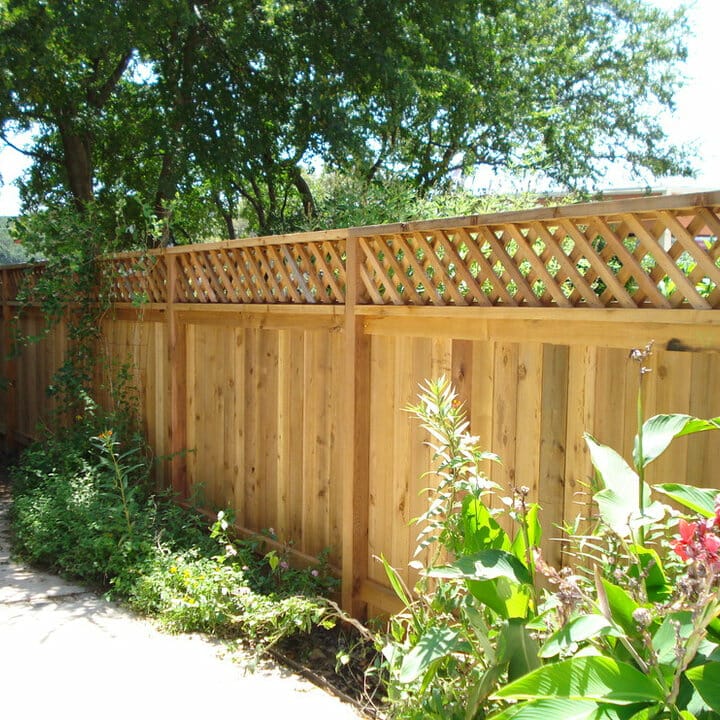 No wooded backyard is complete without wooden fence panels. In this example, they come with a lattice top. Apart from serving as a striking border, they exude warmth.
The natural stone walkway provides long-lasting nature's beauty. Additionally, plants provide a variety of mesmerizing bloom colors. They accompany the simple wooden fencing, too.
Having a yard in a forested area is surely advantageous. With those magnificent wooded backyard ideas, you can create your woodland sanctuary. So let's turn a shady, lackluster space into a super enchanting retreat.