Townhomes are known for their compactness. Also, they come with similar architecture. Therefore, give a little personality, especially in the courtyard. According to this, you need to troll into lots of townhouse backyard ideas for inspiration.
So that you can transform your ordinary backyard into the coziest, most characterful, and certainly inviting space for gathering.
Although a townhouse backyard makeover is not the only way to elevate your home, it is powerful enough to attract neighbors to visit and enjoy a relaxing time in the yard together.
It is the homeowner's commitment to making all togetherness memorable.
Here we have rounded up twenty-nine townhouse backyard ideas to inspire you. Please choose the best one, and get ready to make your neighbors envious!
1. Townhouse Backyard Ideas with Pool to Chill Out
Not all suburb dwellings have a narrow courtyard. In the broader backyard, providing a lawn side by side with a swimming pool is the best option for chilling out.
You will find a glass partition that separates the lawn area from the pool if you look in detail.
It will help block water from making your lawn muddy while still providing a spacious impression in your backyard.
Of course, because this spot is perfect for sunbathing, be sure to complement it with sun loungers, too.
2. Set the BBQ Island and Wooden Bench In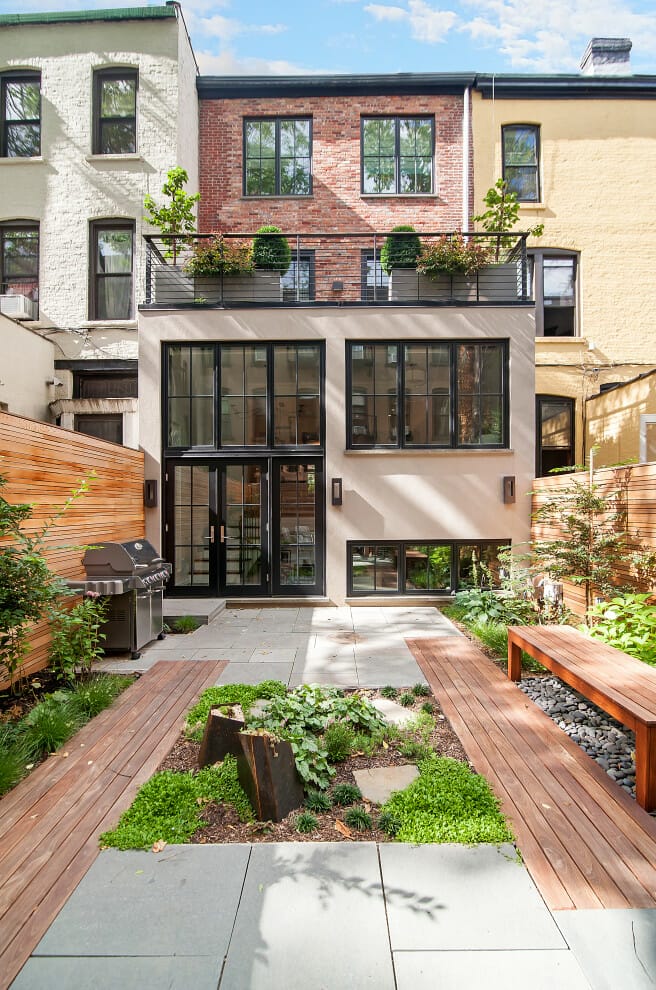 In addition to the swimming pool, you can also provide a barbeque spot in your backyard. Choose BBQ appliances that have wheels so you can move them more easily when needed.
In addition, you can also put a wooden bench to sit on, so you can have a nice shit chat with visitors while waiting for your food to be cooked.
3. Contemporary Patio with Lattice Shade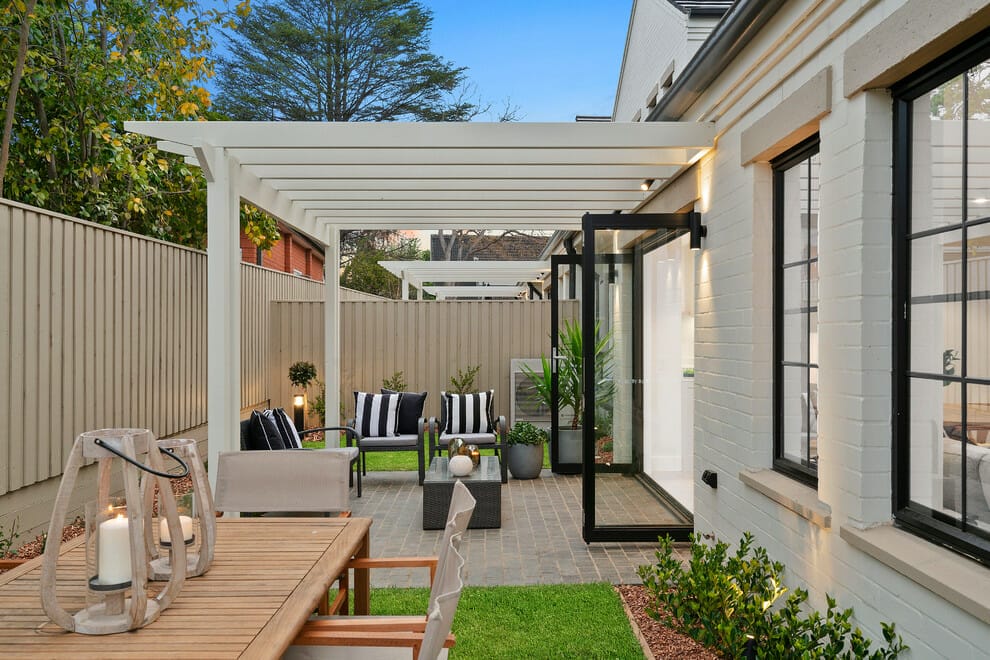 The townhouse backyard ideas with patios will ask you to provide shades to complete them. There are many types of canopy that you can choose from.
However, a lattice will be perfect for giving drama and highlighting the existence of your sitting space. Choose the white one to accentuate the sleek impression further.
4. Wooden Raised Garden Beds to Enclose the Sitting Space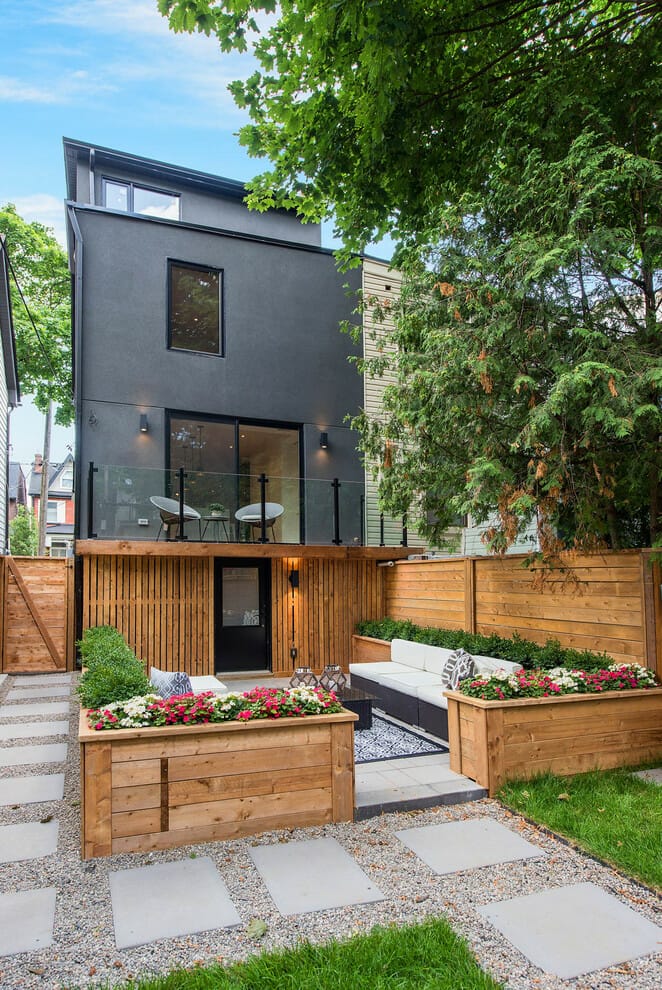 Add some elements of wood to give your contemporary home a rustic vibe. Let us start with exterior walls, fences, and raised garden beds.
Instead of arranging your garden bed along the fence, it would be more interesting to set it enclosing your sitting space.
Next, give concrete paving and pathways to give a refined look finish.
5. Backyard Patio with Concrete Flooring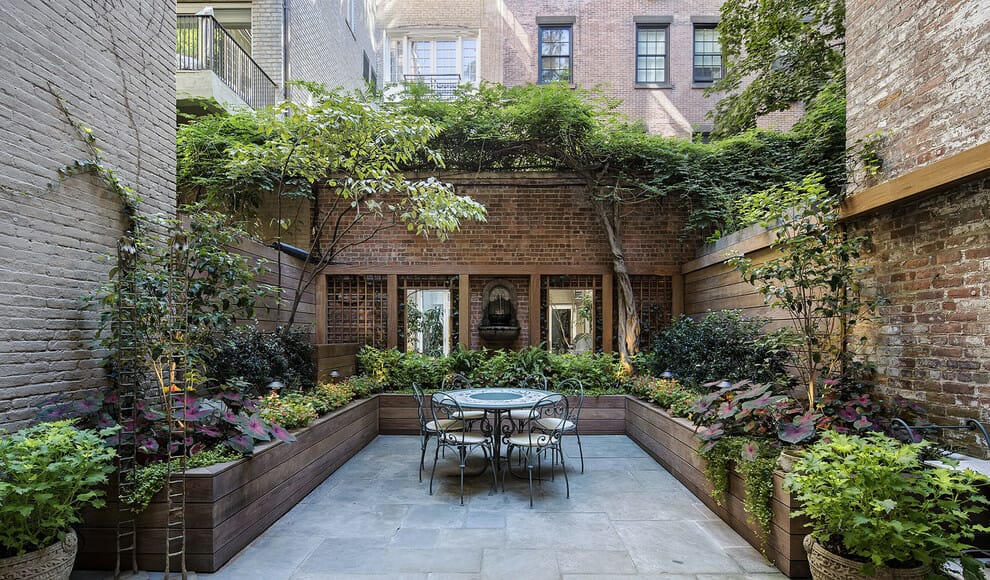 The townhouse backyard ideas with lawns may be a little challenging to maintain. It said so because the grounds require regular trimming to keep the grass attractive to look at.
Therefore, suppose you are not a person who has a lot of time in backyard maintenance. Try to install concrete flooring in your courtyard instead.
It requires no complicated maintenance other than sweeping it once in a while. Additionally, if you need a green landscape, it is better to plant shrubs or vines near walls and fences.
6. Glass Wall to Show Off the Interior Design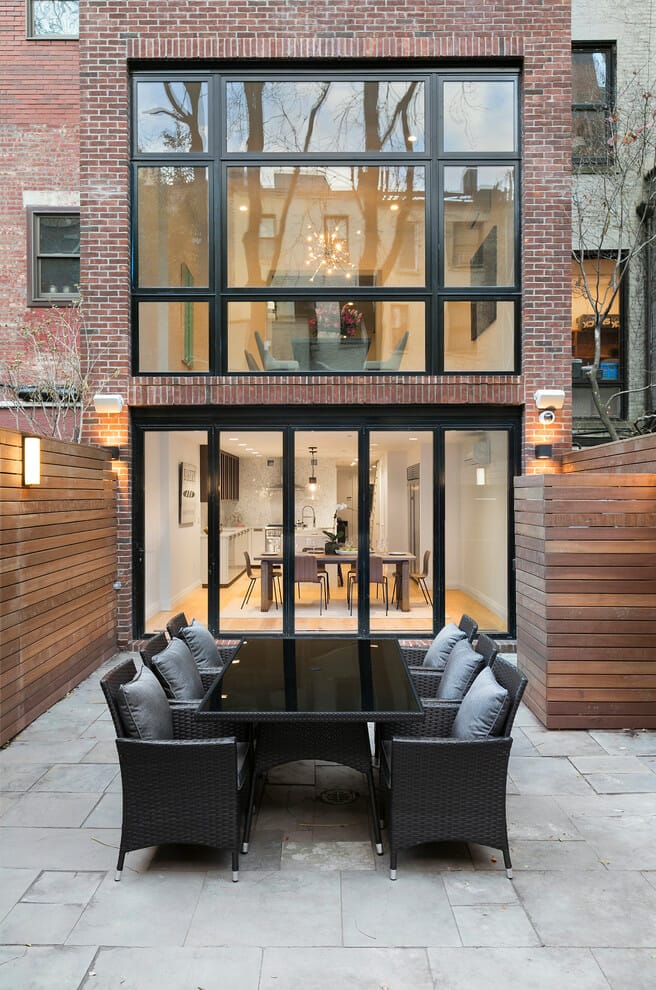 Sprucing up the townhouse backyard does not always require you to give it a green touch. You can even display an attractive exterior with only concrete paving, wooden fences, and brick walls for your outdoor area.
However, this kind of courtyard can look boring to look at. In that case, you need to install a glass wall to expose your slick interior design and make it an inviting background.
7. Japanese Style Townhouse Backyard Ideas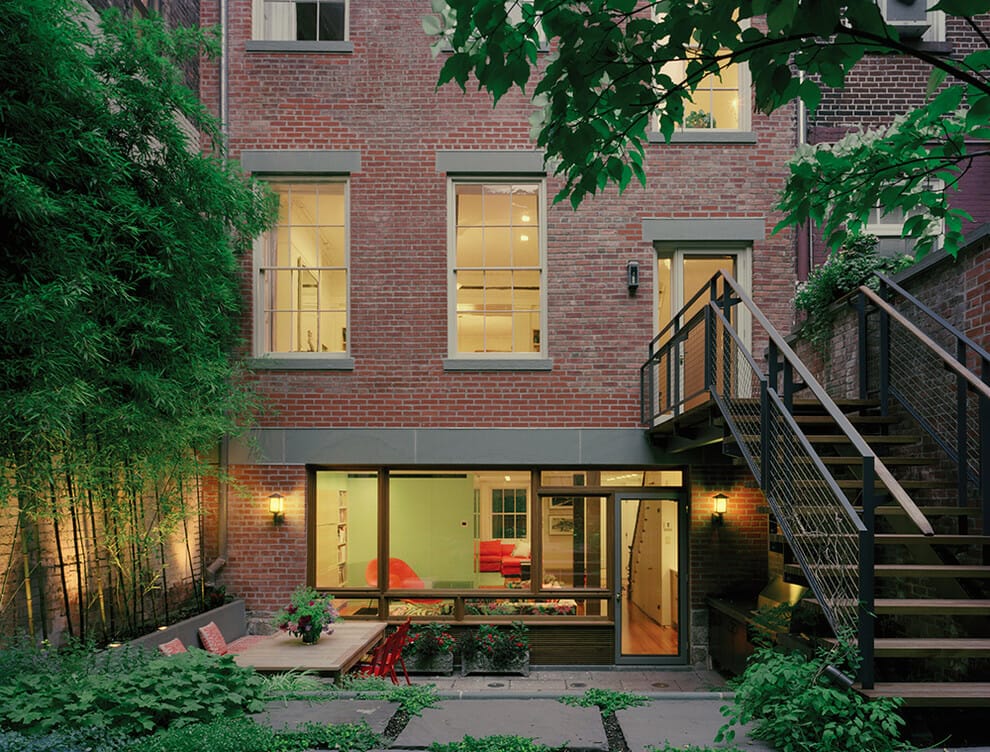 Exterior design with Japanese style is always interesting to have. Not only fresh, but it also often provides natural shade for your outdoor seating, especially if you plant timber bamboo as above.
Instead of leaving the bamboo growing as it is, be sure to provide regular maintenance and trimming to make it grow more aesthetically.
You can even mount accent lights on the fence to highlight this bamboo row.
Behold, how splendid the outdoor stairs resemble a bridge above. You can utilize the space beneath as a BBQ area.
8. Elevate the Lands to Differentiate Each Area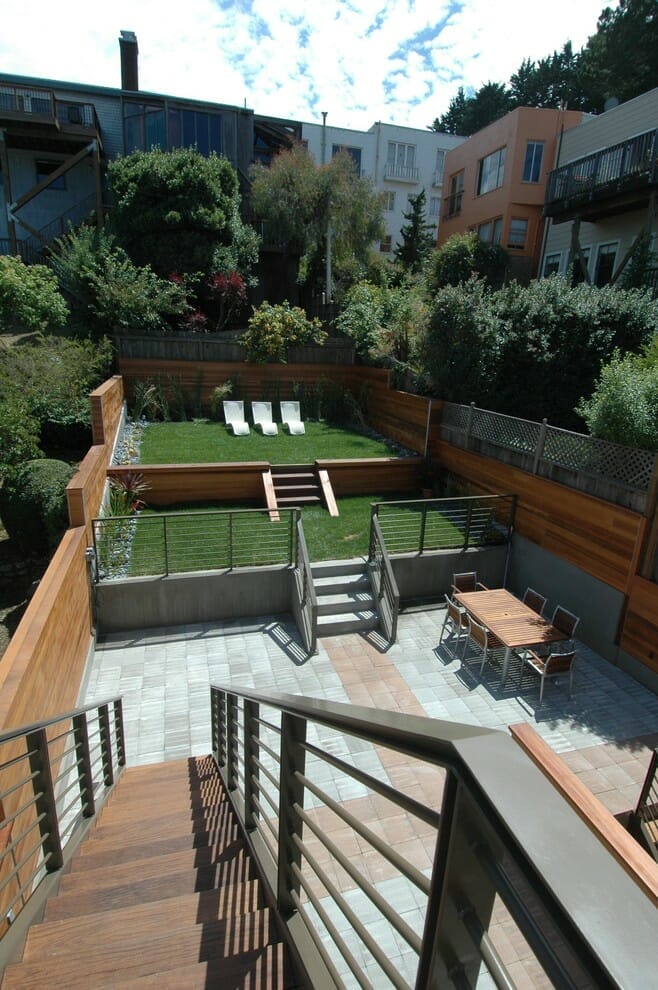 Transform your townhouse courtyard into the unique one by providing raised grounds as above. You can divide the area into three and give each site a different height.
Maximize this look by arranging a sitting area on the bottom ground, a lawn on the one level above, and a sunbathing spot on the highest zone.
Besides, do not forget the metal railings to provide security.
9. Townhouse Backyard Privacy Ideas with White Fence and Boscage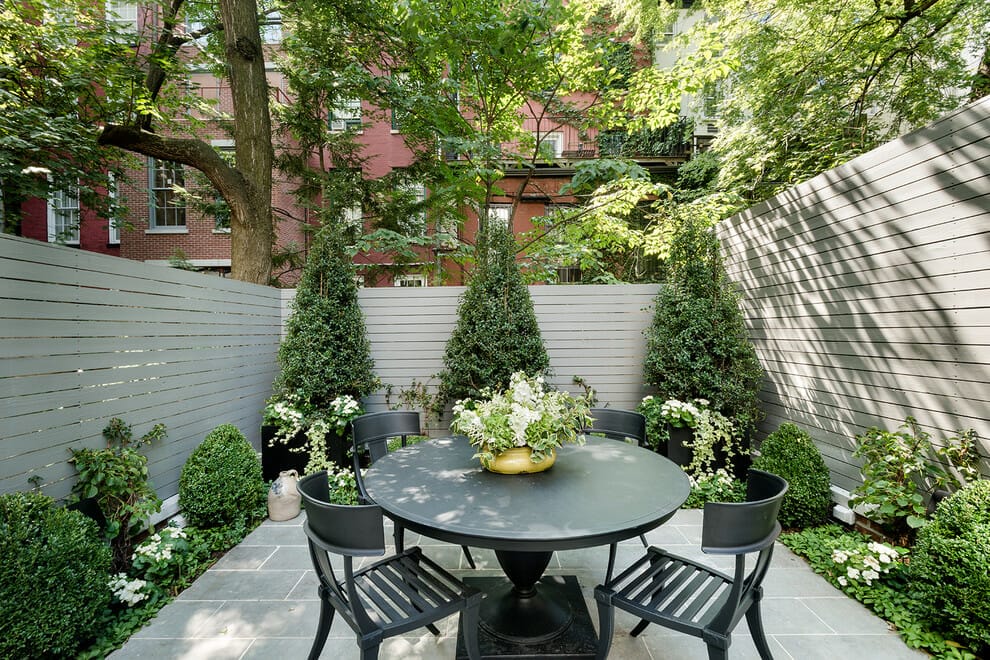 Let us move on to our following townhouse backyard ideas. It is more about providing privacy in your courtyard.
Look at those fences. They are of unequal height on one side. Even though they are not parallel, the wooden border still works well with your overall exterior design.
Please make sure all the fences have the same color to look cohesive. White will is the best hues to be your boscage background.
10. White Concrete, Wooden Elements, and Glass Doors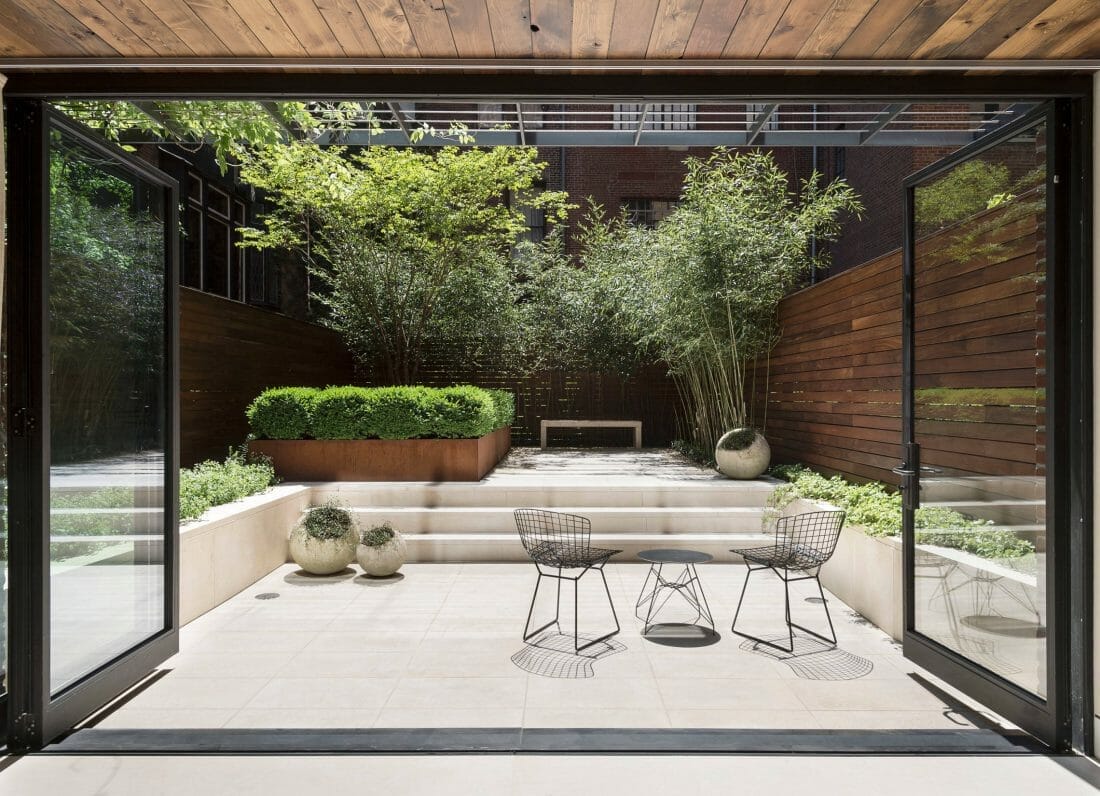 The primary key in creating contemporary architecture is concrete, wood, and glass elements. In this design, white concrete is preferable to balance the look dominated by dark hues.
That way, black-framed glass doors, black chairs, and wooden borders will become focal points that spoil the eye.
Complete your exterior decor with perennial plants and shrubs to add freshness to your backyard.
11. Place the Unique Table as a Focal Point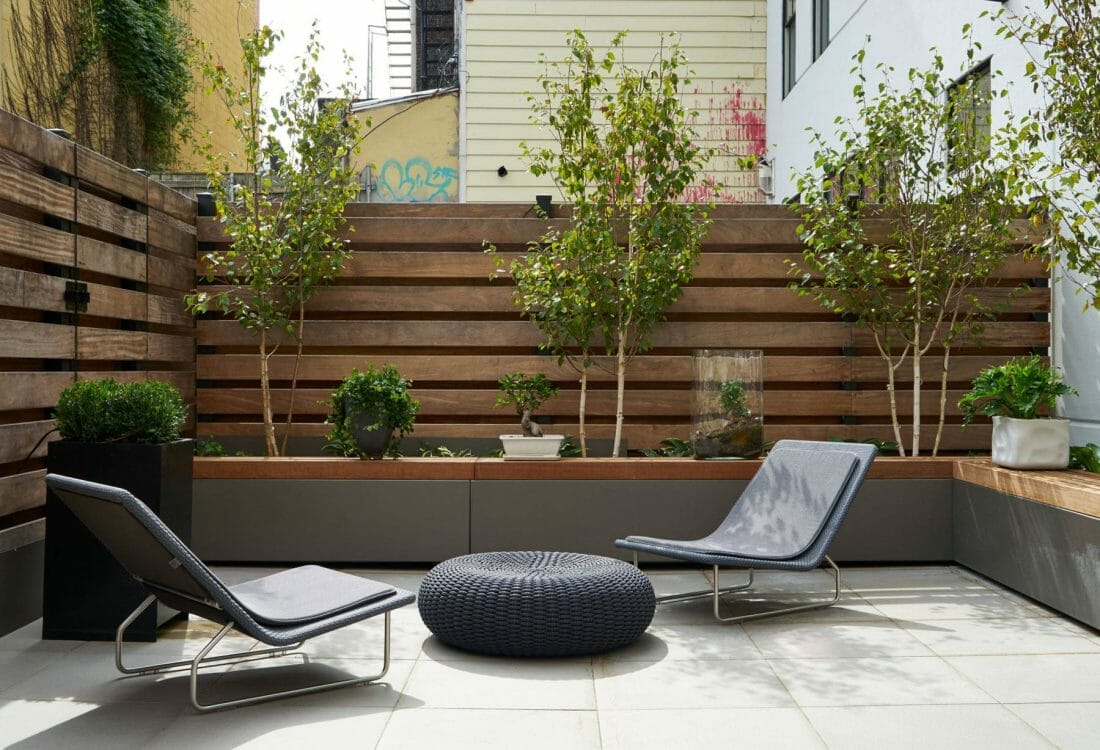 None can separate the townhouse backyard ideas from the selection of artistic outdoor furniture. It is essential to consider to prevent the gathering space from looking dull.
If your backyard is filled with rigid symmetrical elements, both on fences, greenery borders, and pavers, it would be better if your tables and chairs had a smoother shape.
For example, a round wicker table and chairs with curved backrest corners.
12. Townhouse Backyard Ideas with Bright Patio Flooring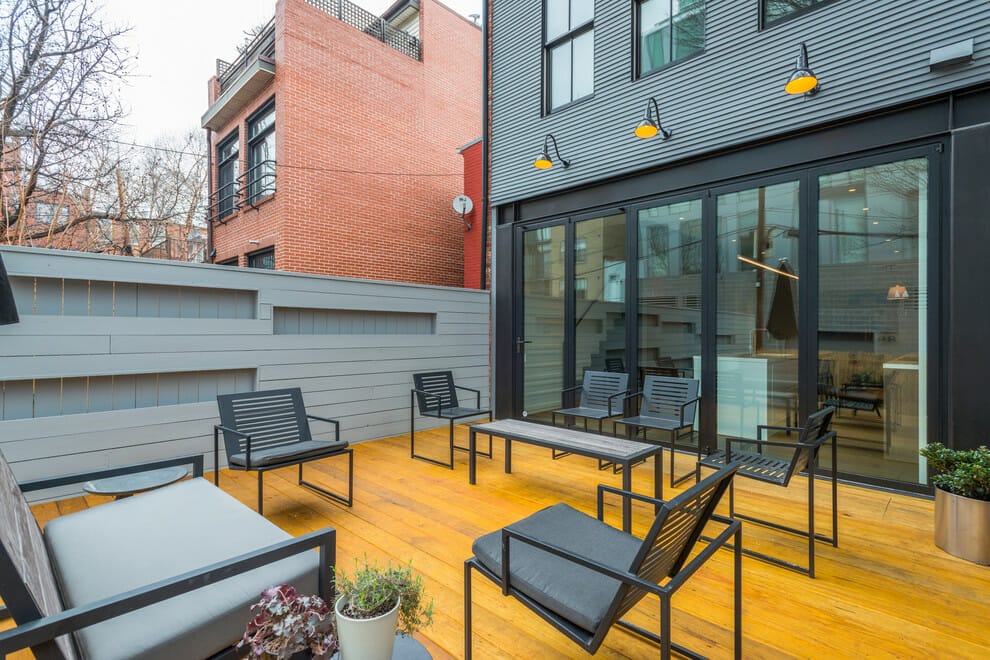 Suppose that subtle gray and black have filled your buildings, fences, and furniture. In this case, you have to adjust the flooring to a more striking color.
It is essential. Hence, your backyard patio must not look too dark and gloomy. Choose to install wooden panels in bright colors without losing the original structure of the wood.
Then, install several lanterns in the same hue as the floor to become an inviting focal point.
13. Built-in Bench and Artificial Grass Rug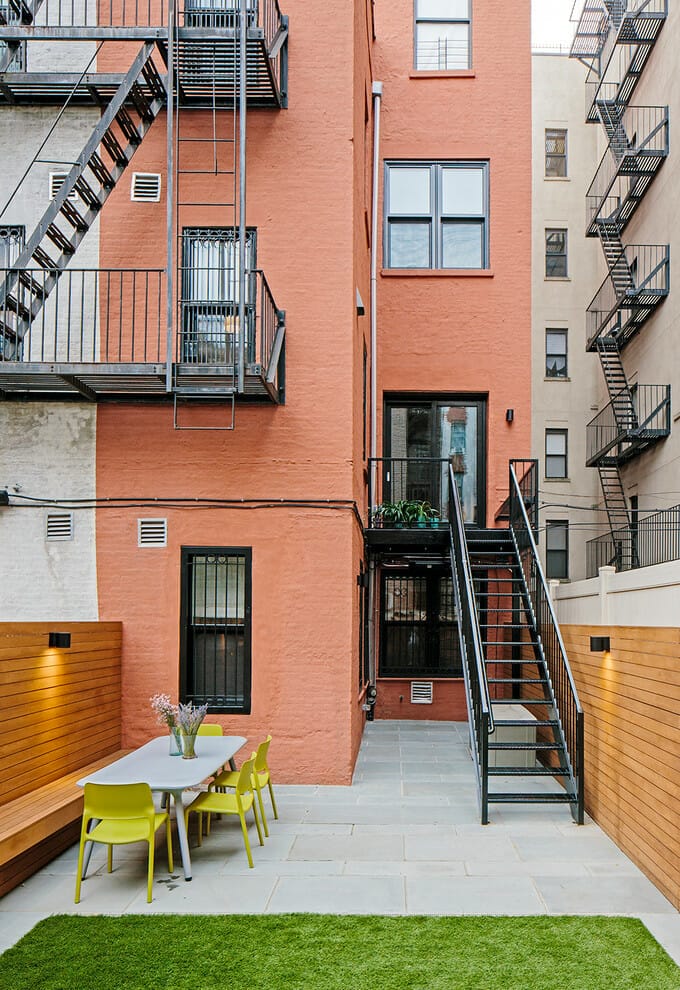 You already understand how townhouse backyard ideas with lawns require extra maintenance. But do not worry because there are many artificial grass rugs ready to decorate your patio.
This object will make your patio look refreshing even though there is no fresh grass. You can also put some artificial flower vases as centerpieces on the table.
Since this backyard patio is not large enough to accommodate a lot of furniture, it is helpful to build one built-in bench along the fence.
14. Transform the Backyard into A Convenient Space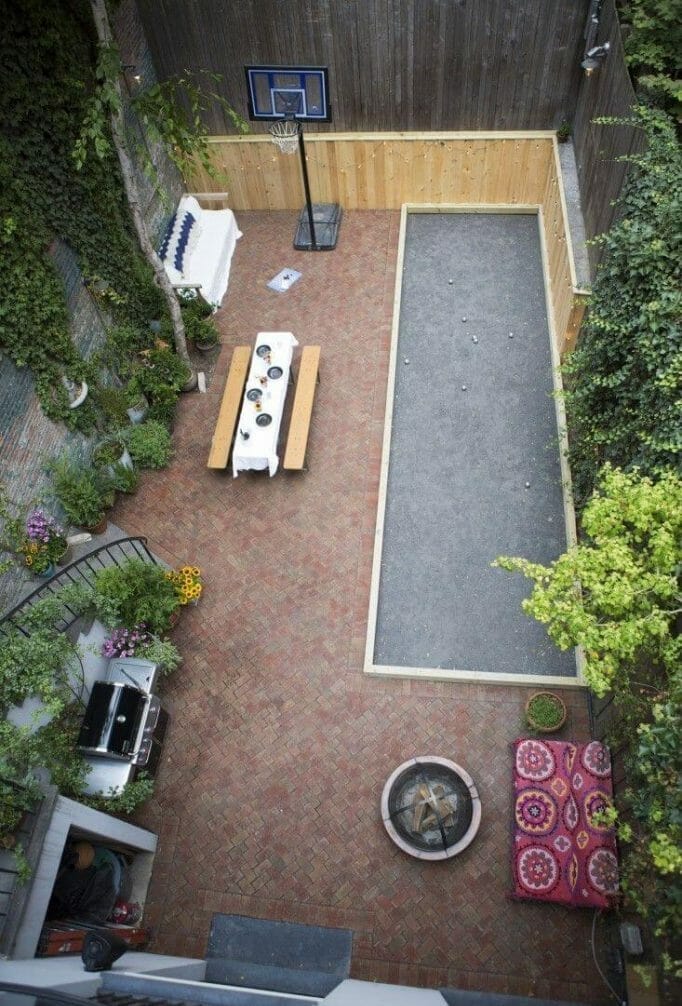 An enormous courtyard makes you free to be creative in arranging many spots there. From the sitting room, outdoor kitchen, dining table, and firepit to the children's play area.
You can even install a basketball hoop in your backyard, and it is still okay.
That way, your time together will feel more enjoyable. You can still keep an eye on the kids while you are busy cooking and chatting with each other.
15. Different Flooring for Different Spots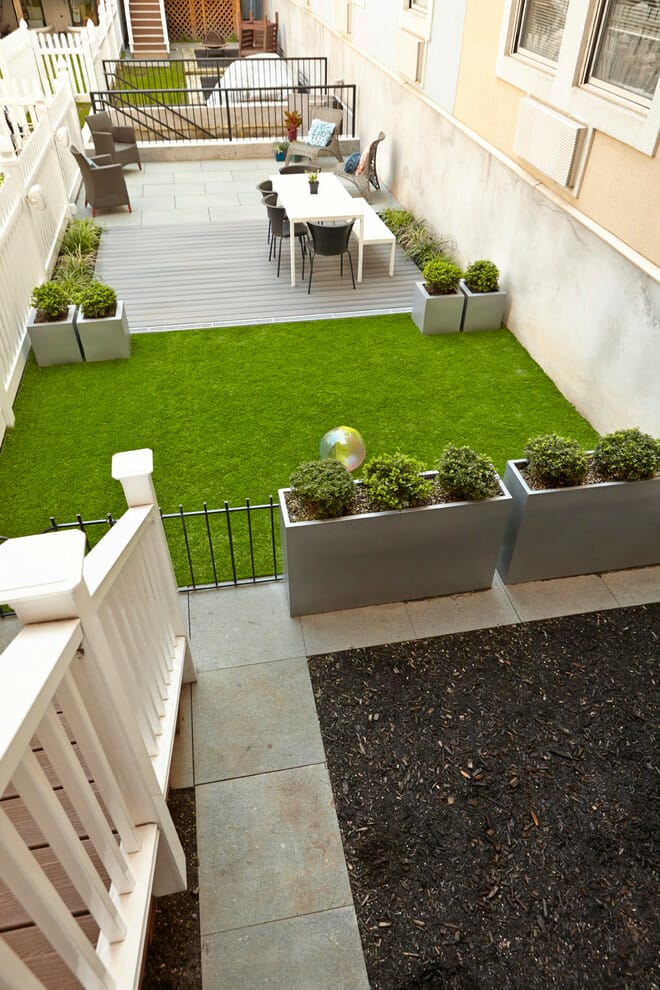 For the sitting space, dining spot, and play area for children in the backyard, let us divide them into three different flooring systems.
The townhouse backyard ideas with this kind of pavers transition are beneficial in dividing the area clearly without providing a standard border that takes up a lot of space.
You can go with concrete to cover the ground in the sitting area. As for the dining space, give wood panels flooring in a color that matches your overall exterior design.
Last, let the lawn provide a refreshing touch of green in your backyard.
16. String Light, Hammock, and Dual Functions Firepit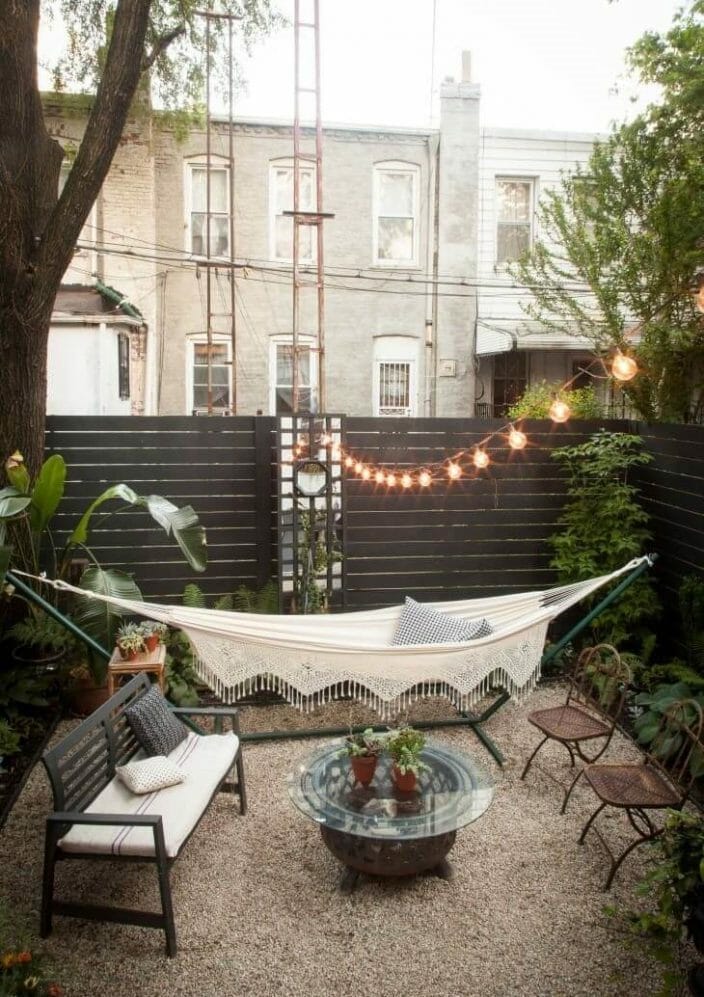 Have you ever planned to make your backyard look more aesthetic? If so, then applying the ideas in this section will not be in vain.
Sprucing up a small courtyard can be quickly achieved by simply hanging string light and hammock there.
These two objects will help you acquire the most comfortable place to relax without the need to provide a lot of furniture that takes up space.
Then, look how convenient that table is. It is made of a fire pit as support and round glass as a tabletop. You can move the glass surface when you need to use the fireplace.
17. Classy Townhouse Backyard Ideas with Floating Bench and Cushions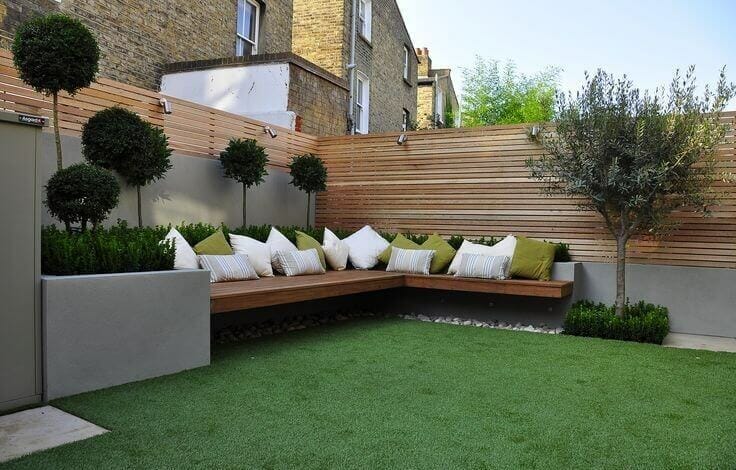 Lately, a lot of compact and minimalist furniture designs have emerged. And it is perfect to be applied in your backyard, though.
One of the features is to use a floating bench as above.
Present this floating bench resembling the letter L and install it close to the raised garden bed. Next, complete the sitting area with cushions that match the greenery hues.
Undoubtedly, this outdoor space design will be very space-savvy and aesthetically pleasing.
18. Perfect Combo of Stone Elements, Greenery, Pool, and Fire Pits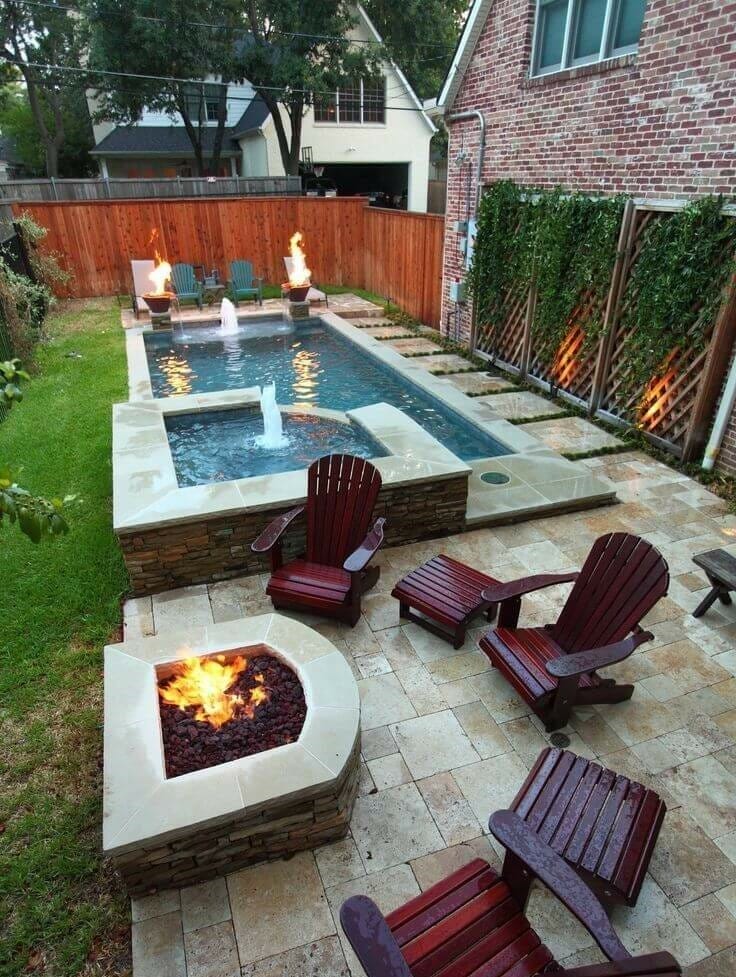 Fire pits, pool, fountain, and greenery are elements that will be very suitable to be combined in your outdoor sitting space.
At the same time, you will get the warmth from the fire pit and the serenity of the gurgling water while spending time with relatives in your backyard.
No wonder. These three elements complement each other to emit a comfortable ambiance.
19. Small Backyard Ideas with Lawn and Balcony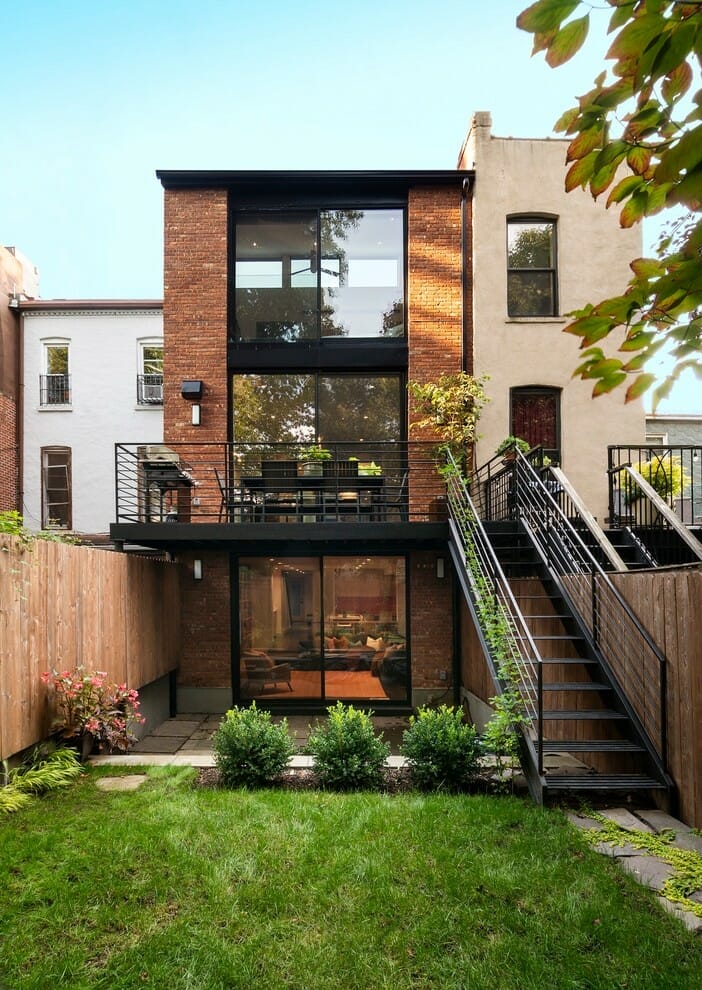 We will not let tiny space stop you from applying impressive townhouse backyard ideas to your home. Therefore, we proposed an idea with a small lawn and loft sitting area as above.
It is okay to arrange a sitting room on the balcony. After all, you will still feel the freshness of the greenery in your backyard.
In addition, you can plant vines near the stairs so that they will then creep on the railing and make these two areas a harmonious whole.
20. Refreshing Townhouse Backyard Ideas with Outdoor Dining Space Under the Trees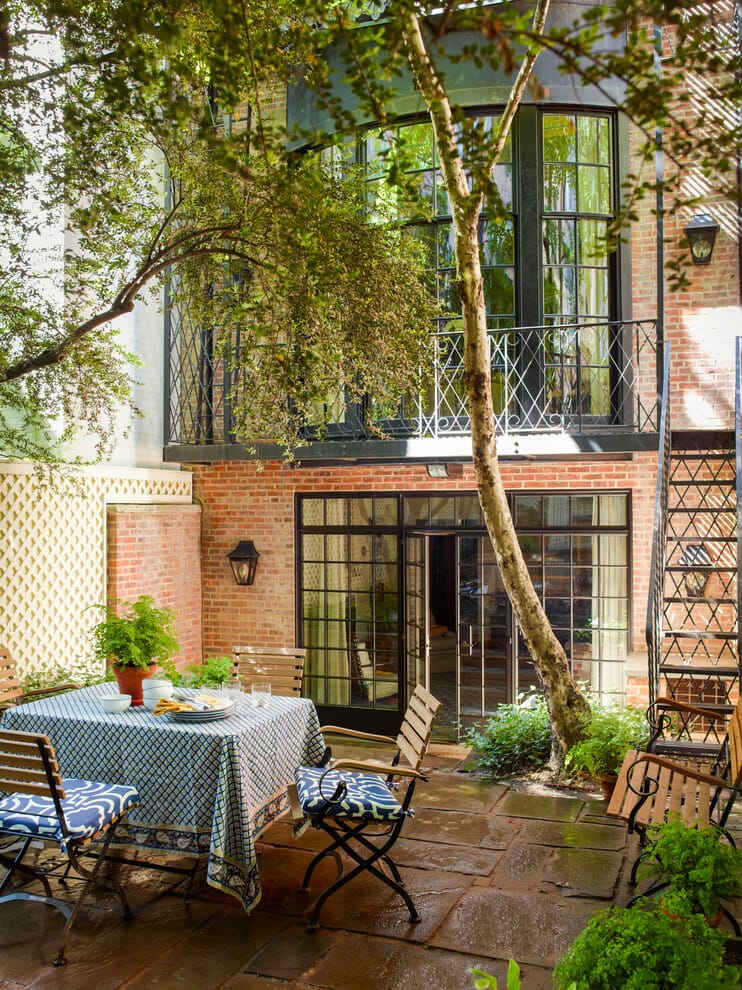 Nothing more memorable than enjoying tea time after the rain in the backyard. After raining, wet soil and its identical scent are the best atmospheres to create unforgettable moments.
Also, the presence of this outdoor dining table is beneficial in completing everything. You can set it right under the trees to protect you from direct sunlight.
21. Easy-to-maintain Courtyards with Pebble Pavers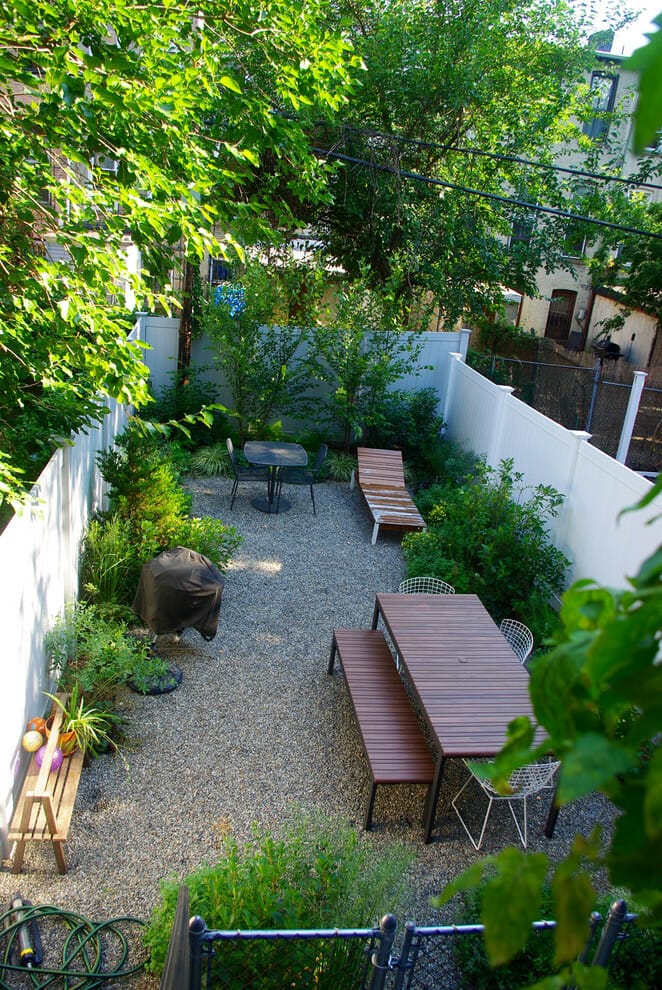 Spreading gravel manually in your backyard may not be the best option. This layout will make the land surface even more uneven, so you cannot put outdoor furniture properly.
That is why it is highly recommended to install paving pebbles instead. Besides being more secure, it also features a more aesthetically pleasing natural gravel structure.
22. Different Paving Patterns in One Area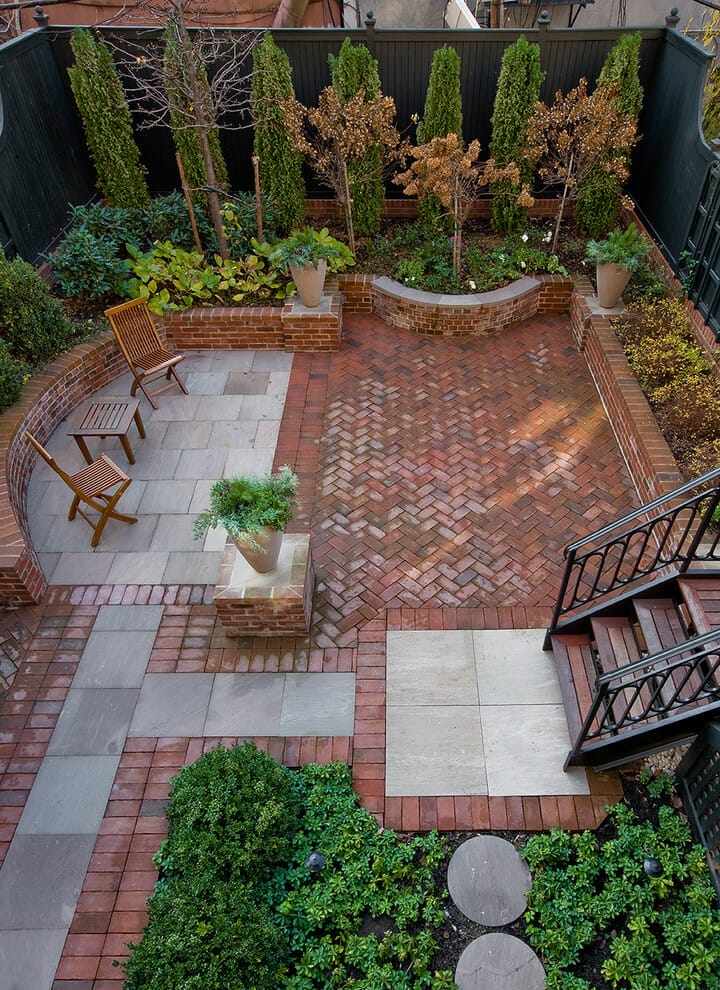 There are many paving pattern options that you can take to beautify your backyard. If you are confused about choosing the best one, consider combining some of them in one area simultaneously.
Bringing townhouse backyard ideas with stretcher bonds, stack bonds, and herringbone paving layouts will make your courtyard more characterful no matter what.
23. Modern Townhouse Backyard Ideas with Reflective Glass Windows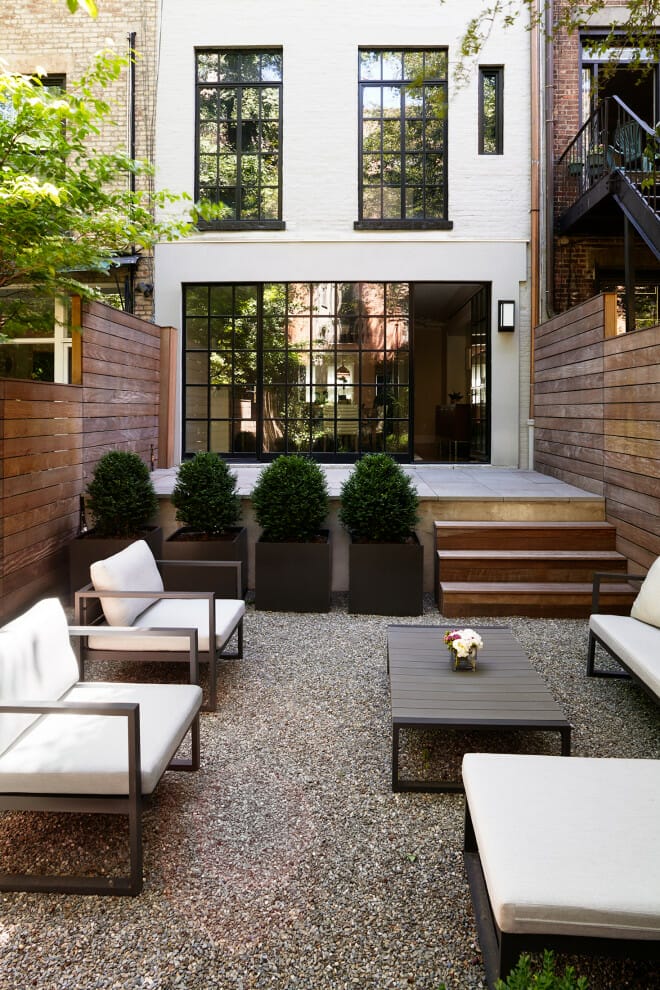 Let's say you are done with all of your backyard layouts with pebble pavers, shrubs, and a well and aesthetically pleasing elevated patio.
Yet you still want to make your courtyard look wider. In that case, try to replace your window with reflective glass material.
The presence of this reflective glass will echo the decoration in front of it and make your small backyard look more comprehensive than before.
24. Contrasting Style of The Exterior Building Wall and Patio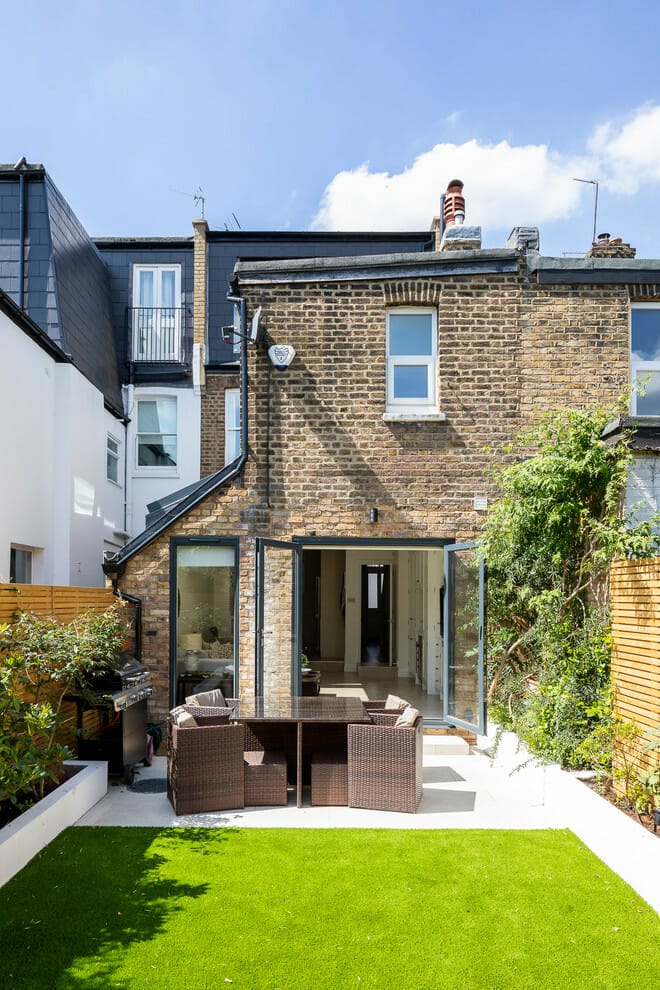 Create a distinctive look in your backyard by presenting a contrasting style between the rustic architecture of the building and the modern-looking concrete pavers in white.
It will look interesting from any angle because it gives a different pop-up of texture in each spot.
25. Provide Expansive Access with Foldable Doors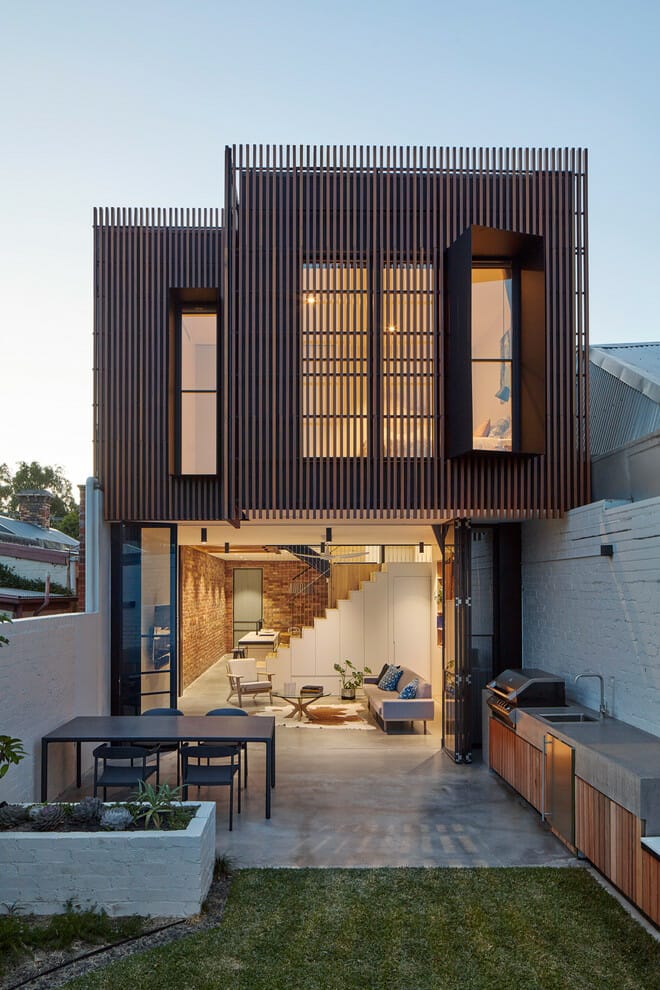 Often homeowners only focus on applying townhouse backyard ideas that prioritize a beautiful layout on the patio.
Other aspects also deserve attention, namely the entrance, which is wide enough to provide unhindered access and good air circulation in the house.
It is essential to install a foldable door at the back of your house, especially one made of glass. Whether in a closed or open position, it still showcases the interior of your home well.
26. White Exterior Decor and Greenery to Add More Earthy Vibes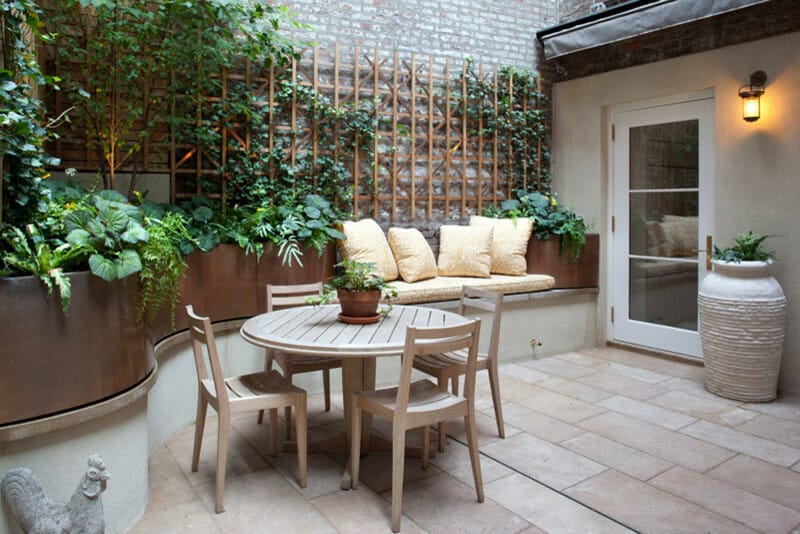 All-white exterior decor, an additional fence for vines, and raised garden bed made of wood are the best combinations to unite your backyard with nature.
Arrange a built-in bench that blends with the garden bed and provides cushions with bright colors to create the coziest sitting space you would ever have.
27. Outdoor Couch Cushion in Blue to Pop the Color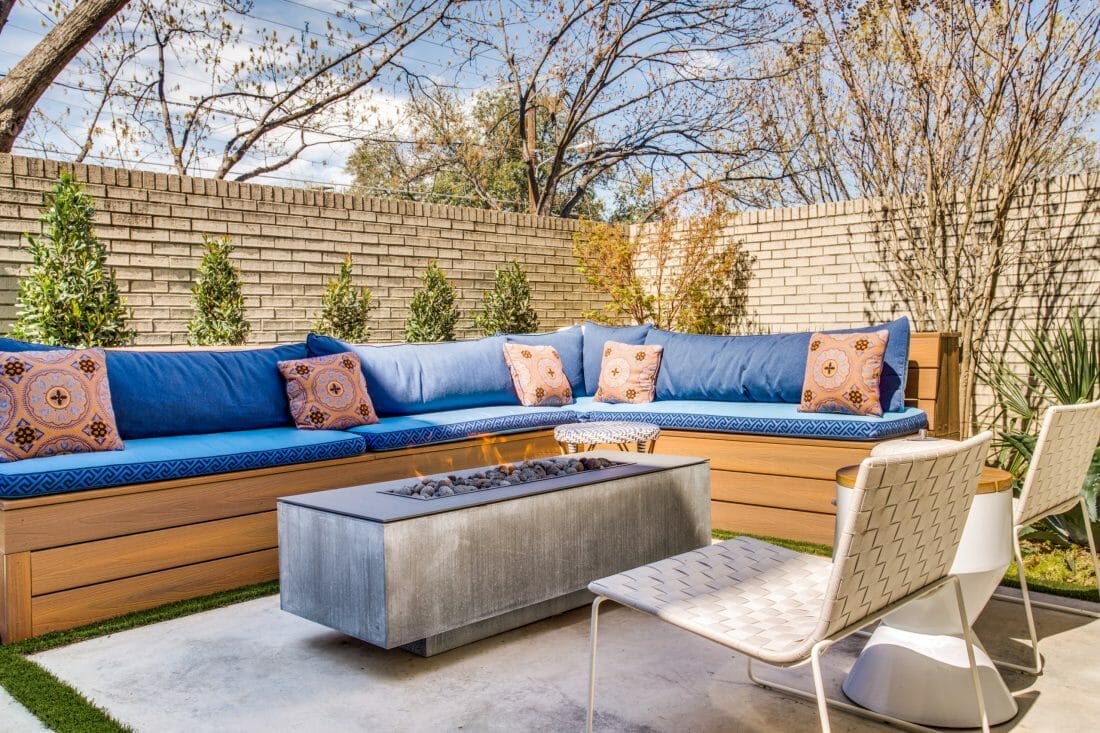 There are many bright townhouse backyard ideas you can adopt. One of them is the one that has a blue couch cushion as above.
Alternatively, you can also give your couch cushion any striking color, like red, purple, pink, or yellow. Everything will be fine as it exudes the charm in its way.
28. Large Square Pavers with Grass in Between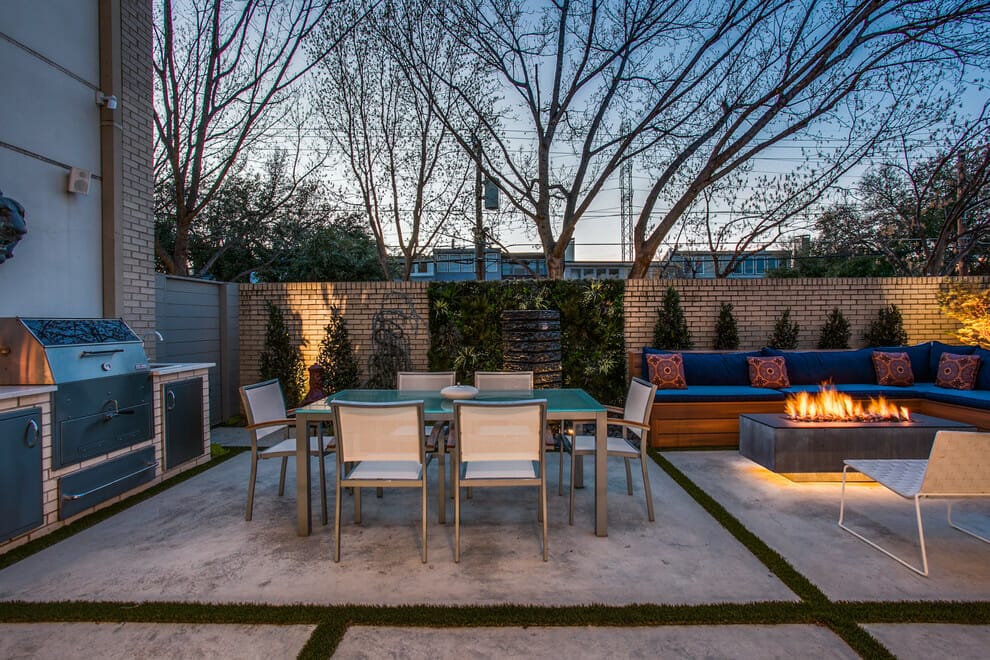 Using only concrete pavers as flooring on your patio will make your backyard look less aesthetic. Thus, add green grass between the paver blocks to create a refreshing line.
Additionally, you can make a vertical plantation in one part of the wall and complete with accent lighting as a focal point.
29. Tiny Townhouse Backyard Ideas with Perennial Plants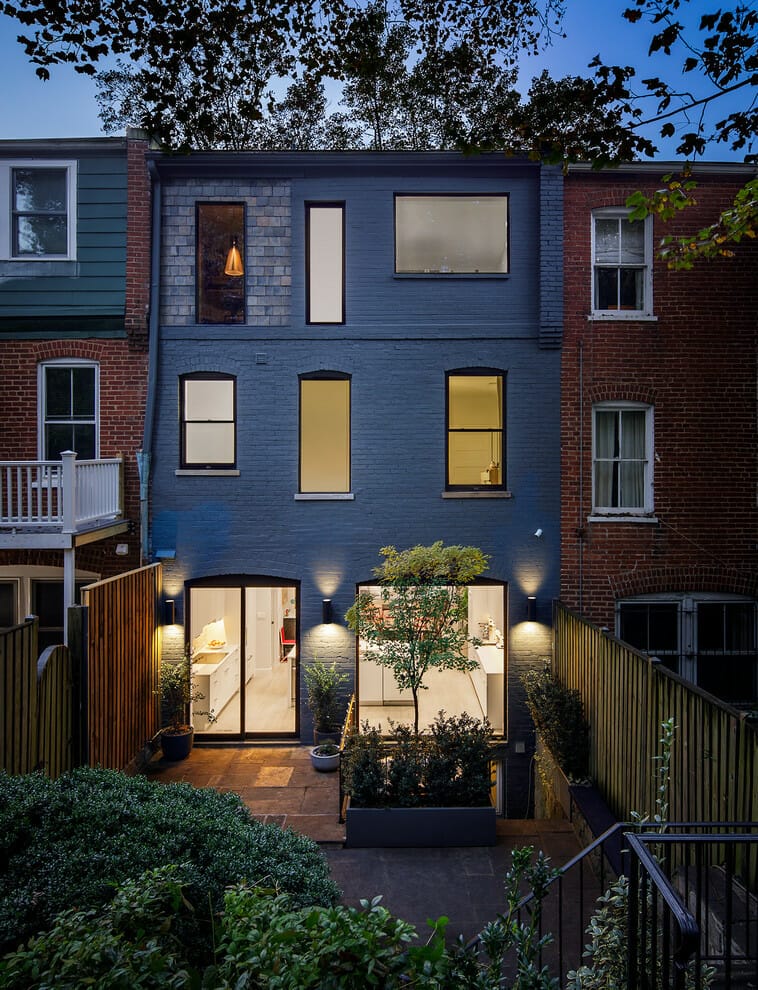 The last option, create a mini garden in your backyard by planting perennial plants as above. You can set it in front of the window or other empty areas.
Meanwhile, leave the rest land with pavers to become a refine walkway.
After exploring all of the townhouse backyard ideas above, we are sure some designs will interest you. So, copy it right away, or your neighbors will adopt it first!