Spending leisure time outdoors can be a great way to release stress. However, you have to find a cozy place to do that. Therefore, a few of the below modern gazebo ideas will be useful for you.
A gazebo is a perfect place for an outdoor retreat. Besides, it can also enhance curb attraction. If you are seeking some inspiration, look no further! These modern gazebo ideas will get your back.
1. Luxurious Modern Gazebo Ideas by the Pool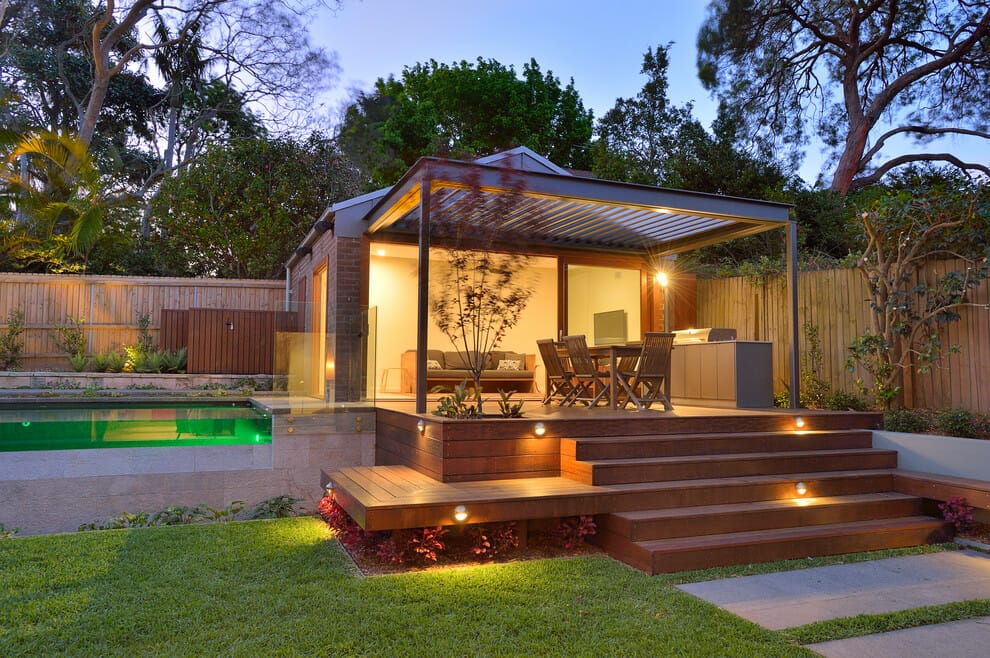 Relaxing by the pool is a great way to escape from the hurly-burly of the workday.
Unfortunately, the glaring sun is often excessive, which makes you reluctant to spend more time outdoors. If that is the issue, you can embrace these modern gazebo ideas.
The primary material of this gazebo is wood, which embraces the warmth of nature. Like any other standard gazebos, it features shade. Even better, it is a permanent roof, which is sturdier and can protect you better.
This gazebo also has a couch and an outdoor kitchen, where you can invite your friends and relatives to have a barbeque party.
2. Gazebo with Sloped Roof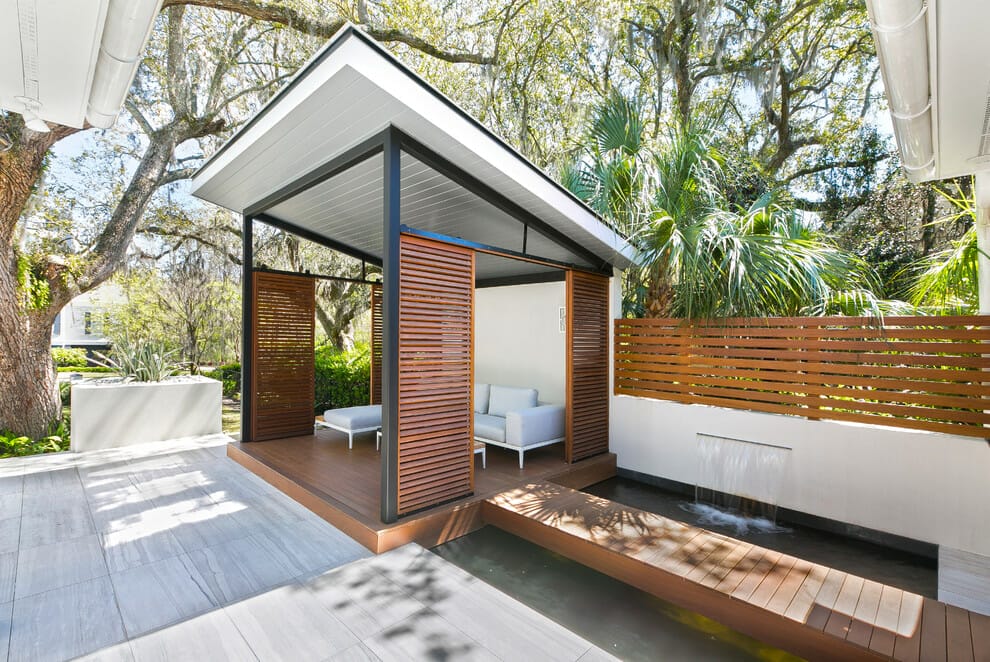 These modern gazebo ideas will help you gain a peaceful mind because it sits over a pond. You can even stare at the faux waterfall.
The gazebo features a flat roof with a geometric design, which is the hallmark of modern homes.
A sectional sofa makes a great place for you to lounge on or take a nap. You can also find a wooden bridge that helps you reach the gazebo from the side.
3. Traditional Chinese Vibes Meet Modern Gazebo Ideas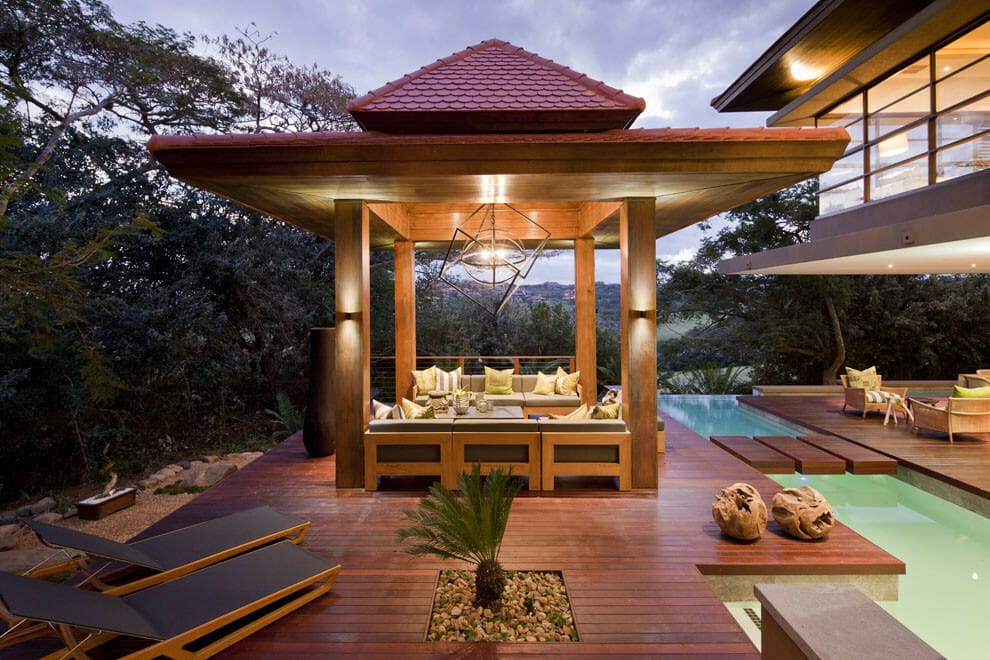 This gazebo reminds you of a traditional Chinese pavilion. Although you might find it in a temple, it is not related to religious traditions.
A traditional Chinese pavilion usually features four posts supporting a slate roof. You can typically find curvy details in each corner.
Since this is a modern gazebo, you will not find any sophisticated accents. Instead, you can only see simple designs. Still, you can notice the traditional style through the use of wooden material and a slate roof.
4. Gazebo with Outdoor Entertainment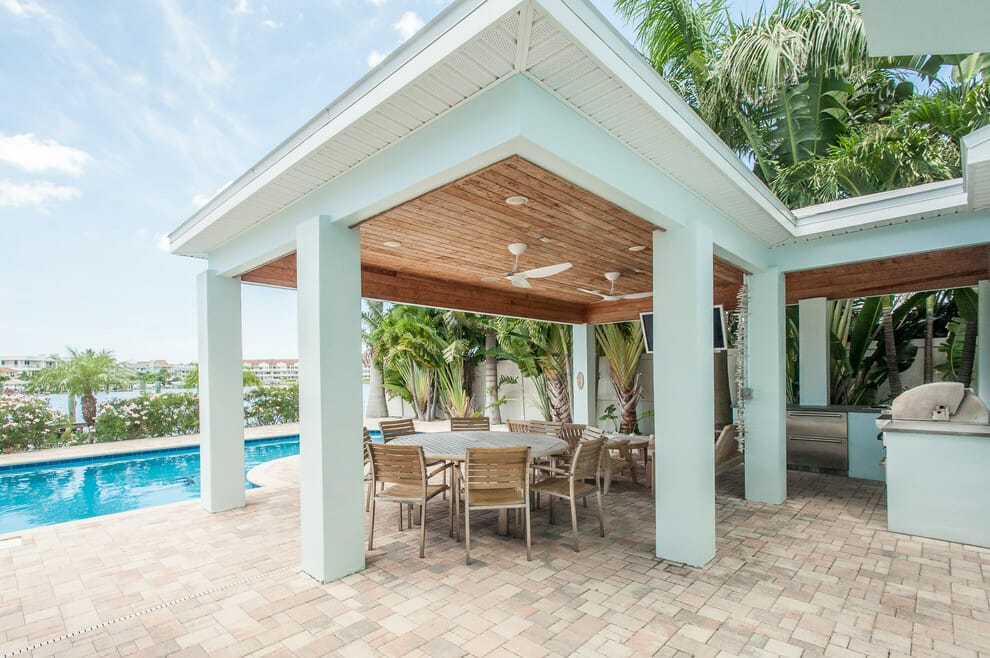 A gazebo is typically small. However, if you want to build a bigger one to accommodate more users, by all means.
This gazebo, for example, packs a lot of fun outdoor living space. It even has a TV attached to the wall. Also, you can find a couch and armchairs to lounge on.
It would also be great to cook some special dish in this gazebo on the weekend because it has a cooking and dining area.
5. Partly Shaded Modern Gazebo Ideas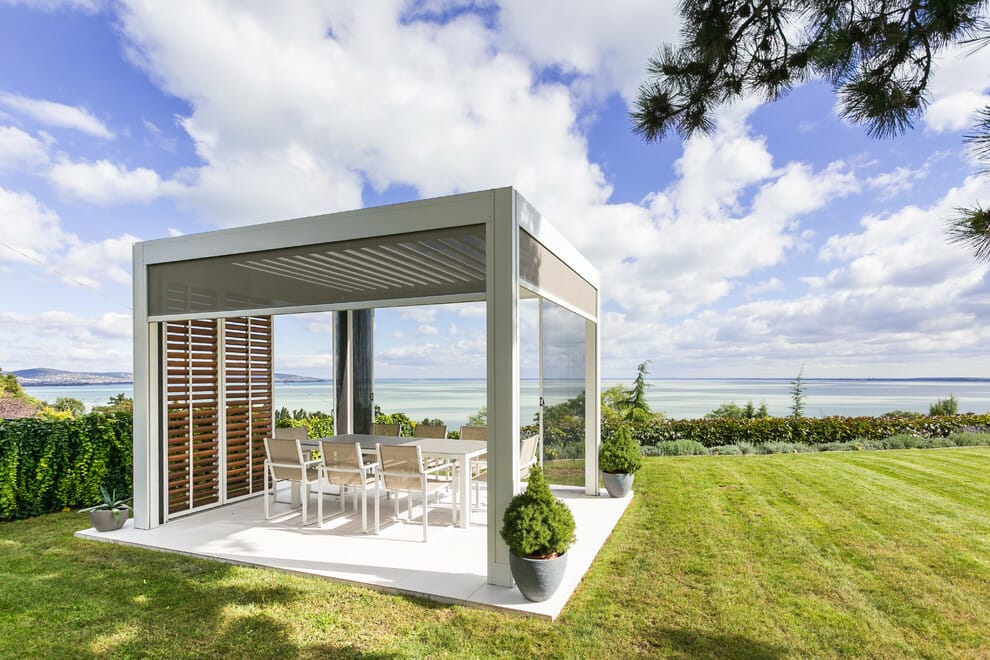 If you still want to enjoy a bit of sunlight without hurting your eyes or feel uncomfortable with the excessive heat, these modern gazebo ideas are for you.
This gazebo comes in a straightforward design and crisp-white color scheme, which are common in modern homes.
Instead of using a roof to block the sun, you can use a pergola. The slats will provide sufficient shade while allowing natural light to pass through them.
6. Consider an Accent Wall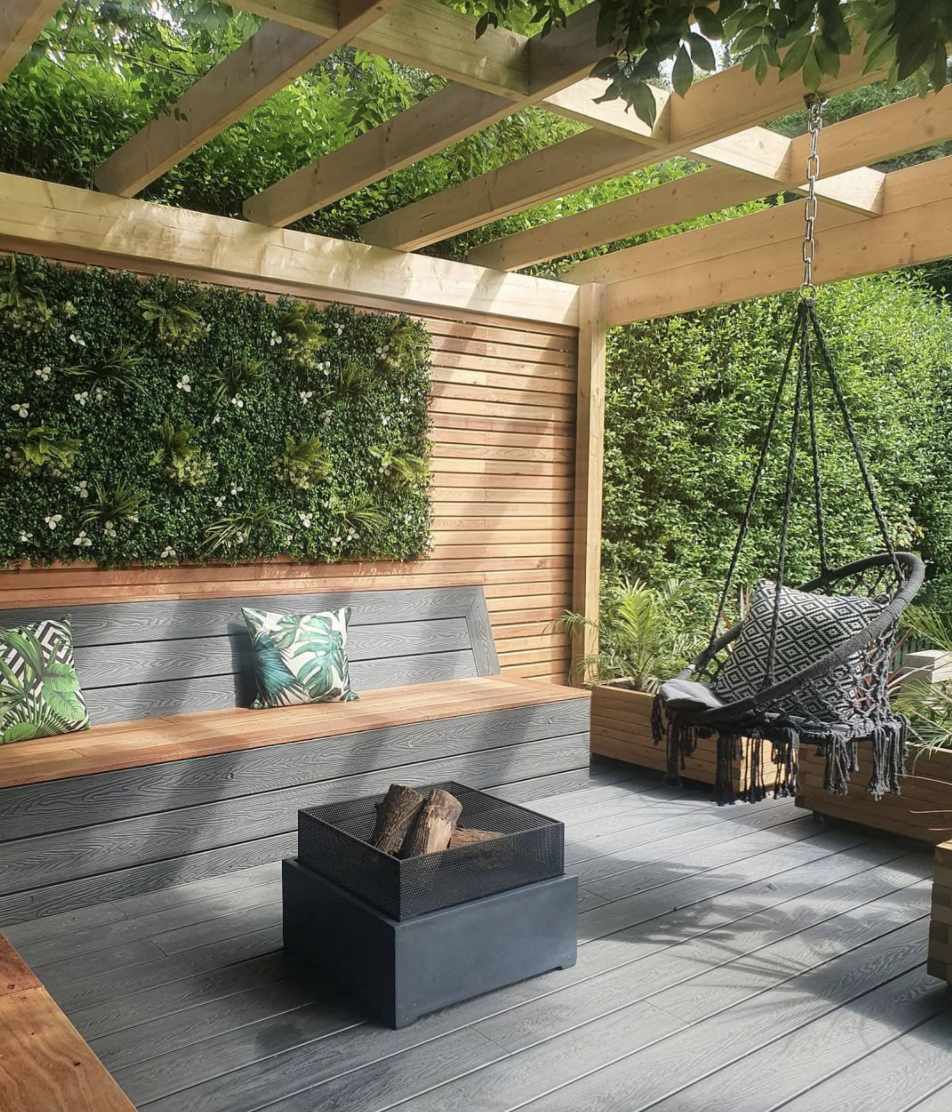 You might think that an accent wall is necessary for a bedroom or living room. It can give a significant impact on a gazebo.
The accent wall can come in the form of wall art, bold color, or even a vertical garden, like this one.
This gazebo features a vertical garden that perks up the space immensely. It also has a swing chair, which adds a playful element to this outdoor living area.
7. Minimalist Gazebo in a Garden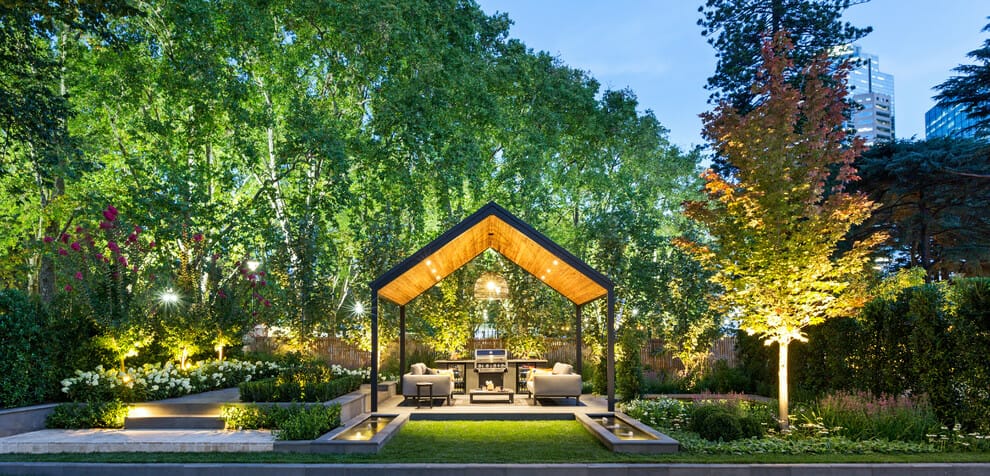 A gazebo does not have to be complicated. Here, a hardscape with four posts supporting a gable roof will work like a charm.
As you can see, you do not find any sophisticated details in this gazebo. Still, it is a perfect place to hang out, thanks to the cozy couches and outdoor kitchen.
When you linger for a while here in the evening, you will notice the mesmerizing look coming from the garden and lighting.
8. Modern Gazebo Ideas with Retractable Roof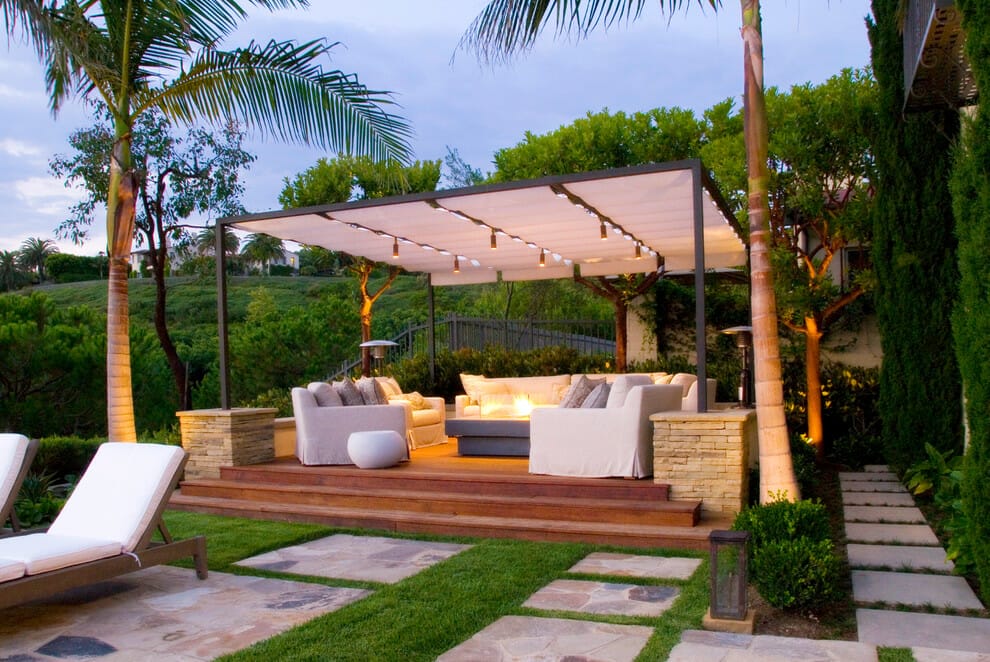 A retractable roof offers you flexibility. When the sun gleams dazzlingly, you can draw the shade to protect you from the glare.
When you decide to enjoy the night because there are many glittering stars in the sky, just retract the roof. This way, you can see the spectacular view easily.
9. Simple Gazebo for Outdoor Retreat
Do not let your small backyard hinder you from having a good time in a gazebo. No need to be fancy, though. A simple one that allows you to spend some time with family and friends comfortably would work like a charm.
You just need to install four posts and a roof that protects you from unpredictable weather. Then, invest in some couches, chairs, and a coffee table to create a comfy seating area.
10. Modern Asian Gazebo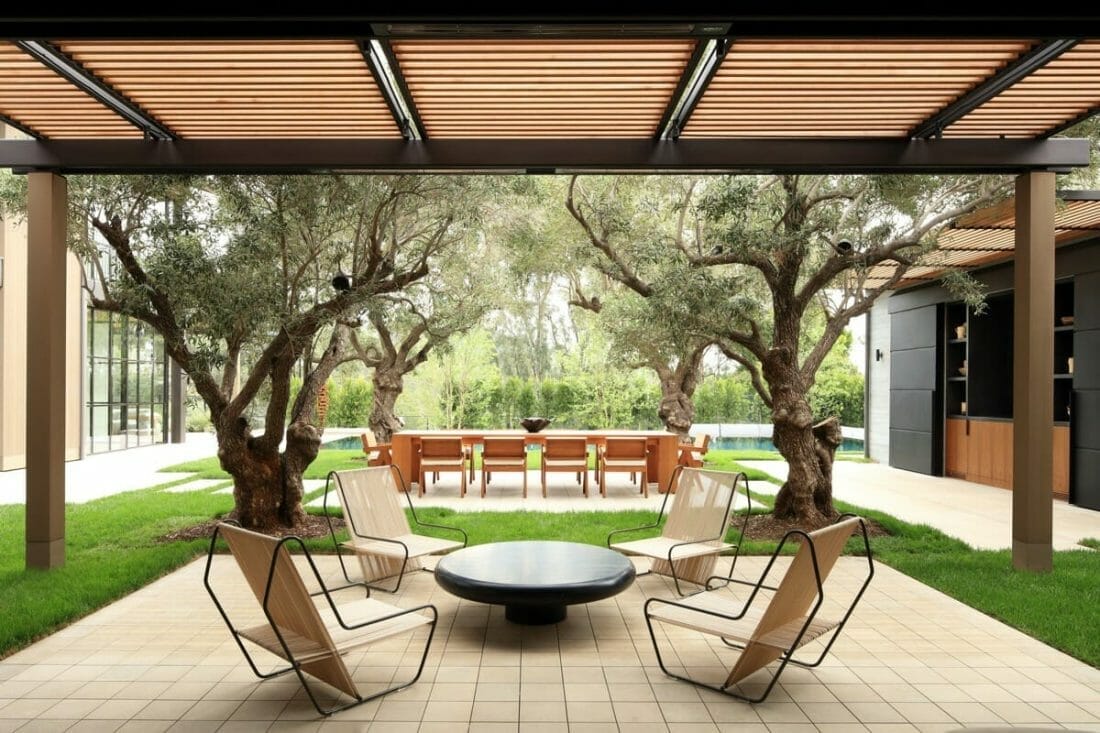 You can see Asian vibes in this gazebo, thanks to the minimalist design combined with the celebration of wooden material.
The most conspicuous thing in this gazebo is the four distinctive chairs made of two wooden boards crossing each other with metal frames on both sides.
In the center is a round black coffee table that infuses a bit of traditional touch. When you hang out in this gazebo, you will be pleased with the backyard landscaping featuring four cloud trees anchoring the dining area.
11. Rustic Modern Gazebo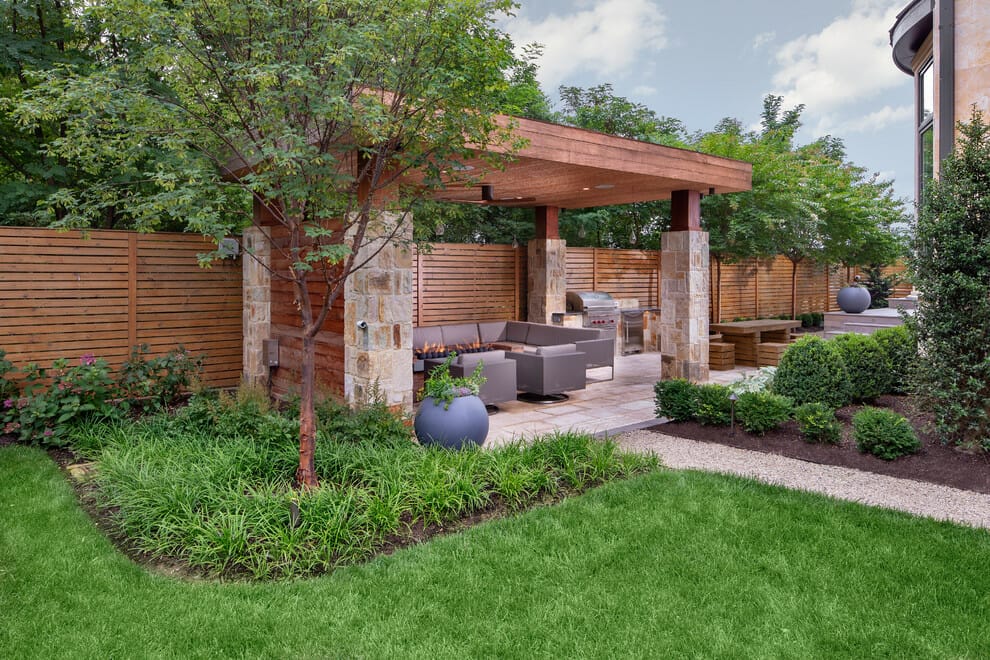 Rustic meets modern? Is that even real? Why not?
These modern gazebo ideas show you that incorporating two distinct types is not unattainable. If you can arrange them properly, you will get a chic place to sit back and relax.
This gazebo features four stone posts supporting a flat wooden roof. Aside from the flat roof, clean-lined-edges furniture represents modern style immensely.
12. Modern Gazebo Ideas with Outdoor Kitchen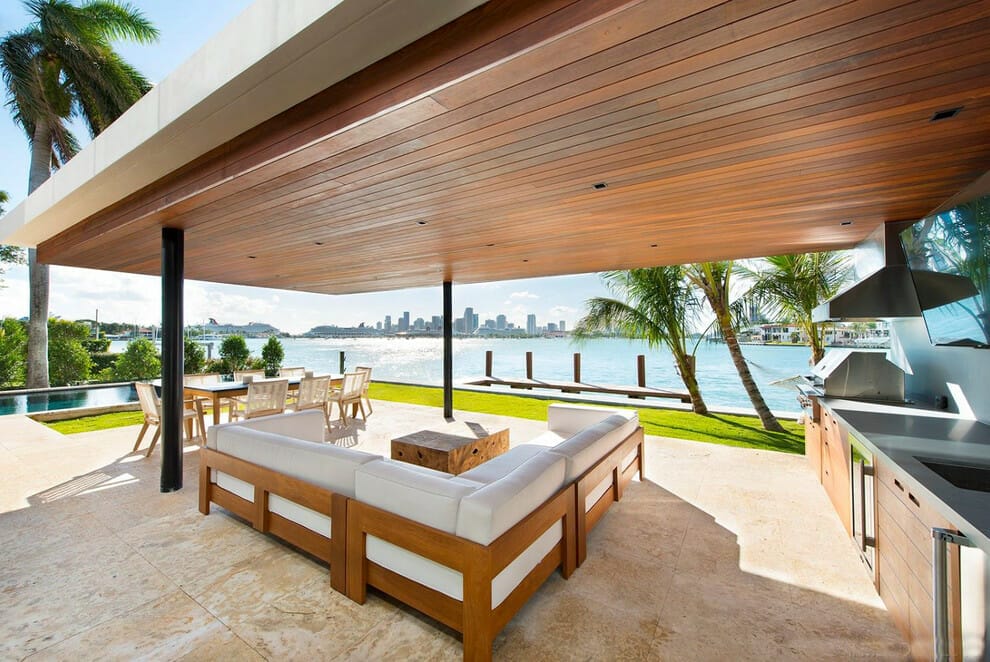 Inviting your friends to come over on the weekend is a terrific idea. Even better, you can throw a barbeque party in your gazebo.
Although building an outdoor kitchen in a gazebo is not an obligation, it still improves the value of your backyard.
Just imagine it! You can enjoy your backyard landscaping while bantering and cooking some special dishes with your friends.
13. Privacy Does Matter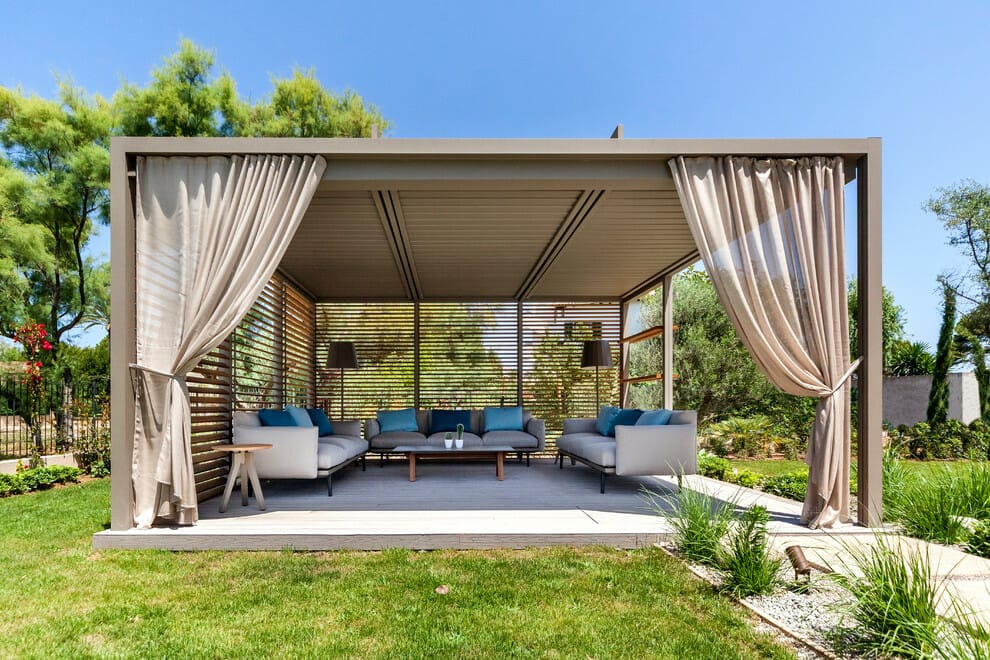 In addition to comfort and coziness, another thing that you need to take into consideration is privacy. Thus, these modern gazebo ideas would come in handy.
This gazebo is not an enclosed one. Therefore, you will need to install a screen to give you some privacy. Moreover, it will add more pattern and texture to your outdoor living area.
Besides the shutter screen, you can also hang sheer curtains to get more privacy while adding a romantic ambiance simultaneously.
14. Small yet Cozy Modern Gazebo Ideas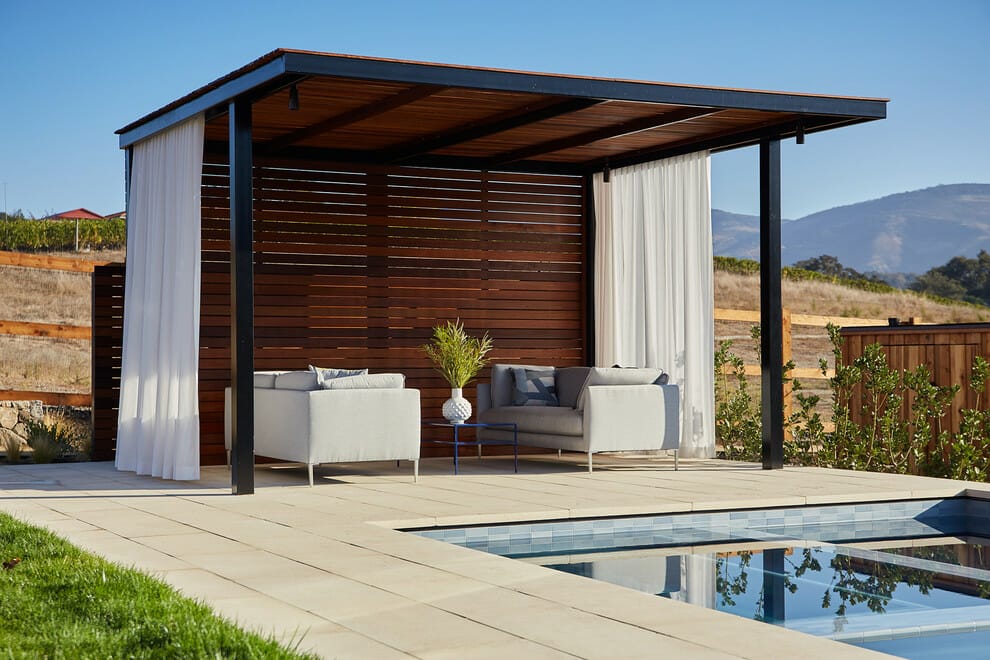 If you are tight on budget, a small gazebo will do in a pinch. Besides, large sizes do not always determine coziness, right?
Metal is the primary material used to construct the frame of this gazebo. Wooden planks create a great wall and ceiling while accentuating the modern look.
This gazebo also features sheer curtains to give you some sort of privacy.
15. Mesmerizing Gazebo with Waterfall Curtain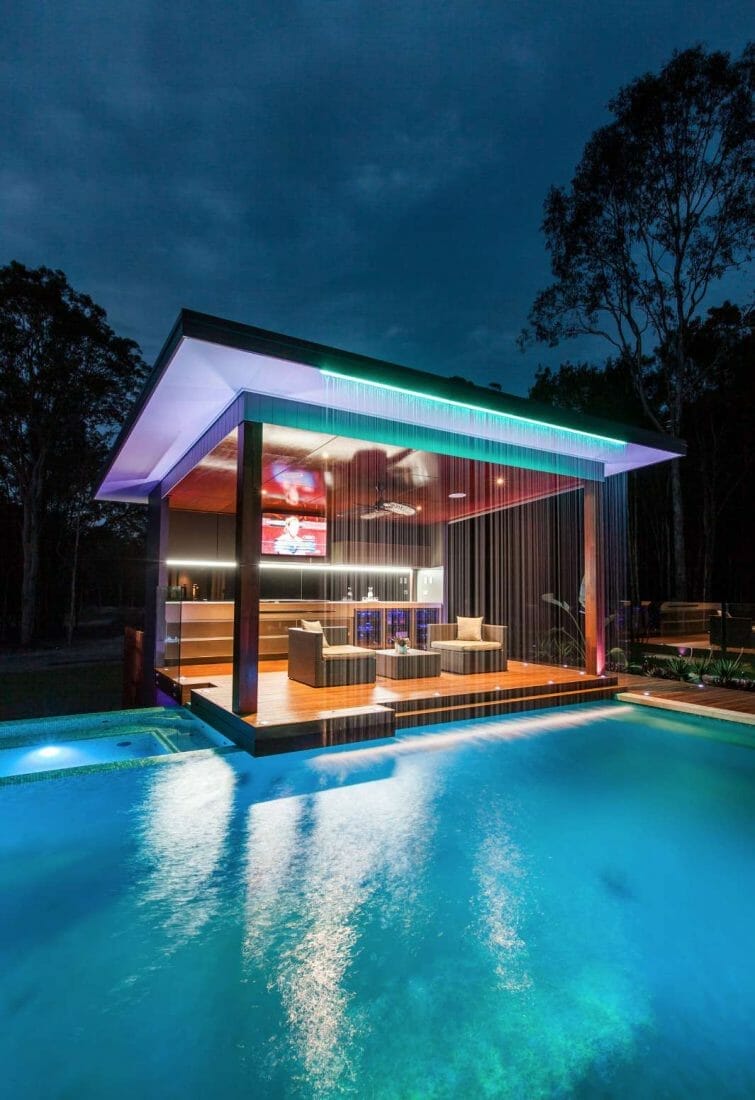 You might think it is a standard and small gazebo when you see it during the day. Just like many other outdoor living areas, it features seats and a kitchen.
However, when the night comes, you will notice colorful LED lights that make this gazebo look mesmerizing.
Another wow factor that will amaze you is the water falling from the roof to the pool, creating a beautiful curtain.
16. Pool Deck and Gazebo Combo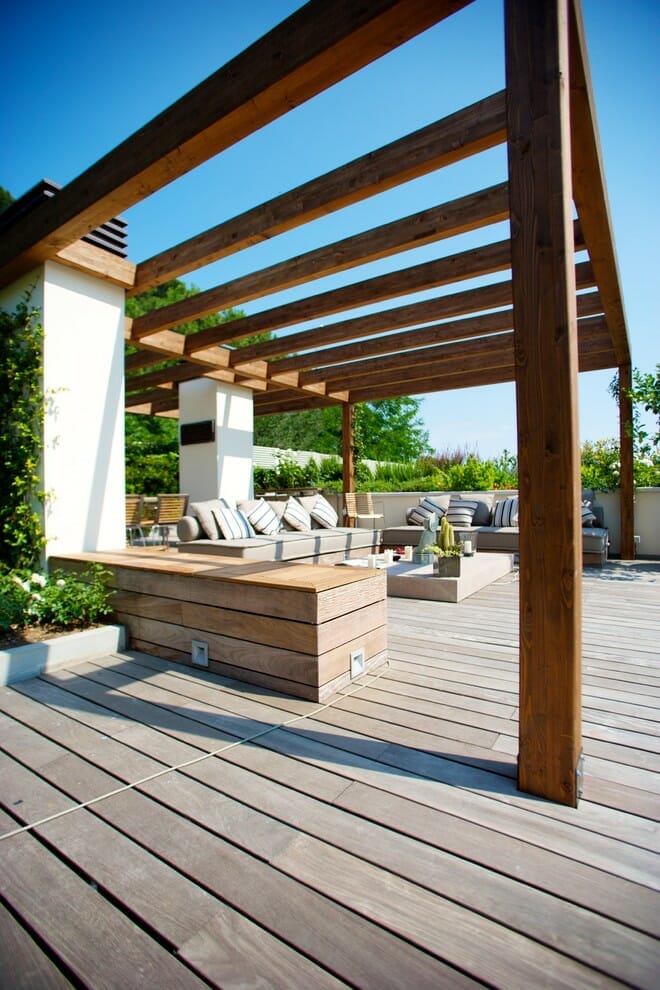 Picking the right material for your pool deck is essential. One of the finest materials for it is pallet wood.
Pallet wood is affordable and can make a great pool deck because it is not slippery. Furthermore, the rustic finish will add more charm to the space.
If your pool deck is spacious, you should consider building a gazebo. You can either make a built-in seat or invest in couches and chairs.
Do not forget to choose the roof to suit the style of your gazebo. A pergola will give you partly shade. On the other hand, the fabric can protect you from the sun without costing you a fortune.
17. Alleviate the Glaring Sun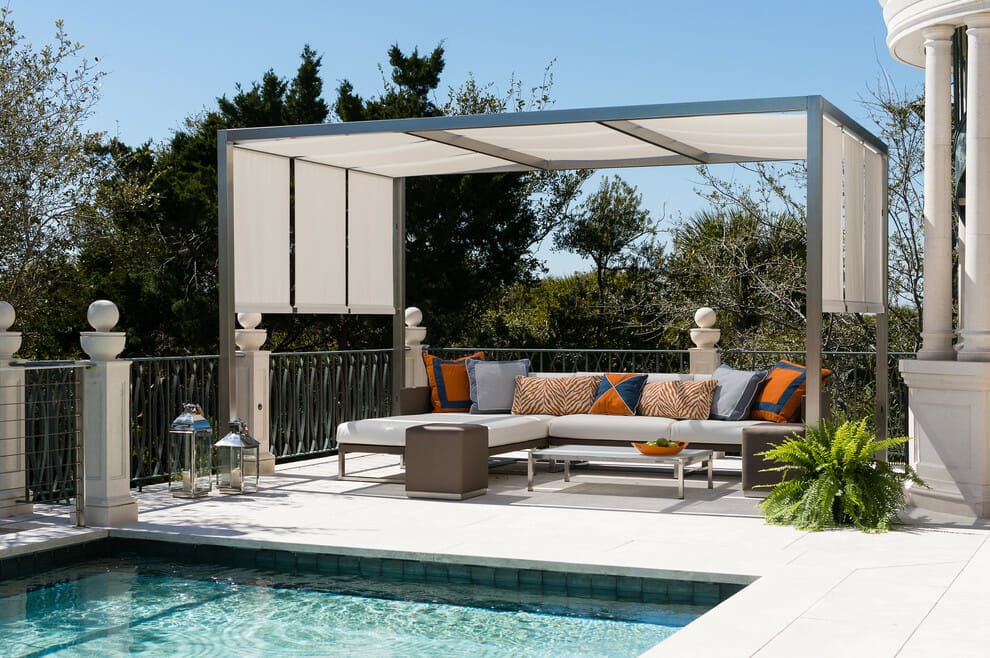 Enjoying some time outdoors is fun. However, the glaring sun can annoy you.
Don't let the sun ruin your relaxing time. It is not like you can turn it off, though. But you can prepare a shade or roof over your gazebo.
You can find various materials for the shade, including this roman style canopy. Aside from being stylish, it offers flexibility and versatility. Most importantly, it is easy to install. Even you will able to do it less than a day.
18. Outdoor Kitchen and Bar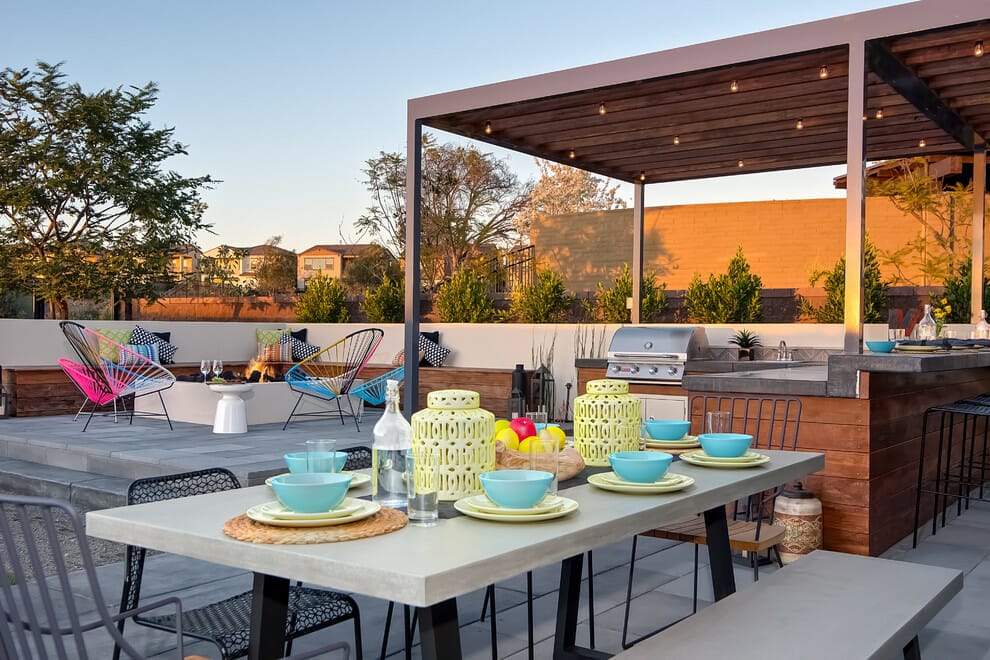 Having a spacious backyard is a blessing. You can style it whatever you want without worrying about the space.
This backyard is full of hardscape, which requires less maintenance. You can find the dining and seating areas in two different spots.
The gazebo houses an outdoor kitchen area with a minibar made of pallet wood and concrete countertops.
19. Rooftop Gazebo Ideas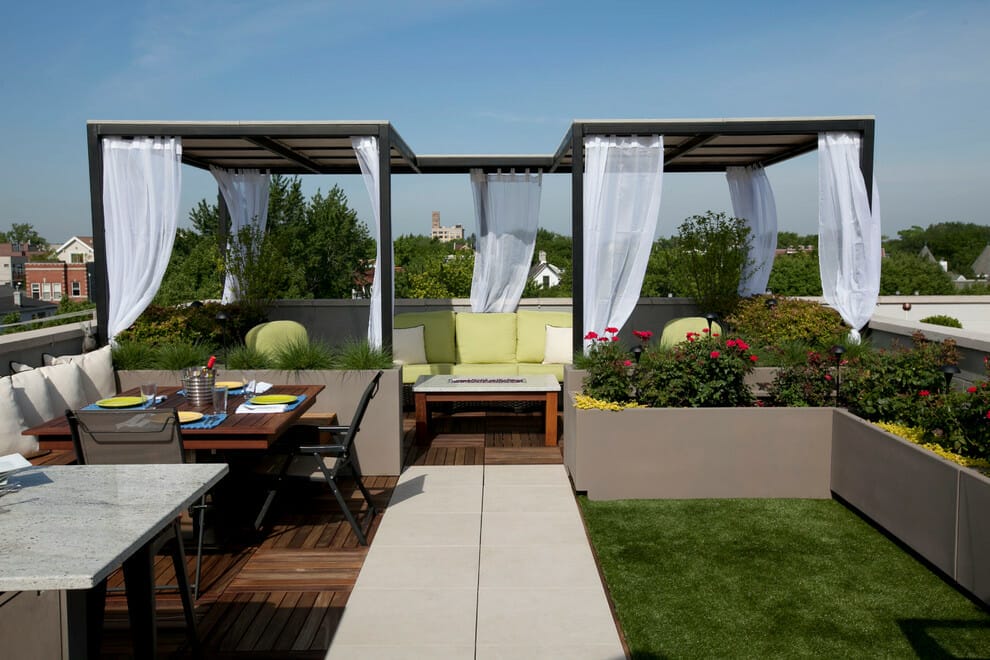 The rooftop provides a breathtaking view. Since it is located on the top of a building, it enables you to overlook the neighborhood.
It would be adequate if you built a gazebo in it. It does not have to be pricey. Metal posts supporting the flat roofs will be enough. You can also add sheer curtains to obtain privacy while carving out a romantic ambiance.
20. Embrace the Curvy Look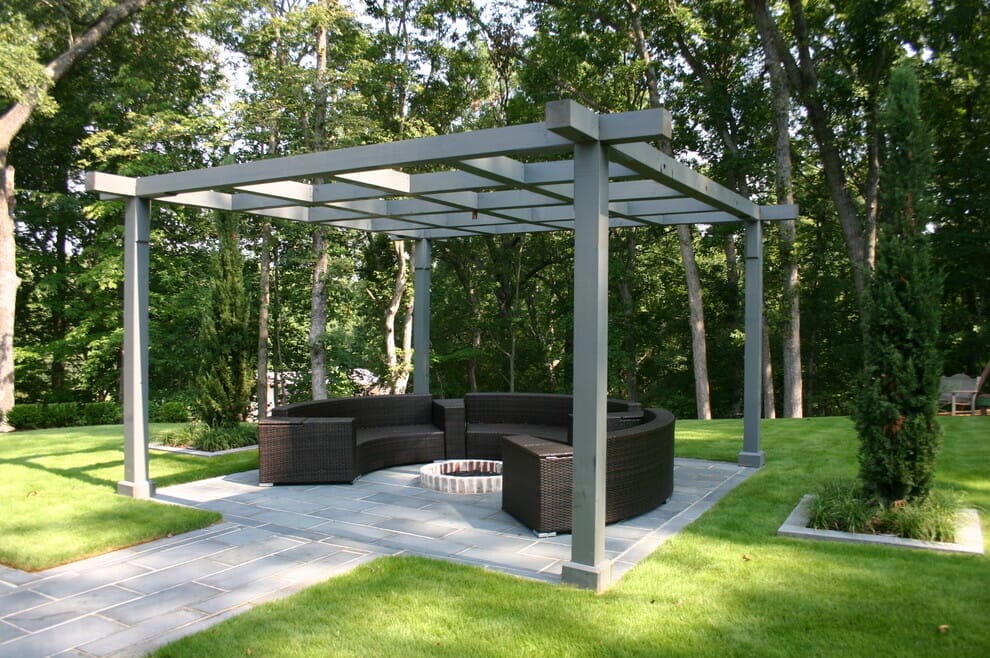 Many modern gazebo ideas focus on furniture with straight and cleaned-lined edges. For some people, it can be mundane.
You can invest in curvy furniture to add visual interest to your gazebo. Since you just want to maintain the modern look, make sure you pick the one without sophisticated details.
21. Concrete Gazebo Designs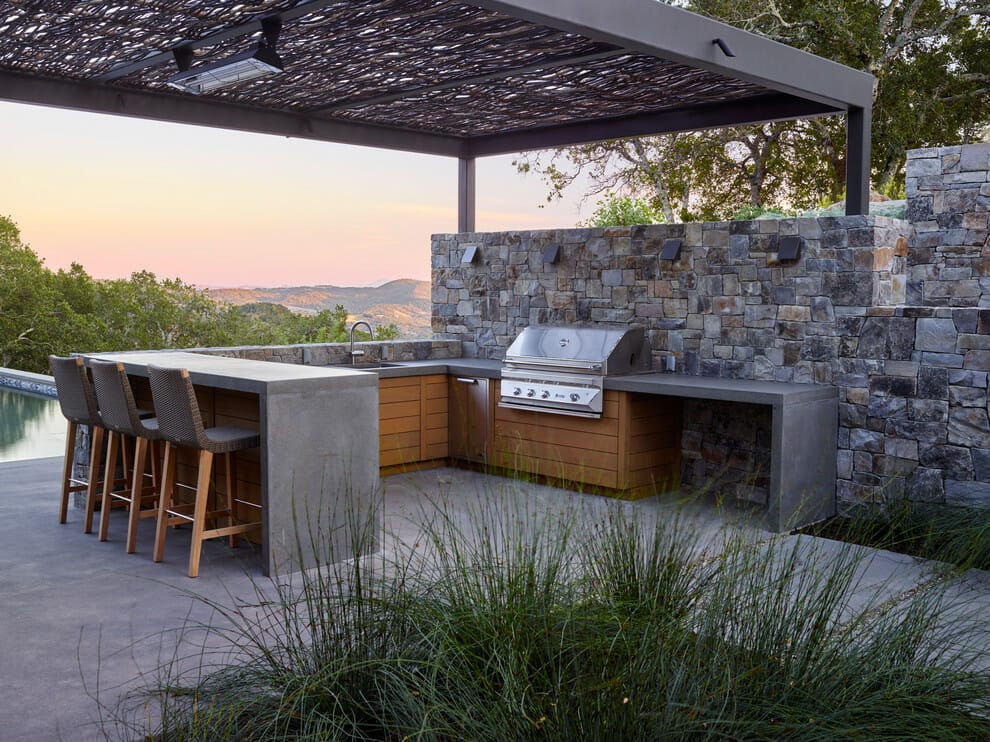 Concrete is well known for its durability. Thus, it can make great countertops in this gazebo. Furthermore, they come in clean-lined edges and a neutral color scheme, which embodies modern style nicely.
This place also provides textural elements through the use of a stone backsplash and a bamboo roof. This combination creates an epic nuance that complements modern gazebo ideas.
22. Modern Gazebo Ideas with a Classic Touch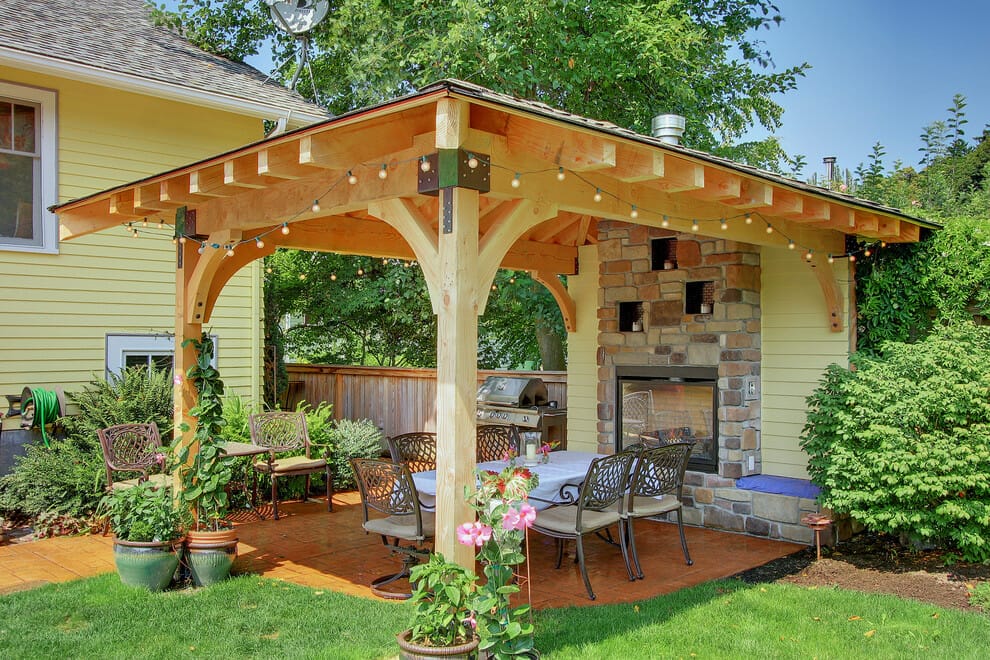 Modern gazebo ideas are not always about embracing a neutral color palette and implementing geometric shapes. You can also add some interest by borrowing some elements commonly found in other styles.
This gazebo offers a bit of classic touch without compromising the modern style. For instance, the ornamental chairs offering not only practicality but also beauty.
Another classic ambiance you can notice is the brick fireplace that makes an excellent focal point. Besides, it features built-in shelves that will help you eradicate clutter.
23. Latticework Gazebo by the Pool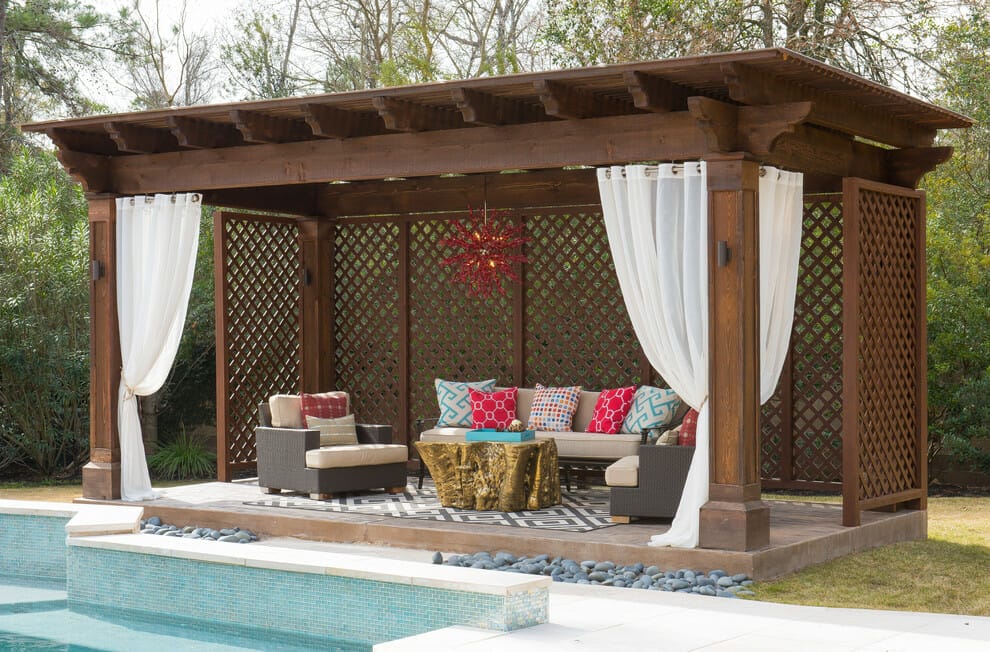 If you want to add patterns and textures without breaking a sweat, consider including latticework in your modern gazebo ideas. Furthermore, it can make a great privacy screen.
24. Gazebo Ideas for Small Backyard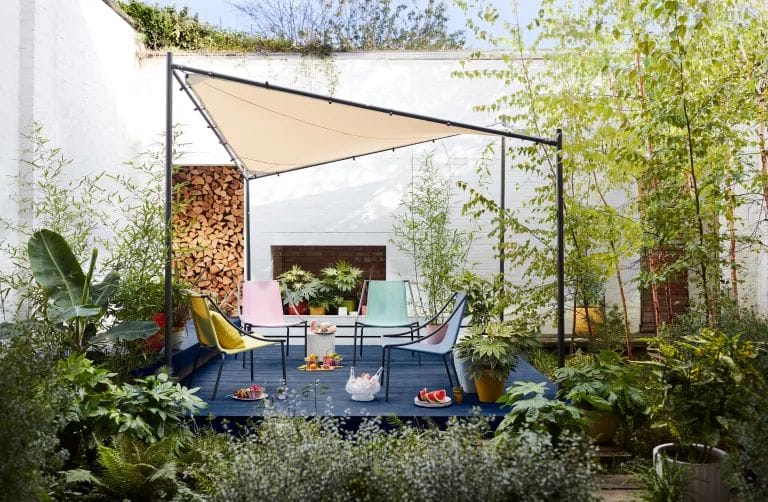 Do you have a small backyard yet you want to have a comfortable place to hang out in it? Do not worry! These modern gazebo ideas are for you.
This gazebo is as simple as installing a floating deck and using a shade sail to protect you from the sun. Introducing various pastel colors would also be a good idea as it can beef up the small gazebo.
25. Monochromatic Gazebo Ideas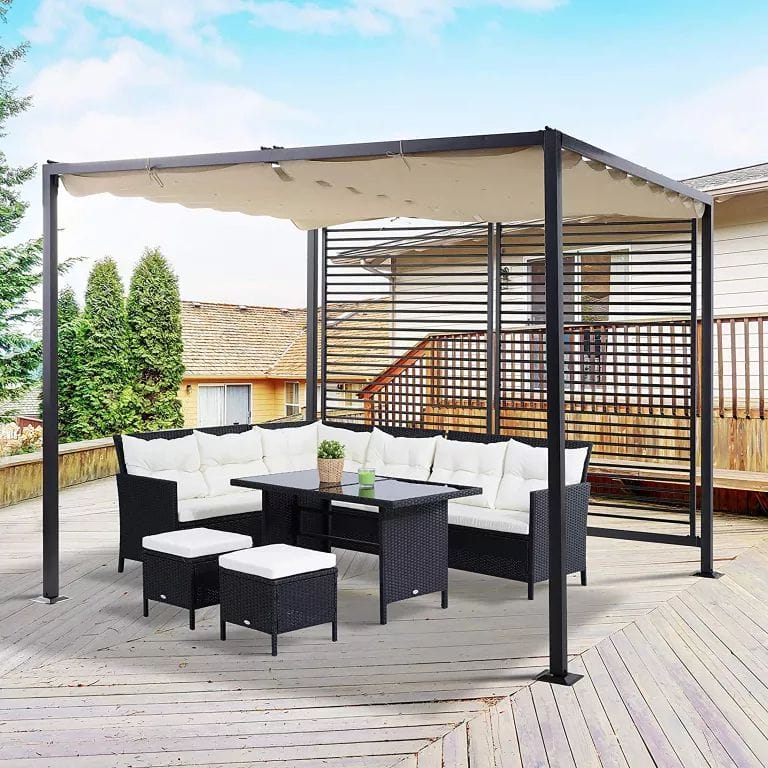 The previous idea encourages you to use pops of colors. Yet, if you choose to keep it uncomplicated, this monochromatic gazebo will be your greatest bet.
Although it comes in black and white, it does not have to be mundane. You can use woven rattan furniture to add more texture while making the space look stylish.
26. Ground-Level Modern Gazebo Ideas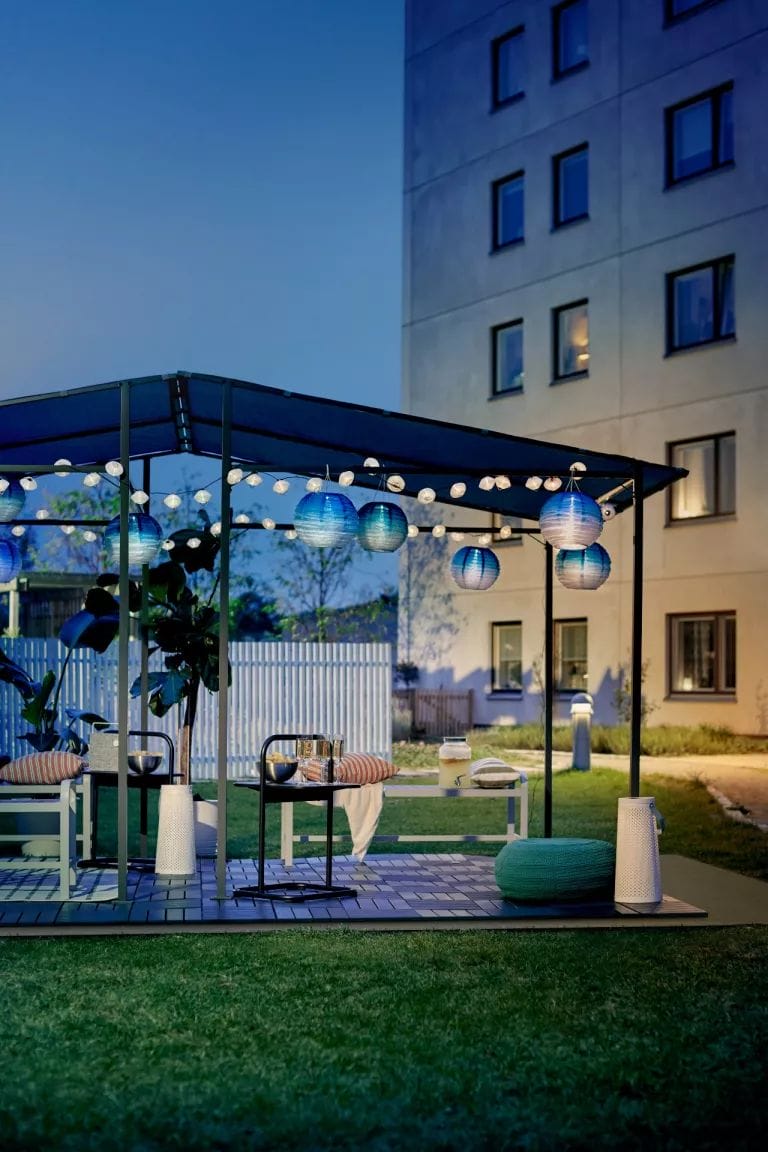 A gazebo is usually a few inches off the ground. It is not necessarily true. A ground-level one can be a perfect place to hang out.
You just need to decorate it with furniture and lighting that improve coziness.
27. Floating Modern Gazebo
Is this gazebo floating? Nope! It is just a visual trick that can successfully amaze anyone who sees it.
Instead of a series of steps, this gazebo uses several square platforms overlapping each other to create access.
Wooden posts support this gazebo, making it look as if it is floating.
Carving out a relaxing outdoor space is not that easy. It is not impossible, either, though. These modern gazebo ideas will give you some inspiration to create coziness and comfort in your yards.