If you want a picture-perfect cooking space, consider installing white cabinetry. After that, find the right backsplash for them. Moreover, in this article, I'll share a bunch of white cabinet kitchen backsplash ideas.
Without a doubt, white is the brightest neutral color. Just because the kitchen cabinets wear it doesn't mean anything would go with them. Some shades and natural stones still suit them better than others.
Here are some backsplash ideas with white kitchen cabinets to select from. Whether you're into a clean look or a burst of color, just keep reading.
1. Classic Colors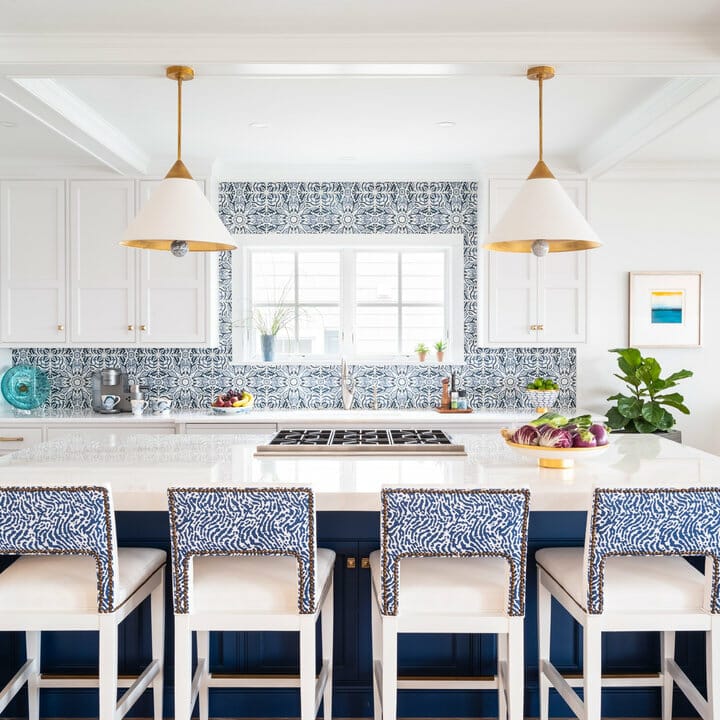 Speaking of white cabinet kitchen backsplash ideas, consider integrating classic colors like white and black. Those contrasting hues produce a timeless vibe.
This coastal kitchen, for example, has a white and black wallpapered backsplash. It catches the eye without overwhelming the cooking area.
The painting and turquoise ornament evoke a beachy atmosphere. Navy accents deliver sophistication, while the gold hardware and pendants make the interior seem glam.
2. White Kitchen Cabinets with Marble Tiles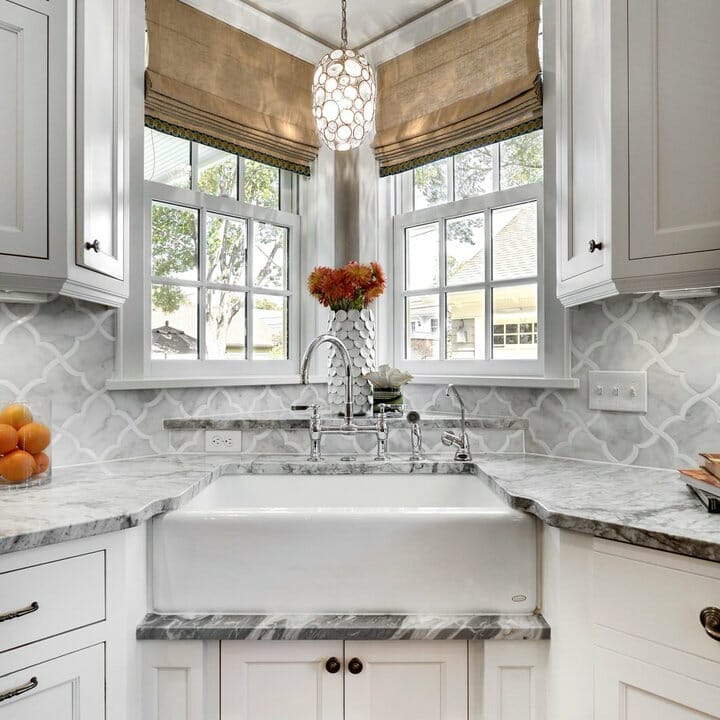 Need white cabinet kitchen backsplash ideas? If so, copy this look. It proves tiles' cut makes a huge difference since it affects the appearance of the backsplash.
Here, marble tiles lend the country kitchen visual interest. Additionally, they look superb while carrying unmatched grandeur.
These unusual marble tiles offer texture and develop a sense of uniqueness. Furthermore, they keep the country cooking space looking airy.
3. Eclectic Kitchen Backsplash Ideas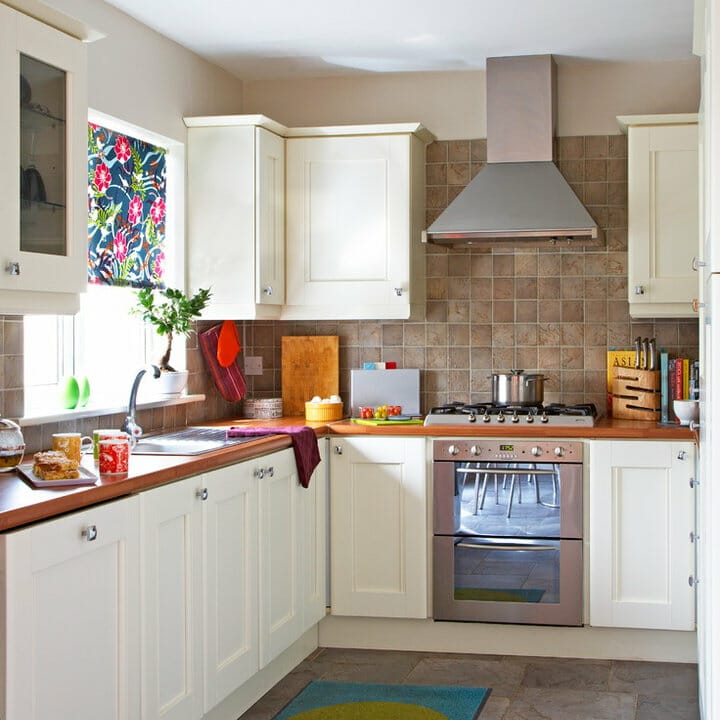 If you aren't into gray, no worries. Just give brown a chance. This neutral hue harmonizes excellently with white kitchen cabinets.
As you see, brown square marble tiles deliver a vintage aesthetic to this eclectic kitchen. In addition, they maintain the interior's inviting scene.
The square tiles complement crisp lines of soft white cabinets. Apart from providing texture, they blend with the butcher block countertop. Meanwhile, the cheerful floral window blind brings this eclectic kitchen to life.
4. White Subway Tile with White Cabinets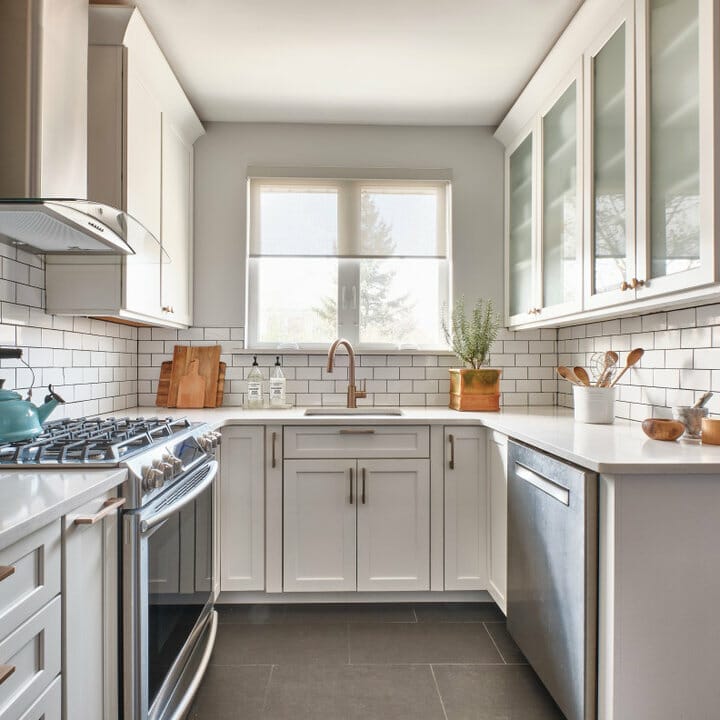 I admire this modern farmhouse kitchen backsplash with white cabinets. Here, the subway tiles accompany the white-painted cabinetry perfectly.
Without a doubt, subway tiles are classic. Since the pieces won't get out of trend, they'll always look marvelous against white kitchen cabinets.
In this kitchen, pure white subway tiles promote openness. The charcoal grout lines accentuate them. Meanwhile, the warm-toned pot, cutting boards, and eating utensils keep the interior welcoming.
5. Modern Backsplash for White Cabinets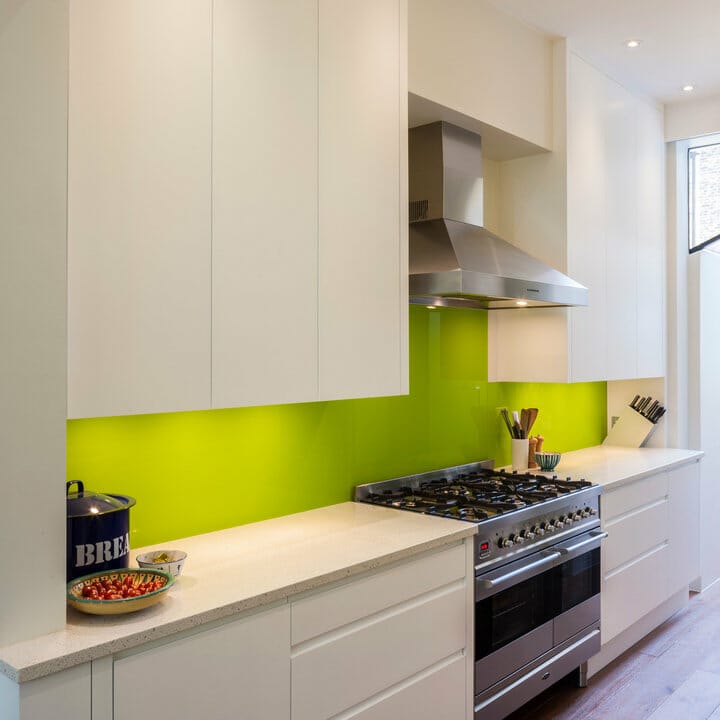 White cabinet kitchen backsplash ideas surely offer many design opportunities. Here, the chartreuse green backsplash carves a lively scene. Apart from adding a burst of color, it represents positivity and happiness.
As the photo shows, the chartreuse green backsplash clashes with the granite counter. Meanwhile, the crisp white cabinets have no handles. They generate a streamlined look.
Stainless steel appliances let the vibrant backsplash shine. Also, they emanate modern vibes. Lastly, the vintage bread bin and decorative bowls add some character.
6. White Kitchen Cabinets Blue Backsplash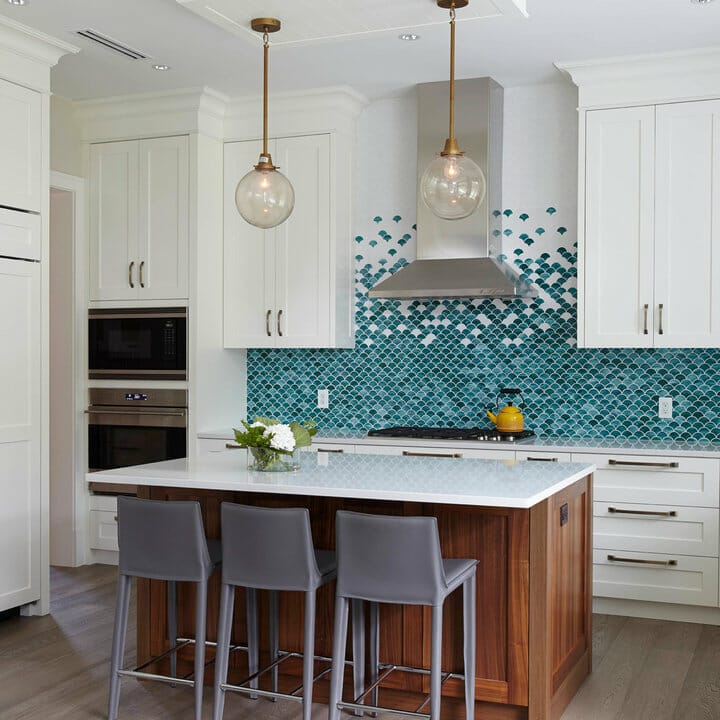 Need white cabinet kitchen backsplash ideas? Try this option out. The teal fish scale tiles are mesmerizing. Moreover, the pieces infuse a bit of texture.
These teal fish scale tiles make for an outstanding backsplash. Additionally, they deliver personality to the cooking area while producing a beachy vibe.
White cabinets keep the entire cooking area open and bright. Meanwhile, touches of brass via the hardware and pendants give off an upscale look.
7. Transitional Country Kitchen Backsplash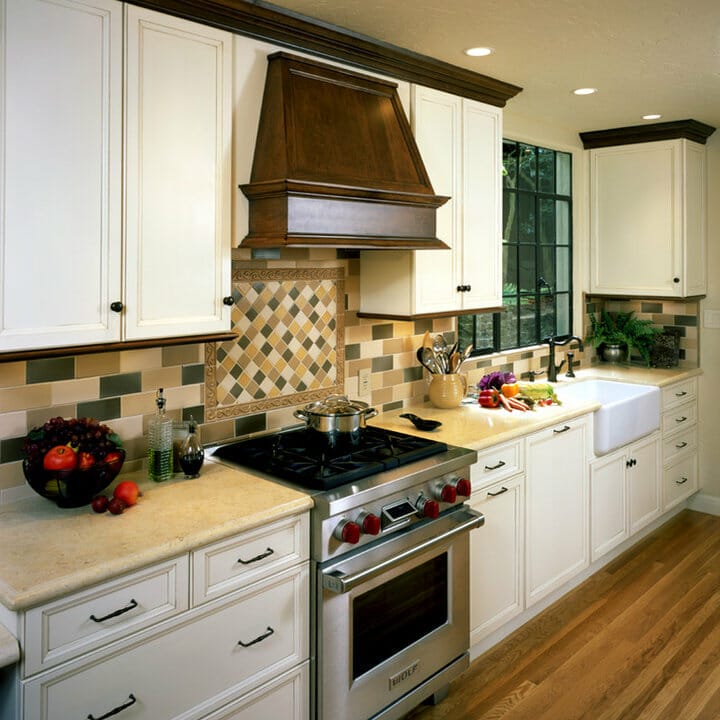 Here, the matte subway tiles come in deep gray, white, cream, and brown. As you see, they carry subtle splashes of color to the cooking space with white cabinets.
This retro kitchen also boasts a backsplash inset featuring square tiles. The diagonal tile layout lends the room a visual surprise.
The backsplash introduces a curated look. Meanwhile, the intricate details of the inset add elegance to the retro cooking area.
8. White Backsplash with White Cabinets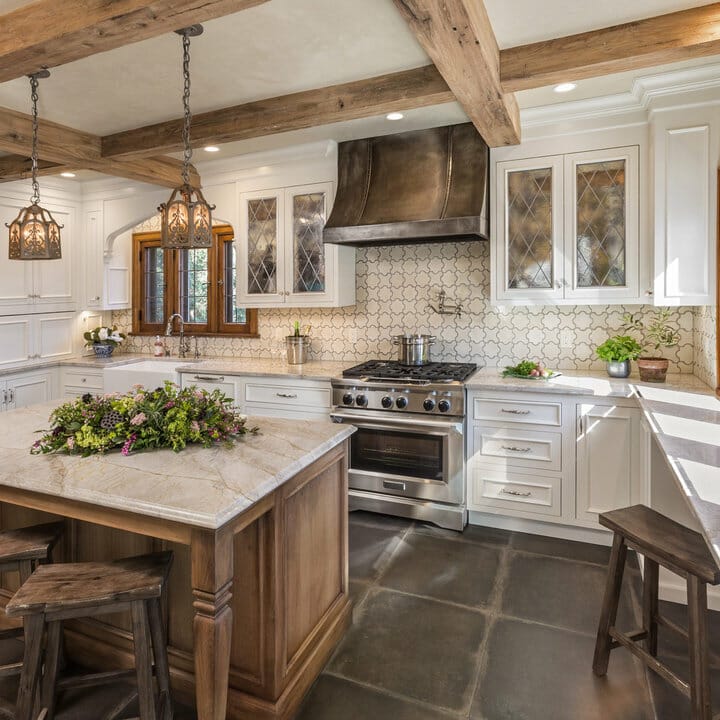 This Tudor-style kitchen employs a white wallpapered backsplash. As the picture shows, it features uncommon yet attractive shapes.
The gorgeous backsplash wallpaper produces a visual appeal and a textural interest. Moreover, it develops a clean look and a classic flair.
For sure, this is one of the marvelous white cabinet kitchen backsplash ideas. The wallpapered backsplash highlights the range hood, marble counter, and greenery.
9. White Kitchen Cabinets Gray Backsplash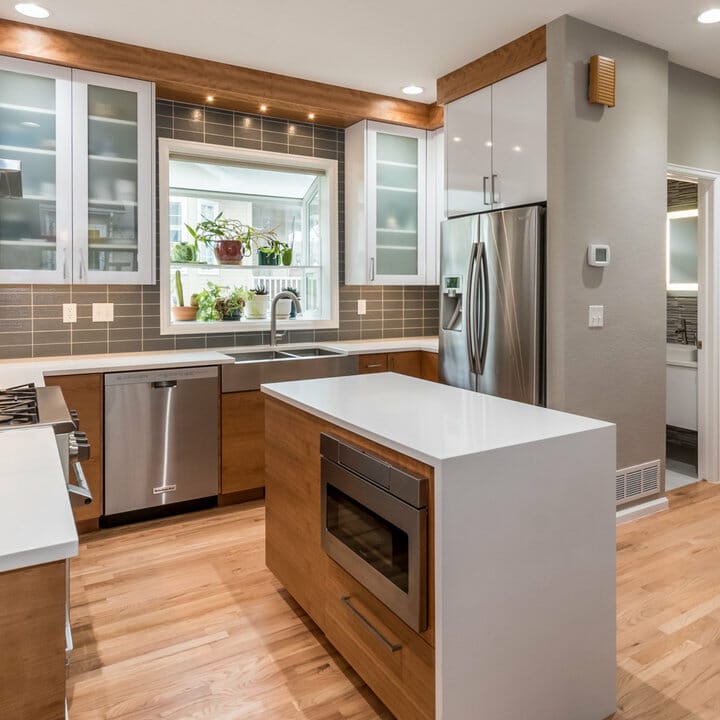 Speaking of white cabinet kitchen backsplash ideas, you can't forget subway tiles. In addition to carving a contemporary aesthetic, they instill timeless vibes.
Here, the gray subway tiles lend the kitchen backsplash a neat look. Furthermore, they carry an air of peacefulness to the cooking area.
Clean white grout lines accentuate gray subway tiles. Upper cabinets set an airy scene. Meanwhile, the wooden base cabinetry balances cold tones out.
10. White Cabinet Kitchen Backsplash Ideas with Blue Tiles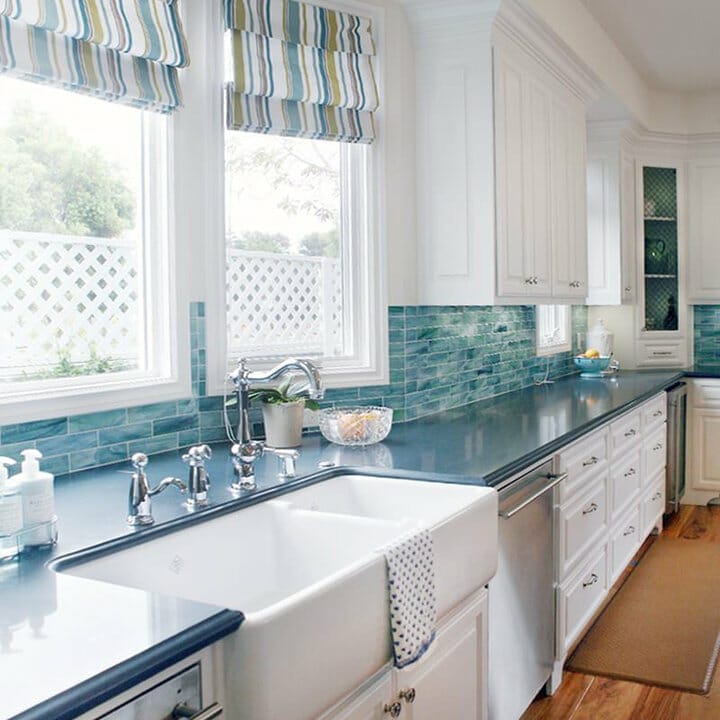 I fall for this modern farmhouse cooking space. The blue subway tiles showcase impressive tonal variations.
Moreover, they inject a coastal aesthetic. Also, the pieces add a refreshing pop of color, so the kitchen seems exciting. The backsplash combines blue subway tiles with white grout lines. In no time, it transports you to an idyllic beach.
Here, the backsplash tiles blend with the blue-gray countertop. Furthermore, striped window blinds are adjacent to pure white cabinets. Additionally, they tie this modern farmhouse kitchen together.
11. White Kitchen Cabinets Backsplash Designs with Industrial Touches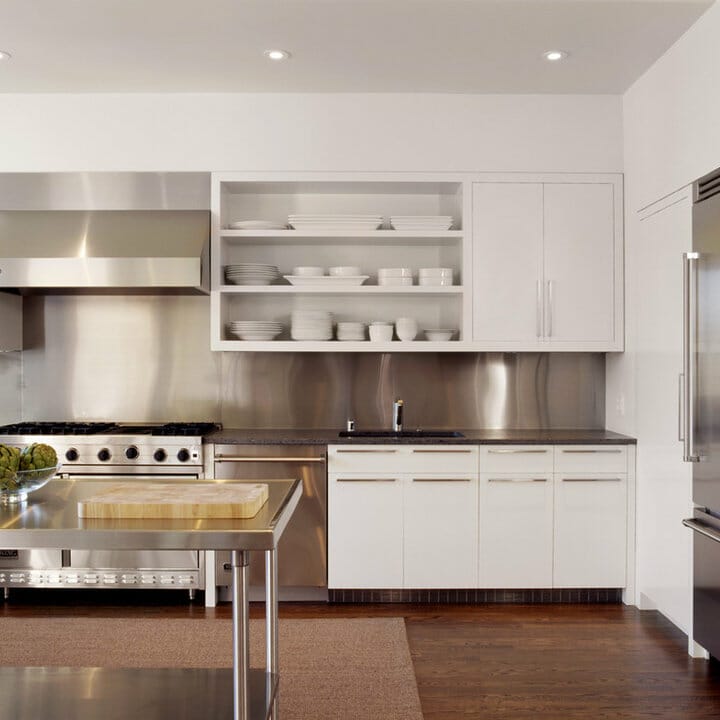 This is probably the best backsplash for white kitchen cabinets. The stainless steel backsplash transforms the cooking space into a chef's paradise.
Since the stainless steel backsplash is wipeable, it surely makes cooking cleanup easier. It infuses a touch of metallic silver while giving the interior a luxurious feel. Lastly, the kitchen appliances complement it fabulously.
12. White Cabinet Kitchen Backsplash Ideas with Green Tiles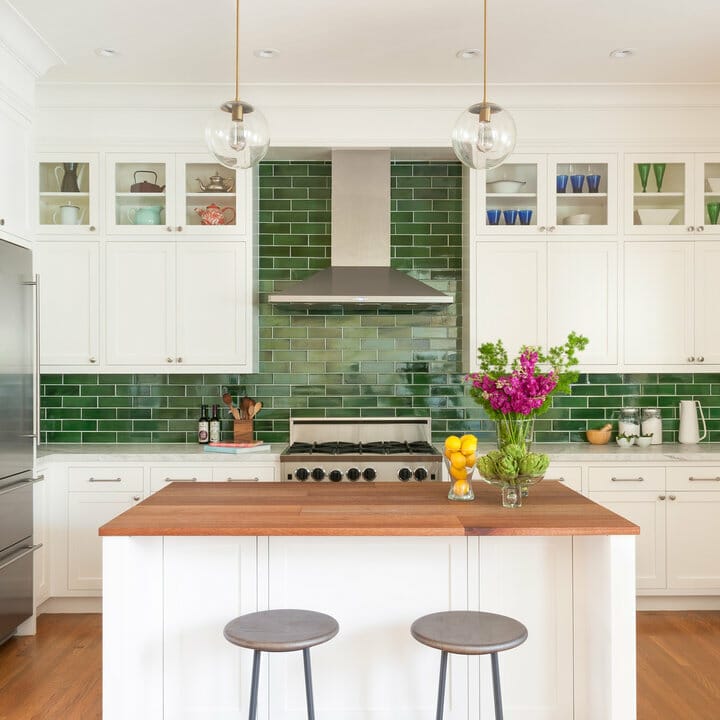 Here, emerald green subway tiles make for a bodacious backsplash. They're a dramatic contrast to pure white kitchen cabinets with silver hardware pieces.
The trendy high gloss subway tiles prevent this contemporary kitchen from looking flat. Furthermore, they invite a riot of yellows, blues, and pinks into the room.
13. Zig-Zag Tile Pattern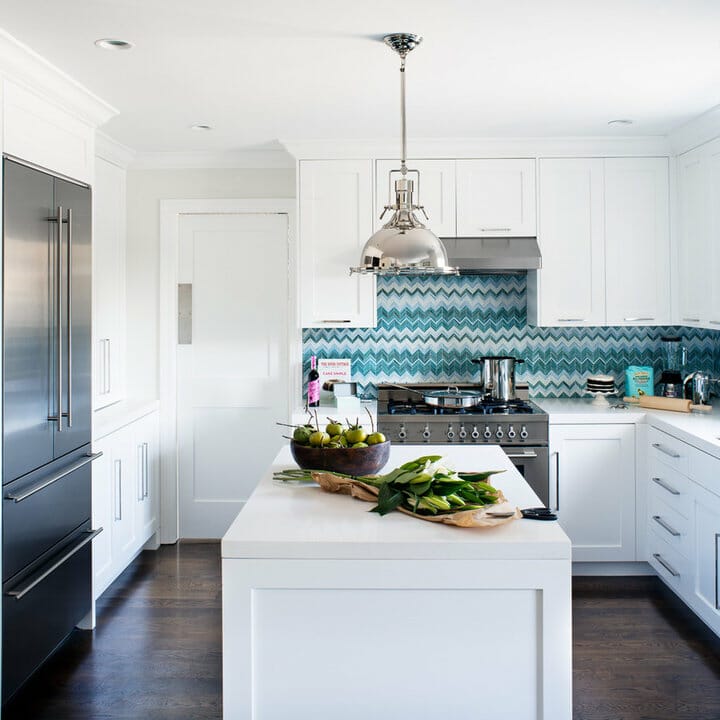 This modern kitchen employs a backsplash with custom glass tiles. As the image shows, the chevron tile layout carries an element of surprise.
The glass tiles come in varying blue shades for a striking look. Due to them, the bright white kitchen doesn't appear dull.
14. White Cabinet Kitchen Backsplash Ideas with Copper Tiles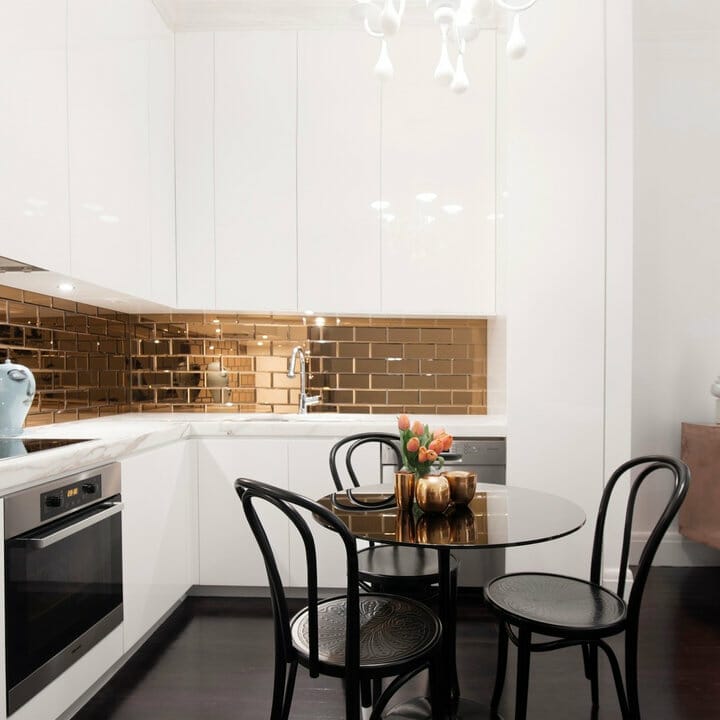 The white cabinets in this kitchen emanate a fresh atmosphere. Furthermore, they balance out the dark flooring and dining furniture.
Mirrored copper tiles steal the spotlight, thanks to white cabinets. Additionally, they bounce the light while keeping the cooking area warm.
15. Refined Kitchen Backsplash for White Cabinets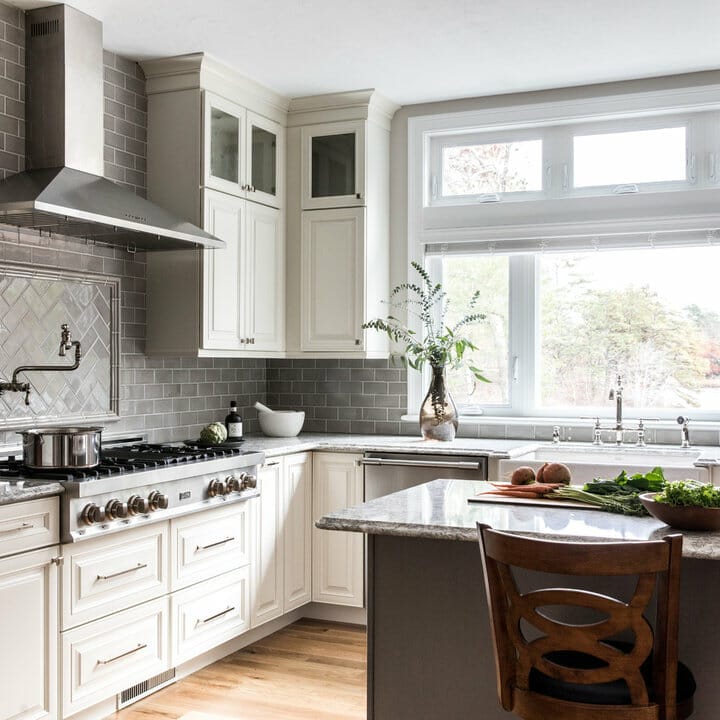 Undoubtedly, soft white and warm gray make for a fantastic pairing. Also, those neutrals allow the homeowner to create an open and serene cooking space.
These warm gray subway tiles boast white grout lines for a subtle contrast. Meanwhile, the herringbone tile pattern ensures that the backsplash inset looks gorgeous.
16. Marvelous Marble
Need white cabinet kitchen backsplash ideas? Implement this option. The slim marble subway tiles decorate the backsplash. In addition, they deliver a glam touch.
The white grout lines allow marble backsplash tiles to shine. Furthermore, they blend with white lower and upper cabinets.
This idea helps you save some cash. Because of the herringbone tile layout, the backsplash doesn't seem lackluster.
17. White Cabinet Kitchen Backsplash Ideas with Spanish Tiles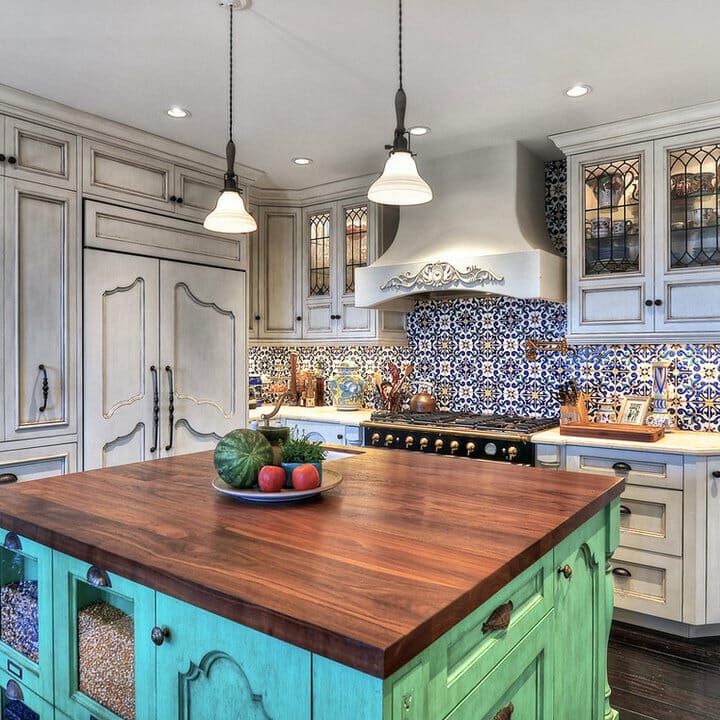 Not only is this cooking area dreamy but also cheerful. Moreover, stunning Spanish tiles cover the backsplash over the natural stone counter.
These Spanish tiles inject pops of color. In addition, they lend the compact kitchen a visual appeal while providing some personality.
As you see, the aesthetically pleasing backsplash tiles emanate Mediterranean vibes. Furthermore, they give the whole cooking area textural interest. The items call attention to the ornate range hood and cabinet doors.
Another worth-mentioning feature in this space is a perky kitchen island. Apart from boasting a sink, it has a stained wood butcher block counter.
Here, the island and backsplash enliven the small cooking space. Lastly, wooden pieces keep things balanced.
18. Iridescent Mosaic Tiles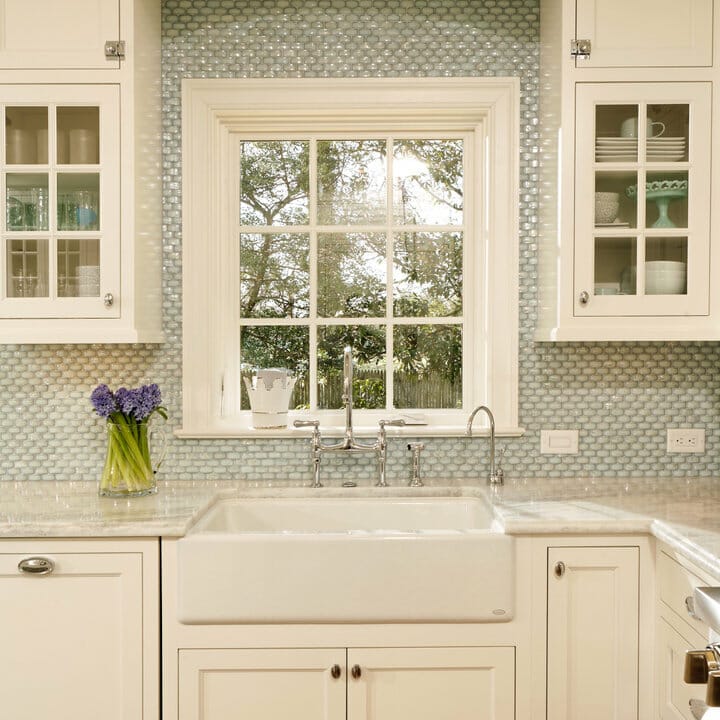 Talking about white cabinet kitchen backsplash ideas, try installing iridescent mosaic tiles. Here, they come in an oval shape.
The light blue oval mosaic tiles lend the cooking space a bit of sparkle. Furthermore, they introduce a subtle splash of color while generating a relaxing scene.
19. Marble Subway Tiles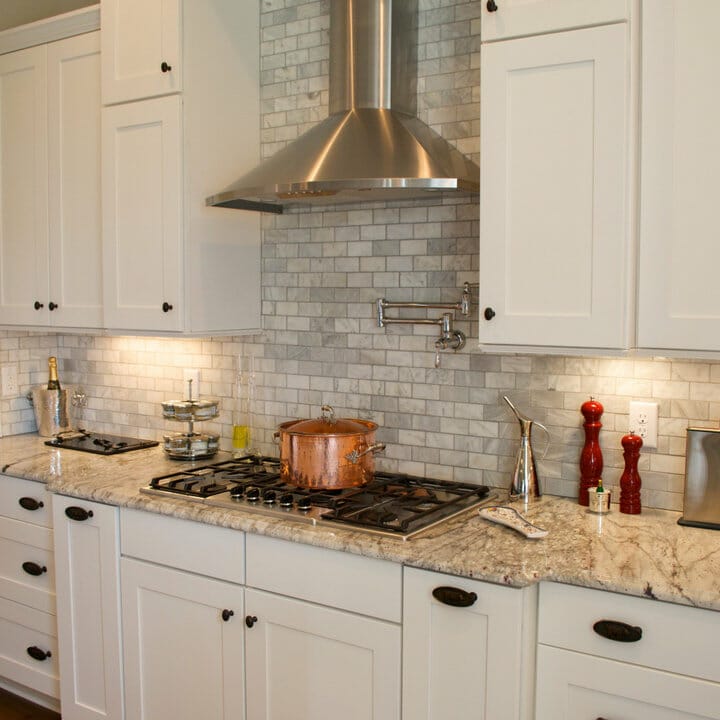 What's not to love about marble subway tiles? Not only do they seem appealing but also trendy. Also, the pieces go fantastically with white cabinets.
The marble subway tiles display outstanding tonal differences. In addition to oozing unparalleled charm, they pair with metallic appliances. Meanwhile, copper and silver units offer some shine.
20. Amazing White Cabinet Kitchen Backsplash Ideas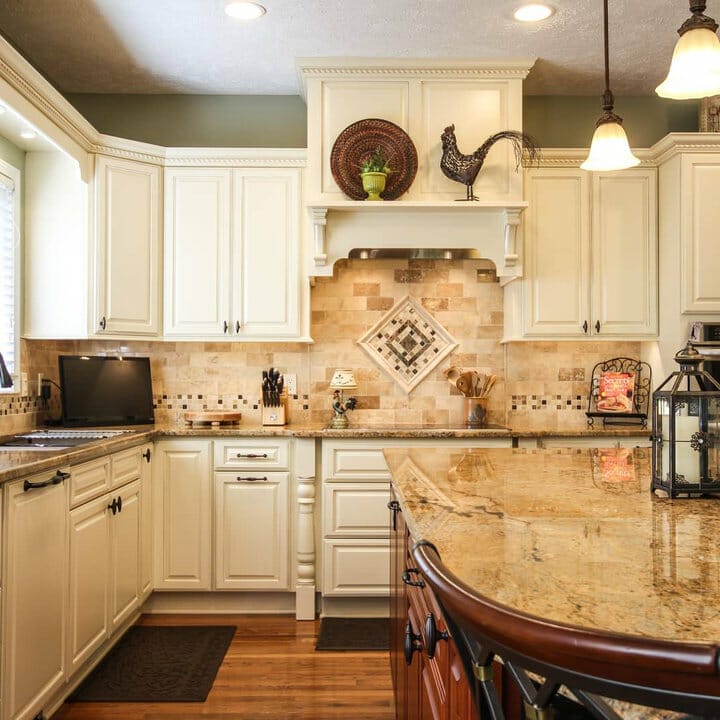 The warm-toned marble subway tiles keep things inviting. Furthermore, they match with soft white cabinets in this French country kitchen.
As you see, neutral subway tiles provide depth as well as texture. Meanwhile, the backsplash inset showcases multitone mosaic tiles for a cohesive feel.
21. Say Yes To the Herringbone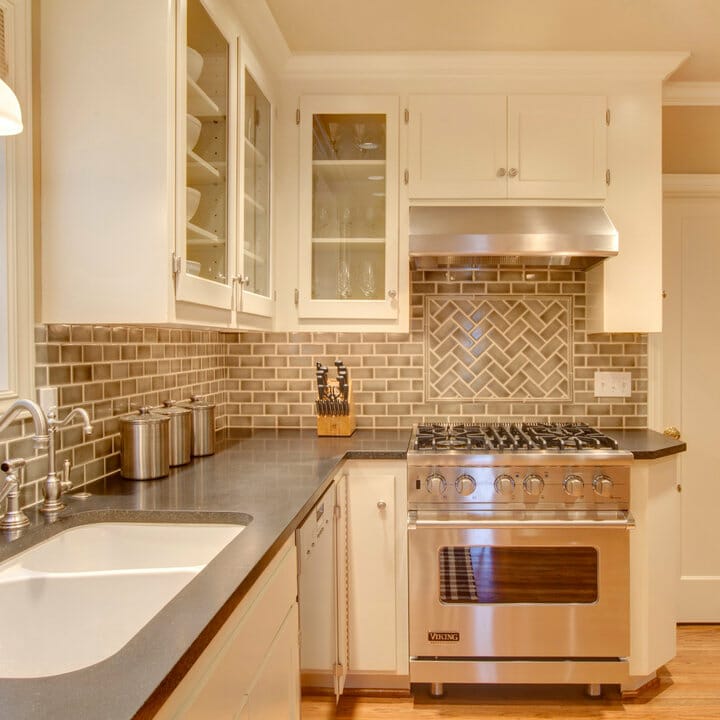 Here, high gloss gray subway tiles harmonize with the concrete counter. Apart from complementing metallic appliances, they instill a serene ambiance.
The herringbone tile layout of the backsplash inset offers a mesmerizing finished look. To keep things homey, the homeowner installed light-toned wooden flooring.
22. Pearly and Pretty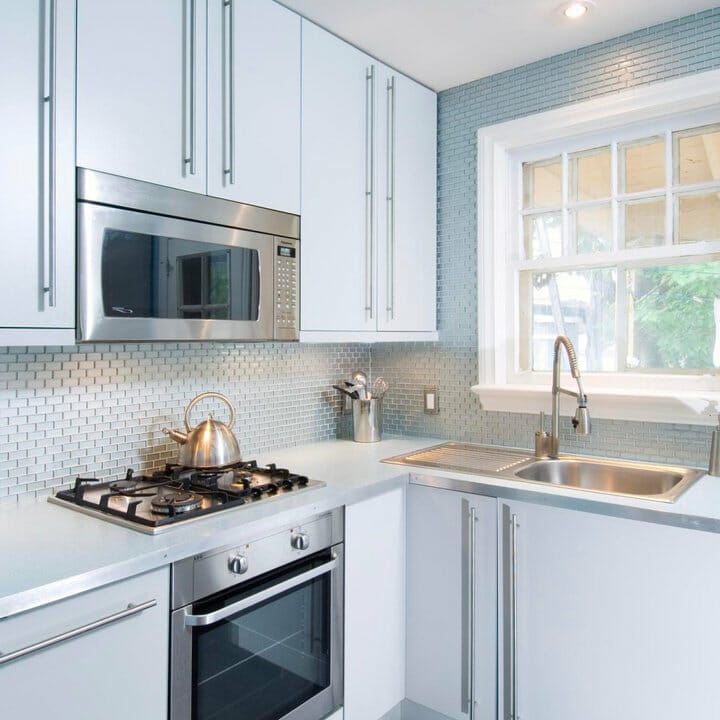 This white retro kitchen boasts a matte stainless steel counter. Moreover, the silver drawer handles and appliances complement it excellently.
Speaking of white cabinet kitchen backsplash ideas, replicate this look. The pearly white backsplash tiles add terrific details. Apart from delivering a little shimmer, they keep the interior feeling open.
23. Coastal Charm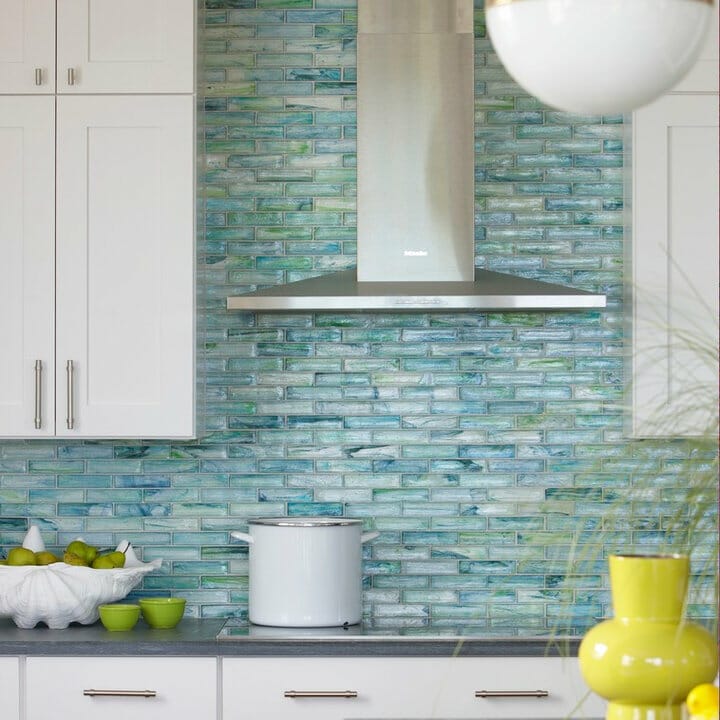 The backsplash of this kitchen employs slim subway tiles. Furthermore, they wear light green, turquoise, and sky blue for a coastal atmosphere.
This kitchen backsplash reminds me of a bodacious beach. They accentuate both lime green and yellow pieces. Lastly, the nickel hardware rounds out the cooking space.
24. Wonderful White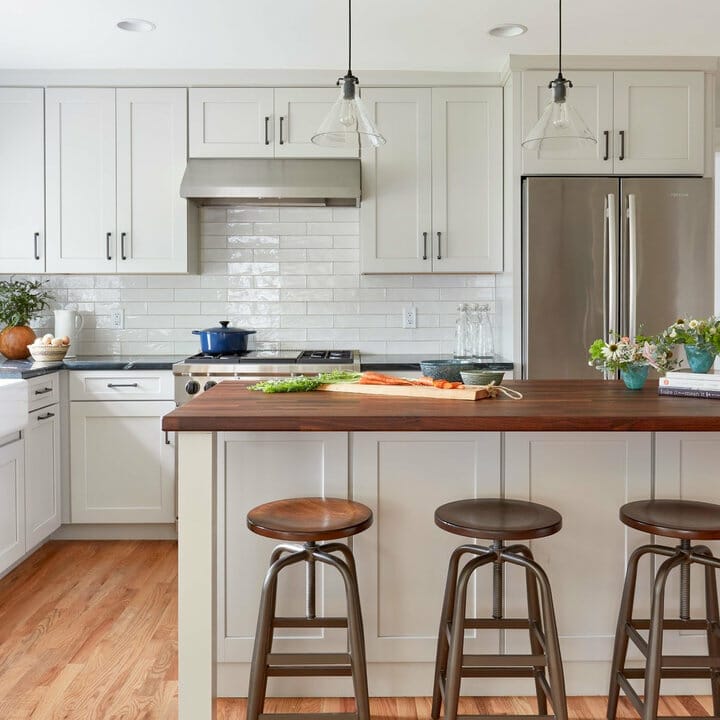 Need captivating white cabinet kitchen backsplash ideas? Try this option. The white grout and subway tiles lend the interior a seamless appearance.
The white backsplash and cabinets allow for splashes of blue and green. Because of the wooden counter, flooring, and stools, this kitchen doesn't become cold.
25. Delightful White Cabinet Kitchen Backsplash Ideas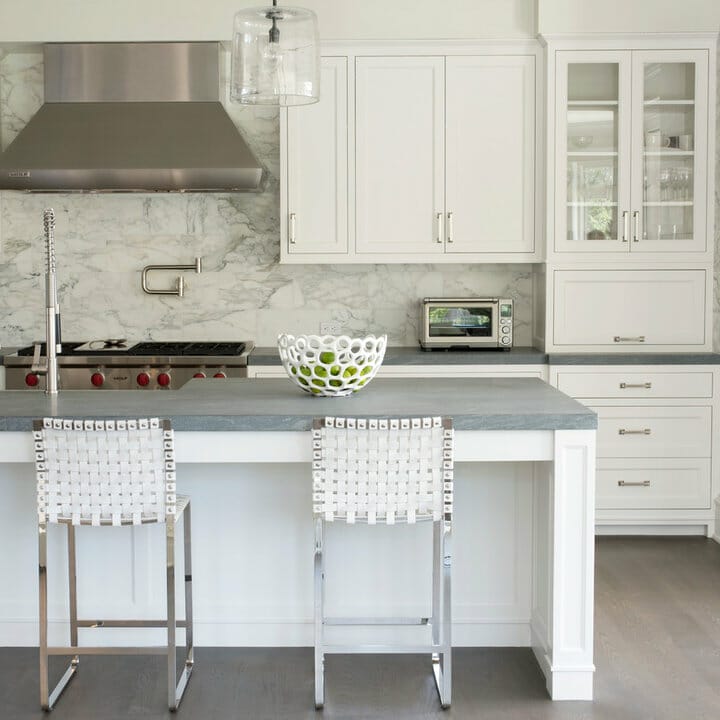 This marble backsplash is a fabulous accompaniment to crisp white cabinets. Additionally, it highlights kitchen appliances in silver.
In this photo, the timeless marble backsplash harmonizes with the concrete counter. Furthermore, it lets the homeowner introduce red and green accents.
26. Classic Stone Wins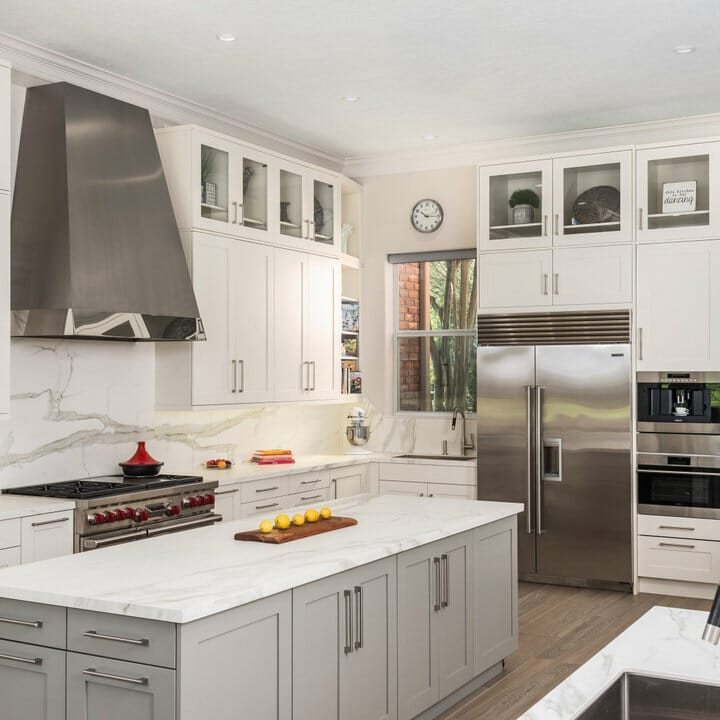 Many homeowners love all things marble. No surprise, the material is timelessly glamorous and stunning.
The marble backsplash carves a clean look. It keeps the culinary area looking bright. Meanwhile, shiny kitchen appliances inspire glamor. Lastly, bursts of rich red and yellow punch the interior up.
27. Graceful Gray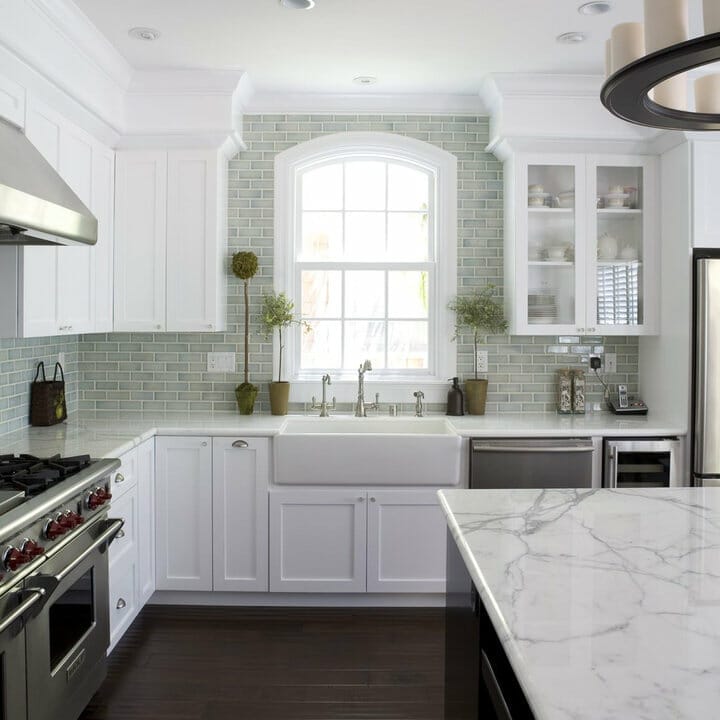 White and gray undeniably make for the timeless duo. In this photo, the light gray subway tiles and white kitchen cabinets help the homeowner create an inviting cooking space.
Gray subway tiles employ white grout lines. Additionally, they live harmoniously with the marble counter.
Furthermore, the pieces draw attention to the arched window and artificial greenery.
28. Magnificent White Cabinet Kitchen Backsplash Ideas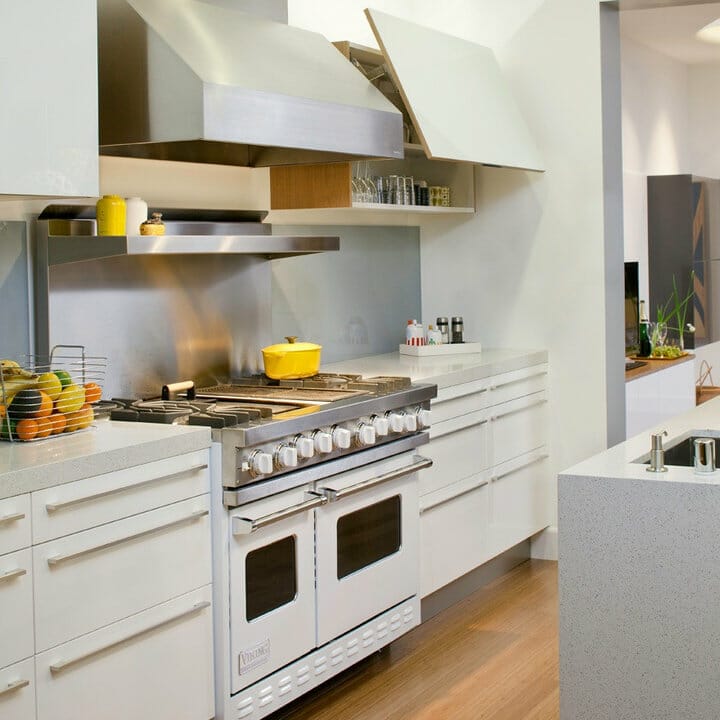 The backsplash features gray and antique matte stainless steel surfaces. Moreover, they carry a retro vibe and a bright atmosphere at once.
As you see, the backsplash allows vibrant retro units to grab attention. In addition, it complements the metallic stove and granite countertop.
29. Play with Shapes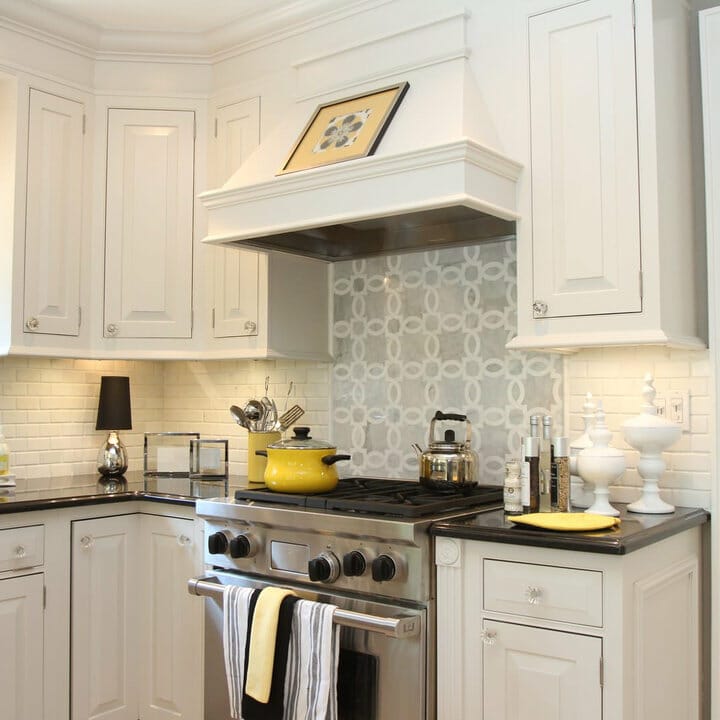 If you're after a seamless look, opt for white subway tiles. Moreover, pair them with similar grout lines. Here, the combination makes the cooking space appear clean.
The backsplash inset boasts gray tiles with a retro design. In addition to generating interest, they set this culinary space apart from other traditional styles.
30. Multitone Mosaics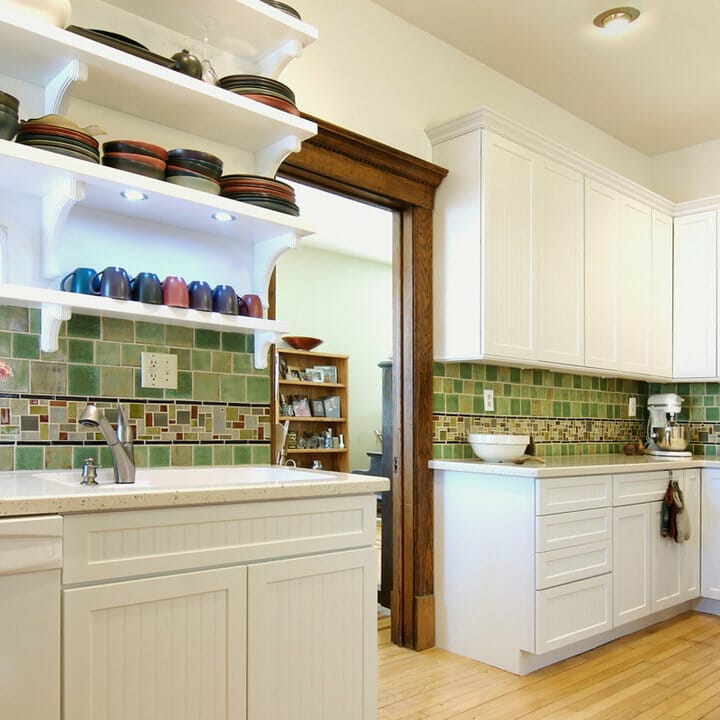 This traditional culinary space has white beadboard cabinets. As the picture shows, they enable the statement kitchen backsplash to be the centerpiece.
The backsplash is aesthetically pleasing due to tiles of varying gray shades and sizes. They instantly invigorate this cooking space. Meanwhile, the horizontal stripe employs multitone mosaics and skinny black tiles.
Picking the right backsplash for bright white cabinetry seems intimidating. Since there are endless choices, you might be overwhelmed.
No worries, those white cabinet kitchen backsplash ideas come to the rescue. Choose one that works for your space.