If you work from home, it is important to have your own office. For sure, it will not be complete without a desk. Before incorporating the desk into your home office, take a gander at these different types of desks first.
You might get overwhelmed when it comes to buying the desk. Smile, I have rounded up desks to help you find the best pick. Some of them serve specific functions, while others come in various finishes, materials, and styles.
1. Secretary Desk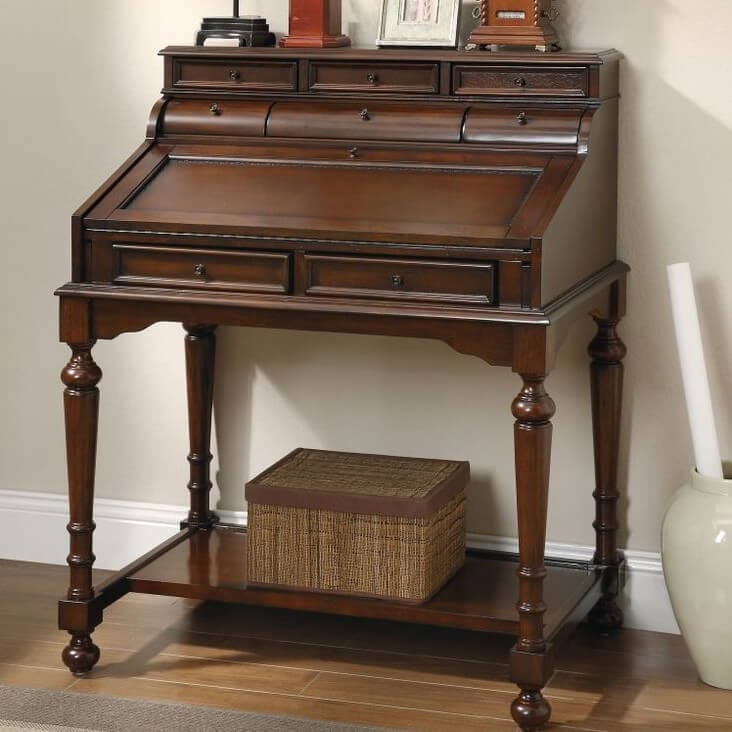 This dark-toned wood secretary desk is classy on its own. Moreover, it brings unparalleled warmth to the office.
It features a drop-down desktop, drawers, and hidden cubbies. The lower shelf is used to put a storage basket with a lid on. It is such a perfect fit for your multitasking room.
2. Laminate Desk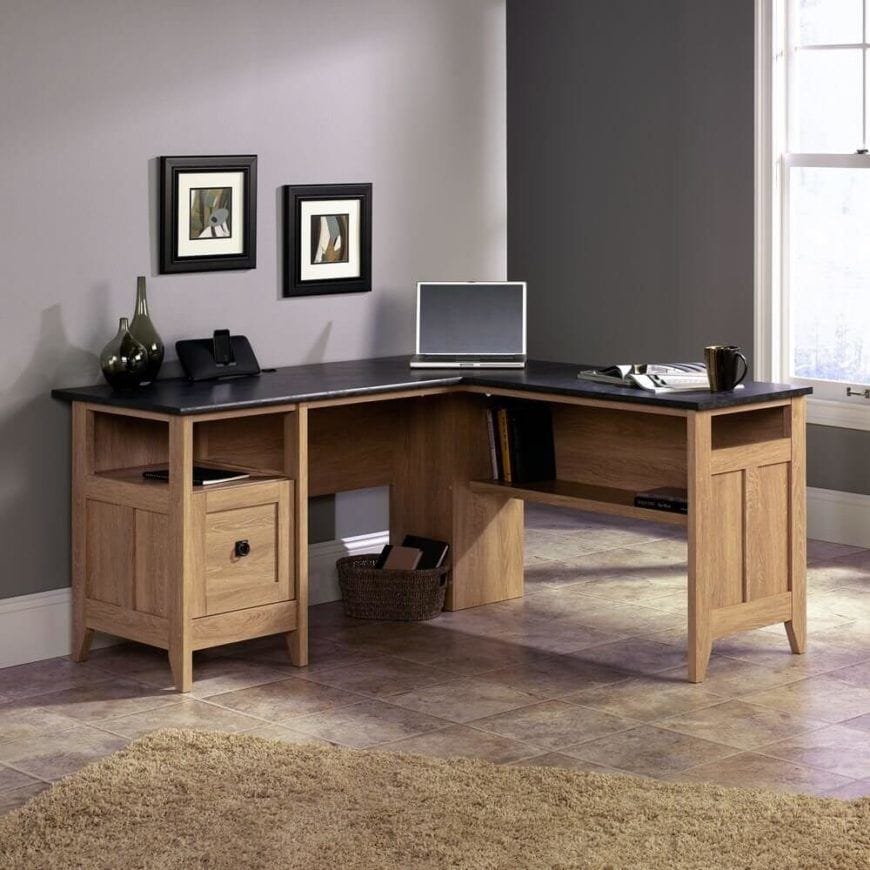 As you can see, the black laminate surface sits atop the wood construction. Since the desk has a plastic coating, it withstands warping and stains.
Although the laminate desktop does not look to give your room a luxury touch, it offers versatility and practicality. Therefore, it is still worth buying.
3. Small Corner Desk with Storage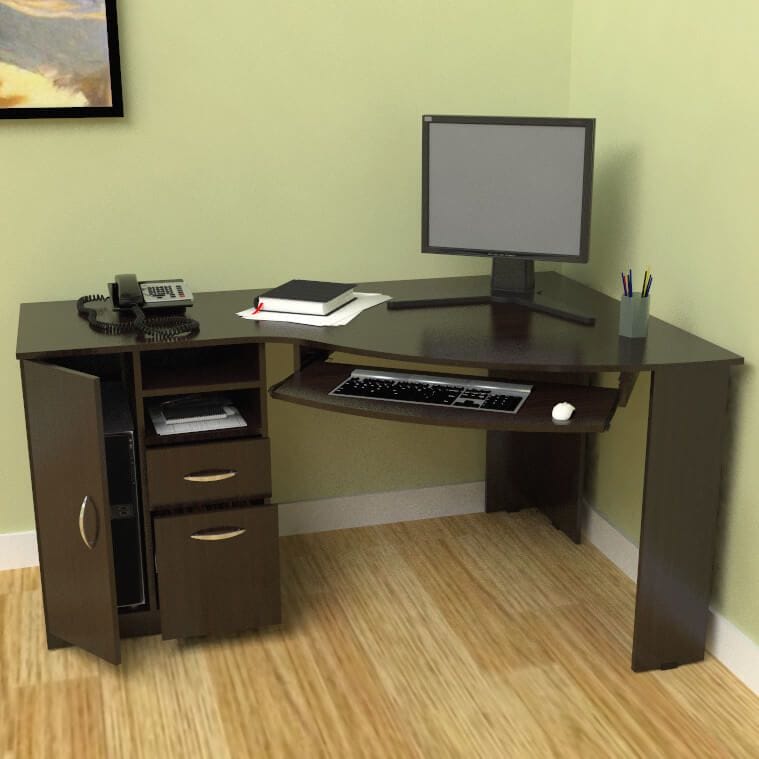 Are you working with limited space? Adding a corner desk to your home office is the best way to go. Besides, it evokes a sense of convenience.
Moreover, the corner desk usually employs drawers for stashing away unsightly items. Lastly, it provides extra legroom than a typical desk would.
4. Glass Desk L Shape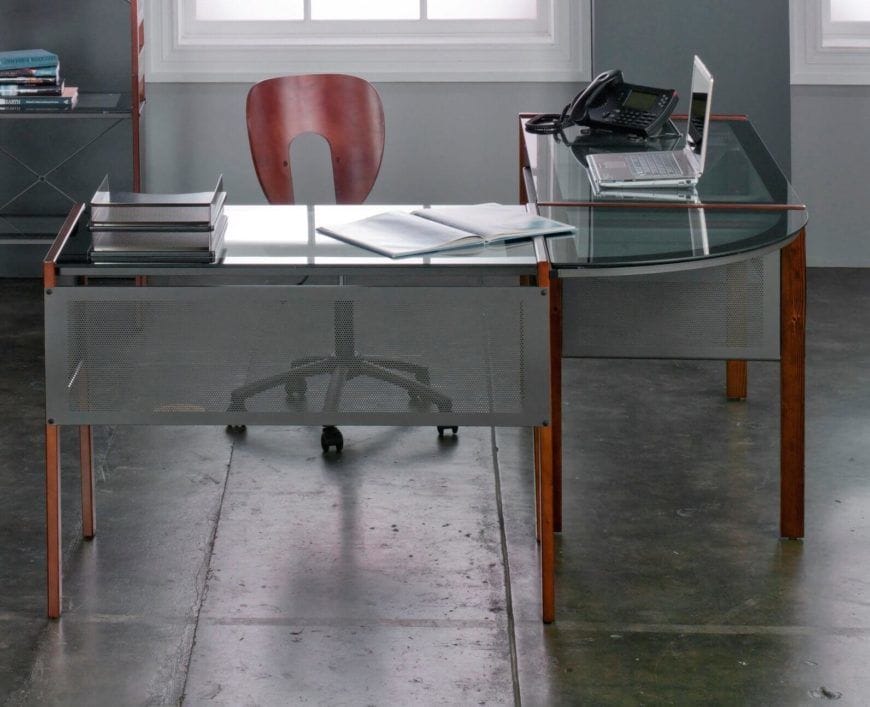 The L-shaped desk with a glass surface injects a modern vibe into the office instantly. It also creates a cozy working environment and lightens the whole area.
Furthermore, the desk boasts sturdy metal legs. The glass desktop can be removed for maintenance as well as cleaning.
5. Home Computer Desks
A computer desk is truly a practical furniture piece. It will be a great addition to any home office. Moreover, it has a lot of space for your computer tower, monitor, accessories, hook-ups, and cables.
Most computer desks come with keyboard trays. Just slide the tray out when you want to use it, and then tuck it away under the desk.
6. Black Desk Modern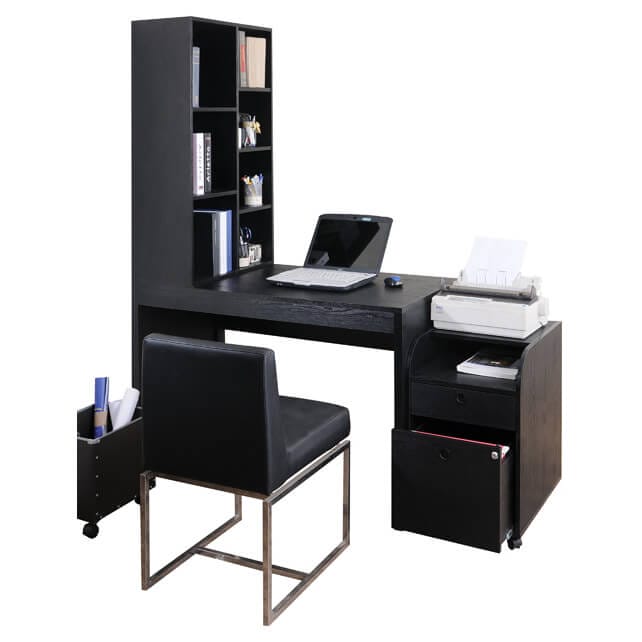 In no time, this black-colored desk lends your stark office visual drama. It also conveys a feeling of seriousness.
As the image shows, the desk includes drawers and open cubbies. They keep your office essentials within arm's reach.
7. Credenza Desk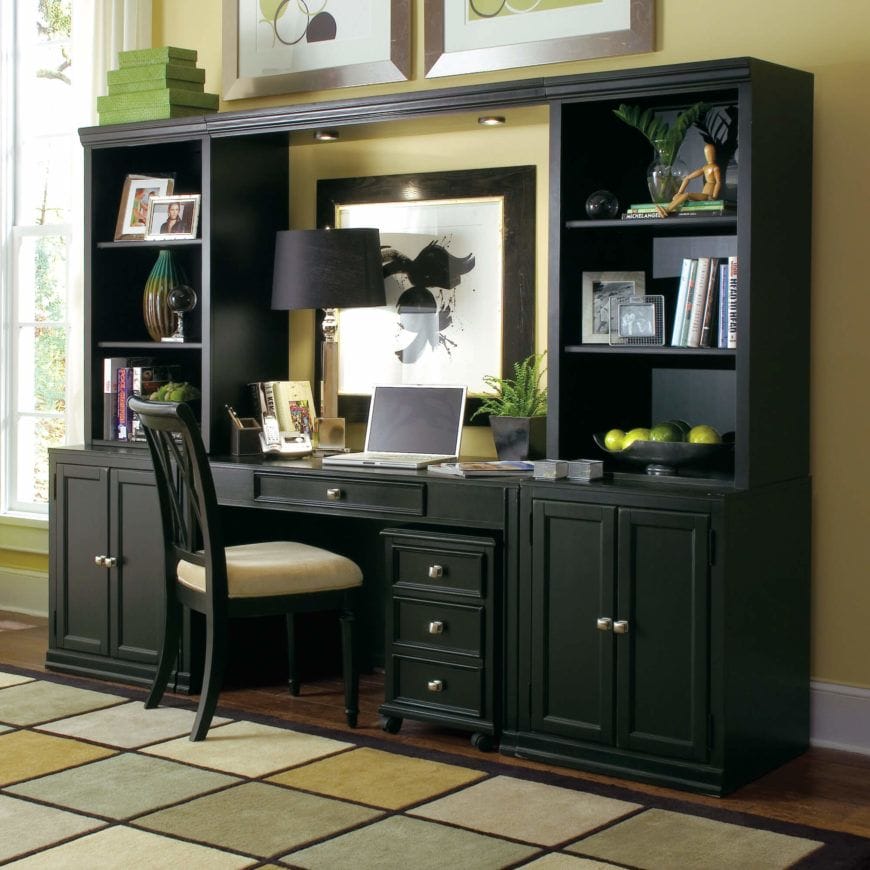 As the name indicates, this furniture item is a cross between the desk and cupboard-packed credenza. It is highly valued for its utility and elegance.
You can display your books and decorative pieces on its open cubbies. Lastly, keep in mind that the credenza desk takes up much floor space.
8. Wood Desks for Home Office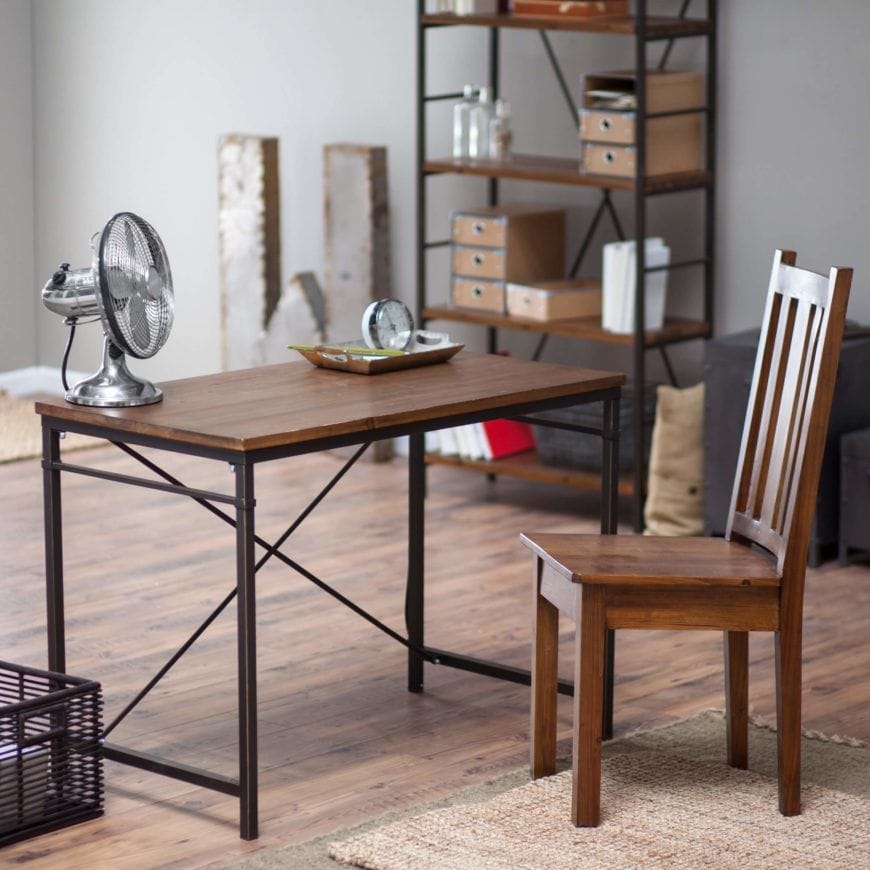 The wood surface is paired with black metal construction. Both wood desktop and chair enhance the beauty of a home office.
In a split second, the wood desktop delivers timeless appeal to the space. It looks stylish as well. What else could you ask for?
9. White Desk with File Drawer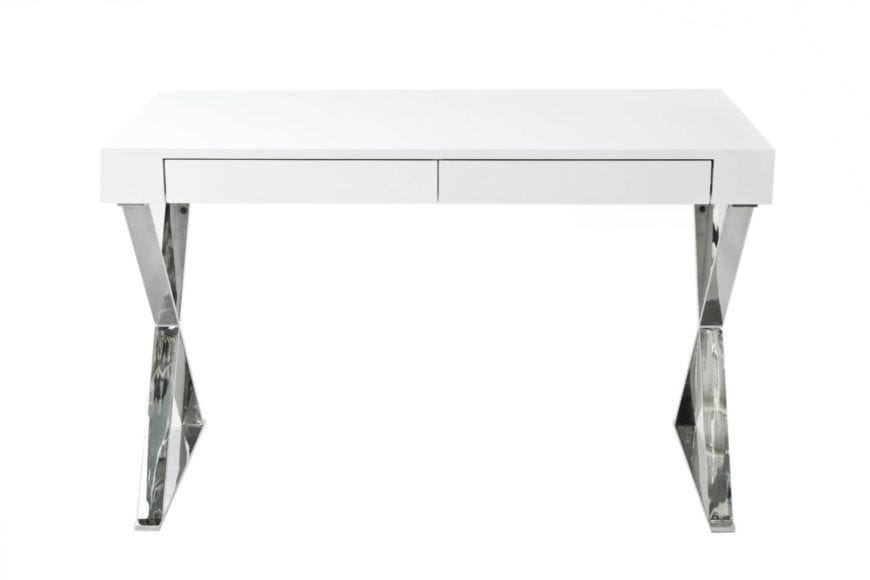 Do you have tight space? It is no problem. Incorporate this white desk into your office. It makes your room appear larger than it is.
The metal X-shaped legs spice up the desk and generate an urban feel. Purchase a white desk that features handle-free drawers to store your files.
10. Antique Executive Desk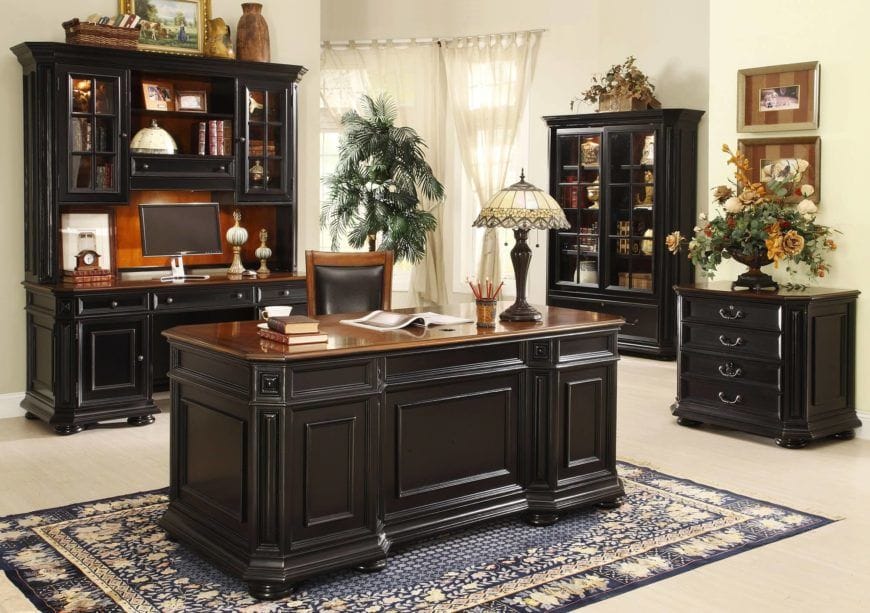 The executive desk works nicely in a spacious home office. This unit boasts loads of drawers to keep things organized.
In the picture above, the black executive desk is stunningly topped with a wood surface. It brings a touch of grandeur to the space. Meanwhile, a navy French country rug injects more classic charm.
11. Simple Wooden Desk
You cannot go wrong with natural wood desks. They are available in light and dark colors of stain. Not to mention, they bring out the wood's rich textures. Moreover, they set an inviting working environment.
The desk pictured here is a wooden one comprising a generous tabletop, keyboard tray, and drawers. The horseshoe drawer pulls imbue the space with a vintage flair.
12. Floating Desk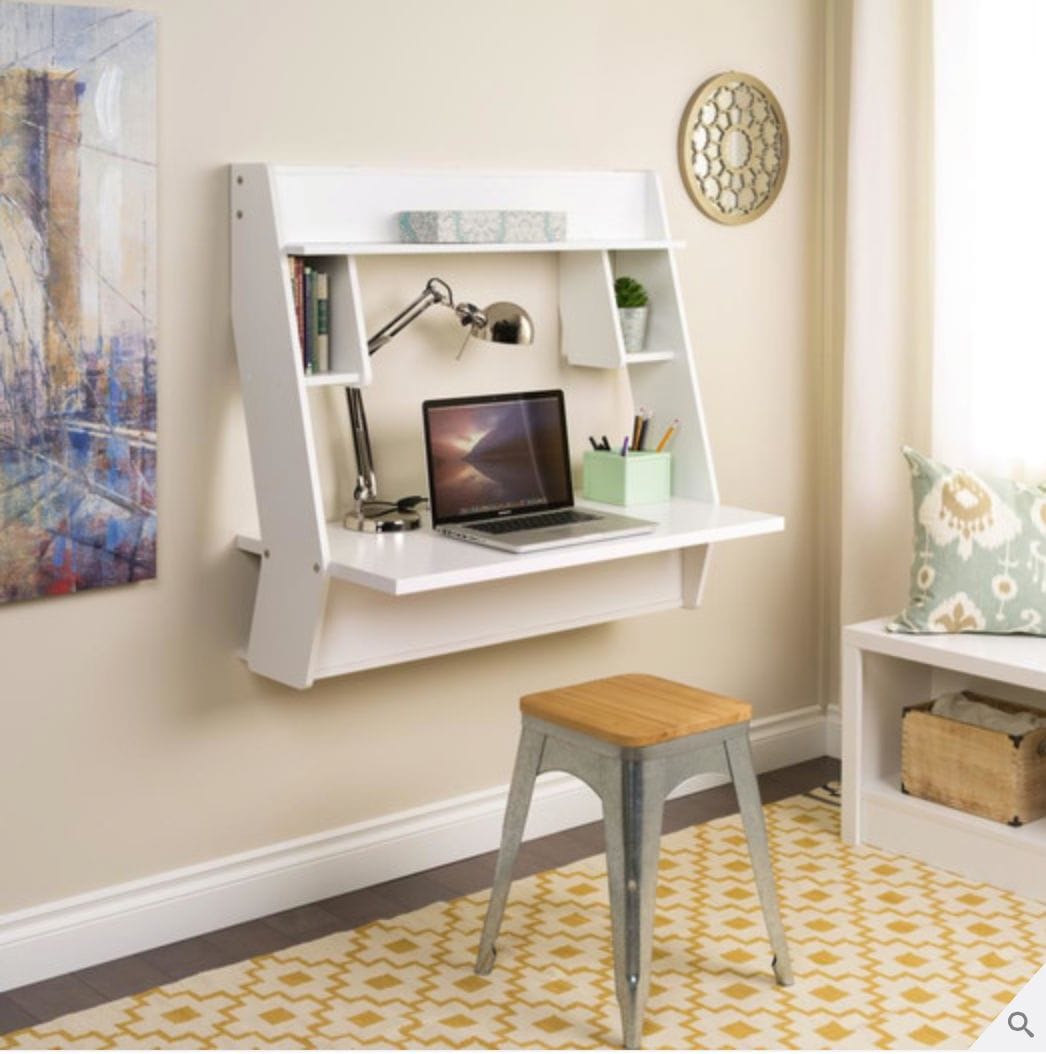 Is your space at a premium? Fret not. Just mount a desk onto an office's wall. It frees up precious floor space and carves a modern appeal. Besides, it comes with shelves to house books and office essentials.
The floating desk exudes a sense of simplicity. A metal stool matches nicely with it. When not in use, you can store the stool under the desk. To prevent the room from being dull, hang the abstract painting and boho basket on the wall.
13. Gray Desk Walmart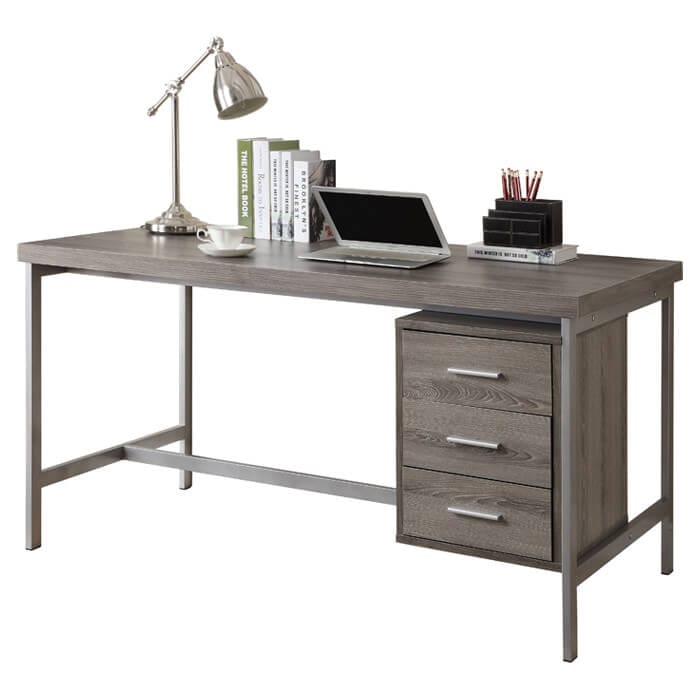 This gray wood desk from Walmart is so appealing. Not to mention, it creates a tranquil atmosphere and a modern flavor.
Your laptop will perch perfectly on the rectangular desktop. The metal base is painted gray to develop a cohesive feel. There are drawers on the right side of the desk too.
14. Modern Writing Desk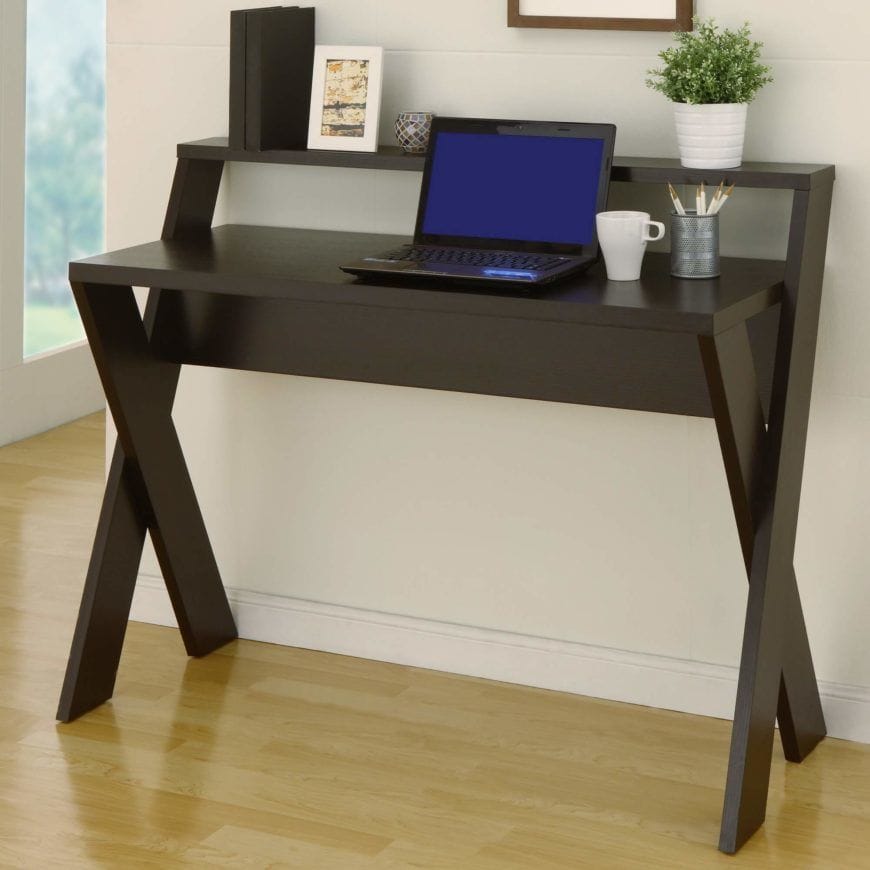 A writing desk is a simple desk with no drawers. It allows you to work on a laptop and write your upcoming novel.
Here, the desk comes in a deep gray. It is a tasteful contrast to the white wall. If you want to display your ornaments, opt for a two-tier writing desk.
15. Standing Desk Benefits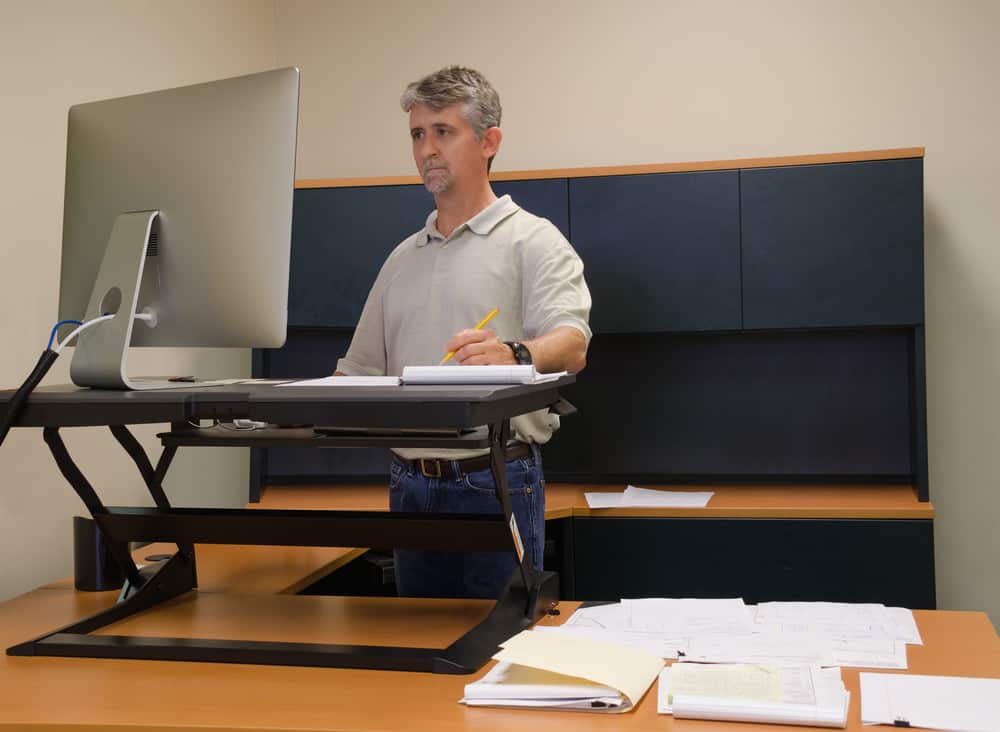 Can you not sit for long hours? A standing desk is obviously for you. It gives you some health benefits. For instance, it lowers back pain and encourages movement.
The static standing desk is always in an elevated position. On the other hand, the adjustable one can be lowered as well as raised easily.
16. Metal Desk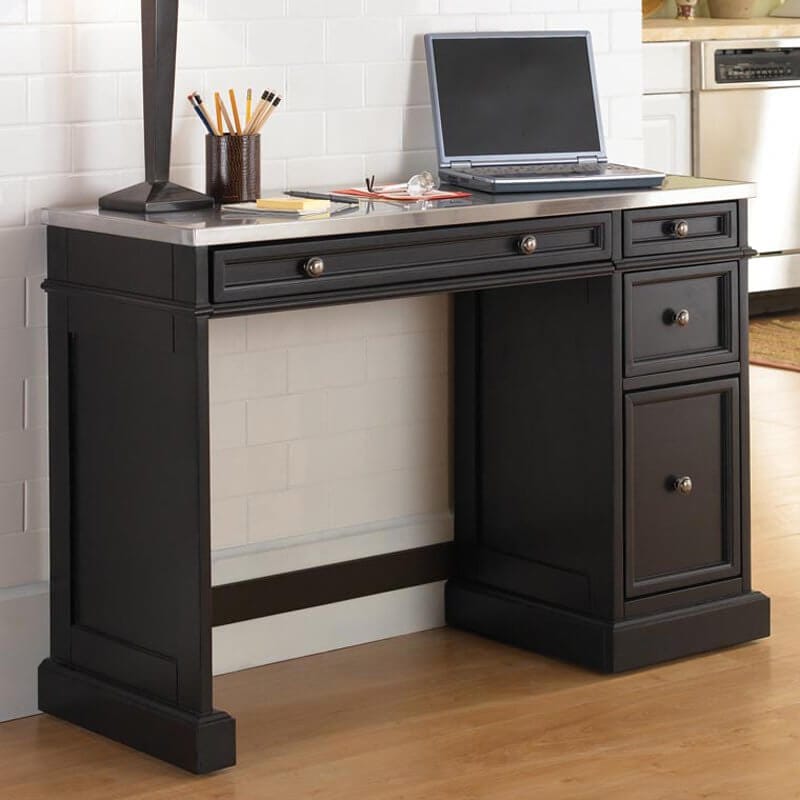 Are you a fan of industrial design? Outfit your office with this desk. The metal desktop is mounted atop the black-painted wood base.
The metalwork surface resists scuffs and stains. Lastly, drawers with metal knobs help you achieve a clutter-free workspace.
17. Rolltop Desk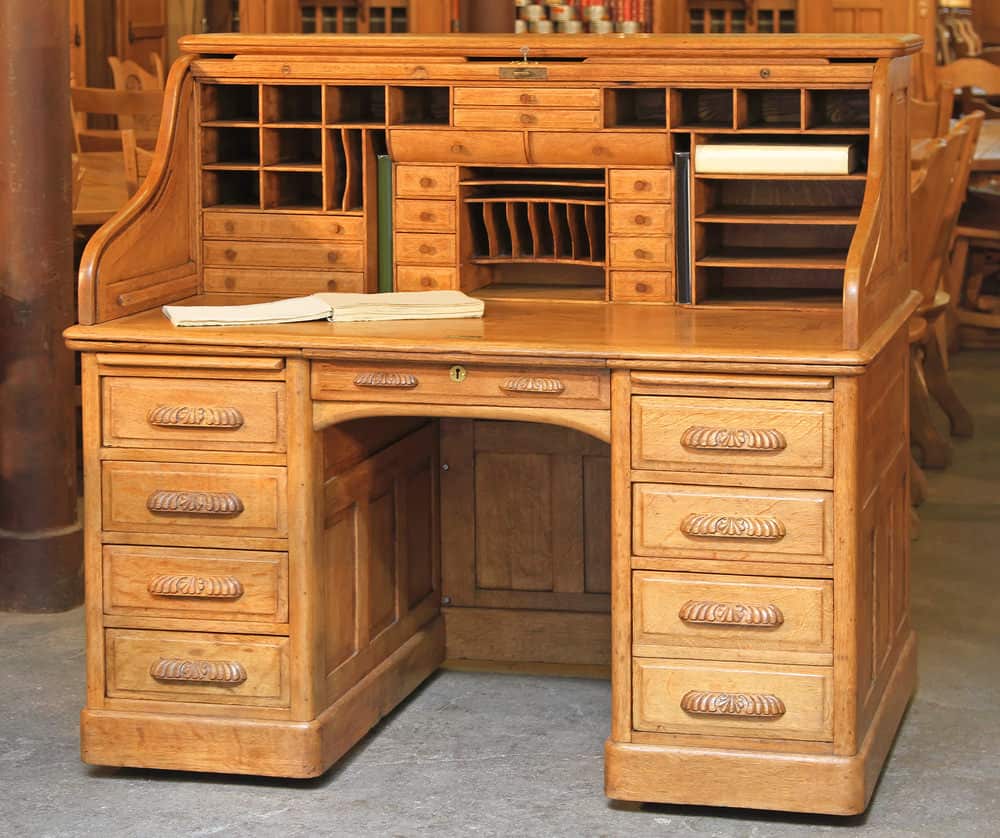 As the name implies, this is the desk employing a sliding roll top. It encloses the working surface.
When you roll the top back, you can find small slots, open cubbies, and drawers. The roll-top desk is not practical, yet it looks magnificent.
I hope that those types of desks enlighten you. Choose one desk for your office. Make sure it suits you. Once you added it to the home office, it will surely boost your productivity.