There are many ways to give freshness as well as a statement in your home. And one way you can do this is by placing indoor plants with large leaves.
In addition, if you want to bring the forest oasis to your home, big indoor foliage plants will lead you to the right path.
Therefore, without further ado, here are 30 indoor plants with large leaves décor recommendations to make your home appealing.
1. Weeping Fig in a Cement Planting Pot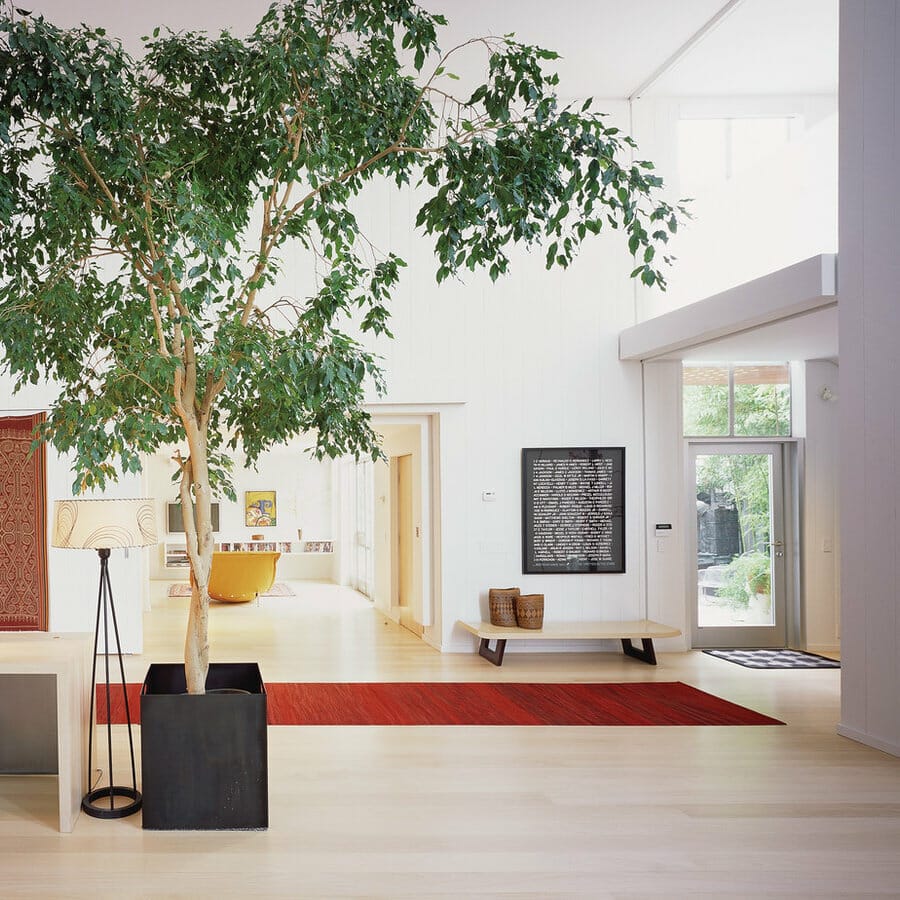 The first indoor plants with large leaves come with weeping figs that can grow from 3 to 6 feet in ample indirect sunlight.
Therefore, you can plant this evergreen tree in a cement pot which you will later place in your entrance hall.
This plant is quite famous for houseplant landscaping in many homes or offices. Its snaking branches can add more attractiveness to your room.
Be sure to water it regularly in the spring, and you can let soil drier in the fall to winter.
2. Lush Fiddle-leaf Fig Tree and Monstera Deliciosa in One Room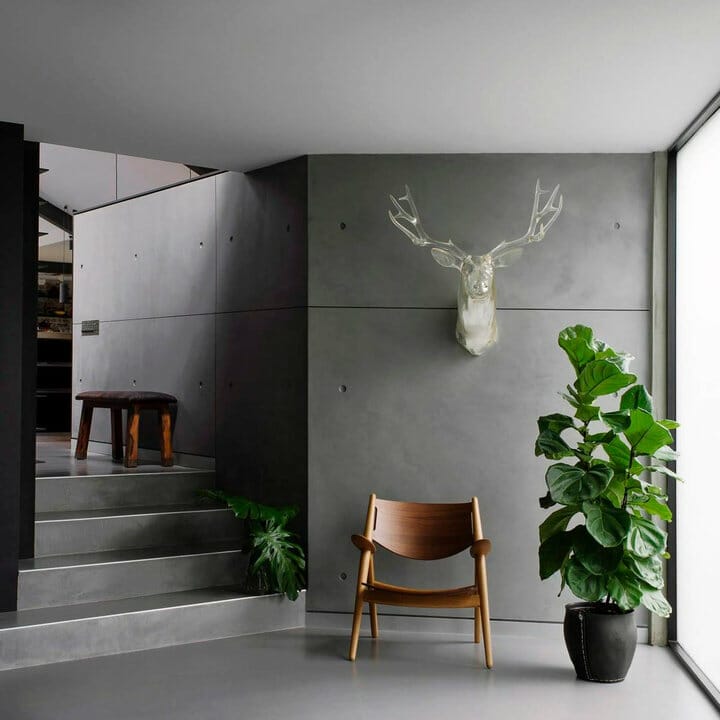 Fiddle-leaf fig and monstera are also indoor plants with large leaves popular among the public. These plants have almost the same treatment method: watering them occasionally when the soil dries up.
And, they need indirect sunlight, medium to bright, to make them grow well. Therefore, it is better to place them close to the window.
But you have to be careful because both of these plants are toxic to humans and pets when ingested. Also, it can irritate the skin around the mouth.
3. Arrange Multiple Indoor Plants with Large Leaves in Your Dining Room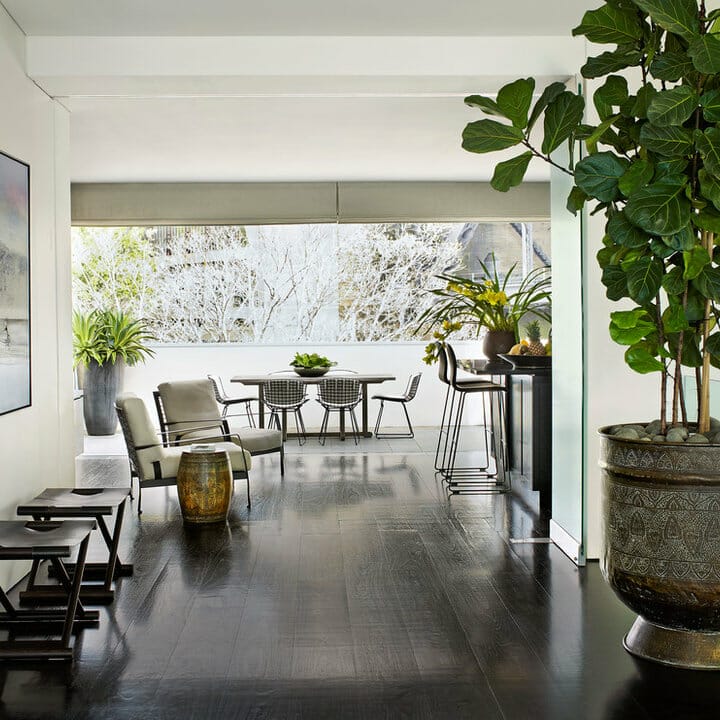 Putting more than three types of tall indoor plants will not be a problem for you. Everything can bring the perfect shade with the right arrangement, whether in the living room or dining room.
Like the picture above, the presence of a lush fiddle-leaf fig tree inside the huge pot complemented by lemon dracaenas and a yellow orchid with long leaves makes your dining room fresh and colorful.
4. Large White Abutilon, Purple Heart Plants, and Other Succulents on the Porch Bench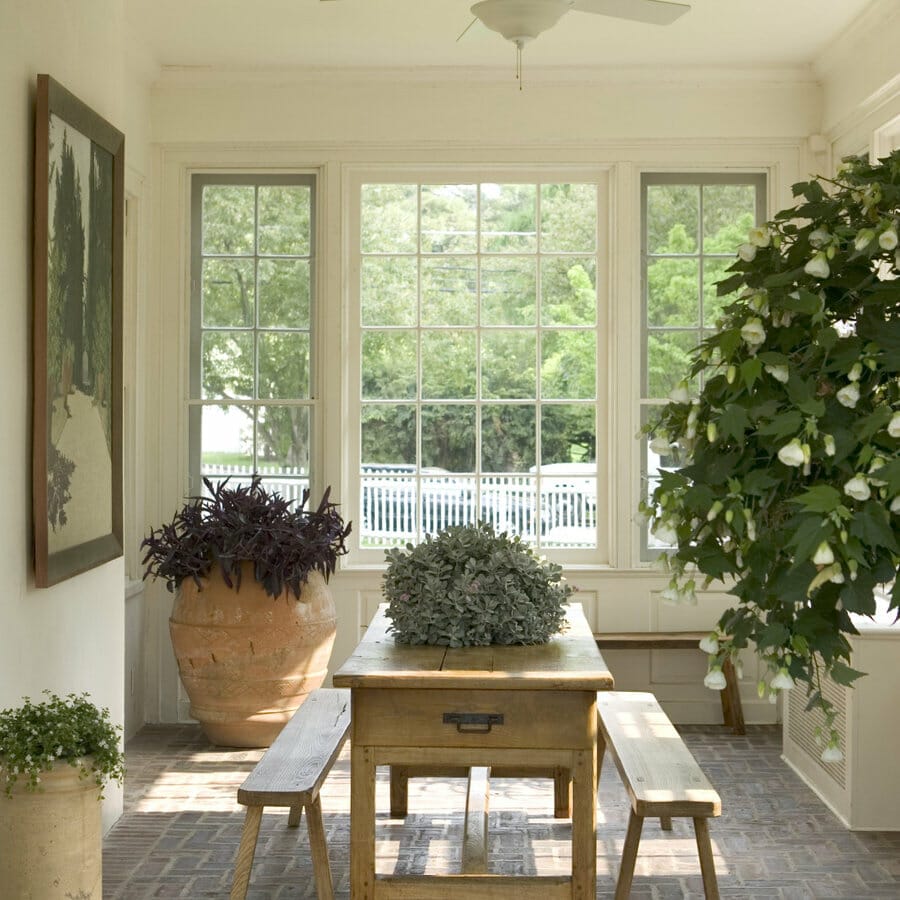 Decorating the porch with a variety of indoor plants with large leaves is, indeed, an incredible idea. You can consider placing large lush white abutilon that blooms throughout the year.
In addition, you can also complete it with purple heart plants and some dense succulents to beautify your patio bench.
5. Simple Decor with an Elephant Ear Plant on a High Wooden Stand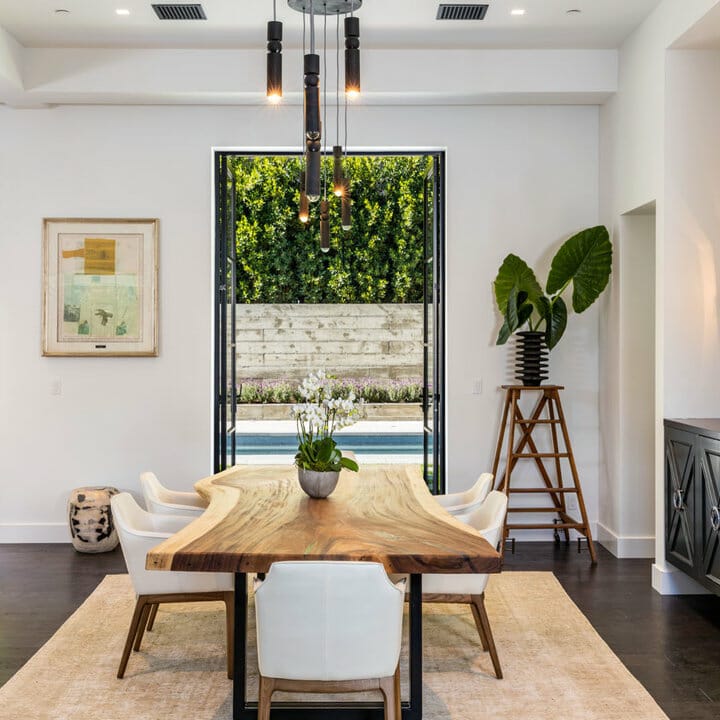 Elephant Ear is one of many large indoor plants that can give your contemporary themed dining room an elegant vibe.
Taking care of this plant is, indeed, not too complicated. You can start with keeping the soil moist and placing it in a sunny spot to keep it growing fresh and broadleaf.
As with other indoor ornamental plants, elephant ear is also dangerous for children and pets when ingested. Therefore, putting it on a stand is the best step you can take.
6. Tall Big Leaf Plants to Give a Living Room Statement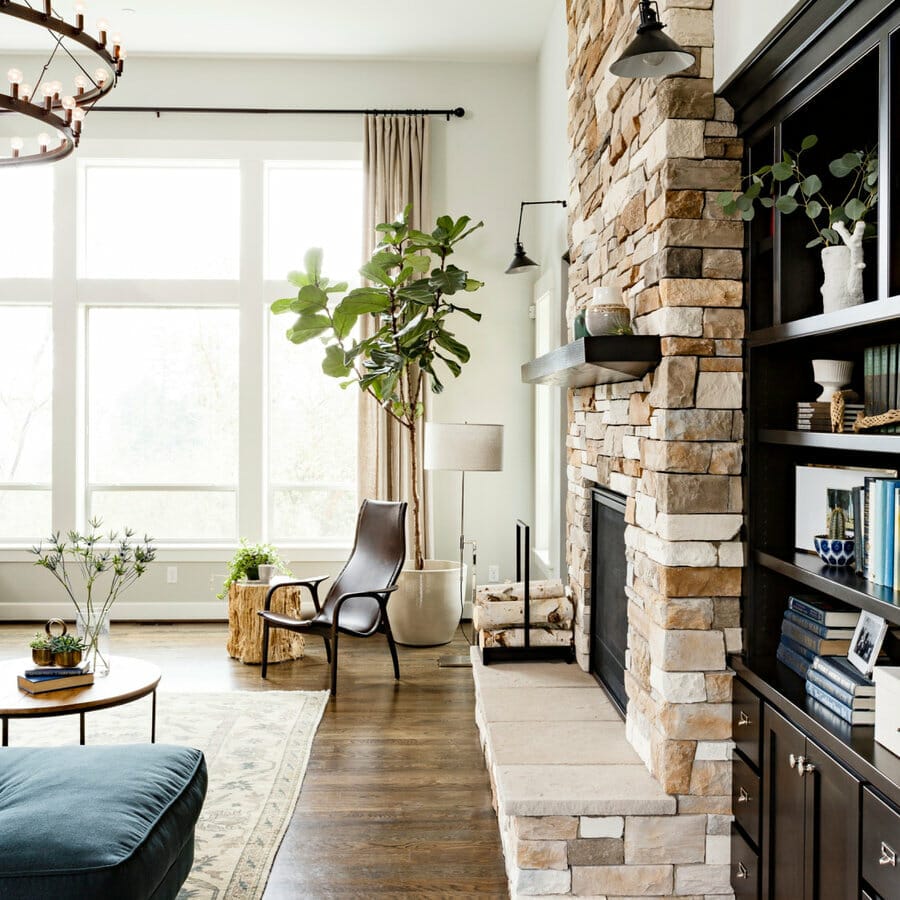 Again, a fiddle-leaf fig tree becomes the best option to complete the decor of your living room. With its tall stature and fiddle-shaped leaves, also its sleek stem, this plant can make a statement in a room without taking too much space.
Merely present this indoor foliage in a white cement planting pot to amplify the warmth of spring.
7. Giant Majesty Palms for Great Parlor Décor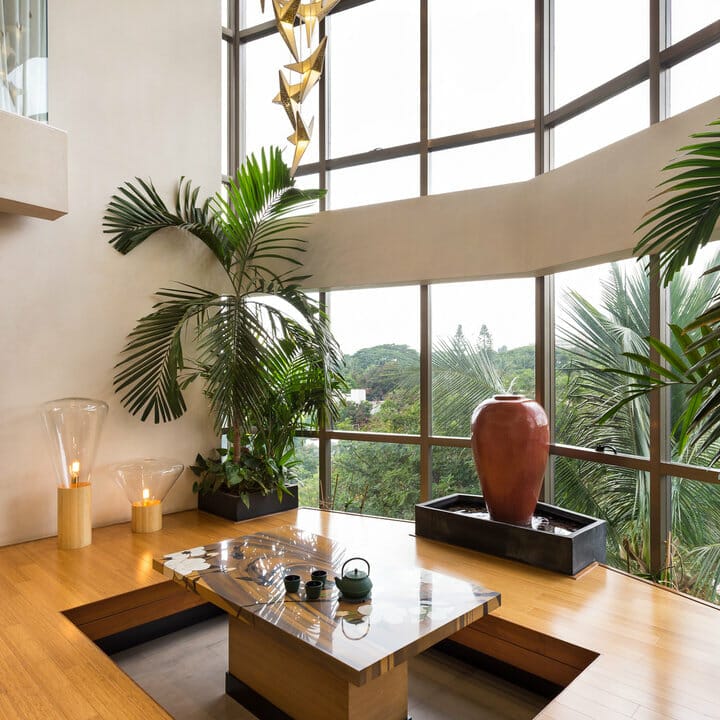 Suppose you have a parlor with an entire large window. Then you can choose these majestic palm trees to complement your interior decoration.
The tall tree with leaves that grow in all directions provides shades from the sunlight entering the room.
In addition, these palm trees are also included as the best indoor plants with large leaves because they can grow throughout the year gracefully with proper care.
8. Burgundy Rubber Plants in Dark Pot for Modern Space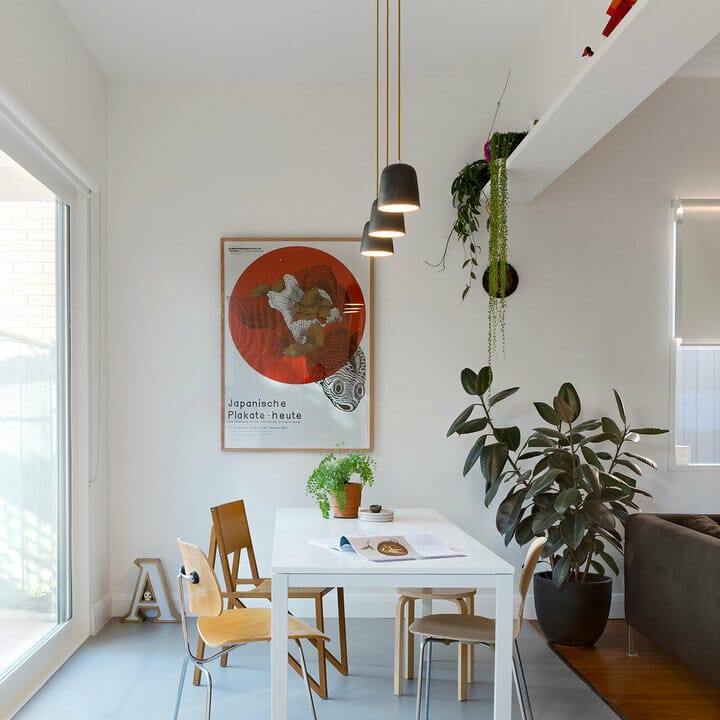 Are you looking for large leaf tropical plants to give your white dining room an attractive focal point Then try going with this burgundy rubber fig.
With its broad, wavy leaves, and dark tone, it will be able to highlight your modern minimalist-themed space perfectly.
Unlike other indoor plants with large leaves mentioned earlier, rubber fig requires direct light and moist soil to grow well indoors.
9. Twin Fiddle-leaf Fig Plants on a Wicker Basket Plantation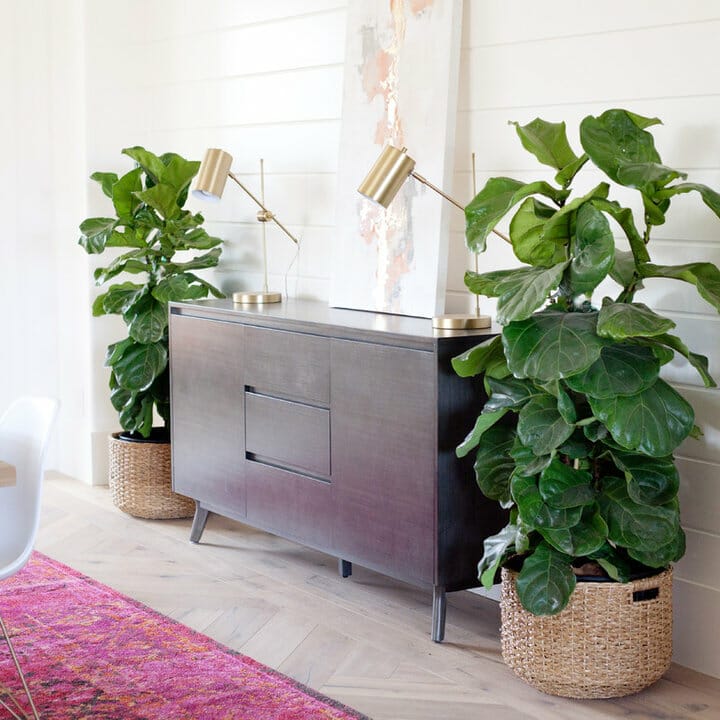 Bringing two lush fiddle-leaf fig plants together is the brightest idea you can ever come up with. Placing it on both sides of the cupboard makes your living room arrangement more balanced than usual.
Combining the green of these broad, wavy leaves with a wicker planter makes your living room warm and homely.
10. Enormous Fiddle-leaf Fig Among Mini Plantations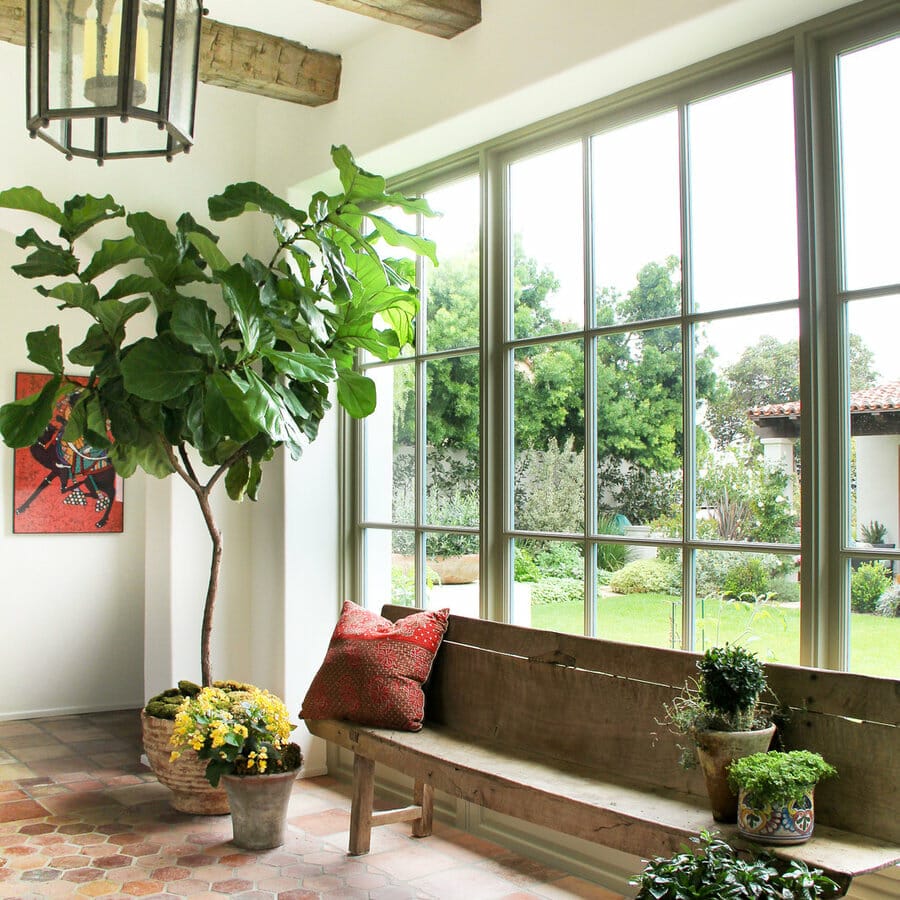 Presenting the freshness of the garden into the house is possible to be realized. Later, instead of combining all indoor plants with large leaves in one space.
It would be better to bring only one fiddle-leaf plant with a medium woven pot inside the room.
Meanwhile, let mini plantations and other succulents support the attractiveness in your sitting area.
11. Vertical Garden on The Wall
Instead of planting indoor plants with large leaves in pots. You can try to use a vertical wall plantation to present a pleasing focal point in your living room.
With hanging plantations like this, you no longer need to reduce your floor space. So that your room can still look wider even though accommodate many types of plants in it.
12. Wild Banana and Spider Plant for Master Bedroom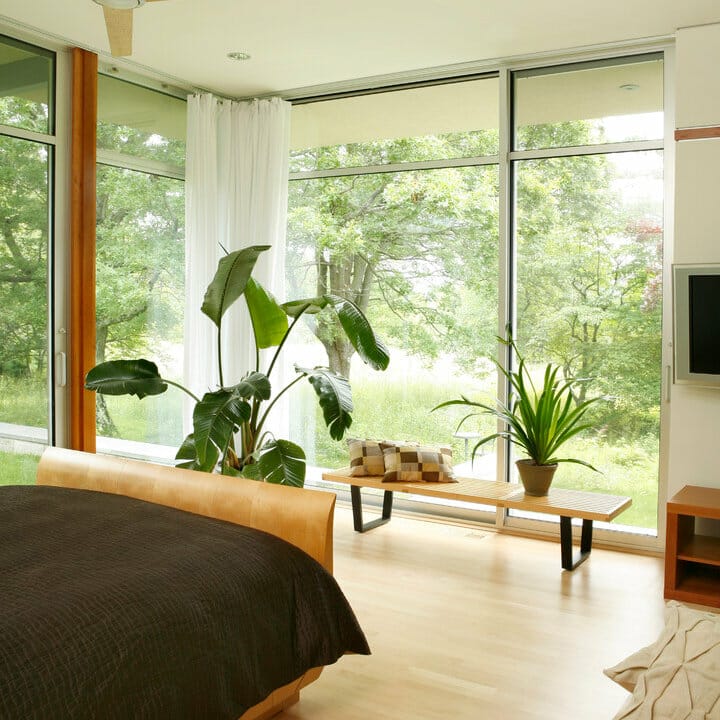 A master bedroom with a bit of furniture requires the presence of indoor plants with large leaves to fill the void.
You can choose to display wild bananas and spider plants to give your room calm and balanced in spatial planning.
Taking care of these two plants is relatively easy. The point is, never give them too much water, but never let the soil dry out too much.
While a wild banana tree needs bright light, spider plants prefer indirect sunlight to grow well.
13. Fiddle-leaf Plant for All Time Decoration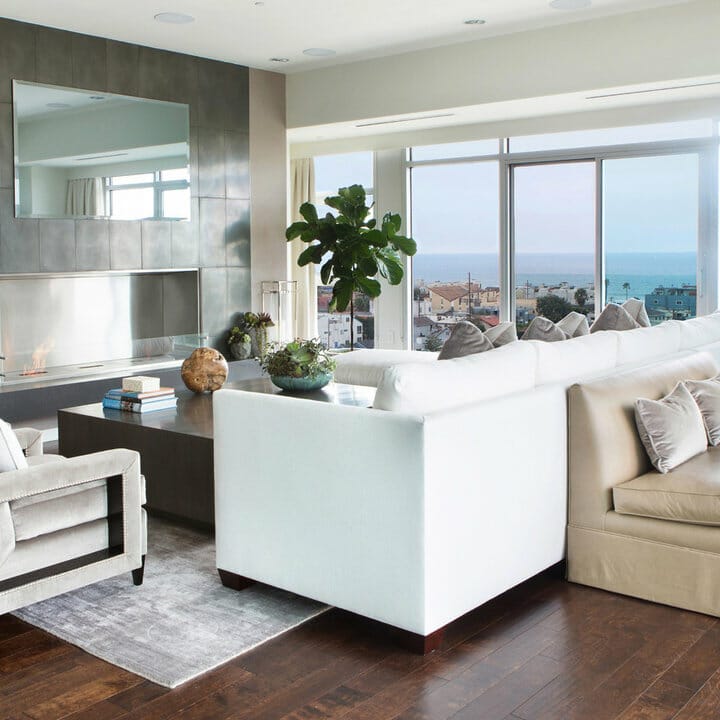 It is undeniable that fiddle-leaf plants have high popularity among the public. Whether going with a minimalist or rustic decor, this plant can give a firm statement to the entire room.
14. Pachira and Palm Tree in Wicker Pot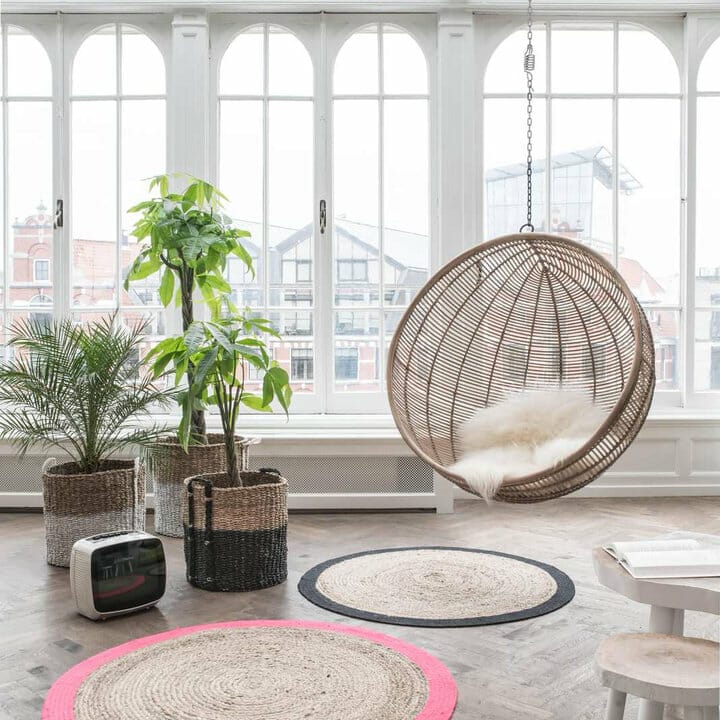 The Pachira plant, with its braided stems, can attract anyone who passes by it.
Suppose you plan to choose this indoor ornamental plant to complement your decoration. Then consider placing it in an "easy to find" place and never let other objects block it because its aesthetic value lies in its unique trunk.
15. Banana-like Plant for Your "Urban Jungle"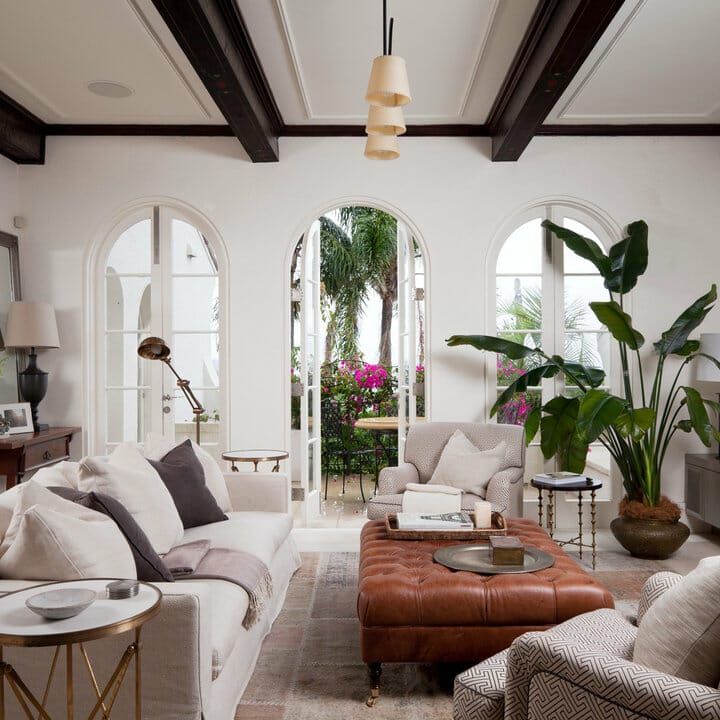 Once again, the presence of wild bananas replaces the fame of other indoor plants with large leaves. Its board leaves can grow towering and fill in all directions.
Indoor plants like this are generally suitable to be placed in the corner of the room and not flanked by any furniture. Otherwise, it will affect the plant's growth.
And, luckily, this plant is safe enough for pets when ingested.
16. Tall Airish Rose Succulents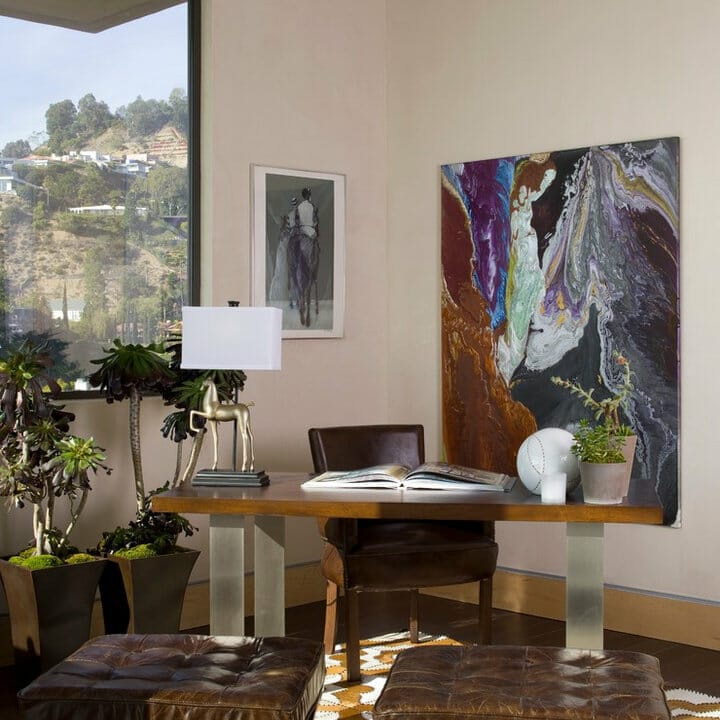 Maybe from time to time, you are bored with large green leafy indoor plants, so you can replace them with tall succulents to redecorate your workspace.
It doesn't take much, just two big ones to put on the floor by the window and all is well.
17. Mini Jungle in Porch
Turning your front porch into an all jungle is not impossible. Whether you're going with the palm tree, monstera, weeping fig, fern, or even blending them all, it's still great.
18. Ficus Benjamina Trees to Welcome the Guess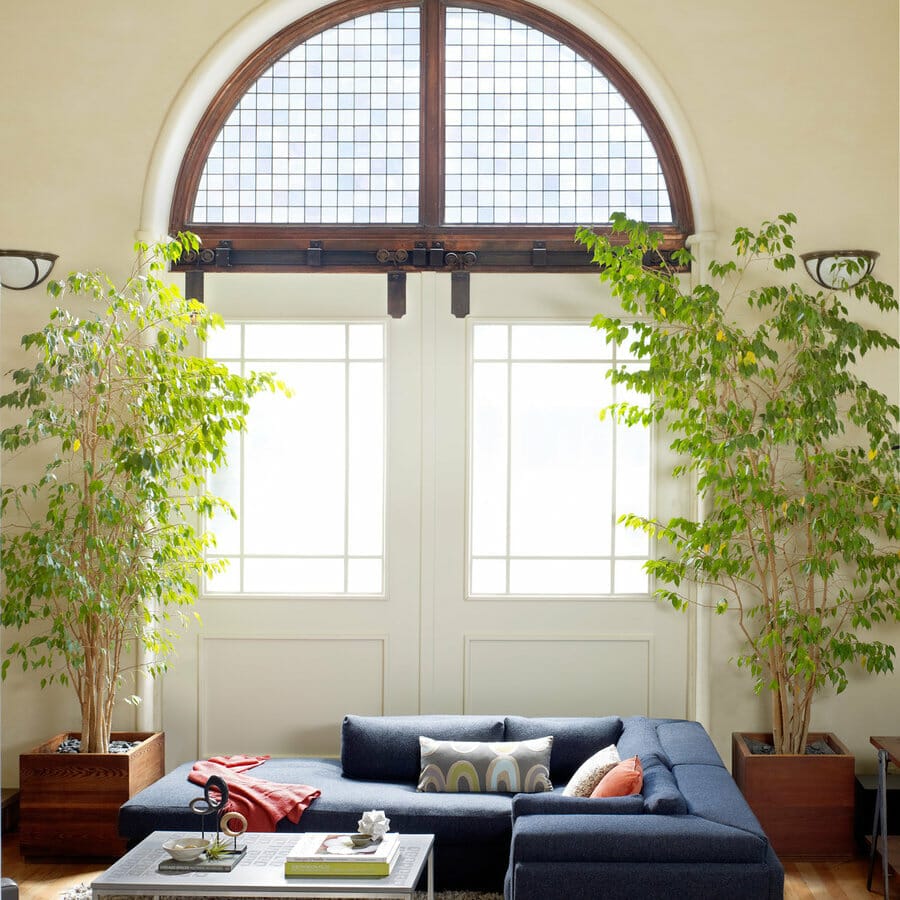 You can say that ficus Benjamina is not an actual indoor plant with large leaves. Because after all, they have small leaves but are still lush enough when getting the proper treatment.
However, because these plants can generally grow to the tower, it is enough to be called an indoor plant with large size.
Now, let's come to the planting arrangement. It is better to set these two large plants parallelly by the window or doors to welcome guests entering the room.
19. Tall Big Leaf Plants Through the Stairs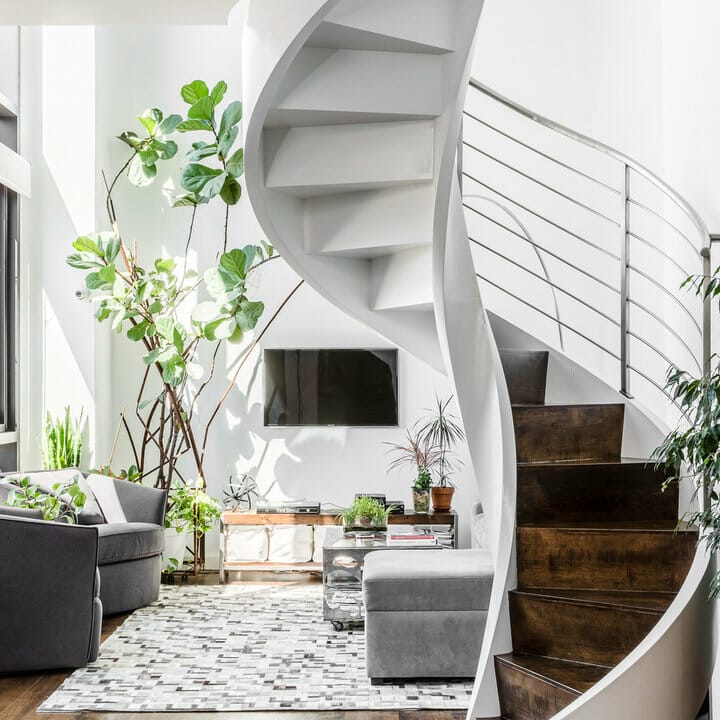 Do your stairs look empty and unattractive? Try to put some tall indoor plants on the ground floor so that you can feel the refreshing natural vibe in your home when you go down the stairs.
You can go with the basic one of a fiddle-leaf tree, weeping fig, and even snake plants.
20. Strong Earthy Vibes with Alocasia, Monstera, and Palms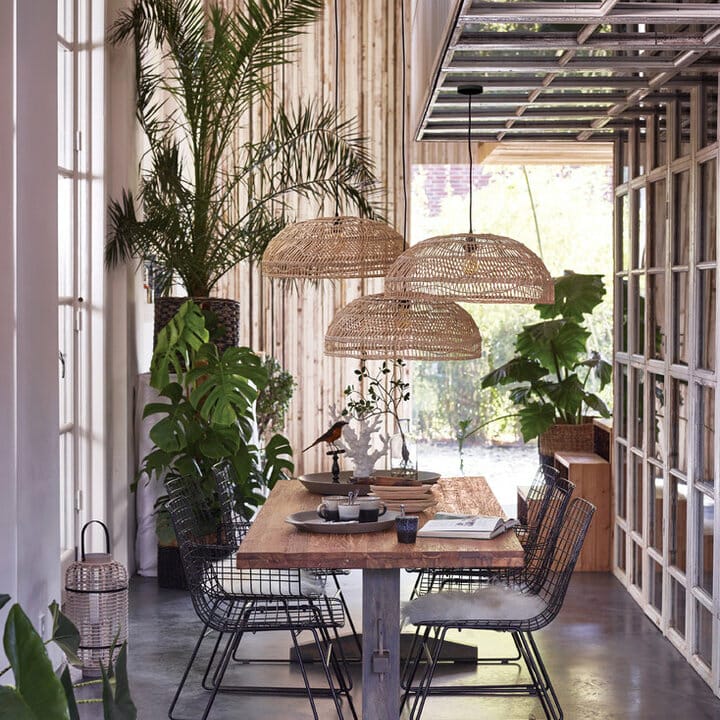 Incorporating several indoor plants with large leaves such as monstera, alocasia, and palm trees will further amplify the natural vibe in your dining room.
Make sure to place them not too close together to provide sufficient light and air for each plant to grow.
21. Palm Tree on a Side Table
A medium-sized palm tree allows you to place it on your side table.
After all, this tree is a long-growing plant, so, as long as the size is small enough and not heavy, you can still put it on the furniture you have.
22. Indoor Plants with Large Leaves by The Window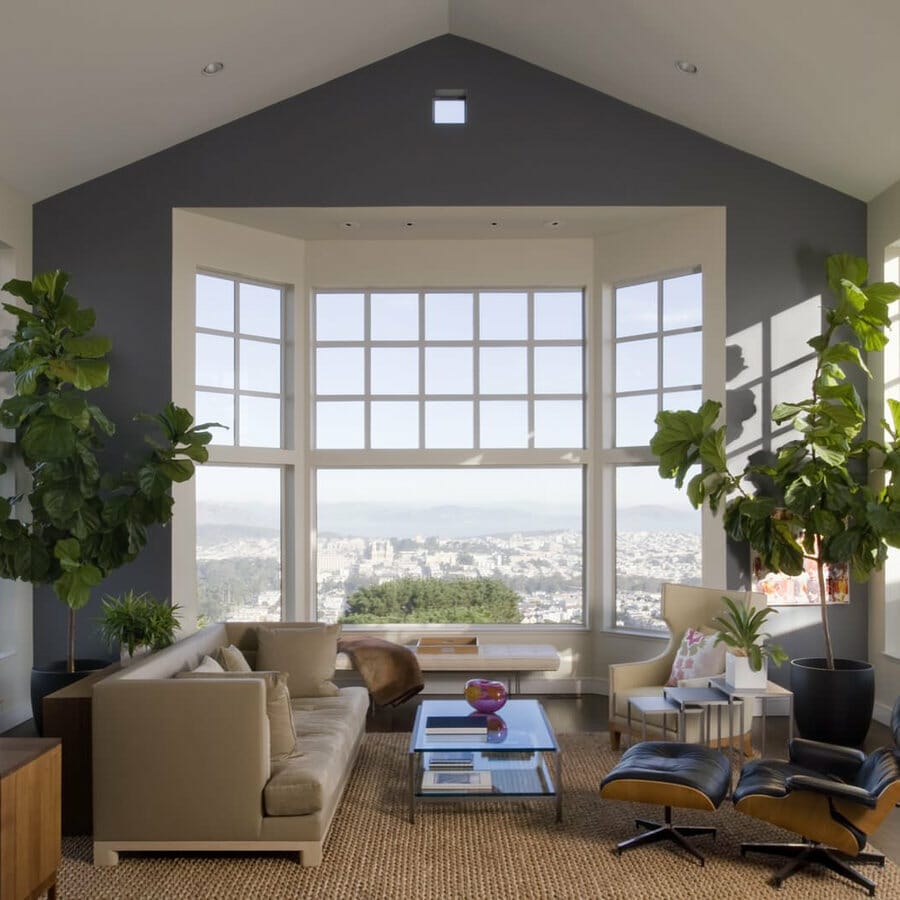 It is the umpteenth fiddle-leaf tree decorating idea that you can find in this article. Indeed, it is an evergreen suitable for any interior theme and in any room.
As long as enough indirect sunlight reaches the fiddle-leaf fig plants, their leaves will continue to grow broad and well.
23. Big Leaf Tree with Hanging Flower and Vines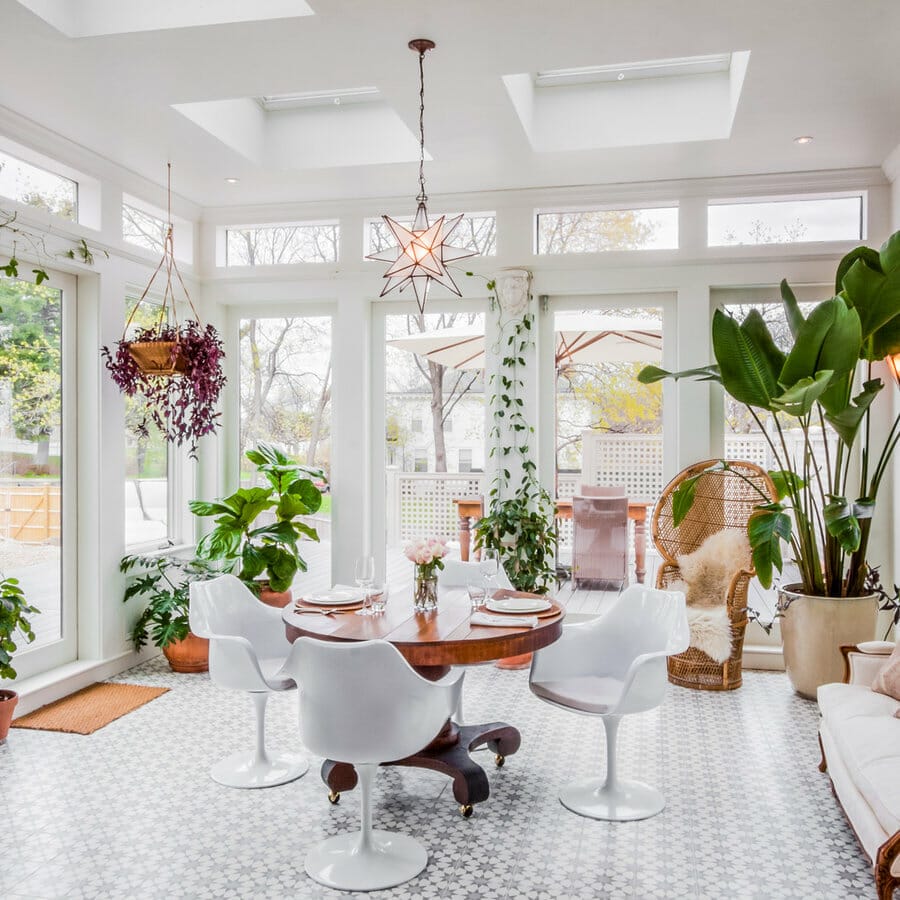 The following decorating idea that takes advantage of the beauty and shade of indoor plants with large leaves brings you to the presence of a vast wild banana tree amidst small greenery.
The presence of a wild banana that is tall and luscious helps you to fill the void of the living room wall without a wall decor.
In addition, adding vines is also great for supporting a fresh atmosphere in this space.
24. Palm Tree Inside the Master Bathroom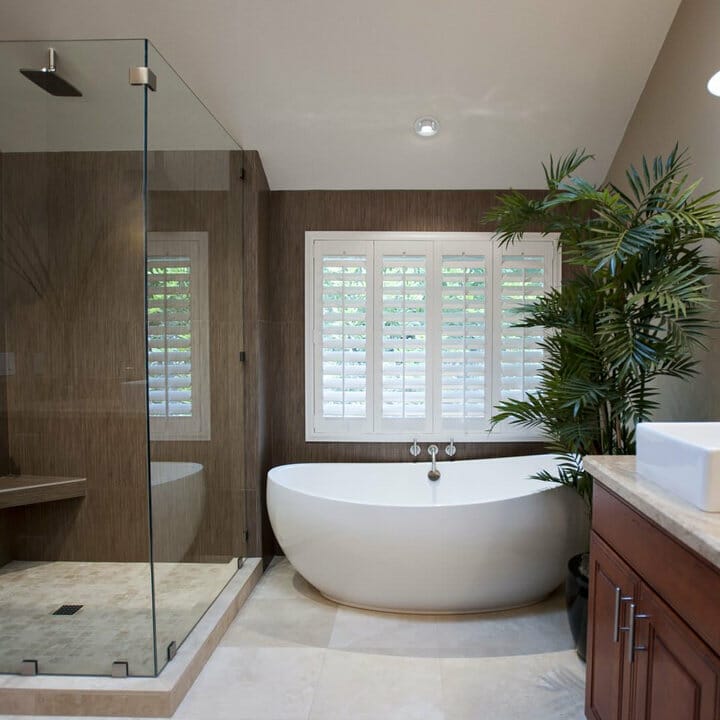 As many people know, palm trees love humidity. Therefore, putting it in the master bathroom is not a mistake. On the contrary, this will make the palm tree fresher with broad leaves.
25. Complete the Décor with Fresh Flowers
Because of the popularity of fiddle-leaf fig plants, you have to add at least one additional decorative floral element to make the space in your home more stunning and colorful.
Therefore, try to put a vase of white flowers on the table on your porch to make your interior decor different from others.
26. Sleek Fiddle-leaf Fig Plant to Refresh Your Victorian Bedroom
Besides functioning to beautify your porch, fiddle-leaf fig plants are also suitable for your all-white bedroom.
The presence of a green element reflected by the mirror above the bed makes your private room more relaxing and fresher.
27. Banyan Tree with Bright Flower Vines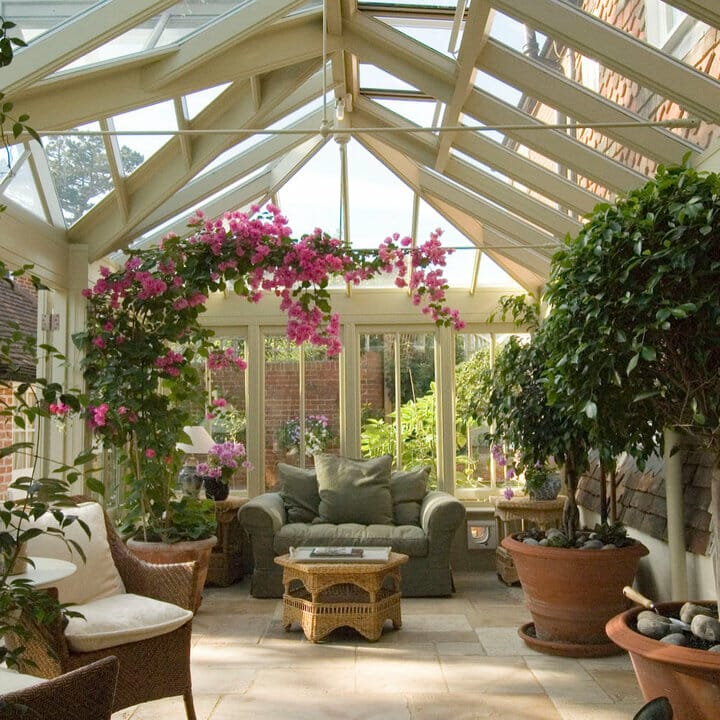 Your patio is a part of your home that should also get the same treatment in terms of decoration. Filling it with various indoor plants with large leaves is a step that is worth trying.
Moreover, never forget to add vine flower plants to give more color to the room so that the warmth of spring becomes more pronounced.
28. Wildwood Serenity with Palms and Fern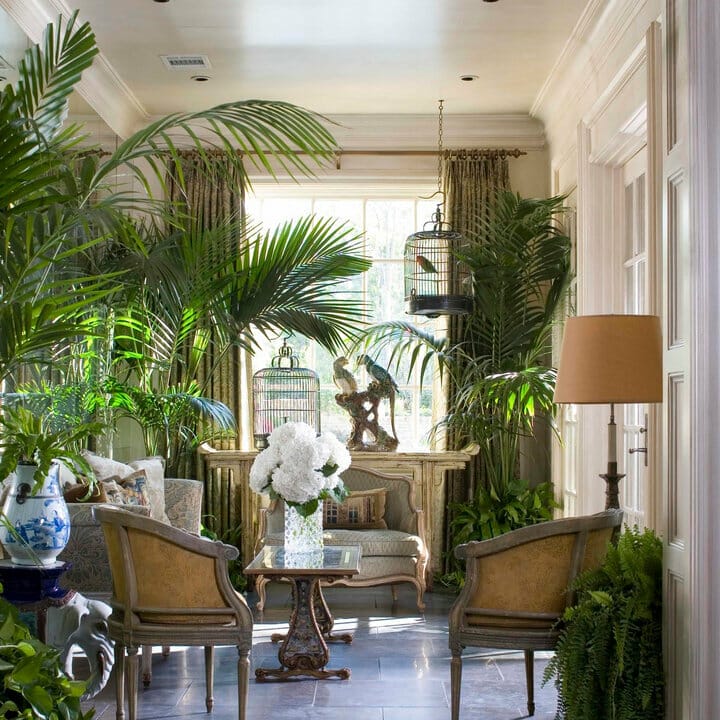 To attract the attention of guests who come to your house, you can plan to bring the tranquility of the tropical rainforest into your living room.
You can start by placing some indoor plants with large leaves such as palms, ferns, and others equipped with several birds' miniature and fresh flowers on your table.
29. Yucca Tree in the Middle of Modernity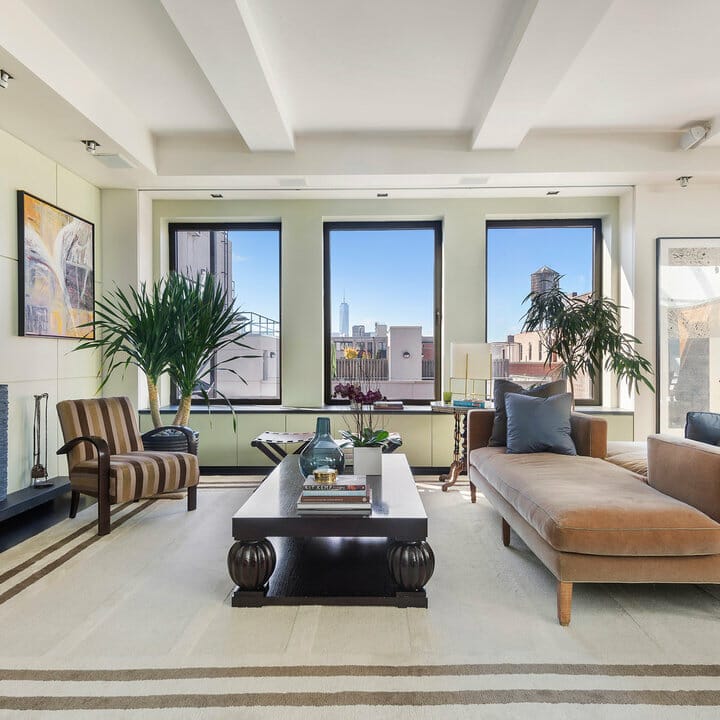 No less popular with palm trees, yucca plants also have a high aesthetic value when used for the interior decoration of your home.
This plant is a slow-growing plant and is quite dangerous when ingested by your pet. Therefore, you should be more careful when deciding to go with this large indoor plant.
30. Cast Iron Plants on the Huge White Cement Pots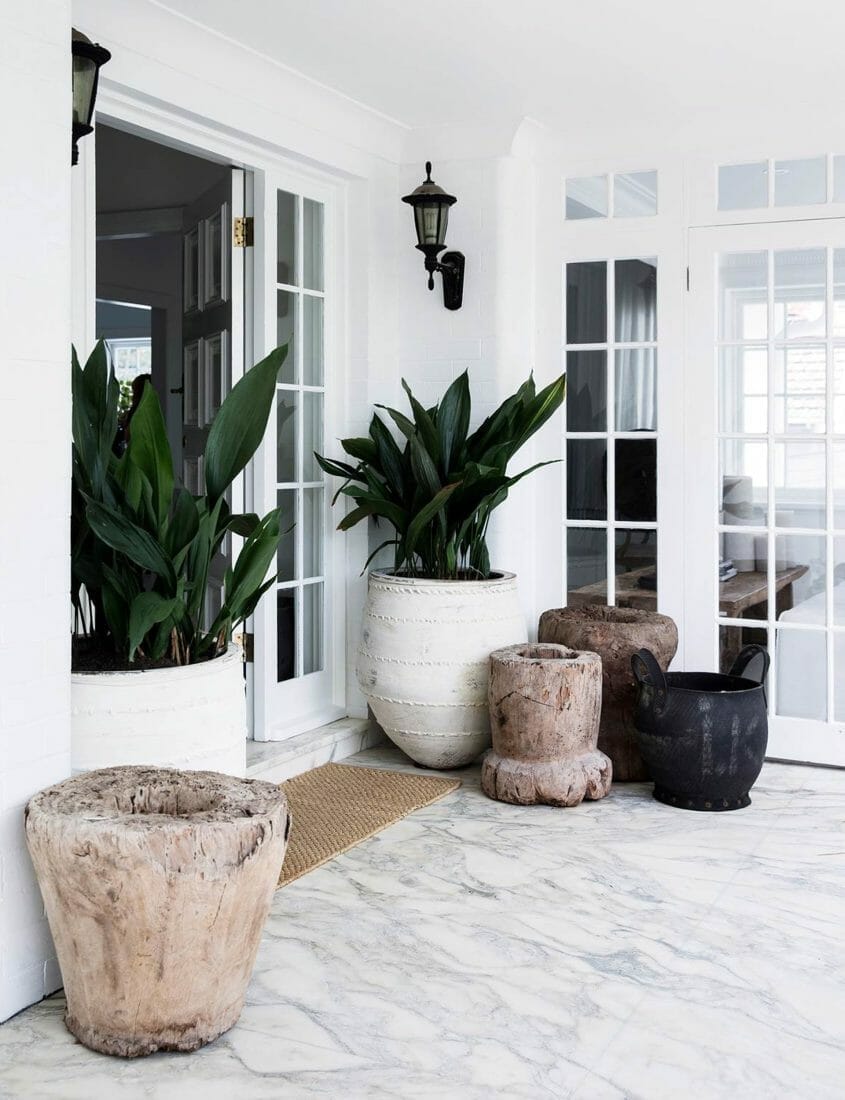 Cast iron is one of the many broadleaf plants you've ever met. It is known to be used for indoor and outdoor decoration plants.
With dark green color and glossy leaves, cast-iron will be a focal point that stands out among all the existing white interior designs.
Moreover, cast iron is known to have slower growth than other plants. Besides, it also doesn't easily die even in a room with low light levels.
After getting all the recommendations above, have you found the perfect indoor plants with large leaves to beautify your home? If so, don't forget to give good care while you have it!