These days, many homeowners choose to install floor to ceiling windows for a few good reasons. They allow in lots of natural light. Furthermore, they help expand the space visually and offer unblocked outside views.
If you want a welcoming space, look no further than the walls of the window. The picture windows come in various styles, from Cathedral to modern one. Today, I am showing you gorgeous spaces feature those large windows.
1. Floor to Ceiling Windows House Plans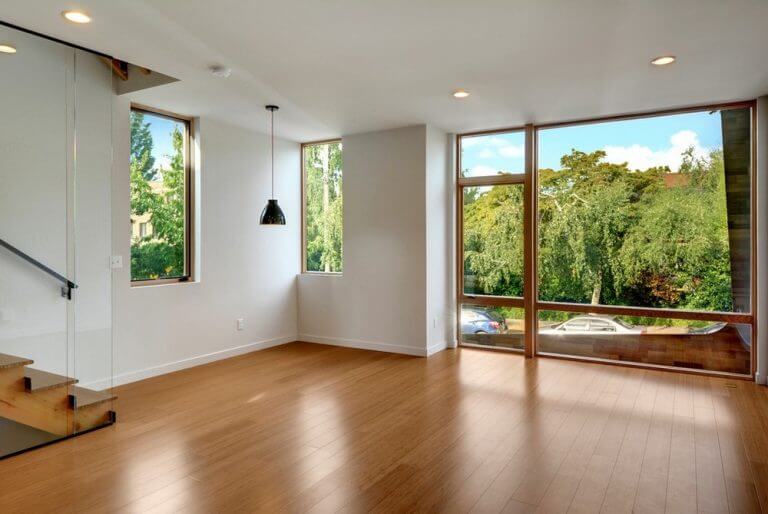 If you are not committed to window walls, you could use this idea as your inspiration. The wooden-framed giant windows let the abundant sunlight enter the room and provide panoramic views of outdoor scenery.
Moreover, there are also two rectangular windows. The white ceiling and windows make the space appear bigger than it is. They also elicit feelings of openness and airiness.
Wooden staircase and floor inject unrivaled warmth into the entire room. A single stair handrail develops a minimalist appeal. The downlights illuminate the space after the sunsets. Lastly, a black pendant light screams Scandinavian style.
2. Floor to Ceiling Windows Bedroom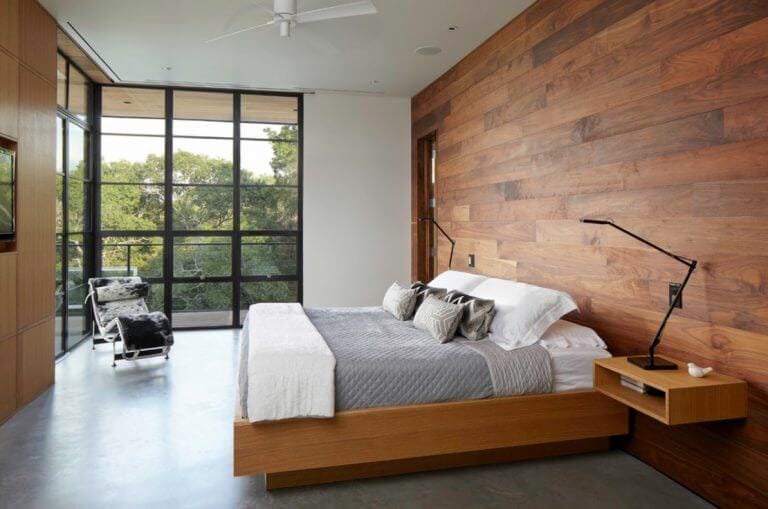 As seen in the image, the windows have a black metal frame. Since they are pleasing to the eye, the dweller does not need many decors anymore. Along with the polished concrete floor, they bring industrial charm to the bedroom.
The bed is nicely placed on a raised platform. That furniture unit defines the sleepy space. Wooden walls set an intimate scene. Not to mention, they rival the whites, grays, and blacks.
Two floating bedside tables and lamps introduce a visual balance. An upholstered lounge chair is a perfect spot to see the jaw-dropping views and indulge in books. Meanwhile, patterned throw pillows keep the area from being dull.
3. Floor to Ceiling Windows Cost
Turning your entire wall into walls of window is seriously a challenging job. However, they are worth it. Generally, the 8 feet window will cost you around $1500.
In this example, the windows come with a half-circle frame. They pose as a decor feature. Additionally, they allow you and your family to enjoy the city views while having dinner.
Brown curved back chairs surround the long glass dining table. Both wooden floors and chairs spark up a great meal conversation. Plenty of pure white maintains the room's spacious feel.
You can also spot coffee table and two tufted wing back chairs. They imbue the area with elegance and class. Metallic track light fixtures brighten the whole space. Moreover, they deliver an industrial aesthetic to the dining room.
4. Floor to Ceiling Windows Living Room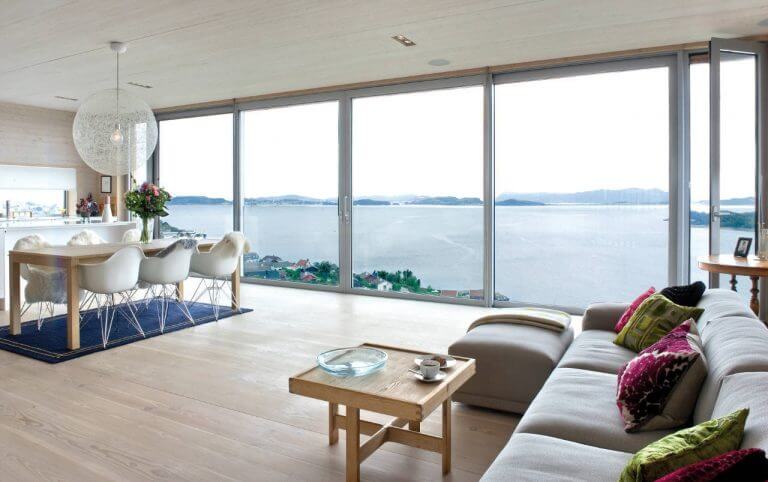 Whether your home is located by the beach or in the forest, you are super lucky, because you can utilize glass windows that expand horizontally and vertically. They create a light-filled room and make you feel like you are outside.
The open concept applied to this space. It also boasts a living room, kitchen, and dining area. Moreover, the unfinished wood ceiling, floor, wall, and tables evoke a moment of tranquility.
White dining chairs with metal hairpin legs undoubtedly celebrate mid-century modern design. A navy rug tops the floor and infuses boldness into the space.
The throw pillows add pops of vivid color to the indoor area. A massive orb pendant light serves as a showstopper. Moreover, it provides superior illumination when the night falls.
5. What Are Floor To Ceiling Windows Called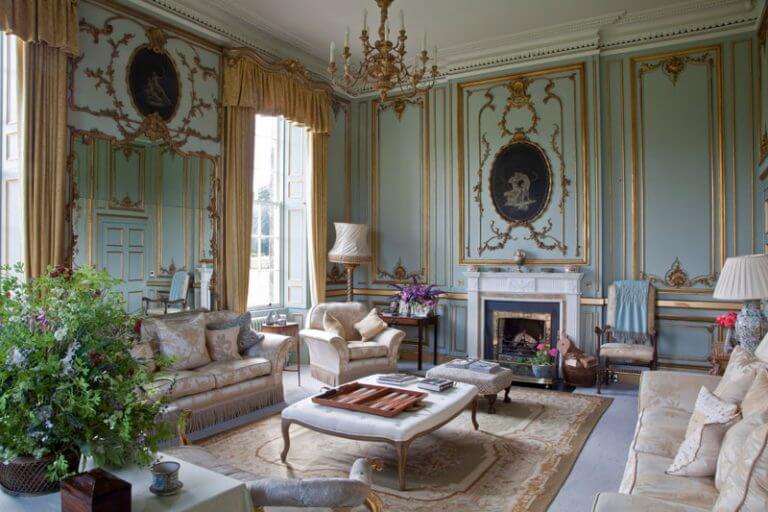 Do you love this mansion-like living room? I do, as well. The image windows are adorned with gold silk curtains and attached valance. They also help your space get a giant amount of sunlight.
The light blue wall panels convey the feelings of relaxation and finesse. Meanwhile, gold accents create a glamorous air. A fireplace keeps you and your guests warm during winter months.
Furthermore, the sofas, tufted chairs, throw pillows, and area rug, all embrace a French country design. A gold chandelier draws the eye up. The flowering plants liven up the area in no time.
6. Pros and Cons of Floor to Ceiling Windows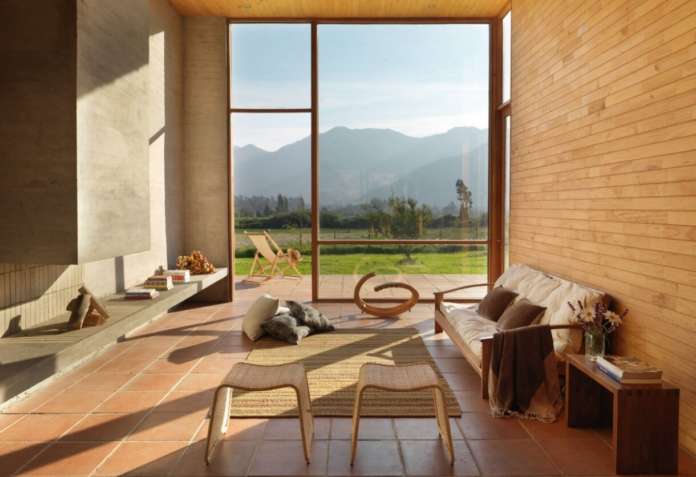 If your living room is not so large, glance at this idea. Here, the wood-framed wall windows offer you an unobtrusive view of the mountain and fresh air. However, you might lose your privacy.
The wooden wall and terracotta floor tiles evoke a sense of intimacy. Meanwhile, the concrete floating table holds decorative pieces. You can also spend your 'me time' by reading your favorite book on the porch.
Moreover, the sofa and curvaceous stools provide lots of seating. The throw pillows, blanket, and seagrass rug lift the coziness of the whole space.
The vase is full of blooming flowers. Not only do they naturally add colors to the living room. I guarantee anyone will be so happy having a casual living room like this one.
7. Double Glazed Floor to Ceiling Windows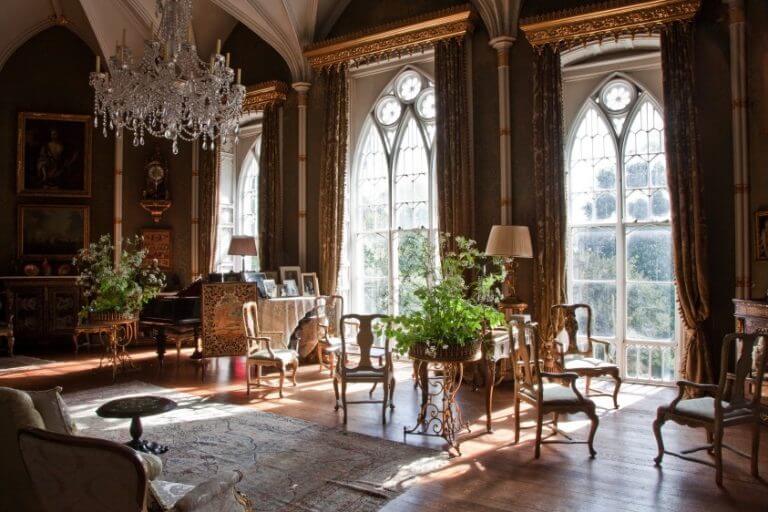 Don't like plain giant square windows? Are you not into geometric picture windows? Well, fret not. Installing Cathedral style windows are the best way to go. They are not only exquisite but also instantly ooze timeless grandeur.
Furthermore, the Cathedral windows look amazing in a home with high vaulted ceilings. The double-glazed ones enable you to see the outside world while being inside. They maintain your privacy as well.
The long silk curtains, French country rug, and crystal chandelier carry luxury touches to the living room. Chairs and sofas offer ample seating area. Lastly, houseplants prevent the space from becoming lifeless.
8. Floor to Ceiling Windows Apartment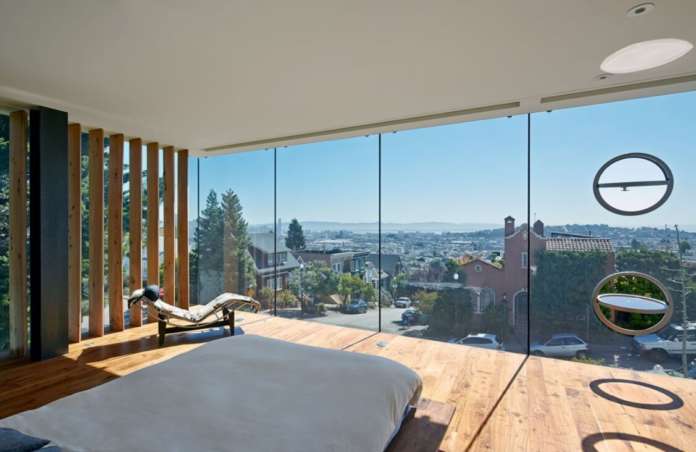 One of your dreams is waking up to a magnificent city view. So, why do you not turn it into reality? If you do not know where to go, take a cue from this bedroom. The walls of the window bring more natural light into the sleepy space.
Then, to keep the entire area airy and open, utilize porthole-like windows. You can open and close them anytime you want to. Those two types of windows guarantee that you will have a cheery bedroom in the morning.
The raw wood floor and poles reinsure the space with rustic charm. They also emanate a serene atmosphere. A white bed and upholstered lounge chair give you ultimate comfort. The bedroom is properly lit by a large downlight at night.
Not everyone dwells in a house with alluring views. That is too bad to be true if your space does not involve floor to ceiling windows. Now, it is the right time to make your alfresco dreams happen using those ideas.