The utility area may not be your favorite everyday place. However, there is nothing wrong with just applying shelf ideas for laundry room from this article to make it look welcoming.
It's not always about giving this space extra storage for your washing essentials. But also, about providing a decorative spot so that your washing activity be more enjoyable than ever.
There is nothing complicated about adopting these shelf ideas for laundry room. Many options invite you to install a new one or do a DIY project to be more practical and economical.
Here are 29 shelf ideas for laundry rooms that you can follow to inspire you further.
1. Practical Pull-Out Shelf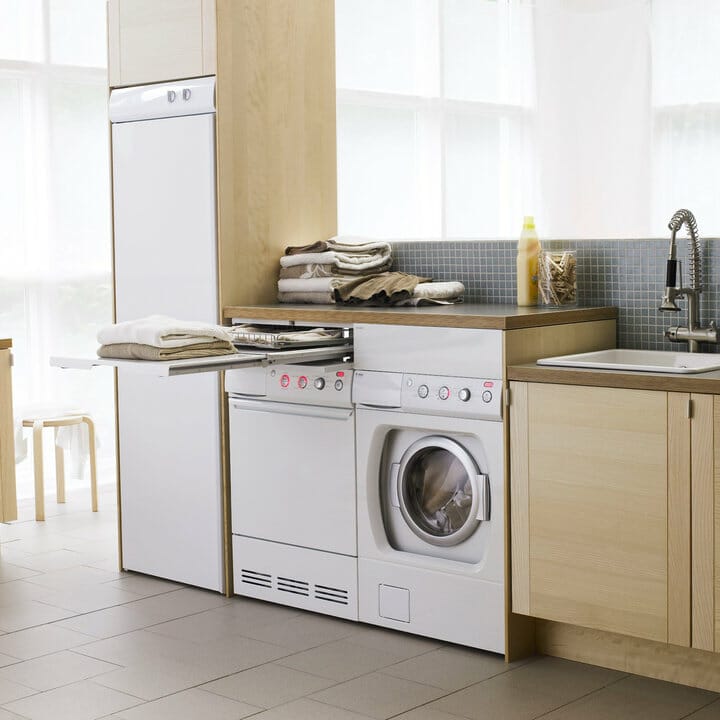 Installing a shelf may not be possible for some people. It is because they only have a partition to distinguish the laundry room from other rooms at home.
If you face the same issue, providing a pull-out shelf is the best option.
Usually, these kinds of shelf ideas for laundry rooms come with a washer and dryer set. So, there is no need for extra fees for anything.
The presence of this pull-out shelf helps you to put anything on it when your work is piling up.
2. Hidden Shelf Ideas for Laundry Room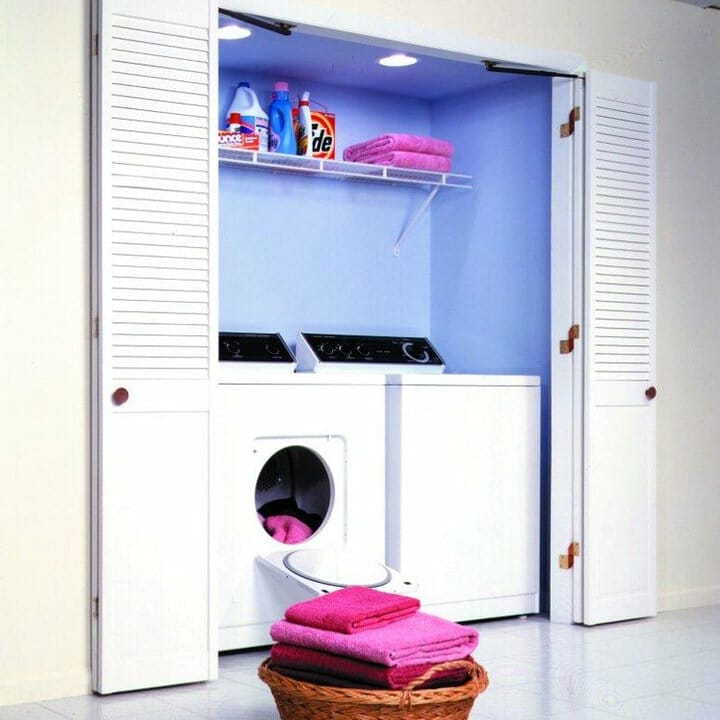 A washing closet is the best solution that you can take when you do not have enough space for the utility room. By giving it a sliding door, you can save more space in your home.
And, this is where later you can put a shelf for your washing equipment storage to store detergent, bleach, and so on.
3. Decorative Laundry Room Shelving in The Corner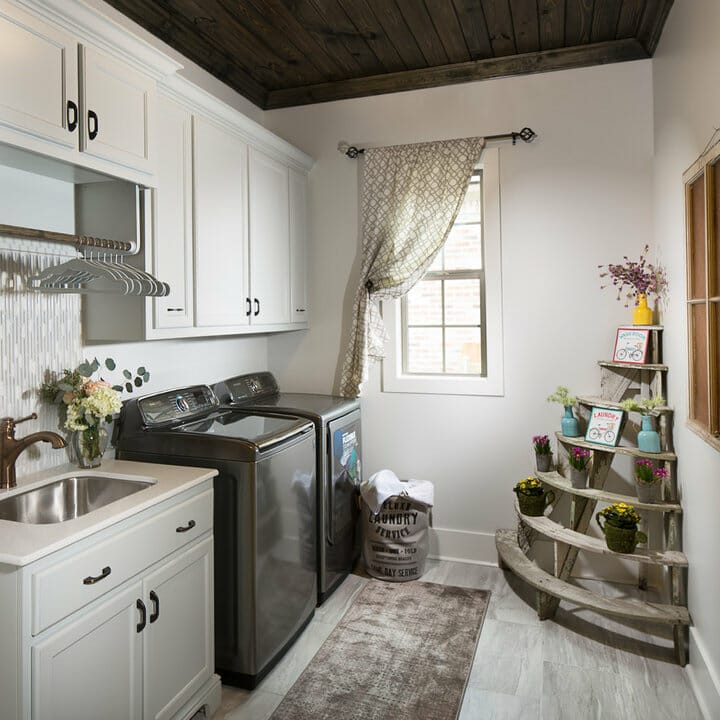 Shabby chic ambiance never fails to provide aesthetic value in your utility room, even just by bringing a semicircular open shelf for your flower stand.
Distressed paintings on the shelves make this item an attractive focal point for anyone.
Besides using it as flower stands, you can also put some in-framed sayings that can beautify your washing space and boost your mood.
4. Deep Shelf for Extra Accommodation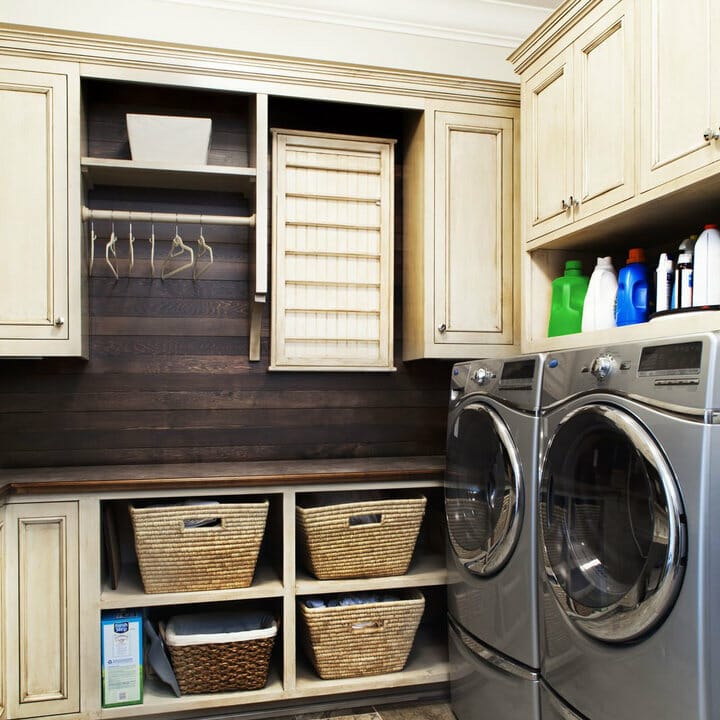 Besides considering the aesthetic aspect, you are also better off thinking about the functionality of applying shelf ideas for laundry room in your home.
You can provide multiple deep shelving that helps you store all your washing equipment, including baskets for dirty clothes.
You can set it in different positions according to the use of each shelf. Since storage for detergent and bleach doesn't take up much space, making small ones above the washer won't be a problem.
Instead, you can adjust the bottom shelving with deep space to hide all the dirty clothes that have piled up in the basket.
5. Laundry Shelves with Lighting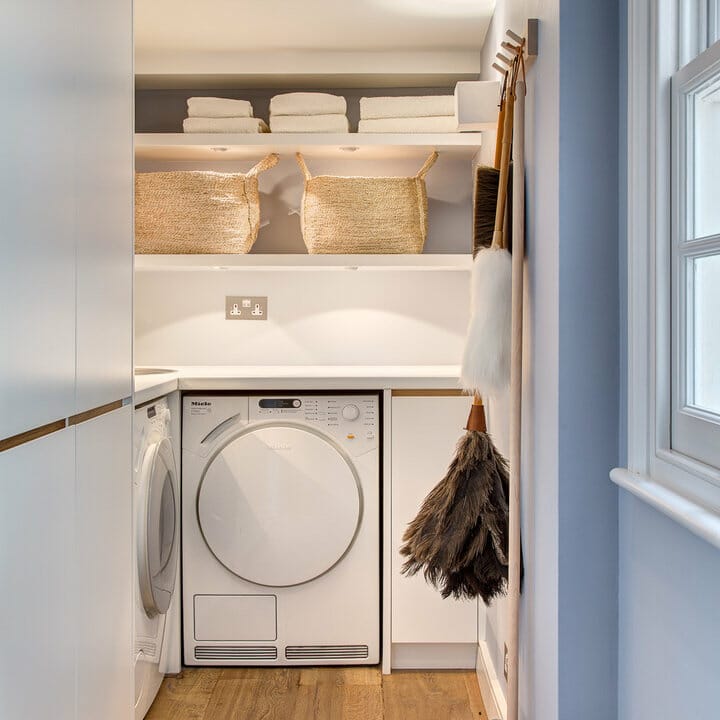 Shelf ideas for laundry room complete with lighting are indeed worth trying. This light comes to make a statement even when this space is not in use.
In addition, the selection of illumination with warm white can create a serenity at night.
The presence of lighting under the shelving system requires you to put elements with aesthetic value in your laundry room to make everything more pleasing to the eye.
6. A Shelf with Hanger Beneath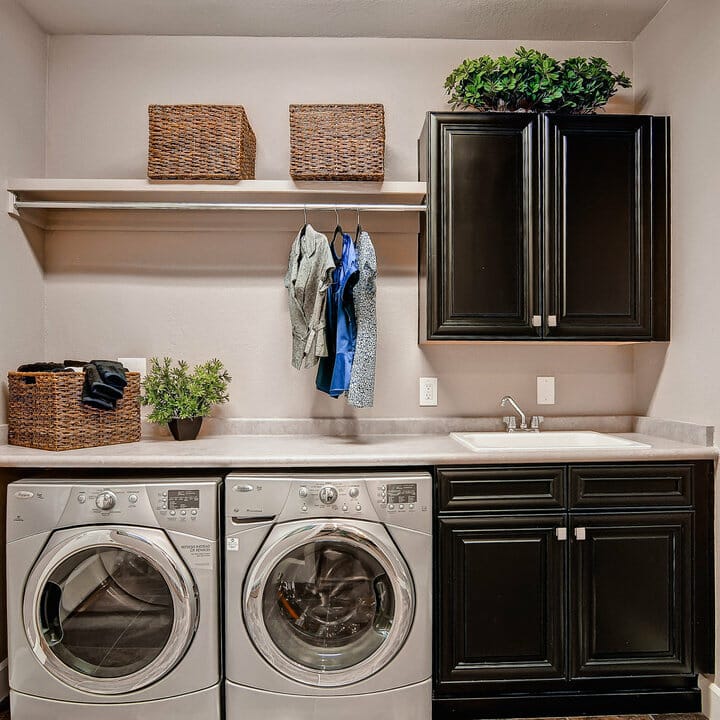 The presence of multi-functional furniture makes it easy for you to get everything you need in one reach.
That's why you need to present shelf ideas for laundry room equipped with a hanger underneath.
That way, you don't take much space to make your utility space well organized.
7. Complete Built-in Shelving Set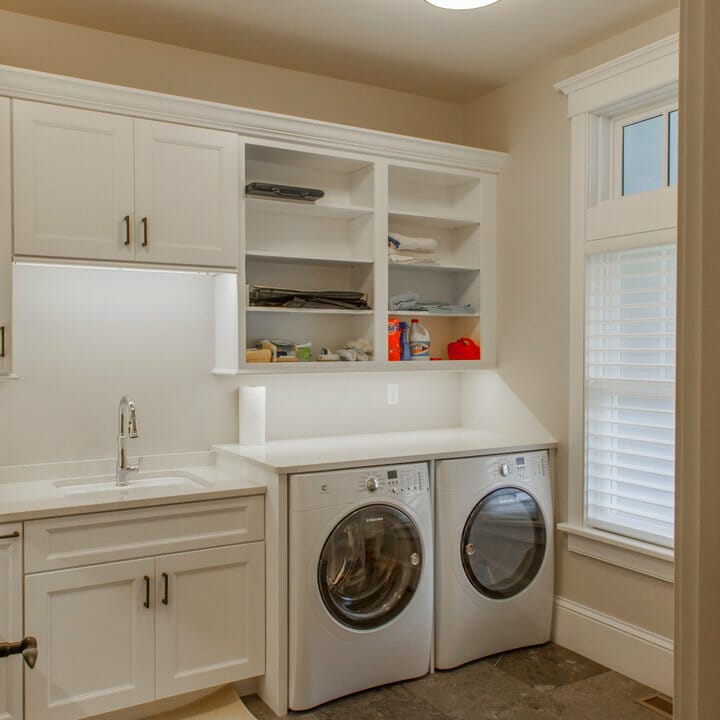 There are times when you need more than just a shelving system in your laundry room. That's why you have to consider installing built-in furniture complete with the cabinet as well.
Because you already store the washing utensils safely in the cabinet, you are better off using the existing shelving only to put some items often used.
Moreover, you can also start making decorative spots there to beautify your laundry room.
8. Wall Mounted Shelf for Essential Baskets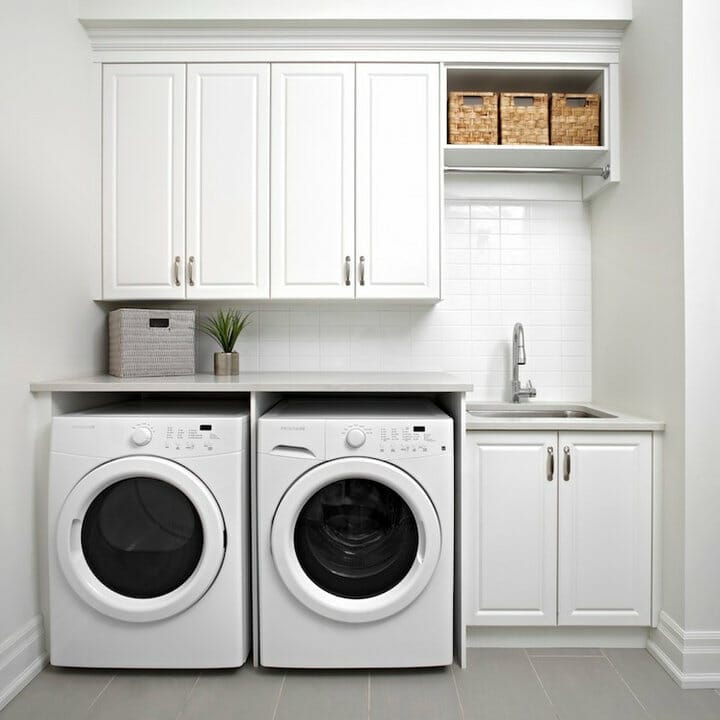 Shelf ideas for laundry rooms don't require you to use the entire walls to install them. Even if you only want one in the corner of the room, all will be fine.
Instead of using it to store big things, it's better to set mini-sized baskets on the shelf to accommodate all the small appliances.
9. Shelving Site in Different Area
Suppose you are looking for laundry room storage ideas for small rooms. You can consider choosing a setting like the one above.
It's smart enough to separate the washer-dryer closet with shelving where you can store a basket of dirty clothes and other things related to your washing activities.
Apart from that, you can also adopt these kinds of shelf ideas for laundry room in a large utility area. Giving them doors can perfectly hide all the laundry fuss without extra effort.
10. Extra Shelving Under The Countertop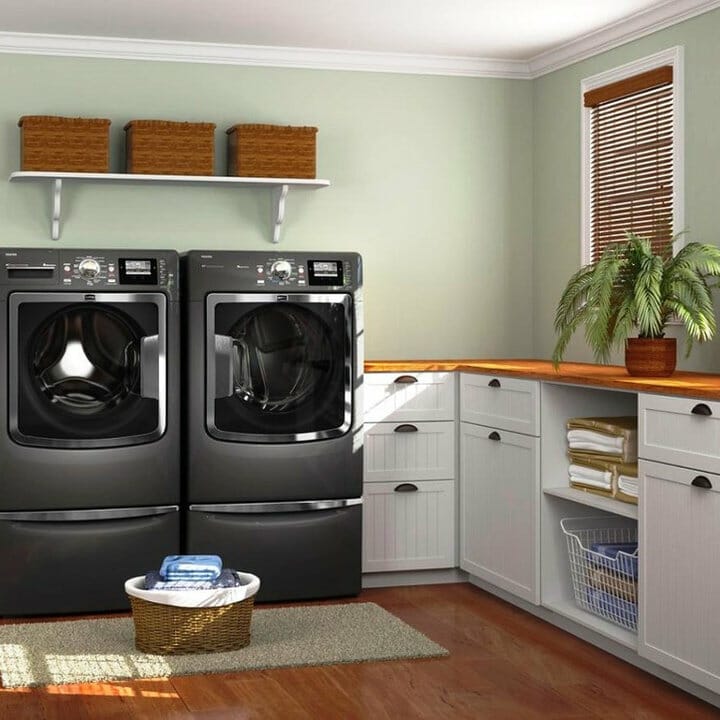 If one shelf above the washer and dryer is not enough for you, you can wisely make several under your countertop. Beautify your shelving spot by adding greenery on top.
11. Multi-function Shelves on Top and Under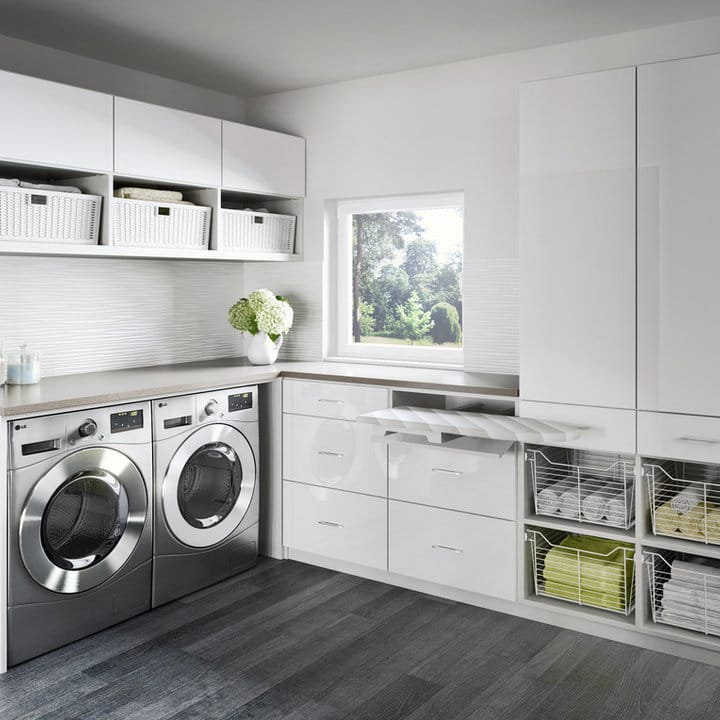 A well-organized laundry room can simultaneously spoil every eye that looks at it. The sheer number of shelving you have in the utility room makes it easier for you to store towels with similar colors in wire baskets to create a lovely display.
Meanwhile, for the shelving system above the washer and dryer, you can give it a white wicker basket to make it look clean and match your interior design.
12. Pastel Shelving on The Wallpapered-Wall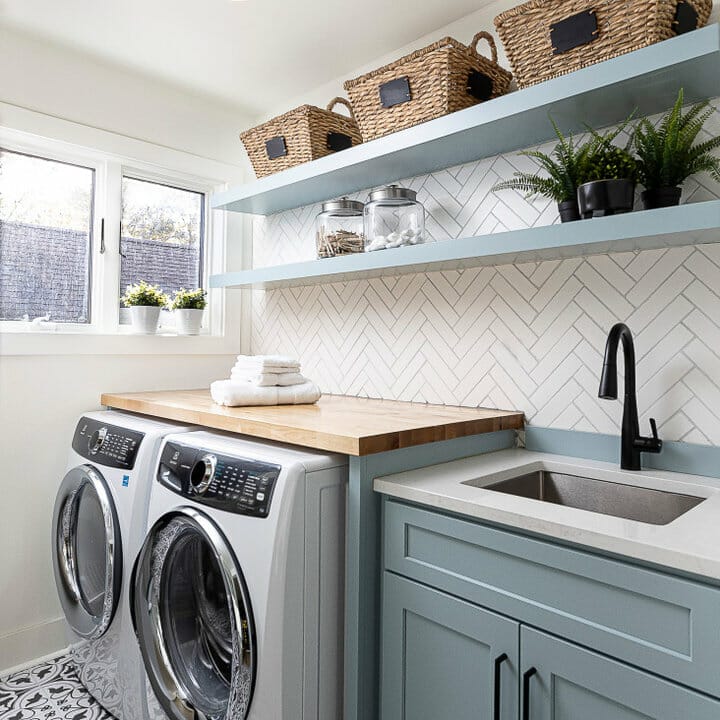 The best key for applying shelf ideas for laundry room is to align it with your interior design. When you want to go with an understated farmhouse concept, you can give a wallpaper with a chevron motif as the background for your shelving system.
As for the shelf itself, you can go with pastel colors that suit your preferences. And, don't forget to put the ornamental elements and greenery to refresh your utility room.
13. Top, Bottom, and Countertop Shelves
Shelves here and there are the best choices for exposing all the laundry baskets and buckets full of aesthetic value.
Instead of making a lot with small sizes, you can make a few to a large extent and accommodate various items in it.
Even so, keeping it organized is a must so that your laundry room doesn't lose its aesthetics.
Choosing shelf ideas for laundry rooms that are bold with dark colors will give the perfect industrial vibe.
14. Elegant White Built-in Shelf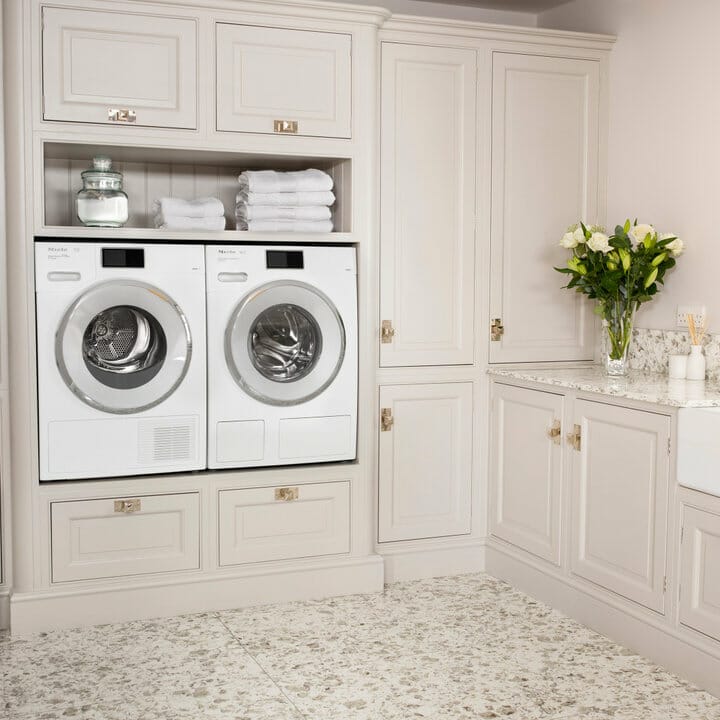 If the dark theme doesn't quite suit your taste, then going with the bright one is a good solution. However, you must still provide a focal point for your shelving system to make the laundry room far from monotonous and boring.
Suppose you don't mind the elegant and luxurious shelf ideas for laundry room. Try to compliment your shelving system with a touch of gold in some critical spots like above.
15. Majestic Blue Shelf over The Washer and Dryer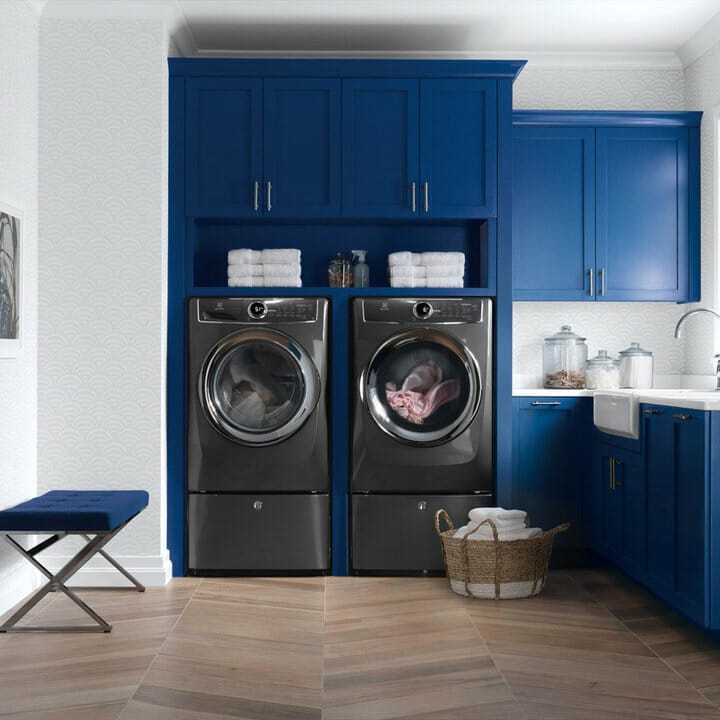 The shelf ideas for laundry room with a bold theme introduce you to the glorious blue color that stands out among all the white stains on the walls.
A stunning color like this won't ever fail you from giving drama to the shelving system in your utility room.
16. Tall Floating Shelves for Laundry Room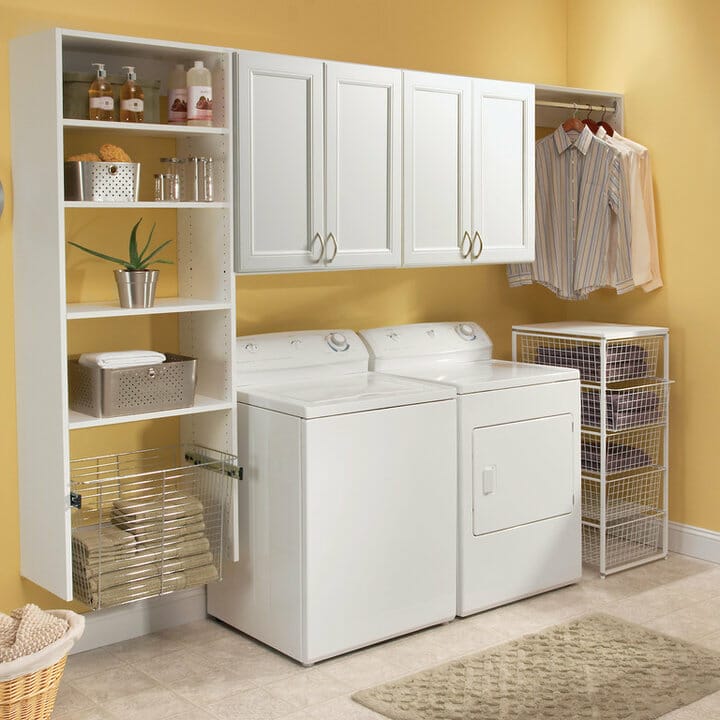 The perfect shelf ideas for laundry rooms work both in providing aesthetic value and versatility. Suppose you have a lot of washing utensils and don't think the presence of a cabinet is too helpful for you. Then you can try installing tall floating shelves as above.
This furniture will accommodate both ready-to-use washing items and some decorative ornaments you have.
In addition, you can also add freestanding laundry shelves on the other side of your utility room to provide extra storage.
17. Versatile Walk-in Shelves in White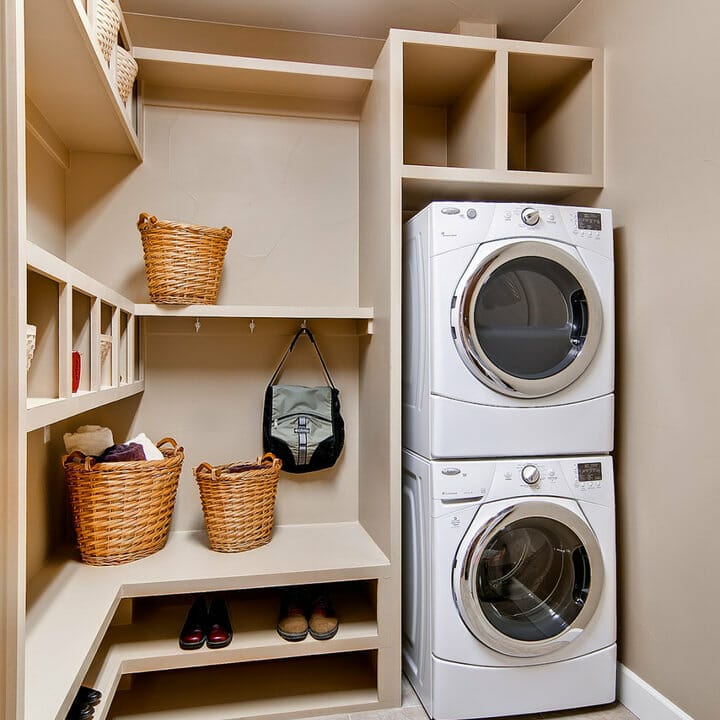 The utility room often comes with the mudroom at once in a small space. And if you are in the same situation, then providing a corner shelving system with holders to hang all the bags and coats is the best option to make.
By providing various shelving sizes, you can arrange the placement of any items in a more organized way.
Choosing one in white will be better to give a clean and spacious impression in your laundry room.
18. Open Air Large Shelves Arrangement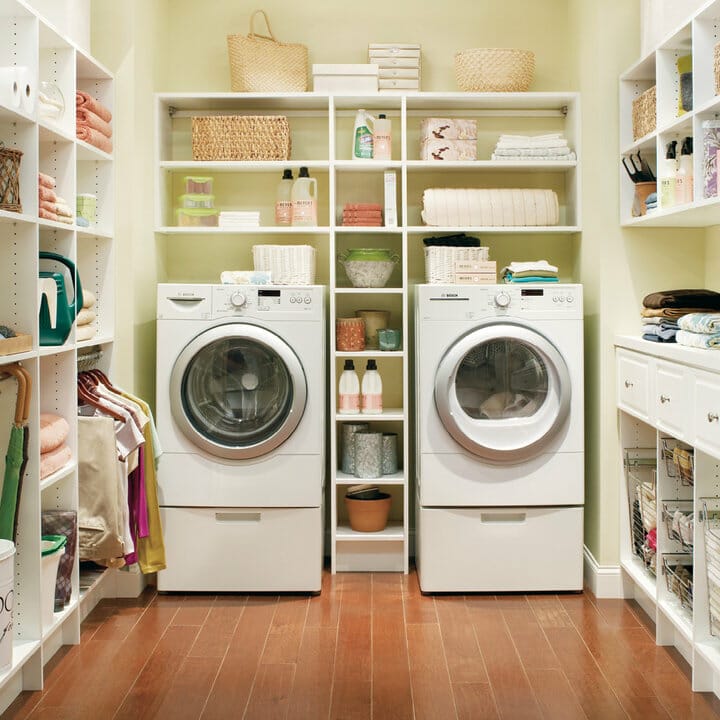 Walk-in shelf ideas for laundry room make things easier to reach. Even, you don't need to bother to open and close the doors that come with it.
This open-air design, with its extra-large size, makes all your washing equipment well exposed and easier to find.
However, it would help if you always made sure that all items were in good arrangement to make your laundry room pleasing to the eye every time.
19. Simple Shelf for Decorative Purpose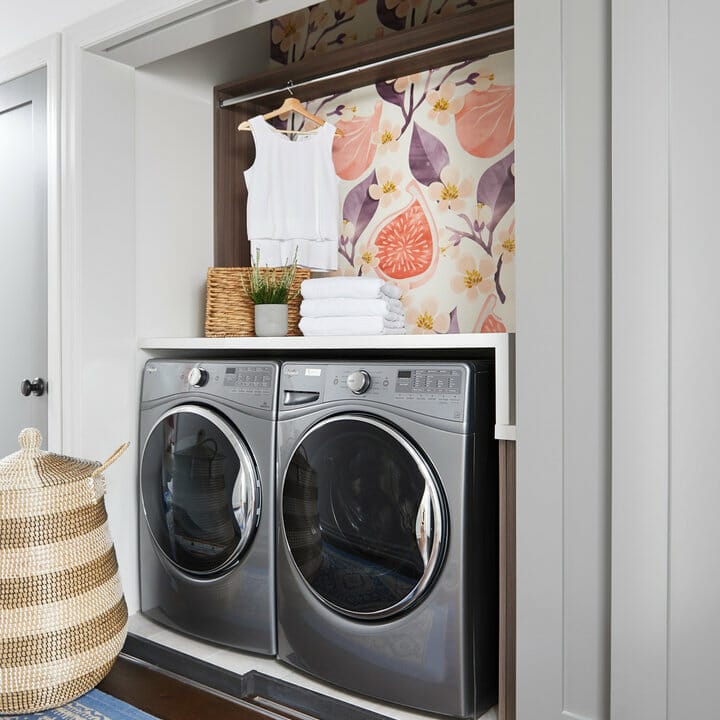 Shelf ideas for laundry rooms for decorative purposes usually don't necessarily encourage you to go with an elaborate design. You can merely go with the simple and minimalist one instead.
However, you need to provide a focal point so that your storage spot remains fashionable. One way is to give wallpapers with colorful motifs to emphasize the existence of this shelving system in your laundry room.
20. In-Collage Shelving System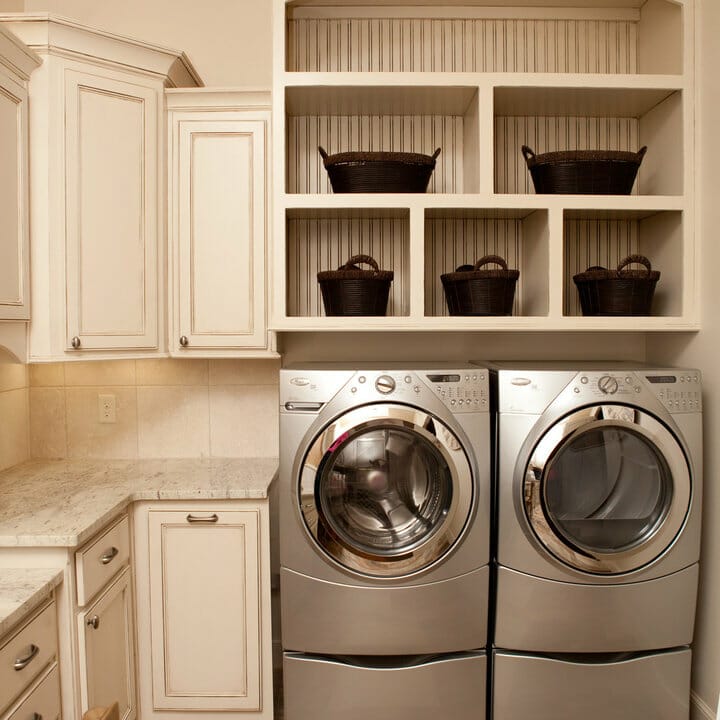 If you are too bored with linear shelf ideas for laundry rooms, you can try to install a collage-shaped shelving system instead.
By presenting shelves of different sizes but still in one unit, you can directly make a statement on the top of your washer and dryer. It is even better to equip the shelves with wallpaper that distinguishes them from other wall areas.
Indeed, it will be an attractive focal point in your utility room.
21. White Industrial Wire Shelves for Bright Utility Room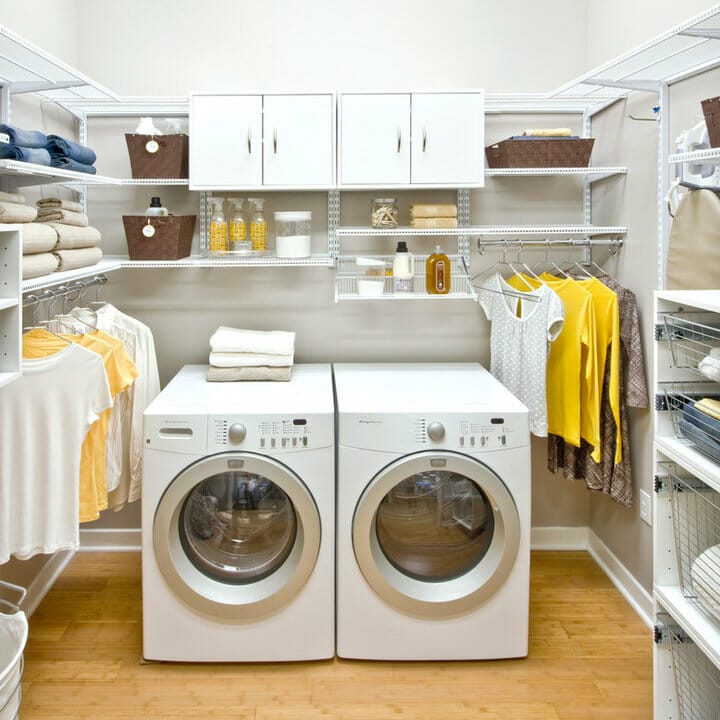 Shelf ideas for laundry rooms don't always invite you to wooden shelves. You can even have a set of hanging wall shelves made of wire.
Both wood and wire can support many things within their reasonable limits in terms of sturdiness.
However, wire is widespread because it is considered more durable. And, wire shelving also comes in a variety of colors.
22. Light Blue for a Cheerful Day
Giving a bright color to your floating shelving system is one strategy to boost your mood once you have to face many laundries. In addition, it is also able to give personality and spotlight your decor perfectly.
Select bright colors generally suitable for your utility room with a farmhouse or coastal theme. It is because mainly, these two designs focus on the warm and relaxing ambiance of the space.
23. Adjustable Rubbermaid Wire Shelves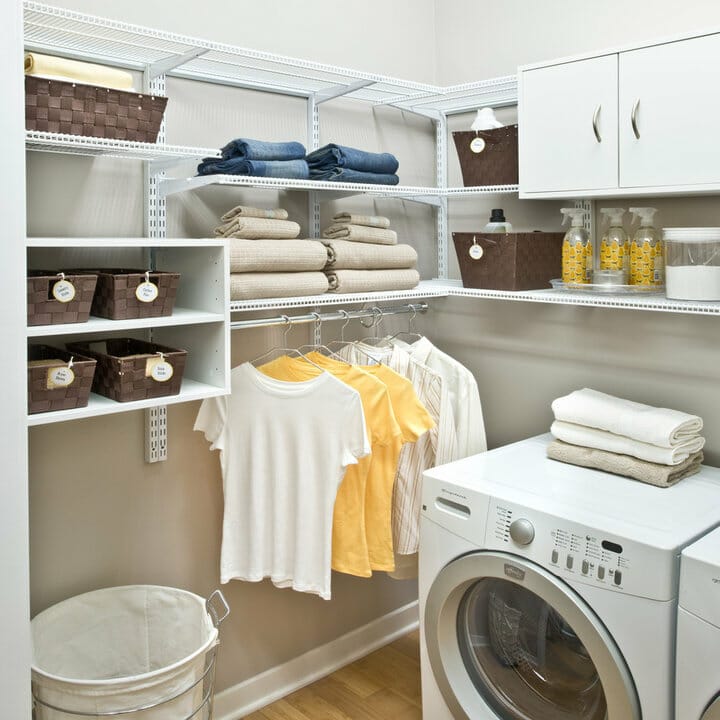 Rubbermaid makes all the shelf ideas for laundry rooms easier to adopt. These wire shelves give you the convenience to install them and adjust the number of frames according to your needs.
That way, you no longer feel in vain once you find the shelving space left empty.
24. Quartet Shelf for Ready to Use Essentials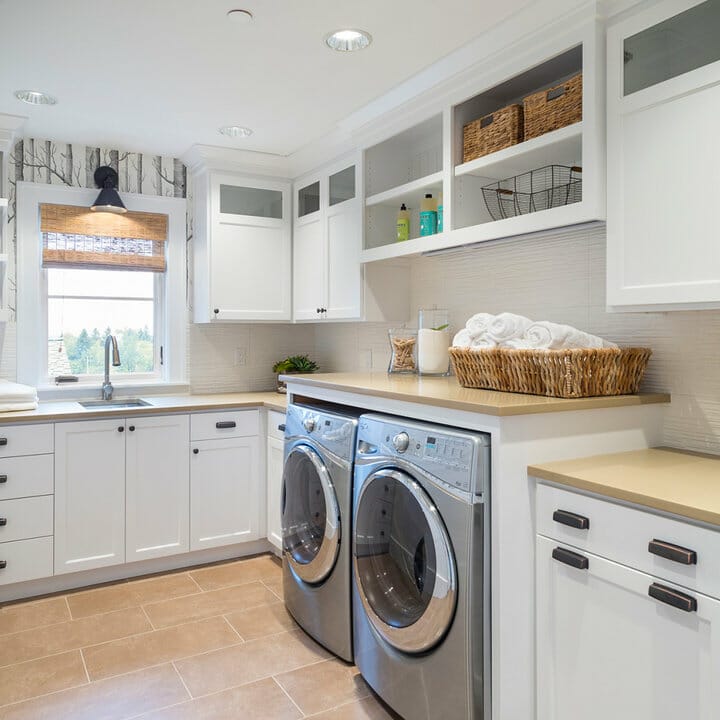 Common shelf ideas for laundry room usually introduce you to the use of four-column shelving. It is because four spaces are considered sufficient to solve your storage problems.
Having one unit in medium size helps you efficiently store everything safely above the washer and dryer spot.
25. In-Line Shelving System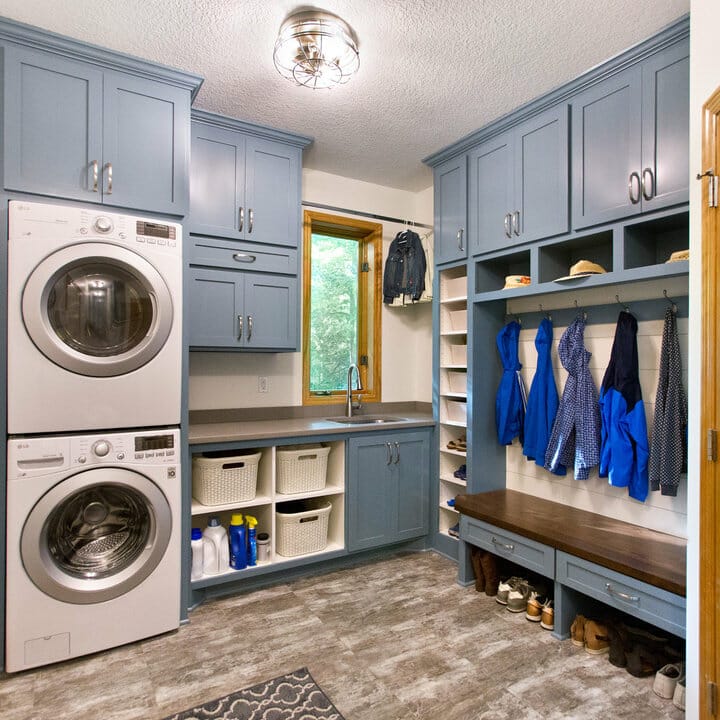 The laundry room with the mudroom can sometimes make you dizzy because you find the double commotion in one area.
Therefore, you should be extra careful in determining the number and size of shelving systems you need in this utility space.
It's a good idea to arrange some small in-line shelving for shoes, sandals, hats, and other accessories. Meanwhile, you can create a more extensive and deeper bottom shelving to store all your washing utilities.
26. Shelves and Baskets Always Good Together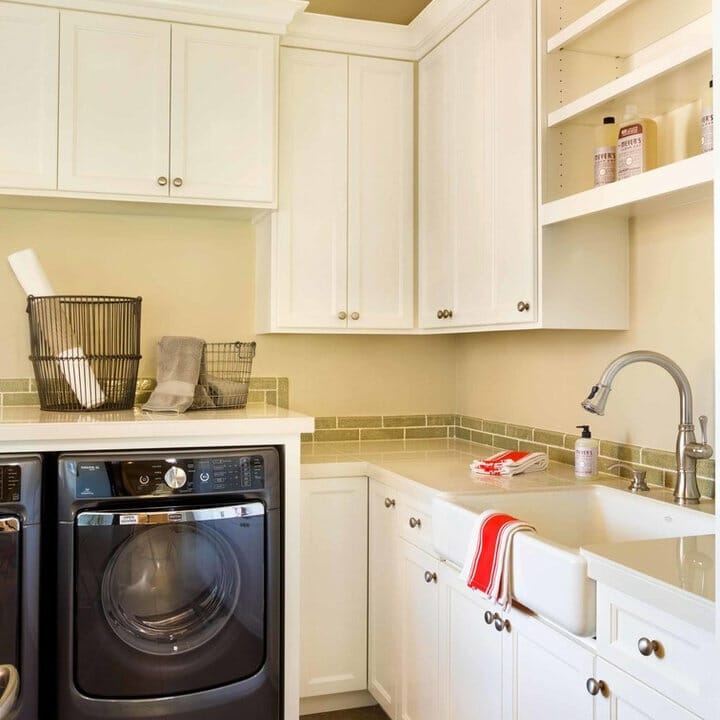 There are times when you just won't have enough to come with a shelf or two. However, having the new one is impossible because of limited space.
In that case, you can add a slim wire basket for extra storage on top of your countertop to set everything in order.
27. Wooden Shelves Beside Washer and Dryer Area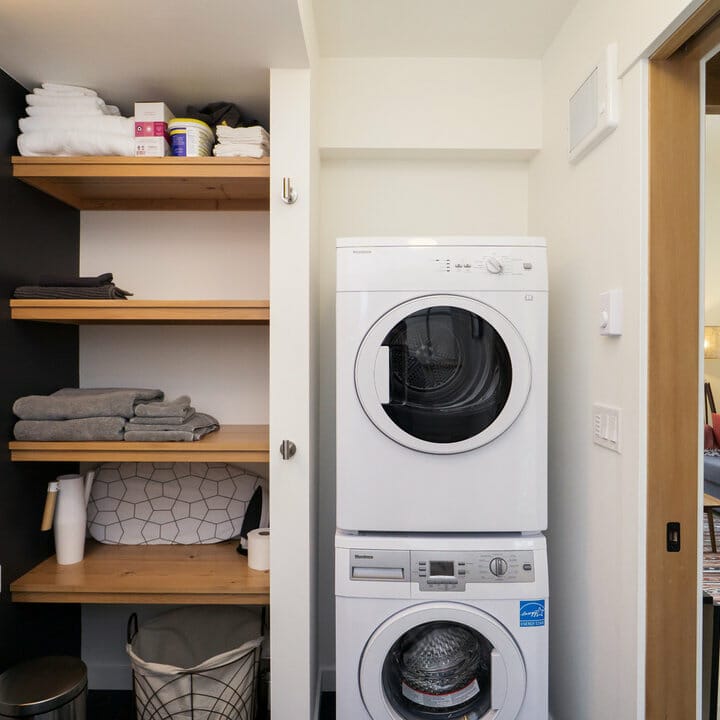 Having a shelving system over the washer and dryer can be too familiar. Thus, to give personality to your spatial arrangement, you can decide to place the washer and dryer on top of each other.
Meanwhile, you can use other empty areas to create a wooden shelving closet without a door.
28. Complete The Shelves with Mini Drawers and Curtains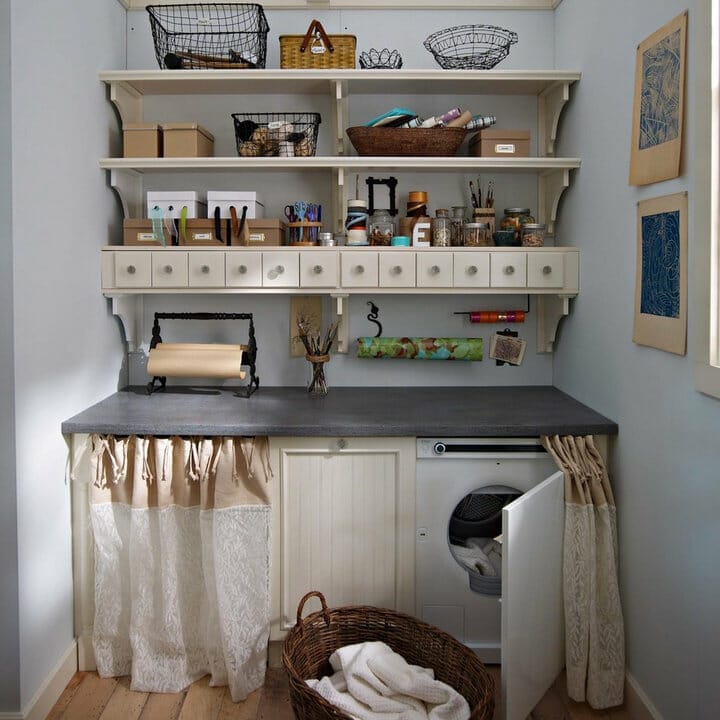 Shelves always allow you to expose all objects that are above them. It is not uncommon for a mess to come into your laundry room because of the poor arrangement of items.
Therefore, you need to provide curtains on the bottom shelving system that require more privacy. Meanwhile, you can leave the upper shelves with decorative elements open to let them entertain the room.
Shelves with cute drawers can also provide a stunning focal point in the utility room.
29. Aesthetic Modern Farmhouse Shelf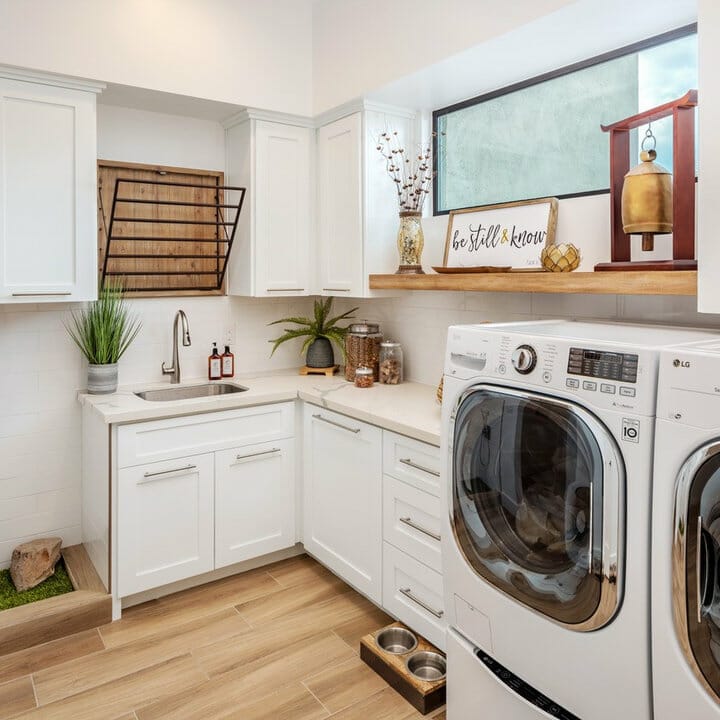 In shelf ideas for a farmhouse-style laundry room, the selection of wooden shelves with a rough style is prioritized. Also, most people use it to support decorative elements instead of storage.
As in the picture above, you can put some in-framed saying and other ornaments on the shelf to add more aesthetic value to the laundry room.
The shelf ideas for laundry room above are the most innovative and can liven up your washing space. So, be sure to pick the perfect one that suits your needs.
It's not only about the clutter-free, but a lovely ambiance for welcoming everyone who enters it.