It often happens, when updating your home décor scheme is on the requirement list but you do not know where to start. If it is what you are facing right now, pallet ideas for walls shall come to the rescue. They could cover many jobs, from highlighting exceptional features to being vivid hangings' backdrop.
Whatever it is, pallet walls will eventually be the focal point of any room since their textures and warm tones are always noticeable.
In other words, they quickly add a style anywhere you get them installed. The following are twenty-eight pallet ideas for walls to be your inspirations of dwelling stylishly.
1. Recycled Pallet Ideas for Walls in Rustic Bathroom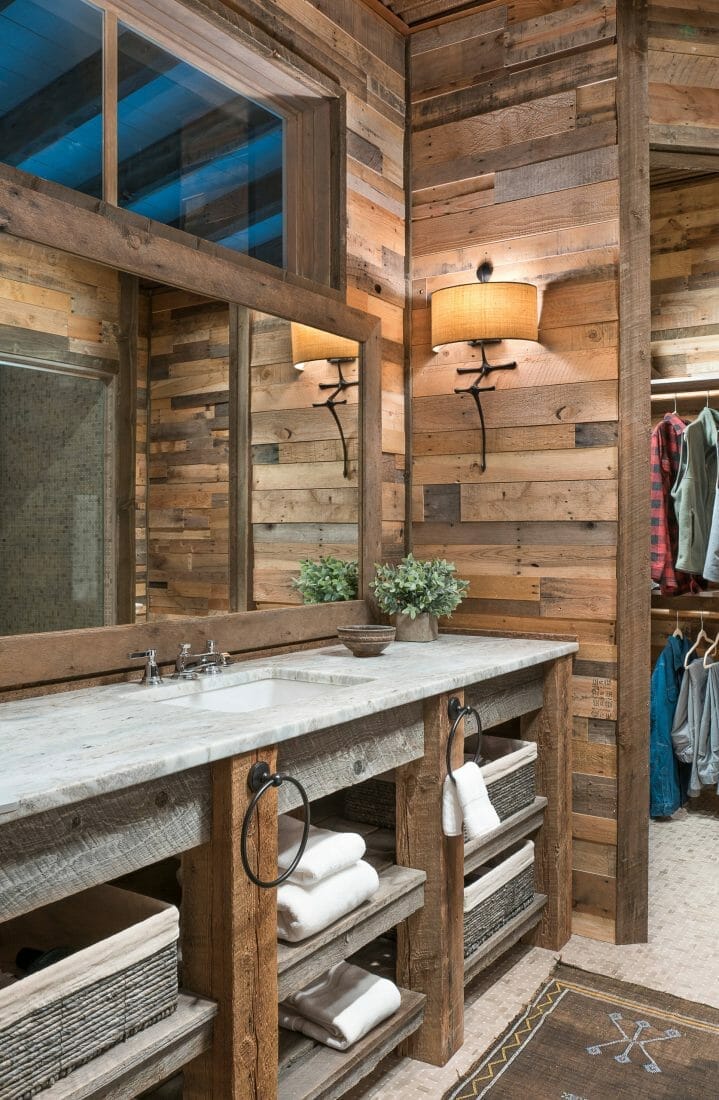 Nature must be the concept of this rustic style bathroom. How come it is not when natural stoned worktops are visible with recycled pallets all over the walls? Using reprocessed materials is one of the clever ways to save the environment and your budget.
What makes it a flawless rustic bathroom is the irregular arrangement of the pallets. The theme is so strong that it makes you believe birds' chirping is audible inside. You cannot miss the aesthetic-looking storages out of natural material, too. Their existence as details complete the entire set.
2. Pallet Ideas for Walls of Your Cabin Corner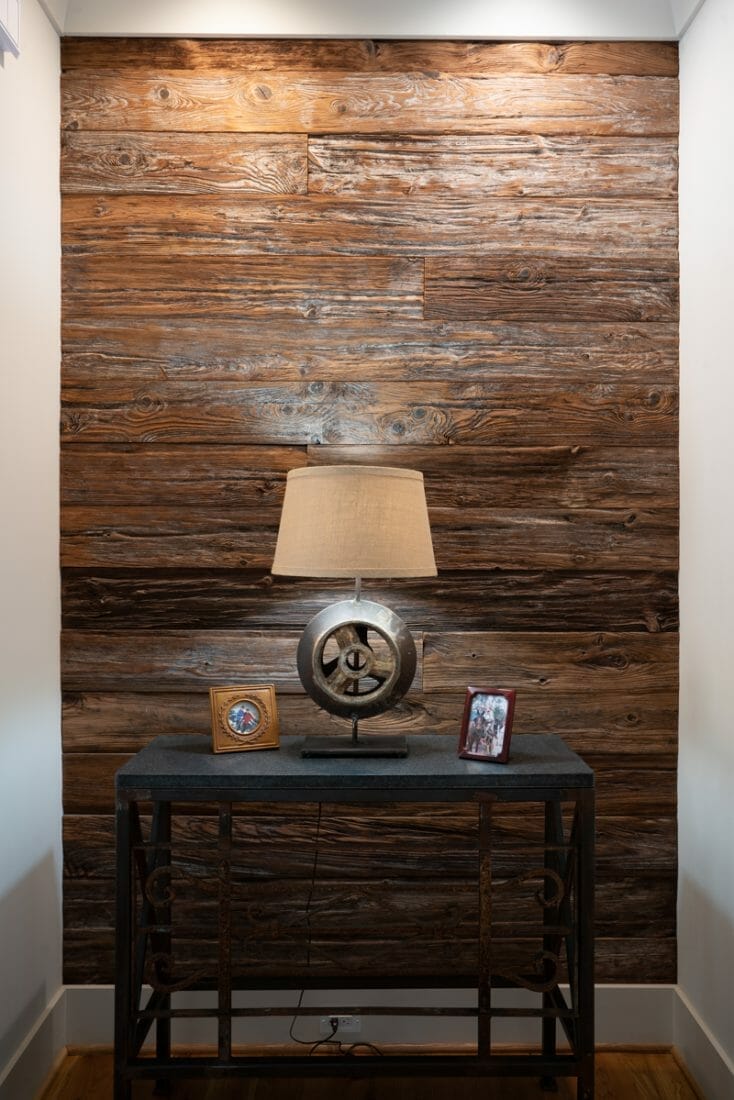 This nook is a part of a cabin in Childersburg, Alabama, USA. The owner intended it to be welcoming and warm. That was why pallet walls are visible everywhere around the building, including this gorgeous corner.
Unlike the recycled pallets seen in the previous picture, this wall utilizes materials full of strokes and many eyes. The special features characterize a striking appearance.
Not to mention, the lighting fixtures also support the condition. Illumination from the table lamp and the ceiling lights highlight some areas and tone done some others. It creates an unintentional color gradient.
3. Wall Mounted Baseball Cap Rack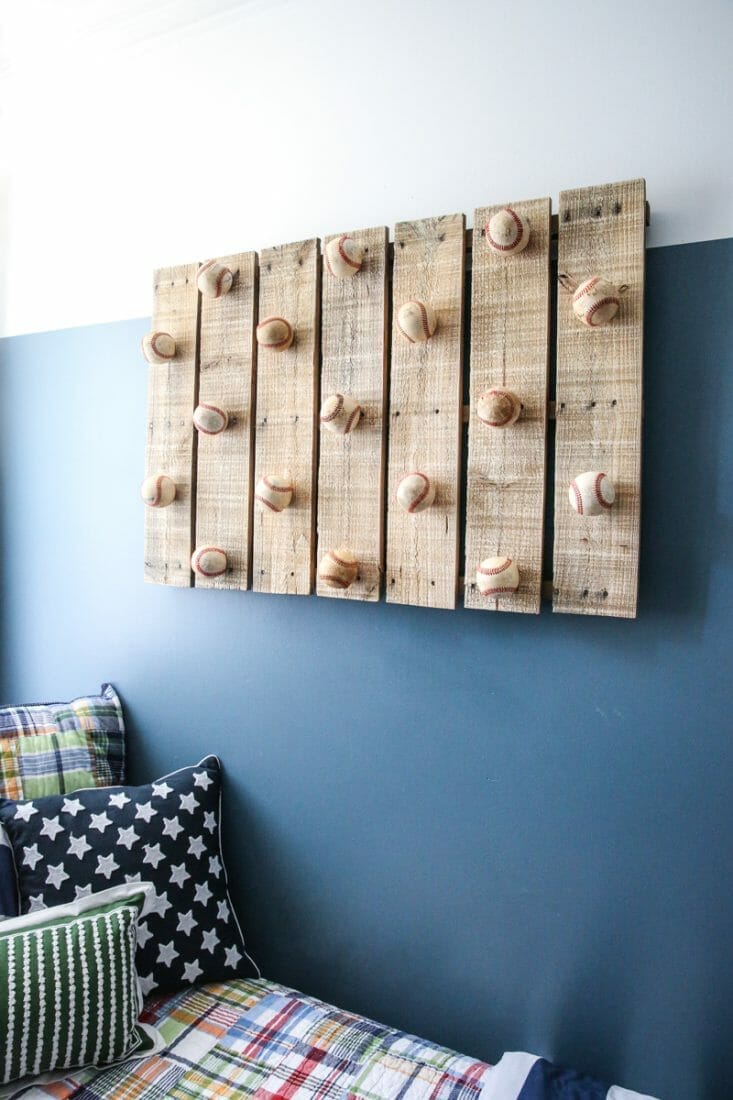 A baseball hat rack like this is available for purchase online on marketplaces under $100. However, it should be on your list of DIY pallet wall decor ideas. It is a doable project with easy-to-find materials.
The requirements are pallets or scrap wood, baseballs, tools, as well as creativity, and a little bit of DIY skill. There is no need to do the finishing since raw appearance is what describes the pallet.
4. Pallet Idea for Potting Shed Walls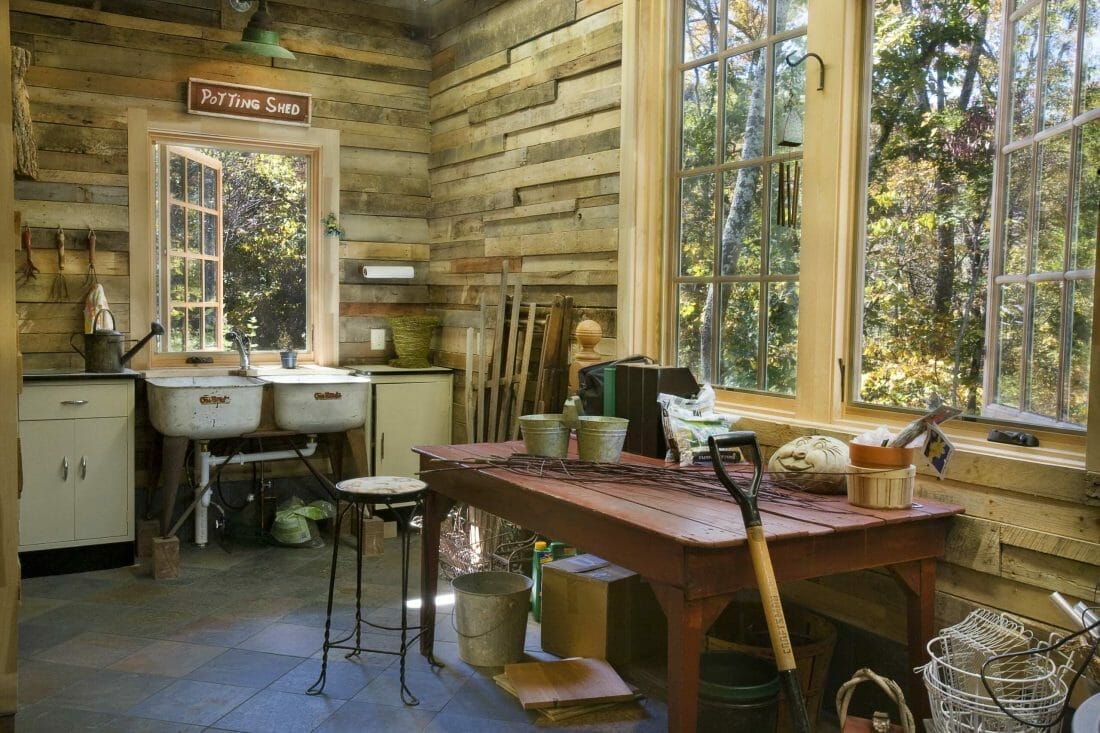 Potting shed, garden shed, garden house, tool storage, you know this log space by many names. Whatever you call it, it serves a similar function.
Usually built separated from the main building of the house, in the middle of the garden or backyard, it helps you store the garden tools with style.
This shed could also be a working space to do some carpentry jobs. Well, you can tell it fits labor works from the interior. Pallet walls and rough-surfaced flooring support the concept and function.
5. Bedroom's Pallet Headboard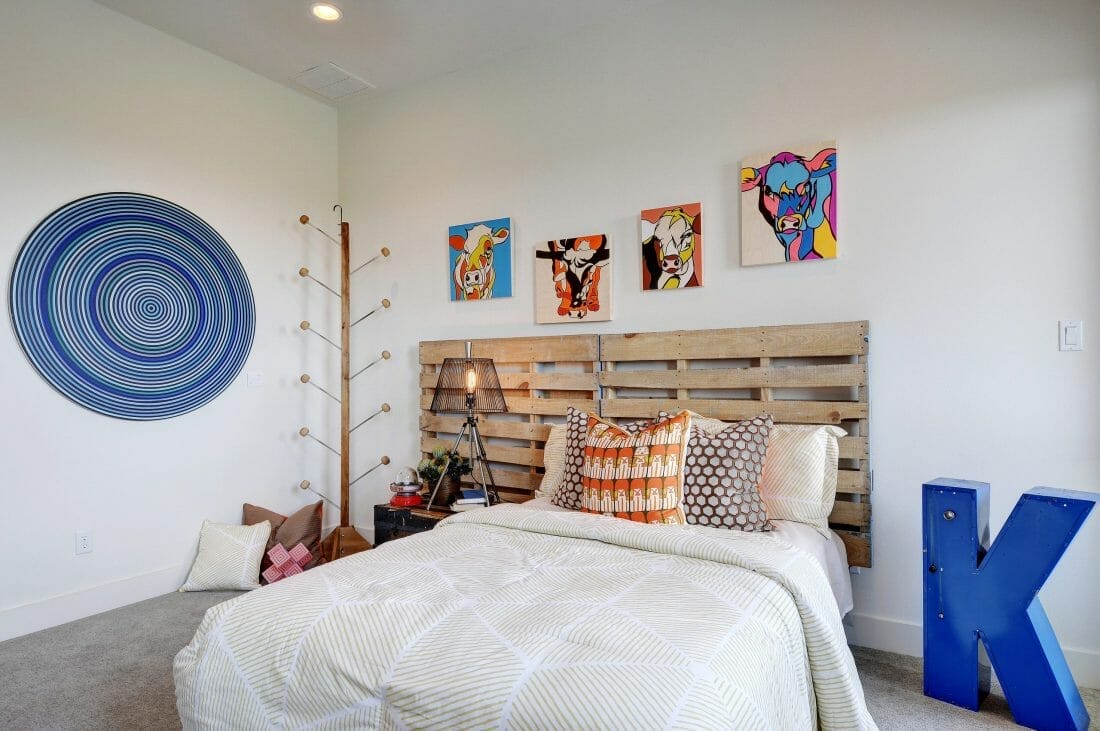 You can find such a headboard among the list of pallet wall ideas for bedroom. This bedhead hints at an eye-catching country style.
The above cow paintings also encourage it. Do you know pallets used to be the bed base? Well, you need wider ones to make a bedpost.
As seen in the picture, the pallet headboard is not a part of the bed but the wall. Make sure to get it completely sanded first before you arrange it between the wall and the bed. Any splintery edges might ruin your bedsheet fabric.
6. Wooden Panel Idea for Living Room Wall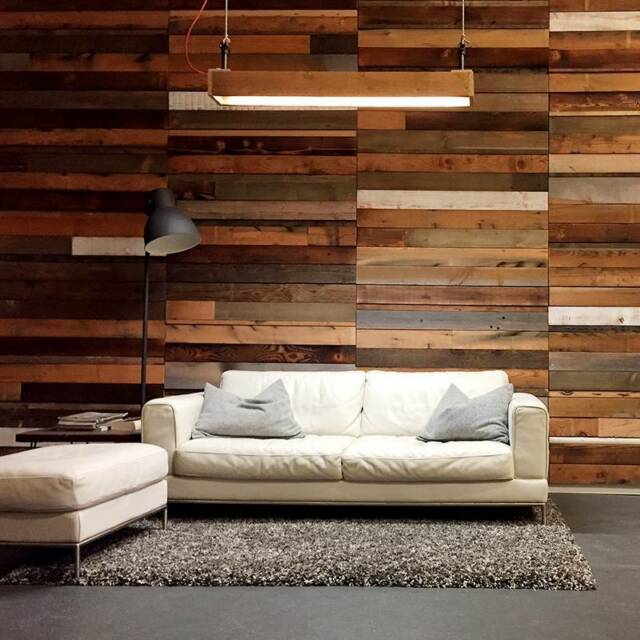 Wood paneling is a nifty option to finish the wall. It is a part of nowadays aesthetic. You can use this idea to contrast the furniture color and the entire room style.
This combination of pallet ideas for walls with grey thick-furred rug and flooring strongly exudes warm nuance all over the space.
7. Artistic Pallet Ideas for Walls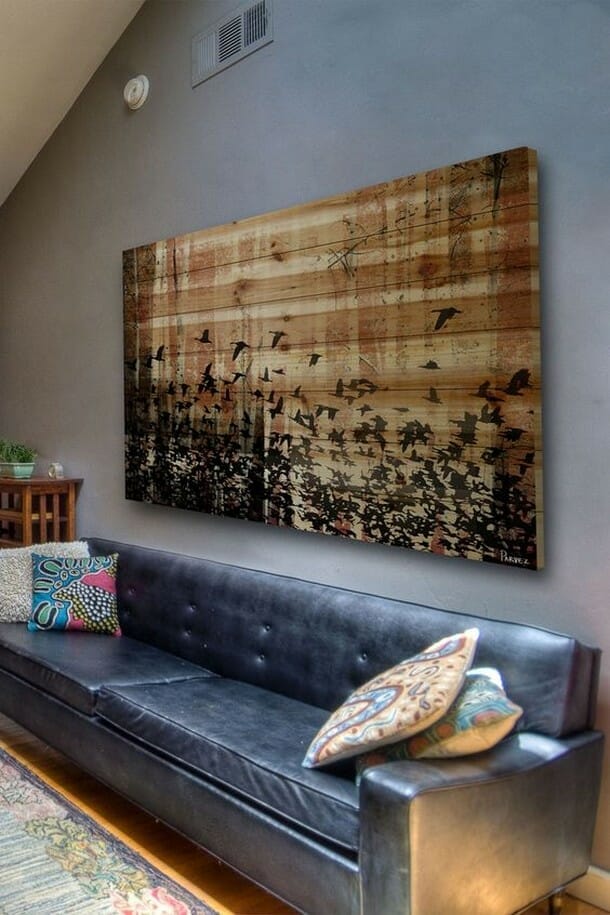 The painting portrays an everyday situation, where a flock of birds flies. It is trivial, and everyone could see the view effortlessly nearly everywhere.
Yet, it is fascinating to see the static version of such sight on an artwork, all the more using a pallet board as the canvas.
8. Reclaimed Wood Planks Idea for TV Wall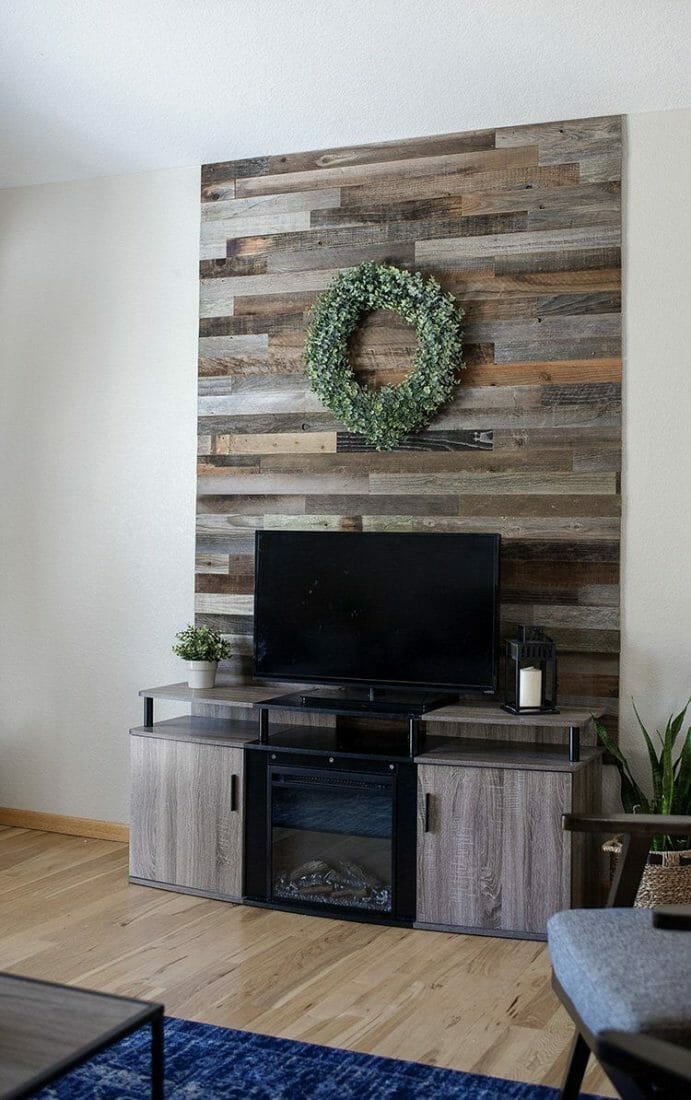 This TV wall could be a focal point in the lounge, family room, or living room. Using reclaimed wood planks with adhesive on the back, you could do a painless construction.
Moreover, the planks' shade, additional green wreath, and the electric fireplace under the TV somehow remind you of warming yourself on one of those freezing days at the end of the year.
9. Pallet Idea for Reading Nook Walls
The reading activity needs a solemn atmosphere, and this corner could provide such a condition. You can adopt this pallet idea for walls to create similar if not better circumstances.
The deal is to arrange a book rack, nightstand, table lamp, and a few supporting decorations in front of the wall. Note this: a world map and a globe are necessary.
Then, the rest of the setting, like an armchair or cozy rug, will be depending on personal preference. As a result, you could read for hours with this set.
10. Barn-Like Lounge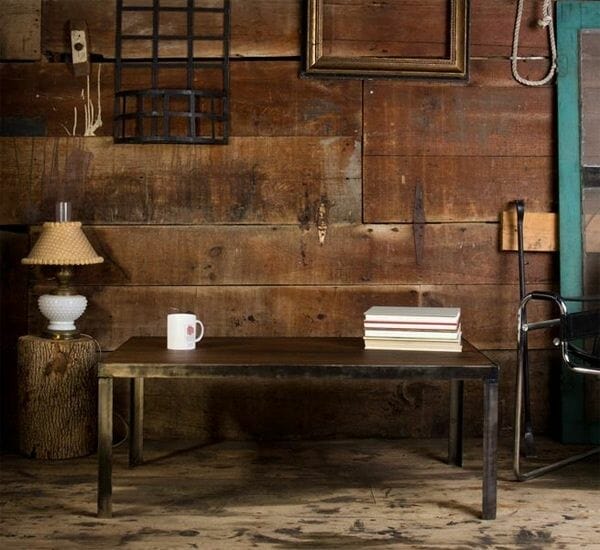 Who knows that certain pallet ideas for walls could make a lounge feel like a barn?
The other elements only strengthen the vibe, like the hanging rope, an empty frame, the table lamp, lumber nightstand, industrial table, chair, and the plank flooring. It is as if a horse would go across the picture anytime now.
11. Pallet Idea for Bedframe
Camouflaging a limited bedroom space to feel a bit broader is an uncomplicated job. You should imitate this idea.
Simply combine light-toned bedframe and flooring, white shades all over the room, wide access for natural light, and a pair of mirrors. Only then you can get the sense of a wider slumber zone.
12. Balcony Vertical Garden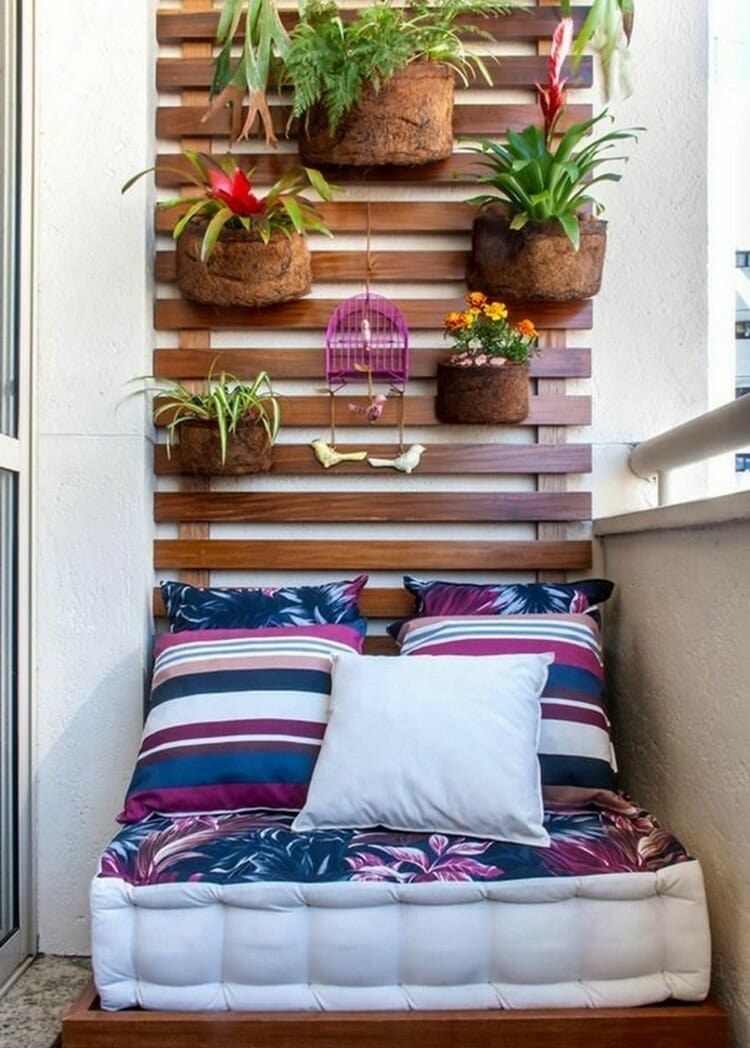 Decorating a small balcony should not be a problem. Hence, you can execute plenty of ideas, and this one is charming enough to follow.
Therefore, use some pallets as a trellis for a vertical garden, arrange a comfortable set of cushions, hang several plants, and it is ready to enjoy!
13. Pallet Ideas for Walls: Rustic Home Office Walls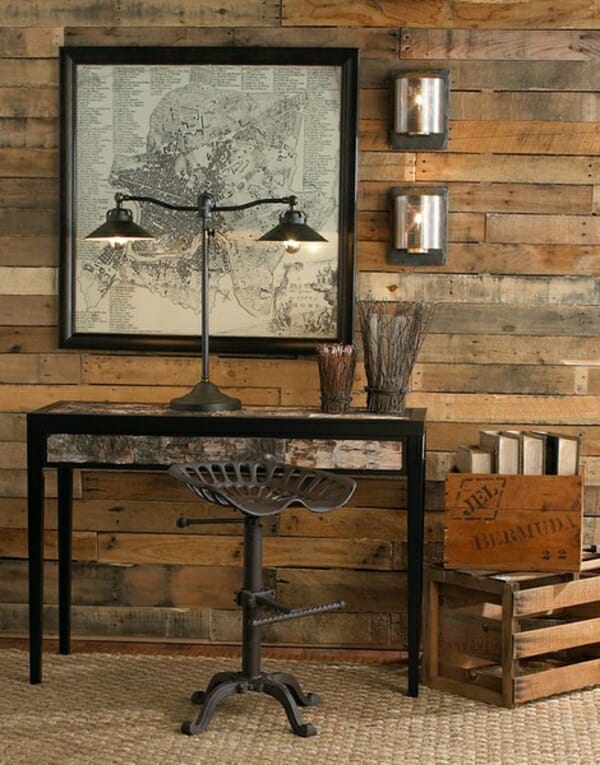 The existence of a home office is not a new thing nowadays. Yet, it could be more than boring to work and off-work every day under the same roof. The key to getting rid of the boredom lies in designing the workspace.
Make sure your working area is dissimilar from the rest of the house by incorporating rough pallet walls, industrial table lighting, metal chair, as well as black and white hanging artwork.
14. Pallet Accent Wall Ideas Using Stained in Different Colors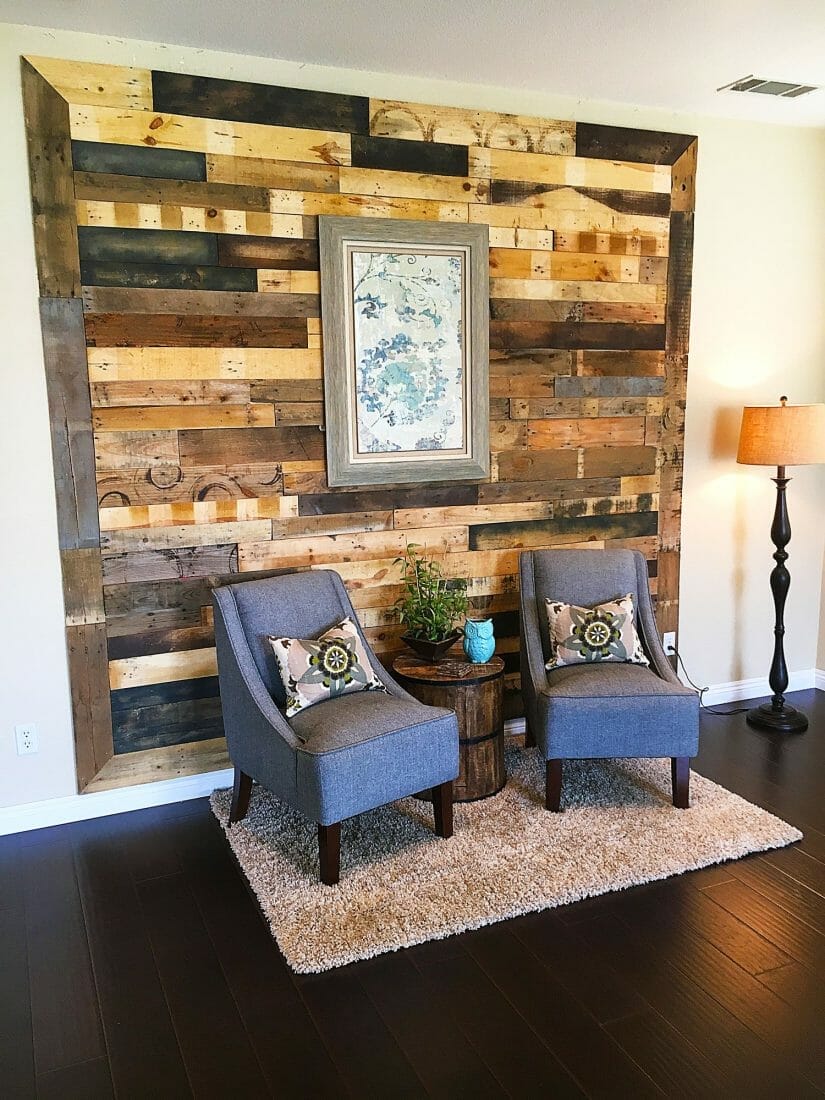 Certainly, yellow, gold, blue, dark brown, black, and grey are visible on a single accent wall.
Though some colors are in different spectrums, they do not look messy in unity since the arrangement is pleasant.
15. Using Painting for Your Pallet Ideas for Walls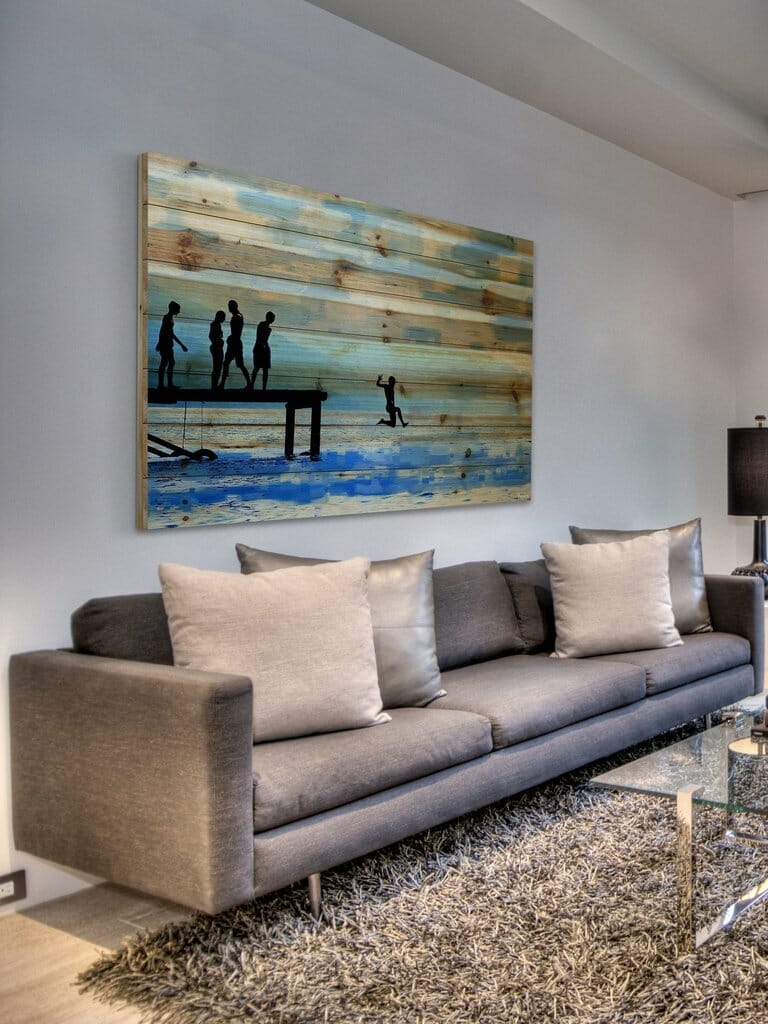 Here is the sequel of pallet board wall arts. After portraying a flock of birds, this painting pictures a group of friends enjoying their time above the deck, plunging to the water.
Well, it uses black paint and does not show any facial features, but anyone can hear the definite sound of joy.
16. Shelving Accent Wall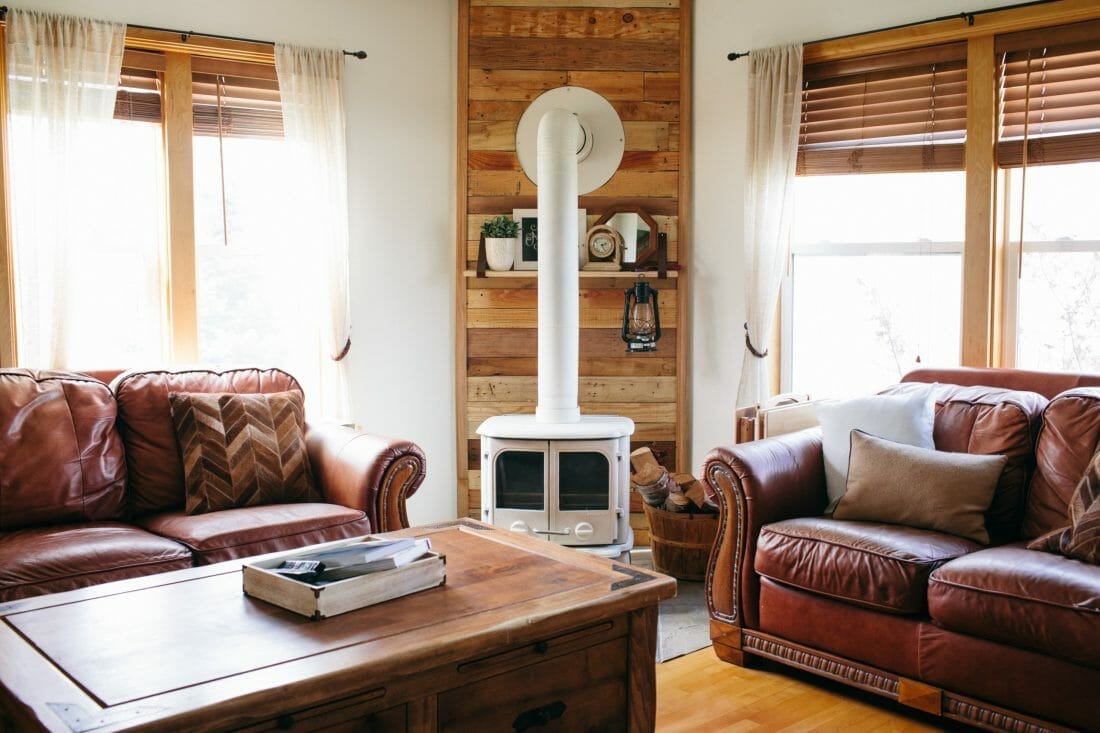 A view like this is likely visible only within a cottage far high on a mountain, you know, with that white wood burner and all.
It features an accent wall built with pallets to divert everybody's attention. The single shelving serves as a mantle to a fireplace.
17. Pallet Idea for Mounted TV Wall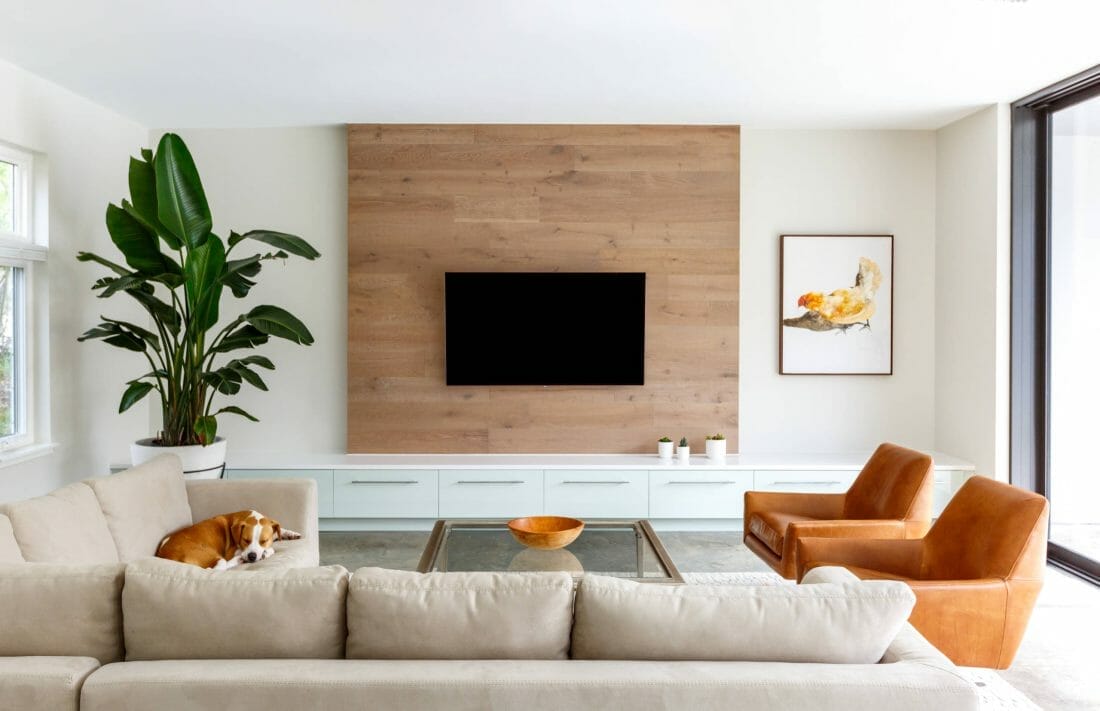 Clean and bright are the adjectives that best pronounce above pallet ideas for walls. Though dominated by white and beige, the involvement of brown on the armchairs, TV wall, and some of the decorations is so captivating.
Not to mention, the tropical houseplant even makes it more so.
18. Wood Burning Fireplace Wall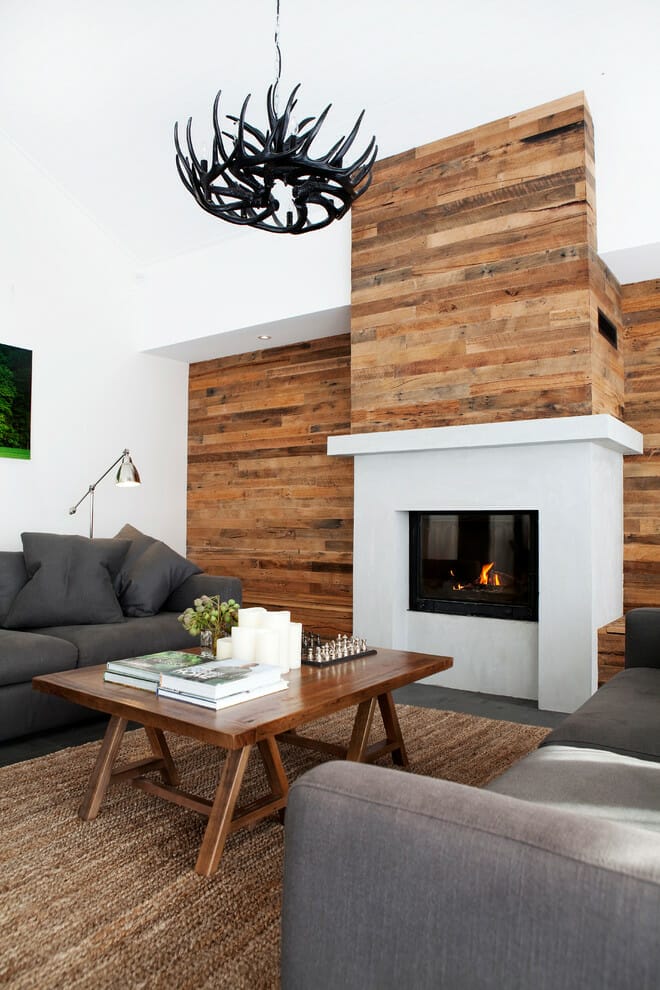 For some people, a fireplace is the heart of the home. Its presence is a sign for your family members and relatives to gather. It marks how cozy the hearth surrounding is.
Now, do you want to know how to make it even cozier? Make use of some planks and build a wall. It instantly provides a more comfortable gathering spot.
19. Pallet Idea for Loft Bedroom Walls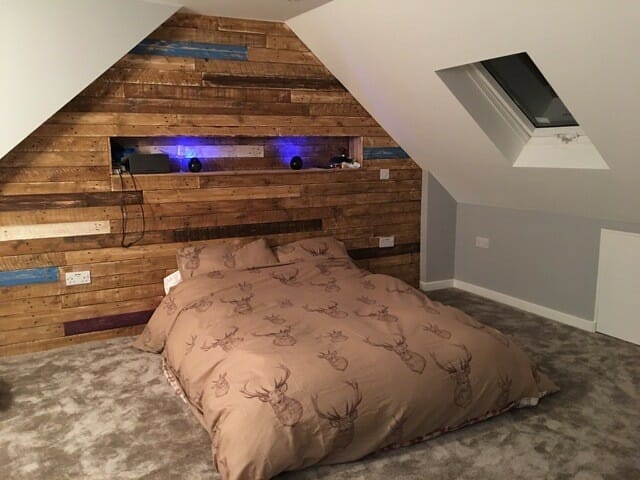 People seldom choose to sleep in the attic. However, if the said area looks like this, could anyone resist it? It allows you to stargaze before sleeping most comfortably.
This bedroom also features a warm pallet wall with a recessed shelf to offer you cozy storage.
20. Reclaimed Multicolor Wood Plank for Dining Room Walls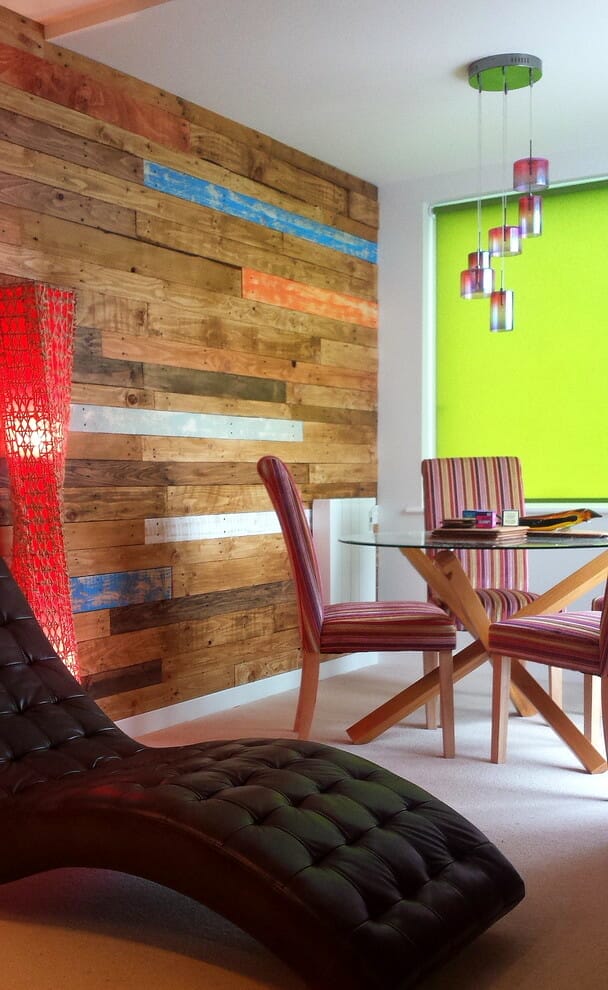 Monochrome pallet ideas for walls certainly provide neatness and regularity. In addition, the colorful ones bring joy and creativity. From this, you know that this dining room pursues the latter intention.
A multicolor backdrop would stimulate someone's appetite. Thus, you will not receive any leftovers on the plate from whoever you serve dinner tonight.
21. Pallet Ideas for Walls in Your Bathroom
Tiling seems to be the only way to finish bathroom surfaces. It is natural since most of the spaces get wet nearly 24/7.
Yet, this lavatory shows a different opinion. Though unusual, pallets could be an appealing option for bathtub wall finishing.
22. Floor-to-Ceiling Headboard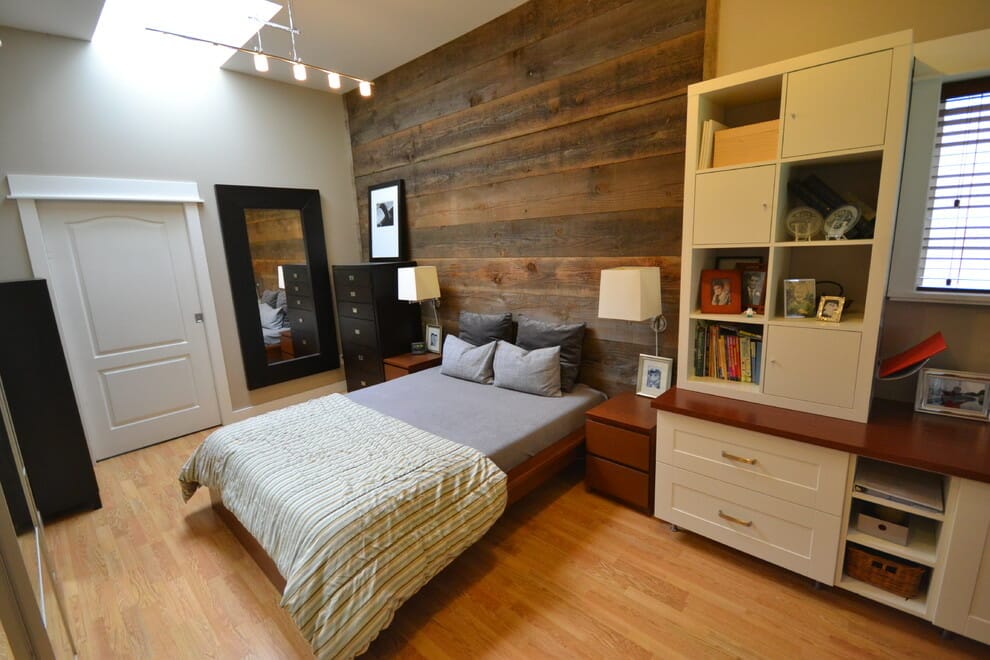 This floor-to-ceiling headboard doubles as an accent wall as well. It is wide enough to let a pair of a bedside table, bed, and a cabinet lean against it.
Its dark tone projects masculinity. Such a color could be intimidating unless your bedroom gets the proper amount of lighting.
23. Wall Hangings' Backdrop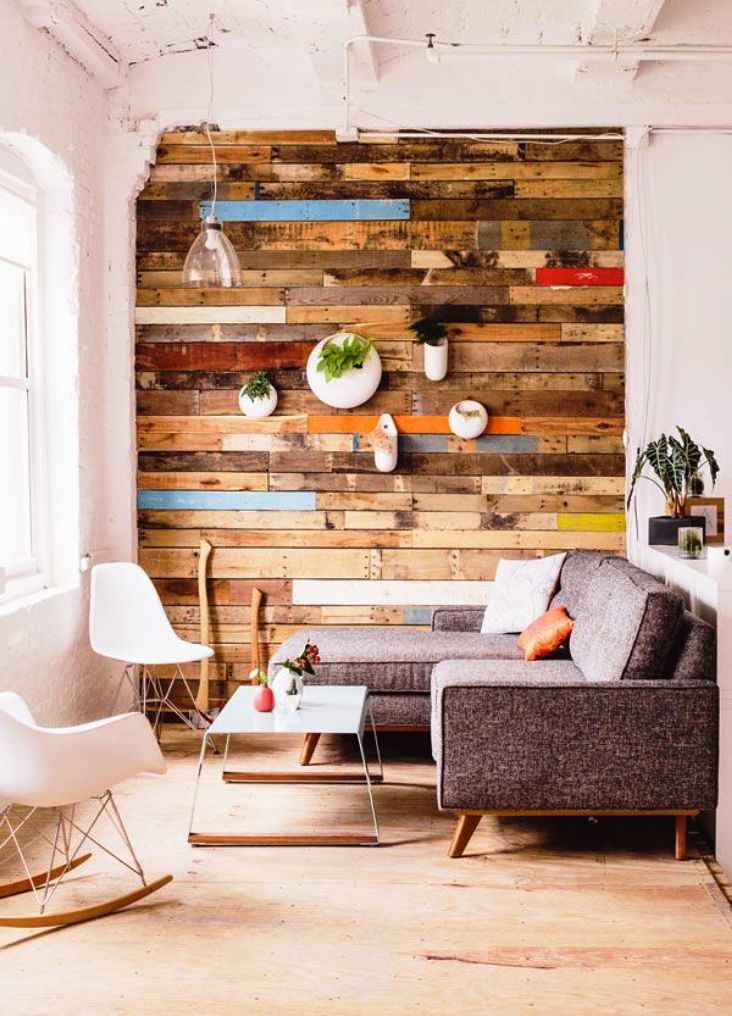 As mentioned in the first paragraphs, one of the pallet ideas for walls is a backdrop for hanging decorations. But this space lacks neatness.
Whether it is part of the concept or not, it is unpleasant to see. However, the pallet background covers and normalizes any drawback.
24. Parts of Elegant Bedroom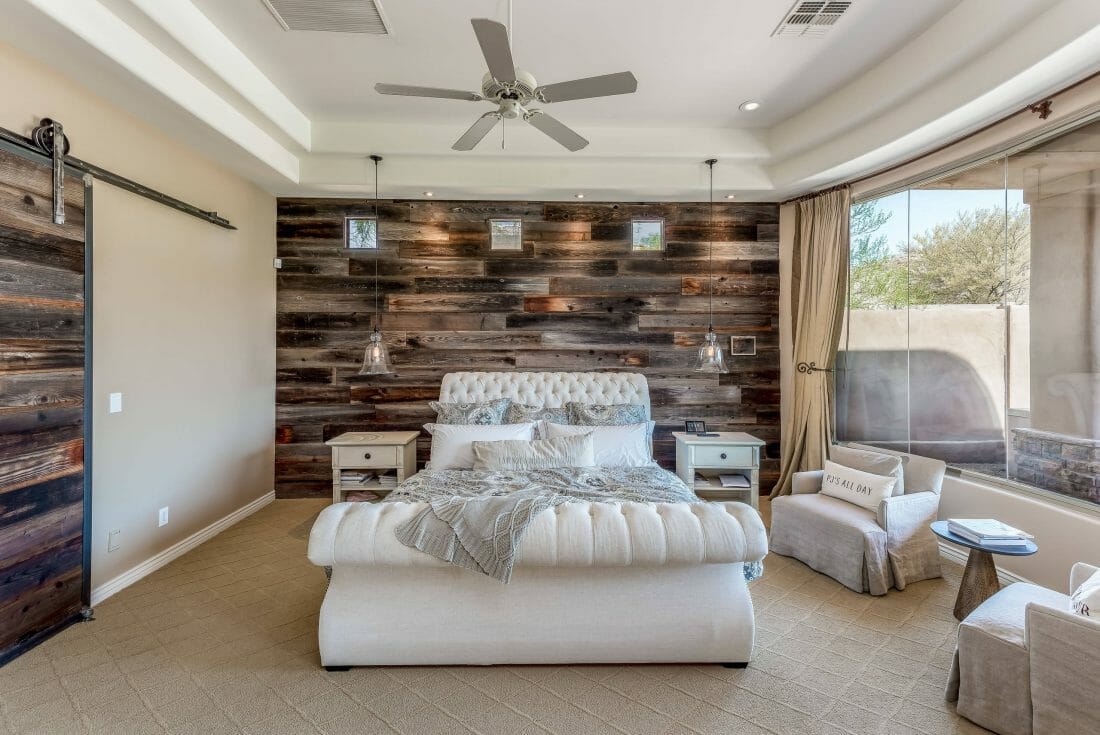 So far, pallet ideas for walls only show them being parts of rustic, industrial, country, and whatnot, but never elements of an elegant room. Do pallets specialize in such styles? Well, no, they do not.
Here, this luxurious-looking bedroom incorporates planks to cover one of the walls and build a sliding door. They do not decrease the elegance but naturally, blend in.
25. Full-Covered TV Wall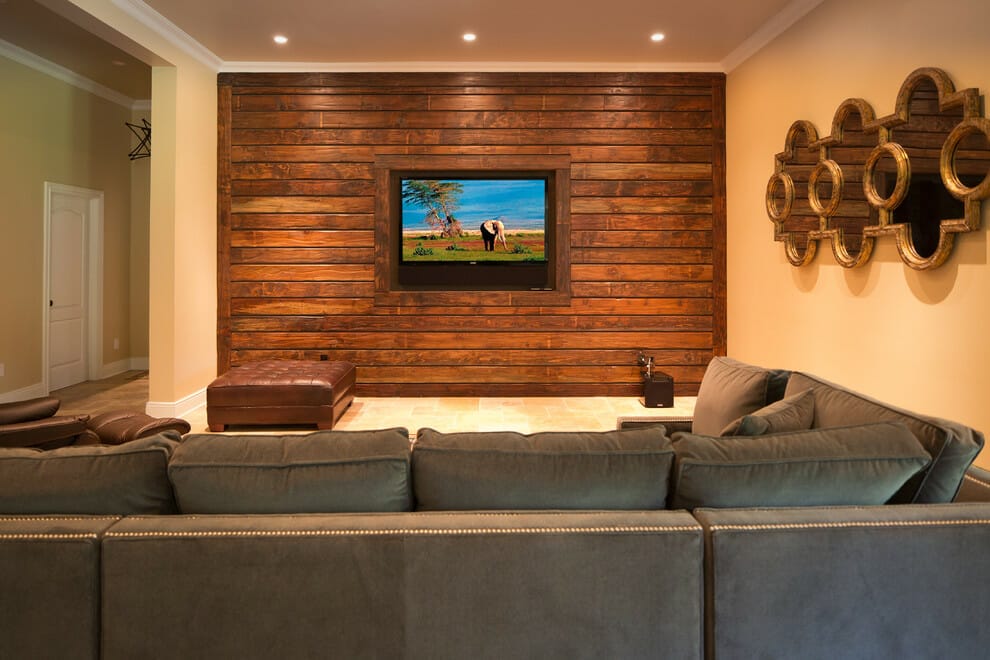 You have some other examples of pallet TV walls so far, but nothing looks like this one. This gathering area features a television to be a mere decoration, not a medium to entertain. Why? It is because of the size.
In this large space, that television seems small. Moreover, do you expect to hear any TV sounds right from the seating with that long-distance?
Yup, we do not think so, either. Therefore, it is more than plausible to say that the television is there to highlight the gorgeous pallet wall behind it.
26. Pallet Ideas for Walls with Blue Scheme Accent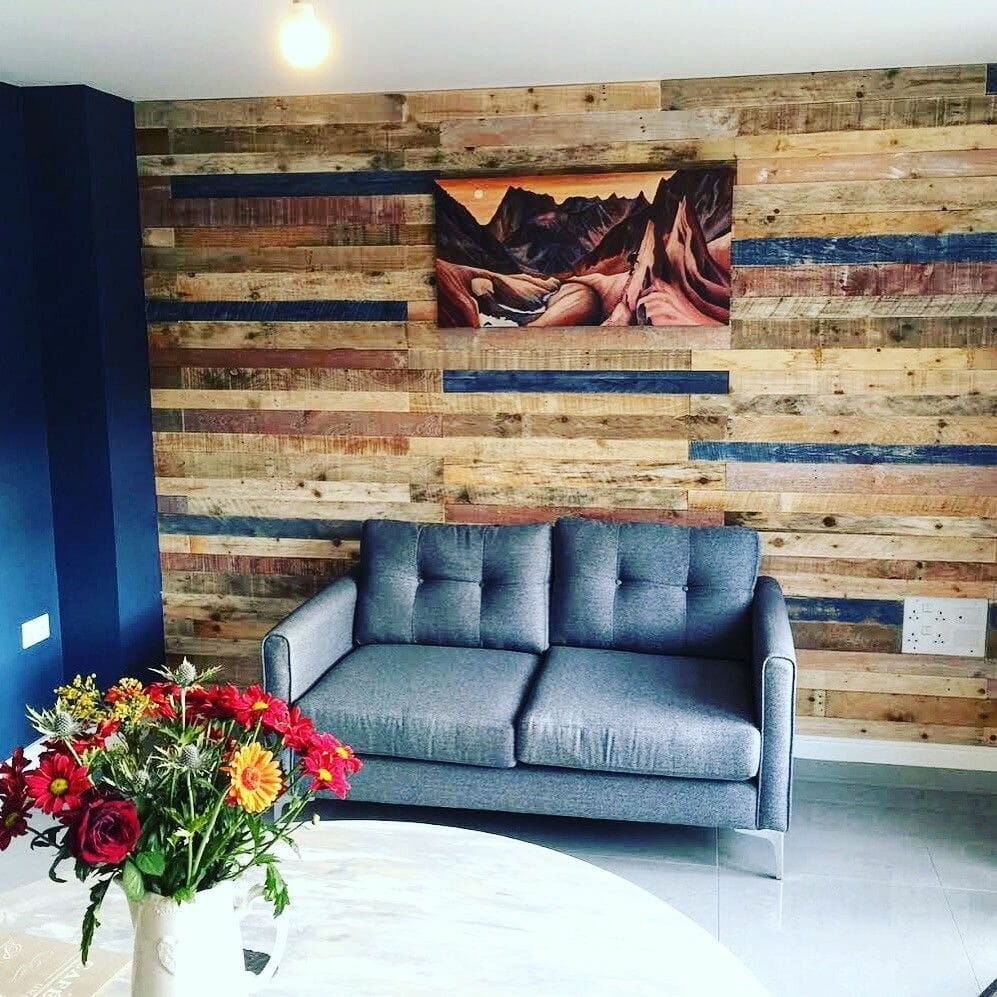 By now, you know those pallet ideas for walls are massively varying. Their versatility lets them be adaptive to almost any concept and color scheme.
Hence, the room in the picture applies blue as its main point. Strengthened by the wood plank backdrop, it is visible from the solid painted wall and the couch.
27. Bed Wall with Finished Edge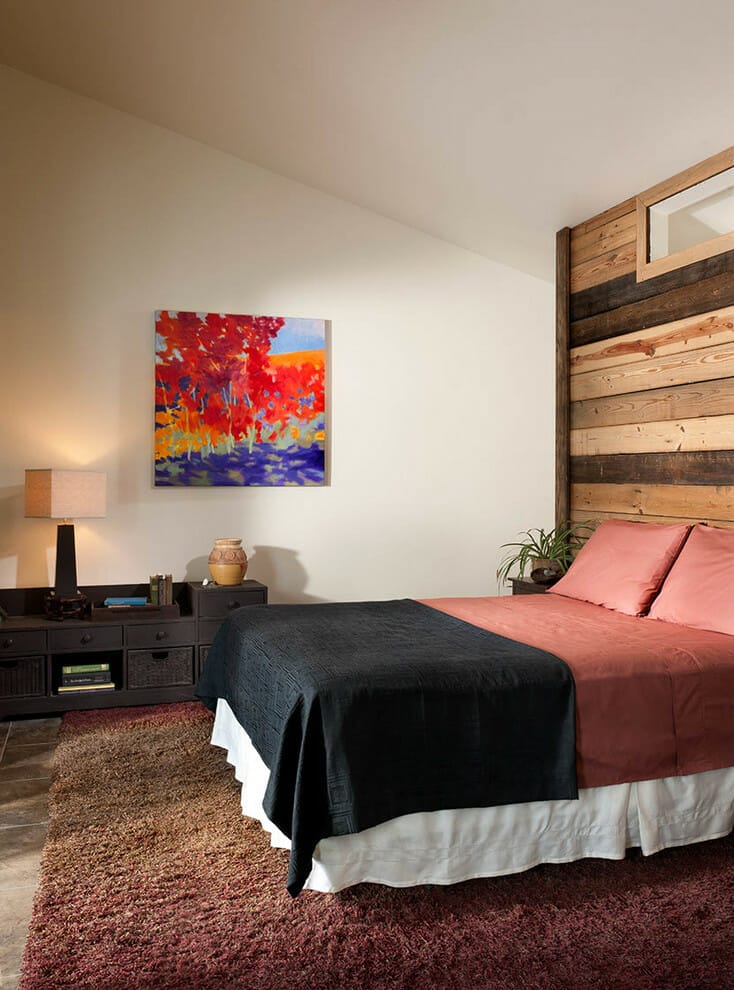 Previously, examples of accent walls with finished edges were visible in several pictures. Here, you get to see a better and closer view.
A well-known home improvement site had this image displayed there, and one of the viewers felt amazed by the clean-cut finished edges.
However, it is already fascinating how the wall could stand by leaning under the slanted ceiling, let alone got it had a finished topper part.
28. Rustic Pallet Ideas for Walls in Master Bedroom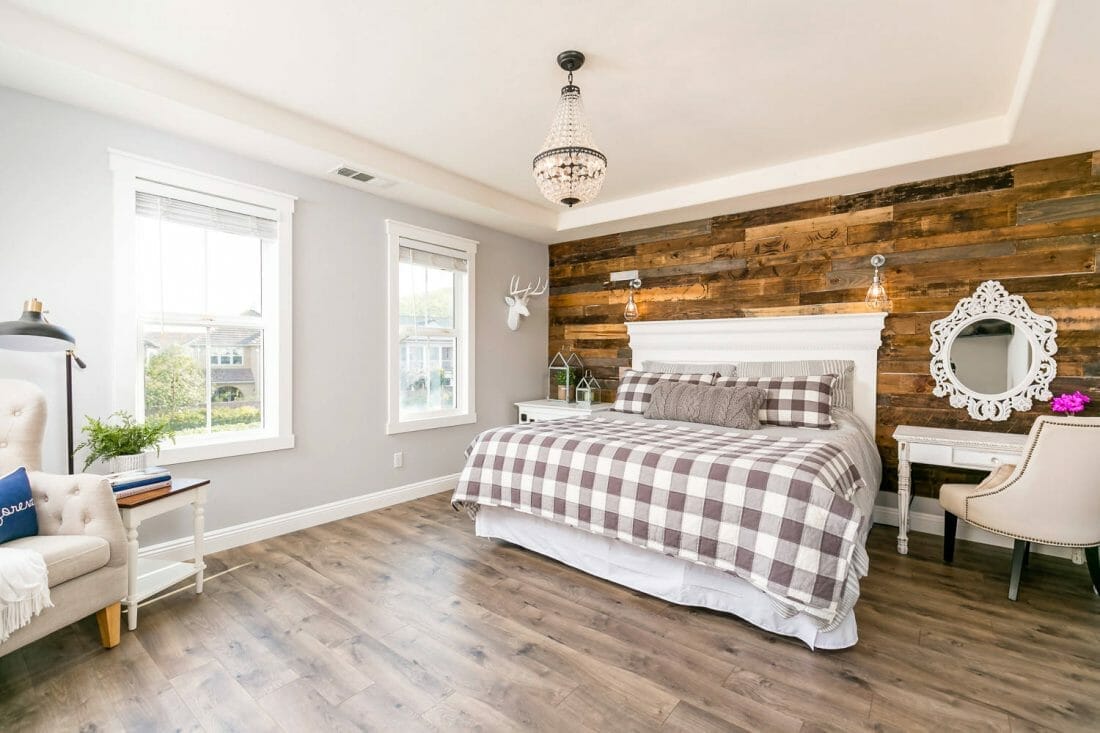 Styled in a farmhouse, this master bedroom features elements that highlight the statement. The said components are the stylish rustic wall after the bed, the light tone painted other walls, tray ceiling, and hardwood floorboard.
Please take note that everything has some drawbacks, and so do these pallet ideas for walls as nothing is perfect in this world.
The thing with these materials is they leave splinters behind, which can be harmful to any beings and other furniture.
Thus, consult every detail with the professionals first and prepare the right measurement to overcome any possible problems before choosing one of the pallet ideas for walls above.