Once it comes with a variety of locker decor ideas means that you're ready to start your new day at high school!
And, well, one of the great things about high school is that besides making new friends and joining the clubs you love, now you finally have a personal locker to keep all your supplies. Let's start with binders, notebooks, stationaries, and shoes.
Of course, all the excitement will taste bland if you don't have a fancy locker. That's why these locker decor ideas come up to inspire you.
And, in case you're wondering, "what can I use to decorate my locker?" every second. Then, the answer is varied. You can start with any items you think are aesthetic and functional.
So, instead of being curious for too long, here are twenty-eight locker decor ideas that are ready for you to borrow!
1. Bring the String Lights Inside the Locker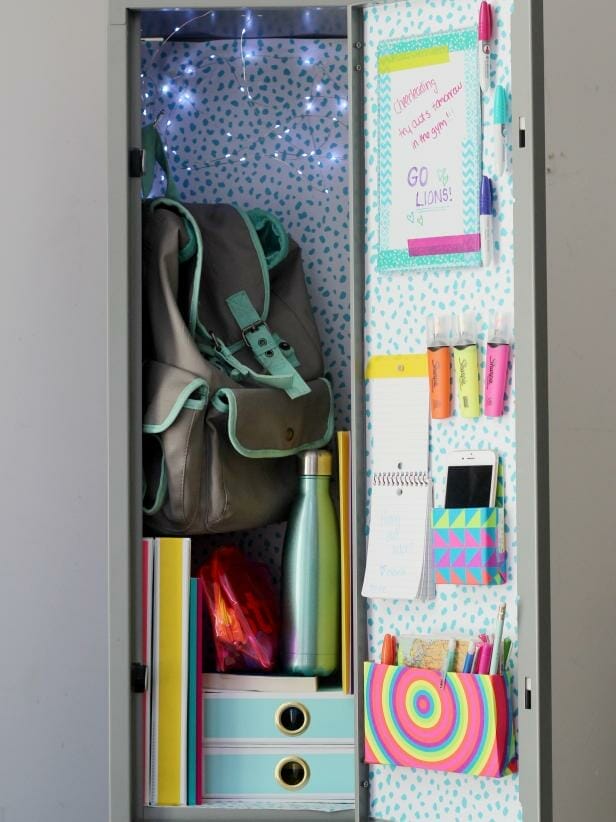 String lights don't just work well for outdoor decor. This lighting is also suitable for providing brightness inside your locker.
As you already know, string lights come in a variety of colors. That way, you can freely choose the shades according to your preferences. So, you no longer need to be confused about how to decorate your school locker anymore.
2. Cute Locker Decor Ideas with Pom-Pom Curtain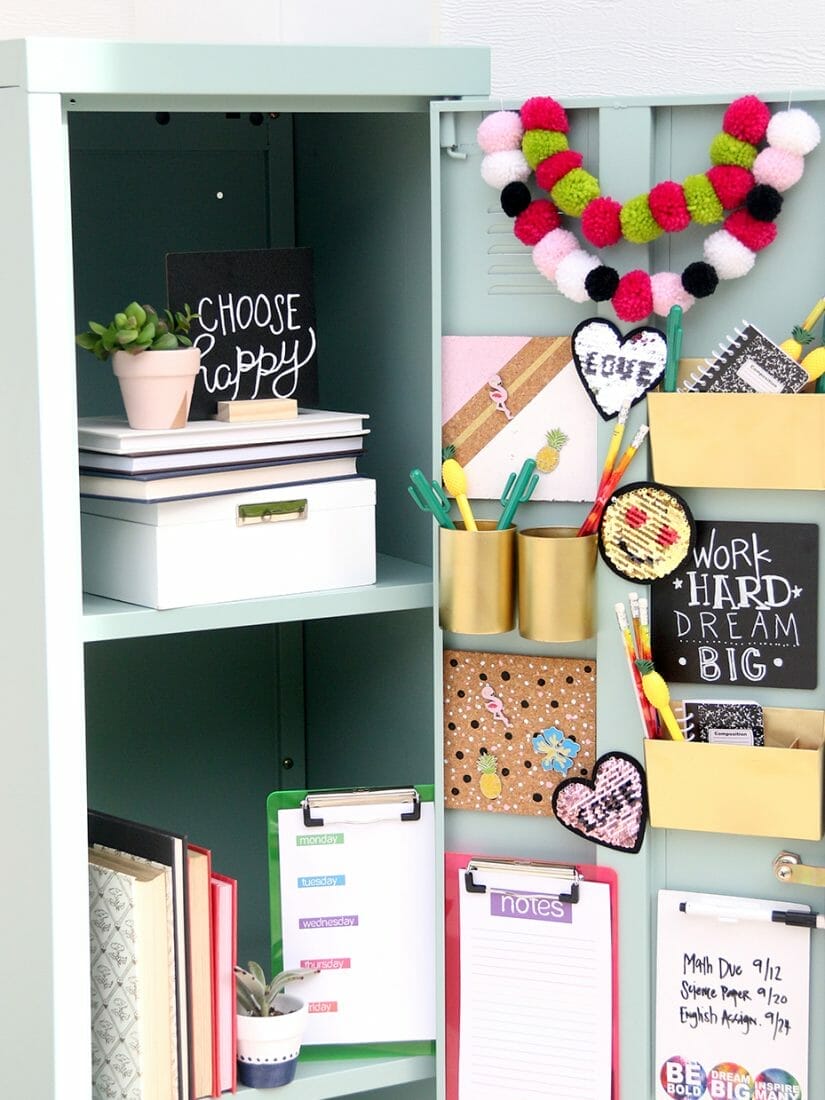 We know that there are tons of items that can upgrade your locker. But nothing beats the pom-pom curtain!
Its round shape with a smooth surface makes this ornament very suitable for hanging in your locker, especially if it comes in impressive colors. Sooner or later, you will get a bright and adorable look behind your locker door.
3. The Key Holder, Dry Erase Board, and Mini Clock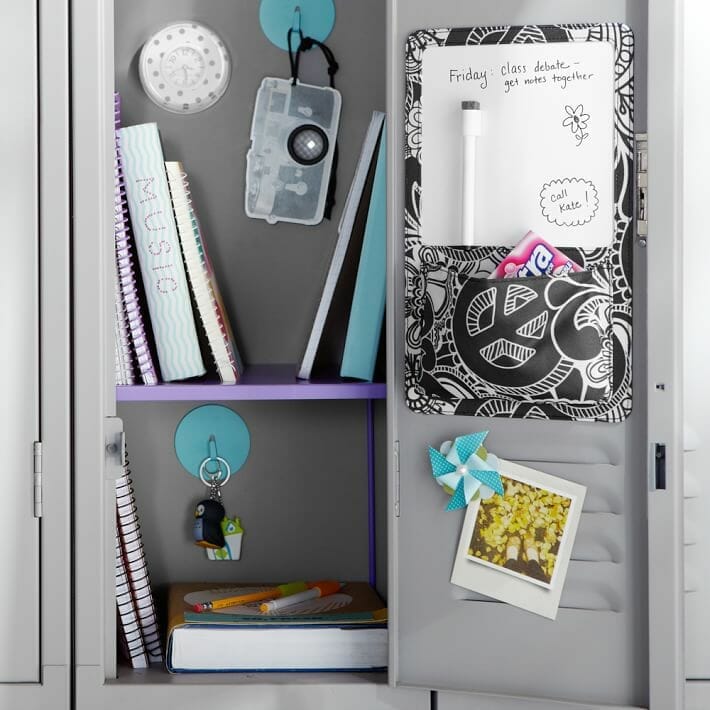 Remember, locker decor ideas are not only about aesthetic items. But it also includes all the functional objects that help you stay productive at school.
Therefore, you need to have a clock and to-do list board in the locker. Furthermore, these two objects will help you to stay disciplined. And then, don't forget the key holders. Ensure you don't lose anything in the locker, ok!
4. Chandelier for Illumination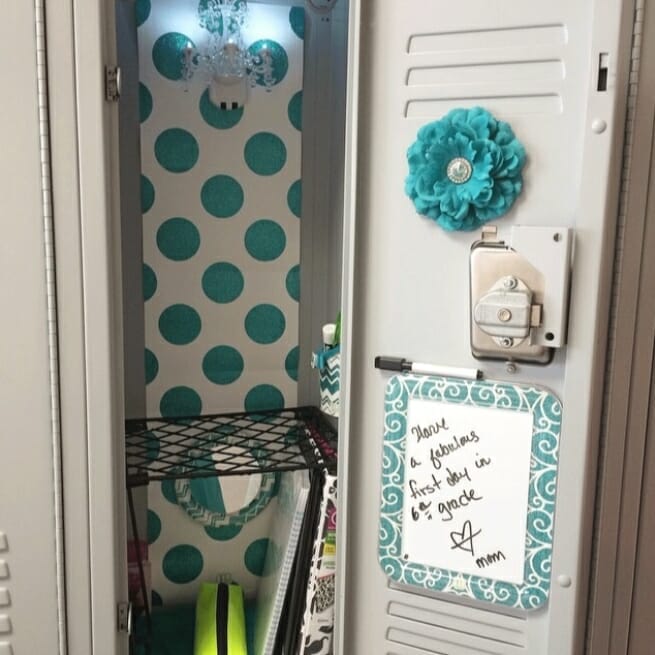 Suppose you are not comfortable with the presence of string lights in your locker and prefer a mini chandelier. Thus, never hesitate to install it.
Now there are lots of stores that provide this kind of locker kit. And, the price is also quite affordable. So, you can quickly decide to have one chandelier to give an impressive look in your locker.
5. Removable Wallpaper and Weekly Planner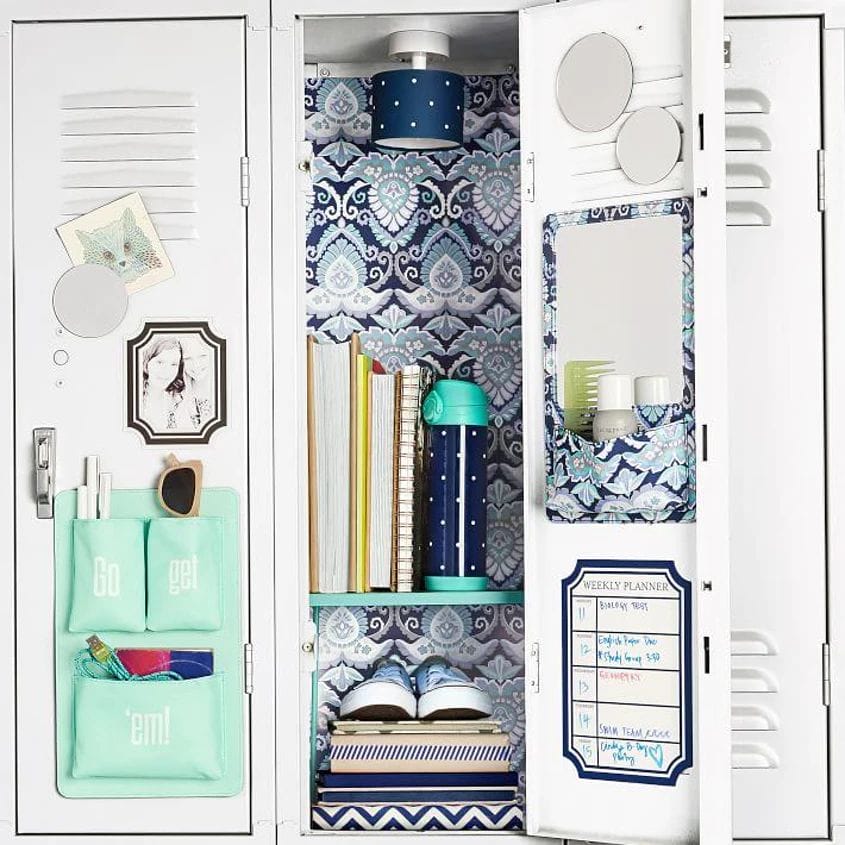 The initial locker decor ideas encourage you to provide a background for all parts of your lockbox. You can go with a temporary wallpaper that has a variety of motifs.
And of course, this is intended to quickly replace it with a new design when you are bored with the old one.
6. Locker Decor Ideas for Boys
Of the many locker decor ideas you come across, this idea might be the easiest to follow. Through this concept, you don't have to bother with installing wallpapers.
Instead, you merely have to leave it as it is. Then, hang some magnetic storage for stationary. And everything is clear.
7. Mini Storage and Magnetic Clips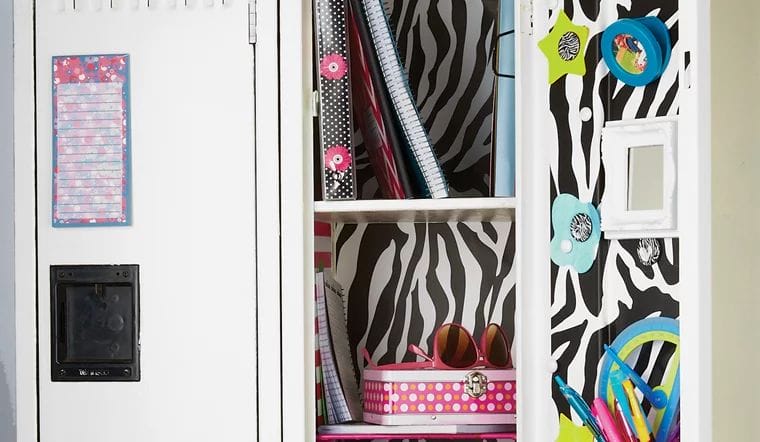 A lockbox is where you store anything while at school—starting from the big stuff into small items like bags, clothes, school supplies, and so on.
Therefore, you must provide additional storage to put small items easily lost and rarely used. That way, you will find them more accessible without hassling the other things.
8. Don't Forget About the Accessories Holder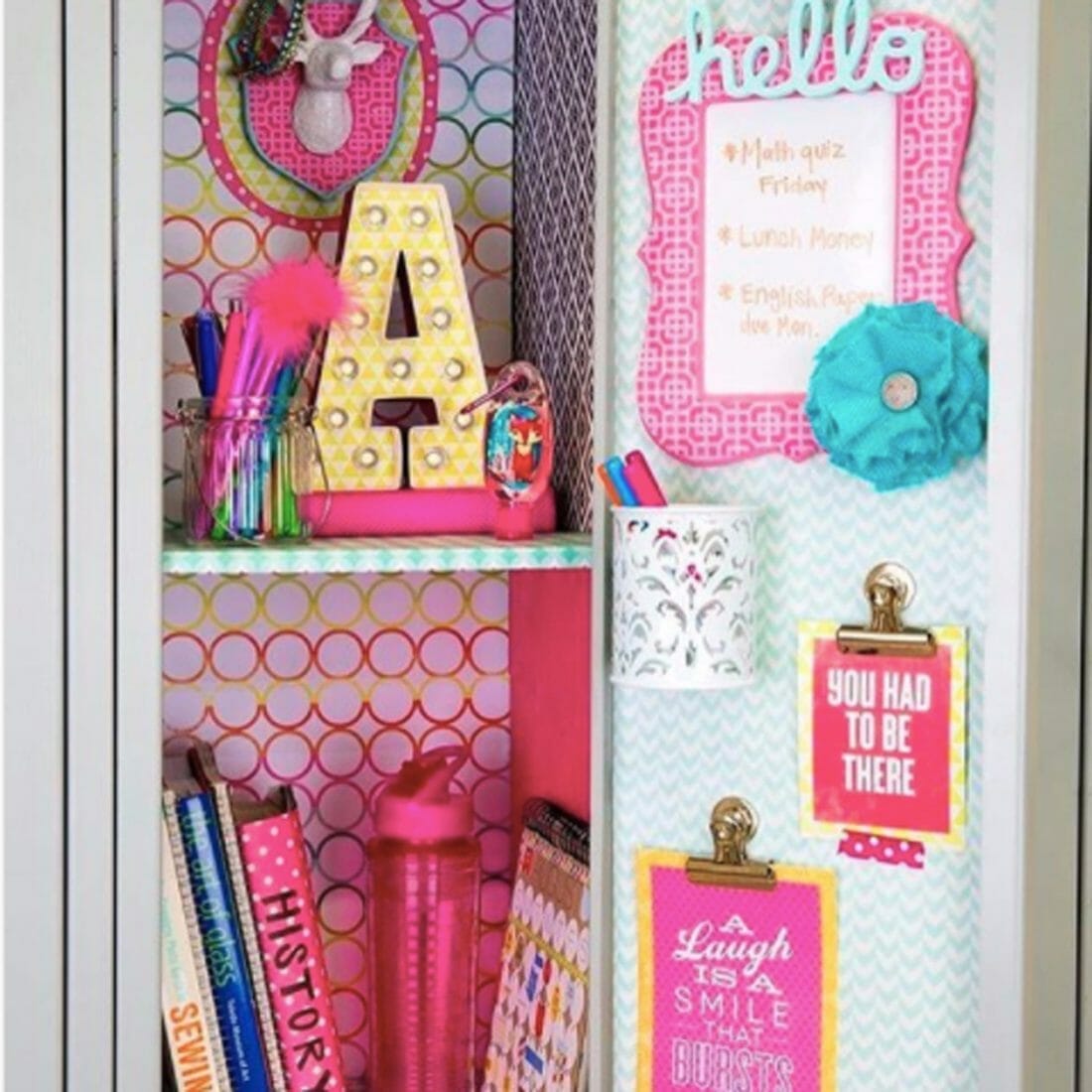 Often you also store all your accessories in a locker—for example, hair ties, bracelets, and necklaces. So, to have a neat arrangement, you need to provide holders in your locker.
Currently, accessories holders come with more unique shapes, such as those resembling a deer's head and others.
9. Pinky Theme for Teenage Girls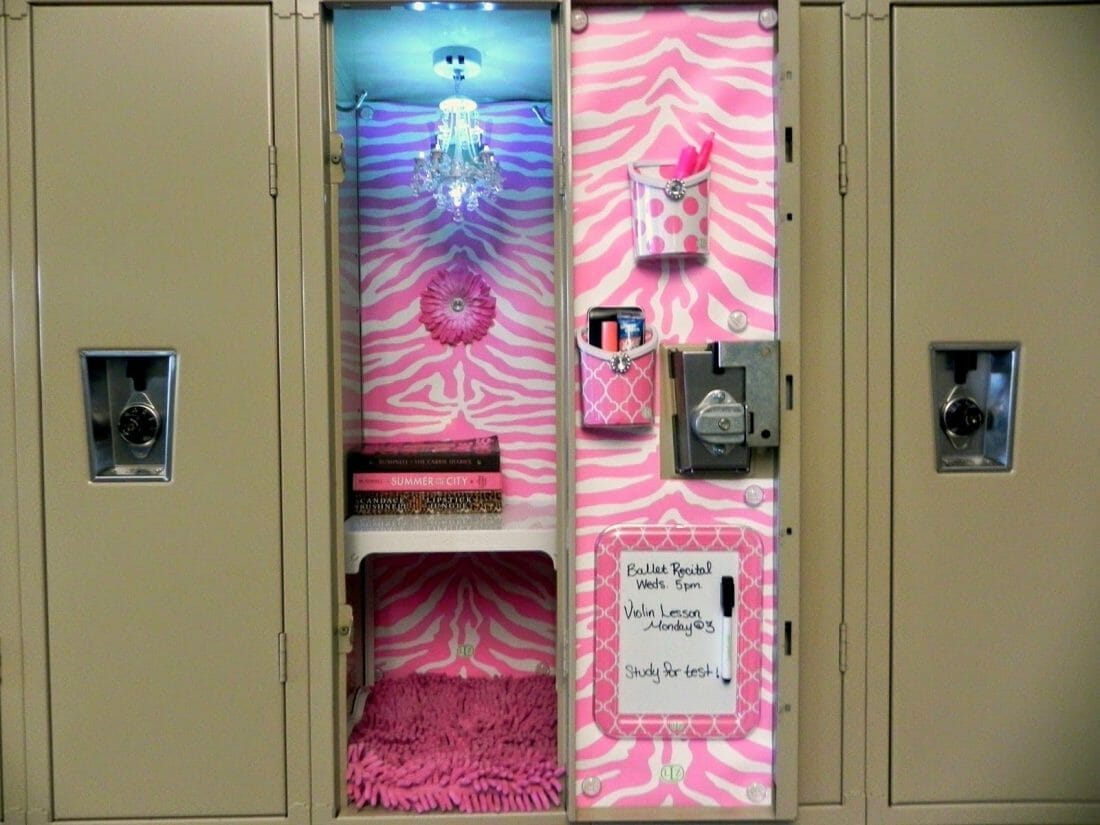 Suppose you are a pink lover. Then you can also adopt locker decor ideas with a similar color theme.
Interestingly, this concept is also suitable for fans of other colors. It can be blue, green, gray, etc. Further, by displaying your favorite color in the locker, it is believed that this can also boost your mood every day.
10. Simple Decor with Gold and Silver Tape
No one said that having fantastic locker decor required you to spend a lot of money anyway.
Instead, you can save even more money by decorating your lockbox using gold and silver tape. You only need to stick it to the shape you want, then attach some lettering representing your name and sayings that you like. And everything is complete.
11. Mini Magnetic Vase for Fresh Flower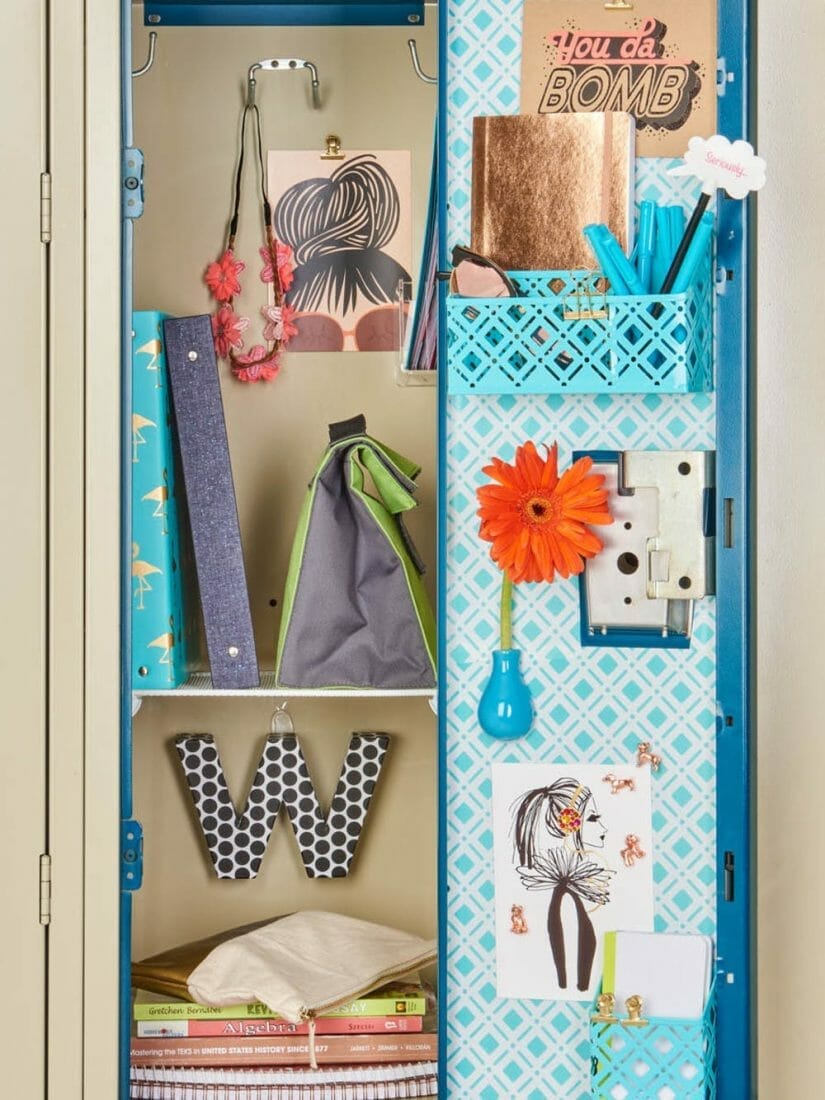 Locker decor ideas will come alive if you include fresh flowers in them. To make it easier for you to maintain, now you can provide a magnetic vase that you can easily attach to your locker door.
What is clear, with the mini size, you can only put at least one fresh flower. And you can change it with another one at any time when needed.
12. Black and White Theme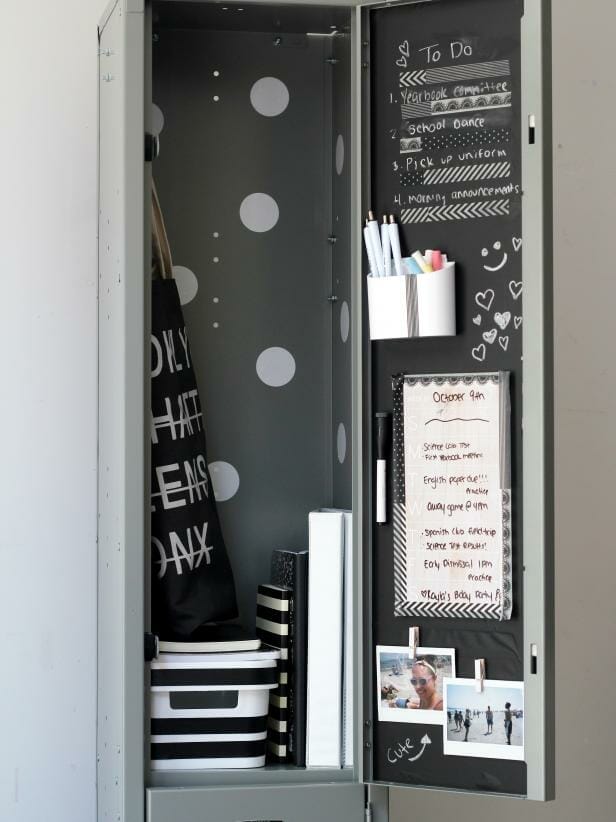 Who says dark colors will make the locker look gloomy? On the contrary, you will get a timeless lockbox if you provide a neat arrangement with cohesive colors.
Furthermore, by sticking plain black paper on the door, you can at the same time have a temporary blackboard where you write down your to-do list using chalk.
Next, you can also hang small storage to keep your pens and chalks within reach.
13. Free Standing Locker Shelf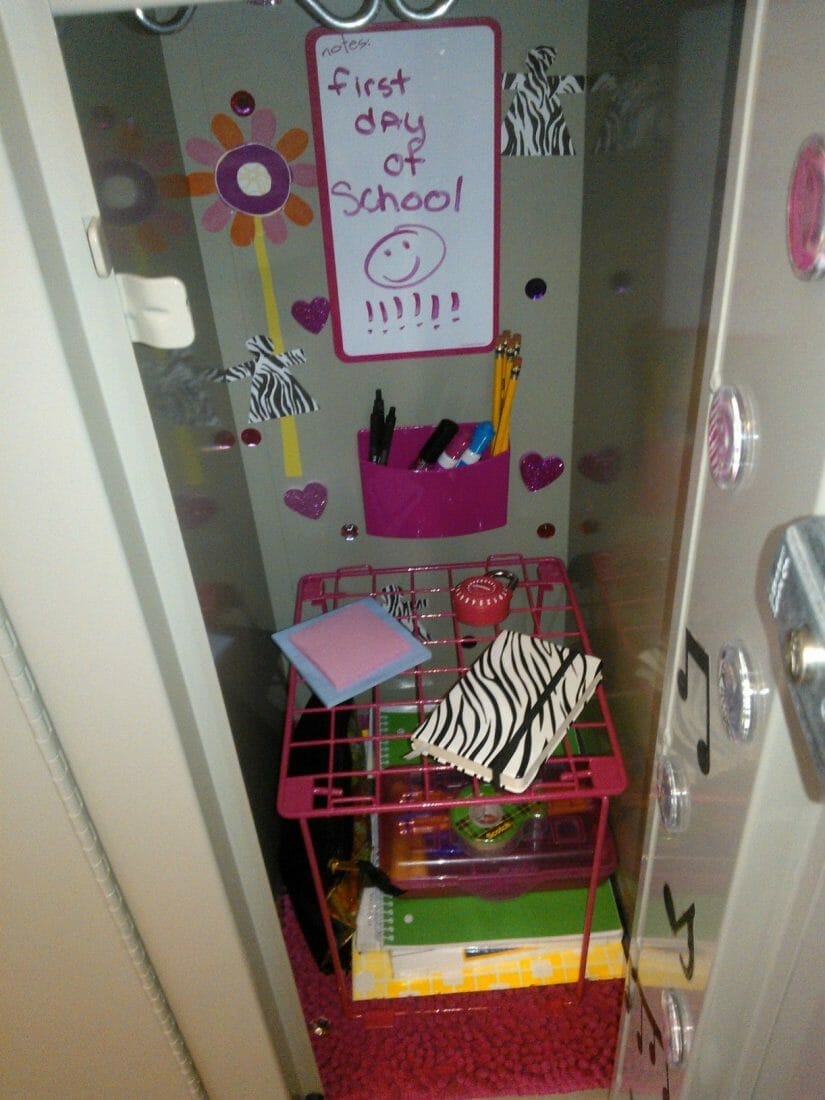 Locker ideas for middle school usually don't come with overly elaborate décor. The most important thing is that all books and school supplies are well organized and easy to reach.
So, to realize it, you can provide freestanding mini wire racks to be placed in your locker. As this unit comes with many color options, you can freely choose the one that suits your taste.
14. Put Favorite Character for Mood Booster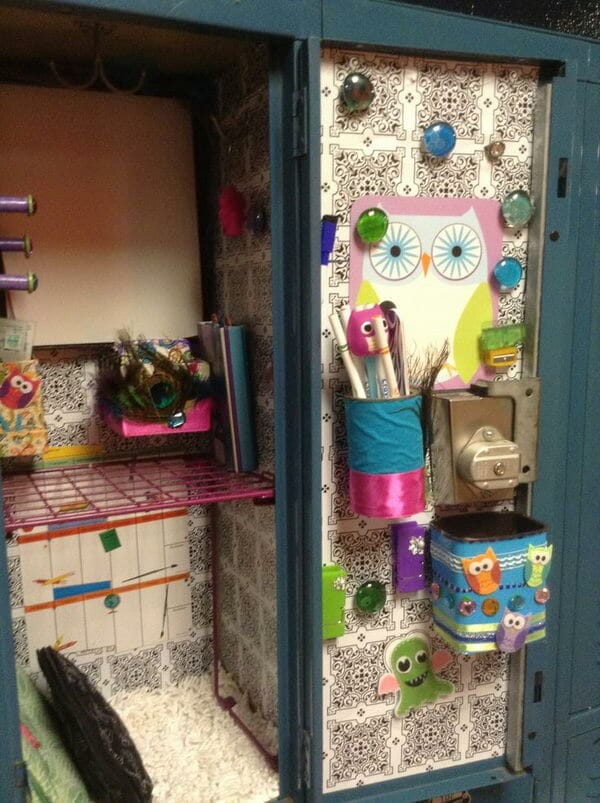 We believe that everyone has a different favorite character. And, it has become a habit to present the illustration in the locker. As if it was a robust and encouraging tradition.
What's better, you don't only go with the 2D characters, but you are even free to put your idol's photo in the locker. Aren't these locker decor ideas very worth trying?
15. Multi Patterned Décor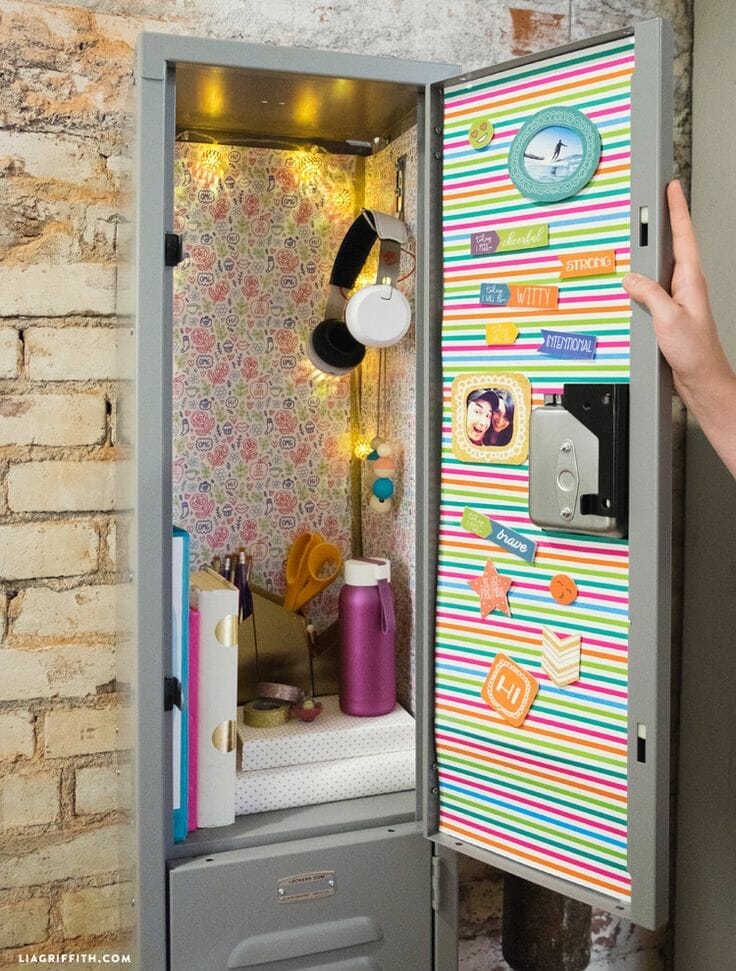 Indeed, sometimes presenting multi patterns in your locker will only make it feel crampy. However, that will never happen when you combine colors and shapes that are cohesive.
For example, small floral patterns would go well with tiny strips too. That way, you will get a spacious feel inside the locker. Consider avoiding combining lots of designs with large sizes as it makes everything look overwhelming.
16. Neatly Arranged Binders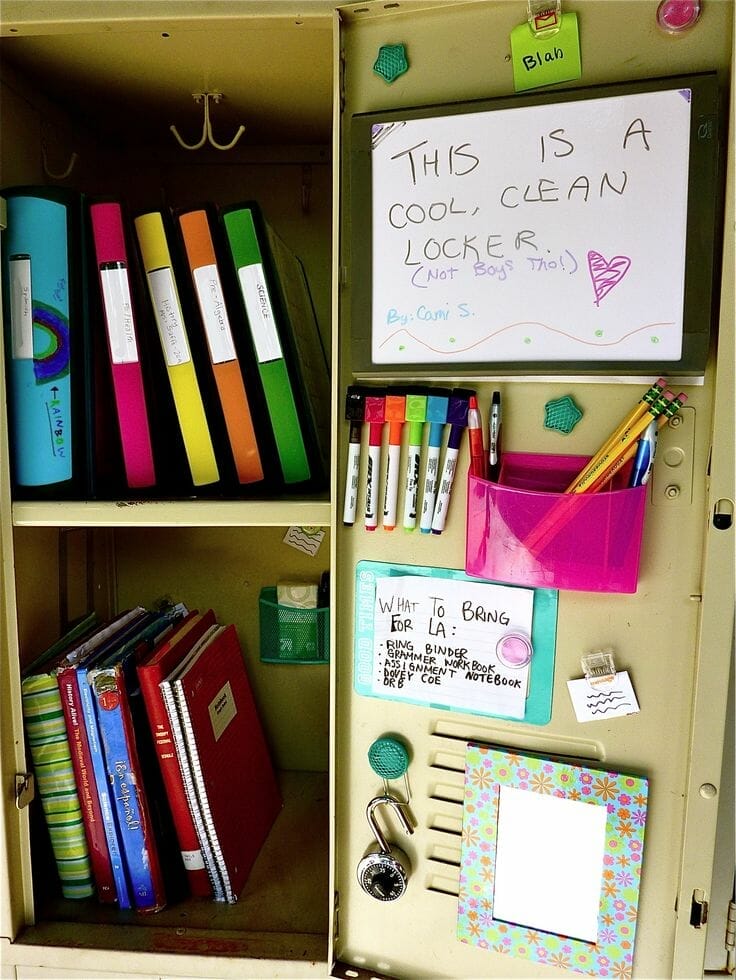 Apart from lockbox backgrounds, locker decor ideas are also great to apply to your binders. This stuff indeed plays a role in displaying a high aesthetic value for the arrangement in your locker.
Therefore, it is better to give them a bright cover, instead of leaving them in plain and boring design. Or else, better follow your preference.
Interestingly, you are also free to label each binder to make it easier to find.
17. Emoticons to Describe Your Everyday Mood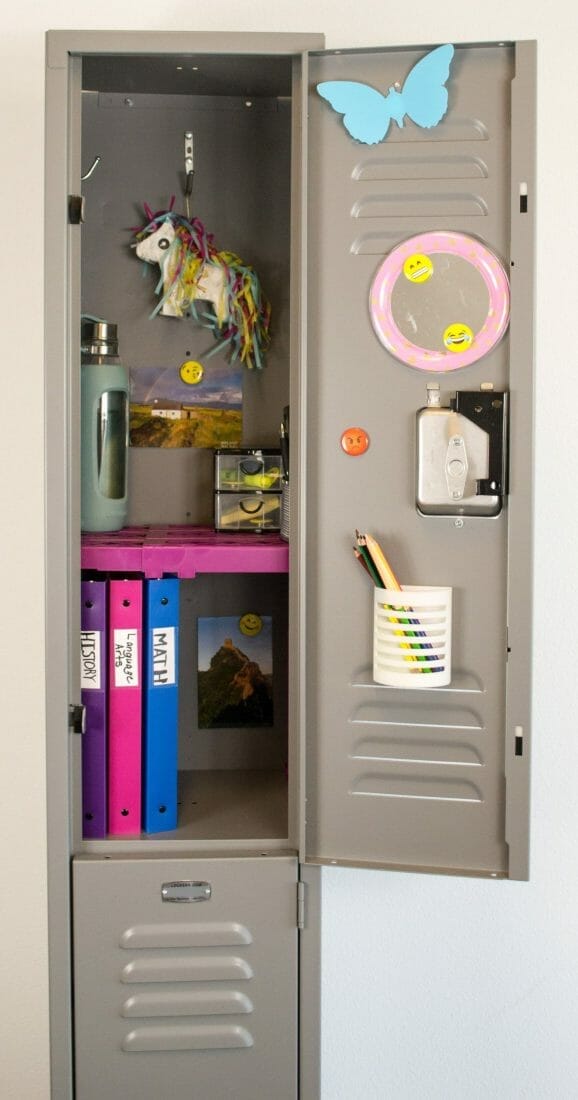 Once the previous locker decor ideas came up with a strategy to stick up your favorite characters, now is the time for you to bring emoji stickers into your storage space.
Lately, it has been functional enough to express your mood daily. That way, you can transform your locker door into a place to vent all your feelings when you don't have time to put them in your diary.
18. Decorative Lamp with Your Initial Letter
Decorative lamps come in various forms. One of them has a design that resembles letters. And next, you can pick one with your initial letter.
Suppose you want to have one. Then, don't be confused anymore, as you can find it readily on the marketplace. Apart from that, this lamp also comes in various colors of mini bulbs.
That way, you can easily consider using the matching color option with the main décor.
19. Locker Rug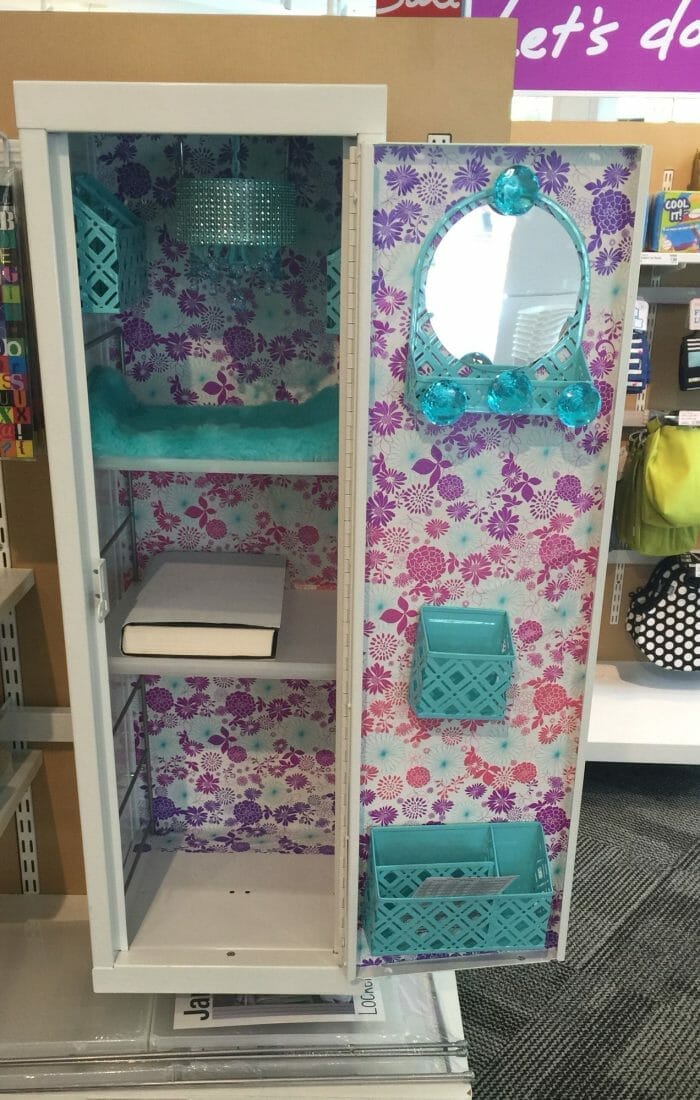 As with other spaces, the locker also occasionally needs a soft surface cover to prevent some stuff from hitting complex objects.
Therefore, locker decor ideas also recommend you to put rugs in it. So far, faux fur rugs are the best locker accessories that you can have. And it comes in many sizes and color options. Thus, you don't need to worry about anything.
20. Gallery Inside the Locker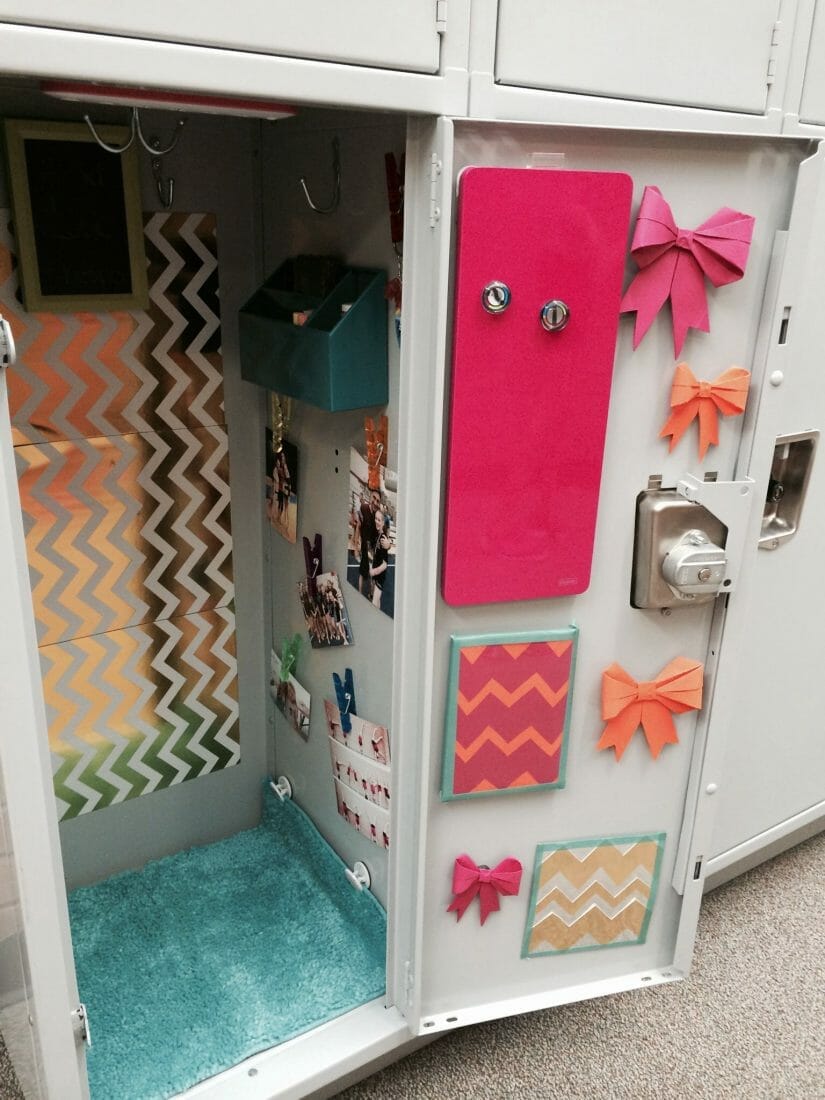 Besides storing all your school supplies, the locker is also the perfect gallery to display your portraits with your family or bae!
You only need to hang the photograph using clips to carry out this concept. Alternatively, you can also use a magnetic photo frame for the locker.
21. Magnetic Book Holder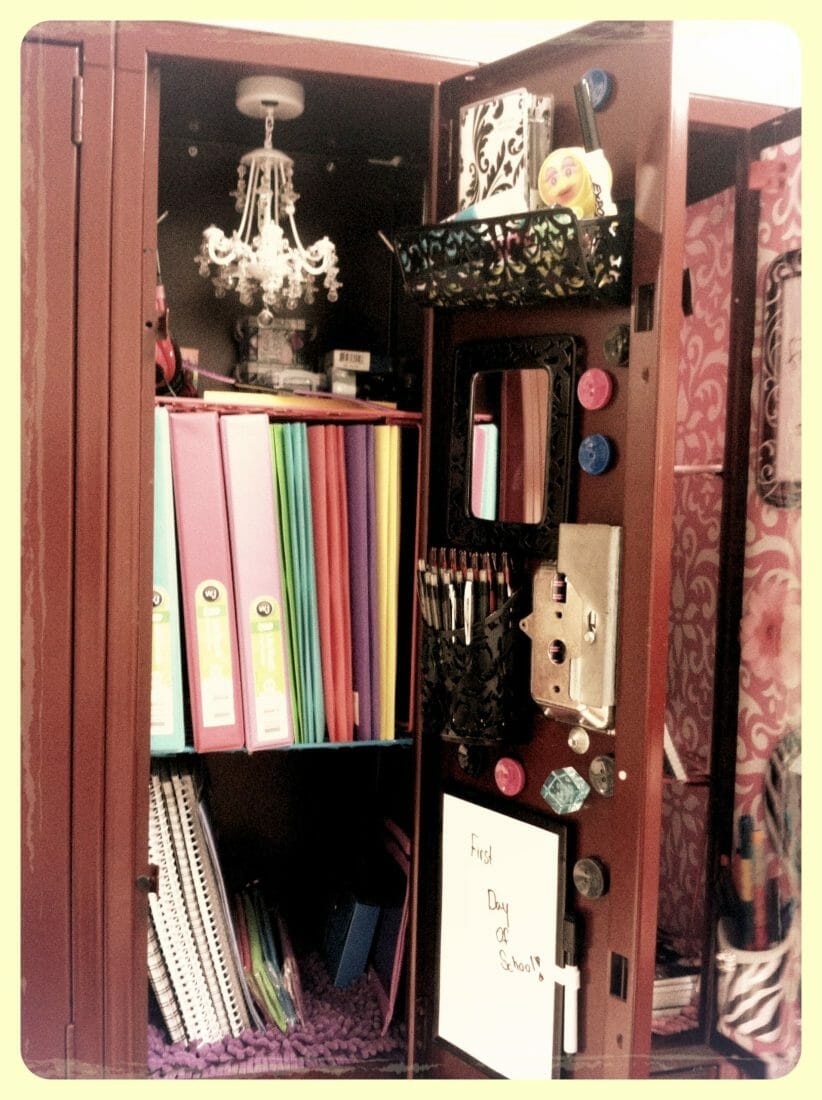 It is an open secret that lockers always appear with a mediocre space. Therefore, you must be wiser in managing all your school needs.
From books to pencils, it's a good idea to put them in different slots to make them easier to pick up at any time.
Moreover, locker decor ideas also encourage you to make the most of every corner. One example is by providing magnetic holders that can accommodate notebooks and other extra equipment like above.
22. Keep the Pens within Reach
If you think about it, almost all locker kits carry the effectiveness of magnetic objects. Even you can also attach a magnet to your pens and pencils.
Hence, you only need to take it behind your locker door when required at any time and keep it within reach.
23. Extra Baskets for Knick Knacks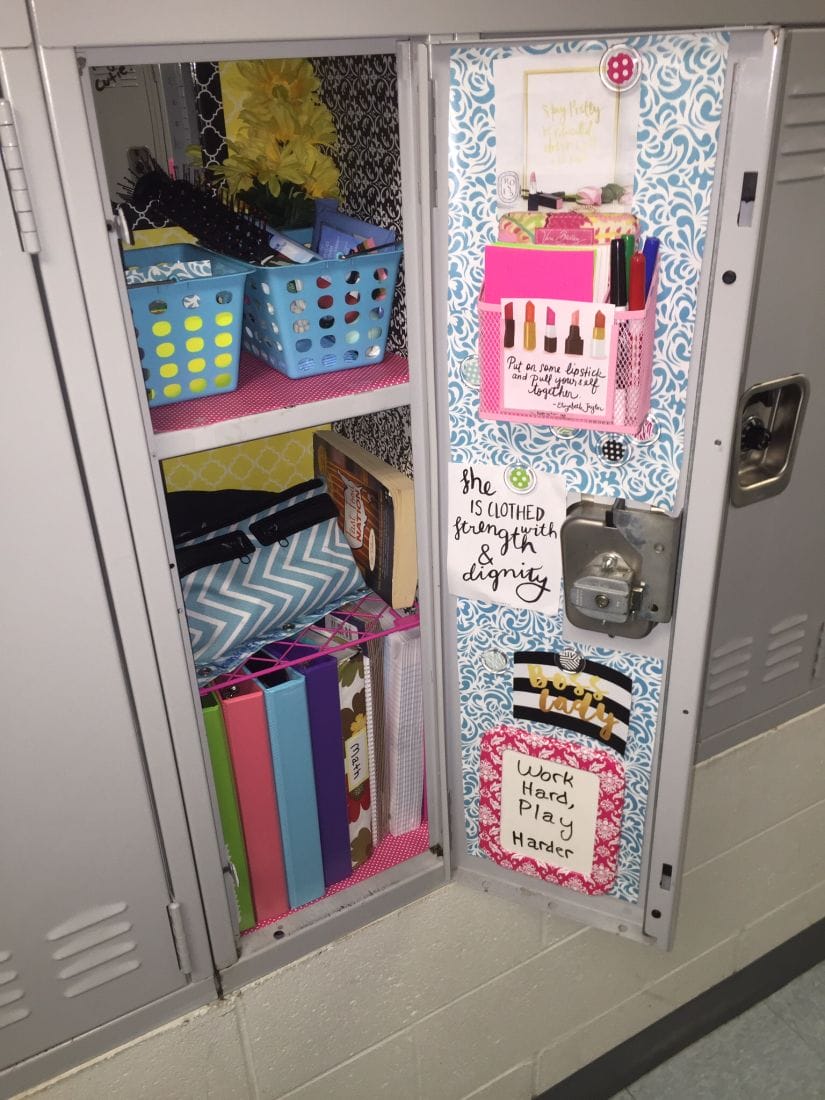 To keep away your locker from clutter, it's better if you also provide two different baskets in it. Whether you go with the plastic ones, or even wire and wickers, that's all perfect.
Next, these baskets will act as a sorter for all the knick-knacks you have. More than that, you can also give them a label. So that your school equipment is no longer mixed with your makeup needs.
24. Well Organized Locker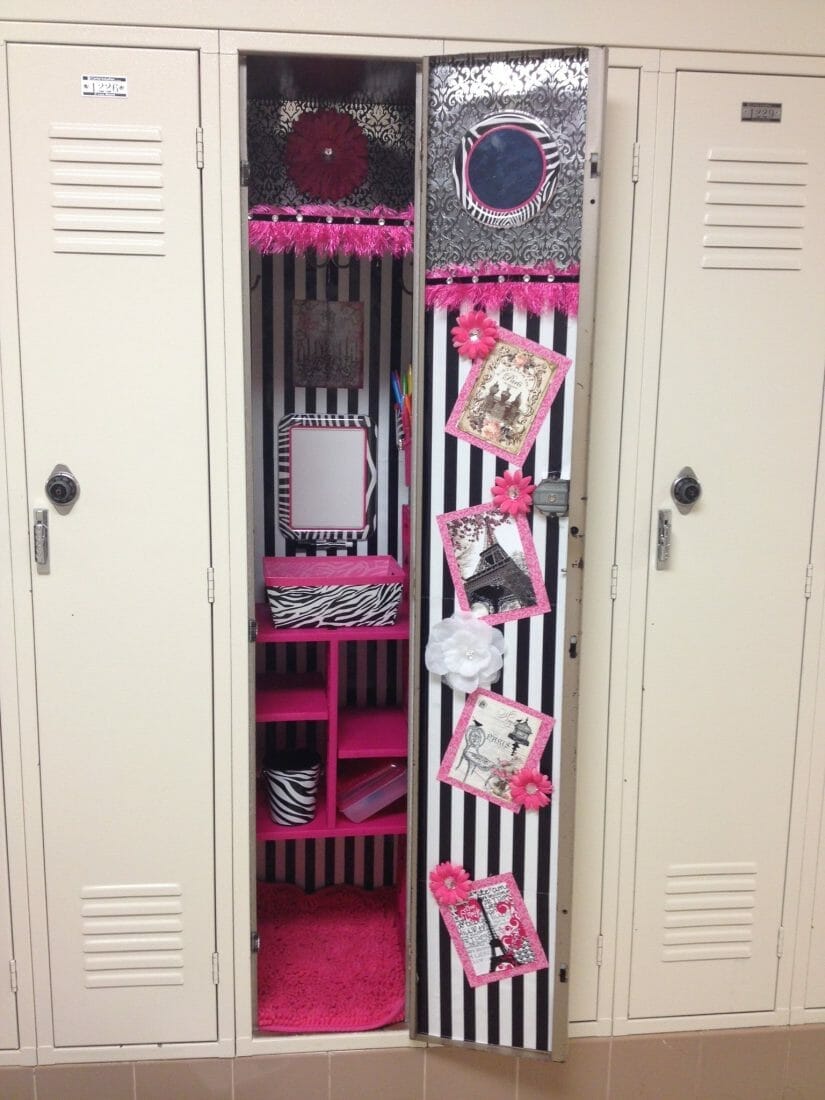 The key to all the locker decor ideas in this article is to give it a good organization. Or else, all your decorations will be in vain and no longer aesthetic if you ignore all the existing storage arrangements tricks.
As a first step, you need to master the tricks of storing. That is prioritizing frequently used items to be put in the accessible spots.
Additionally, providing an orderly shelving system like above. Either go with the built-in or with the freestanding ones. All is well.
25. Locker Decor Ideas for Small Space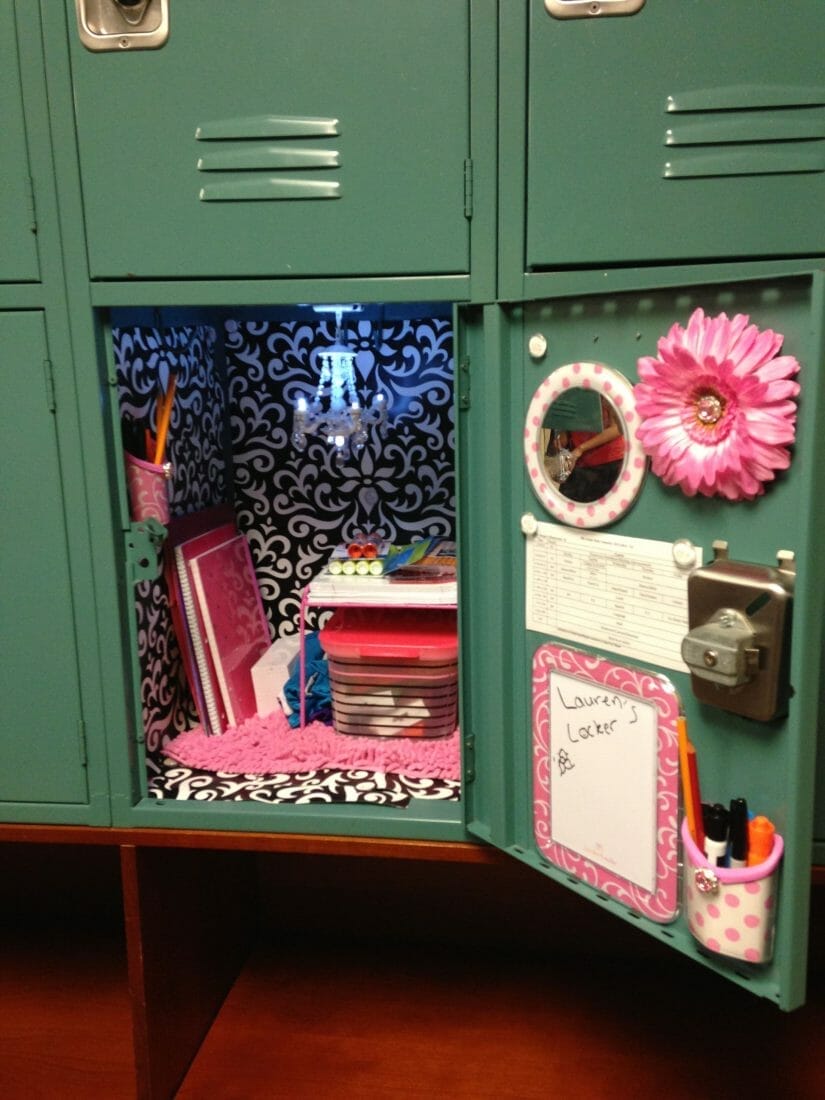 Not all lockers have the same shape and height. However, you don't have to worry if the lockbox you get is a square one.
Because if you do get that one, the first step you have to do is sort your school supplies and prioritize only the essential items to store there. Meanwhile, you can leave the rest safely at home.
26. Storage for Make Up Essentials
No less critical, locker decor ideas also give you access to a set of mirrors!
It is undeniable that looking glass is also vital for you to have in the locker. Using a mirror, you can pay more attention to your neatness before taking the class.
Additionally, you can use a unit complete with extra storage to keep all your brushes and combs.
27. Plain Wallpaper with Drawing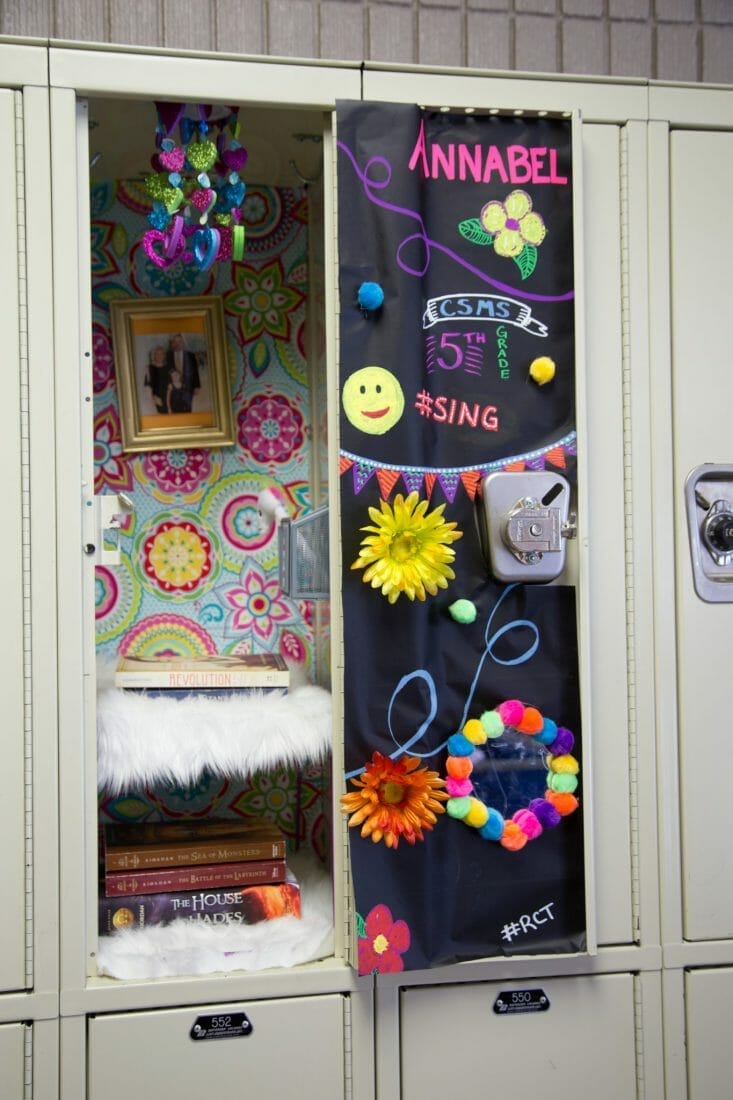 Again, black dominates your locker. Indeed, this color is the most neutral to be combined with a variety of existing locker decor ideas.
Without the need for a complicated design, you can go with plain black paper. Then you can give it various hand drawings and writings as creative as you can. Believe it or not, this idea can help you save more expenses for buying wallpaper and other locker kits.
28. Everything About Hand Crafting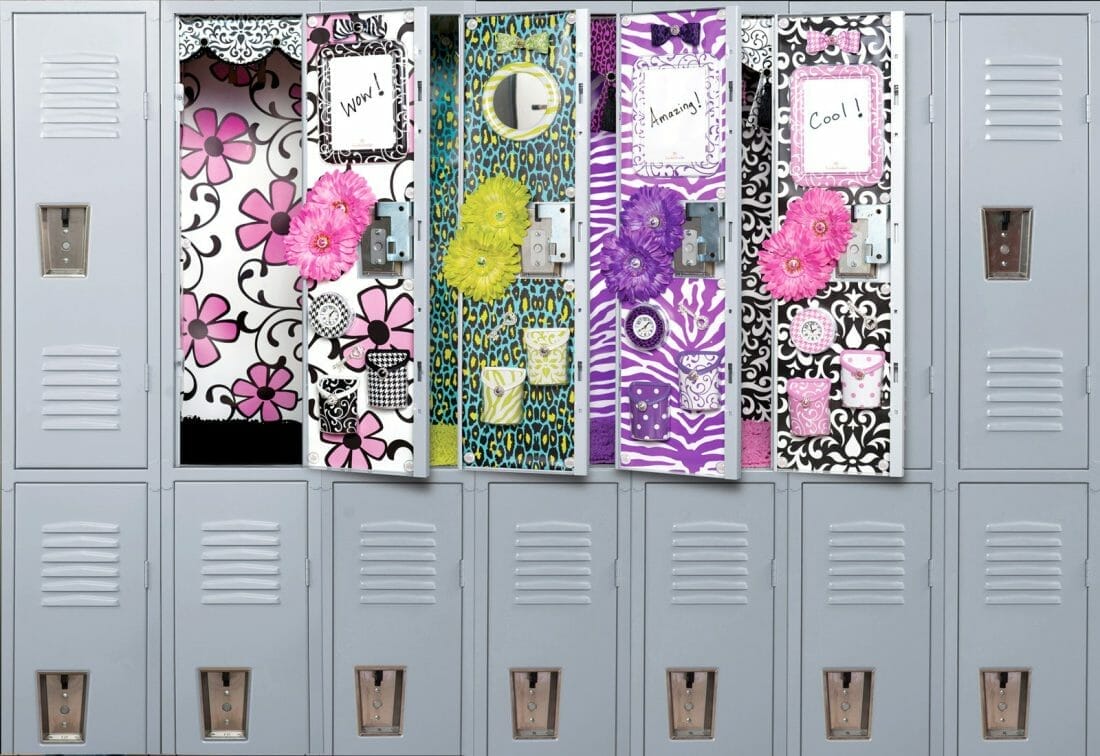 Besides drawings, you can also decorate your entire locker space with handcrafting. Try to make various shapes, such as flowers, windmills, and other objects from crafting paper.
Also, consider lining your mirror frame with similar motifs. It will soon make your locker striking and trendy.
Well, have you seen all the locker decor ideas in this article? And, have you found one that fits your tastes and needs? If so, hurry up and decorate it beautifully!