People shouldn't value books only by their covers. However, remarkable front facades undeniably will make a lasting impression. Knowing the importance of the excellent home exterior, take these awe-inspiring house frontage ideas into account.
The house exterior is crucial since it helps reveal the interior behind entrance doors. Furthermore, it lets you wow onlookers and buyers.
In addition, facades offer homeowners a welcoming vibe and a sense of pride when they come home.
Here, I've had a selection of house facades, from charming cottages to modern homes. I guarantee they'll get your home exterior ideas flowing.
1. Cottage House Frontage Ideas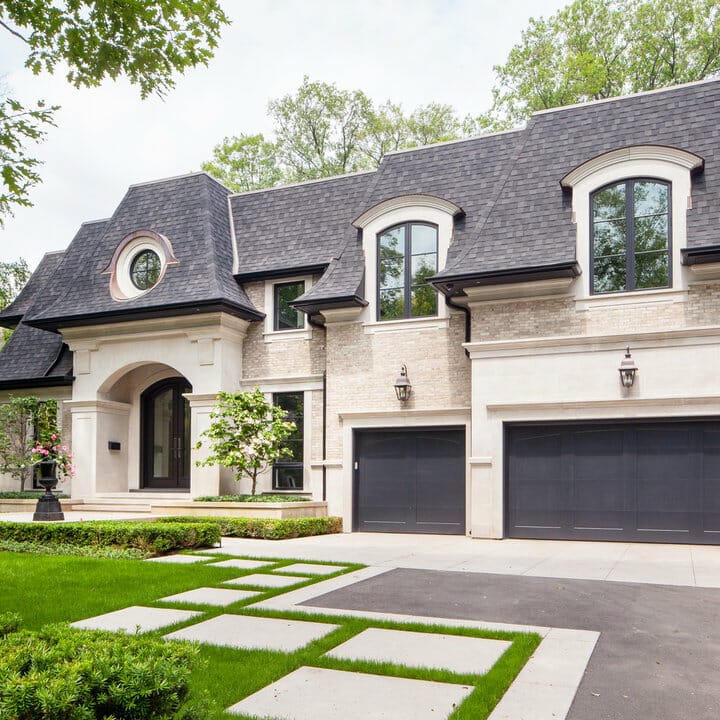 Speaking of house frontage ideas, consider giving your home facade a particular theme. Whether it's contemporary or traditional, use the exterior to let its unique personality sing.
Above is a cottage house. Not only does it boast a slate roof but also highlights period details. Moreover, the facade features other textural materials. The cream limestone cladding lends the home exterior a regal atmosphere.
Both limestone and slate allow this cottage house to blend with the landscape. Lantern sconces, arches, and curves produce a graceful impression.
Charcoal gray garage doors embody pure drama, while the modern driveway and stepping stones update the house.
2. Coastal House Frontage Design Ideas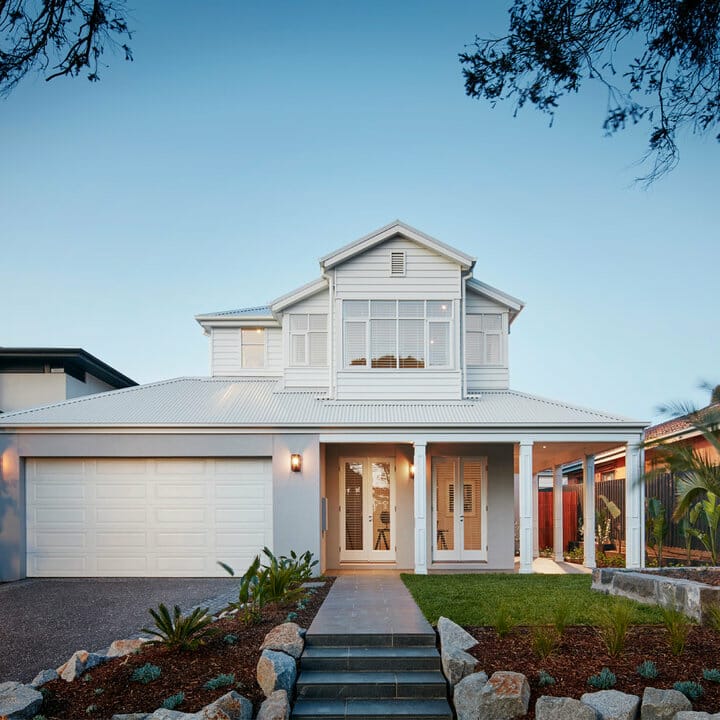 Need house exterior paint ideas? If so, take notes from this Hamptons-style home. The bright white shiplap siding, garage door, window frames, and pillars carve an iconic look.
Here, light gray exterior walls give white elements a subdued contrast. Furthermore, they bring the Hamptons-inspired house to the next level.
Since this house belongs to a hillside, the homeowners introduce layers. The slate steps, boulder retaining walls, and low-maintenance plants maximize the sloping front yard. Meanwhile, windows generate the impression of airy and light.
3. Modern House Frontage Ideas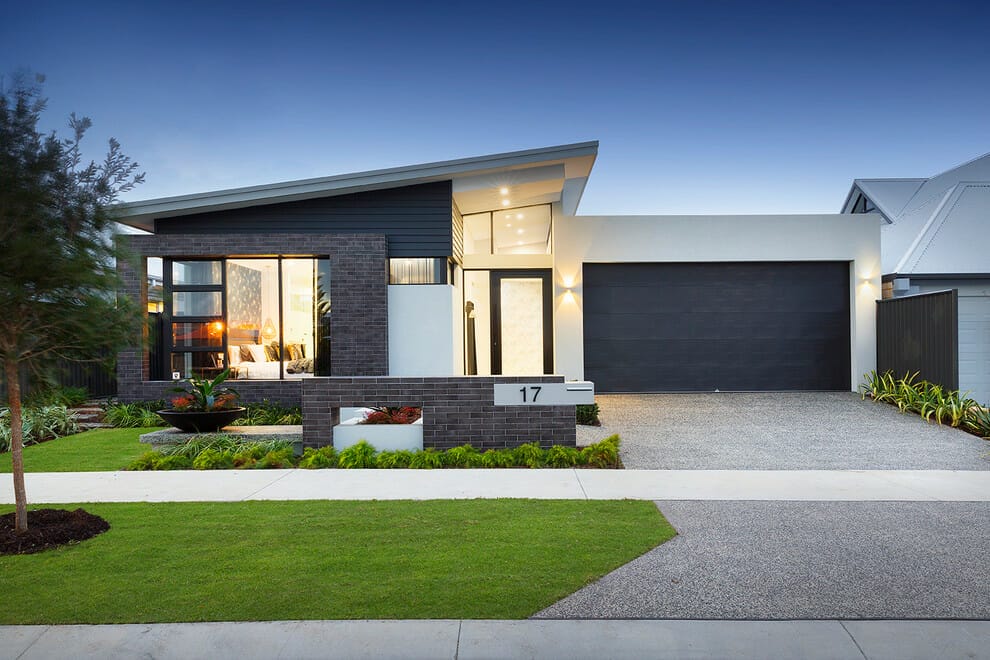 There's a myriad of house frontage designs. If you adore all things stylish, this modern home facade blows your mind away for sure.
This house boasts striking design features. Here, the sloping roof, hard edges, and simple lines represent modern minimalism.
The dark gray garage door and shiplap siding deliver depth to the modern home facade. Also, they accentuate front yard garden greenery and white exterior walls. Moreover, ornamental grasses balance out the walkway and driveway.
Medium-toned gray tiles lend the house frontage some character. Trendy sconces and windows produce an airy look from the street in seconds.
4. Minimalist House Frontage Ideas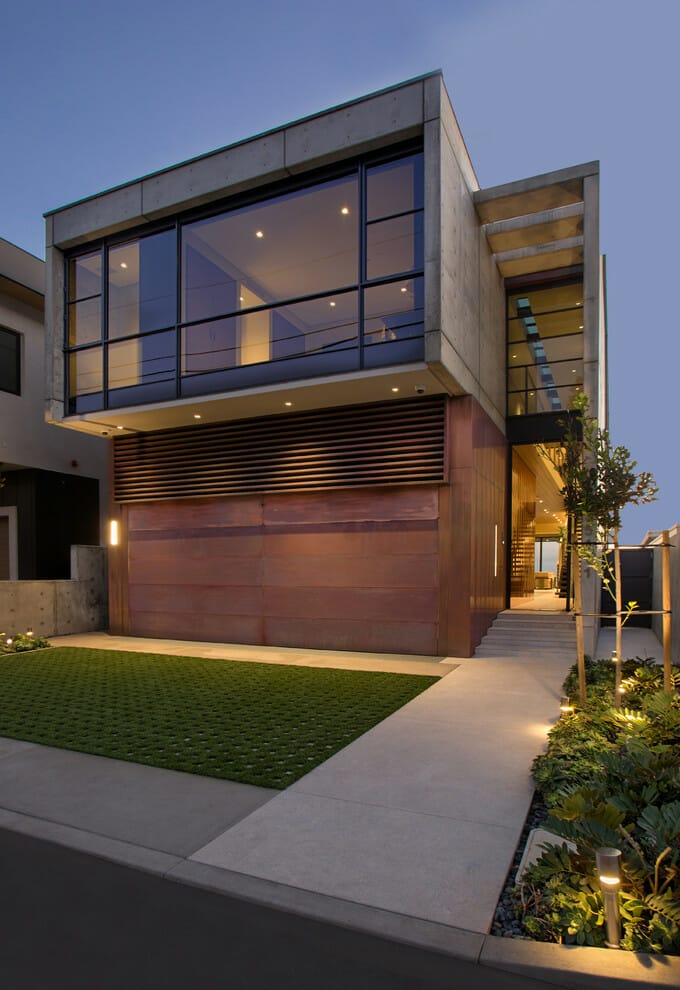 This two-story minimalist house has tons of personalities. Glass, concrete, iron, and hardwood come together here. Furthermore, they develop an aesthetically pleasing home facade.
Since the front yard is tight on space, homeowners incorporate splashes of greenery. The smart planting and driveable grass spiff up the house frontage instantly.
There's a minimalist tree too. If you like the thought of growing it, ask council permission first. Moreover, timber cladding and concrete panels introduce a splendid contrast. The industrial-style garden and wall lights lend the front facade a warm nighttime glow.
5. Heritage House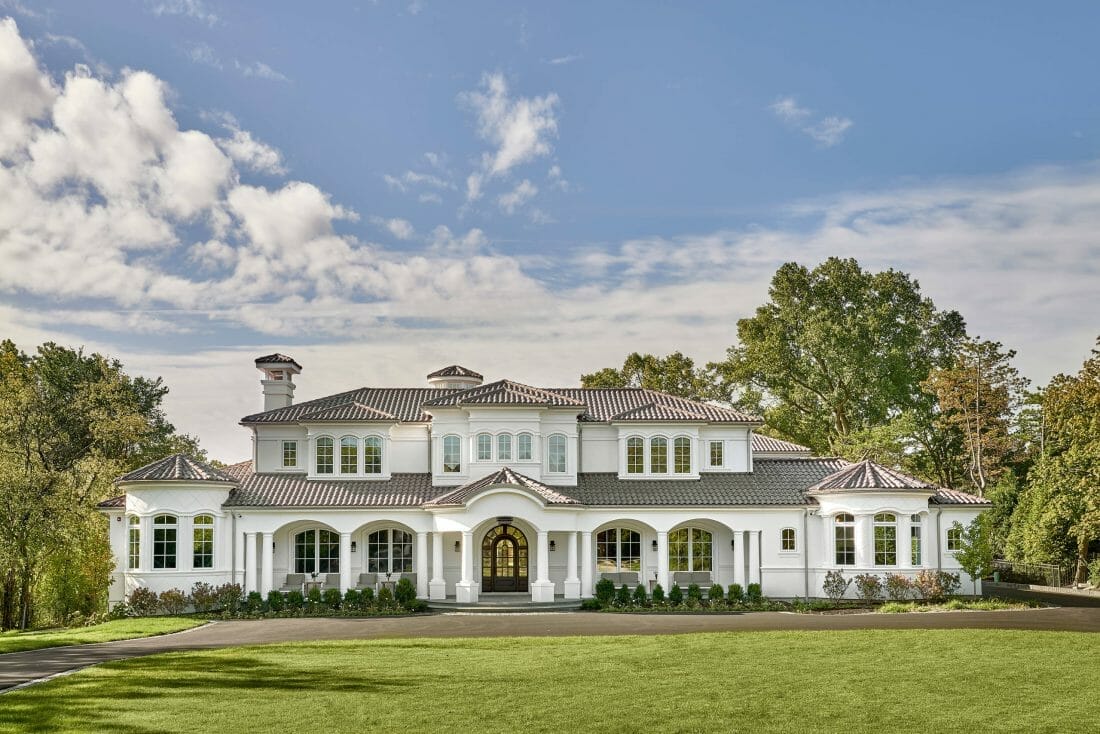 Talking about heritage house frontage ideas, don't hesitate to accent their details with a lick of paint. Here, the taupe paint allows magnificent architectural elements of the home facade to sing.
This heritage home boasts a dark gray mirrored front door, pure white pillars, and arched windows. They generate visual symmetry that packs a punch. Moreover, gray upholstered chairs give the front porch plenty of seating.
Evergreen shrubs and bushes stunningly flank semi-circular entrance steps. The curved driveway and shipshape lawn are such a winning combination. Grand trees create a marvelous backdrop for this heritage house.
6. House Frontage Garden Ideas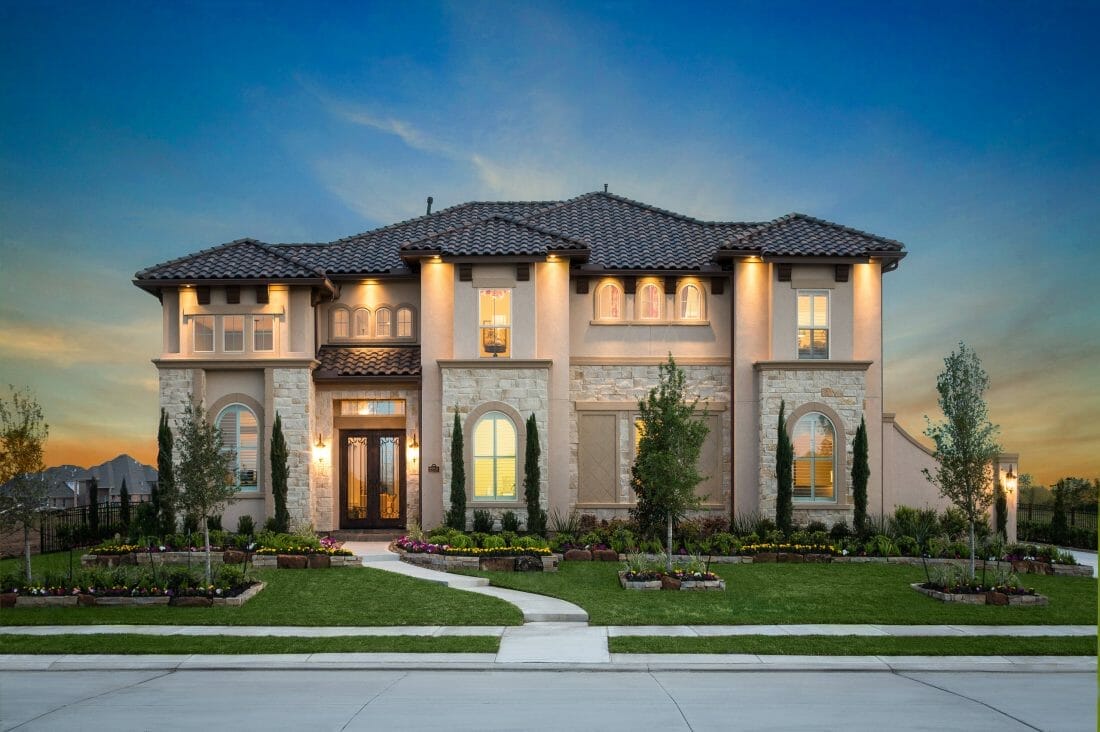 If you're into classic house frontage ideas, try playing with texture. Undoubtedly, natural materials like limestones fit in with the landscape better.
In this picture, the limestone siding ensures the glorious house doesn't look out of place. Due to limestone bricks, it mingles with the surrounding area fabulously.
The intense gray roof accentuates the beige exterior wall. Meanwhile, arches and diagonals make this house frontage characterful.
Moreover, the meandering concrete path guides eyes to bodacious garden beds. They employ natural stone bricks for a united look.
Varying annual blooms, ornamental grasses, Italian cypress trees, and boxwoods offer some dimension.
7. Lovely Layers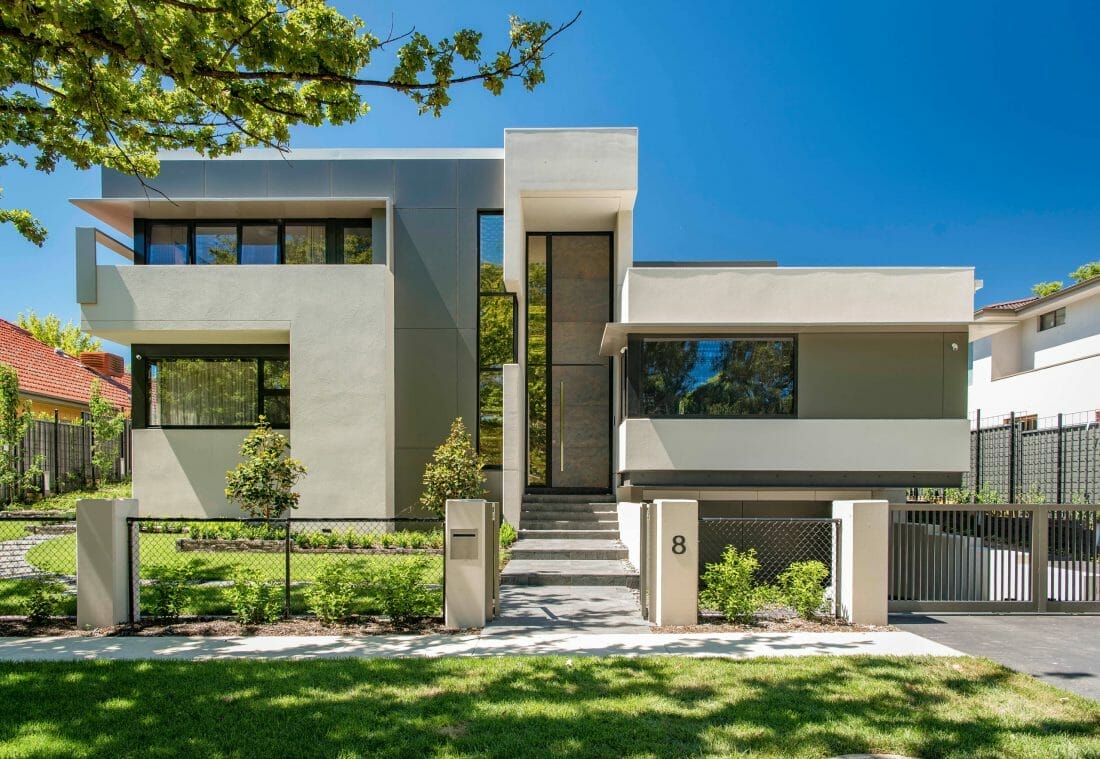 Work with a hilly yard? If so, this is one of the house frontage ideas to recreate. Simply let landscaping do wonders for the front facade.
Here, homeowners consider the slope as their asset. The front entry steps and stone pathway introduce multiple layers. They optimize the sloped yard, while the modern metal gate leads feet to the sunken garage.
The streamlined door handle, gray exterior walls, and flat roof lines give the house frontage a sense of mystery. Furthermore, stone garden beds and mirrored window films infuse some visual appeal.
8. White Meets Gray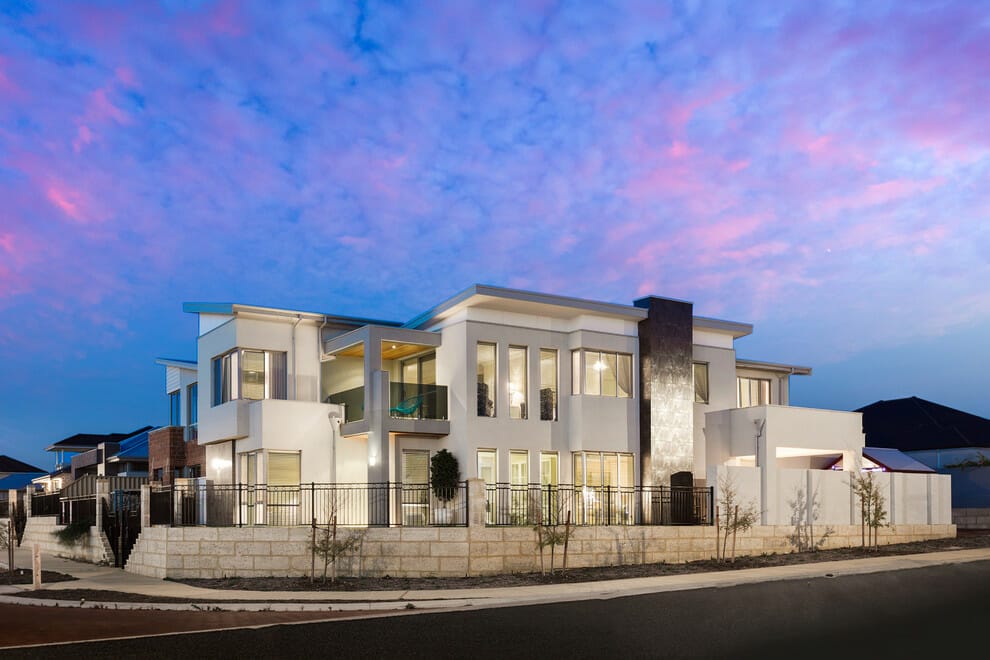 If you adore modern exterior house designs, copy this front facade. Although the windows are sleek, they spark joy instantly. Moreover, varied gray tones make the frontage of the abode more appealing.
Crisp white exterior walls accent the iron fencing. There's a balcony with a couple of turquoise chairs as well.
The walls underneath metal fences employ large limestone blocks. Meanwhile, minimalist trees let eyes focus on the home's delightful design features.
9. Embrace Textures of Nature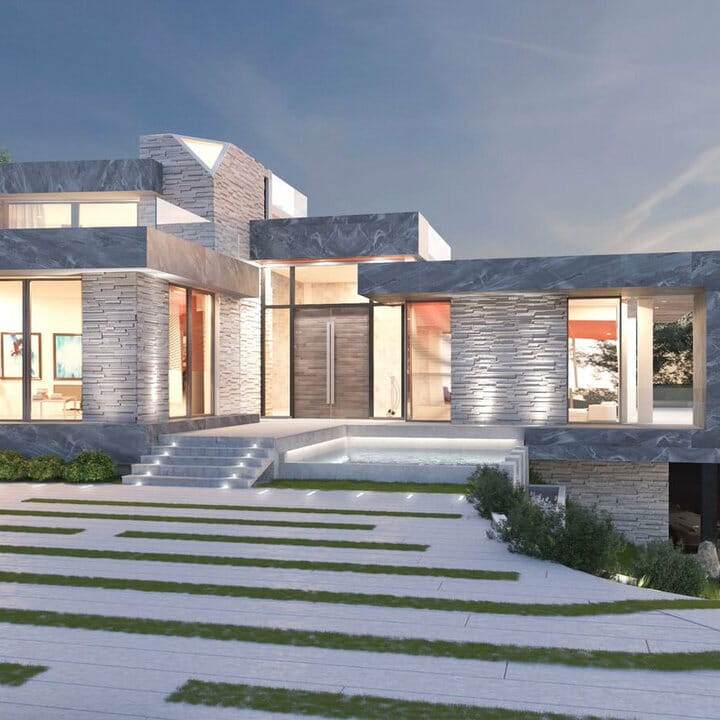 As you see, the homeowners committed to a modern style. The house facade proudly shows sharp edges, sleek windows, and crisp lines.
This split-level home exterior features two textural materials. Marble and slate enable the house to sit beautifully within the landscape while carrying varying tones of gray.
Windows employ iron frames that provide a modern aesthetic. Furthermore, round boxwoods and bushes complement grass pavement strips. They soften the house facade's look, too.
10. Simple House Frontage Design
This house facade is striking, simple, and stylish. The dark gray elements speak of sophistication. Meanwhile, wood slats lend the exterior some warmth.
Stones in varying tones create a naturalistic ambiance. Moreover, the concrete path, well-defined lines, and glass fences add personality. Hedges and upright plants ensure the sloped yard stays lively.
11. Stick to Neutrals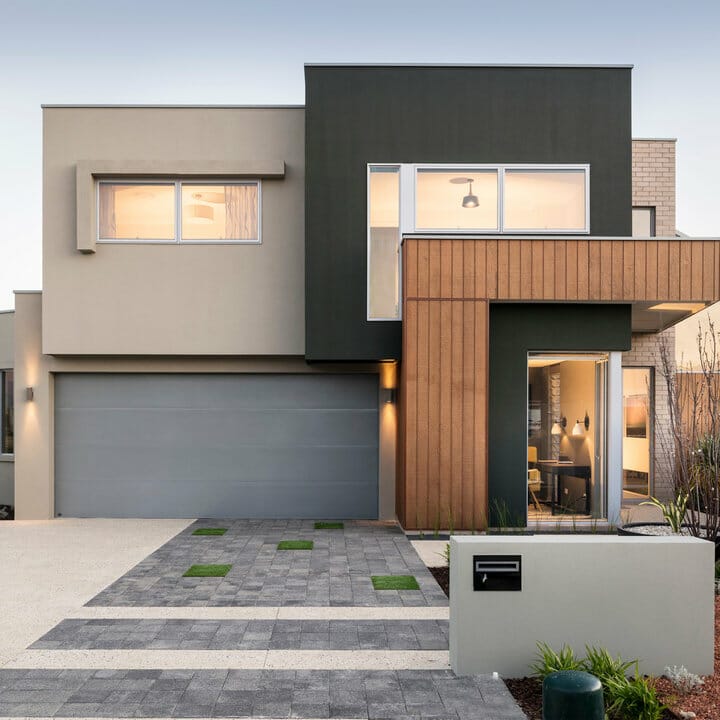 Here is another minimalist house frontage. Vertical timber planks clash with the gray garage door boasting subtle horizontal lines.
The charcoal gray siding offers the exterior some visual depth. Light gray and beige walls temper its darkness. Windows make the interior feel airy. Grass and ornamental plants enliven square stone blocks.
12. Two-Story House Frontage Ideas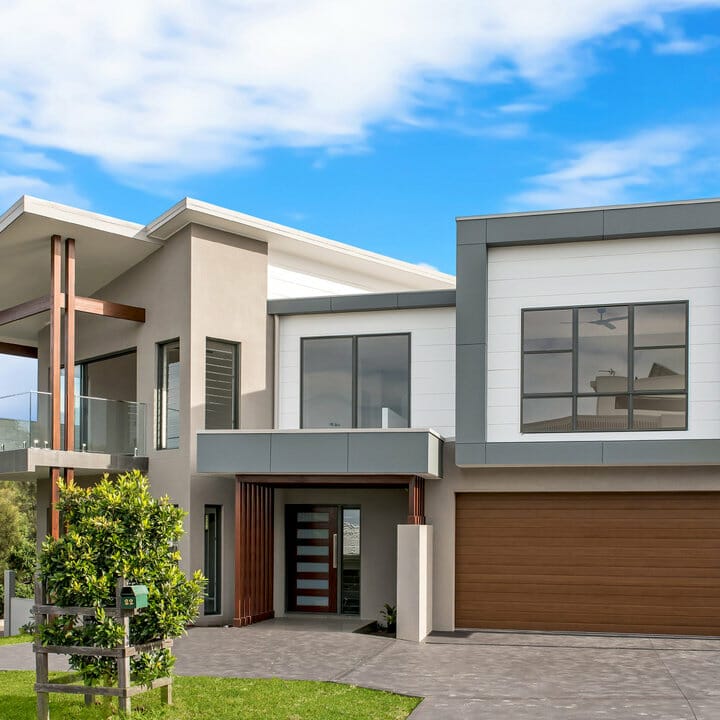 Planning a house exterior renovation? If so, this home exterior deserves a chance. The garage accommodates homeowners' cars while featuring a timber door.
The hardwood entrance door, square arch, and pillars embody a sense of continuity. Gray, taupe, and white brighten the house frontage. Meanwhile, the green mailbox and plants imbue a breath of fresh air.
13. Impressive Impression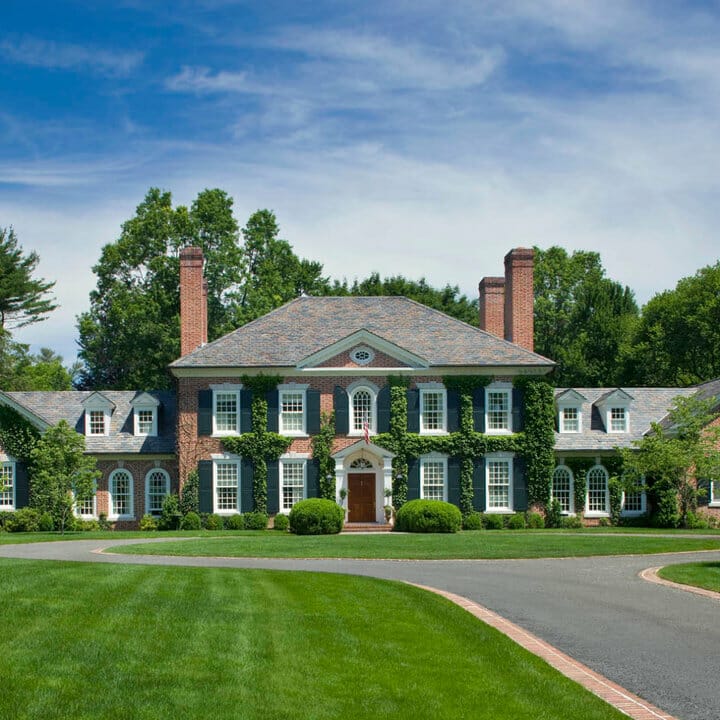 Talking about house frontage ideas, some people underestimate the importance of visual symmetry. When done right, it produces a timeless statement while evoking magnificence.
Here, deep navy window shutters and red bricks create a dramatic impression. Furthermore, boxwoods, separate lawns, and climbing vines spruce up the country house facade.
14. Transitional House Frontage Ideas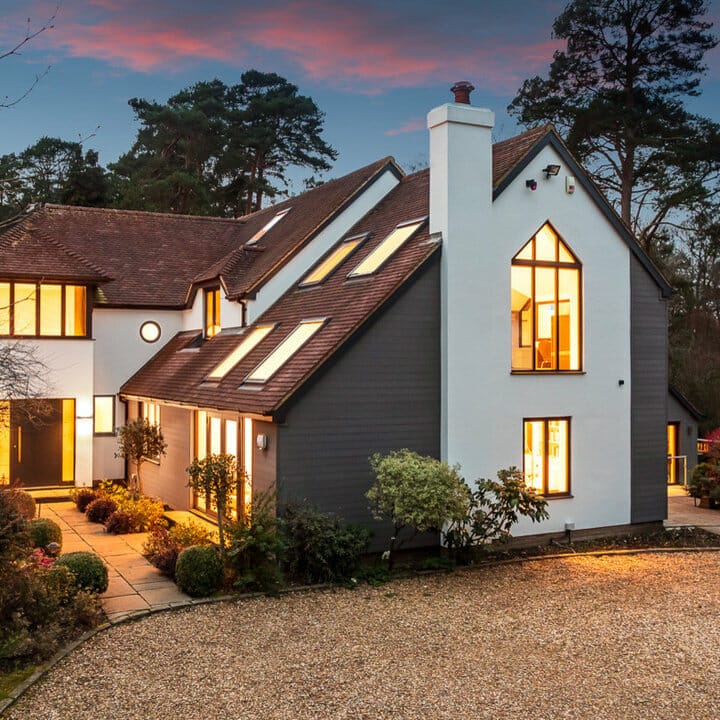 Despite its tiny size, this transitional house still catches the eye. Two-tone siding and different shapes of windows introduce so much interest.
The stone edging separates the brown pea gravel from square paving stones. Furthermore, various plants create dimension and offer immediate bursts of color.
15. Sloped Yet Splendid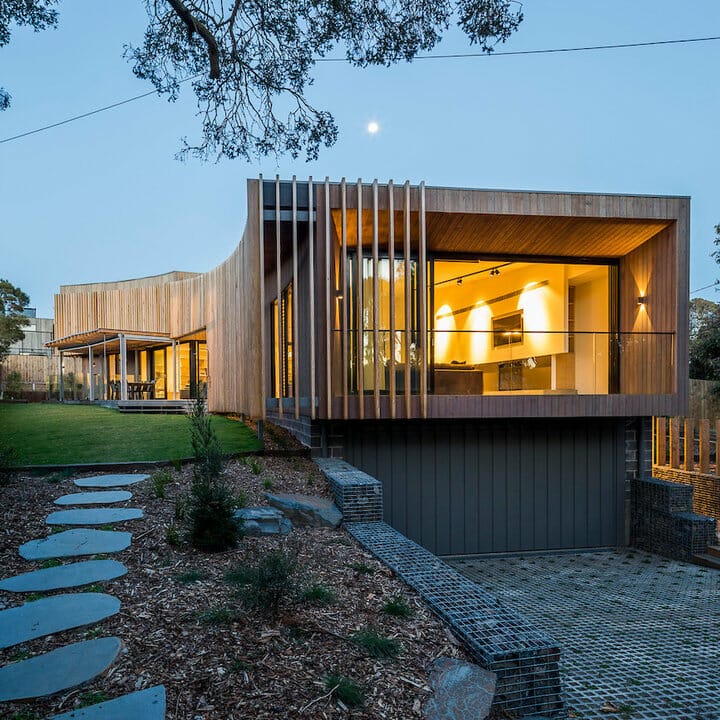 This curvilinear house facade won't put buyers off for sure. It boasts gabion retaining walls and flagstone stepping stones that add layers.
Humongous windows welcome ample daylight. Meanwhile, the smart planting and lawn complement bare timber planks. Touches of gray ensure the house frontage looks balanced.
16. Trendy But Lively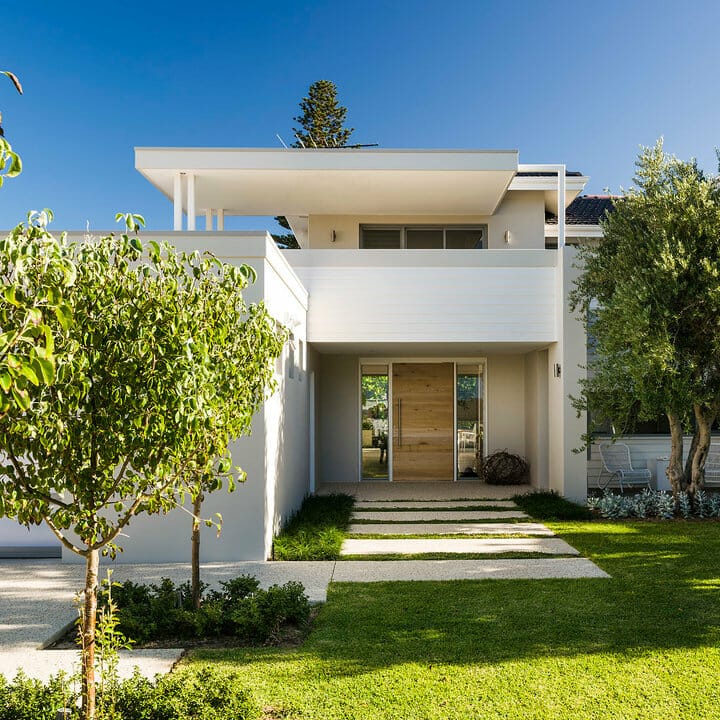 If minimalist house frontage ideas appeal to you, duplicate this home facade. The white shiplap siding meets warm gray exterior walls excellently.
Full-length mirrored windows flank the rustic timber front entry door. Furthermore, silver-foliage shrubs, short ornamental grasses, and trees of varying heights temper linear elements.
17. Humongous and Welcoming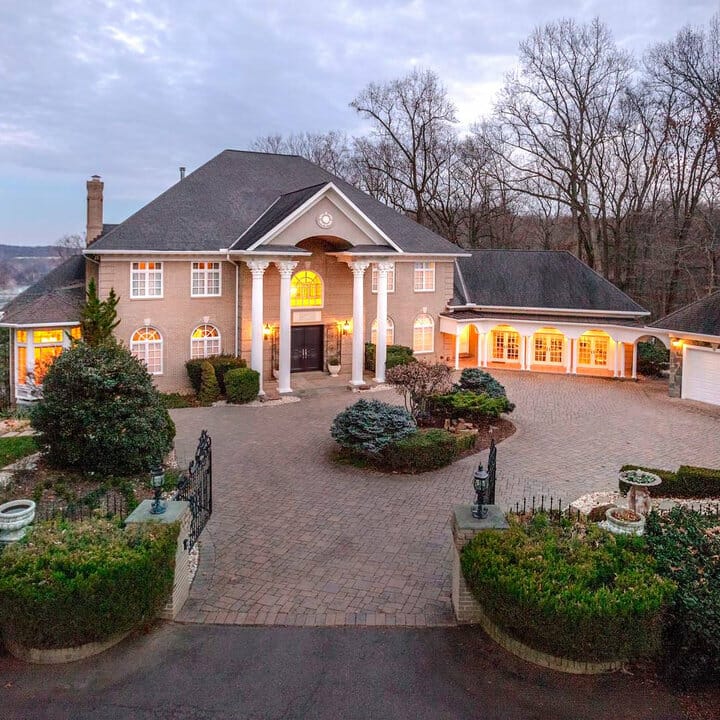 I believe whoever resides in this period house feels super lucky. The ornate iron gates lead eyes to the massive front yard garden featuring boxwoods and evergreens.
Stone pavers allow the period property to fit in with the woods. Beige, gray, and white generate a terrific facade. Furthermore, classic pillars and arches speak of grandeur.
18. Mad for Modern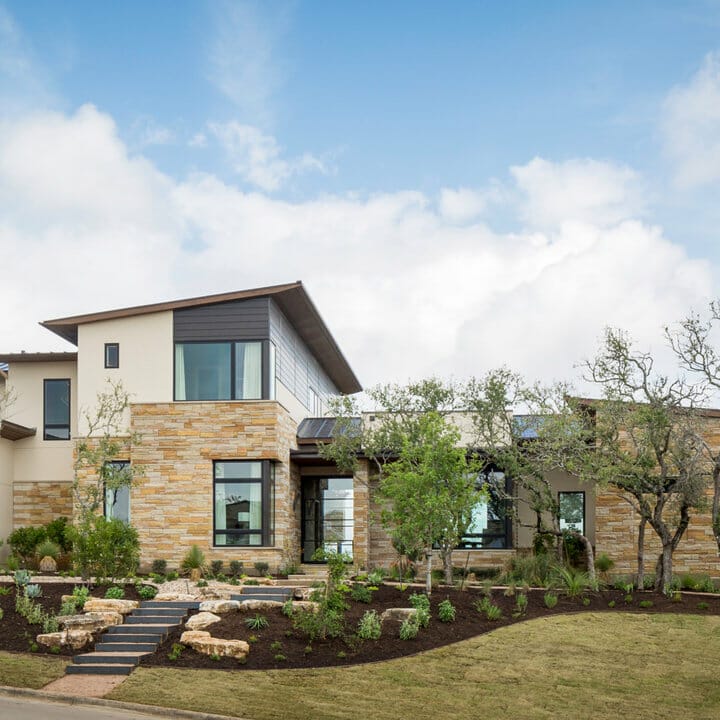 Cream and yellow limestone bricks define this modern house frontage. Furthermore, they offset the gray shiplap siding and front entry steps.
Here, smart landscaping helps homeowners tame their sloping front yard. Statement trees and limestone boulders carve a cohesive, welcoming look.
19. House Frontage Ideas with Metal Elements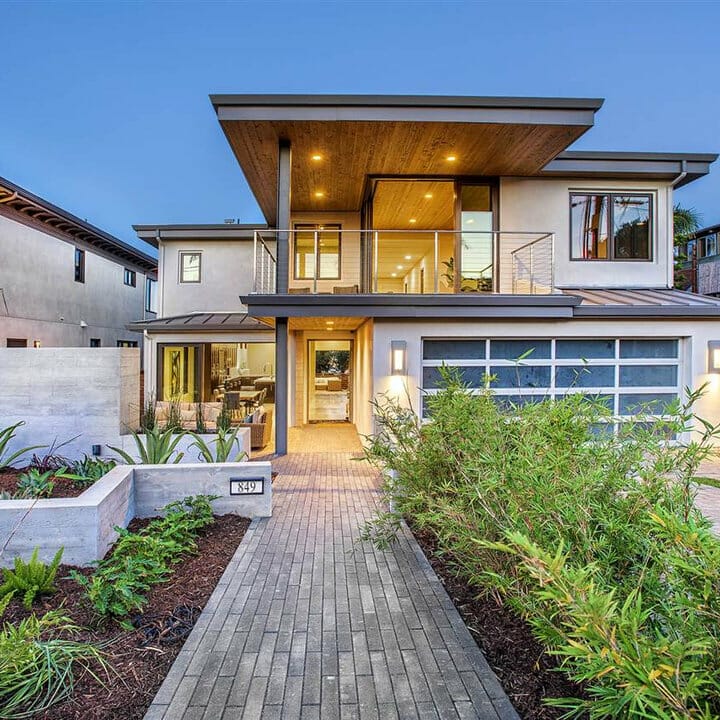 Gray exterior walls and iron-framed windows generate an airy atmosphere from afar. The retaining wall holds landscaping plants in place while boasting house numbers.
Other plants greet visitors as they walk through the concrete block pathway. Stainless steel and iron accents lend the house frontage a modern flair.
20. Plenty of Windows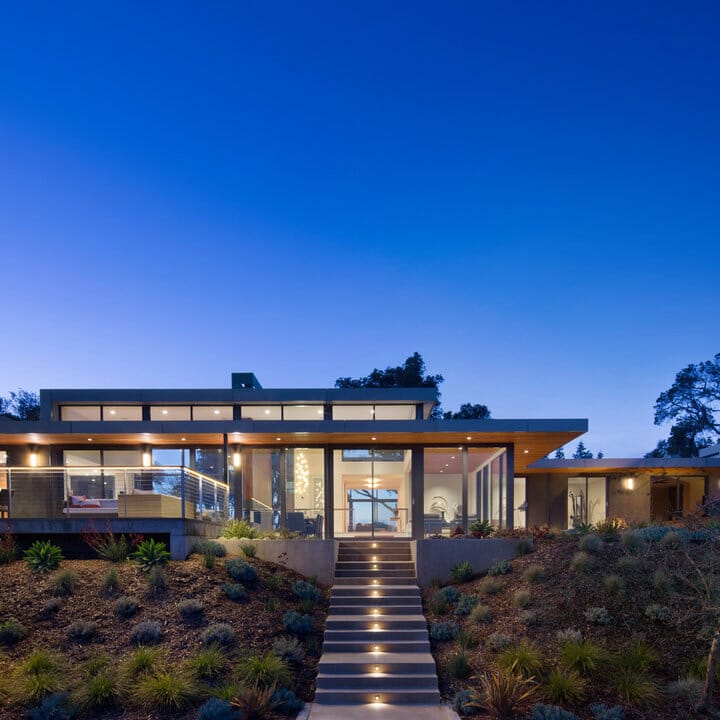 This is one of the house frontage ideas with massive windows. Due to them, the front facade feels light and stylish.
Flat roof lines mingle with concrete entrance steps that employ recessed garden lights. Assorted small ornamental grasses offer the sloped yard visual interest.
21. Mediterranean-Style House Frontage Ideas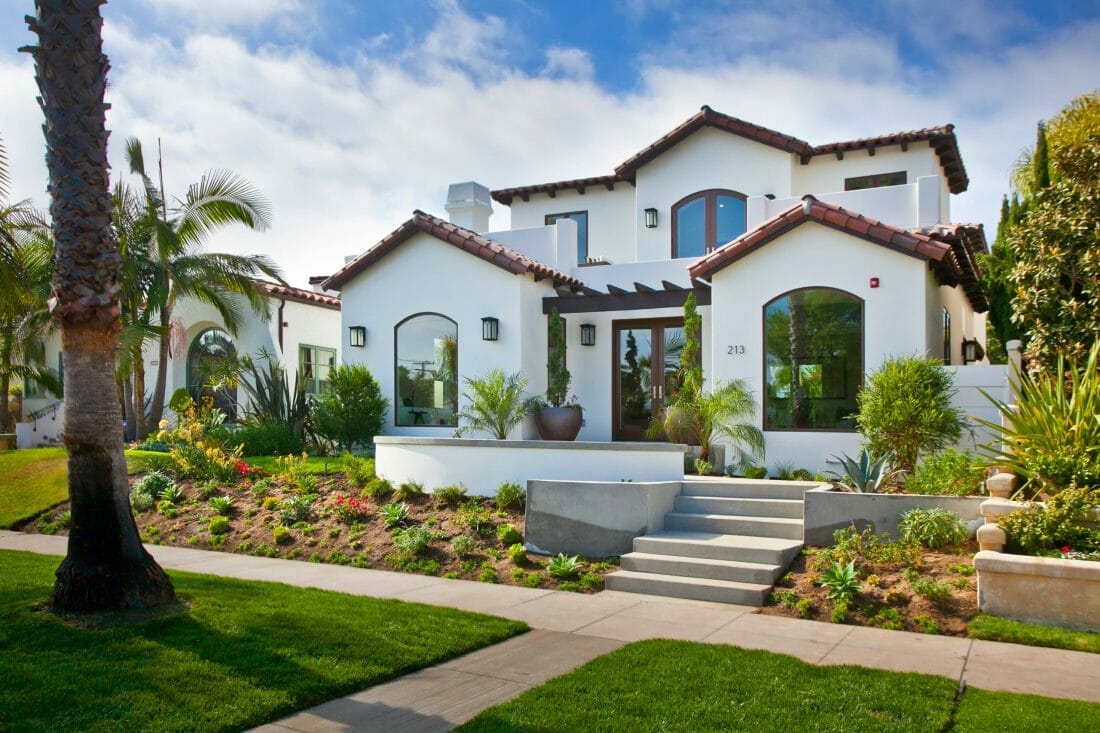 If you love sunnier climes, this house frontage is worth copying. White exterior walls, arches, and terracotta roof tiles impart Mediterranean vibes.
Concrete retaining walls and steps make the hilly yard more usable. Moreover, potted spiral trees, palms, and slow-growing landscaping plants complete the front facade.
22. Full of Charm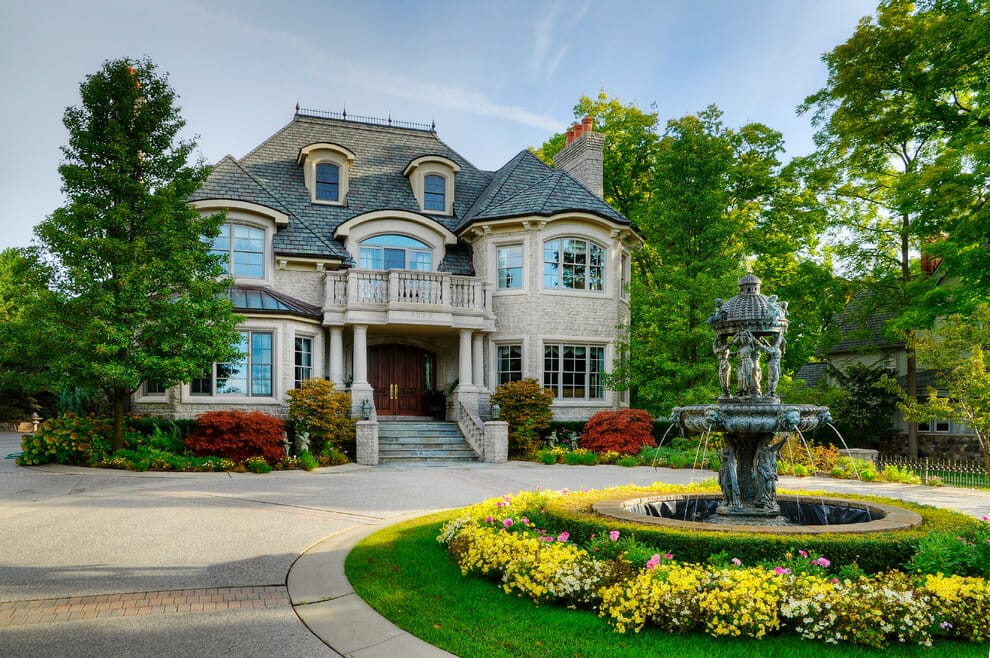 This period house is worth drooling over. The pale stone siding, columns, slate roof tiles, and textured handrails provide tons of character.
Additionally, the front yard garden introduces a riot of color while employing whimsical statues. Also, there's a traditional fountain that portrays splendor and tranquility.
23. Bold Entrance Door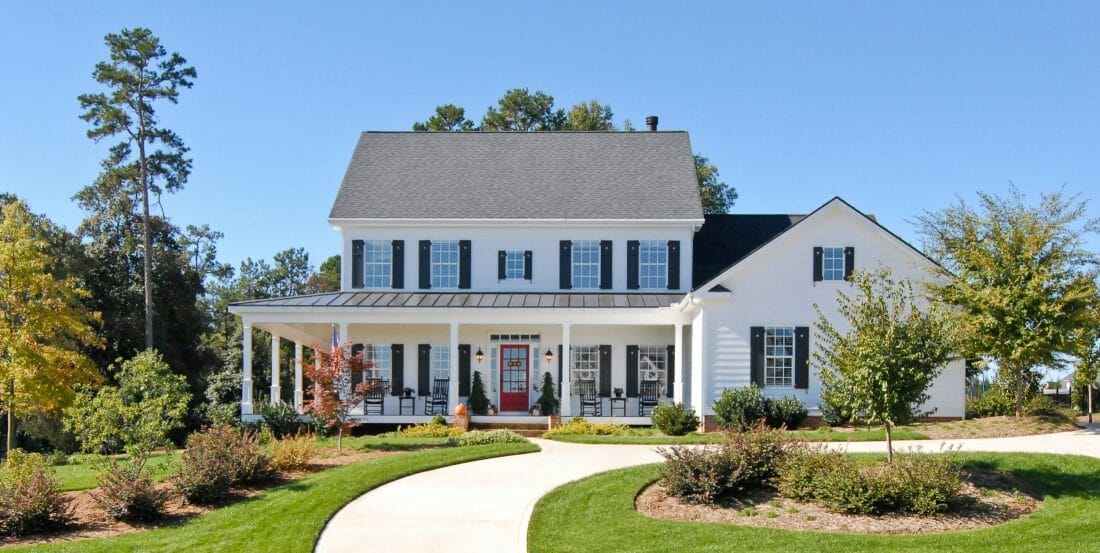 The front door, windows, sconces, and black shutters lend the dramatic house facade visual symmetry. Pillars impart some architectural interest.
Here, the fire engine red entrance door delivers a vibrant splash of color. Moreover, the curved lawn, tall trees, and bushes accentuate the pale concrete path.
24. Rustic House Frontage Tiles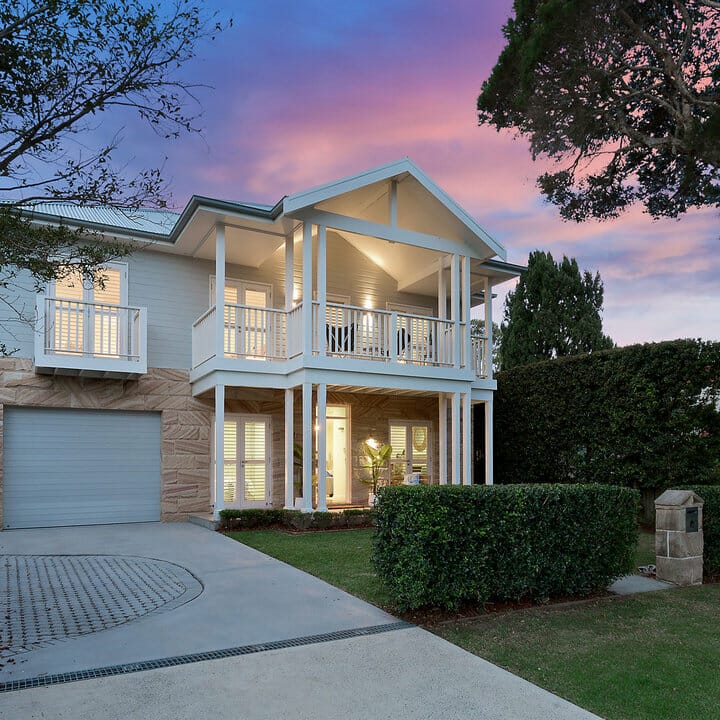 Speaking of enticing house frontage ideas, recreate this two-story home. The lower part of the abode features oversized rugged limestone tiles. Moreover, the custom mailbox uses the same material.
Vertical gray shiplap panels titivate the garage door and siding of the second story. Furthermore, hedges create fantastic living boundaries.
25. House Frontage Ideas with Steps
Sloped front yards let you incorporate layers and spaces. This modern house frontage, for example, has thin stone bricks of different tones.
Wooden details offer the intense gray garage door and tiles a visual balance. Meanwhile, garden lights highlight romantic blooms and ornamental grasses.
26. Elegant and Lavish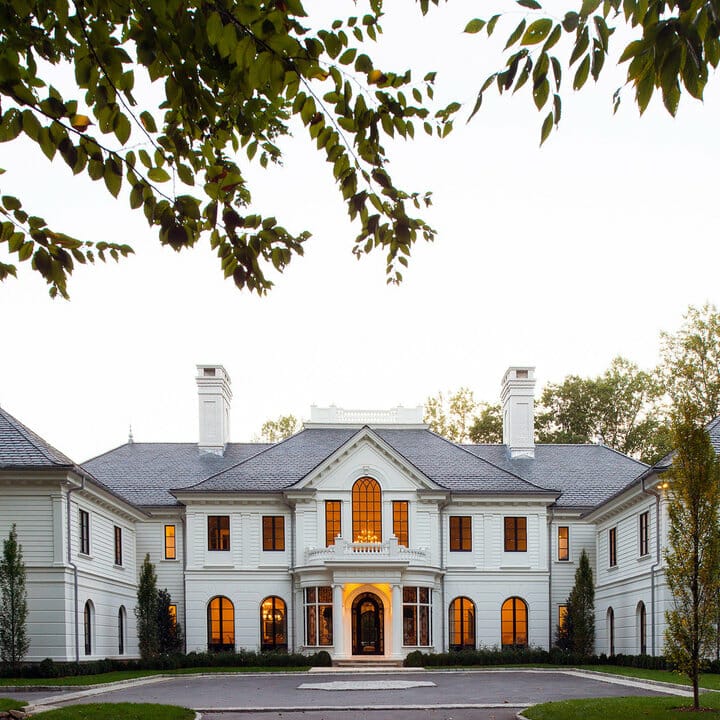 Shiplap exterior walls and slate roof tiles carve an unforgettable impression. Meanwhile, iron frames emphasize rectangular and arched windows.
White-painted chimneys create further symmetry. Furthermore, the lawn, evergreen trees, and round boxwoods carry pops of greenery.
27. Stone Meets Shiplap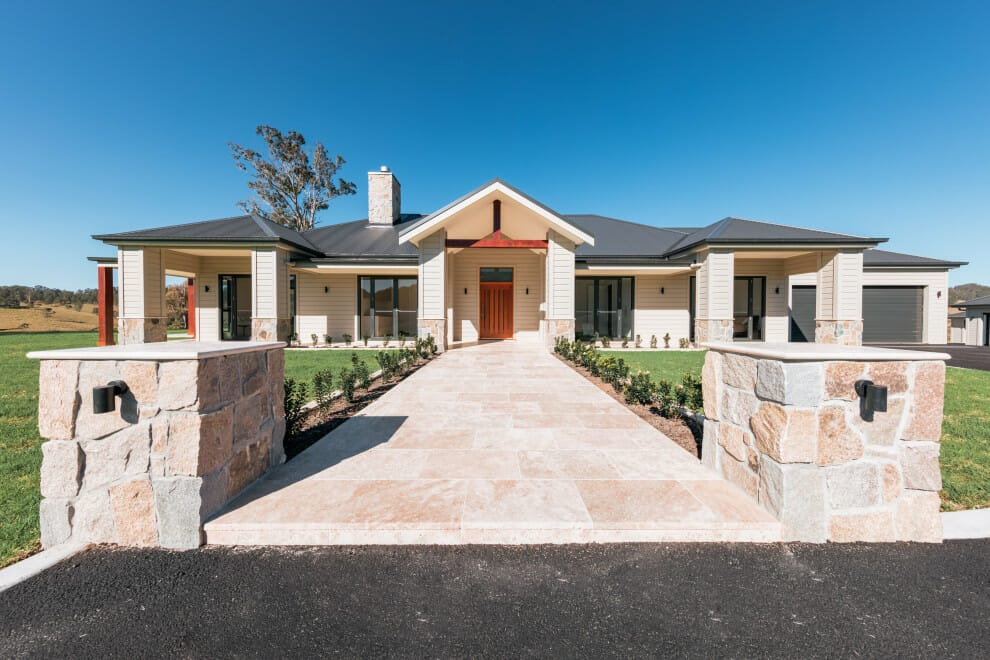 Horizontal shiplap siding makes the house frontage seems wider. Moreover, the stone chimney and pillars ensure the front facade looks more naturalistic.
Small evergreen shrubs emphasize the marble walkway. Meanwhile, cherry wood accents temper the asphalt driveway and intense gray elements.
28. Palm Springs-Inspired House Frontage Ideas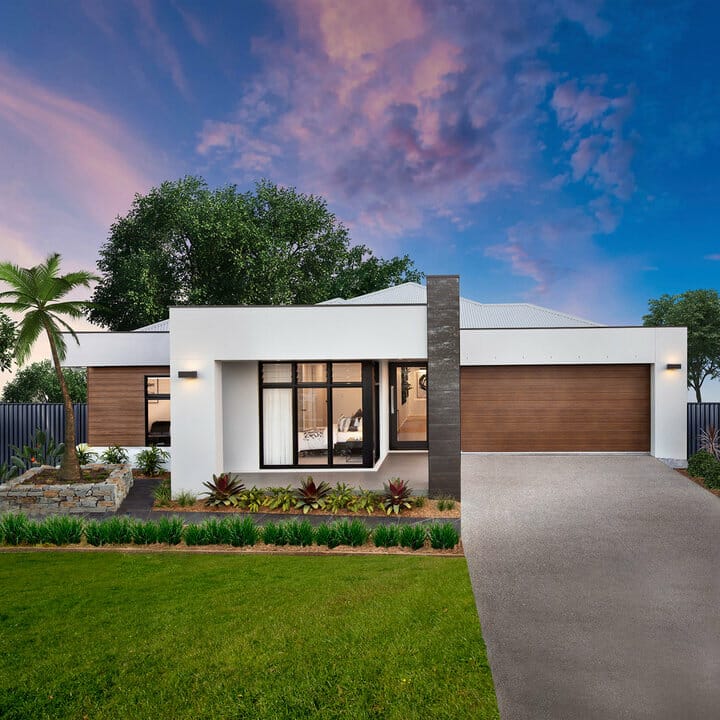 This Palm Springs-style house employs simple lines. Furthermore, you can spot white exterior walls and black-framed windows here. The timber garage door and siding inject homey vibes.
Hence, the driveway, pillar, path, and corrugated steel fencing infuse different gray tones. Additionally, there are short ornamental plants. Moreover, the stone garden bed calls attention to the fake palm tree.
29. Private Palace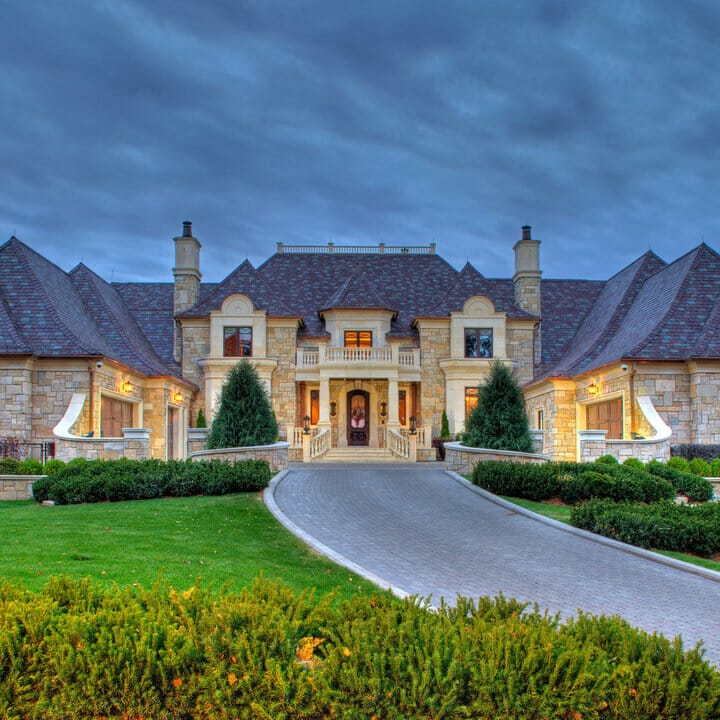 In an instant, this period house reminds me of a fairytale. Blue and gray roof shingles create visual interest. Meanwhile, boxwoods and massive evergreen trees embrace liveliness.
The limestone siding, curved walls, and chimneys give the house frontage a regal look. Here, the stone block walkway guides feet to the stained-glass front door.
30. Say Yes to Dark Tones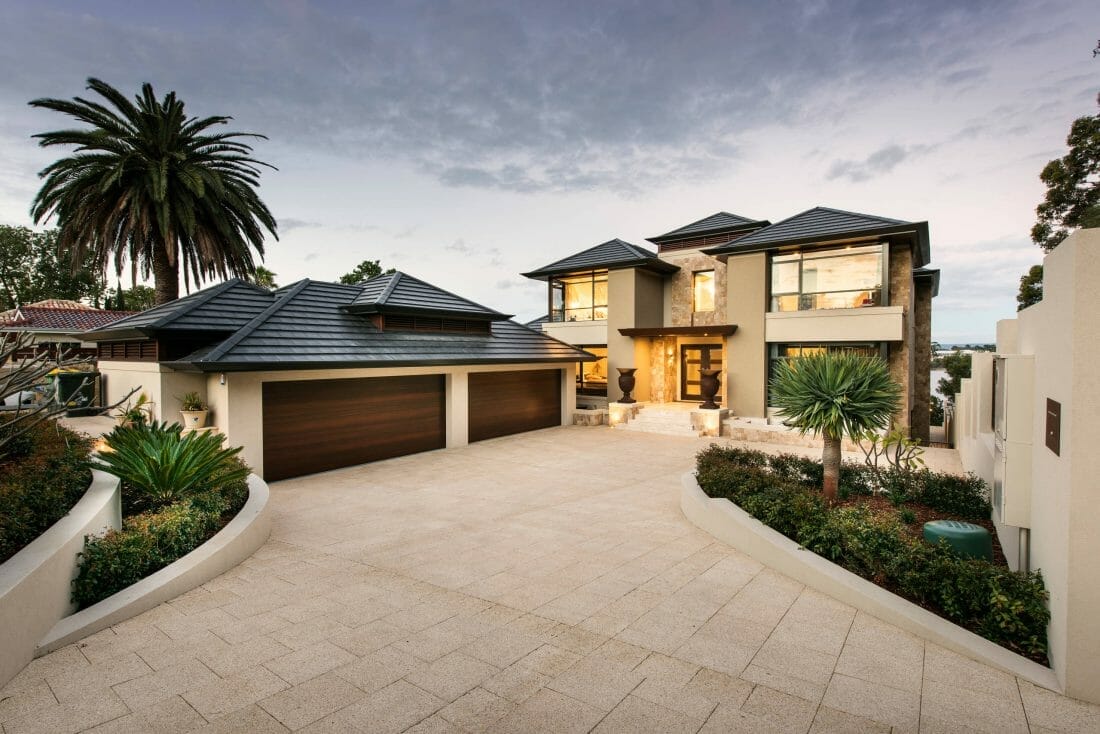 Here is another Palm Springs-inspired abode. Beige and sand exterior walls make the house frontage seem peaceful. Dark gray roofs imbue the front facade with enough drama.
Rich-toned timber garage doors and deep brown footed urns add utmost warmth. Curved retaining walls, bushes, and architectural palm trees temper flat lines.
In short, great-looking home facades do matter. They encourage property buyers to inspect houses. Furthermore, they offer a warm buzz and emanate a sense of prestige. That's why you should emulate those house frontage ideas.