Surely, a family room is a vital part of any abode. This place is not only for socializing but also for relaxation and recreation. Moreover, the color scheme can create its tone, so you must pick it carefully. Here, I'm going to present 24 outstanding color ideas for family rooms.
The color palette for a family room is somewhat casual. However, it's more formal than the one in a recreation room. Regardless of your choice, it should match the ambiance and function of the space.
If you plan to alter your family room's color scheme, have a gander at these photos and ideas. I guarantee they will make the area look appealing as well as cozy.
1. Neutral Paint Scheme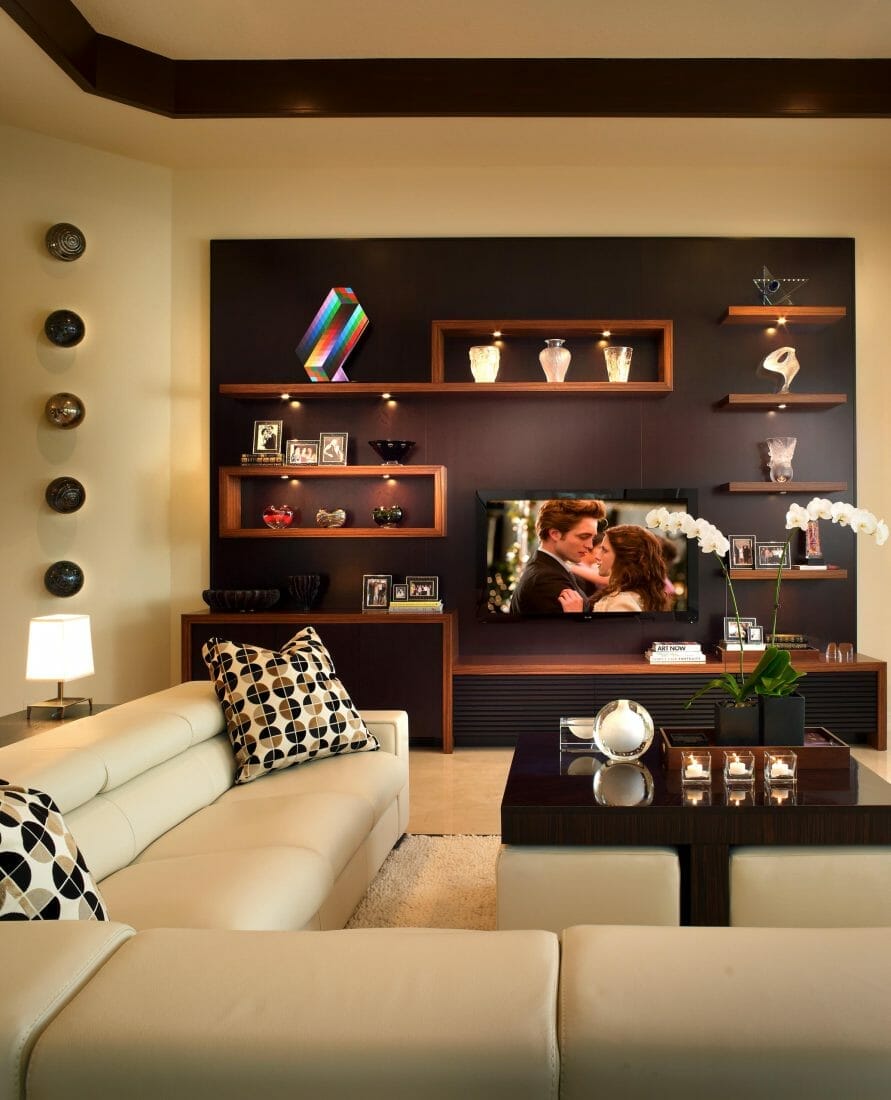 Speaking of color ideas for family rooms, steal the inspiration from this photo. The cream tray ceiling, furniture, and walls evoke a relaxing mood.
The black accent wall, crown molding, and coffee table send out a modern vibe. Moreover, they give off a sense of sophistication while lending the family room a mesmerizing visual contrast.
Wall spheres look fantastic on a neutral backdrop. Meanwhile, the throw pillows with graphic prints tie the family room together.
2. Vivid Meets Neutral
When it comes to the wall colour design, many people opt for neutrals. This family room, for instance, employs the cool white ceiling, base molding, and walls. Furthermore, the tiered coffee table sports the same colour.
If you think that two main colors are better than one, try incorporating an area rug and a sectional sofa in different shades of gray.
I highly recommend adding exuberant colors to the family room via fabrics as well as accessories. They'll surely spruce up the area.
3. Warm and Airy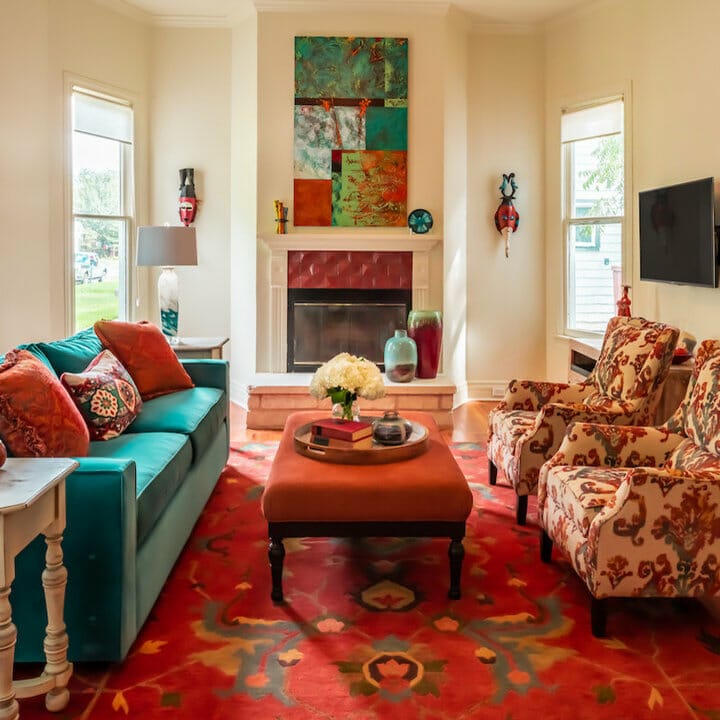 Talking about color ideas for family rooms, try using colors to fill the gap between various styles. This space, for example, boasts an off-white side table and walls.
The family room features an orange coffee table and throw pillows. They exude a warm feeling and an inviting vibe instantly.
The patterned French country armchairs and turquoise sofa offer an eclectic look, while the table lamp nods to contemporary style. Lastly, the multicolored painting and rug generate a cohesive feel.
4. Best Light Paint Colors for Living Rooms and Family Rooms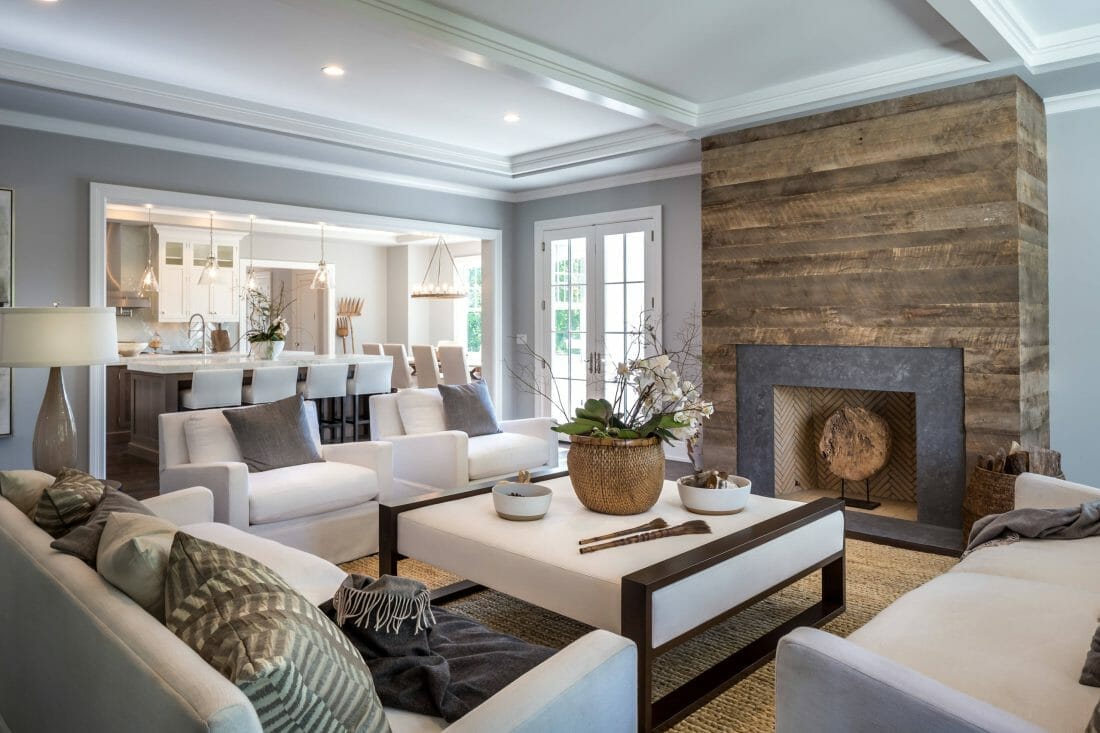 I love this family room. Not only is it airy but also tranquil and light, thanks to soft gray walls. Additionally, they match with the crisp white trims excellently.
White furniture pieces let throw pillows in varying gray shades shine. Moreover, hints of black make the family room more sophisticated.
The wood accent wall, rattan vase, and wicker rug inject the family room with some character. Gray throw blankets give off a cozy vibe, while the flowers prevent the scheme from becoming monotonous.
5. Elegant Color Ideas for Family Rooms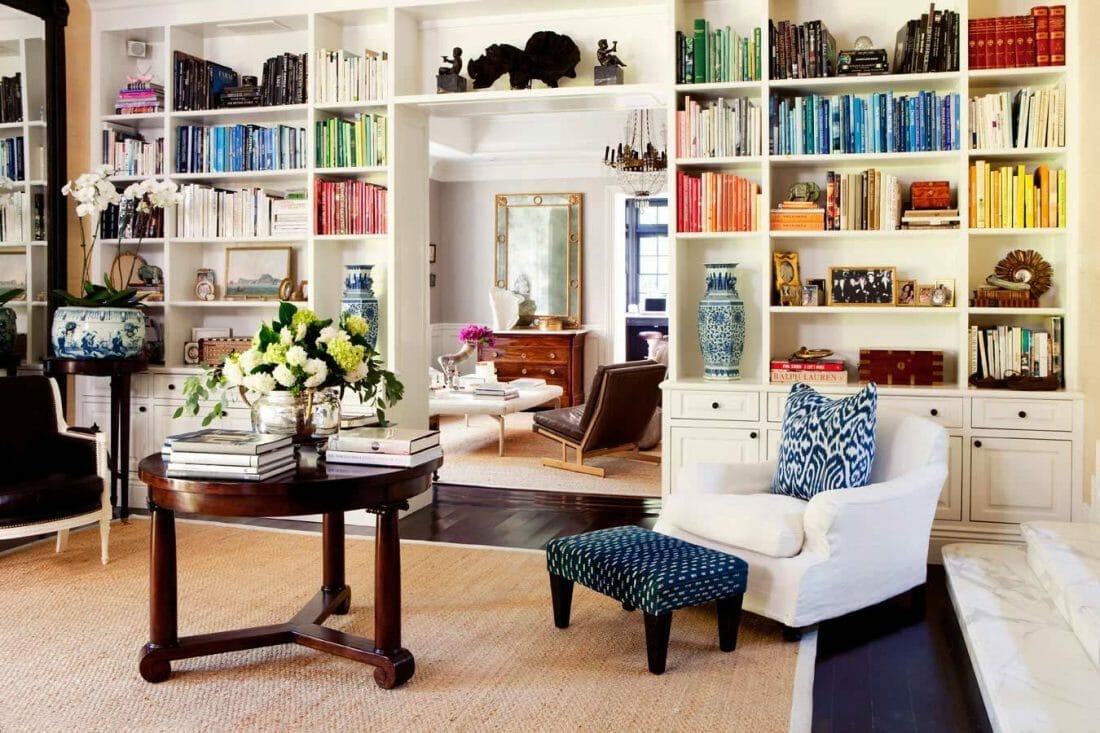 Variations of white create a bright foundation for the color scheme in this family room. The wicker rug, ottoman, and sofa chair provide different textures.
The rich-toned wood table and floor warm up the entire family room. Marble and gold accents evoke a luxurious atmosphere, while flowers beautify the space.
The book covers on the recessed shelves supply various bright colors, so the family room looks more attractive. Blue and white accessories bring the area together while catching the eye.
6. Southwestern Color Scheme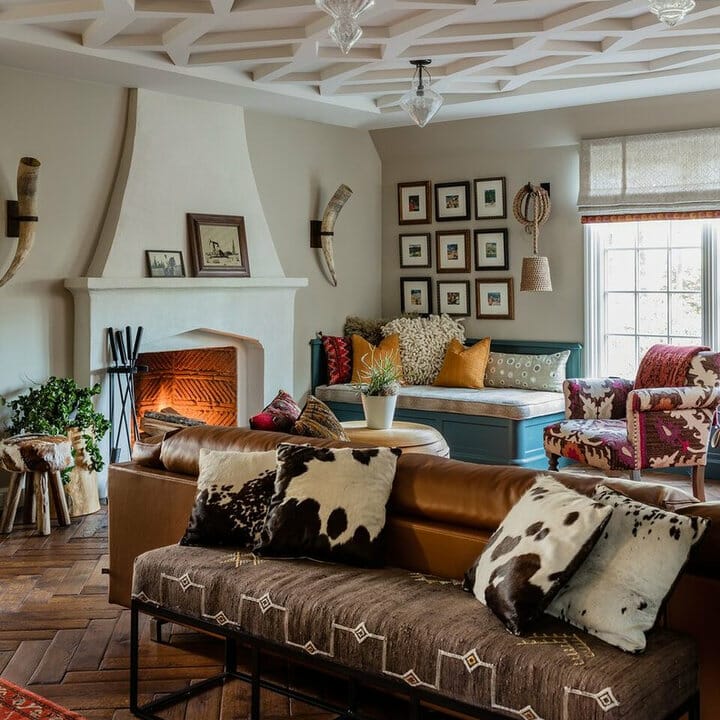 Searching for incredible color ideas for family rooms? Give this scheme a try. This relaxed space employs light taupe walls. Apart from generating a serene ambiance, they slightly offset the white fireplace and geometric ceiling.
Since the family room boasts a southwestern scheme, it sports earth-tone colors via furniture units and accessories. Furthermore, the cowhide stool and throw pillows inject a touch of rustic charm.
Red, mustard yellow, and blue accents brighten up the family room. Moreover, the wall hangings transform the space into a gallery. Lastly, the herringbone wood floor completes the feeling.
7. Two-Tone Family Room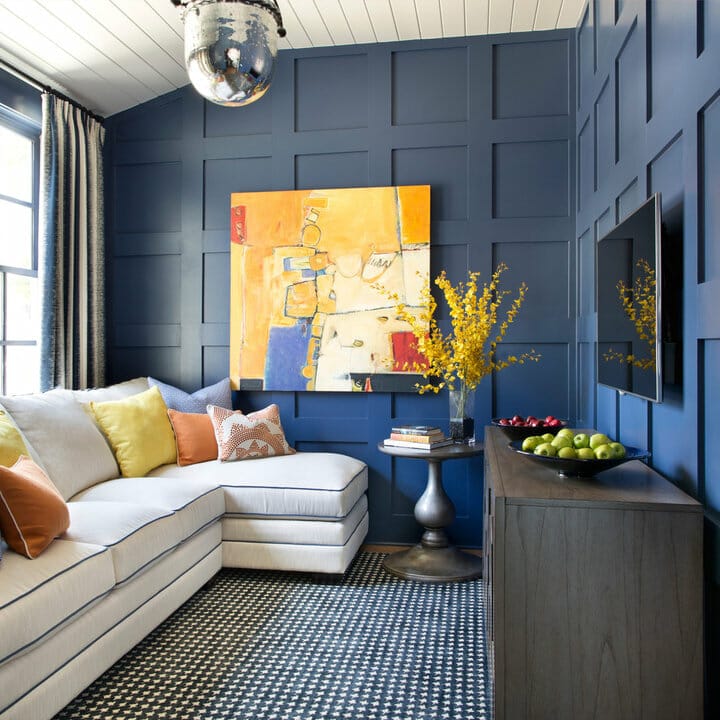 Recently, the two-tone family rooms became a hot trend. Why not apply the idea to your space? Here, the interior boasts a white and navy scheme.
Different navy shades appear on the rug, paneled walls, and sofa trim. Furthermore, they make a statement without overpowering the family room.
The soaring white ceiling oozes grandeur while evoking cottage vibes. It clashes with navy walls delightfully and opens up the interior, too.
Metallic accents and cool-toned wood furniture complement the dominant navy. The colorful abstract painting and throw pillows energize the family room.
8. Cozy Living Room Paint Colors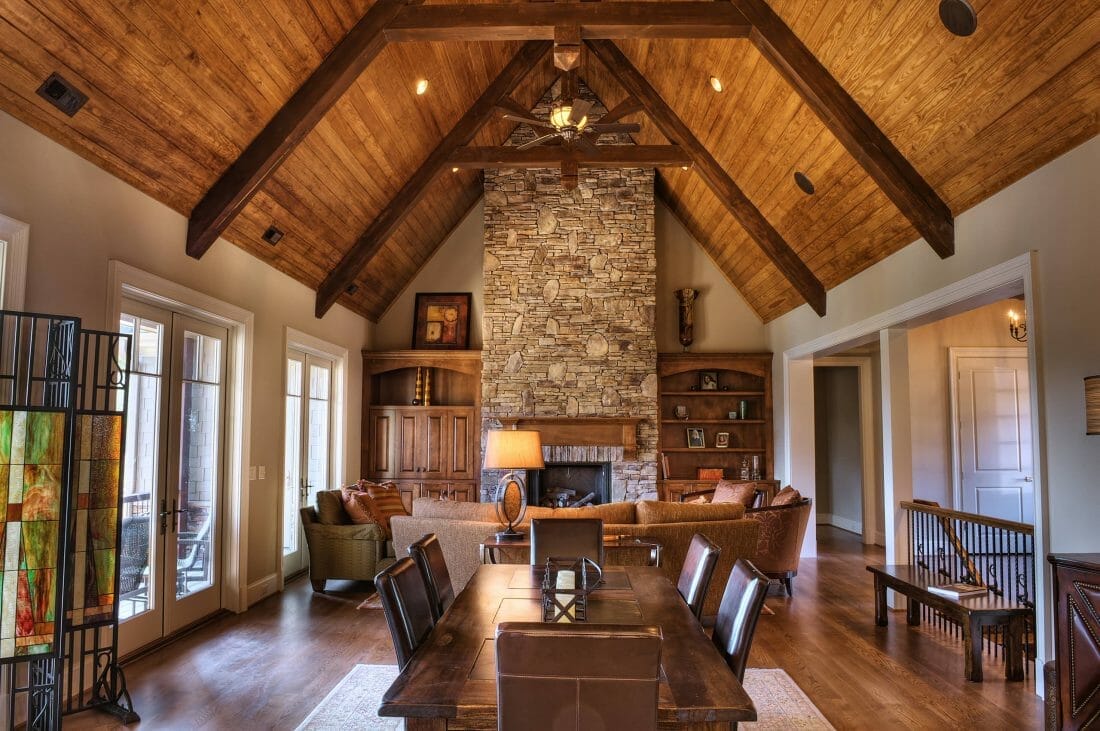 Speaking of spectacular color ideas for family rooms, look no further than neutrals. This space, for instance, has off-white walls. They set a light and calming ambiance.
The wood ceiling, floor, furniture, and exposed beams produce a toasty atmosphere. Moreover, they infuse a rustic appeal, while the stone fireplace makes the predominantly neutral family room more interesting.
The earth-tone sofa and chairs evoke serenity. Furthermore, they pair with the striped throw pillows and table lamp nicely. Also, there are small doses of bright colors on privacy screens that break the scheme.
9. Lively and Livable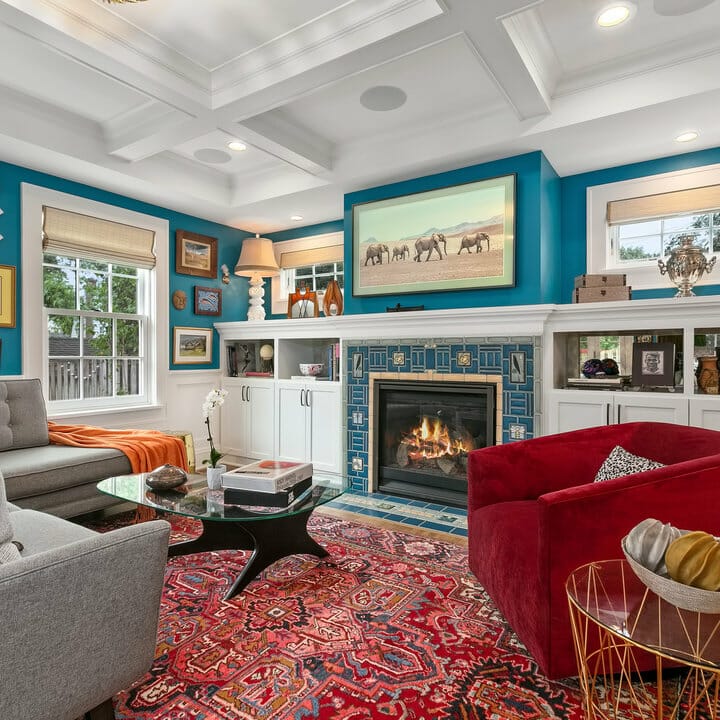 Looking for vibrant color ideas for family rooms? If so, luck is surely yours. This space boasts cerulean blue fireplace, trim, and walls. It proves that going bold is quite risky. However, the payoff can be impressive.
The cool white panels, built-ins, and coffered ceiling soften the look. Moreover, the black table and gray sofas temper the vivid blue walls.
The red sofa chair, orange blanket, and yellow decoration offer further contrast. Meanwhile, the massive rug makes the family room feel cohesive.
10. Color Ideas for Family Rooms with Shades of Blue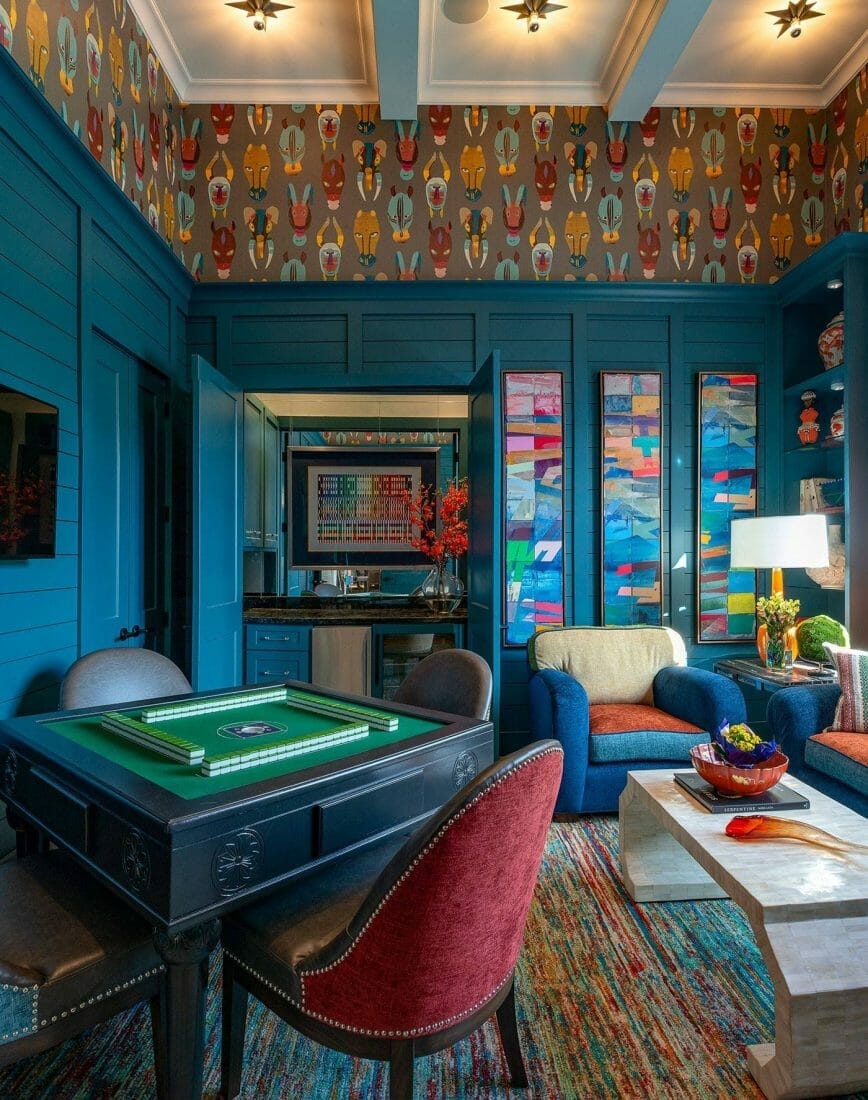 Family rooms don't have to be reticent and dull places. The bold blue appears on almost every surface, from wall panels to sofa chairs, so the space seems energetic.
The deep blue board game table brings drama to the family room. Furthermore, splashes of brown, red, and orange carve a warm ambiance.
The coffee table and ceiling brighten the space since they boast different white shades. Additionally, the hanging artworks and wallpaper provide a dynamic look.
11. Astonishing Color Gradients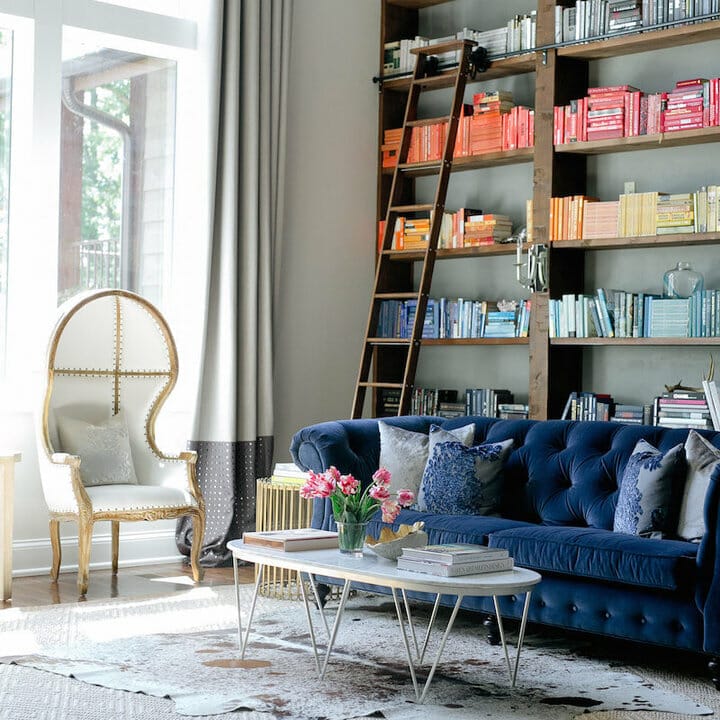 This is one of the delightful color ideas for family rooms. Although the space doesn't sport tons of vivid hues, it still has a personality.
White and light gray dominate the simple color palette. In addition, it gives off an airy and tranquil ambiance. The sleek coffee table balances out the bulky navy sofa.
The books on the shelves provide stunning color gradients. Hints of gold emanate a sumptuous vibe, while wood floor and furniture offset exuberant shades.
12. Taupe and White Scheme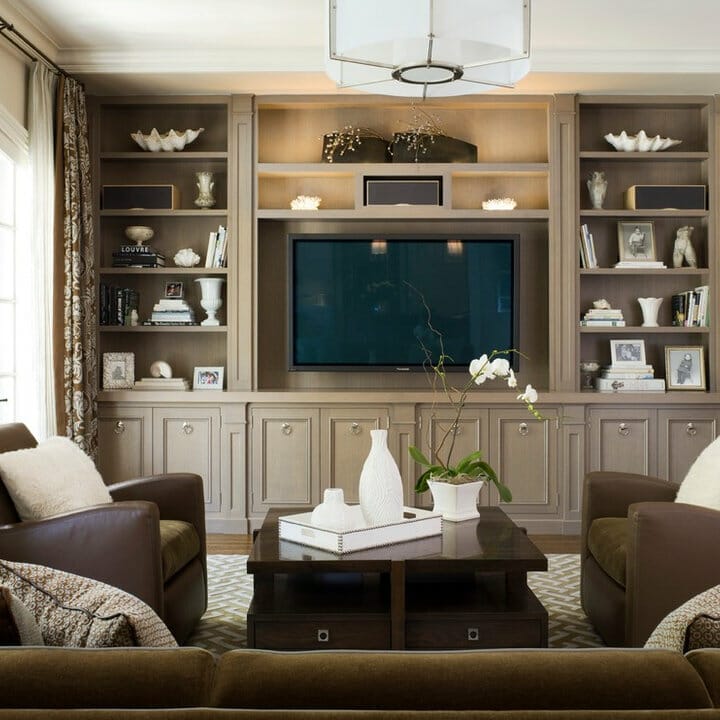 Talking about color ideas for family rooms, consider using neutrals because they never go out of trend. The taupe walls and recessed shelving generate a quiet atmosphere.
The sofa chairs wear deeper shades of taupe. Moreover, the patterned rug and drapes steal the attention.
The crisp white ceiling, molding, and accessories break the dominant taupe. The wooden table and floor lend the family room a homey air.
13. Color Ideas for Family Rooms with Gold Accents
The homeowner consistently used gray in her family room, from moldings to walls. The color evokes a serene vibe while letting colorful books steal the spotlight.
This space also includes the rattan chair and soft yellow sectional sofa. Those two furniture pieces turn the family room into a hideaway.
The polka dot pillow and multicolored rug energize the area, while metallic gold pieces make the family room look more luxurious.
14. Symmetrical and Serene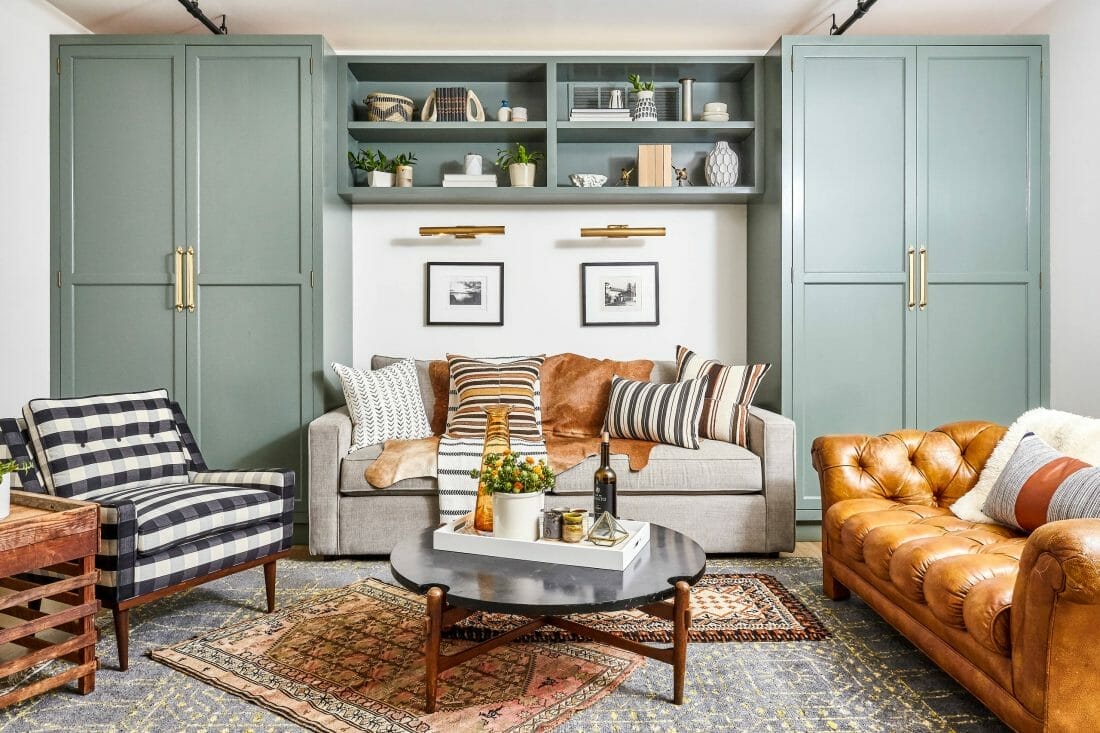 If you need marvelous color ideas for family rooms, then have a look at this photo. The space employs variations of gray and white, so it looks appealing yet tranquil.
The brown cowhide blanket and leather sofa offset the cool-toned furnishings. Meanwhile, wall sconces, framed artworks, and cupboards provide symmetry.
Throw pillows, patterned rugs, and a checkered accent chair jazz up the room. However, they ensure that the overall palette is still neutral.
15. Bright Color Ideas for Family Rooms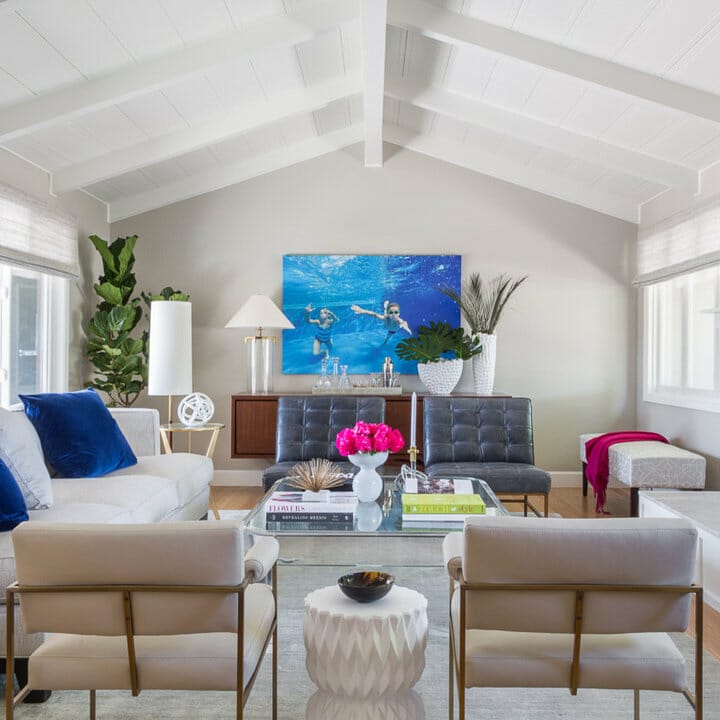 Light gray walls slightly clash with clean white ceiling and beams. Moreover, those two neutrals offer a light ambiance.
Dark gray sofa chairs infuse the family room with a bit of drama. Furthermore, the off-white armchairs sit on the lighter gray rug. Perfect doses of vibrant colors like pink and blue enliven the area.
16. Vintage Family Room Color Scheme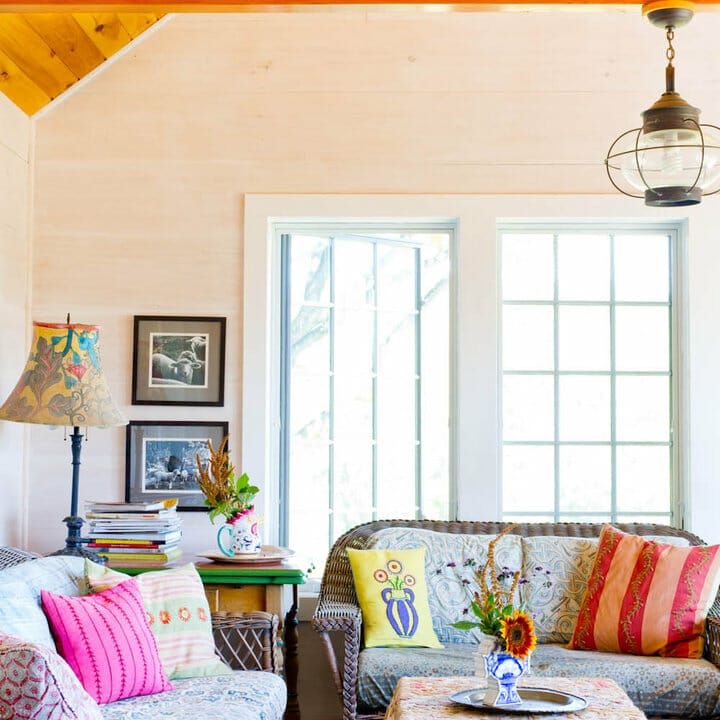 This is one of the magnificent color ideas for family rooms you should implement. White shades dominate the room via walls and trims.
The wooden ceiling and side table lend the family room a sense of warmth. Vases, rattan sofas, and lamps inject a vintage feeling.
The artworks adorn plain white walls. Moreover, colorful and floral throw pillows add personality to the basic rattan sofas.
17. Color Ideas for Family Rooms with Touches of Pink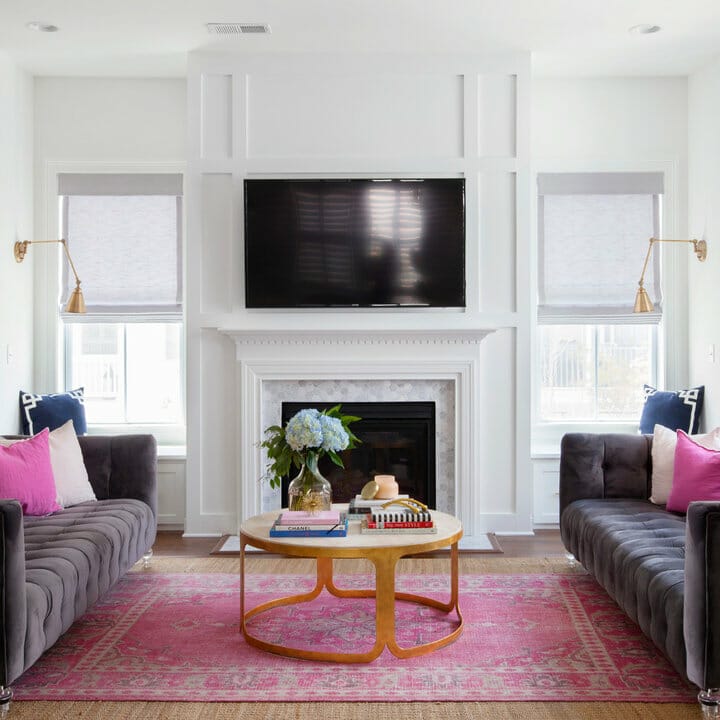 If you love different shades of pink, why not include them in your family room? First, use cool white as the main color for an airy vibe.
Since the throw pillows wear pale and bold pinks, arrange them against the velvet taupe background. It will surely muddle those two colors excellently.
The wooden floor, wicker rug, and gold table create a visual balance. Moreover, navy throw pillows tone down the feminine appeal of pink shades.
18. Moody Yet Welcoming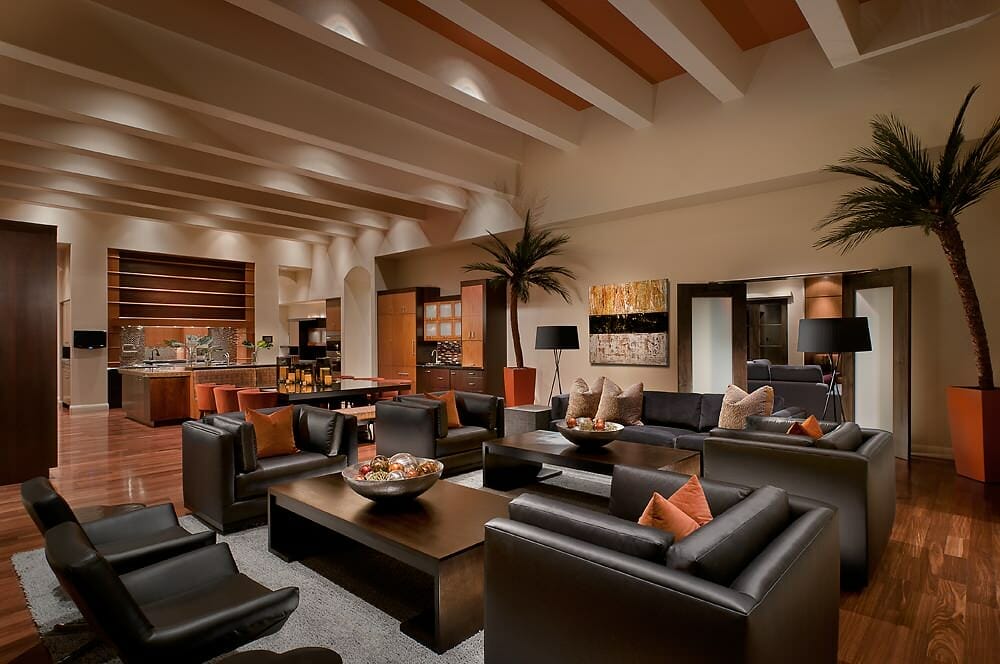 Pale beige ceiling beams and walls make this family room feel incredibly tranquil. Additionally, they go with artificial palm trees superbly.
Black sofas and lamps exude a moody vibe. Moreover, they provide a modern look and a sophisticated feeling.
Orange throw pillows and planters emanate a warm air. Furthermore, the light gray rug and artwork prevent the furniture's color from looking too gloomy.
19. Bold Color Ideas for Family Rooms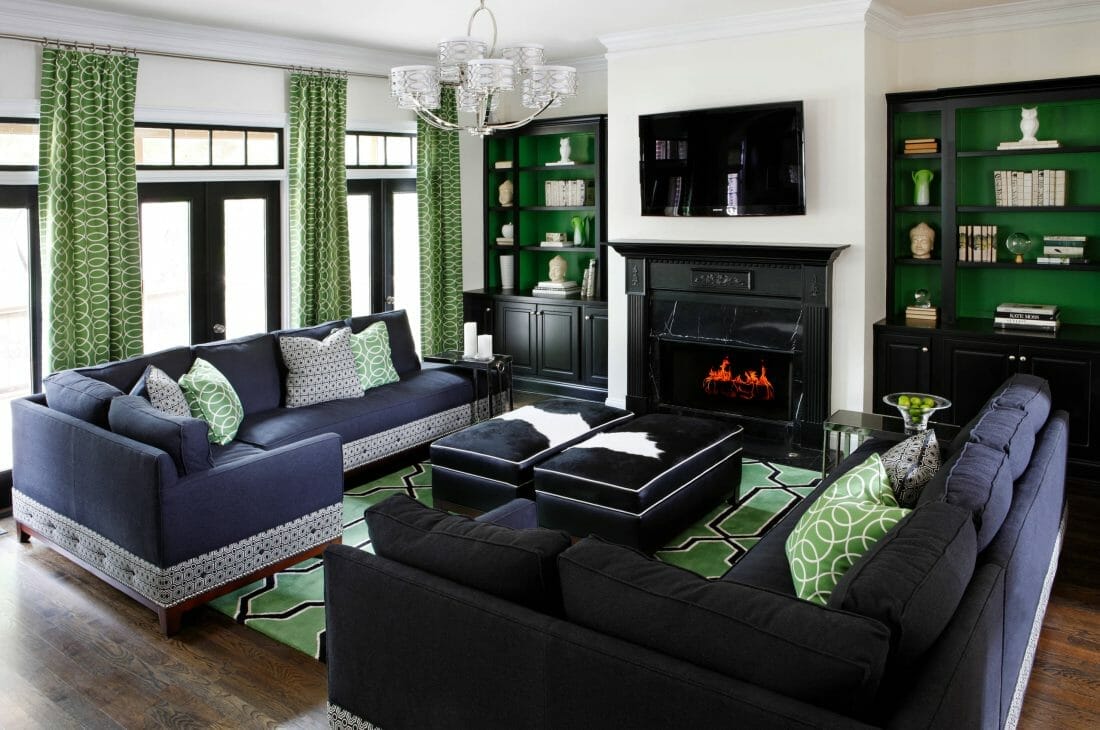 There are many color ideas for family rooms, but this one truly steals my heart. The clean white walls and molding enlarge the area visually.
The black fireplace and built-in shelving clash with white walls sharply. Moreover, the patterned rug, throw pillows, sofas, and drapes contribute to the unique character of the family room. Meanwhile, shades of green and navy lend the space a relaxed feeling.
20. Contemporary Family Room Colour Design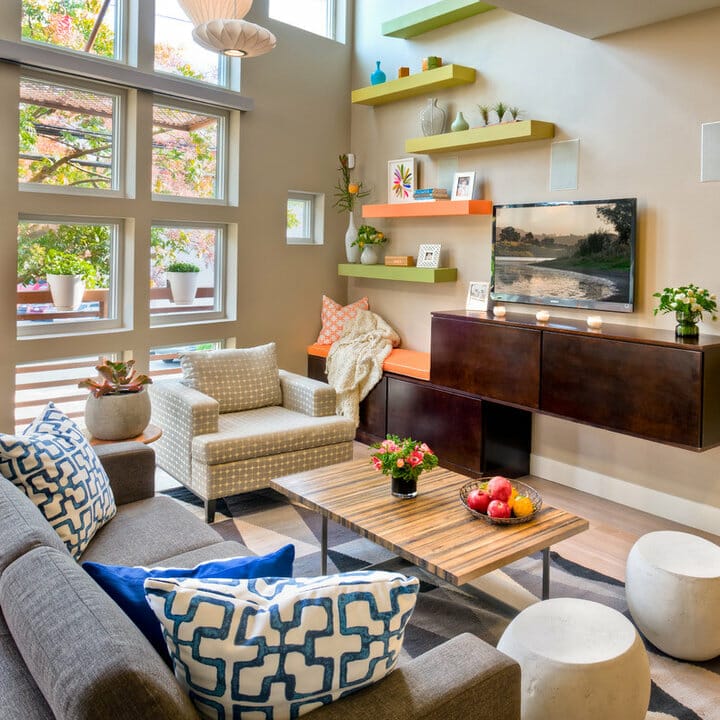 The homeowner started his scheme with taupe, white, and gray. Those three main colors offer a sophisticated and airy foundation.
There's also a striped wooden coffee table. Furthermore, the patterned sofa and throw pillows will surely provide visual interest. In addition, the neutral family room looks cheery due to blue, orange, and green accents.
21. Small Family Room Scheme
If you're searching for terrific color ideas for family rooms, then try this option. Although the space is small, it doesn't feel cramped because of the white and gray scheme.
The rich-toned wood table, trims, and floor offset the cool gray and white shades spectacularly. Moreover, there are a colorful throw blanket and pillows on the sofa. Not only do they produce a cozy feeling, but also bring the family room to life.
22. Mesmerizing Living Room Paint Ideas with Accent Walls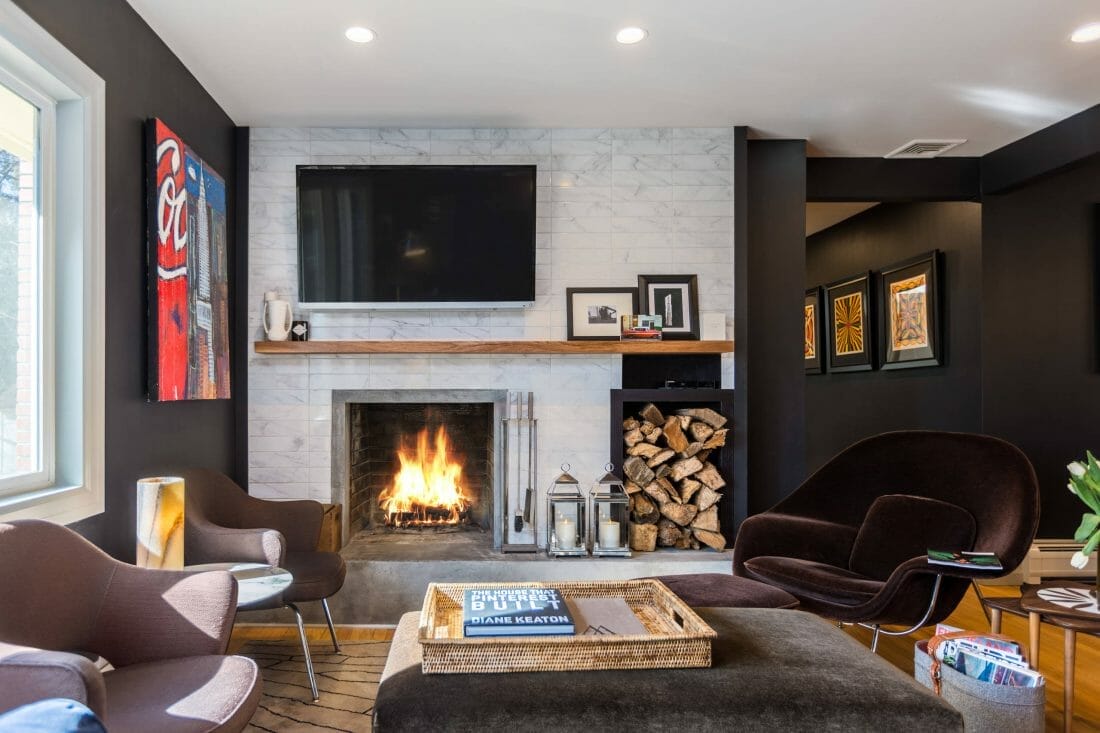 Black walls effortlessly give off a dramatic look. Moreover, they allow the multicolored painting as well as artworks to be centerpieces.
The marble accent wall oozes grandeur and timelessness. Additionally, it highlights the wooden open shelf that holds neutral-colored accessories.
The furniture pieces sport different taupe shades. They also prevent the scheme from feeling basic. Meanwhile, the rattan tray, firewood, wooden floor, and rug supply a variety of cozy textures.
23. Elaborate and Exquisite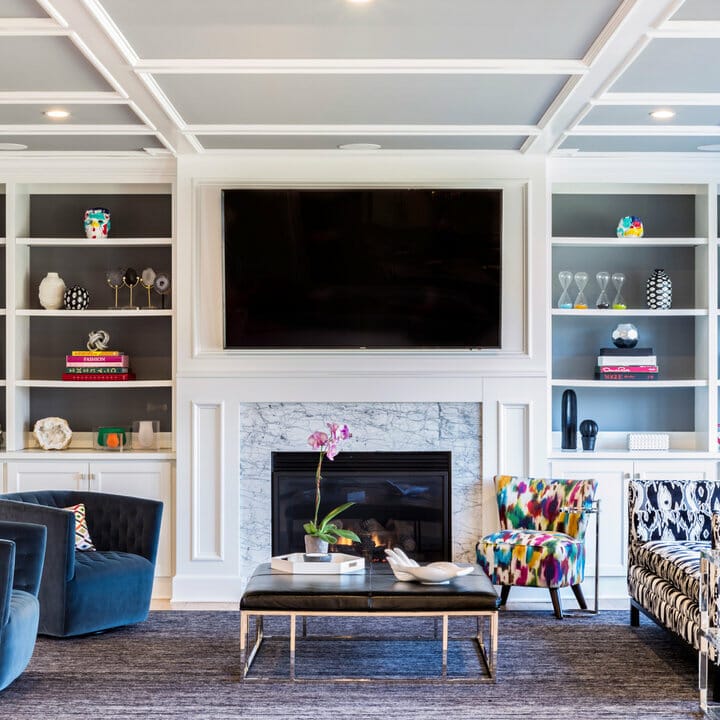 If you want a space that packs in personality, then try this scheme. The wall panels come in clean white. It ensures that the whole family room appears light, open, and airy. Different gray shades appear on the ceiling, recessed shelving, and rug. Due to them, the scheme doesn't feel flat.
Navy sofas balance out patterned and multicolored upholstery. Moreover, hints of color throughout the family room instill a happy feeling.
24. Gray, Red, and White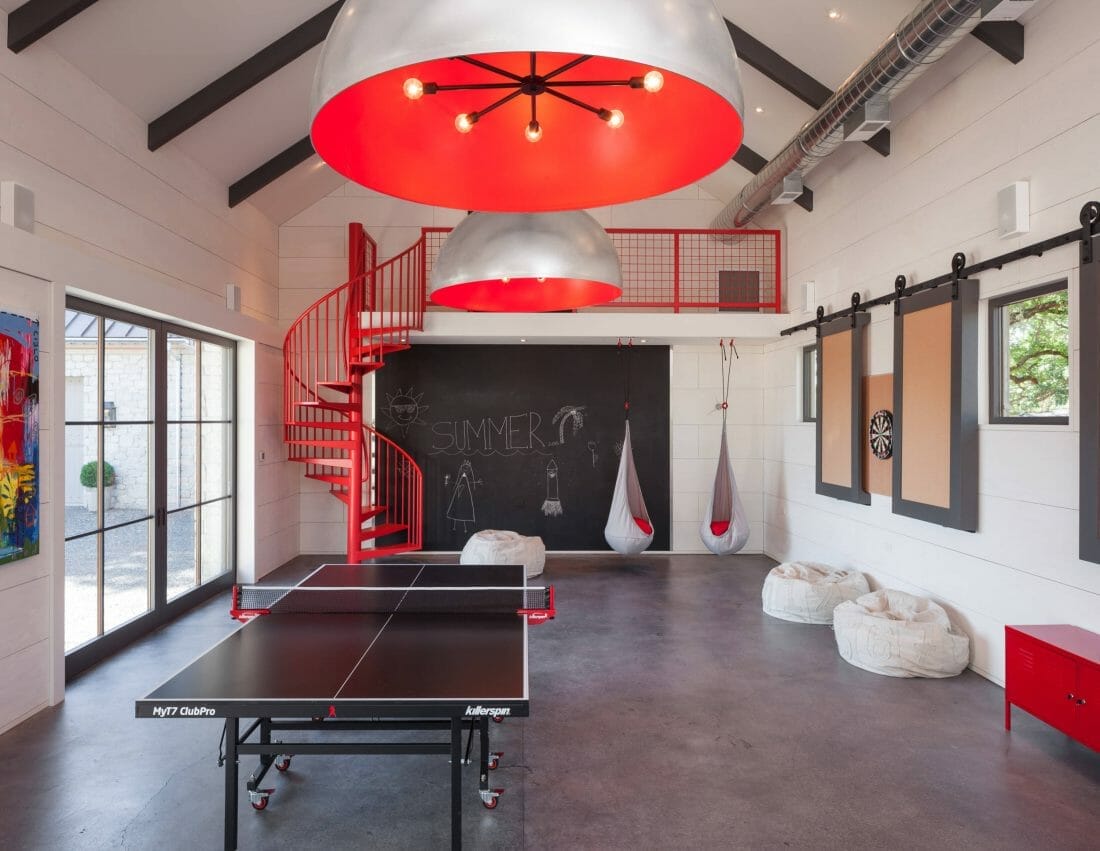 The cool white shiplap walls clash with chalkboard and black ceiling beams. Furthermore, the smooth concrete floor, off-white beanbags, and pale gray hammocks and evoke a cozy vibe.
This family room also boasts red as a complementary color. As you see, the shades are vibrant. However, they don't provide an overly intense effect because of the smart decorating strategy. Lastly, beige accents balance out the vivid painting.
Those are some captivating color ideas for family rooms. You must choose the scheme that can accommodate the needs of different people as well as various purposes. Last but not least, it should suit your decorating style.