There are many reasons people are more attracted to carport ideas attached to house than a detached one.
If these two concepts are compared, the attached carport is safer. It said so because it is usually directly connected to the side or front of the house.
Moreover, the attached carport must be inside the fence, so you can easily monitor whatever happens to your car. Thus, you don't need to worry about theft and vandalism.
Then why not just build a garage next to the house for that reason? Responding to this, we know that it is a personal preference. And we can't intervene.
Regardless, carport ideas attached to house are preferable to garages because they generally give a more open, bright look and have good air circulation.
Furthermore, it also mainly comes in many stylish designs that can heighten your exterior view.
Well, suppose you are one of those who are inquisitive in carport ideas attached to house. So, here are some best carport designs that you can duplicate.
1. Spacious Modern Carport Ideas Attached to House with Gate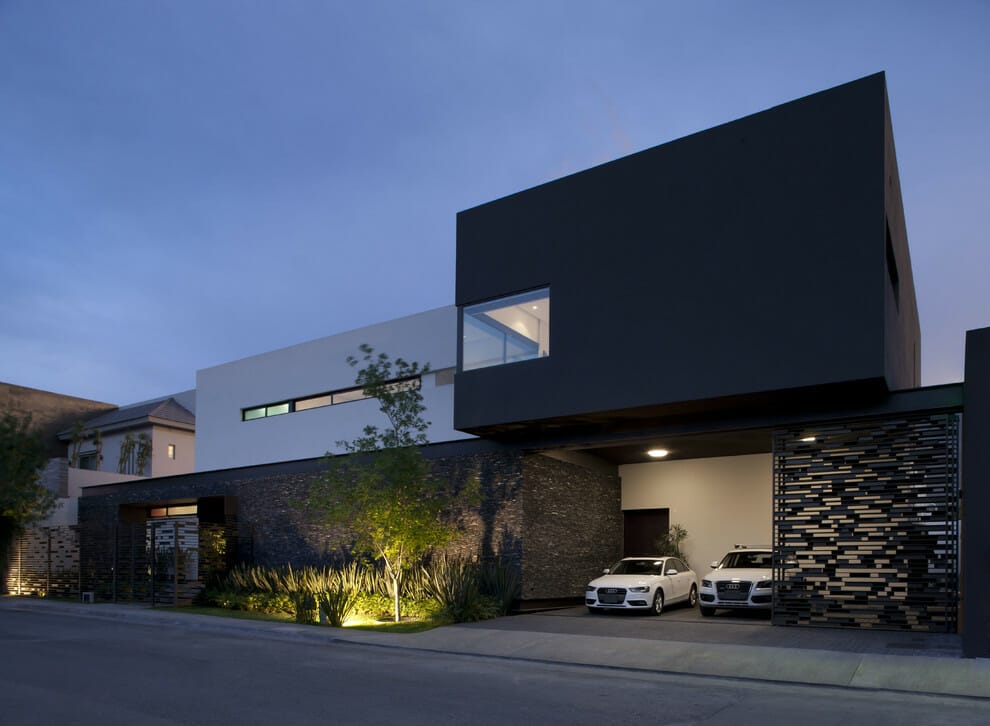 Nothing is more important than prioritizing safety in the carport.
In this first option, you can see that a carport that fits two to three cars would be better, especially if it is also equipped with a sliding gate.
With a modern feel dominated by black, you can style your carport by letting your gate have patterns.
You can have a gate set with geometric accents, as in the picture above. It is an identical feature of modern architecture.
In addition to the thin rectangular shape, you can go with many other models, such as chevron or strips.
2. Unique Carport Among the Building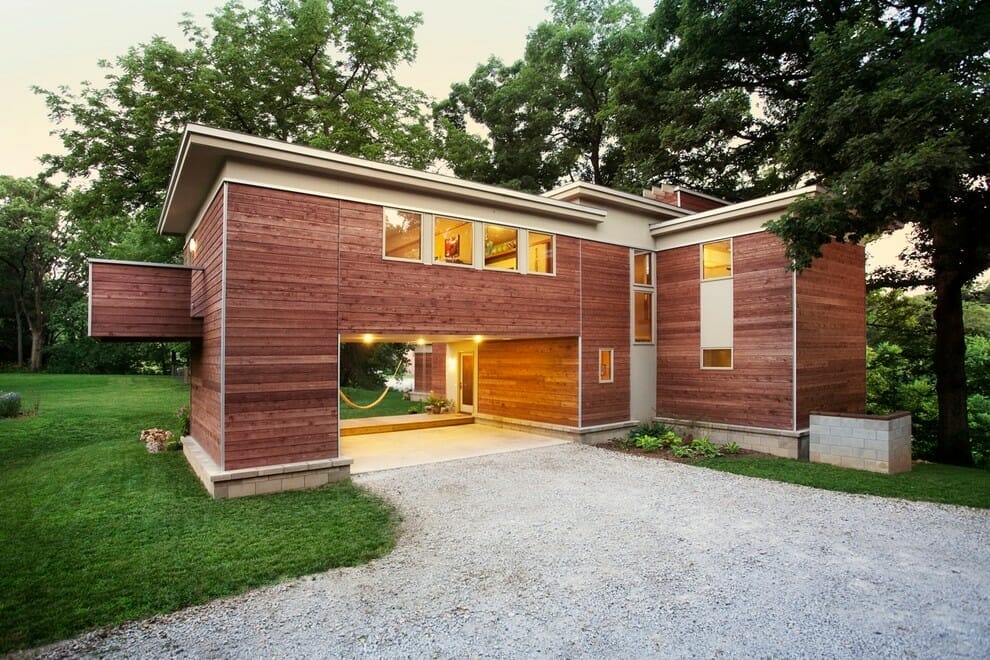 Who doesn't want their house to be the most desirable by many people? Of course, it is what everyone wants.
Well, you can realize it by presenting a unique carport. One of the ways is to build a house that resembles a bridge. Please examine the picture above for detailed architecture.
After that, optimize the land under the building as your parking lot.
And last, add lighting and textured wall materials to make your carport look aesthetically pleasing.
For recommendation, it's good to go with brick. However, you can choose everything that matches your taste perfectly.
3. Mid-Century Carport with Adequate Lighting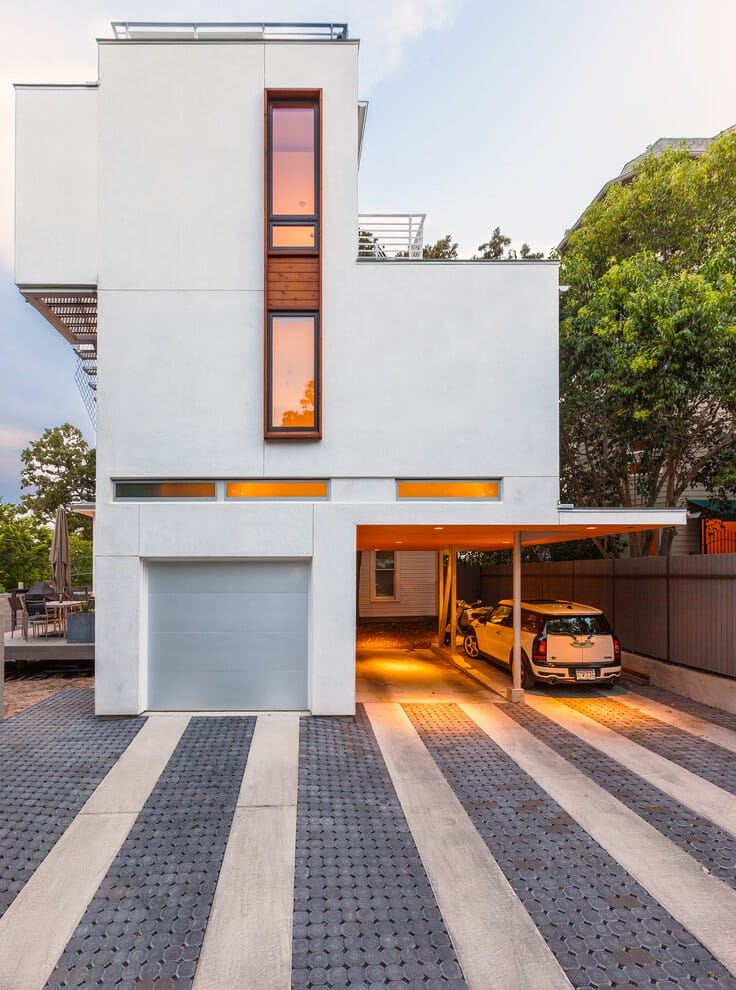 Mid-century houses often appear with unique and anti-mainstream designs. For that, you also at least make your carport more eye-catching. If you agree with us, then hurry to make a redecoration to this spot.
Of the many carport ideas attached to house, the most straightforward strategy to highlight the presence of your parking lot is to provide adequate lighting.
Suppose you have set all parts of your house in white. Then it's a good idea to install warm yellow lights to add more drama to your carport.
4. Give Carport the Same Architecture with The Main Building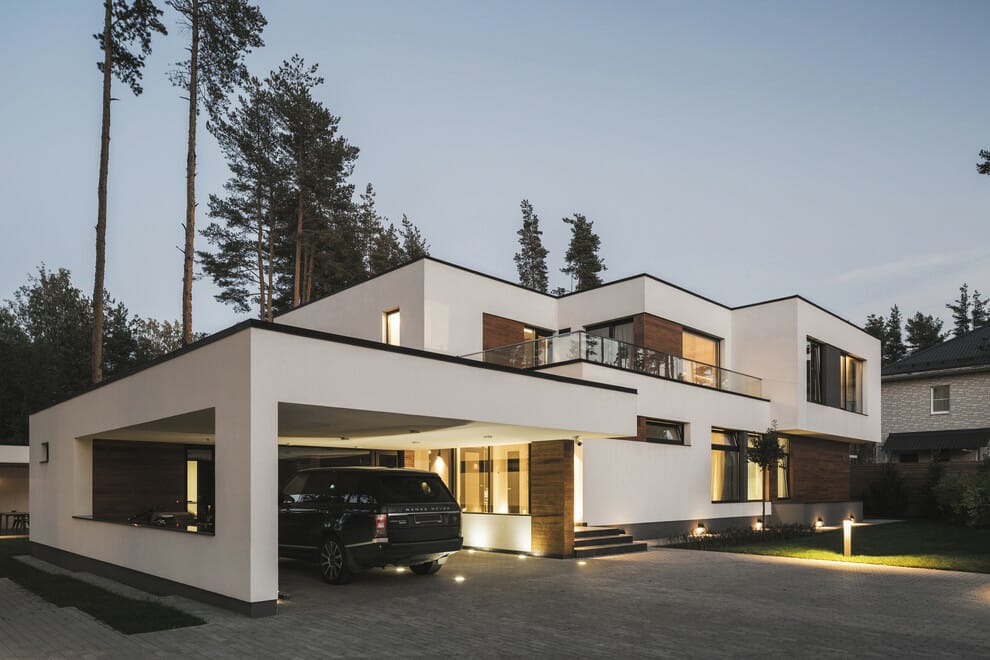 Building a carport with an additional canopy has become common to use. Now is the time to showcase your parking lot and make it appear naturally along with your main building.
By giving these two buildings the same architecture, you no longer need to work hard in providing your carport a personality.
Furthermore, you can also create a partition on the outer side of the carport to form a large ventilation window. That way, you will get better air circulation in this spot.
5. Aluminum Carport Attached to House with Natural Landscape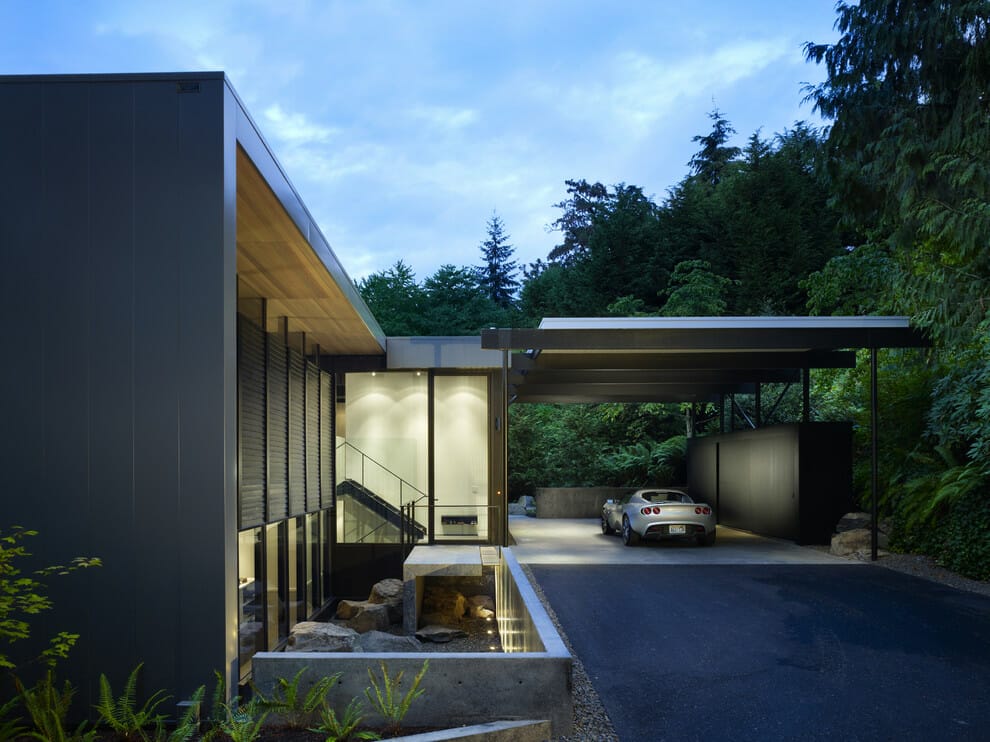 The following carport ideas attached to house are about using an aluminum canopy for the shade.
At first glance, this will seem too simple for a luxurious modern-style house. However, that will not happen if you provide a concrete half-wall united with metal pillars to support the shade.
Moreover, your carport will be more prominent if you place it close to the natural landscape. That way, your exterior view will look more refreshing.
6. Modern Farmhouse Style with Bright Ceiling and Shiplap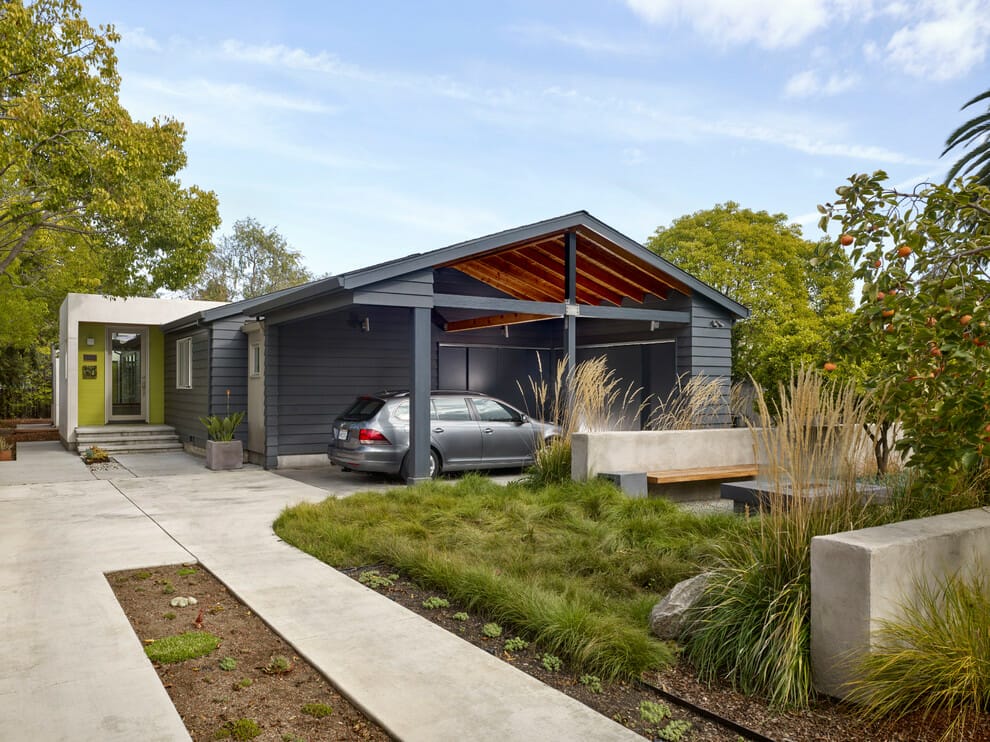 A carport with a dark gray or charcoal painting will make your parking spot look dark. However, it doesn't mean you have to avoid this tone for outdoor areas.
Instead, this will look slick if coupled with a bright ceiling.
As in the picture above, the ceiling that emits the original color of wood or medium-tone will make your carport more characterful. It will seem better once you install shiplap for the entire wall around it.
7. Extended Carport Ideas Attached to Front of House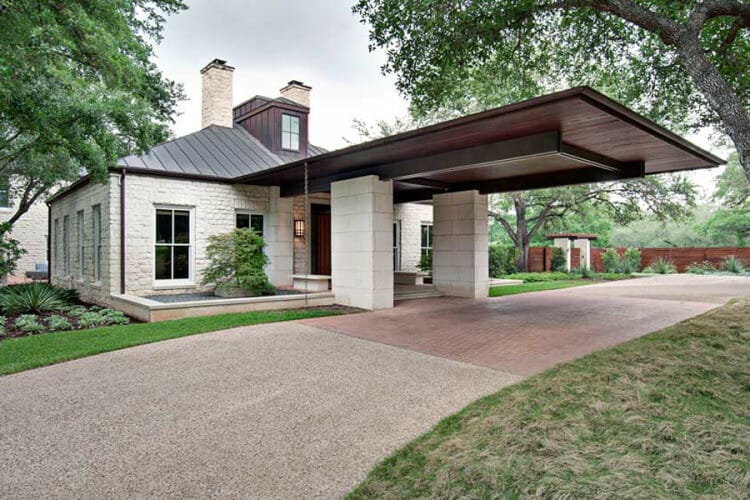 The extended ceiling is the ultimate step in applying simple yet stylish carport ideas attached to house. It is especially if you come with a wooden shade like the one above and install it right in front of your dwelling.
We know that wood is not the perfect material for outdoor areas. But all will be well as long as you have sealed it so that it is more resistant to weather changes.
To further state the existence of a carport, you can also give different colors to the driveway in your yard. Precisely at the spot where your vehicle is parked.
8. Contemporary Style with Concrete Roster Partition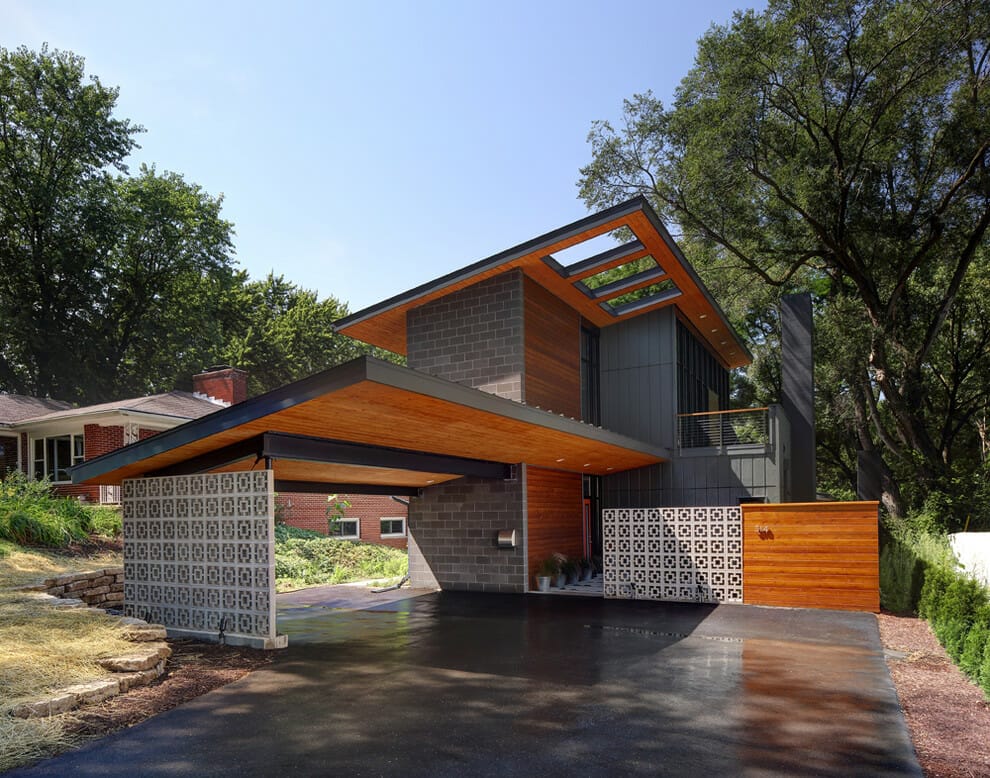 Unlike the garages, which generally come with four walls, the carport gives you more airy space. In standard designs, most parking lots only come with posts. But now you can also replace it with a concrete rosters partition.
The roster blocks partition will soon provide a glimmer of protection on your parking spot. Additionally, it also showcases an aesthetic look for outdoor areas.
Apart from that, you can still see the outside view through the gaps in this roster partition.
9. Carport with Wall Beside and Iron Trellises in Front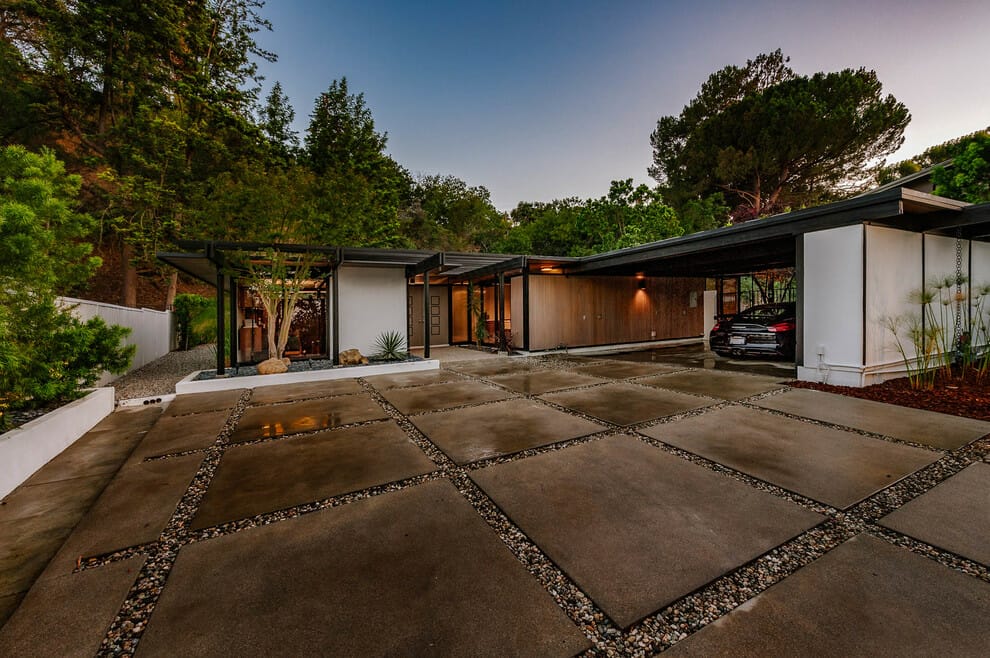 Extra security is, of course, needed, especially since the carport is not equipped with doors. Therefore, you need to present a wall on the outer side of the parking lot that is not close to your main building.
Besides that, installing an iron trellis at the front of the carport can also be a good solution.
Hence, adopting these carport ideas attached to house will provide good air circulation and security in your parking area.
10. Tuscany Carport Ideas Attached to House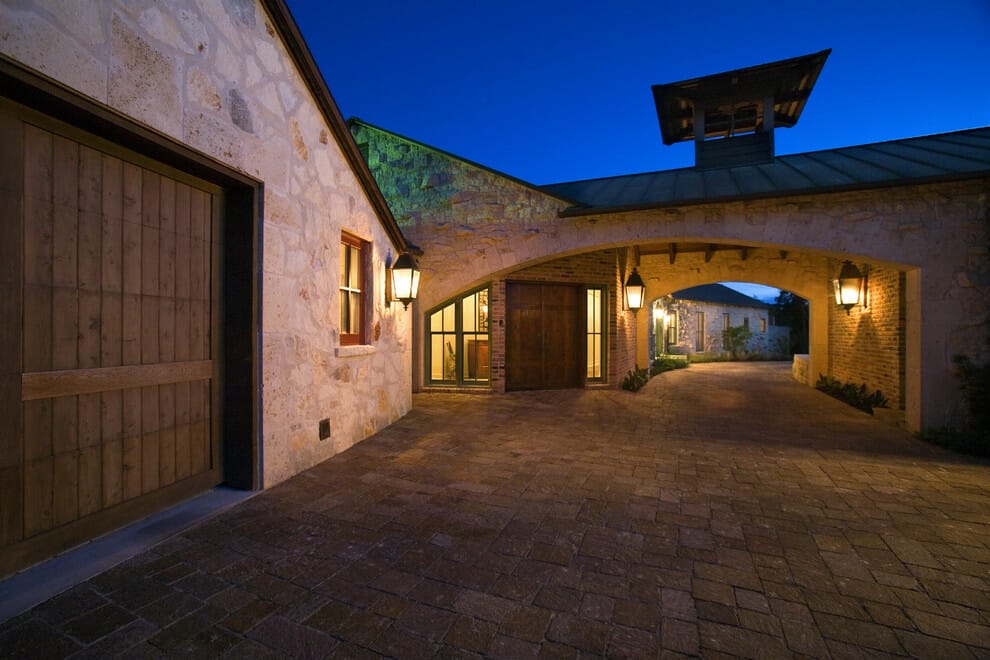 No one can deny the majesty of a Tuscany-style home. With its authenticity in representing rural Italian architecture, everything seems pleasing to the eye.
Without forgetting the existence of a carport and giving it a similar style, your parking area is no longer a monotonous and boring place.
Especially when you add wall sconces or lanterns on the right and left of the hallway, it can be guaranteed that everyone will always feel welcomed with royal hospitality.
11. Multifunction Mezzanine Carport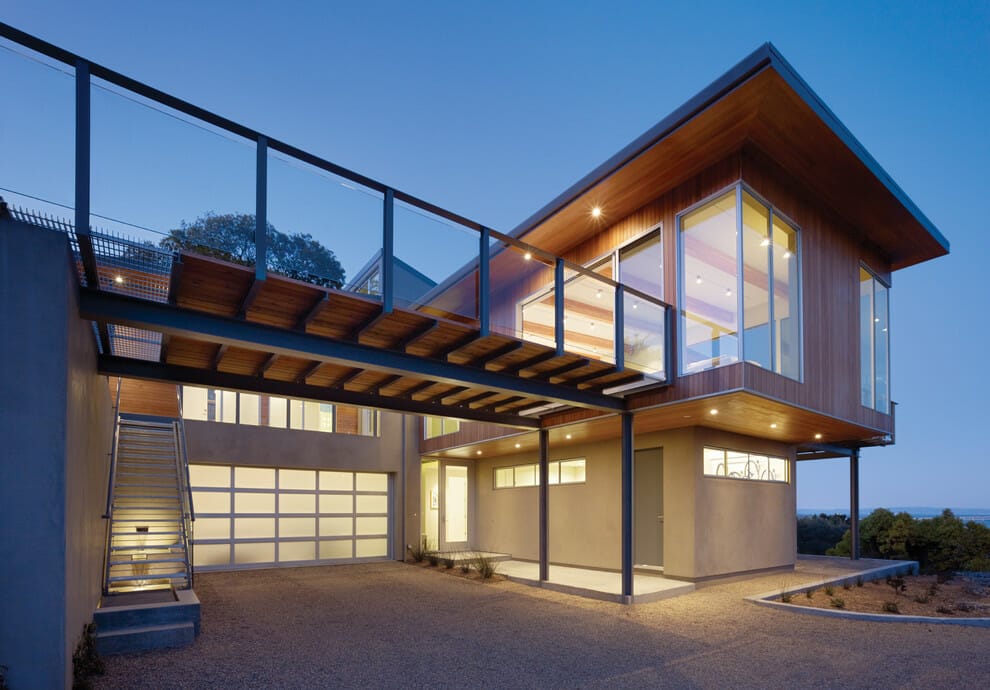 A carport doesn't always come with an additional canopy. Alternatively, you can build a floating balcony as in the picture above. Then utilize the area below as your parking space.
By adopting this concept, you will, at the same time, get an exterior decor that attracts everyone's attention while saving space.
Plus, everything will be even more stunning if you arrange the balcony railing with metal and glass.
12. Traditional Carport with Heavy Timber Posts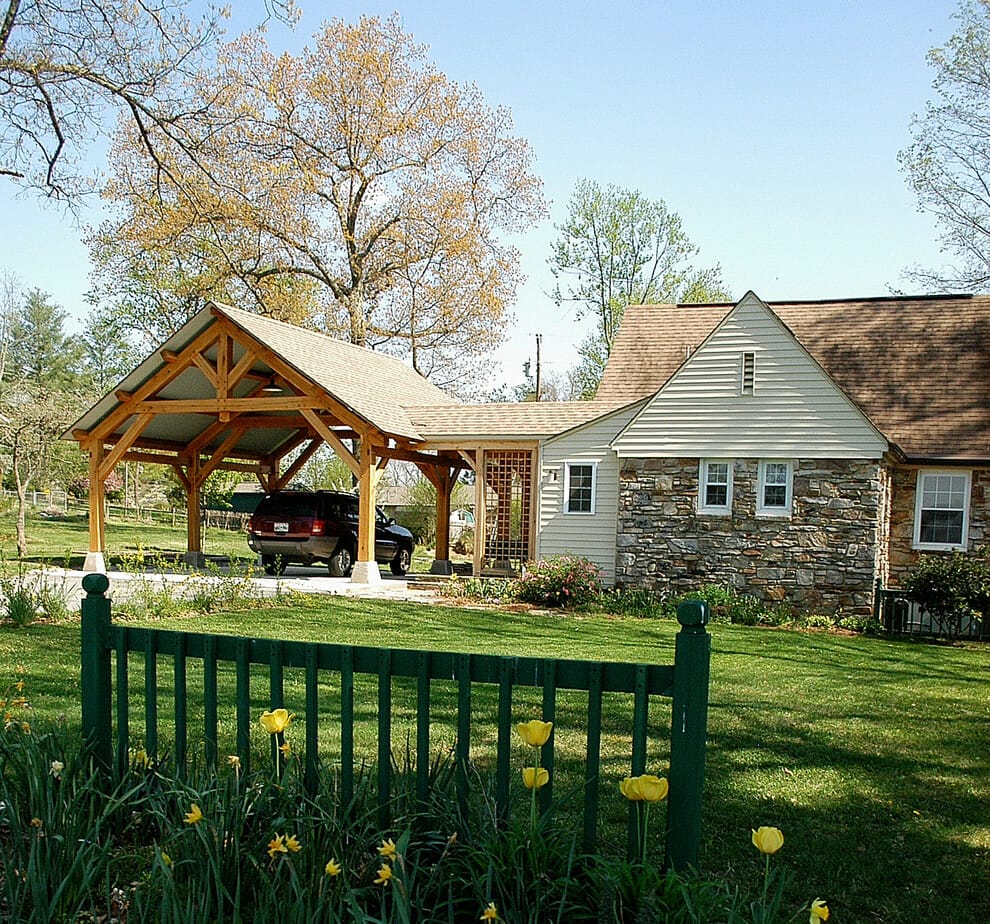 Have you ever thought to adopt the carport ideas attached to house with a traditional theme? If so, never think it will make your parking lot look outdated.
Instead, all arrangements will always be attractive in whatever style as long as it gets good maintenance by the homeowner.
After all, there is nothing wrong with a traditional theme. The sturdy wooden pillars will make an exterior look more characterful.
13. Attractive yet Straightforward Carport Attached to Side of House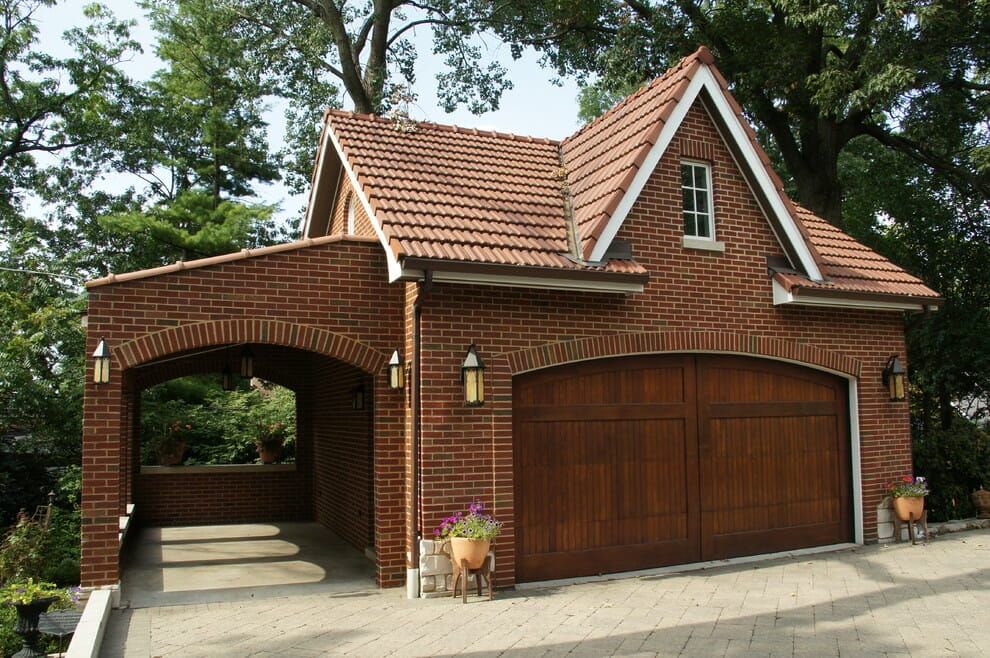 Having a house with architecture like the one above is such a blessing. It has enamored many people, even without bringing in decorative elements, especially in the carport line.
It looks like a tunnel attached to the house, especially when filled with a brick accent wall.
The design is enough to give personality and highlight your carport, so there's not much you need to do except add proper lighting at night.
14. Directly Connected Carport with Front Porch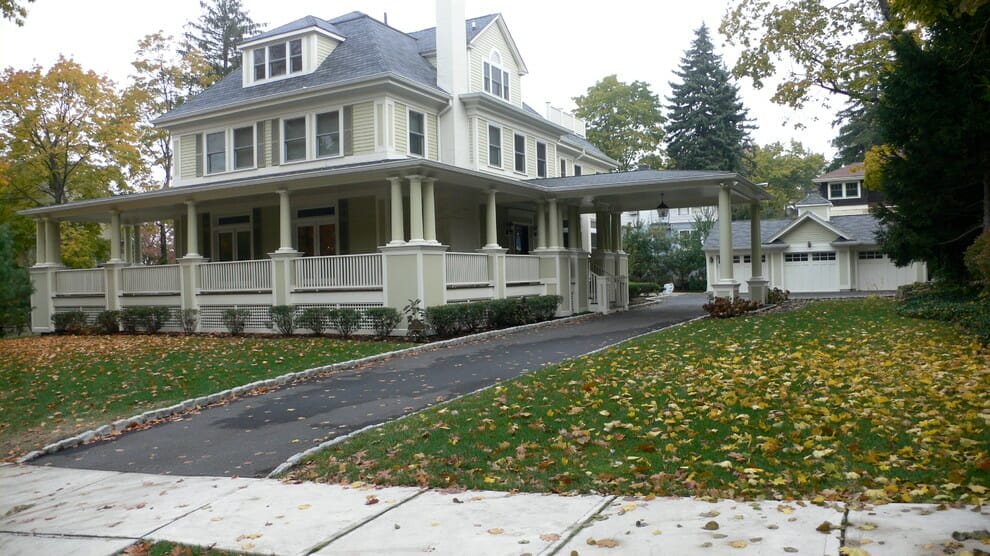 Of the many carport ideas attached to house, the one that connects with the porch is the best option. How come? Of course, because it will make your parking lot look more lively.
Moreover, it will be easier for you to keep an eye on your vehicle more relaxed. It is because your carport unites with nature and is far from many workshop partitions.
15. Carport in front of a Garage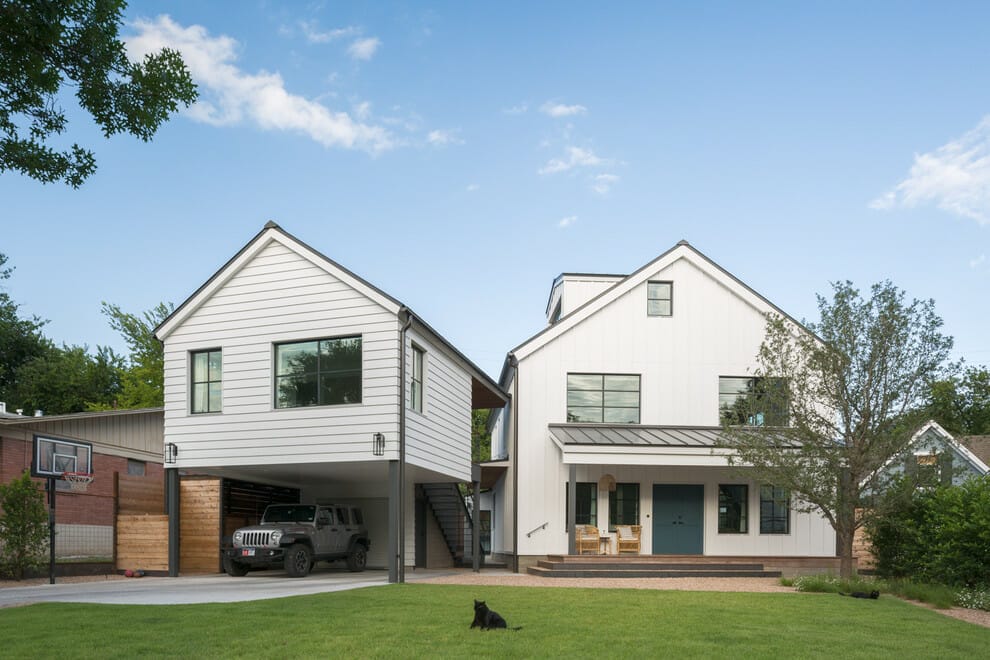 Why not have a garage and a carport in the same area? No wonder this idea is quite brilliant. Instead of wasting space, this strategy is practical. After all, nothing forbids you to have both of them simultaneously.
It will let you park the car safely when not in use in the garage. And merely move it in the carport at hectic times to not hinder your departure.
16. Single Carport in Deep Green and Brick Wall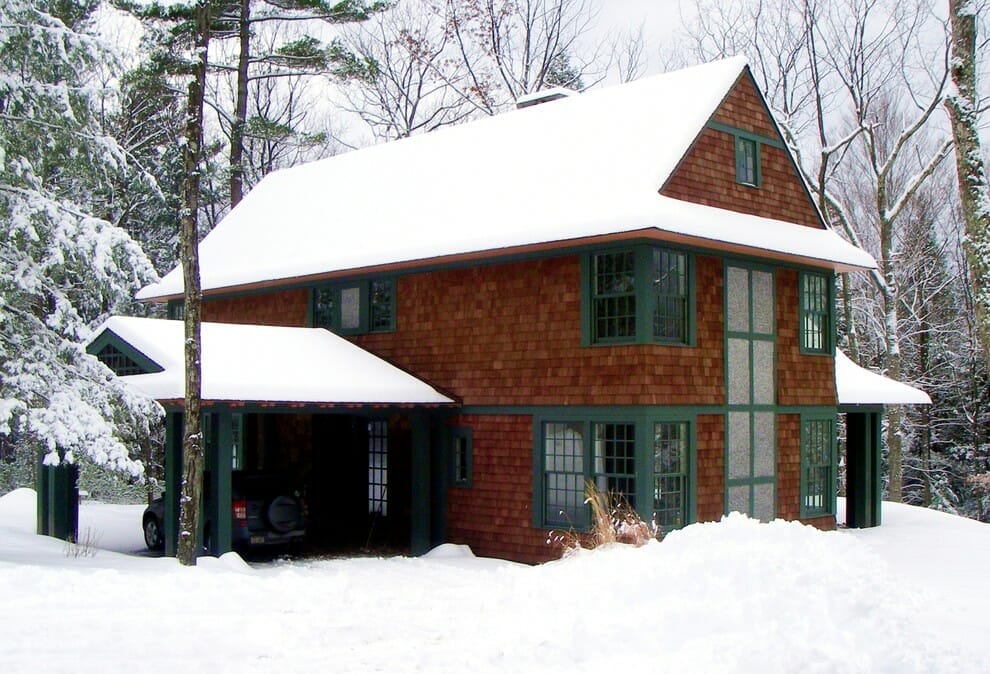 Some people think that carport ideas attached to house will be more attractive with bright colors. However, that does not mean you are not allowed to explore your creativity in giving style to this area.
As illustrated above, deep green is suitable for starting the carport next to the house. You can make the walls come with original bricks to liven up the atmosphere.
Even though it is narrow, at least this single carport has good protection for your car in all seasons.
17. Carport with Wooden Canopy and Translucent Shade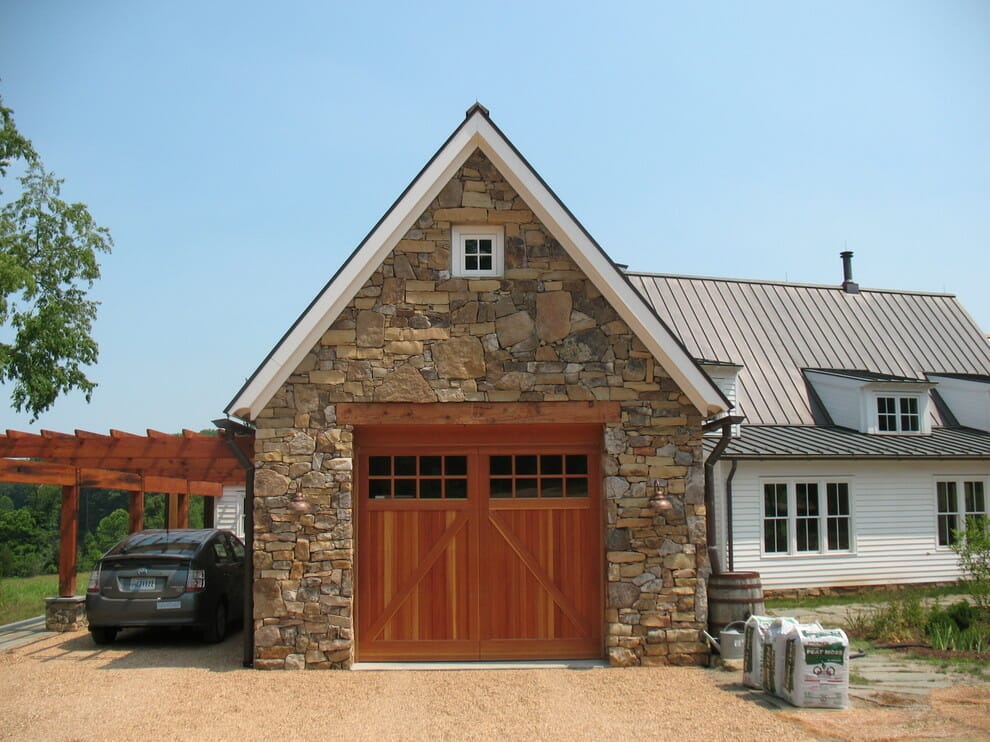 A canopy made of timber makes your carport have a powerful rustic vibe. However, suppose your main goal is to present a contemporary style, then you can combine it with a transparent shade.
Besides being aesthetically pleasing, this design lets natural light still illuminate your carport during the day without direct exposure.
18. Minimalist Carport Ideas Attached to House with Glass Canopy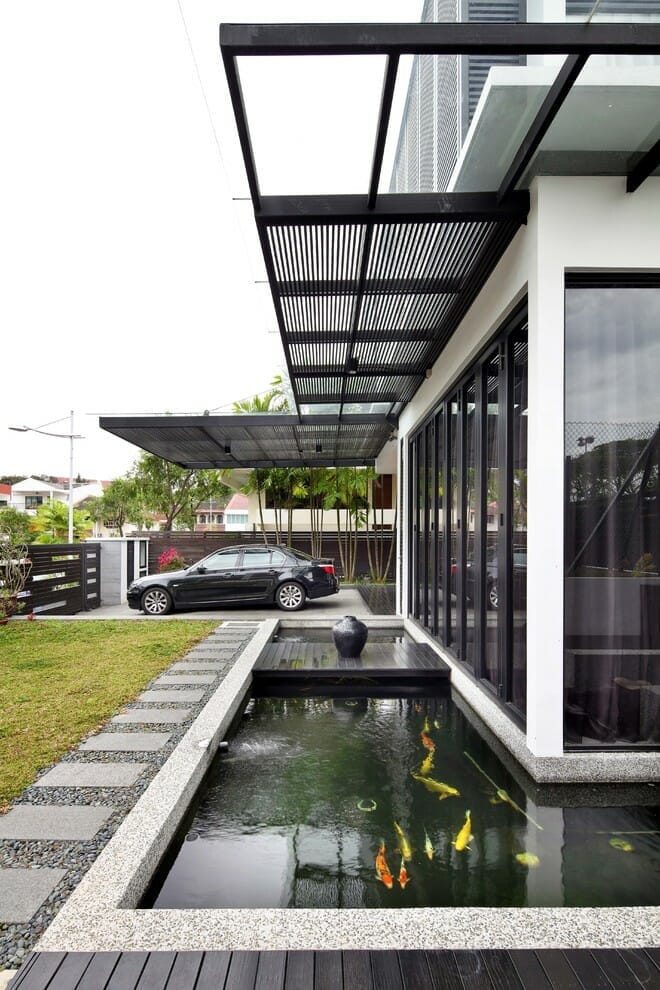 A carport could be present without any posts or pillars as time passed. Including ones made of metal and glass shades.
Yet, it will remain connected to the terrace by attaching the baseline with the main building's existing roof. That way, your carport will look like a floating structure.
And because there are no more blocking posts, you don't have to worry about parking your car safely without being scratched by pillars or other barriers.
19. Provide a Hallway to The Carport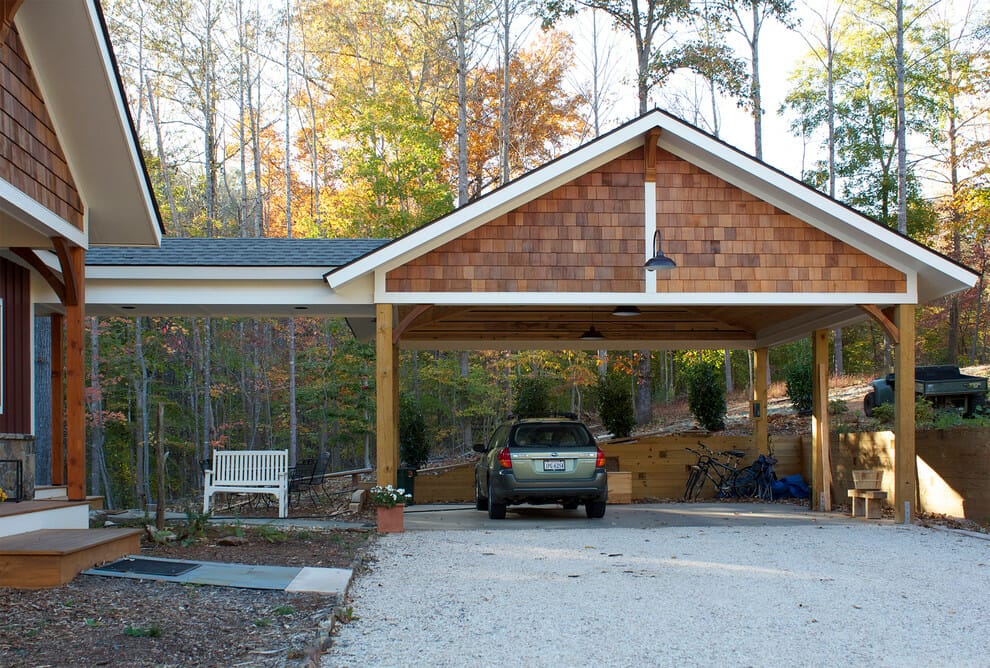 Suppose you already have a detached carport and want to connect it to the main house. So never bother to disassemble it.
Don't worry. Because the carport ideas attached to house in this section will be ready to provide a solution.
Rather than deconstructing, it is better to provide an additional passageway to connect these two buildings. So you no longer have to get soaked in the rain right after getting out of the car.
20. Gravel Floor and Concrete Partition for Carport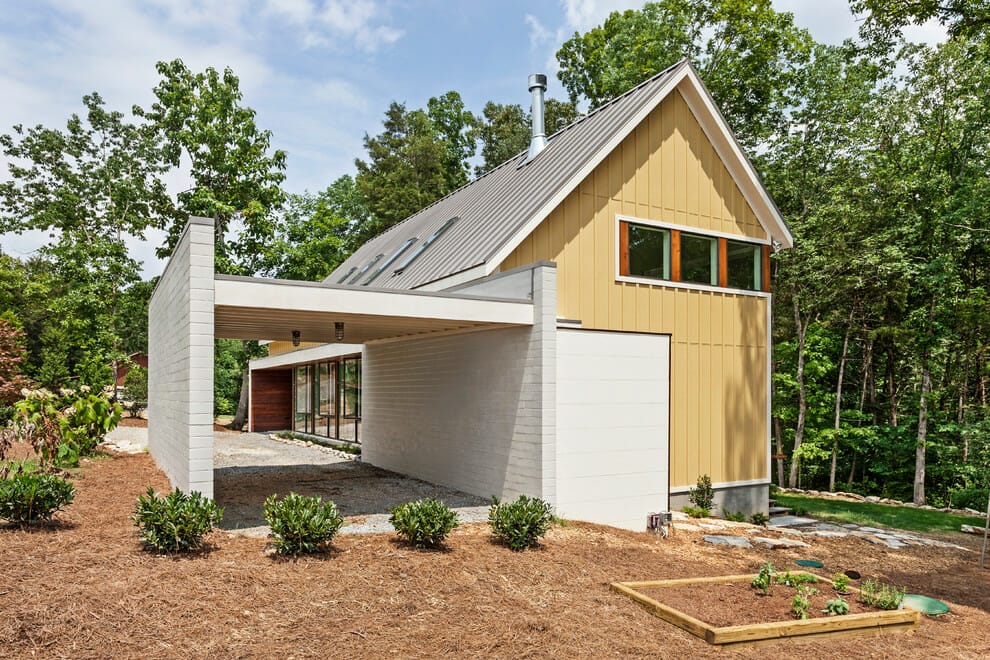 Styling the carport does not need to be complicated. You only have to provide additional partitions and shade that attach to your home. One with a concrete wall will be enough to give personality.
Coupled with the gravel flooring that you installed along the driveway to the parking lot, everything was perfect.
21. Add Accent Lighting Along the Way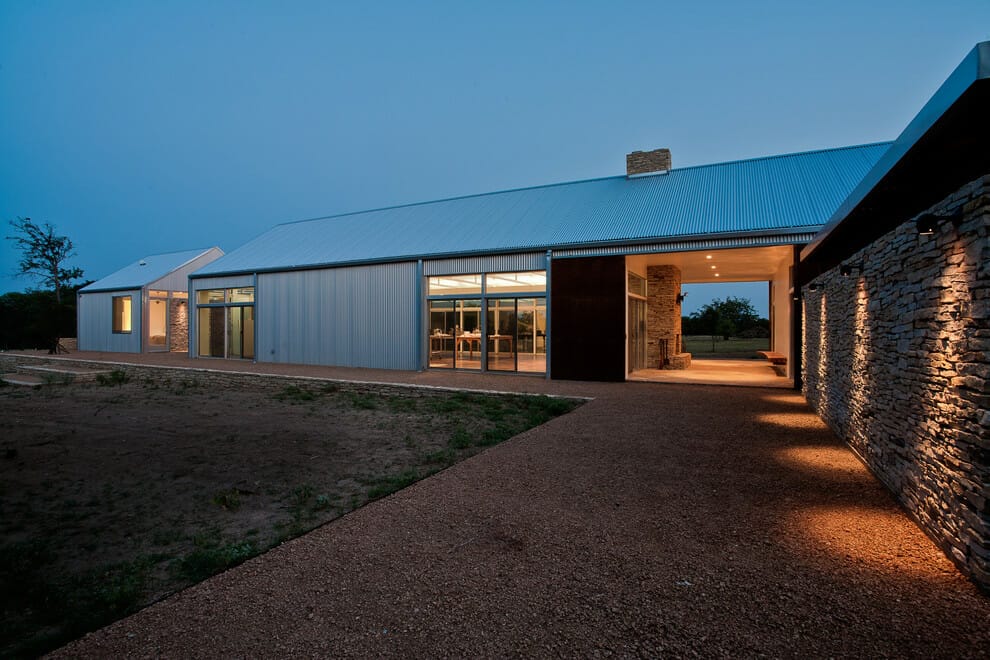 People acknowledged the power of lighting in elevating parking lots and outdoor areas. And the proper illumination doesn't just have to be placed in the carport.
It would be best to install some on the fence along your driveway. Later, these lamps will act as accent lighting and give a timeless look that suits any exterior decor.
22. Additional Shades from The Trees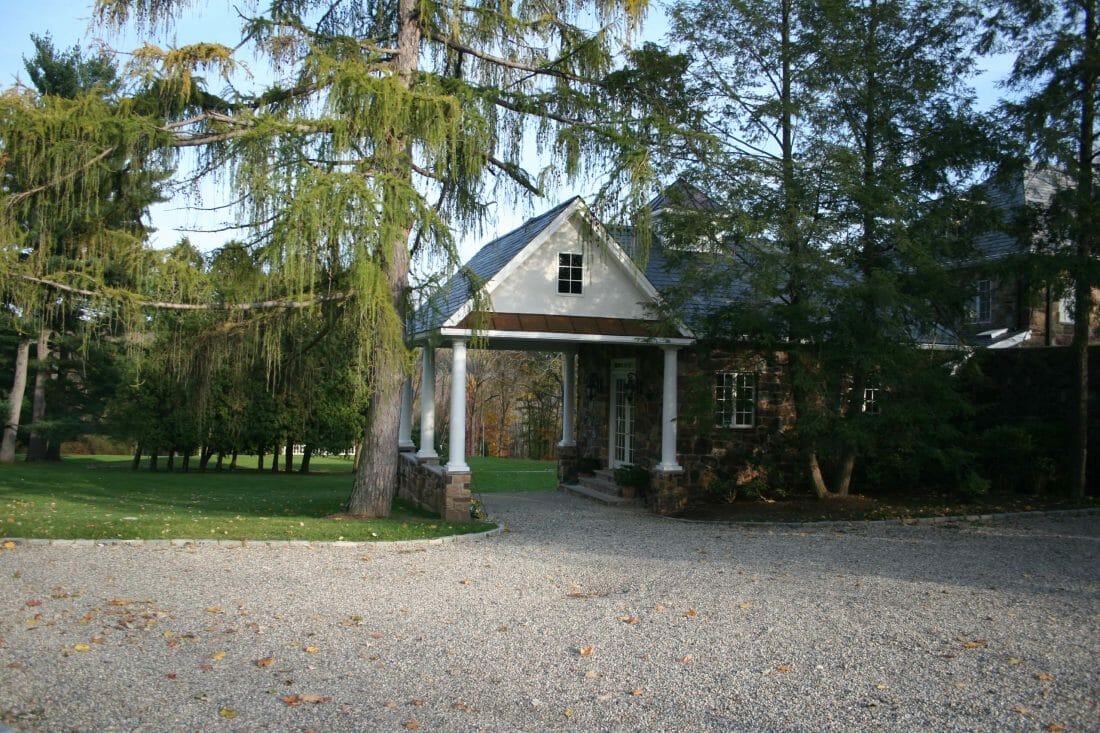 Carport ideas attached to house don't just rely on canopies and pergolas to provide security for the parking area. Sometimes, these structures are not enough to protect the car from sun exposure.
Therefore, it is worth considering building a carport close to the trees. It aims to block the sunlight and prevent direct exposure to vehicles from all sides.
However, make sure that these trees are not dangerous and won't potentially fall in extreme weather.
23. Accessible Carport Between Two Buildings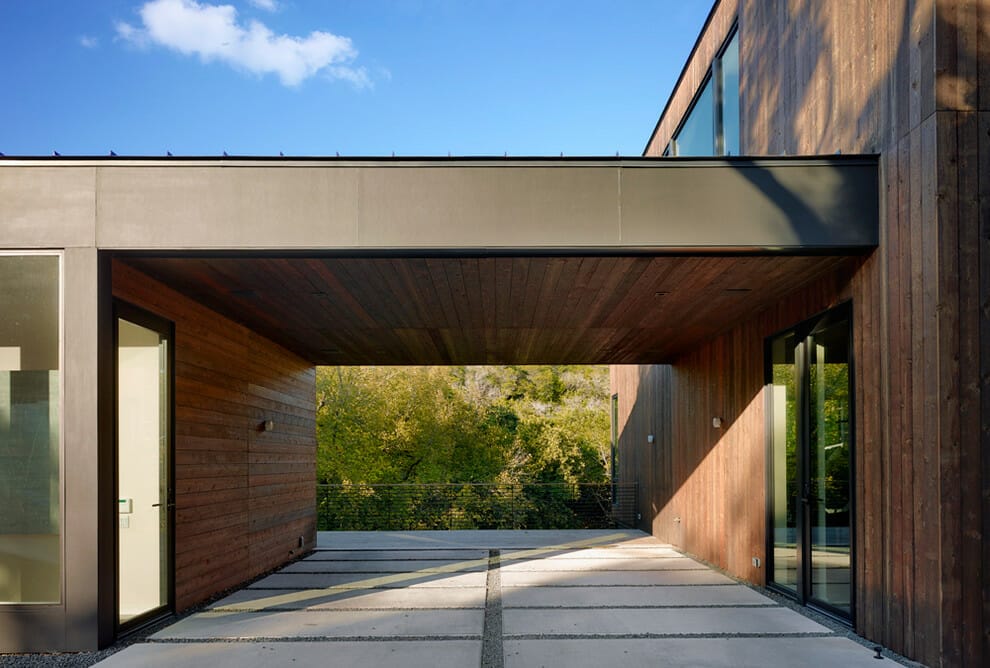 Here is the key to all modern carport designs and styles. Making sure that this spot is close to the door is the initial thing to consider, especially if it is located on the side of the house.
That way, you can go straight to the car without going around the house to reach this parking lot. Besides being practical, the accessible carport also promises the best protection on rainy days.
24. Lofted Carport with Concrete Flooring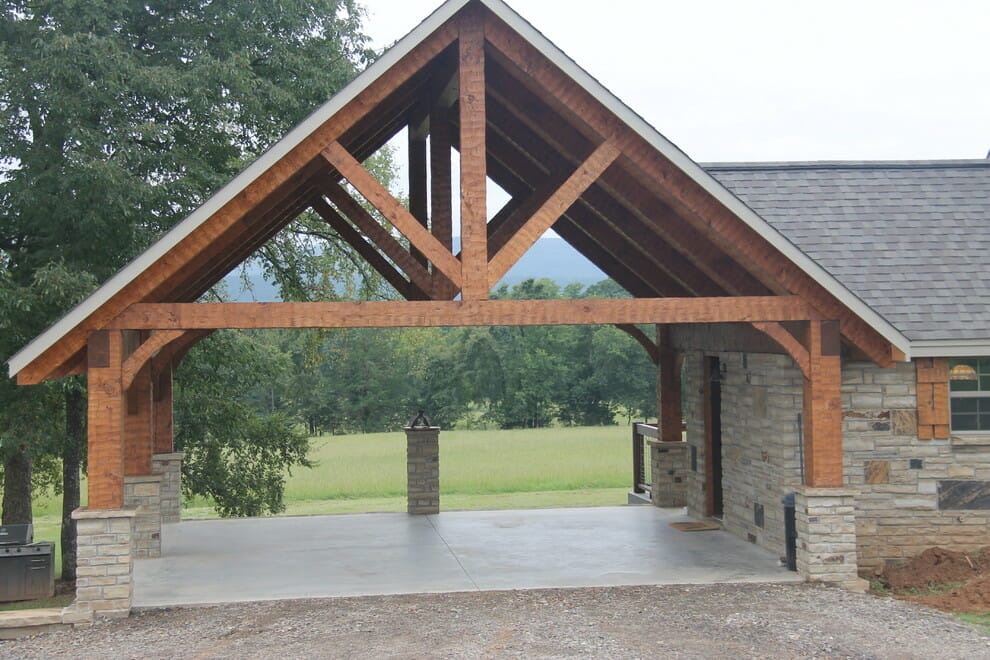 Carport ideas attached to house come with many options. And you're free to go with whichever one, including the lofted parking lot. Usually, this design is suitable for those who have uneven land.
Its higher location than the main building makes this area attractive without taking many decorations.
25. Winding Driveway to The Carport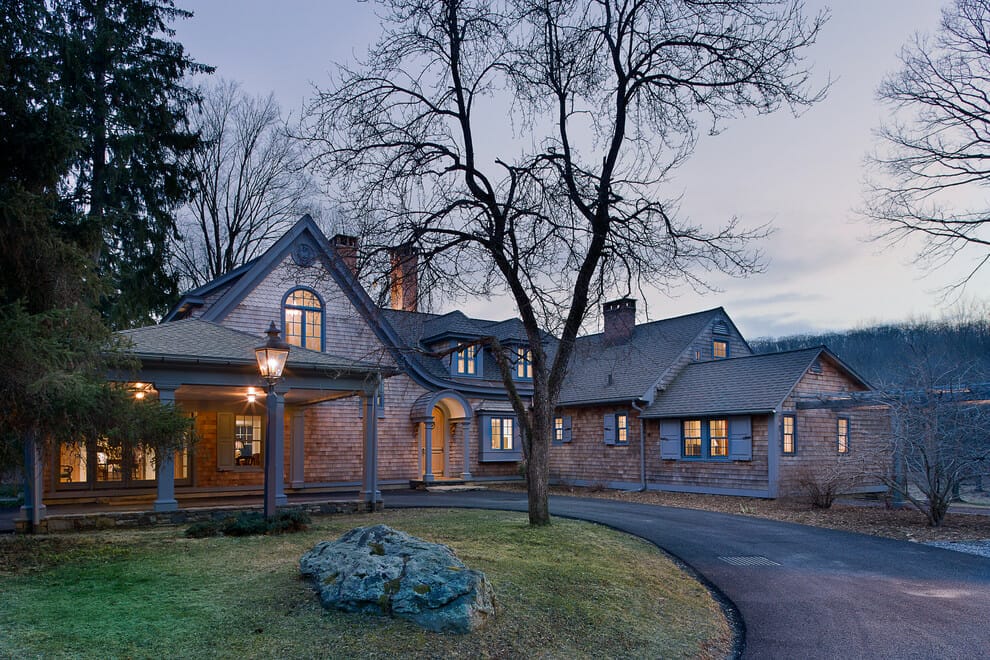 Besides the architecture of the carport itself, you also need to pay attention to the driveway to make this spot more characterful. One step is to provide a winding road with a garden on the side, as in the picture above.
26. Carport Ideas Attached to House with Seat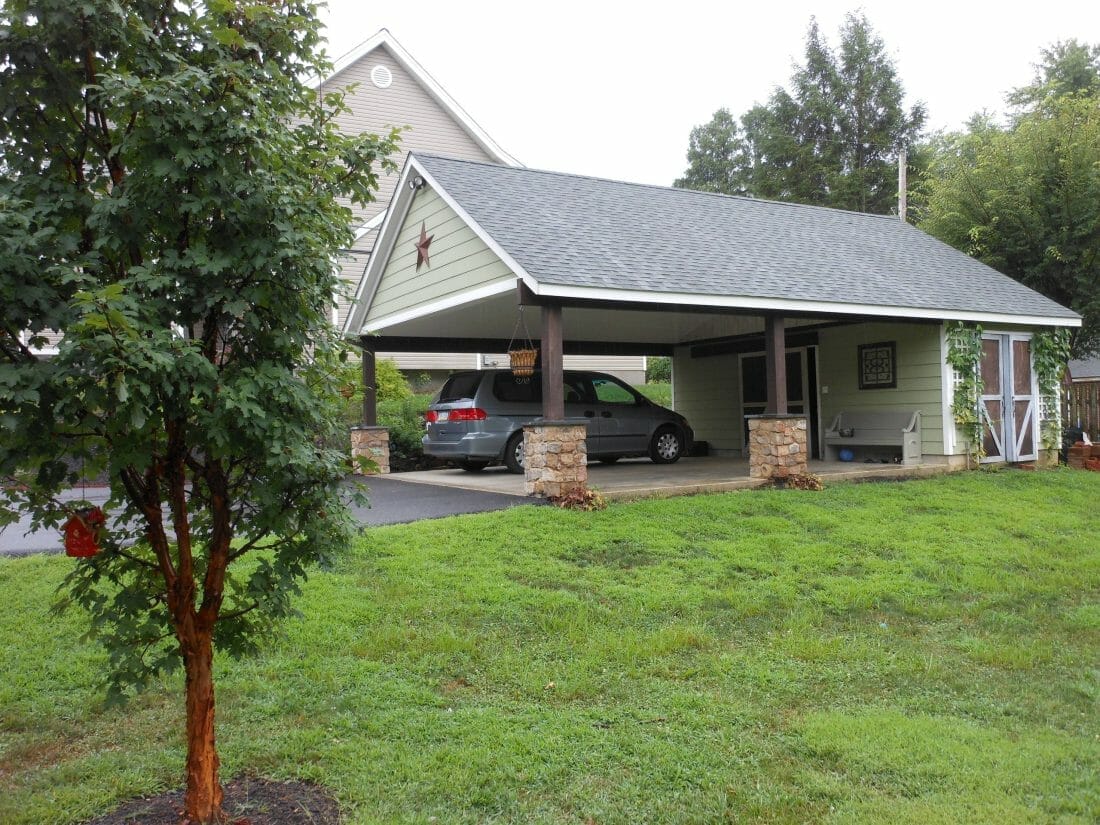 Have you ever thought about providing a seat in your carport? If not, then this is the right time to present it.
That way, you will have a multifunctional carport at once. You can hang wall art above your sitting area to make it look comfier.
27. Tiny Parking Lot Near the Outdoor Stairs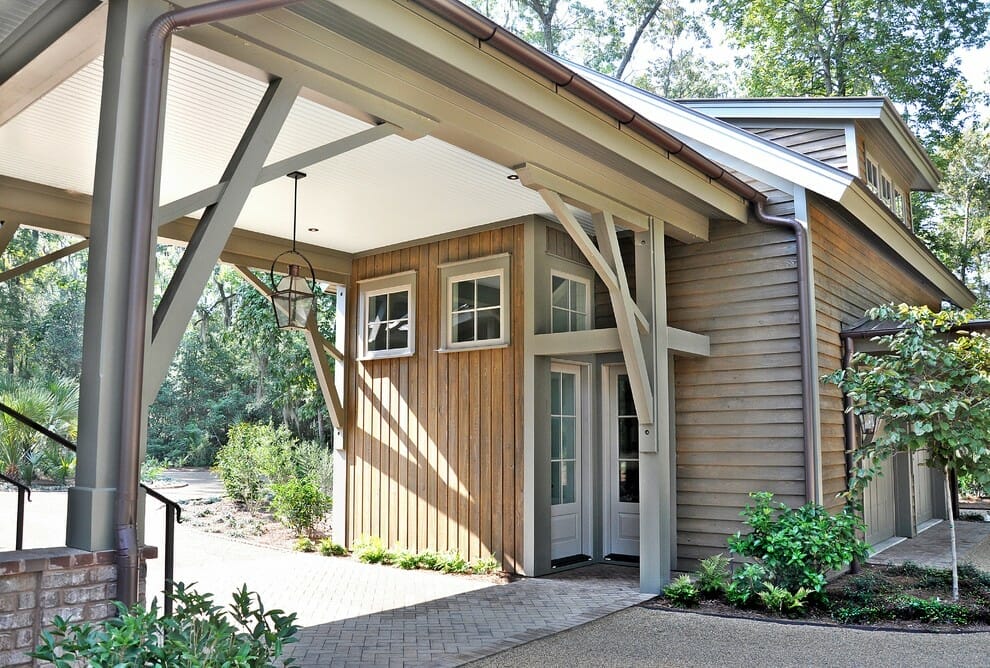 Never let a limited area stop you from having a good carport. You can take advantage of the space between the two buildings of your main house. Please take a look at the illustration above for a straightforward design.
In addition to making it close to the entrance, an easy-to-reach outdoor stair also makes it more practical for you to access the parking area from any direction.
28. Make It Versatile for Other Vehicles Too
Believe it or not, the carport ideas attached to house turn out to be very versatile. You can use this spot to shelter all your vehicles and other stuff.
As represented in the image above, you can safely store your canoes on the carport's roof at once.
29. Red Carport to Spoil the Eyes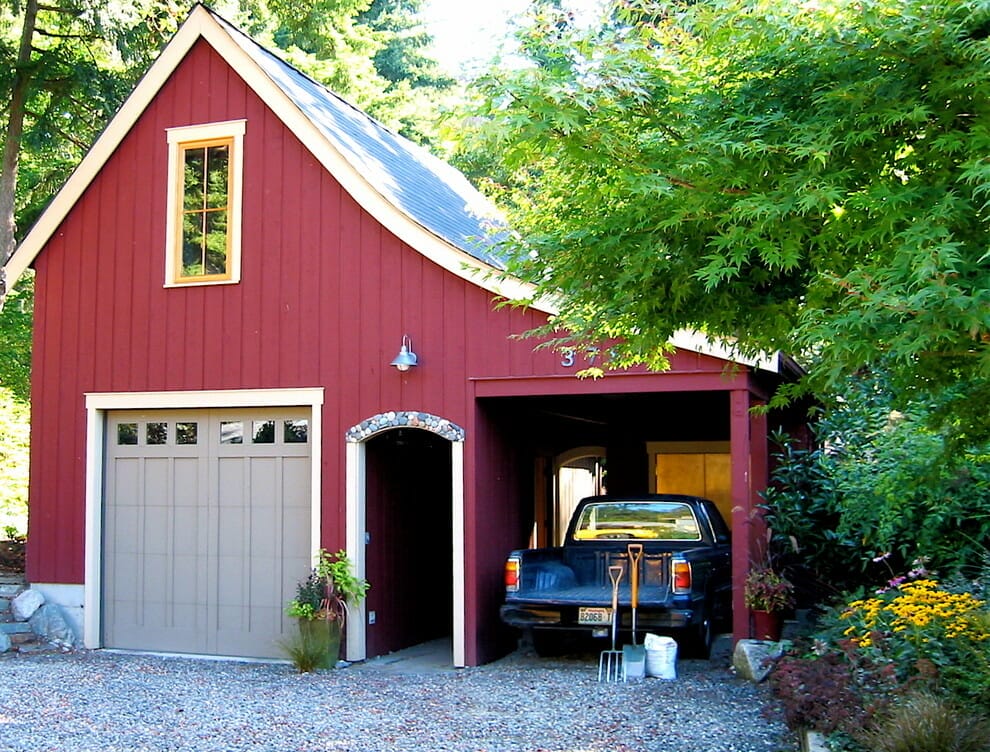 Color plays an essential role in showcasing carport. Thus, why not present it in red and white? Indeed, it's cute enough to adopt.
30. Provide the Wooden Blinds for Extra Security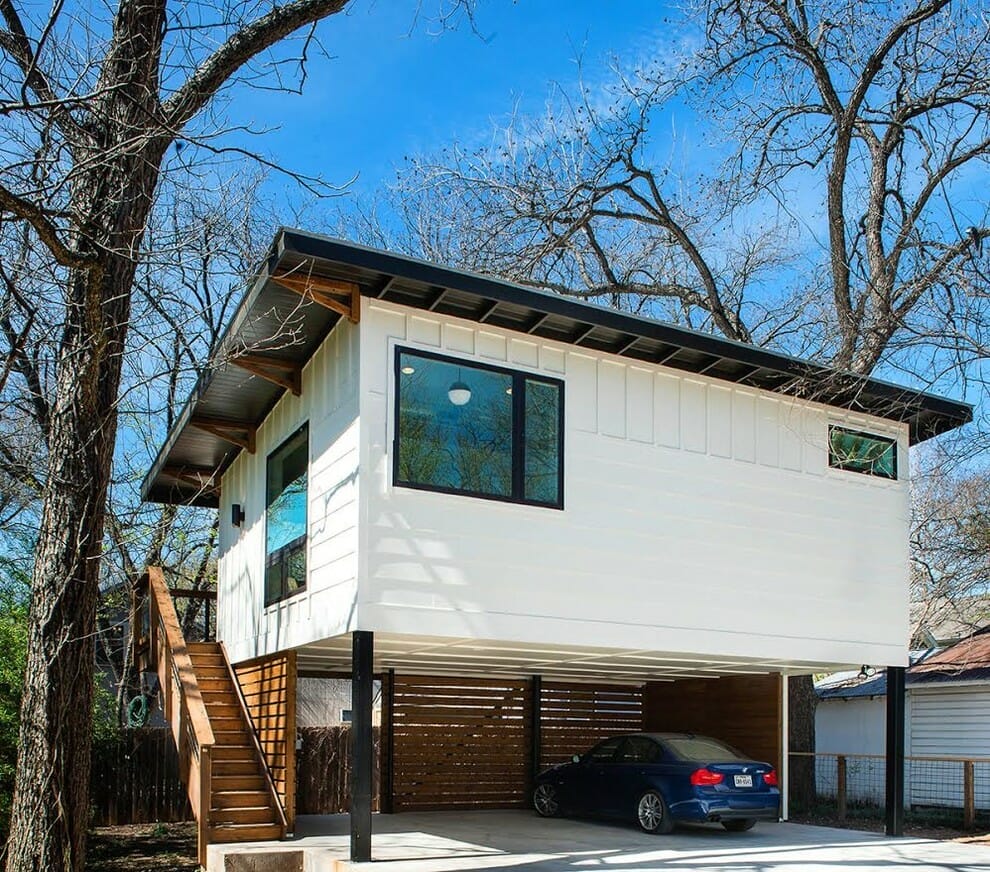 Lastly, about carport ideas attached to house. Providing wooden blinds around the parking lot can be the right choice for you.
Through this blind, you will get extra security without the need for a door. And strangers will have a hard time encountering your car.
Another good news is that this lattice partition still lets airflow in and out properly no matter what.
Choosing between attached or detached carport ideas is certainly not a complicated matter. It's all about individual taste.
The most crucial thing to consider is ensuring that the parking area is safe, functional, and visually appealing.
And, after exploring the thirty carport ideas attached to house above, have you decided the one to go?