The sleeping space is supposed to be the spot where you can feel comfortable and peaceful. If you have not earned this feeling yet, try some nature themed bedroom ideas that will help you carve out a more relaxing ambiance.
1. Nature Themed Master Bedroom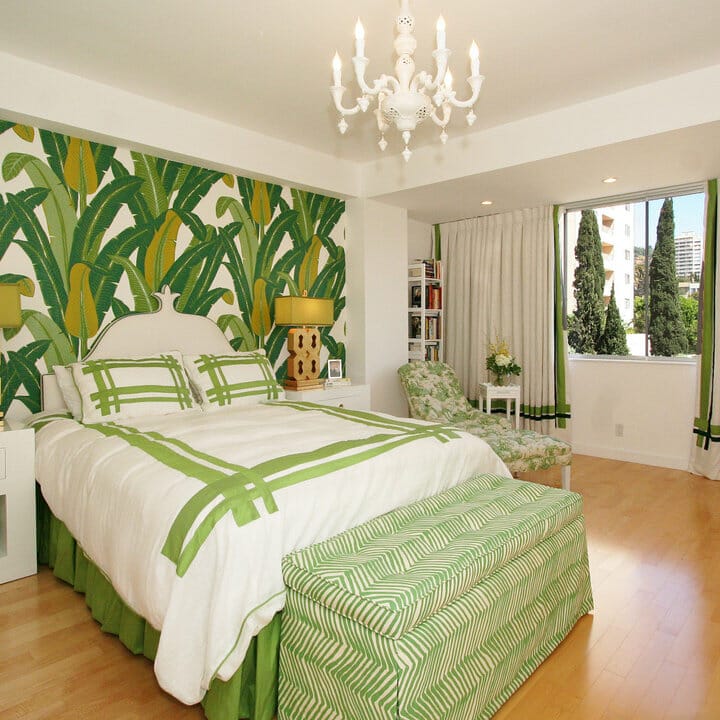 Nature is often synonymous with green. Thus, you can just stick to this color scheme to create an instant charm.
This nature themed bedroom comes in a green-white color scheme.
You can find botanical wallpaper that makes a great accent wall right behind the headboard. Besides, the pattern and green hues embody the charm of nature instantly.
Other green accessories that you can find in this bedroom are the striped ottoman, skirt, and chair, which accentuate the nature theme.
2. 3D Nature Themed Bedroom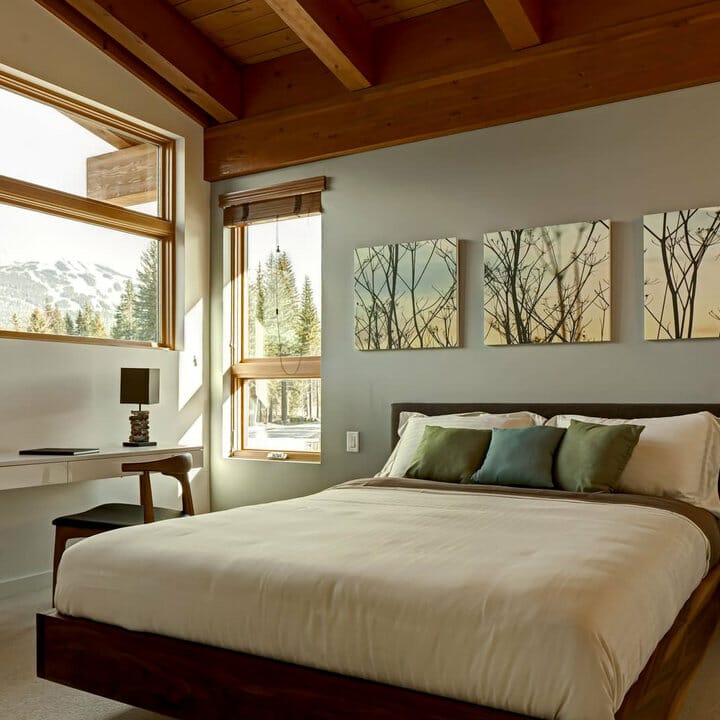 You might think that this bedroom has three square windows aligning above the headboard. They offer spectacular landscaping from the outside that can please your eyes.
Apparently, they are not windows. They are three photographs that look so real that you can feel the nature charm overwhelming the bedroom.
Creating a gallery wall behind the bed is not a new thing. Still, these photographs have taken this idea to the next level.
3. Nature Themed Girl Bedroom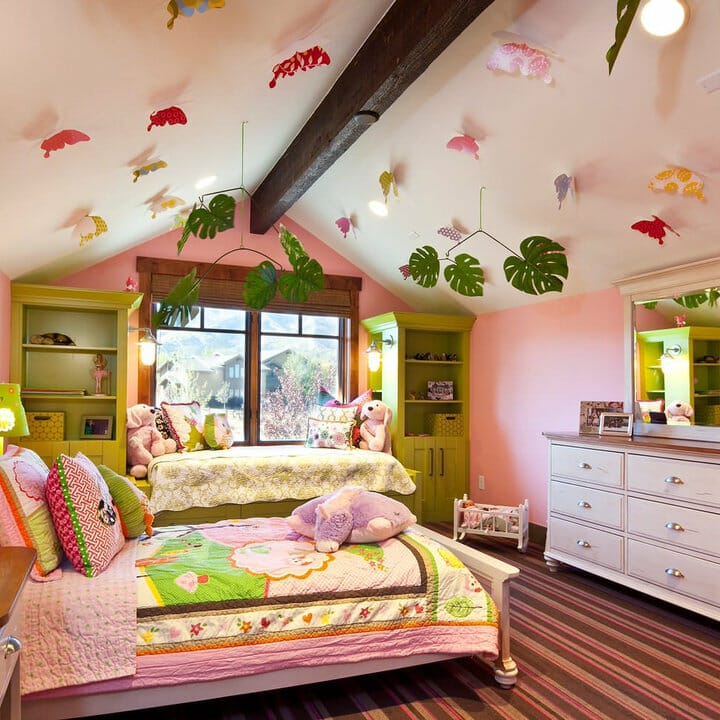 Many people claim that decorating a girl's bedroom with pinks is so yesterday. The truth is it is always a fad. You only need to comprehend the way to put them together to create a stylish and girly look.
You can begin by painting the walls white. However, you need to apply white to create balance.
This bedroom has a sloping ceiling, which can be visually unpleasing. Therefore, you can tackle the awkward look by installing a large wooden beam.
Moreover, to incorporate nature charm into this pink bedroom, you can bring in some greens, like these bench and shelves.
You can also hang some paper leaves and butterflies on the sloping ceiling to embellish it while creating a nature themed bedroom.
4. DIY Nature Room Décor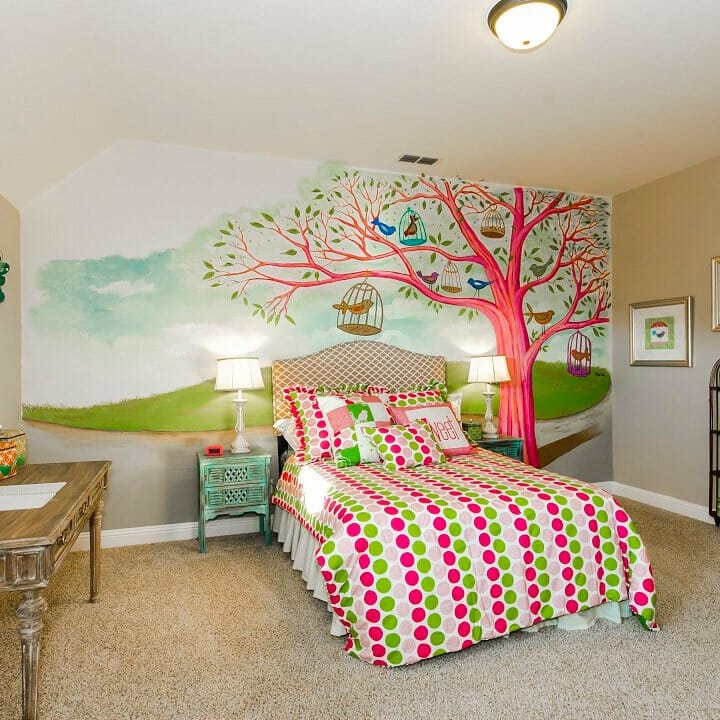 If you are an avid painter that wants to try to expand your creativity, you can try painting on a wall instead of a canvas.
A white wall and a canvas might not share the same texture. Still, they can be the place that you can use to transfer your imagination and creativity.
You can paint a tree with the landscaping of a hill to create a striking nature themed bedroom. As for the color, you are free to use your imagination for distinctive tones.
Once the accent wall is done, try investing in bedding that features the same color schemes. This way, you can create harmony and a simultaneous look.
Feel free to add other styles to enrich the look. The turquoise nightstand and dressing table, for example, feature a distressed finish that pays tribute to the past.
5. Create a Dramatic Focal Point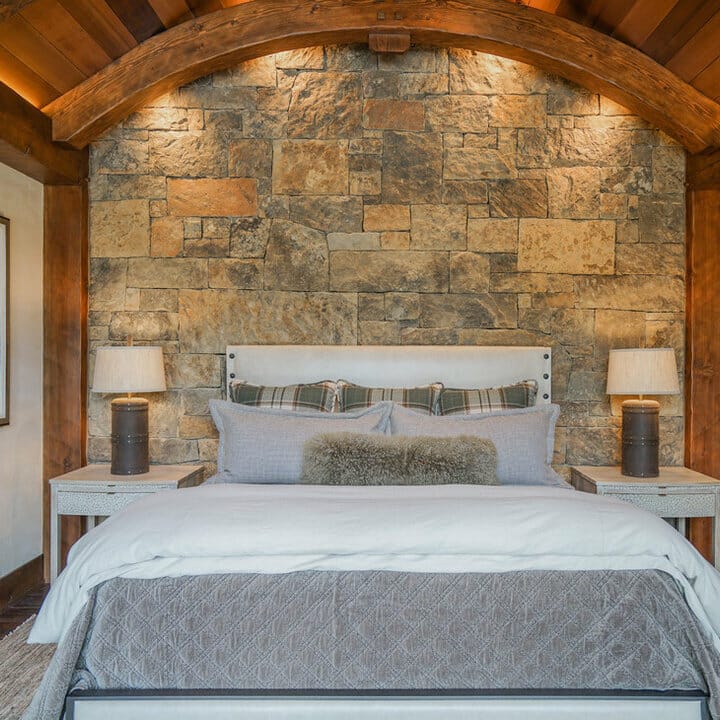 A nature themed bedroom does not always about filling in natural space with various plants, painting the walls green, or hanging botanical wallpaper.
Although the idea of incorporating plants into a bedroom is always thrilling and good, you do not need to do it if you are not into it.
Moreover, if you are allergic to flowers, eliminating plants from your bedroom is the right decision.
Does it mean you cannot have a nature themed bedroom? Of course, you can. Instead of plants, use further natural materials, like lumber and pebbles.
This bedroom, for example, features a dramatic accent wall made of natural stones. It not only makes a great focal point but also creates a fabulous rustic feel.
6. Add a Piece of Greenery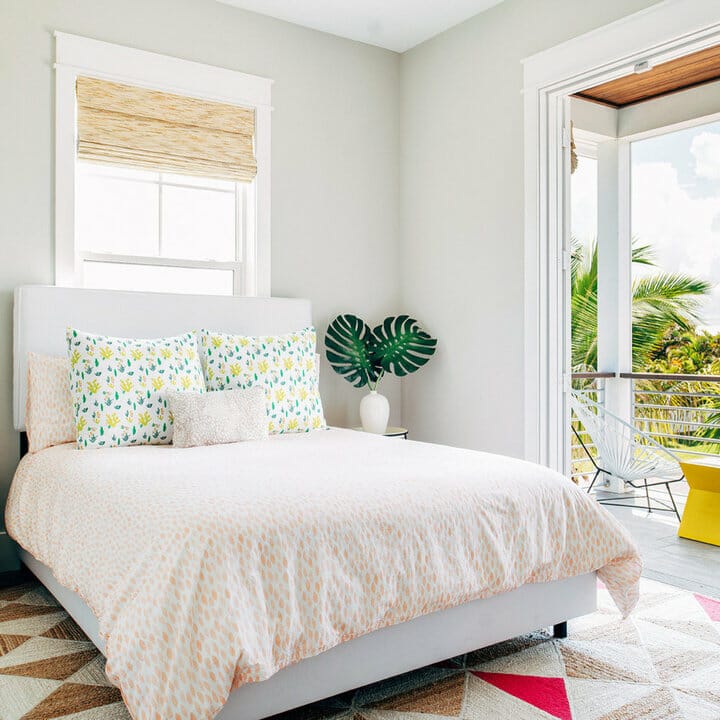 This minimalist bedroom features a cozy balcony that you can use to sit back and relax while enjoying the spectacular scenery.
Next to the bed is a monstera that adds a spark of greenery to the space, which helps create a sufficient nature theme.
7. Let's Dive into the Beautiful Dreams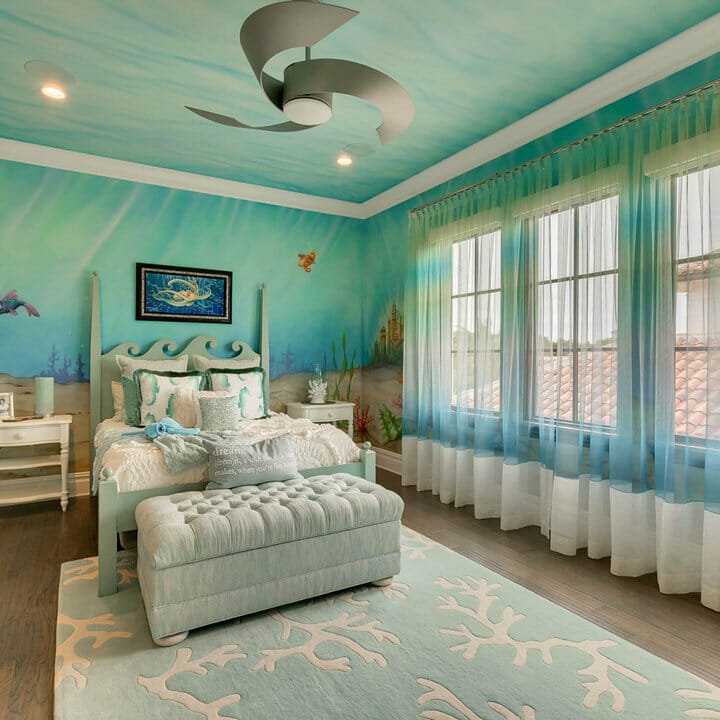 Many people might think that a nature themed bedroom is always about forest-inspired decorations.
Indeed, the ocean offers a distinctive charm that can be serene and mesmerizing.
So, if you want to carve out an ocean-themed bedroom, you can stick to a white and turquoise color scheme.
Then, creating a marine life mural would be a terrific idea to enhance the style. If it is possible, you can invest in a blue rug and bed that embody coral reefs and waves, which are the essential things in an ocean.
8. Pastel Colors Meet Nature Vibes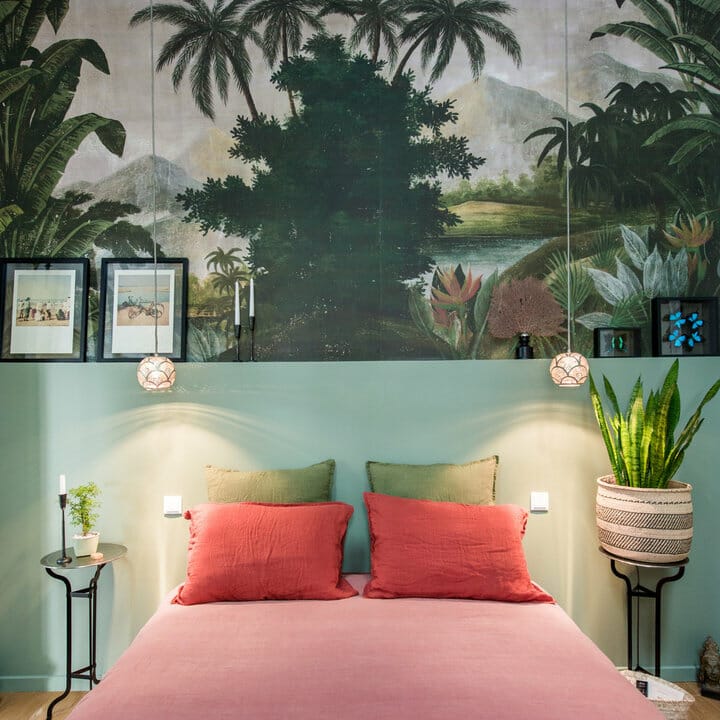 The most convenient way to carve out a nature themed bedroom is by hanging botanical wallpaper behind the bed. It may be common. Still, it works like a charm.
To make it look more natural, you can add some greenery, like snake plants, peace lily, or philodendron. Besides, they can help you purify the air and remove odor.
If you think the nature theme is too intense, you can soften it with pastel colors. You can see how the botanical wallpaper blends nicely with mint and dusty pink hues.
9. Natural Themed Bedroom with Night Landscaping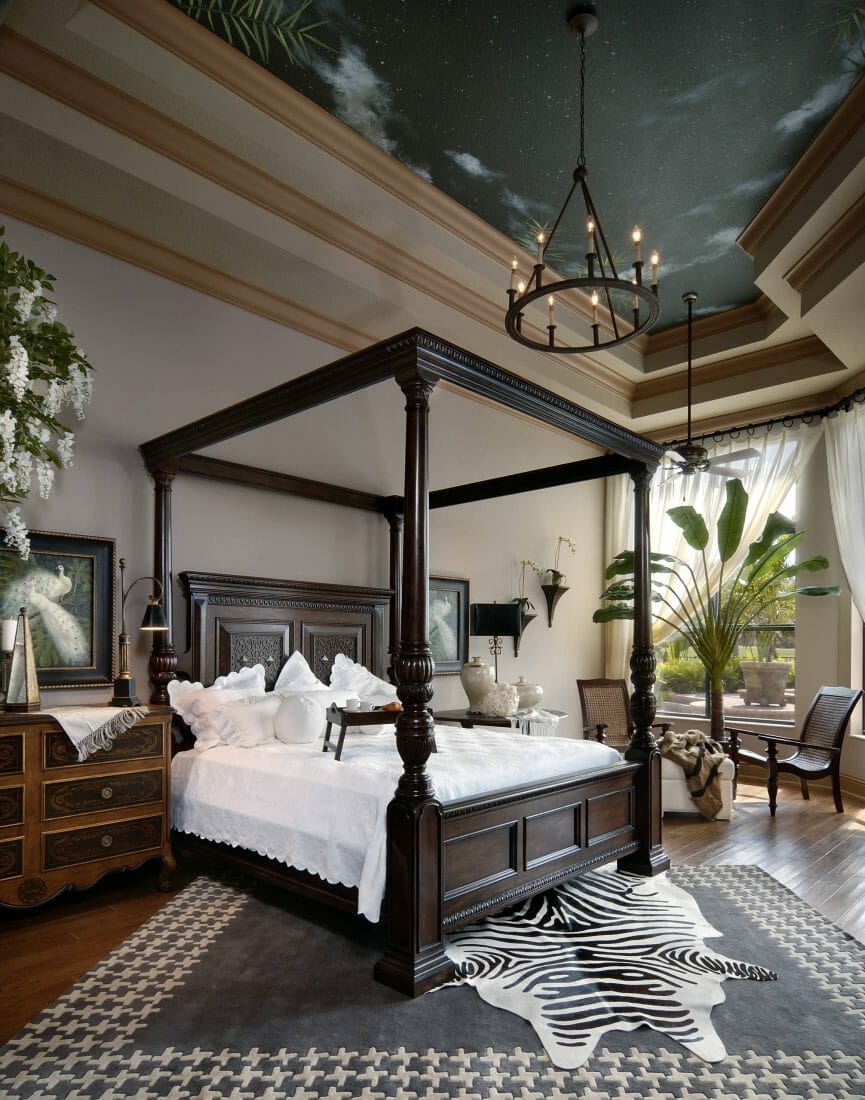 This bedroom offers natural beauty and a romantic ambiance, thanks to the elegant bed with canopy and white bedding.
The most conspicuous thing that will steal your focus is the accent ceiling. It looks like a beautiful night sky with thousands of stars, so mesmerizing and calming.
This spectacular scenery packs a soothing effect that you need to get a good night's sleep. You can perfect it by placing some beautiful plants, just like this bird of paradise and wisteria.
10. Explore the Beauty of Marine Life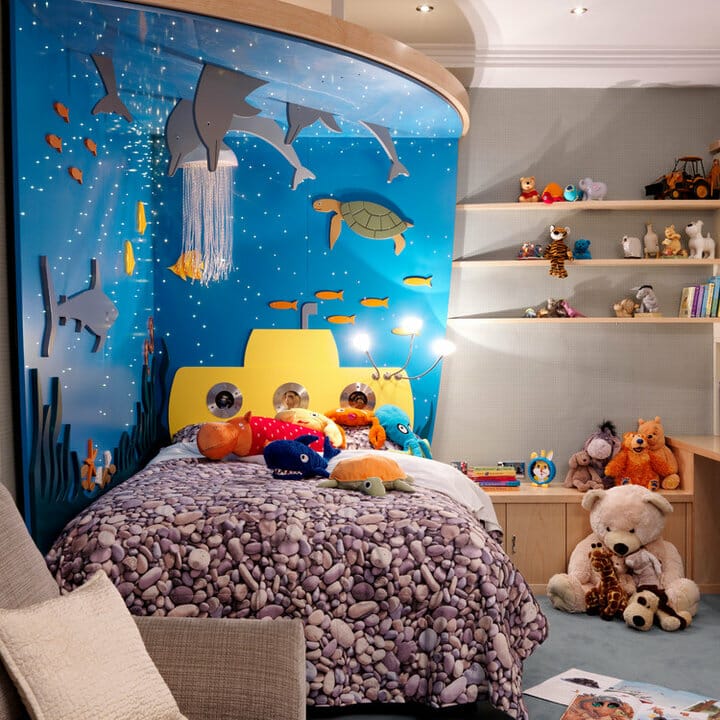 Who wouldn't adore the mesmerizing look of marine life? It feels so good to see swimming fishes and colorful coral reefs.
The good news is you can bring this calming effect to your home by creating this nature themed bedroom.
This bedroom decoration might cost you a fortune. Still, it is worth the money, right? Your kid will love to see the playful dolphins and a jellyfish along with the swimming turtle and fish.
11. Let's Go Green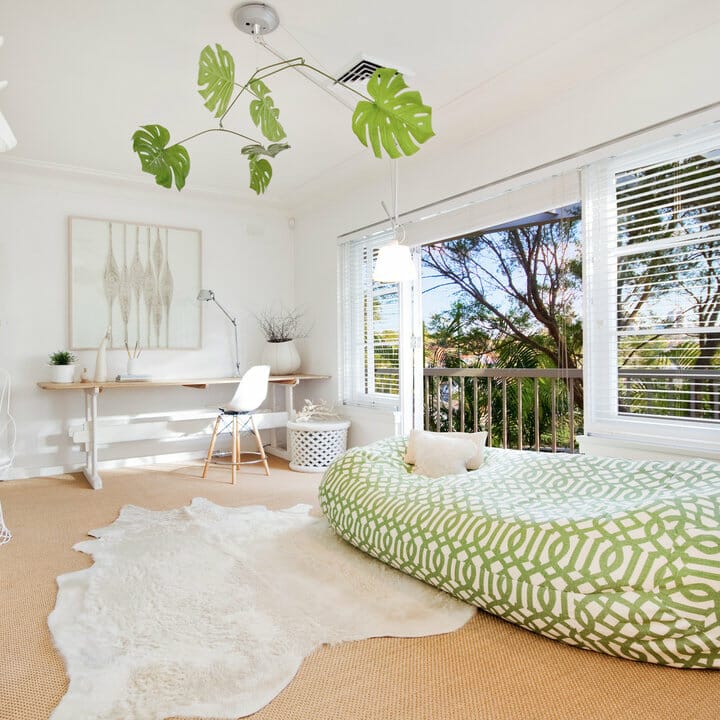 Although it adopts a minimalist style, you can still notice how the nature theme comes into the space.
The faux Monstera hanging on the ceiling offers a bit of natural charm without ruining the minimalist look. It is just right and not overwhelming.
On the beige carpet lies a green bed, which matches the décor and the Monstera nicely.
12. Old but not Obsolete