Who says that you need a bed frame to sleep well? You can sleep on the floor bed and still sleep peacefully. But, what kind of bed on the floor should you choose?
If you're looking for some advice, then these bed on the floor ideas can be your answer. The next ideas will show you that you can get the ultimate comfort despite the simple design.
1. Keep the Harmony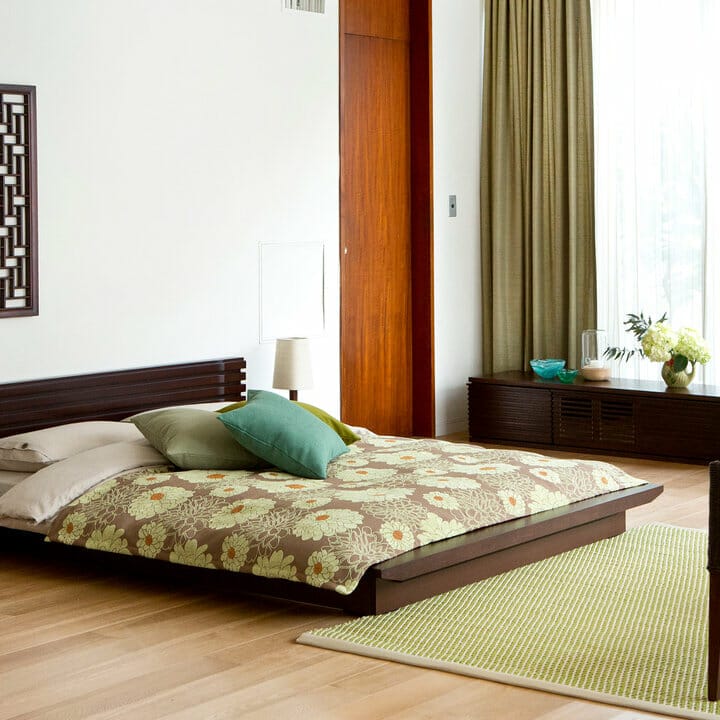 Although it is possible to fill your bedroom with a motley collection of accessories and furniture, it is always a good idea to maintain harmony.
This platform bed matches the artwork nicely, so do the rug and curtain. They come in the same shade of green, which makes them flow into one being.
2. Bed on the Floor Ideas with a Rustic Platform Bed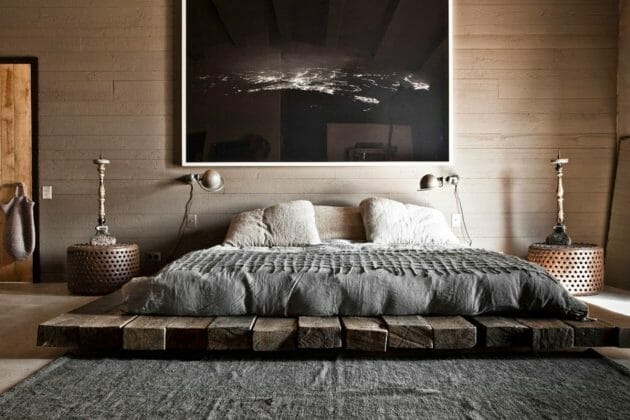 Do you want to incorporate a bit of a rustic look in your modern room? Take this bed on the floor ideas into account.
This platform bed looks great with a well-worn look. Fortunately, you can make it yourself by repurposing wooden crates.
Then, distress the wood to create a weathered look and apply a wood sealant to make it more durable. Finally, screw each slat on the wall. You can also add supports underneath.
3. Floor Bed Ideas for Small Room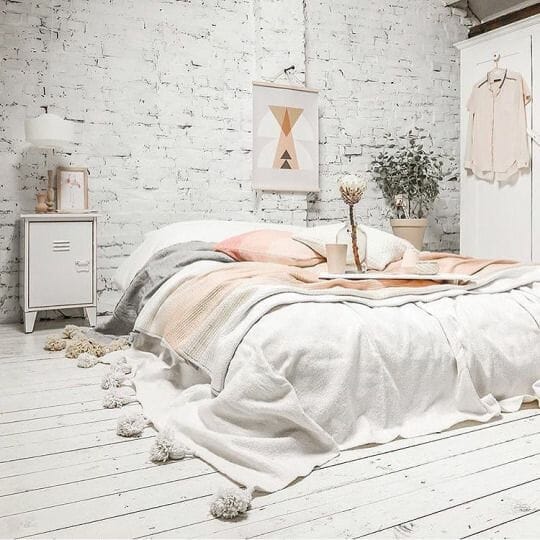 Keeping the bed close to the floor is your safe bet when it comes to a small room. Then, try to make white as the color scheme because it can make tiny spaces more open and appear to be larger.
If the hygienic look of an all-white room is not your thing, you can toss a few pops of colors.
You can also add textures, such as exposed brick walls and wooden floors, to make the space more exciting, just like this Scandinavian bedroom.
4. Floor Bed Ideas for Adults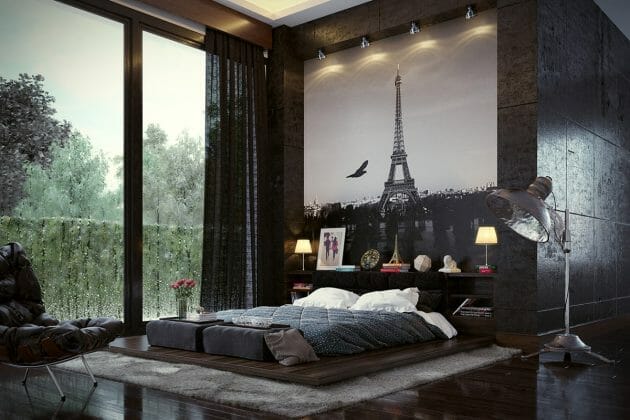 Black is often synonymous with simplicity and boldness, and that is what you can see here.
The black walls and curtains add a touch of grace to this room. You can perfect it with an oversized photograph hanging right behind the bed to create an accent wall.
Try accentuating it with spotlights to carve out a more dramatic look. If it is possible, invest in black shelves acting as a headboard and storage.
5. Minimalist Bed on the Floor Ideas for Limited Space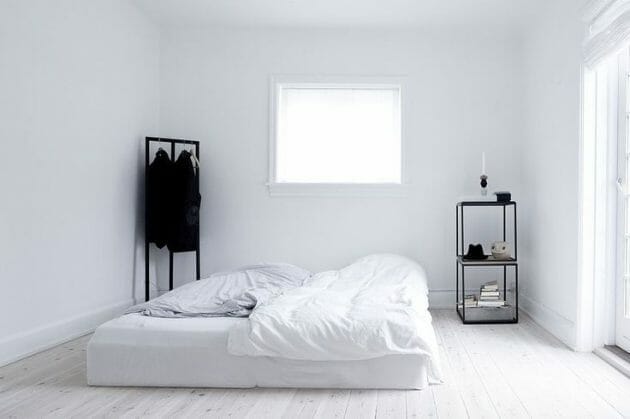 If your bedroom lacks space, downsizing the furniture is the best option. This way, you can create more foot traffic. Besides, less is always more.
Another bed on the floor idea that only features mattress shelves and racks. It is minimalist yet looks stylish.
6. Keep It Unadorned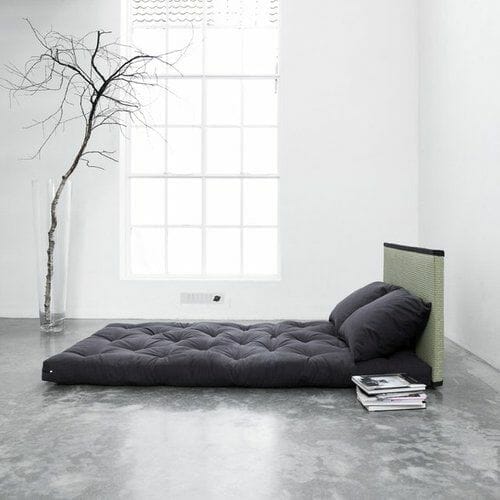 Do you like the idea of a minimalist look yet do not want it to be void of style? Try this bed on the floor ideas.
You cannot find any furniture, including a dresser and a side table here. All you can see here is a mattress with a headboard lying on a sleek concrete floor.
To make it look less bland, you can add a treated dry tree that gives more drama to the bedroom.
7. Find Epic Wall Art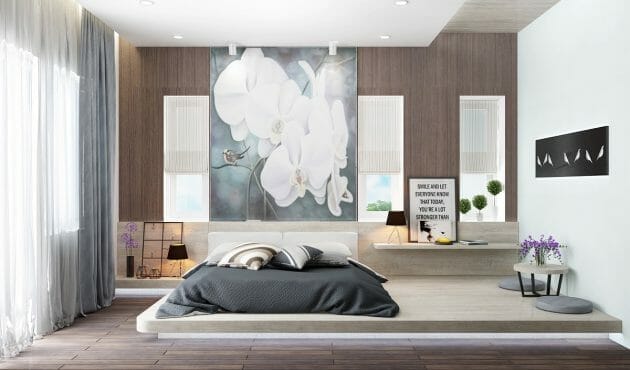 When you decide to go low, you will leave extra wall space waiting for you to tap into it. This is the chance for you to pick up your favorite artwork.
You can show off some of your photos or paintings to create a gallery wall. Another option is you can hang an oversized picture to make a bolder centerpiece.
8. Bring in Asian Vibes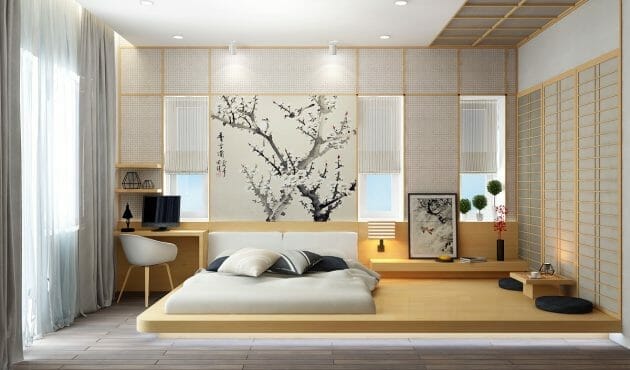 The combination of light-brown wood interior and shoji screen, latticework paneling that holds thick, translucent white paper, has never failed to bring in Asian vibes.
Take this bed on the floor ideas to the next level by displaying a huge Japanese artwork right above the headboard.
9. Futuristic Bed on the Floor Ideas
Instead of a bed frame, this mattress lies on a raised platform that has the same design as the adjacent flooring. This way, they still look united while creating a clear boundary for the sleeping area.
The bed does not feature many pillows and a stuffed duvet or comforter, making it look simple. Thus, the remaining furniture and embellishment remain minimal, just like the intriguing zigzag shelves in the corner.
10. Opt for Neutral Color Palette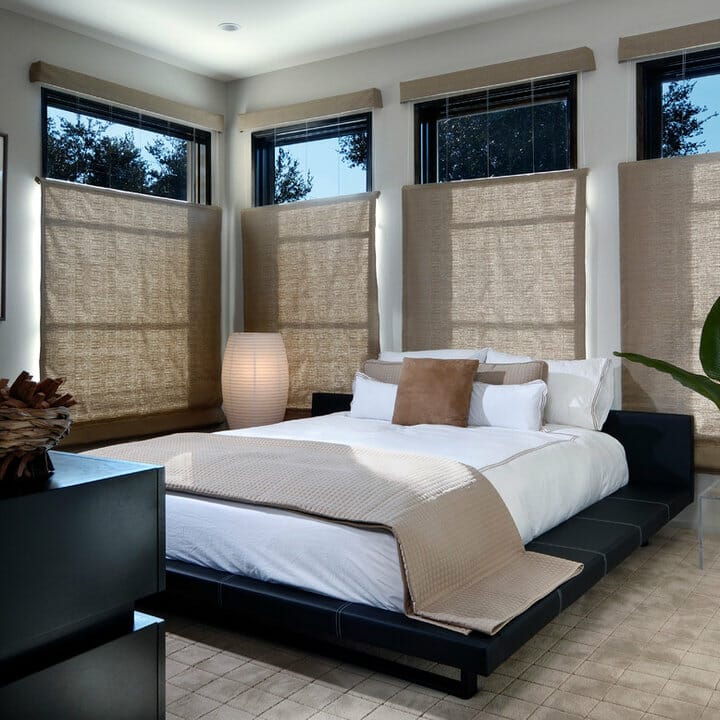 Technically, this bed does not sit directly on the floor. It lies on a platform, instead. Still, it stays low to the ground, allowing the room to seem more spacious.
Since this room is rather small, sticking to a neutral color palette would be your top-notch choice.
Even better, you can select earthy tones and apply them to the bedding, flooring, and window blinds. As a result, you can incorporate a bit of an Asian look in your modern room.
11. A Serene Hideaway for Naps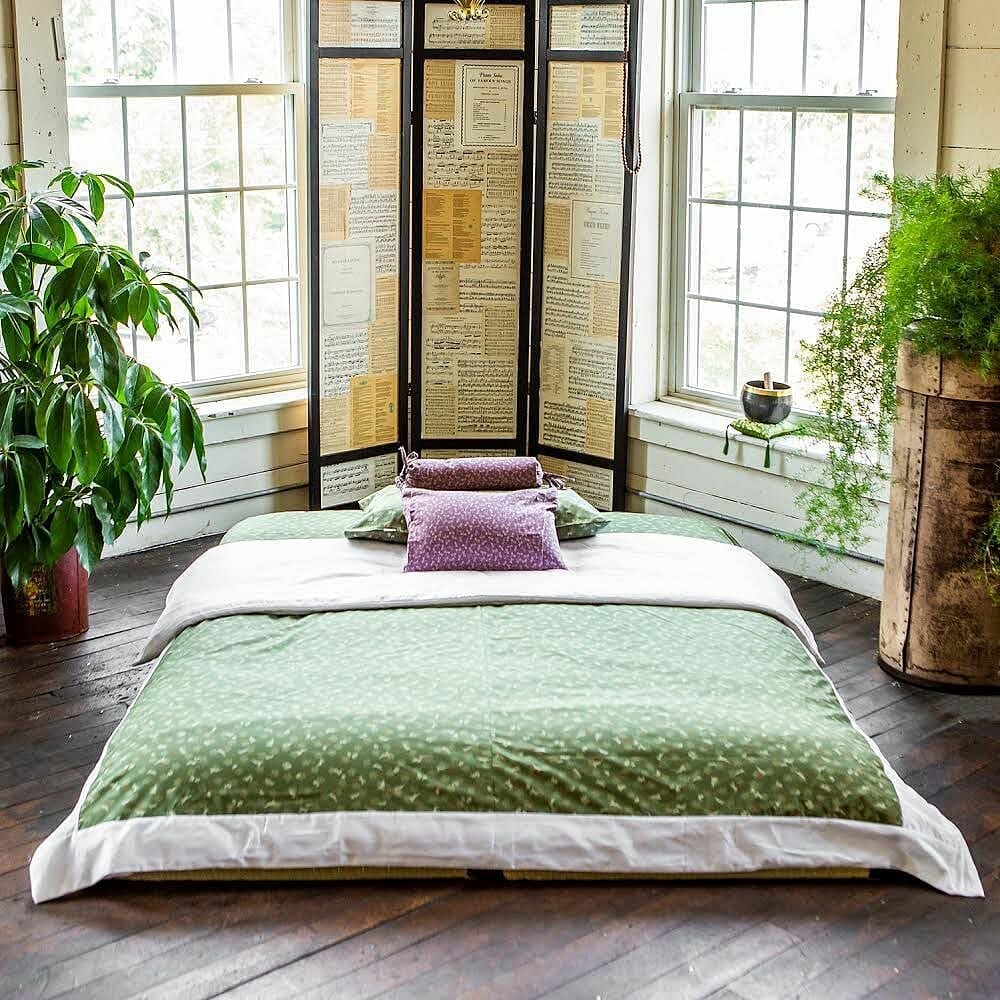 This is the best place you can use to take a nap. It looks serene and trendy at the same time.
Rather than pushing the bed close to the wall, you can position it in the corner. The two large windows will flank it and provide natural light.
Create more balance by placing two planters by the windows to anchor the bed in place.
This kind of arrangement will leave you an awkward space in the corner. Try concealing it with a folding screen.
12. Lavish and Romantic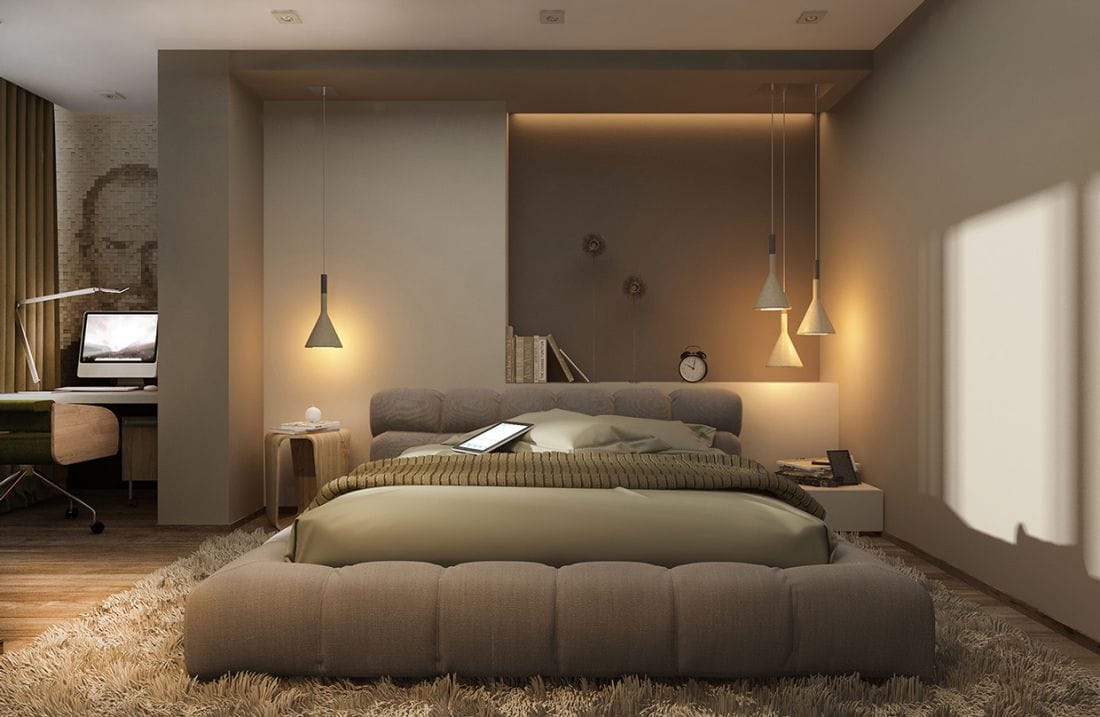 The use of tan hues offers a lavish look instantly while creating a bit of a romantic mood. For extra comfort, place your bed on a super soft ultra-plush platform.
Stepping on the freezing floor in the early morning can be a bit daunting. Eliminate this feeling by laying a tan long-pile rug that will soothe your bare feet.
13. Embrace the Charm of Nature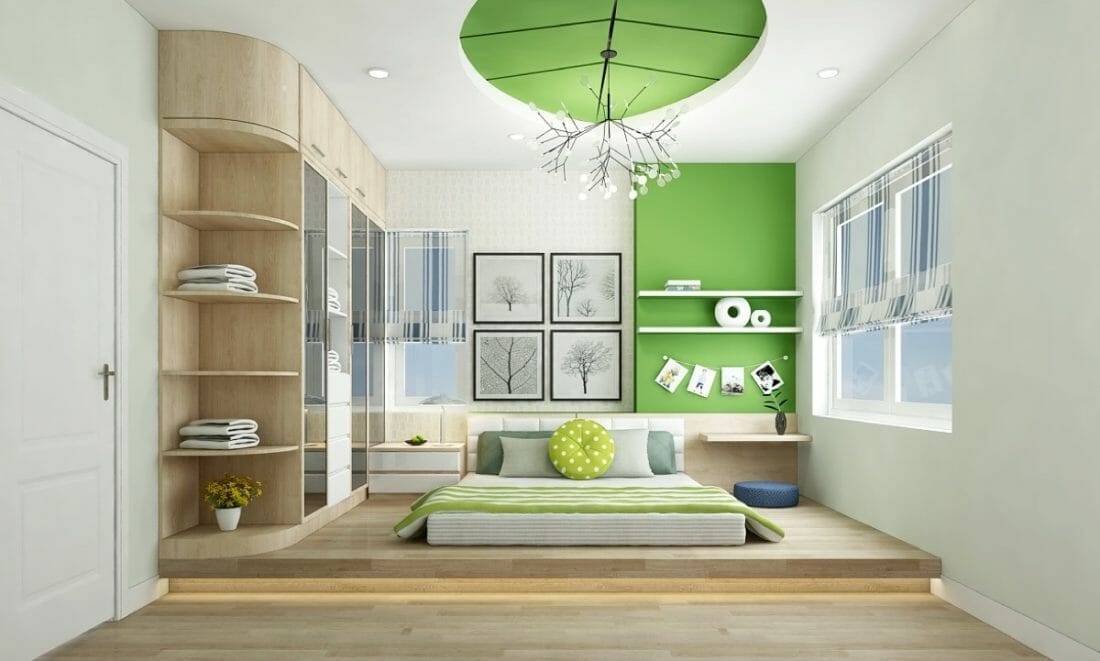 Differ from early bed on the floor ideas, this one embodies the charm of nature with a green and light-brown color scheme.
You can even find an amazing accent in the ceiling resembling the look of a leaf.
A pendant light looking like tree branches accentuates the accent ceiling nicely. No wonder you will keep staring at them when lying on your bed.
14. Modern Bed on the Floor Ideas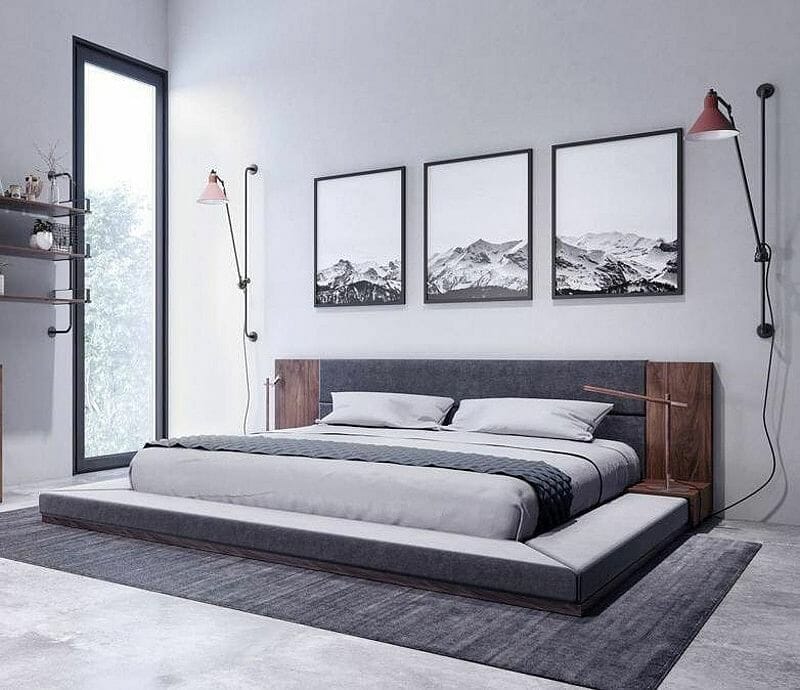 Keeping things down to a minimum is the idea of a modern room. Also, you must think carefully about investing in clean-lined furniture and sticking to a neutral color palette.
Gray is one of the neutral colors that you can rely on when trying to carve out a modern style.
Above the headboard are three monochromatic pictures. Two sconces flank them, which accentuate the centerpiece well.
15. Modern Meets Traditional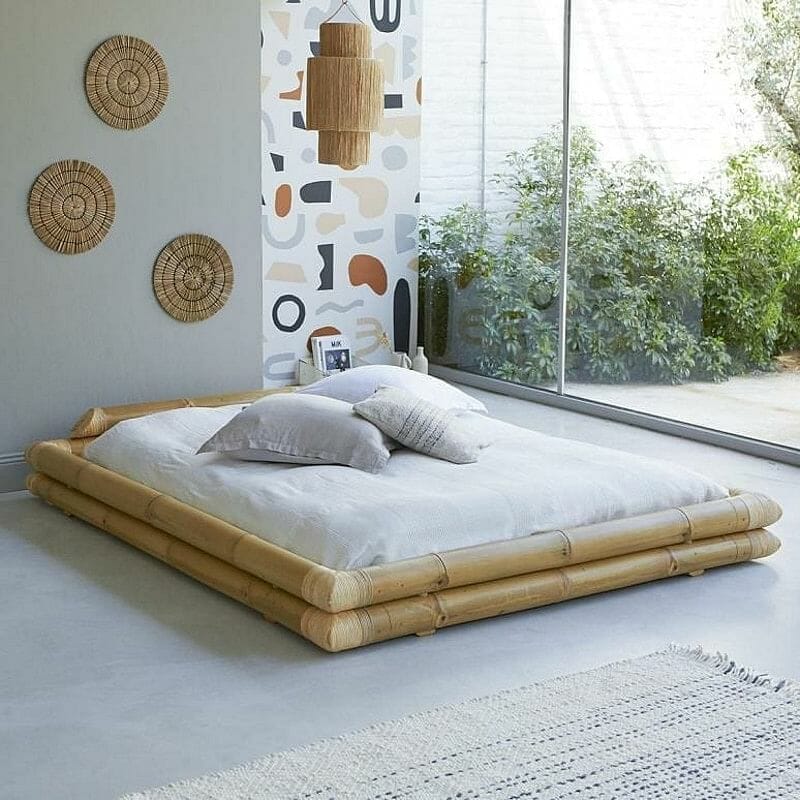 If an ultra-modern look is not your cup of tea, you can try adopting this bed on the floor ideas.
Despite the clean-lined interior and minimalist furniture, you can still find a bit of traditional style through the bamboo frame.
You can also notice how this idea goes even further with bamboo wall art and pendant light.
16. Traditional Japanese Style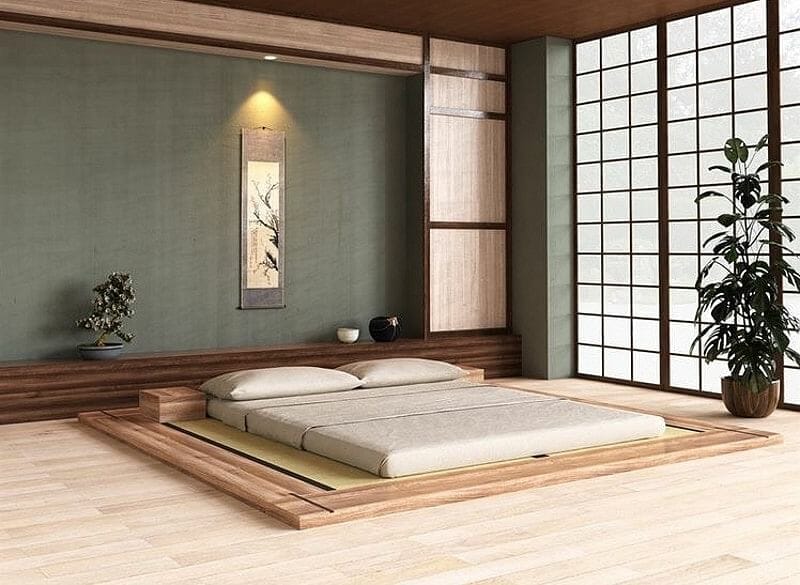 The wooden accent and shoji are a perfect combination to create a Japanese look. The idea of this style is to stay minimal. Thus, make sure to downsize the furniture. The less, the better.
As for the bed, not layering it with throws, duvet, and a lot of pillows is the right choice. Everything has to be low profile. You need to keep that in mind.
For the adornment, you can invest in greenery, especially bonsai. That would be more than enough.
17. Instant Appeal with Classic Wall Art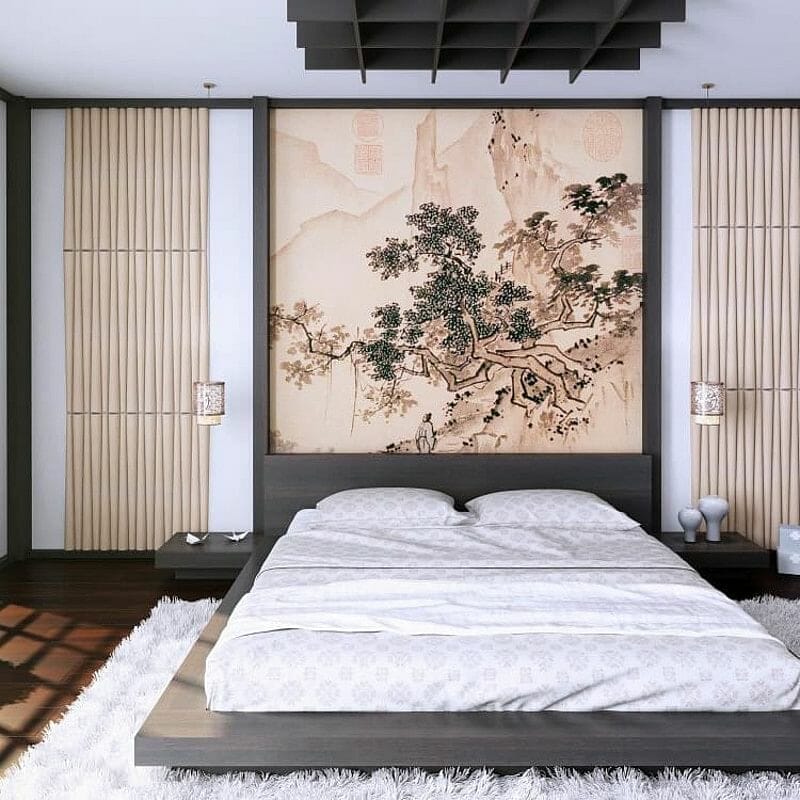 A Japanese-style bedroom counts out any sophisticated adornment, resulting in a bit bland space.
Although it is minimalist, it does not mean it has to be mundane. You can try adding an instant visual interest by hanging a stunning huge artwork above the simple bed.
18. Add Wooden Elements for More Exotic Look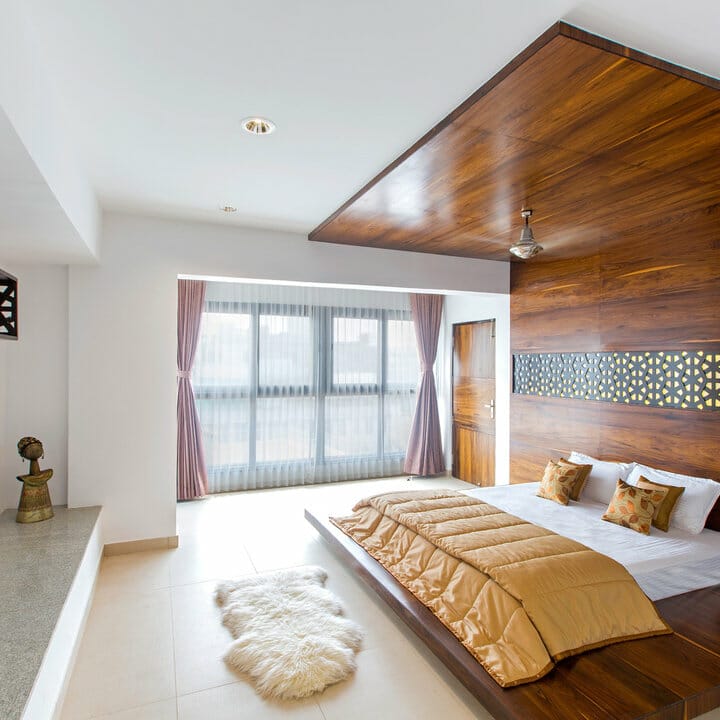 This bed on the floor ideas is somewhat unique with the distinctive platform bed. It runs right from the ceiling down to the wall and floor, creating a more built-in look.
Besides wrapping up the wall, this design also serves as a faux canopy that houses the light fixture. It also gives the idea that the bed is a part of the room, not a standalone feature.
19. A Bed on the Floor Ideas in Industrial Style
Exposed brick walls are the hallmark of the industrial style. And this bed on the floor ideas has taken it to the next level.
The combination of a brick wall and chain link has made an epic headboard to anchor the bed. As for the lighting, consider using incandescent lamps with exposed wires to enhance the style.
Finish it off by hanging simple wall art, like this romantic message or an inspirational quote.
20. Less is Always More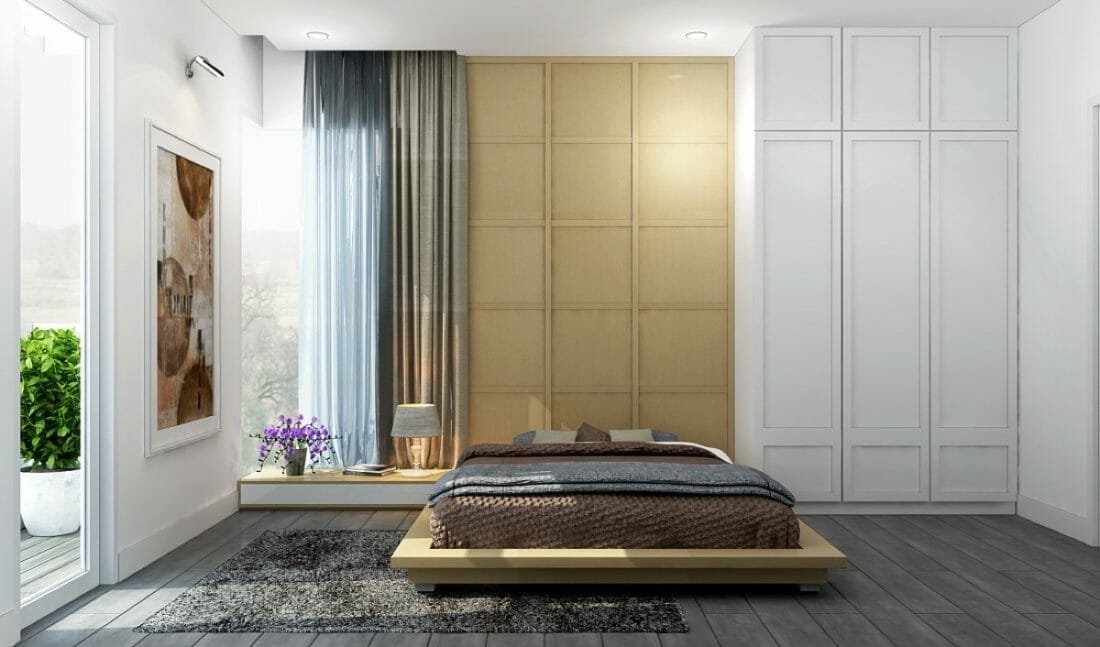 Having less furniture in your bedroom is not the end of the world. In fact, it can be a chance to get a simpler and more efficient life.
This bed on the floor ideas features a closet that comes in the same color as the wall, making it like a piece of built-in furniture.
Instead of an oversized picture, this bed uses wood paneling as the accent wall. The latticework even matches the closet immensely, creating some sort of harmony.
21. Install a Shelf instead of a Headboard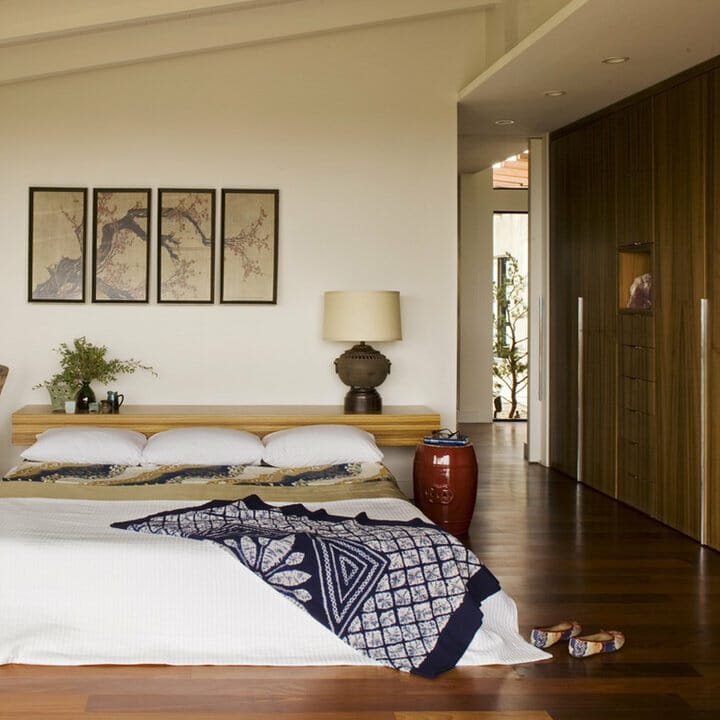 A headboard can anchor and add some style to a bed. However, it can be useless sometimes because it is merely an accessory.
Instead of a mere headboard, you can just install a wall-mounted shelf. It will not only keep your bed in place but also incorporate more storage solutions.
22. As Simple As Black and White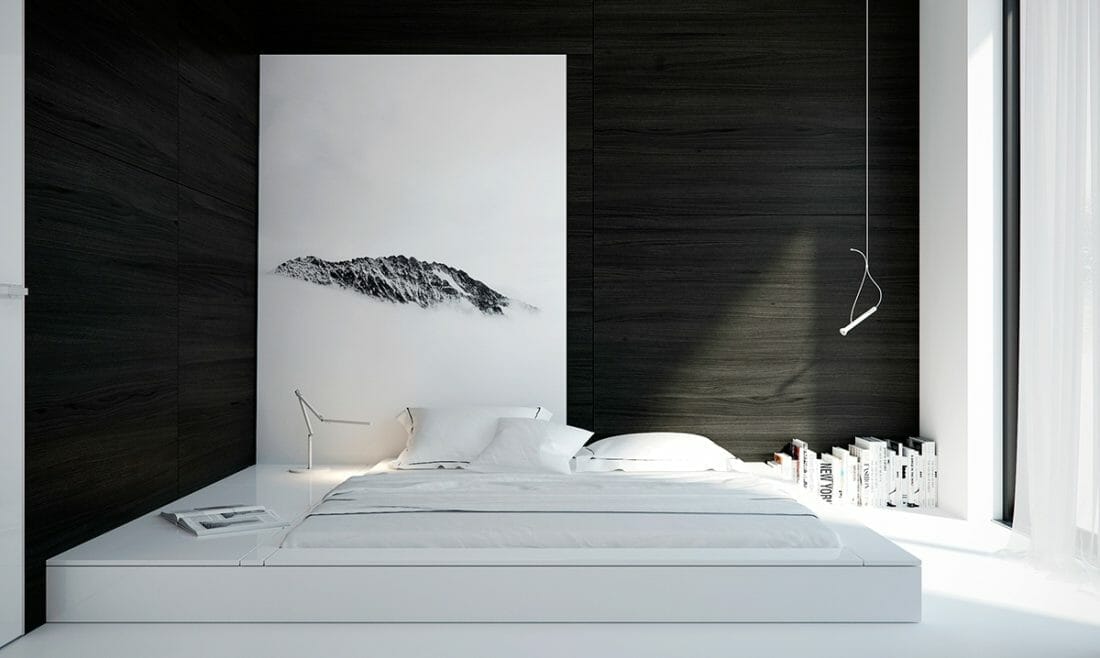 Many people think that black and white tends to be tedious. But it obviously does not happen in this bed on the floor ideas.
Although it only shows two types of colors, it still looks fabulous, thanks to the sleek white platform bed that carves out futuristic style and the black wooden wall that adds texture.
23. Built-in Platform Bed with Storage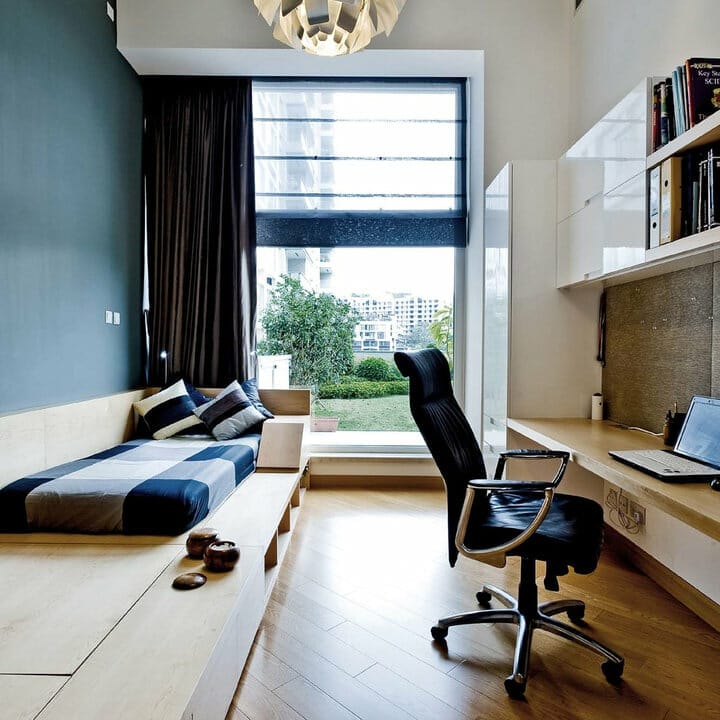 Clutter is a ubiquitous problem in a small room. To overcome this problem, you can try investing in a platform matters with hidden storage.
Well, your bed may not lie directly on the floor. At least, you have more storage to hold the clutter at bay.
24. Light It Up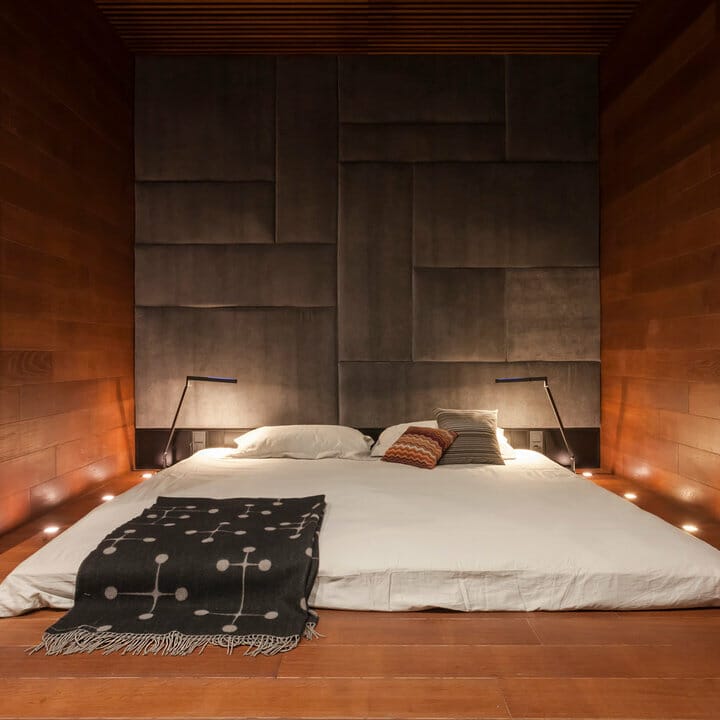 You might not be able to do many things with your compact bedroom. Nevertheless, it is not a deadlock. You can still adorn it and make it look more attractive.
This bedroom looks mesmerizing despite the small space. Especially when you simply position it at the center.
Placing the bed at the center allows you to have more access on both sides. Even better, you can install recessed lights in the flooring to boost the dramatic backdrop.
25. Make It Double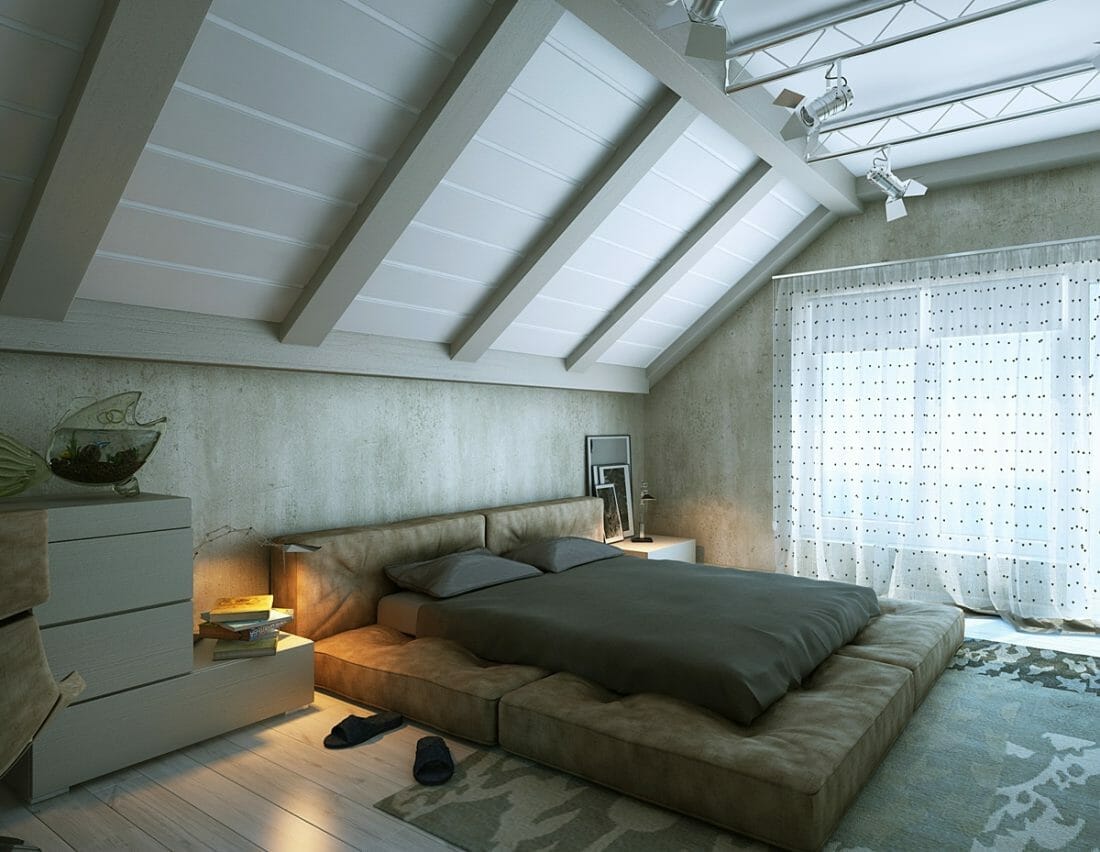 A low-level bed is your greatest bed when it comes to a low-ceiling room, like the one in the attic.
If you do not feel comfortable with a single mattress lying on the floor, you can invest in a plush platform bed to get a good night's sleep.
26. Monochromatic Bedroom Ideas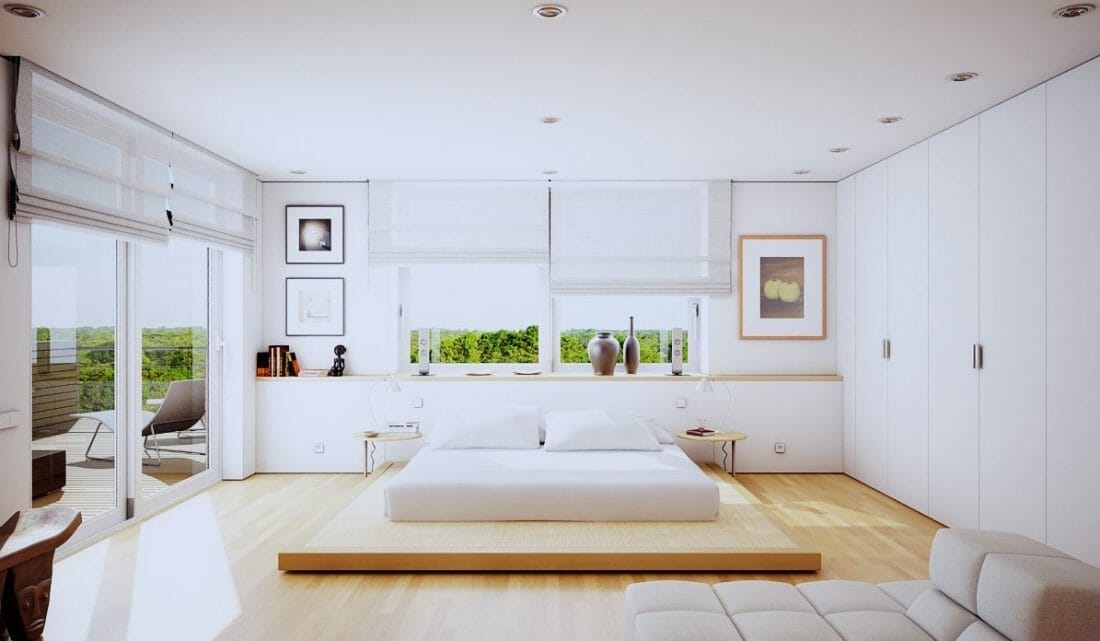 There is nothing wrong with sticking to monochromatic design. It is simple and easy for the eyes. Although it seems just a breeze, you have to do it meticulously.
White is always a safe and good start for a monochromatic room. You can apply it to walls and ceilings to create the base. Then, continue it to the essential pieces, like bed, closet, and shelves.
27. Bed on the Floor Ideas for Boys
Another bed on the floor ideas provides all the things that a boy needs to create a cave. It even has a private home office.
The striped accent is a brilliant way to define two different areas in this bedroom.
28. Floor Bed in a Studio Apartment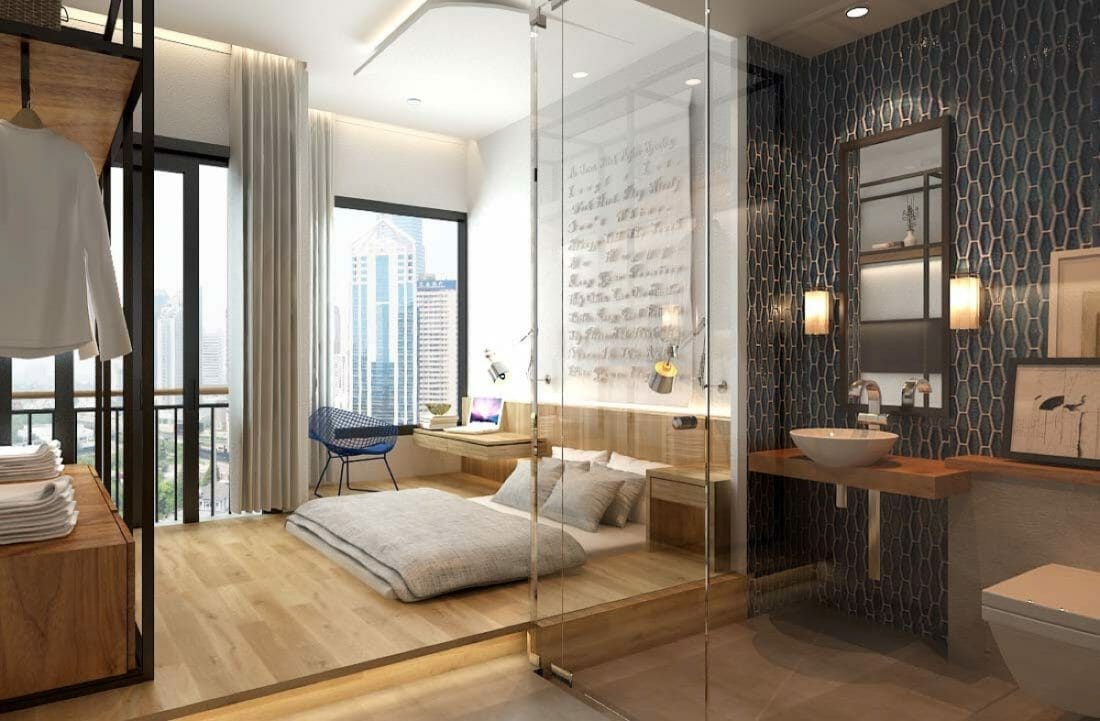 An apartment studio might not give you many chances to expand the room. Still, you can style it to your liking to make it appear to be larger and comfortable.
The bed lies on a raised platform that separates the bedroom from the other rooms. To make the space look larger, you can use clear glass materials to enclose the bathroom.
29. Add More Comfort with a Rug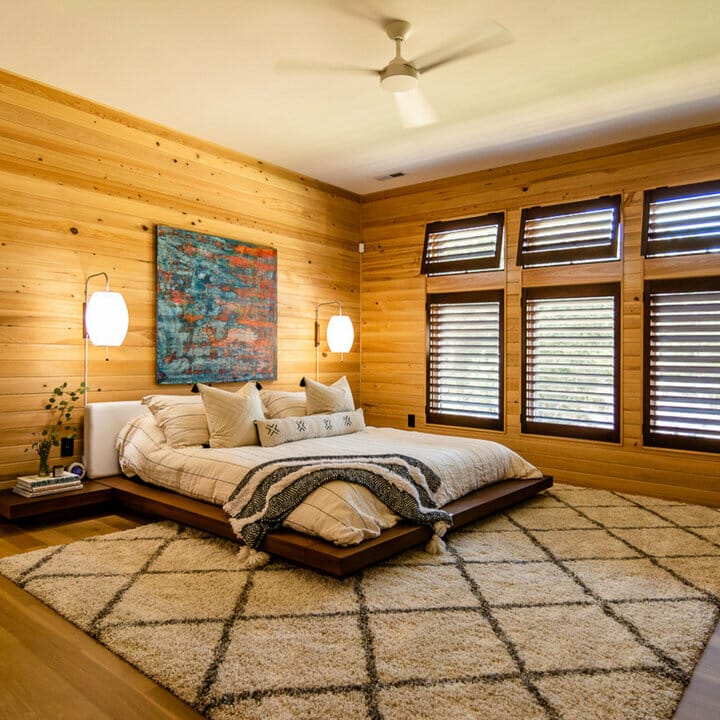 A rug is an essential addition to every bedroom. It helps you soothe your bare feet in the morning, not to mention the striking design that spruces up the space.
30. Go Classic with a Gigantic Carving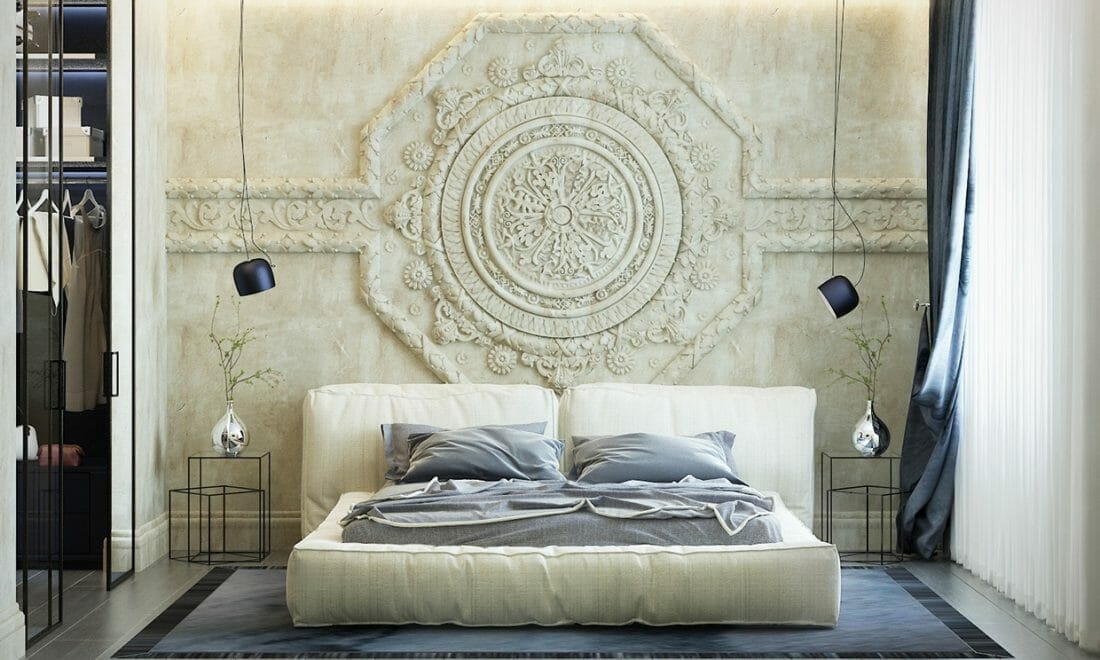 If your bedroom features a dramatic accent wall like the one in the picture, you may not want to conceal it. You wish to show it off instead.
Therefore, keeping your bed low is the best option. You will also need to keep it simple so that it will not overlap the charm of the accent wall.
Whatever the size of your bedroom is, these bed on the floor ideas will provide not only comfort but also style. So, what is your favorite?