Are you in the middle of looking for some small finished basement ideas? Well, search no more, because this page will provide you with twenty-seven insights to look at. With these inspirations, you will get to know what your underground room of yours could offer.
Included on this page are small basement ideas with low ceilings, a finishing plan on a budget, design inspirations, furniture involvement, and many others.
You will also learn which color best suited the underground to get rid of the cramped feeling. Now, sit back and read on the following twenty-seven small finished basement ideas.
1. Yellow Wall, Porcelain Tile, Eclectic Design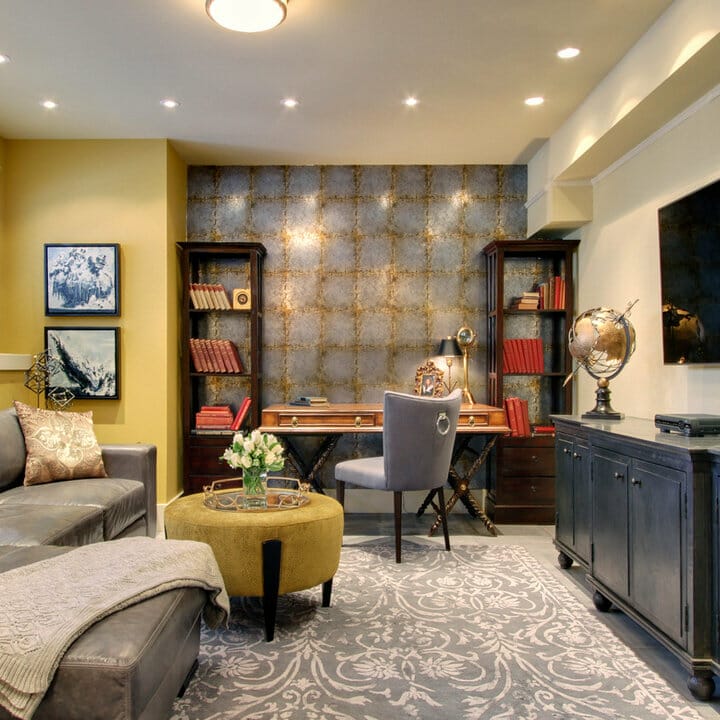 You could turn your compact lower ground floor into a home office using these small finished basement ideas. Paint the walls in calming yellow and set a few elements in a similar shade. After that, incorporate porcelain tile in some of the surfaces, like the floor, for long-lasting use.
As for the design, pursue the one you are most comfortable with. This basement applies eclectic design by featuring such an accent wall and unique details.
2. Fluffy Surface + Blackboard Wall = Playground!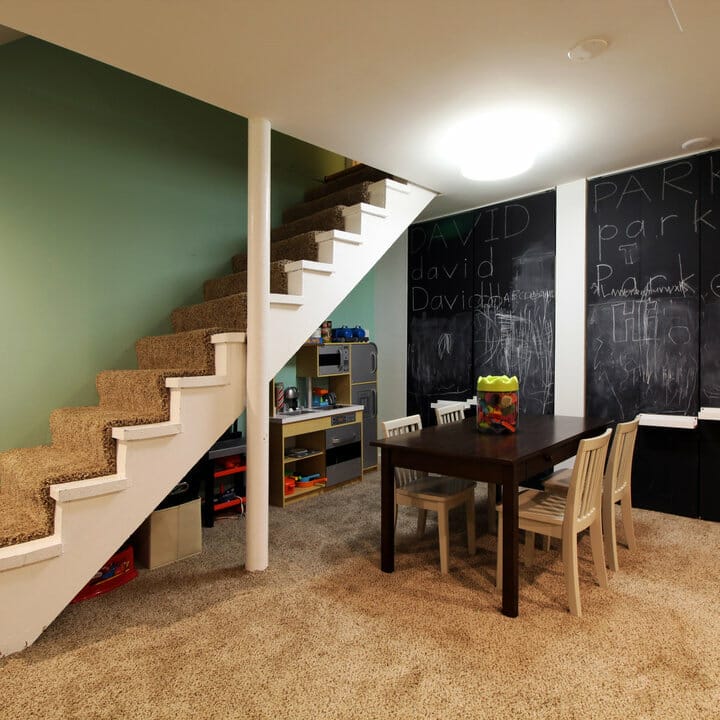 Your little ones could play at their hearts' content with this basement turned playground. Provide the space with carpeted floor to minimize their direct contact with hard ground. You know how kids play, right.
As they are eager to leave their signs on the walls and any possible surfaces, make the largest space you could offer by covering the walls with a blackboard. The rest of the jobs will be letting them bring their favorite toys and watching them play.
3. Small Finished Basement Idea with Grey Vinyl Floor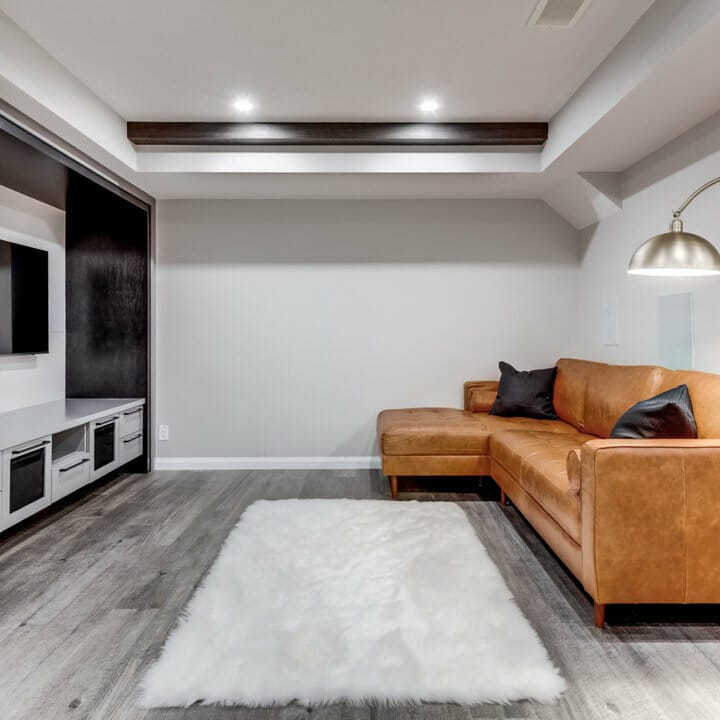 Dressing your basement contemporarily would feel easier than any other style since you just need to follow the trend.
Stain the majority in crisp white, finish the floor with grey vinyl, color the details in black, and you get yourself a contemporary room.
Now, for convenience, afford the space with a leather sectional facing directly toward the entertainment source. Pick brown to make it stands out among the white, grey, and black.
4. Underground Living Room with Concrete Floor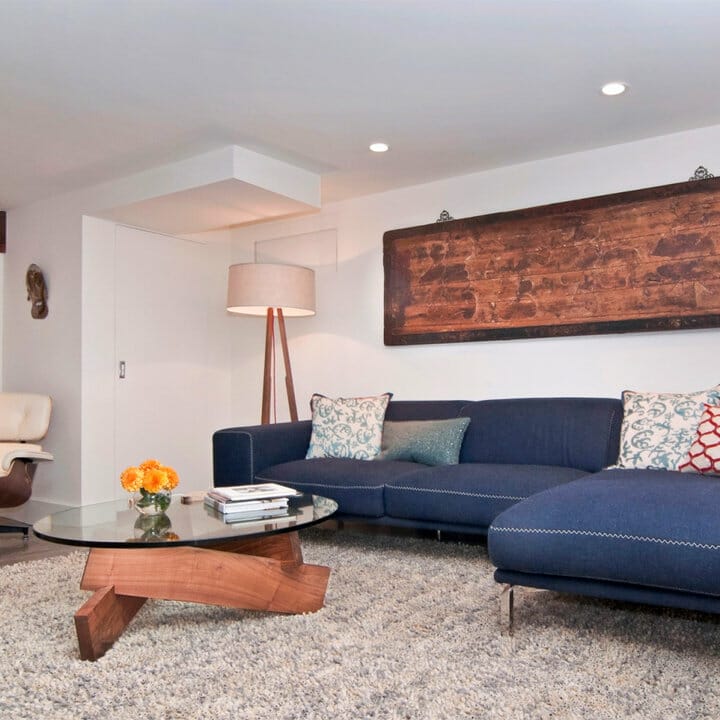 Turning the basement into a living room is the most common idea. This modern small finished basement ideas is one of the results. The floor, made of concrete, has a grey stain below the think feathery rug.
Meanwhile, white conceals all of the wall and ceiling surfaces. To give a little pop-up and comfort, a blue couch with patterned cushions is also present.
5. All-Wall Treatments for Transitional Basement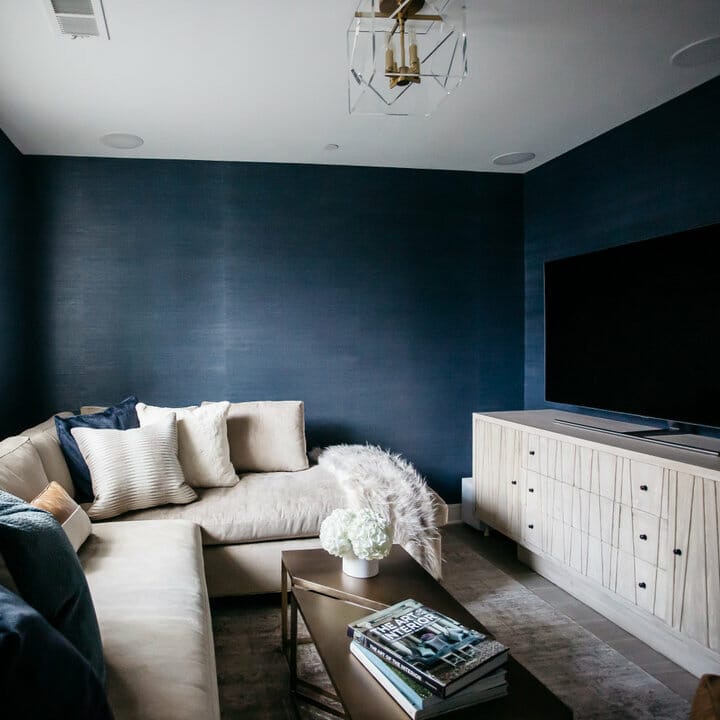 You could also get such a dramatic look on your basement wall by either painting it or pasting the whole surface with matte blue wallpaper. For continuation, throw some cushions with similar shade.
Also, you need a complementing color to make the wall look less intimidating, and broken white is the perfect match.
It is evident on the sectional, furry throw, TV cabinet, and a vase of artificial flowers. Picking a striped credenza is a good move to give the entire interior a few textures.
6. Brick and Wood Together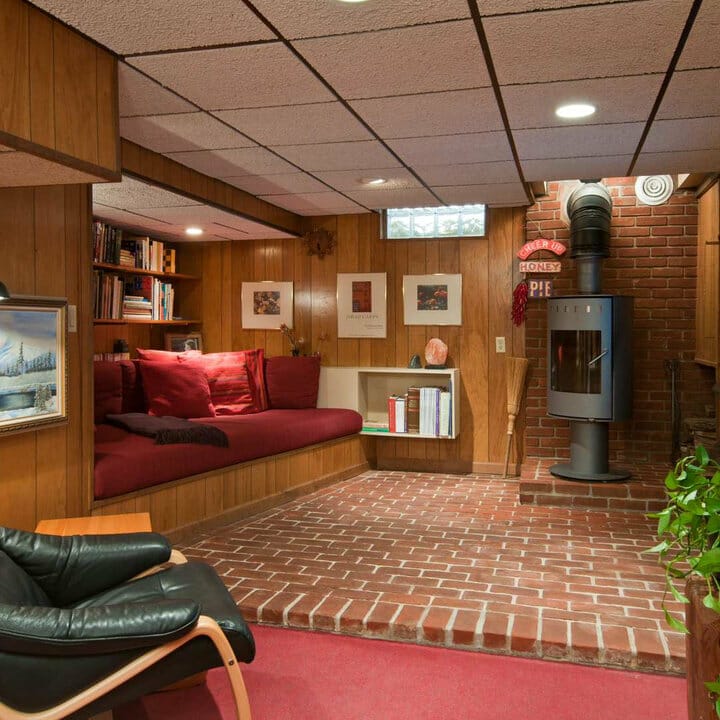 This basement turned multifunctional room chases the look of mid-century modern. It is visible from the use of bricks to finish half of the floor and wall.
Moreover, the existence of a wood stove only supports the owner to reach the goal. We love how the daybed completes the red consistency in a mild and calming way.
7. Small Finished Basement Ideas in Neutral-Toned
For most people who prefer working in a serene atmosphere, a neutral-toned room could offer so much help.
Therefore, turn your basement into a home office with such a finishing to perform your job well. Use wood as the flooring, light grey to paint the walls, plus black and white colors to accentuate.
The final touch would be placing a white potted green houseplant as a freshener. In case you need to know which plant to grow, some recommendations would be Chinese evergreen with variegated leaves, the low-light lover spider plant, the low-maintenance corn plant, or the well-known climber devil's ivy.
8. Classic and Simple Design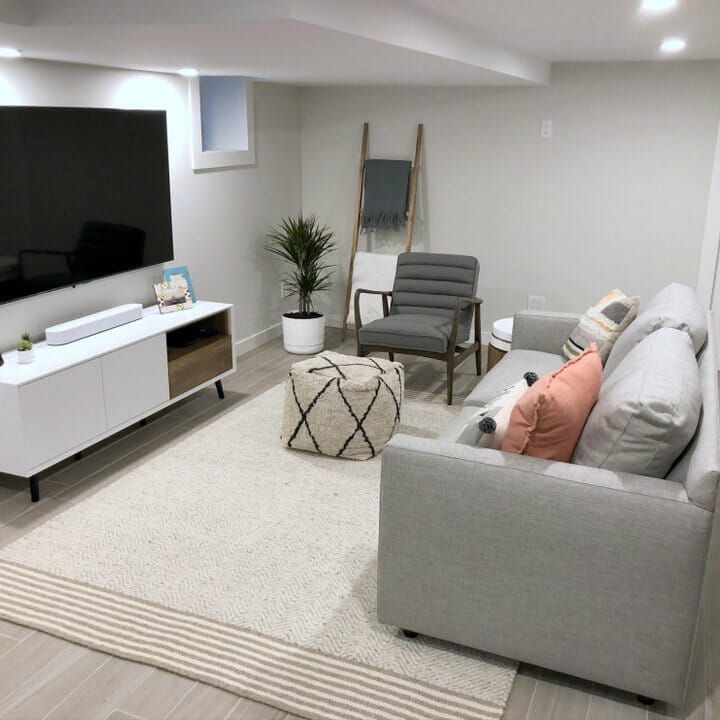 Do you not want to spend a lot of time thinking about your basement finishing? Go with classic and simple, then!
Paint the walls and low ceiling in white for a bigger space impression, then arrange some furniture in a similar color. Set one or two black elements for contrast.
After that, play with shades of grey. Fifty will be too much, but a few will not hurt. The various shades will be the color transition from white to black or vice versa.
9. Artistic Wall and Furred Floor for Small Finished Basement Ideas
Our next small finished basement ideas can help you to show your artistic side by turning your basement into a gallery.
It would be more than great if you are an artist. You could get the corner all for yourself and display your masterpieces there.
However, if you are only a music fan, it is not a problem. Just set a relaxing chair and fluffy footing, showcase your favorite superstar album, get a player, and create yourself a nice corner to absorb some tones and notes.
10. Grey Wall, Light Wood Floor, Traditional Design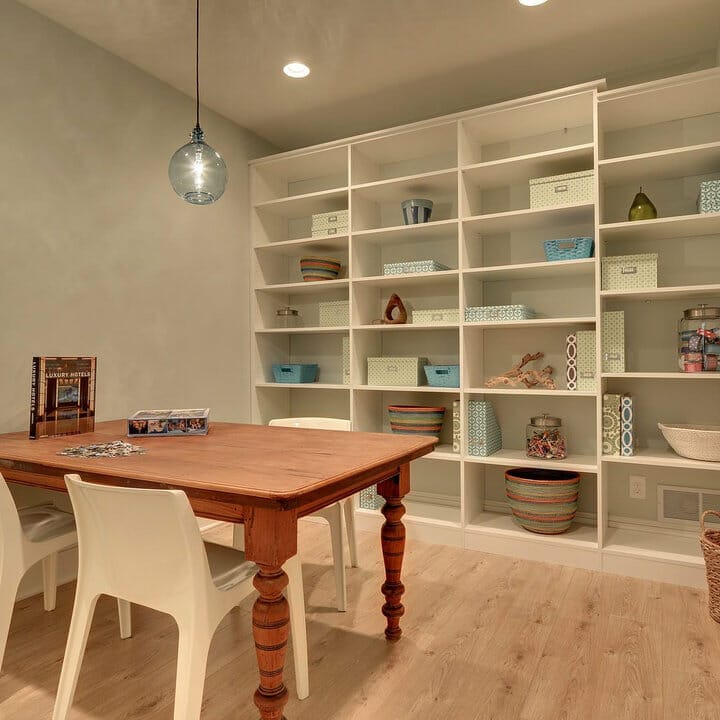 When a corner of your work desk could not fit your hobby and its supplies anymore, you could turn the basement into a supply room anytime.
Now, grey walls and light wood are almost compulsory for an underground space like this one. Such selections make the room bright and feel spacious.
After that, arrange a wall-to-wall white cupboard to store your hobby supplies. A dining set in darker color is also necessary for statement and facilitate your artsy-crafty time.
11. Small Finished Basement Ideas for Media Room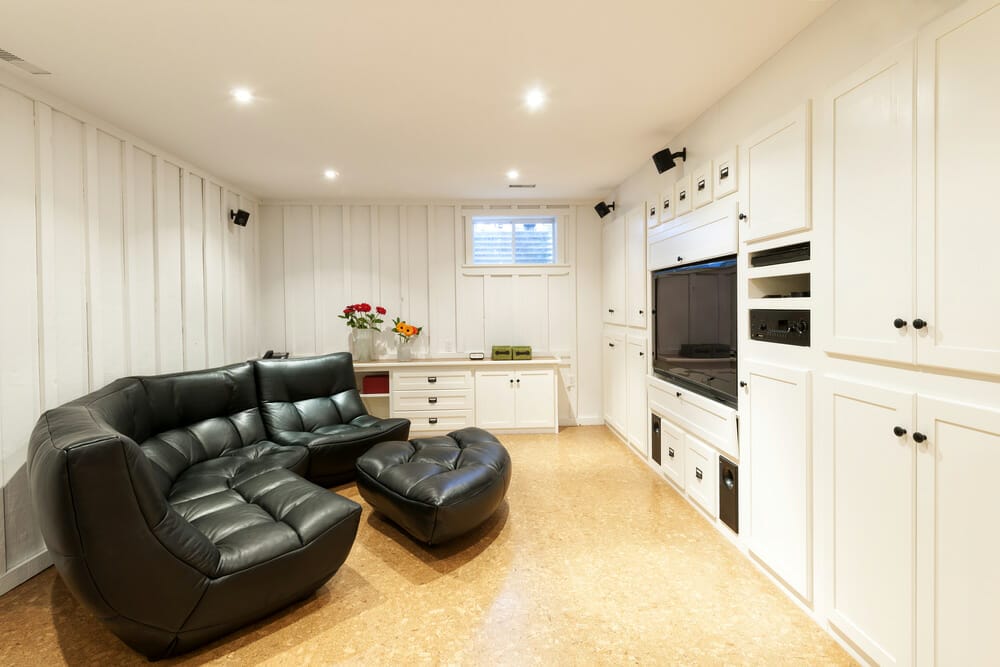 It is such a blessing for a basement to have a window because most undergrounds are not buildable with it. Even so, lighting fixtures are still your top priority in turning the lower ground into some functional room.
Take this media room as an example. Since it is relatable to visual work, adequate lighting is a must.
Whiten everything, from the ceiling to the walls to the built-in media wall. Choose something like beige for your floor and black for the furniture. A nice-looking media room is ready to entertain you then.
12. Black and White and in Between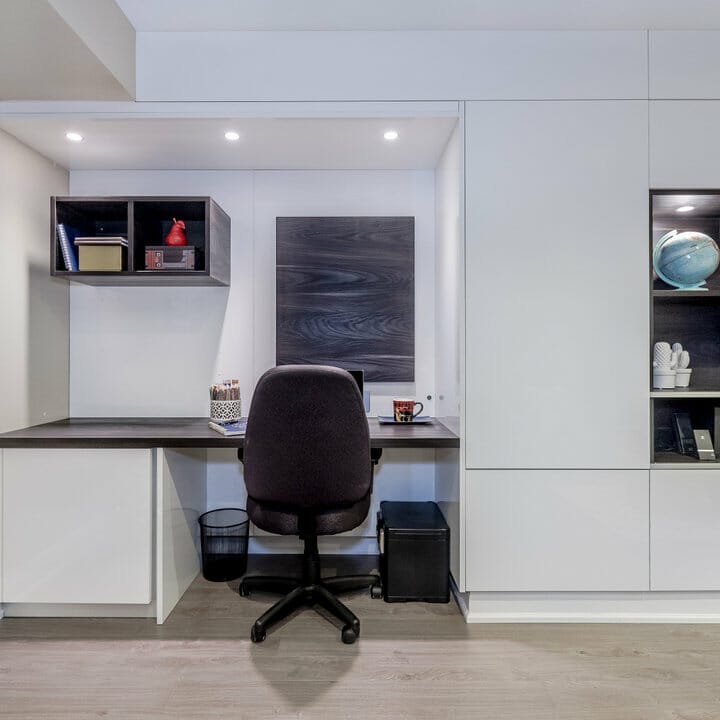 A home office should agreeably have neutral finishing. That is why this private working space applies such a principle.
With white walls and ceiling, black ornaments are obligatory. Meanwhile, grey could finish the floor to connect the previous two colors.
13. Very Small Basement Idea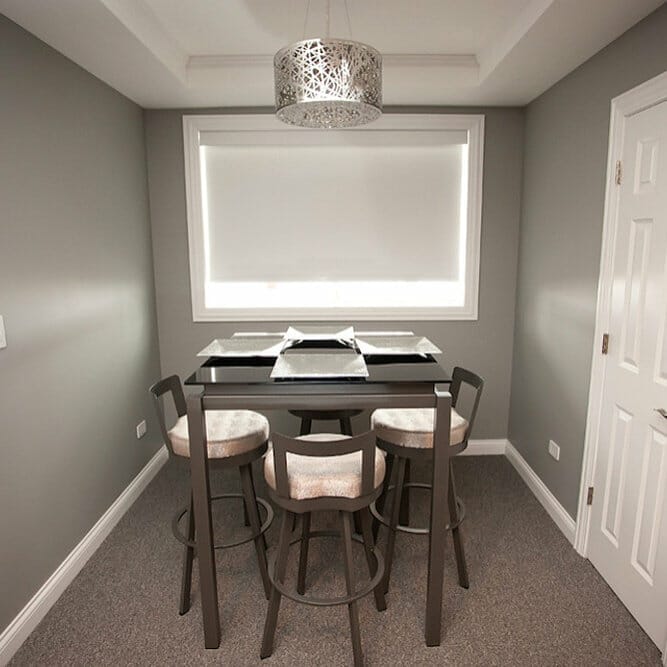 With this kind of setting, you could make an additional compact dining room, meeting room, or any space that can afford only important people to gather.
It is also simple, stylish, and functional at the same time. This room also provides privacy whenever you need to share confidential information.
14. Pallet Furniture for Underground Lounge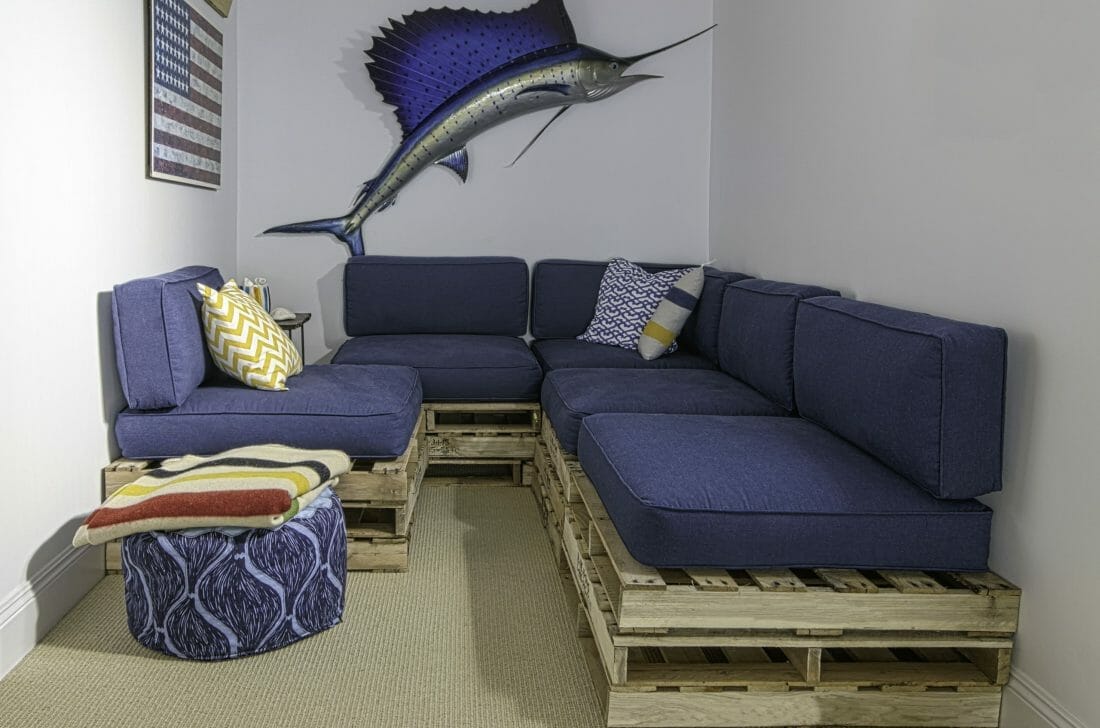 Rolling out a wall-to-wall carpet is optional for a basement remodel plan. Yet, if you choose to have pallet furniture, the floor should have some cover then.
For such small finished basement ideas, the ocean blue couch gives more than a statement. It enlivens the whole space.
15. Beige Laminate Floor for Open Basement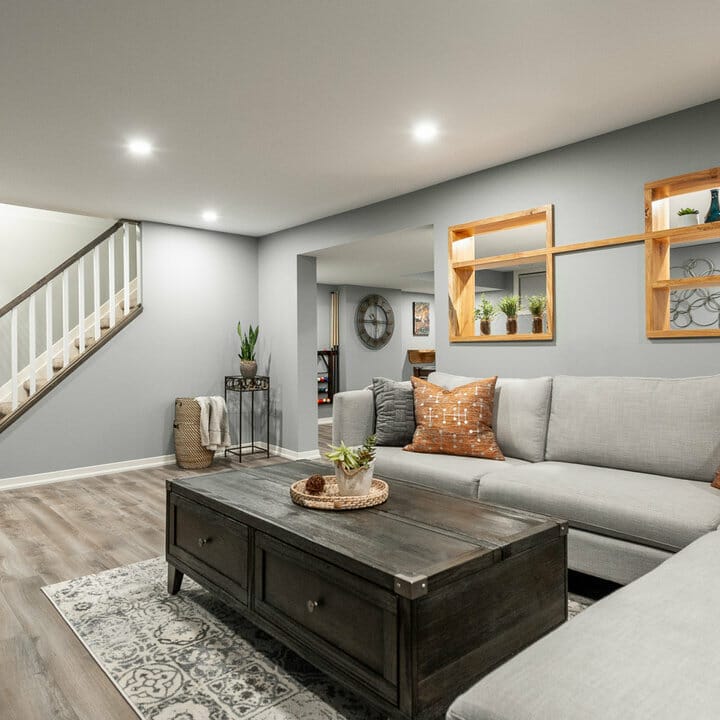 This small finished basement ideas looks like a good plan. It allows a big design for a small space. Have everything in warm grey and pick darker color as the secondary.
Moreover, you need to select a wood tone to accentuate and finish the whole set with a beige laminate floor.
16. Billiards Turned Table Tennis Room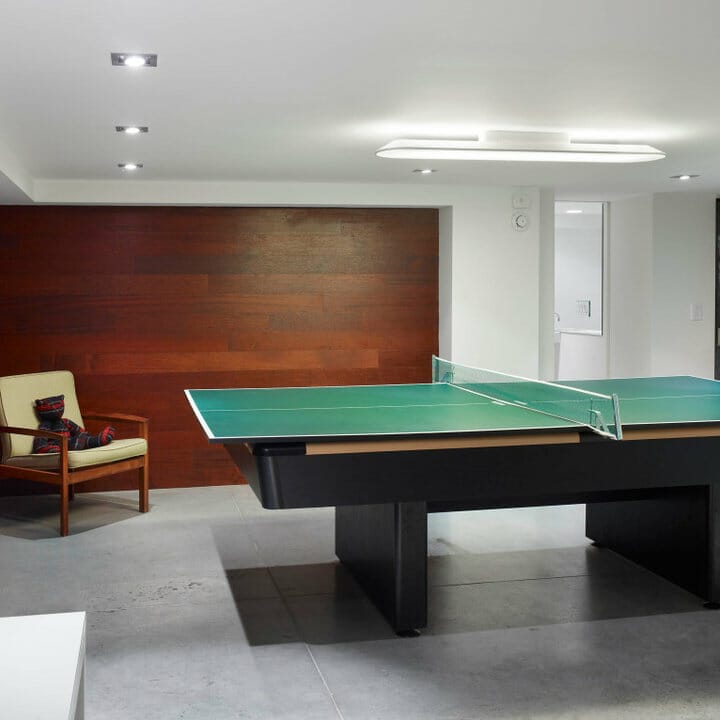 It appears that it was a pool table before someone added the green top and turned it into a table tennis set.
Thus, it was presumably a room for billiards matches too. Unless the owner has remodeled the room, there might be no changes whatsoever. However, the room shows you what a model basement looks like.
17. Bamboo Floor, Brick Fireplace, Light Blue Wall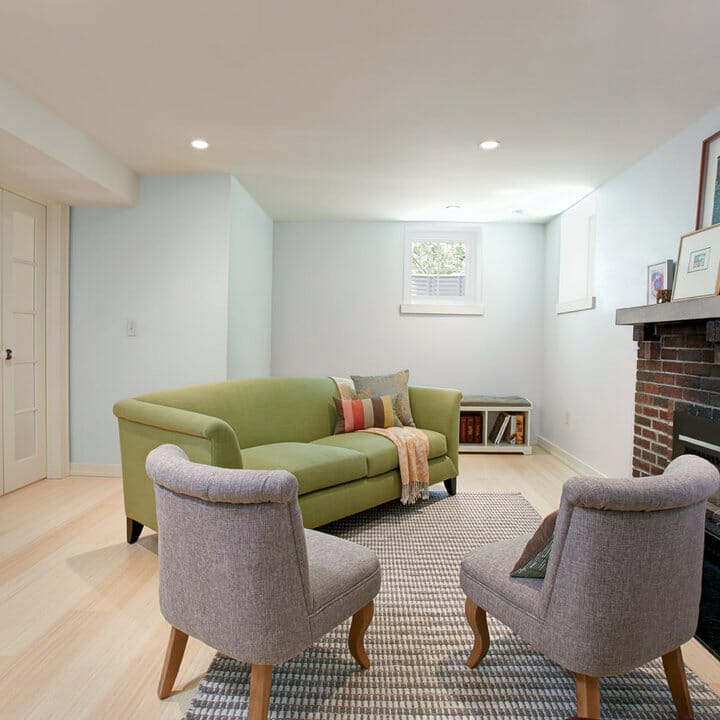 Dark and chilly often become the adjectives to describe a basement. Therefore, consider bamboo finishing for the floor to get rid of those prejudices when you remodel the underground room.
Such a material could bring brightness and warmth to the entire setting. To make it warmer, count in also a fireplace with exposed bricks. It gives the room some texture and contrast.
18. Electric Fireplace and Traditional Vinyl Floor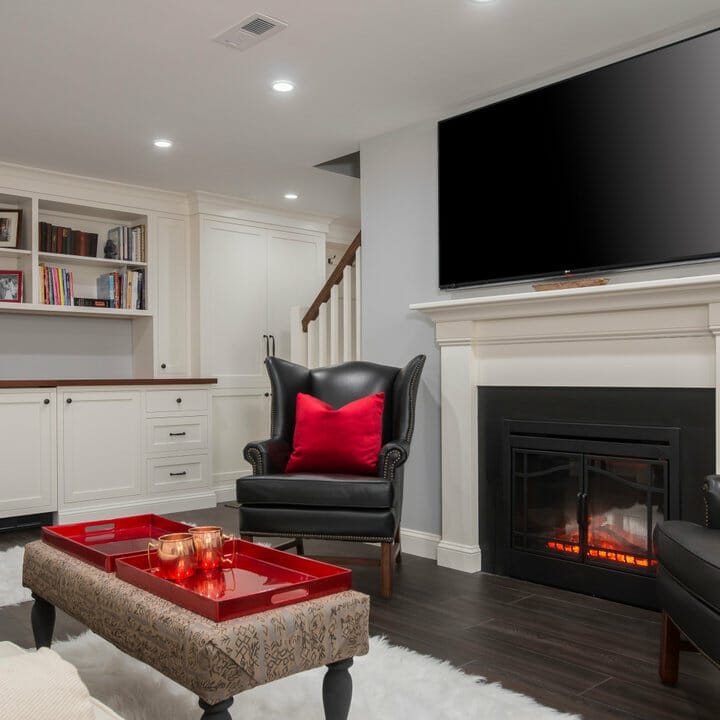 The vinyl floor defines traditional design. Thus, if you pursue such a style, you know what to do with the flooring.
This small finished basement ideas also features an electric fireplace, an amenity for warmth without the need to build a chimney. With the fluffy furred rug, this underground room looks snuggly enough to visit during winter days.
19. Wood Stove in Musical Basement
One of these small finished basement ideas calls for a mini acoustic performance. Certainly, the leveled platform looks like a stage where a performer sits with a guitar on his lap and his audiences cheer from the lowest vinyl floor.
Then, you can imagine yourself in the middle of the crowd, feeling warm by the music and the wood stove.
20. Brown Scheme and Carpeted Floor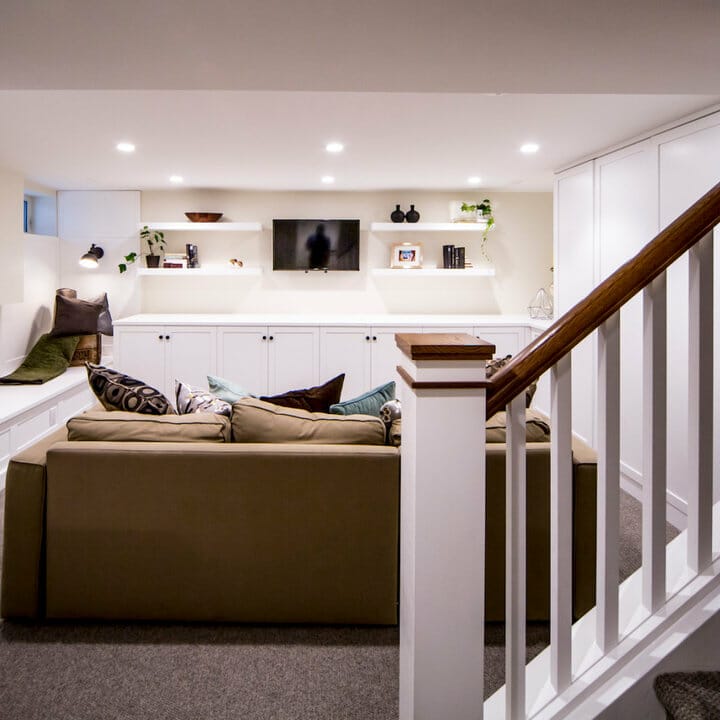 As proven, white is undoubtedly good for the basement just like this particular small finished basement ideas. This color matches all schemes, and brown is no exception.
In addition, a combination of the two creates unlimited coziness. To make it even cozier, a wall-to-wall carpet area and a platform for the daybed are present.
21. Medium-Tone Wood Floor for Modern Basement Idea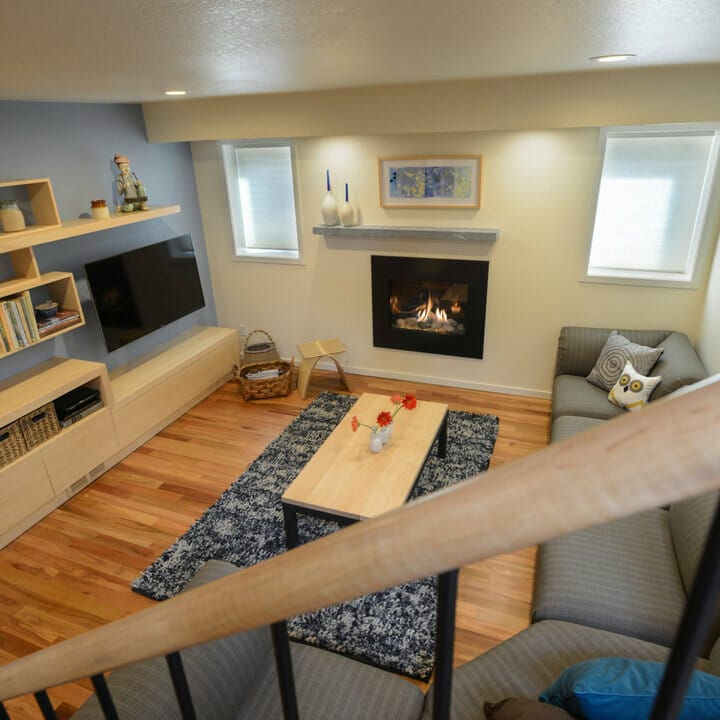 Soothing blue and calming yellow appear well together. Hence, the owner of this room gets that and applies the combination to the whole space resulting in another interesting small finished basement ideas.
Black shows up then to adorn, while the medium-tone wood floor is there for pattern and gives this underground area a modern look.
22. Eclectic Rug Above Poured Rubber Flooring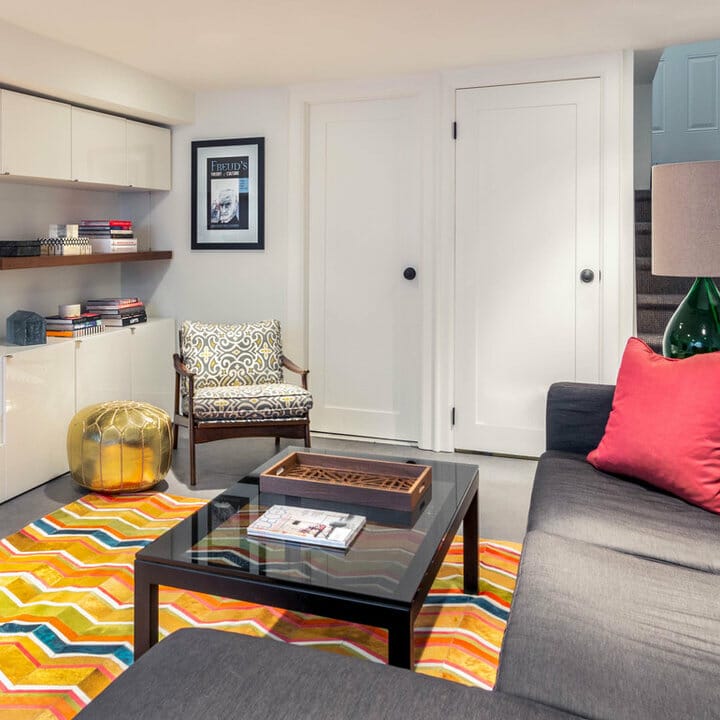 The next small finished basement ideas come from this eclectic reading room slash lounge. The pursued design is visible from the yellow zigzag rug, gold Moroccan faux leather pouf, patterned accent chair, intricate design tray, and the green glass table lamp.
Meanwhile, the owner decides to have poured rubber flooring to sustain all of the elements.
23. Warming Grey Scheme with Patterns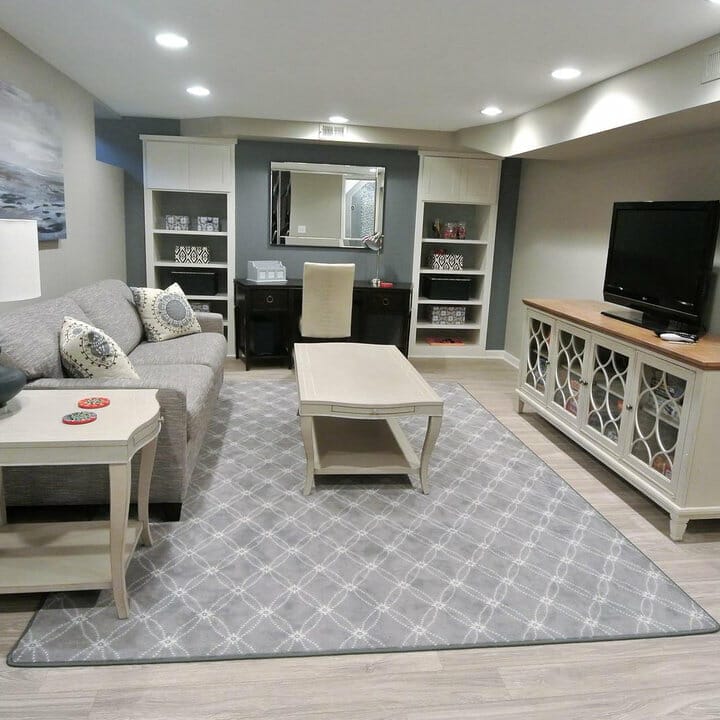 Someone remodels his basement to be a multifunctional room with entertainment and workspace. It is an interesting combination though we bet you could not work when somebody turns on the TV behind your back. However, this underground has a very nice color scheme with the right amount of patterns.
Additionally, the patterns are visible on the TV console opening, rug, boxes in the open shelving, and cushions. Indeed, seeing motifs among the matte and muted shades is a pleasant thing.
24. Pretty Little Details for Tavern Basement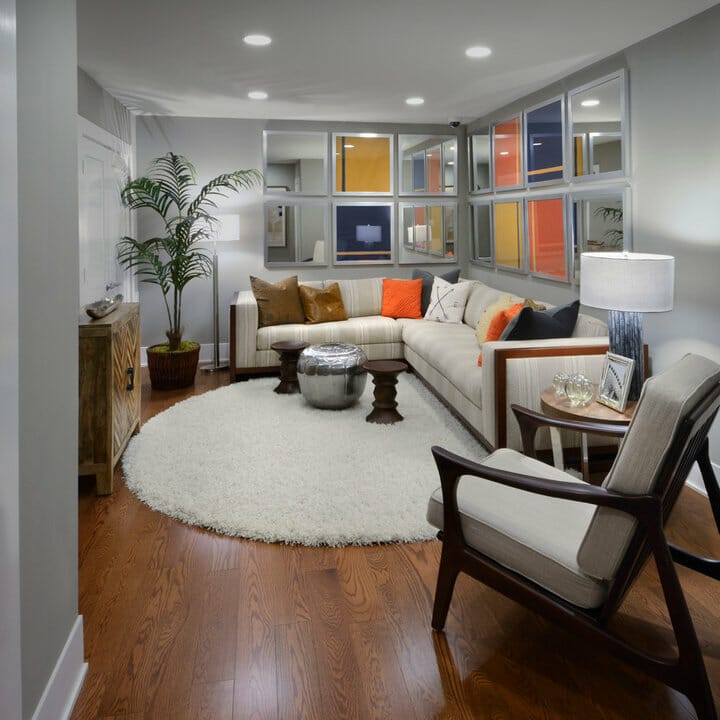 In some cases, people divert their attention to the details. That is what happens to this tavern basement.
Blue, orange, and also yellow are the minutiae we are talking about. From this angle, it looks like they are the center of this space.
25. Ceramic Tile Floor for Wooden Pantry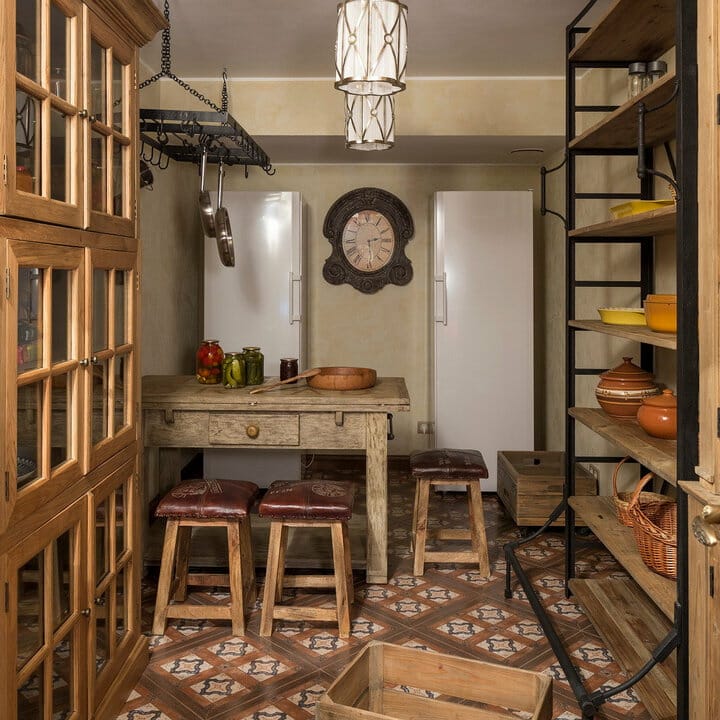 This basement functions as a wooden pantry with a complete set of food storage. Above the multicolored ceramic tile floor, there are two adult-height white refrigerators, a large buffet, and a ceiling-height rack to store the supplies.
Not to mention, a black hanging kitchen pot rack is also present to hold the cooking utensils. One thing is for sure, you will not be starving with such small finished basement ideas.
26. Small Basement Idea on A Budget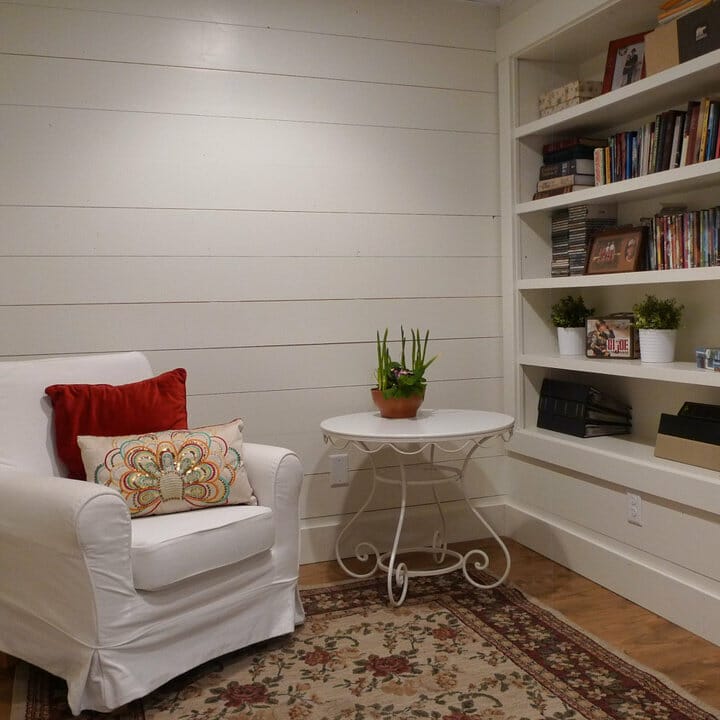 Some small finished basement ideas from this underground reading nook are temporary white shiplap siding walls, medium tone wood floor, and farmhouse design.
It makes use of some shiplap to build temporary walls and finish them in white for a large space effect. Certainly, building an impermanent wall is mostly cheaper than the permanent one. And then, it also uses medium tone wood to finish the flooring and pursue the farmhouse design.
27. Small Finished Basement Idea Using Wood Panels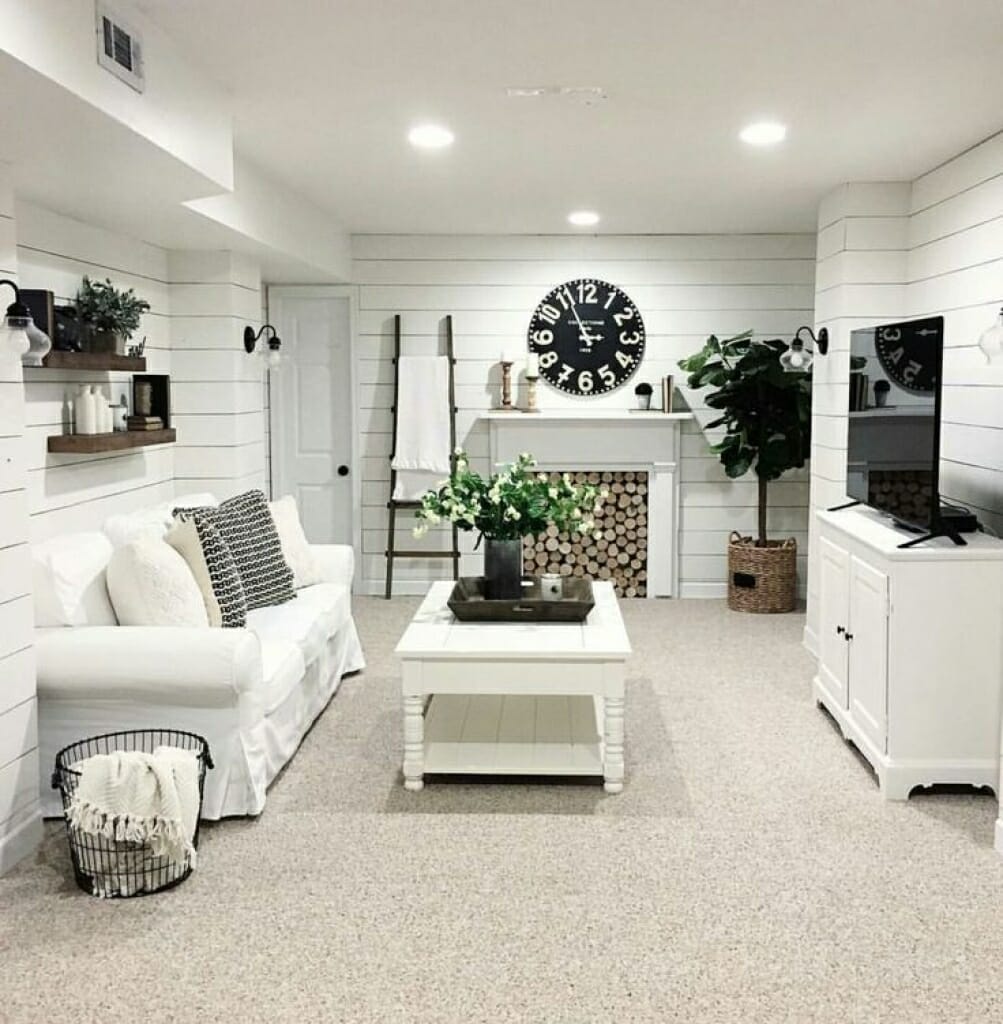 Wood panels are noticeable on this small finished basement ideas. They are strong enough for other elements to lean against.
Moreover, four wall sconces, a sofa, a pair of mounted shelves, a ladder, a faux fireplace mantel, a clock, and a TV cabinet rely on the wall lines to make them stand out.
Rather than storing things untidily, your limited underground room could serve as a more functional space with the above small finished basement ideas, right. Now, it is time for you to execute the easiest and coziest idea on the list.