Basement exterior door ideas don't just come to provide security for your lower ground room. But they are here to simultaneously improve the impression of your outdoor area, too.
Of course, as a homeowner, you want all the ornamentations to match each other.
Thus, not only interior design is worthy of your consideration of every detail. But an exterior arrangement should also be an unforgettable part, especially your walkout basement door.
There are many basement exterior door ideas that you can take to elevate your home. And, you can do walkout basement door replacement for a more economical way.
To inspire you more about choosing the perfect entrance design. Here are twenty-eight basement exterior door ideas to adopt.
1. Basement Door and Window with Shades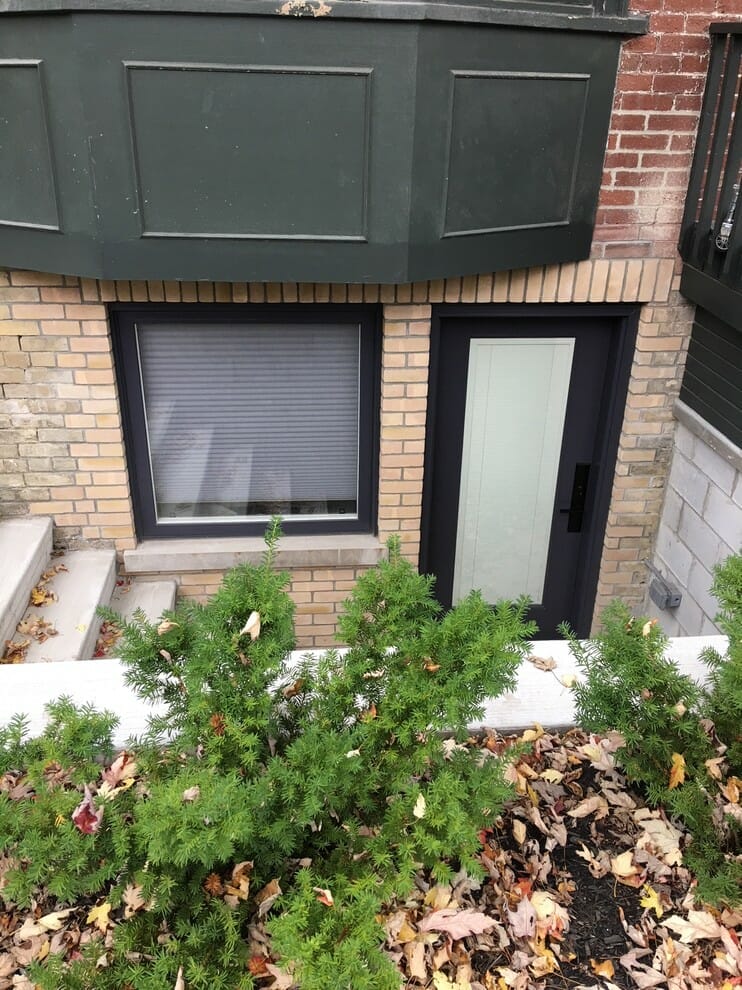 A basement can be a dark and unpleasant place sometimes. However, you can overcome this by providing a door and window made of a combination of wood and glass.
And, suppose you still want to add more privacy. You can freely set shades or blinds like the picture above.
2. Farmhouse Style with Wood Boards and Shiplap
A bulkhead is the most commonly applied model of the many basement exterior door ideas. And some of them appear with wooden boards.
But you must know that wood is not a long-lasting substance for the outdoors. Therefore, you ought to cover it with water and weather-resistant paint.
Further, to make the decoration look harmonious, set your basement door in black. Then provide a shiplap to the surrounding area.
3. Simple Classic Basement Exterior Door Ideas with Fiberglass
Durability is the first concern you need to consider for an exterior door. For that, you can go with fiberglass instead of wood.
Although it has the same appearance as wood at first glance, it is more durable. Even fiberglass often comes in a variety of hues and layouts. Hence, you can decide which one suits your preferences.
4. Basement Bulkhead Door in Pastel Steel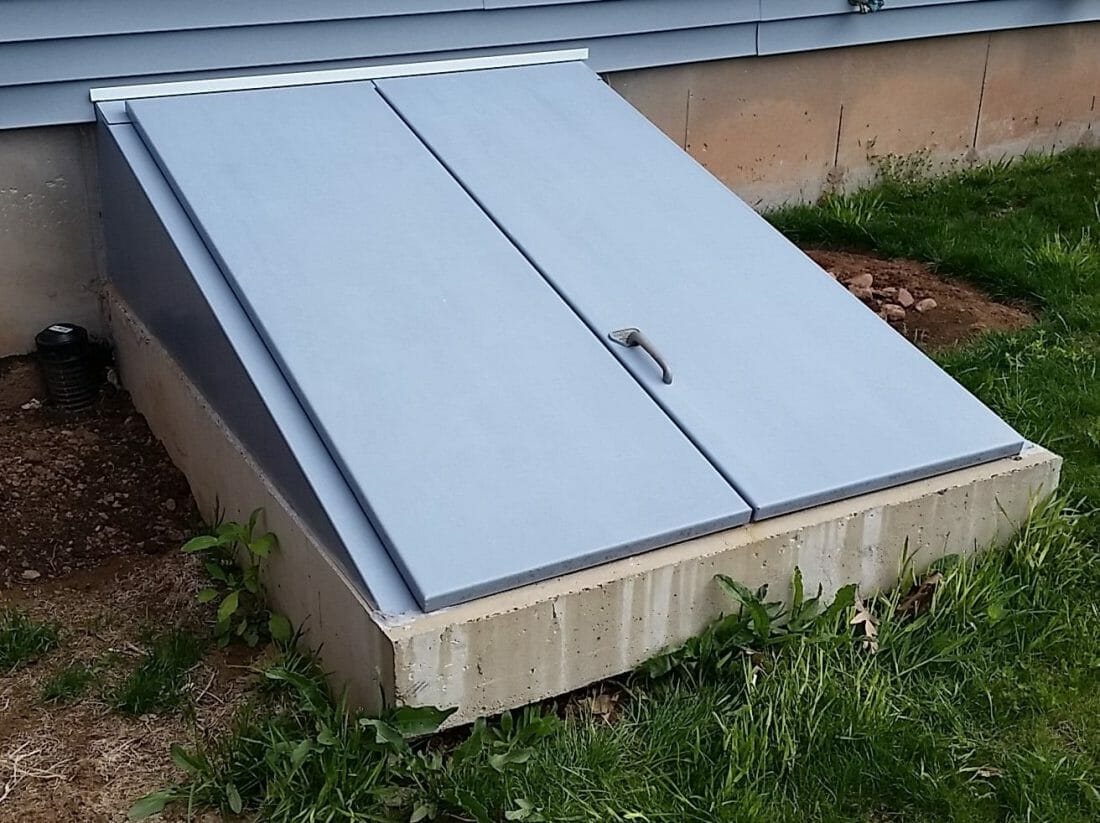 Bulkhead or cellar door ideas in steel can be pretty dull to look at, especially if it's full of scratches and peeling paint.
Therefore, it's an excellent idea to redecorate it with new colors and themes. You can go with pastel-colored paints to make it more aesthetic.
5. Classy in Yellow with Top Window Door
In addition to pastel colors, you can also implement basement exterior door ideas with bright tones. It would work great with yellow, green, red, or other striking colors.
Not only is it eye-catching, but it's also perfect for giving off a cheerful vibe and taking the gloom away from your basement.
6. Single Sidelite to Add More Light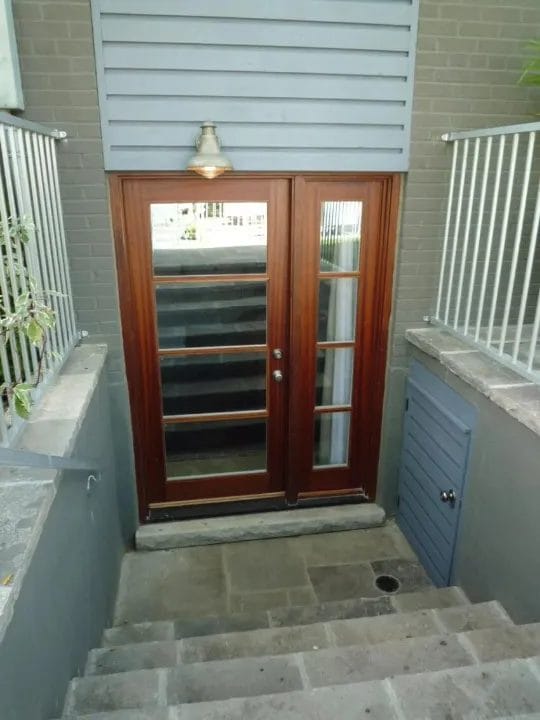 Exterior basement doors with glass can come in many ways. One of them is a classic style with a sidelite like above.
Through this step, you can provide more natural lights coming in without the need to widen your basement access.
7. Minimalist Theme with Wooden Railing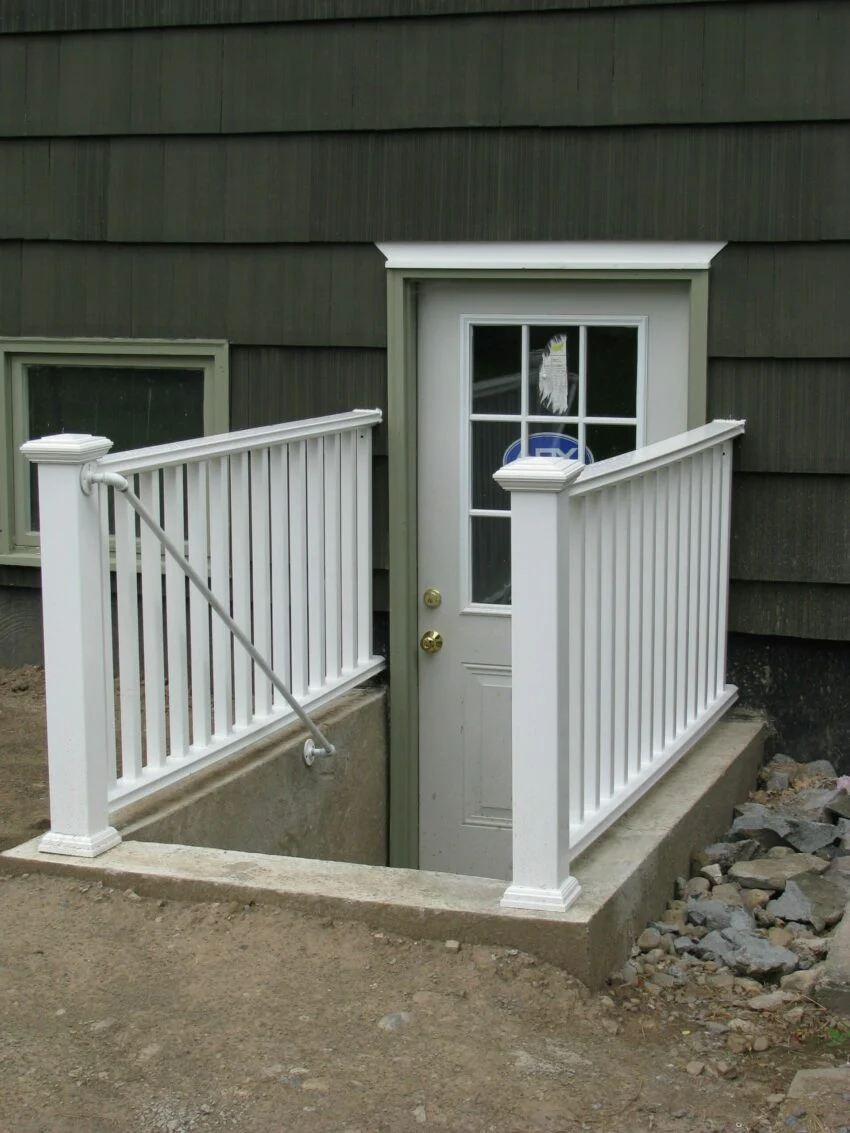 You can also adopt a minimalist theme to beautify your basement entrance. One of the most uncomplicated methods is to mix white, gray, and black on the door and the surrounding area.
Furthermore, you can also provide railings on the right and left sides of the entrance to add extra security.
8. Traditional Diamond Plate Steel Door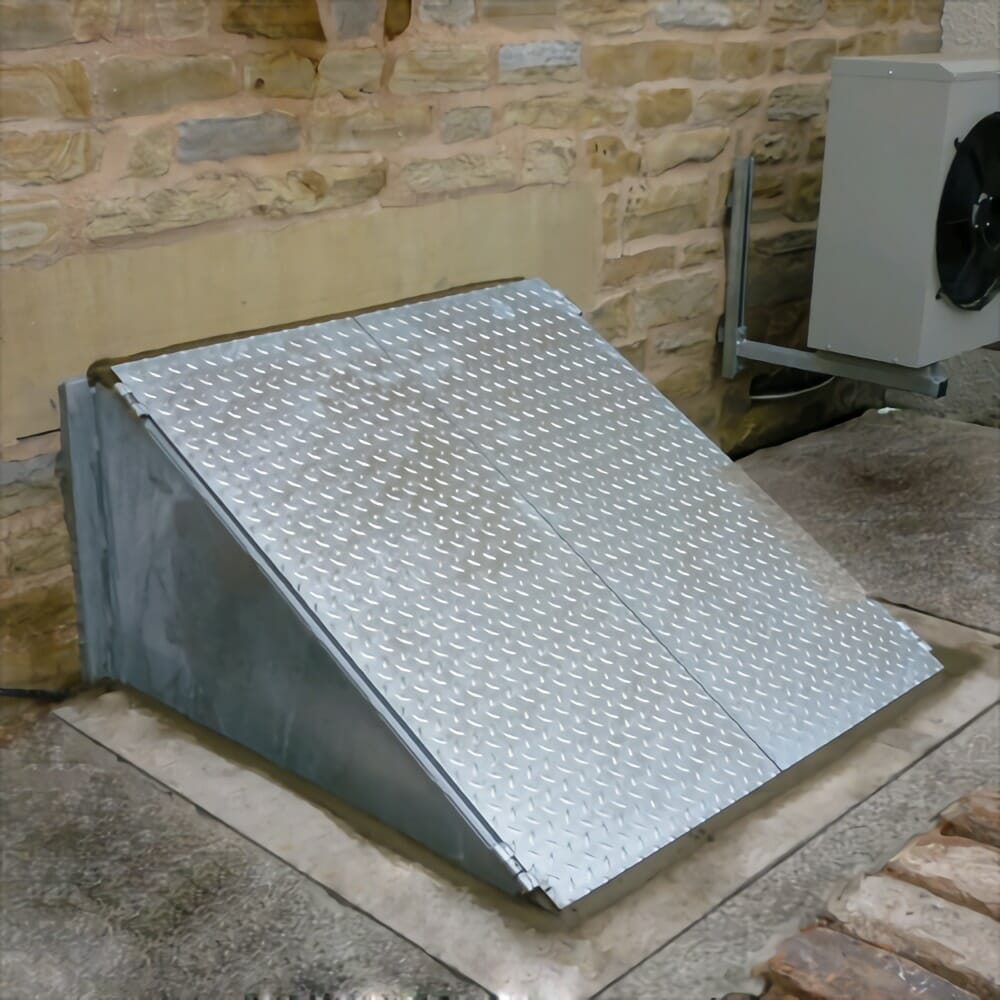 It doesn't matter if you choose to go with the more traditional basement exterior door ideas. You can easily make it happen with diamond plate steel material.
However, you still have to ensure proper care to avoid it from wearing out quickly and ending up with an unsightly appearance.
9. Full-Length Glass Door for Better Natural Light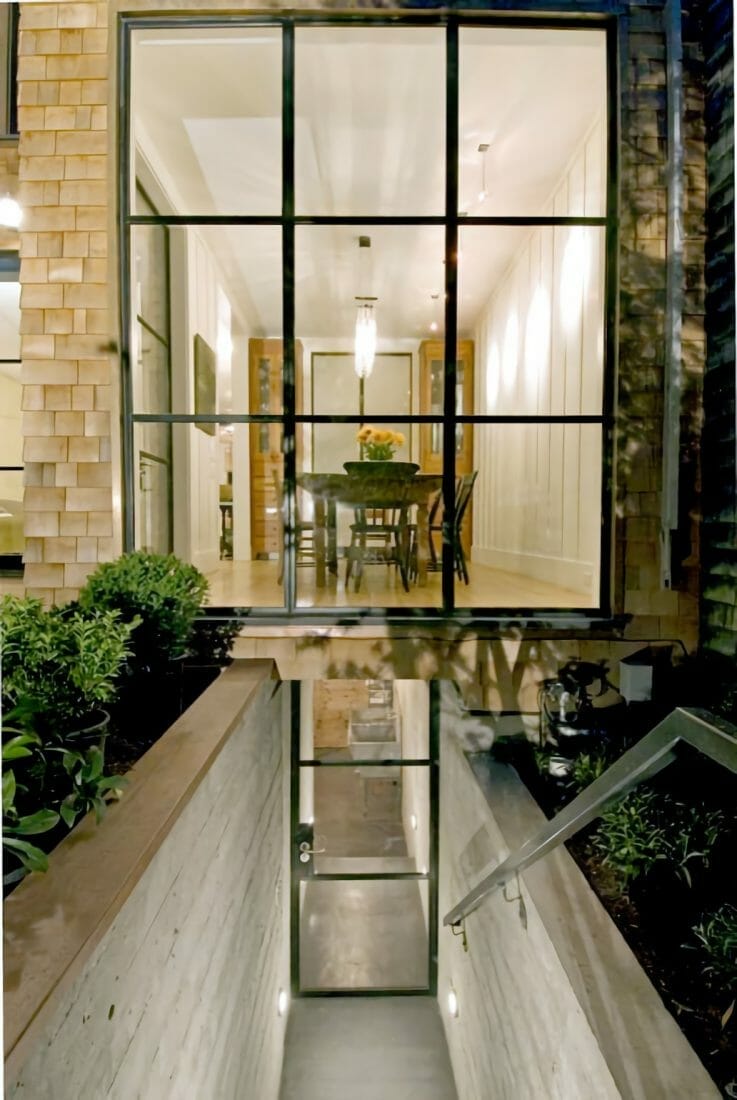 A full-length glass door is the most effective strategy to create an elegant and luxurious basement. Additionally, you can even add lots of light to enter and make the room brighter than before.
And interestingly, applying a glass door will also make your underground space appear more expansive.
10. Roofed-over Basement Exterior Door Ideas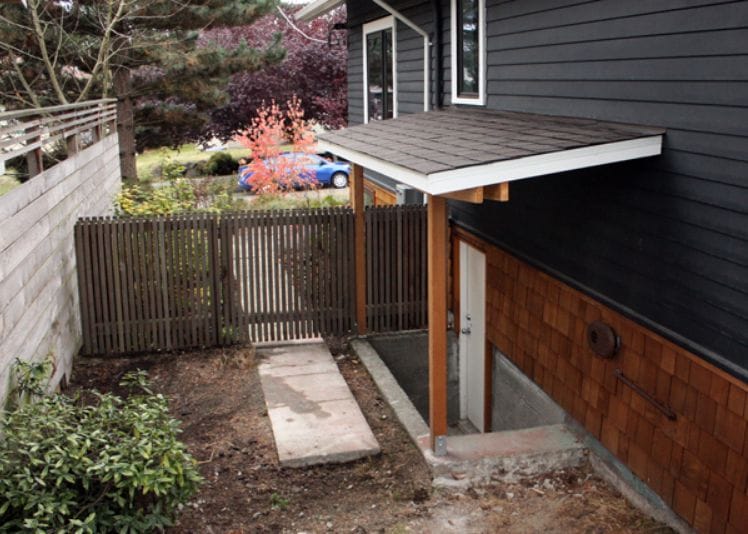 Often the basement door becomes the most neglected part of the house. You might even forget that this entrance requires an additional roof to protect it from the rain.
However, after you read this article, make sure not to forget it again. And give your basement access proper protection so that the door paint doesn't peel off quickly due to weather changes.
11. Flower Bed on the Sides to Add Pop-up Color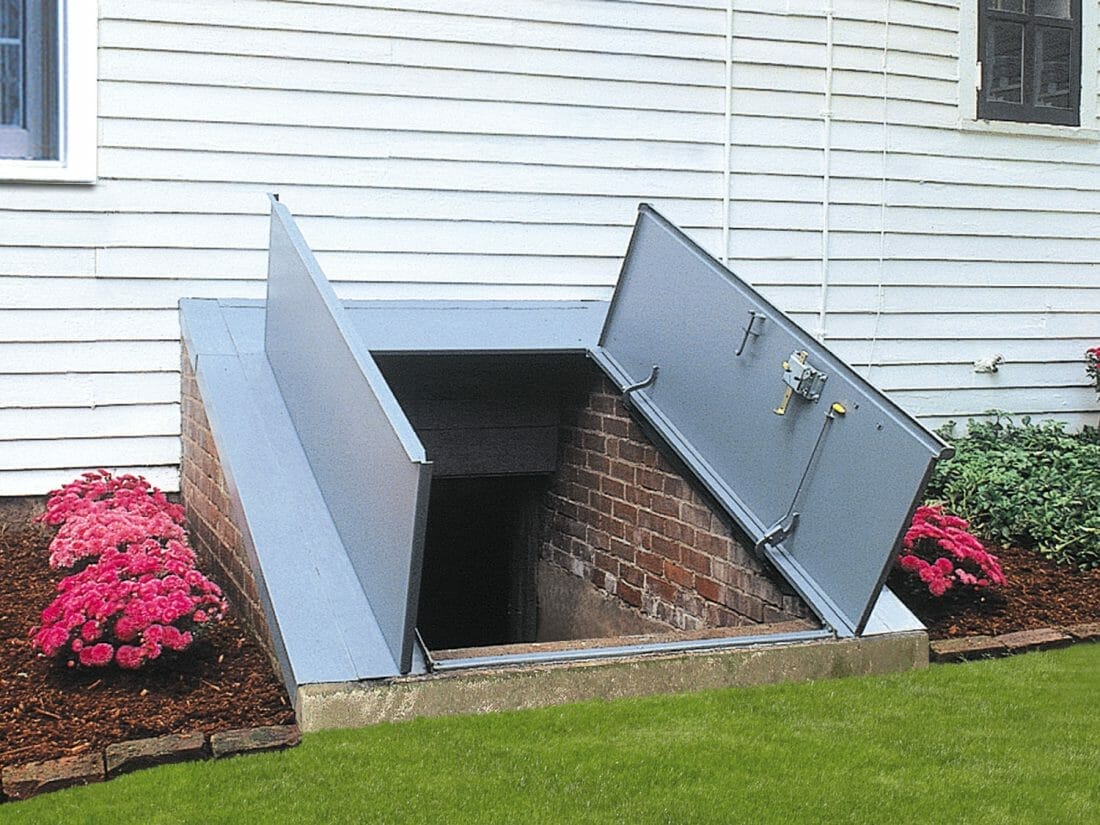 Basement door ideas give you recommendations for suitable materials, designs, and other options so that these elements don't become too dull. Even less, if it is located in your garden.
For that, you can plant a flower bed around your walkout basement to bring a popup color that many people desire.
12. Double Doors with Single Window
Positioning the window straight with the basement stairs is the best option you can take. The light will be easier to enter with settings like this.
Meanwhile, you can set the door on the side. That way, you can let the access door close and still get good light and airflow from the window.
13. A Half Window Door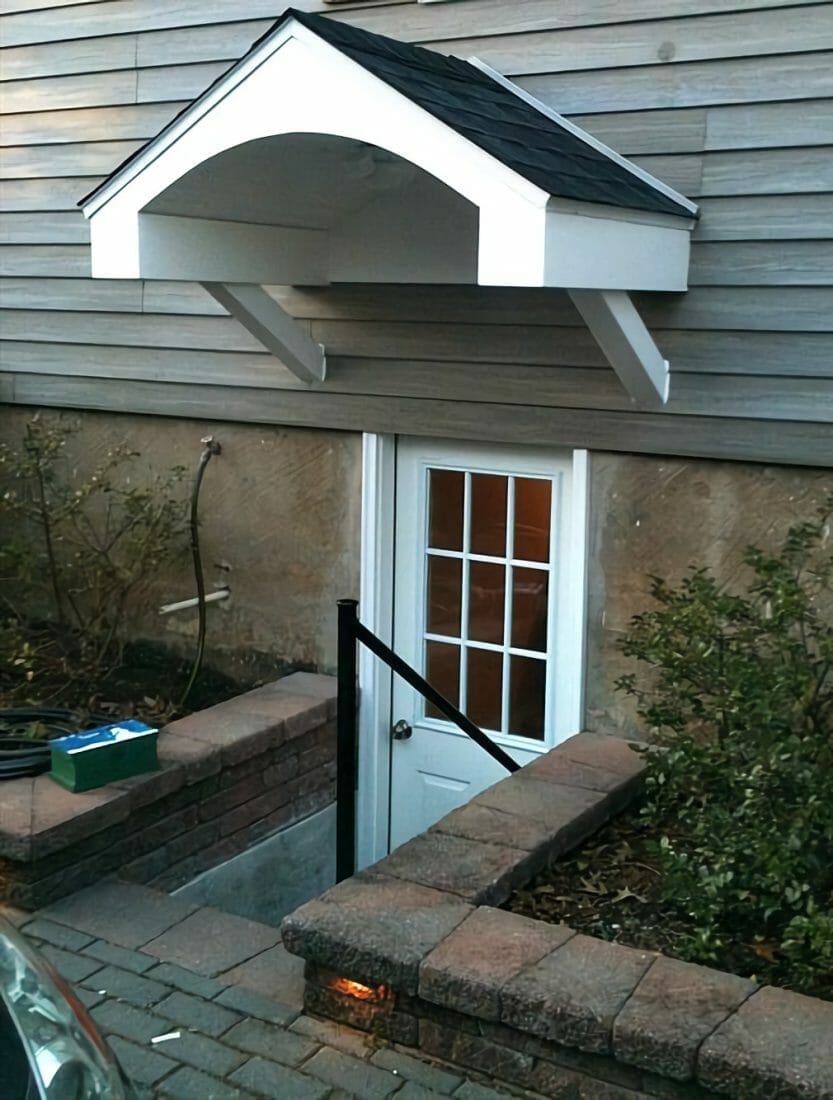 It will be difficult for you to have doors and windows in a small basement entrance simultaneously. For that, you can at once come with a combo provided by this half-glass door.
Usually, it is made of fiberglass that will last long for external objects. Therefore, you will not doubt its durability. Furthermore, choosing a white one with a gold knob is the best way to make it look simple yet classy.
14. Going Rustic with Barn Wood
Suppose you want more economical basement exterior door ideas. In that case, you can creatively repurpose the barn wood you have.
Besides being cost-effective, you can also do it yourself in your spare time or merely plan a weekend DIY project.
15. Repaint with Stand Out Color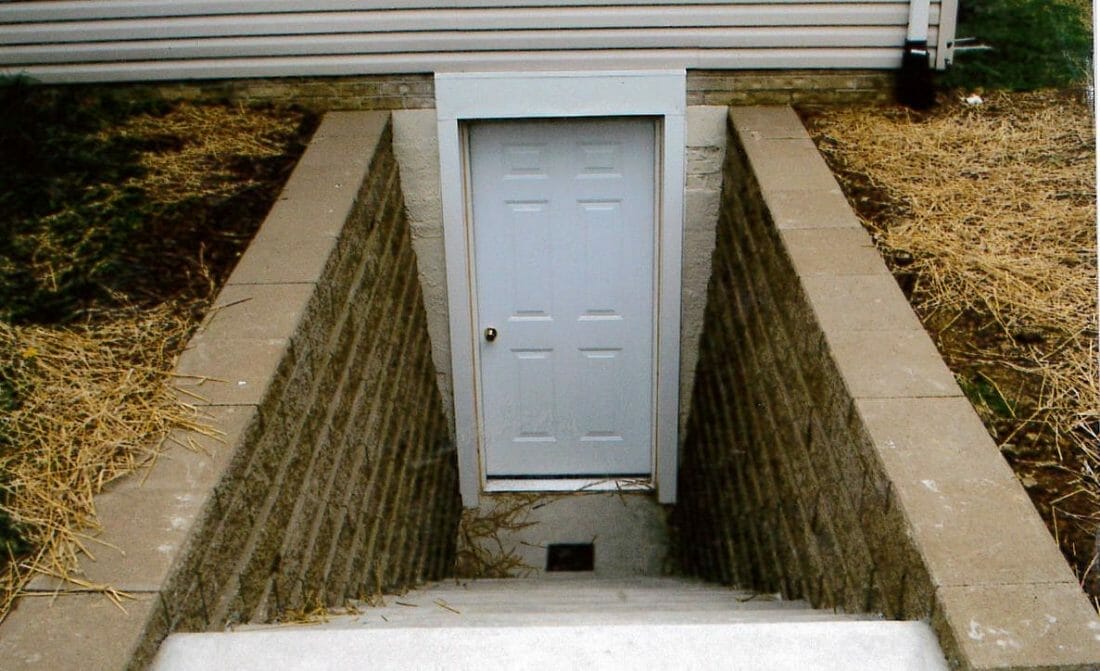 Most of the main problems in having basement access are the door that looks outdated. To overcome this, you can redecorate it by giving new paint.
Repainting does not always mean you have to stick with the same color throughout the season. You can even update it with neutral colors but still eye-catching.
White will always be the best choice in any situation. However, you can still go with other colors as you desire.
16. Tosca Green to Refresh The Look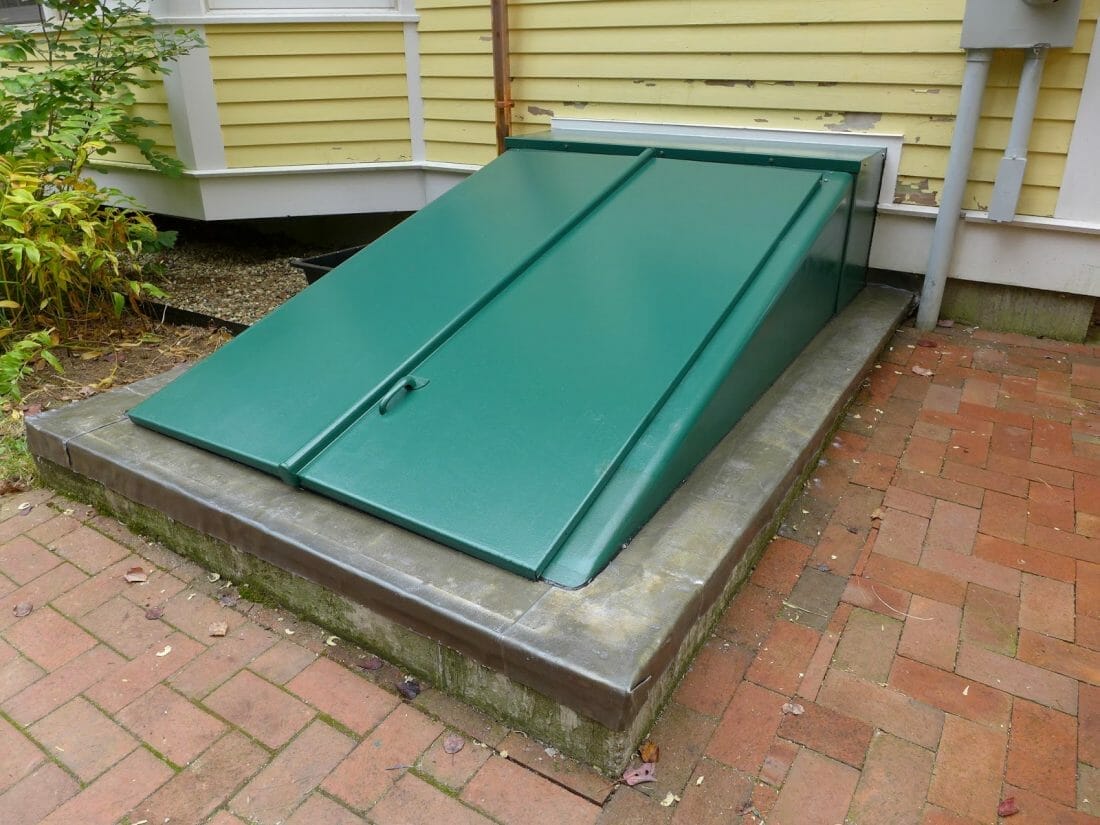 The previous point states that repainting is the fastest way to apply basement exterior door ideas. Instead of sticking with dull steel colors, you can give your cellar door a little refreshing impression with Tosca green.
Combine this with yellow pastel shiplap to make your basement exterior door an attractive focal point in your backyard.
17. Set a Lantern Above The Door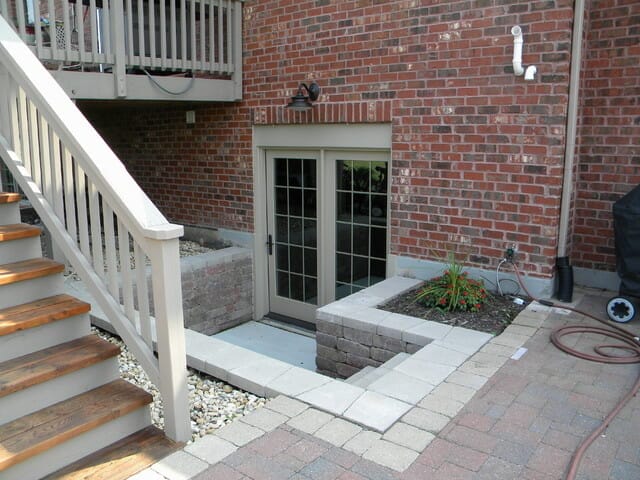 Adequate lighting is, indeed, needed in lower ground space. In addition to providing a full-glass door to add more natural light, it's better if you also give a lantern right above the door frame.
At night, this lamp can act as accent lighting that will highlight the presence of your basement exterior door.
18. Modern Basement Exterior Door Ideas with Clamshell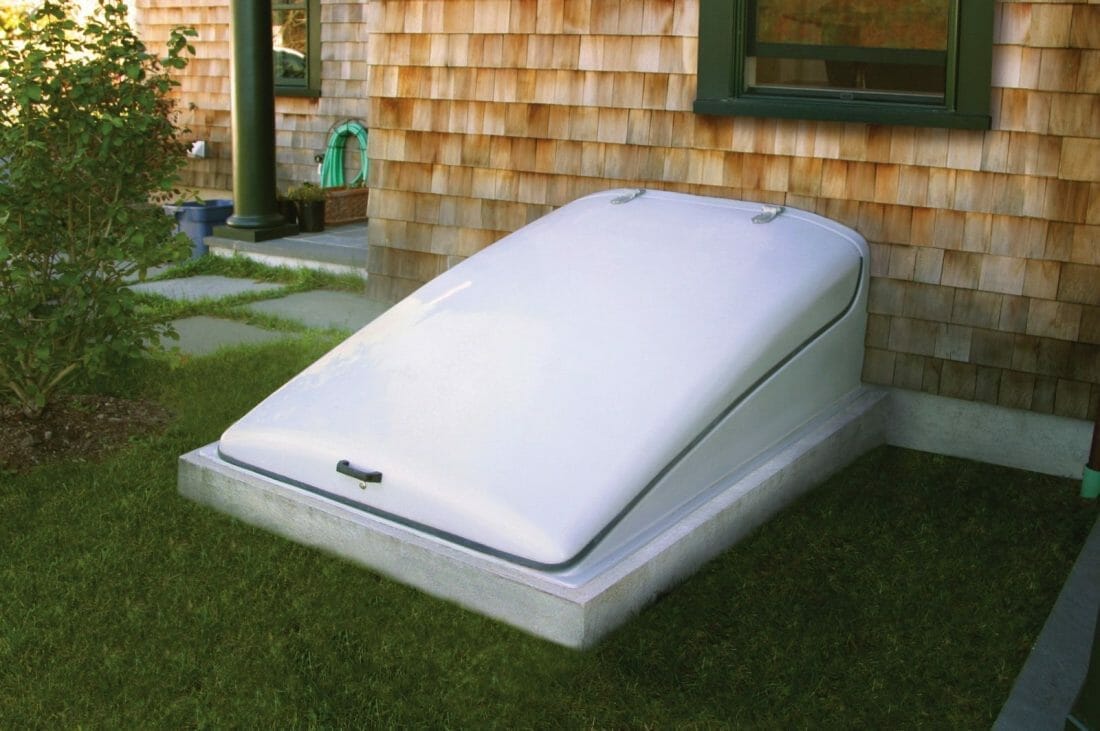 Do you want to make your outside basement entrance cover look more modern?
In that case, installing a clamshell would be the best step so far. In addition to giving a classy appearance with a smooth door surface, an entrance cover like this is also able to provide extra security for the basement.
More than that, this door can also be said to be more durable than the others.
19. The Second Door with Brace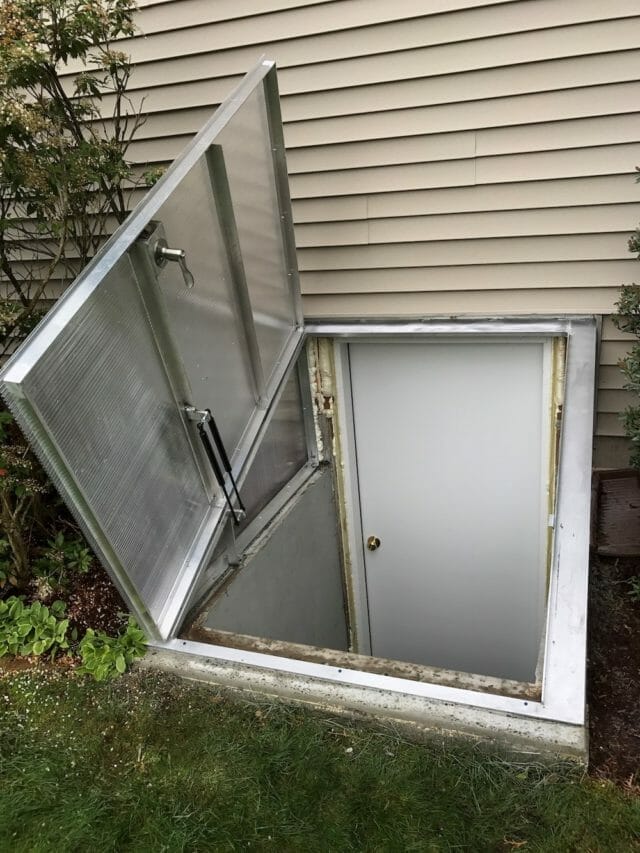 The primary purpose of basement exterior door ideas is to provide the best security for your basement. As shown above, providing a second door is the most appropriate option to achieve everything.
Make sure your outer basement cover has a brace. That way, you can keep it open whenever you want and need it.
20. Earthy Tone with Black Handles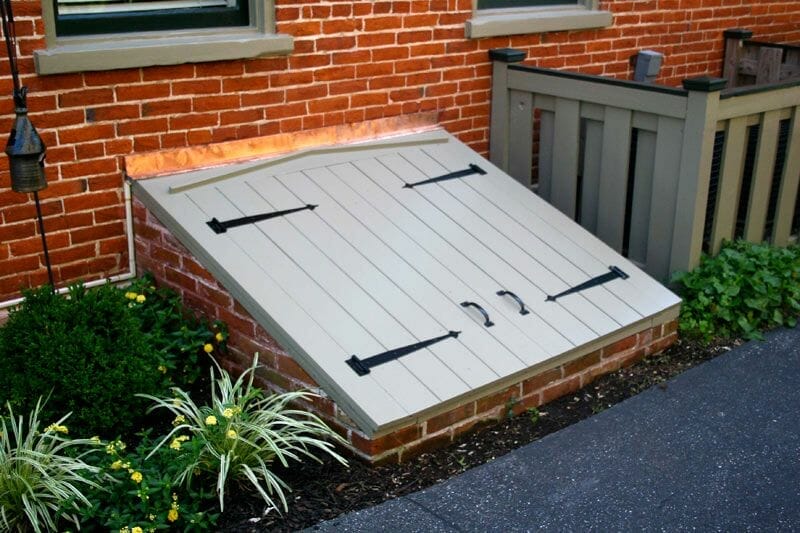 It is undeniable that earthy tones have their charm, both for indoors or outdoors settings. And considering painting your bulkhead door in a cream and black combination can never go wrong.
Moreover, it will be more suitable to complete it with bricks on the surrounding walls. That way, a dull basement exterior door won't be your significant matter anymore.
21. Polished Wood with Door Bolt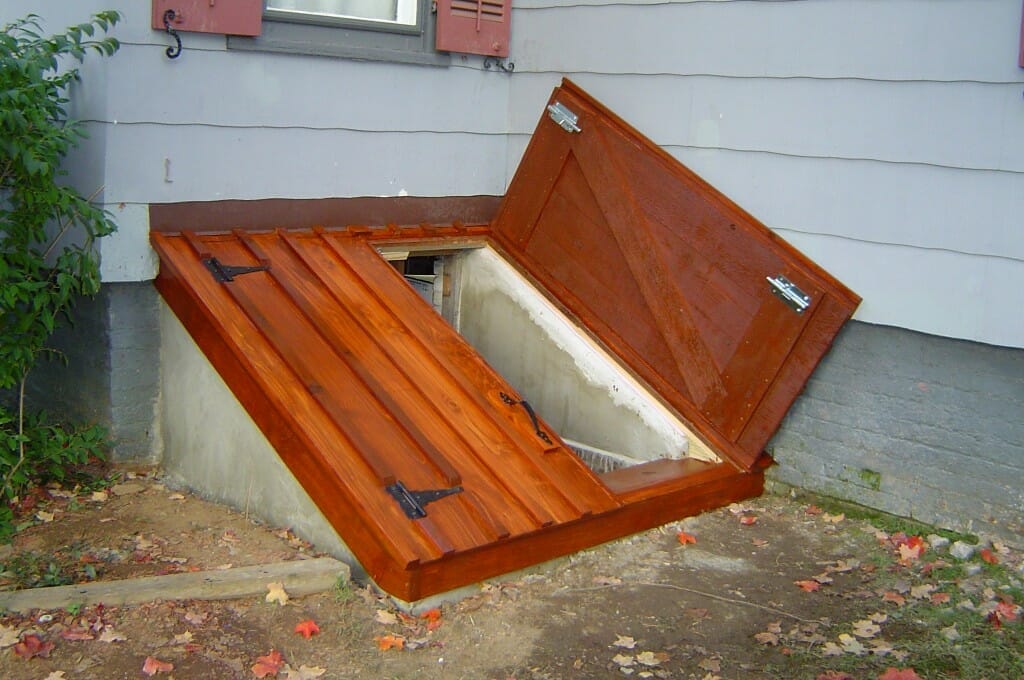 You can also bring the traditional vibes in basement exterior door ideas by installing polished wood covers.
Without working too hard, you've got a rustic yet attractive look in one go. However, this kind of door still doesn't have proper security.
Consequently, it would be soundest to confirm that your basement door has a double locking system. One is a latch from the inside, and the other has a strong padlock from the outside.
22. Keep It Industrial with Cement Wall and Exposed Plumbing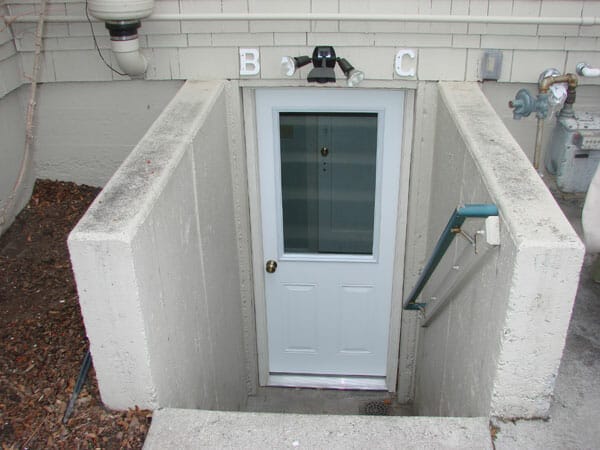 There's nothing wrong with exposing plumbing around your home, especially if it's close to your basement access.
You can creatively use it as a "natural" decorative element to showcase strong industrial basement exterior door ideas.
Moreover, choosing a fiberglass door with a white half-length window will make it look perfect and clean.
Thus, never waste anything around, as it is possible to make your basement exterior door look more adorable instead.
23. Set Double Security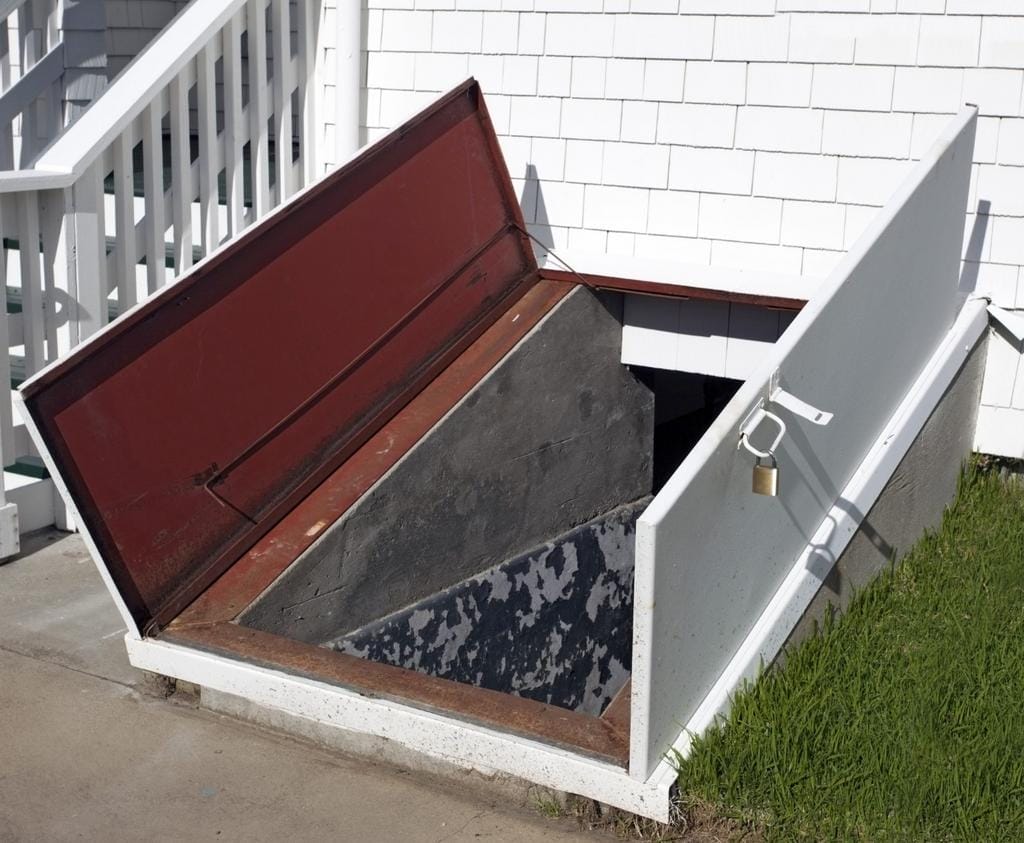 It has been said that double security is crucial at your basement entrance. Especially if this walkout leads to the sidewalk, this may be a spot prone to be entered by strangers.
Therefore, providing latches and a padlock is an absolute choice regardless of the type and design of the door you will choose later.
24. Large Basement Exterior Door Ideas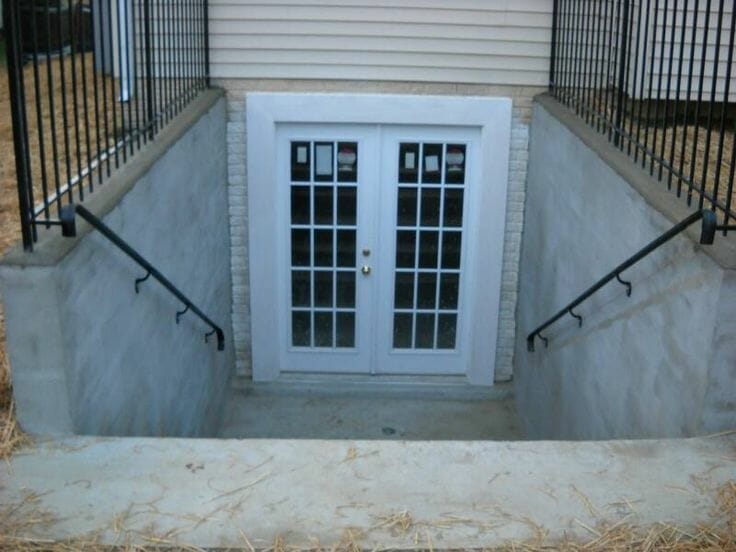 You may need a large basement entrance under certain conditions. For this reason, this section of basement exterior door ideas also recommends that you have two doors at once.
To make it attractive, you don't have to think complicated, just set the glass doors from fiberglass, and everything is fine.
25. Simple Sliding Doors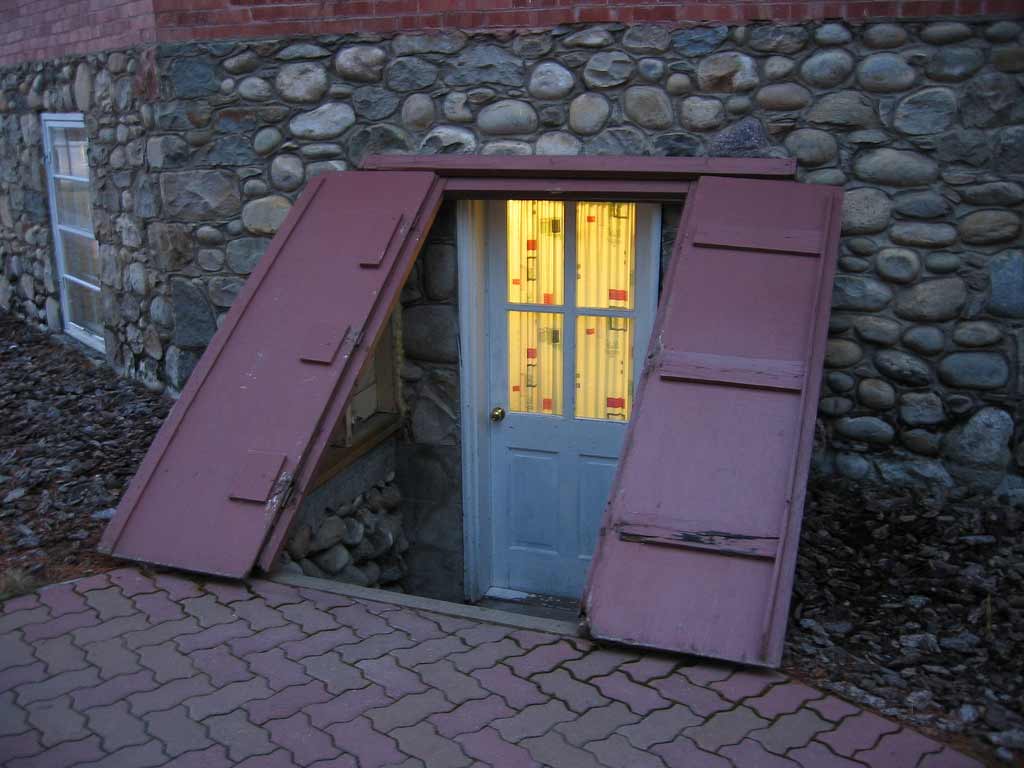 In addition to doors with standard openings, you may also need sliding ones like the one in the picture above.
There are numerous benefits that you gain with this kind of basement cover. One of them is that you can still leave the outer door open during the day to let natural light come into the basement.
Meanwhile, you can stay safe by leaving the inside door closed. And luckily, again, the outer door doesn't require any troublesome brace anymore.
26. White Bulkhead on the Backyard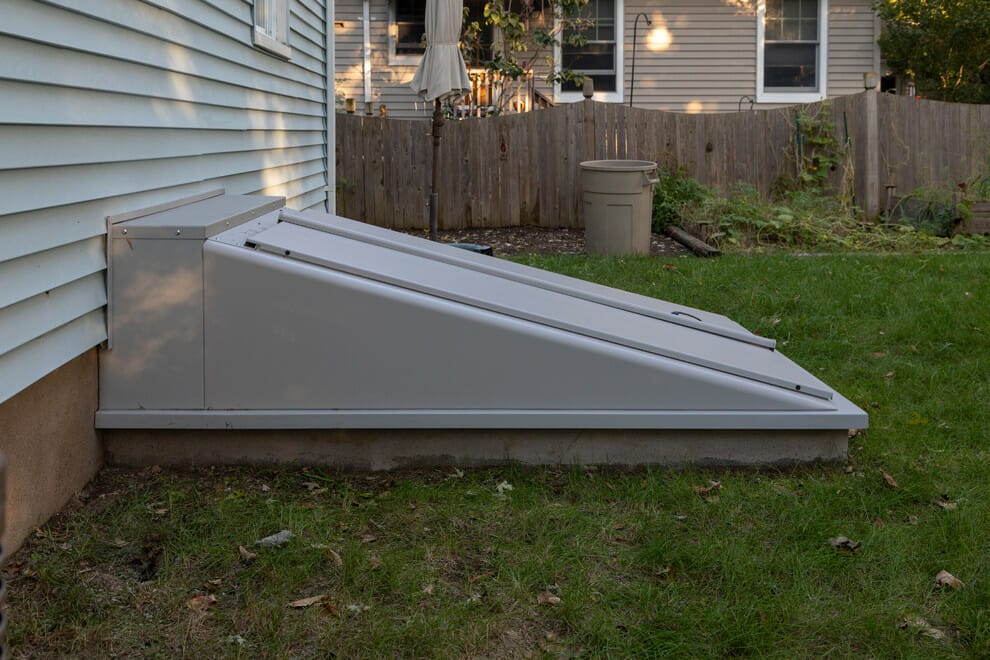 Basement exterior door ideas in white will be the favorite among many homeowners. Not only is it an excellent template for general entrance designs, but it's also lovely for bulkheads.
You know that sometimes the backyard will be filled with dry leaves that make a mess in the fall. And it can accidentally pile up bulkheads.
Therefore, giving it a white color would be preferable so that your basement door becomes more standout than other objects.
27. Sturdy Wood Door Among Pebbles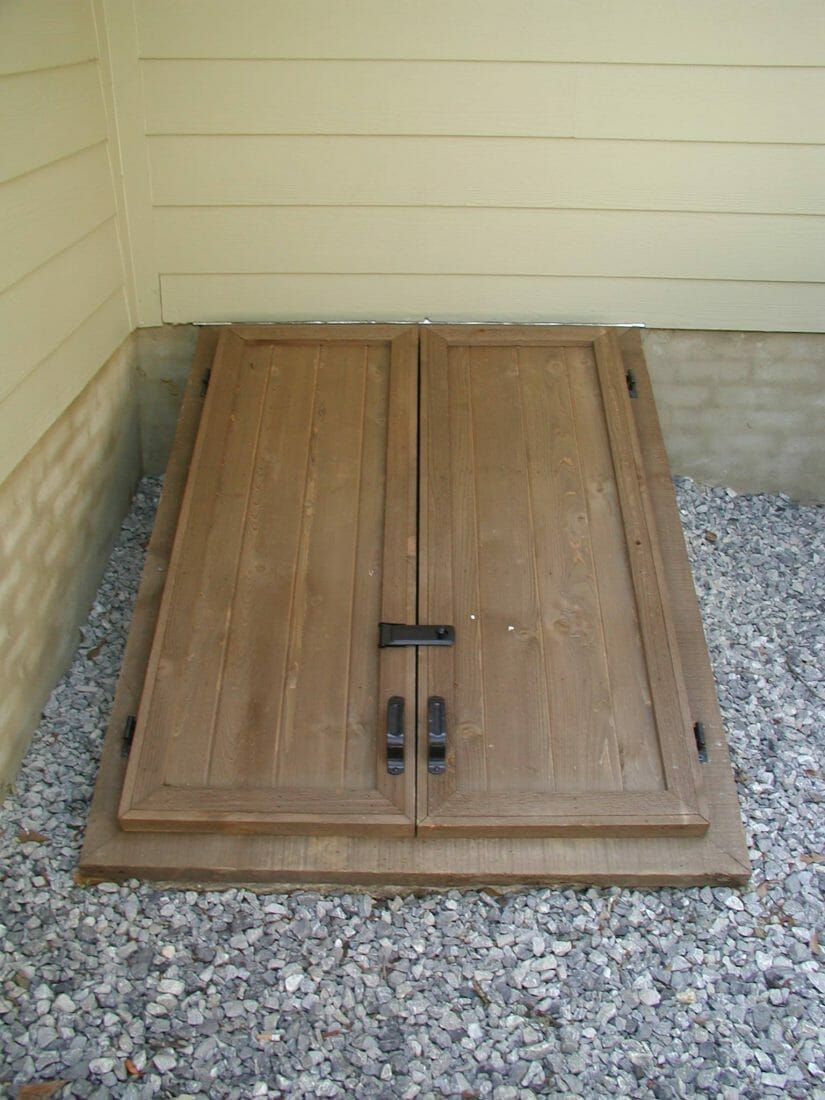 Uniting with nature is the best concept of basement exterior door ideas that you can find. Especially when there is so little to do to achieve this design.
You only need to install a thick, sturdy wooden door for the entrance cover. Then, add a padlock slot and handles made of dark metal.
After that, you have to surround it with many pebbles like in the picture above. Here is a theme that blends with nature to your liking.
And without any question, a basement exterior door design like this will better suit a rustic or modern farmhouse theme.
28. Beige Fiberglass Door with Stone Wall
Often you will find basement exterior door ideas that come with primary colors like black, white, and gray. Regardless, it does not imply you will be comfortable with only those shades.
Certainly, there'll be moments when you get tired of it and decide to go with new. As in the picture above, you are welcome to repaint the basement door with beige.
It would be even more impressive if it was completed with a stone wall of the same color. Believe it or not, your basement is not a gloomy place anymore.
Finally, those are basement exterior door ideas that you can adopt. Regardless of which design you choose, don't forget to put security first!