Many people fall in love with turquoise due to its vivid quality. It is not just unique, but also pretty and uplifting. If you are planning on integrating this color into your home, take a look at my fabulous turquoise room ideas.
Turquoise works well in any room, no matter what the design is. The color also creates a happy mood and a tranquil environment. Moreover, it can be utilized with other hues such as blue, red, green, brown, gray, gold, and white.
1. Symmetric Turquoise Living Room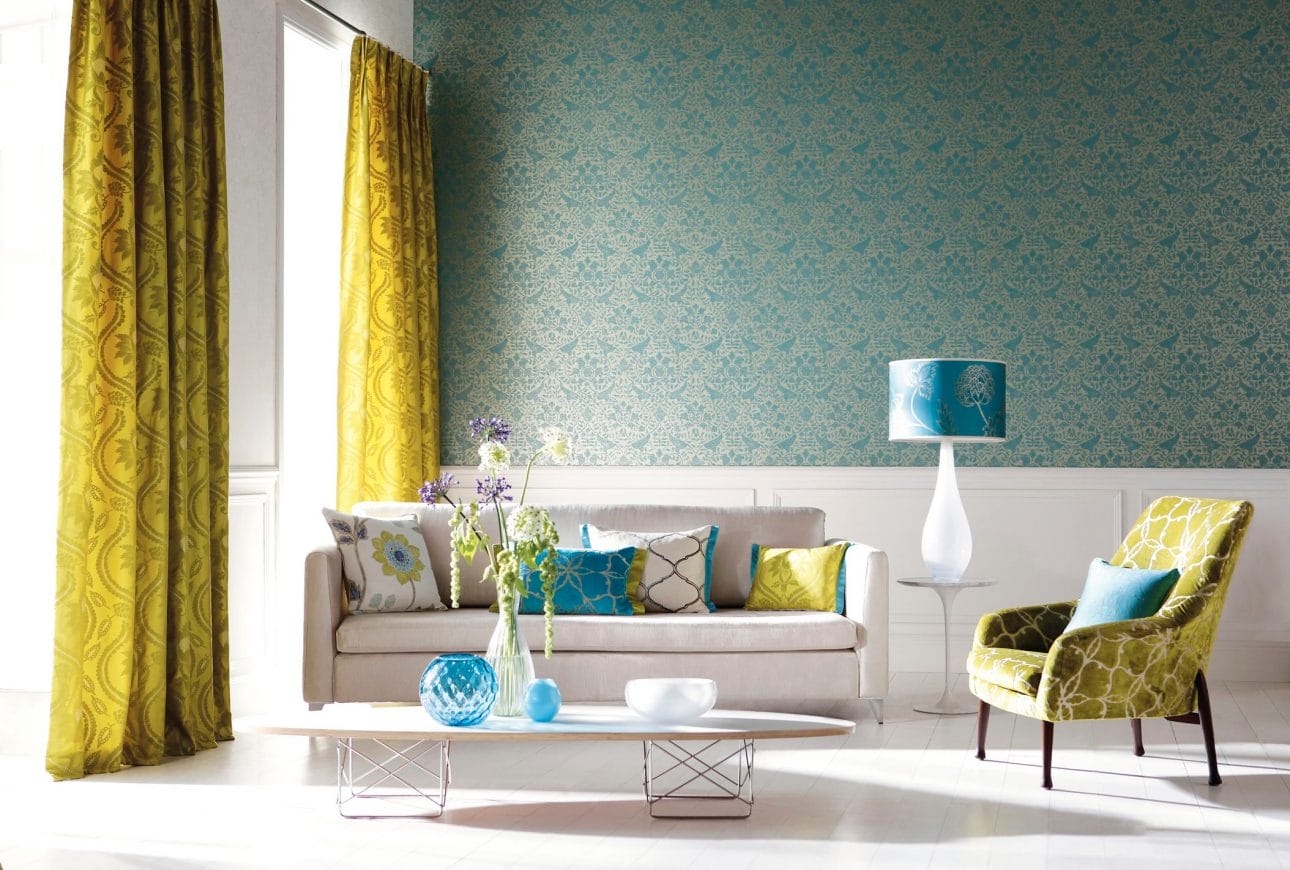 When it comes to decorating a living room, you should keep the ornamentation proportion balanced. That way, the room feels cozier and inviting. Place turquoise throw pillows on armchair and couch.
Cover upper half of the wall with turquoise patterned wallpaper. Then, add lime green elements to space for a visual balance. Include white and light gray in the space since they can nicely offset vibrant colors.
2. Turquoise Wall Paint Ideas for Bedroom
This bedroom employs a dark turquoise wall. It poses as a striking backdrop for woodland decals to develop a focal point. Pops of red infuse the sleepy space with energy.
The bedding continues turquoise, red, and white color scheme of the bedroom for a unified look. Shelving unit and nightstand keep items in place, while the gold accent lends a luxury touch to the area.
3. Turquoise Kitchen Furniture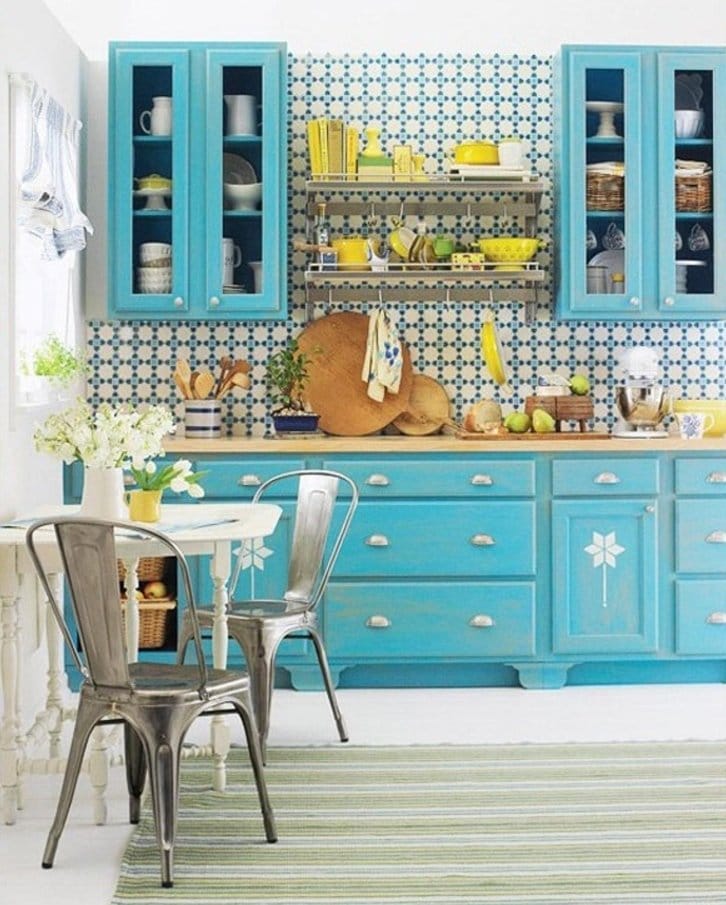 If you want to enliven your kitchen, paint the cabinets turquoise. They generate a refreshing atmosphere in a flash. Yellow accessories bring more vibrancy to the interior.
Two-tone patterned backsplash wallpaper carries interest to space. Wood accents and potted greenery create an outdoorsy feel. Meanwhile, that white dining table and metallic chairs offer vintage charm.
4. Turquoise Bedroom Walls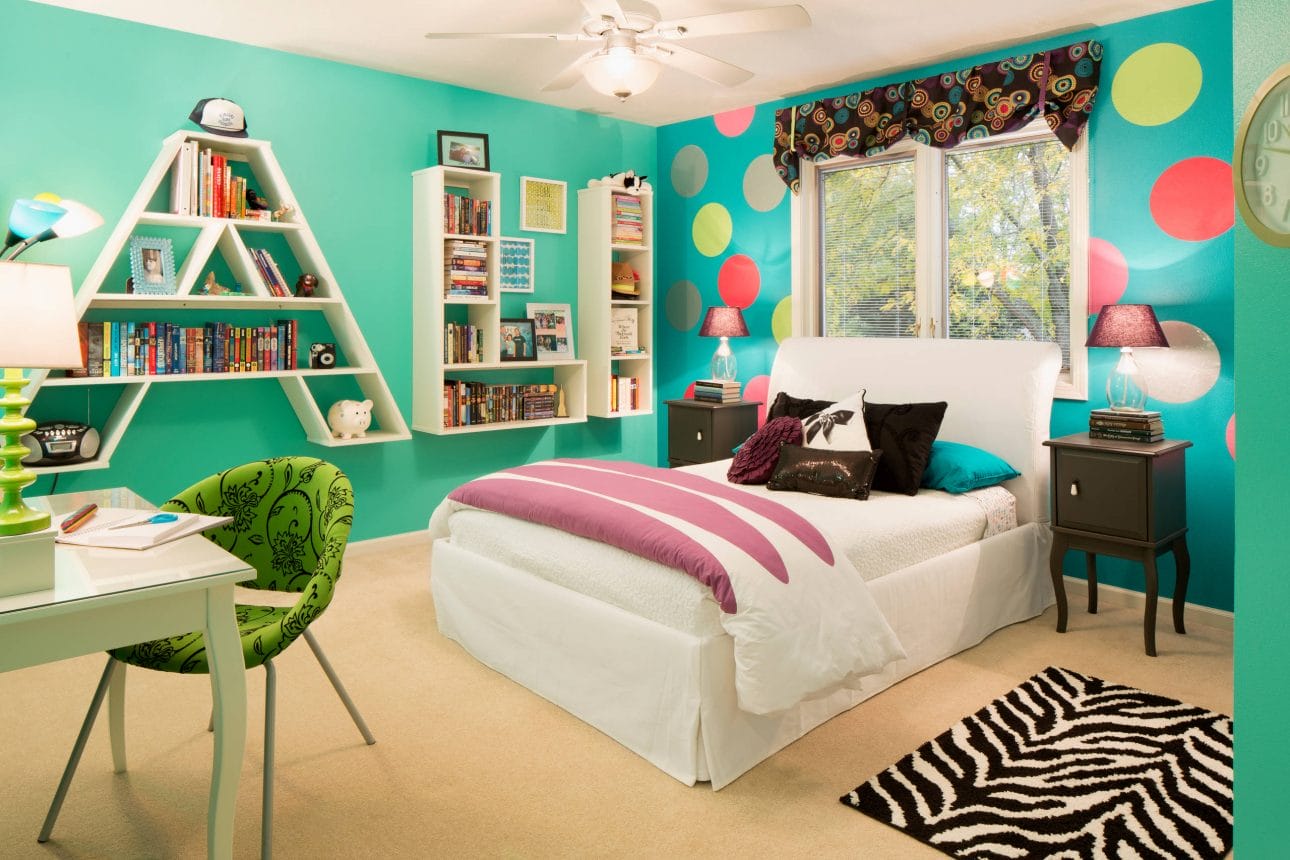 The bedroom walls were painted in mint and bright turquoise shades. In no time, they encourage a cheerful ambiance. Lime green accents go perfectly with them. Splashes of purple and coral spruce up space even more.
Neutral colors balance out their bold counterparts. Wall shelving units give the bedroom a personalized vibe. Meanwhile, windows let the space have ample sunlight.
5. Turquoise Wall Paint Living Room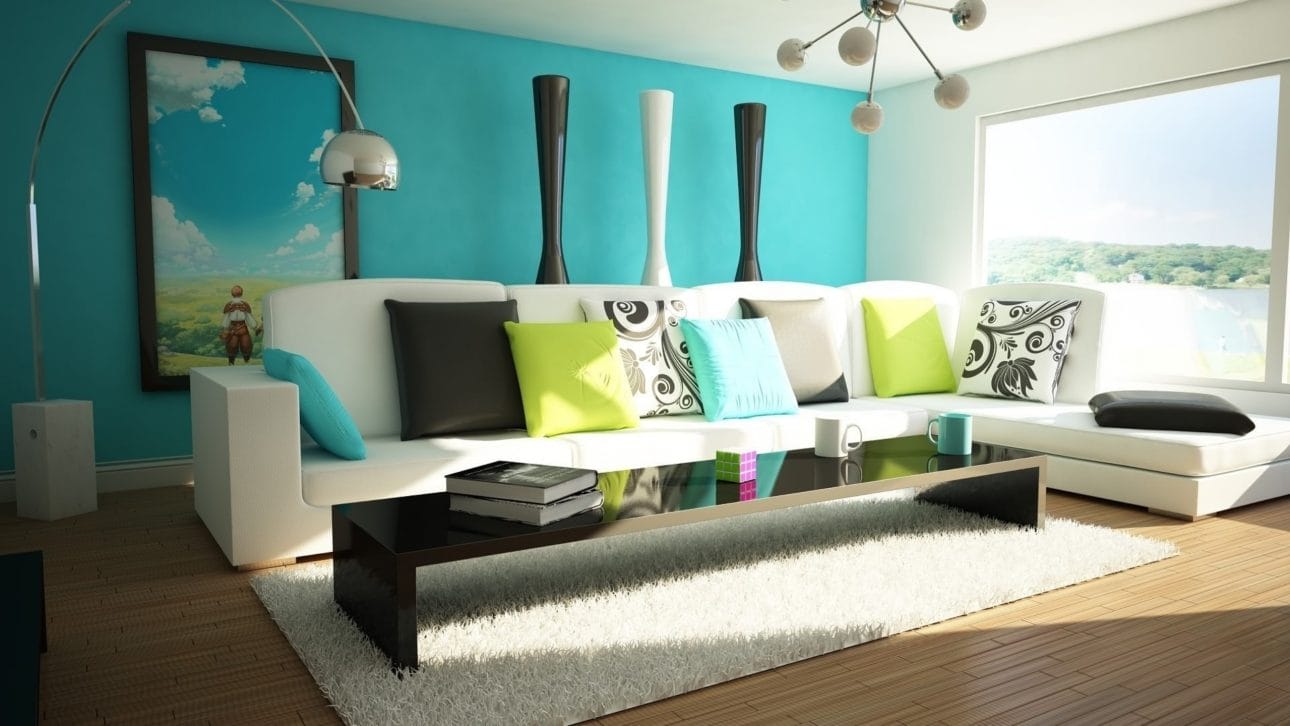 This living room features a turquoise accent wall. It is a gorgeous contrast to the crisp white ceiling and an L-shaped sofa. Black coffee table, pillows, and decorative pieces infuse the area with a dash of drama.
The wood floor sets a welcoming mood. Light fixtures carry the contemporary appeal to the living room. Throw pillows serve as the centerpieces. In Addition, the black-framed work of art produces a cohesive appearance.
6. Turquoise and Pink Bedroom Ideas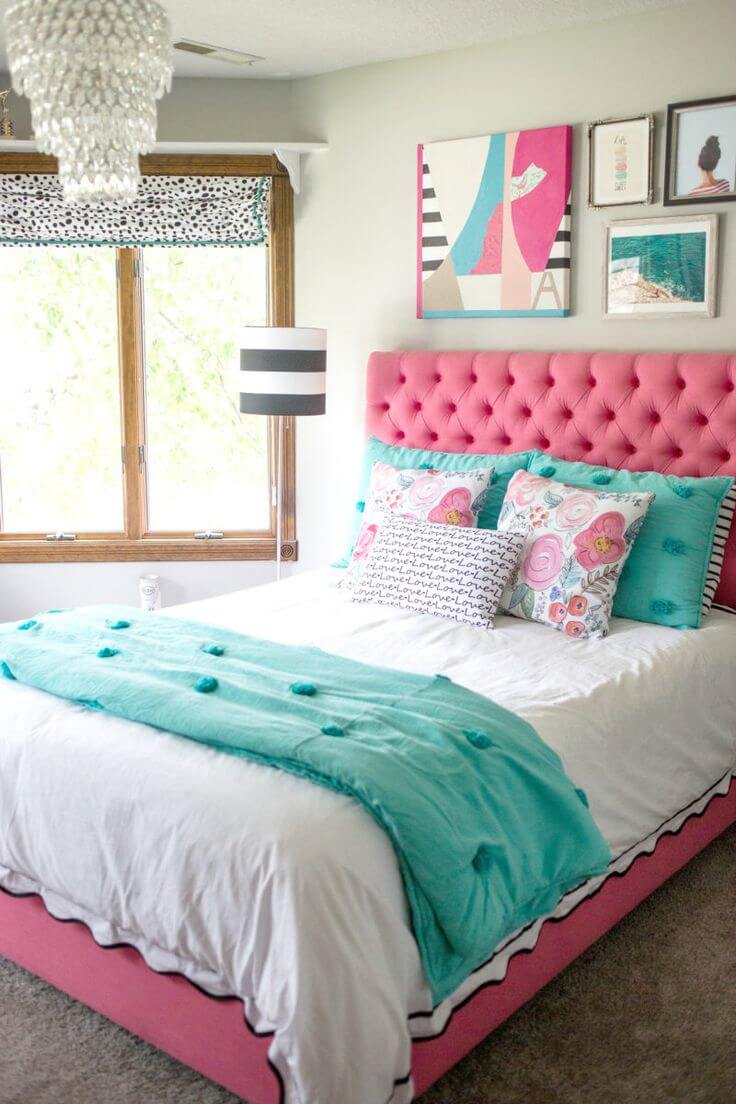 Turquoise and pink are an eye-candy pairing. The color scheme can be incorporated into the female bedroom. It delivers a womanly touch and a happy atmosphere to the area.
The crystal tiered chandelier, cylinder floor lamp, tufted headboard, and floral pillows represent vintage style. Meanwhile, a light gray wall allows the framed artworks to steal the show.
7. Turquoise and Brown Living Room Ideas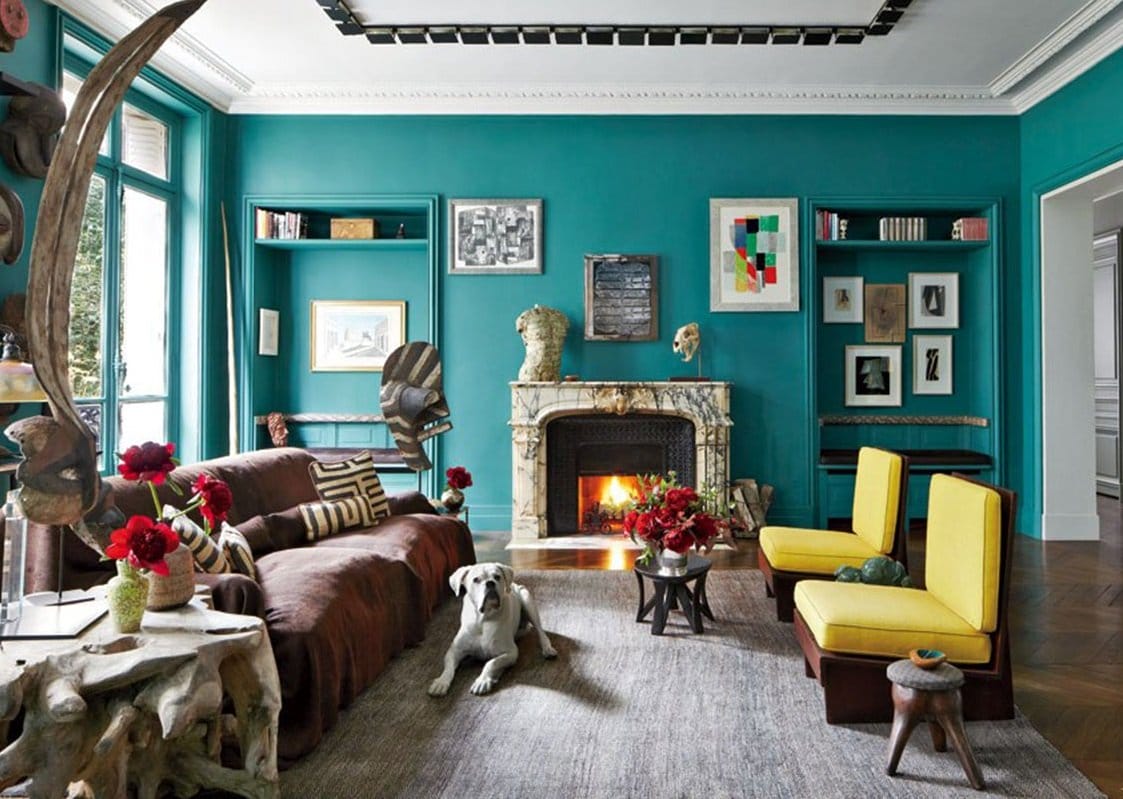 Here, I show you a charming living room. The furniture units and ornamental elements contribute to its contemporary style. Large windows keep the whole space airy and bright.
Turquoise walls and yellow chair cushions bring some life to the area. Dark brown sofa and wood floor prevent them from overwhelming the space.
8. Mediterranean-Inspired Turquoise Bedroom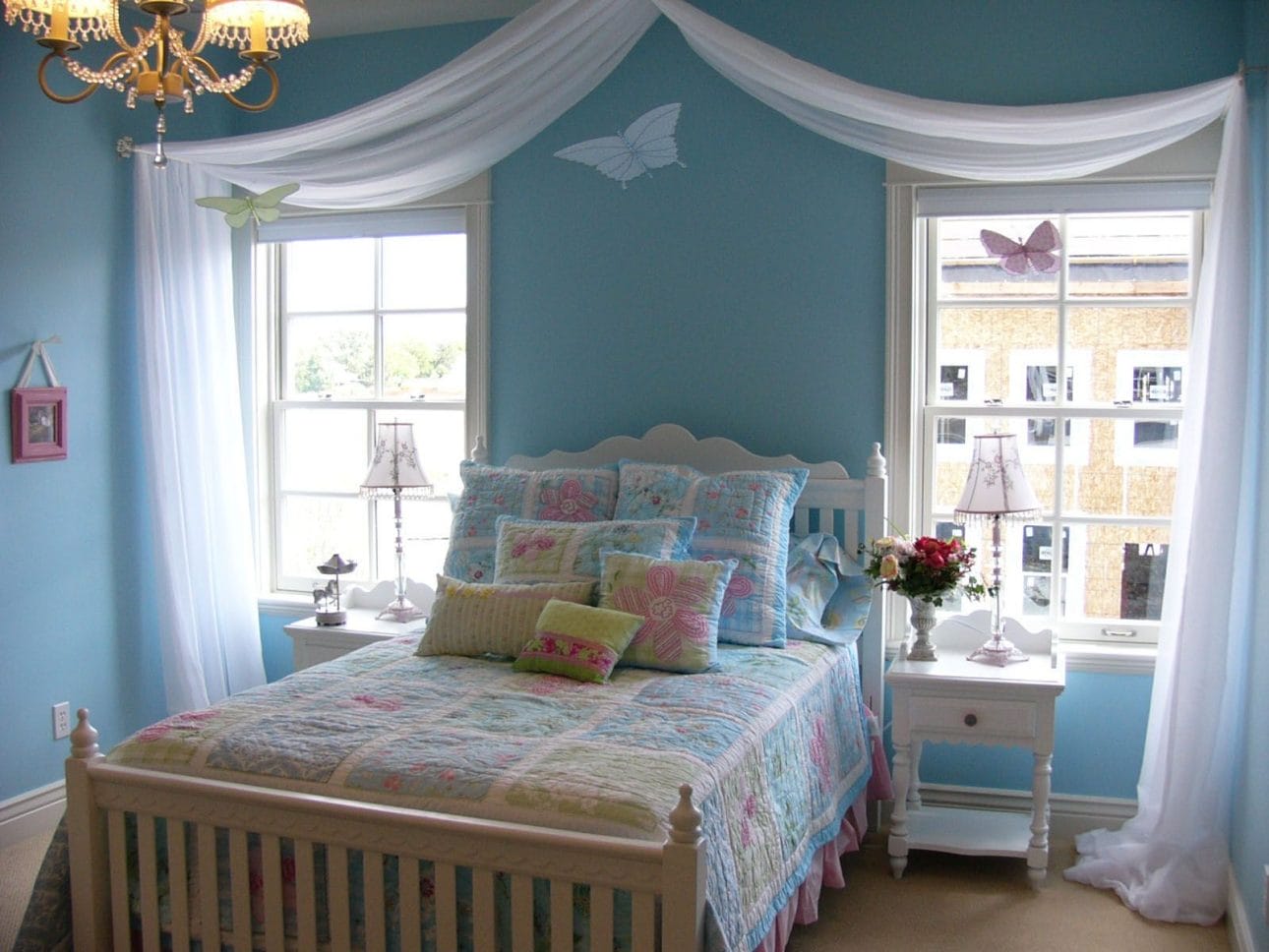 If you love the Mediterranean theme as I do, create the exotic feel by painting your teenage girl bedroom walls pastel turquoise. The color instantly sends out a youthful ambiance.
Floral bedding and fresh flowers infuse the space with a feminine vibe. White sheer curtains, nightstands, table lamps, and chandelier develop an elegant look.
9. Modern Turquoise Bedroom Ideas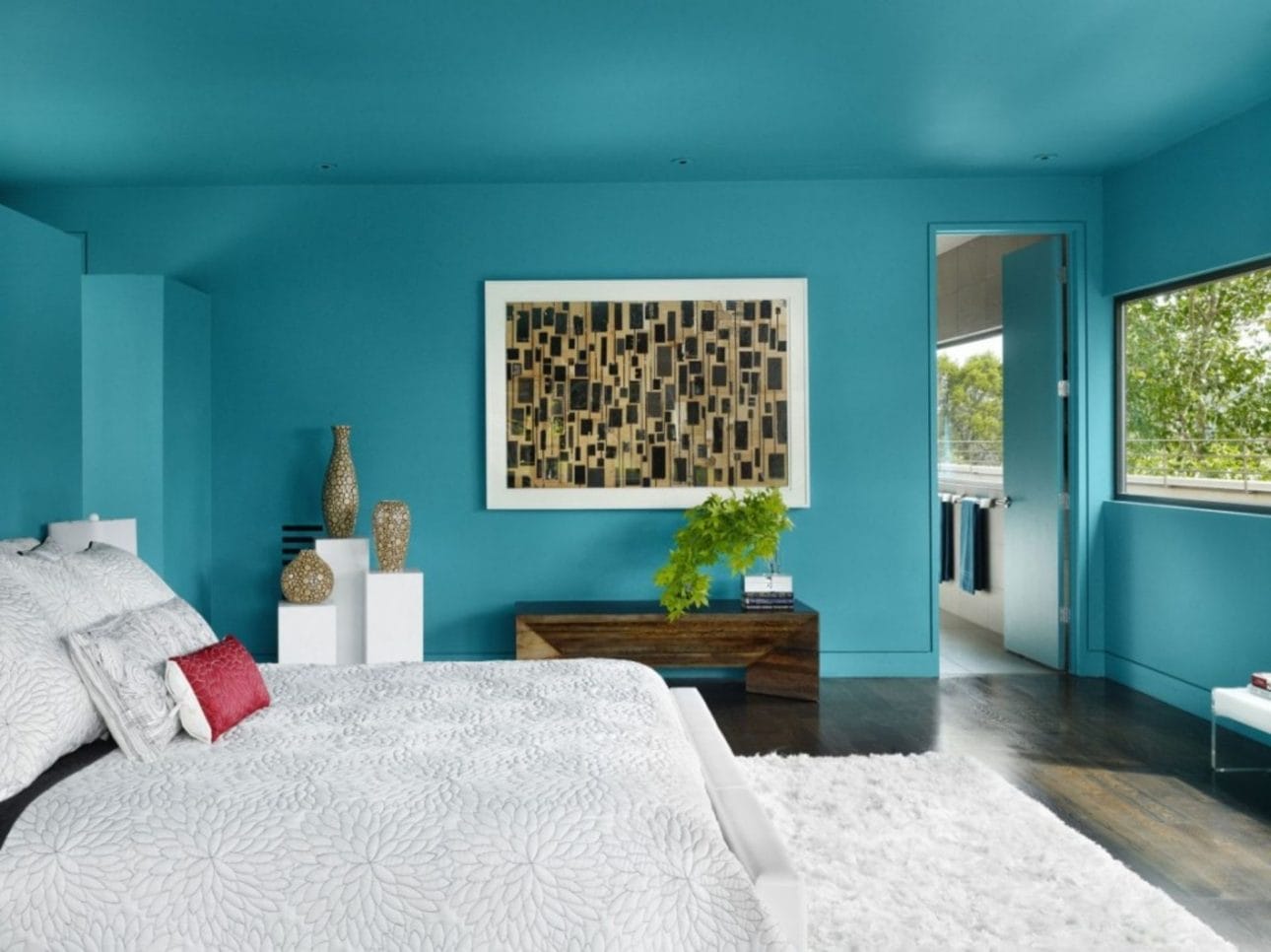 Who says turquoise is just for vintage space? It works great in the streamlined modern bedroom, too. Here, turquoise ceiling and walls make a bold statement. They also lend the area sophistication.
In addition, pure white furniture and decor accentuate the vibrant turquoise hue. Potted plant and dark-toned wood bring the outside inside. Besides, a pop of red keeps the bedding from being stark.
10. Turquoise Teenage Girl Bedroom Ideas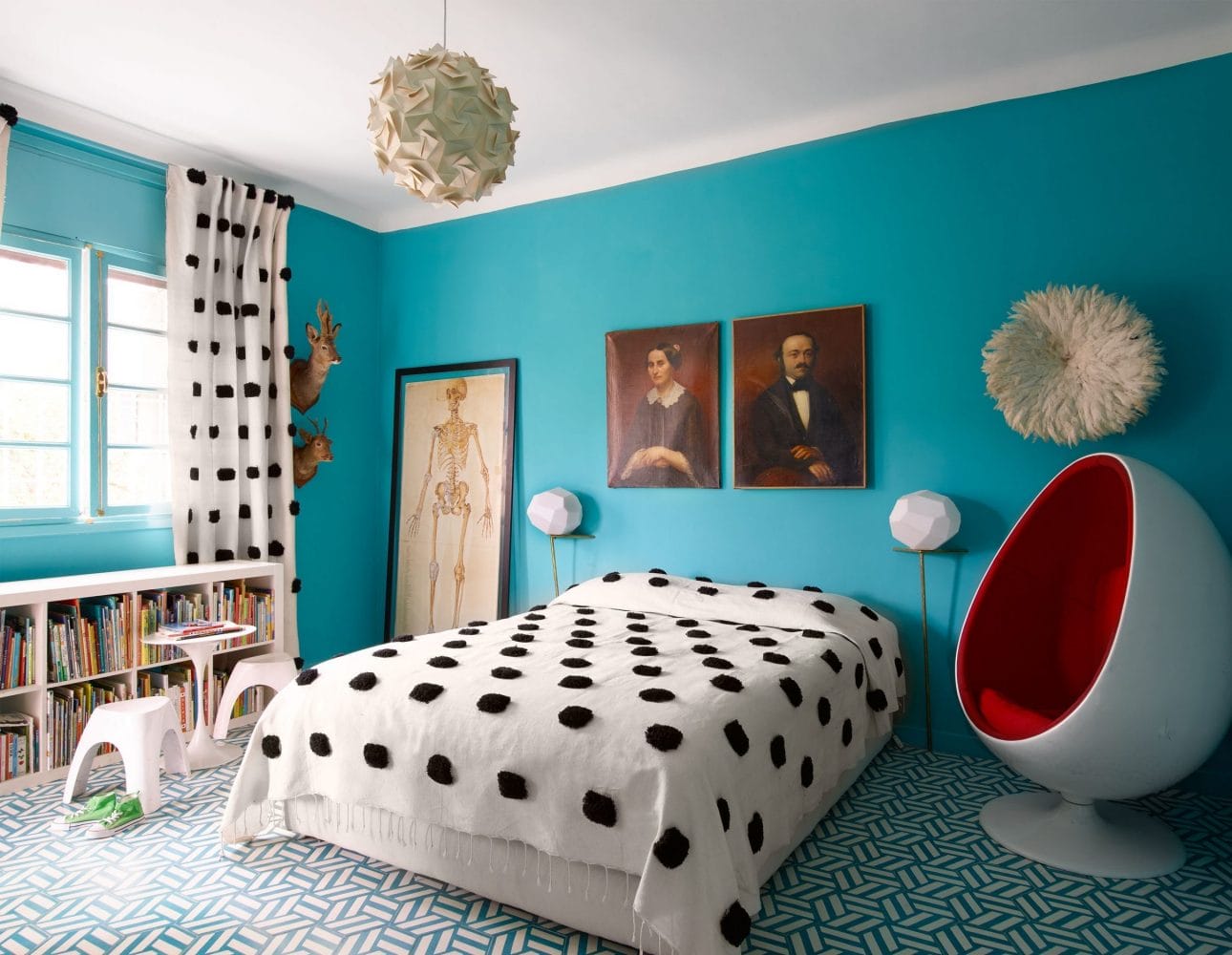 This teenage girl's bedroom boasts bright turquoise walls. They carve a fun look and introduce a striking contrast against a crisp white ceiling. Two-tone patterned carpet draws the eye in a flash.
Pod chair, pendant lamp, and wall decorative items offer an eclectic touch. Meanwhile, polka dot bedding and curtains assert a sense of youthfulness.
11. Turquoise Decor for Living Room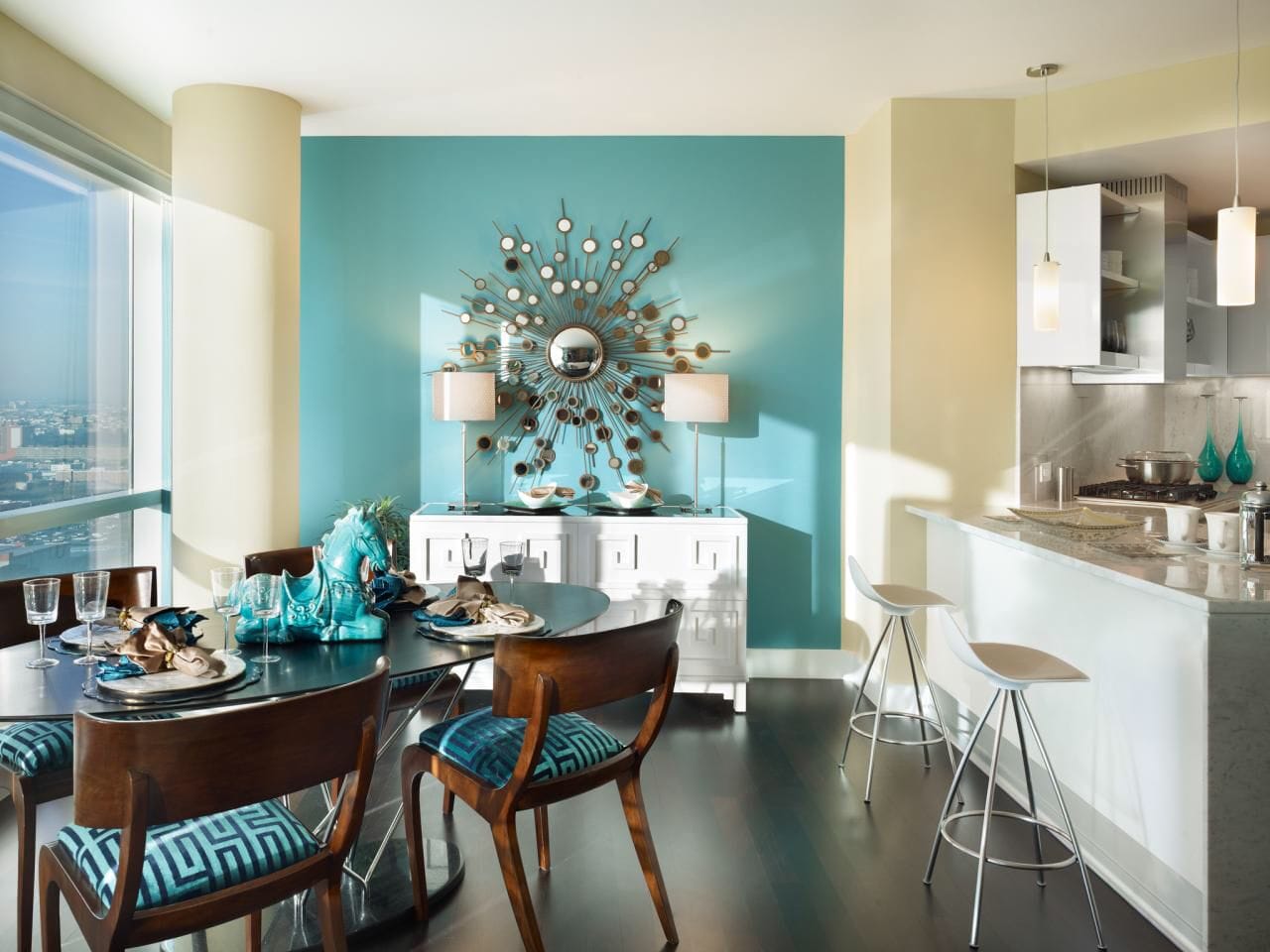 In this living room, turquoise is not a big player. The wall, chair cushion, and accent items wear that vivid color. Since the turquoise aspects were equally scattered throughout the area, it appears healthy and comfy.
Moreover, turquoise elements inject an instant boost into space. Pale yellow, black, and pure white allow them to shine. Additionally, huge windows let in lots of natural light.
12. Beach-Themed Turquoise Bedroom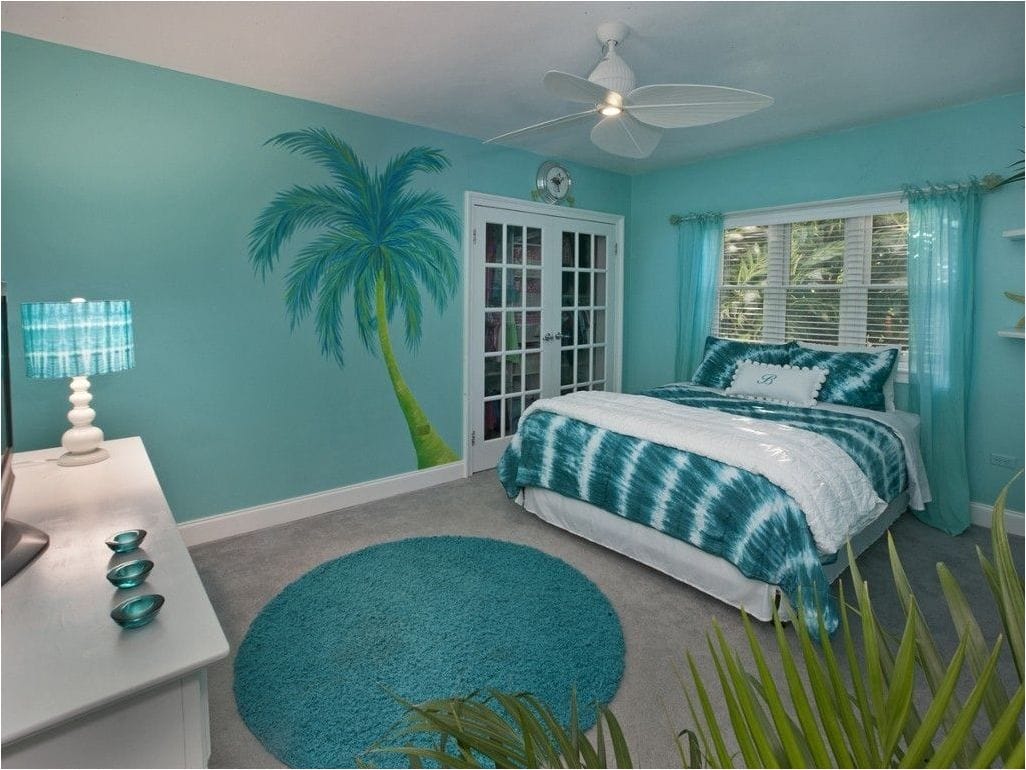 Are you a beach person? If yes, give this brilliant idea a shot. Here, the bedroom features light turquoise walls and curtains. They produce carefree vibes and a relaxing atmosphere.
The bedding and round area rug come in bolder turquoise hue. In a split second, they imbue the bedroom with comfort. Meanwhile, coconut tree wall decal and potted palms remind you of memorable summer vacation.
13. Light Turquoise Paint for Bedroom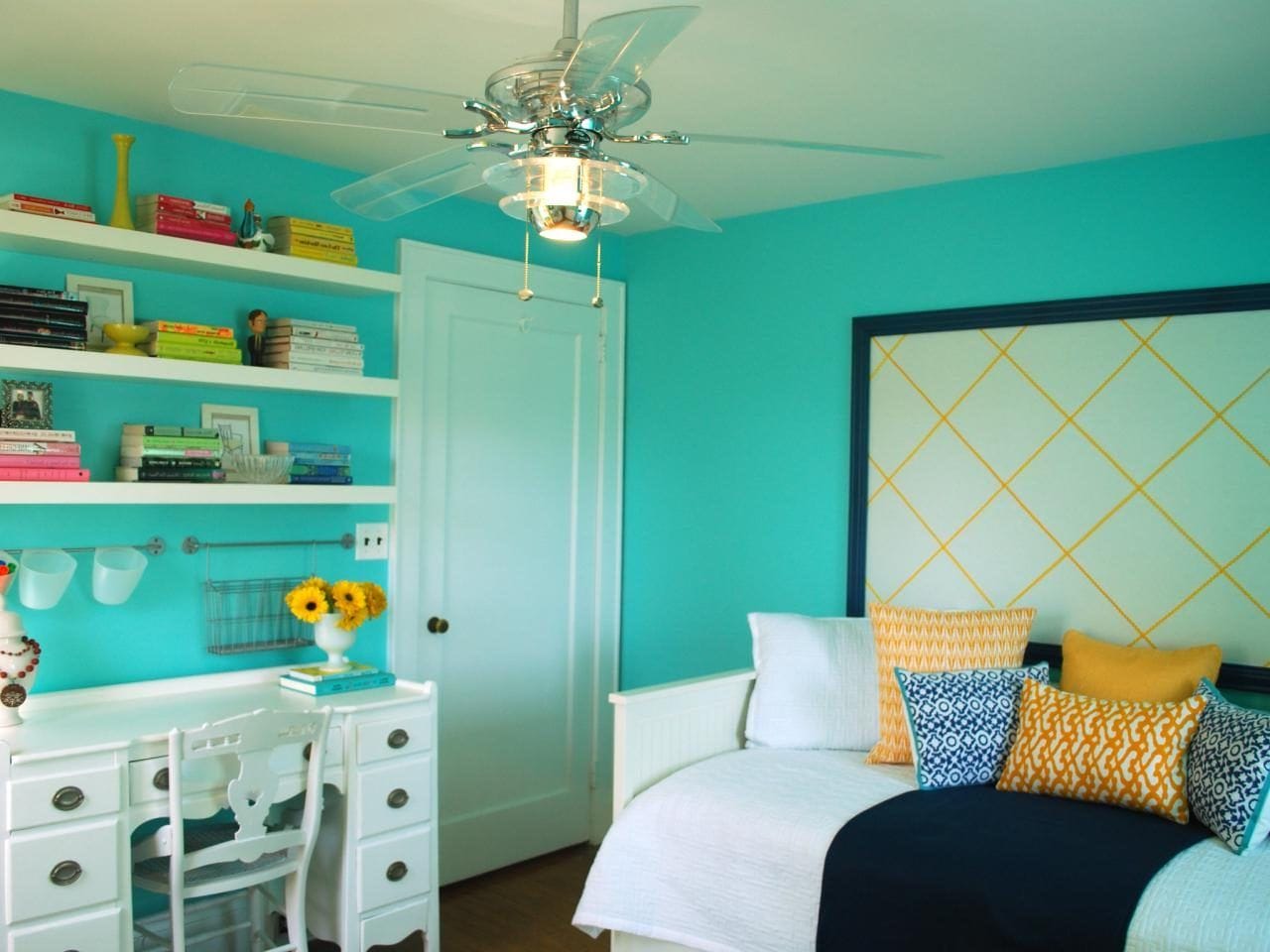 Accentuate your teen girl's sleepy space with a color combination of light turquoise and yellow for a playful appeal. Be sure you add white to the bedroom. The color emanates a clean environment.
You should choose a convertible sofa bed. This furniture will save precious space. Then, hang a rhombus headboard over the yellow and blue patterned pillows. Display some books and decorative pieces on the white open shelving.
14. Gray and Turquoise Living Room Ideas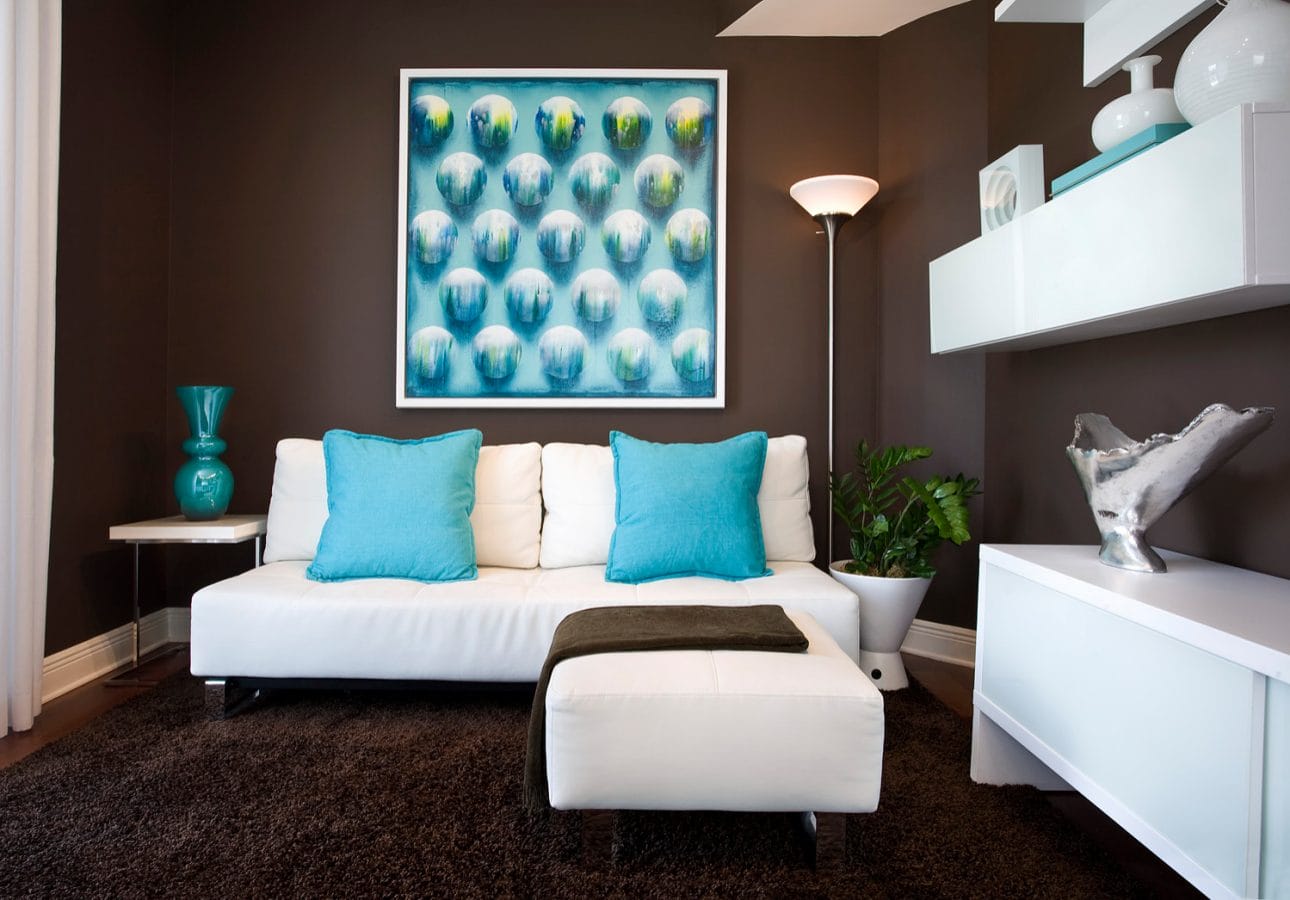 You do not need to utilize a rich turquoise tone for a dramatic visual effect. This living room proves that muted shade can generate a strong impression, too. The vase, artwork, and pillows wear it perfectly.
Dark gray walls and black shag rug carry some depth to the room. They also give off a calming nuance. Crisp white furniture units, curtains, and accessories prevent the living room from becoming depressing.
15. Turquoise Family Room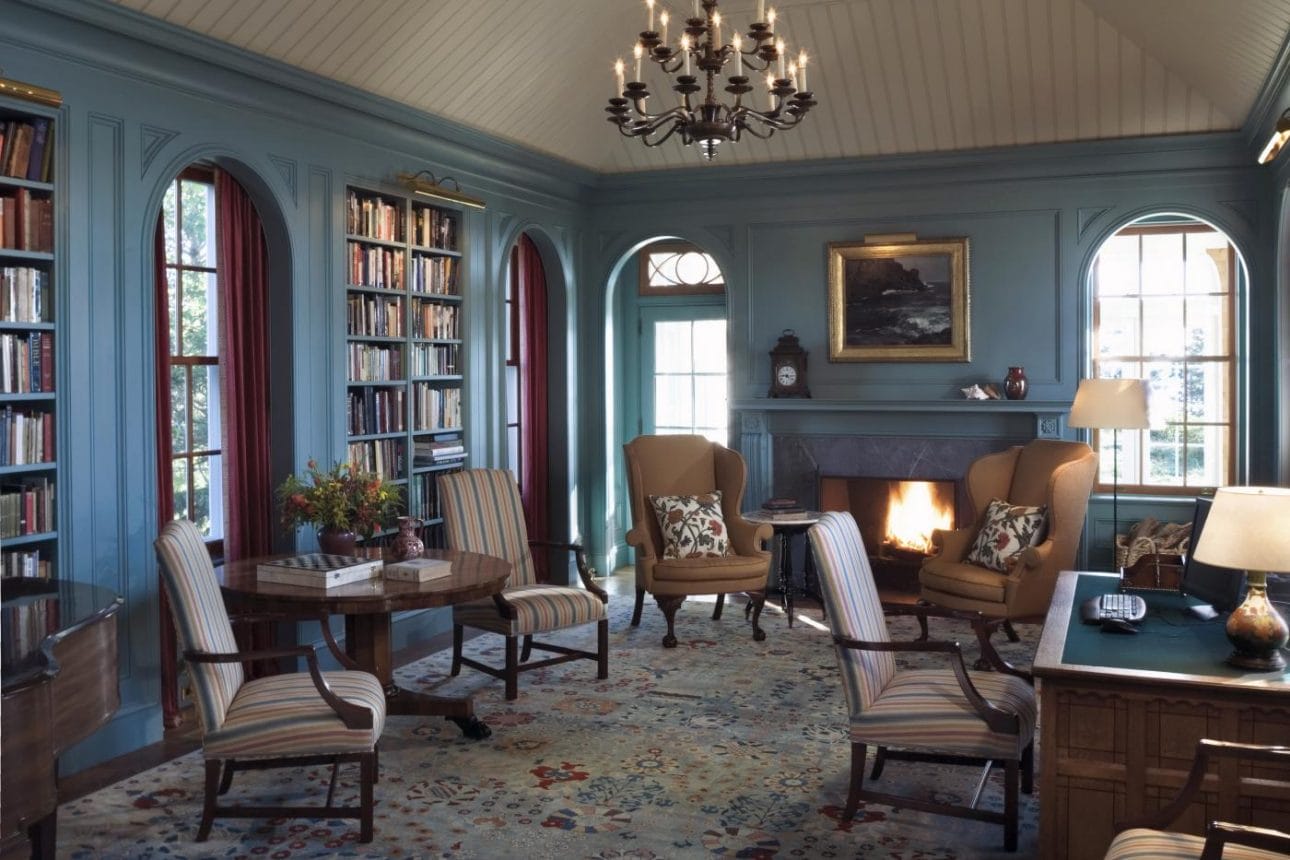 Light tones and warm neutrals highlight the bright turquoise hue in this traditional family room. Beautiful arches and black metal chandelier add some vintage appeal to the interior. Windows let sunlight enter the space.
The striped armchairs and floral area rug elicit a feeling of cohesiveness. Wingback chairs deliver glamor to the room. Meanwhile, the fireplace, round table, and wood floor carve an intimate ambiance.
16. Turquoise and White Bedroom Decorating Ideas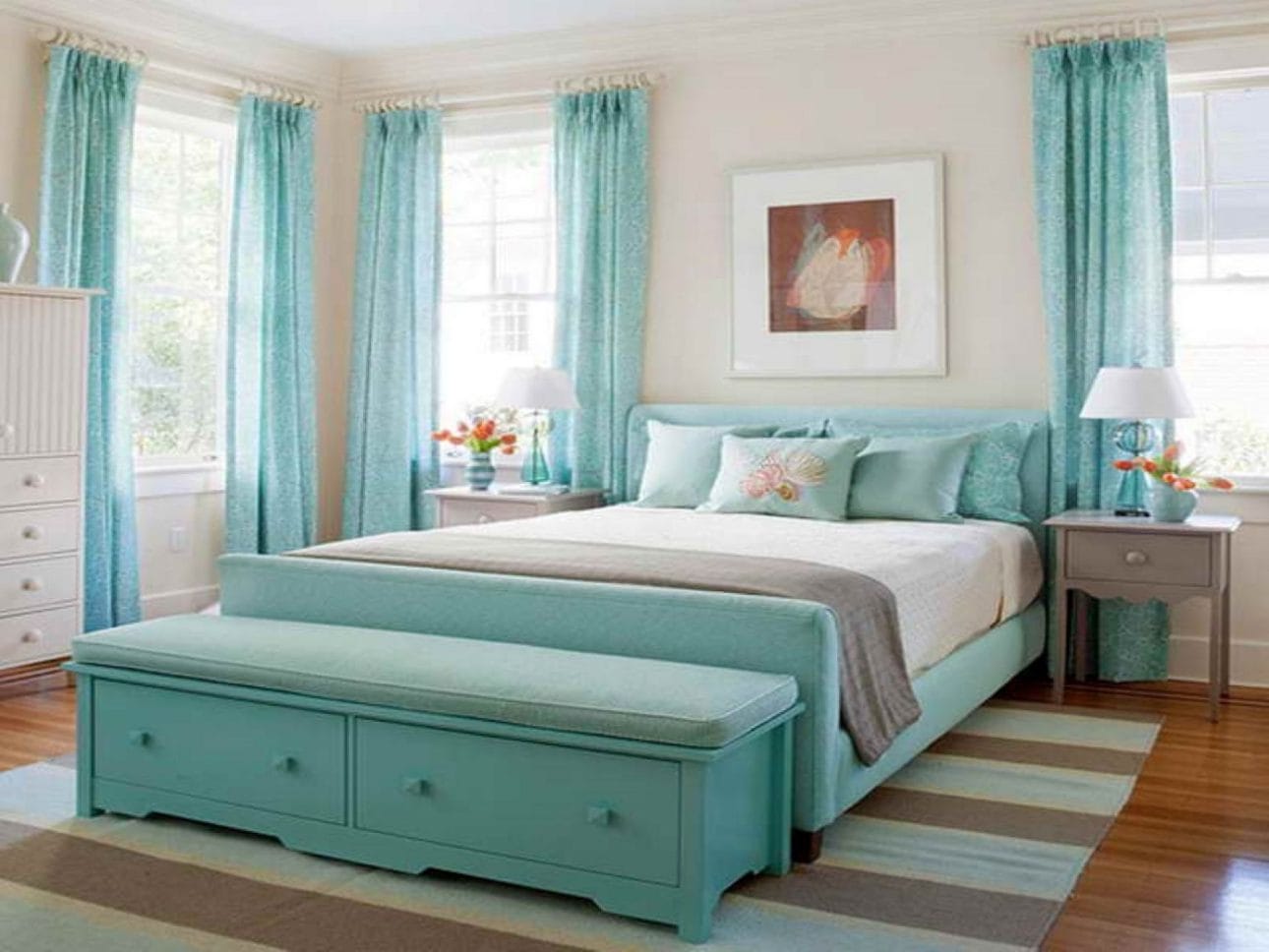 Muted turquoise curtain, bedding, bench, and vases transform this bedroom into a dreamy retreat. They also develop good vibes and a calm mood. Striped area rug brings fun while keeping the space restful.
The off white walls contrast tastefully with light turquoise units. Meanwhile, that medium-toned wood floor delivers timeless warmth to the interior. In addition, framed work of art over the headboard fills blank wall space and titivates the bedroom.
17. Turquoise Boy Bedroom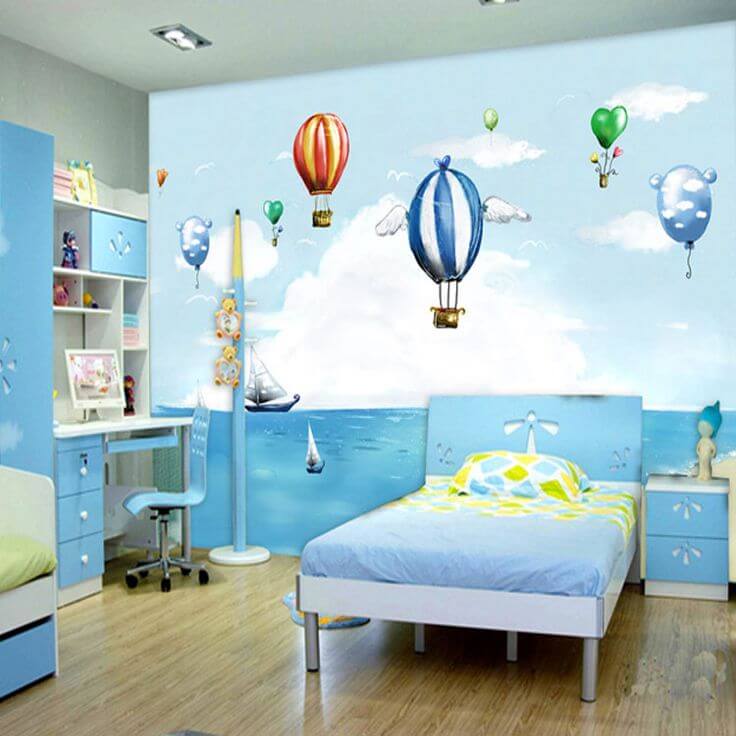 Without a doubt, this bedroom belongs to a little boy. Different shades of turquoise infuse a diverse feel into the sleepy space.
The hot air balloon wallpaper sends out a youthful atmosphere. Meanwhile, the homework station features a rolling chair for easy movement.
18. Turquoise Nursery Ideas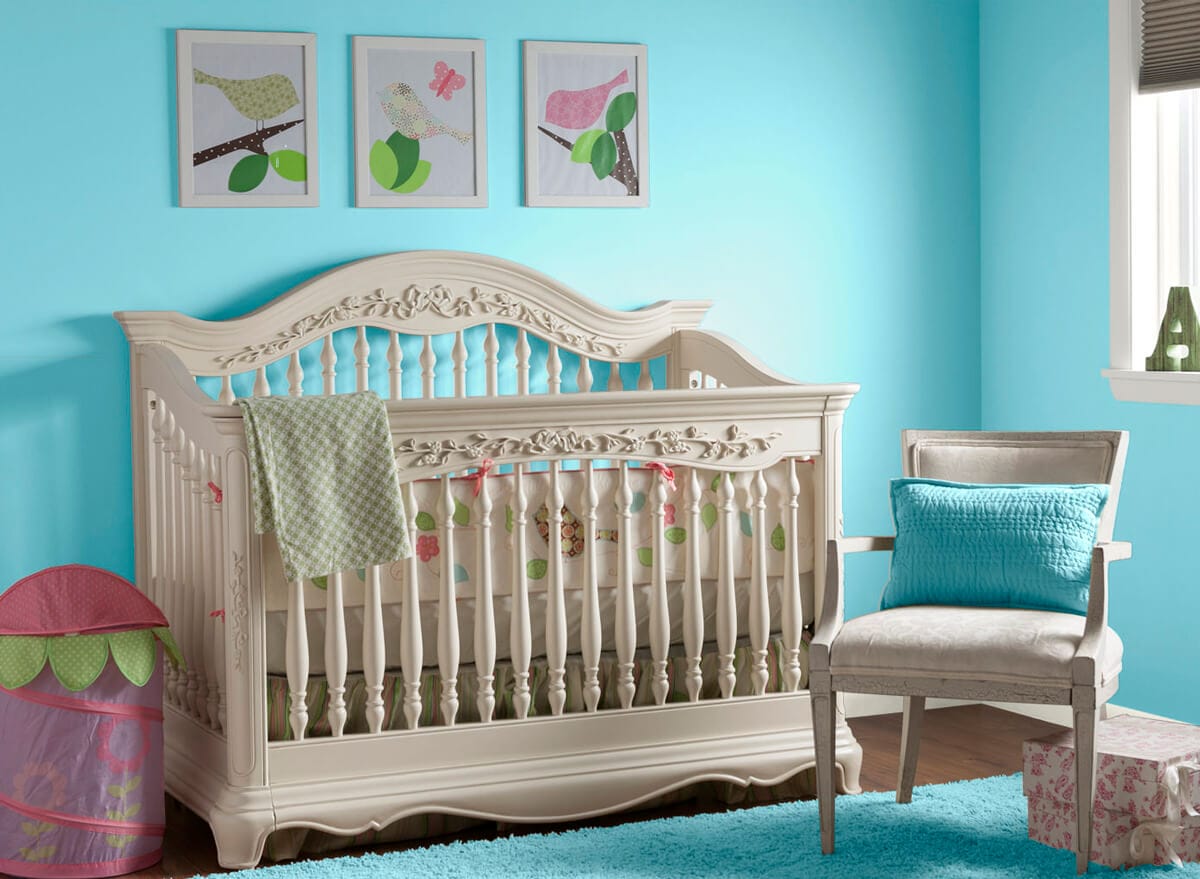 Still not sure about the sex of your prospective baby? Then, this idea is for you. Here, the nursery boasts turquoise rug, pillow, and walls. They lend excitement to the area.
Pink storage basket and floral boxes make this nursery gender-neutral. Besides, gray aspects impart a sense of serenity.
19. Turquoise Bedroom Ideas for Twin Girl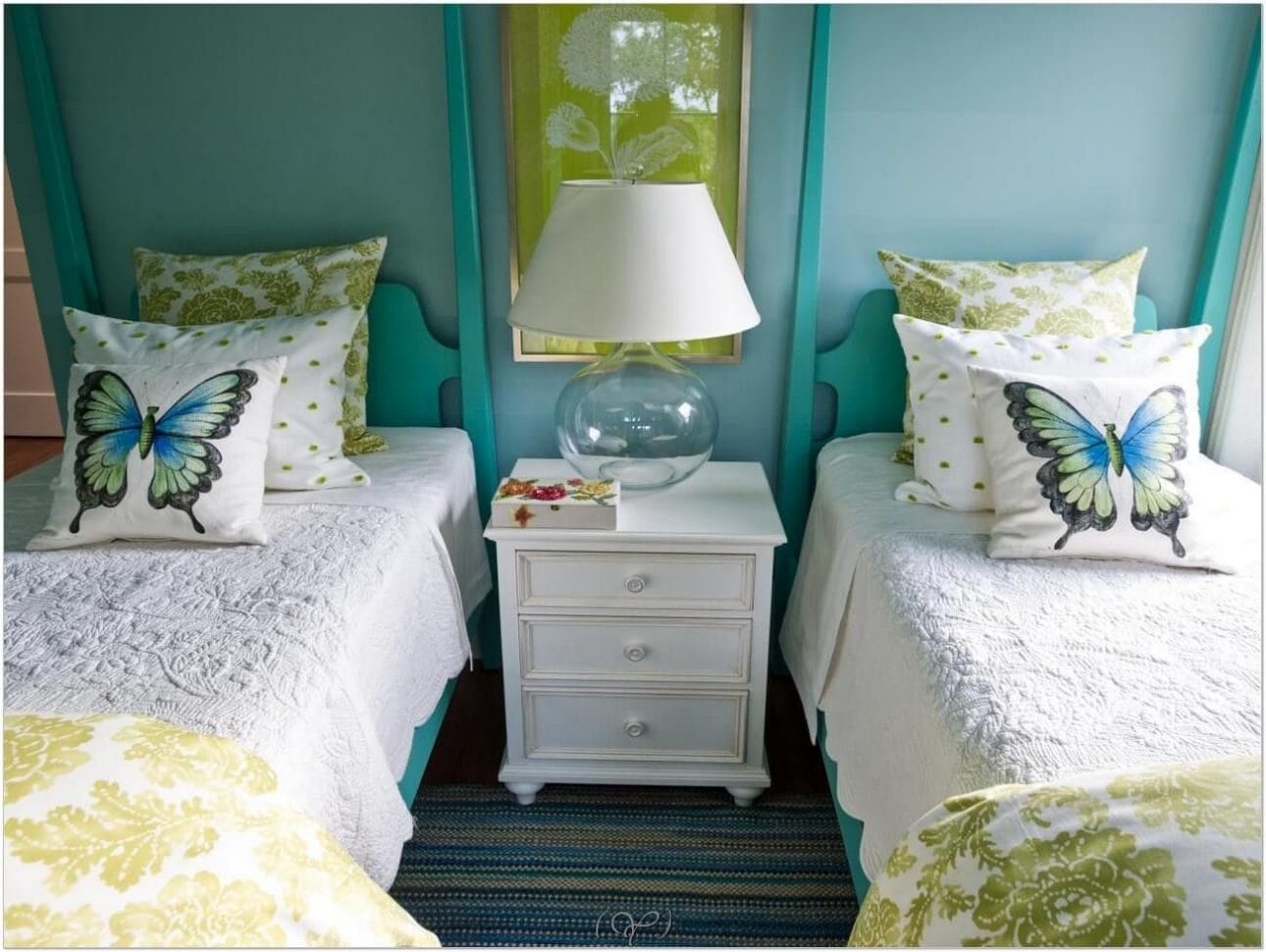 This twin girl's bedroom was outfitted with turquoise bed frames and headboards. They make a delightful statement.
Muted turquoise backdrop allows white nightstands and table lamps to be noticeable. Besides, lime greens and butterfly pillows are a captivating addition.
20. Turquoise Adult Bedroom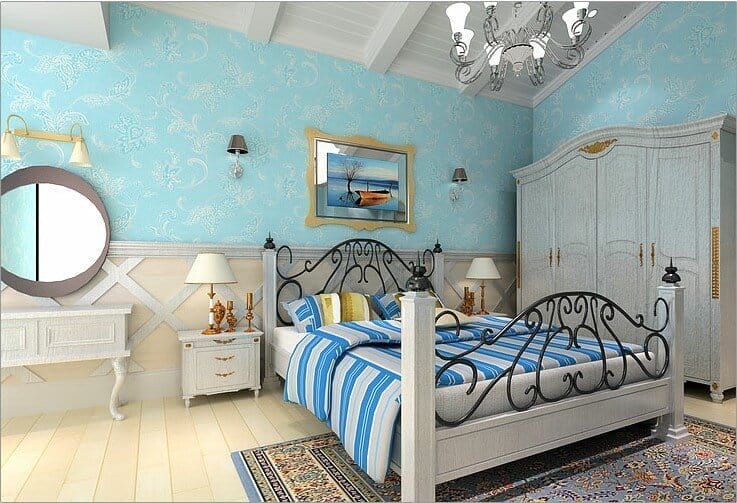 Light turquoise and gray are a match made in heaven. This bedroom says it all. The color combination gives off a soothing environment.
Striped bedding, rhombus patterned wainscoting, and floral rug bring interest to the interior. In addition, gold detailing creates a classy appearance.
21. Classic Turquoise Bedroom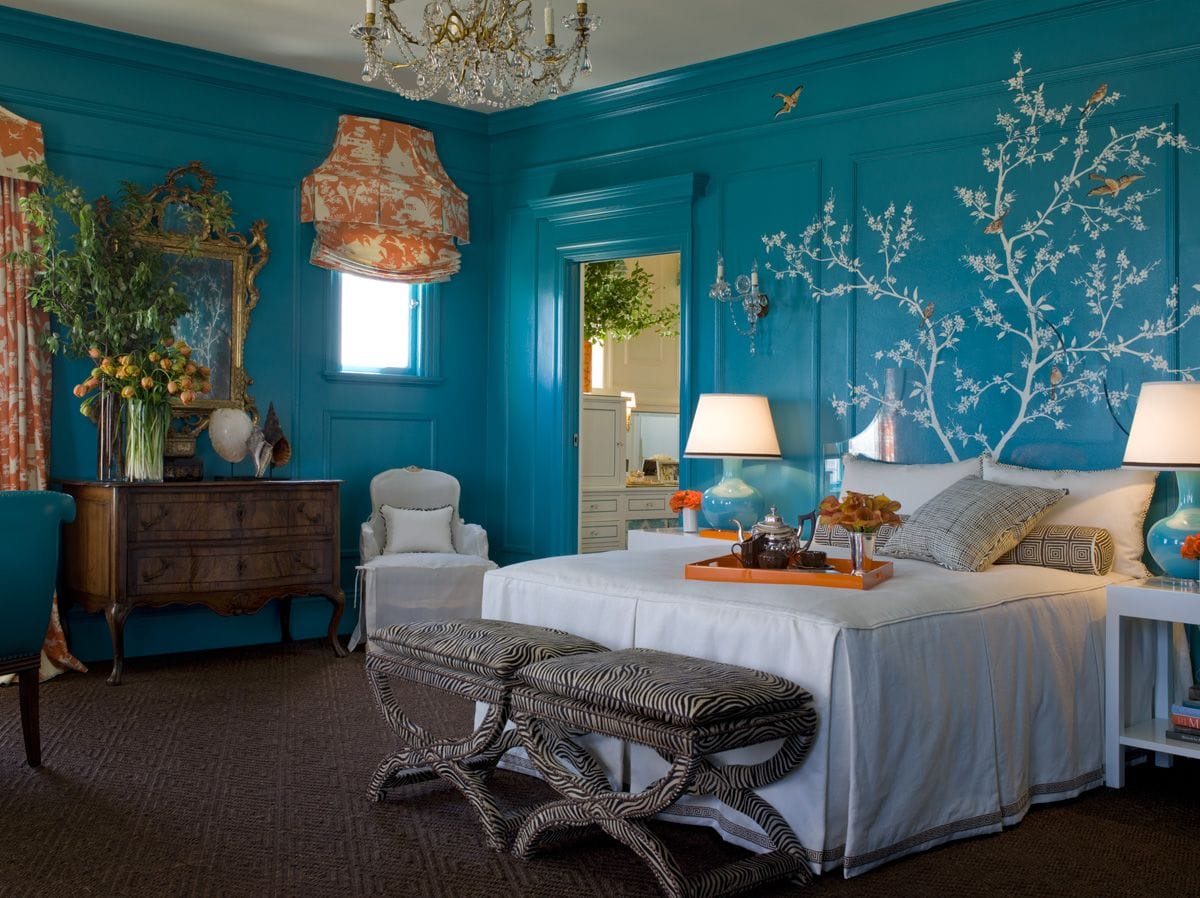 The wall panels were painted intense turquoise. They liven up the bedroom instantly, while orange accents provide visual warmth.
Browns and earthy tones along with intricate details stamp traditional style. Crisp whites keep the space from feeling dingy. In Addition, a crystal chandelier and gold mirror add a touch of luxury to the area.
22. Turquoise Apartment Bedroom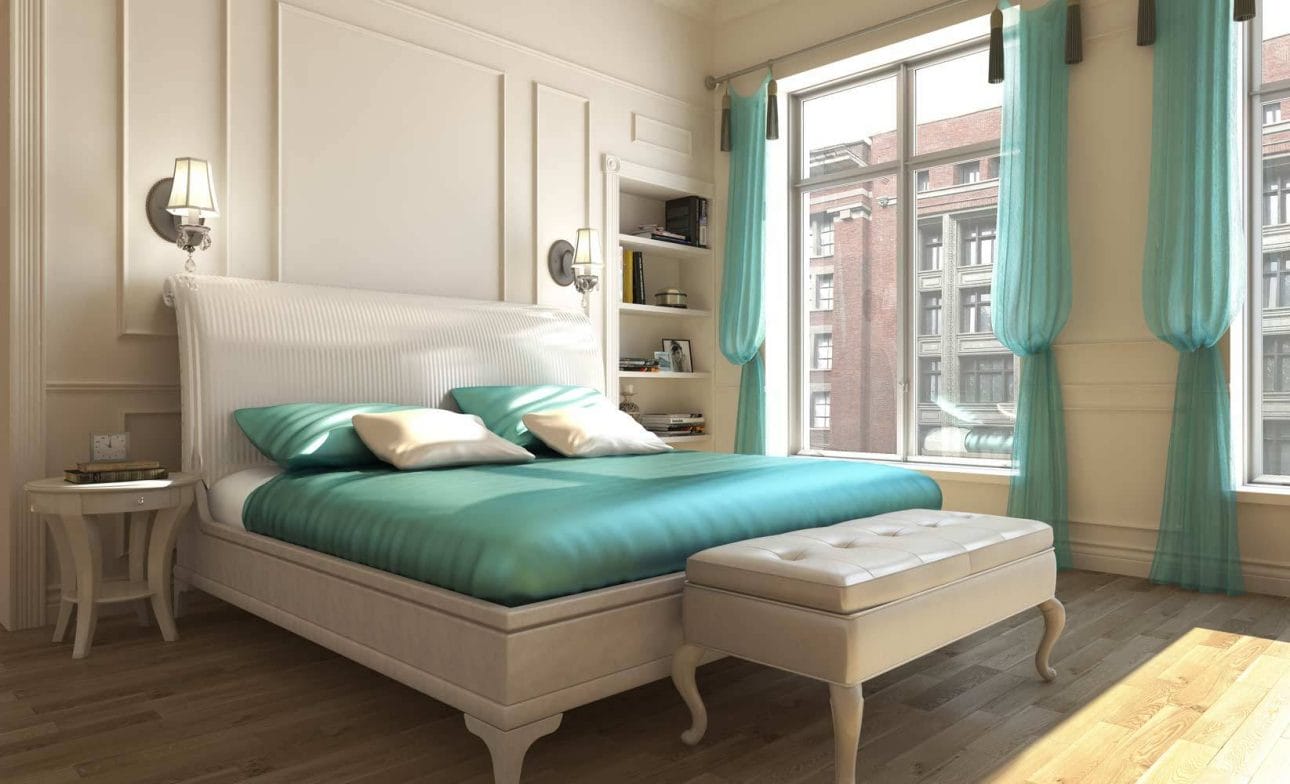 You do not have to paint your bedroom walls. Include the color in the sleepy space by utilizing it on the bedding and curtain.
Here, mint turquoise aspects deliver fun and energy to the otherwise dull room. Meanwhile, the furniture pieces ooze classic charm.
23. Turquoise Little Girl Bedroom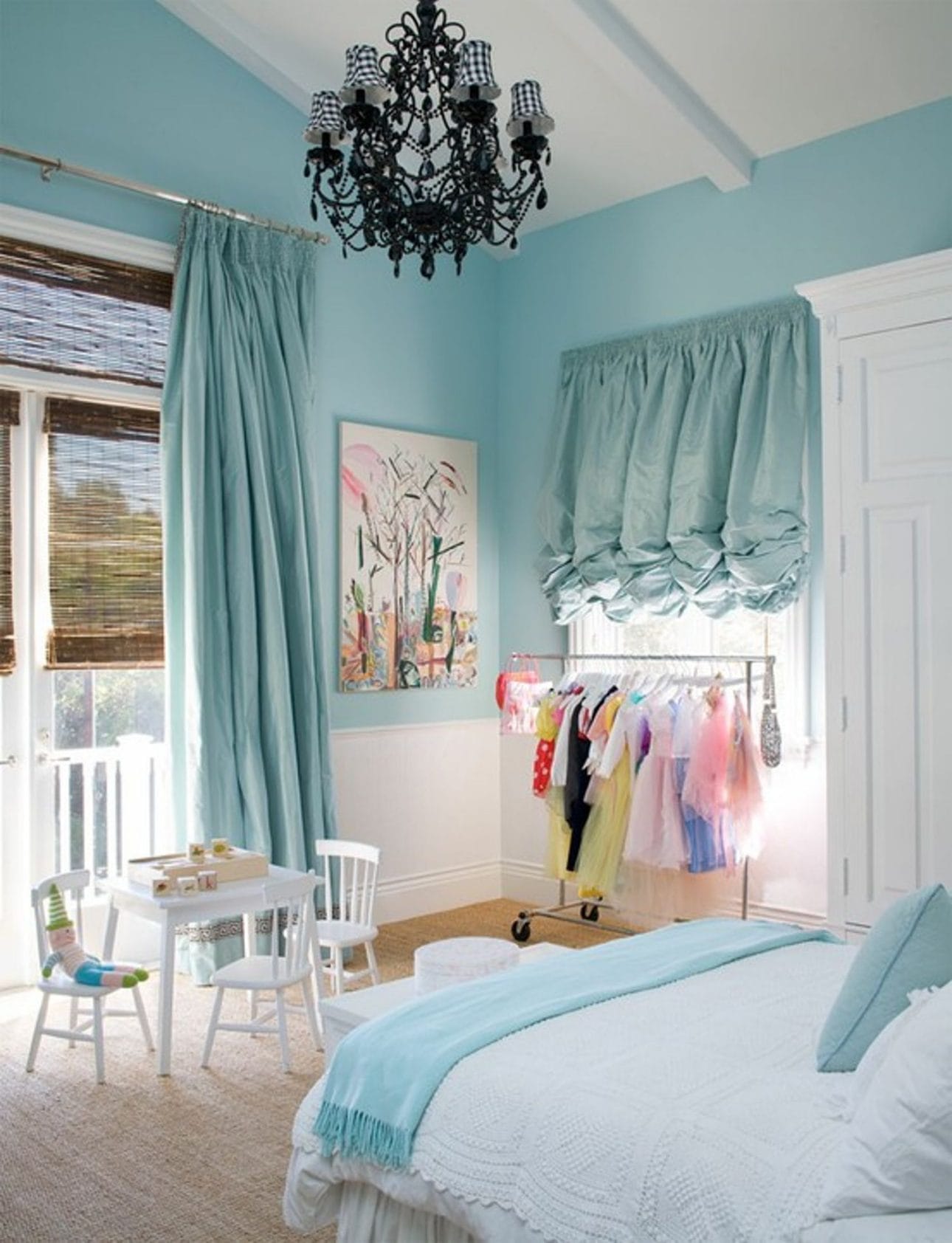 Your girl bedroom employs glass walls, large windows, and plenty of sunshine. Emphasize the brightness and airiness with pastel colors.
Pastel turquoise bedding, curtains, and walls turn the bedroom into a lovely sanctuary. In addition, the black chandelier is a drastic contrast to the pure white vaulted ceiling.
24. Contemporary Turquoise Living Room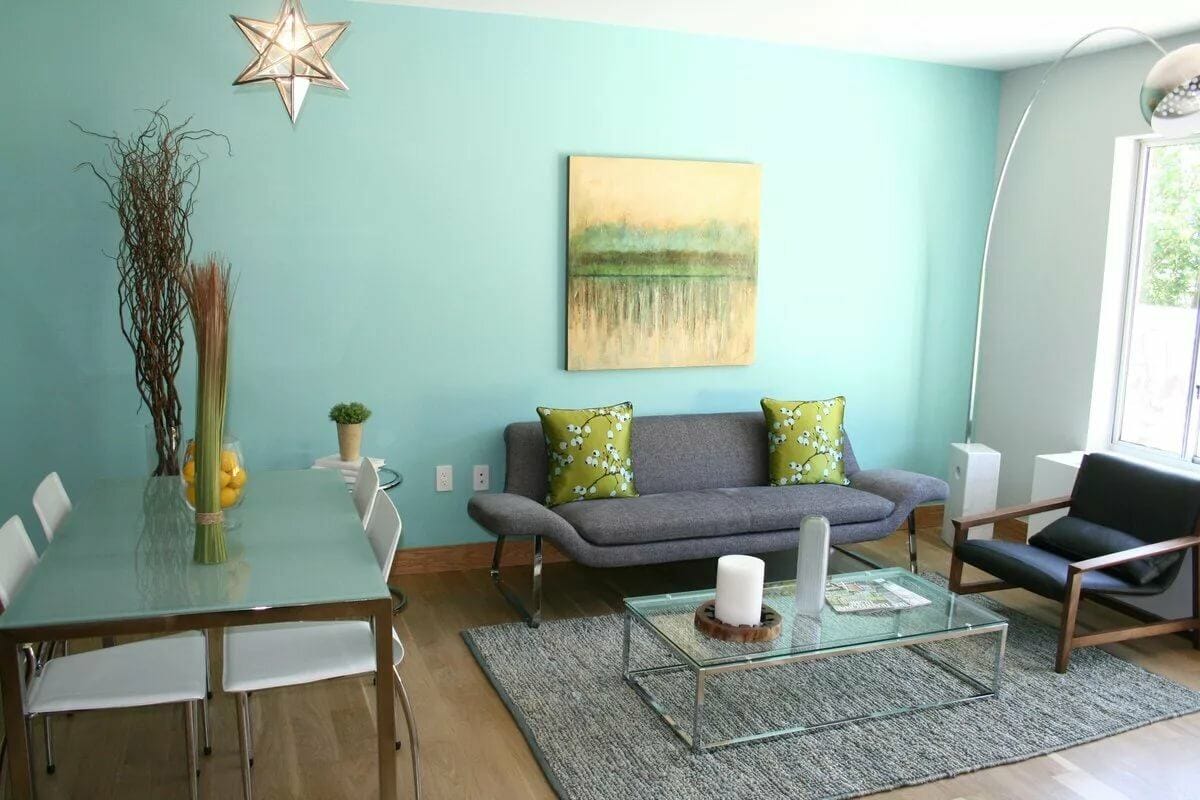 Muted turquoise fits in nicely with any design. Here, the shade makes the contemporary living room more attractive and calmer.
That white ceiling and walls along with big windows generate a light feeling. Green patterned pillows and painting act as stunners. Metallic accents add retro glamor to the interior of these turquoise room ideas.
25. Black, White, and Turquoise Bedroom Decor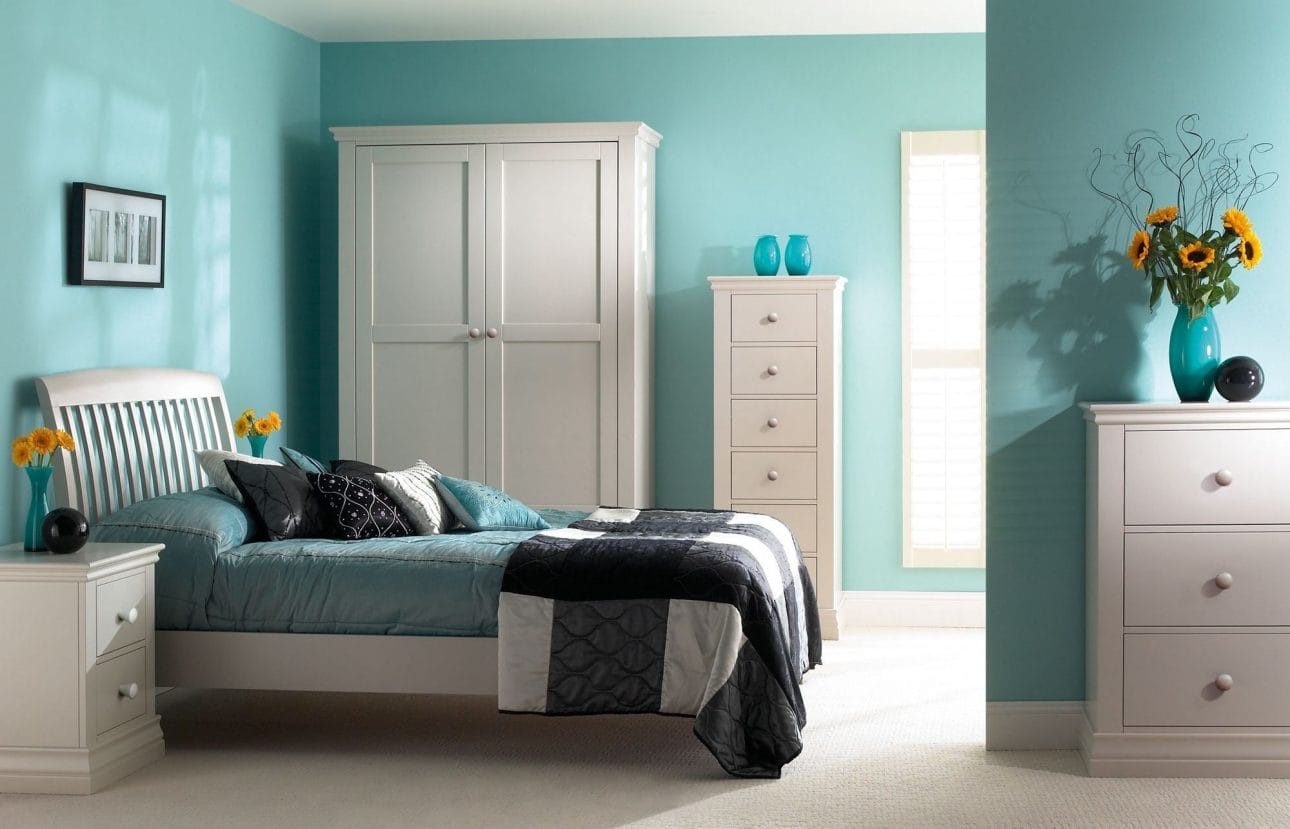 You love turquoise, but do not want the color to overwhelm your bedroom. No worries. Just duplicate it in various locations evenly for a balanced look.
The vases, walls, glassware, and pillows lend the space with invigorating splashes of turquoise. Additionally, whites and blacks balance them out.
Explore these Adorable Blue Bedroom Ideas
26. Green and Turquoise Bedroom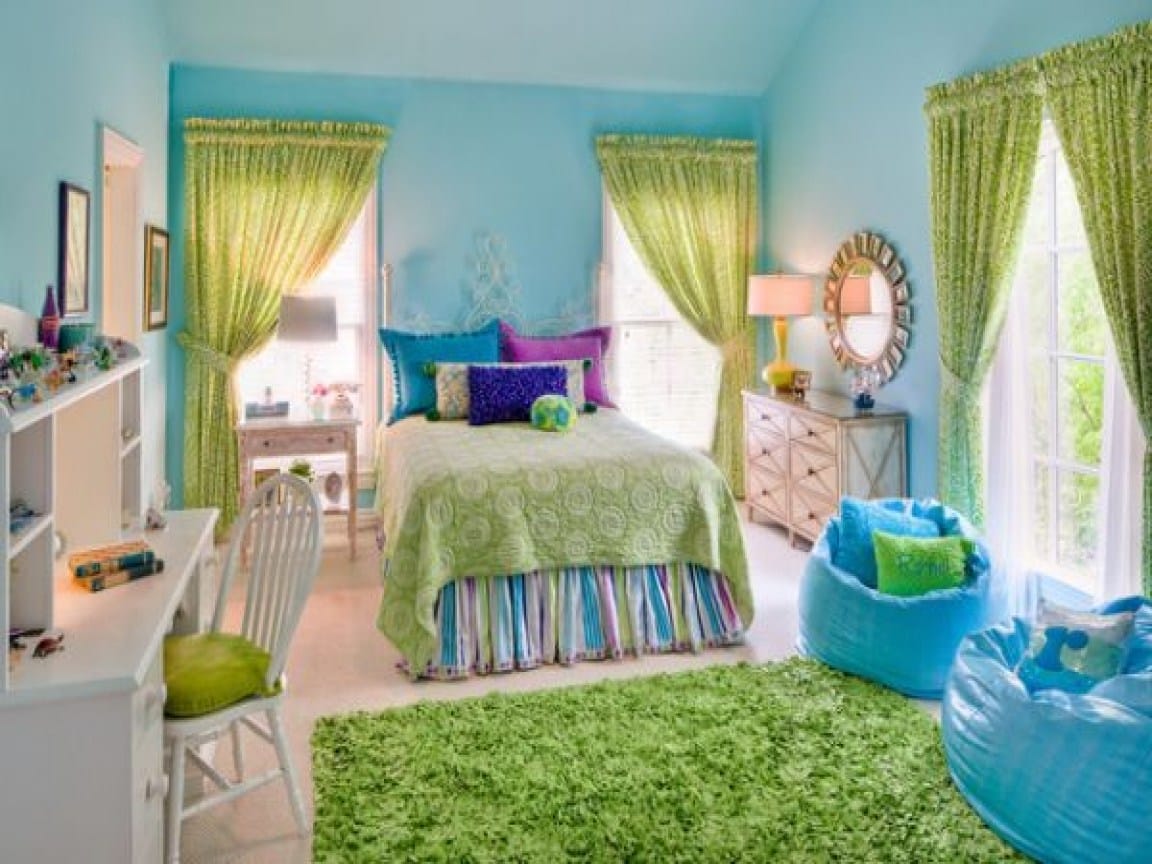 Varying shades of turquoise give off happy vibes. Lime green, purple, and blue inject more boldness into this teen girl bedroom.
Princess metal headboard and sunburst mirror carry a perfect feminine touch to space. Moreover, bean bags and a shag rugs create a laid-back setting.
27. Cottage Turquoise Living Room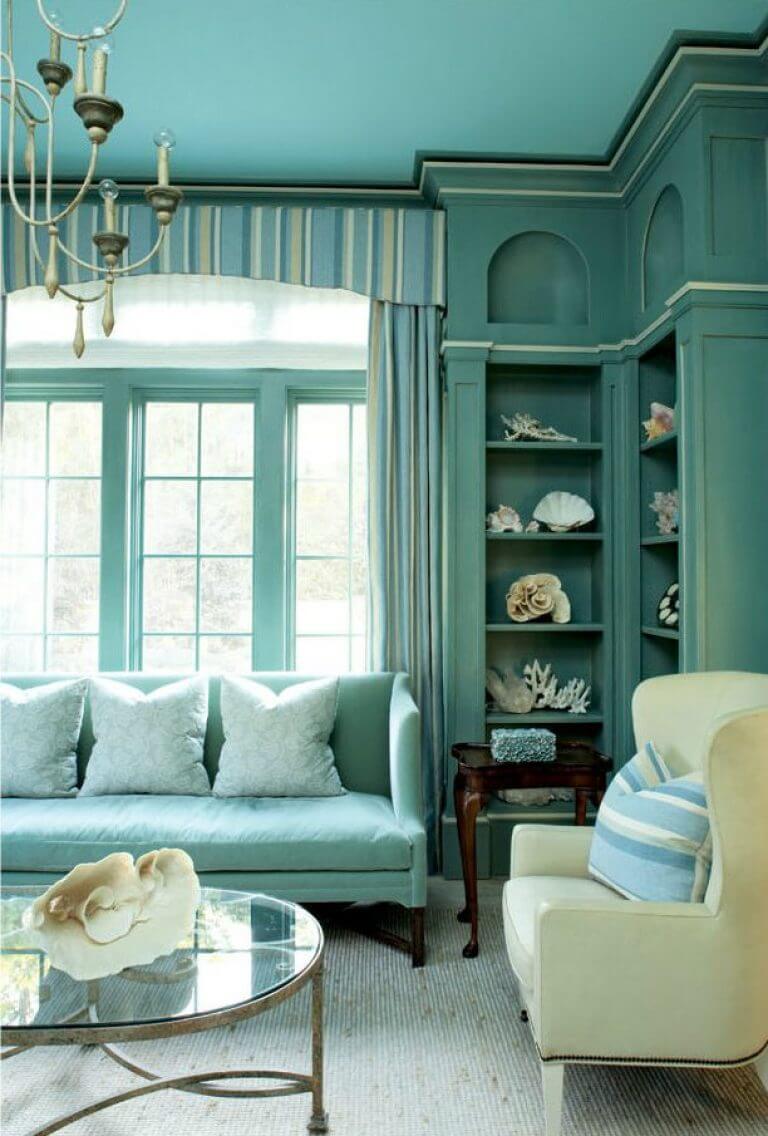 As the image shows, this living room features different tones of mint turquoise. They jazz up the area while carving a peaceful atmosphere.
The striped curtains continue the white and turquoise color palette to throw pillow. Meanwhile, the ornamental pieces celebrate coastal style.
28. Shabby Chic Turquoise Bedroom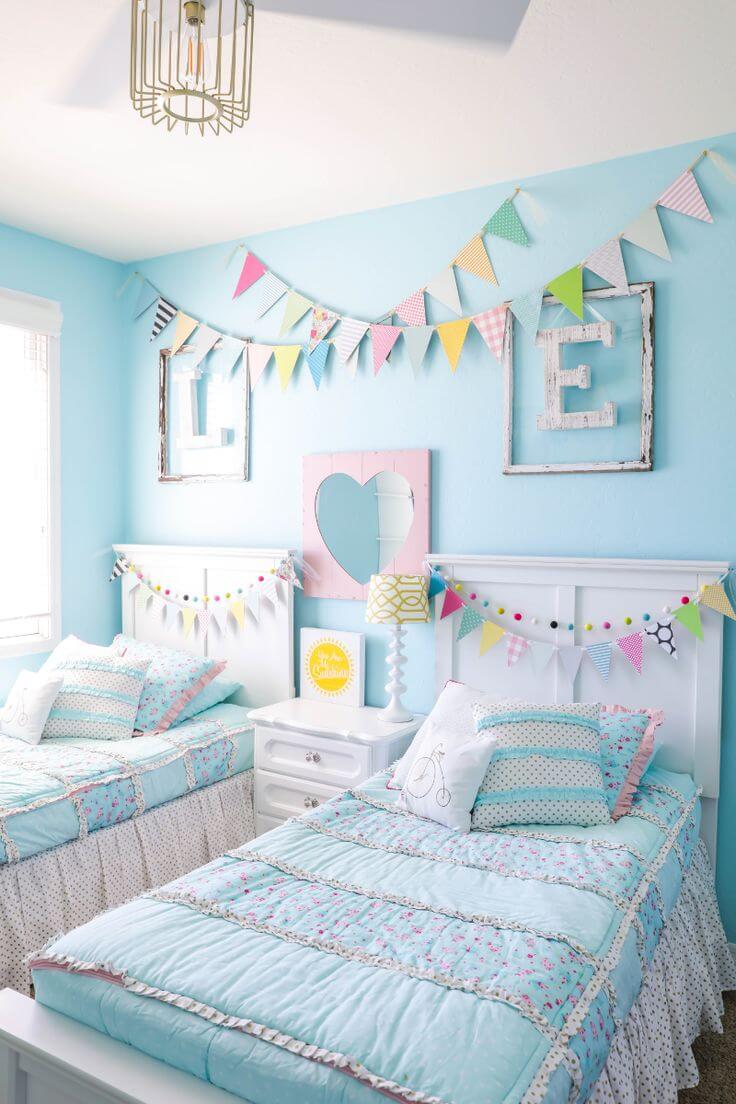 Pastel turquoise hues on bedding and walls offer life while maintaining the tranquil ambiance of this twin girl bedroom. Crisp whites let them stand out.
Mirror and initial name wall decorations provide shabby chic appeal. In addition, colorful pom-poms and garlands encourage sweet dreams. If you wanna see more ideas about blue bedroom, this website has a lot.
29. Orange and Turquoise Bedroom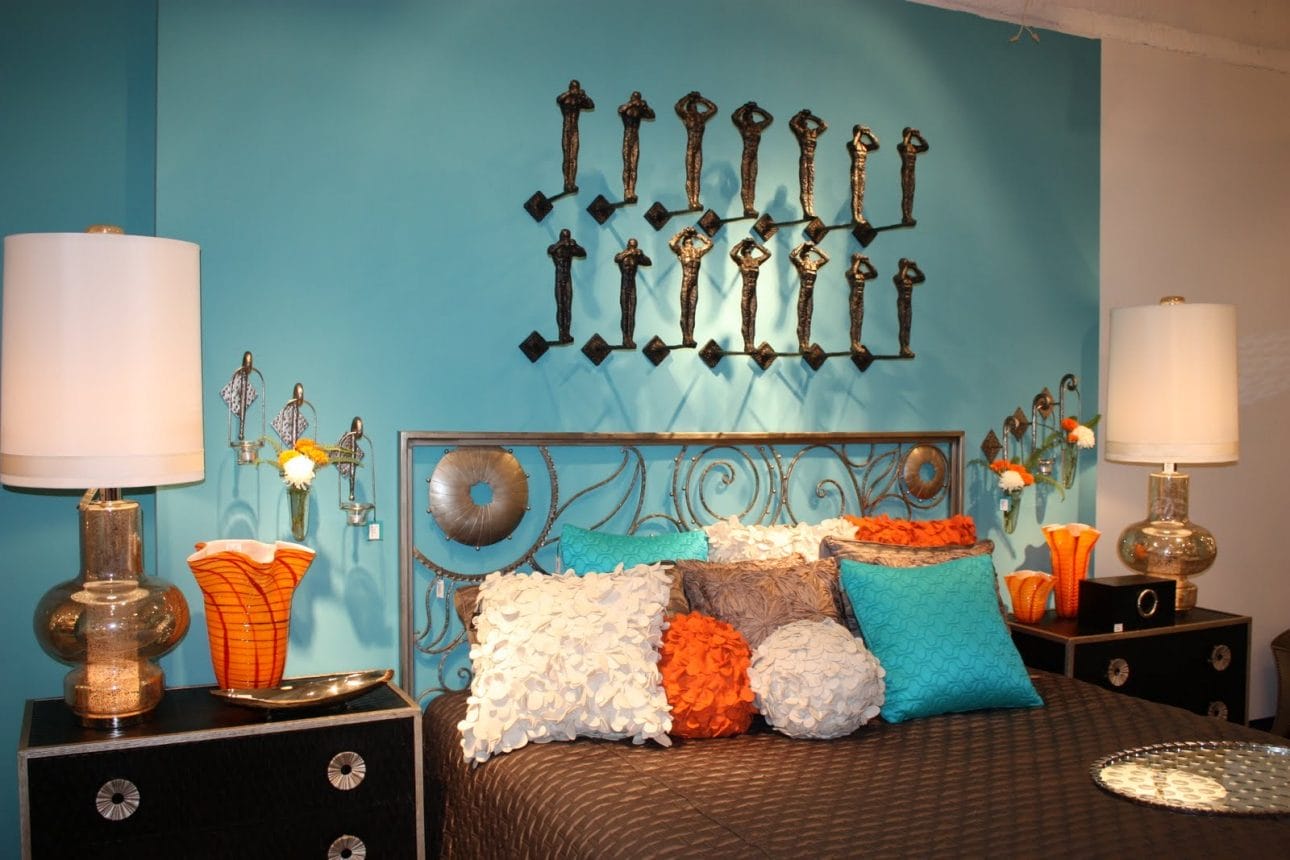 Bright turquoise accent wall spices up this bedroom. The wall ornaments look great against it. Black nightstands add visual drama to the area.
Pops of aqua and orange reinsure the space with excitement. Meanwhile, the white metallic table lamps tastefully accentuate a ravishing focal wall.
30. Turquoise Kitchen Ideas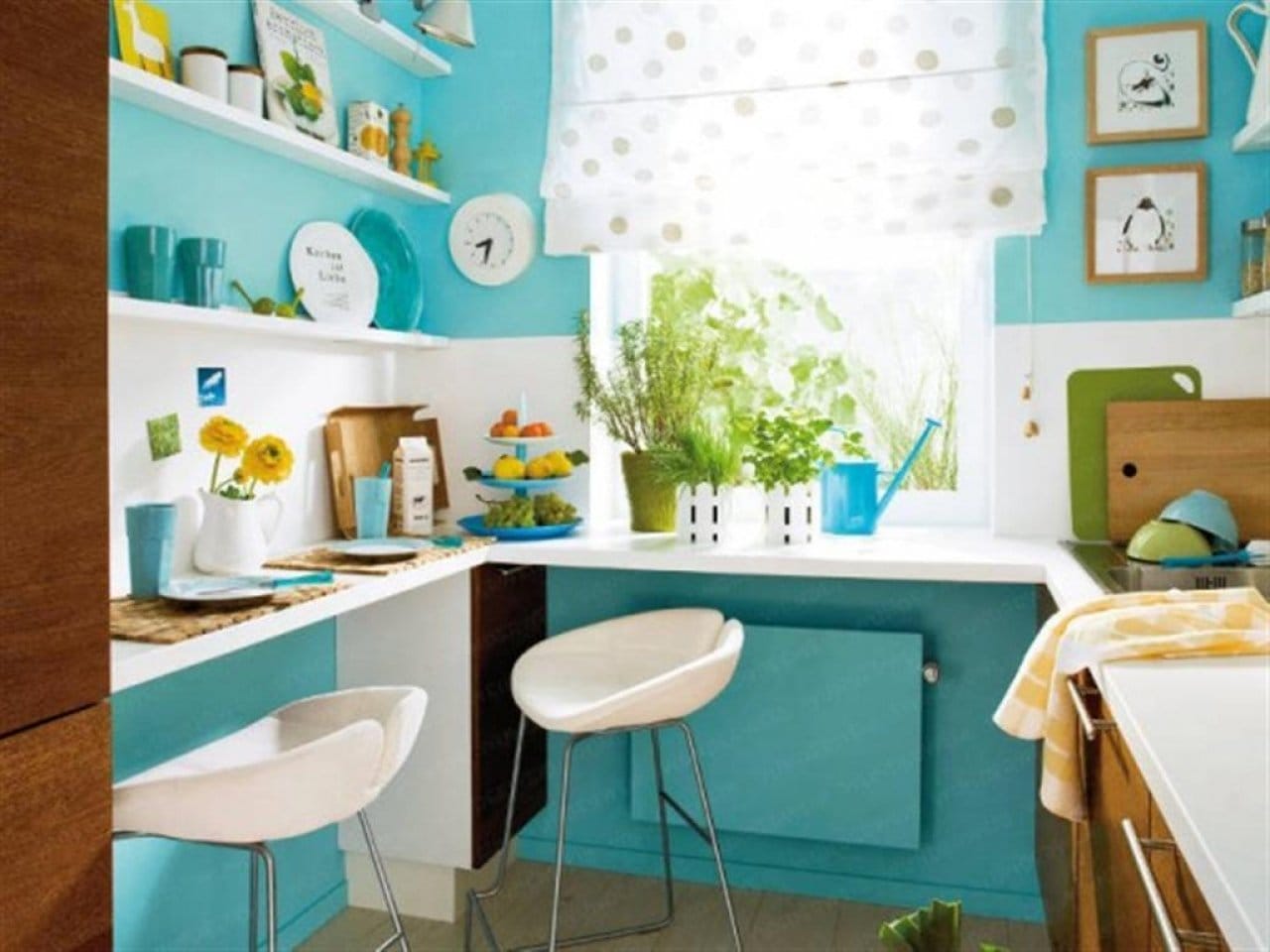 You can opt for one vivid color to use as a minor player in your kitchen. Bursts of turquoise inject life and interest into the culinary space.
Pure whites are a stark contrast to turquoise aspects. Potted herbs and wood elements bring nature indoors.
31. Turquoise Baby Room Ideas
The accent wall was covered with light turquoise floral wallpaper. It makes the gender-neutral nursery more terrific and lively.
Blues and lime greens perfectly accompany turquoise. Nature-inspired pieces rest in the bedroom and develop a comforting feeling. Meanwhile, stuffed toys assert a sense of playfulness in these turquoise room ideas.
32. Turquoise and Gray Bedroom Ideas for Twin Teen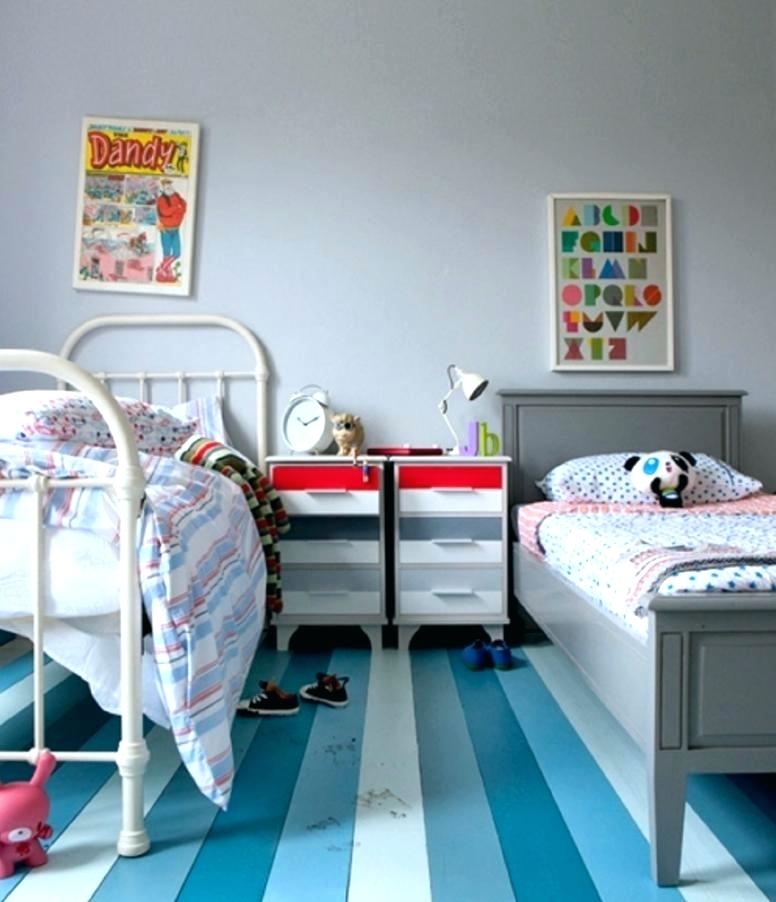 Light and medium grays set a peaceful mood to this bedroom. Striped turquoise area rug acts as a head-turner in this bedroom.
The mismatched beds capture vintage style. Meanwhile, bold posters pop against the subdued backdrop. Two nightstands impart a sense of balance. Furthermore, stuffed animals carry a young touch to the area.
33. Simple Turquoise Bedroom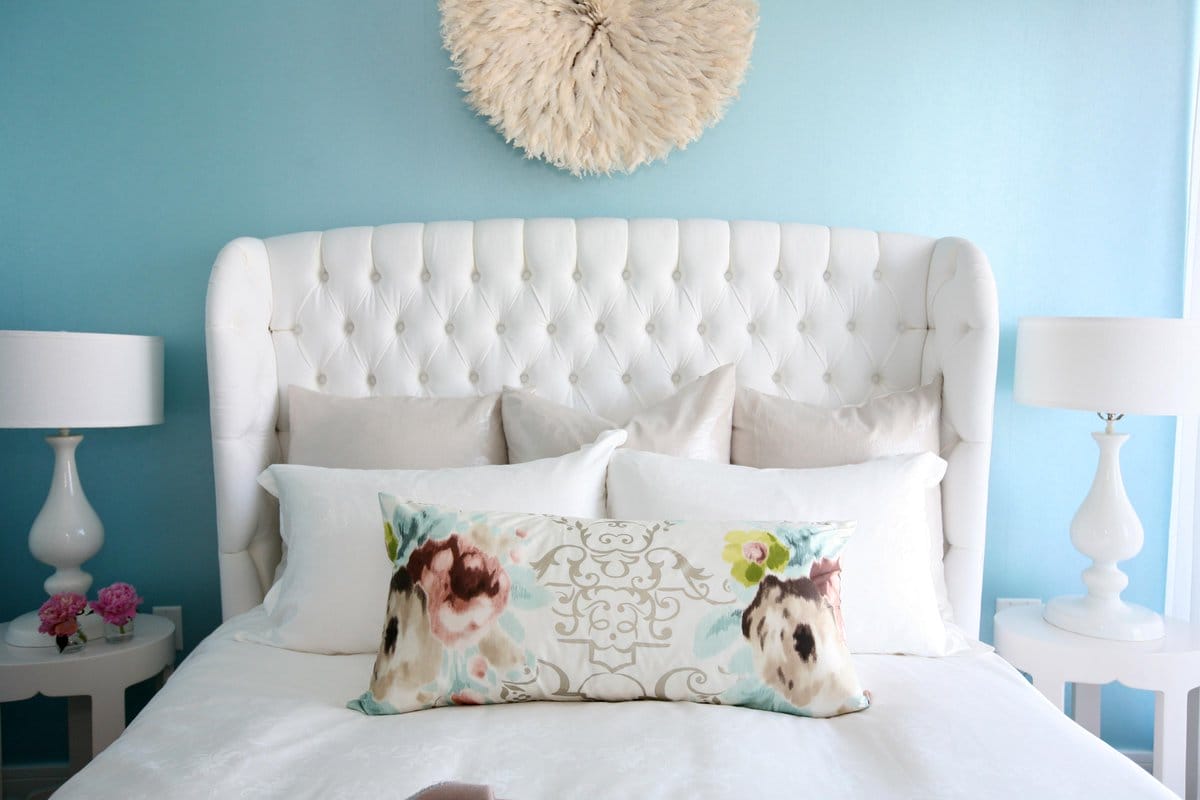 The bedroom wall was painted light turquoise shade. It serves as a gorgeous focal point effortlessly since the bedroom is mostly white.
Crisp whites produce a clean environment and an airy feeling. Tufted wingback headboard, vintage side tables, and table lamps imbue the space with elegance. The wall decor delivers boho appeal to the room.
In short, turquoise is both versatile and joyful. Varying saturations of the color offer different moods, therefore know your shade. My turquoise room ideas above can help you nail down the home decorating project.