Gray is not just a refined neutral, but also offers a wonderful versatility. The shades of gray fit marvelously with the other neutrals and bright tones. Not to mention, the color fits in any style, be it modern or traditional.
You like the idea of featuring gray in your space, but don't know where to start. Fret not, I present some of astounding gray living room designs. They are far from monotonous and cold.
1. Light Gray Couch Living Room

Yellow throw pillows and accessories take center stage. Rustic wall, metallic and wooden pieces bring an industrial flavor to the area.
Light gray couch and textured blanket generate an inviting atmosphere. Black framed work of art unifies the room.
2. Gray Living Room Inspiration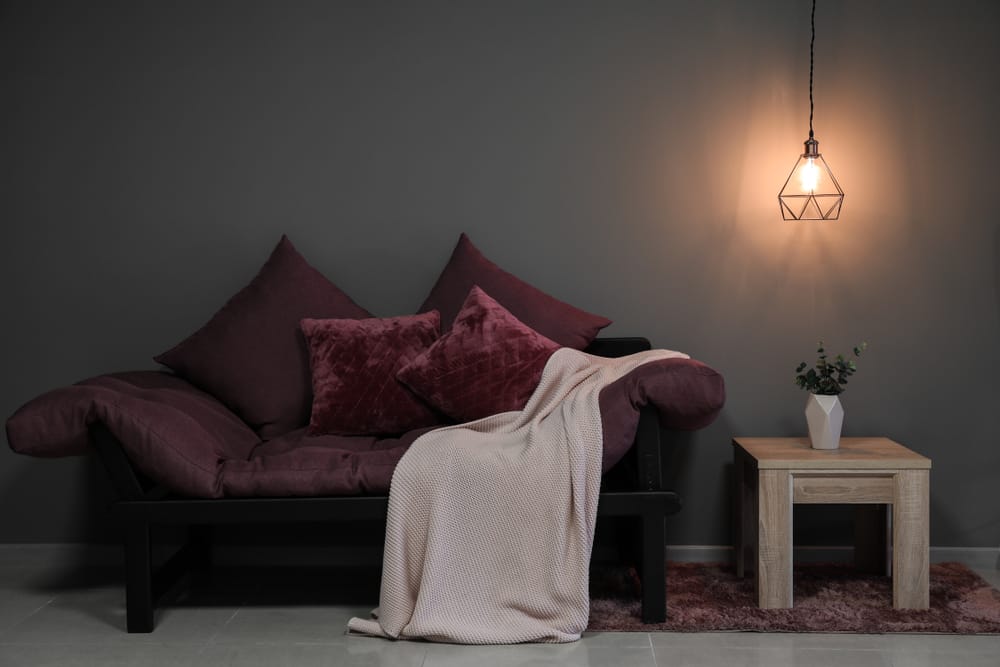 Dark gray backdrop and black sofa frame lead to a moody sitting room. Maroon rug, sofa, and throw pillows keep the whole scheme warm.
Houseplant and wooden side table add a sense of nature to the indoor space. Lastly, geometric vase and pendant light evoke a modern aesthetic.
3. Dark Gray Couch Living Room Ideas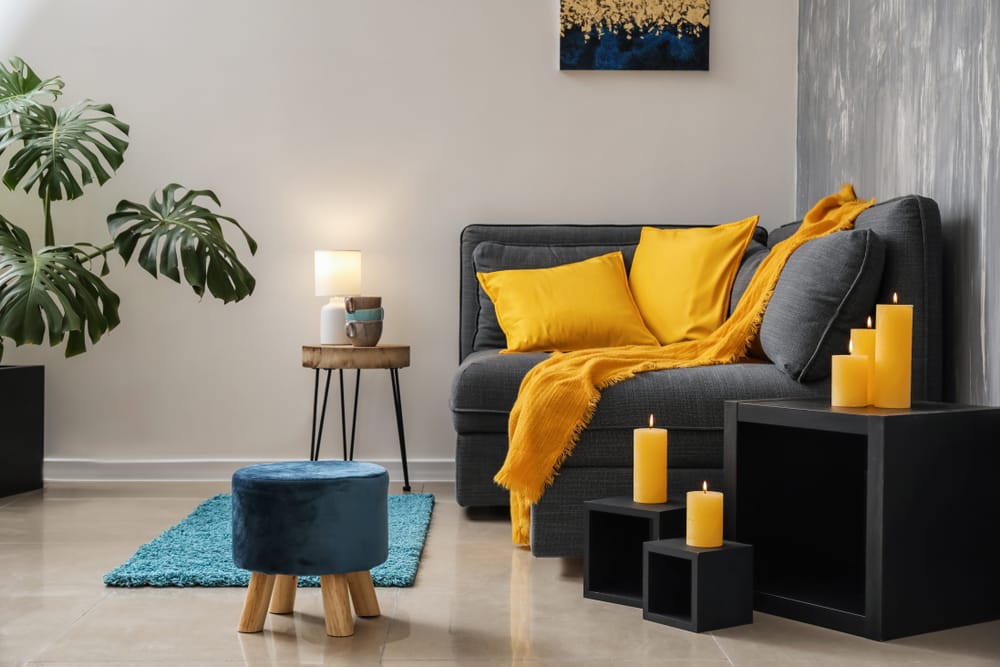 Give your social space a new life with a splendid combination of yellow, blue and gray. The dark gray corner sofa, planter pot, and square tables elicit drama.
Yellow and blue units infuse a splash of vibrant colors into the interior. Meanwhile, a big leafy plant cleans the air.
4. Best Warm Gray Paint Colors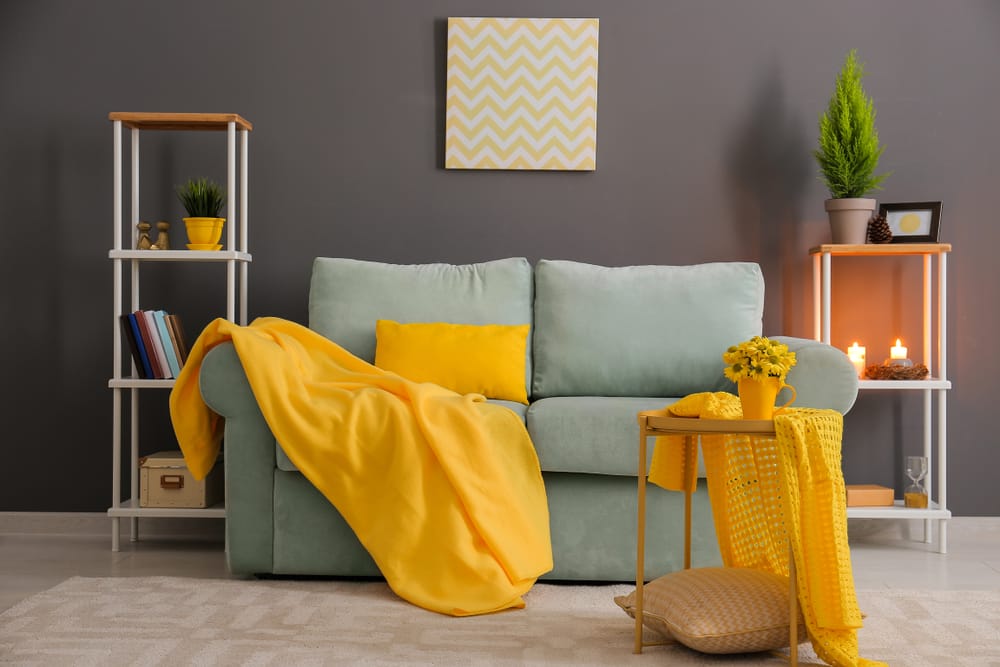 The picture above proves that yellow and gray is an astonishing color pairing. Warm gray-painted wall radiates elegance.
Trout gray sofa is ultra-comfy and pairs well with the backdrop. Yellow wall art, table, blankets, planter pots, and throw pillows deliver a cheerful vibe.
5. Gray Living Room Sectional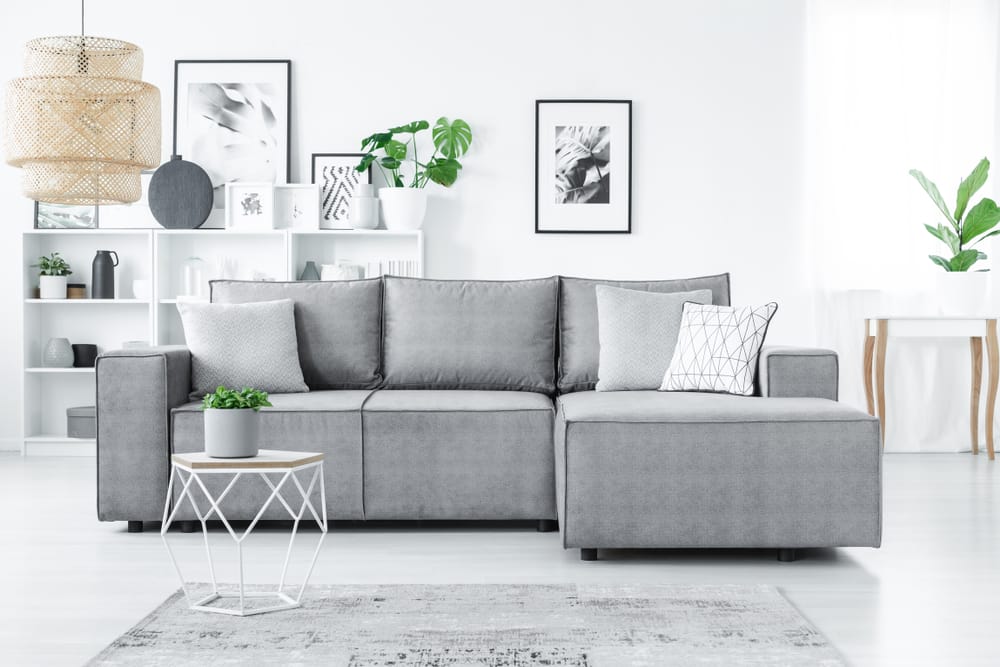 This indoor area is trendy and welcoming at the same time. The light gray sectional sofa, white floor, and walls set a clean modern look.
Potted plants and tiered wicker pendant light emanate a tropical ambiance. Plus, framed monochrome prints titivate the space.
6. Gray Living Room Rugs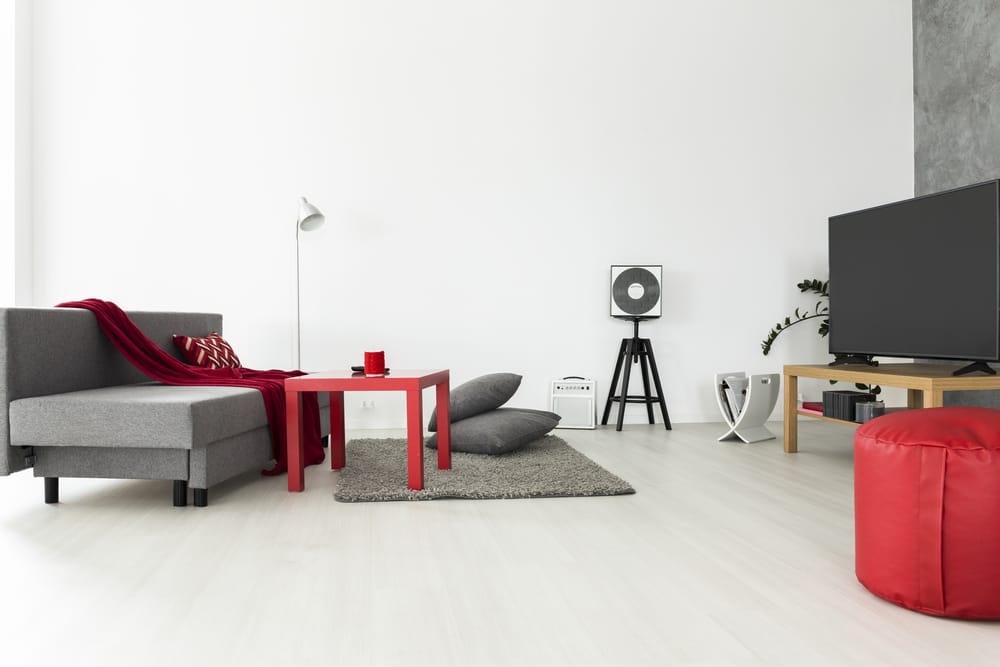 Here, I show you another winning duo, red and gray. Whitewall and pale gray wooden floor let red units make a bold statement.
The retro floor lamp, speaker box, and record player are featured too. A medium shag rug tops the floor and provides comfort underfoot.
7. Gray Living Room Walls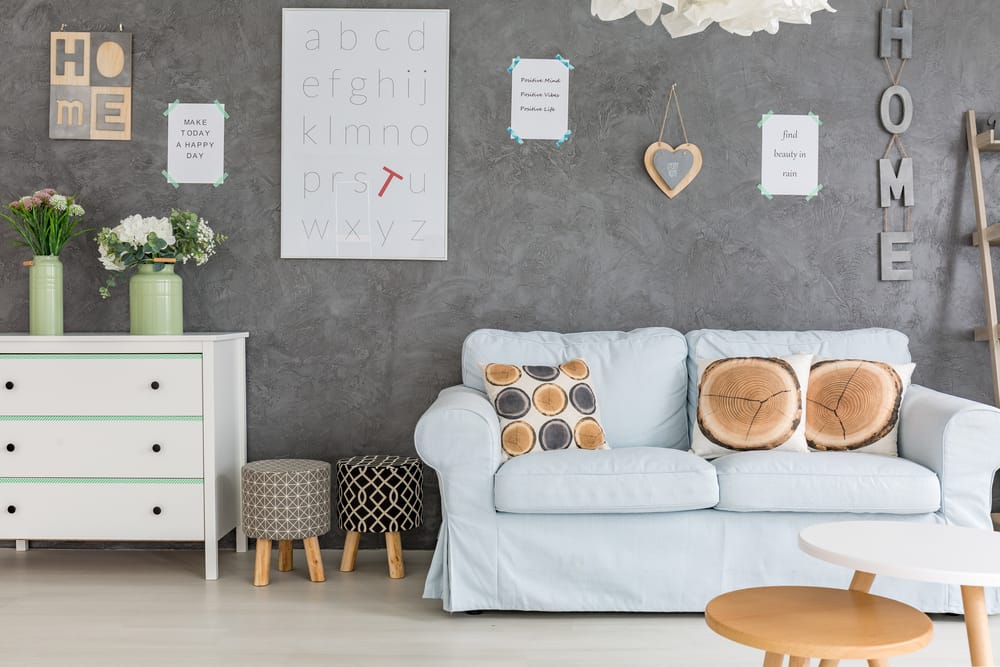 No doubt, the concrete wall is simply rustic. It serves as a good canvas for sign letters, printed quotes, and wall hangings.
Moreover, a light blue sofa and pastel green vases soften the look. Throw pillows, patterned low stools, and flowers please the eye.
8. Sofa Color Ideas for Living Room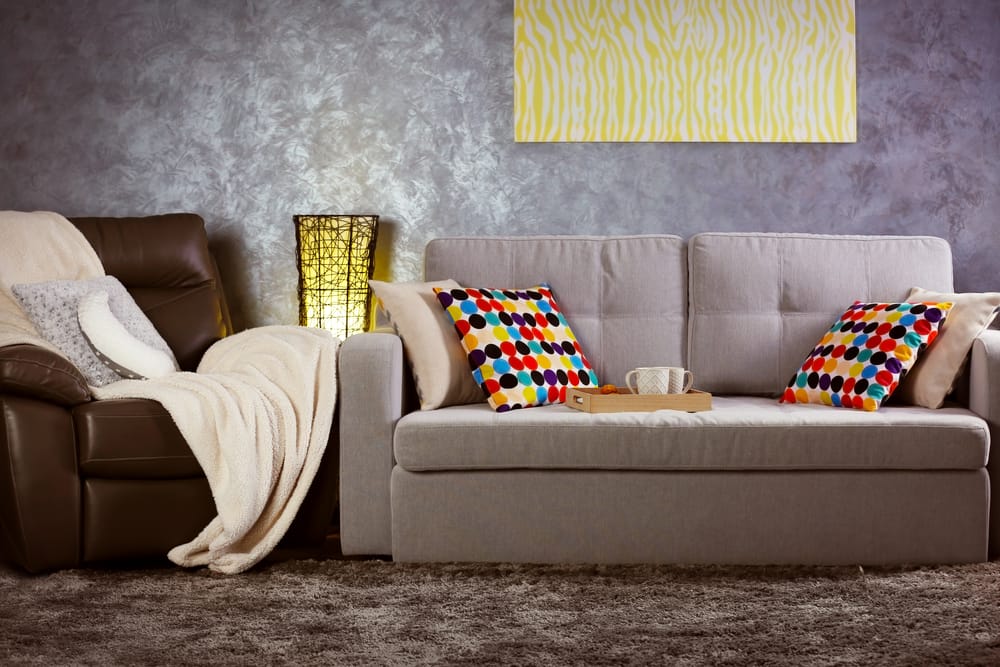 As shown in the image above, the light mink gray sofa blends gorgeously with concrete gray wall. It keeps the room soothing.
Ivory blanket, brown leather chair, and area rug produce an aura of intimacy. The artwork, floor lamp, and colorful throw pillows develop a playful atmosphere.
9. Modern Gray Living Room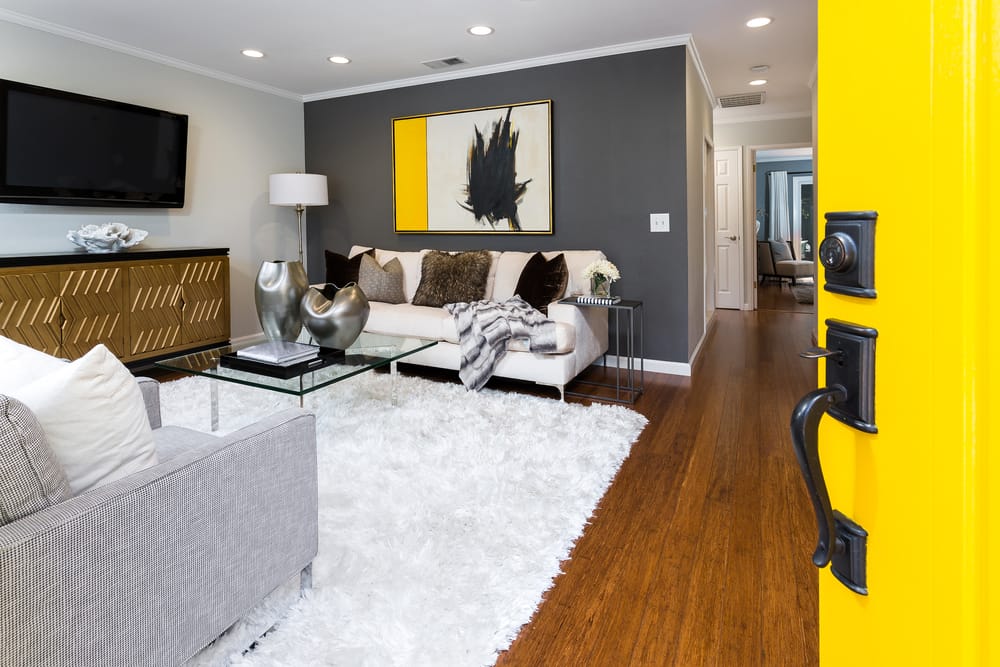 This modern sitting room pulls off a ton of personality. The medium gray wall conveys depth, while the yellow door embraces the liveliness.
Dark wood floor, white shag rug, blanket, and throws offer a cozy setting. Abstract painting and oddly-shaped metallic vases convert the room into an artsy retreat.
10. Gray Living Room Pinterest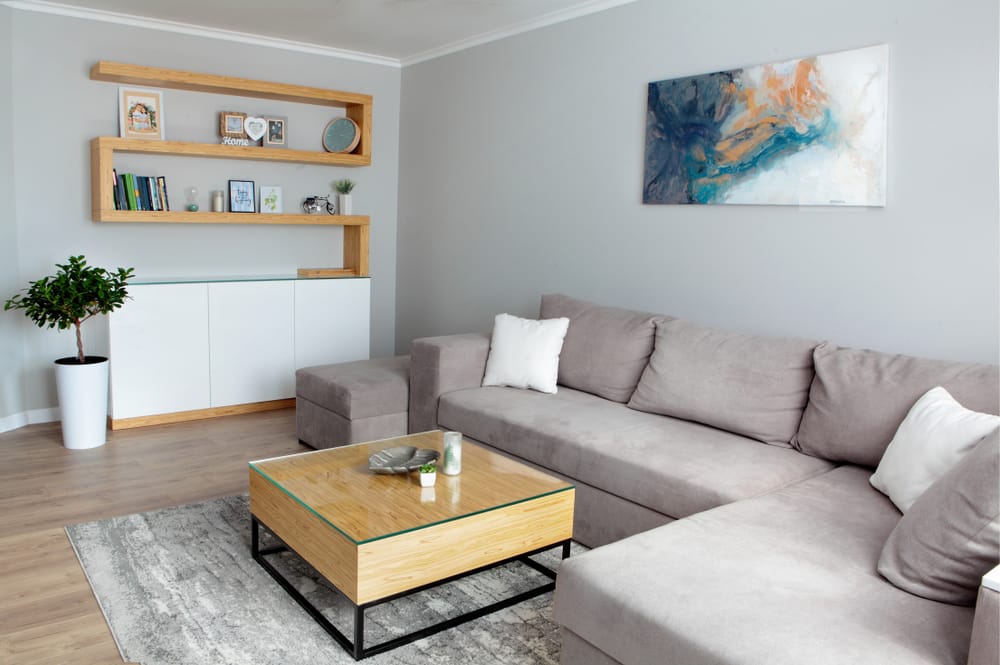 The homeowner used multi-shades of gray throughout the lounge area. White throw pillows and fossil gray sofa complement one another.
Muted backdrop keeps you stay focused on wooden shelves. Potted greenery and painting inject pops of colors into the zone.
11. Gray Paint Colors for Living Room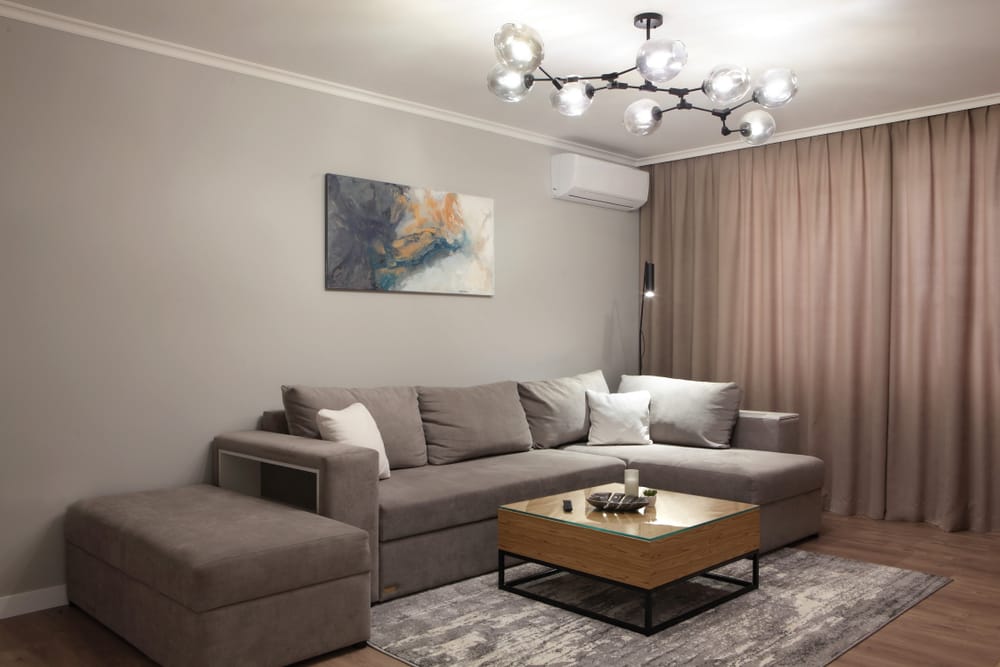 One gray shade tends to make your indoor space feel flat. Paint ceiling and walls stone gray, and then include furniture pieces in different shades.
Distressed rug, floor, coffee table, and curtains provide textural contrasts. Bubble ceiling light carves a contemporary edge.
12. Blue and Gray Living Room Combination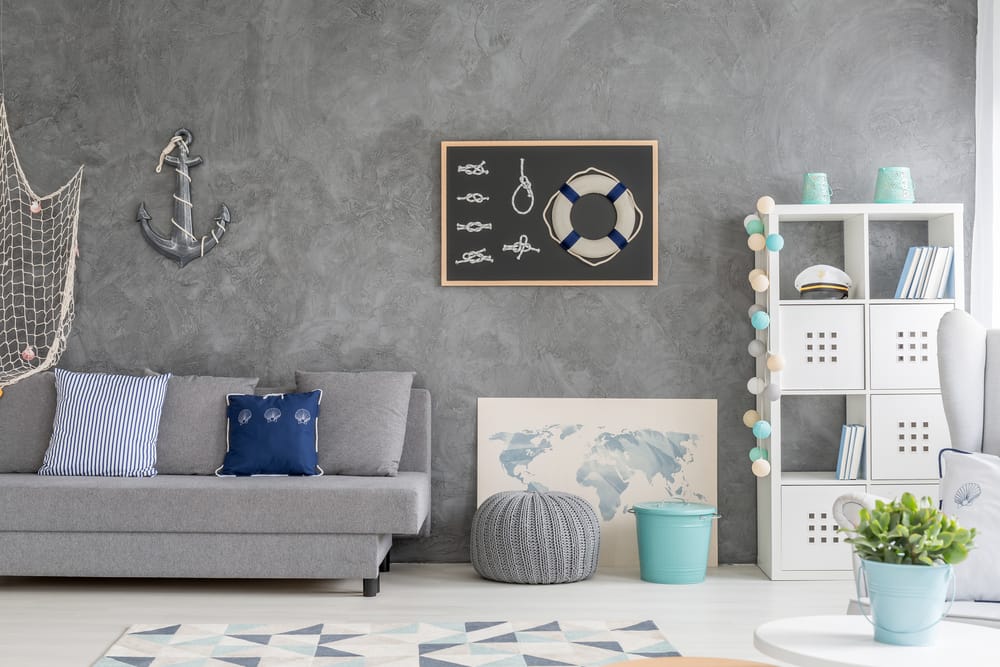 This lounge area is mesmerizing outfitted with gray sofa and pouf. White shelving units keep the room organized.
Nautical decorative pieces and blue shades create a coastal ambiance. The potted succulents, geometric rug and ball garland spice up the interior.
13. Blue Gray Living Room Color Scheme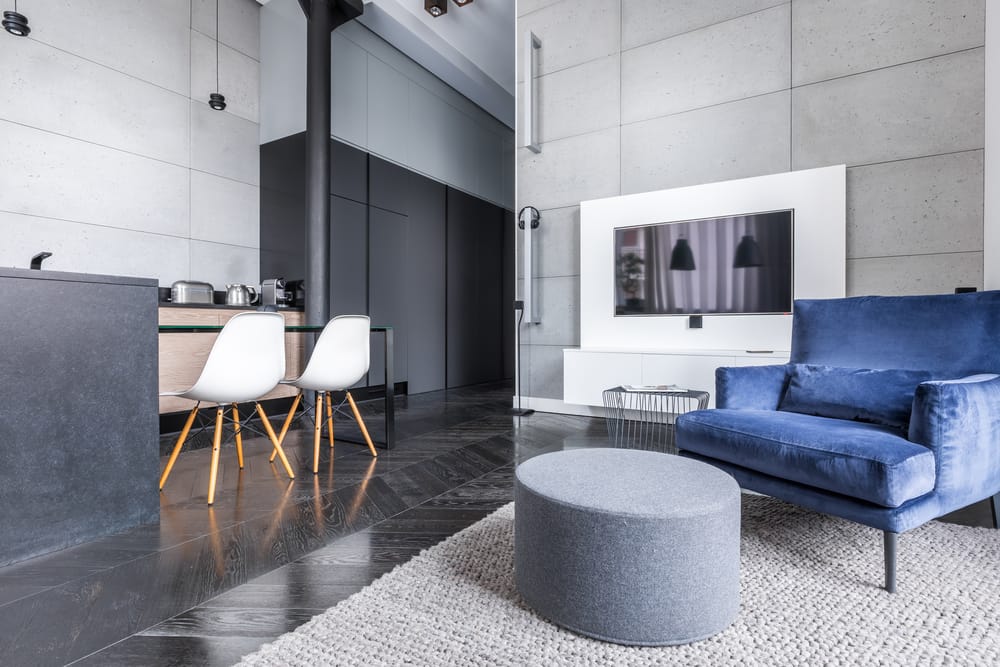 Blue and gray combination beautifully come together in this lounge room. The blue velvet chair and throw pillow pop against the gray base.
The floor, knit rug, and pouf table emanate a homey feel. Meanwhile, a television turns your room into an entertainment area anytime.
14. Gray Minimalist Living Room on Budget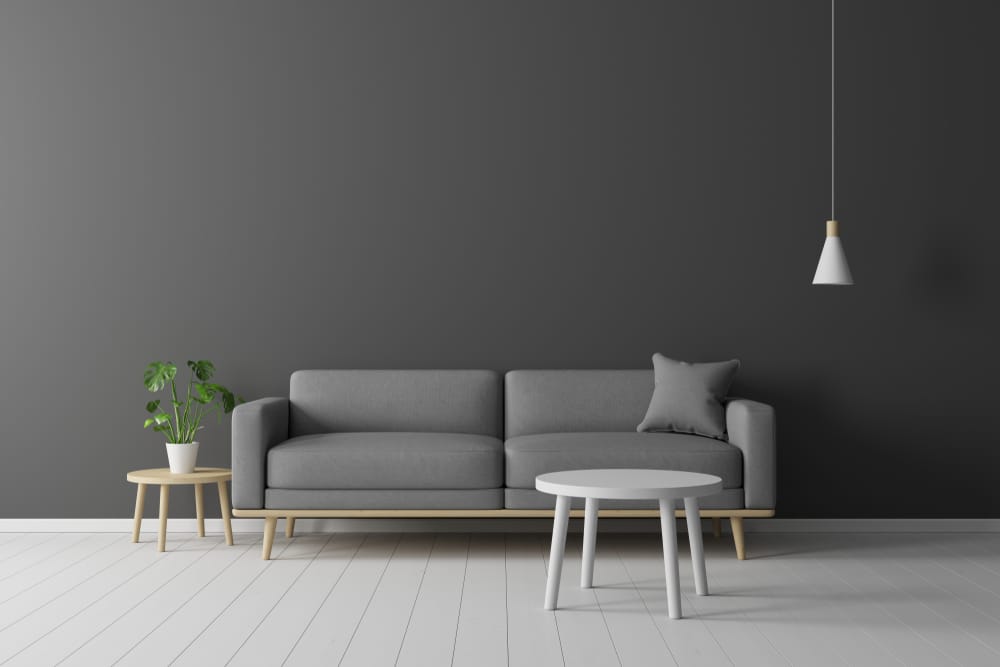 If you want to live a clutter-free life, give this idea a shot. Different layers of gray make the space stylish and astounding.
The wooden coffee table, sofa, pendant light, and throw pillow carve a modern aesthetic. Wooden table and houseplant revitalize the area.
15. Gray Industrial Living Room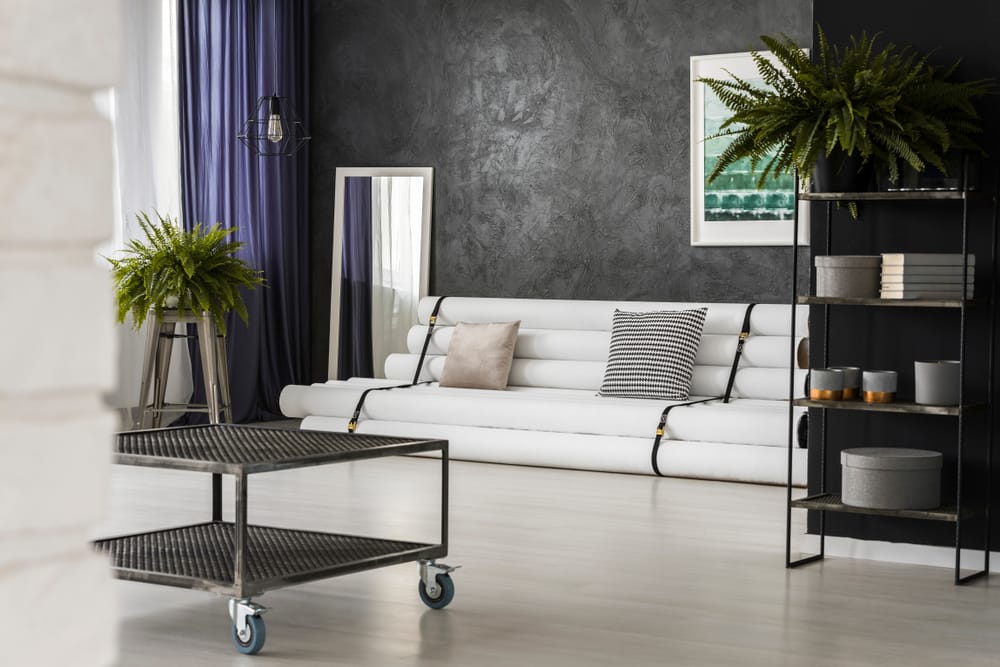 Deep gray concrete wall results in a dramatic interior. It allows white mirror and sofa to be more noticeable.
Black metal pendant light, shelving unit and coffee table with wheels exhibit a masculine atmosphere. Indoor plants, navy curtain, and pink throw pillow ornament the room.
16. Gray and White Living Room Ideas
Palest grays and crisp whites set a clean setting as well as modern flair. Green and gray throw pillows complement the sofa.
Natural materials like wood, plants, and flowers introduce an on-trend sitting room. Floor and table lamps deliver an industrial touch.
17. Small Gray Living Room Ideas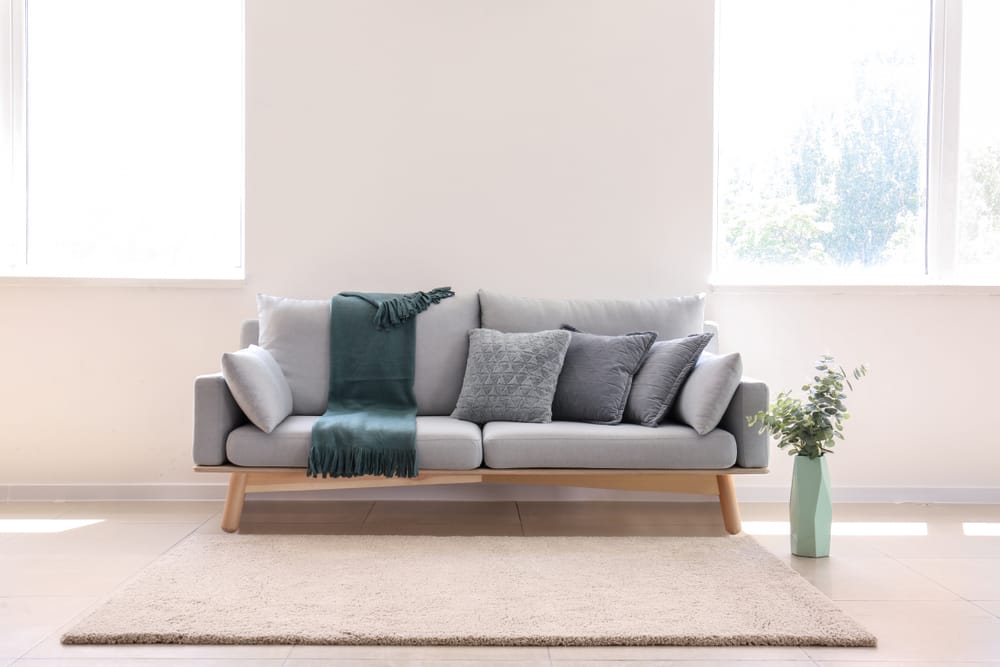 I love this small sitting room over and over again. White walls and glass windows keep it from feeling gloomy.
Light gray sofa, shag rug, blanket, and throws infuse a laid-back ambiance. Greenery in vase energizes the indoor space.
18. Gray Color Schemes for Living Room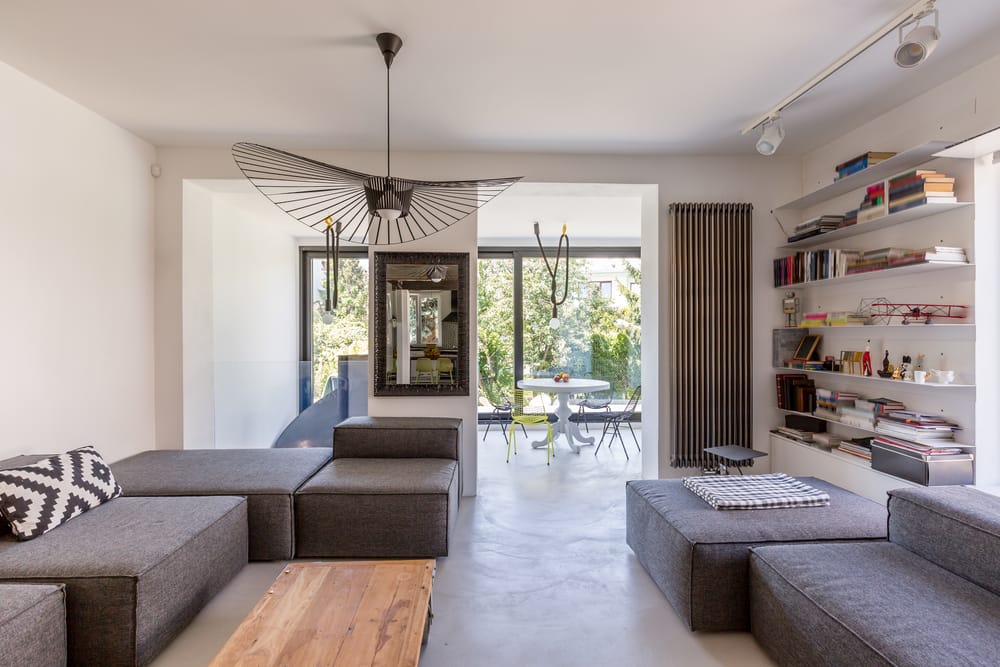 For certain, this living room boasts an open concept. The glass walls connect you to the surrounding nature.
Flat gray sofas team superbly with concrete floor, floating shelves, and white walls. Ceiling light acts as a showstopper.
19. Black and Gray Living Room Decorating Ideas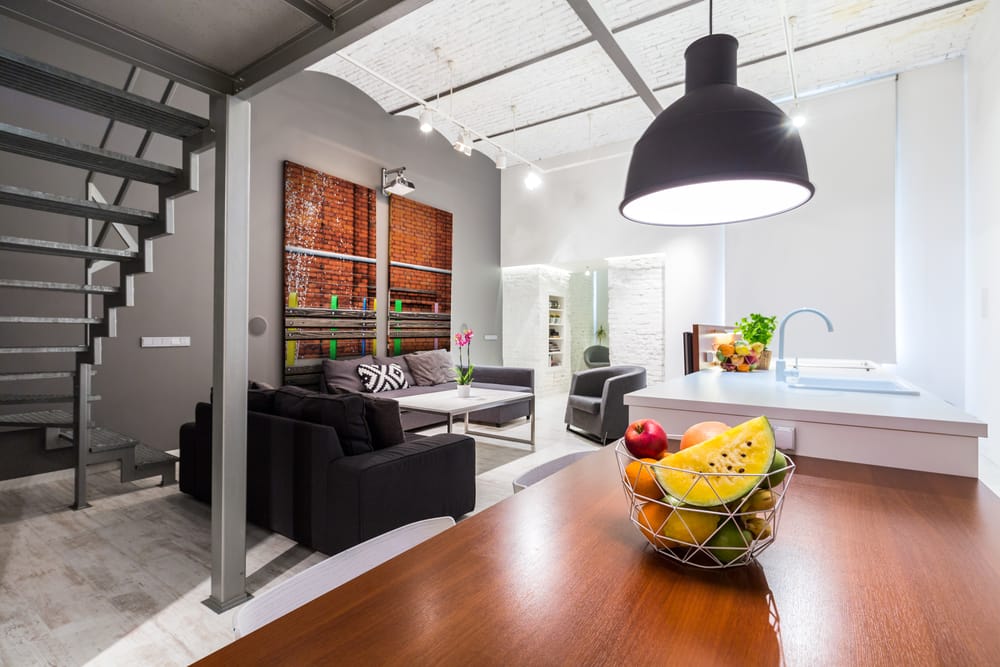 Dwelling in a loft apartment? Paint your walls medium gray and stark white for a striking contrast.
You could place gray and black sofas on a distressed wood floor. Two large brick-effect wall hangings complete the look.
20. Best Wall Color for Gray Furniture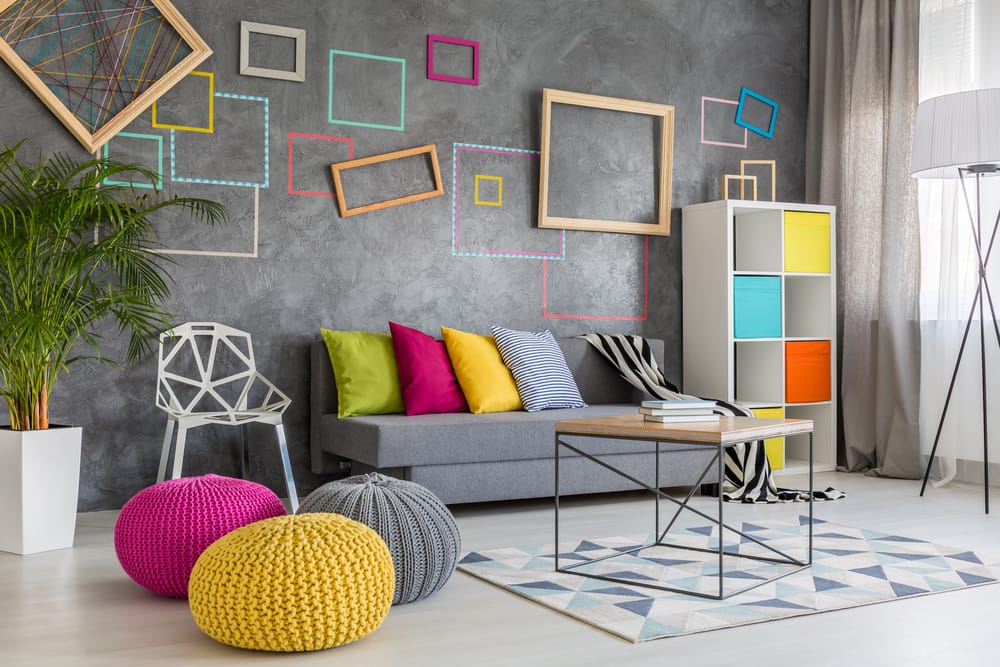 In this sitting area, the streamlined gray sofa blends seamlessly with a concrete wall. Coffee table and floor lamp embrace industrial minimalism.
Frames and wall decals create a focal point. Meanwhile, colorful pillows and poufs add instant cheer to entire space.
The gray living room is always charming. But, warm and cool shades of gray give different vibes. Be sure you pick the right one.