Playing with color is absolutely fun. You can opt for either vibrant shades or neutral palettes. Not only that, you may be interested in combining a bold living room color with subdued one. The options are nearly limitless.
Since the color has a big impact on the mood and appearance of your sitting area, it is paramount to use the right one. No matter your interior style, these room color ideas are worth paying attention to.
1. Popular Living Room Colors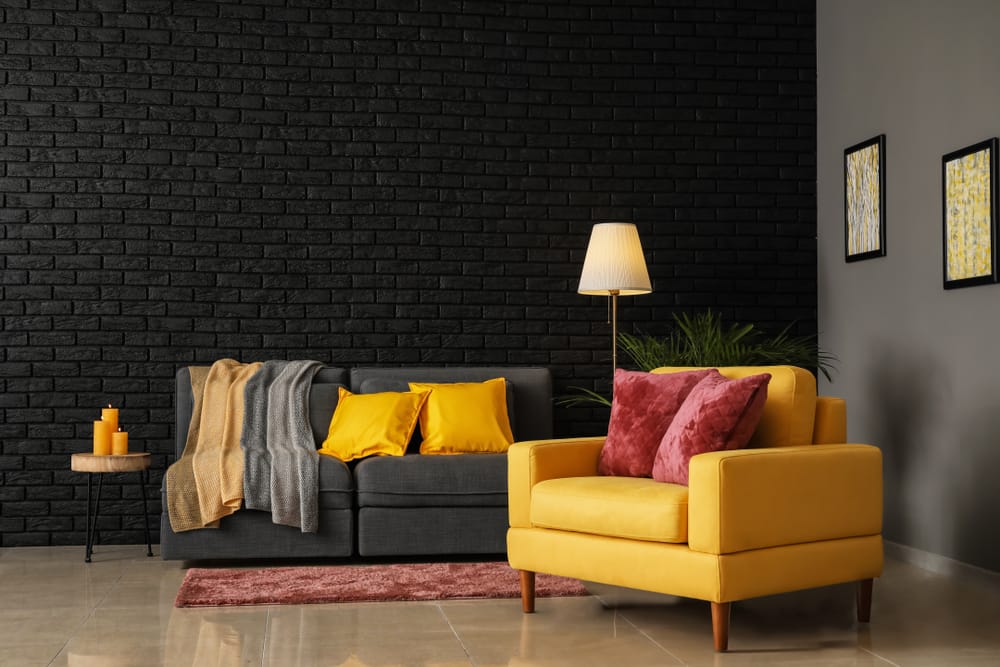 The black brick wall adds a sense of drama and sophistication to the lounge room. Meanwhile, pastel gray-painted wall conveys elegance.
The red and yellow stuff visually get more appealing. A potted plant makes the space alive. Floor lamp brightens the zone.
2. Best Color for Living Room Walls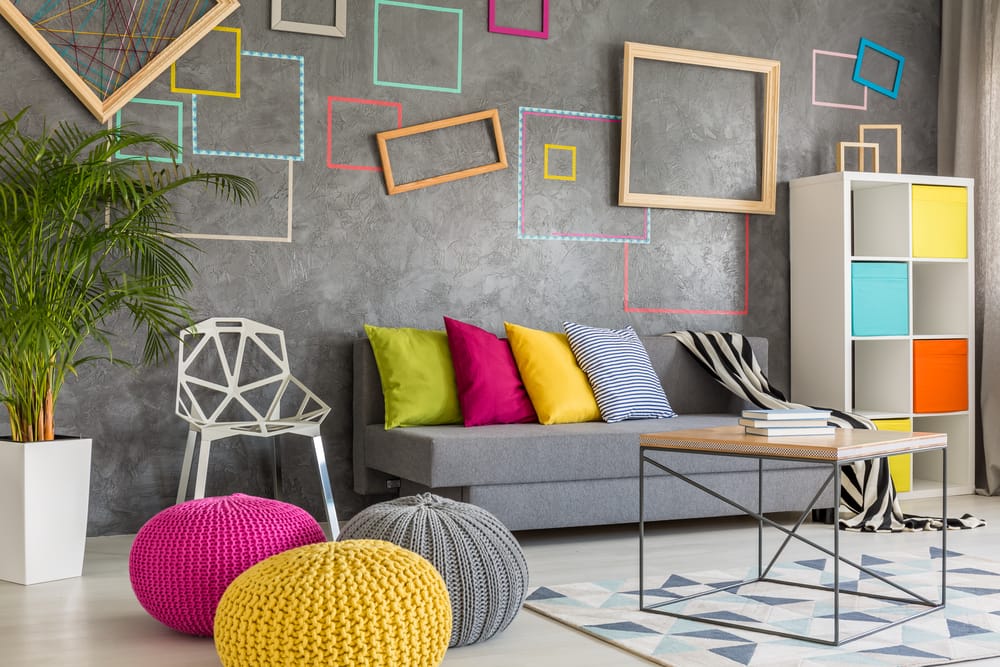 Want to infuse a splash of colors into your indoor space? Look no further than concrete gray walls. They fit perfectly in an industrial living room.
Colorful shelving unit, poufs, throws, and wall ornaments steal the spotlight. Sleek coffee table, geometric chair, and sofa offer a modern edge.
3. Living Room Colors Photos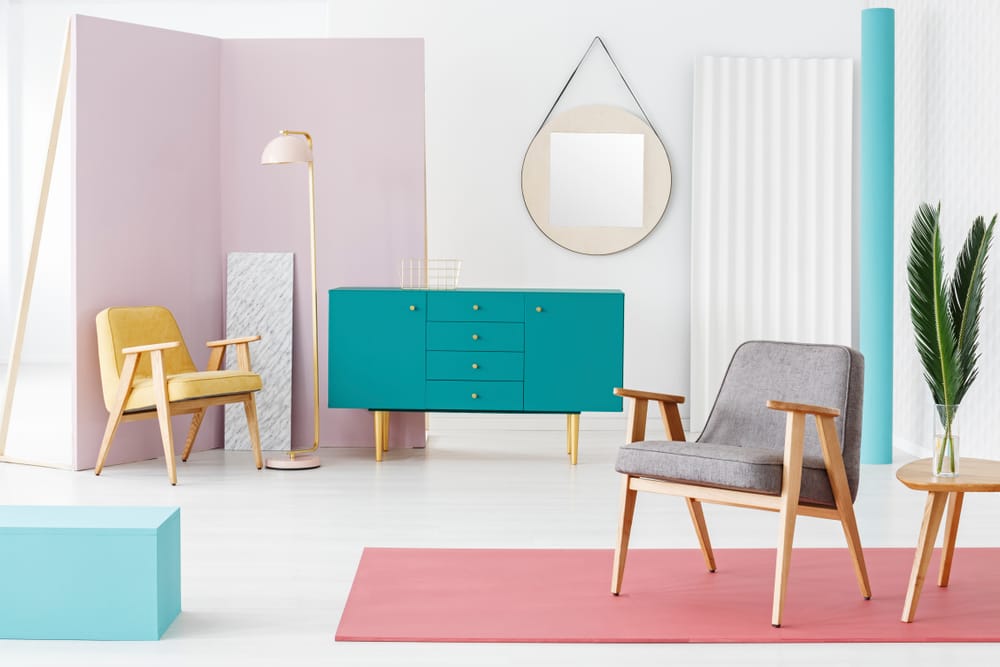 The walls are painted lilac and white. Pastel aqua blue sideboard buffet, pink area rug, blue stool, gray and yellow armchairs soothe the scene.
A round mirror adds a much-needed dimension. Lastly, green leaves in the glass vase renew the space.
4. Living Room Color Ideas for Brown Furniture
As shown in the picture, brick-effect wallpaper covers the wall. It goes wonderfully with brown sofa and cushions.
Wire and wooden tables scream a rustic aesthetic. Home-themed printed quotes on the wall generate an intimate aura.
5. Modern Color Schemes for Living Room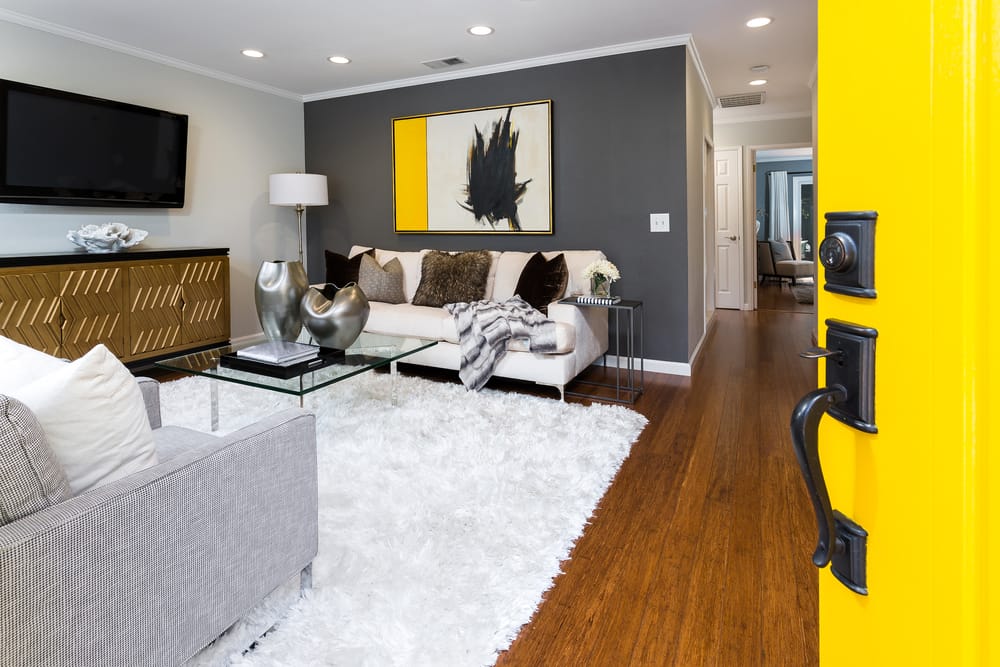 Underfoot is a white shag rug. It provides maximum comfort. Light and medium gray living room walls lend the space a modern flavor.
Bold yellow door and painting lead to a playful setting. Gold console table and silver decorative pieces transform the area into an upscale sanctuary.
6. Two Color Combination for Living Room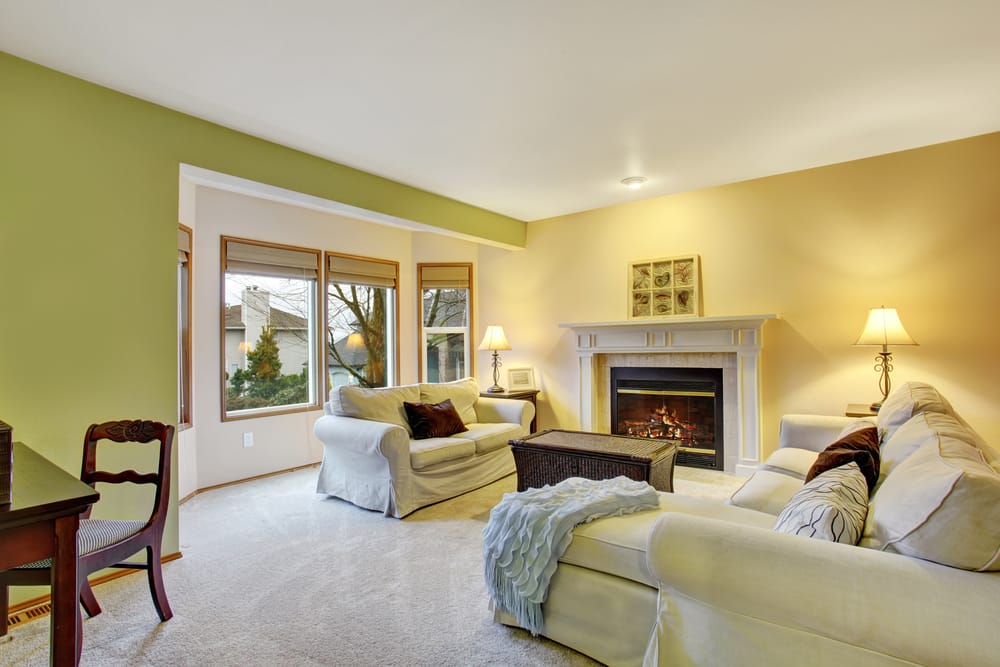 This indoor space boasts white and grass green walls. Glass windows allow you to see the exterior views of the front yard garden.
Area rug, blanket, sofas, and throw pillows cozy up the room. Fireplace and wooden furniture pieces keep the area welcoming.
7. Paint Color Trends 2019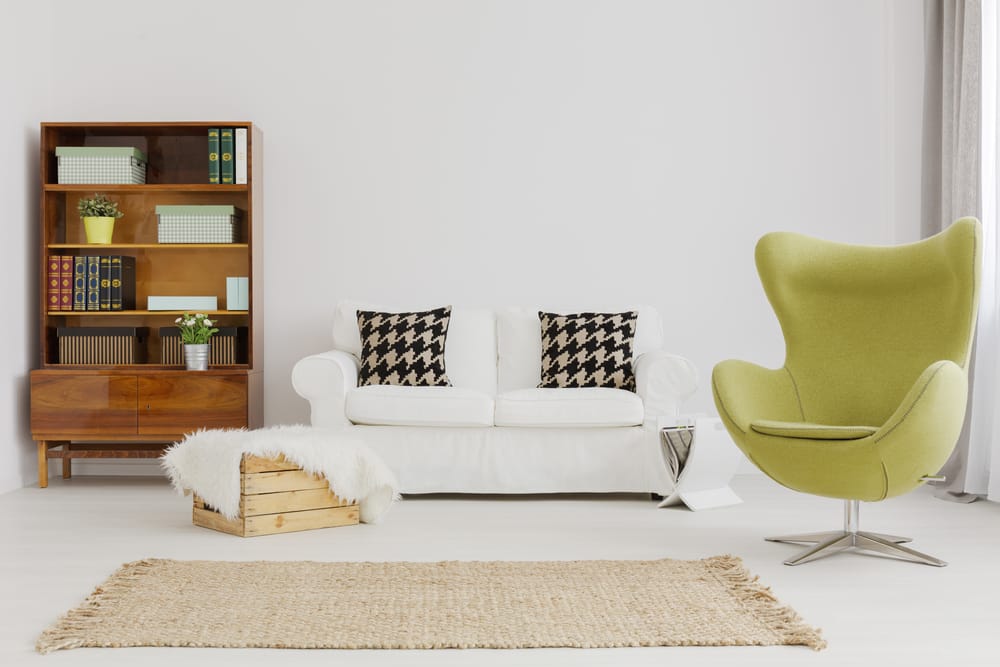 Dreaming of a chic living space? White is the right move. Here, white sofa, shag blanket, curtains, and walls open up the area.
Green egg chair and flowers jazz up the zone. Bookcase, wicker rug and unfinished wooden crate box reveal nature's splendor.
8. Orange Paint Colors for Living Room
The amber and burnt orange walls radiate warmth. They make the interior design more dynamic.
Black works of art team exquisitely with orange backdrop. Sand carpet and gray sofas both tone down the bold walls in a lovely way.
9. Neutral Living Room Paint Colors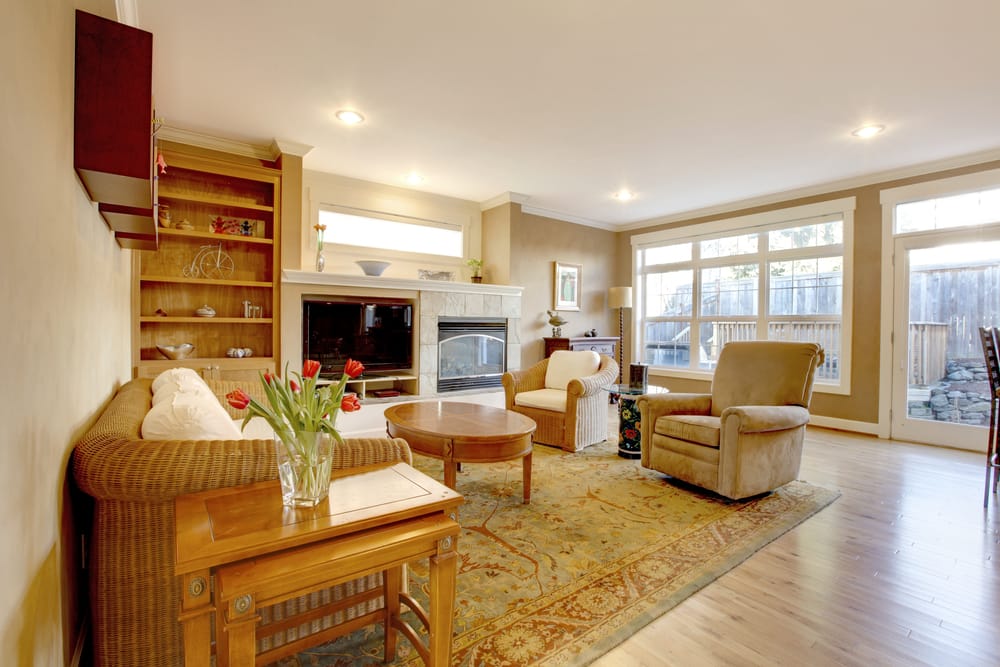 If you are in doubt, opt for neutrals. As you can see, white ceiling and beige walls promote a tranquil environment.
Wicker sofa, built-in bookshelves, and wooden tables give the indoor space a rustic charm. Both patterned rug and tulips titivate the area.
10. Neutral Living Room with Pops of Color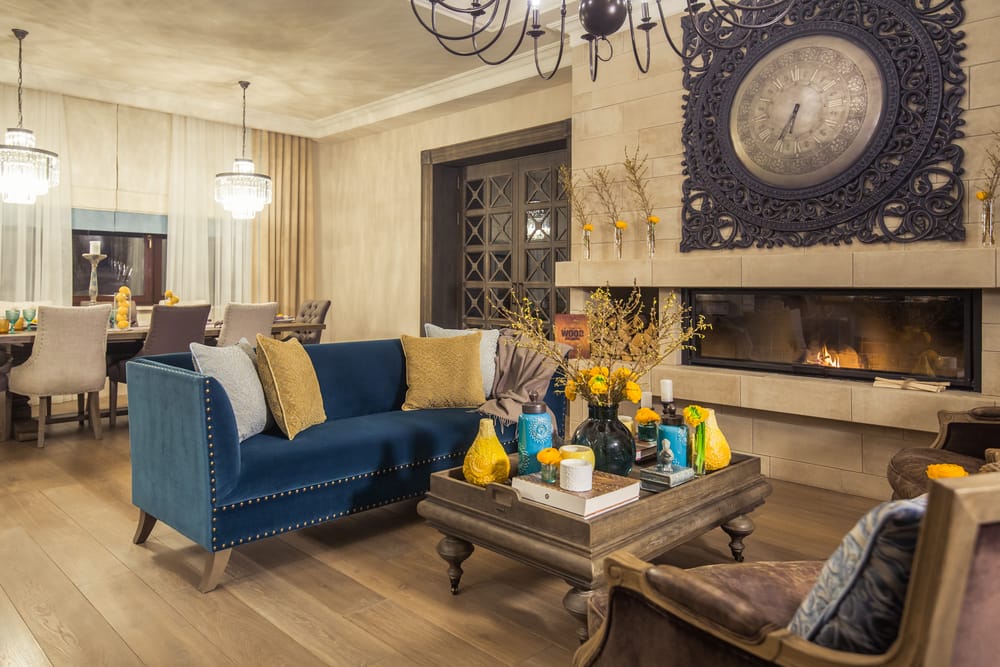 This sitting room is mostly subtle. However, blue and yellow pieces inject a cheery ambience into the entire scheme.
Wall clock and wrought iron chandelier evoke a traditional flair. The fireplace is functional for cold winter months. It takes the chill out of the space.
11. 2019 Interior Paint Colors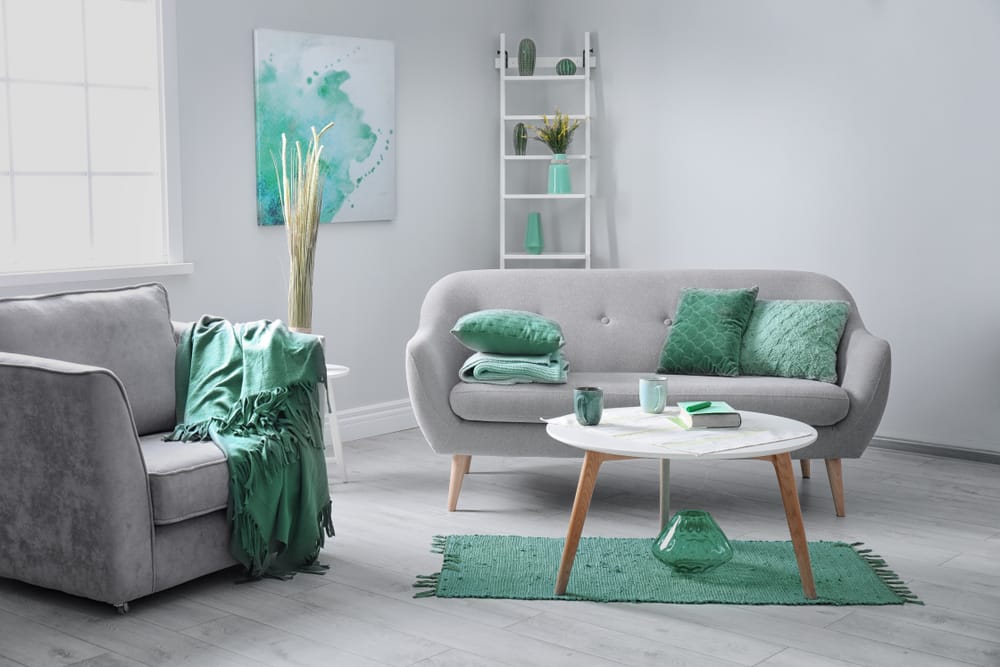 Currently, gray is one of most favorite paint colors. It helps you achieve a trendy, calm, and inviting sitting room.
When paired with mint green decorations, the end result couldn't be more divine. They undeniably energize your lounge, while exposed wooden legs of furniture promote an airy atmosphere.
12. How to Paint a Living Room
To paint a sitting room shouldn't be challenging. You have to choose paint, color, and sheen. Then, collect all the supplies.
White ceiling and walls expand your space. Black furniture units develop a fabulous contrast. Meanwhile, bursts of red draw attention in a jiffy.
13. Red and White Living Room Decorating Ideas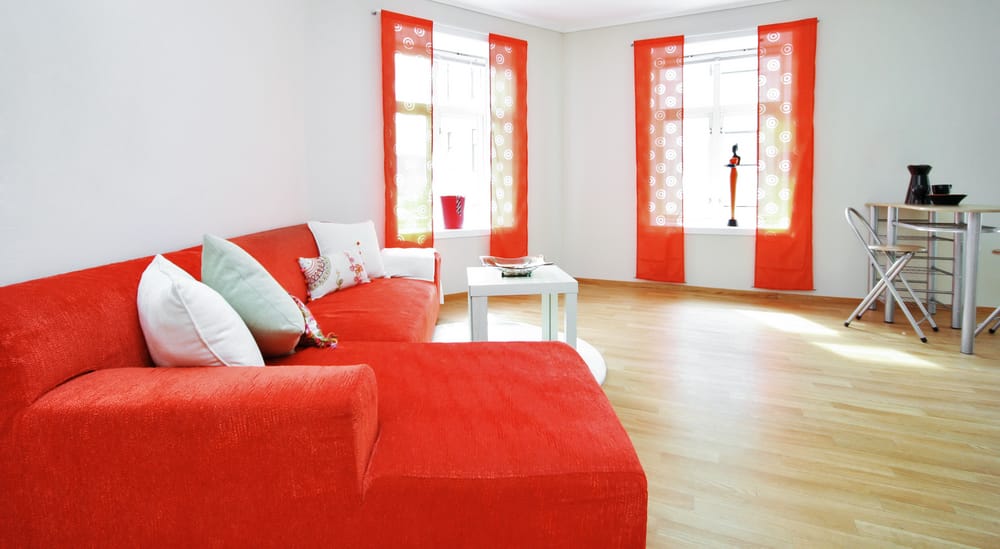 The L-sectional sofa and curtains look visually pleasing, thanks to scarlet red color. They add a sense of vibrancy to the room.
Walls are painted crisp white. They balance out the patterns and vibrant hues. Plus, they lighten up the entire area. A black-and-red statue decorates the space.
14. Neutral Living Room with Blue Accents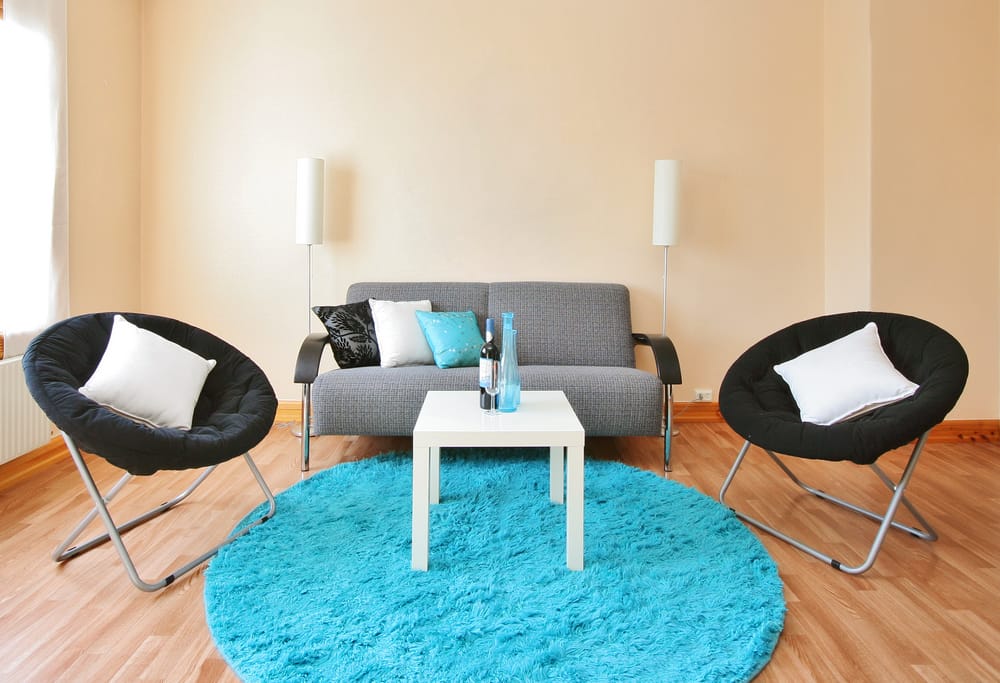 Blue and neutrals come together in this room. Grey sofa, white coffee table, floor lamps, and black saucer chairs embrace a contemporary design.
Wooden floor warms up the entire space. Sand-painted walls and aqua blue sofa carve a beach vibe. Three throw pillows unify the zone.
15. Paint Colors That Go with Red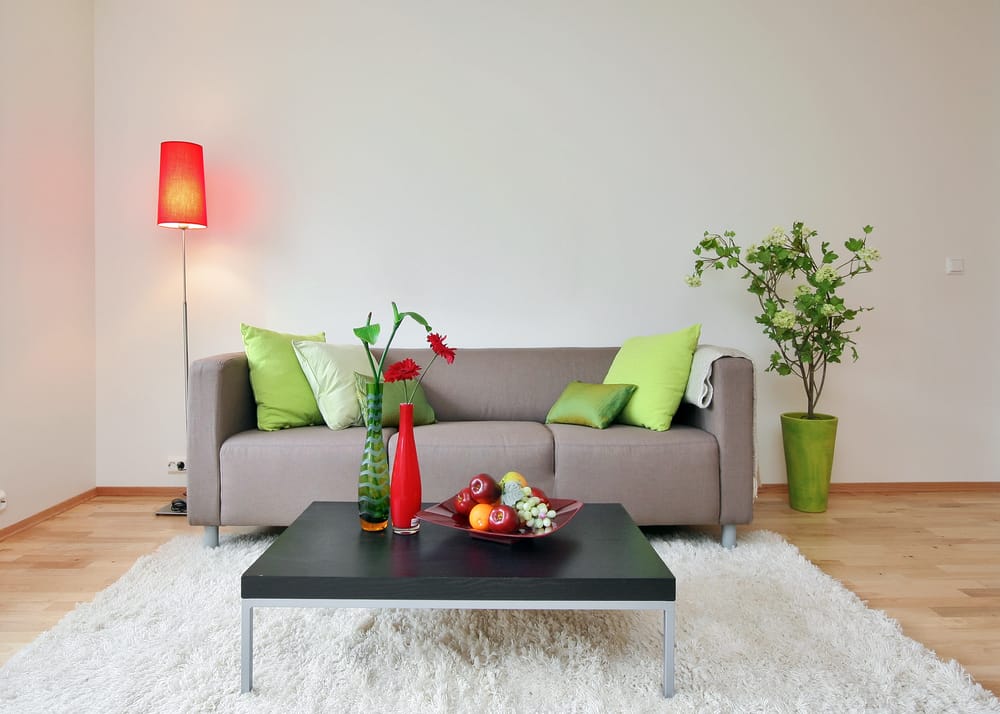 Here, crisp white-painted walls allow red items to take the center stage. They are not just timeless, but also produce a clean environment.
Olive green planter pot, vase, indoor plant, and throws give the space a touch of natural world. Shag rug and wooden floor provide textural contrasts.
16. Purple Paint Colors for Living Room
If you find the neutrals are boring and uninviting, paint your walls lavender. This purple shade brings a touch of femininity to the space.
Pastel gray sofa, pouf, and floor lamp match well with the backdrop. Artworks, purple flowers, and houseplants enhance the room's look.
17. Pink Living Room Walls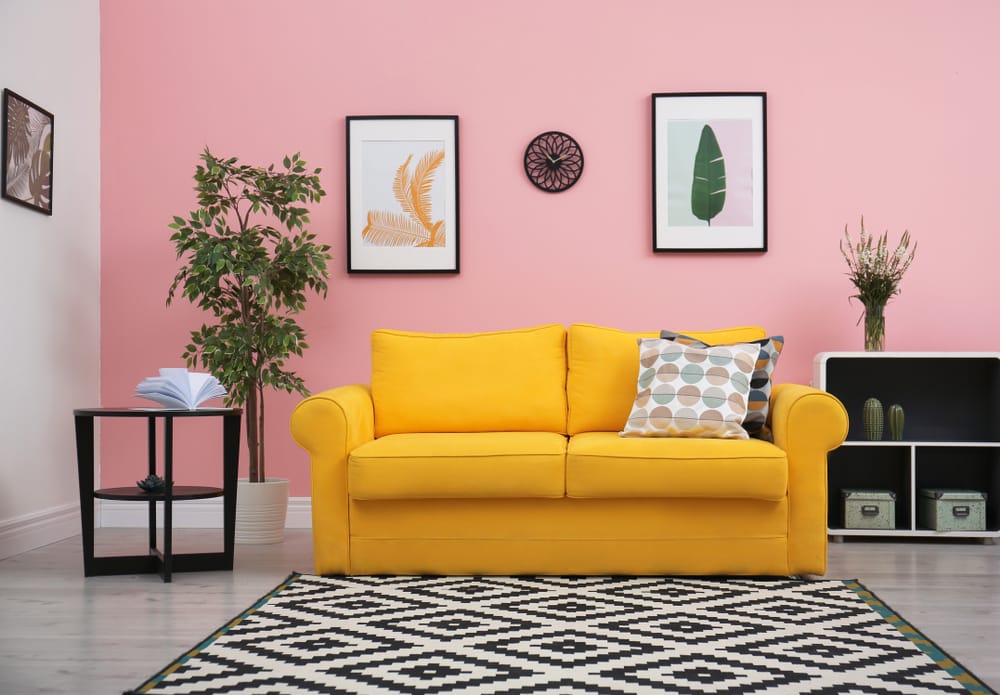 Who states pink is too sugary? The picture above shows that soft pink walls seem twinkly and relaxing.
Yellow sofa is juxtaposed with the walls. Patterned rug, dark furniture pieces, throw pillows, and wall hangings make the room feel grown up.
18. Wall Color Combination for Small Living Room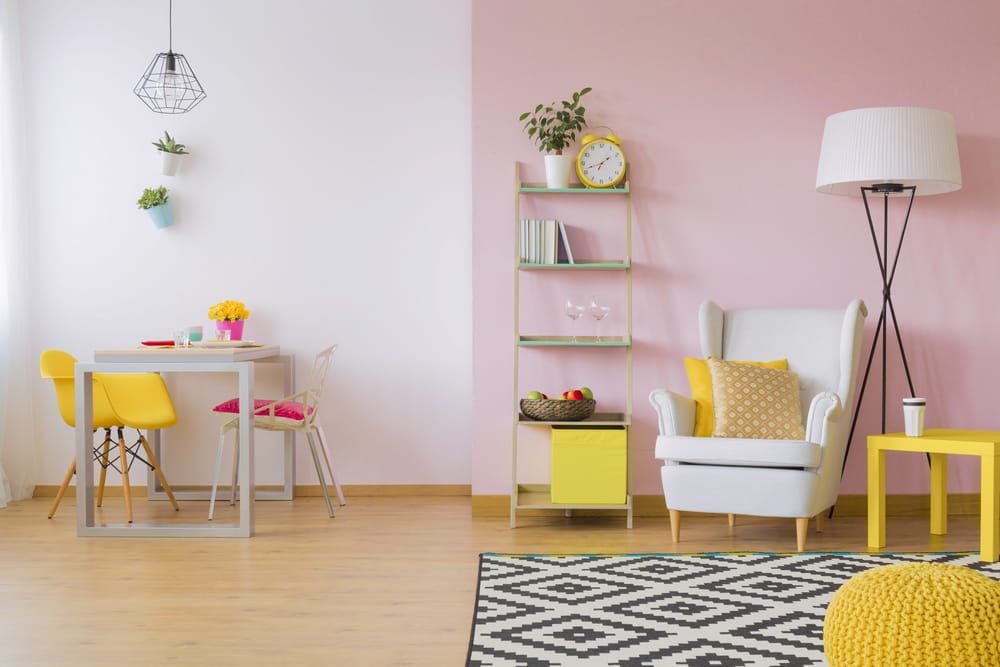 Pink and white-painted walls refresh the scene. Bursts of yellow add a springy atmosphere to the area. A wingback chair lends the space a traditional flair, while floor lamp and pendant lamp set an industrial charm.
19. White Wall Living Room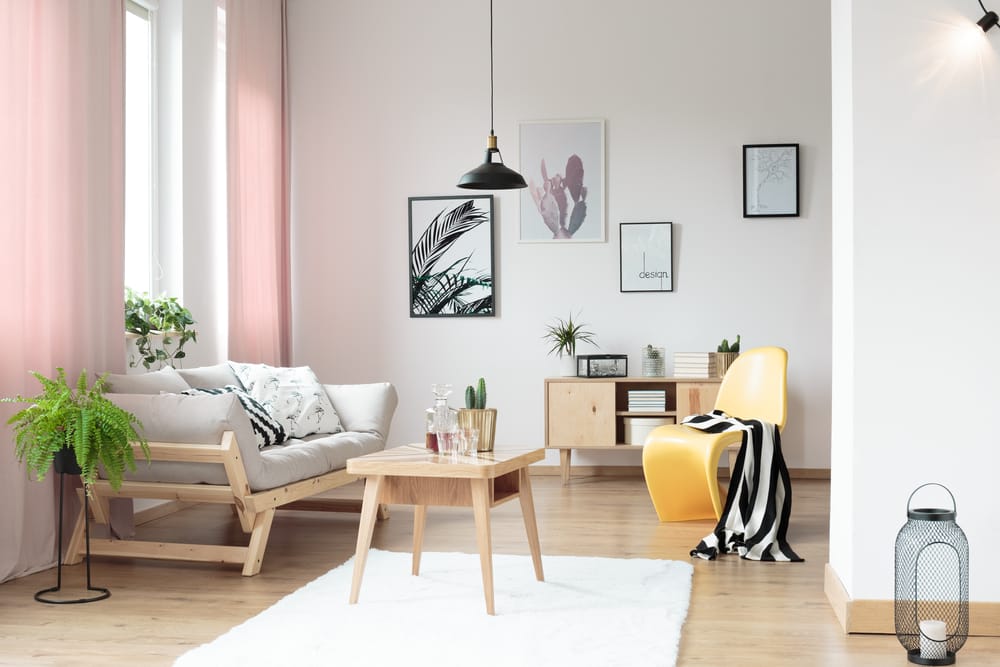 Well, I can say this living room is utterly elegant, thanks to pink curtains and white walls. Yellow chair, striped blanket, artworks, and throws create a focal point.
20. Warm Living Room Colors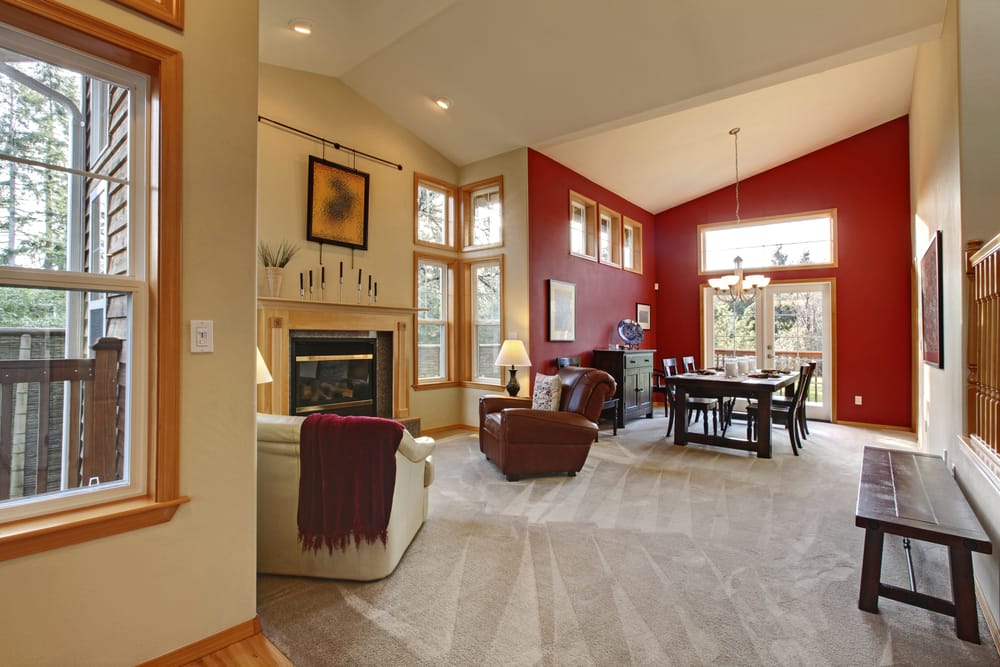 Red walls in the dining area convey warmth and boldness. Meanwhile, cream-painted walls in the conversation zone emanate peaceful vibes. Leather chair, gray carpet, and burgundy blanket complete the room.
I guarantee you are swooning over those living room color ideas. If you think about injecting color into your space, make sure it reflects your own personality. So, the room is truly you.