A small sitting area gives you real challenges due to its limited space. Certainly, large living room also comes with different issues. For instance, it probably does not feel comfortable and inviting.
As a homeowner, you should know how to style and decorate your big living room. So, it will be an amazing space for serving many roles from the play zone to relaxation area. Look at these options and create your own sanctuary.
1. Large Living Room Layout Ideas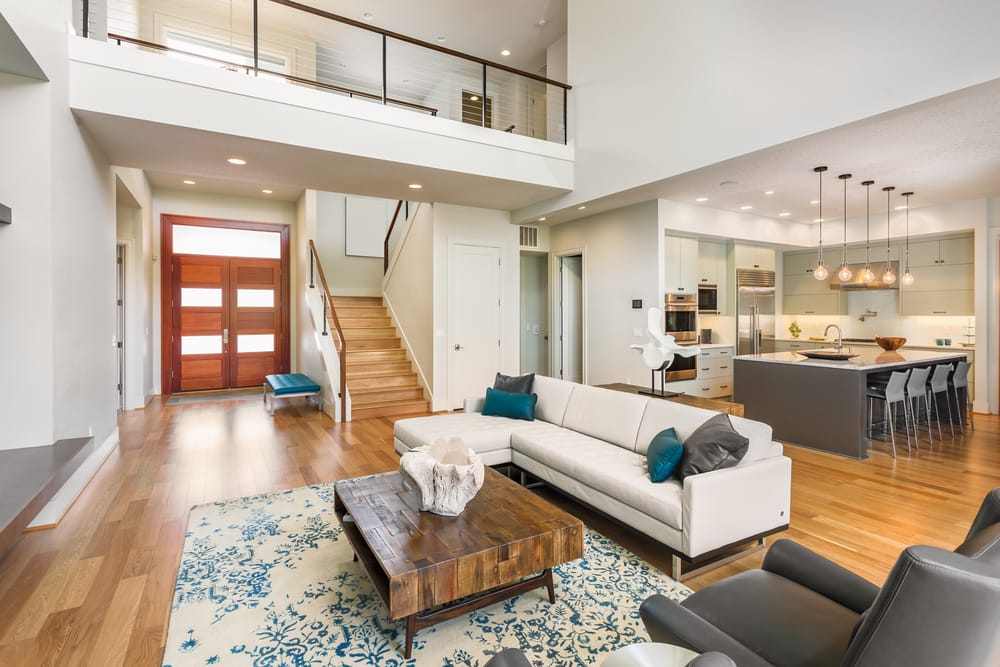 Speaking of furniture layout in big living space, you never go wrong with L-shaped sectional sofa. Then, pair it with gray armchairs.
Wooden floor and coffee table, both infuse a homely atmosphere into the room. Blue throw pillows and flower rug carve a coordinated scheme.
2. Extra Large Living Room Rugs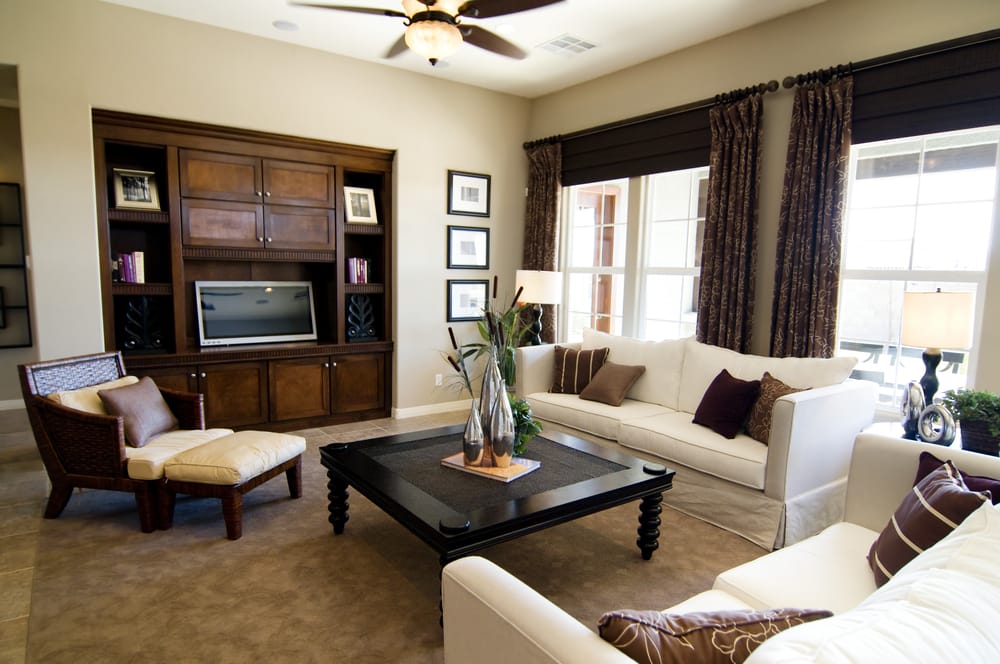 If you want to divide up your huge lounge room visually, use an extra large area rug. It keeps the whole area cozy.
Black coffee table, wicker armchair, custom cabinet, white sofas, brown curtains and throw pillows promote a tranquil scheme. What a dreamy space!
3. Interior Design Large Living Room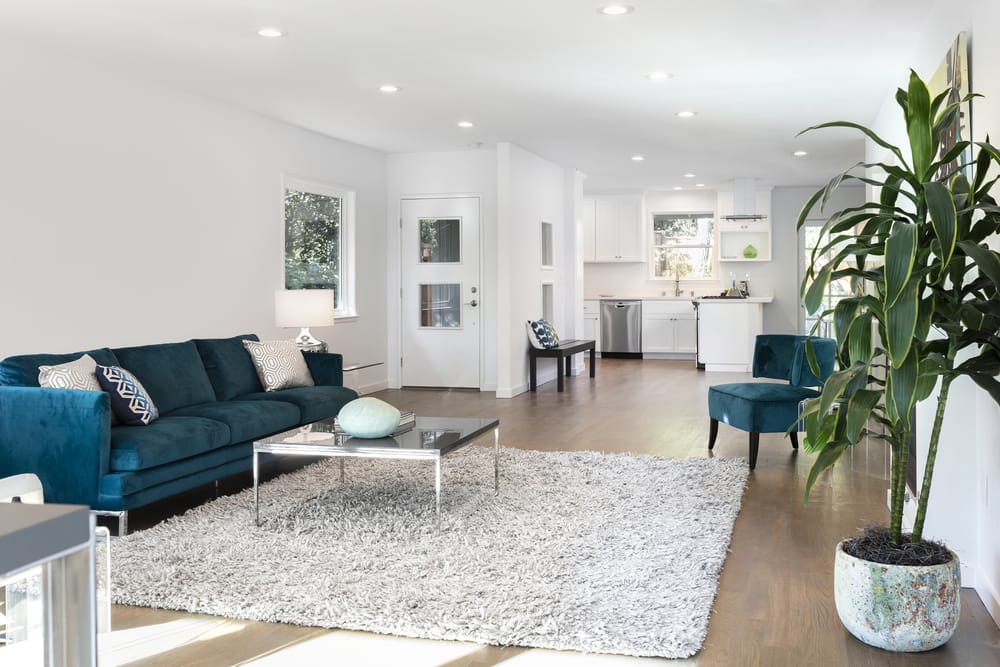 This living area features furniture pieces with exposed legs. They add a sense of airiness to the entire zone.
Blue velvet armless chair and sofa make a bold statement. Tall potted houseplant adorns the awkward corner. Gray rug lends the room a shaggy texture.
4. Large Modern Living Room Furniture Ideas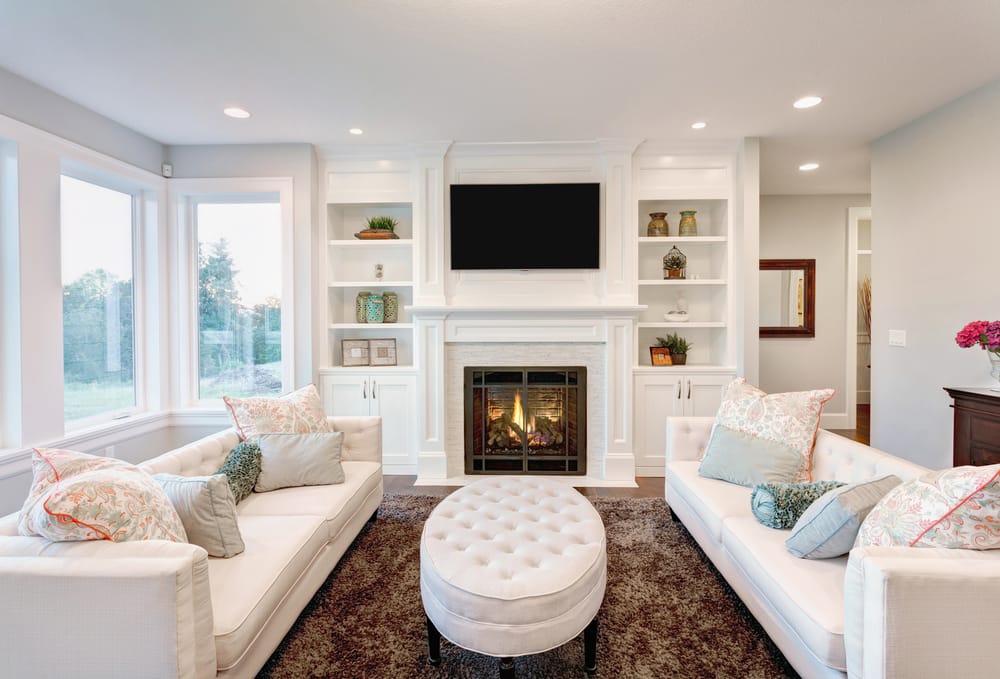 Glass windows bring lots of sunlight into space. Patterned throw pillows and flowers in vase grab the attention.
Brown rug and fireplace radiate an aura of warmth. A fancy white ottoman matches perfectly with the room's overall design.
5. Living Room with Large Windows
Ample seating in this sitting area sparks a great conversation. Open shelves showcase gold and metallic decorative items.
Wall of windows lets you enjoy enticing exterior views of pool and trees. The indoor plant helps refresh the space.
6. Large Living Room Ideas with Fireplace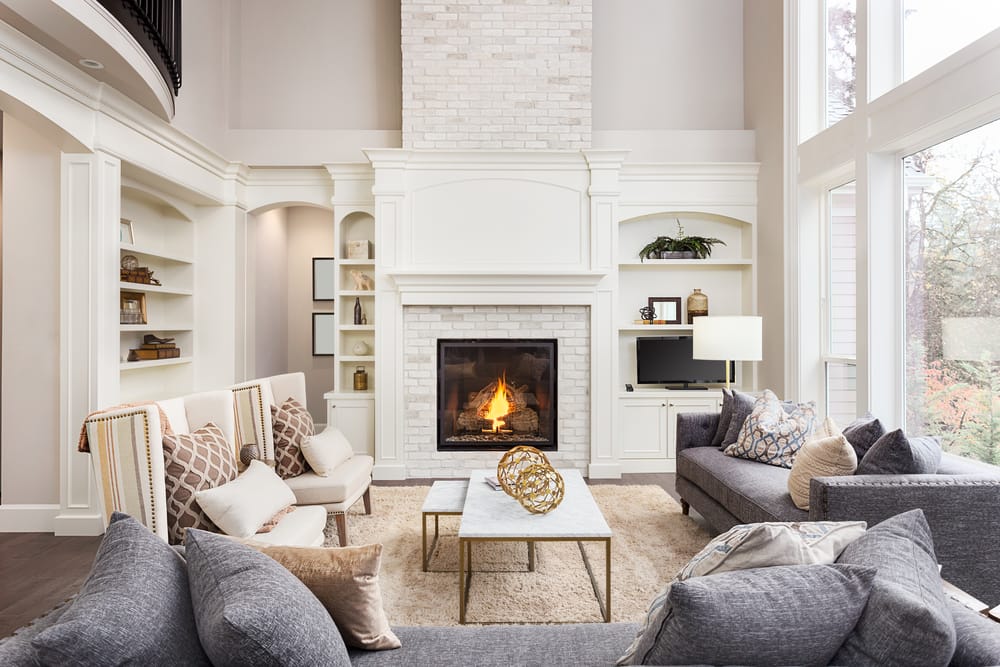 The key to creating a snug living room is double up your furniture units. Here, a couple of gray sofas and cream wingback chairs are featured.
White brick fireplace, area rug, wood floor, and throws deliver rich textures to the room. Giant glass windows permit gorgeous views of the outdoors.
7. Large Family Room Layout Ideas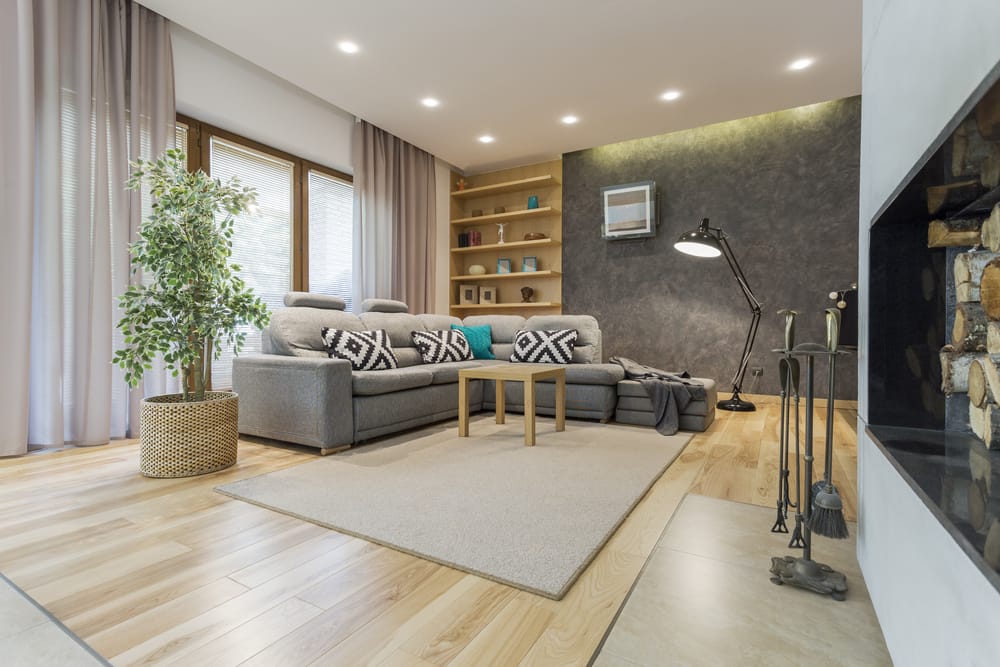 For certain, your family members love this sitting room. It is super relaxing, thanks to the muted shades and natural materials.
Light taupe floor-to-ceiling curtains soften the area. Slim metal floor lamp and downlights brighten the room. Blue and geometric throws steal the show.
8. Large Living Room Size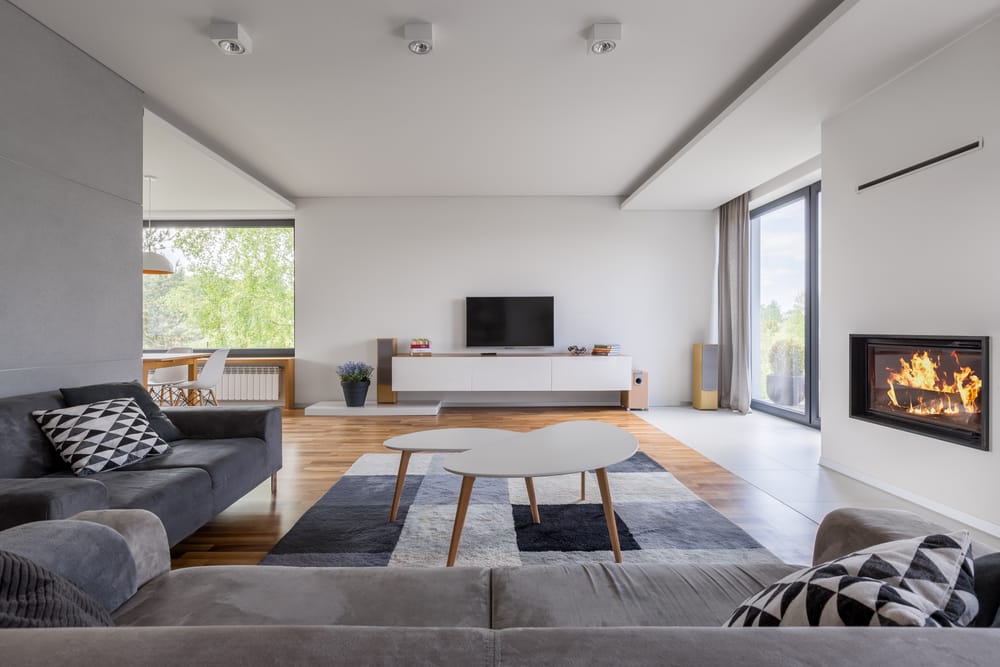 Since your living room is big in size, you must keep the colors and patterns balanced. So, visitors feel welcome and convenient.
Furthermore, combine the sofas with black and white geometric throw pillows. The area rug really ties the room together.
9. How to Decorate a Large Living Room Wall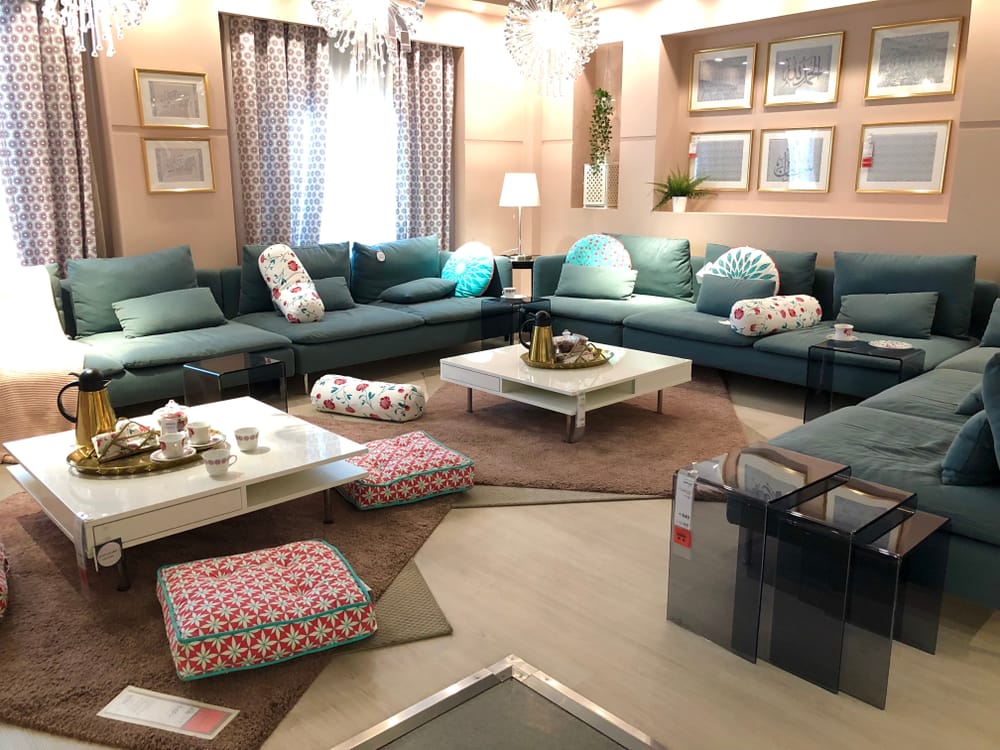 Do not leave your walls blank. Use works of art to add visual interest. The golden framed Arabic calligraphies ooze luxury.
Steel-blue sofas blend nicely with pastel coral walls. Bolsters, throw pillows, and square poufs beautify the space. Lastly, sputnik chandeliers cast a bright glow during evening hours.
10. Living Room Area Rug Placement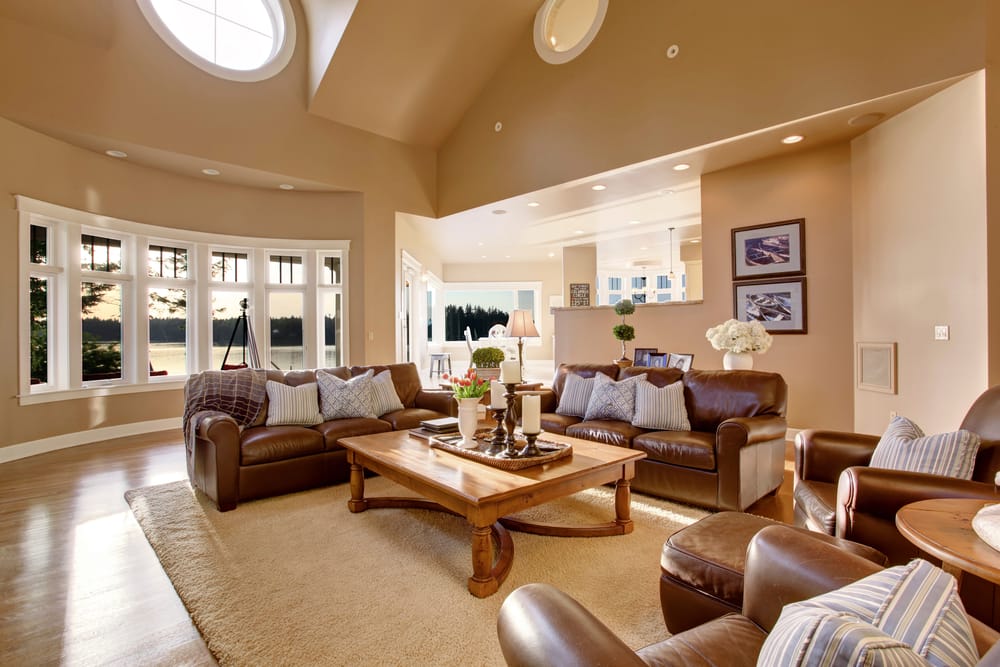 As you can see, the plush rug boosts up a sense of coziness. It is placed on the wooden floor and surrounded by brown leather sofas.
Bay window and skylights help you get plenty of daylight into the room. Meanwhile, flowers in vase enliven the zone.
11. Large Rustic Living Room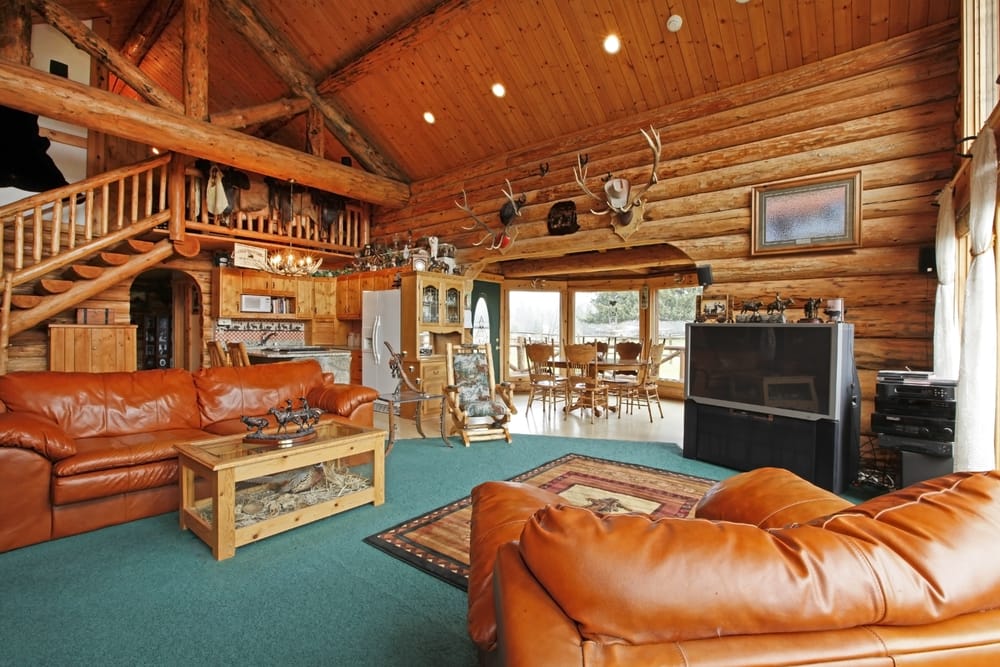 Dwelling in a log home? Steal this look. Leather sofas do not only offer a smooth texture, but also a glamorous feel.
A wildlife-themed rug is layered over the blue carpet. Deer antlers are a perfect addition. They inject a touch of nature into space.
12. Large Decorative Mirror for Living Room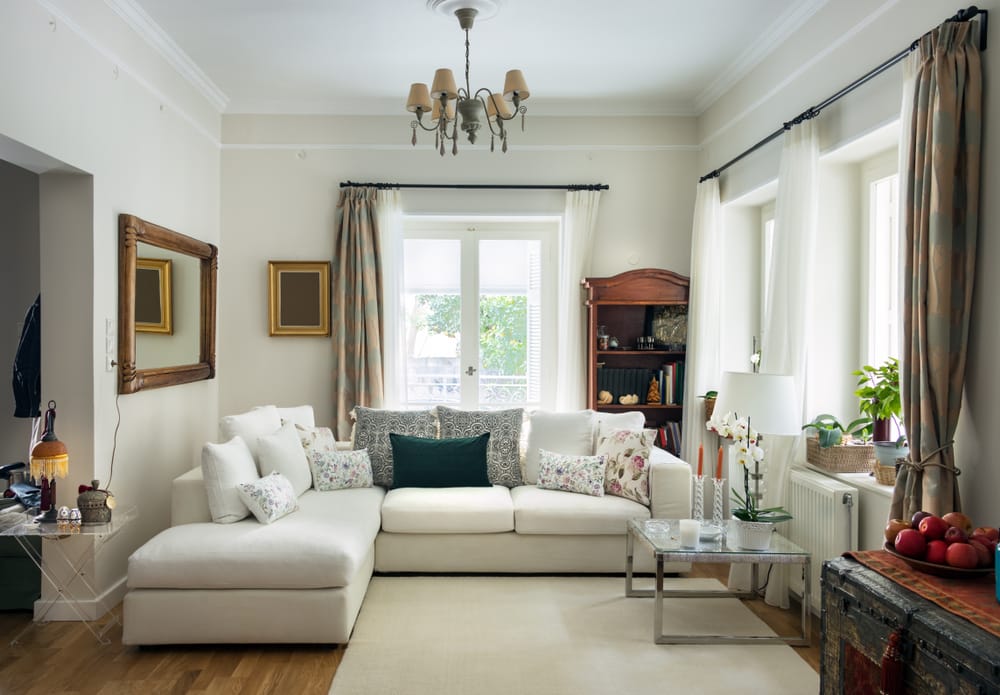 White ceiling, sofa, and walls introduce an open setting. Wooden floor and shelving promote a casual ambiance.
Chandelier and metal table, both promote a retro vibe. The wooden framed mirror gives the room dimension. Houseplant, white flowers, and throw pillows spice up the zone.
13. Large Living Room Furniture Arrangement Examples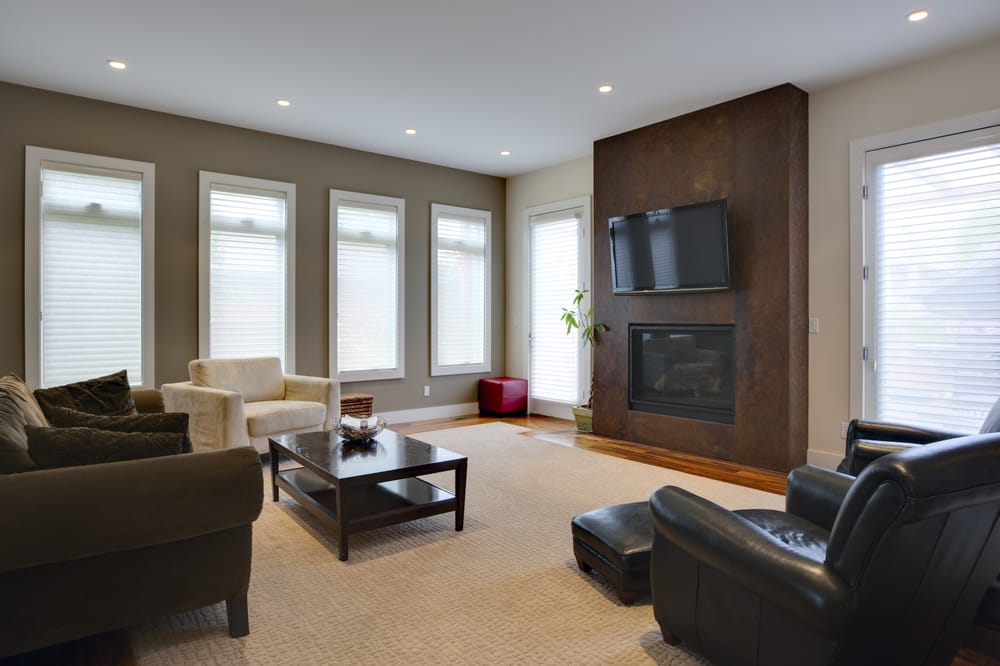 Love these furniture groupings? First of all, pull the sofa armchairs out from your walls. Then, use double-decker and low coffee tables to accompany them.
Heat up the room by building a fireplace. Put a tall potted plant in the empty corner. Plus, install downlights to illuminate the area.
14. Paints for Large Living Room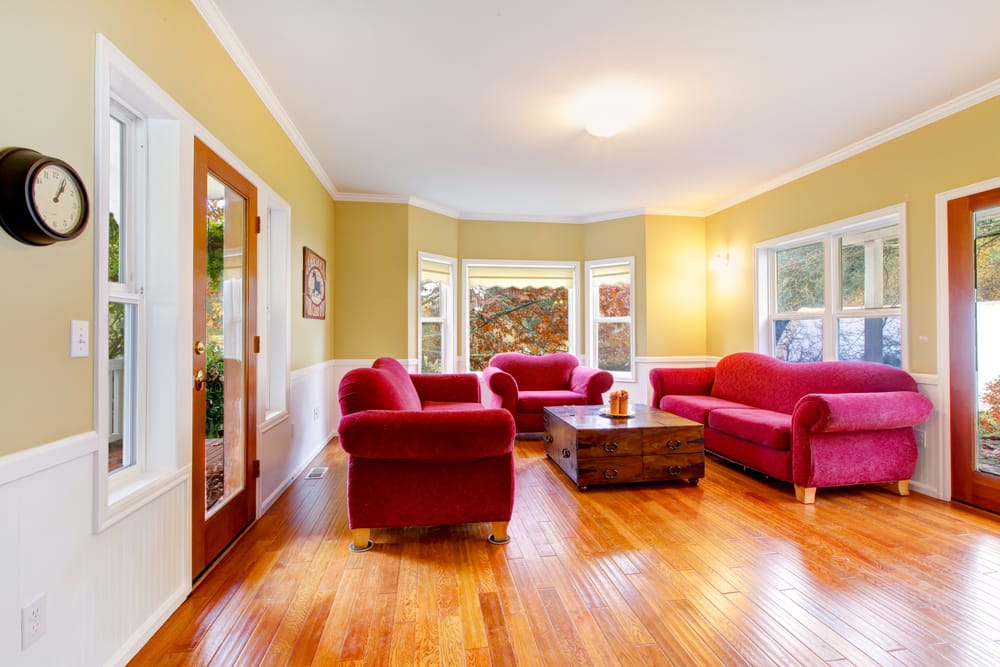 If big walls are not pleasing to look at, you must try this idea. Paint the upper half of your wall pastel yellow and leave the bottom half crisp white.
Moreover, hibiscus red sofas are paired with old-style wooden coffee table. Vintage clock and artwork fill dead wall space.
15. Traditional Decorating for Large Living Room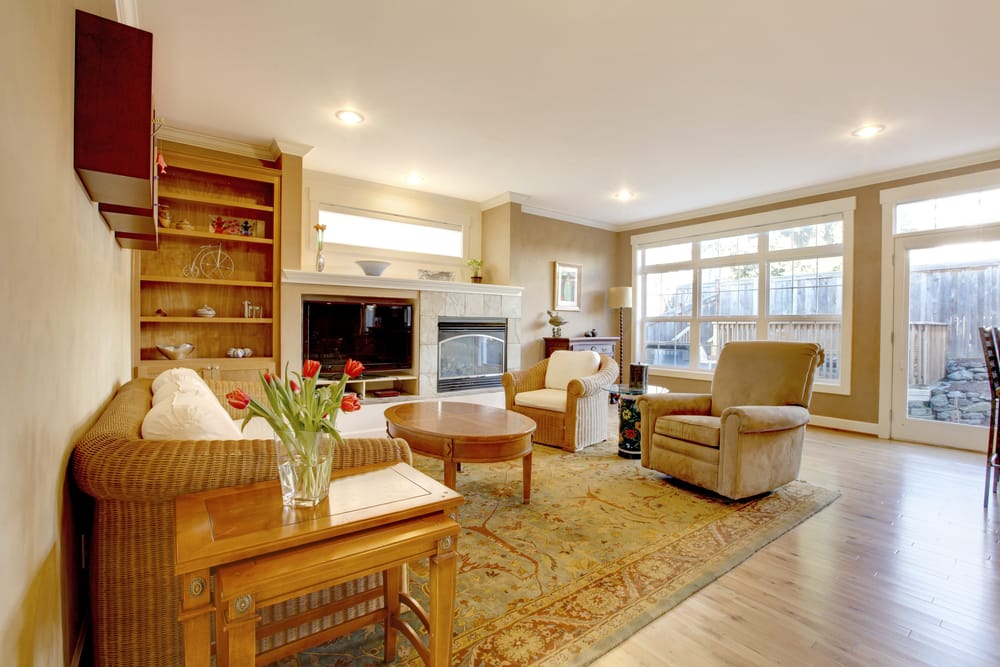 This living room employs a wicker sofa and velvet chair. Along with French country area rug, they bring textures to space.
Built-in shelves help anchor the area and display traditional decor pieces. Red tulips in the glass vase add vibrancy to the scene.
16. Large Classic Living Room
Here, the wrought iron candle chandelier fits perfectly with white-painted tray ceiling.
French country armchairs offer a statement of opulence and elegance. Sofa, vases, and flowers make the area more dynamic.
17. Large Wall Decor Ideas for Living Room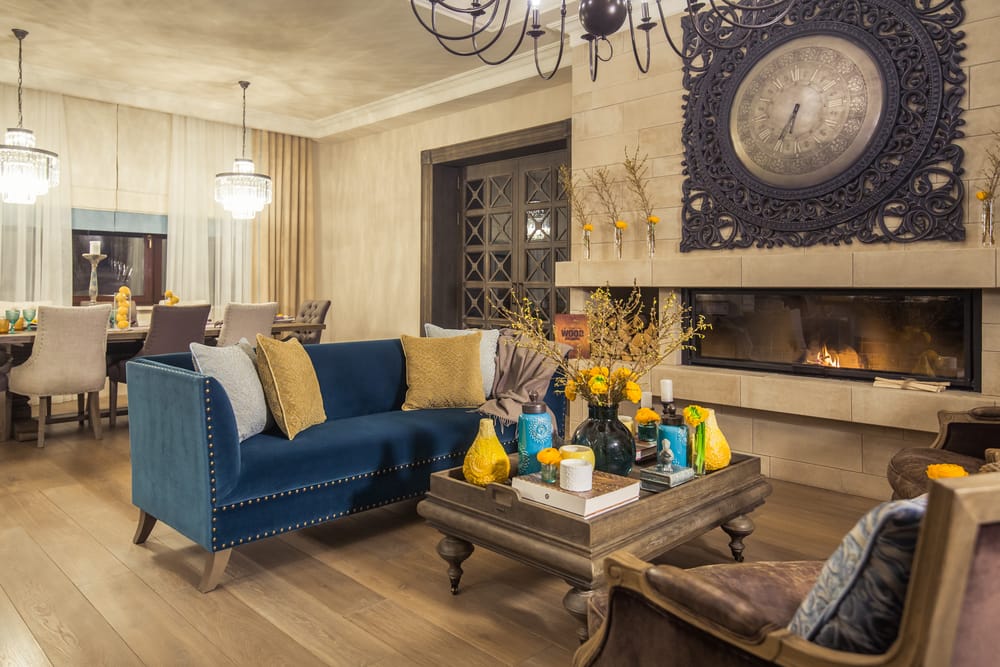 The black clock in the image above is super stunning. It creates a bold impression in a split second.
Moreover, fireplace keeps the space warm. Camel and gray throw pillows look lovely on a blue sofa.
18. Big Living Room Ideas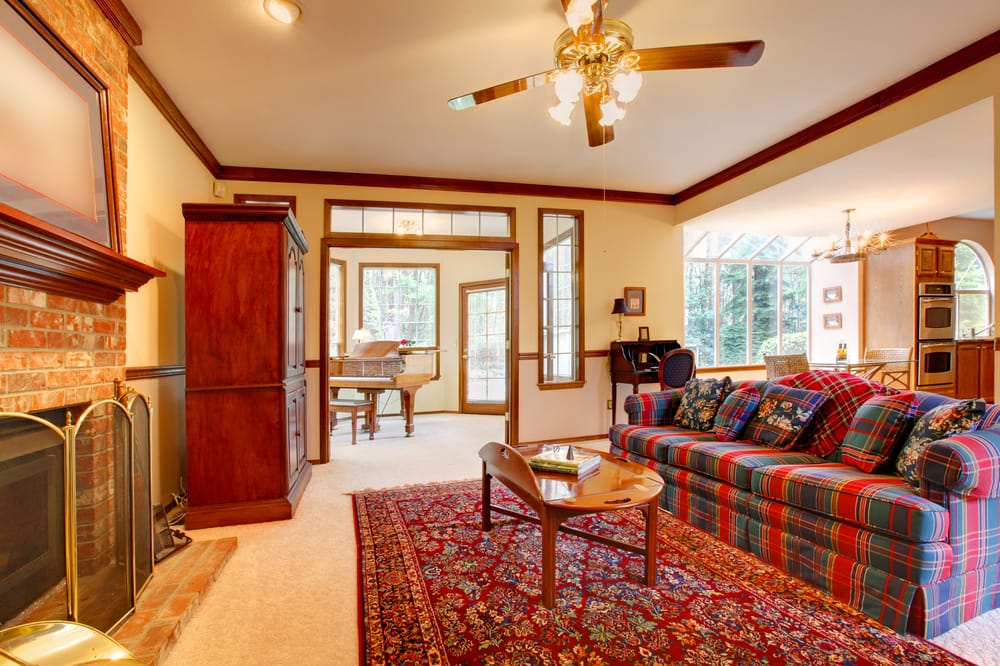 This sitting area is predominantly neutral. An antique ceiling light with fan casts a romantic glow when the night falls.
Plaid sofa, patterned rug, and floral throw pillows catch the eye. Meanwhile, brick fireplace brings outdoors indoor.
19. Large Living Room with Vaulted Ceiling and Fireplace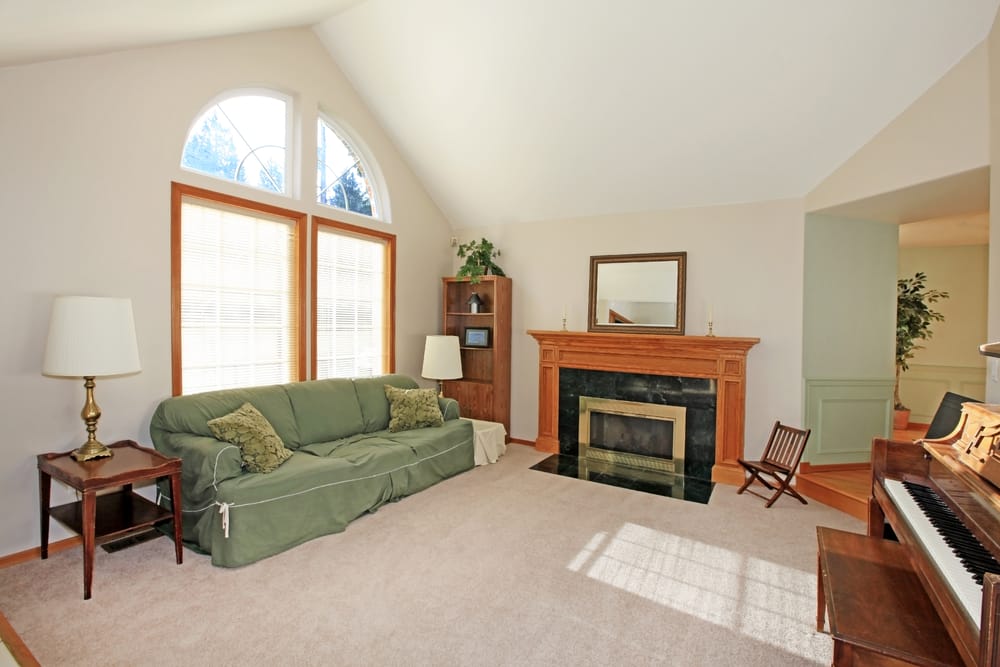 White base makes the wooden chair, side table; fireplace, mirror, and shelving unit stand out. Piano works as the star of the room.
Vaulted ceiling offers a dramatic look. Sofa, throws, and potted plants perk up the space.
20. Glass Sliding Door Designs for Large Living Room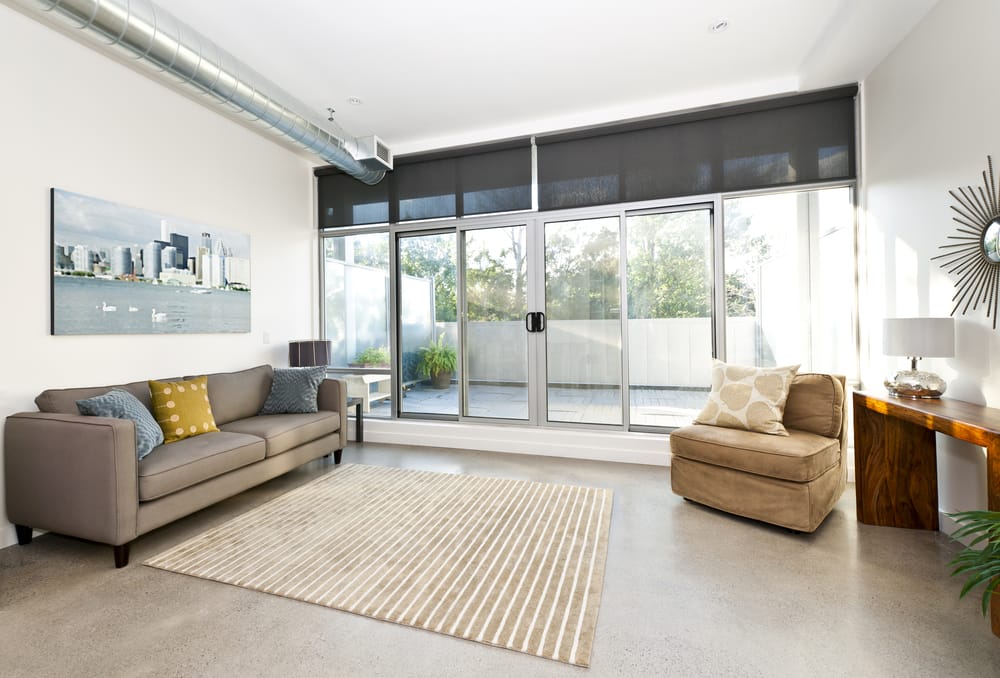 Striped area rug and throw pillows increase attractiveness of the room. Sunburst mirror and artwork keep the walls from feeling stark. Lastly, doors let the sunlight shine through into the area.
Working with a large living room seems difficult at first. With the right styling, your retreat would be functional, snug, and alluring.