If you love something elegant, look no further than Tuscan style kitchen ideas. Tuscany inspired culinary spaces typically feature low light, brick walls, and terracotta floors. They also have warm, earthy color schemes.
Many homeowners admire Tuscan style kitchens due to their comfortable yet luxurious Old World vibes. Furthermore, they are all about the ceiling beams, farmhouse tables, and stone ovens.
As the name implies, the Tuscan style is originally from Tuscany, Italy. This Italian country design focuses on aged furniture, Mediterranean culture, and detailing.
Before redoing your kitchen, read on to see some fabulous Tuscan kitchens. They will definitely wow you in no time. Check these out!
1. Modern Tuscan Style Kitchen Ideas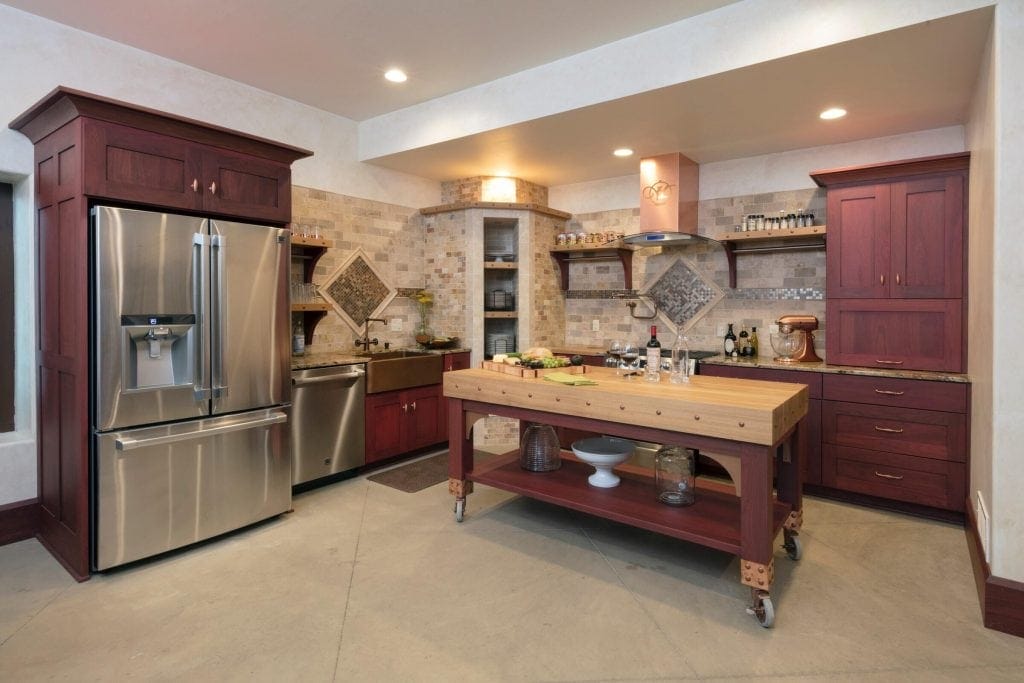 Tuscany inspired kitchens don't always feature rough surfaces. Here, the polished stone walls change the whole appearance of the culinary space. However, they won't break the bank.
Combine your stone walls with the dark-toned wood cabinetry. We also suggest adding metallic appliances and downlights to your modern Tuscan style kitchen.
The island boasts a butcher block countertop and wheels. Meanwhile, the wrought iron fixtures lend this stylish kitchen some Tuscan flavor. Lastly, warm lighting completes the look.
2. Tuscan Style Kitchen Decorating Ideas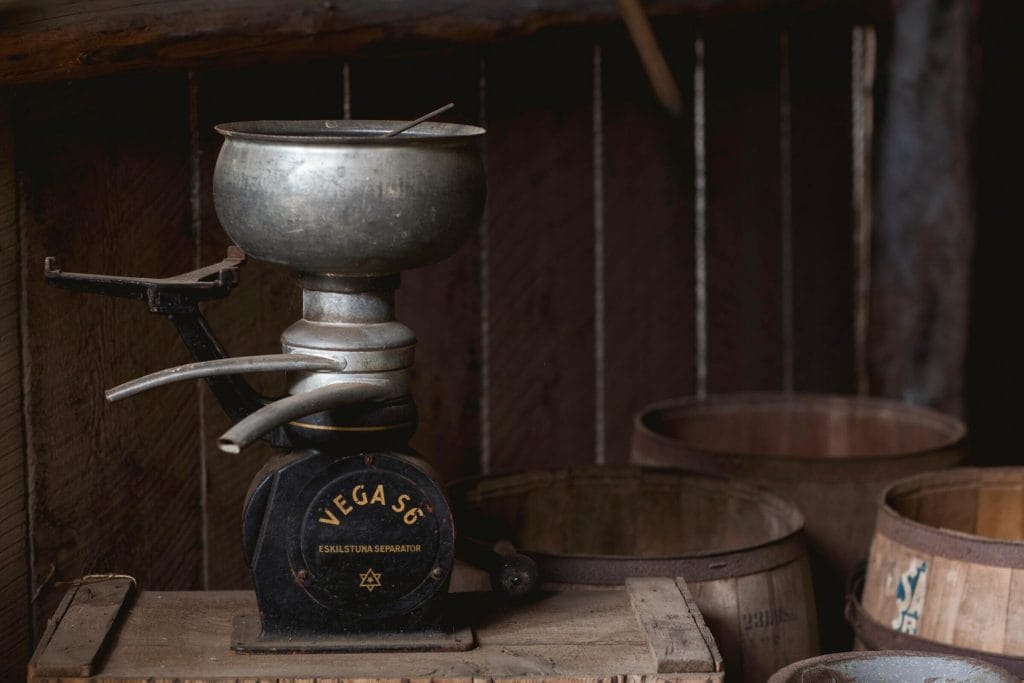 Talking about Tuscan style kitchen ideas, consider adding stone pillars and brick pizza ovens. You should integrate small, antique appliances into yours, too. They will turn it into a vintage Italian culinary space.
This kitchen has some manual tools. Think about the stone scales and hand coffee grinders.
They'll give your cooking space some simple, unique touches. You can get them from local vintage shops, boutiques, and flea markets.
3. Tuscan Style Kitchen Ideas with A Cast Iron Oven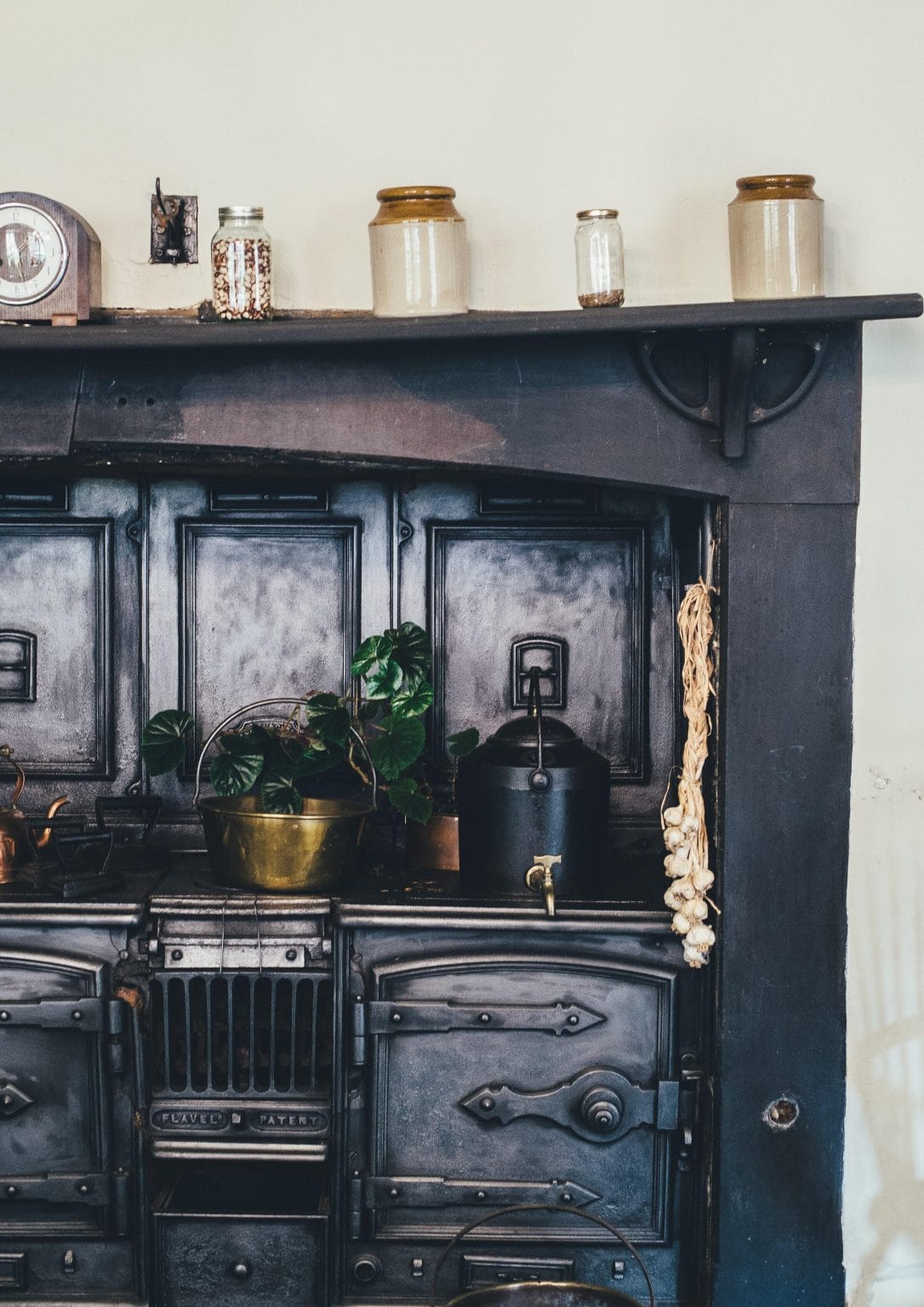 We recommend getting a vintage cast iron oven. It will bring an incredibly stunning and distinct touch to your Tuscan style kitchen.
A cast-iron oven makes a major difference in the old-fashioned kitchen's authenticity. Furthermore, it carves a lovely antique feel.
Do not forget to install a stylized kitchen backsplash. You should also incorporate a wooden mantel and warm tones. They unleash the comfort and beauty of the Italian countryside.
4. Tuscan Style Kitchen Decor with Copper Pots
Speaking of Tuscan style kitchen ideas, you can't forget antique copper or brass pots. They contrast with the bright colors and stone backsplashes.
Additionally, their rich, metallic hues definitely look great against any dark woods.
Copper or brass pots are a terrific complement to a classic Tuscan style kitchen. They also set a warm, welcoming ambiance instantly.
You can hang copper pans and pots on the wall. Another option is using them to decorate your kitchen island. Moreover, we recommend getting appropriate cleaning supplies for those pieces.
5. Tuscany Inspired Kitchen with Hardwood Flooring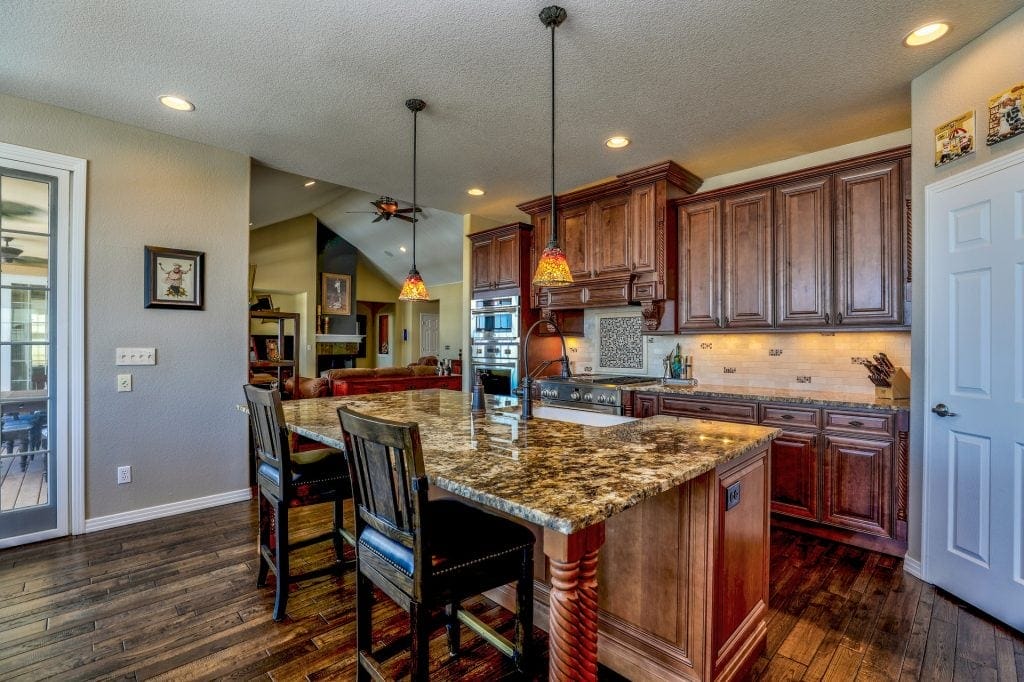 Installing some wide hardwood flooring is an excellent way to create the Old World appeal. Tuscan style kitchens normally boast distressed woods for an antique look. You should embrace the wood knots and flaws, too.
In this case, the hardwood floor is truly magnificent. It also matches with the lighter cabinetry and appliances very well.
6. Tuscan Style Kitchen with A Hand-Carved Table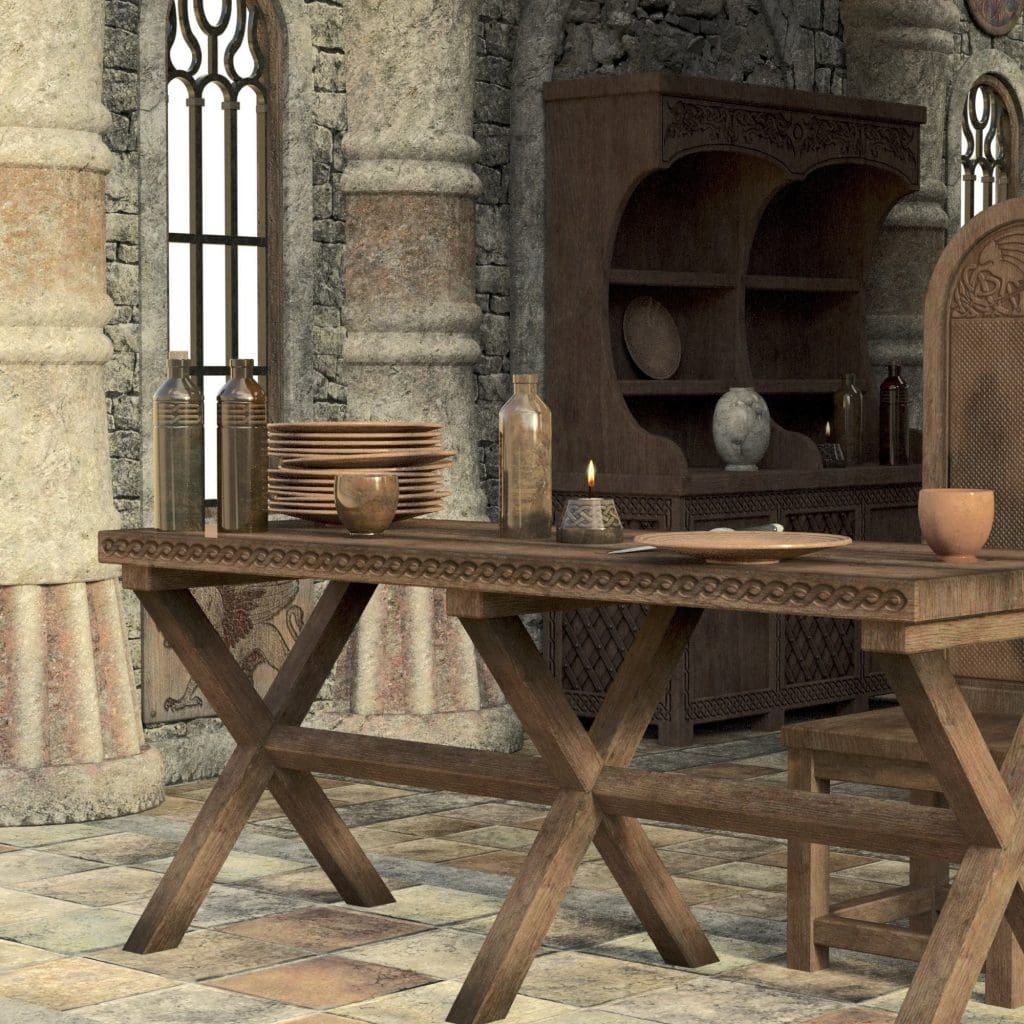 Do you love antique furniture? If yes, this is one of Tuscan style kitchen ideas to try. As the photo shows, space features an ancient-looking wooden table. It goes with the other units' wood type and color.
This hand-carved table is both large and stunning. We suggest adding ornate chandeliers, candles, or cast-iron lanterns. They will accentuate your gorgeous Italian kitchen.
7. Windowed and Earth Toned Cabinetry for A Tuscan Kitchen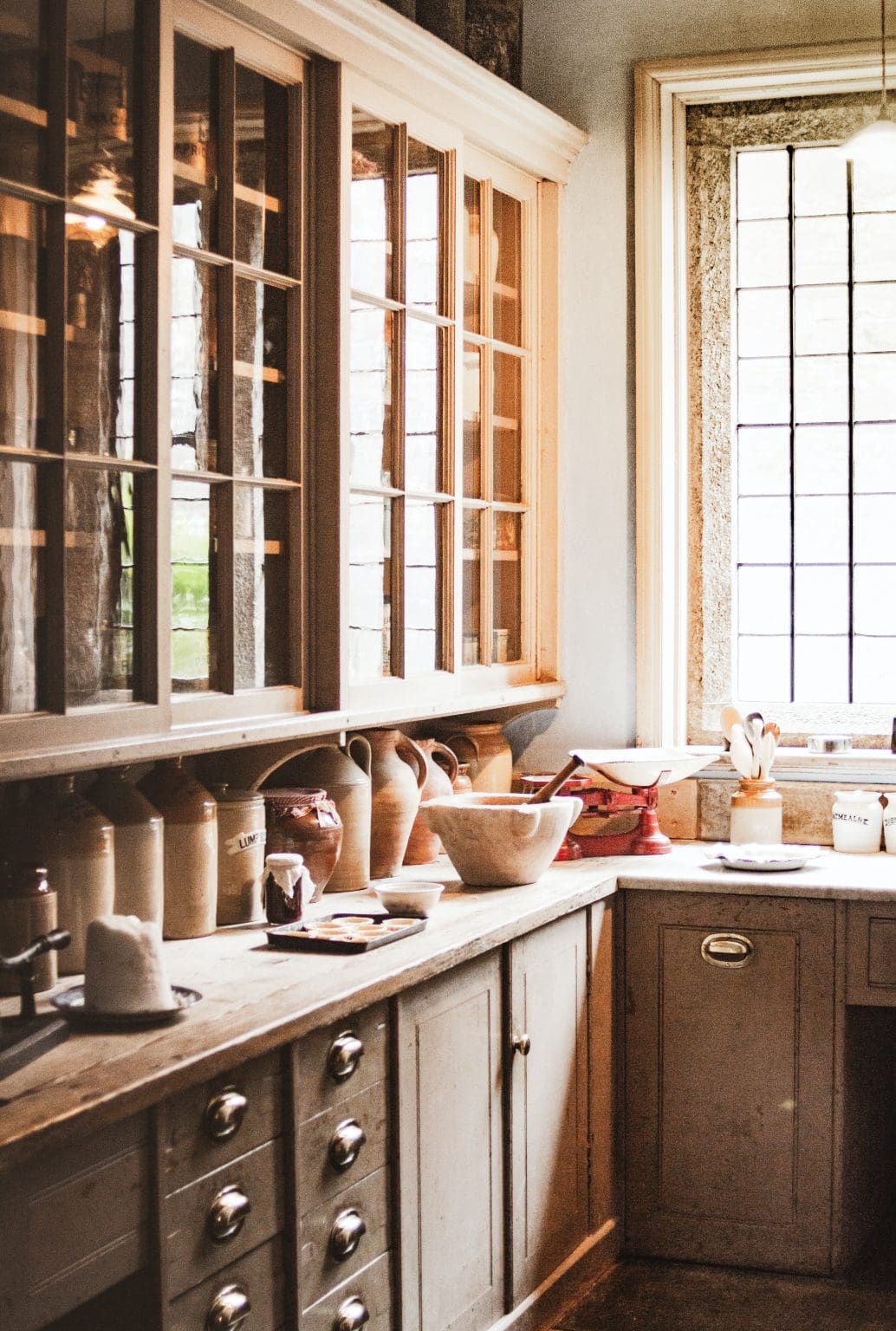 Most Tuscan style kitchen cabinets have solid doors. They are small and come in light colors as well. If you aren't into those pieces, install warm, textured wooden cabinetry with glass windows.
The windowed, rich, and textured wooden cabinets are a delightful addition to any Italian kitchen. They will emphasize your china's beauty. Furthermore, the units keep your precious dishes gorgeous and dust-free.
8.Tuscan Kitchen with Exposed Ceiling Beams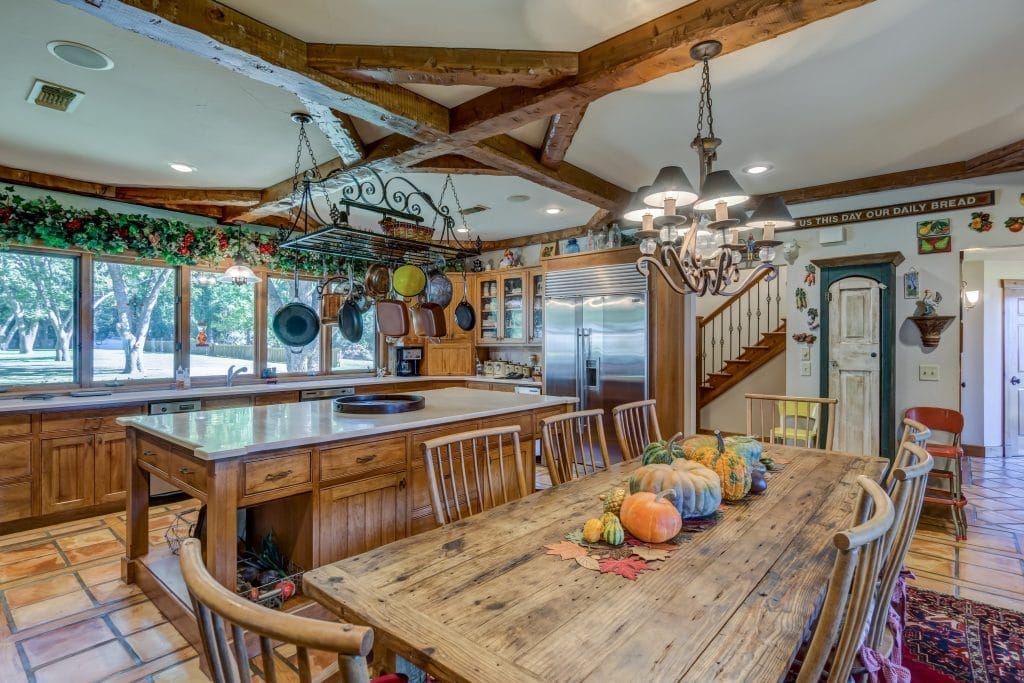 The Tuscan look is certainly all about looking stately and Italian architecture. You should install exposed ceiling beams. Another wonderful option is using faux wooden ones.
This space boasts charming lights, stunning tiles, and vintage wood. Those rustic touches lend the room a Tuscan flair. However, the wooden ceiling beams create a wonderful feel of the ancient kitchens with stylish updates.
9. Tuscan Kitchen Decor Ideas with Cast-Iron Windows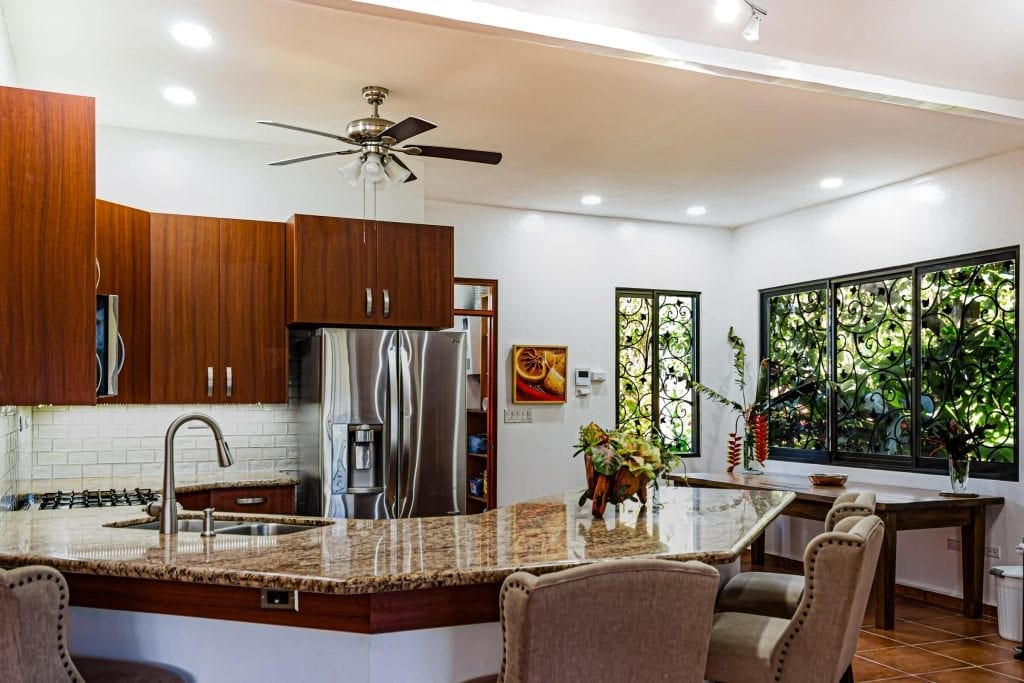 This kitchen features ornamental cast-iron windows. They bring a distinct, elegant touch to the culinary space.
Furthermore, you can install units that nicely connect your home to the surroundings. Another fabulous option is going for a permanent window setting.
The cast-iron windows are so attractive. Moreover, they still allow in plenty of sunlight for a warm and welcoming Tuscan style kitchen.
10. Tuscan Style Kitchen Ideas with Stone Accents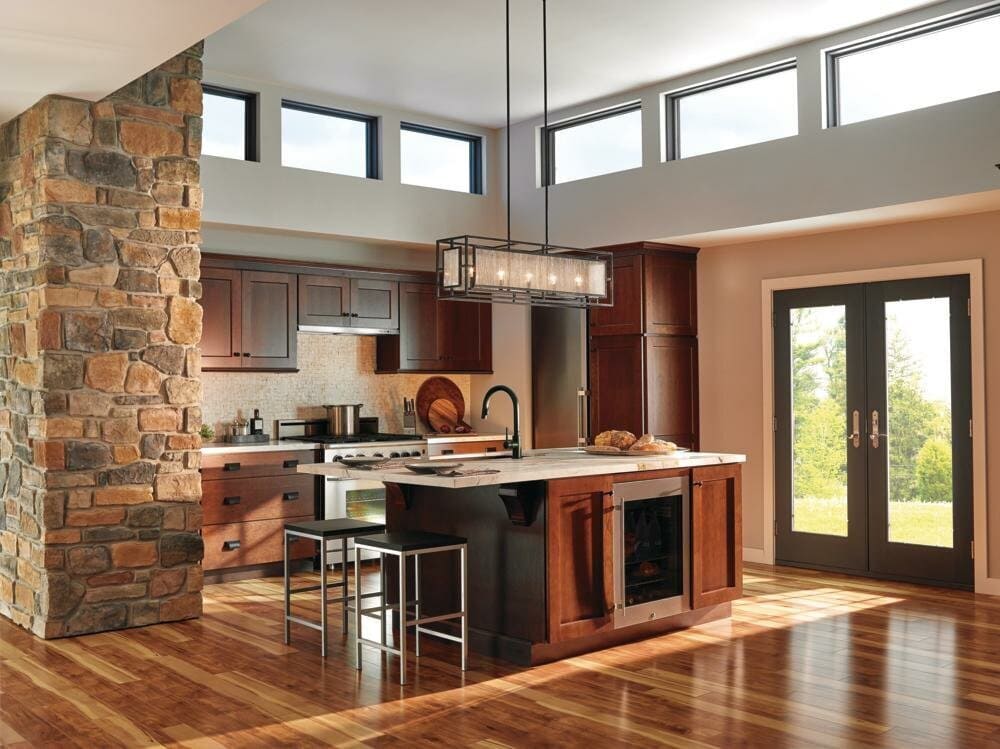 When thinking of Tuscan style kitchen ideas, you certainly envision brick ovens and stone archways. They generate a rustic look instantly. These accents will turn your dream Italian culinary space into a reality, too.
The Tuscan style interiors focus on earthy materials. Without a doubt, brick or stone accents are a fantastic addition to them.
11. Tuscany Inspired Kitchen with Hanging Pots
Tuscan style kitchen typically has plenty of cabinetry and storage. However, it prefers to hang any pans and pots in plain sight.
Hanging pots is a comfortable way of decluttering your cookware. Moreover, you can have faster and easier access to the pieces.
The pans and pots look wonderful hanging over the countertop or kitchen island. If you truly love a traditional Tuscan kitchen, add brass or copper pots and keep them exposed. They will lend your room a special touch.
12. Tuscan Style Kitchen Table and Chairs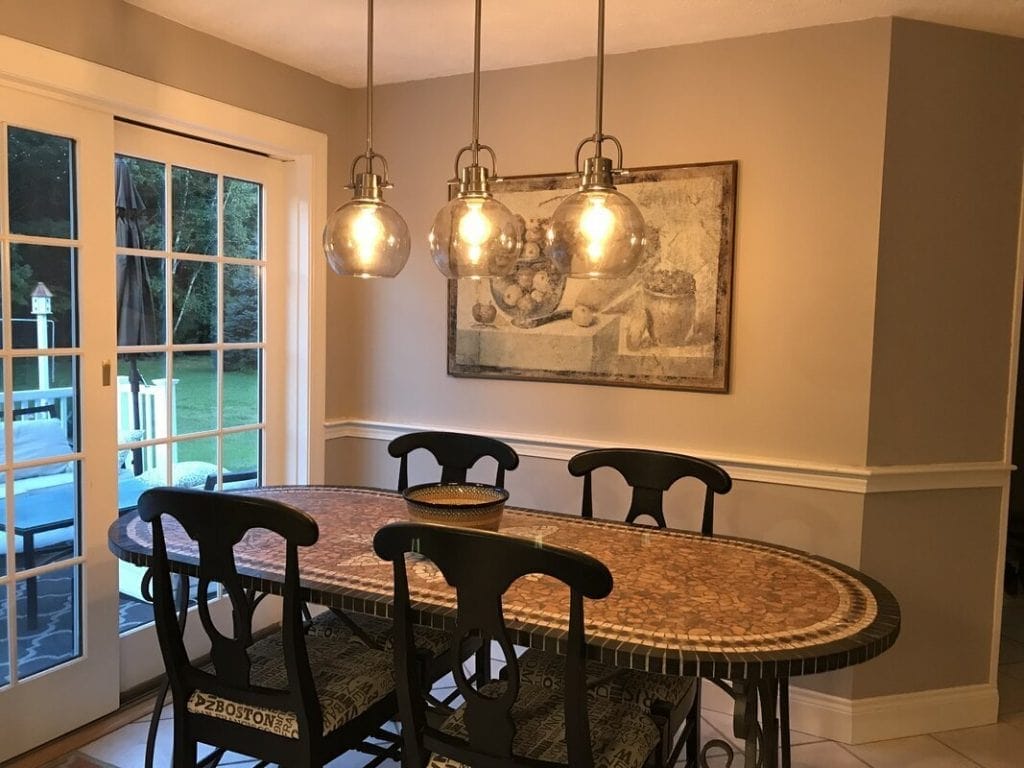 Talking about Tuscan style kitchen ideas, don't hesitate to choose a table with a stone tile top. It will quickly spice up your Italian dining area. The unit surely pairs with the dark wood or cast iron chairs well.
We suggest adding gorgeous light fixtures and simple works of art. Don't forget about the Italian inspired fabrics, too. With all these pieces, you will have your splendid kitchen corner covered.
13. Stones and Stunning Tiles for A Tuscan Kitchen
Searching for marvelous Tuscan style kitchen ideas? If yes, this design deserves a try. Here, the large stone walls send out a rustic feel. Meanwhile, hand-painted tiles develop a colorful look.
Decorate your kitchen with tiles in beautiful hues. Moreover, use the plain or bold ones to cover the backsplash or countertops. They produce a magnificently unique appearance quickly.
Moreover, you should adorn the kitchen with some vintage stoneware and dishes. Make sure they come in matching color schemes.
14. Tuscan Style Kitchen Ideas with Ornamental Wood Accents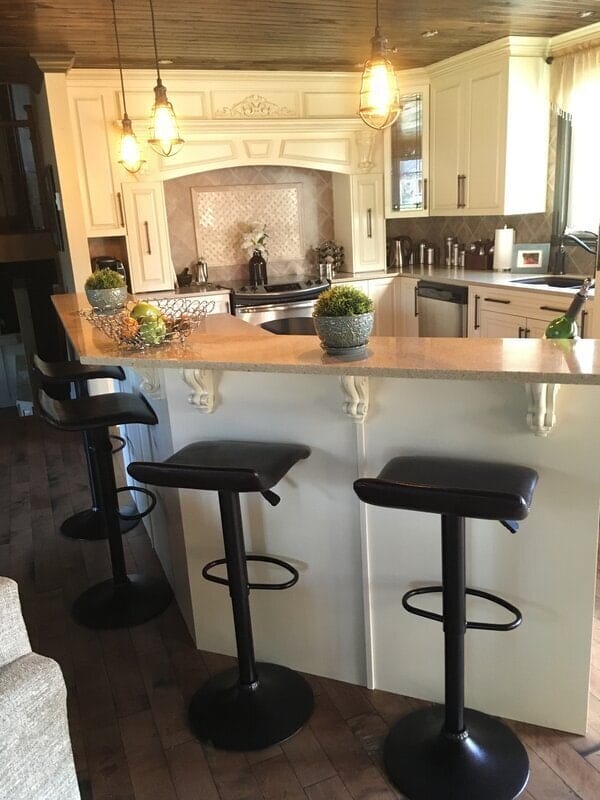 This Tuscan kitchen employs furniture units with carved wooden accents. They are not only striking but also impart a light feeling.
Moreover, the space boasts crisp white backsplash and cabinets. They instantly brighten up the Italian inspired kitchen.
Besides decorative wood accents, consider adding stunning extra touches. You won't go wrong with a chandelier, olive paintings, and grape decor pieces.
15. Vintage Cabinets for A Tuscan Kitchen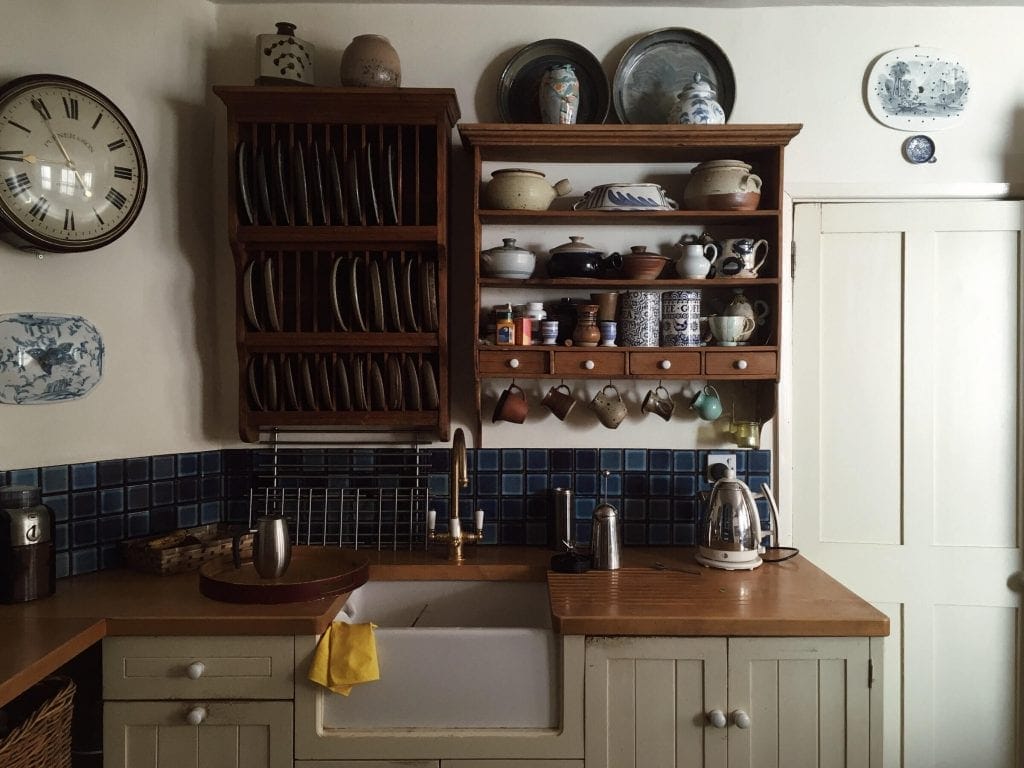 The old Italian kitchens usually feature these types of storage methods. Since the dishes are captivating, the homeowners use and showcase them.
Speaking of Tuscan style kitchen cabinets, we recommend buying the vintage ones. You can find them in boutiques, antique stores, or local old shops.
Once you've hung the antique wooden cabinets, display your vintage Italian dishes and pottery. These items will perfectly finish out the look.
16. Tuscan Style Kitchen Ideas with Multiple Counter Tables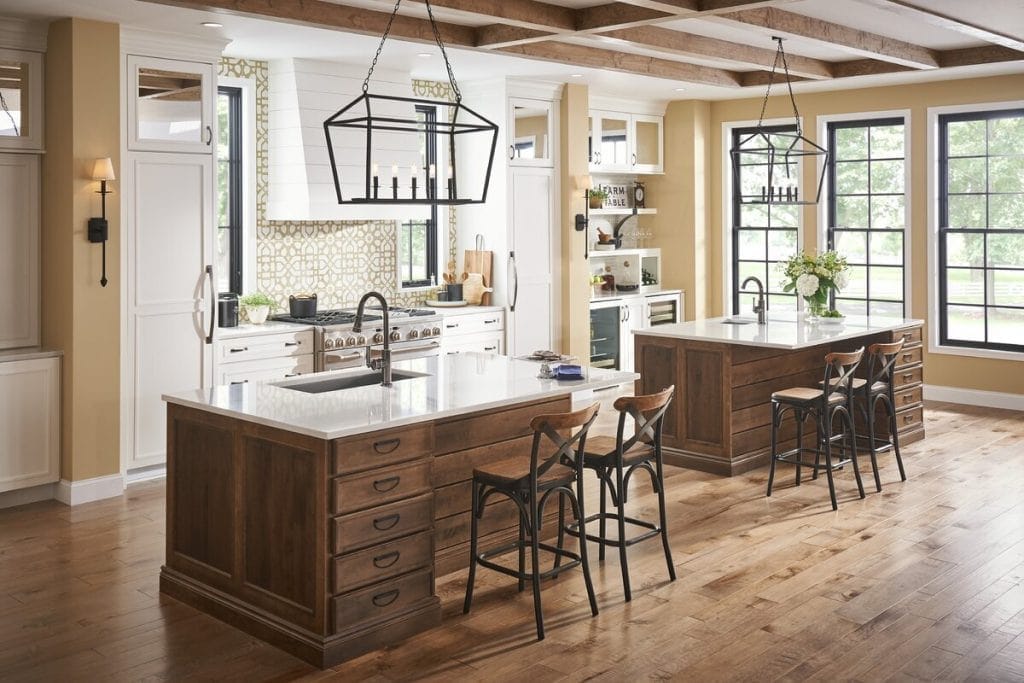 Looking for fantastic Tuscan style kitchen ideas? If yes, then implement this design. Here, the family culinary space doesn't boast a single huge table. The homeowner included a couple of counter tables in the room.
Furthermore, the comfortable tall dining chairs accompany the counter tables. There are black metal chandeliers over the counters. They provide great illumination and highlight furniture pieces.
17. Tuscany Themed Kitchen with An Olive Floor Mat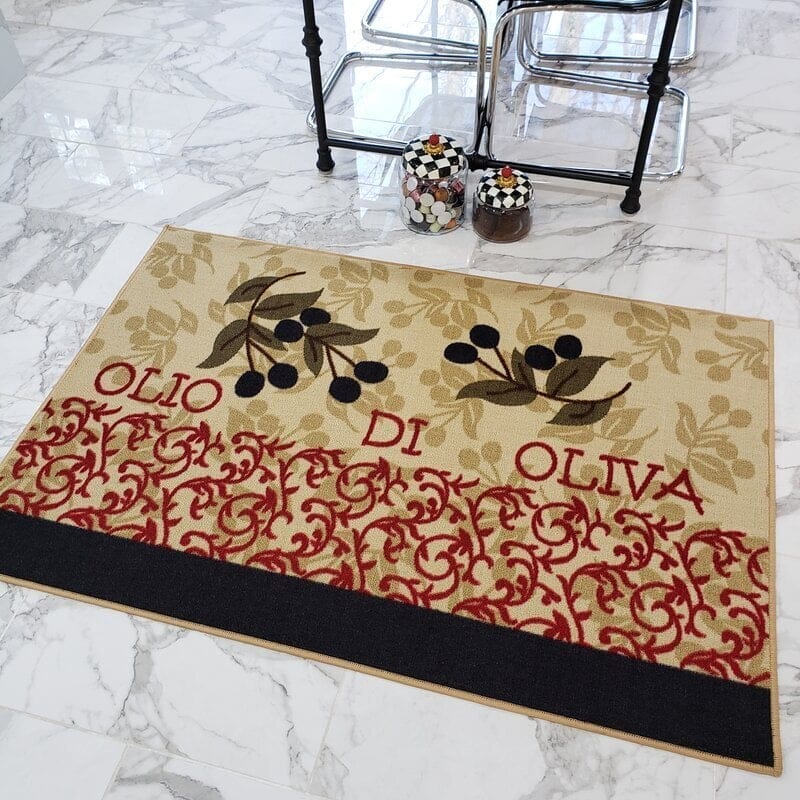 On a budget? Just integrate small Italian touches into your kitchen. Tuscan style floor mats typically feature olives and grapes. As you know, they are such classic Mediterranean fixtures.
Another incredible option is getting similar aprons, oven mitts, and kitchen towels. If your budget is limited, just focus on a few Tuscan style aspects.
This adorable olive floor mat offers comfort as well as visual interest. You could also use dishes or small ornaments to inject a Tuscan flavor into your whole kitchen.
18. Tuscan Kitchen with A Small Herb Garden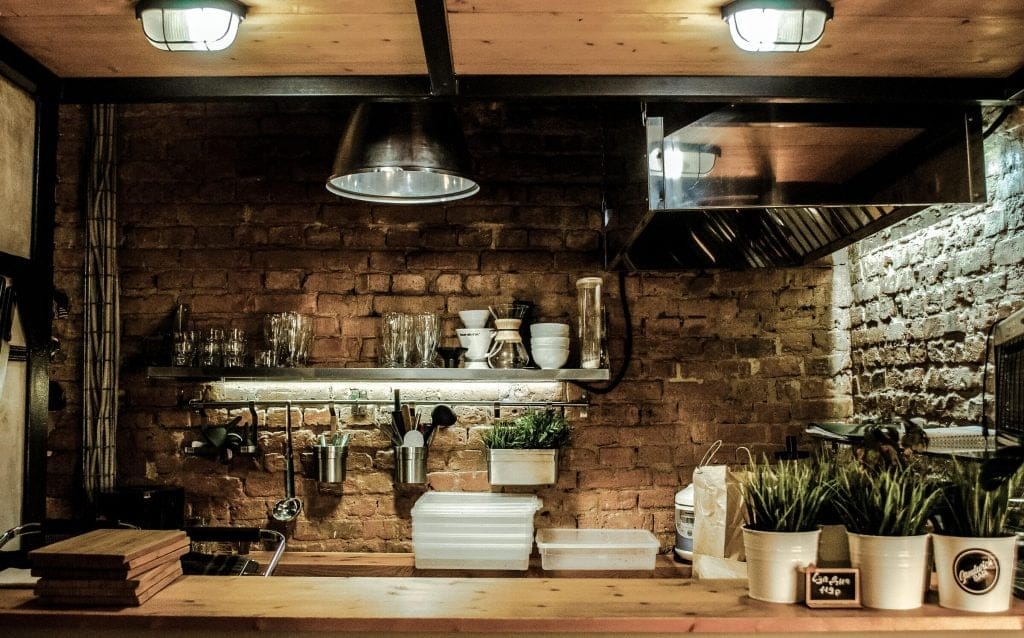 This is one of the fabulous Tuscan style kitchen ideas. The Italian themed culinary space is complete with a cute herb garden. Find some lovely planters first. Then, grow fresh herbs indoors on your windowsill.
Moreover, you should add some rustic wooden shelves to your mini herb garden. After that, grow your fresh herbs with love.
We recommend growing rosemary, basil, oregano, marjoram, and thyme. They make for a great Italian seasoning. You can use them to jazz up the pizzas, spaghettis, lasagnas, and pasta.
19. Tuscan Style Kitchen Ideas with A Wood-Fired Oven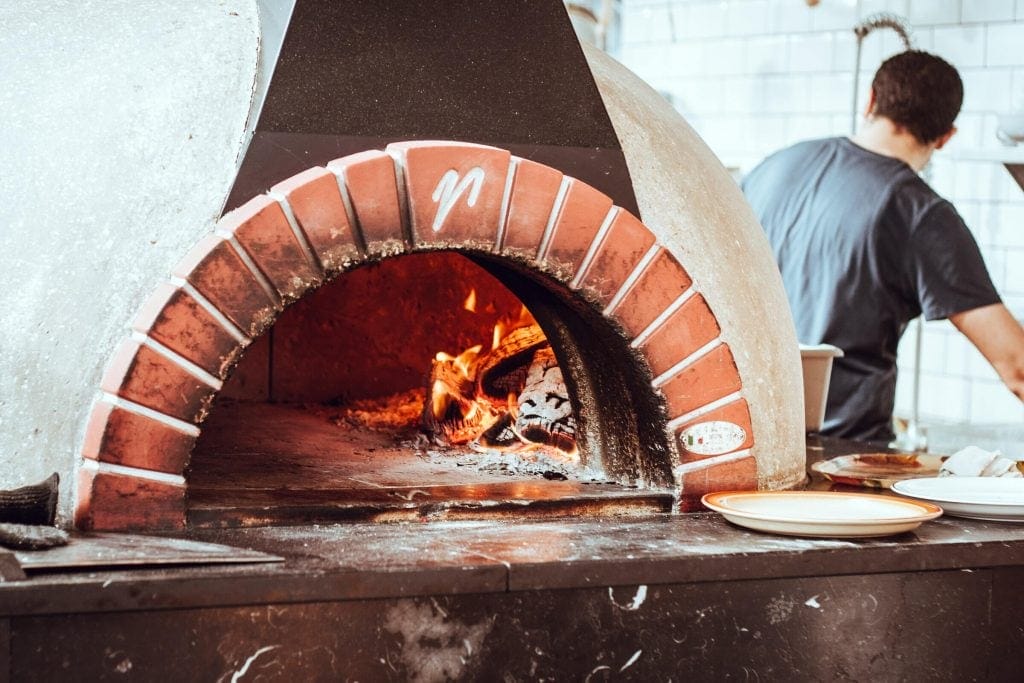 Love all things Italian? If yes, building a rough-hewn brick and stone pizza oven is a nice option. It allows you to make tasty pizzas with crispy crusts.
This kitchen has a wood-fired oven. It creates a Tuscan look instantly. The unit also turns the space into a true dining paradise.
If you don't have a large budget, choose a pizza oven with a manufactured stone veneer. It is not only an excellent alternative but also easy to install. Moreover, the unit looks just like the actual thing.
20. Cast-Iron Table for A Tuscany Inspired Kitchen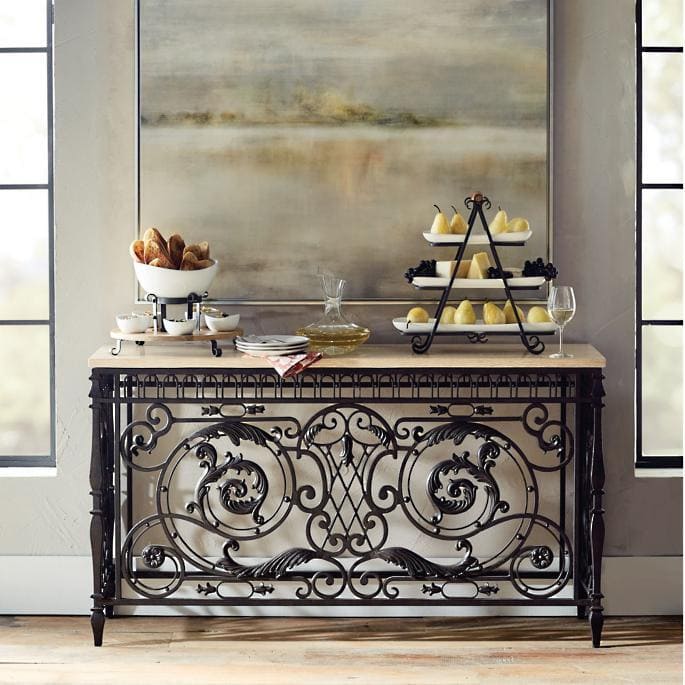 When thinking of Tuscan style kitchen ideas, a cast-iron table immediately springs to your mind. It injects a small yet stunning touch to any classic Italian cooking space.
The cast-iron table provides some extra work surface area. You can serve up delicious meals in a comfortable way.
Furthermore, this cast-iron table can serve as a sideboard. It beautifully holds bread, fruits, and cheese. You could use the piece for ornamental purposes, too. Either way, the unit will gracefully welcome your guests.
21. Small Tuscan Style Kitchen Ideas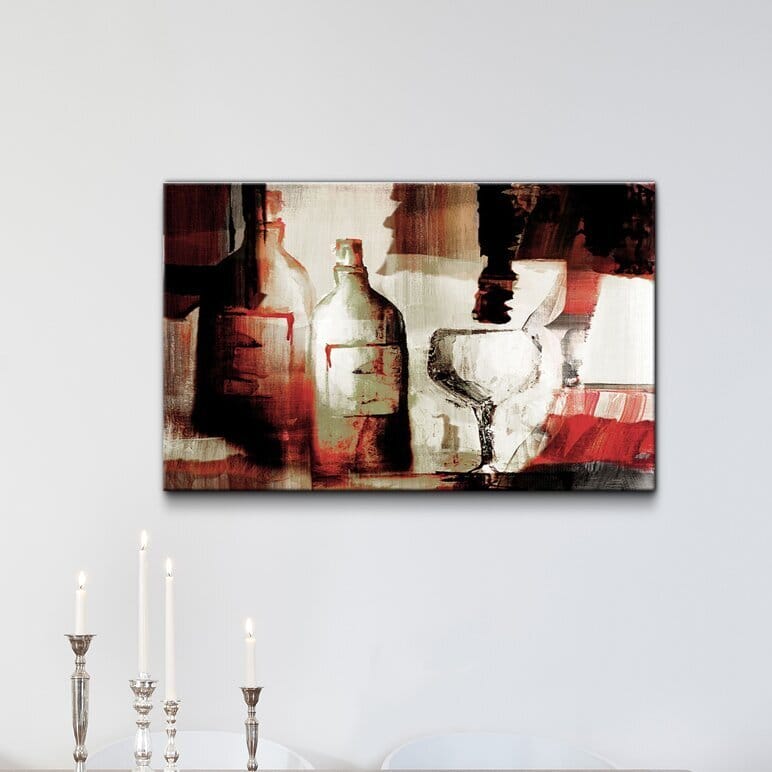 This small kitchen sports bright white walls. They effortlessly make the room appear larger. Moreover, the classic Tuscan paintings titivate them. Additionally, the items feature grape and wine.
There are other charming Tuscan decorative pieces. Some of them typically focus on fruits, olive oil, and olives.
These Tuscan style paintings are pretty minimal. Normally, they have a few flourishes as well as beige patterns. Choose the theme that works best for you.
22. Tuscan Style Kitchen with Elaborate Chandeliers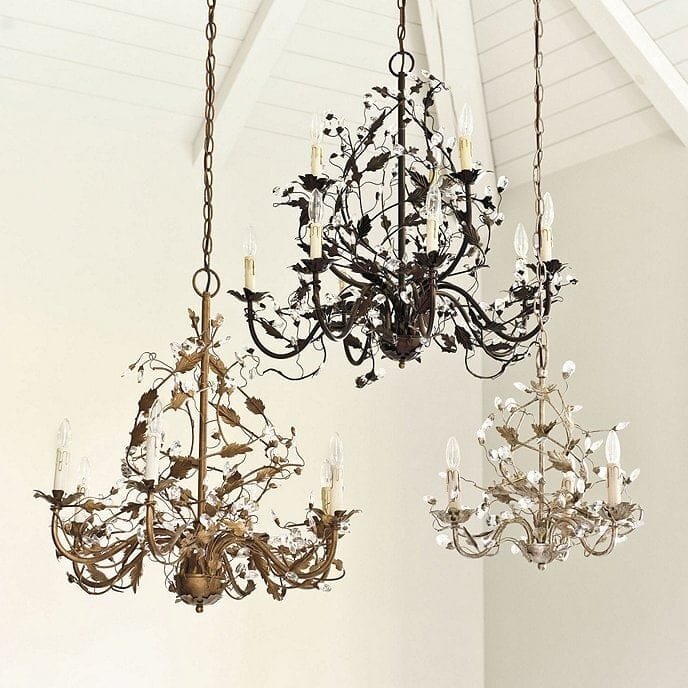 Speaking of vintage Tuscan style kitchen design ideas, you can't go wrong with ornate chandeliers. They offer light, elegance, and beauty all at once.
You can install a chandelier or two. For a large classic kitchen, we recommend hanging three stunning pieces.
Choose light fixtures with prismatic elements. In this case, the teardrop crystal chandeliers lend the kitchen extra sparkle.
23. Tuscan Style Kitchen Backsplash Ideas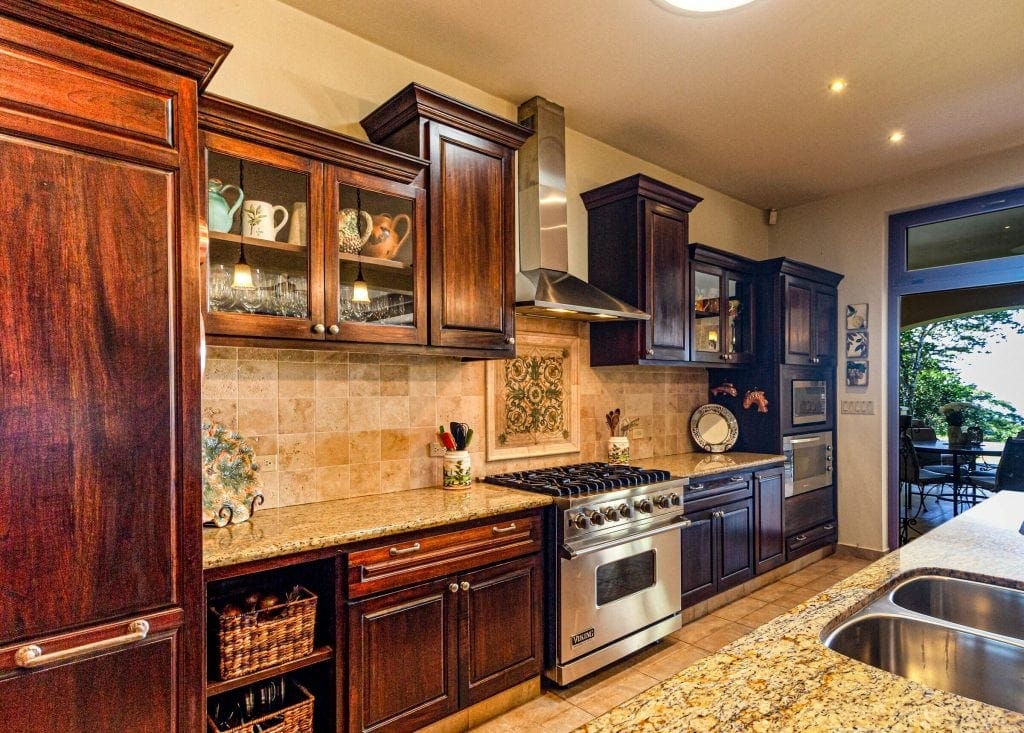 Bring an Italian countryside feel into your kitchen through a backsplash. Be sure you pick light earthy tiles with a slightly distressed look. Feel free to arrange them in a distinct pattern like this one.
Consider installing hand-painted tiles. They are a better option for a unique Italian backsplash. Make sure you stick to Tuscan style kitchen colors.
24. Tuscan Style Kitchen Ideas with Vintage Italian Jars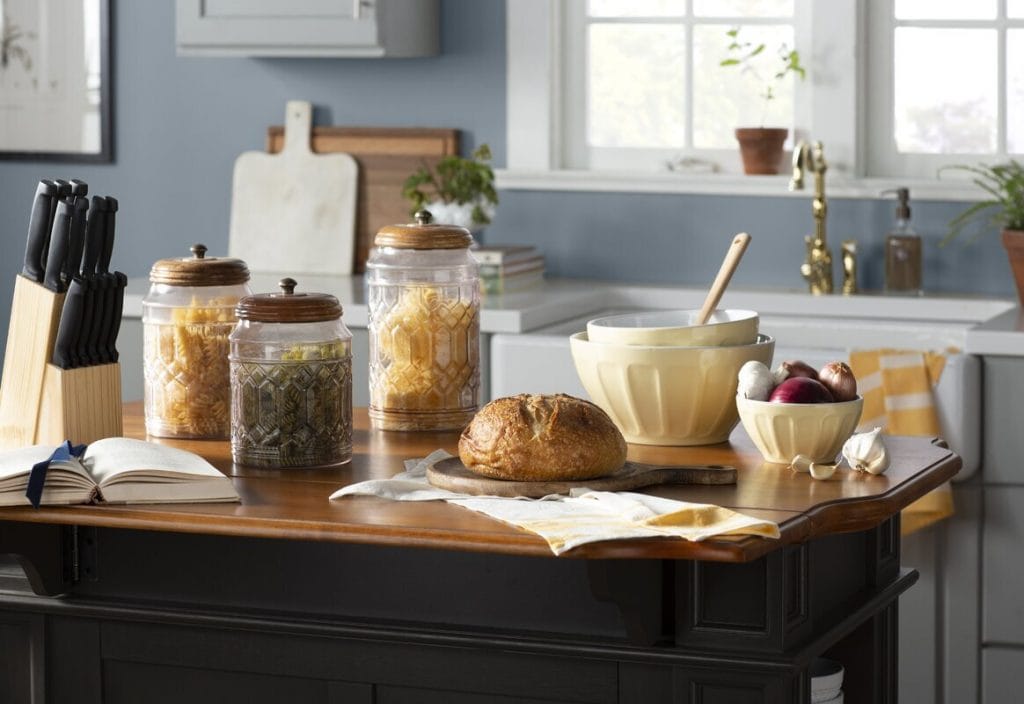 You have to store your dry goods. We suggest using some classic Italian canisters and jars. They imbue the culinary space with a Tuscan flair. Furthermore, the pieces are available at various retailers.
Combine your vintage Tuscan style jars with some copper pots or pottery. You could install a simple Italian backsplash to finish things off. It is affordable yet attractive.
25. Solid Wooden Cabinetry for A Tuscan Kitchen
This Tuscan kitchen is truly gorgeous, thanks to cast-iron chandeliers. The solid wood cabinets pair with them very well.
The warm, knotty woods evoke an Italian countryside flavor. They are a nice way to modernize the kitchen, too. You should add copper pots and stoneware for a dazzling look.
With our Tuscan style kitchen ideas, you can create an attractive space for dining and cooking. They'll take yours from average to amazing. Pick the design that completely matches your budget.