No question, the kitchen is the heart of your home. That is the reason you must opt for the right kitchen style to make a nice impression. If you love something stylish yet welcoming, look no further than mid century modern kitchen.
Moreover, mid-century modern culinary space continuously stays in power. Because it is flexible since you can combine it with traditional, minimalist, or rustic. Can't wait to inject mid-century whimsy into yours? Check these out!
1. Mid Century Modern Kitchen Backsplash Tile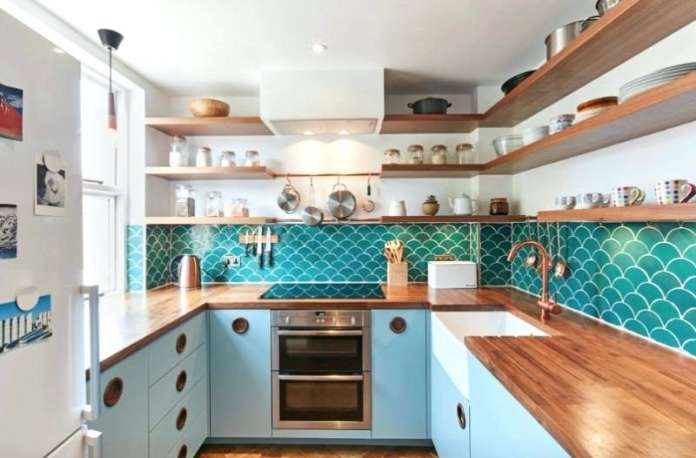 This kitchen is furnished with baby blue cabinets and open shelves. Both wood counter and floor create a warm atmosphere. Meanwhile, scalloped backsplash tiles quickly set a coastal vibe.
2. Mid Century Modern Kitchen White Cabinets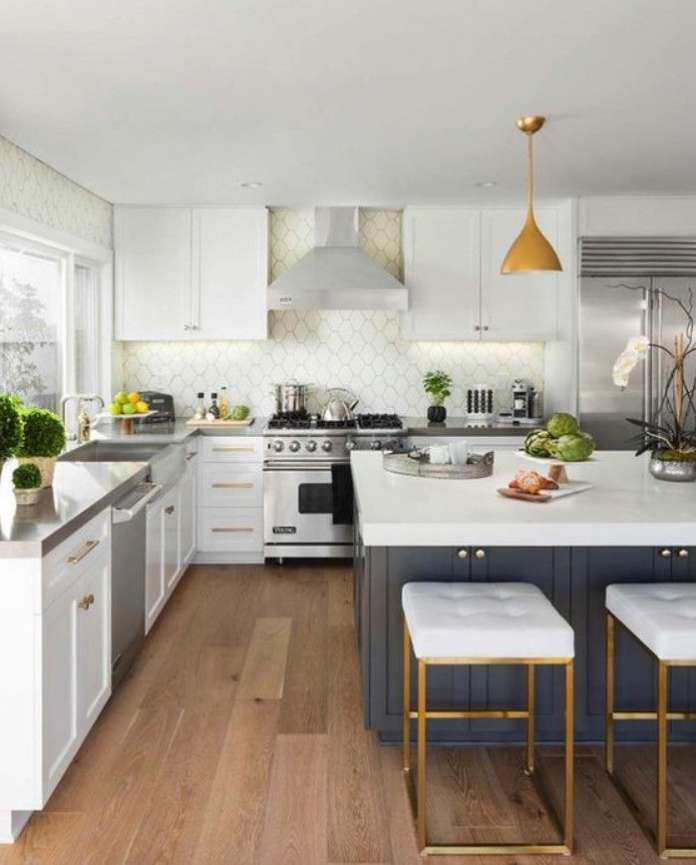 As shown in the image, this culinary space boasts white backsplash, counter top, ceiling, and cabinets. They make the room feel light. Gold accents glamorize the kitchen, while the wood floor brings the outdoors inside.
3. Mid Century Modern Kitchen Sink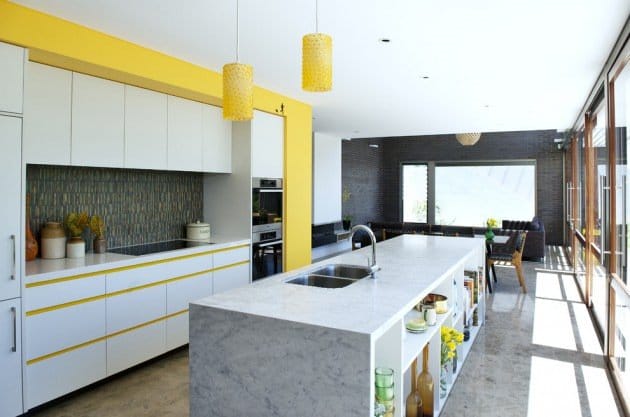 This Mediterranean kitchen features textured black walls and double bowl undermount sink. Marble counter tops add a touch of opulence to the room. Pops of yellow brighten up the entire kitchen.
4. Mid Century Modern Kitchen Floor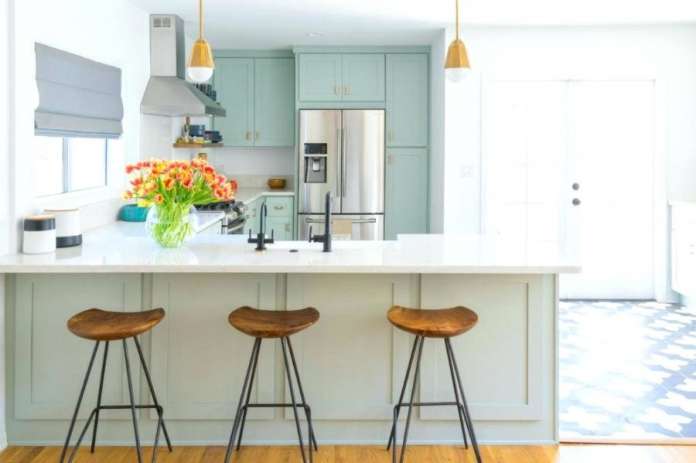 The white color scheme visually expands the kitchen. The wood floor and stools deliver an earthy feel to the interior. Carolina blue window shade and duck egg blue cabinets exude a moment of serenity.
5. Mid Century Modern Kitchen Furniture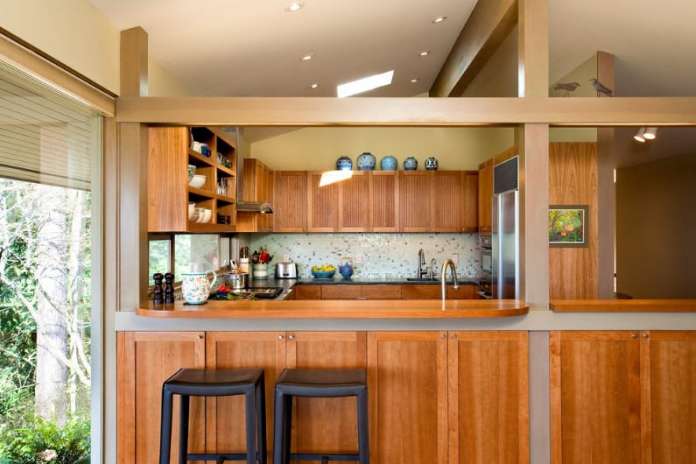 The cooking utensils and dishware are neatly stored in the wood cabinets and racks. Those furniture units inject rustic charm into the space but in a refined manner. Two black stools introduce a bit of drama.
6. Mid Century Kitchen Island Lighting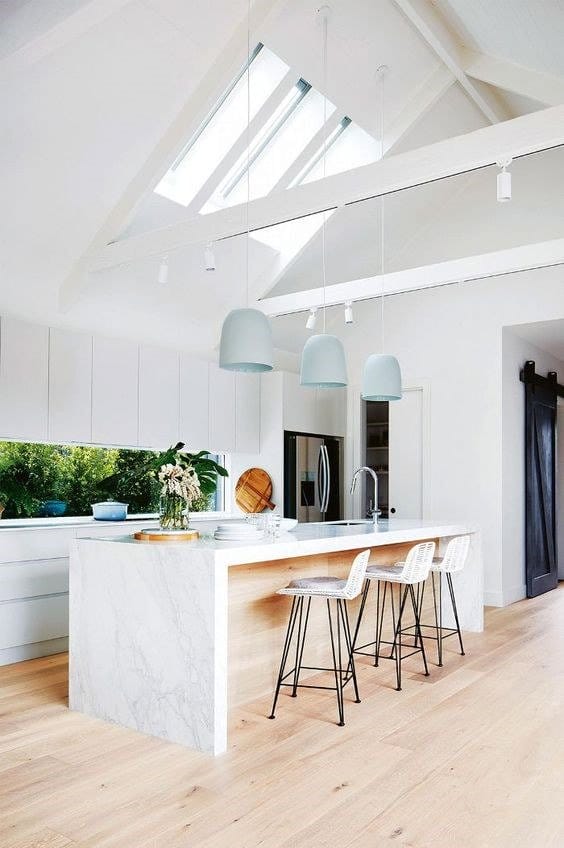 Do you have limited cooking space? Worry not. Duplicate this Scandinavian kitchen. The vaulted ceiling, white flat front cabinets, and walls make the room appear larger. Sky blue dome pendant lights emphasize the island.
7. Mid Century Modern Kitchen Countertops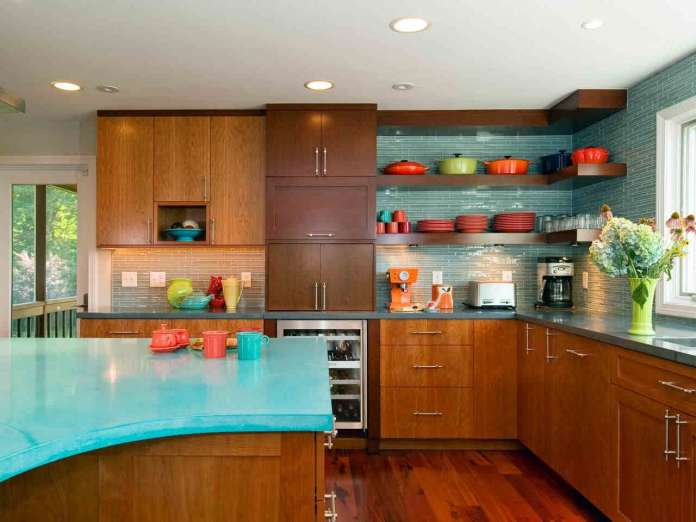 Different hues of wood gather in this mid century modern-inspired kitchen. They ooze unrivaled warmth. Gray and blue concrete counters lend the space an industrial flavor. Flowers, pots, and dishware spice things up.
8. Mid Century Modern Kitchen Table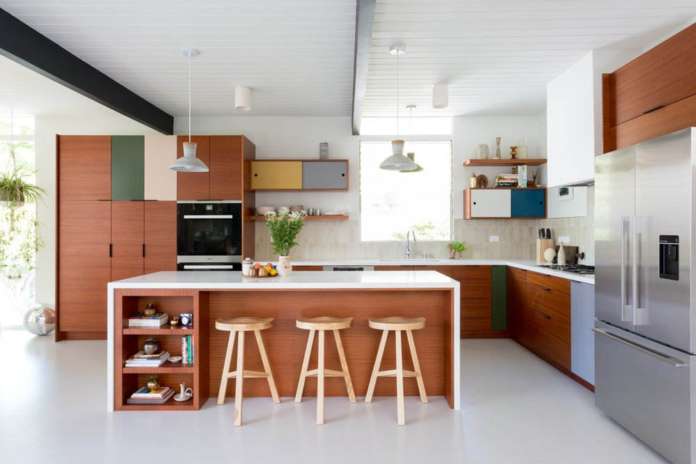 Here, the white base maintains a clean setting of the kitchen. The wood island doubles as a dining table. Pastel colors, open shelves, and blonde wood stools prevent the culinary space from feeling heavy.
9. Mid Century Modern Dining Room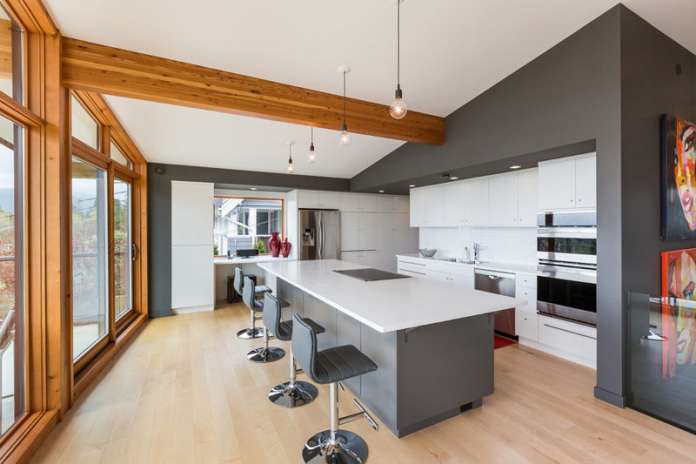 Above is a transitional white and gray kitchen. The bare wood floor and exposed beam infuse a lot of personality into it. Meanwhile, the adjustable chairs and the overhang of kitchen island make for a casual dining area.
10. HGTV Mid-Century Modern Kitchen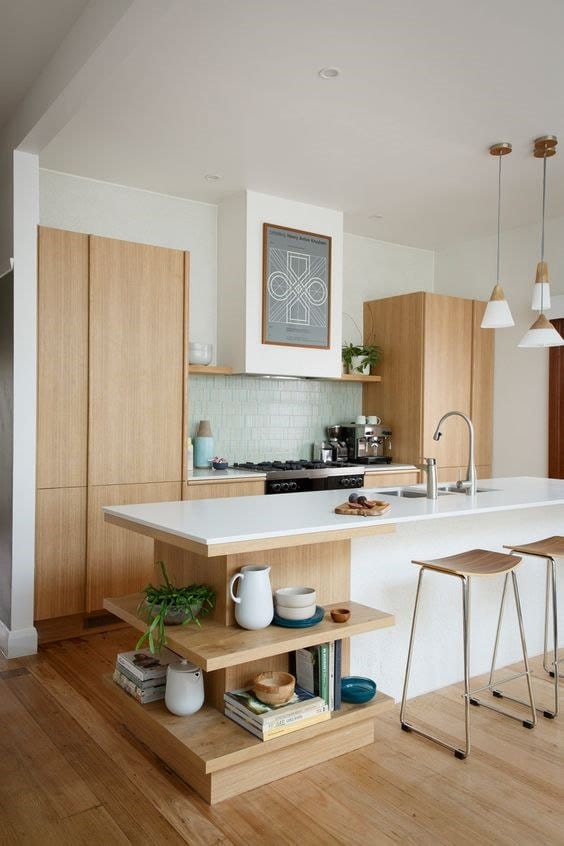 This mid century modern cooking space is full of elegance, thanks to wood floor and furniture items. The dining chairs generate a sleek look. Furthermore, the white and wood pendant lights elicit a sense of cohesiveness.
11. Mid Century Modern Kitchen Backsplash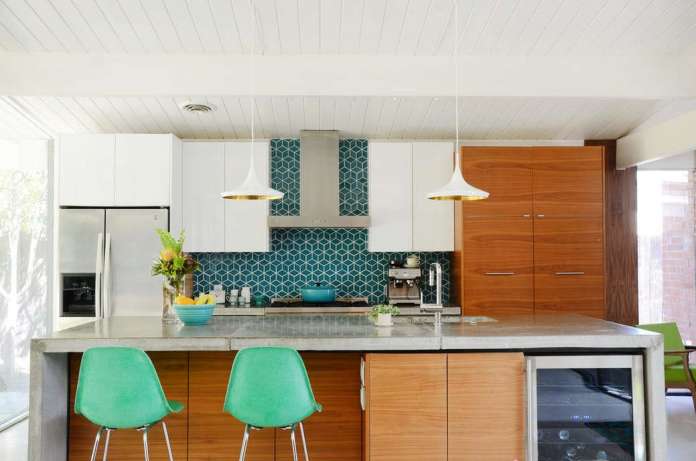 Do you hate to see conventional kitchen cabinets? You should hang two-tone cabinets. Use teal geometric tiles to clad the backsplash. The turquoise dining chairs carve a beach ambiance.
12. Mid Century Modern Kitchen Renovation
This kitchen has a sloped ceiling. It also features hardware-free wood cabinets and beige quartz floor. The orange counter tops keep the space from being bland. Metallic accents give the kitchen an industrial twist.
13. Mid Century Modern Dining Table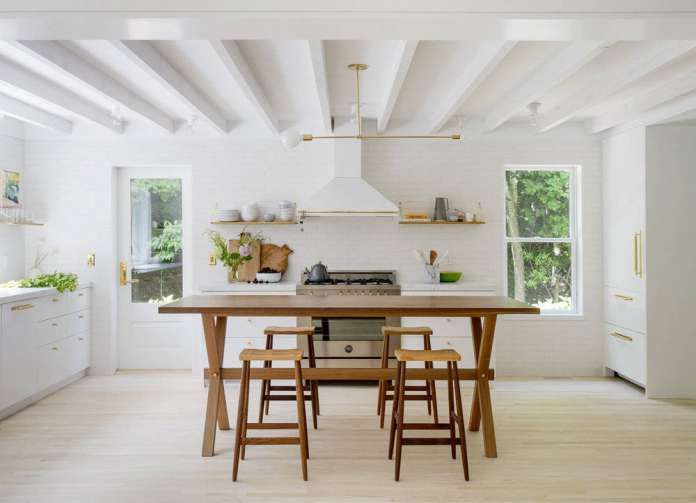 From exposed beams to cabinets, everything is painted pure white for a bright space. However, the homeowner does not want a sterile-looking kitchen. Therefore, she furnished the room with a wood dining table and chairs.
14. Mid Century Nordic Kitchen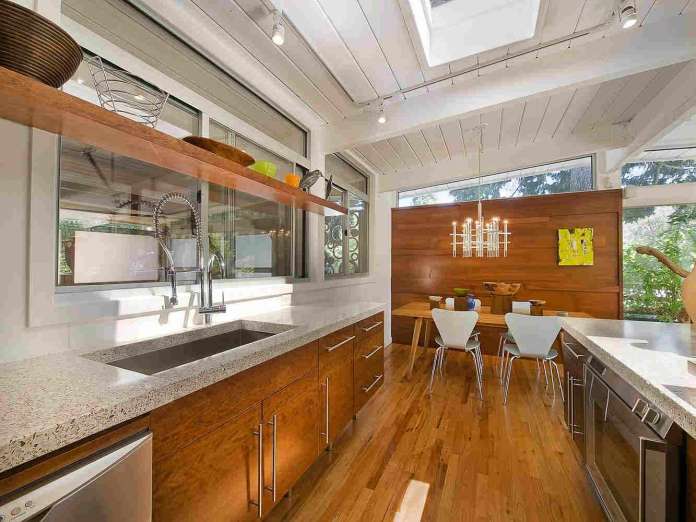 Who doesn't admire this Nordic kitchen? It is not just warm, but also trendy. Windows and skylight keep the space sunny.
15. DIY Mid Century Kitchen Cabinets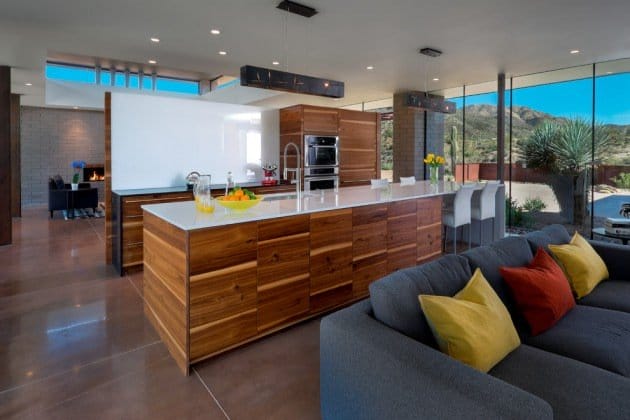 This kitchen is linked to the living room. The cabinets and island are constructed out of reclaimed oak wood. They make your guests feel welcome.
16. Best Counter for Mid Century Kitchen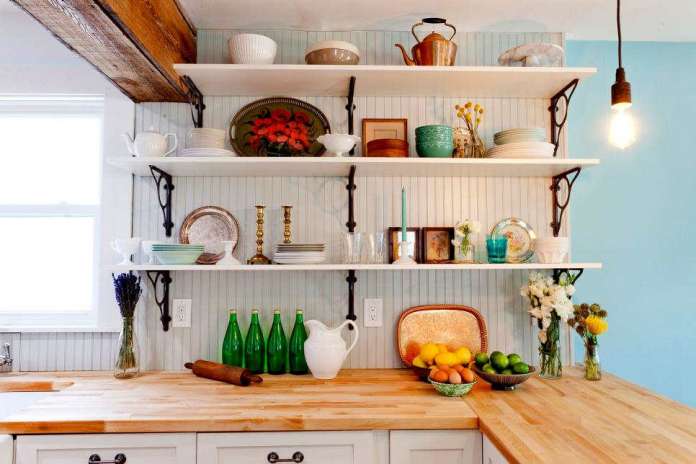 White cabinets and bulb pendant light contribute to the mid century modern vibe of the kitchen. Meanwhile, butcher-block countertop, beadboard backsplash, and open shelves lend the room farmhouse charm.
17. Houzz Mid-Century Modern Kitchen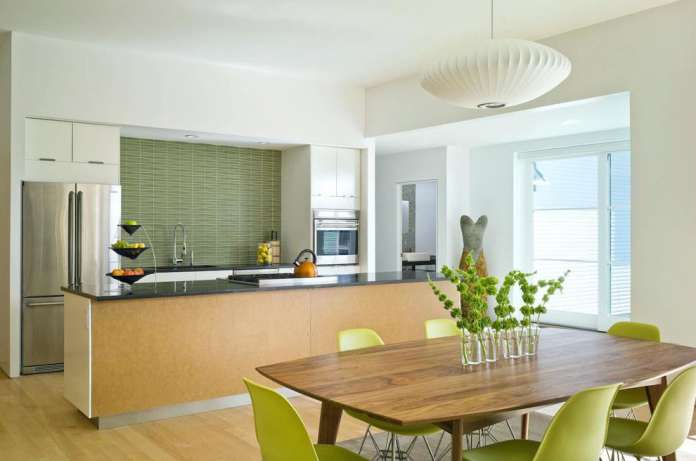 Lime green dining chairs exhibit a fun atmosphere. Sage green tiled backsplash and caramel island offer a sense of calm. Windows allow sunlight to shine.
18. Mid Century Modern Kitchen Cabinets for Sale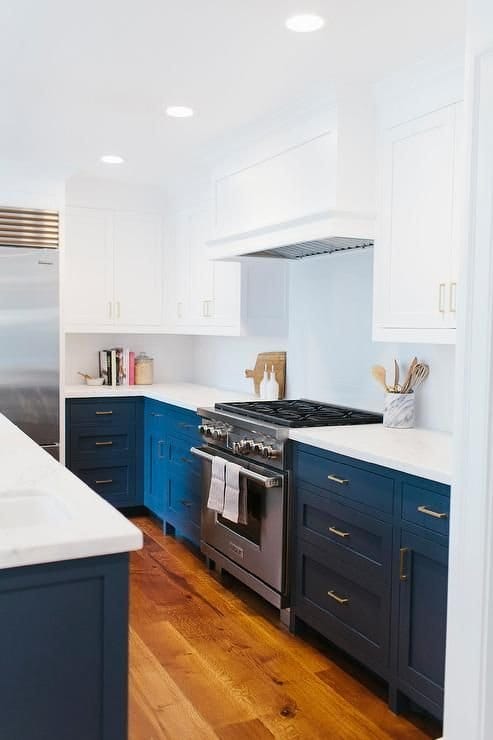 The lower cabinets and kitchen island come in navy. They awesomely contrast with white counters. Wooden floor and utensils warm up the interior.
19. Mid Century Kitchen with a Craftsman Touch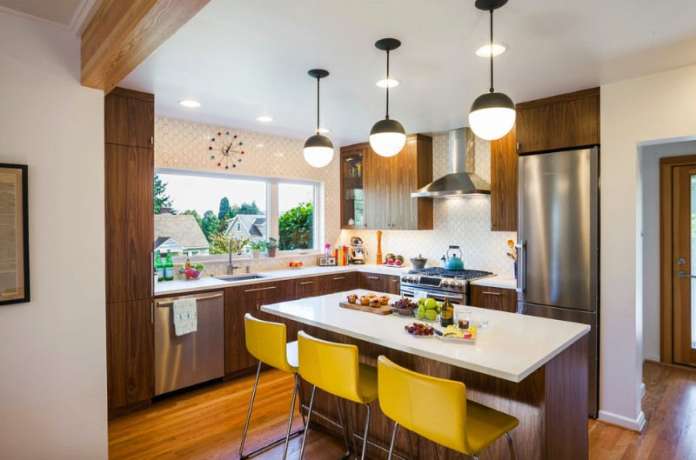 The furniture units in this kitchen undoubtedly represent the craftsman style. Meanwhile, pendant lights give the space a contemporary feel. Yellow dining chairs set a happy mood.
20. White and Wood Mid-Century Modern Kitchen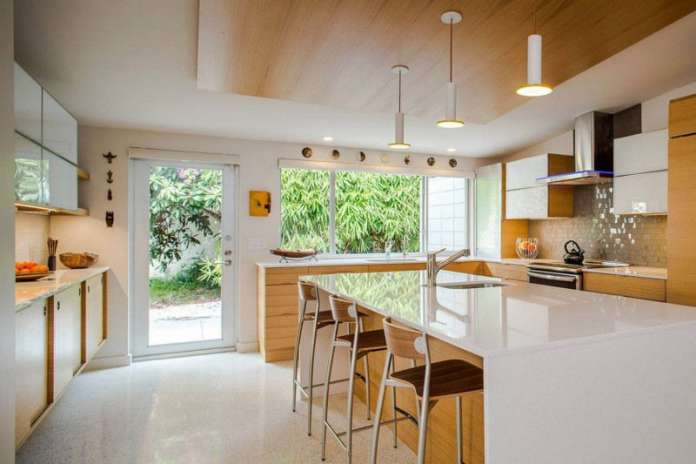 Handleless white upper cabinets develop a minimalist appearance. Wooden lower cabinets and dining chairs exude an intimate nuance.
21. Mid Century Modern Kitchen with an Open Concept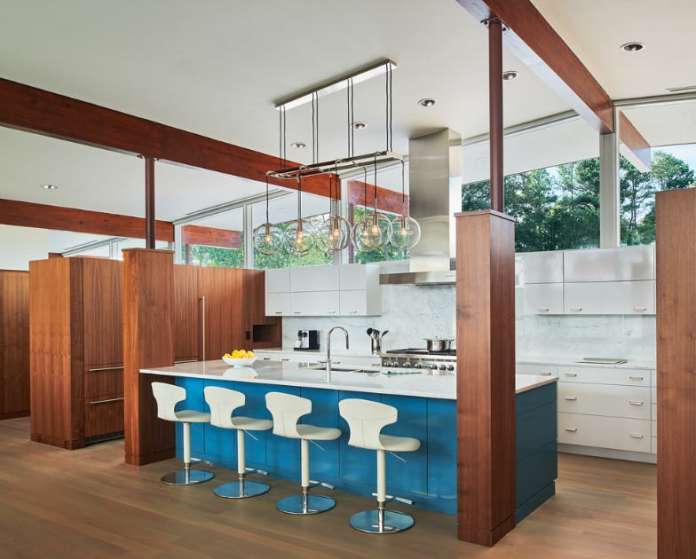 White cabinets and counter tops impart an open scene. A blue island prevents the kitchen from feeling dull. The dining chairs and glass pendant lights balance out straight lines.
22. Mid Century Modern Dining Chairs without Arms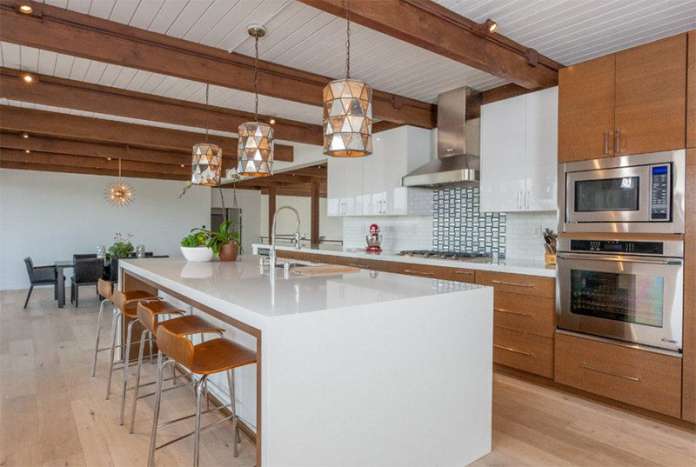 Here, the armless brown dining chairs are such a welcomed contrast to the white island. The geometric cylinder pendant lights steal the spotlight.
23. Mid Century Modern Kitchen Restoration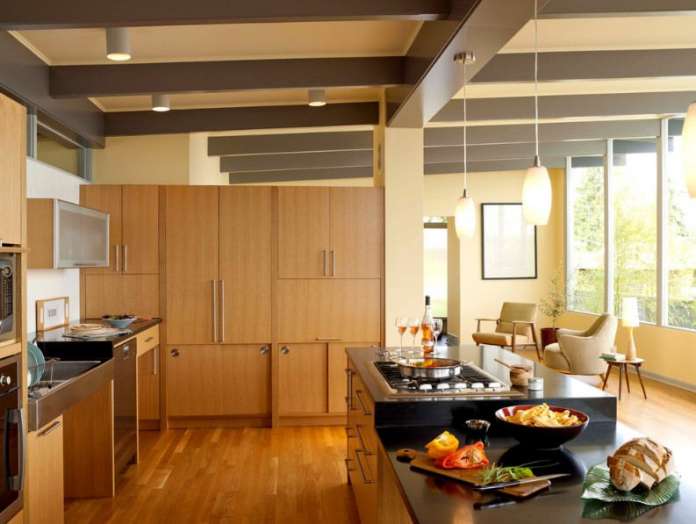 Black polished granite countertops infuse a glamorous air into the kitchen. Wood furniture units, pendant lights, taupe-ceiling beams stamp contemporary style.
24. Mid Century Modern Kitchen Design Elements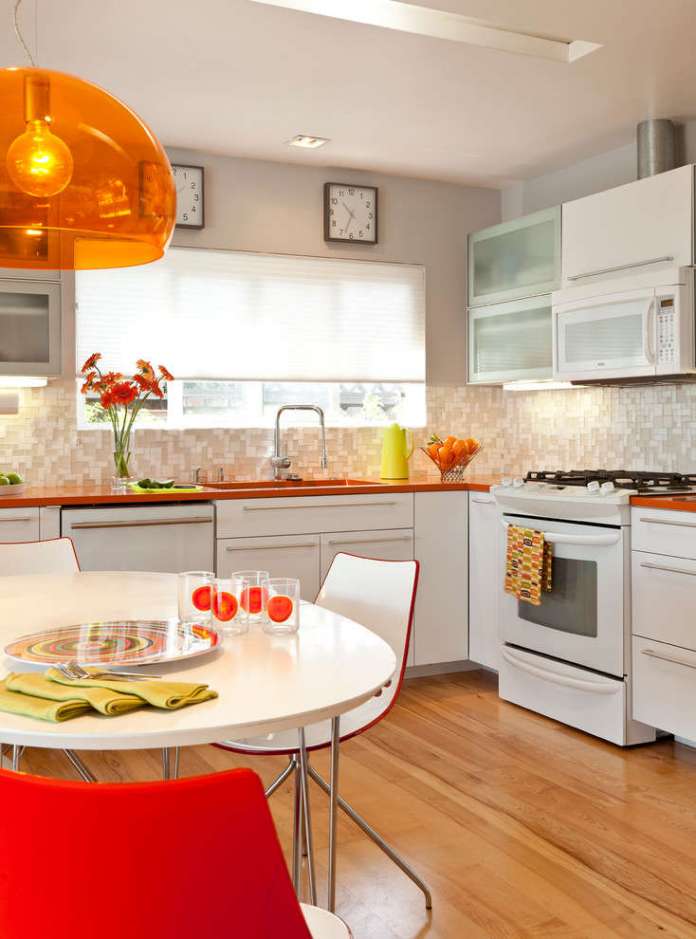 As you see, the wood floor and counter top keep the kitchen inviting. Retro units and colorful flowers add a ton of character to the room.
25. Mid Century Modern Beach-Style Kitchen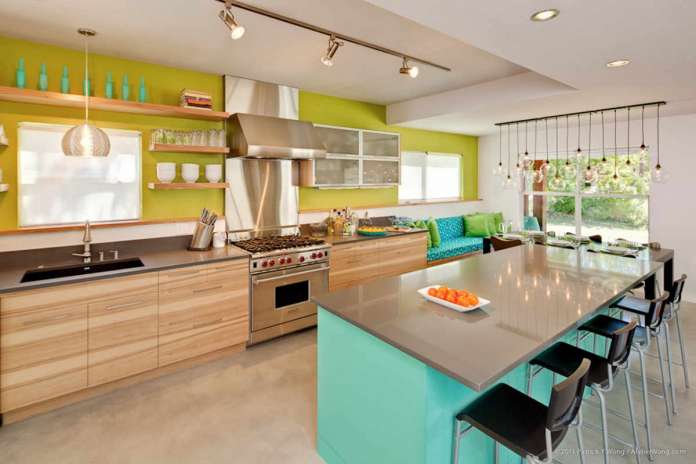 Raw wood lower cabinets take the chill off stainless steel countertops. Splashes of turquoise, olive green, and emerald green send out tropical vibes.
26. Vintage Mid-Century Modern Dining Chairs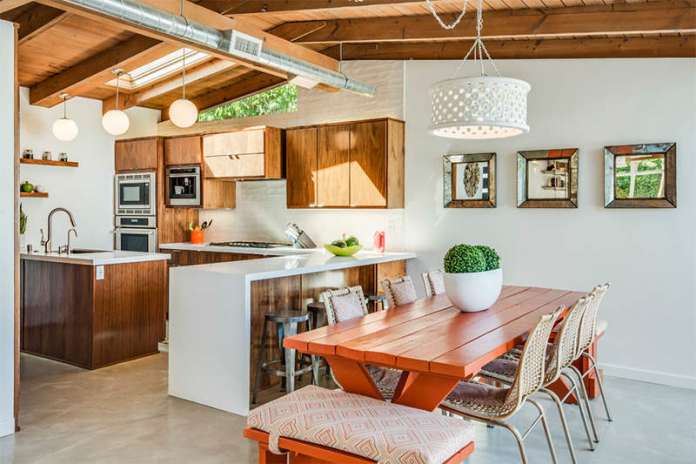 White base allows the barn wood cabinets and ceiling beams to take center stage. Vintage dining chairs, orange table, and benches create a casual dining area.
27. Where to Buy Mid Century Modern Kitchen Cabinets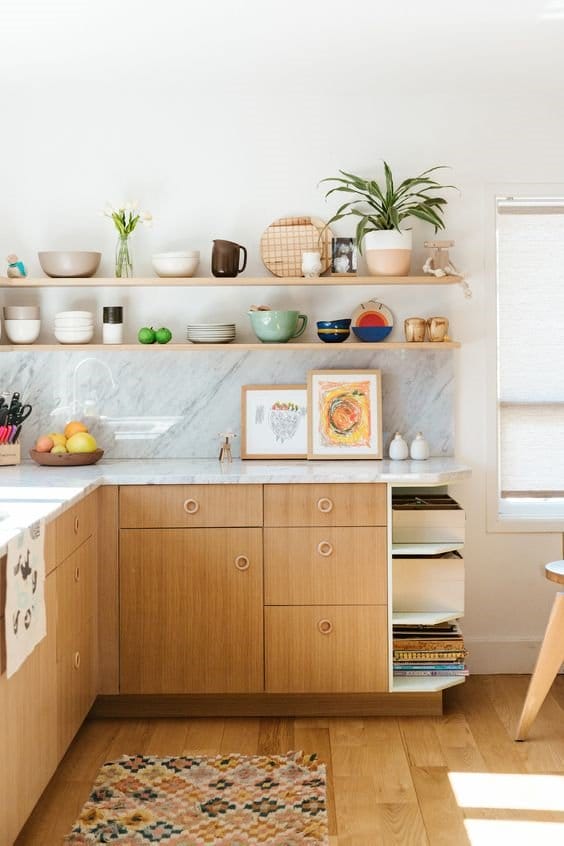 The wooden wall-mounted shelves house dishware, potted plants, and gold accessories. Meanwhile, marble backsplash and countertops carve a lavish setting.
28. Mid Century Modern Kitchen Floor Ideas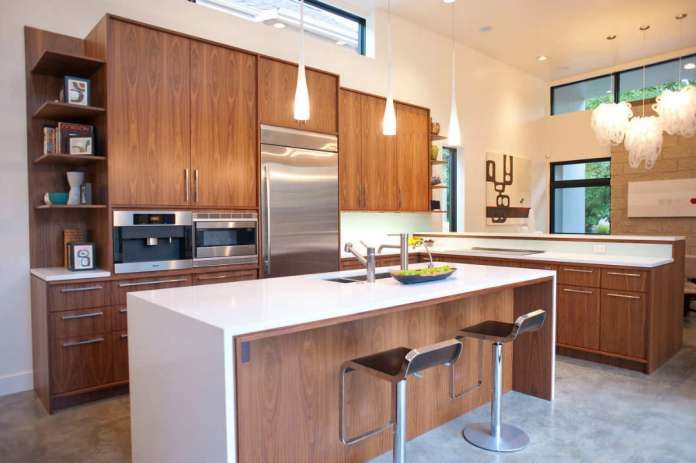 Here, repurposed wood cabinets assert a touch of artisanship. Polished concrete floors, metallic appliances, and stools generate industrial aesthetic.
Whether you are a renter or homeowner, mid century modern kitchen never fails to amaze you. Since it is an enduring style, you can enjoy your cooking space for years to come.
29. Metal Cabinets In Modern Kitchen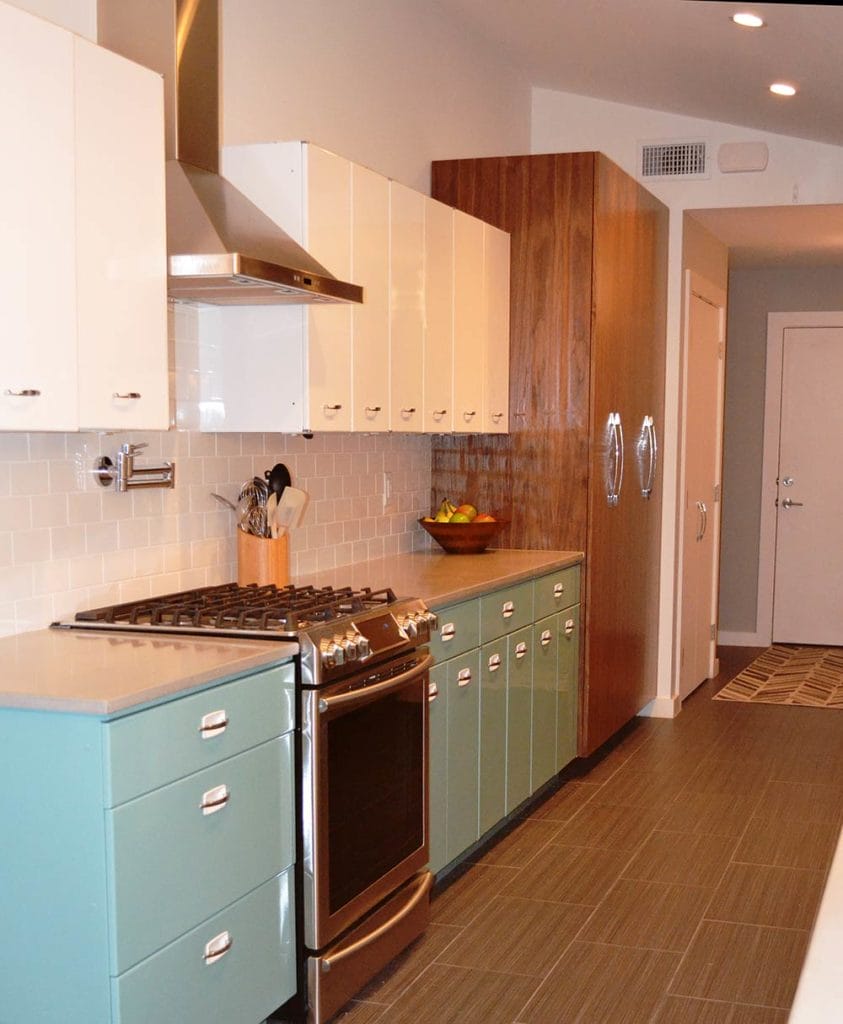 Mid-century modern kitchens were filled with metal cabinets during the post WWII era. These shiny, steel cabinets are still quite popular today and can be found in many a retro kitchen design across North America.
Next time you're looking to add some new life into your old mid century home's outdated kitchen decor: consider investing in an eye catching set of stainless steel appliances coupled with sleek chrome fixtures for that ultimate industrial look!
30. Open Shelving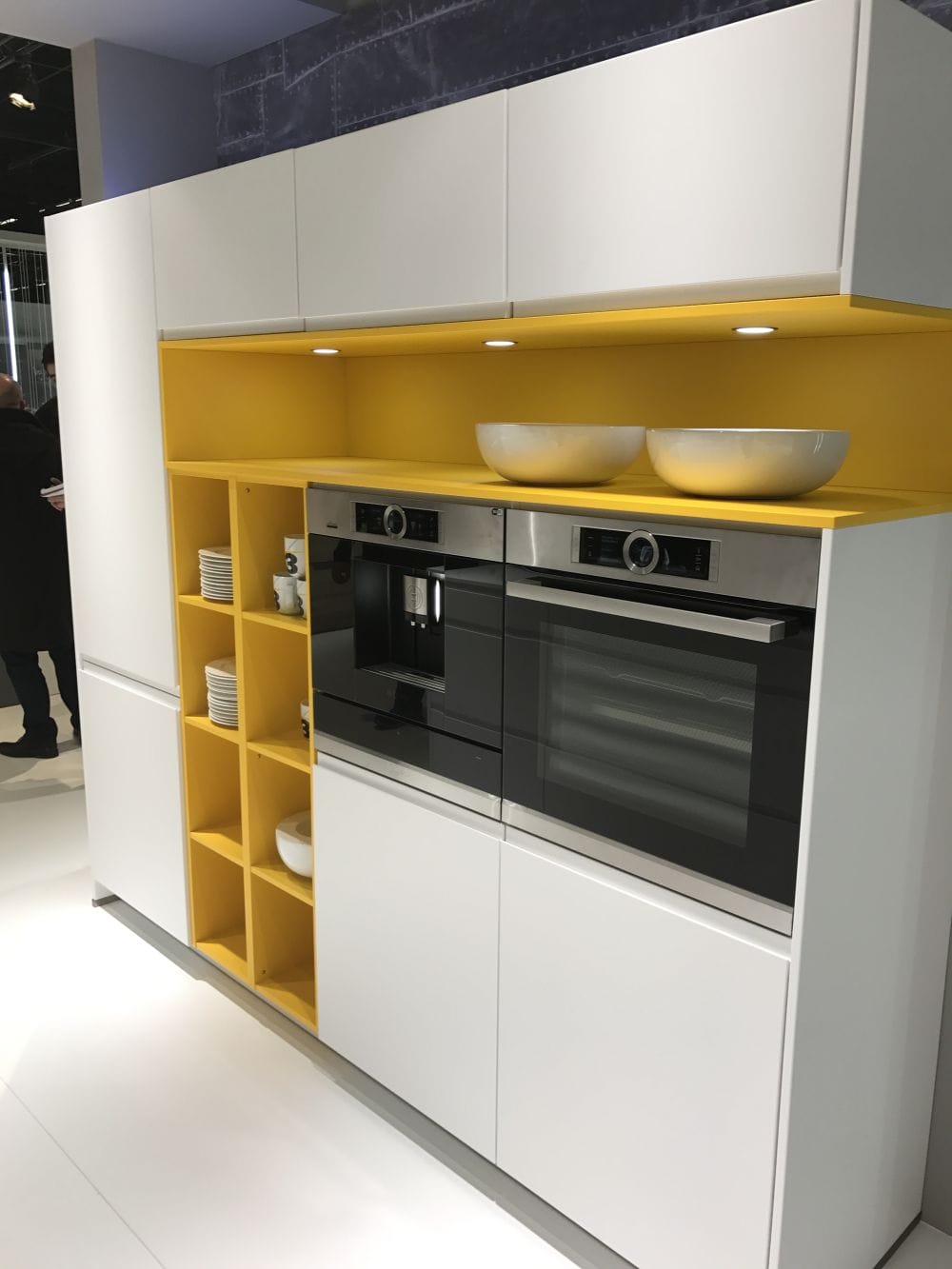 The open, airy feel of mid-century modern kitchens can be emphasized by using shelves to display items and a bold color. This design era was known for its minimal but striking accents that bring light into the space in an eye catching way.
31. Breakfast Nook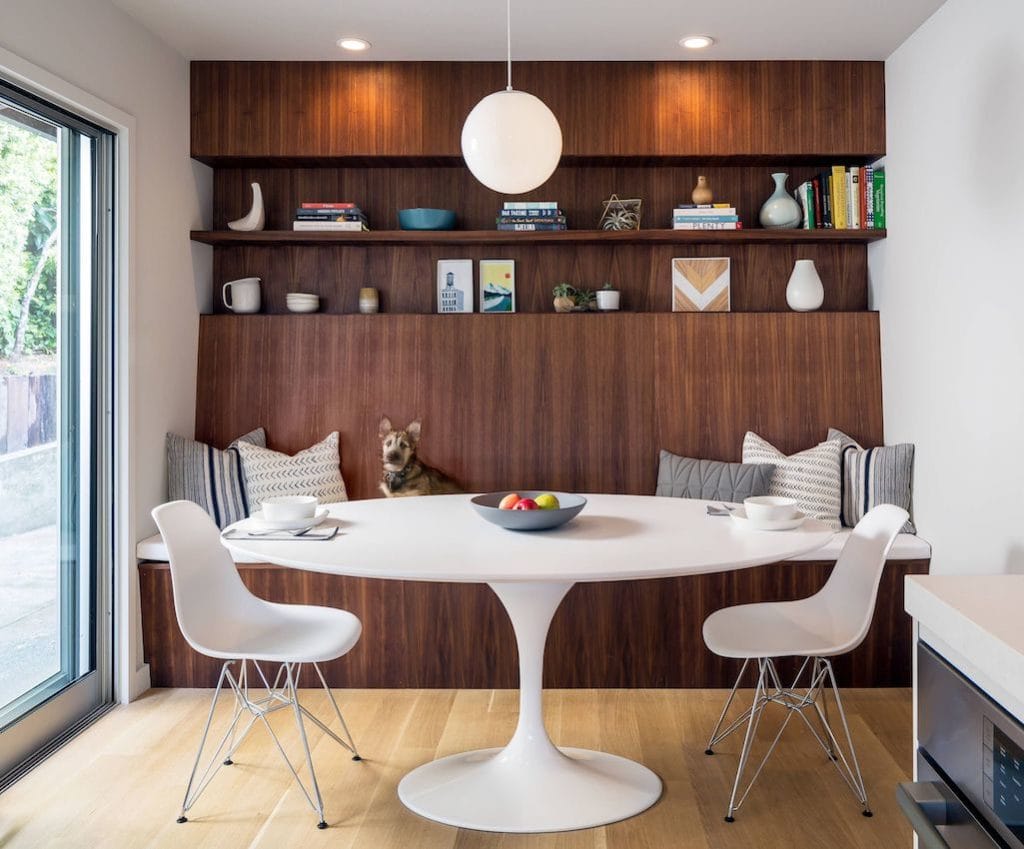 The breakfast nook is the cornerstone of any mid-century kitchen design because it offers a comfortable space to share casual meals. The popularity of this room has resurfaced in recent years, largely due to how open floor plans are becoming more common and people want some privacy while they enjoy their food or coffee with friends.
32. Add in Some Small Stylistic Touches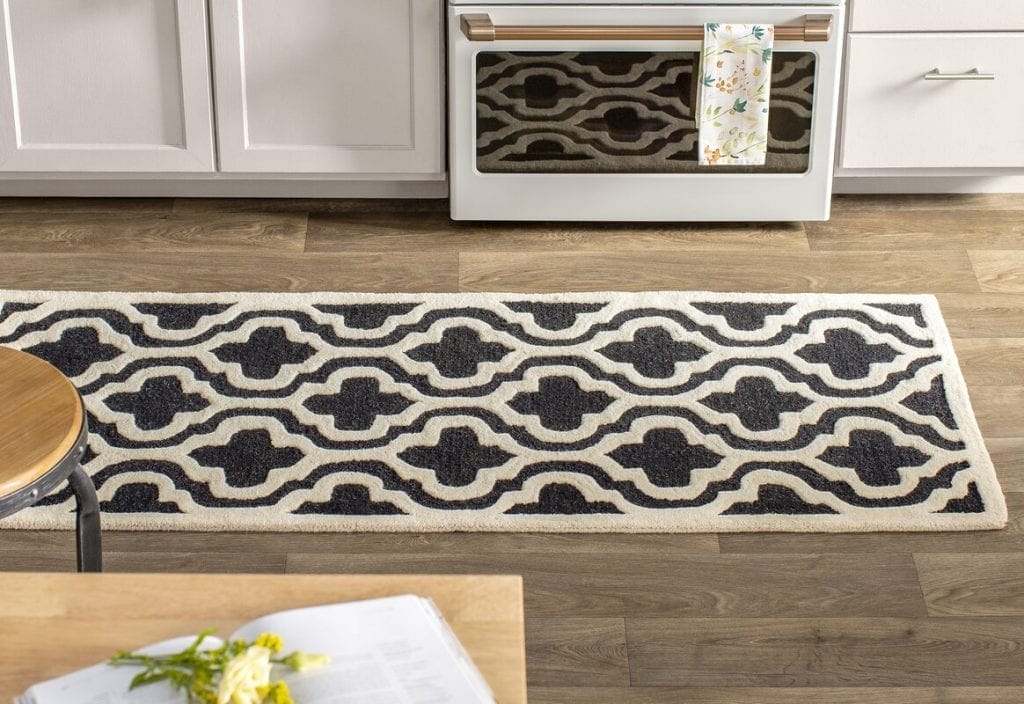 If you love the vibe of mid-century modern kitchens, but don't have the budget to renovate your whole kitchen – then a few small touches can help! Add in geometric rugs, funky cabinet hardware and even some wall art. It may not be as dramatic or expensive as redoing an entire room; these simple tricks will bring that 'mid-century' feel into any old space.
33. Bring in the Outside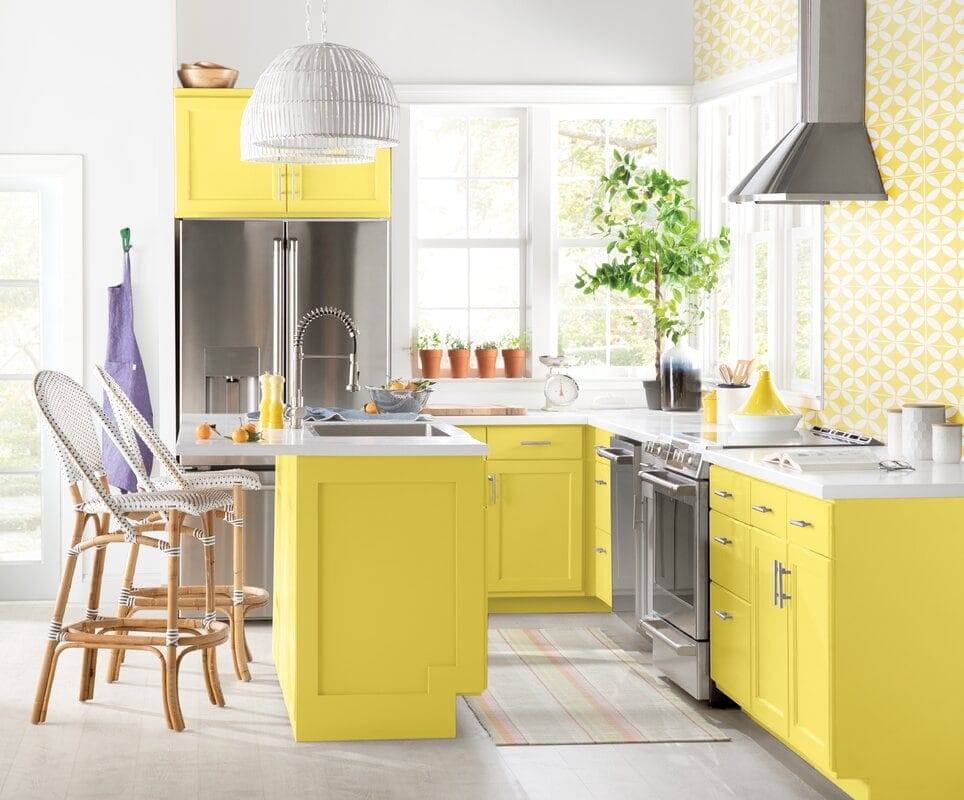 You don't need to be an artist or designer to create a beautiful, serene space for yourself. The key is incorporating the natural beauty that surrounds us all into your home décor and creating spaces which are as unique as their inhabitants.
Large windows with plenty of light form the foundation of this design style, allowing you see every detail from inside while still providing privacy when desired; let it in by getting rid of curtains! To really bring nature indoors mix earthy colors like avocado green, browns yellow and other greenery with eye catching pops using blues or oranges which will enhance any room's mood depending on what kind environment you desire at different times throughout your day.
34. Focus on Design Elements Mid Century Modern Kitchen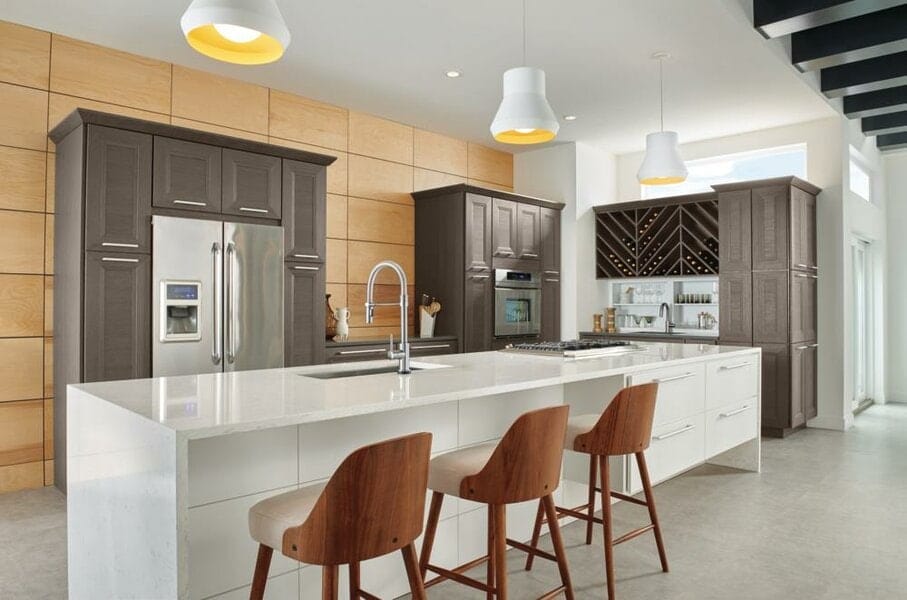 Mid-century modern kitchen cabinets are a big, long term investment and commitment. So, avoid going overboard with ornate details or anything that will make your next decade's style change difficult. The lights, chairs and built-in wine rack can be changed easily if you want to add more of the mid century feel in years down the line but we don't think it would ever be worth getting rid of this gorgeous piece because there is nothing else like it anywhere near as good!
35. Graphic Prints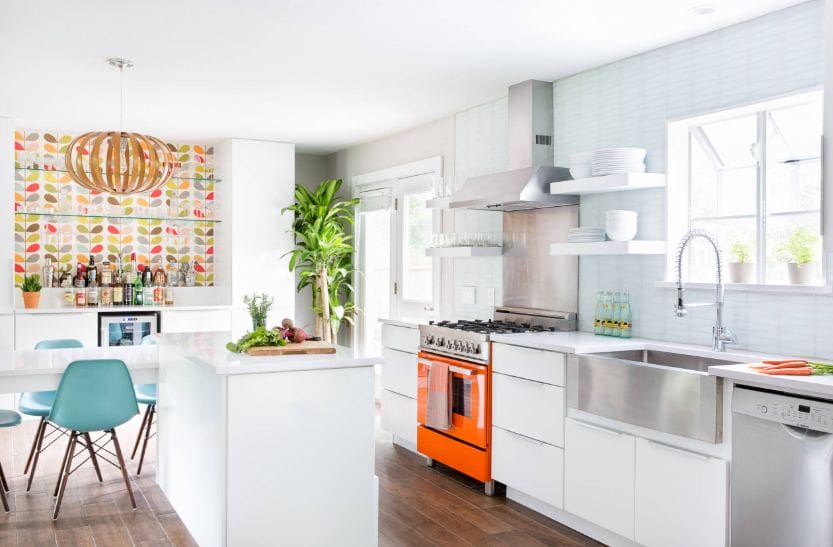 One of the quickest ways to add a touch of mid-century style is with textiles. This was an era when small companies collaborated with architects, designers or current artists (sometimes even famous ones) to create patterned fabrics that added personality and charm to furniture pieces in your home. True vintage fabric can be hard-to cover so many surfaces but they are worth it for their distinctive patterns which usually have an abstract or geometric repeat pattern!
36. Colorful Mid Century Modern Kitchen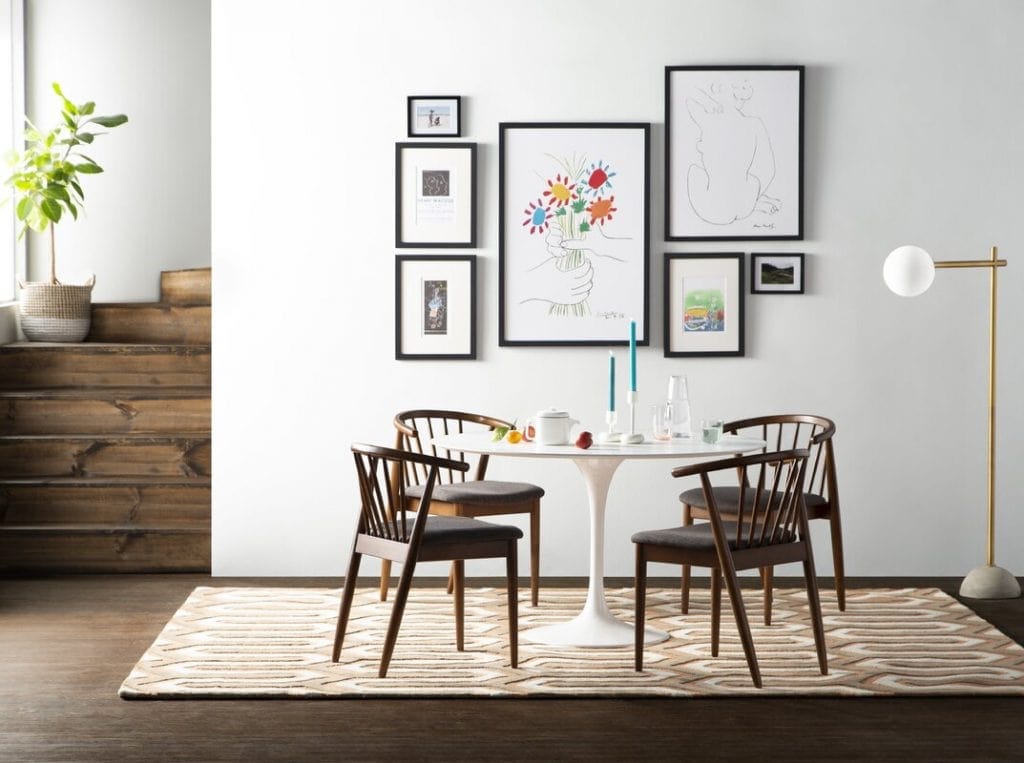 The mid-century modern style is often full of neutral tones, but your home can really come alive with a little bit of color. In this eat-in kitchen, there are bright blue candlesticks to add some punch and colorful art for added variety. A green plant will never disappoint in livening up the space!
37. Add Some Details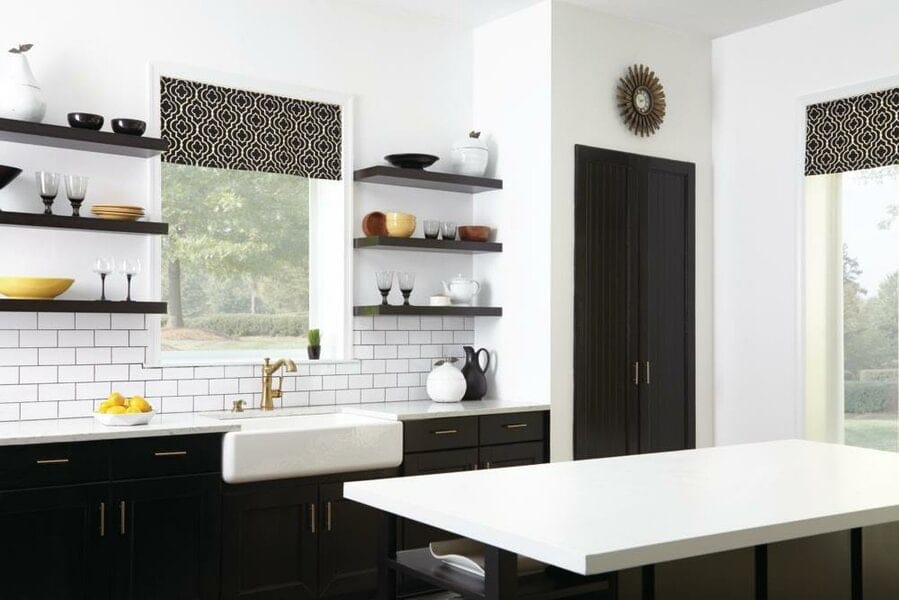 The attention to detail in this kitchen is unparalleled. There's a glass for every color of the rainbow, the geometric window shades match perfectly with its mid-century aesthetic while still managing to stand out on their own and really set it apart from other kitchens that only use one or two colors.
38. Mid Century Modern Buffet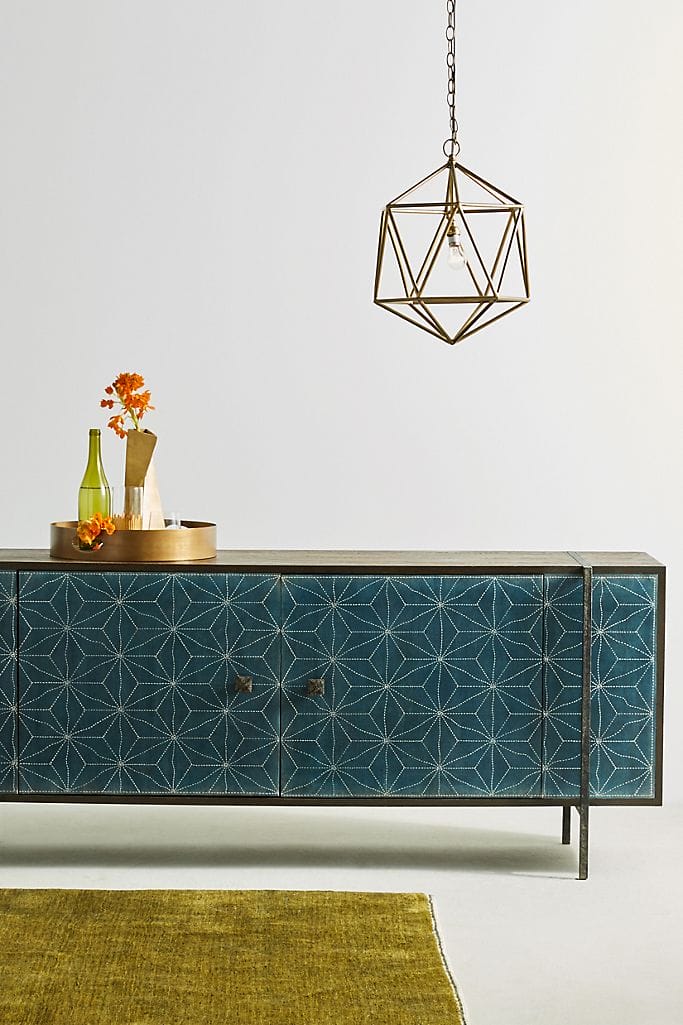 The buffet is a great way to add some flair and personality to your kitchen while still maintaining the look of mid-century modern. This piece features storage space, bar trays for entertaining guests, funky lighting that will make any room happy, all in one!
39. Classic Black Modern Kitchen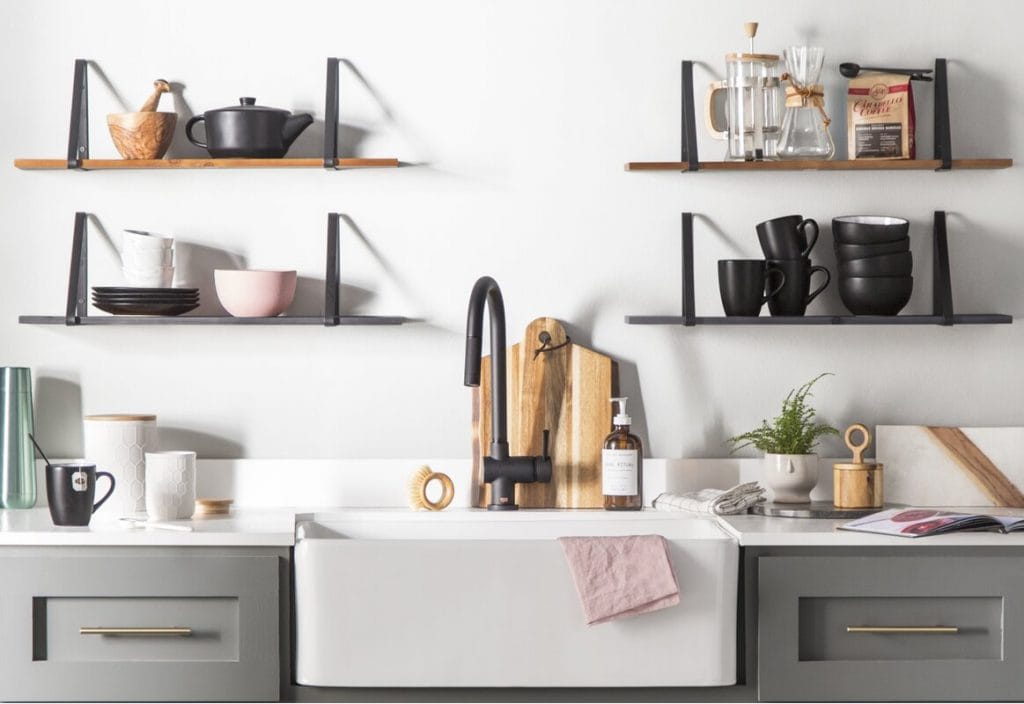 Black and brown are staples in mid-century modern design. And when you're not sure what to do, just find some black accents for your look because this will make it light and airy like the kitchen with its dark materials such as mugs, faucet, and leather straps holding up shelves. The result is basically a perfect take on classic style without being too boring or overbearing!
40. Bold and Bright Rug
The rug in your home can make a big difference, not just by adding color, but also with the way it warms up any room. Consider using rugs to ground mid-century modern kitchens that are usually cold and stark because of their hardwood floors. The best kind for these homes is one made from wool or jute fiber which will warm them right up!
Rugs can be a great way to make your kitchen feel warm with some subtle colors. For those that like the look of bold rugs, they are perfect for modern spaces and kitchens in particular – try adding them near windowsills or front doorways so guests have plenty of space to walk comfortably.
41. Clean and Minimal Mid Century Kitchen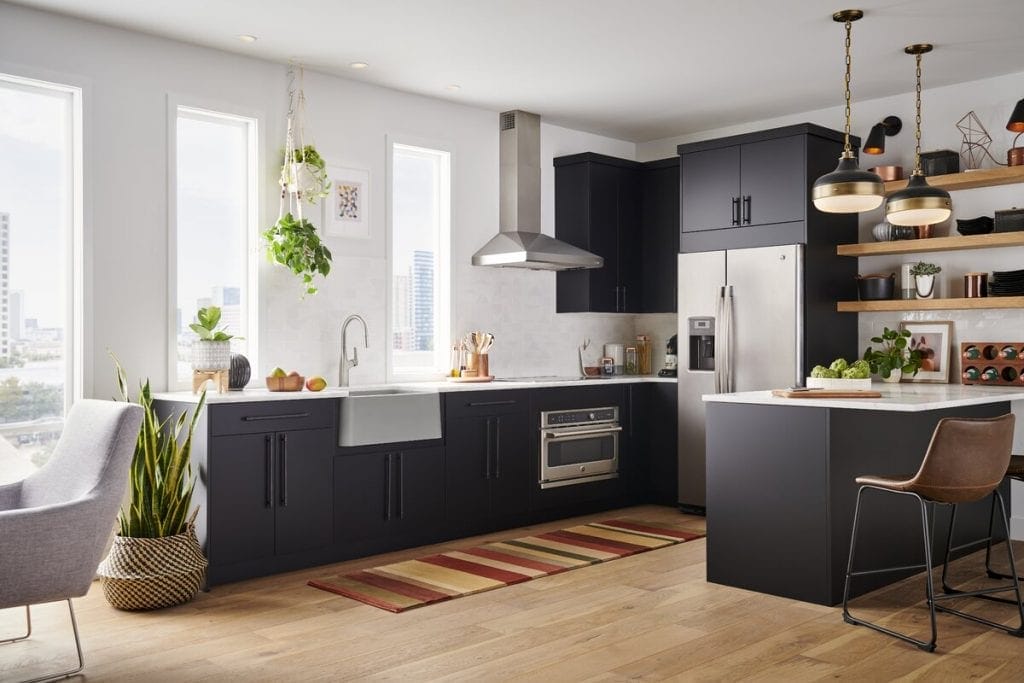 Straight lines and simplicity are staples of the mid-century modern style, so this kitchen is clearly an example. The lack of upper cabinets on one wall helps keep things neat while decorative pieces in other parts add a touch of class to any room.
42. Eye-Catching Modern Kitchen Backsplash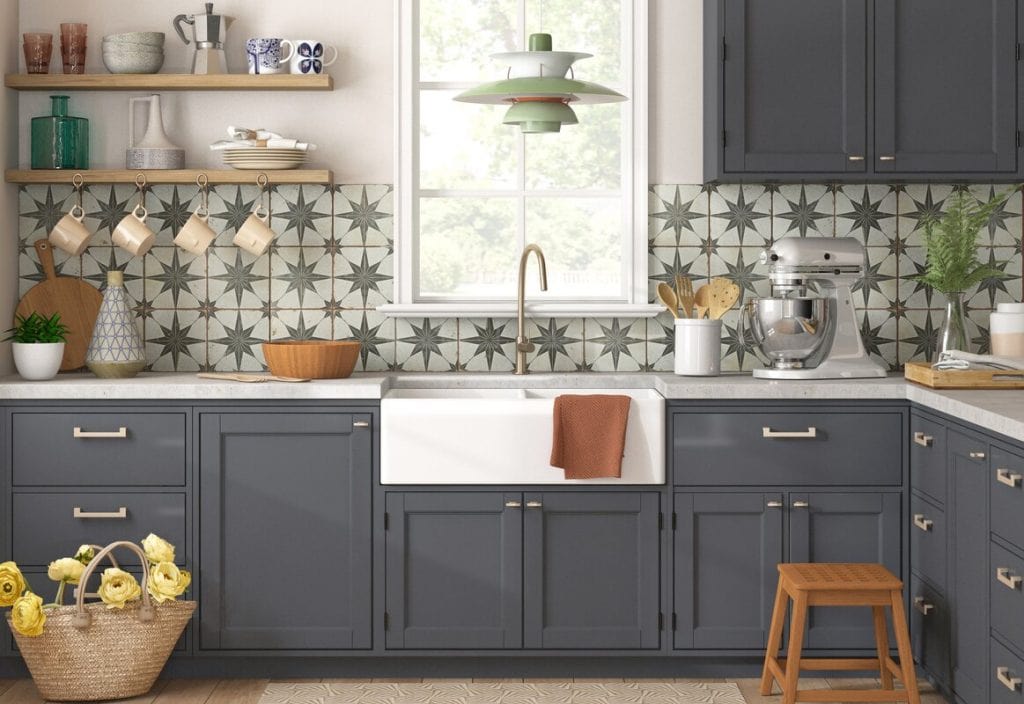 Retro-vibe kitchens are totally in style right now. The best part, though? They're easy to update because a backsplash is the perfect place for new features like farmhouse sinks and stainless steel appliances without having to do major renovations or gut an entire room. Don't you have so many great ideas about what your kitchen could look like with just one small change?
43. Mid-Century Modern Kitchen Flooring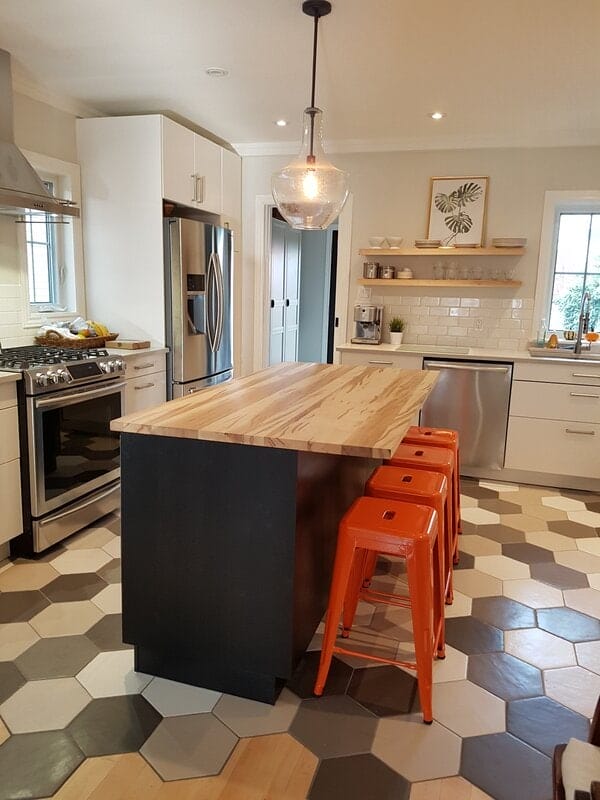 You may not be able to afford a mid-century modern kitchen, but that doesn't mean you can't get the look without breaking your budget. The funky floor adds such an exciting element and when combined with more understated cabinets, shelves, or subway tile backsplash work together seamlessly!
Nowadays there are so many great peel and stick options for floors like this which means it's never too late to have fun in the kitchen no matter how tight on cash you might be.