No question, the kitchen is the heart of your home. That is the reason you must opt for the right kitchen style to make a nice impression. If you love something stylish yet welcoming, look no further than mid century modern kitchen.
Moreover, mid-century modern culinary space continuously stays in power. Because it is flexible since you can combine it with traditional, minimalist, or rustic. Can't wait to inject mid-century whimsy into yours? Check these out!
1. Mid Century Modern Kitchen Backsplash Tile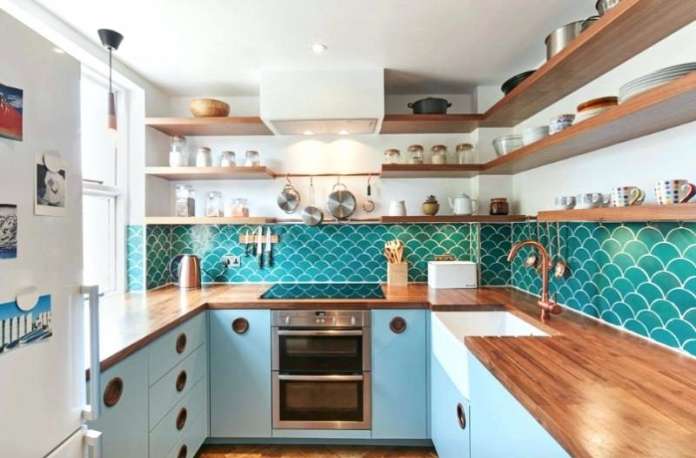 This kitchen is furnished with baby blue cabinets and open shelves. Both wood counter and floor create a warm atmosphere. Meanwhile, scalloped backsplash tiles quickly set a coastal vibe.
2. Mid Century Modern Kitchen White Cabinets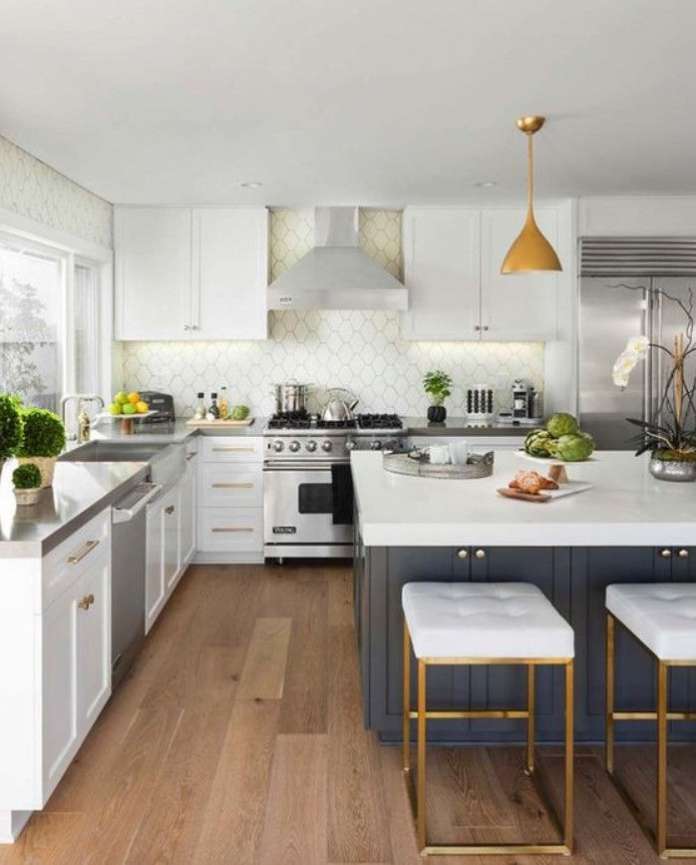 As shown in the image, this culinary space boasts white backsplash, counter top, ceiling, and cabinets. They make the room feel light. Gold accents glamorize the kitchen, while the wood floor brings the outdoors inside.
3. Mid Century Modern Kitchen Sink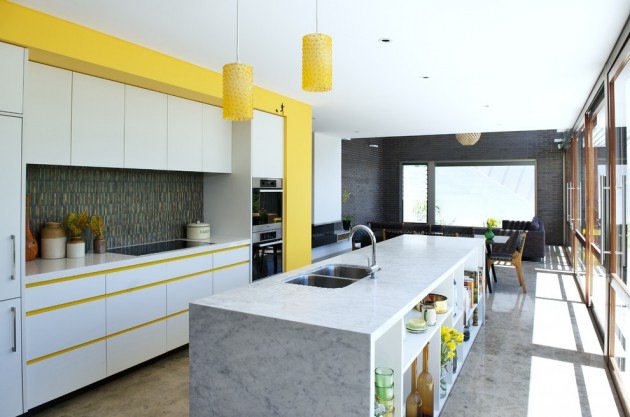 This Mediterranean kitchen features textured black walls and double bowl undermount sink. Marble counter tops add a touch of opulence to the room. Pops of yellow brighten up the entire kitchen.
4. Mid Century Modern Kitchen Floor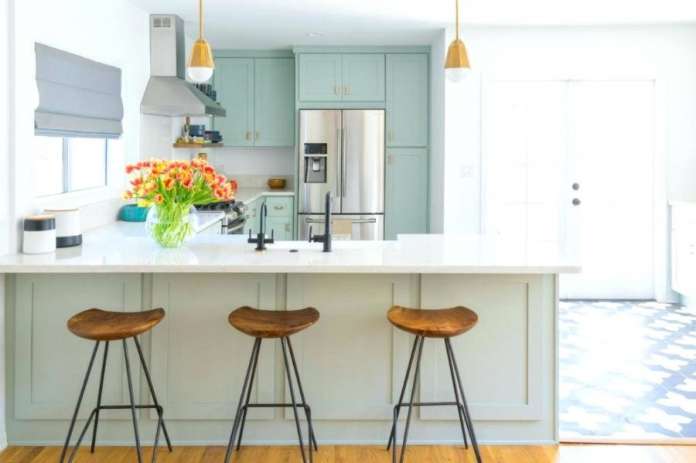 The white color scheme visually expands the kitchen. The wood floor and stools deliver an earthy feel to the interior. Carolina blue window shade and duck egg blue cabinets exude a moment of serenity.
5. Mid Century Modern Kitchen Furniture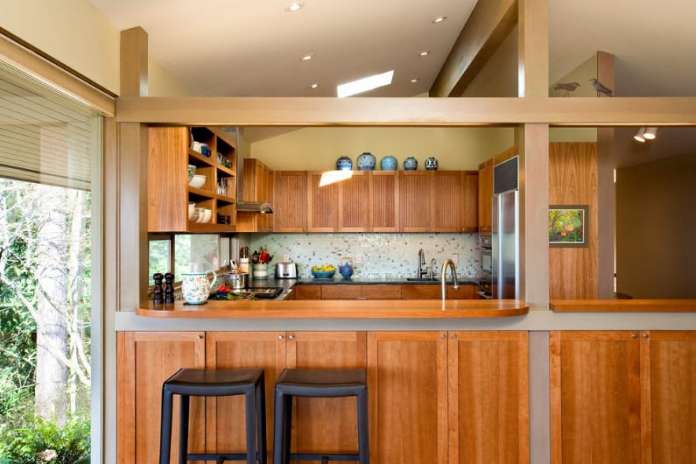 The cooking utensils and dishware are neatly stored in the wood cabinets and racks. Those furniture units inject rustic charm into the space but in a refined manner. Two black stools introduce a bit of drama.
6. Mid Century Kitchen Island Lighting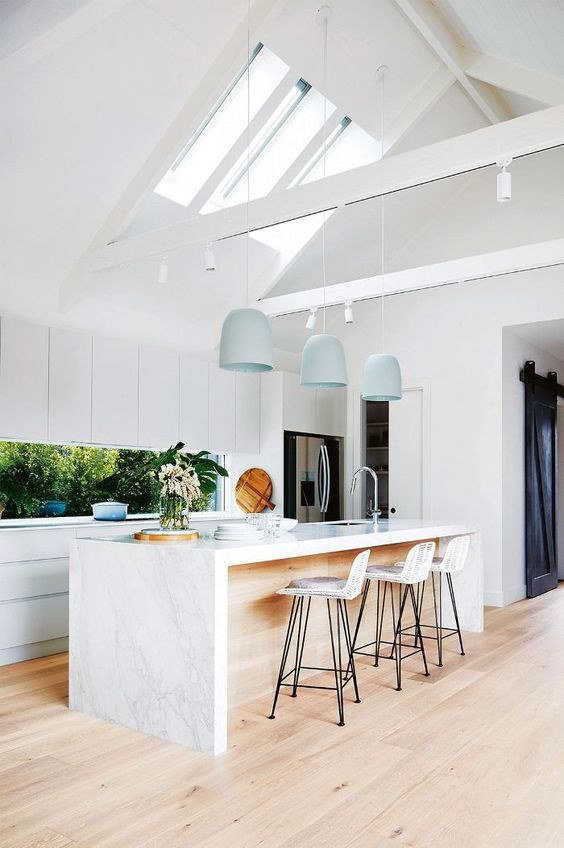 Do you have limited cooking space? Worry not. Duplicate this Scandinavian kitchen. The vaulted ceiling, white flat front cabinets, and walls make the room appear larger. Sky blue dome pendant lights emphasize the island.
7. Mid Century Modern Kitchen Countertops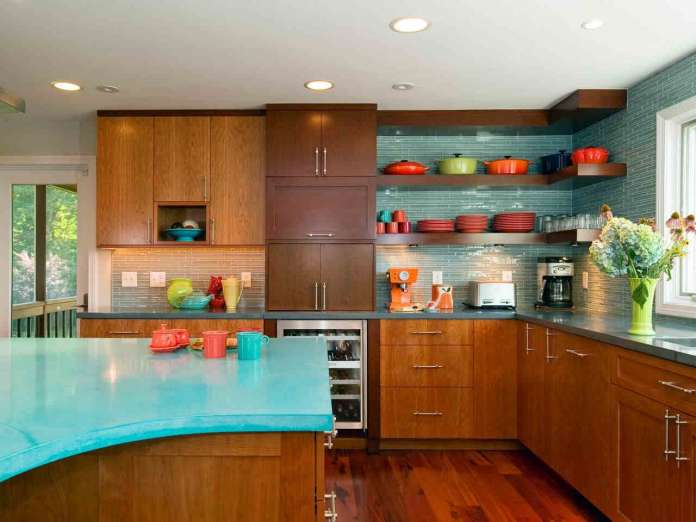 Different hues of wood gather in this mid century modern-inspired kitchen. They ooze unrivaled warmth. Gray and blue concrete counters lend the space an industrial flavor. Flowers, pots, and dishware spice things up.
8. Mid Century Modern Kitchen Table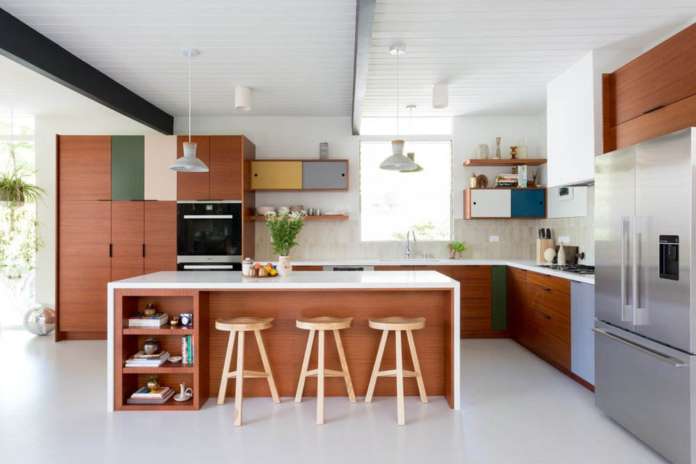 Here, the white base maintains a clean setting of the kitchen. The wood island doubles as a dining table. Pastel colors, open shelves, and blonde wood stools prevent the culinary space from feeling heavy.
9. Mid Century Modern Dining Room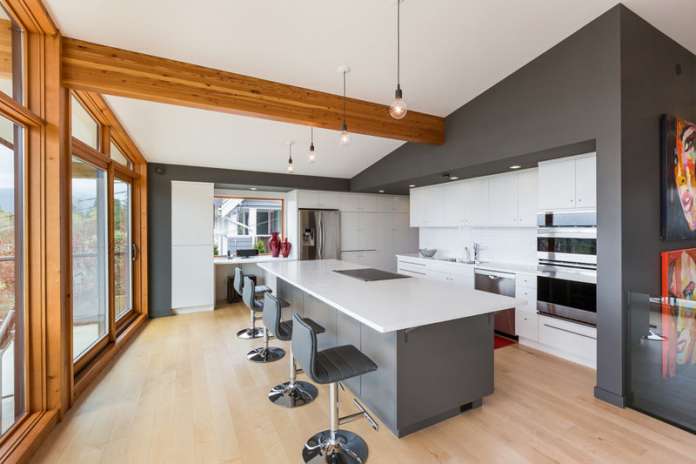 Above is a transitional white and gray kitchen. The bare wood floor and exposed beam infuse a lot of personality into it. Meanwhile, the adjustable chairs and the overhang of kitchen island make for a casual dining area.
10. HGTV Mid-Century Modern Kitchen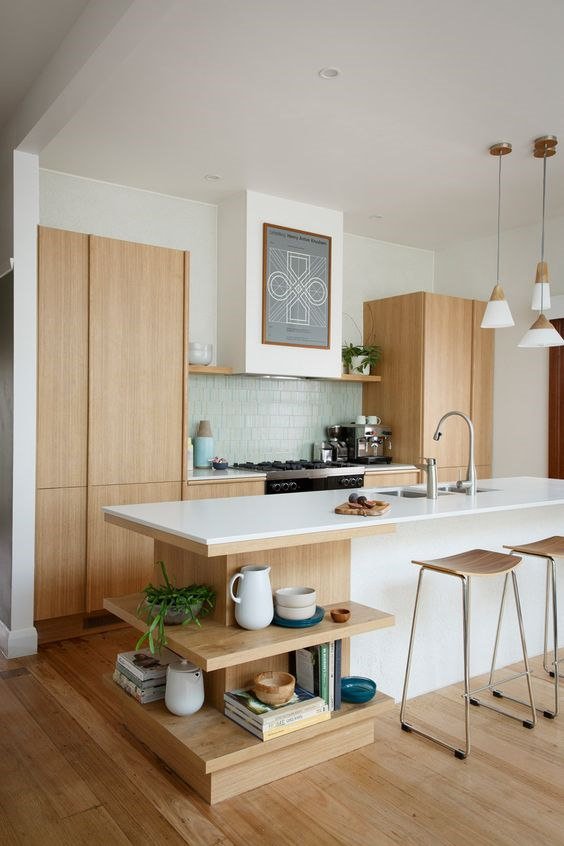 This mid century modern cooking space is full of elegance, thanks to wood floor and furniture items. The dining chairs generate a sleek look. Furthermore, the white and wood pendant lights elicit a sense of cohesiveness.
11. Mid Century Modern Kitchen Backsplash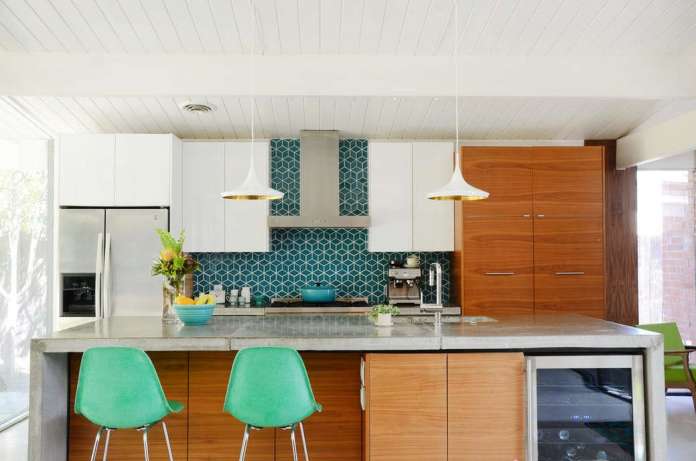 Do you hate to see conventional kitchen cabinets? You should hang two-tone cabinets. Use teal geometric tiles to clad the backsplash. The turquoise dining chairs carve a beach ambiance.
12. Mid Century Modern Kitchen Renovation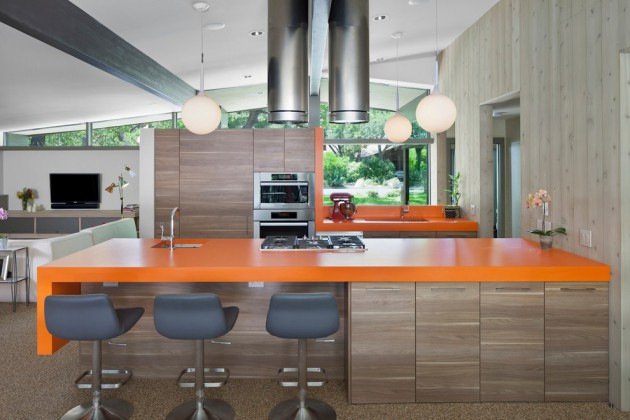 This kitchen has a sloped ceiling. It also features hardware-free wood cabinets and beige quartz floor. The orange counter tops keep the space from being bland. Metallic accents give the kitchen an industrial twist.
13. Mid Century Modern Dining Table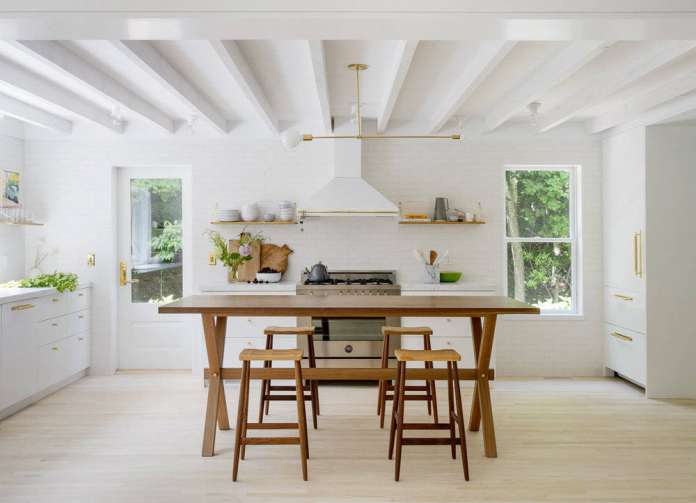 From exposed beams to cabinets, everything is painted pure white for a bright space. However, the homeowner does not want a sterile-looking kitchen. Therefore, she furnished the room with a wood dining table and chairs.
14. Mid Century Nordic Kitchen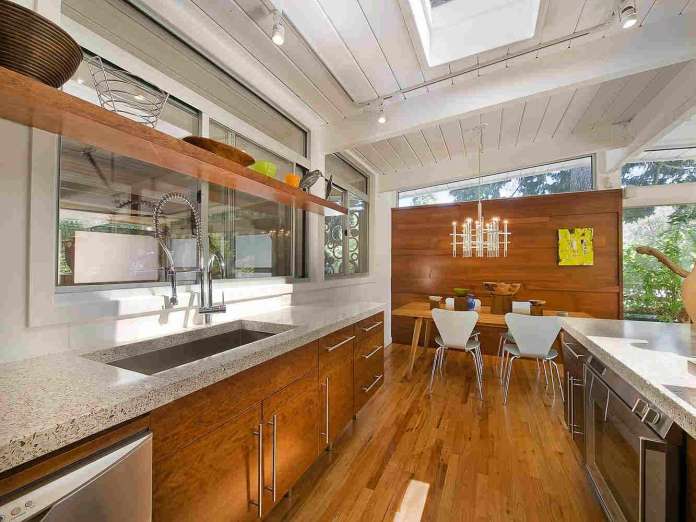 Who doesn't admire this Nordic kitchen? It is not just warm, but also trendy. Windows and skylight keep the space sunny.
15. DIY Mid Century Kitchen Cabinets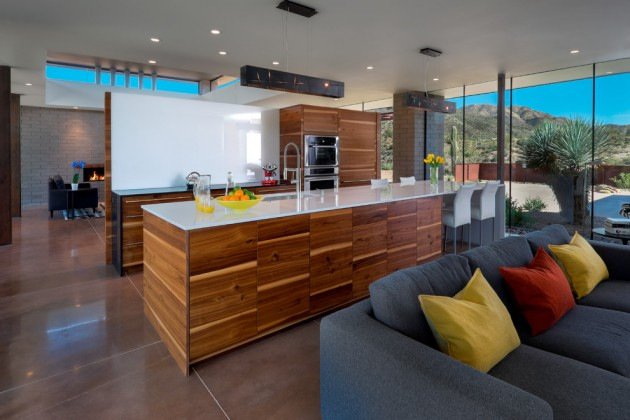 This kitchen is linked to the living room. The cabinets and island are constructed out of reclaimed oak wood. They make your guests feel welcome.
16. Best Counter for Mid Century Kitchen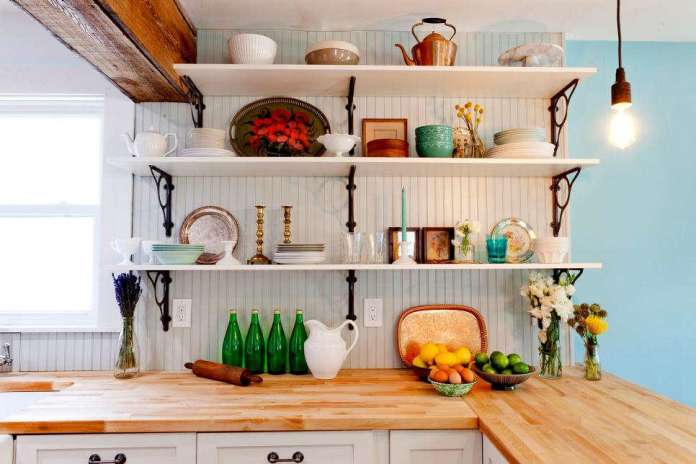 White cabinets and bulb pendant light contribute to the mid century modern vibe of the kitchen. Meanwhile, butcher-block countertop, beadboard backsplash, and open shelves lend the room farmhouse charm.
17. Houzz Mid-Century Modern Kitchen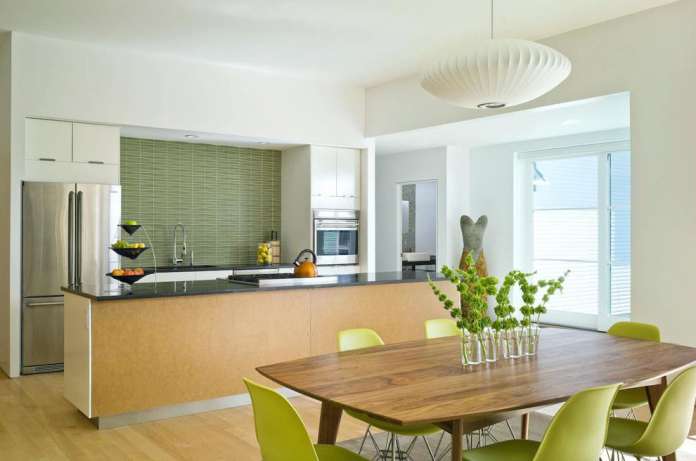 Lime green dining chairs exhibit a fun atmosphere. Sage green tiled backsplash and caramel island offer a sense of calm. Windows allow sunlight to shine.
18. Mid Century Modern Kitchen Cabinets for Sale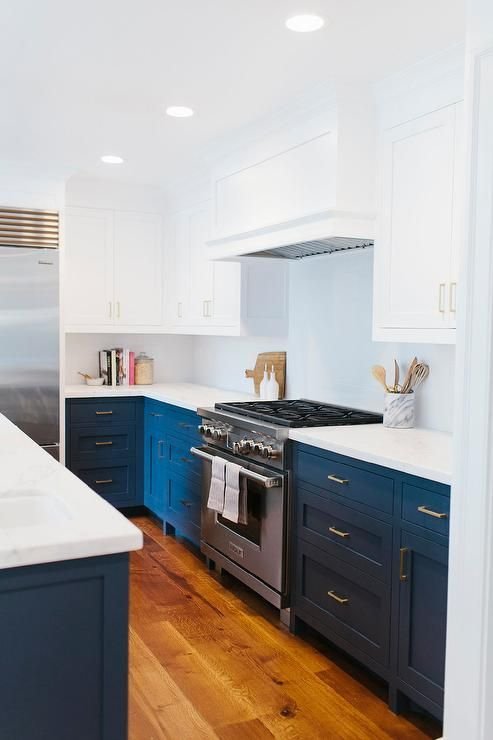 The lower cabinets and kitchen island come in navy. They awesomely contrast with white counters. Wooden floor and utensils warm up the interior.
19. Mid Century Kitchen with a Craftsman Touch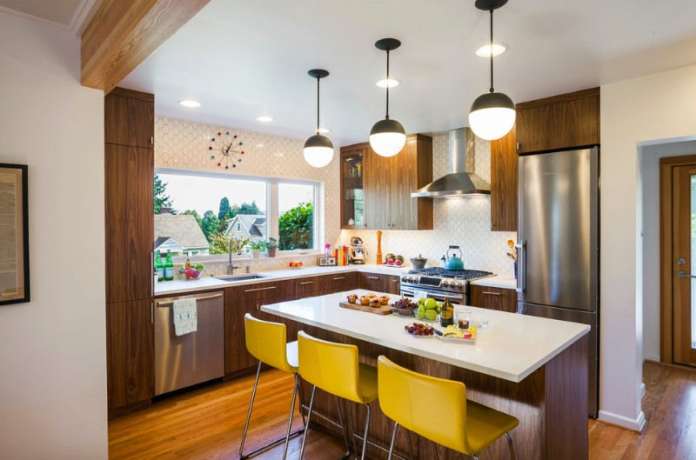 The furniture units in this kitchen undoubtedly represent the craftsman style. Meanwhile, pendant lights give the space a contemporary feel. Yellow dining chairs set a happy mood.
20. White and Wood Mid-Century Modern Kitchen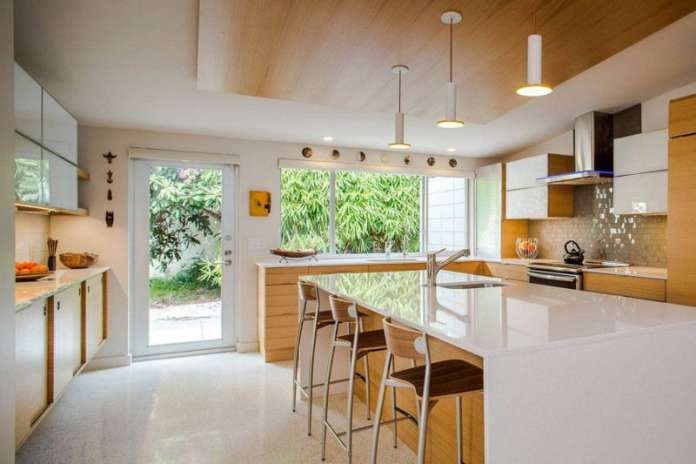 Handleless white upper cabinets develop a minimalist appearance. Wooden lower cabinets and dining chairs exude an intimate nuance.
21. Mid Century Modern Kitchen with an Open Concept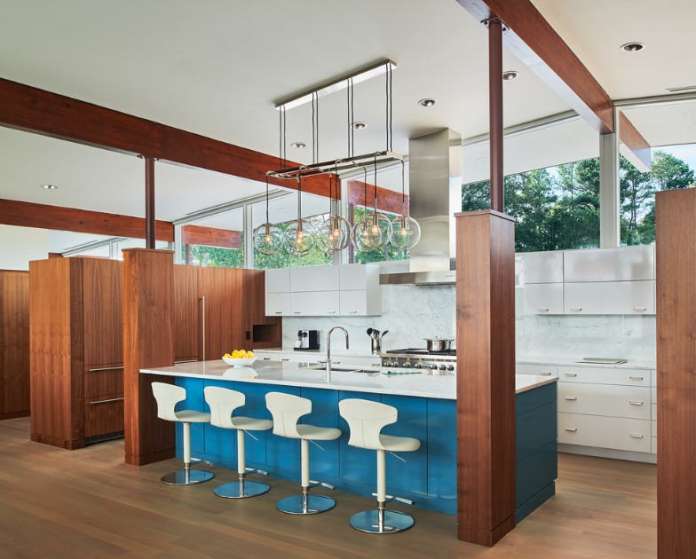 White cabinets and counter tops impart an open scene. A blue island prevents the kitchen from feeling dull. The dining chairs and glass pendant lights balance out straight lines.
22. Mid Century Modern Dining Chairs without Arms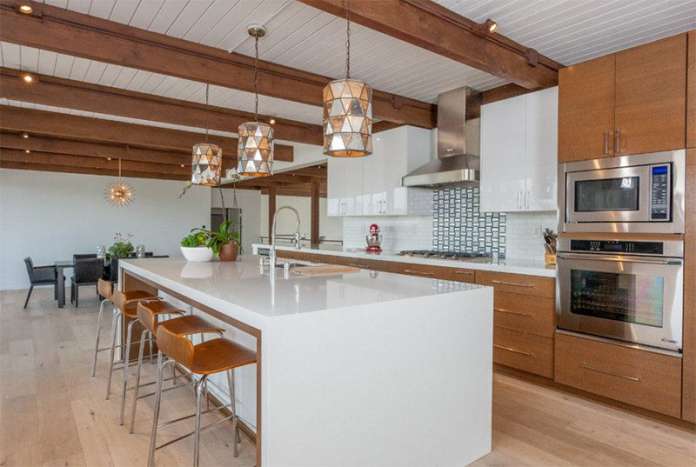 Here, the armless brown dining chairs are such a welcomed contrast to the white island. The geometric cylinder pendant lights steal the spotlight.
23. Mid Century Modern Kitchen Restoration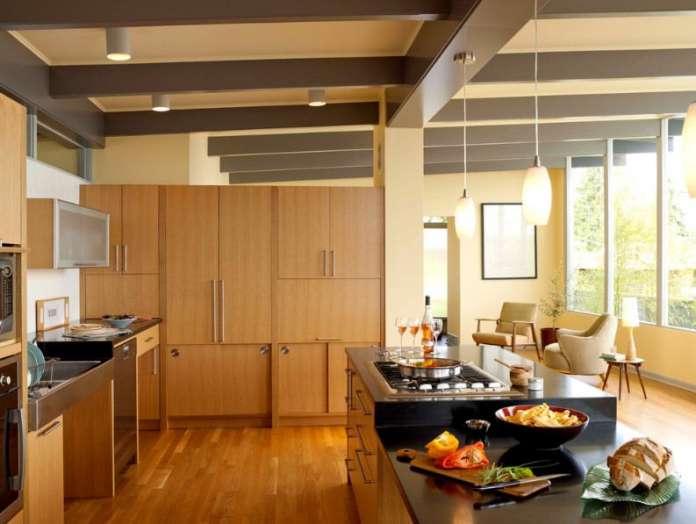 Black polished granite countertops infuse a glamorous air into the kitchen. Wood furniture units, pendant lights, taupe-ceiling beams stamp contemporary style.
24. Mid Century Modern Kitchen Design Elements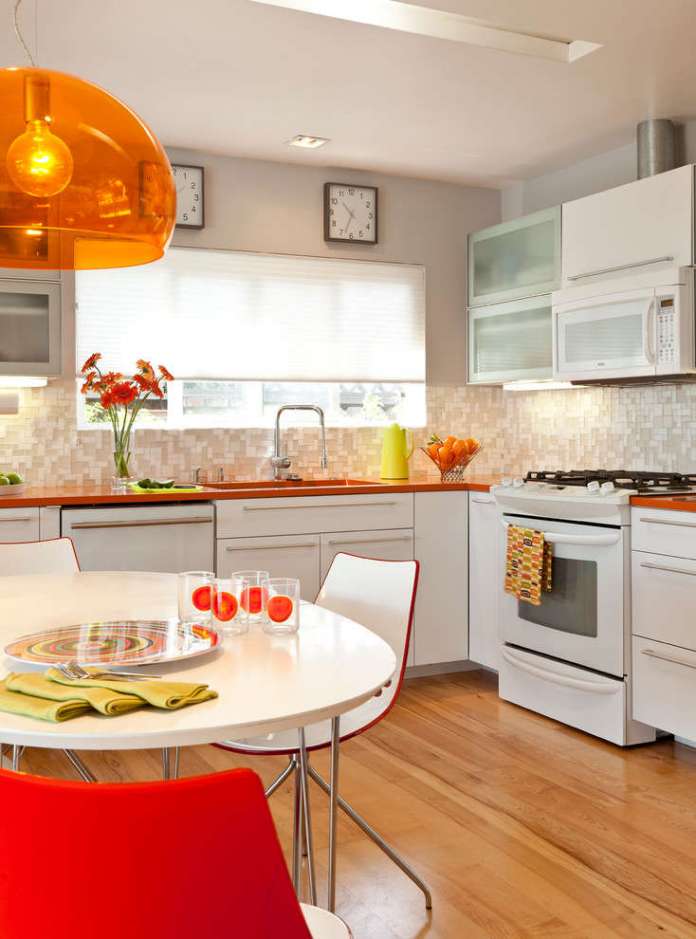 As you see, the wood floor and counter top keep the kitchen inviting. Retro units and colorful flowers add a ton of character to the room.
25. Mid Century Modern Beach-Style Kitchen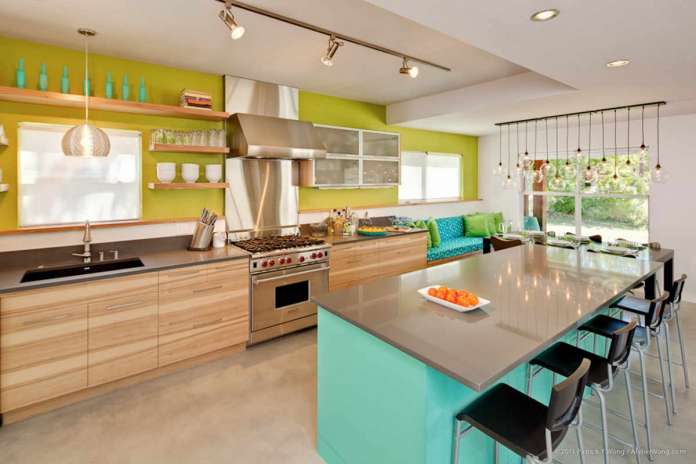 Raw wood lower cabinets take the chill off stainless steel countertops. Splashes of turquoise, olive green, and emerald green send out tropical vibes.
26. Vintage Mid-Century Modern Dining Chairs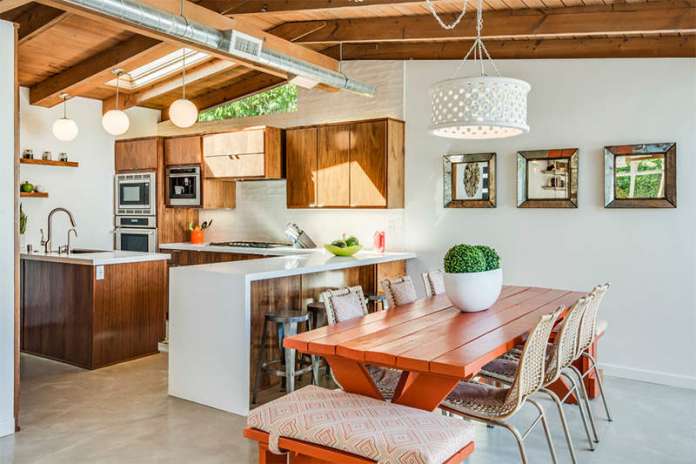 White base allows the barn wood cabinets and ceiling beams to take center stage. Vintage dining chairs, orange table, and benches create a casual dining area.
27. Where to Buy Mid Century Modern Kitchen Cabinets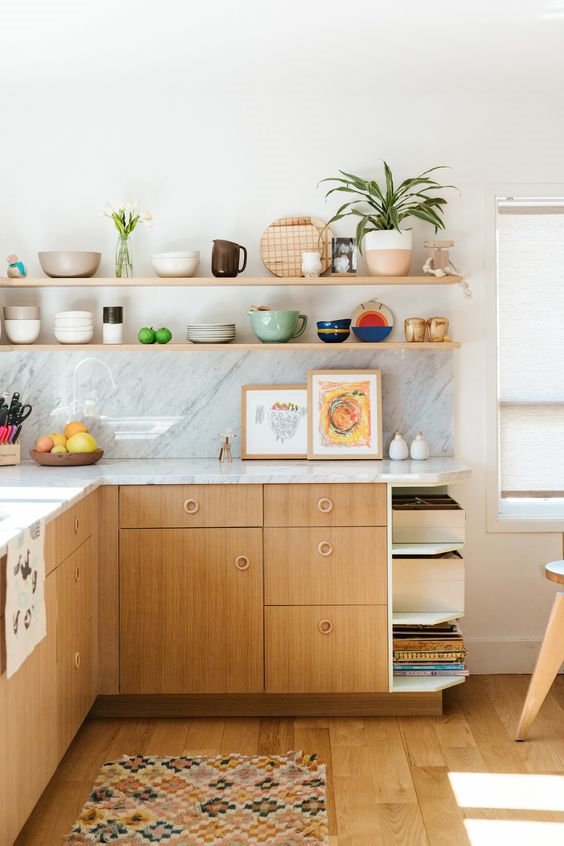 The wooden wall-mounted shelves house dishware, potted plants, and gold accessories. Meanwhile, marble backsplash and countertops carve a lavish setting.
28. Mid Century Modern Kitchen Floor Ideas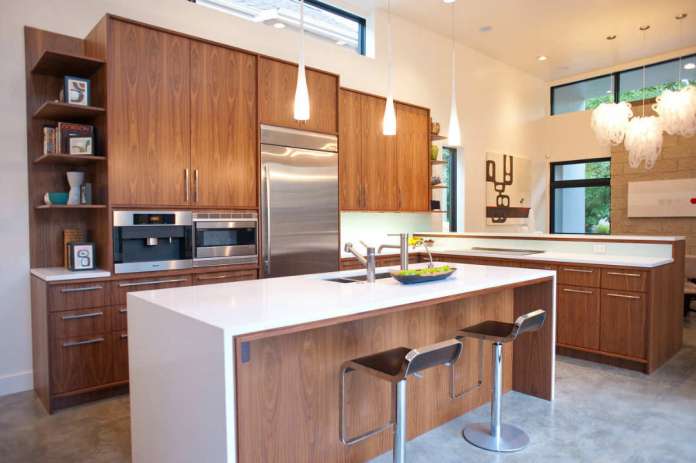 Here, repurposed wood cabinets assert a touch of artisanship. Polished concrete floors, metallic appliances, and stools generate industrial aesthetic.
Whether you are a renter or homeowner, mid century modern kitchen never fails to amaze you. Since it is an enduring style, you can enjoy your cooking space for years to come.