Without a TV stand, you cannot watch your favorite series comfortably. Other than that, it houses a game console, stereo set, and DVD collection. Today, I am serving up some DIY TV stand ideas to get your creative juices flowing.
Making a TV stand yourself gives you a few benefits. First, you save money on furniture. Second, a handmade TV stand offers a touch of exclusivity to your room. Therefore, here are DIY projects that will keep you occupied on the weekend.
1. DIY Tripod TV Stand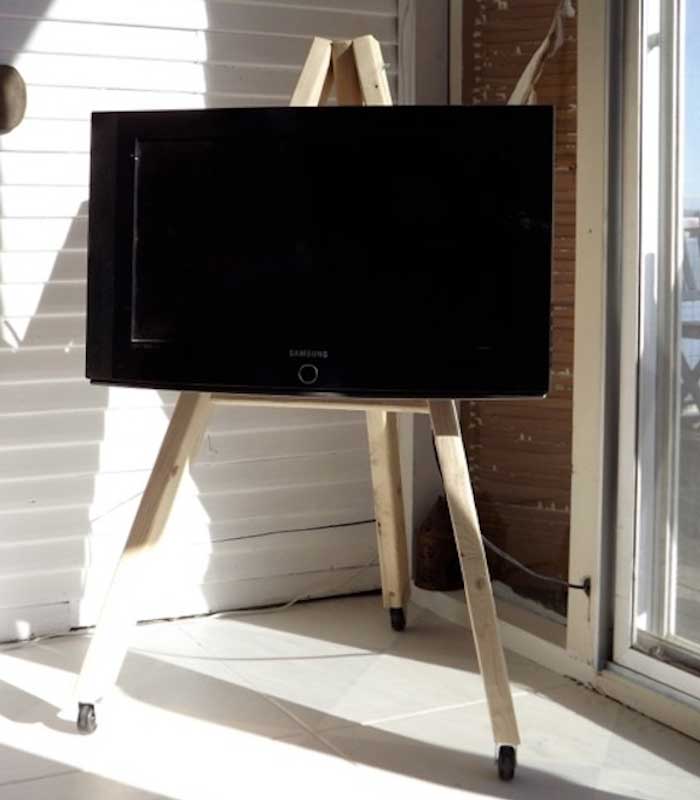 Pictured here is a tripod-inspired TV stand made out of unpainted wood pieces. The wheels allow easy movement. Meanwhile, the bracket and ledge support the TV. Don't you love this practical and chic stand?
2. How to Build a Pipe TV Stand

Turn reclaimed lumber and unused metal pipelines into an excellent TV stand. Not only is it sturdy and modern, but it also brings an industrial flair to space. You can use the lower rack to store potted plants.
3. DIY TV Stand with Fireplace Insert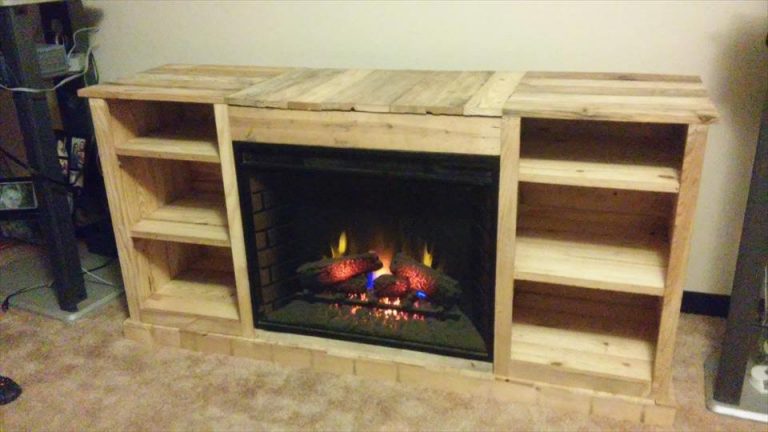 As the image shows, the raw wood TV stand comes with a fireplace. In no time, it oozes rustic charm. The racks on either side of the fireplace keep DVD players, books, and games from visually cluttering the room.
4. DIY TV Stands for Flat Screens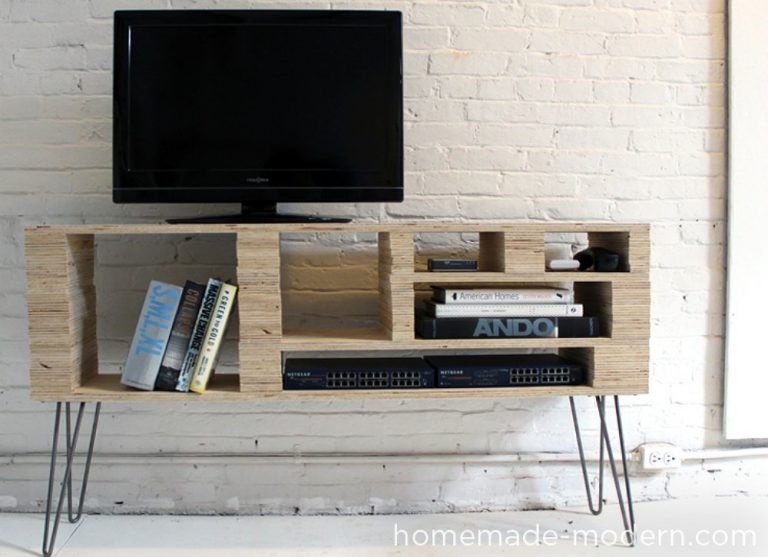 Create a TV stand using wooden slabs and metal hairpin legs. It adds a mid-century modern flavor to the area. Moreover, it looks awesome against the pure white brick wall.
5. DIY TV Console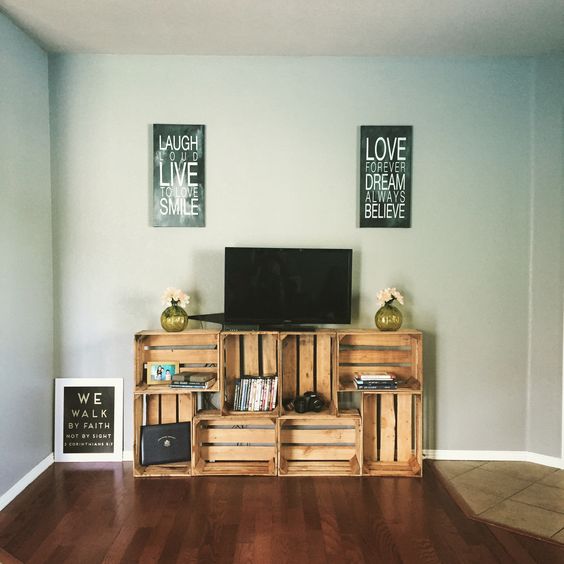 Are you a true DIY-er? Give this idea a shot then. You just need new crates, drills, and screws to build a sturdy TV stand. It sturdily holds your TV and provides space for consoles and room accessories.
6. DIY Corner TV Stand Instructions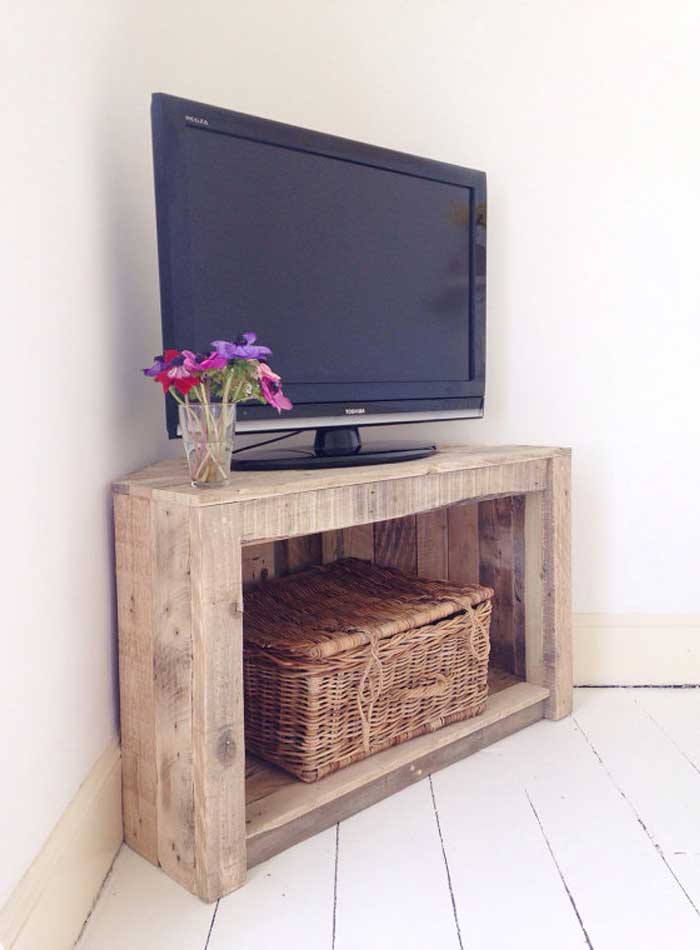 To make this rustic corner TV stand, you must collect reclaimed pallets first. After that, cut them in different sizes. Glue the pallets together and you are set. Put a rattan basket in the rack under the TV to stash away unsightly pieces.
7. TV Stand Ideas for Living Room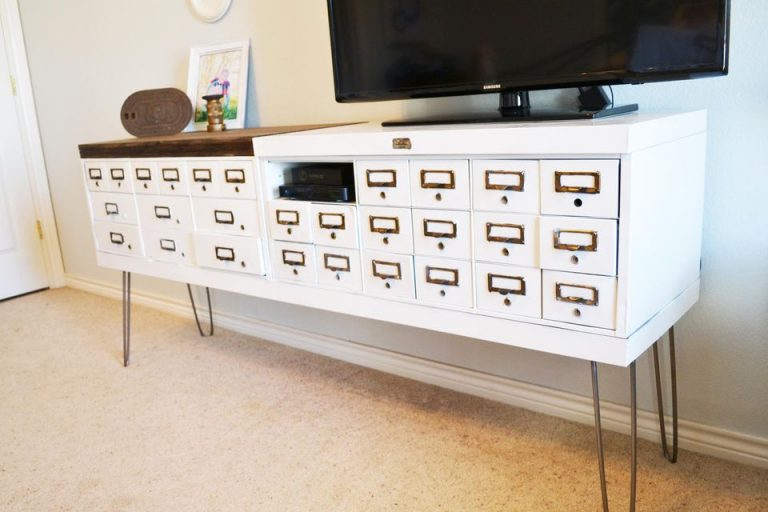 This pottery barn TV stand is a perfect mix of classic and modern. The homeowner painted it pure white, so it is congruent with the overall living room design. Its drawers offer ample storage.
8. Flat Screen TV Stand Woodworking Plans

Don't throw away your old cable TV drum! Transform it into an outstanding TV stand. Hang the flat-screen TV on a wooden board. Lastly, display your entertainment pieces in the racks.
9. Homemade TV Stand Ideas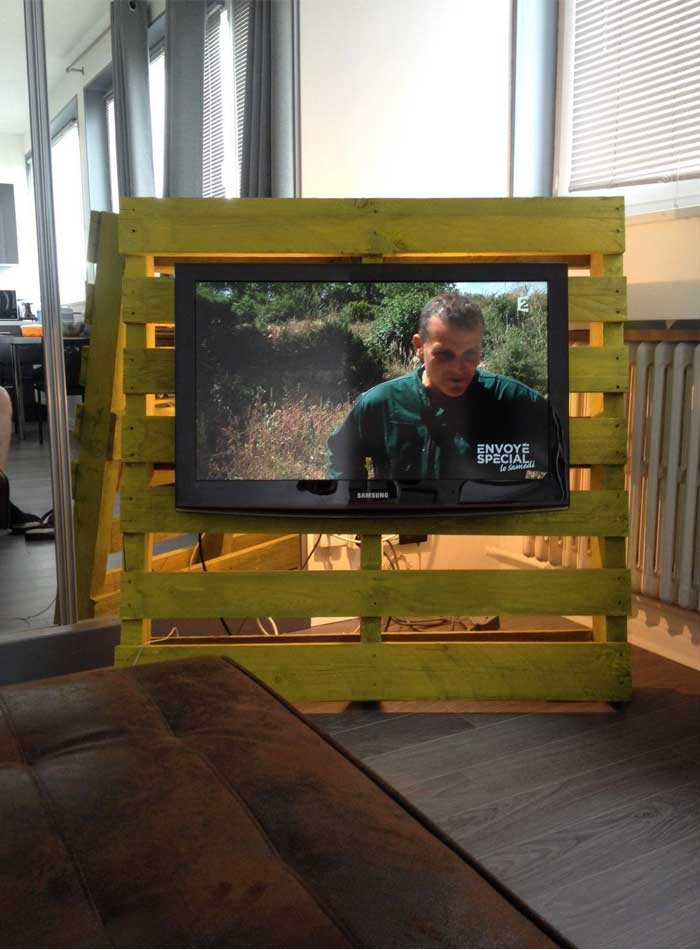 Instead of putting the TV on the floor, make your TV stands. All the things you need are wood pallets, paint, building nails, and screws. Place the TV stand near the electrical source.
10. DIY Pallet TV Stand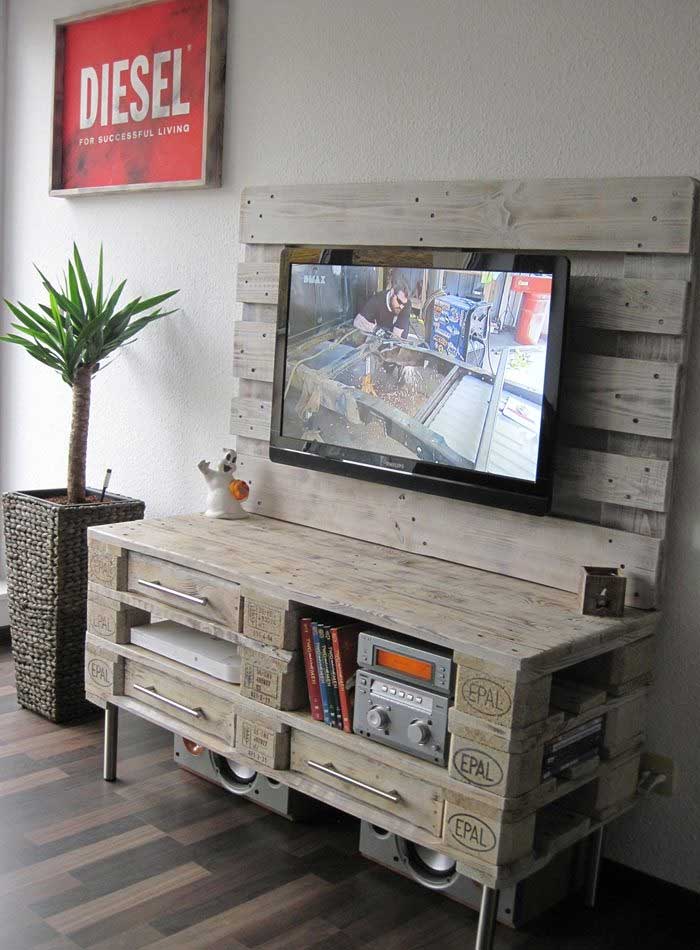 This TV stand looks like photo frames. It is constructed out of patterned wood pallets. Install the TV on the vintage-looking pallet board. Use a metal platform to secure it.
11. Cheap TV Stand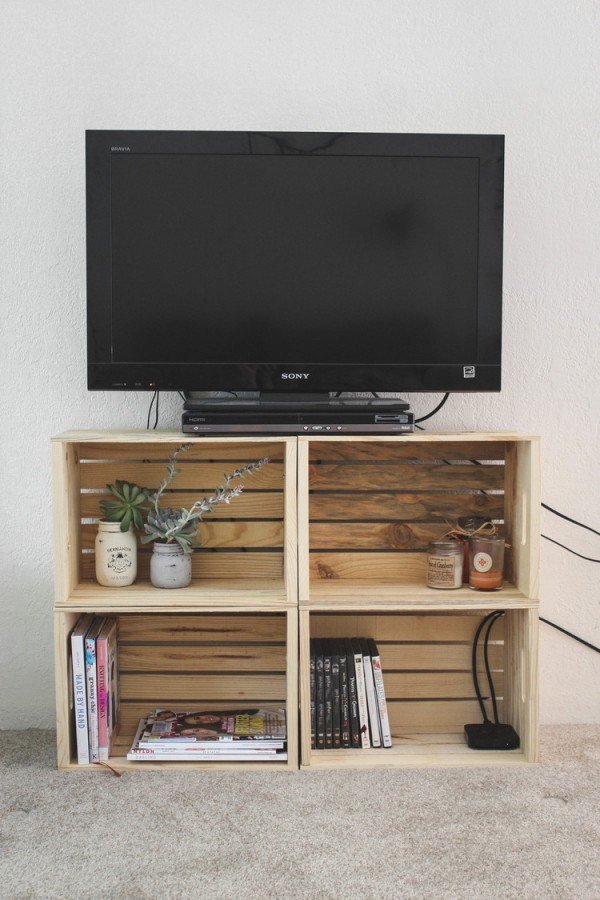 Convert your old fruit crates into an enchanting TV stand. Be sure the crates are sturdy and thick because it will hold your TV. The open parts can be utilized to house potted greenery, magazines, and DVD collection.
12. How to Make a Modern TV Stand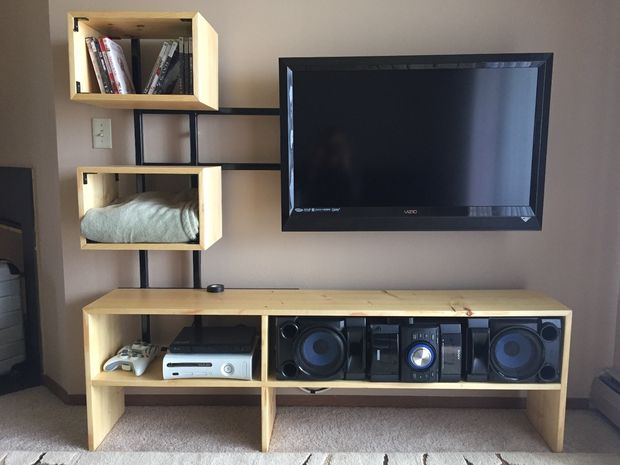 Are you swooning over this G-shaped TV stand? I am, too. Its sharp edges and well-defined lines embrace the modern style. The TV stand also gives you lots of storage.
13. How to Build a Rustic Corner TV Stand

Maximize the awkward corner in your room with this rustic yet practical TV stand. To build it, you must prepare unpainted wood pallets, some nails, and screws. Mount the TV on it, and then add a corner shelf to put your stereo set on.
14. DIY Rolling TV Stand

In this example, the pallet TV stand employs nine spacious compartments for console and ornaments. The wheels on each of its legs allow you to move it around with ease.
15. DIY TV Stand Plans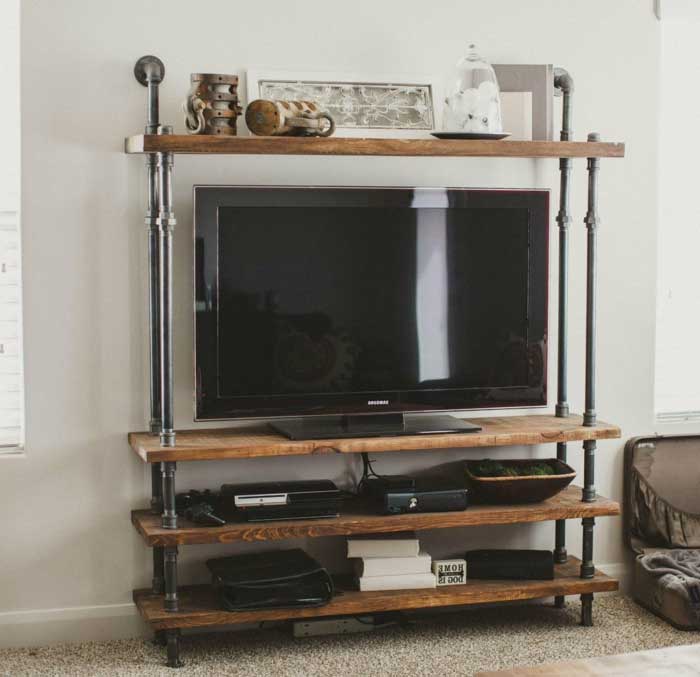 Does this TV stand intrigue your modern soul? You should create it immediately. Since the furniture is made out of wooden boards and pipelines, it is certainly durable. The open shelves are ideal homes for entertainment units.
16. How to Build a TV Stand Out of Plywood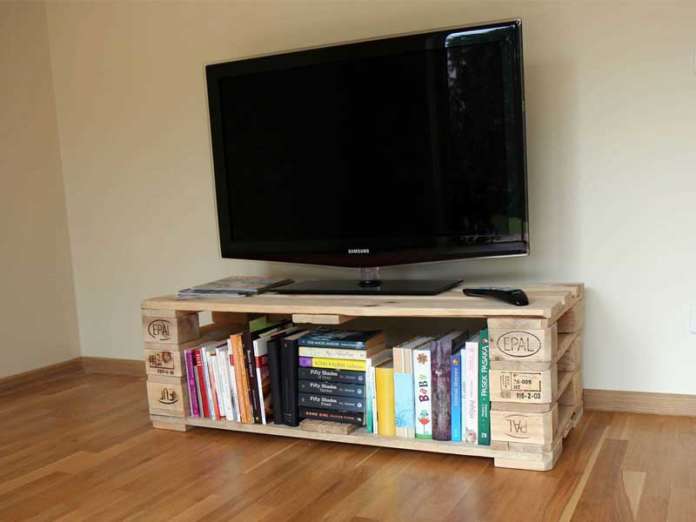 Do you want to inject rustic charm into your room? Steal this idea. The TV stand is crafted out of blonde patterned wood pallets. Along with floor and walls, it generates a soothing effect.
17. Simple DIY TV Stand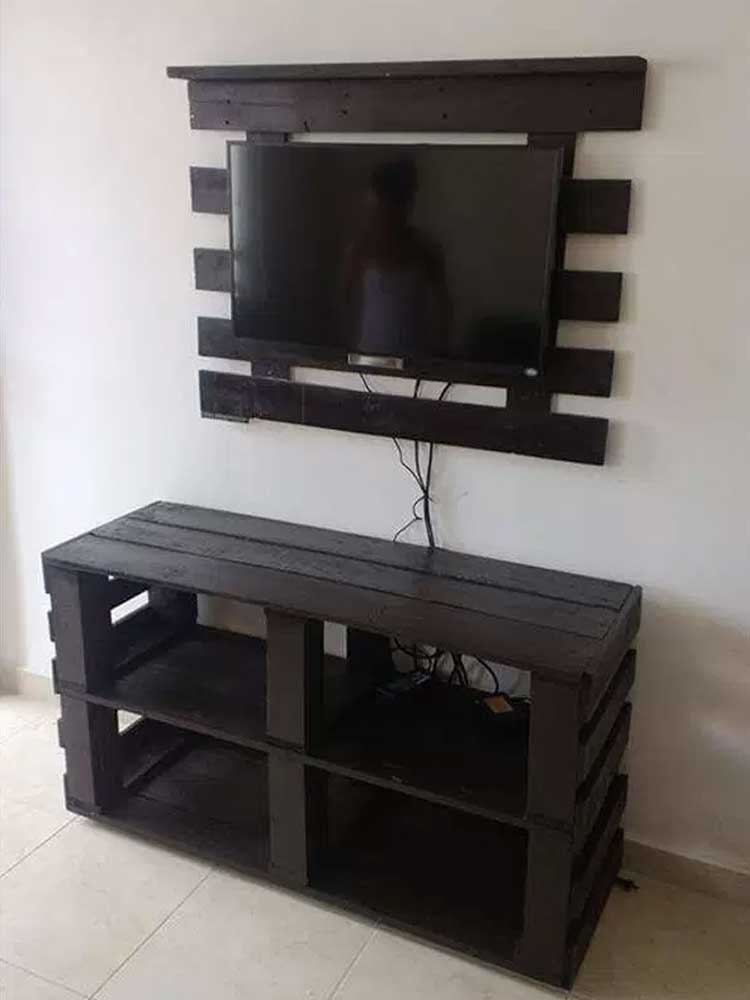 As seen in the image, the TV stand employs a black pallet board and game rack. They instantly add drama and elegance to space. White backdrop lets them stand out even more.
18. 2×4 TV Stand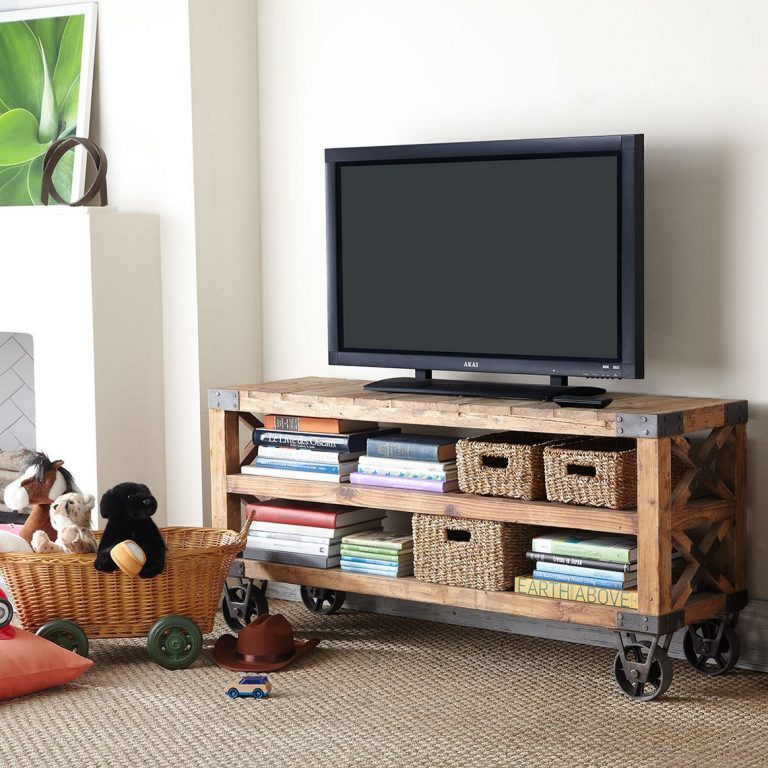 Well, this TV stand might look rustic, but it is so functional, thanks to the wheels. The photo albums, seagrass baskets, and a stereo set are neatly displayed in the racks. Meanwhile, the rolling rattan basket provides extra storage.
19. DIY Entertainment Center

The industrial TV console includes dark-toned wood supporting boards and metal pipelines. Since it sits on casters, you can easily move it from one place to another. Lastly, the decorative pieces make it more impressive.
20. Pallet TV Stand Pinterest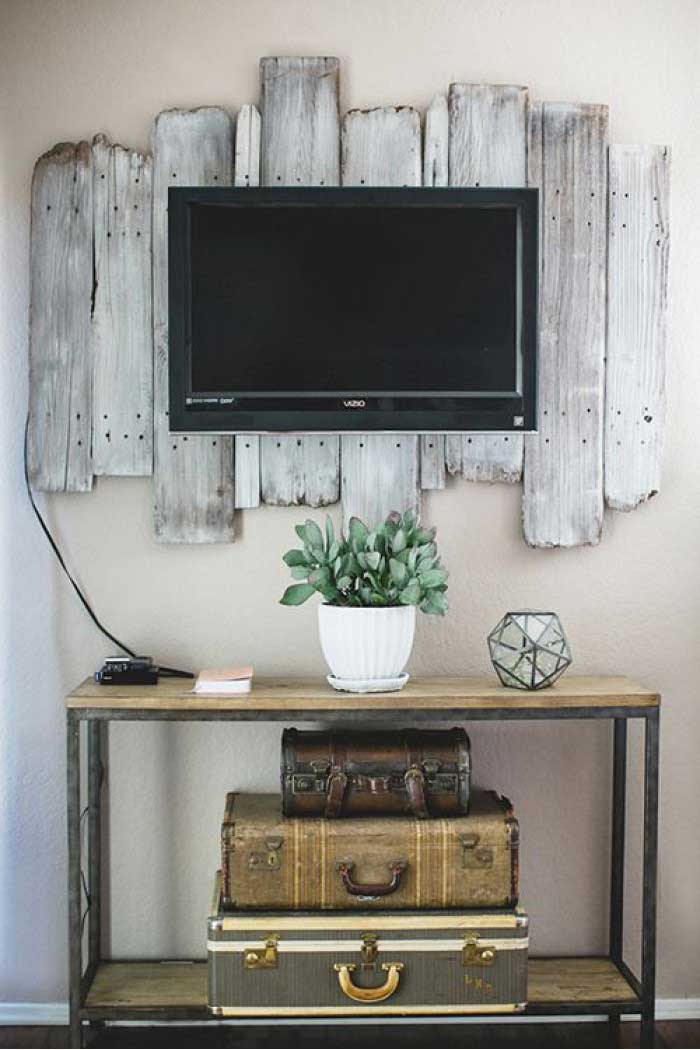 The homeowner smartly turned scruffy whitewashed pallets, wood boards, and pipelines into a magnificent TV table. Three old suitcases lift the retro vibe. Meanwhile, potted indoor plant adds life and color to the room.
21. How to Mount a TV Stand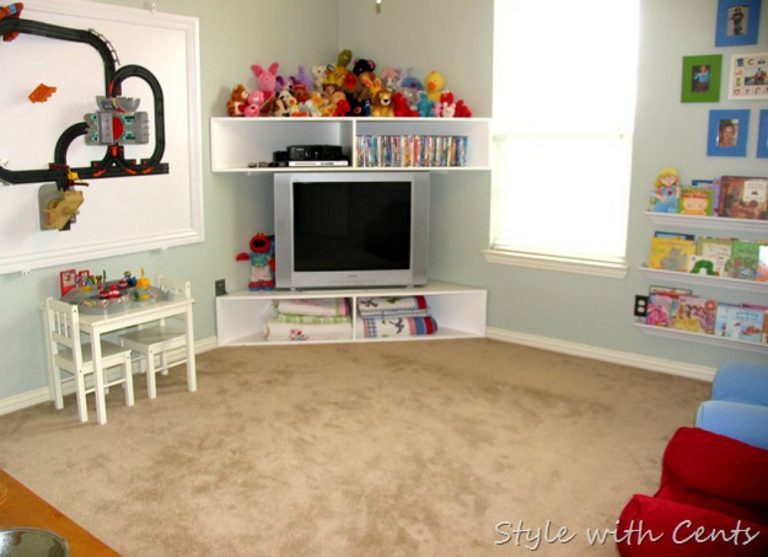 If you are short on space, every square inch surely does matter. So, why do you not build a corner TV stand? The TV is nicely mounted in the corner of kids' playroom.
Moreover, the racks keep DVD collection, plush toys, and blankets in place. Your children can watch cartoons and play with toys without cluttering the space.
22. DIY TV Stand Out of Pallets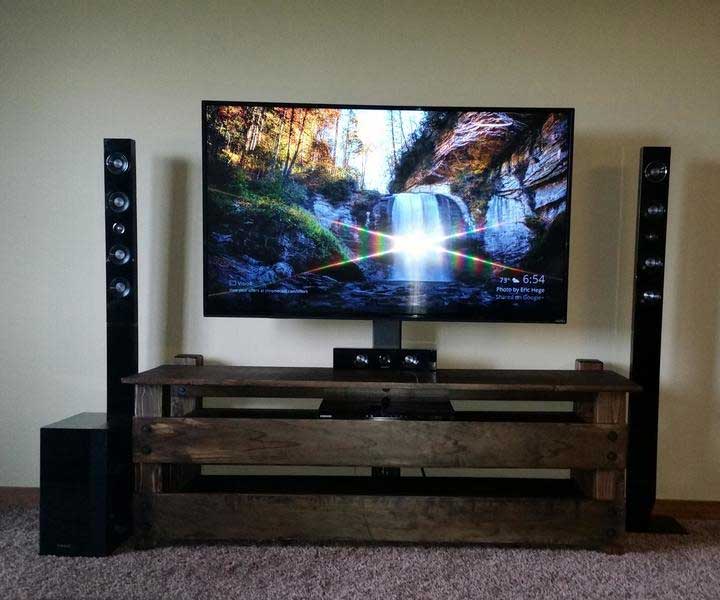 Unlike the previous TV stands, this one does not boast shelves. Not to mention, it has a classic design and rustic flair.
You can create the TV stand using stained wood pallets. Moreover, you need to prepare wood glue, nails, and screws. I guarantee the project is like a piece of cake.
There you have it, a host of DIY TV stand ideas. Whether you love something modern or traditional, make sure your TV console is sturdy enough. That way, it can hold the TV, entertainment stuff, and decorations without wobbling.