A superb sound system is nothing without speaker stand. That furniture improves your speaker's sound quality and makes it stay away from anything harmful.
Are you crafty enough? Look at these DIY speaker stands.
Creating a speaker stand by you is an awesome idea. Not only is it easy to construct, but also affordable and completely original. You can use the money to buy a better speaker system too.
1. DIY PVC Speaker Stand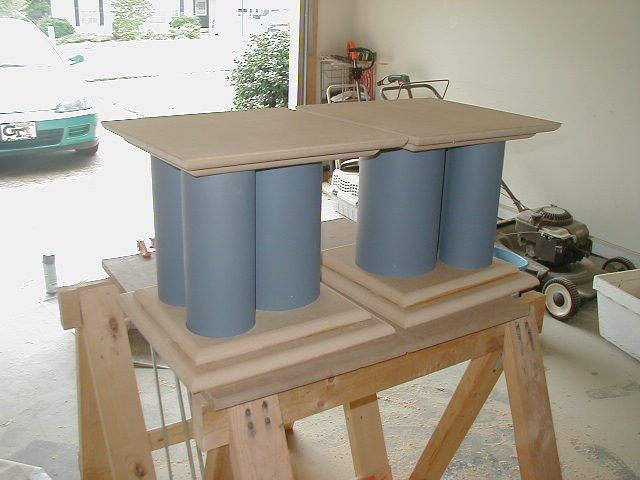 Do you have two speakers at home? Make a speaker stand out of wooden boards and PVC tubes. Even though PVC is a cheap material, it can sturdily support your speakers.
2. Speaker Stands Wood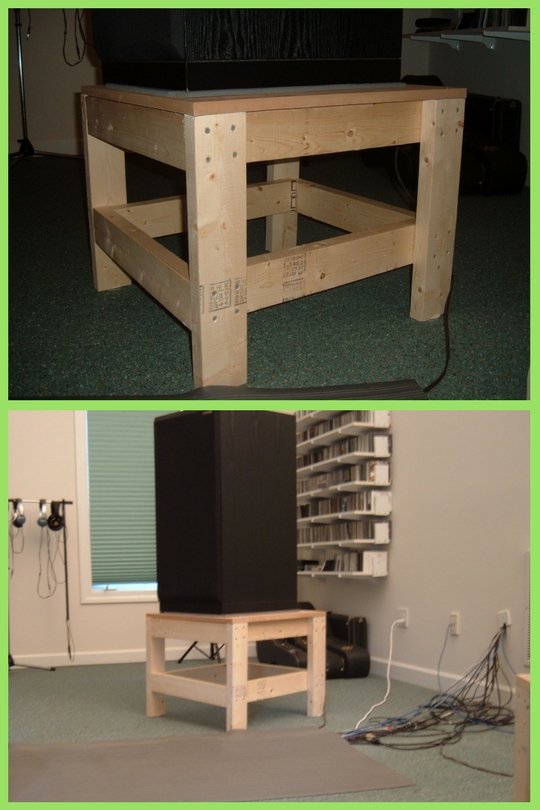 In this case, the bare wood crate works as a speaker stand. It brings a rustic aesthetic to the room in a flash. Please note that the bigger your speaker is, the shorter the stand should be.
3. Ideas for Speaker Stands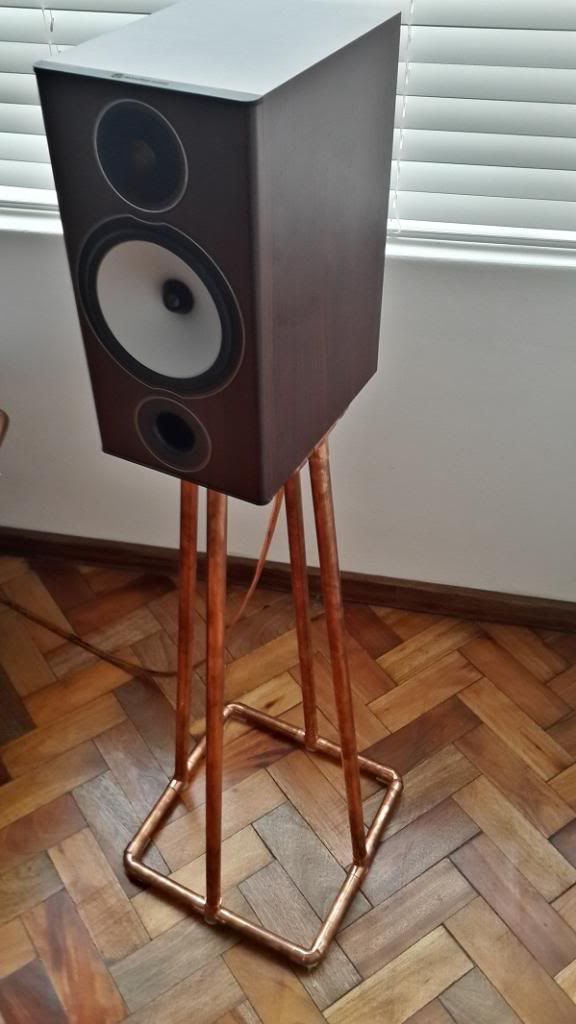 Turn ignored copper pipes into an attractive speaker stand. You do not have to worry since it provides a strong foundation for your speaker. Along with the wood floor, it exhibits a warm ambiance.
4. DIY Surround Sound Speaker Stands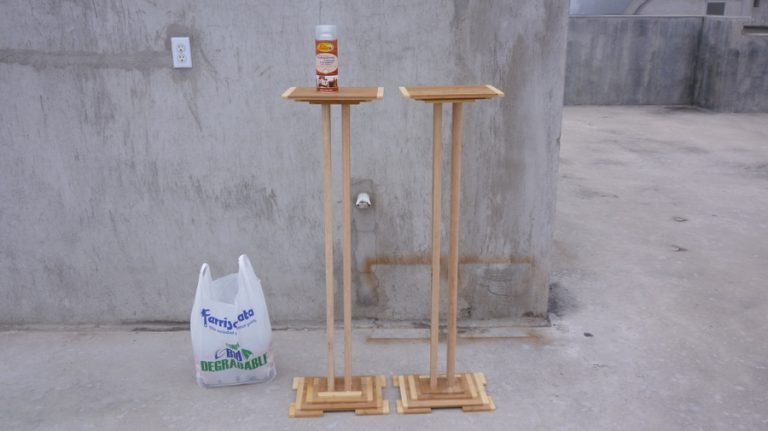 To build these surround sound speaker stands, you need unfinished wooden boards, nails, straightened woods, woodworking tools, and glue. The boards will be the bottom parts and tops of the speaker stands.
5. DIY Speaker Stands IKEA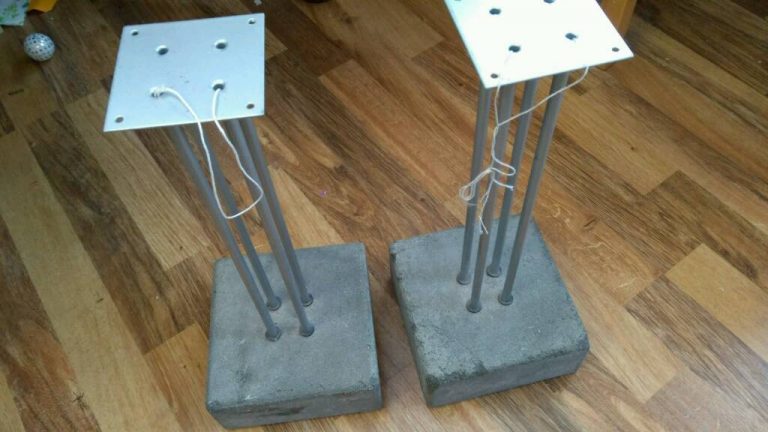 Show off your cool speakers on these DIY stands inspired by IKEA. They are constructed out of concrete, wires, metal board, and pipes. In no time, they add industrial charm to any space of your home.
6. Plywood Speaker Stands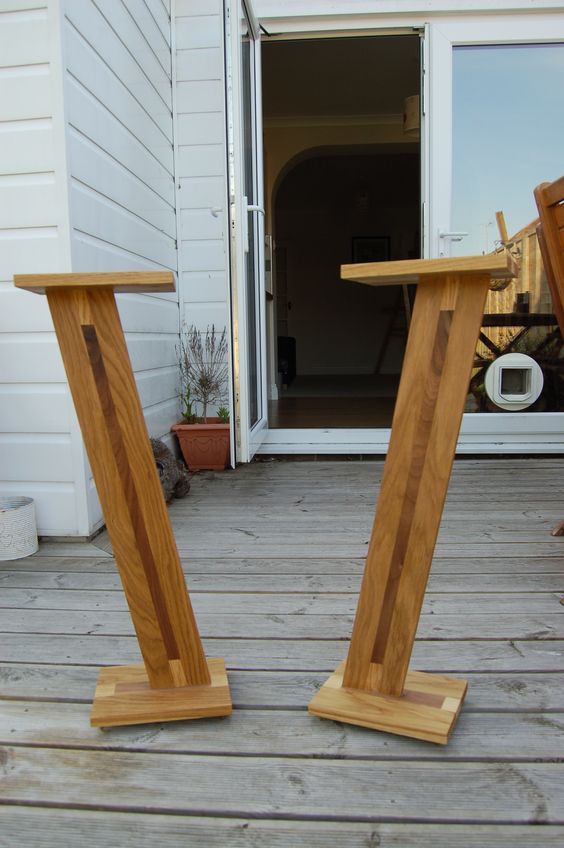 If you find a straight speaker stands too boring, these captivate your heart. They are crafted from varnished plywood. Since they come in Z shapes, they convey a sense of uniqueness.
7. Bookshelf Speaker Stands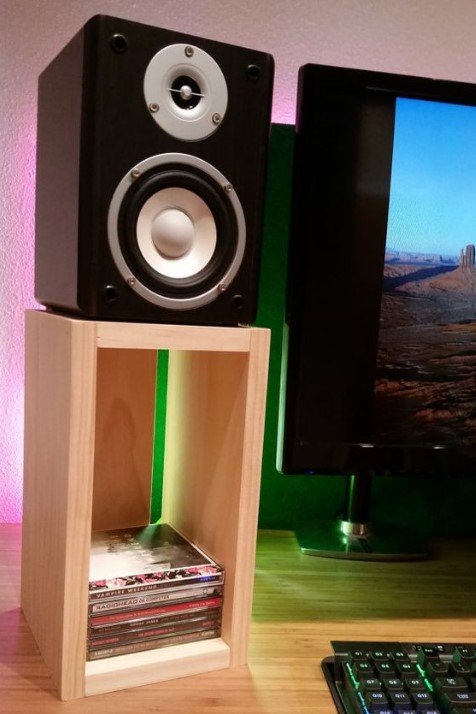 This unpainted wood speaker stand is truly multifunctional. It doubles as a bookshelf to keep your favorite books in place. Moreover, it delivers a modern feel to the space.
8. DIY Sand Filled Speaker Stands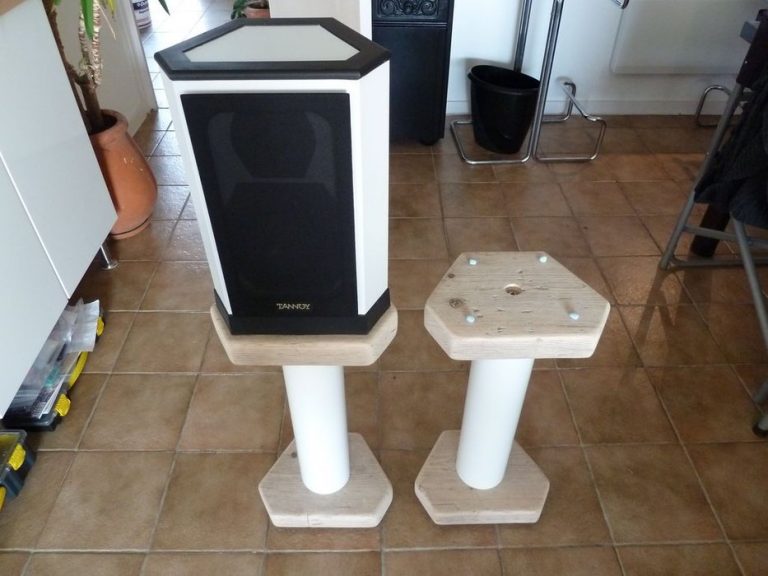 As seen in the picture, those two DIY speakers' stands are one of a kind. To make them, you must fill the white PVC tubes with sand first. Then, position them between thick wood boards.
9. Wooden Speaker Stand Designs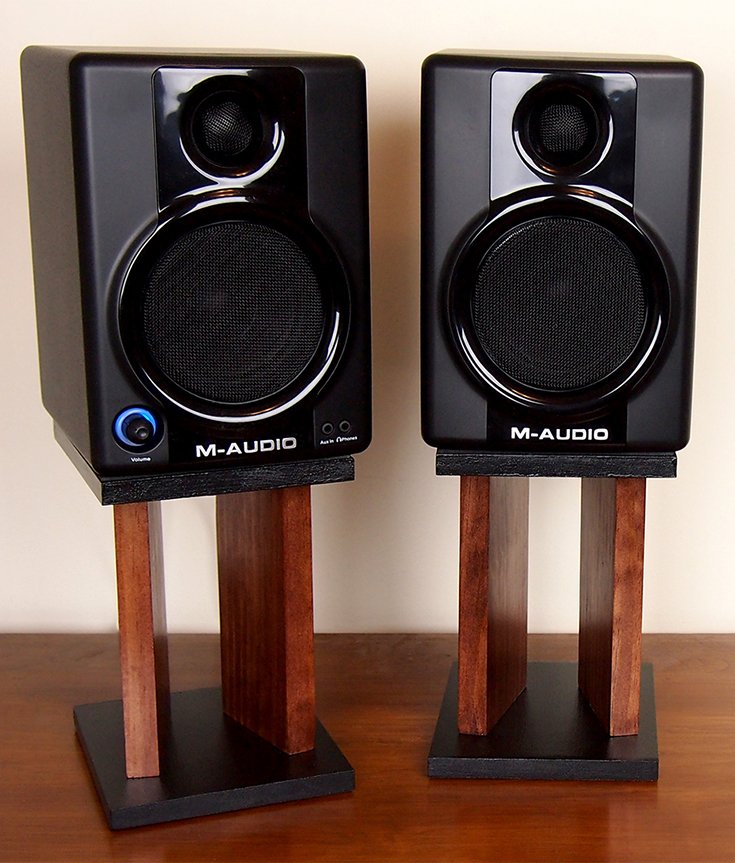 Do you have compact speakers? If yes, try this idea. All you need to construct those classy speaker stands are glue, black wooden boards, and varnished straight woods.
10. Cheap Speaker Stands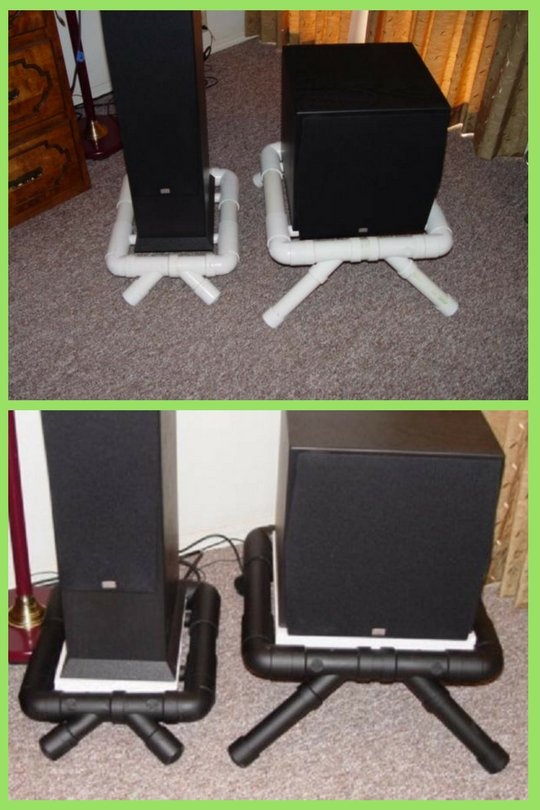 Pictured here are handmade speaker stands crafted out of ABS pipes. You have to measure the dimension of your speaker stands thoroughly. That way, they will be stable while housing the speakers.
11. DIY Speaker Platform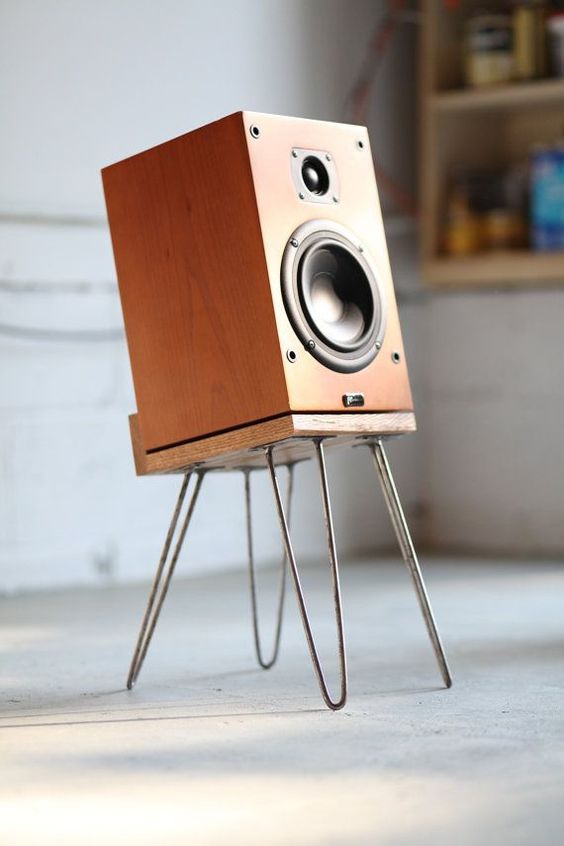 This darling tiny stand is perfect for your small speaker. The platform is created using wooden pieces and blocks. Meanwhile, the hairpin metal legs carry a minimalist vibe to the room.
12. DIY Speaker Stands for Large Speakers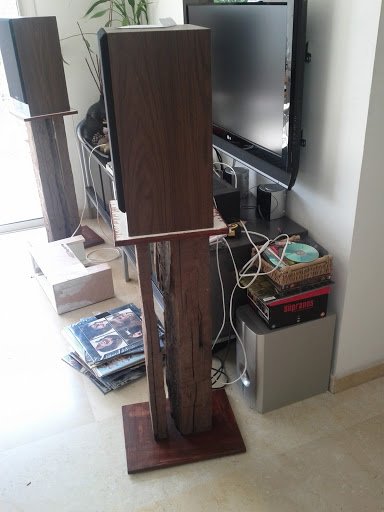 If rustic design is right up your alley, you should construct speaker stands using dark-toned woods and tree trunks. Place them in your media room to bring the outdoors indoor.
13. DIY Speaker Stands Reddit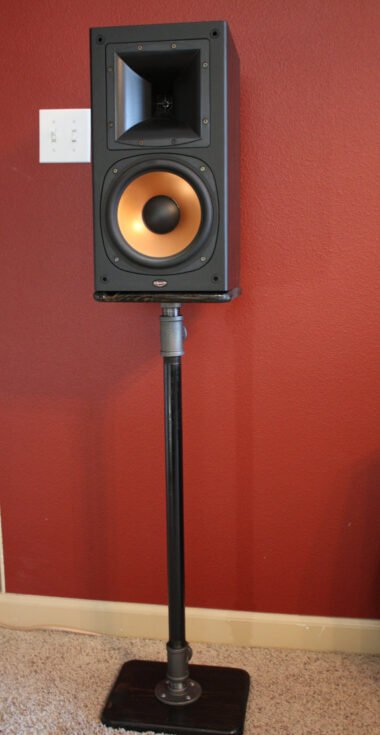 In this image, the DIY black metal pipe stand holds a heavy speaker. It looks fabulous against the dark amber wall. You can also add electrical wires to the pipes.
14. DIY Weighted Speaker Stands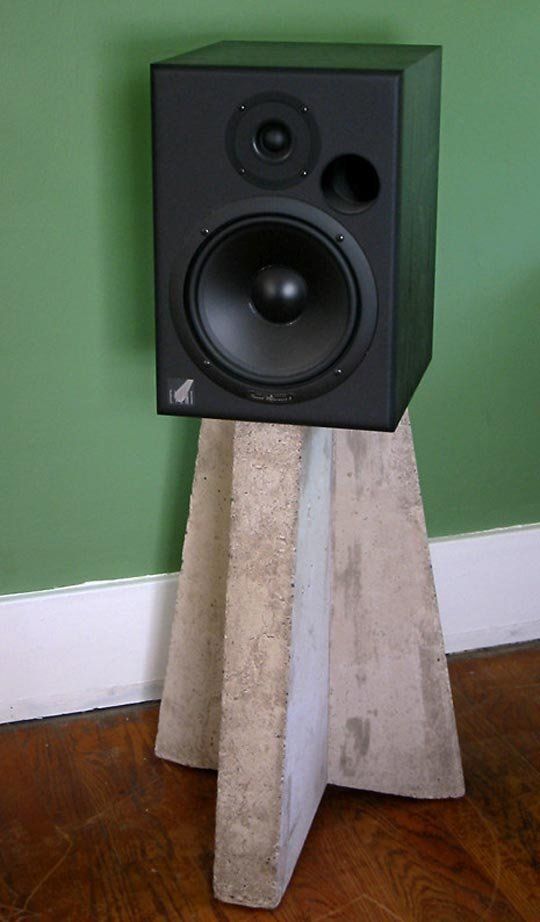 This concrete speaker stand looks rustic but fantastic. To shape it, you must prepare a wooden mold. Put a black speaker on top of the light gray stand for a lovely contrast.
15. Solid Wood Speaker Stands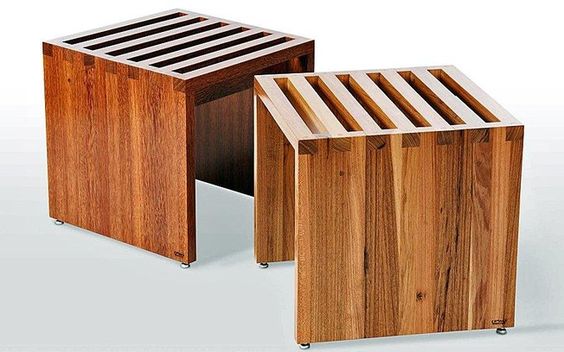 Here are two stylish solid wood speaker stands. They convey a feeling of airiness. The metal accents lend the stands an industrial twist.
16. DIY Desktop Speaker Stands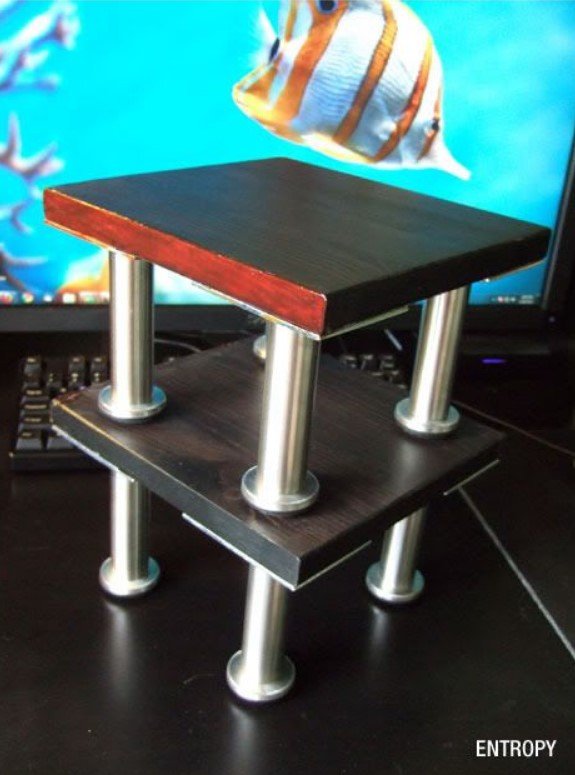 Unquestionably, this desktop speaker stand is a nice fit for your media console. Not to mention, a combination of dark wooden chopping boards and metallic pipes is beyond mesmerizing.
17. Decorative Speaker Stands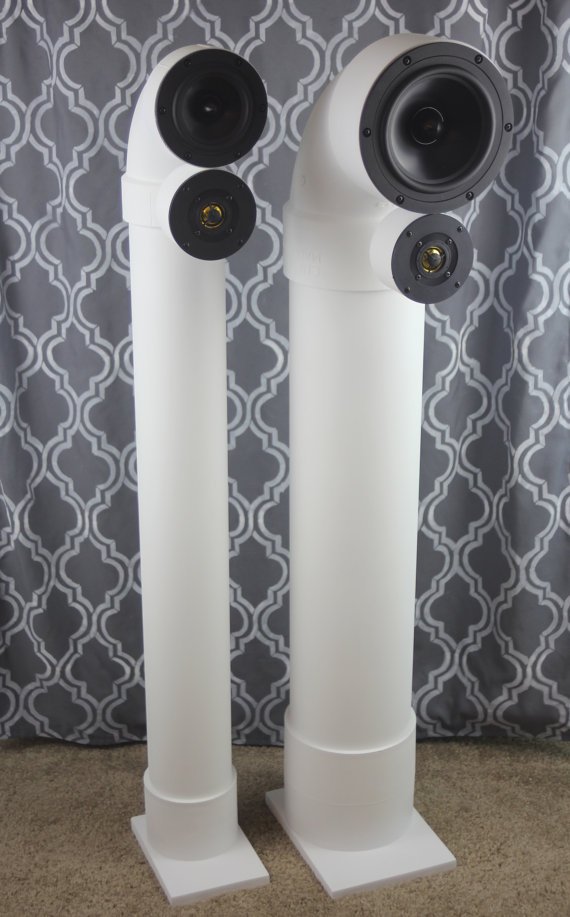 Do you want to keep your room clutter-free? Build the DIY stands out of white PVC pipes in different sizes. After that, integrate your speakers into the speakers. Now, you have periscope-like speaker holders.
18. DIY Audiophile Speaker Stands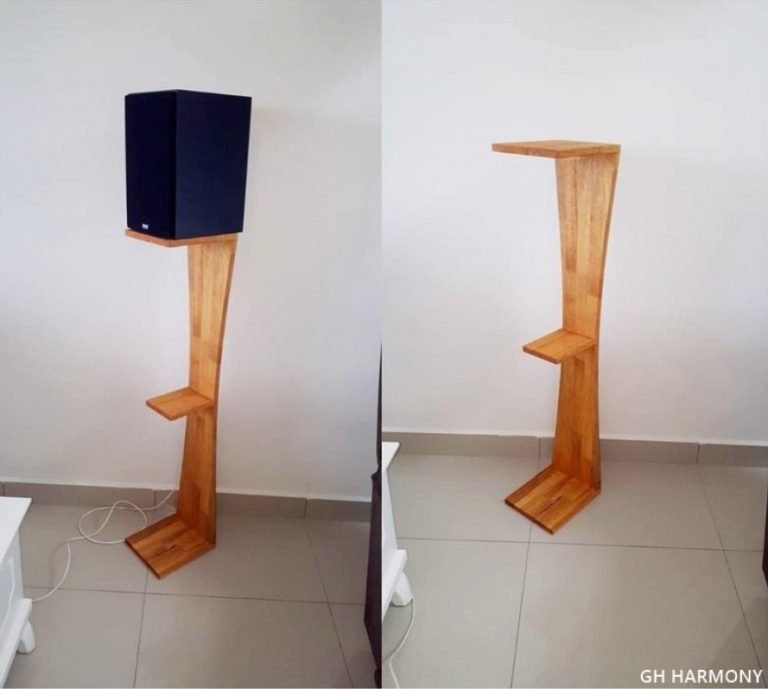 Are you an audiophile? If yes, this multifunctional speaker stand is certainly for you. It serves as a stand and a rack at the same time. Be sure you place it near the wall. Therefore, it can stand up well.
19. Hanging Speaker Stands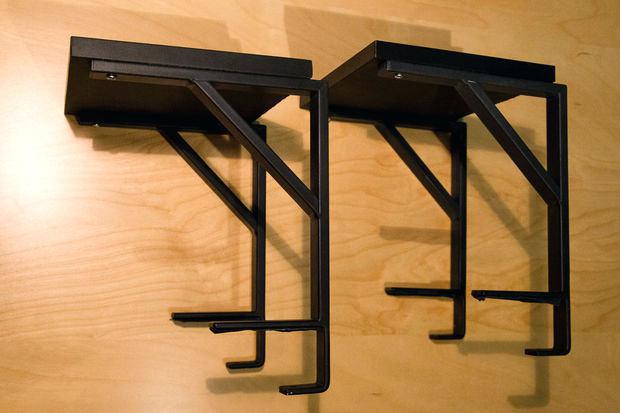 Do you have limited space? It is no problem. These black wall-mounted speaker stands make a big statement without taking up floor space. They are such a hot contrast to the wooden backdrop.
20. 12 Inch Speaker Stands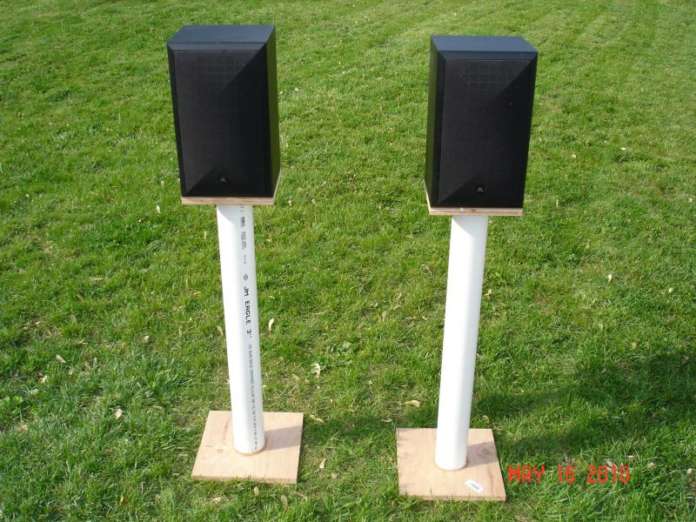 For you who are going to throw an outdoor party, you can use these slender speaker stands. You just need sand-filled white PVC tubes and bare wood boards.
21. Speaker Stand Design Plans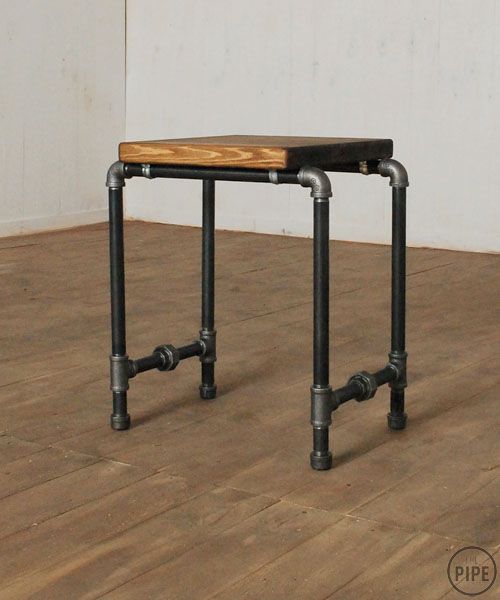 This handmade speaker-stand teams well with the overall design of the room. To create the industrial stand, you must buy a wood board, silver rings, and black metal pipes.
22. Cinder Block Speaker Stand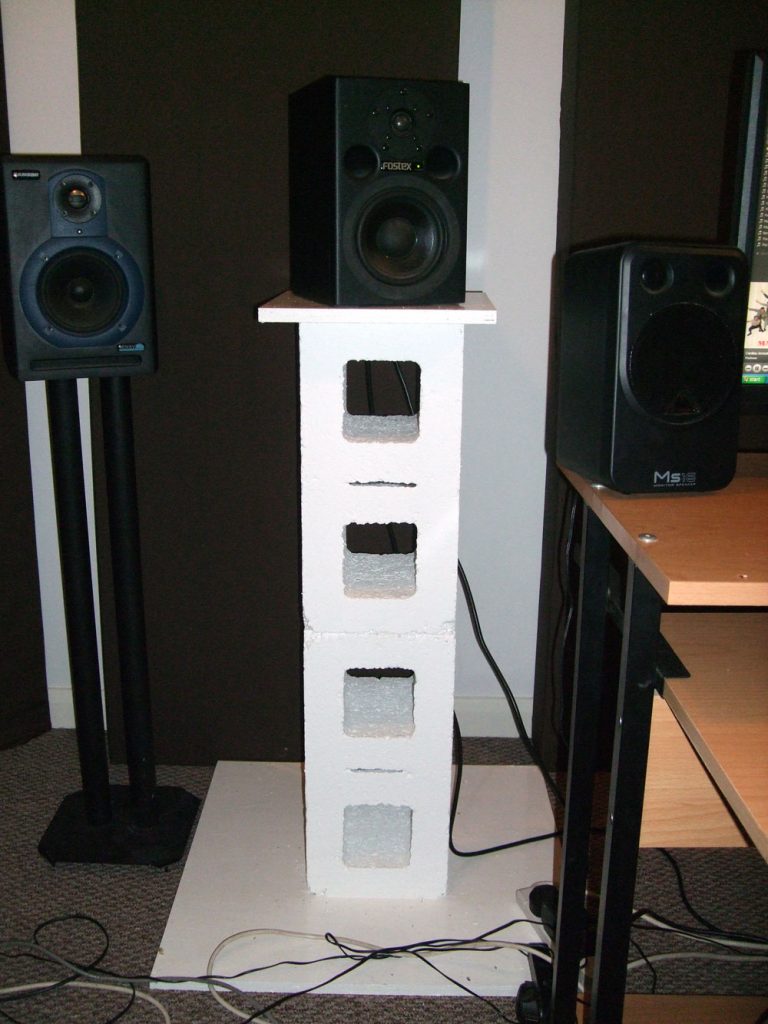 I know you want a speaker stand that is easy to make and sturdy. This stand is a great answer. Stack the white-painted cinder blocks, then use cement mortar to prevent the stand from falling.
23. Speaker Desk Stands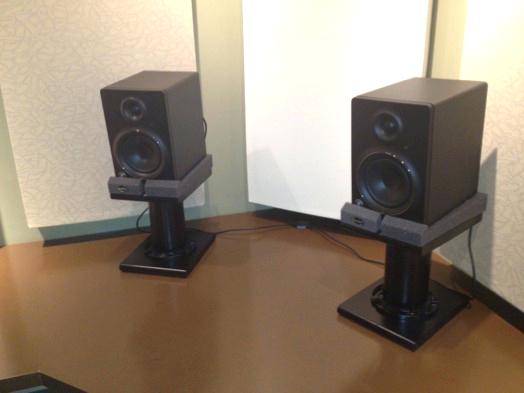 Many people love PVC speaker stand for a good reason. Not only is it long-lasting, but also economical. For the bottom and top parts, you can choose either metal boards or wooden ones.
24. DIY Portable Speaker Stands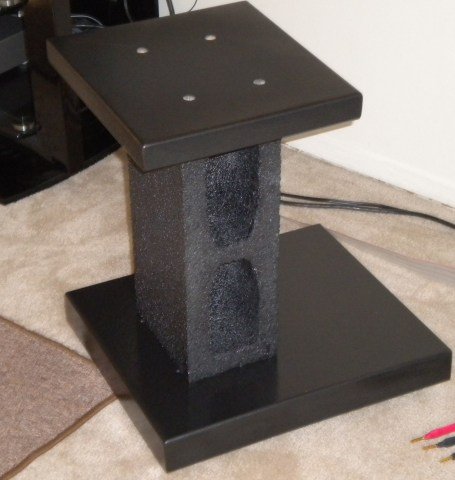 This speaker stand is portable because of its small size. It employs black-painted cinder blocks and wooden boards. Join the block with the board using some nails.
25. Wooden Two-Column Speaker Stands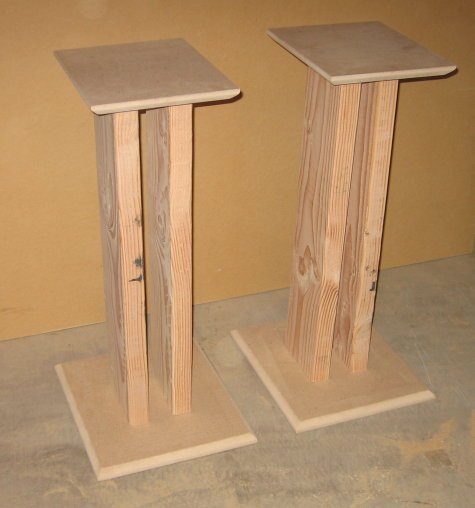 Here, a twin stereo speaker stand blends in completely with the room. Both the platform and base are built from pieces of blonde wood for a rustic appearance.
26. What to Put under Speakers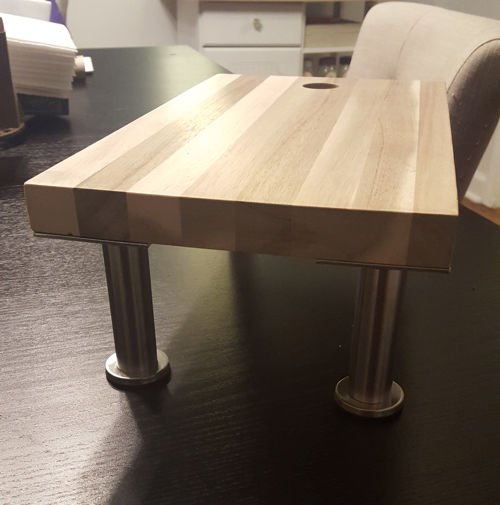 You need this stand to accompany your desktop speaker. The unvarnished wood is placed atop four short metal pipes. What a charming speaker stand!
I hope that the roundup of DIY speaker stands above can give you an inspiration for your weekend project. Choose one design that goes perfectly with your speaker. Happy DIY-ing!