Whether you are a plant aficionado or an avid gardener, you definitely cannot get enough of potted greenery. No matter how amazing your plants are, they need a pretty stand. That is why I assembled these DIY plant stand ideas.
Here, you will find plant stands in various styles, finishes, and shapes. From copper plant stand to the polished concrete one, there must be one idea that intrigues your crafting soul.
1. Dowel Plant Stand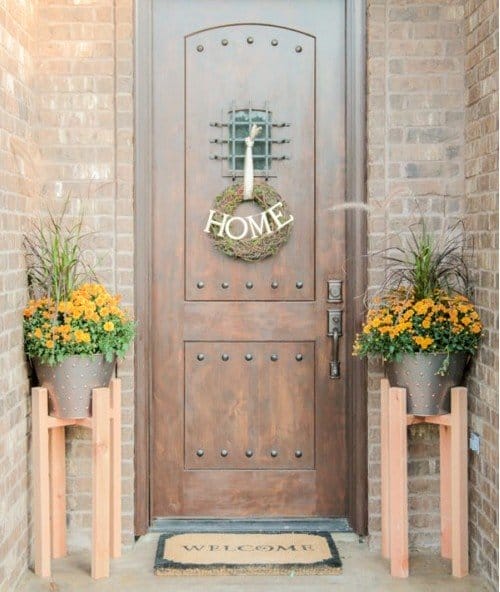 Those two wood dowel plant stands are simple yet fabulous. Along with brick walls, they carve an inviting atmosphere and a rustic vibe.
2. DIY Tall Indoor Plant Stand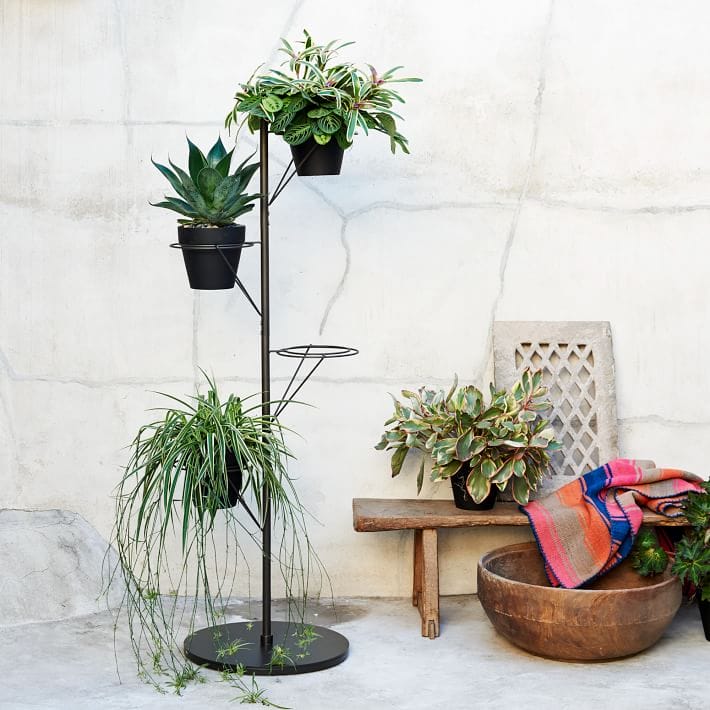 The tall black pole stand can hold up to four houseplants. More importantly, it does not take up much floor space.
3. How to Make a Metal Plant Stand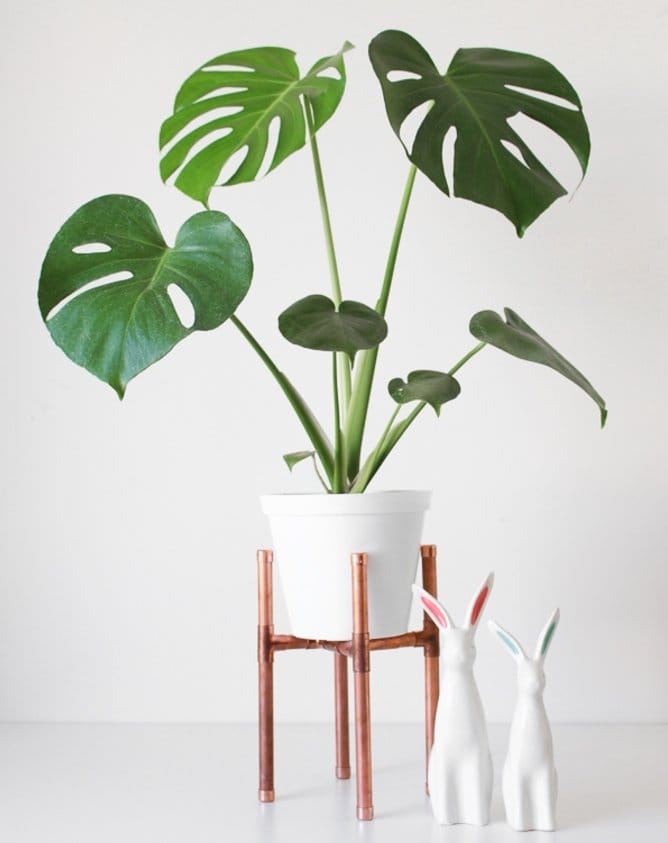 This plant stand is stunning, right? To make it, you need to glue the copper pipelines together. It gives any room a modern feel.
4. DIY Wood Plant Stand Plans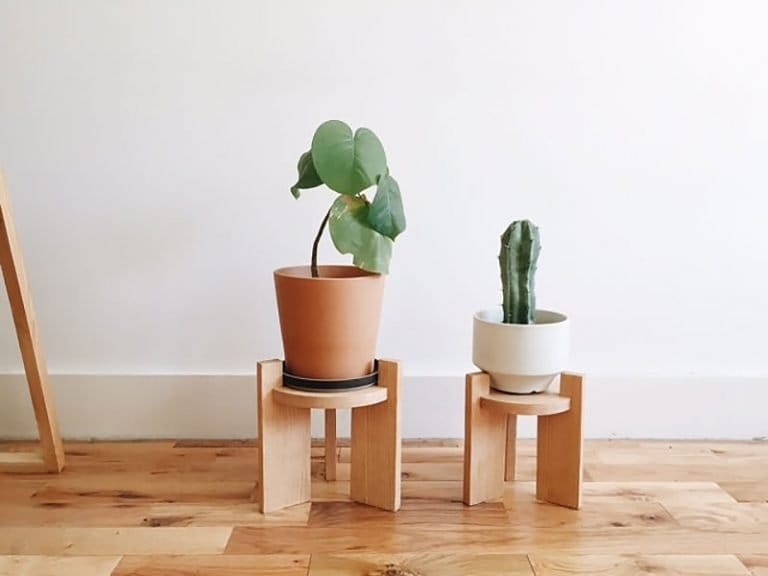 The homeowner built a plant stands out of oak wood. They are minimal but striking. Not to mention, they embrace nature's rawness.
5. DIY Tiered Plant Stand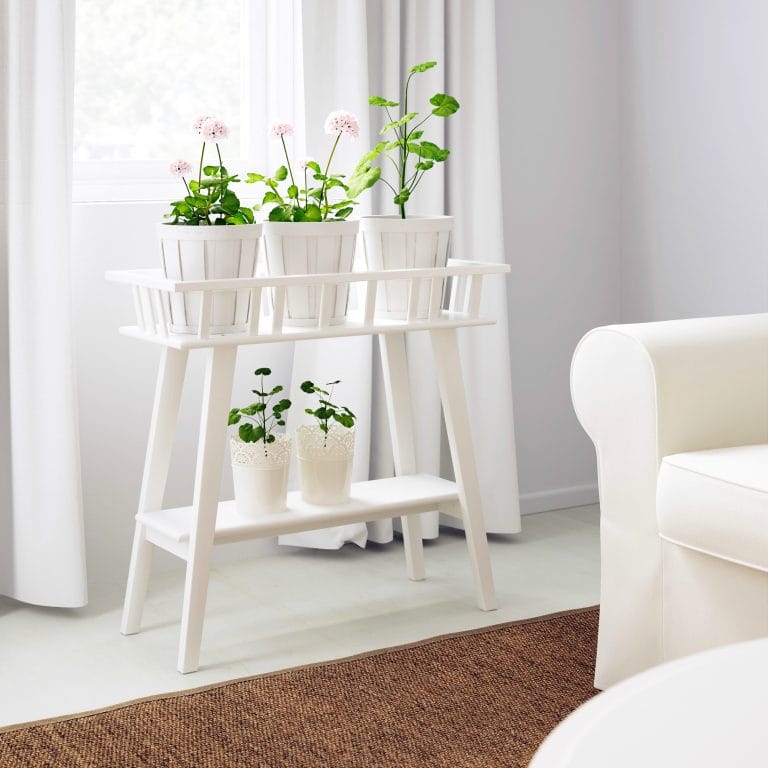 The two-tiered plant stand replaces the side table. It is strong enough to accommodate medium and large-sized houseplants.
6. A Beautiful Mess Plant Stand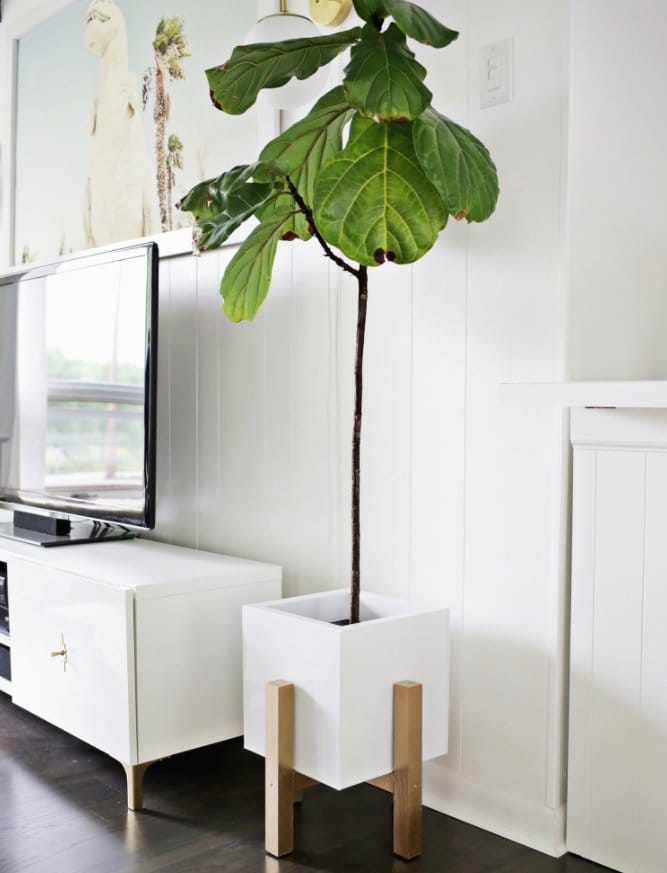 Do you love this glorious plant stand inspired by A Beautiful Mess? I do, too. It asserts a sense of luxury and adds a mid-century modern vibe to space.
7. DIY Plant Stand Plans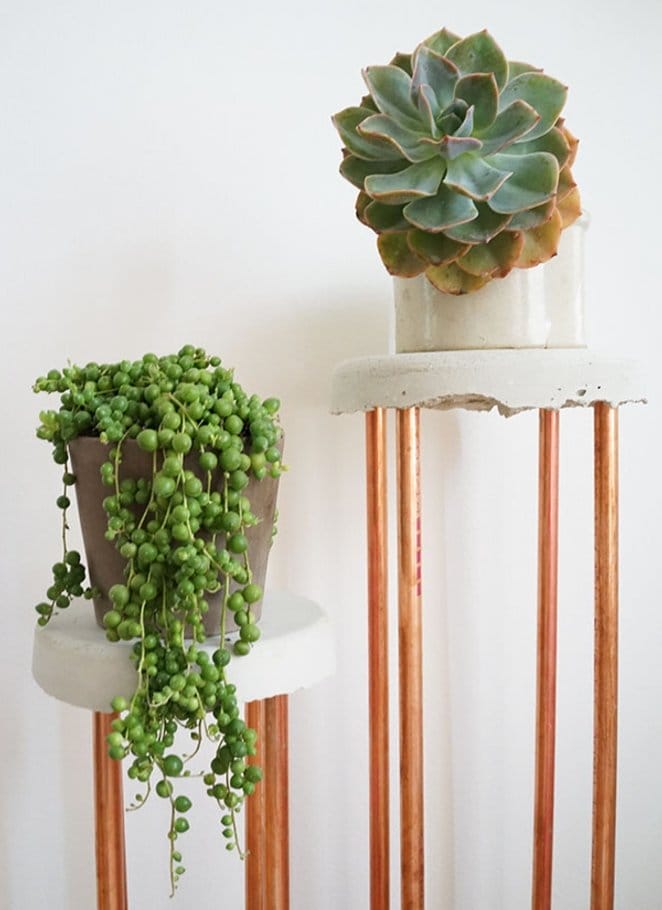 As you can see, the plant stands feature concrete tops and copper legs. They deliver industrial charm to the room.
8. Creative Indoor Plant Stand Ideas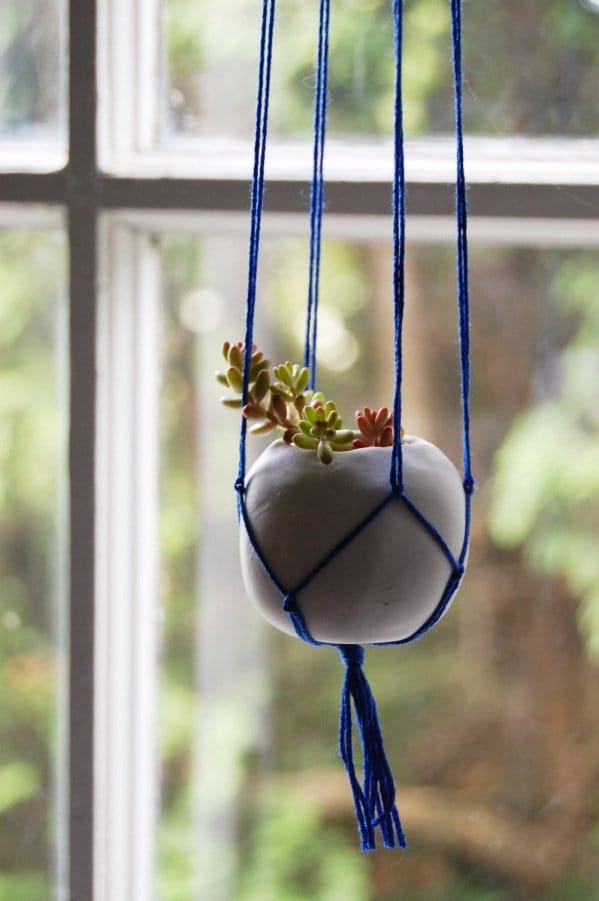 Do you have limited space? Fret not. Grow your succulent in a clay pot. Then, use a blue rope to support the potted plant. Lastly, hang it from the ceiling.
9. How to Make Stand for Plants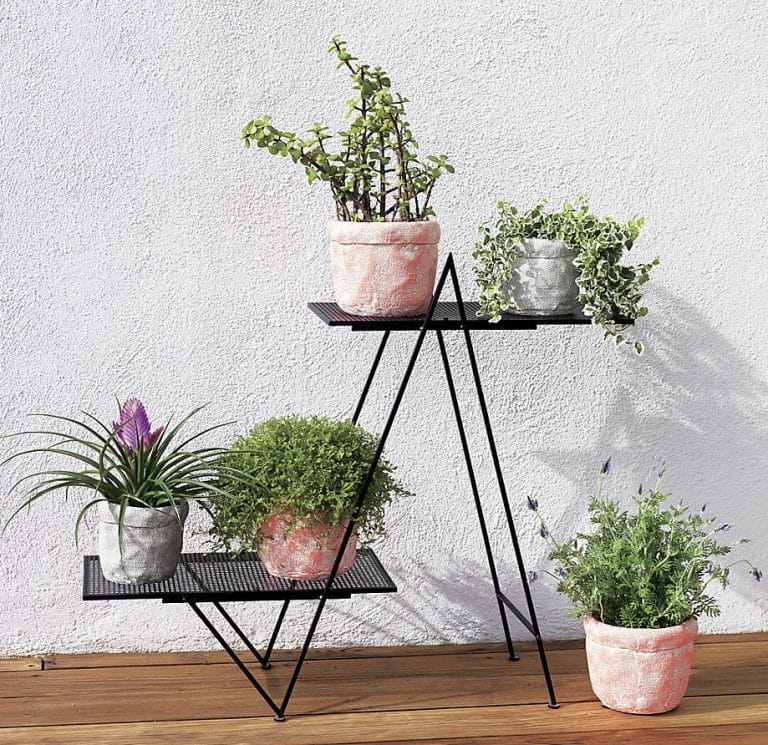 This angled metal plant stand is a perfect addition to your porch. It delightfully houses four medium potted plants.
10. How to Make Modern Plant Stand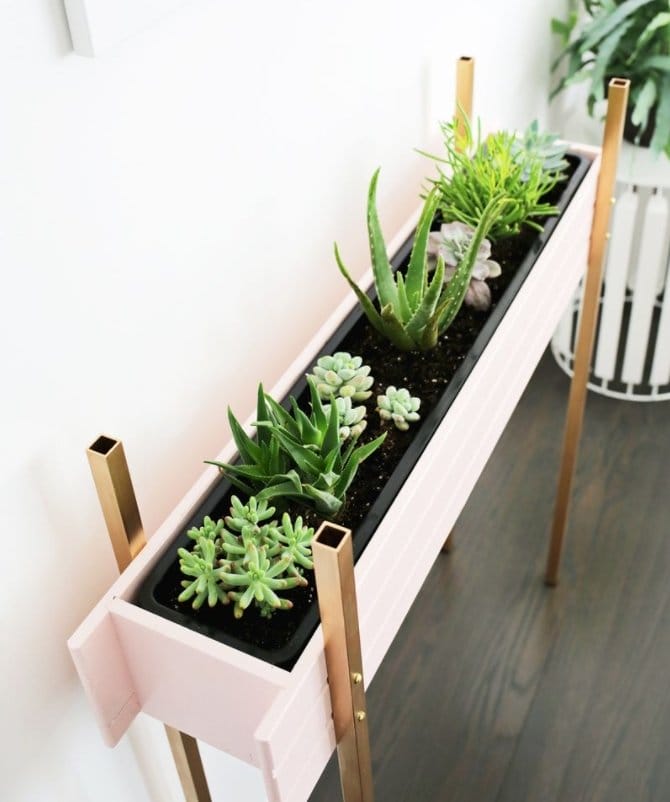 Are you into something modern? Create this plant stand at home. All you need are a pale pink container, screws, and golden legs.
11. DIY Wire Plant Stand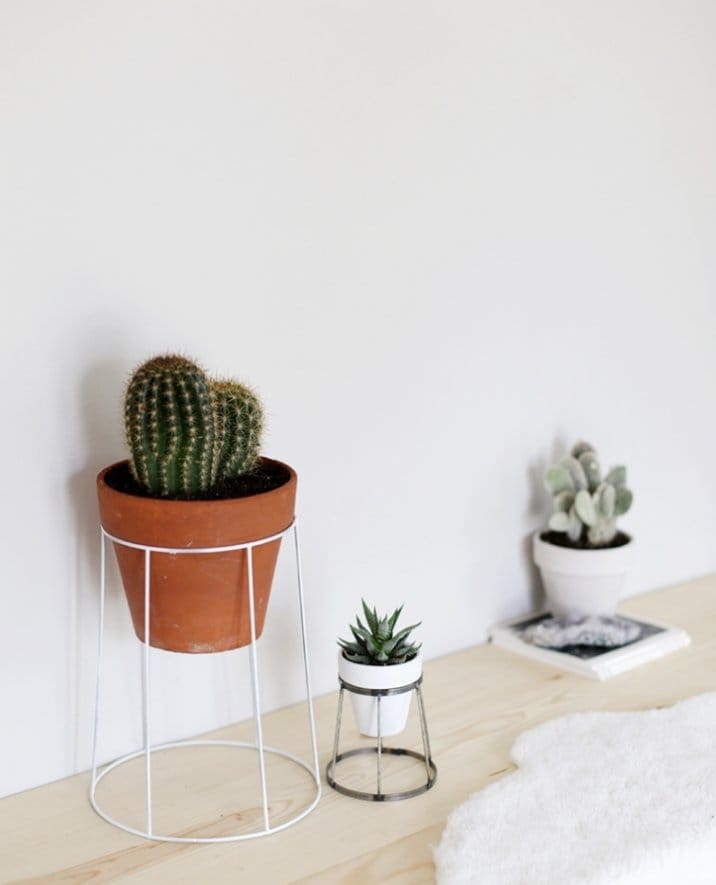 The wire plant stands are unpretentious. They allow your indoor plants to be the focus of attention. Additionally, they convey a sense of modernity.
12. DIY Outdoor Plant Stand Ideas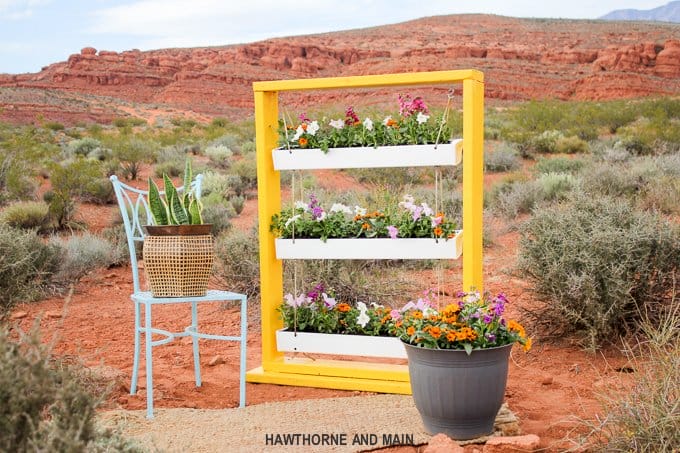 You fall in love with this outdoor plant stand. It employs a yellow frame and white gutters. To hang the plants, you can use either some rope or clear wire.
13. DIY Plant Stand Instructions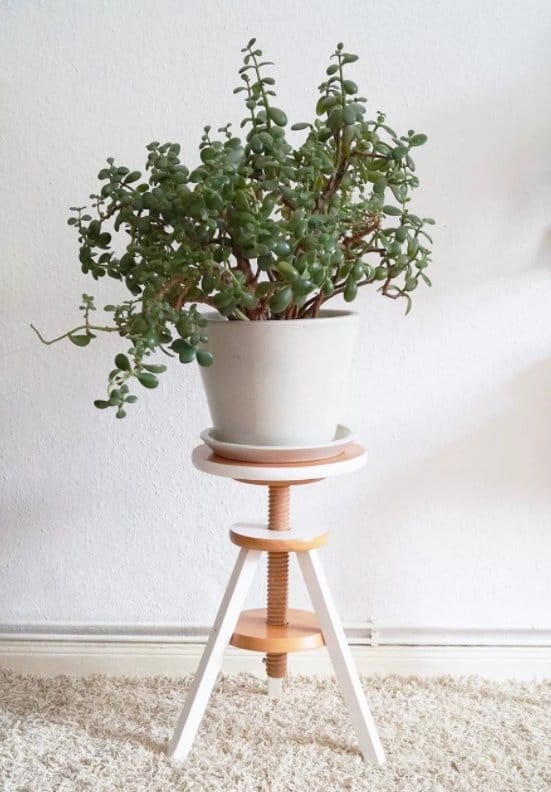 Convert your ignored piano stool into an attractive plant stand. Apply a fresh coat of paint on it. It is easy peasy, right?
14. DIY Ladder Plant Stand
Do you want to make a vertical garden in your kitchen? This ladder plant stand is exactly for you. You can mount the plants on each step.
15. Upcycled Plant Stand
I bet none of your neighbors has this plant stand, because the old drawer is what constructs it. The black and white contrast is truly appealing.
16. DIY Mid Century Plant Stand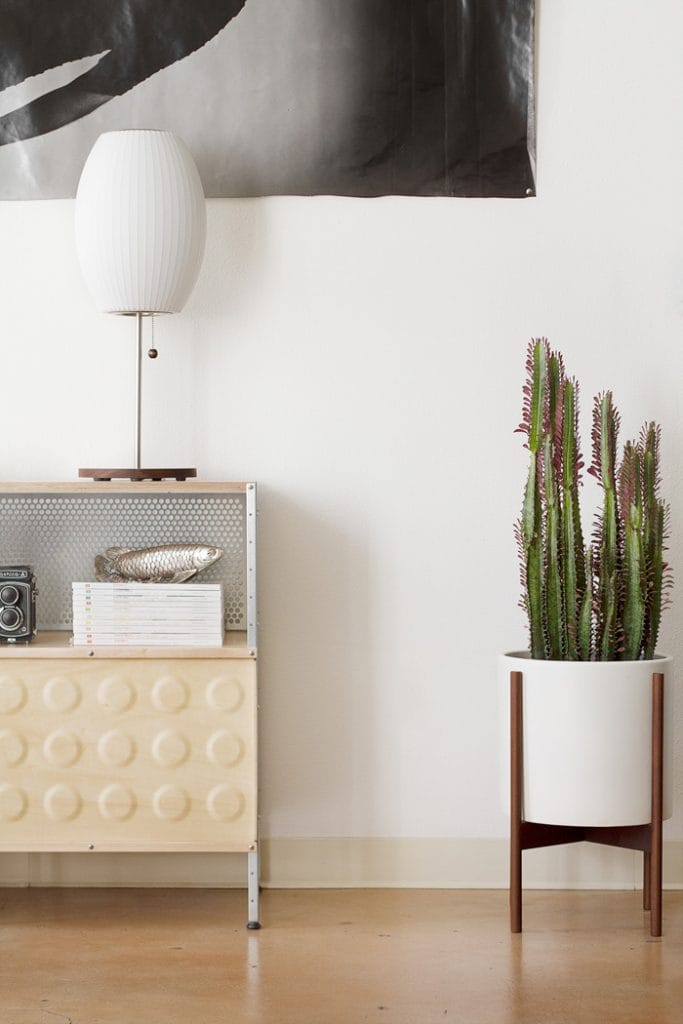 No doubt, this wooden DIY plant stand celebrates mid-century modern design. It calls attention to the white cylinder planter.
17. DIY Orchid Stand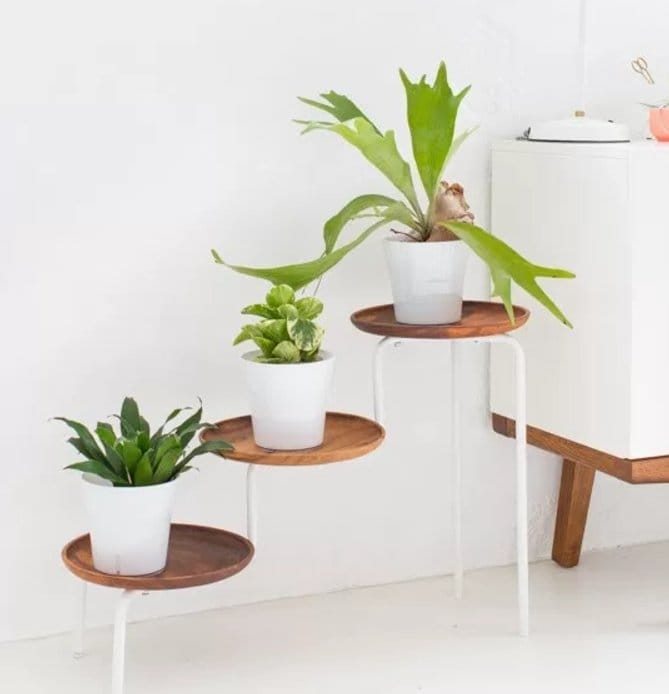 Even though this tiered orchid stand looks simple, it is beyond lovely. The wooden plates are atop white-painted metal legs.
18. Creative Uses for Plant Stands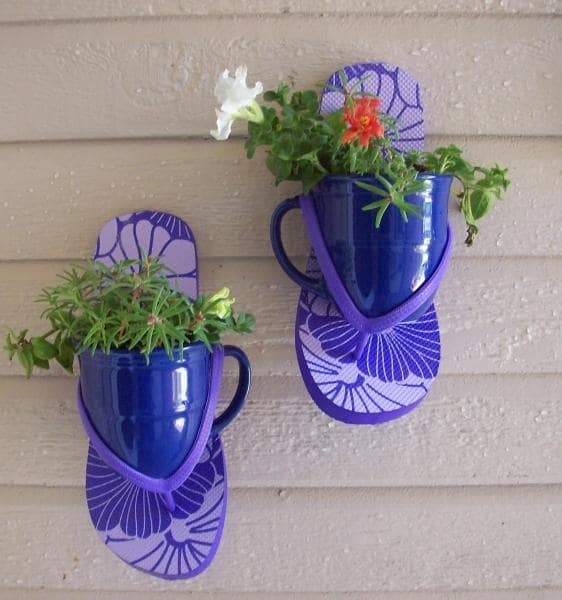 Why do you not turn sandals into plant stands? Their V parts support the blue mugs full of succulents. Moreover, they pop against the light gray exterior wall.
19. Outdoor Plant Stand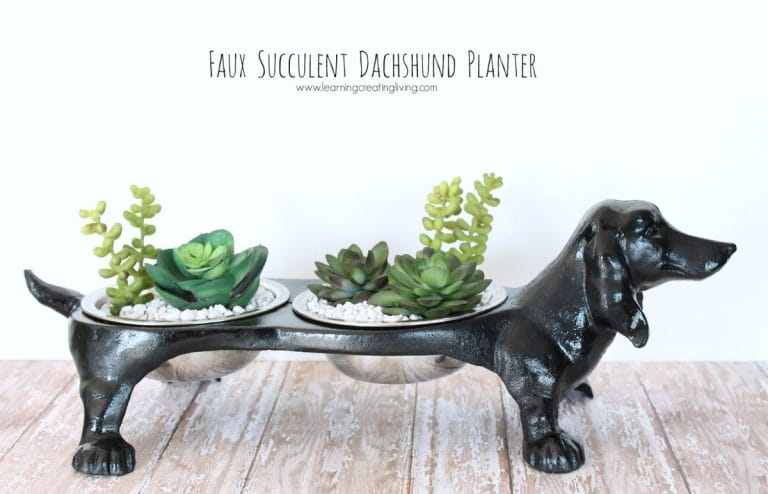 This Dachshund dog-shaped amazingly acts as a plant stand. It exudes the feeling of exclusivity. Place it near the seating area on your porch.
20. Plant Stand DIY Wood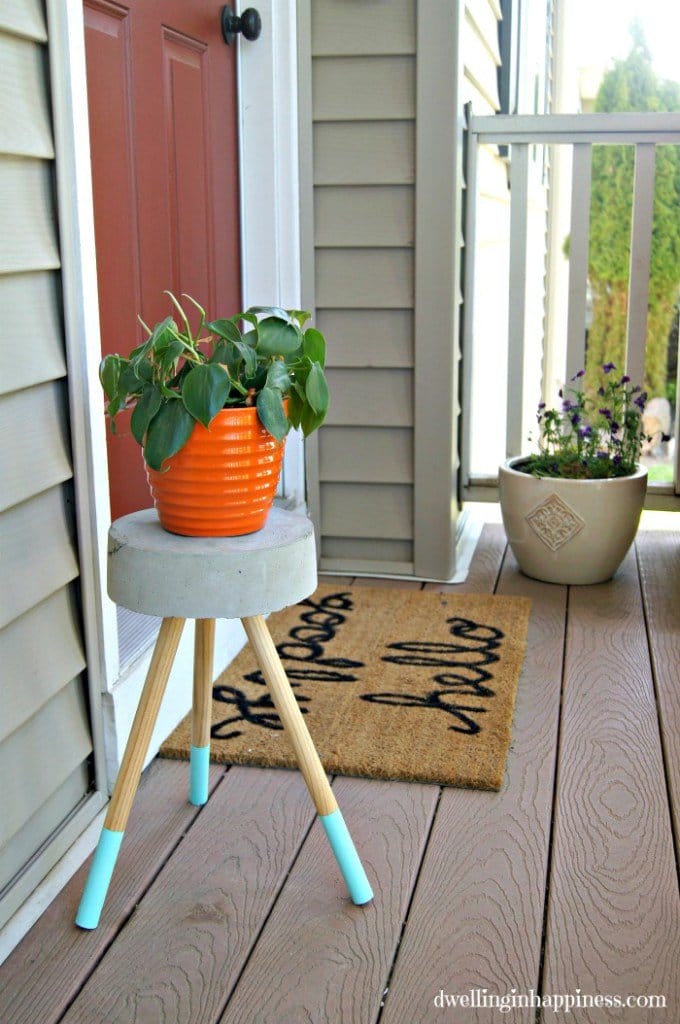 Pictured above is a three-legged plant stand. The hardened concrete tops the wooden base beautifully. Pops of blue and orange make the porch more eye-catching.
21. Unique Plant Stands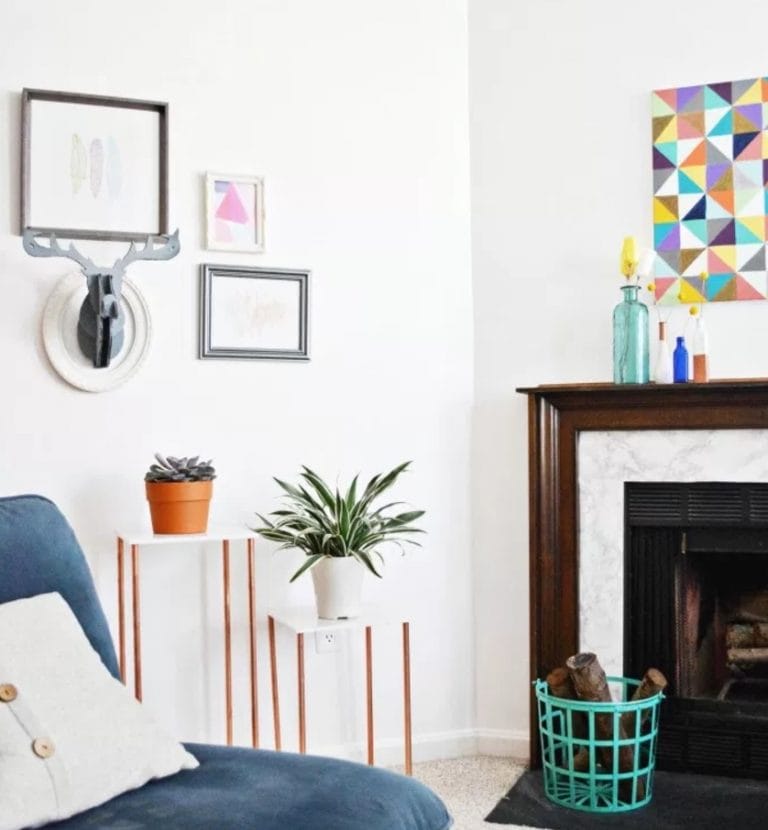 Those DIY plant stands boast marble tops and copper legs. They glamorize the living room in a split second, while the fireplace elicits a sense of intimacy.
22. 2×4 Plant Stand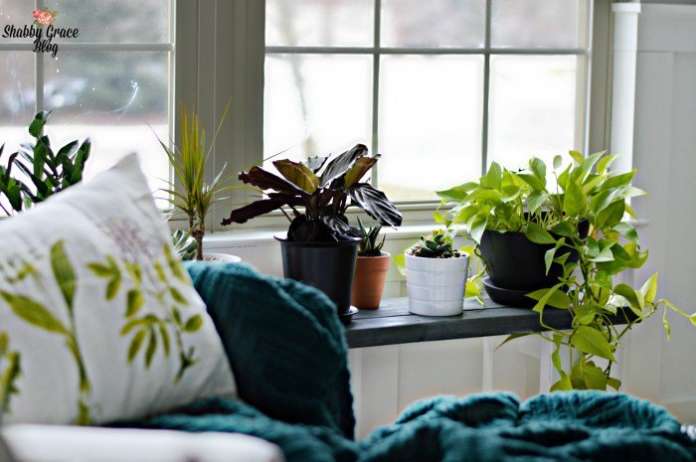 Some potted greenery sits on a black-painted wood bench plant stand. They fill the space and make the room smell fresh.
23. Outdoor Plant Stands for Multiple Plants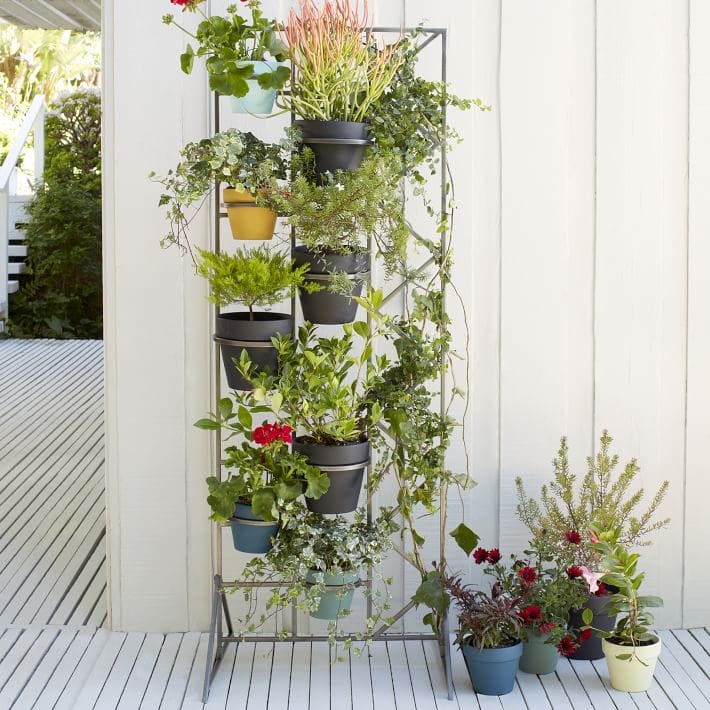 As you see, the freestanding metal screen works as a plant stand. It sturdily holds multiple potted plants. What a divine vertical garden!
24. DIY A Frame Plant Stand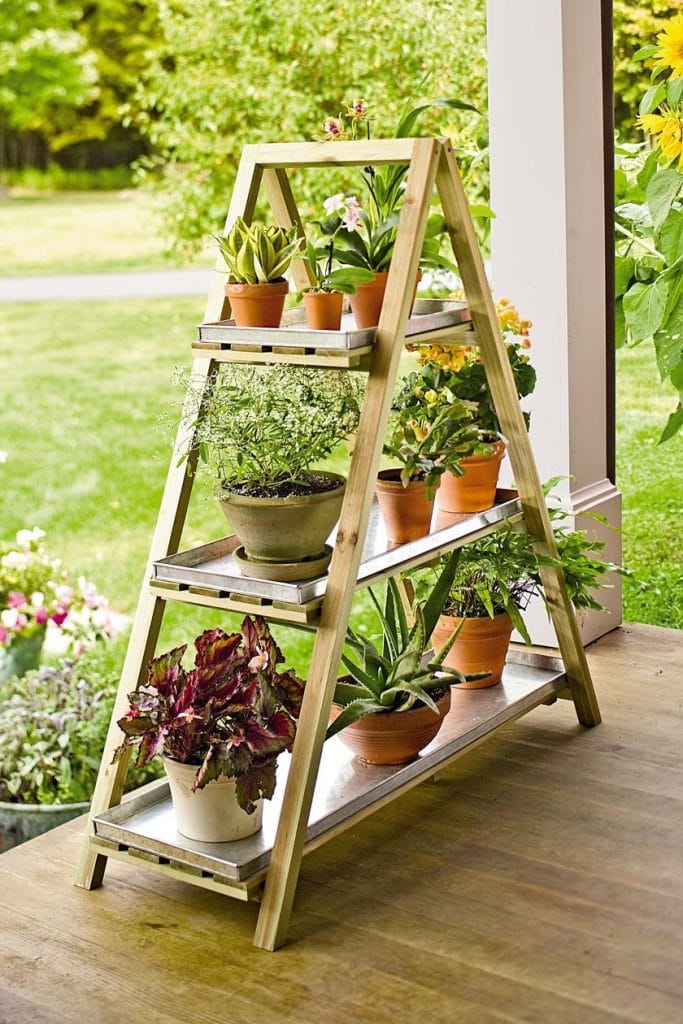 Are you looking to display your plants in a rustic manner? Build a plant stand out of an unused wooden ladder.
25. DIY West Elm Plant Stand
I love these west elm palm stands. They are cute and casual at once. Not to mention, they only cost you $10.
26. How to Make a Plant Stand Out of Pipe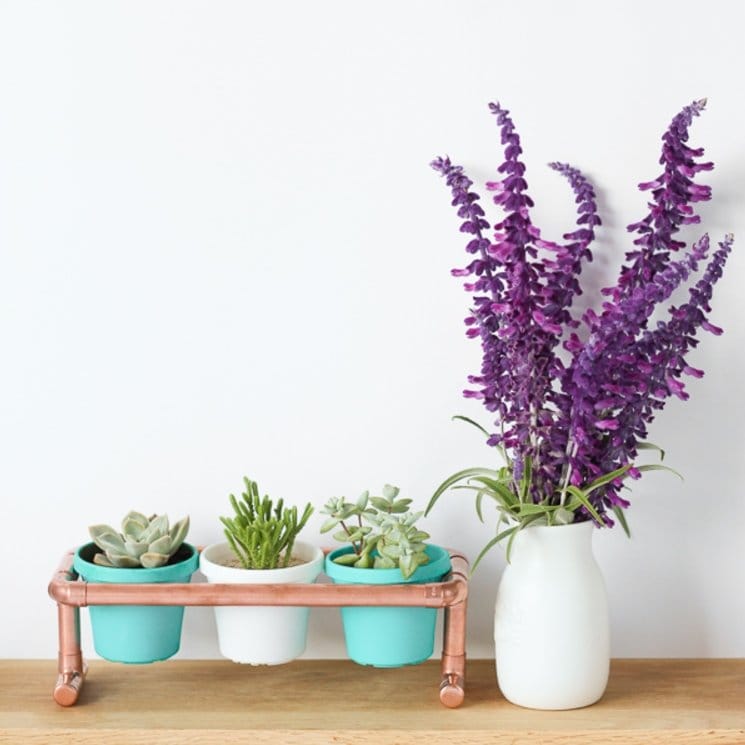 The copper pipe plant stand supports three potted succulents fabulously. Along with lavenders in a vase, they titivate the home office.
27. Plant Stand Ideas for Balcony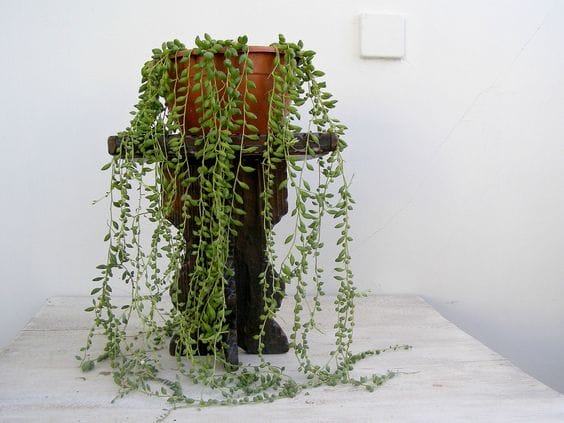 This cherry wood plant stand is such a perfect fit for your balcony. It emanates a welcoming air.
28. DIY Dollar Tree Plant Stand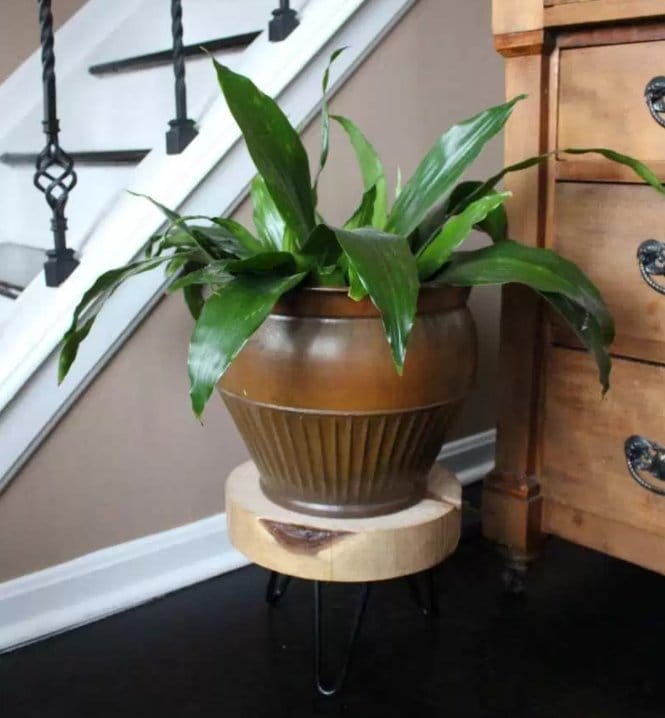 The round raw wood top and black metal hairpin legs make for a chic dollar-store plant stand. You could place it near the staircase.
29. Plants for A Multi-Tiered Plant Stand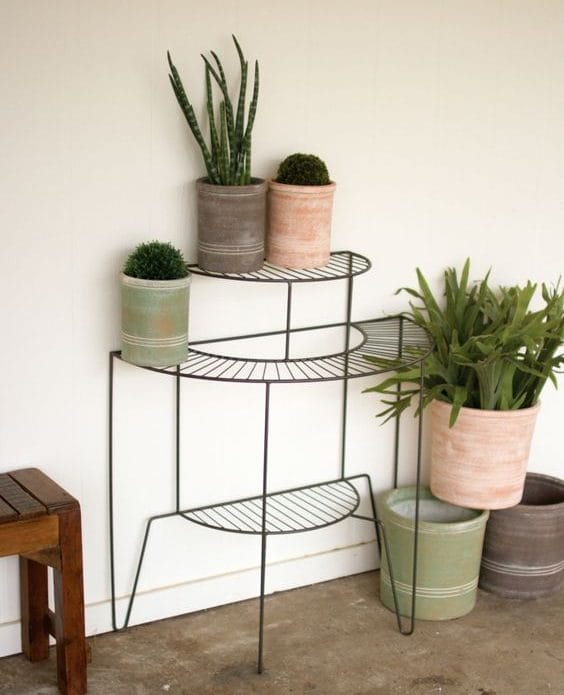 Your houseplants deserve the attention. Display them on a metal three-tier plant stand. Be ready, as your terrace looks more alluring.
30. DIY Cube Plant Stand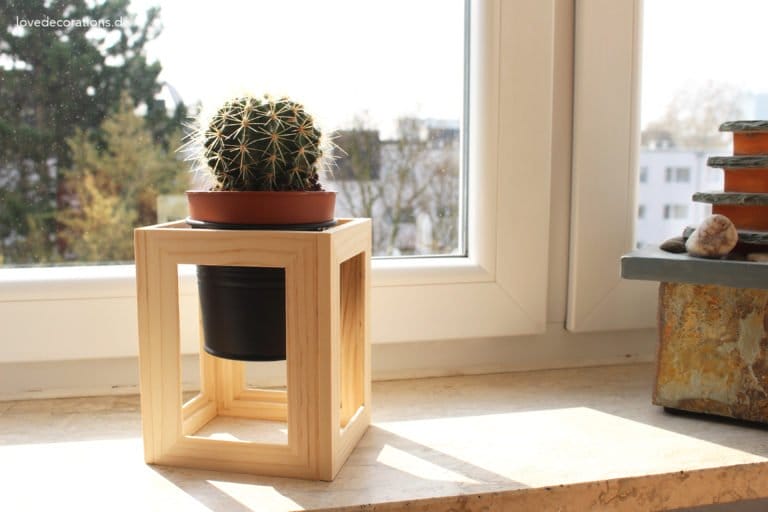 Sometimes, the simpler the plant stand, the more admirable it gets. This wooden cube plant holder says it all.
31. Metal Basket Plant Stand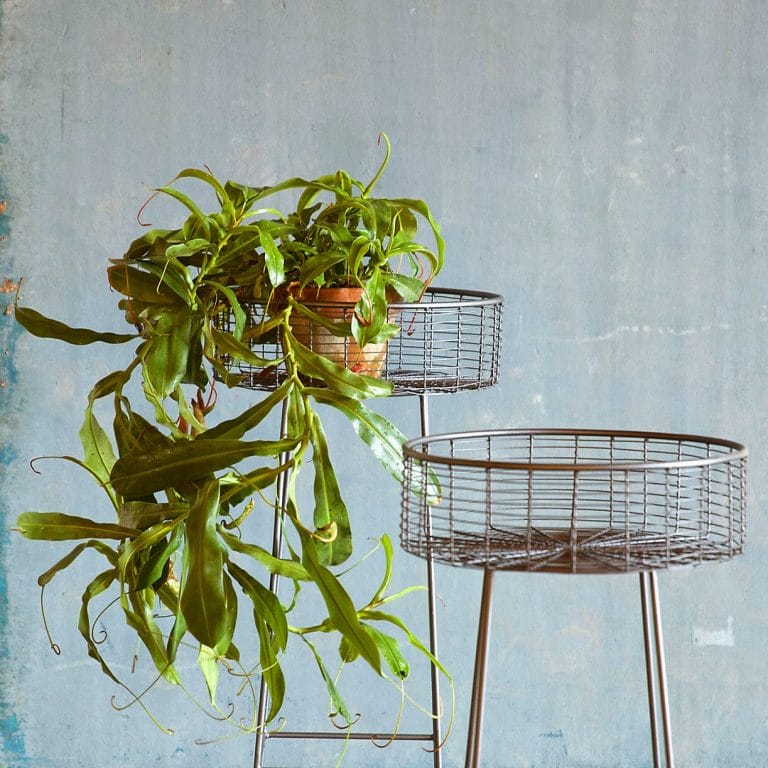 Change your old metal baskets into uncommon plant stands. They can fit big-sized potted houseplants.
32. DIY Air Plant Stand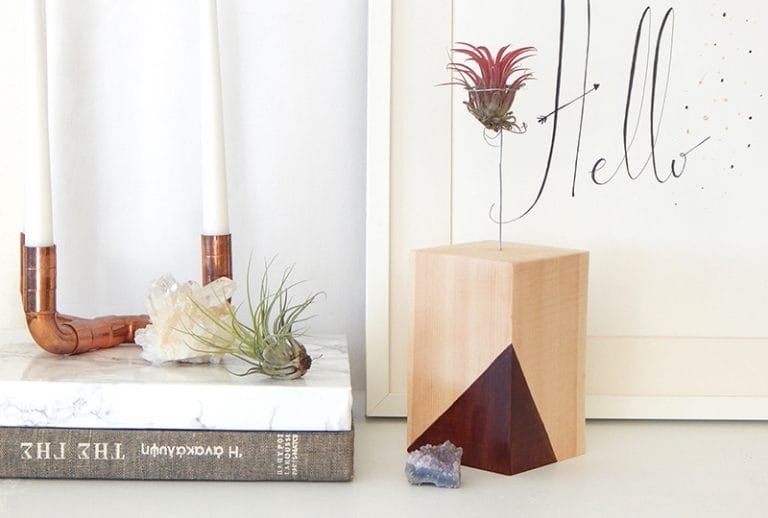 In this example, the square wooden block serves as a plant stand. It generates a modern flavor and a serene ambiance.
33. Shaker Plant Stand Plans
This Shaker plant stand is constructed using unfinished wood. Since it is tall, it lets your potted greenery stand out.
34. DIY Rolling Plant Stand
There are wheels underneath the wooden support. They allow you to move around the plant stand easily.
35. DIY Outdoor Plant Shelves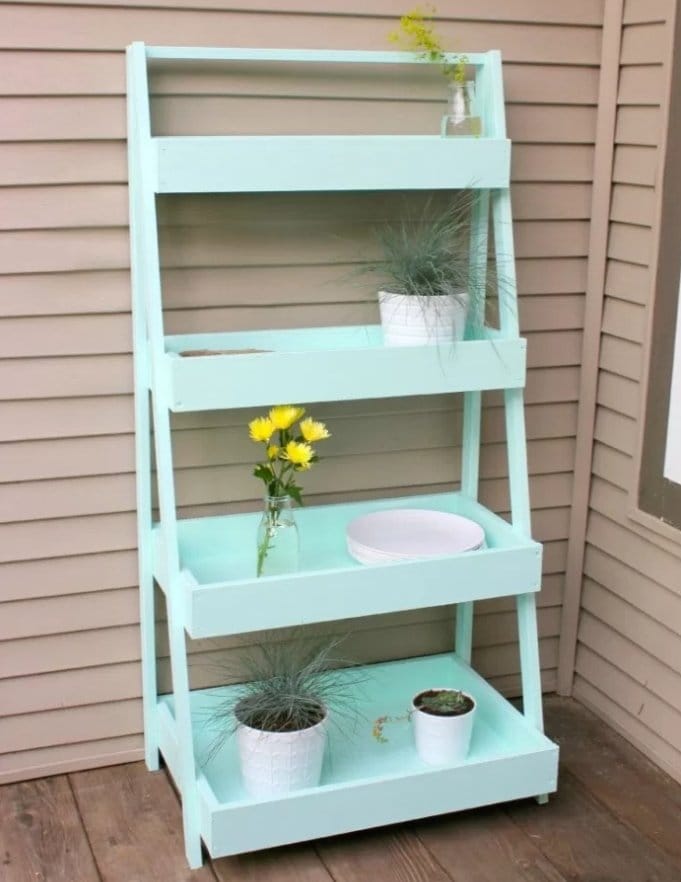 Do not throw away your old tower towel! Create an extraordinary plant stand instead. Repaint it in baby blue and highlight your plants on its shelves.
I hope my DIY plant stand ideas come in handy. Plant stands blend functionality with aesthetics. So, what are you waiting for? Build your plant stand!