People build a patio or deck to enjoy relaxing outdoors. Sometimes it can be a perfect place for a party, which means you have to make it impressive. That is why you should check these alluring backyard tiles ideas.
1. Backyard Tiles Ideas with Soapstone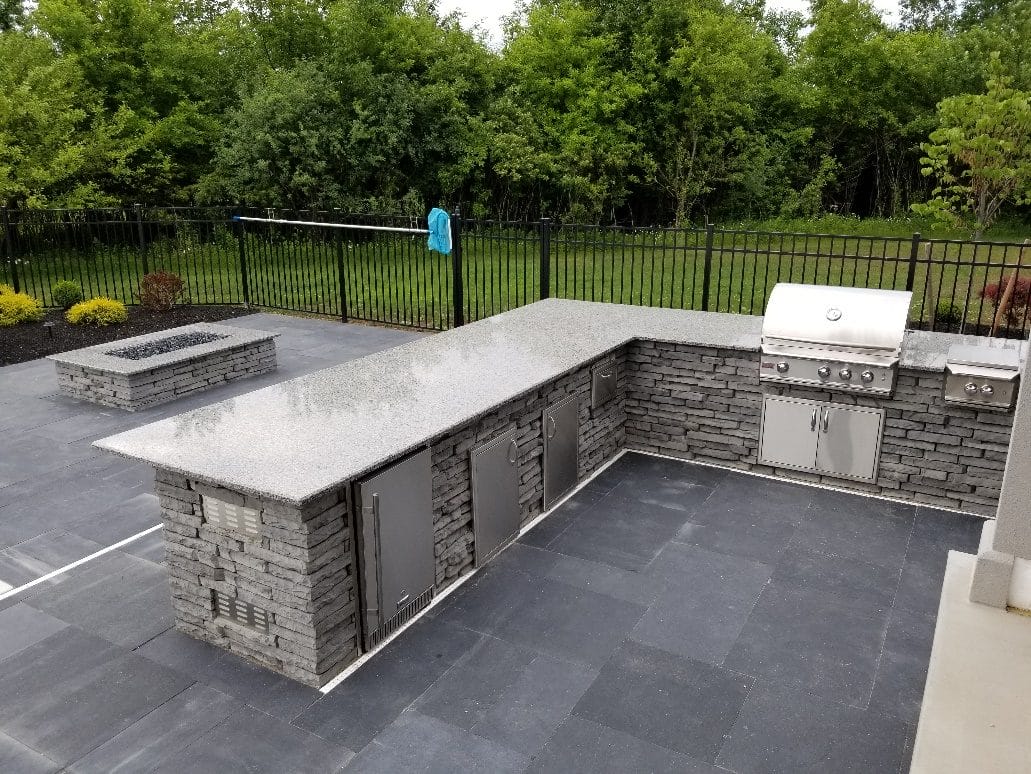 Many people use soapstone for building and design purposes. This metamorphic rock is relatively softer than many other stone tiles due to the high percentage of the mineral talc.
In fact, it offers you a soapy feel when you touch it. The smooth, non-porous surface has made soapstone become a great alternative to quartz, marble, or granite.
Furthermore, it is immune to chemicals, acids, and warmth, which makes it an excellent alternative for backyards that are often exposed to hot climates.
Since soapstone tiles have a smooth surface, they will not trap stain, which makes the cleaning process much easier. They are also suitable for pool deck because they do well in wet, freezing climates.
2. Granite Backyard Tiles Ideas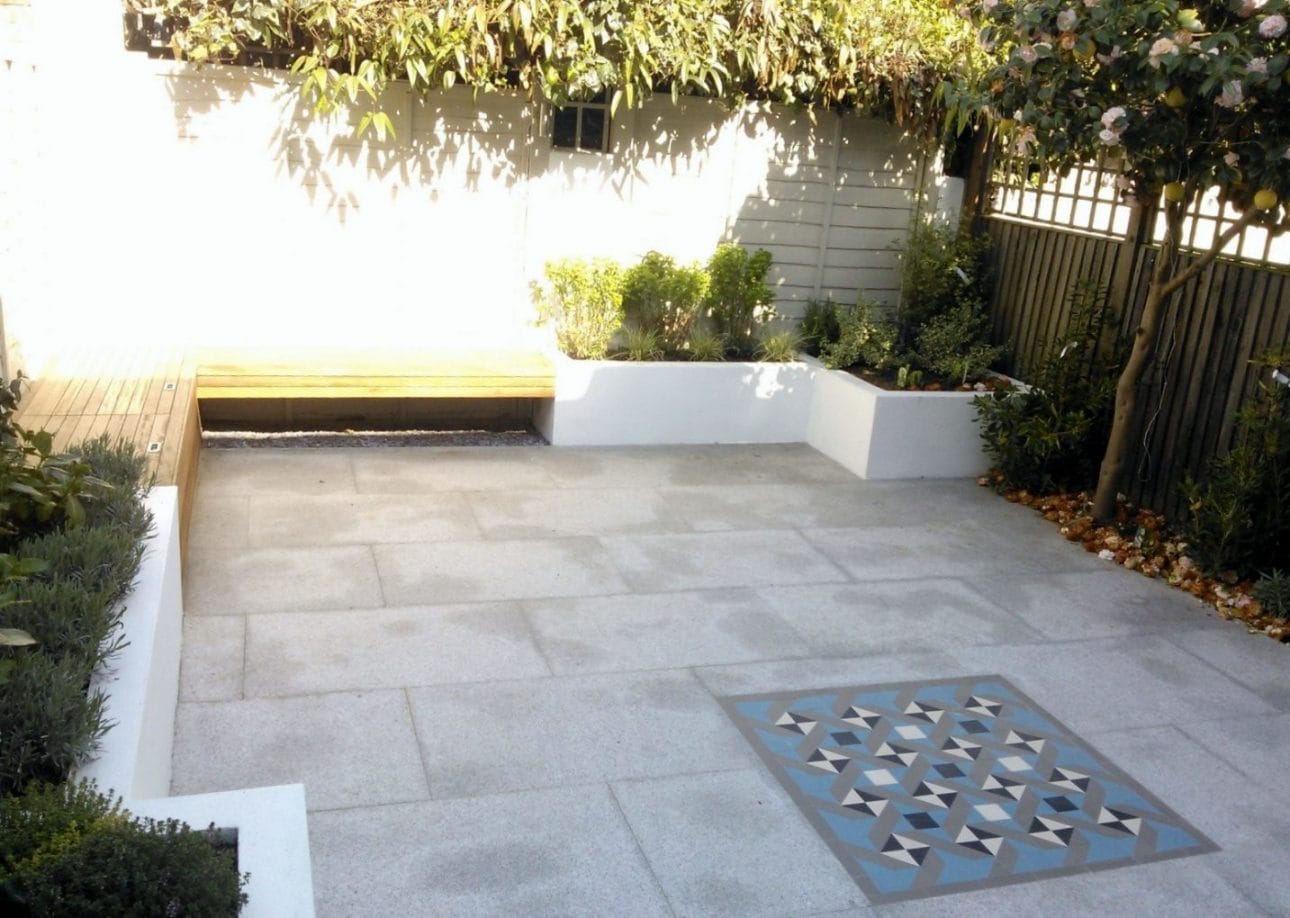 If you are looking for a durable and resilient material for your patio, granite tiles will be your greatest bet. It is a metamorphic natural stone that can withstand extreme weather shifts.
Granite tiles usually come in a wide range of colors, such as crisp white and moody black, which gives your backyard a high-end look.
Unfortunately, granite tiles also have some drawbacks, especially if you use them outdoors. They usually come in a highly polished finish, which can be slippery when they are wet.
You will also need to seal them regularly to prevent water penetration due to the porous surface.
3. Marble Backyard Tiles Ideas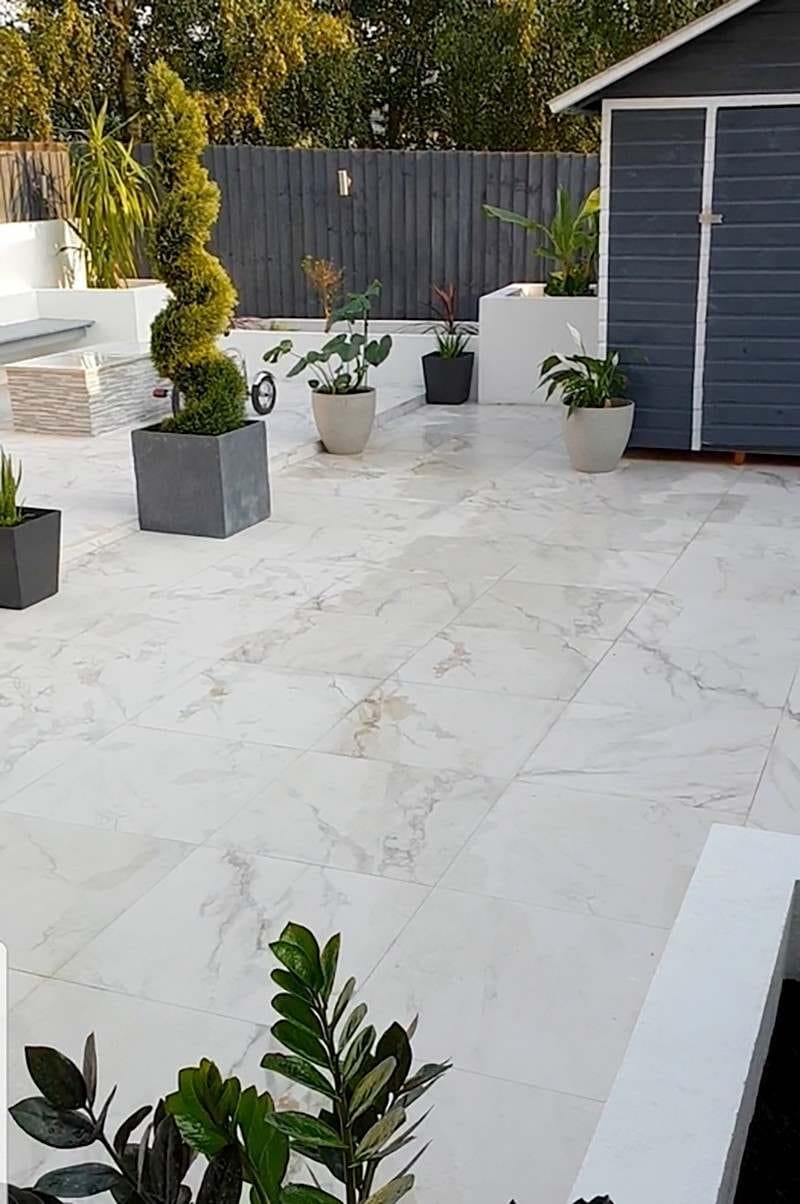 Many people are dying for the elegant and sleek look of marble tiles. The unique, veined finish is the hallmark of this kind of flooring, which a lot of homeowners are crazy about.
Marble tiles come in various kinds of colors, but people mostly find white ones. They have a smooth, polished surface, which makes them a perfect choice for less traffic area, like the kitchen countertop.
When it comes to outdoor usage, like in your backyard, you had better opt for the rough marble tiles because they are slip-resistant.
4. Slate Backyard Tiles Ideas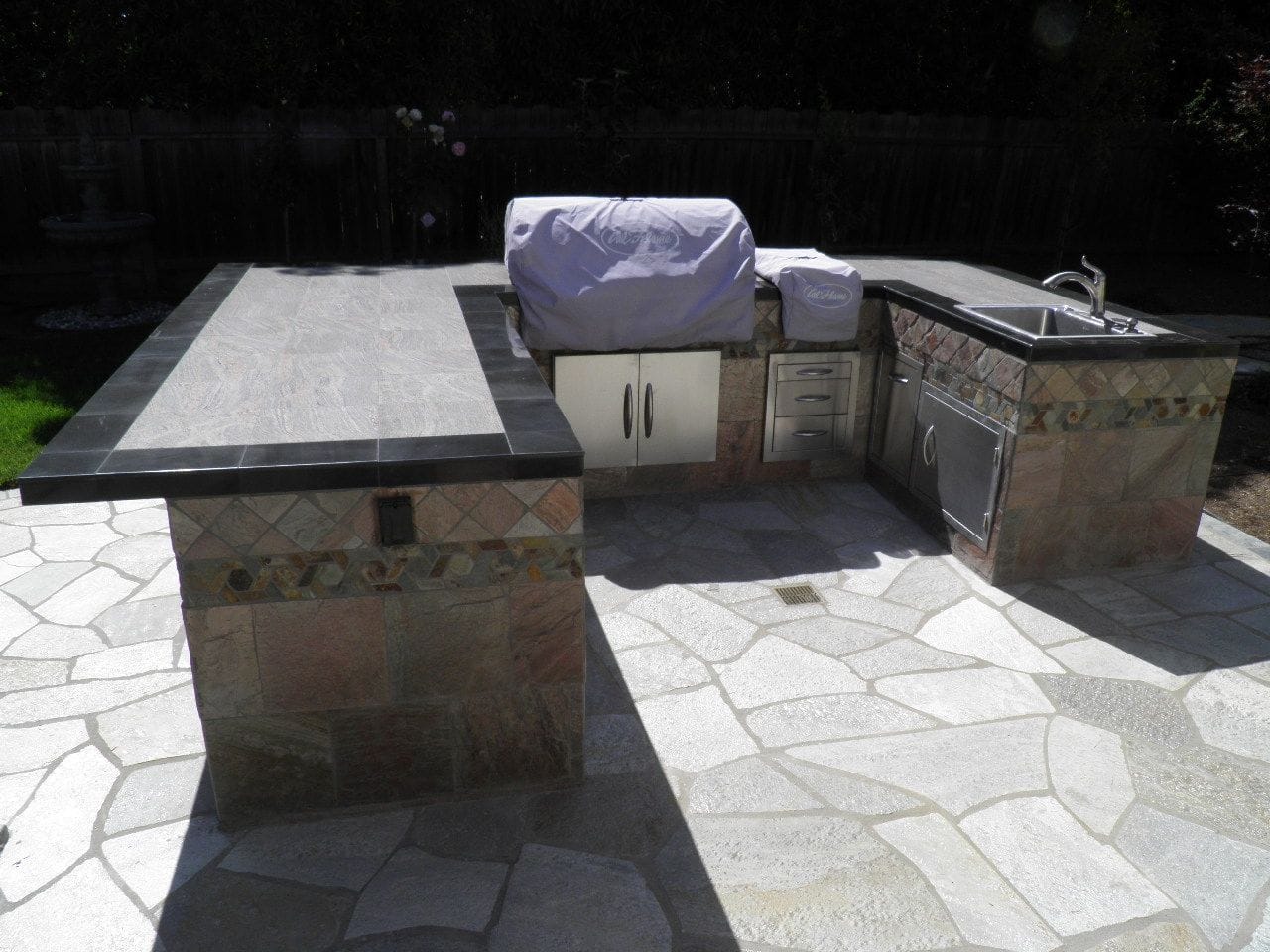 Slate is famous for its durability and sturdiness, which makes it an excellent choice for your backyard tiles ideas, thanks to the great heat and pressure that have formed this metamorphic rock.
The main charm of slate is the natural surface that hinders it from being smooth. Besides, it is extremely resistant to water after all.
Many people think that this stone only comes in dark gray or black. Actually, it can be green, orange, or purple. In fact, natural slate has earthy tones, such as brown and tan.
If you want to incorporate an additional textural element and pattern to your backyard, the slate will be your safe bet.
Slate tiles come in their natural texture that is never identical. Therefore, they can add visual interest to space.
5. Limestone Backyard Tiles Ideas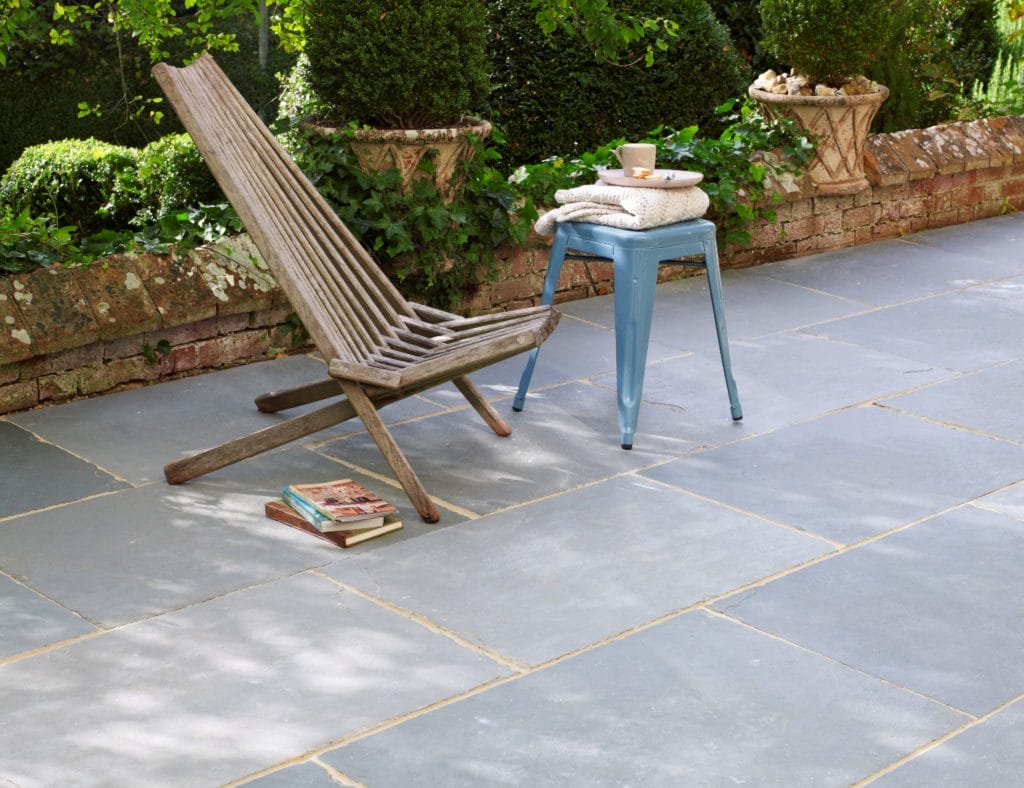 Limestone is a sedimentary rock that tends to be softer and more porous than slate and granite. Still, many people like to use it due to the relative abundance and ease of fabrication.
However, most limestone tiles are not suitable for high traffic areas because of the soft surface that makes them scratched and chipped easily. They also show wear quickly.
Limestone tiles are more suitable for the backyards in dry climates than the ones that have harsh winters because they are prone to cracking when exposed to a very low temperature.
This type of natural stone tiles come in white to brown color hues that will jazz up your patio. Just make sure you purchase the non-slip versions to prevent any accident due to being slippery.
6. Travertine Backyard Tiles Ideas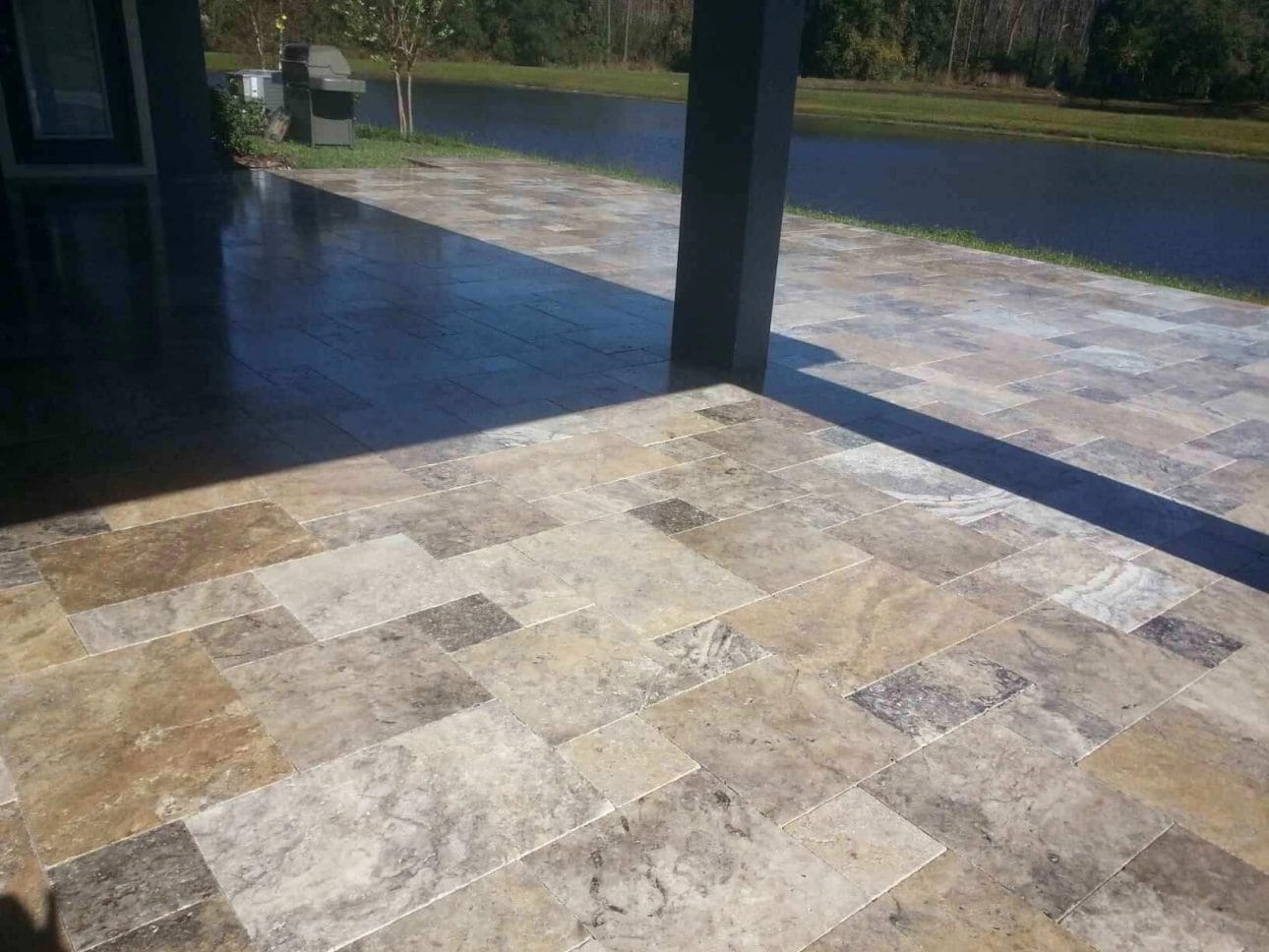 Travertine is a specific type of limestone. Therefore, they tend to share similar characteristics, such as being porous and pitted. However, this particular type is a bit softer and more brittle.
Due to the porous surface, you will need to seal travertine tiles properly before you use them for outdoor purposes.
Some highly polished travertine tiles tend to be slippery when they are wet. However, some others, like the ones from Turkey or Italy are more water-resistant.
Like limestone, travertine is not suitable for extremely cold areas since it is prone to cracking. However, it will lend a warm, golden good look if you use it in a patio with a temperate climate. But, certainly, you cannot subject it to heavy use.
7. Sandstone Backyard Tiles Ideas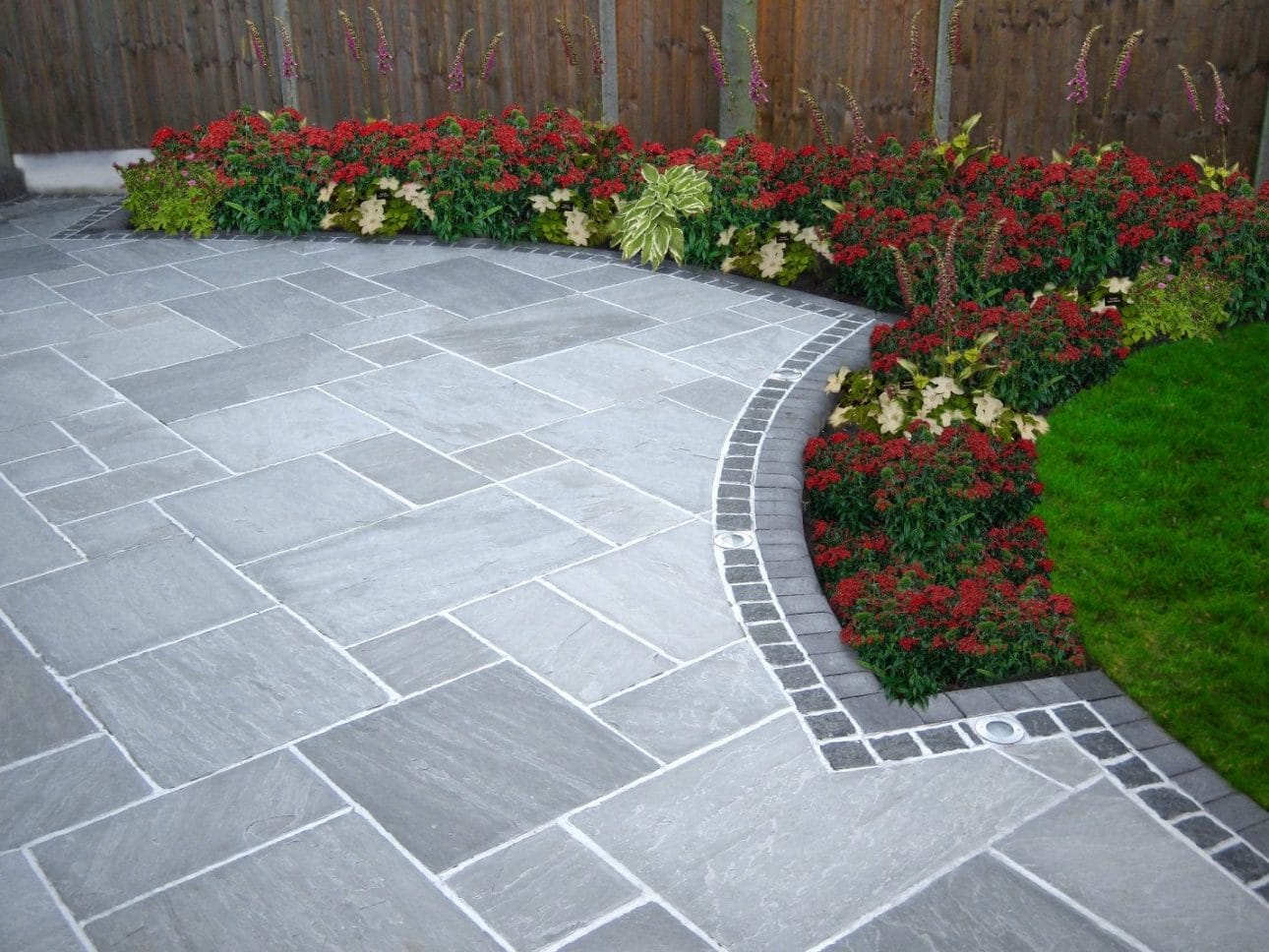 Sandstone is a sedimentary rock that tends to be softer than limestone, thus it is also subject to the same restrictions.
As the name suggests, it is formed from layers of sands that have been compressed over time, resulting in beautiful texture.
However, the soft surface is prone to scratching. For this reason, it needs sealing regularly to prevent it from pesky stains and water penetration.
Just like travertine and limestone, sandstone tiles are best suited for an area with dry climates because extremely cold weather can wreak havoc on them.
8. Quarry Backyard Tiles Ideas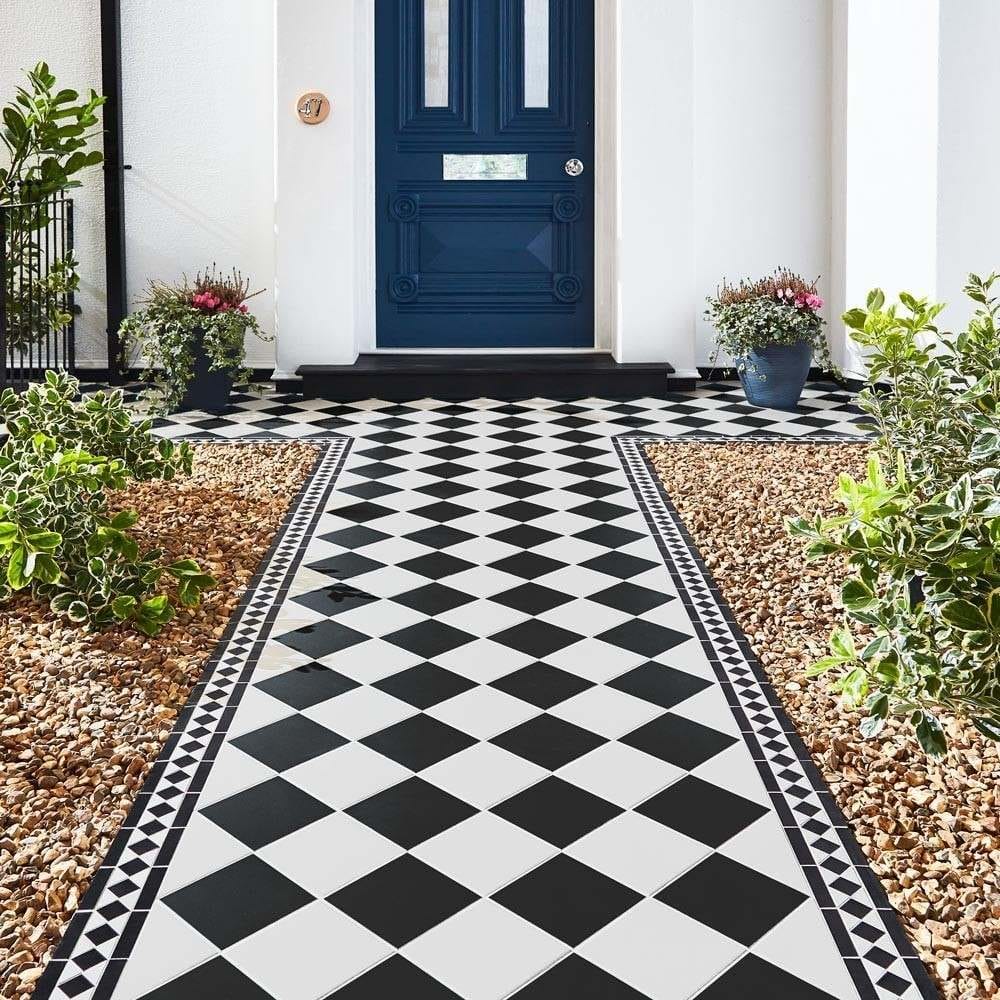 You probably think that this type of tile is derived from natural quarries due to its name. Quarry tiles are made of a very dense variety of unglazed clay now. Therefore, they are eminently strong for patios.
Although quarry tiles are usually unglazed, they are resistant to water, which means they will not be slippery when they are wet.
Still, they are not a prominent selection for the areas with freezing temperatures during winters.
Another drawback of this type of outdoor tile is it has limited variations of colors. You will only find red, brown, or gray hues. However, the quarry can lend a bit of Mediterranean charm to your backyard.
9.  Ceramic Backyard Tiles Ideas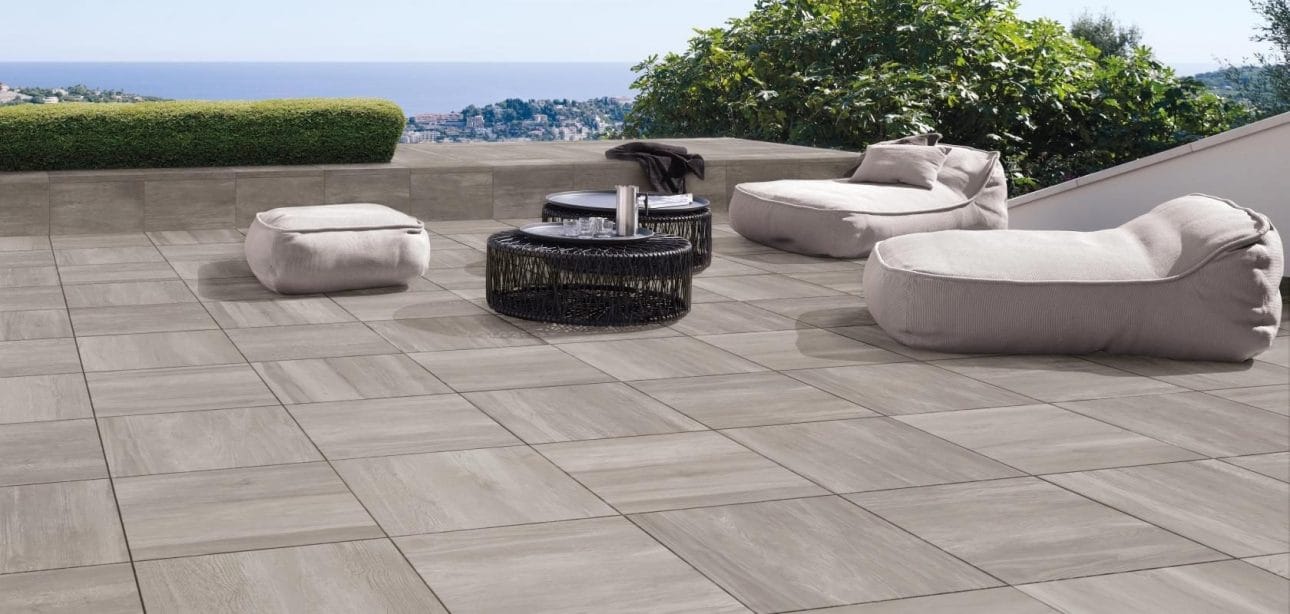 Ceramic tiles have been widely used both indoors and outdoors. Therefore, you can utilize them for your backyard.
Like porcelain counterparts, ceramic tiles come in a wide array of sizes, colors, patterns, and costs, which makes them quite versatile for any backyard depending on your need.
Nevertheless, you ought to be mindful when deciding ceramic for your patio. The wall tiles are not appropriate for this area because they are not strong enough. Floor tiles would be your safe bet.
10. Porcelain Backyard Tiles Ideas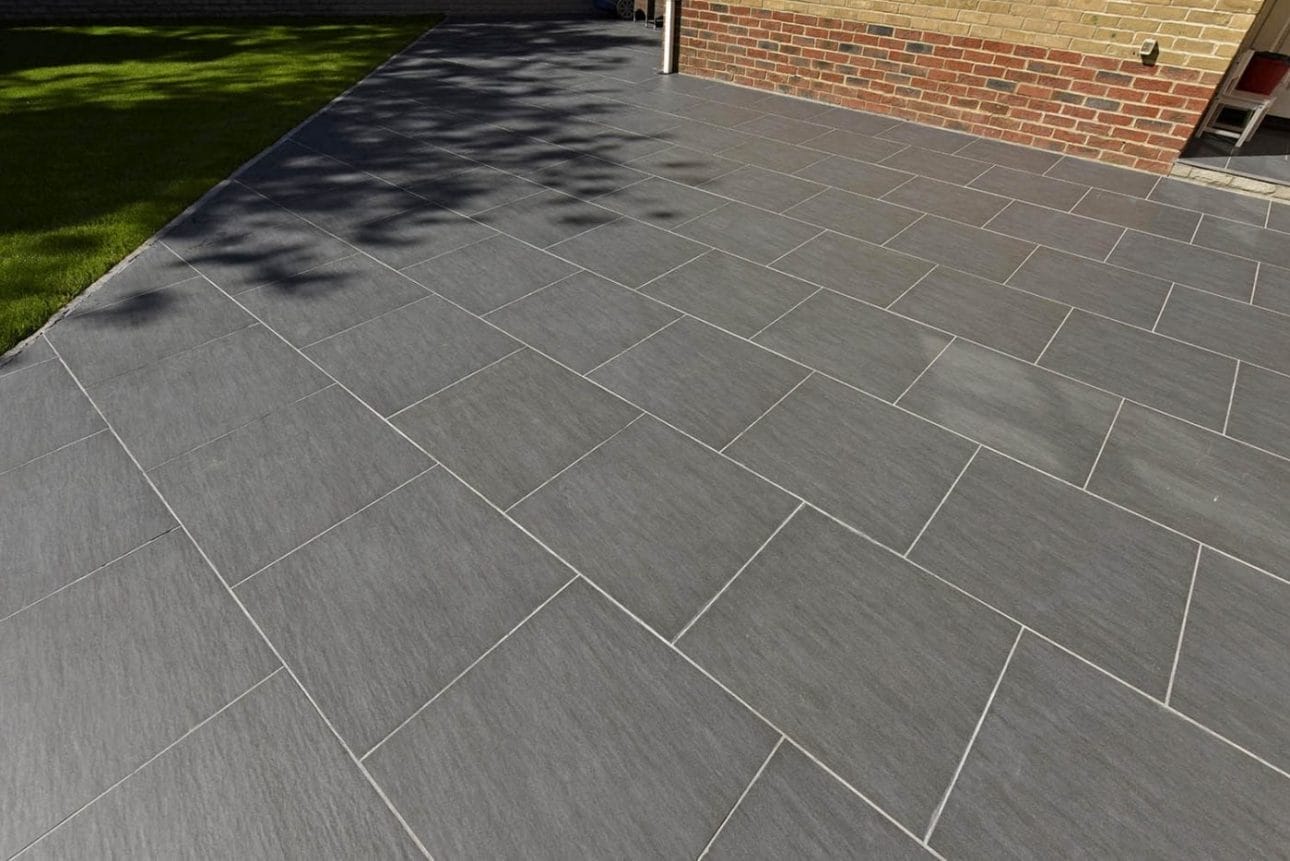 Porcelain is one of the most common flooring tiles used by many homeowners. They are suitable for both inside and outsides.
Some porcelain tiles have an extremely sleek and glossy surface, which can be slippery when they are wet. Therefore, they are suitable for indoor usage, like in the living room or bedroom.
Other porcelain tiles feature textural surfaces and come in matt finish, which makes them a good choice for your patio.
All of the porcelain tiles are available in many different colors and patterns. Some of them even resemble the elegant look of hardwood flooring.
This is why many people are keen on these tiles because they can match the décor immensely.
11. Interlocking Plastic Backyard Tiles Ideas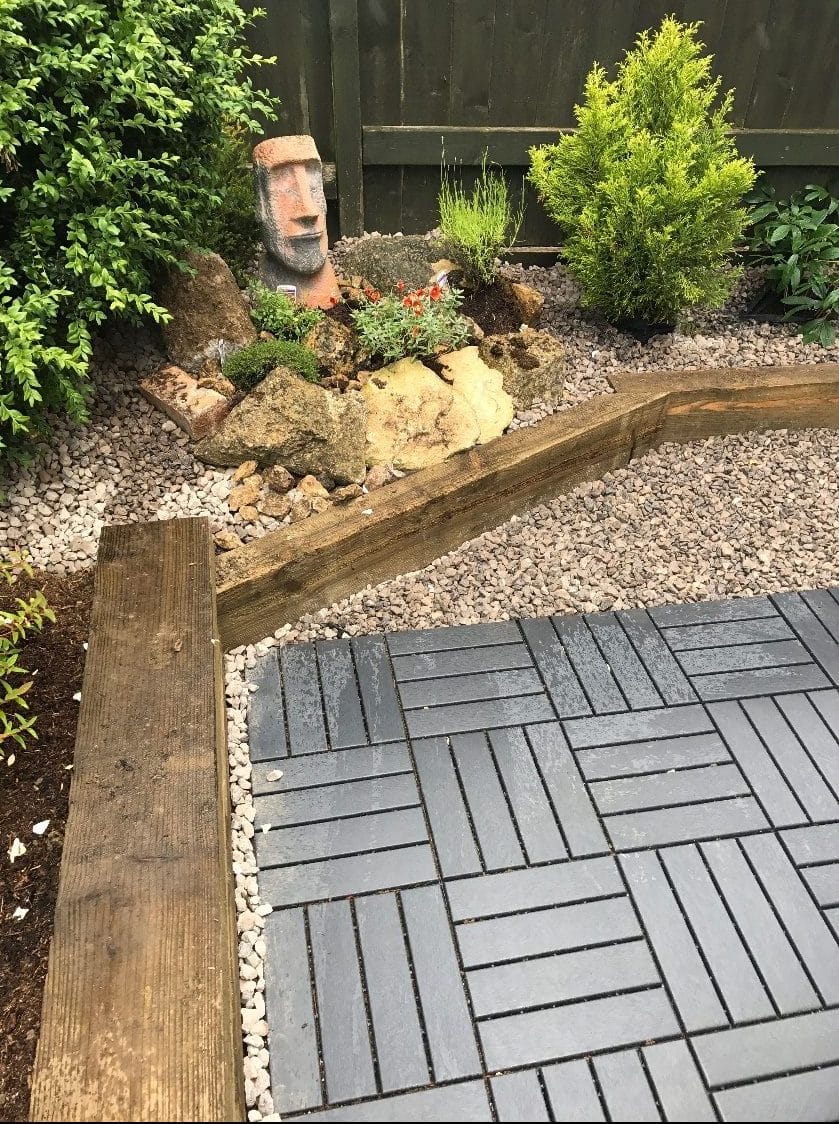 This is a new way to lay tiles on your patio without breaking a sweat. This kind of tile, as the name suggests, is made from plastic that features interlocking edges.
The interlocking edges enable you to install it easily. Just lay the tiles lie down and assemble them.
They may not be the most beautiful flooring comparing to the natural stone or wood counterparts, but they offer a practical solution for your weathered patio.
In addition to being easy to install, removing these tiles from your patio is merely a breeze.
Another benefit of this flooring is it features a texture that prevents you from slipping. It is also perforated to prevent water from being trapped.
12. Diamond-Style Backyard Tiles Ideas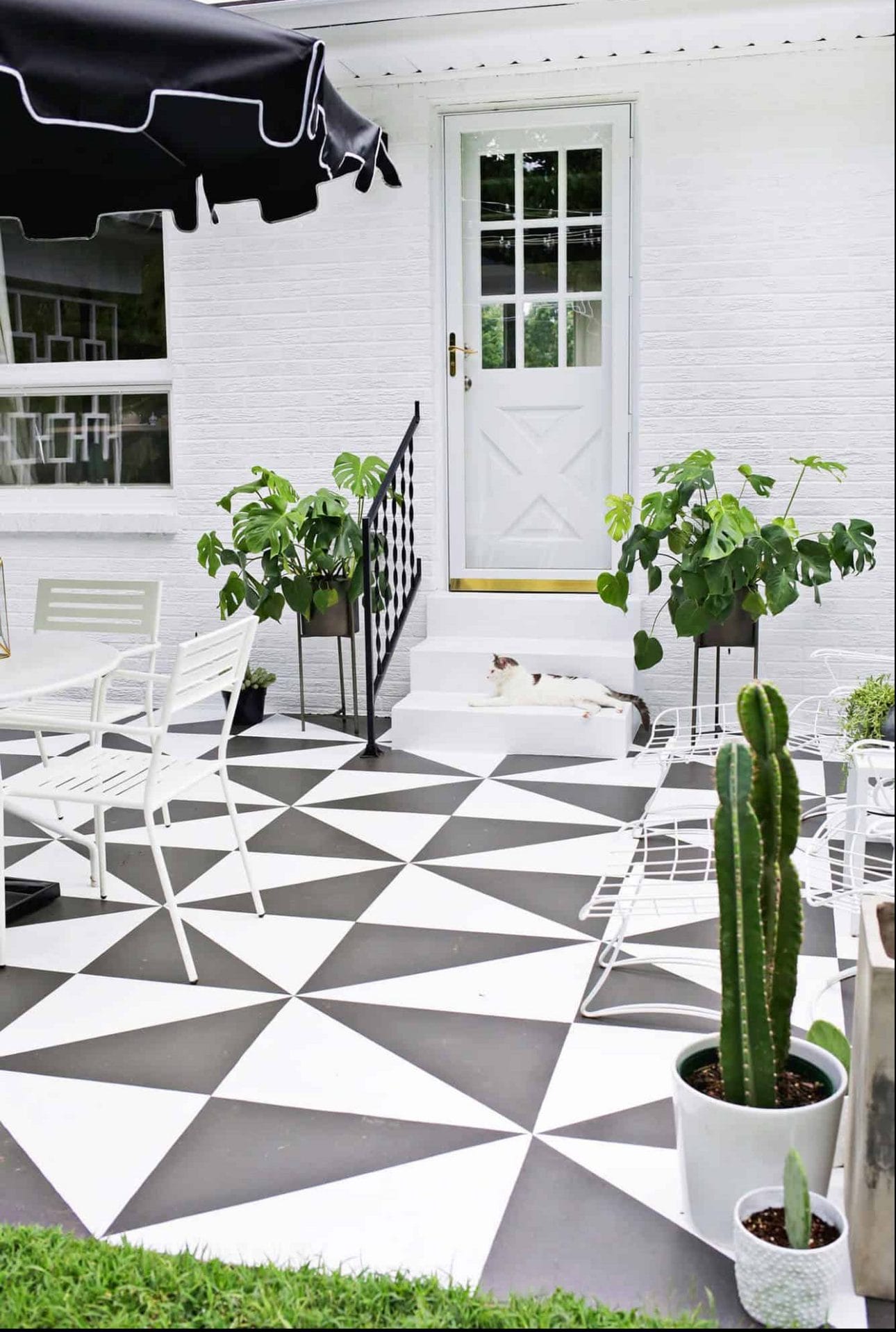 One of the most important things when looking for backyard tiles ideas is durability because your patio will be dealing with different kinds of climates and temperatures.
In addition to being strong and durable, the tiles for your patio have to be appealing to impress anyone who sees it.
This patio, for example, looks great with monochromatic colors. The black and white tiles lie fastidiously to resemble the shapes of diamonds. They match the décor nicely and bring in modern flair to your backyard.
13. Hardwood-Like Porcelain Tiles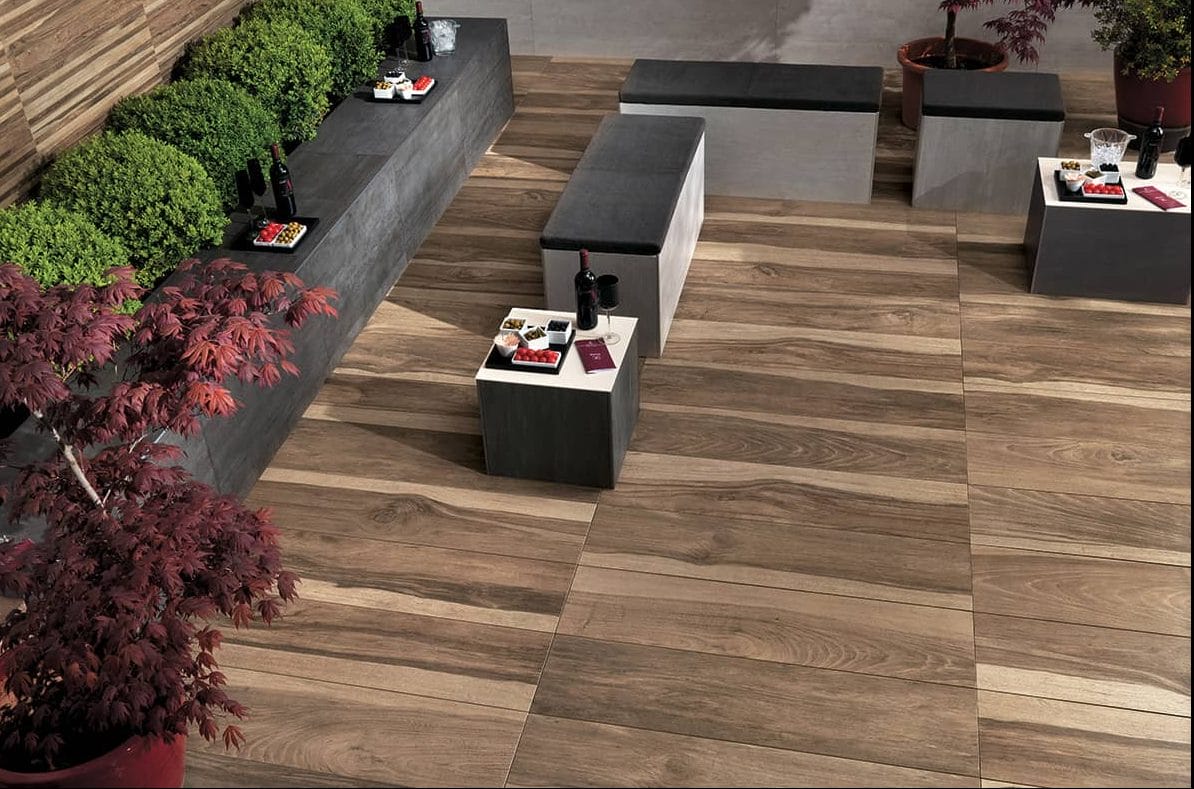 This Japanese-style patio looks elegant with its minimalist design. Shrubs and maple trees add a lively lift to the backyard, while the charcoal gray built-in bench provides a relaxing area and accentuates the modern style.
Porcelain tiles that come in brown hues resemble hardwood flooring immensely. They add the warm and elegant backdrop of a typical Japanese home without costing you a fortune.
14. Porcelain Tiles among Gravels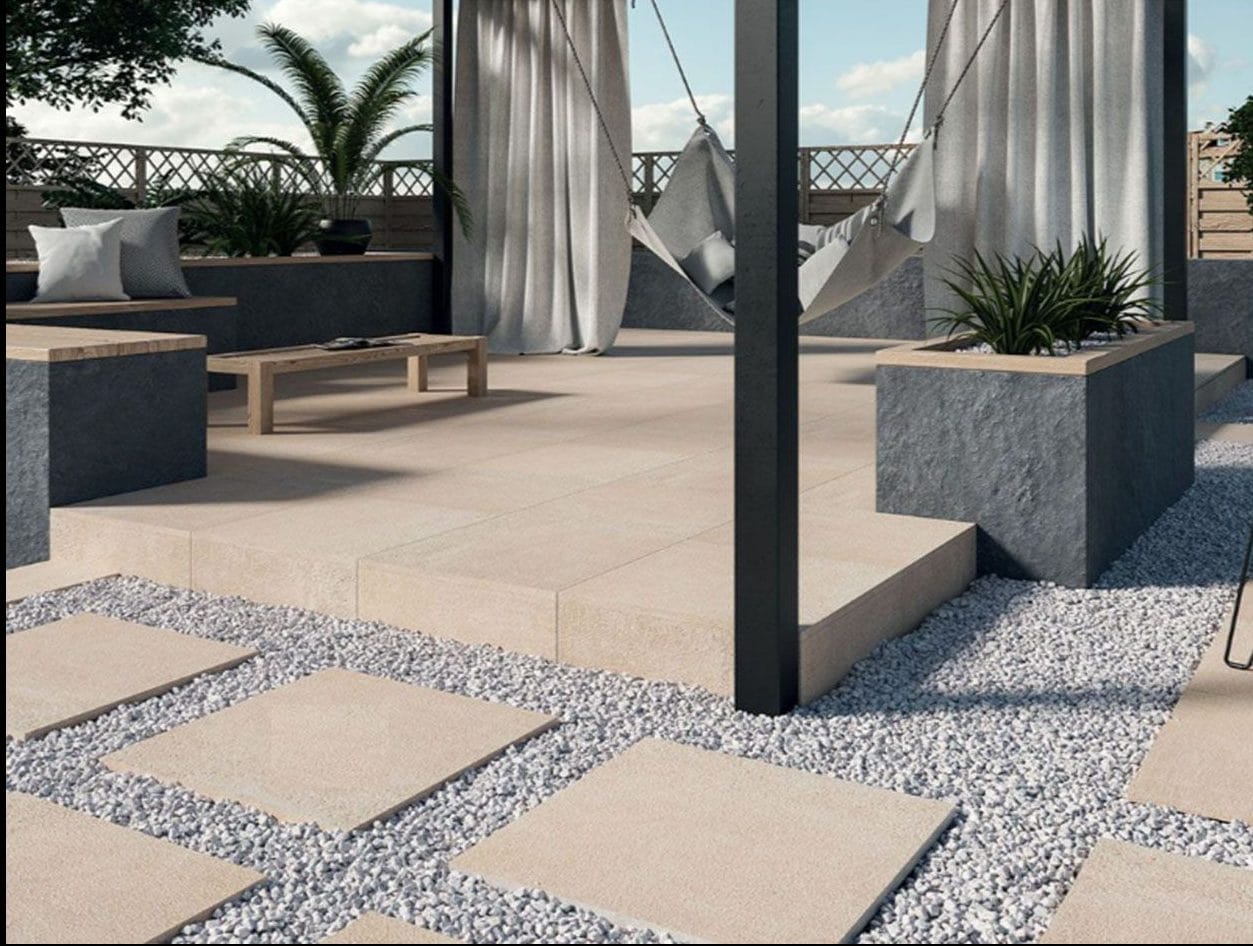 Instead of marble or granite that can be extremely pricey, you can opt for porcelain tiles to make stepping-stones.
This patio features a textured surface that will prevent you from slipping and falling. To make the tiles look more stylish, you can lay them between gravels.
Make sure you space each of them evenly for a sleeker look that typical modern backyards have.
15. Porcelain Tiles with Glittering Stone Effect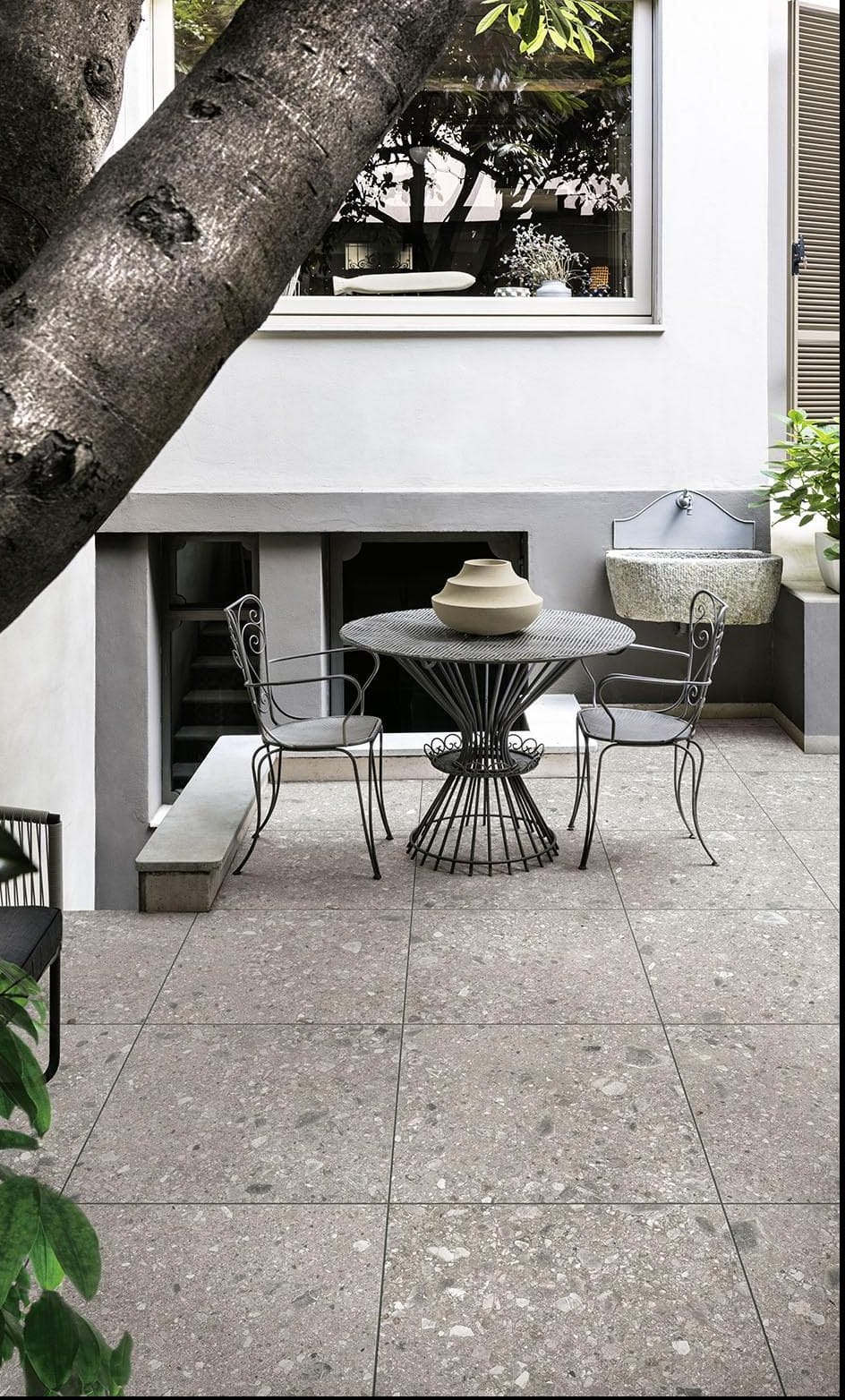 This is another example of porcelain tiles that shows you that they are quite versatile and can match any exterior well.
These porcelain tiles have a textured surface that will not turn to be slippery when the rain comes. They also feature a glittering pattern that resembles natural stone.
16. Charming Blue Tiles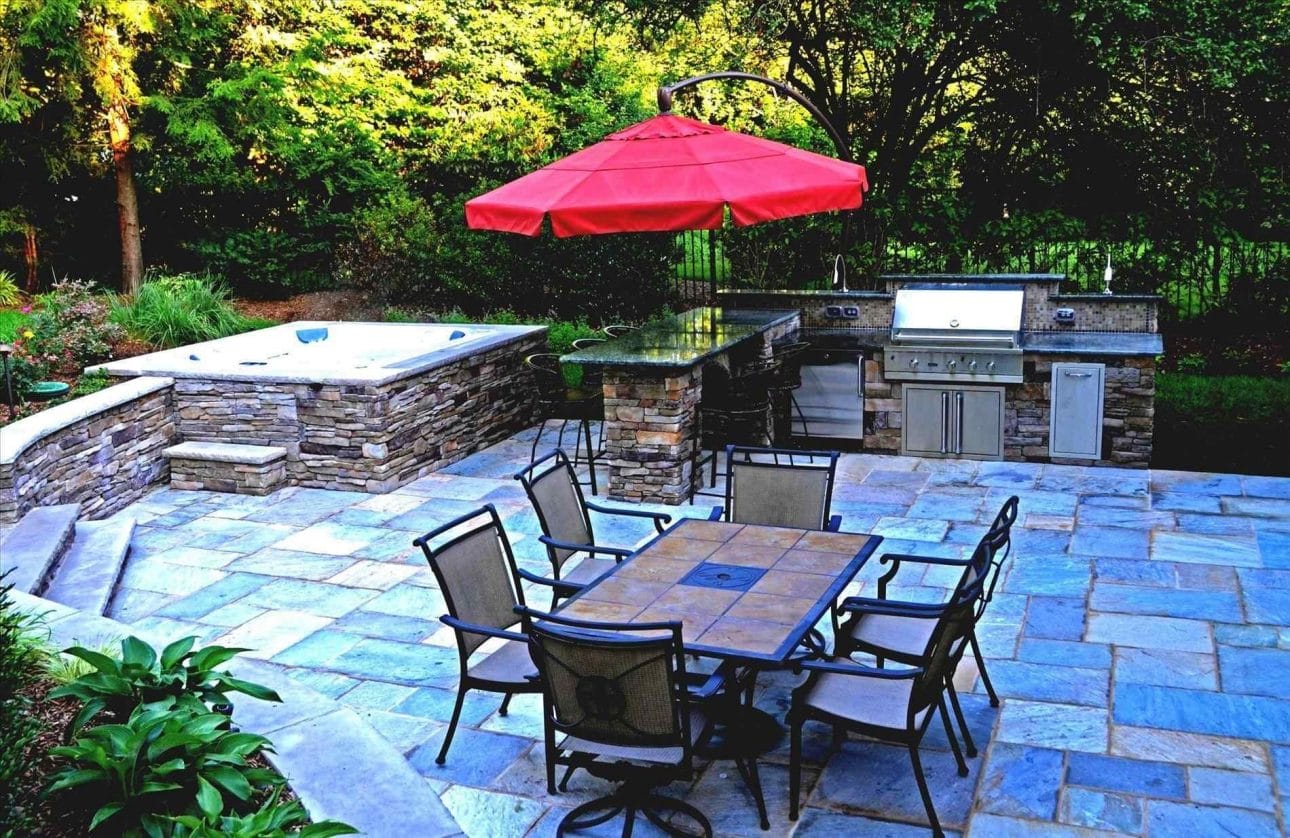 If you want to bring in natural ambiance to your patio, choosing slate for your backyard tiles ideas will be a top-notch choice.
Slate tiles offer you a natural texture that you might not get from porcelain and ceramic. This textural element varies, which enrich the appearance of your patio, just like what you can see here.
This backyard features an outside pantry and dining section. Stone tiles cover the siding of the hot tub and grill station. To round out the look, you can lay slate on the patio.
17. Modern Backyard Tiles Ideas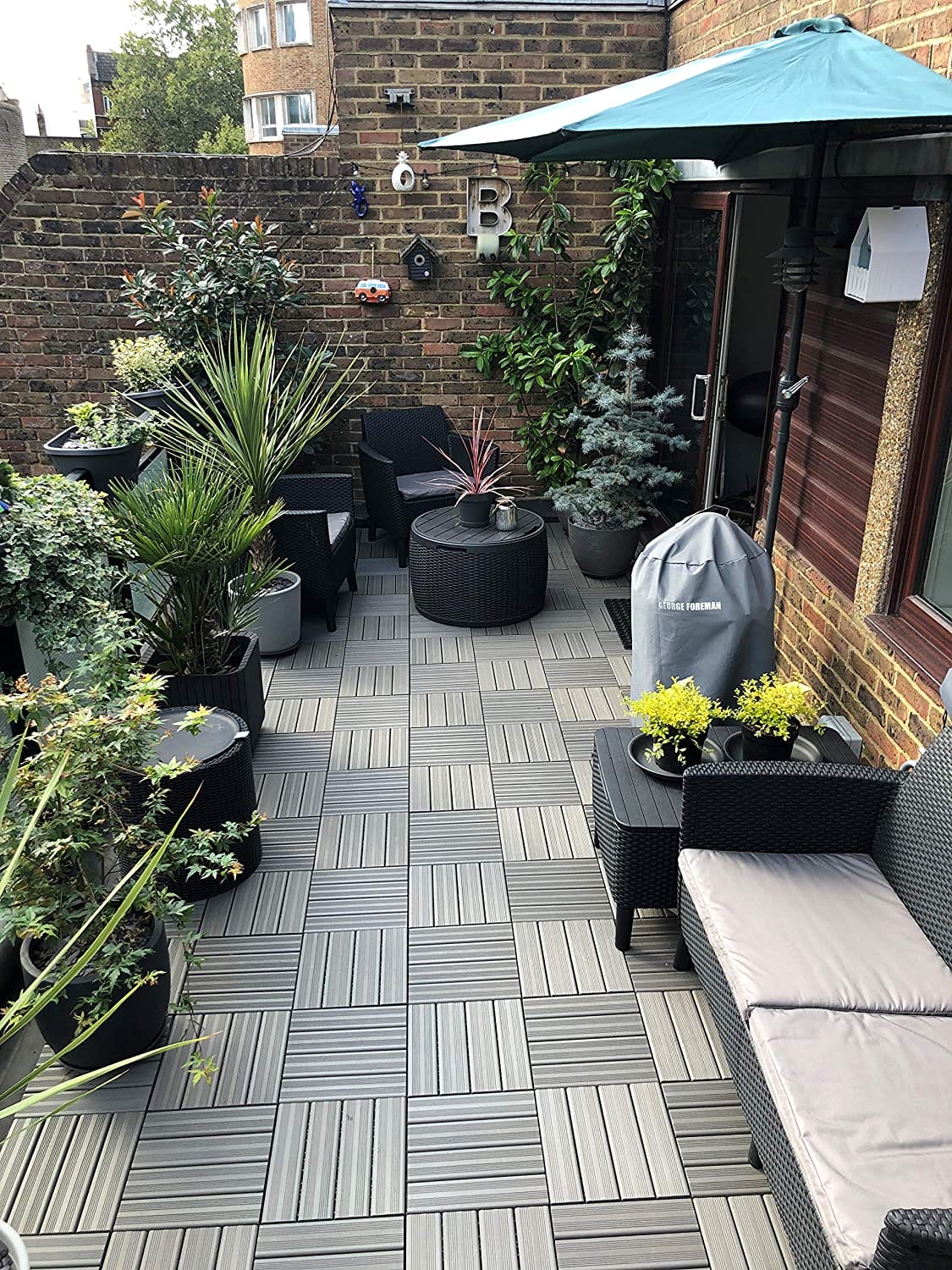 Although you have a small backyard, it does not mean you leave it untreated. Covering it with tiles will give a more finished look, depending on the style that you are really into.
This backyard features interlocking plastic tiles that offer a sleek design that matches modern décor. You can lay them horizontally and vertically to incorporate more textural elements and patterns.
As you can see the pattern of these interlocking plastic tiles complements the rattan furniture nicely.
18. Patchwork Backyard Tiles Ideas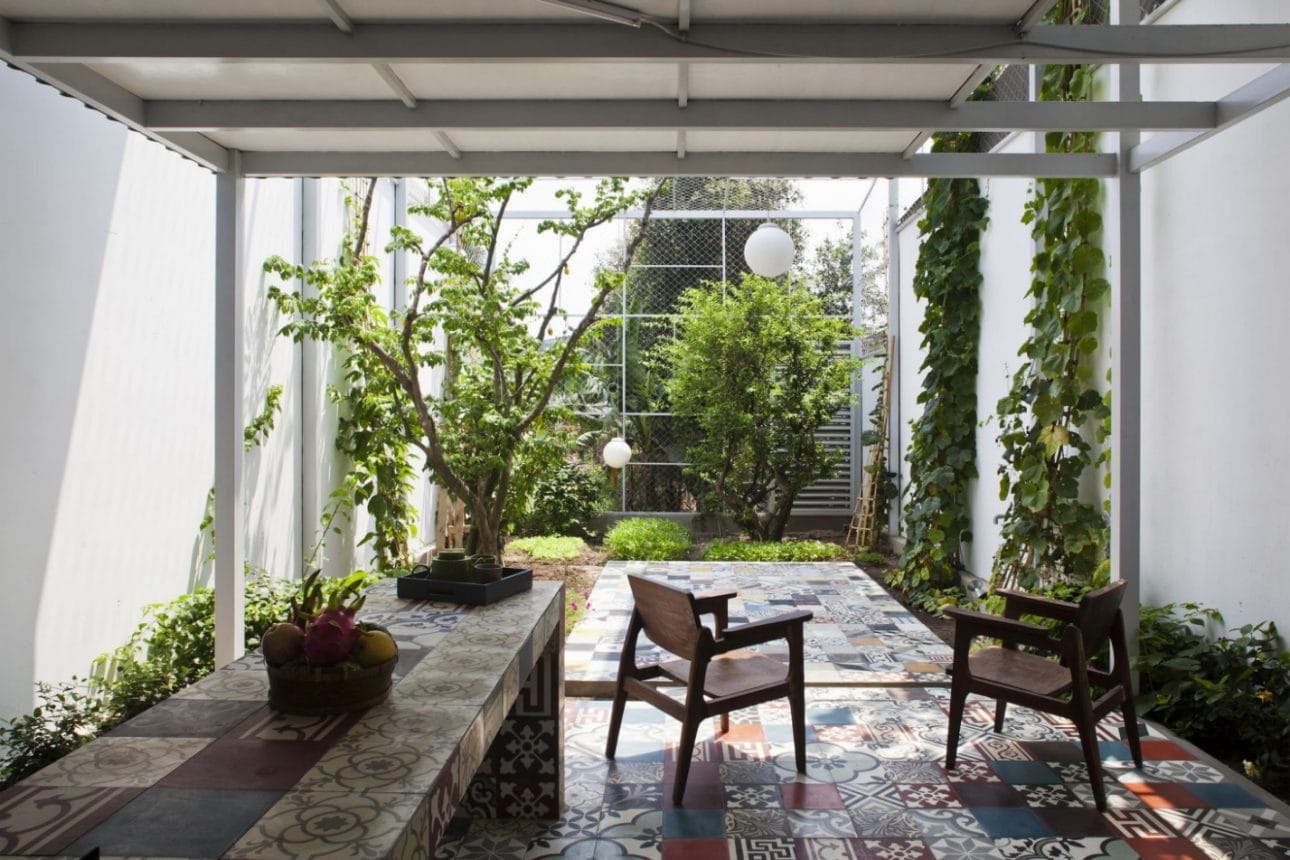 Matching is a common thing to bring in a united look. But it is not always like that. You do not have to stick to that rule if you do not want to. Feel free to explore your backyard tiles ideas.
This backyard shows you that being different can be fun and alluring. You just need to grab a lot of tiles with various colors and patterns and lay them together from the floor up to the bench or walls.
It will be more beneficial if you can obtain some leftovers to save more money. Just make sure they come in the same size.
19. Tiles for Tropical Backyard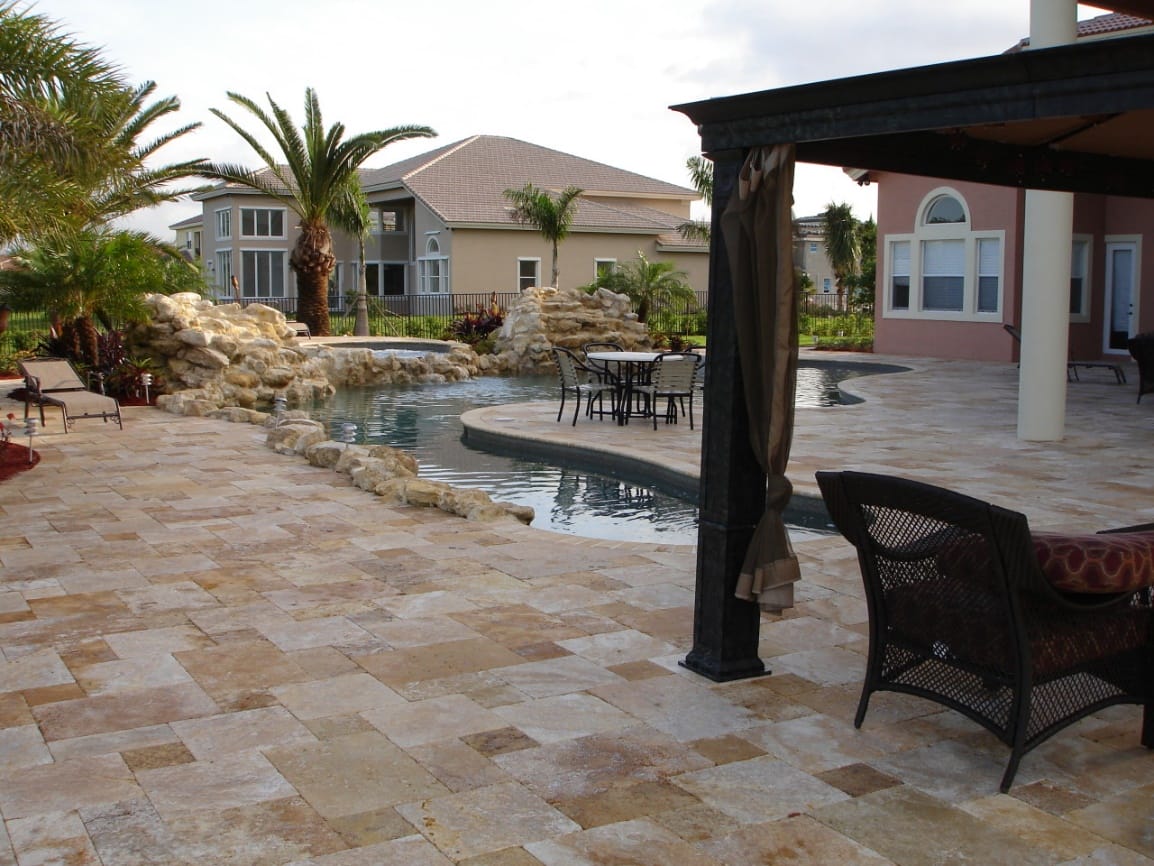 Bring in the holiday vibes of Hawaii and Bali by carving out the tropical flair in your backyard. You just need to grow palms, banana trees, or any other large-foliage plants in it.
If it is possible, you can incorporate a pond or a swimming pool into it.
You can also try laying travertine to round out the tropical style because this type of tile has earthy tones that resemble the color hues of beach sand.
20. Mosaic Backyard Tiles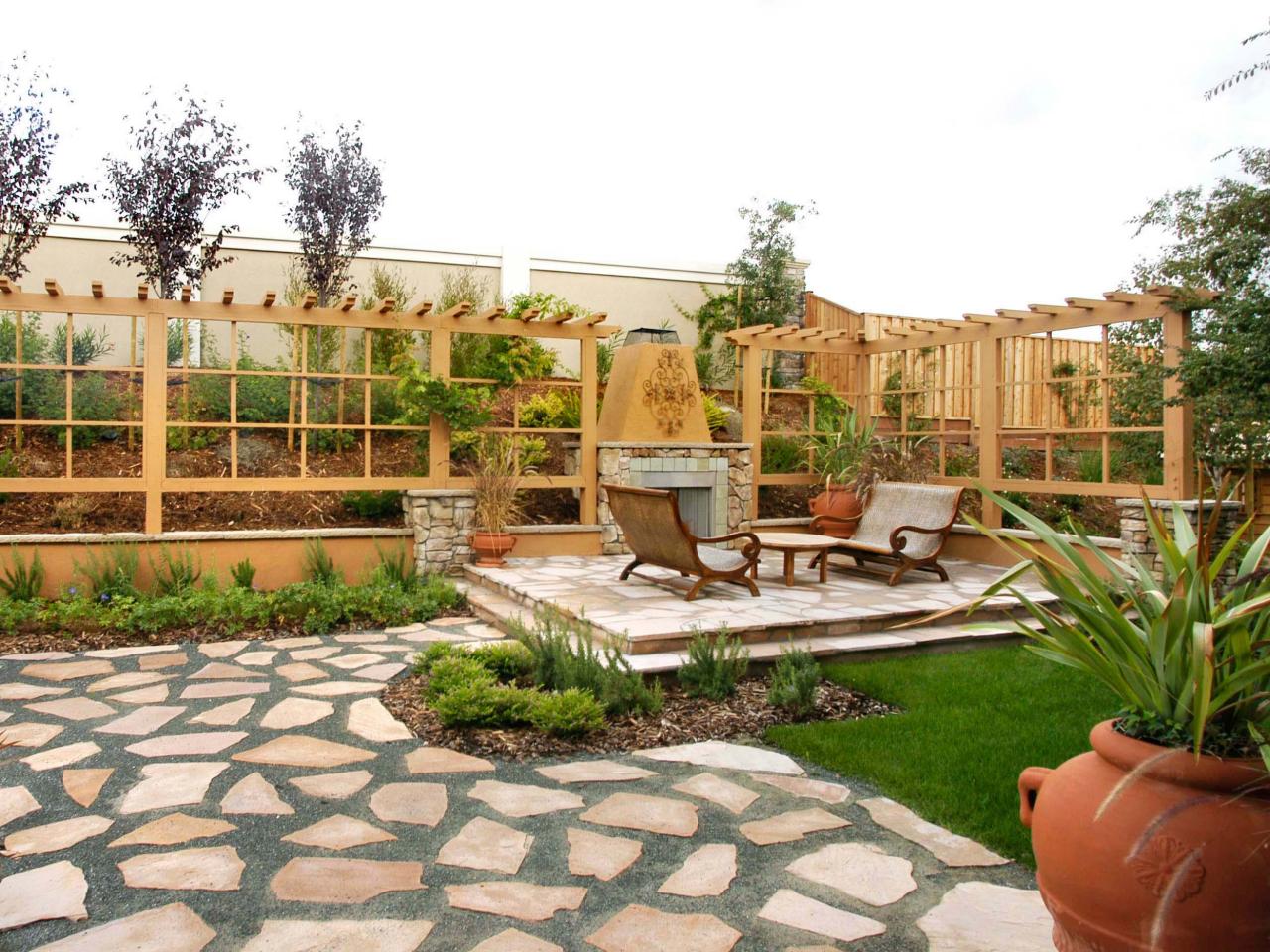 For a more natural look, you can opt for natural stone tiles that come in different sizes and shapes. The diversity will enrich the appearance of your backyard.
Besides, by installing different sizes of tiles and give them some space, you will be able to save money and time. As a bonus, you can get an intriguing mosaic look.
You have various points to contemplate when it comes to gaining the most solid backyard tiles ideas. In addition to the durability and sturdiness, you should also think about the typical climates in your region.